This post – about the village of Port Jefferson NY on the North Shore of Long Island – is a departure from my normal Getaway Maven's destination guide. I wrote the lead in September 2001, right after the 9-11 Terrorist Attacks. I've lifted sections from my essay and inserted them in the "What to Do" section with updated information. The parts from my original article are in italics.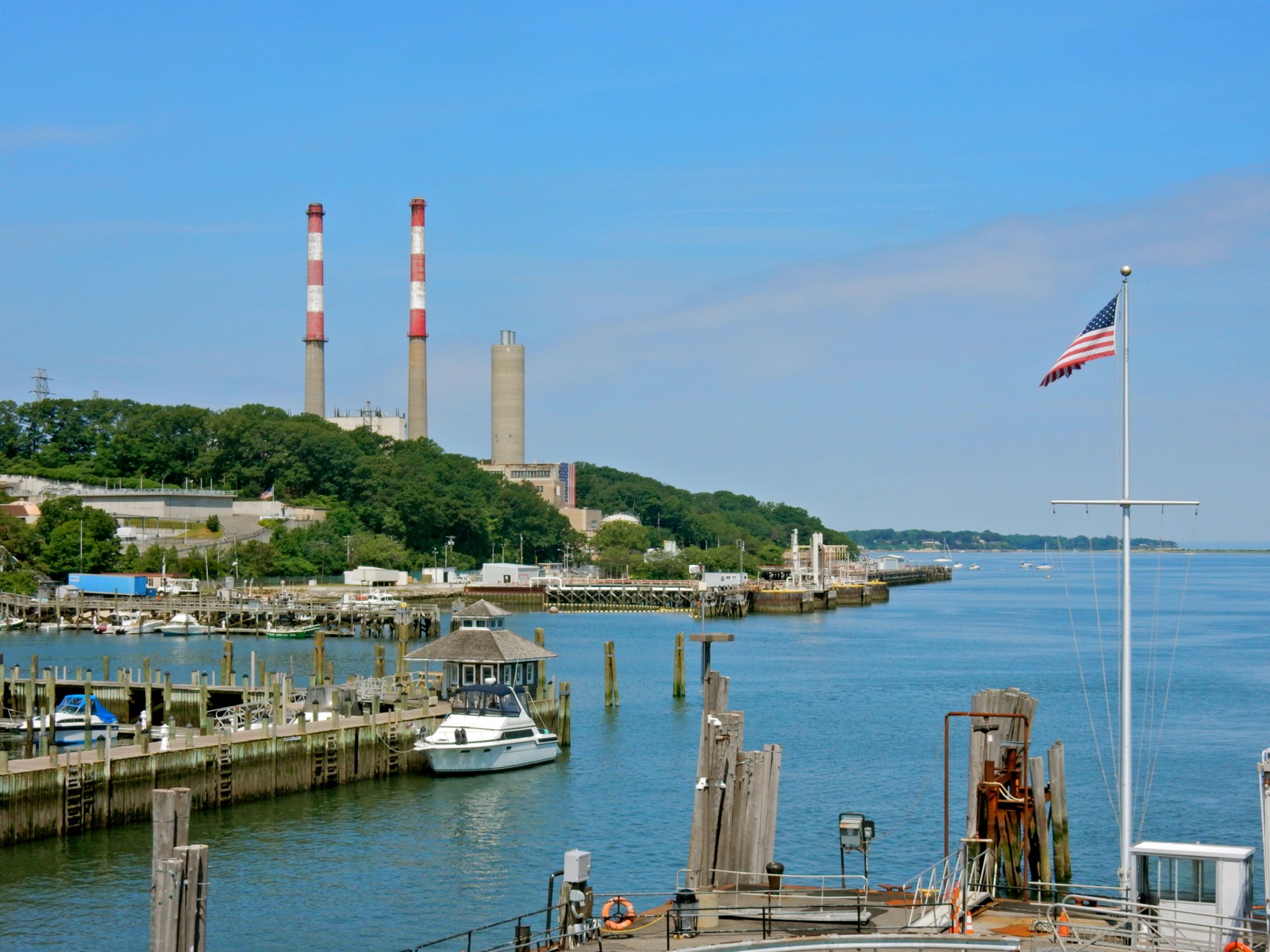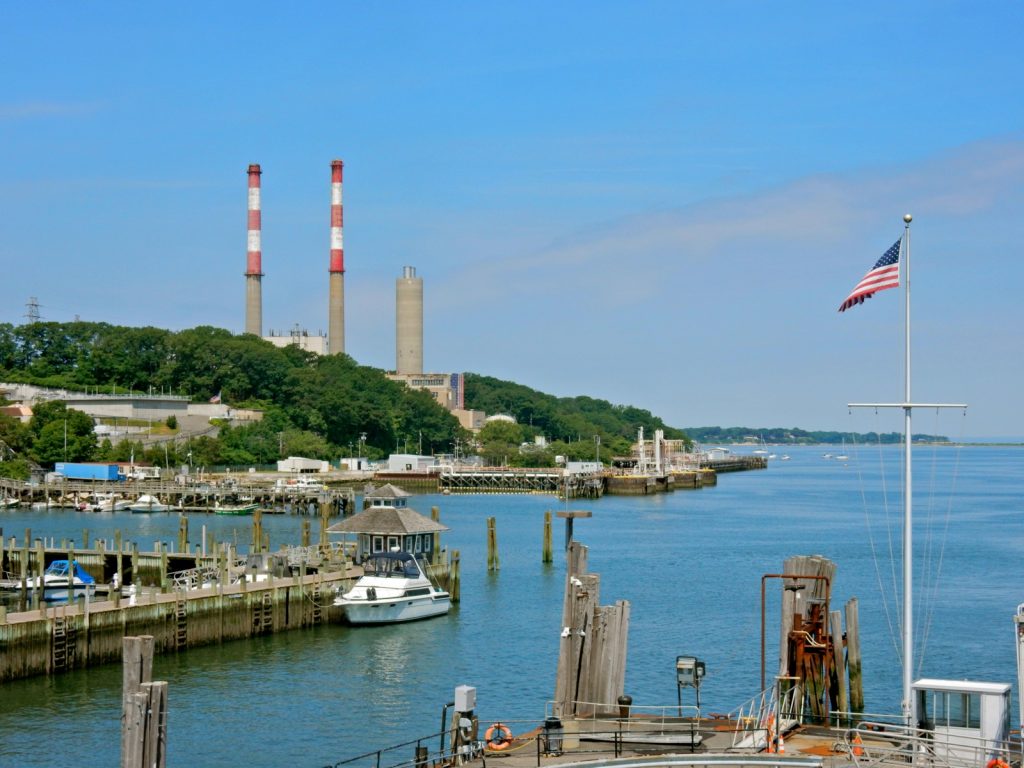 Twin red and white LILCO (Long Island Lighting Co.) smokestacks – standing like goalposts on the Western shoreline of Port Jefferson, NY – guide us into the harbor. When I was a kid, as we sailed from Rye, NY across Long Island Sound, I believed that they were close enough to touch, or at least swim to easily on cloudless days. The clearer the day, the greater the illusion of immediate proximity.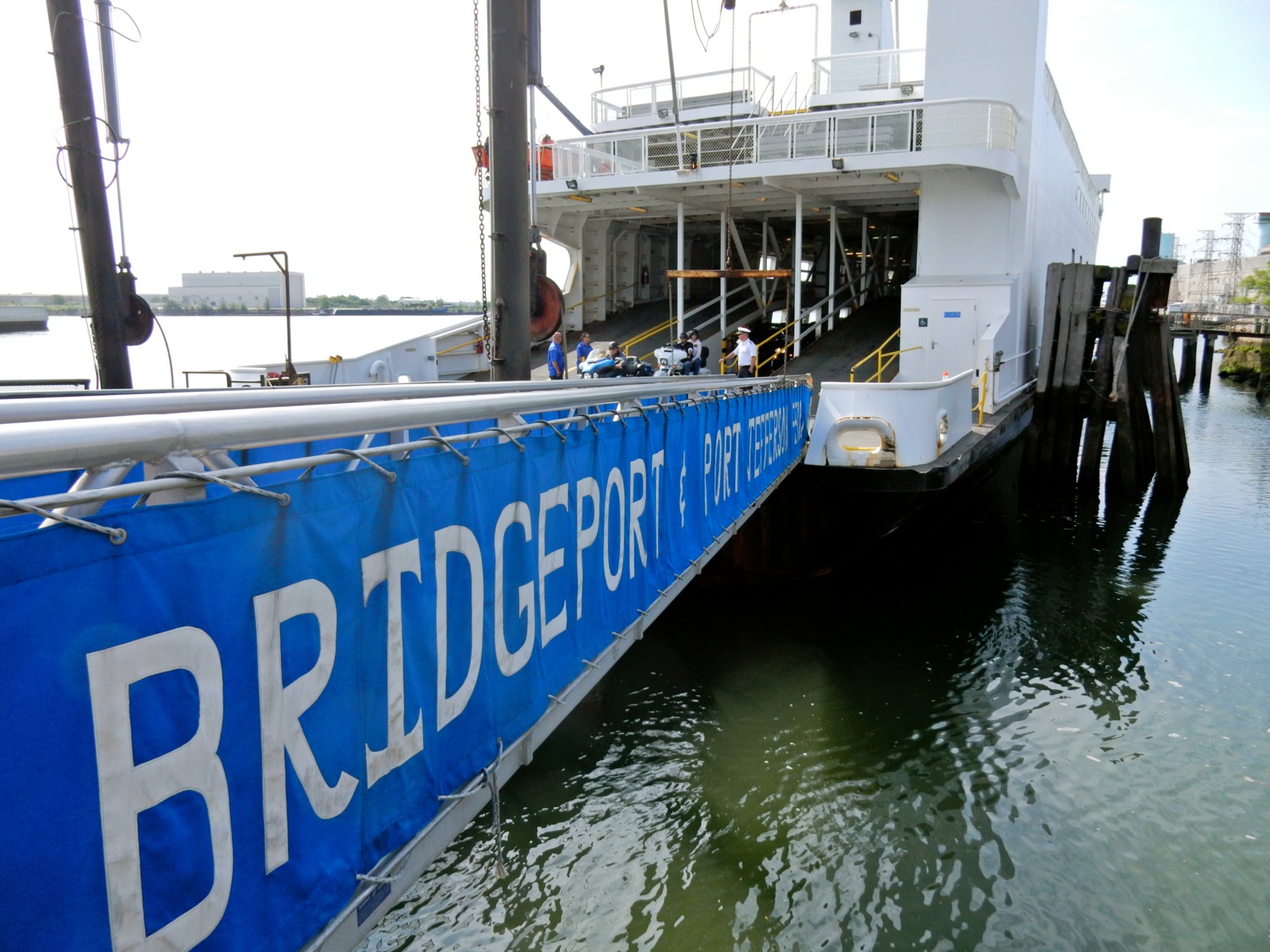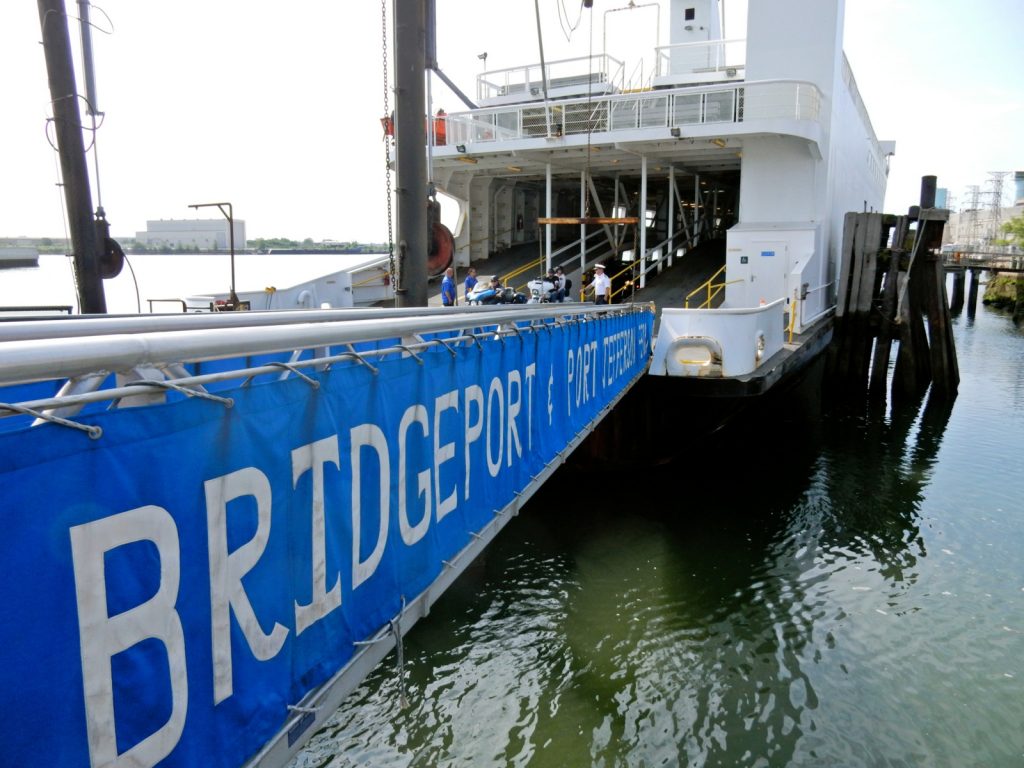 Today, though, my two kids, my husband and I make the 75 minute, cross-Sound voyage from Bridgeport, CT on the P.T. Barnum – one of three ships in the fleet of the Bridgeport Port Jefferson Ferry service. The three-story floating structure is nearly empty. Only 15 cars take up space in what can accommodate 120. It's September 15th, 2001 and not many people are traveling.
A Strange Stillness
We're still in shock over the horrific events of four days ago. There's a strange stillness above, where normally planes flying into and out of JFK, LaGuardia and White Plains Airports would be criss-crossing the sky. And, rather than a welcoming sight, those LILCO stacks are oddly menacing – a reminder of the vulnerability of our power companies.
There are many reasons people travel – to discover, to escape, to attempt a new challenge. I've traveled for all these reasons. But today I need something else. I need to be reminded that there are constants in our lives – things that haven't changed through even the most cataclysmic world crises.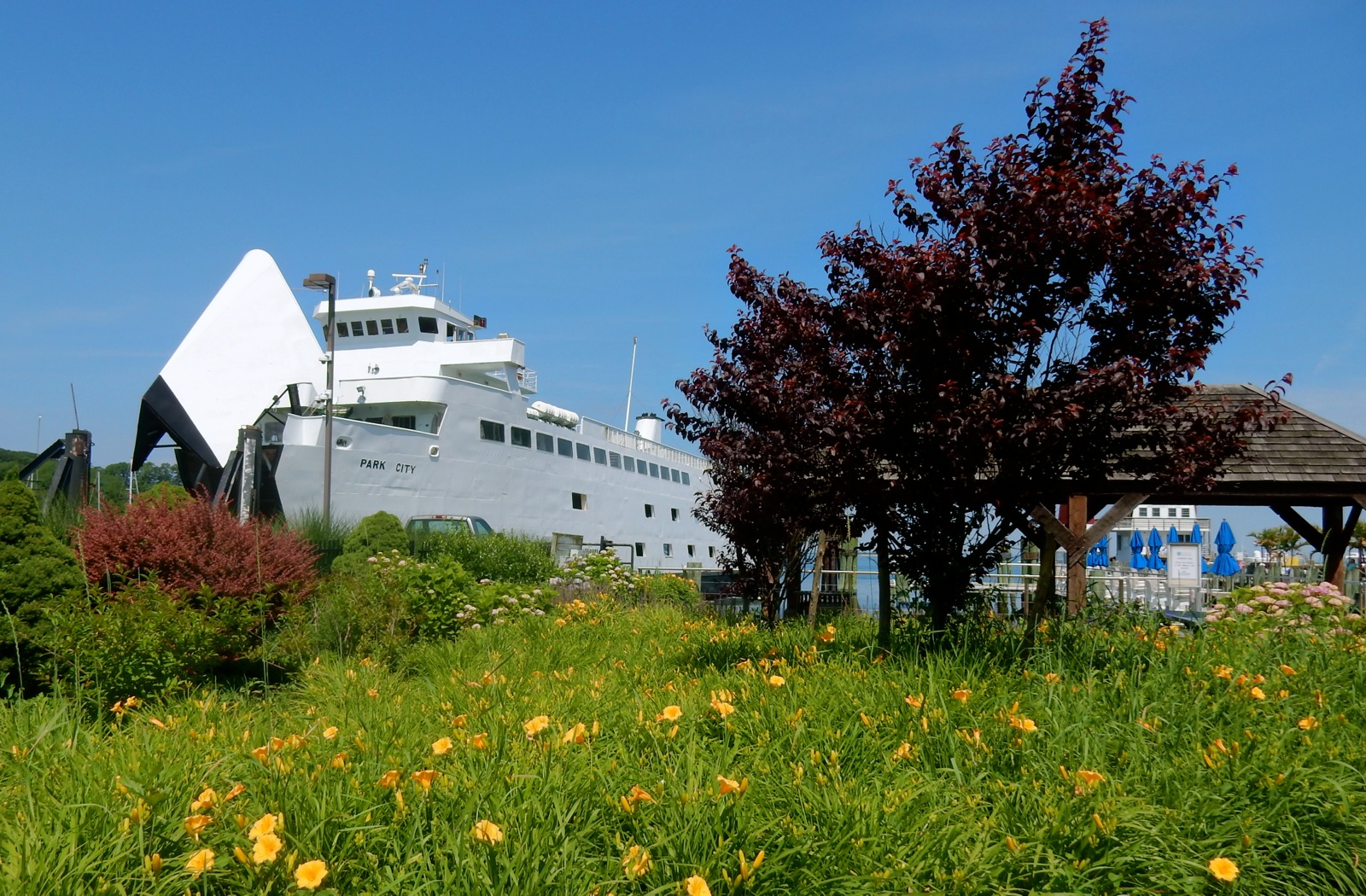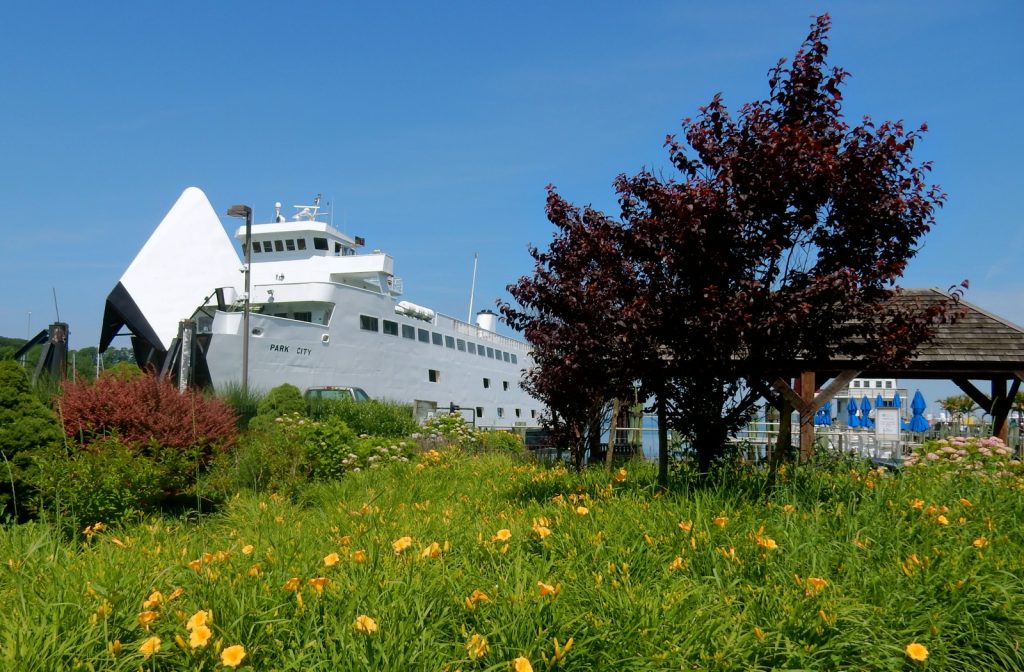 So I choose Port Jefferson NY because it has managed to commingle past and present effortlessly. I wish to gaze at buildings that have withstood wars and warnings and still stand proudly. And I want to do what we as newly born patriots have been advised to do – shop. It's easy to do all of this in compact Port Jefferson NY.
What to Do in Port Jefferson NY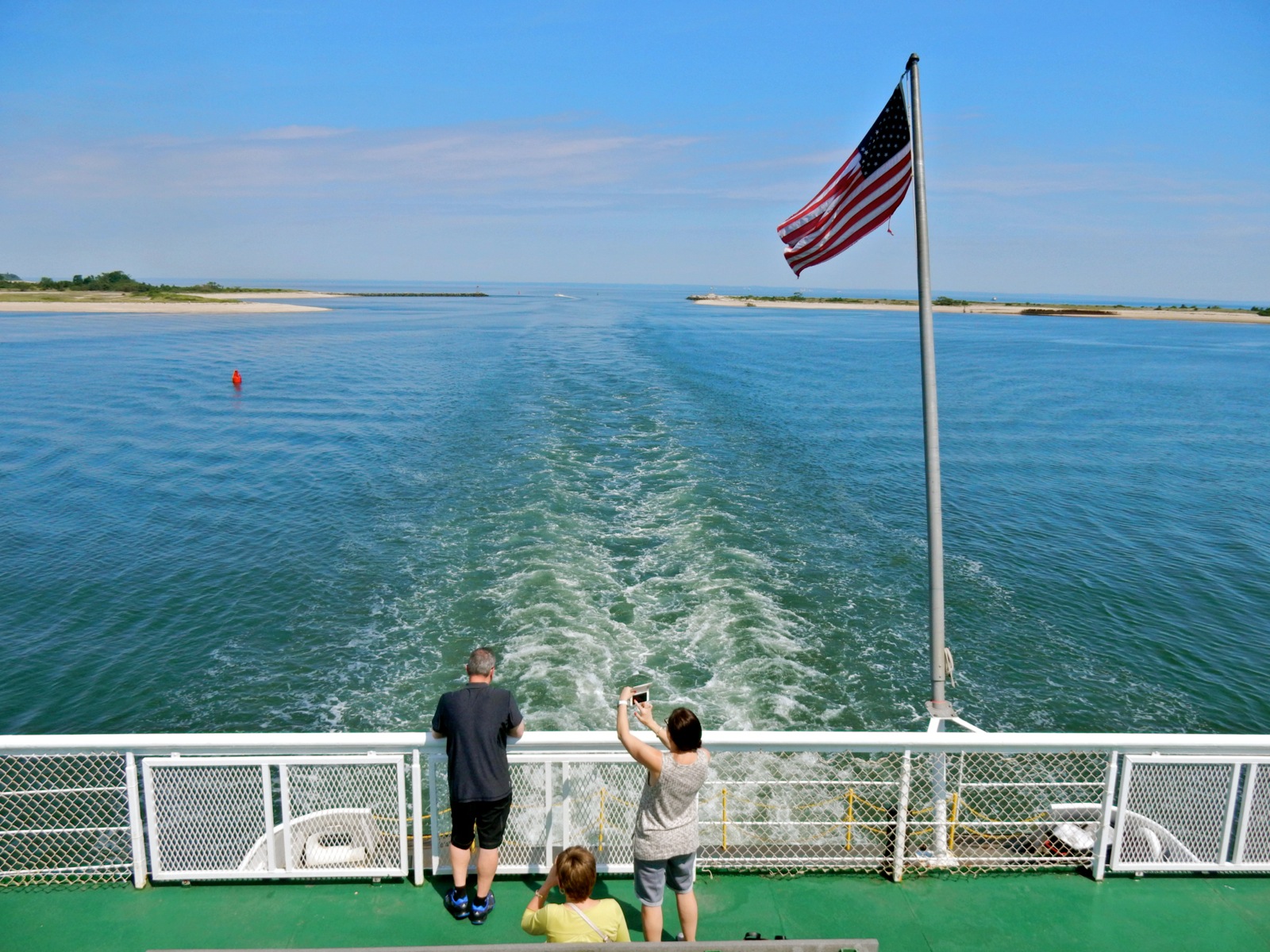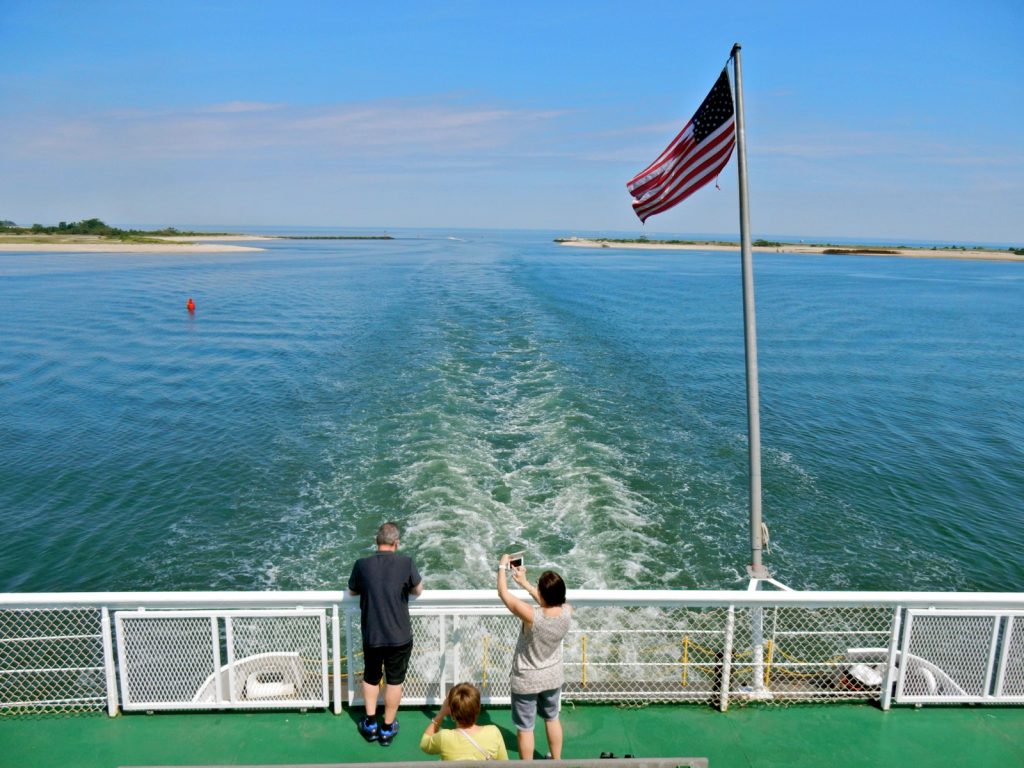 It's a glorious clear day, and we travel to Port Jefferson by water for the simple pleasure it brings. Even before we dock, just watching the comings and goings of various private and commercial vessels provides us with some feeling of normalcy. "The water is our highlight," admits Mayor Jeanne Garant. As you approach our town from the harbor, it looks like a jewel."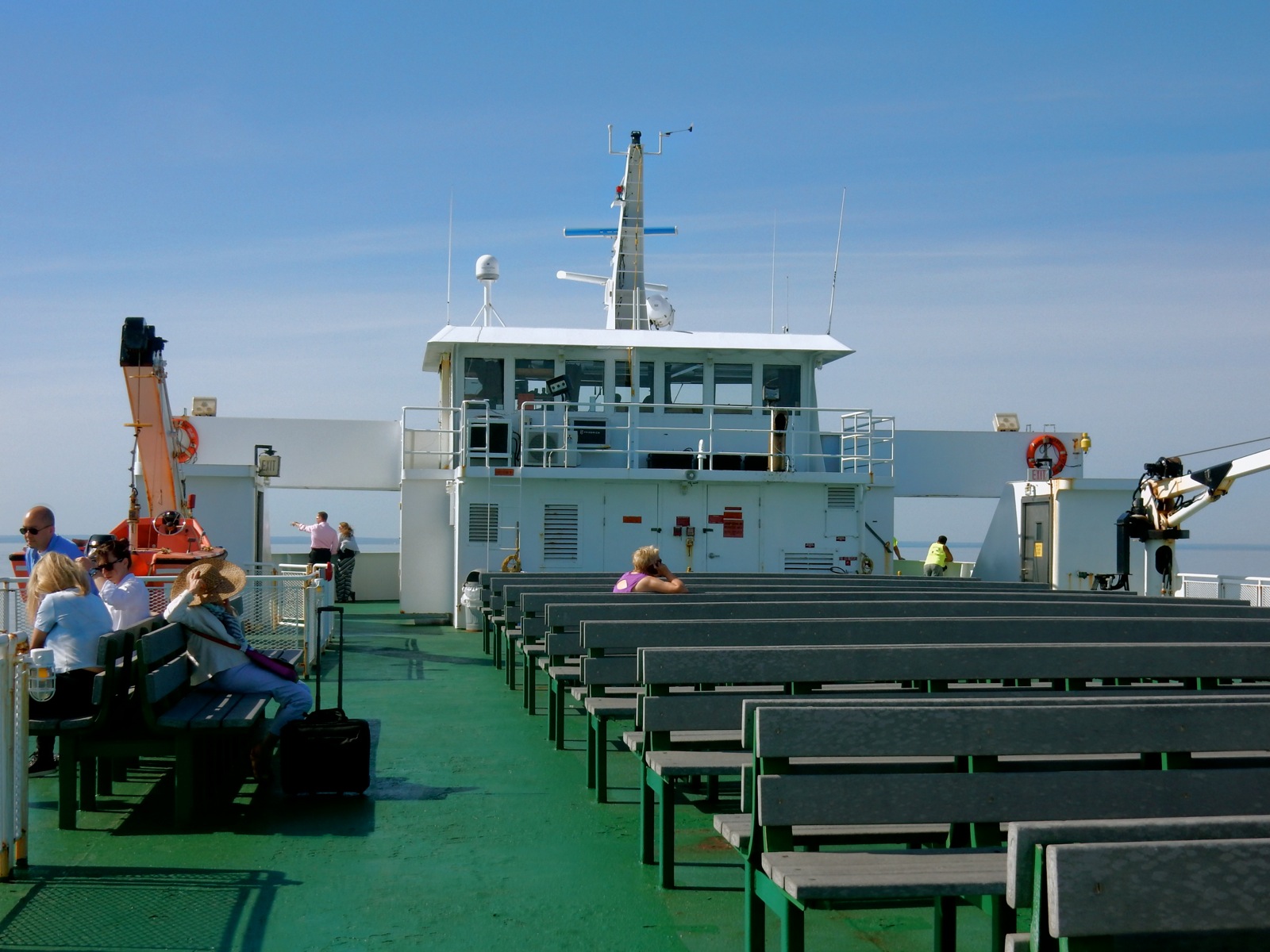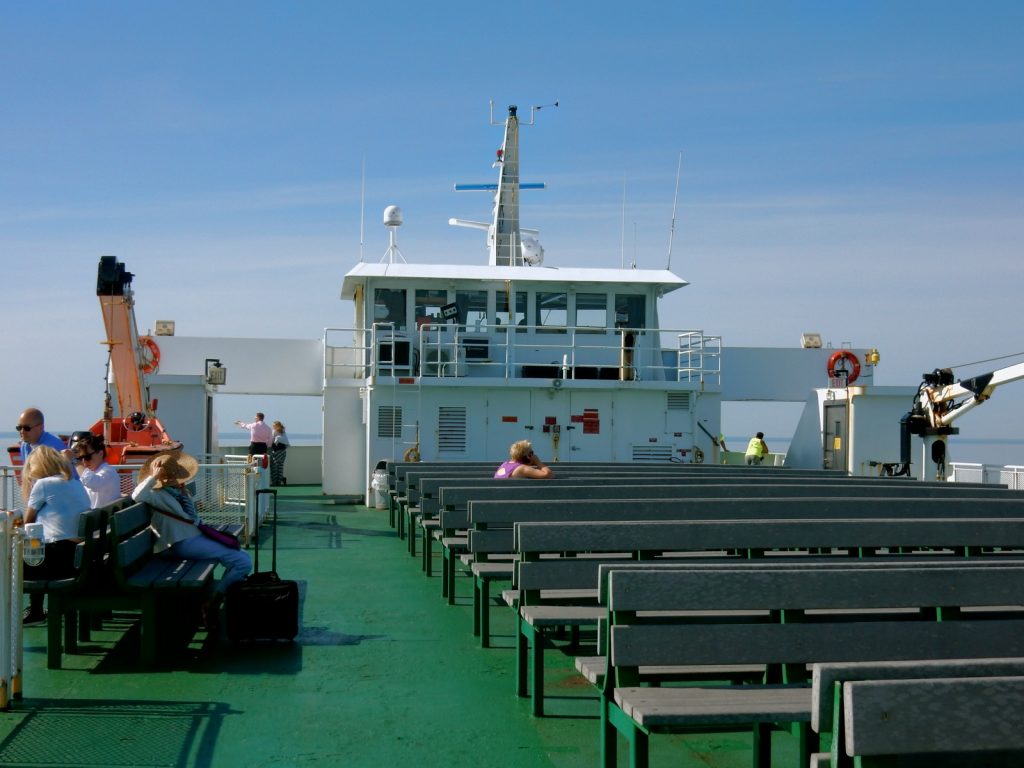 By the end of the day, the sun is setting as our ferry pulls away from the dock, casting a golden glow on the streets and harbor. Those LILCO stacks, so ominous upon arrival, prove their worth as lights turn on ashore. Port Jefferson glitters jewel-like in the advancing darkness. Despite worldwide uncertainties, day turns into night. Life goes on.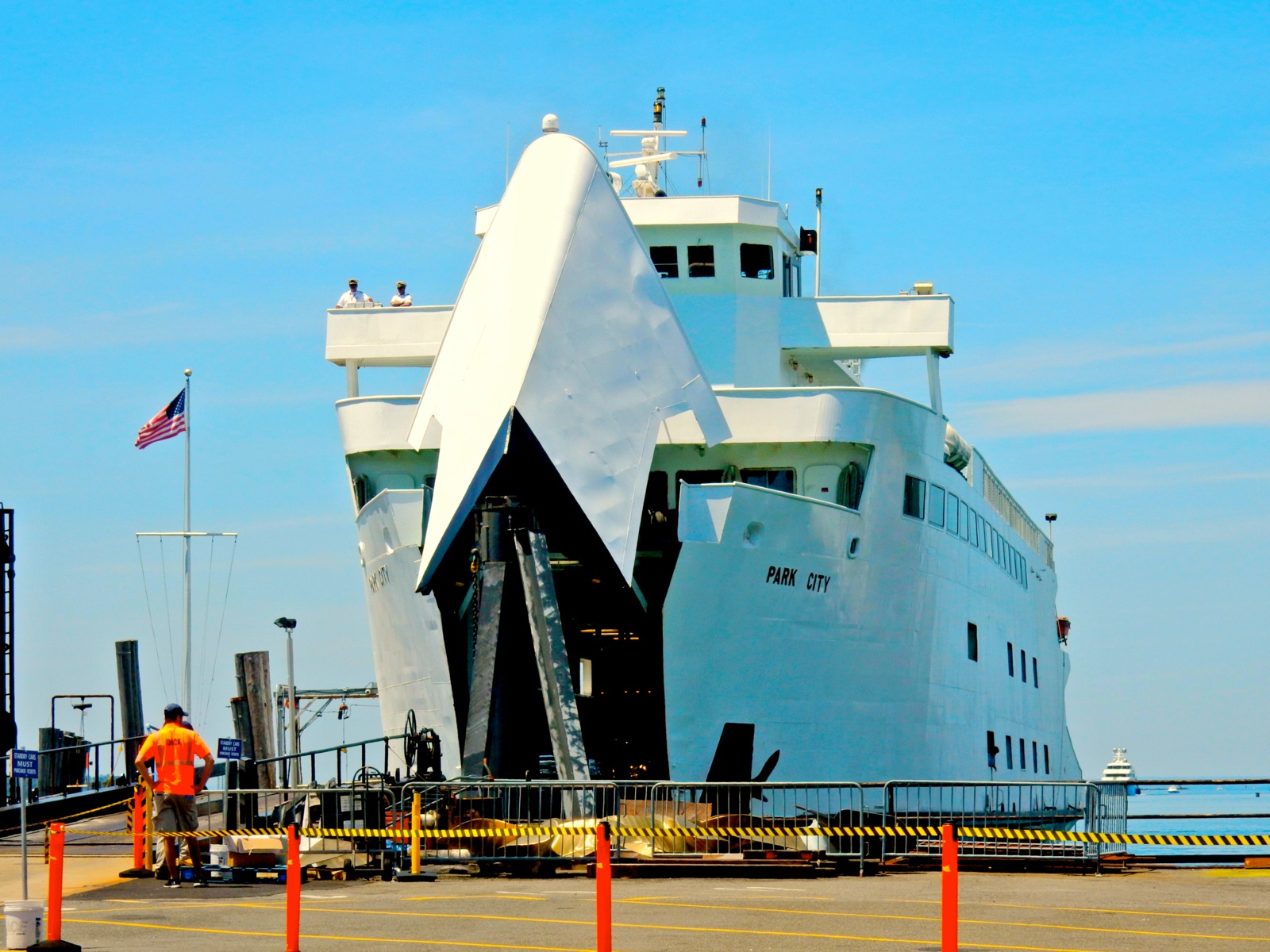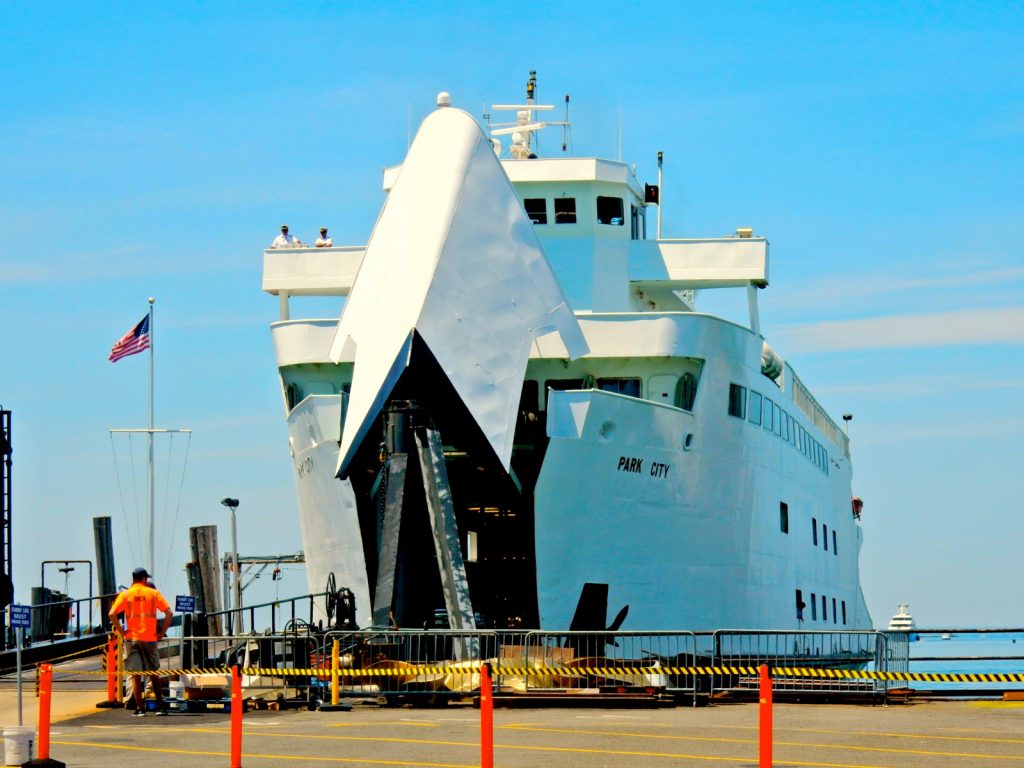 Not much has changed. Three ships remain in the fleet. And it's still more advantageous to park your car for free in Bridgeport (free shuttle as well) and walk on, to explore Port Jefferson on foot.
Service between Long Island and Connecticut 16 times a day. Check website for hours. Walk ons $18 each way, $29 Round Trip, kids under 12 free. Cars $56 each way includes driver, passengers $18.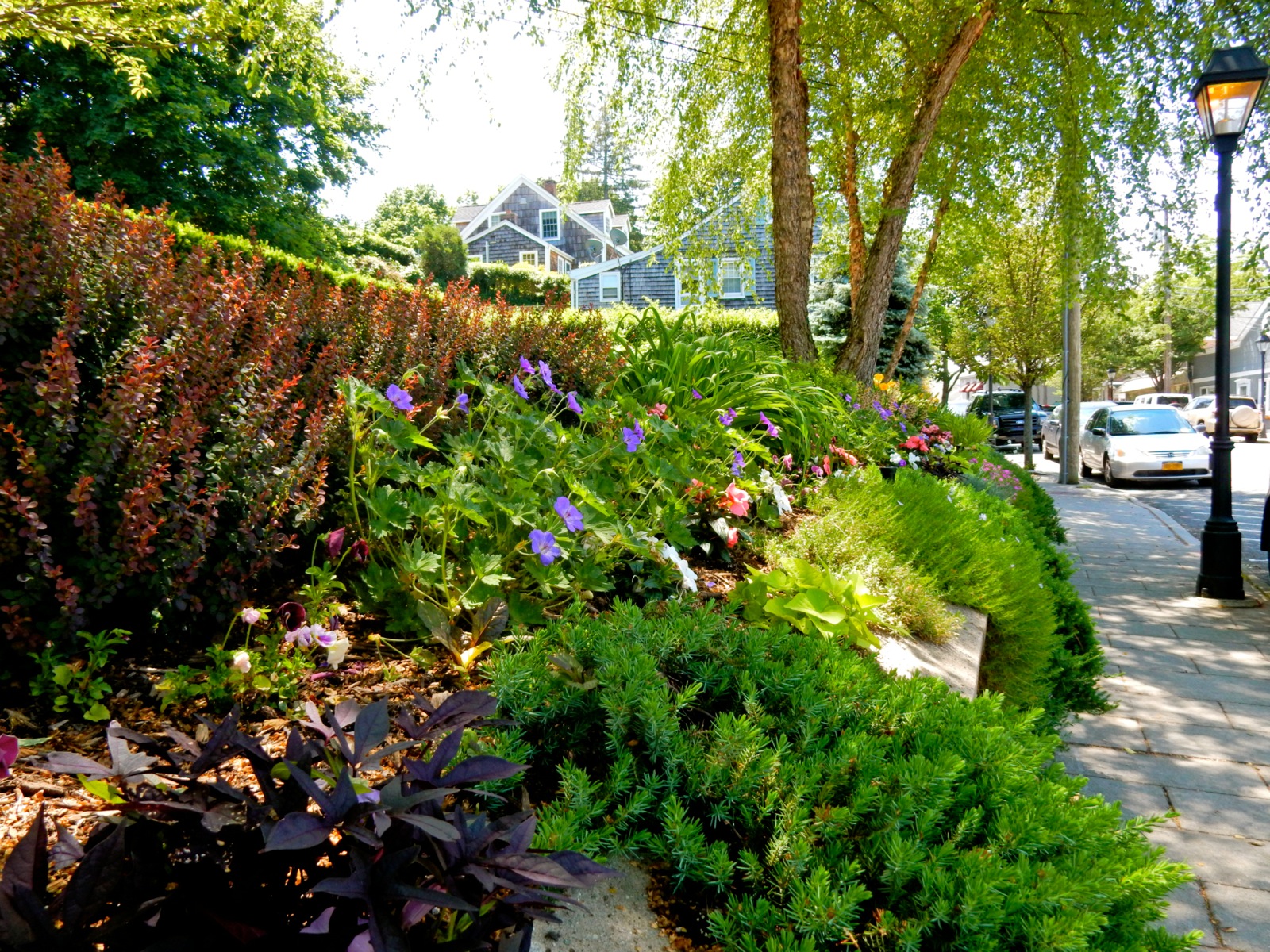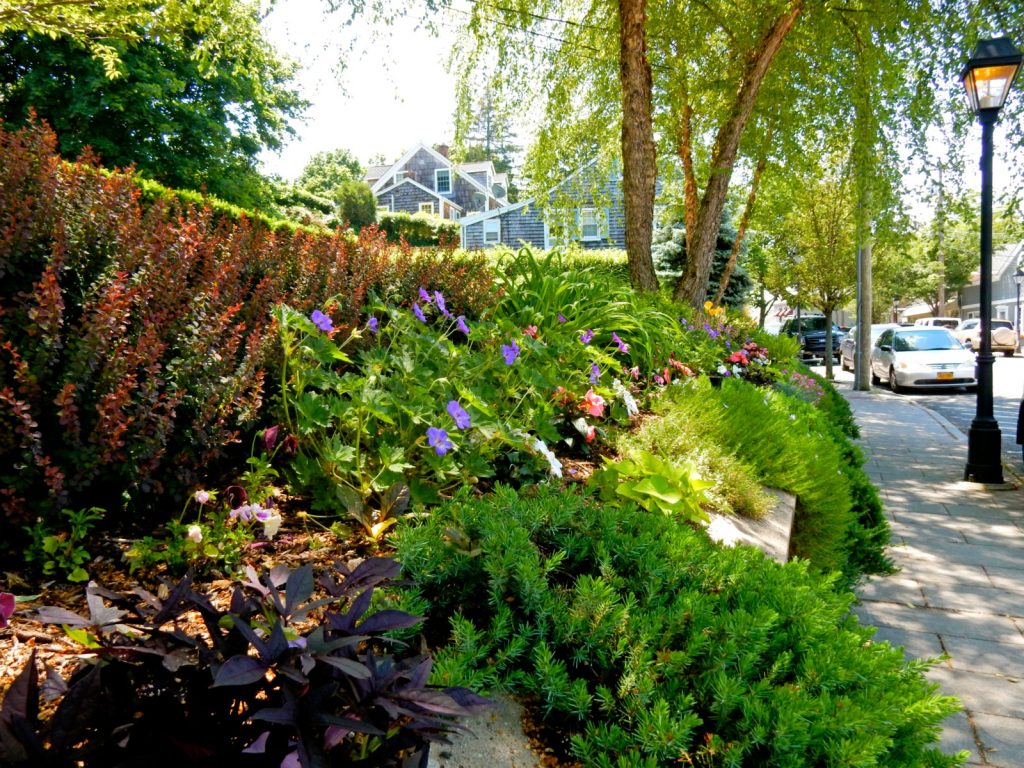 WALKING TOUR
Pick up a Village Walking Tour brochure at Port Jefferson Chamber of Commerce. More like a New England fishing village than commercial outpost, the center of action in Port Jeff is its harborfront.
John Roe built a house on salt marsh in 1682 and called the area "Drowned Meadow." By the early 1800's, Drowned Meadow was an established shipbuilding center. Four out of every 10 ships on Long Island were built here. Local politicians felt the need for a less woeful sounding location. Jeffersonian Democrats renamed the town Port Jefferson in 1835.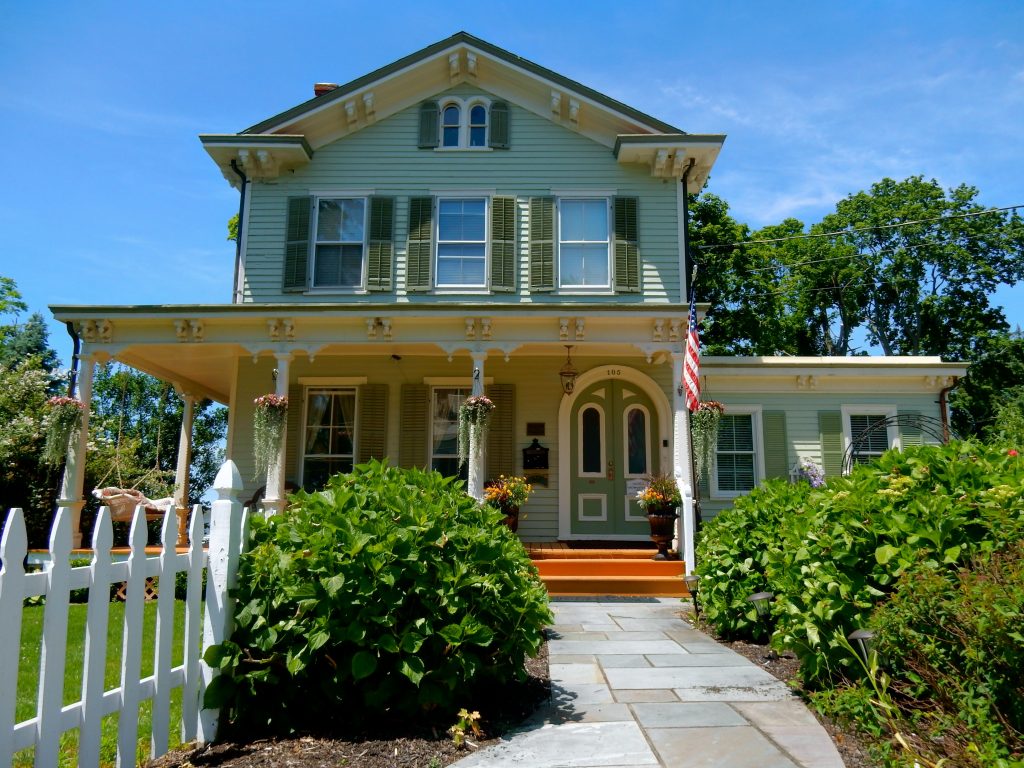 Some of the flavor of those bygone days still remains in the architecture of well-preserved saltbox and brick homes that line the main thoroughfares and residential lanes. We stop in at the Port Jeff Chamber of Commerce (118 West Broadway) steps from both marinas and the ferry. It's located in the John Roe House – still intact, but moved several times from its original location.
The town's Historic Walking Tour winds us through the centuries. These are the centuries that have seen the Revolutionary War, Civil War, two World Wars, and other struggles. Shipbuilders constructed their homes here as our newly formed Republic fought off the British. We pass many of these buildings on our walk – and I take comfort in the tangible evidence of our country's continuity.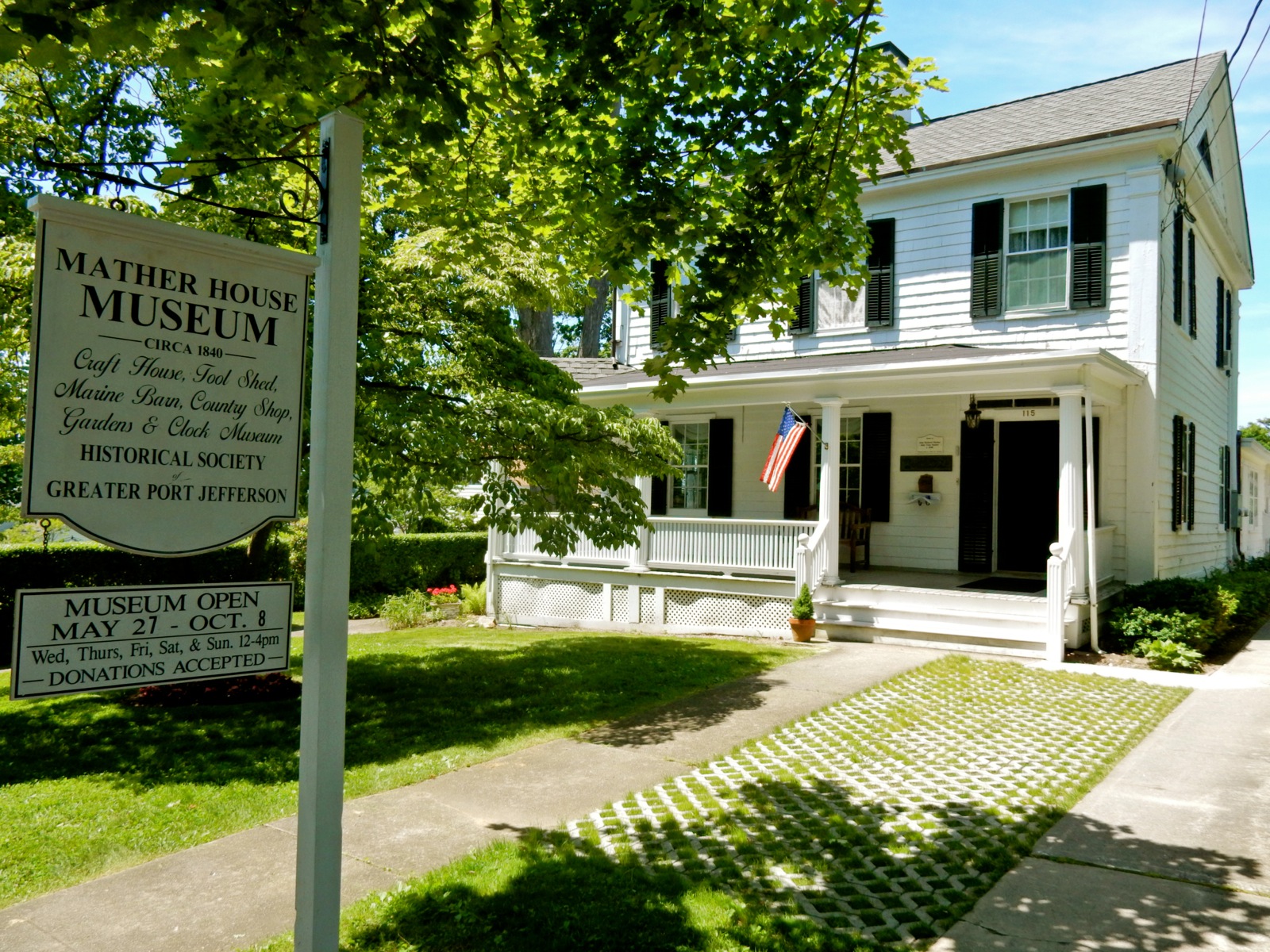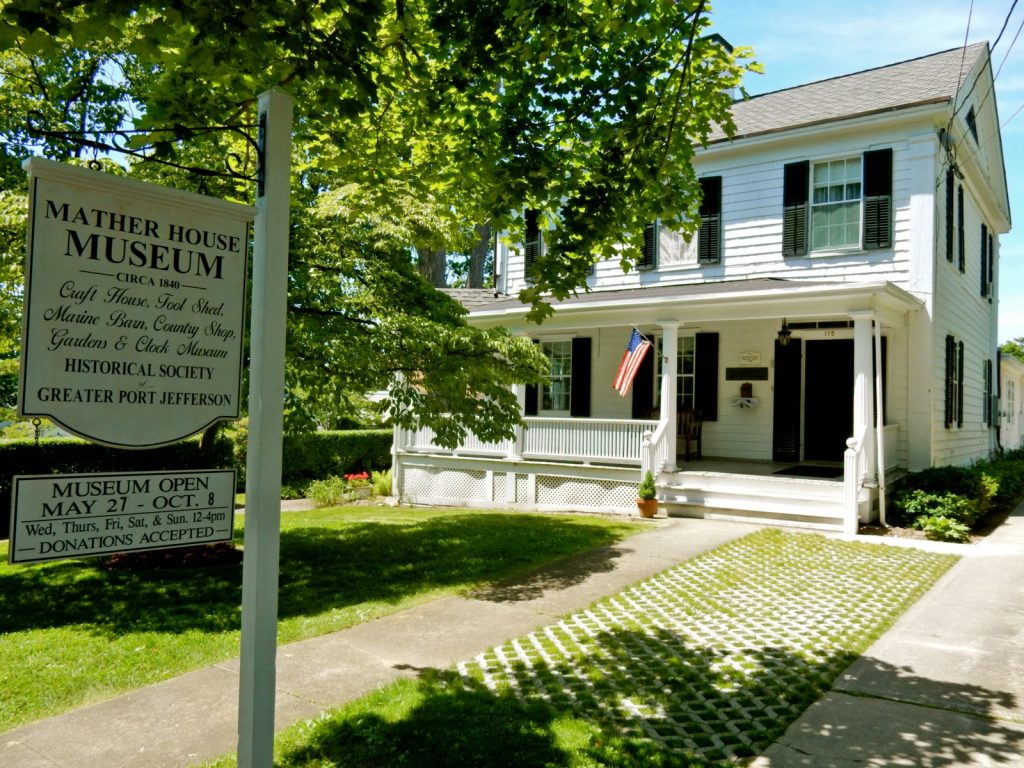 TOUR: Mather House Museum Complex including the Spinney Clock Collection
John Mather was one of several premier shipbuilders in Port Jefferson. This home, up the hill from the harbor, is a well-preserved example of what a wealthy business owner would owned.
But that's not the reason you should plan to spend at least an hour here. Sure, there are ship models and paintings (by renowned nautical artist William Davis), Victoriana, and doodads dating from the time the home was built. But a tour here also includes plenty of relevant family stories, and a walk through several outer buildings with astounding artifacts.
Philanthropic Mather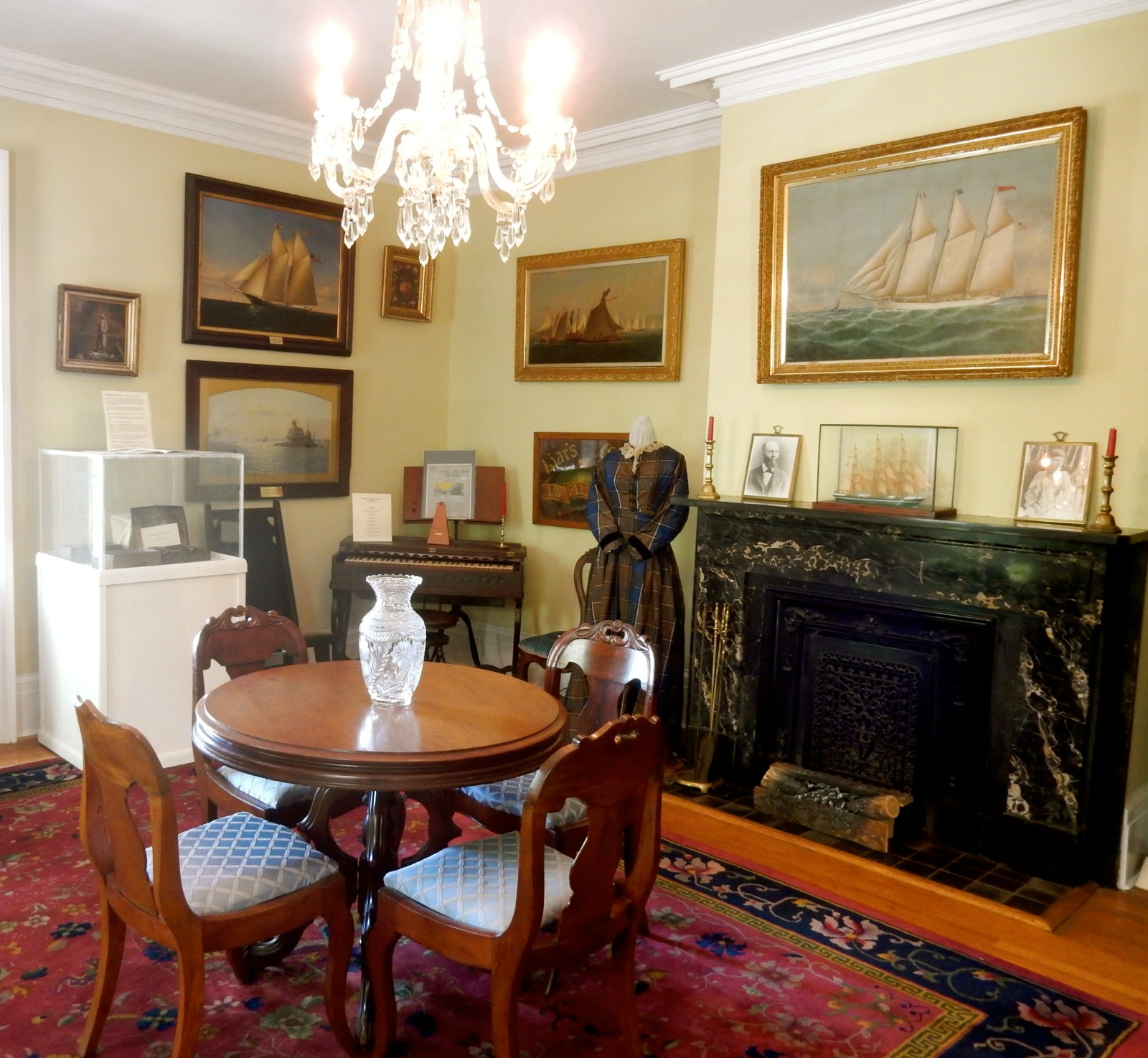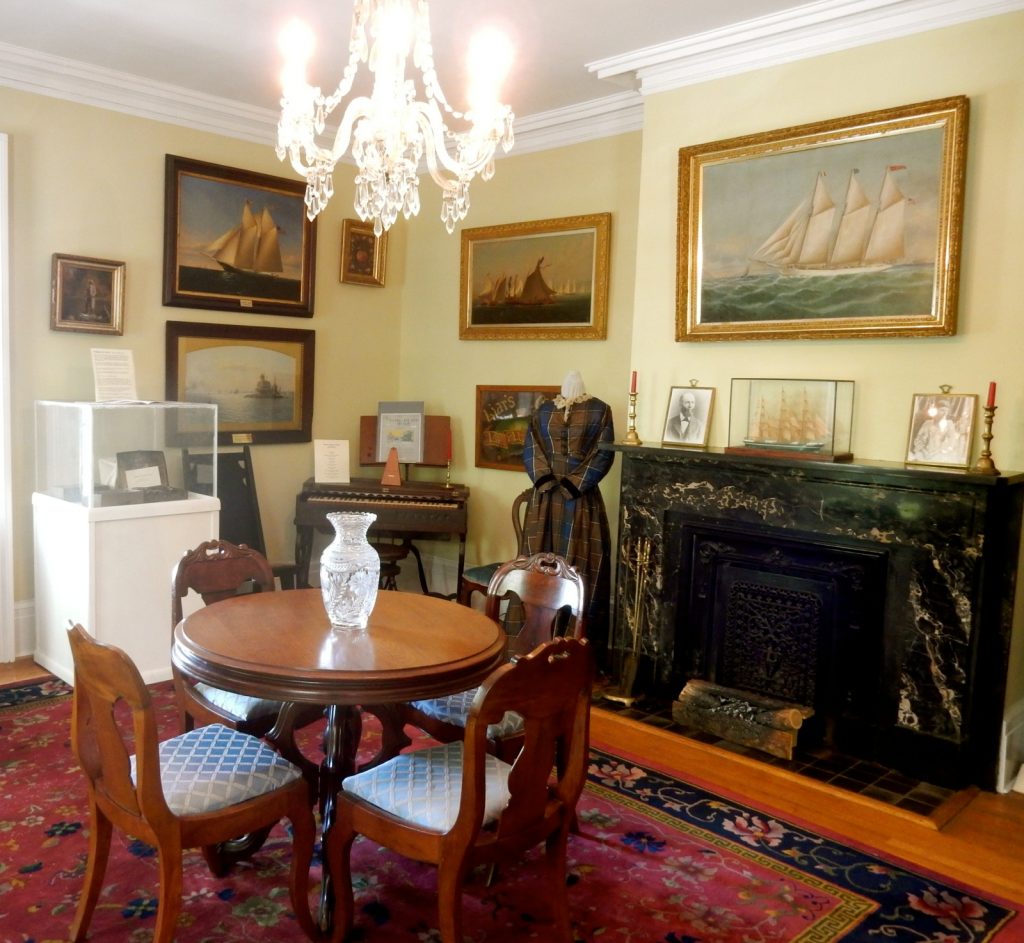 John Mather had three children who lived to adulthood. The most famous was John Titus Mather. Hyper-driven JT took over his father's shipbuilding business and expanded it with creative ideas, industriousness, and potentially risky ventures, like the establishment of the Port Jefferson Bridgeport Steamboat Company (with investment money from PT Barnum).
JT never married and didn't have any children. When making out his will, he decided against leaving his vast fortune to the ner' do well son of his sister, Sara. Instead, Mather donated his millions to authorize and build a local charity hospital. That institution, the John T. Mather Hospital, still stands. Over 90 years after JT's death in 1928.
Spinney Clock Collection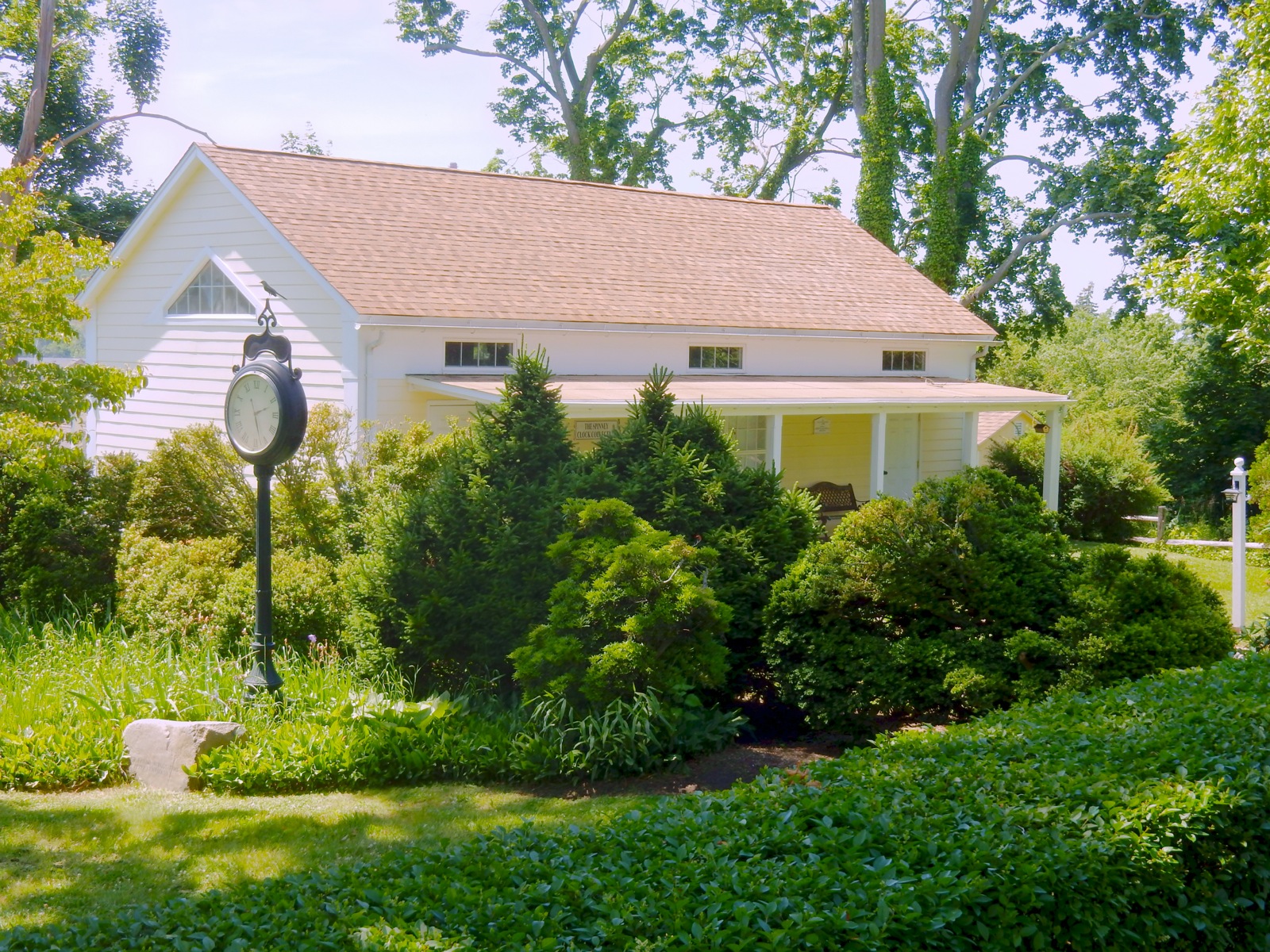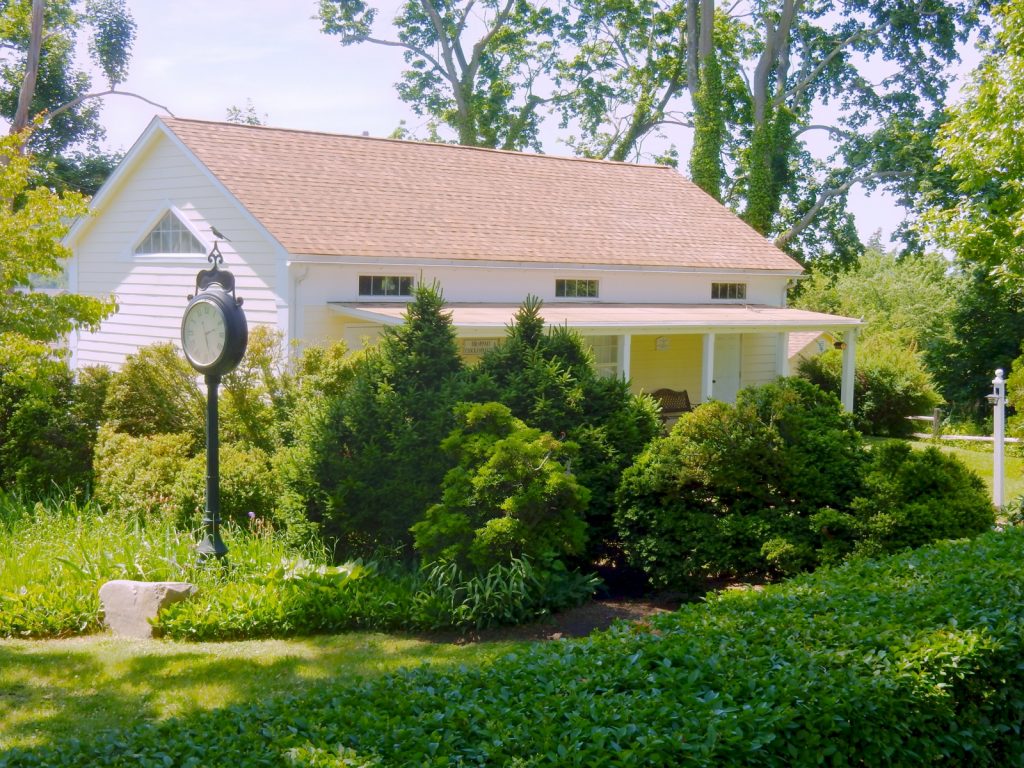 Though the Mather House brings some people up off the waterfront, it's what was built next door in 2002, or, rather, what is housed in that building, that impels an esoteric bunch from around the world to visit Port Jefferson: The Spinney Clock Collection.
In the 1960's, electrical engineer, Ross Spinney, began to collect antique clocks from all over the globe. Most were in disrepair.
By the time he died in 1984, Spinney had amassed 910 of them, which, while alive, he displayed in his own home. (Local baby boomers have recollections of being invited into the Spinney home to see these clockworks).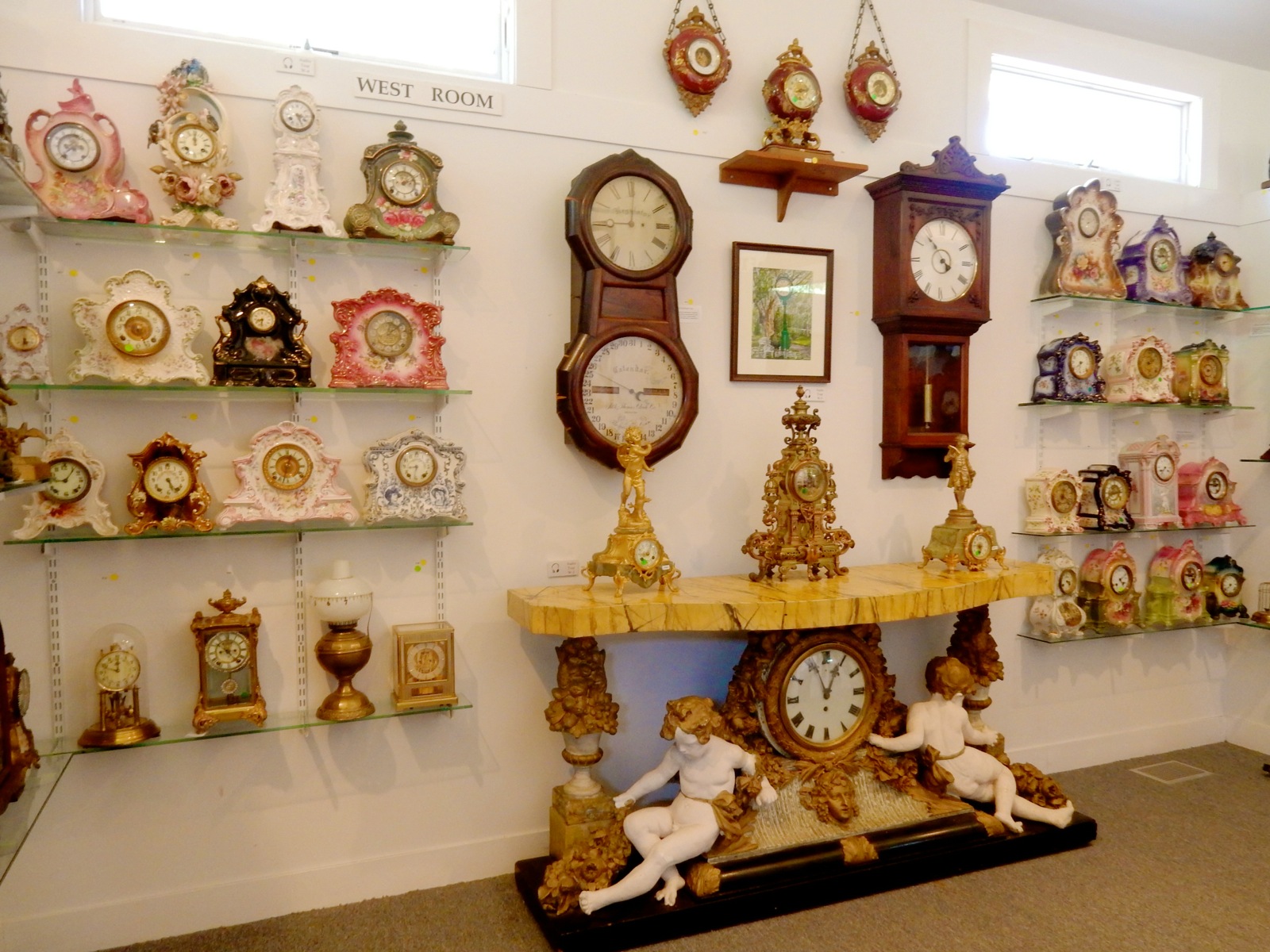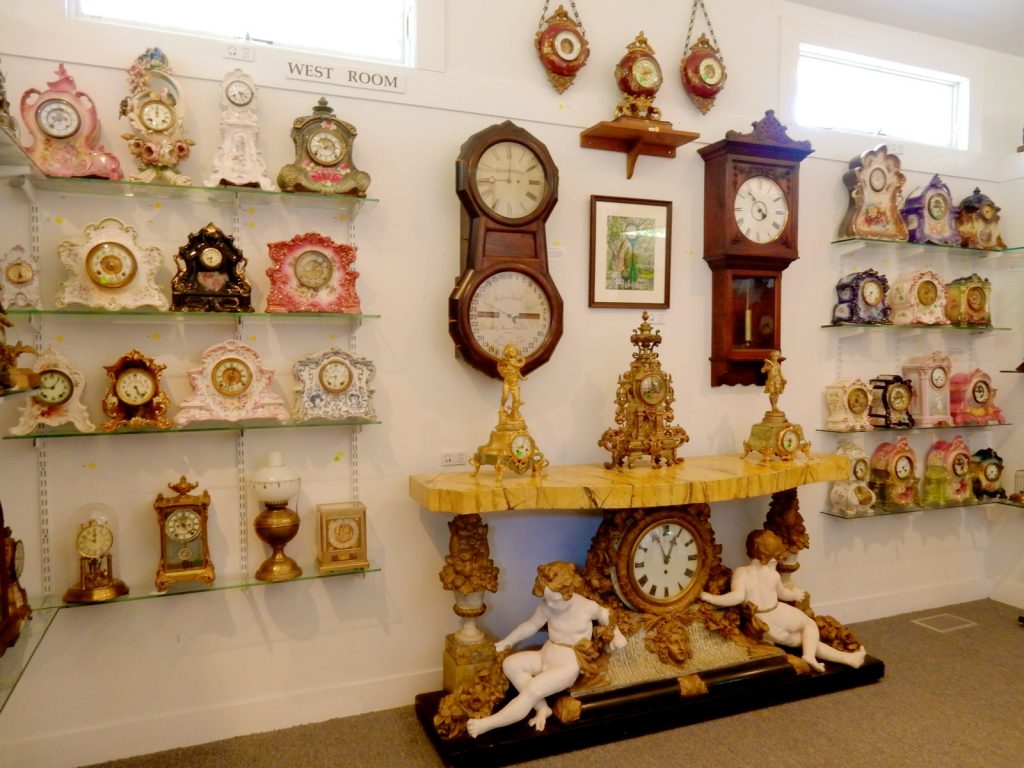 Before his death, Ross told his wife, Tex, to sell them off and travel around the world, which she did. Mostly.
The 200 left unsold are now on display in this wondrous place. Each clock from England, France, Sweden, Germany, and of course the USA, is a work of art. The oldest dates to 1690, and one of the most magnificent is an original Tiffany from 1880's.
Clock-Winders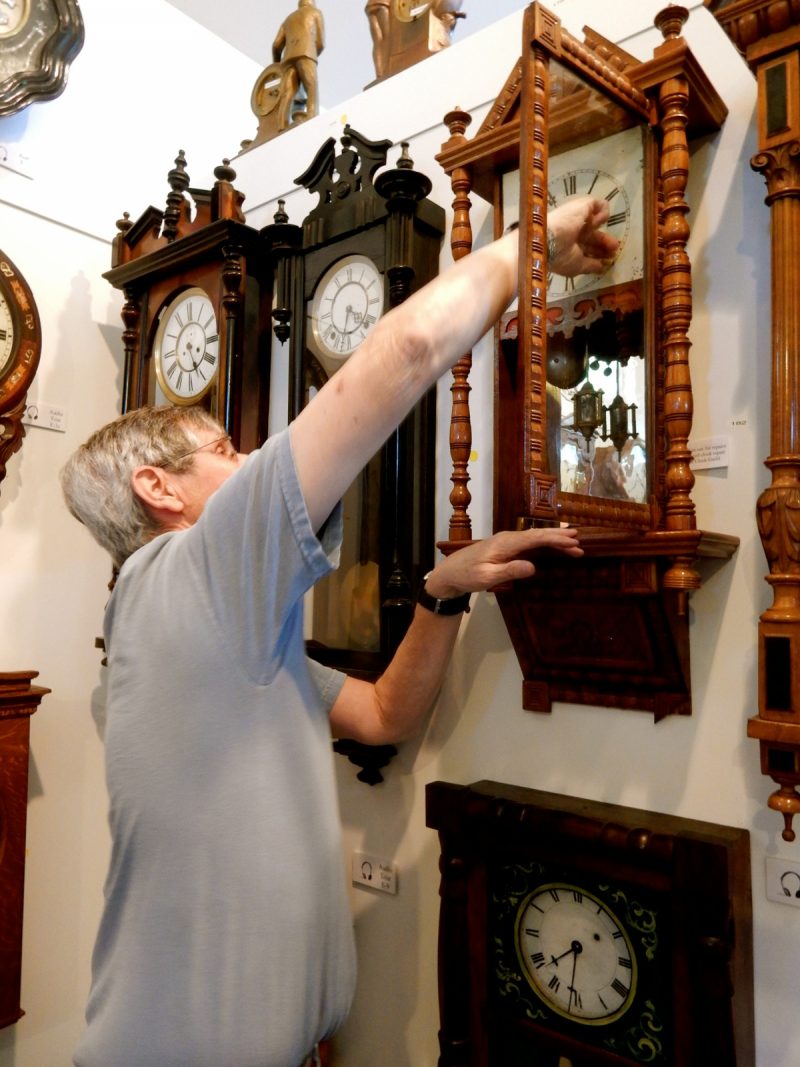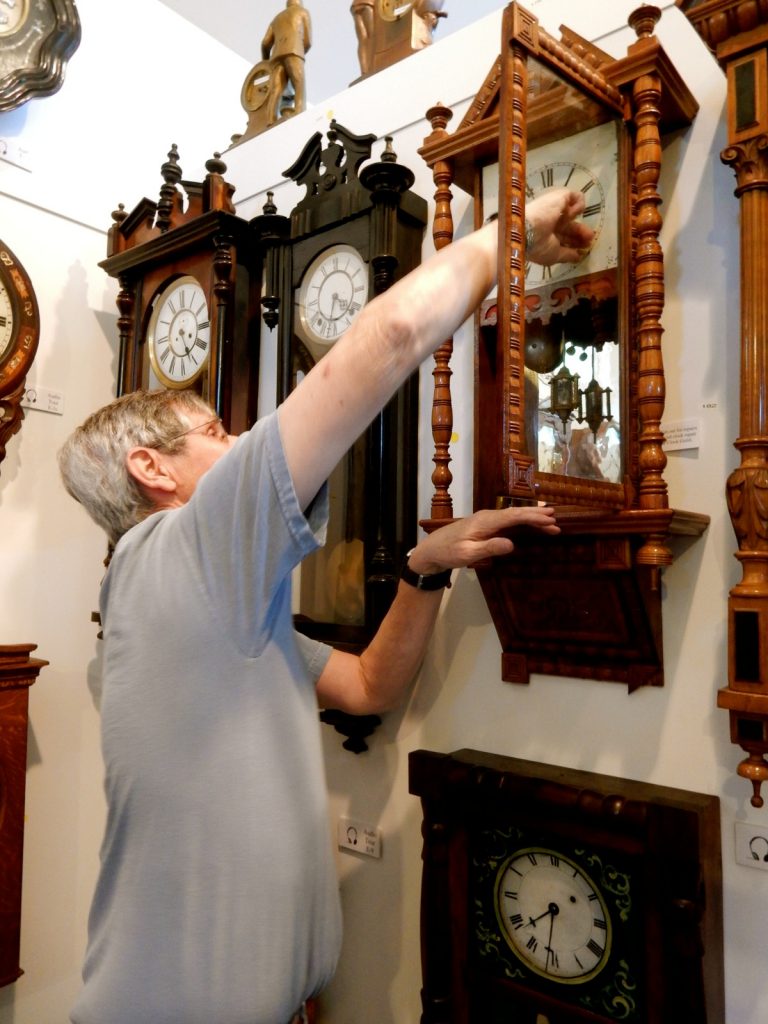 Every Wednesday, volunteers from the 25-member Spinney Antique Clock Guild congregate here to repair, maintain, and set these unique timepieces.
Of all ages, and coming from all career backgrounds, these mechanically inclined folks tend to these precious artifacts. They unite here to repair the world, one clock at a time.
Outbuilding Living History Museum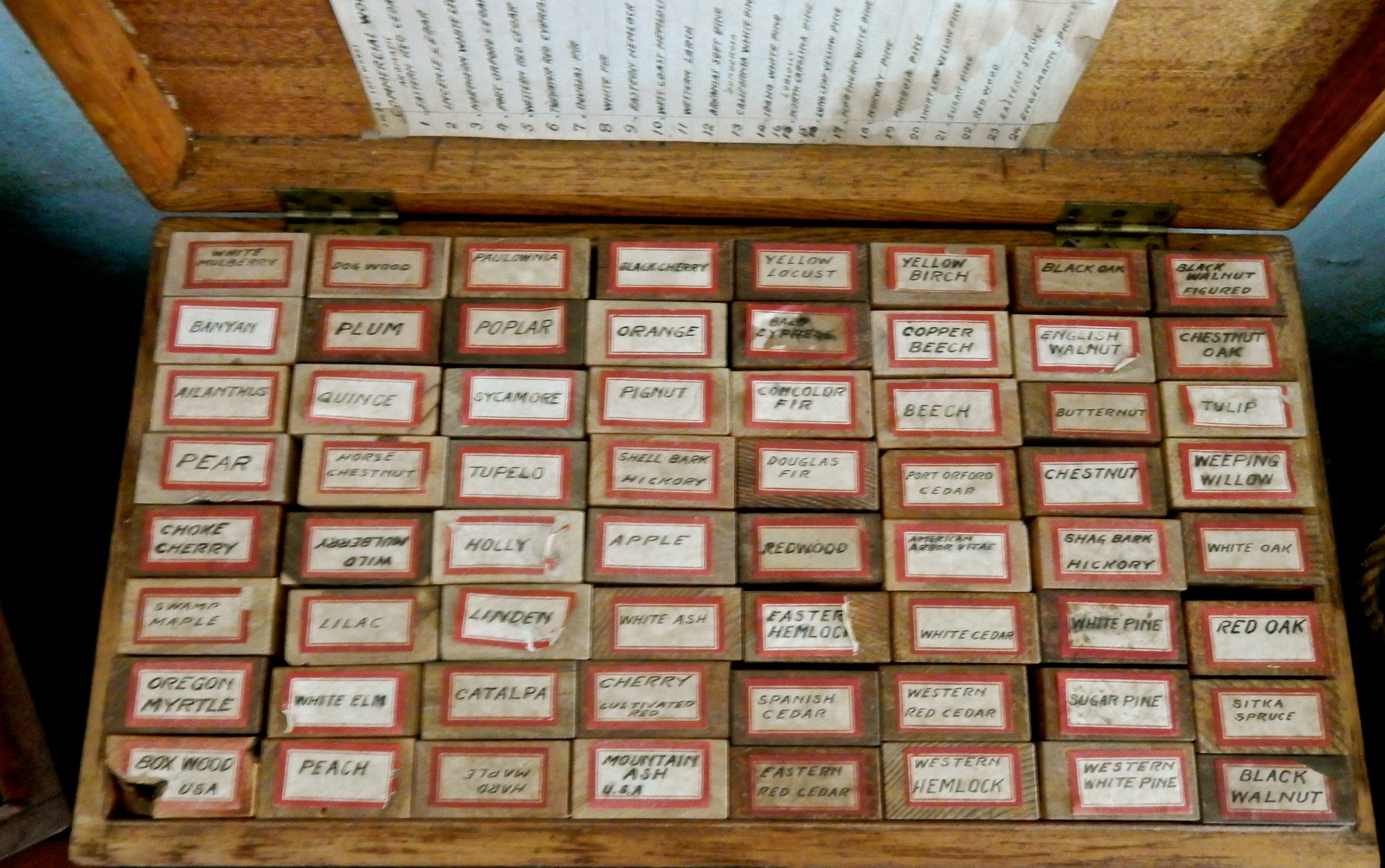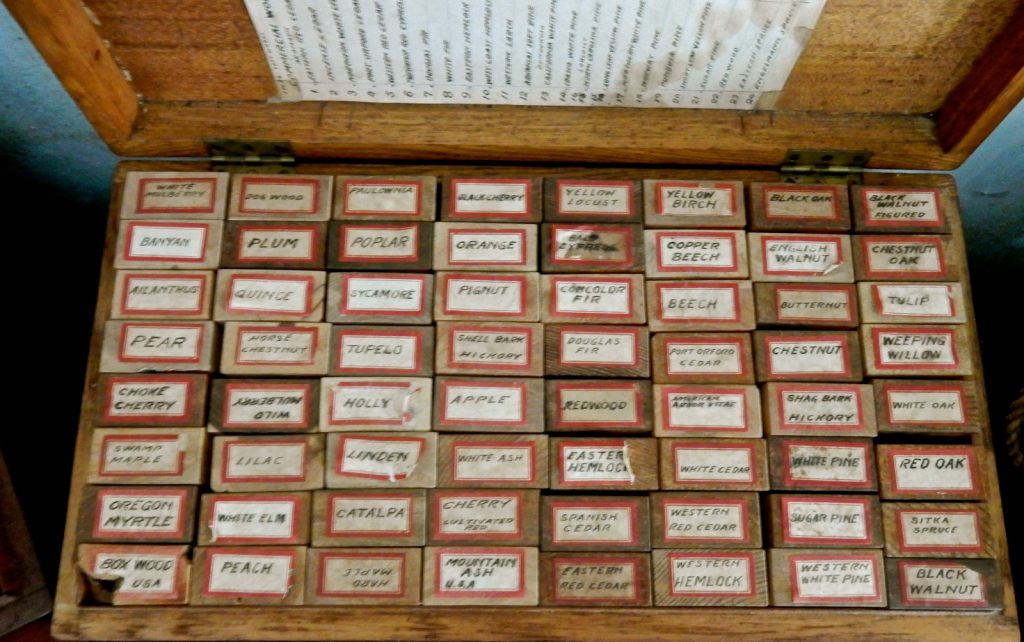 The barn behind the Mather House has been turned into a living history museum of sorts. There's a tool shed with antique farm implements, including cool domestic and foreign wood sample boxes. The carriage house holds two 1875 carriages. There's also a barber shop, Post Office, General Store, a cane chair repair shop, and remnants from Port Jefferson based Wilson Sail Loft (which made the sails for the first America's Cup winner).
Depending on your interest, you could spend a good deal of time here. But even if you are not a "clock" or "antique" person, I urge you to come see the Spinney Collection. It's that fascinating. Open Wed-Sun from Memorial Day to 1st week in October, 12-4. Donations gratefully accepted.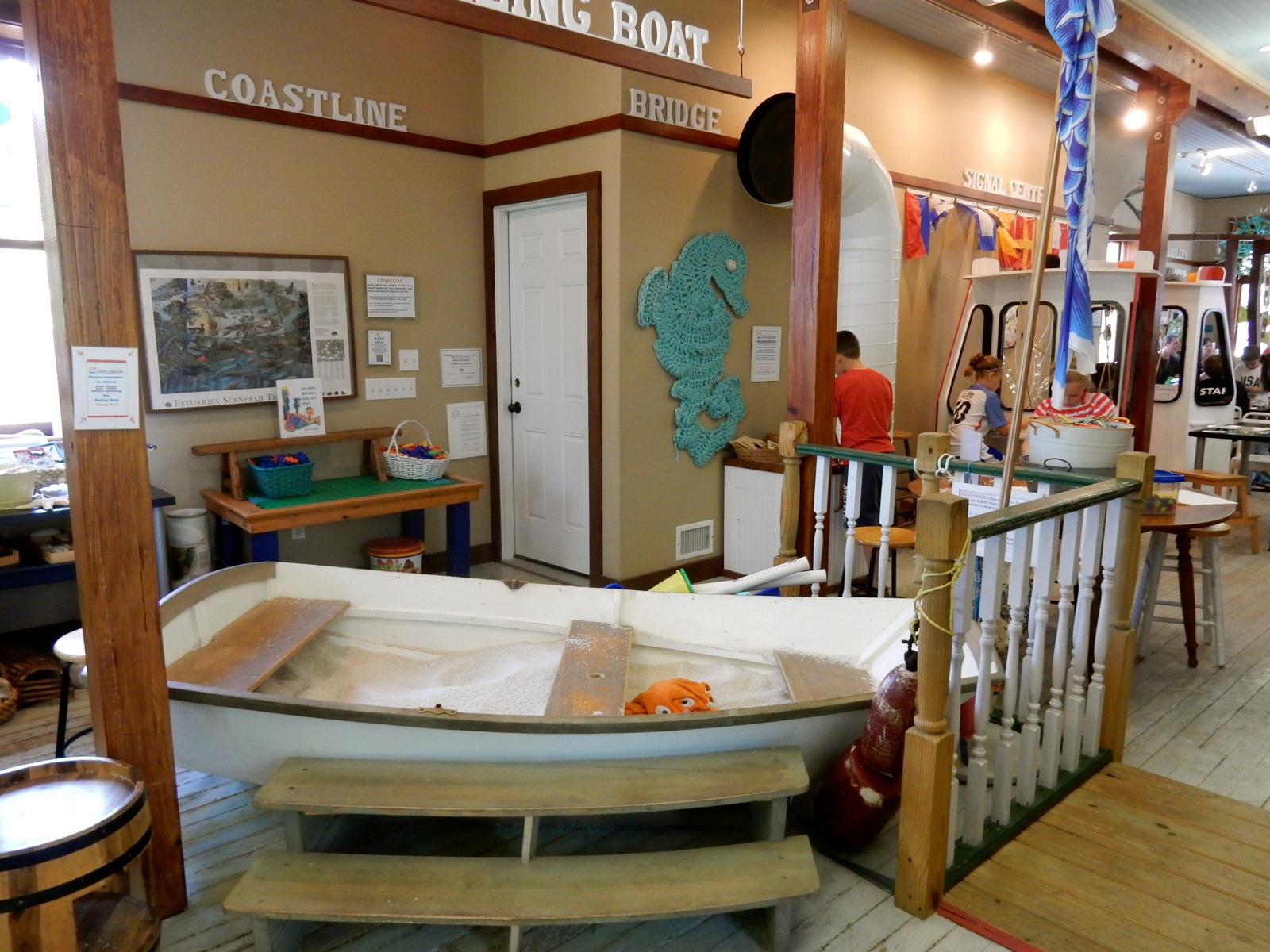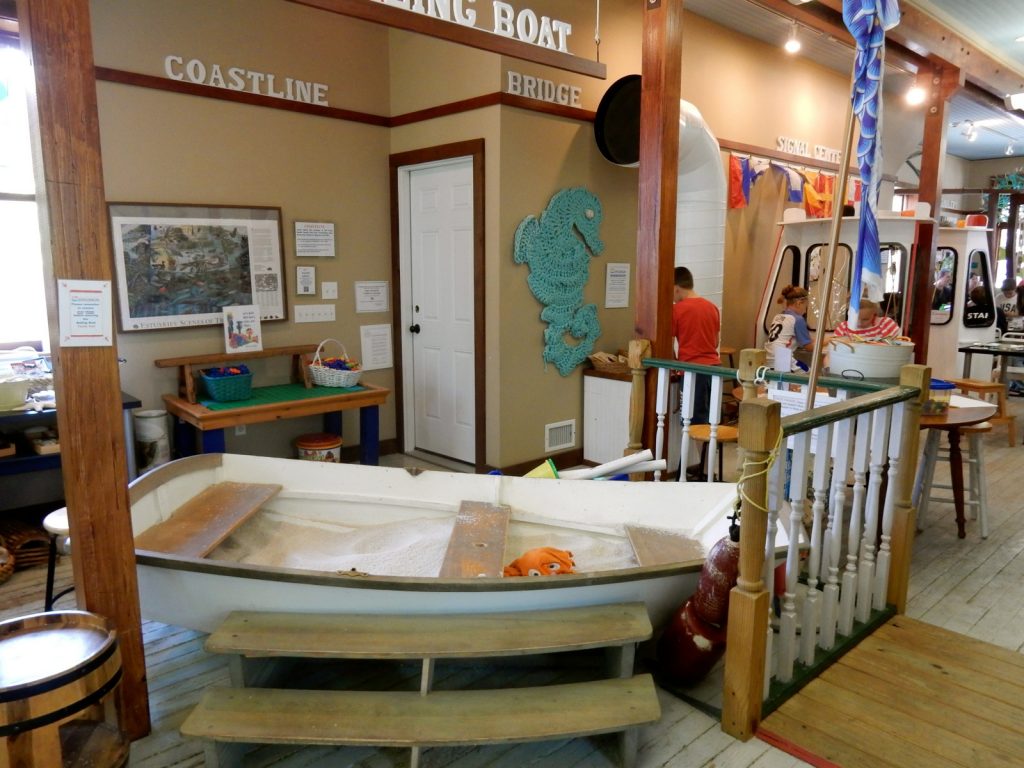 Upbeat staff at this small but engaging museum are on a mission to "get kids to fall in love with science and engineering at a young age." It is, according to all who enter, a mission accomplished.
Kids are at work, having fun while learning, in a space that includes a "Dory Sandbox" – a rowboat filled with 500 lbs of uncooked rice – plenty of interactive kiosks, and craft supplies galore. Ever changing hands-on investigations are based on "next-generation science standards," and appeal to both adults and their charges. Open end of June – August Wed-Sun 1-5, rest of year, Sat/Sun 1-5, $5.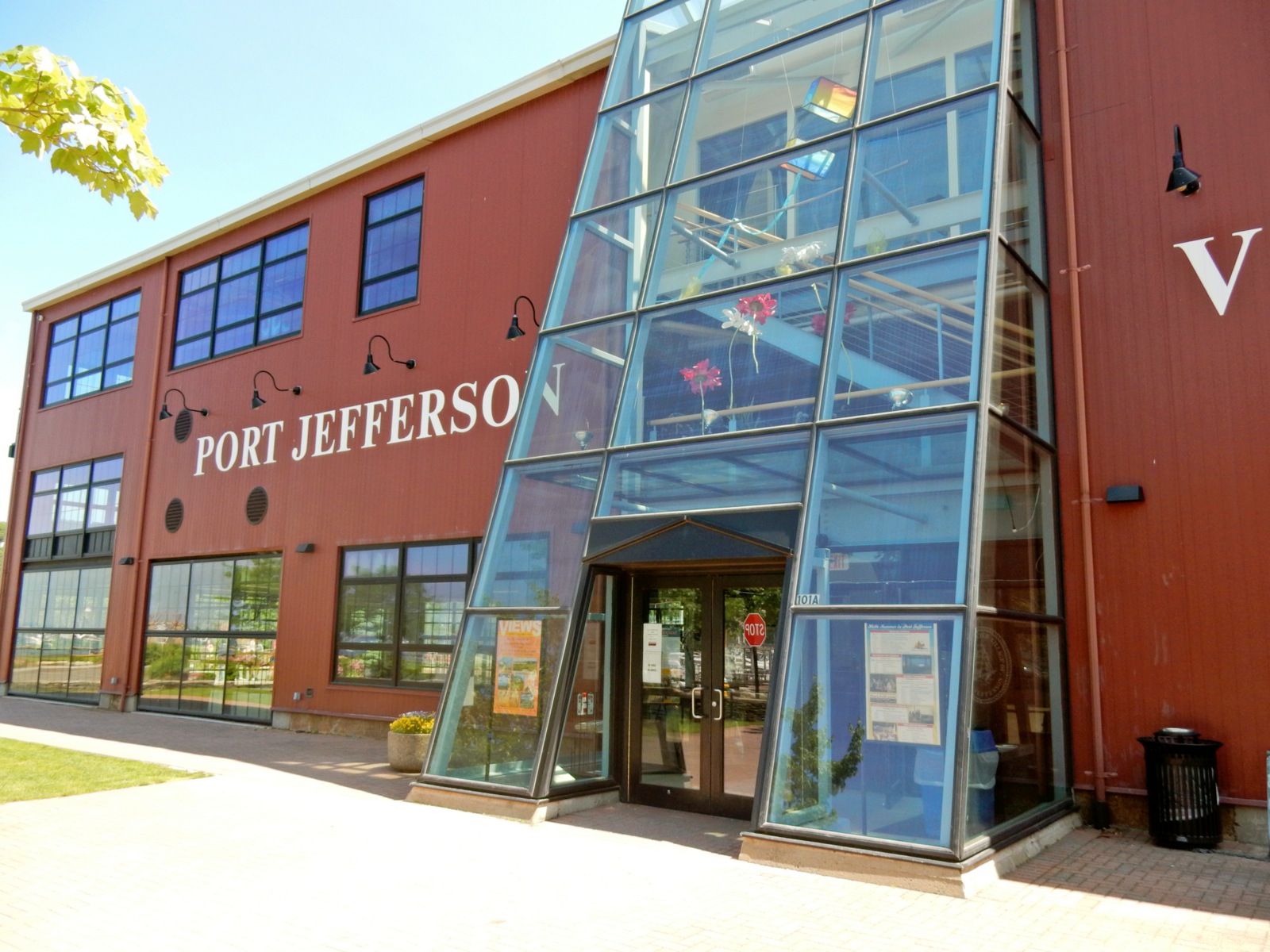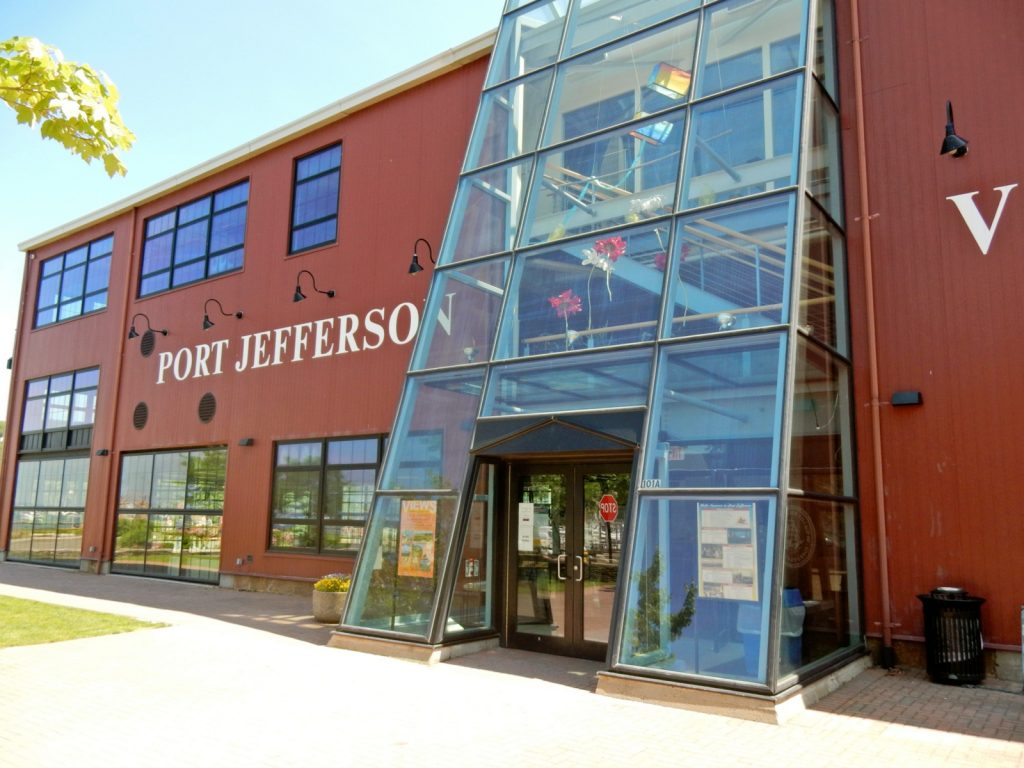 A rec center in summer, and skating rink in the winter, this large red renovated 1917 warehouse also displays the work of local artists, in exhibits that change every few months, on the 2nd floor.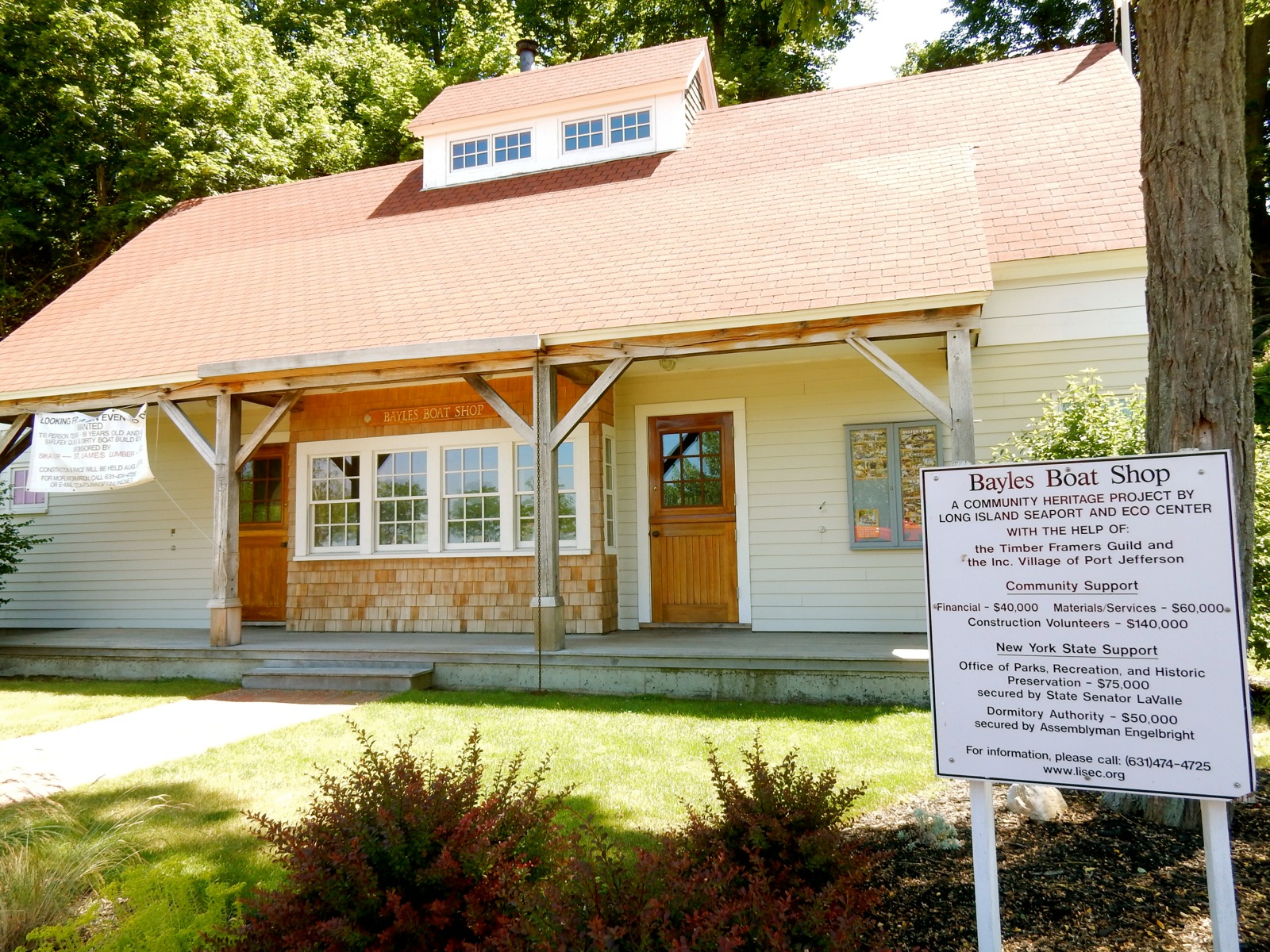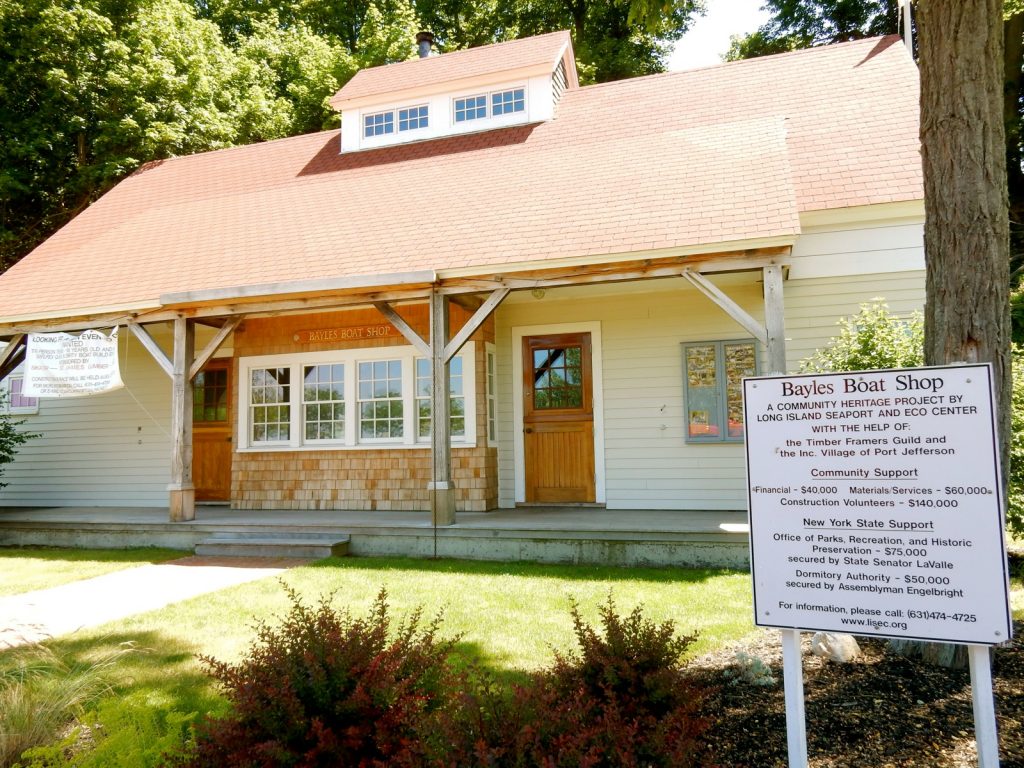 See volunteers working on wooden boats – harking back to Port Jefferson's heritage as a shipbuilding center – located in Harborfront Park. Open Tues, Thurs. Sat. 9-noon and Tues evenings 7-9pm.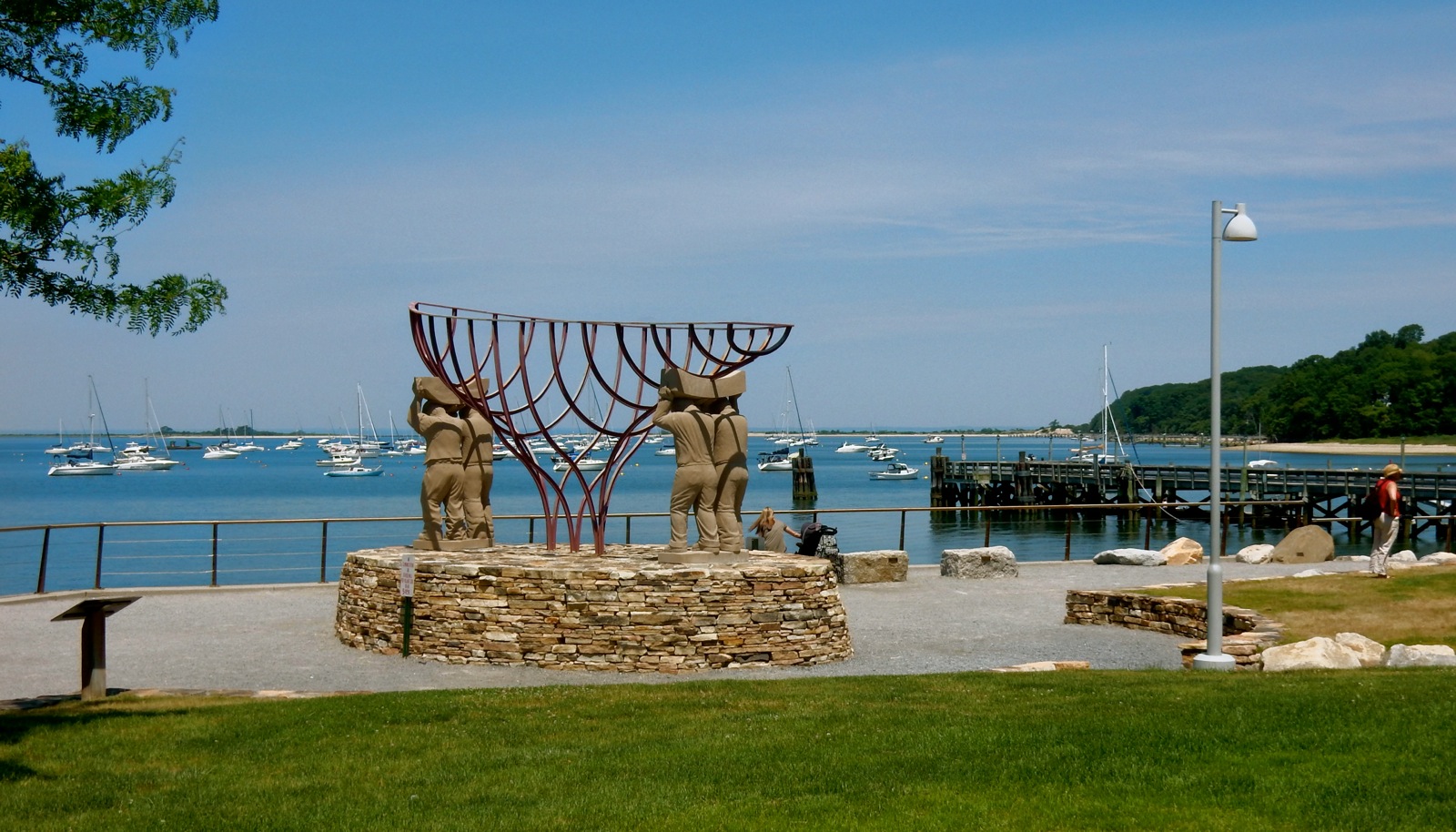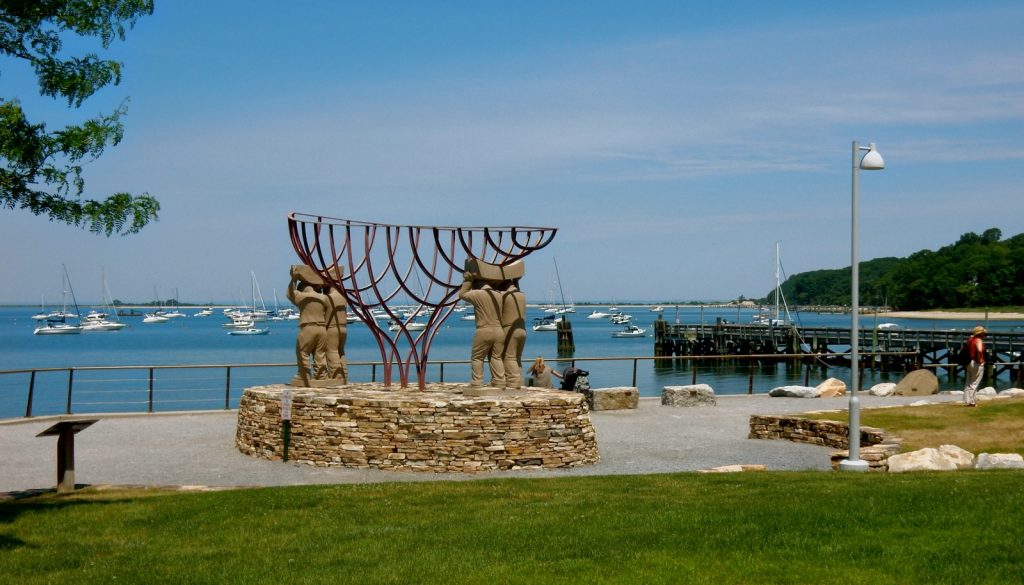 STROLL: Harborfront Park
This gift to Port Jefferson NY draws all ages with lovely landscaping, statues, a promenade, and fishing (sometimes swimming) pier.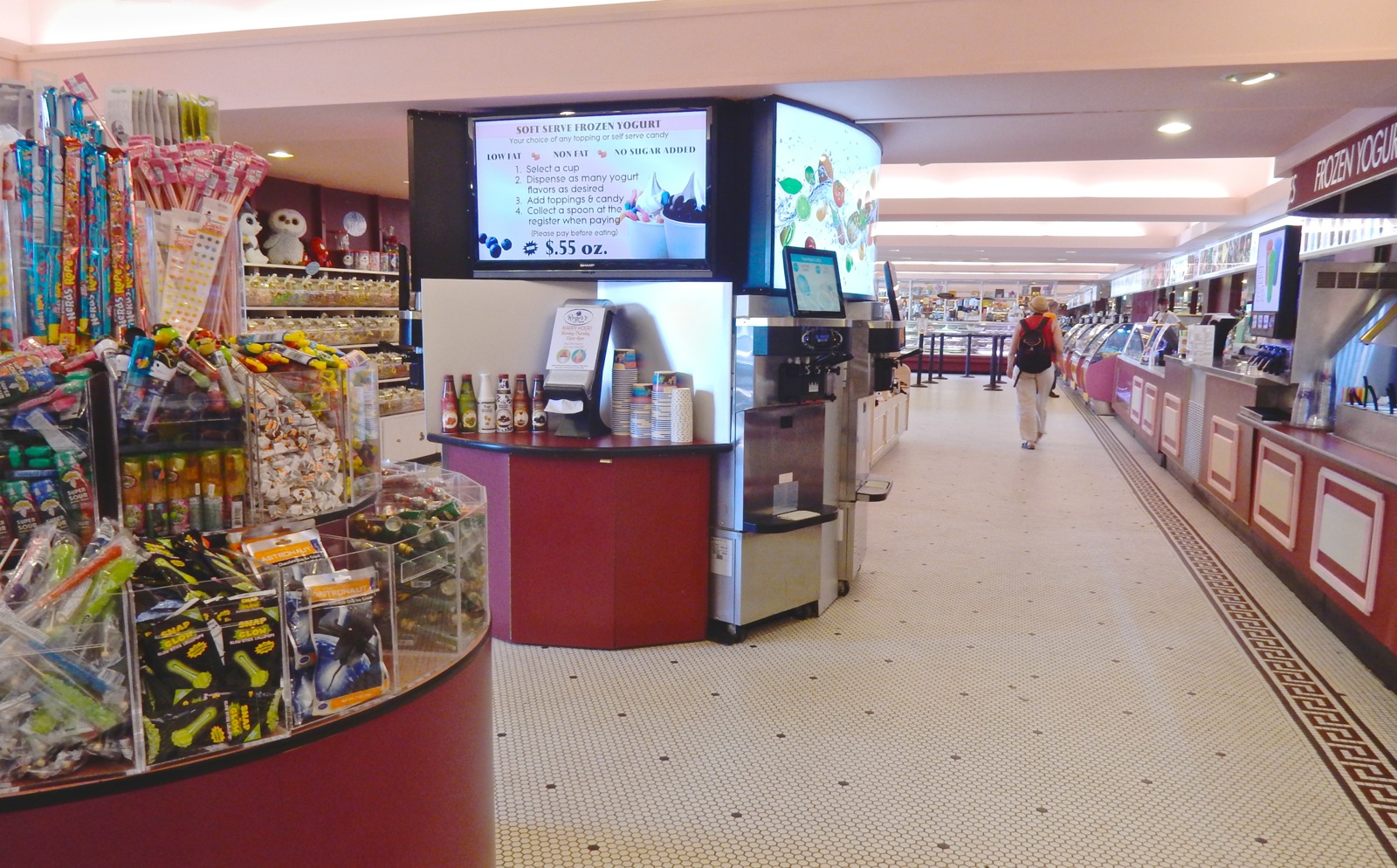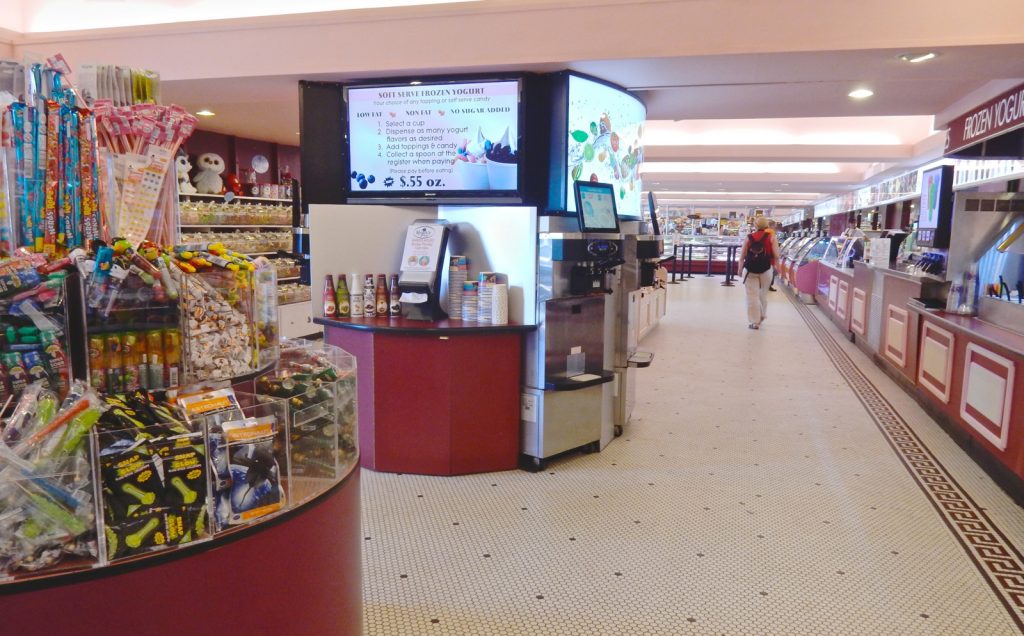 Who knows why this block-long candy/ice-cream/gelato/fudge/dog cookie mega shop, that looks like something out of the mind of Willy Wonka, is named after a warship. But really, who cares once you've been tempted inside. There's. Just. So. Much. Sugary stuff to choose from.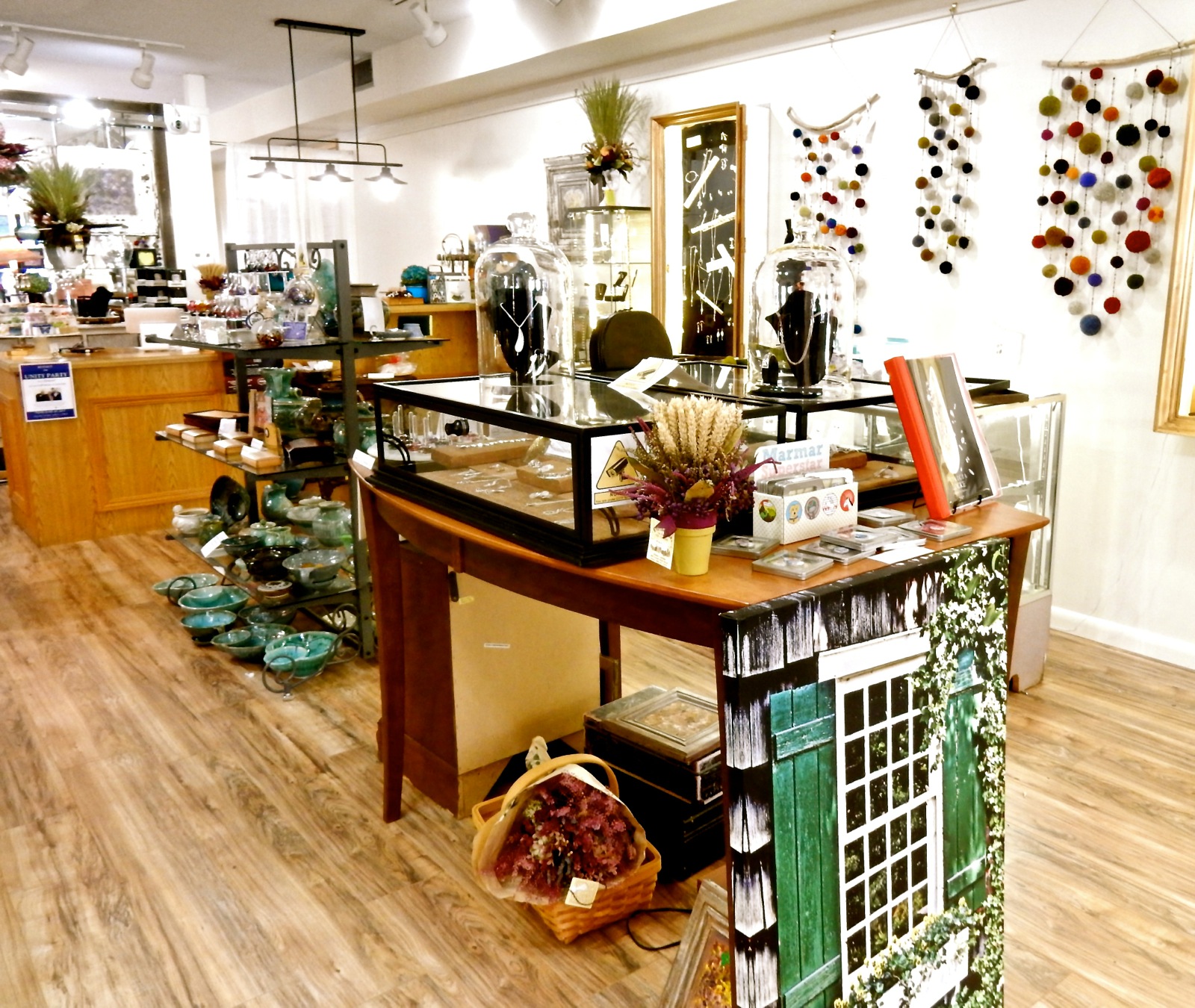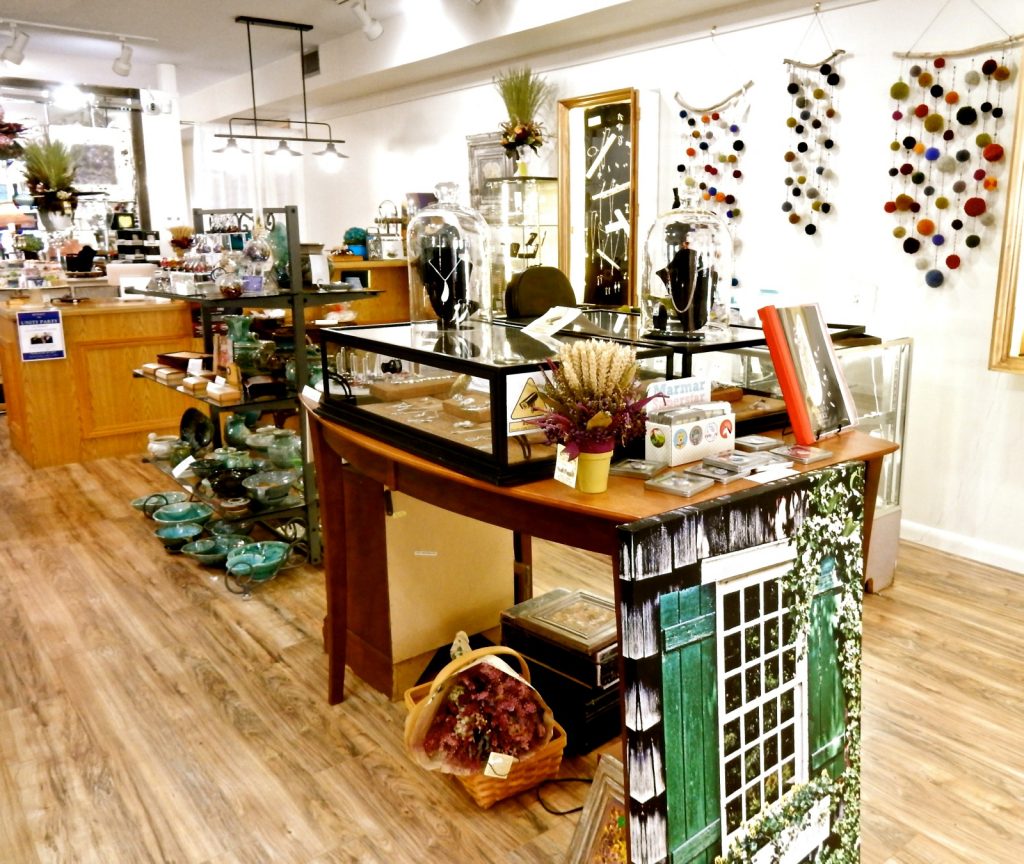 Though a bit farther than a block from the ferry, this hand-crafted jewelry and home-goods shop is worth the extra few steps to find. Rodgers, a jewelry designer herself, meets other creatives at craft shows and invites them to sell their wares in her shop. She represents some of the best from all over the country.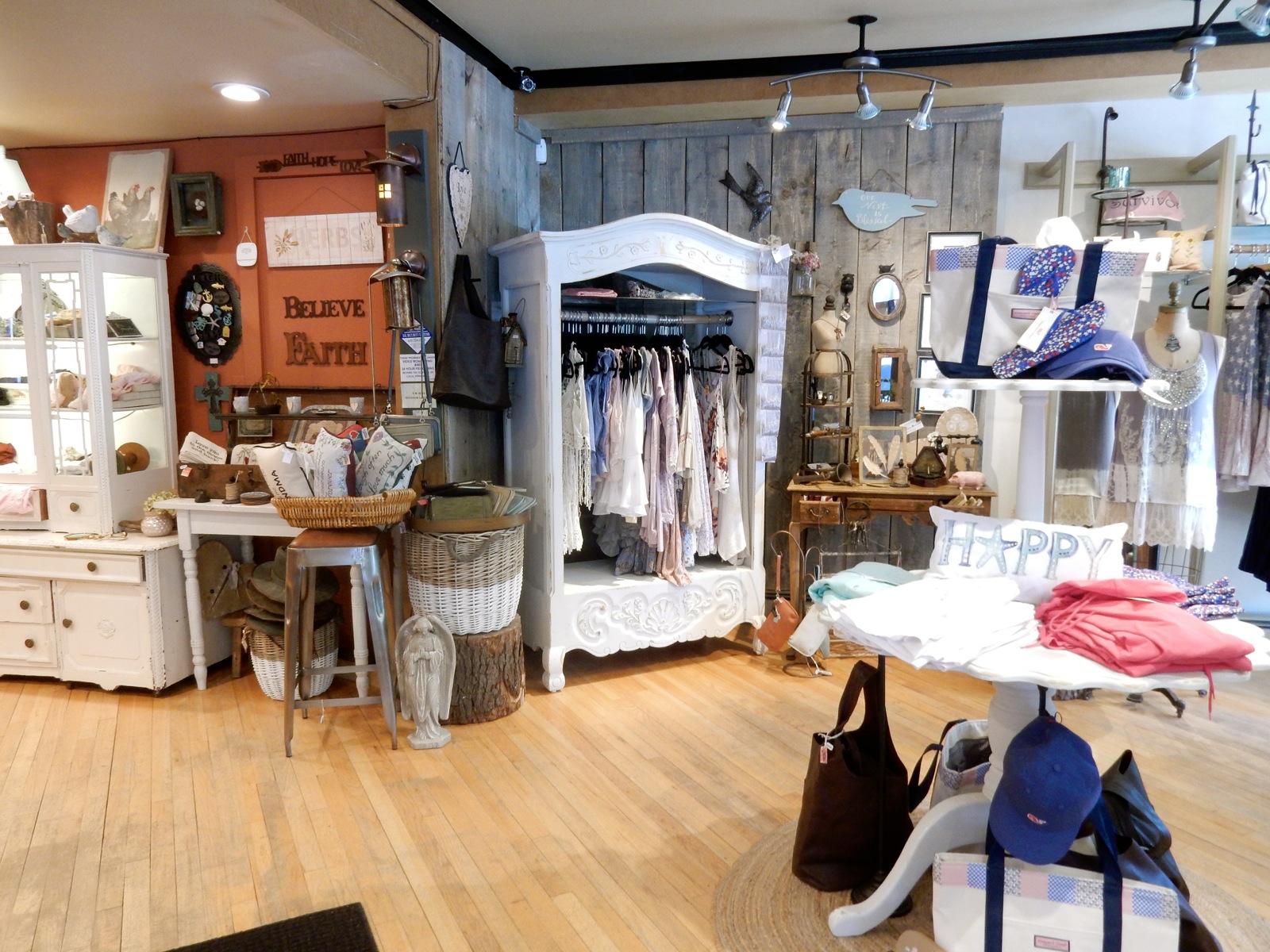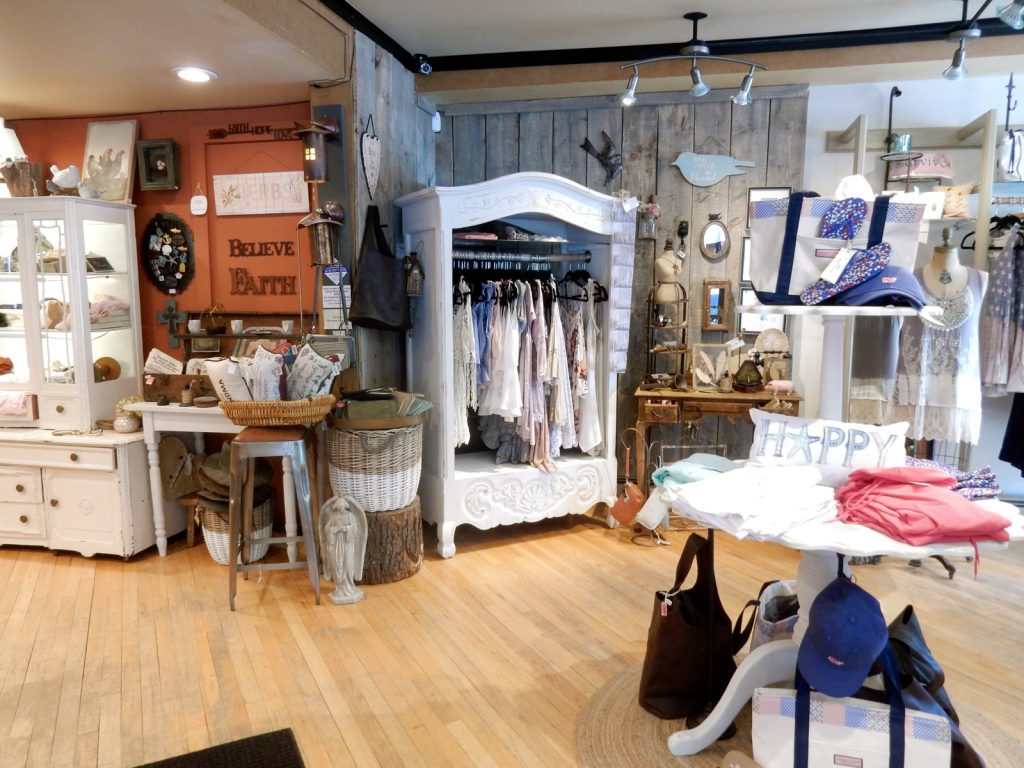 There's more than earrings at this cute women's boutique – a gift and accessories shop worth browsing.
Restaurants in Port Jefferson NY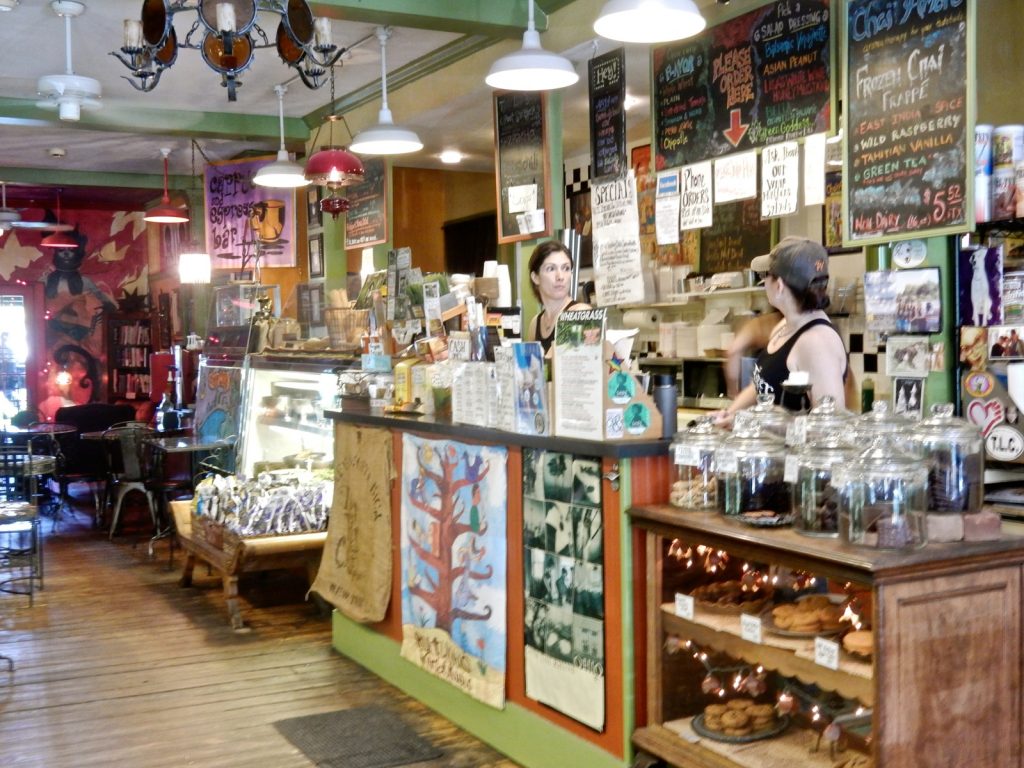 This eclectic, hippy, head-shop-meets-sandwich-shop has been a town favorite for nearly 20 years and going strong. You'll find fresh-squeezed custom-blended veggie-fruit concoctions at the Juice Bar, and mouthwatering sandwiches, salads, baked goods and chocolate as well. Vegetarians will find their bliss here. Peace out.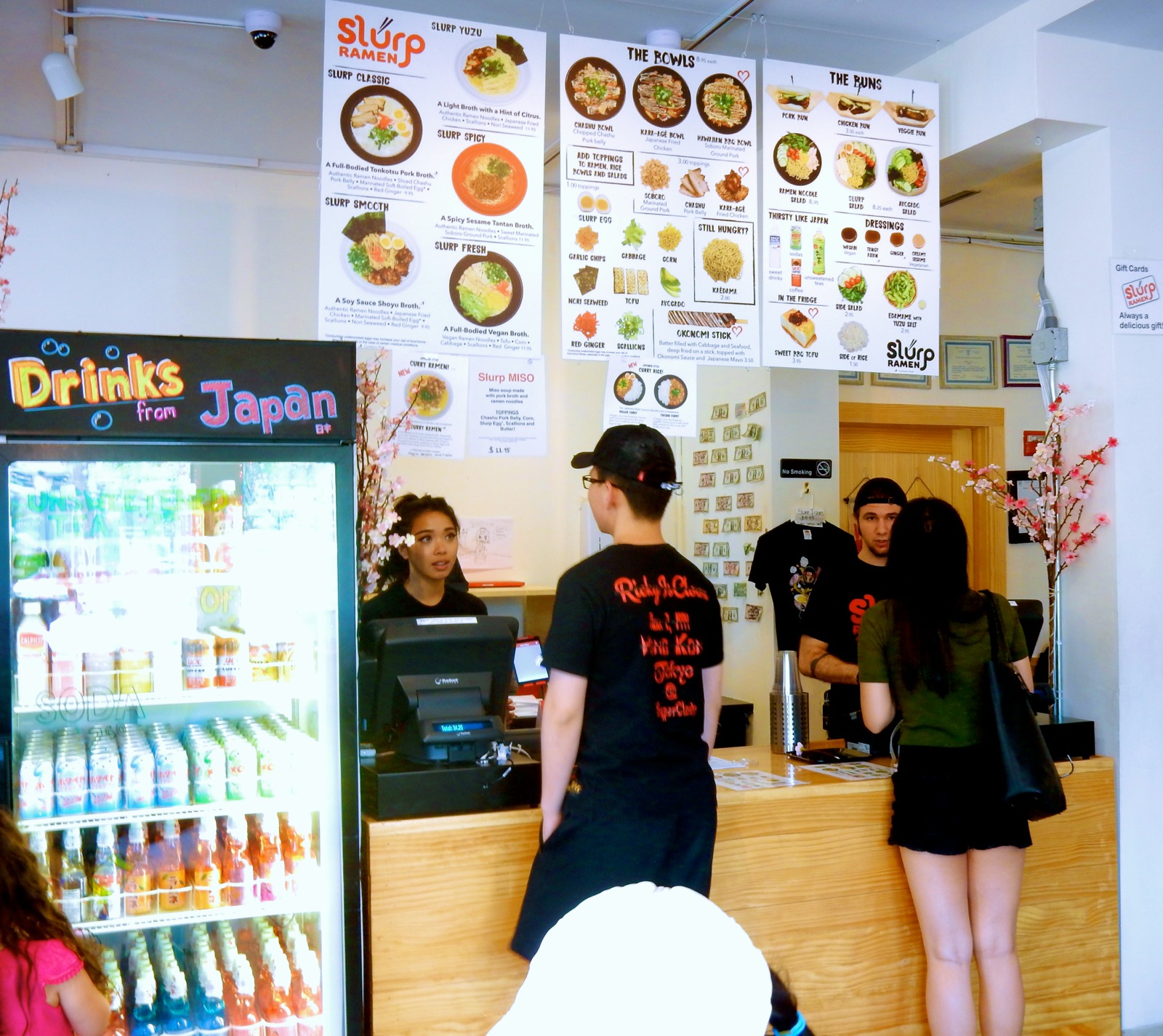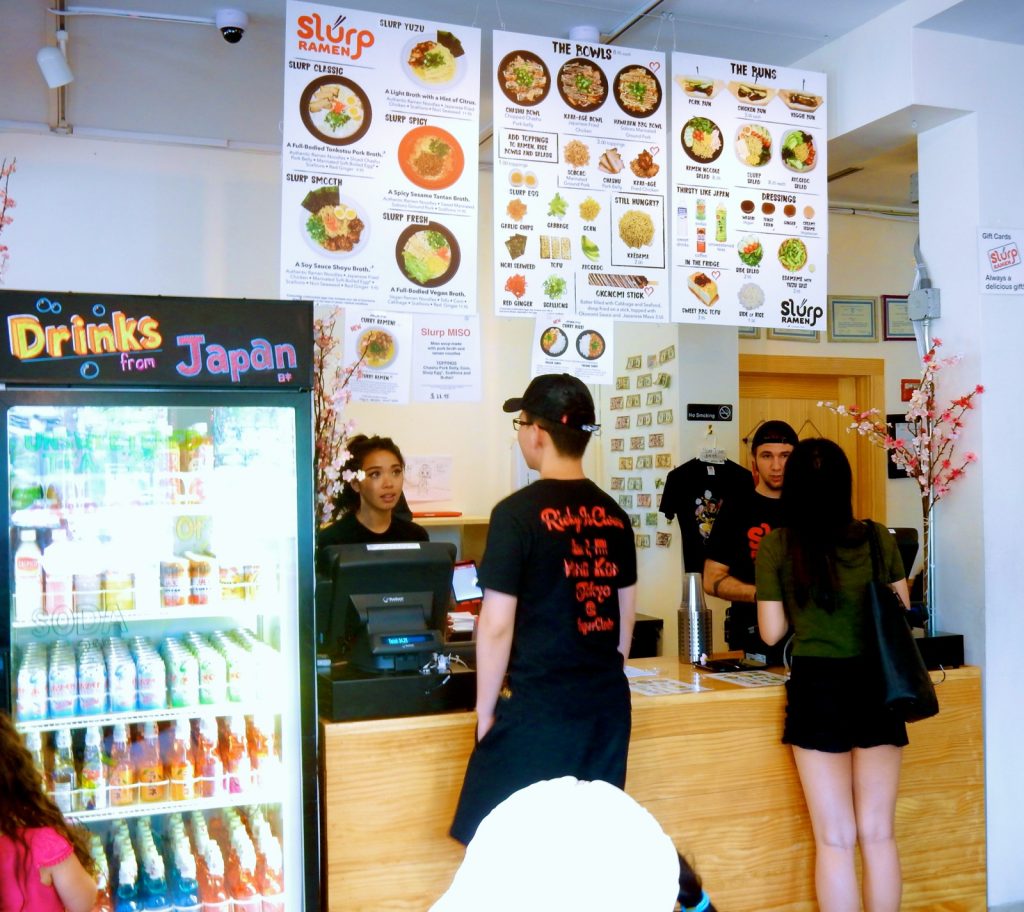 If you love ramen noodle shops, Slurp is your place. Every soup, bun, and bowl is delicious – and service is ultra fast. I'm partial to the Japanese Fried Chicken Bowl ($8.95), which is nothing like KFC, and everything that is perfect about bite-size umami-flavored nuggets.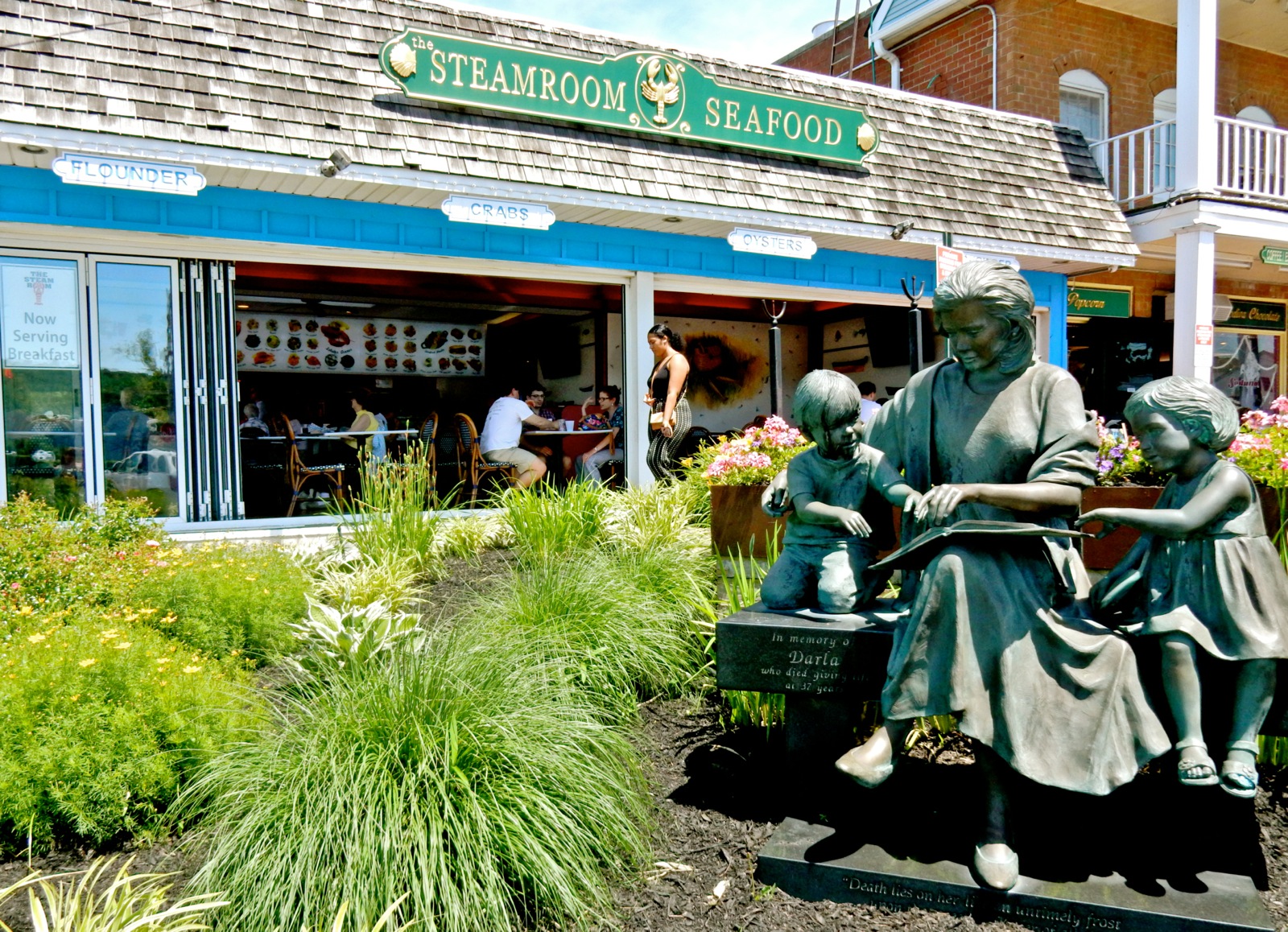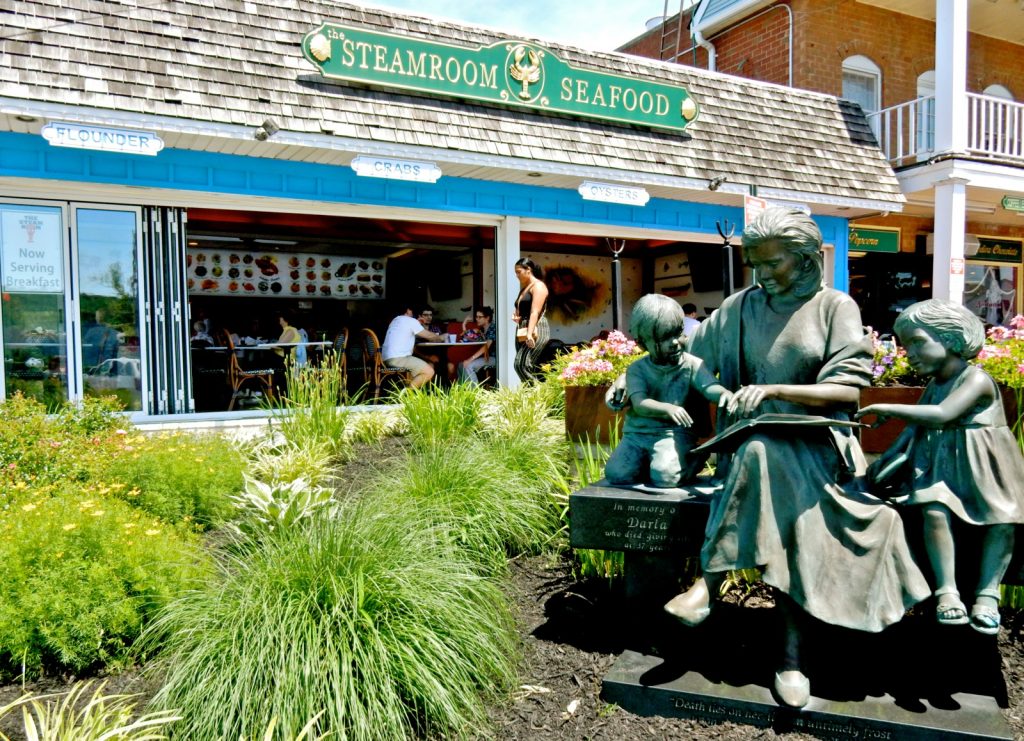 Right across from the ferry, this is where all in need of steamers, lobster rolls, and fried seafood eventually end up. It's not haute cuisine by any measure, but hits the spot if you're in the mood for a quick, reasonably priced tartar sauce enhanced meal or snack.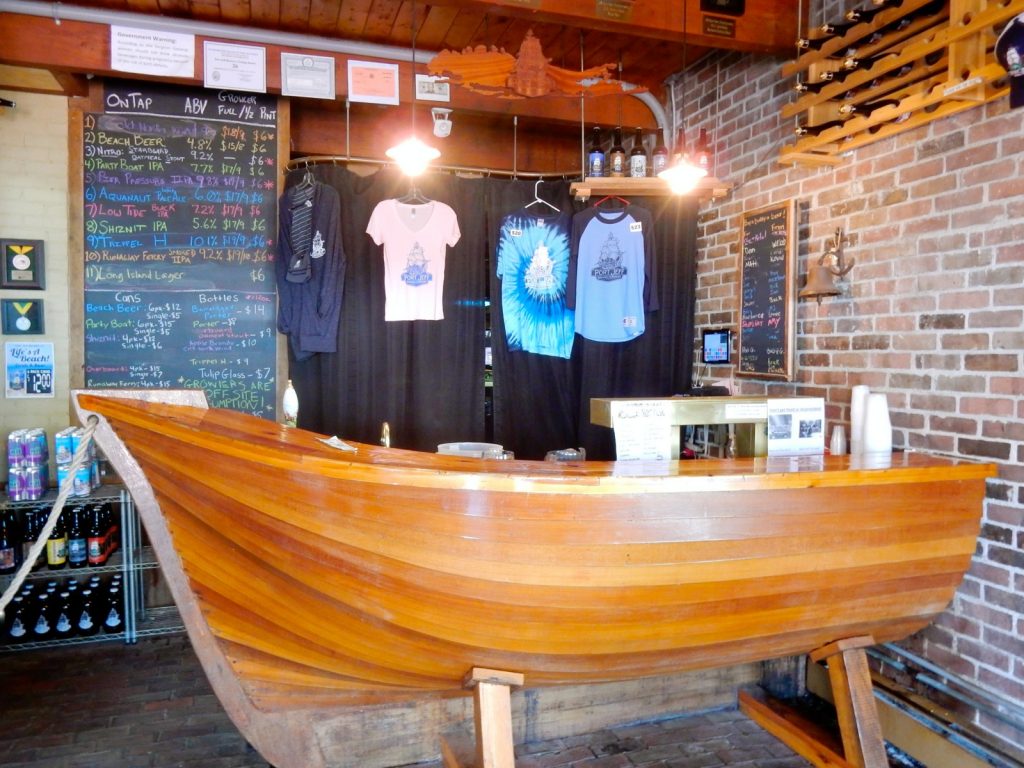 The bar in this tasting room is a burnished boat, which adds to this harbor-side micro-brewery's popularity. New brews come out often – with 11 generally on tap at a time. You can try all of these for $11, or stick with 5 for $5. Come on Wednesday nights from 7-9:30 for live music.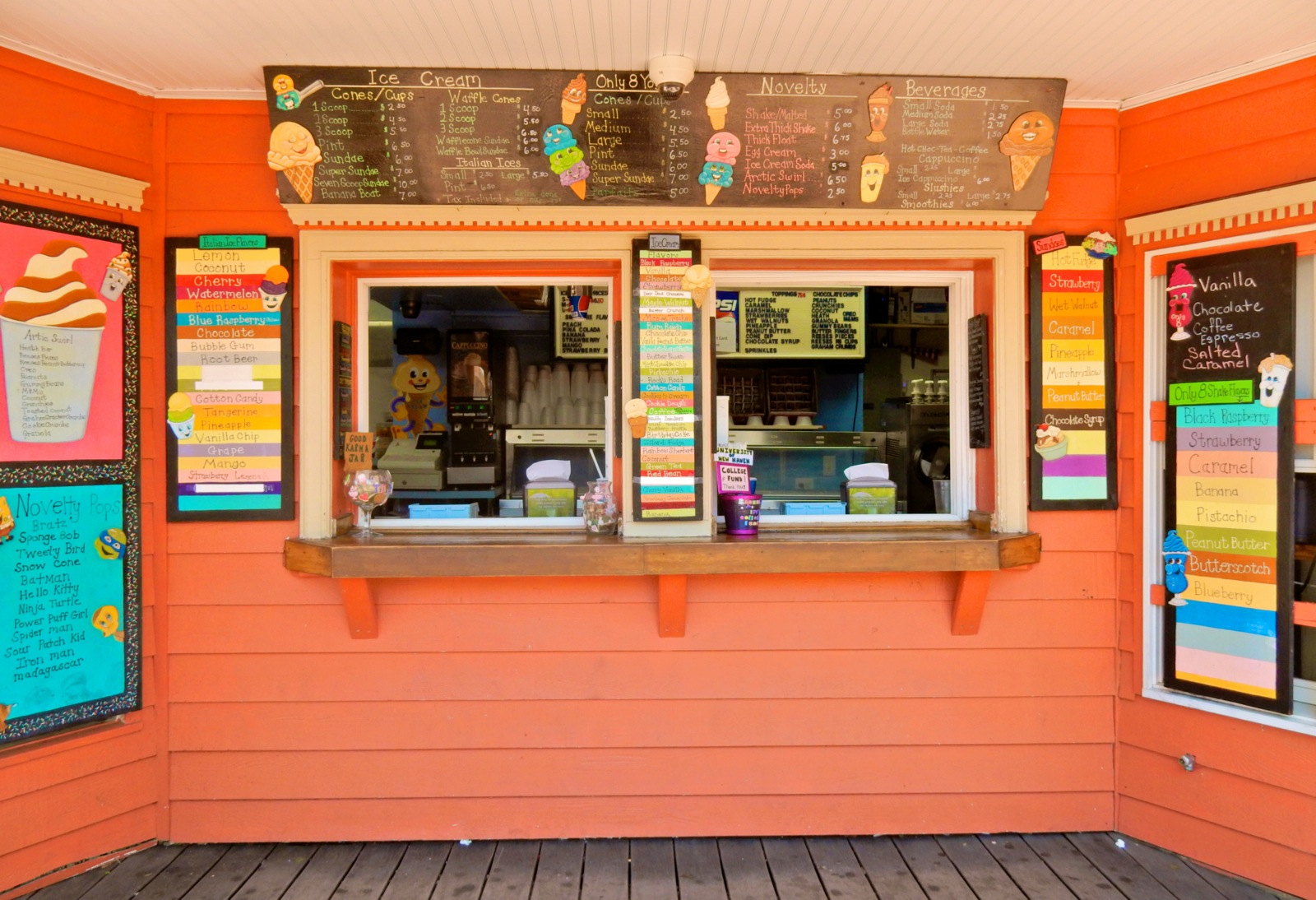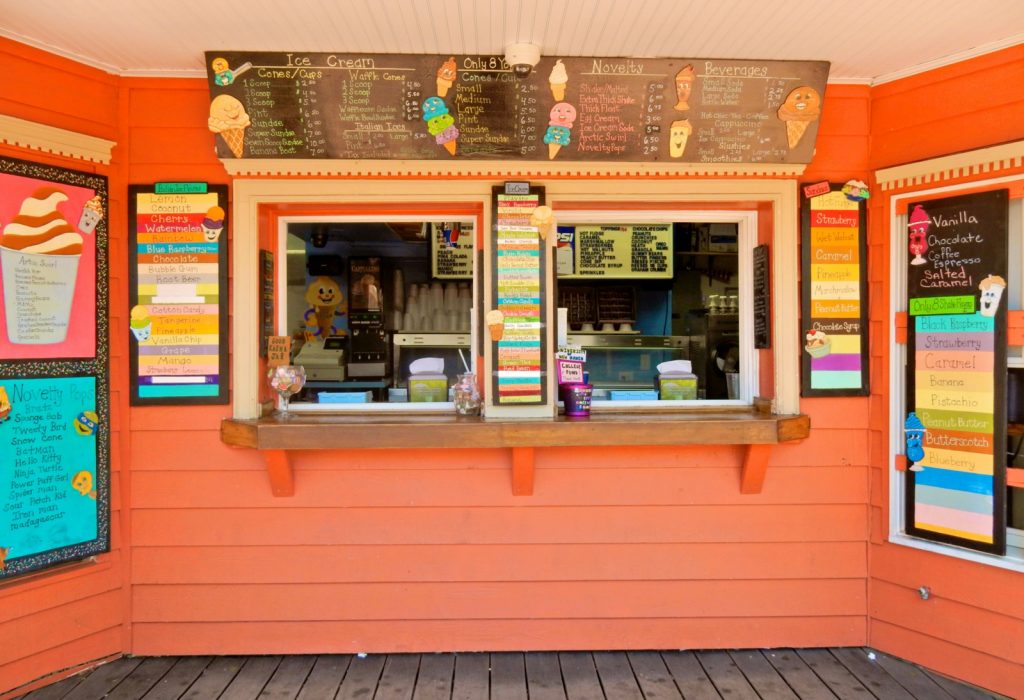 ICE CREAM: Choose From These
You can pretty much get ice-cream everywhere in Port Jeff – it's a ferry town that feels like a summer resort, after all. Most popular spots are Rogers Frigate (see in What to Do above), Ralph's Italian Ices, YoGo for the "alt-ice-cream" fan, and heading the list, Chandler's Square Ice cream, with dozens of flavors you order from a colorful outdoor counter.
EAT: Locals Also Love
"Romantic dining in an intimate setting" at Pasta Pasta. Prohibition Port Jefferson for innovative pub food and locally sourced wine and beer, and Nantuckets for Lobster Bloody Mary and other cool cocktails.
Where to Stay in Port Jefferson NY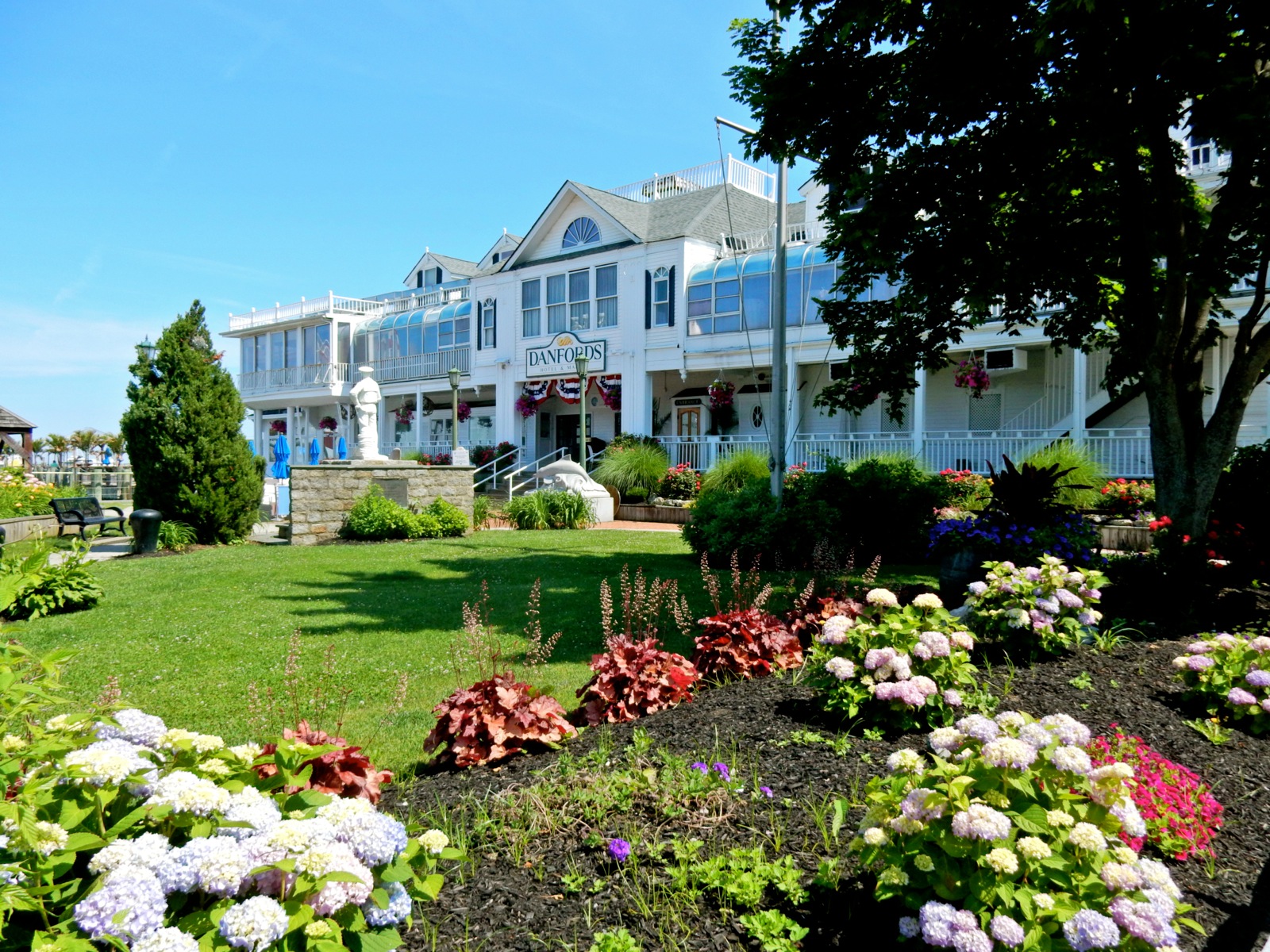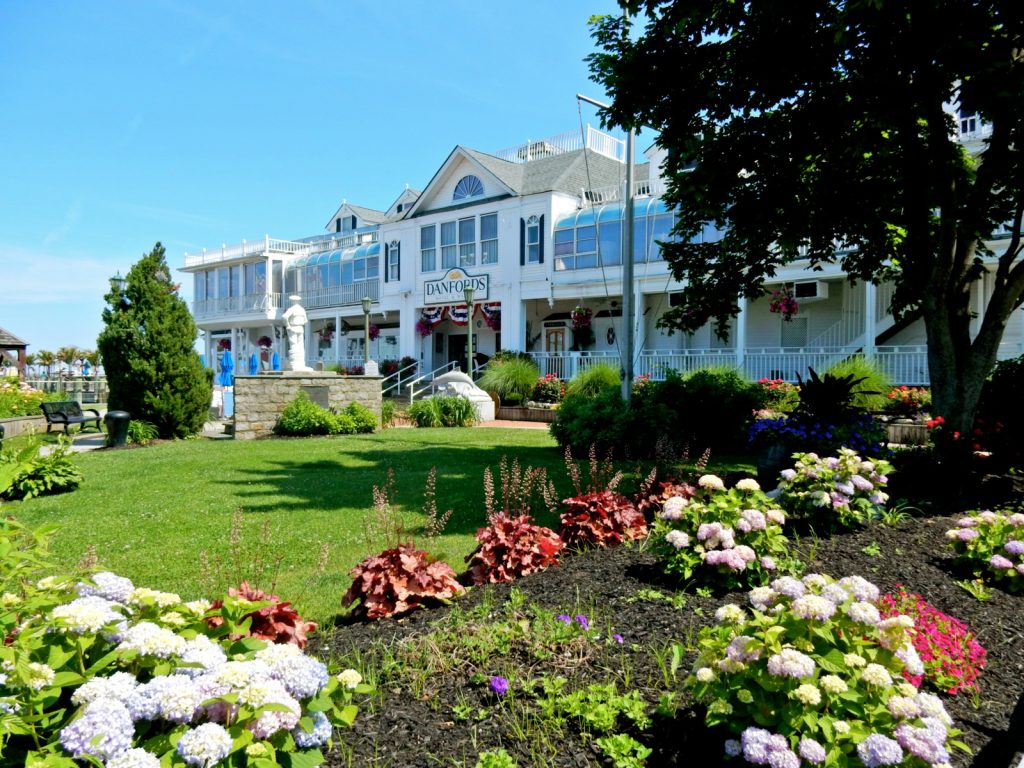 STAY: Danford's Hotel and Marina
This is really the only game in town. A sprawling complex of buildings right on the harbor, at its back door a series of slips to accommodate boats up to 240 feet long. Danford's motel-like rooms are serviceable, having last been updated around 10 years ago. Rooms start at $159 off season and go up significantly in the summer season.