Last Updated on March 19, 2020 by Editor
The NU Hotel is a comfy, upscale small hotel located in downtown Brooklyn within walking distance of four great Brooklyn neighborhoods, including Cobble Hill, Boerum Hill, Park Slope, and Prospect Heights. It's a ten minute walk to the Brooklyn Bridge, and a mile from Barclay's Center.
The NU Hotel is playful enough to attract hipster tourists, but sufficiently sensible for a growing number of business travelers and parental units as well.
Lodging options are rolling out in Brooklyn at a frenzied pace, serving a growing number of business and leisure travelers who prefer distinct neighborhood flair to a cookie-cutter anyplace experience. So, away with waves-crashing-on-rocks hotel art, and hello to local muralists.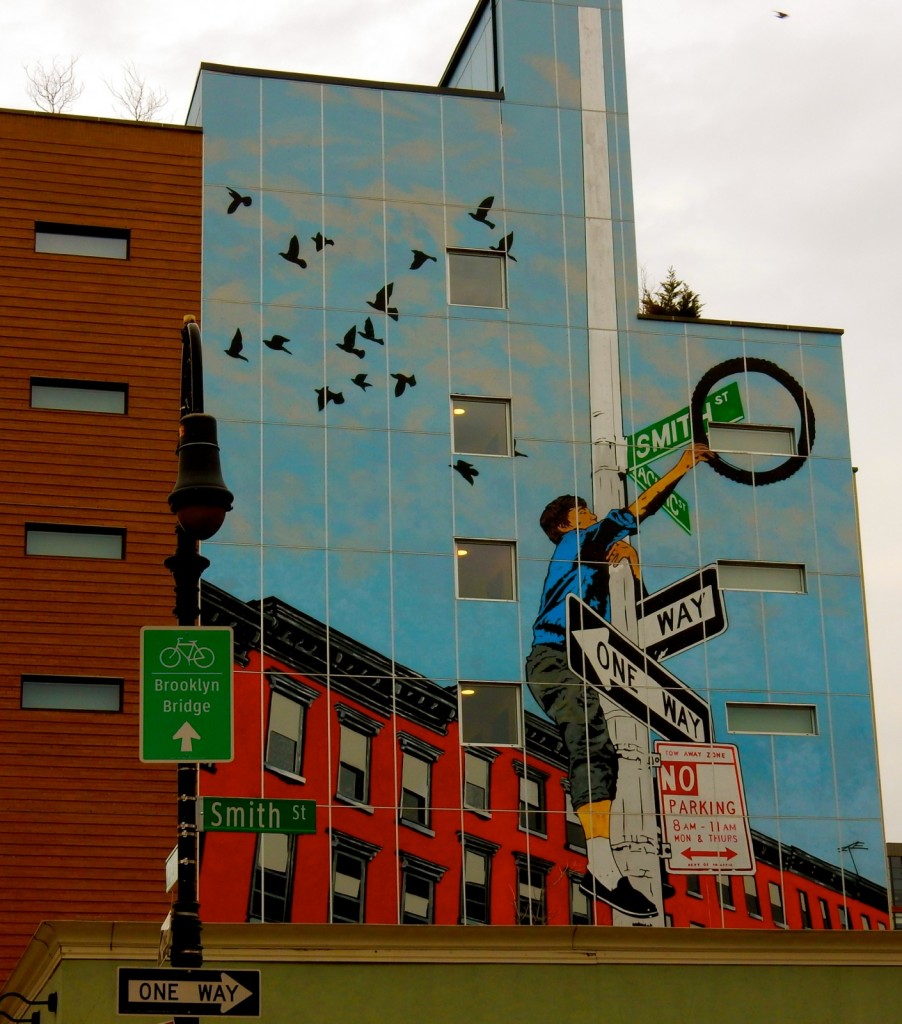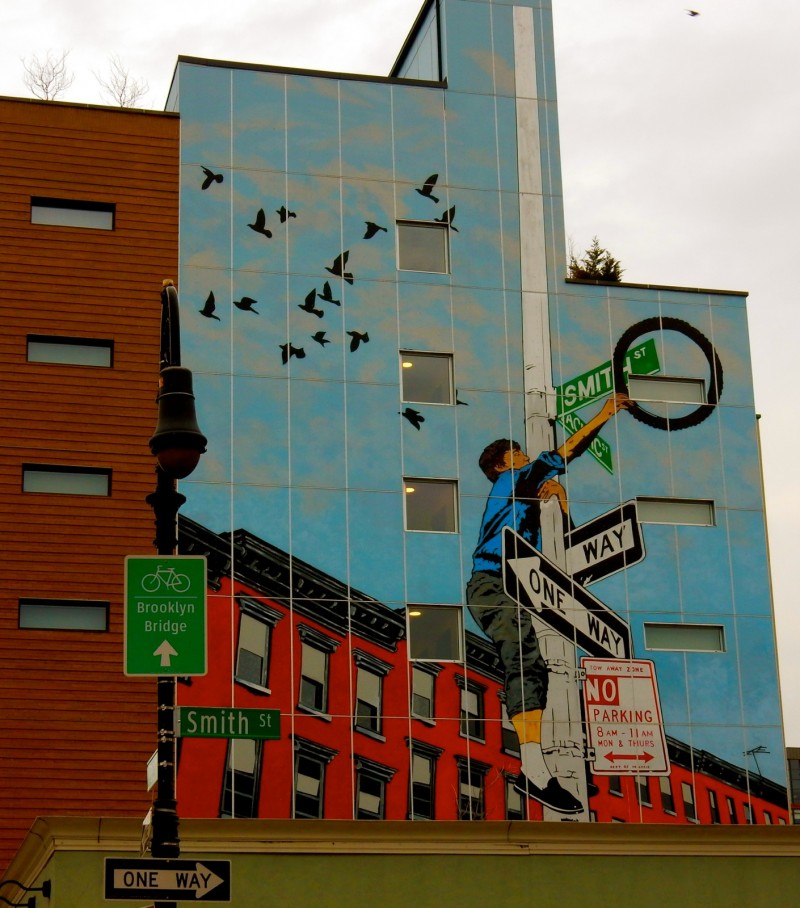 Local boutique hotels are distinguishing themselves by inviting Brooklyn artists to use guest room walls as canvas and public areas as art galleries. The NU Hotel was one of the first to do so.
And now, NU is pet-friendly as well. Four legged friends under 50 lbs are invited to stay for a one-time cleaning fee of $100.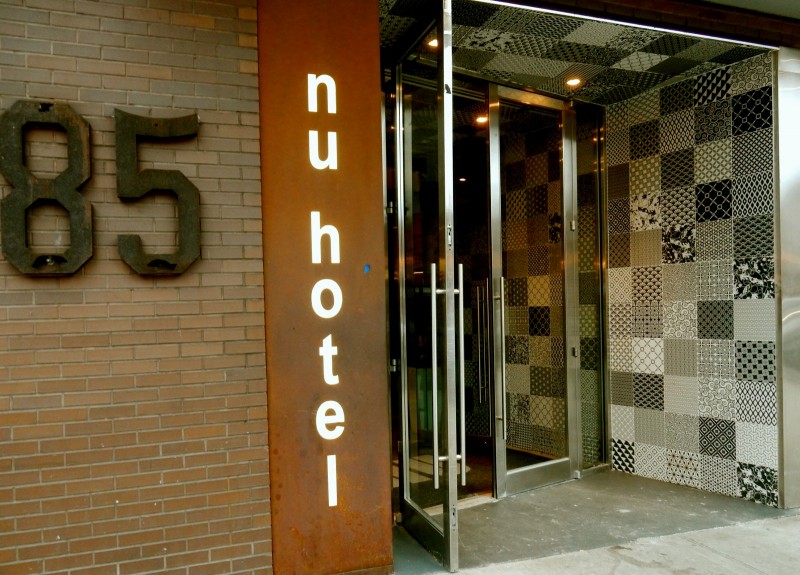 NU Hotel is smack in the middle of the action on funky, restaurant-packed Smith St. – just steps from the vegan restaurant, Wild Ginger and another block to the reasonably priced and very good Kyoto Sushi and other fantastic dining and shopping spots. The public parking garage next door to the hotel is a most convenient and rare amenity in the car park desert of Brooklyn ($30 per night).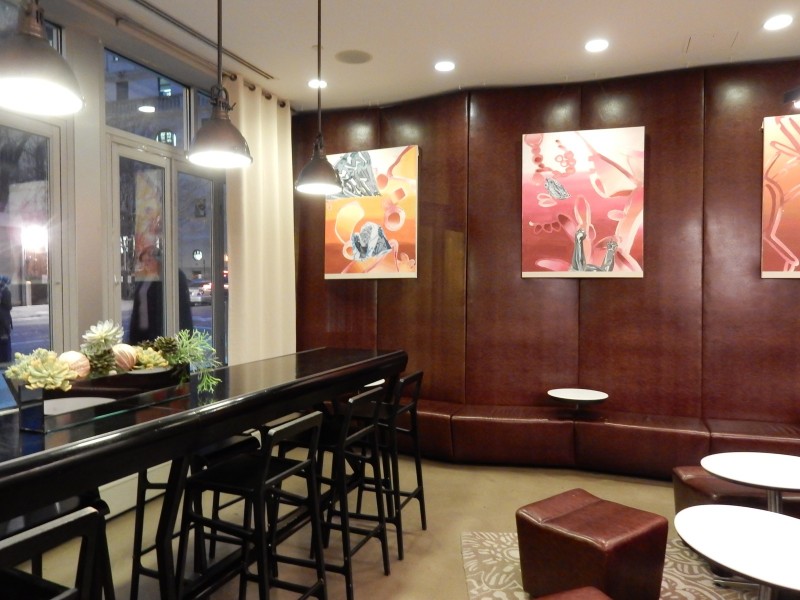 The small lobby serves a three-fold function. The space is a vibrant mélange of plush banquettes, modern paintings (by Natalie Lomeli), a large communal table, and two-person reception desk.
This is where you check in in the afternoon. In the morning, grab a continental breakfast. At night, however, NU's lobby becomes NU Bar & Marketplace – very popular with guests who don't want to leave the premises.
Rooms at NU Hotel
To get the most artsy stay here, book one of the larger NU Perspective rooms – a series of guest rooms beautified by muralists and painters.
One of these, the sizable Room 303, features espresso hued hardwood floors, industrial desk with ergonomic rolling chair, large floor to ceiling mirrored sliding closet door, and cloud like king bed. Artist Steven Weinberg's black and white renderings of Brooklyn streets blanket the walls.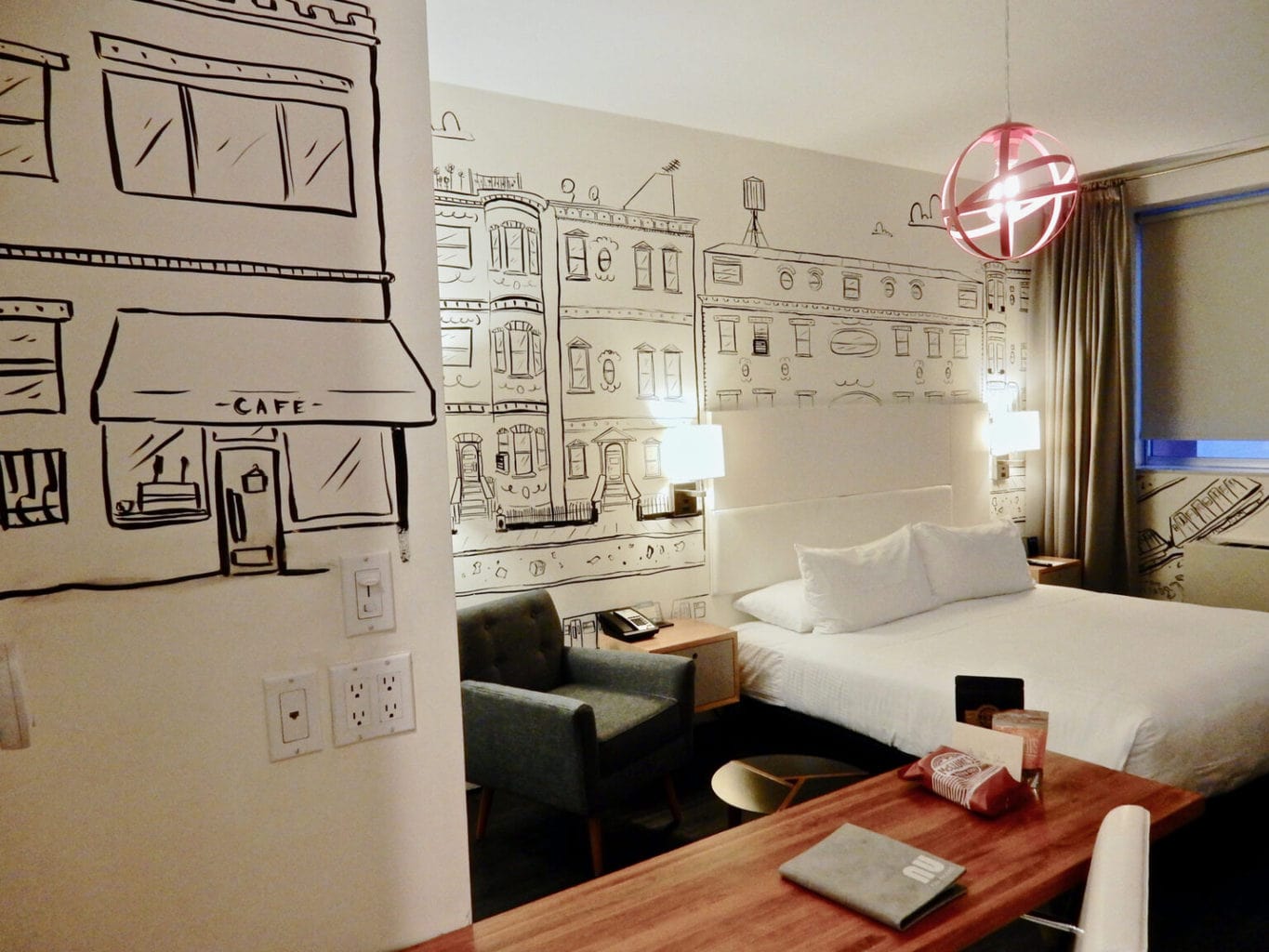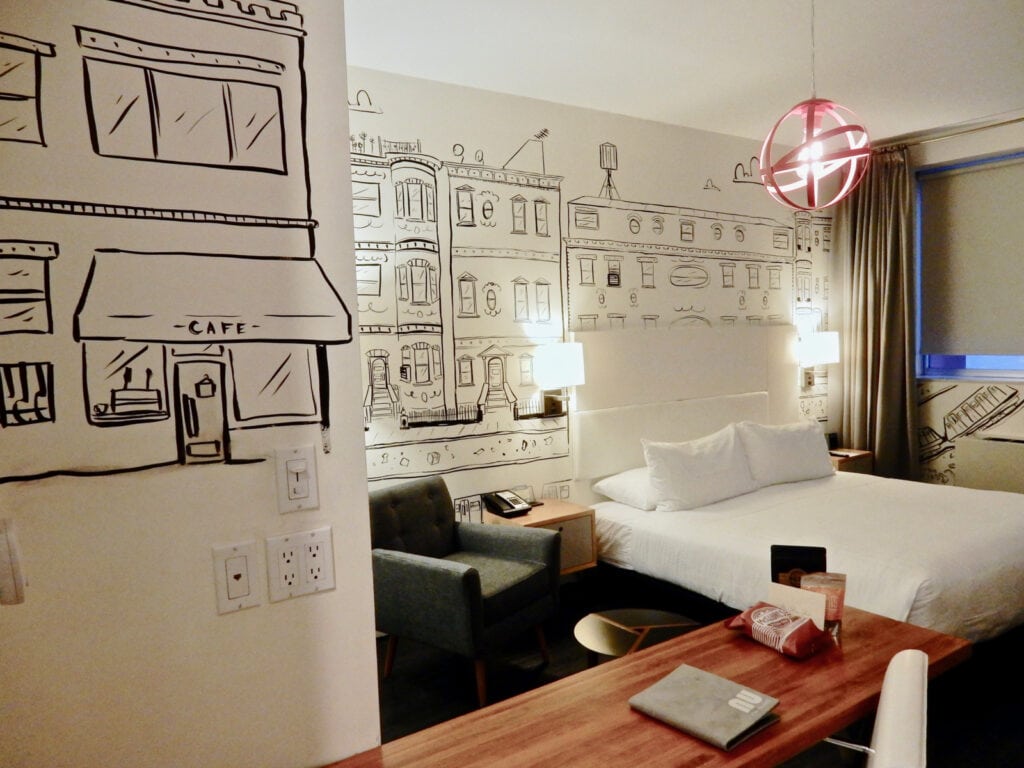 One of the bathroom walls is actually a chalkboard. This allows guests to draw out his or her own artistic muse (chalk provided). The glass and tile shower in the bath is bright and cheerful, with shampoo, hair moisturizer and bath gel in easy to use dispensers.
And that enticing Harry's Shave Kit above the sink? Looks very cool, but just be aware that it's not complementary. Tt will cost you $15 to take home. Given that this is Brooklyn, where trimmed beards on locals are de rigeur, the Shave Kit is actually a great souvenir.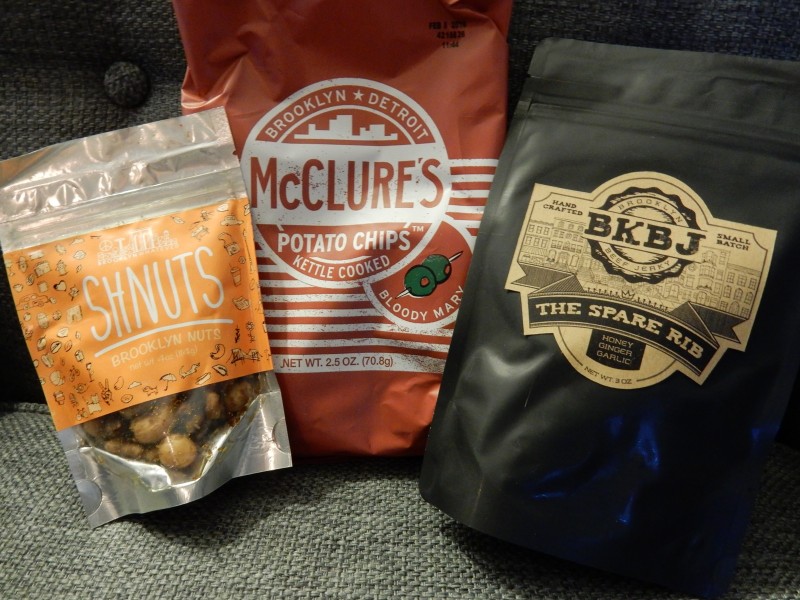 There's an in-room "honor bar." This consists of goodies like miniature bottles of gin and vodka, half-bottles of wine, chocolate, nuts and other snacks set up on a modern chest of drawers. Cold cans of soda are $2, larger bottles of EarthView Water are $4, with $1 going to help fund water projects around the world.
Food at NU Hotel Brooklyn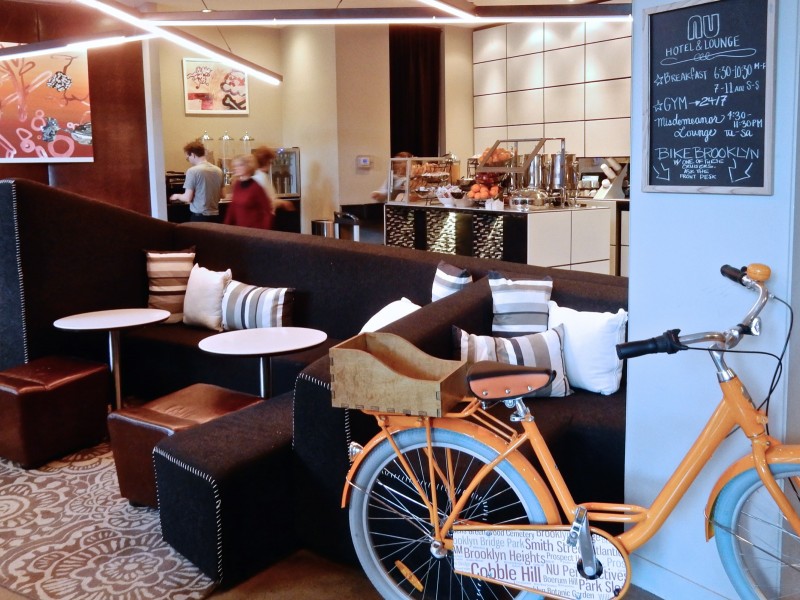 A cold Continental breakfast is served in NU Bar and Marketplace, aka the lobby, every morning at 6am. (Yes, it's another nod to the business traveler). Offerings include fresh bagels, hard boiled eggs, toast, cereals, fresh fruit, and fresh-roasted, La Colombe Coffee. Complimentary water is available 24/7.
Though there is no in-house restaurant, the NU Bar & Marketplace opens in the lobby daily from 4:00pm-11pm. A master mixologist is at the ready to concoct your favorite (plus signature) cocktails.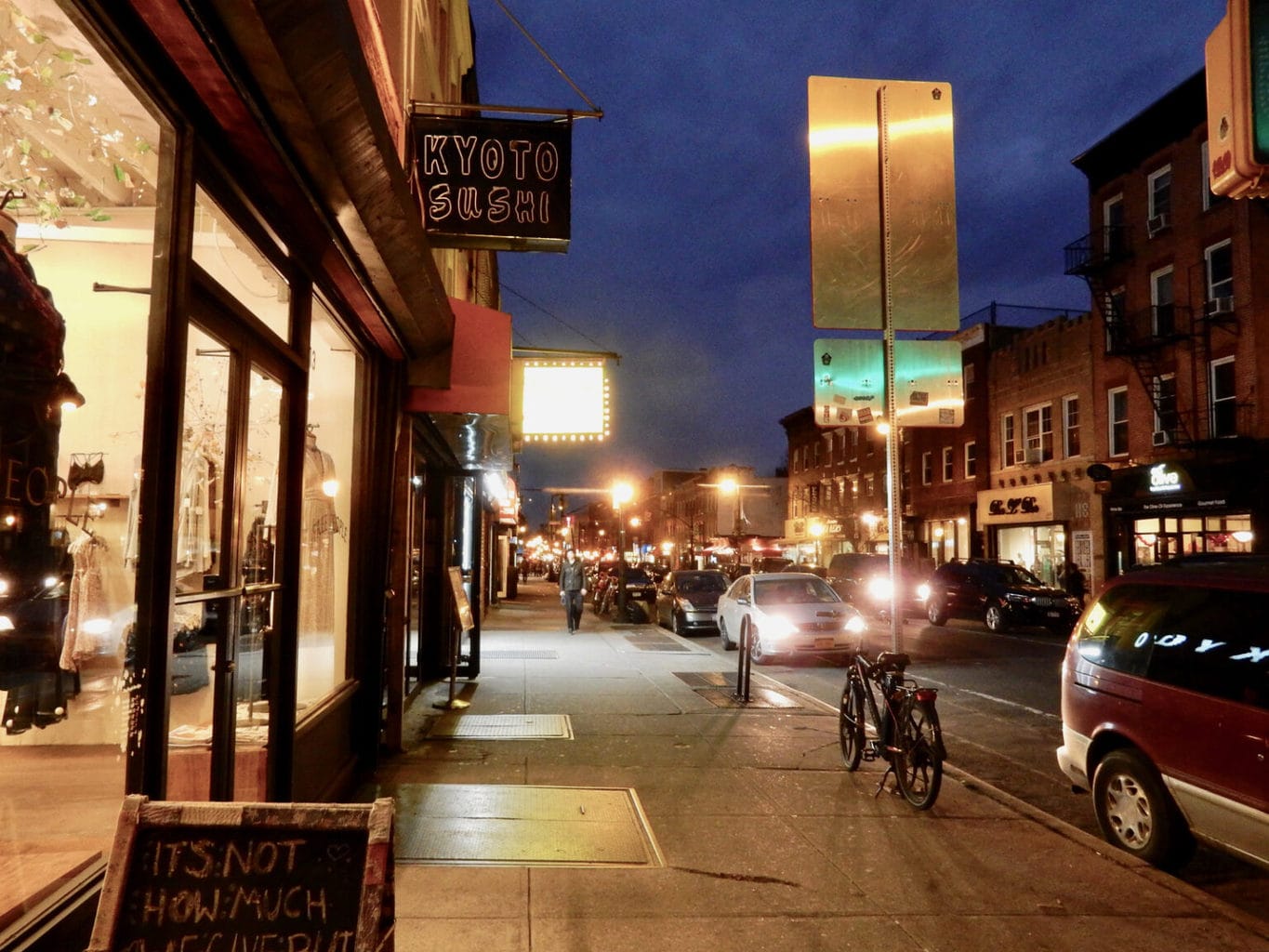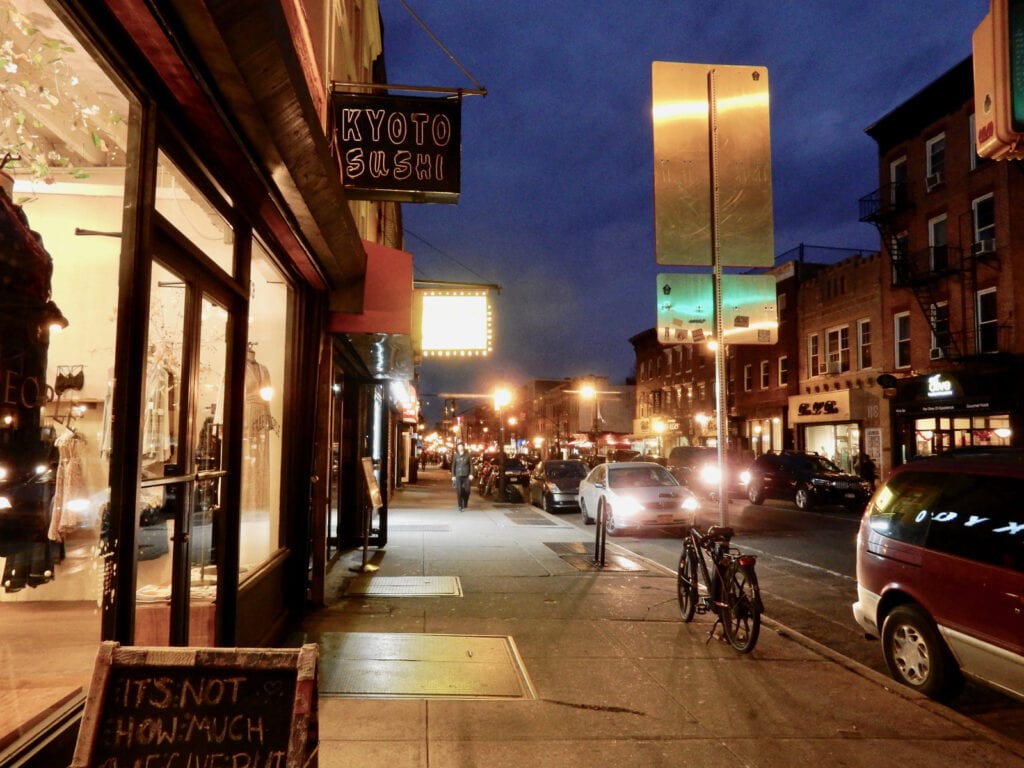 Step outside, and you'll have a slew of eateries on Smith St. to choose from within a five minute walk.
Amenities at NU Hotel Brooklyn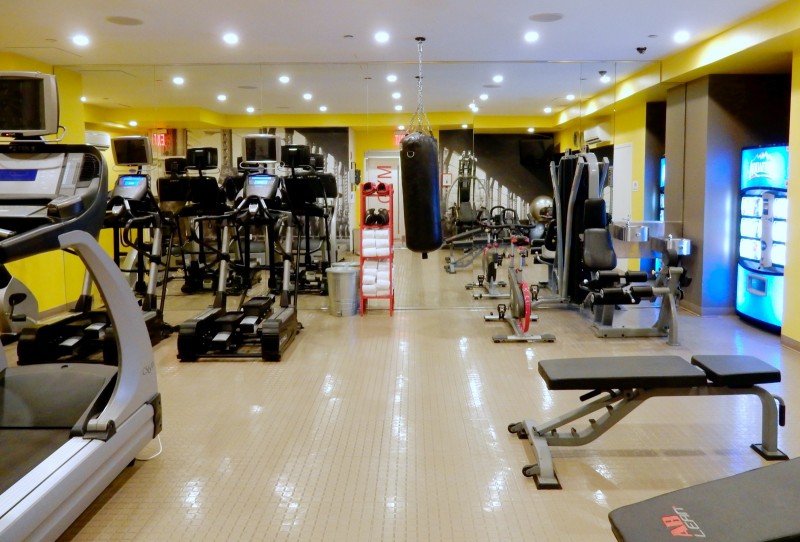 For the fitness freak, there's well-equipped work-out room – with weights, punching bags, cardio and Pilates machines for use of guests.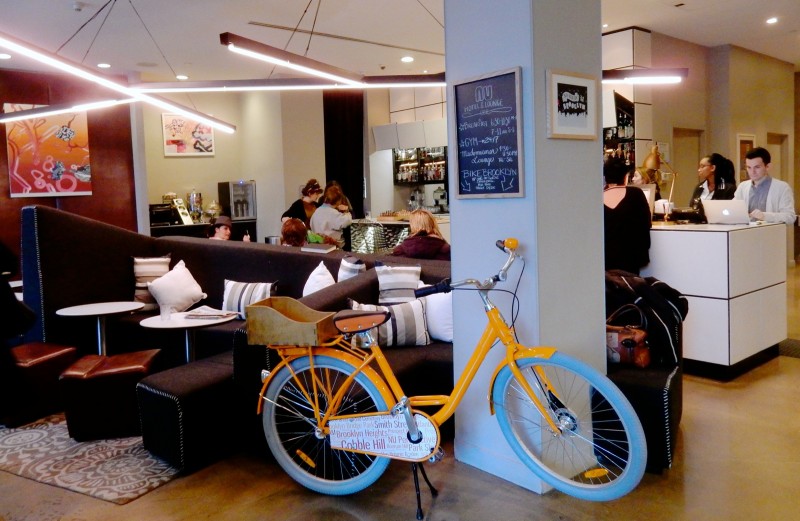 Complimentary use of bicycles.
Free Wi-Fi and Keurig Coffee in rooms.
Free continental breakfast every day.
NU Hotel is the preferred hotel for the Brooklyn Museum and guests receive priority access to tickets.
Just The Facts
Rooms and suites from $109 to $550 depending on room type and season, include wi-fi, continental breakfast, use of bicycle when available. $15 per night resort fee. Parking next door $30 per night.