Last Updated on September 15, 2022 by Editor
WHY GO: Cape Breton is part of Nova Scotia. But it's the more natural, wilder part, encompassing the 186-mile Cabot Trail that partially runs through Cape Breton Highlands National Park.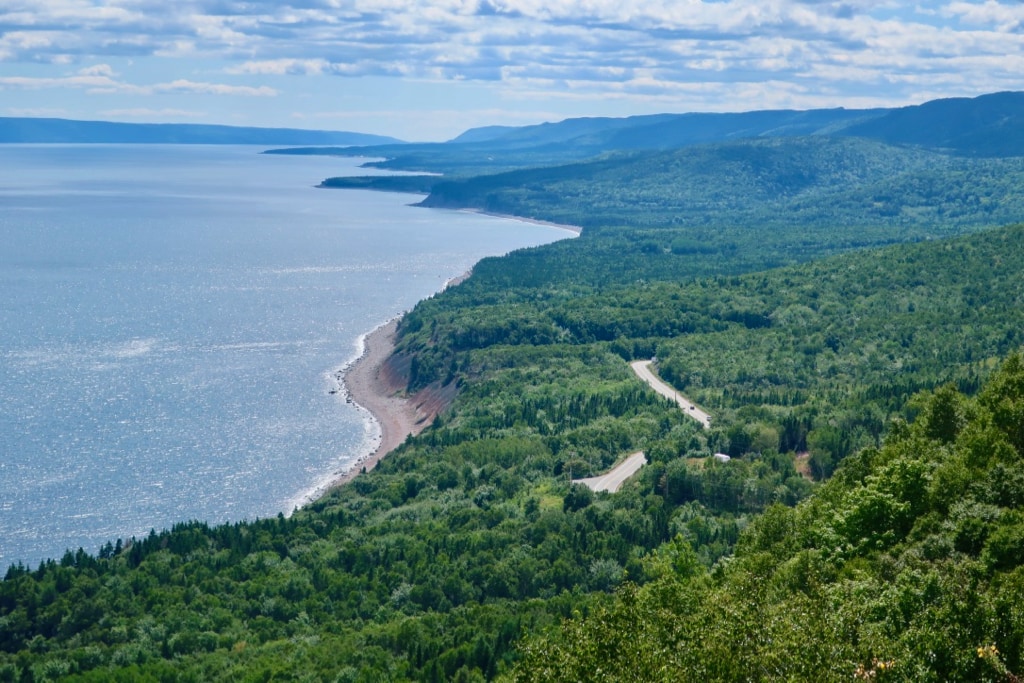 Cape Breton, however, is so much more than the Cabot Trail and the Highlands National Park. There's also a Living History Museum – Fortress Louisbourg – highlighting Acadian life in the early to mid 1700's, and the summer retreat of Alexander Graham Bell, with a visitor's center open for tours.

So, come with us on a road trip around Cape Breton – a place considered by many to be one of the most spectacular places on earth.
This post picks up where we left off on our Greater Nova Scotia Road Trip.
Day 1: Charlos Cove to Sydney, Nova Scotia on Cape Breton
3 ½ hours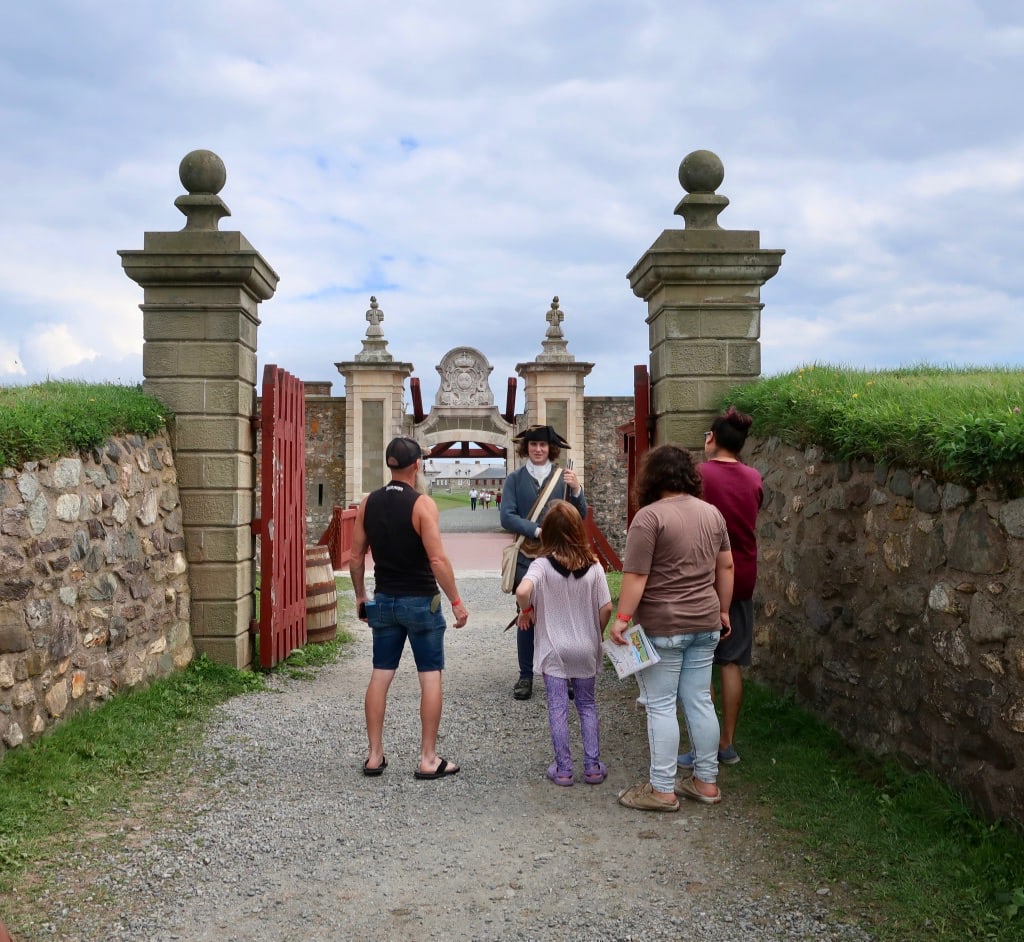 Visit Fortress Louisbourg National Historic Site, Louisbourg
If you're driving from Seawind Landing on Eastern Shore's Charlos Cove, avoid the much longer coastal road, and take the direct route to Fortress of Louisbourg, about 3 ½ hours. (It's also roughly 5 hours from Halifax). This will give you the whole afternoon to explore this incredibly fun and informative living history museum.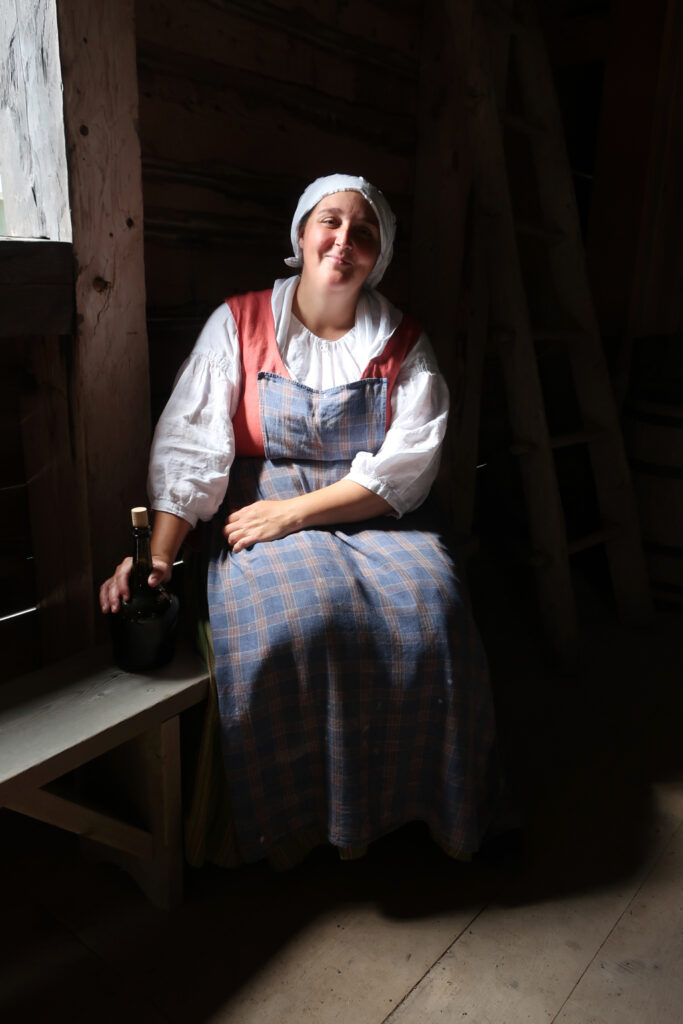 If you've been to the Citadel in Halifax and feel that you've "been there, done that" with Living History Canadian forts, please reconsider. The two historic strongholds are each unique.
While both Fortress of Louisbourg and The Citadel offer an immersive experience with costumed interpreters doing period-correct things, they differ in two significant ways.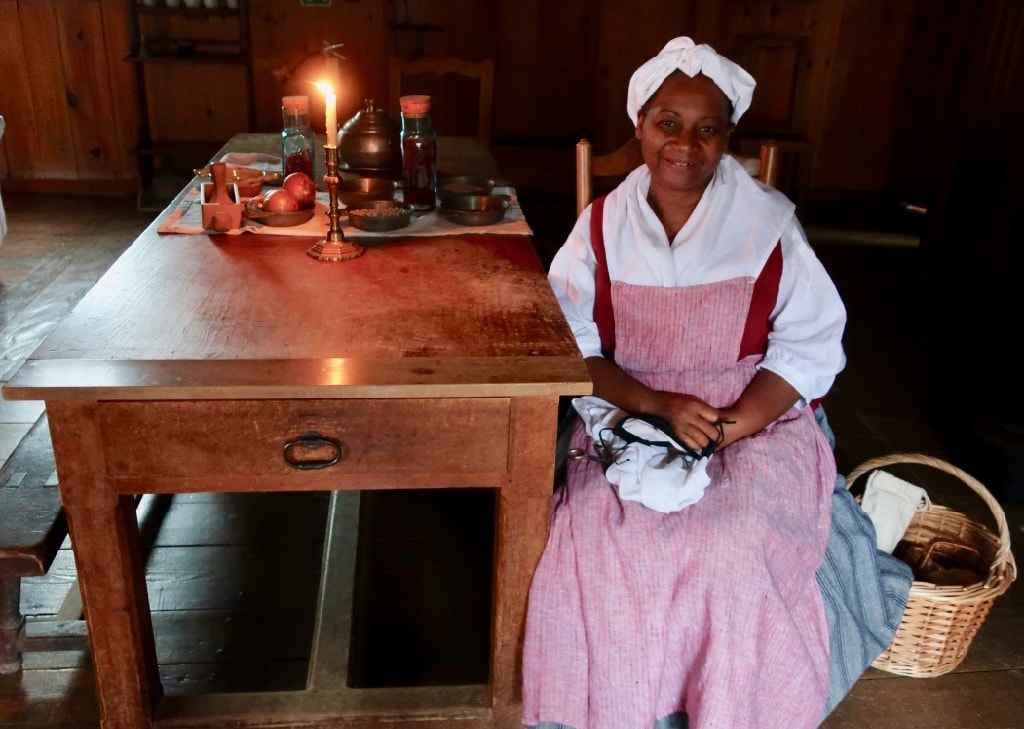 One – Louisbourg was a "Fortress," not a Fort, which means it was a village in addition to being a military post. Two – it represents Nova Scotia as it was originally settled by the French in the early 1700's, rather than occupied by the British in the mid 1800's, as the Citadel portrays.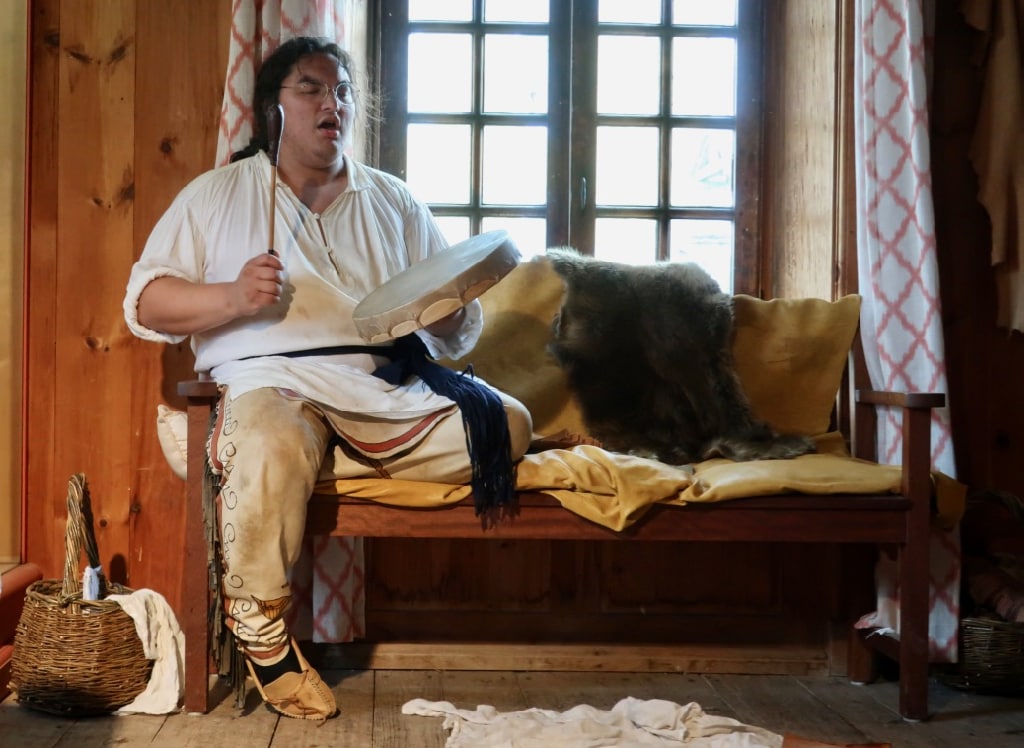 Historically speaking, the Brits captured Fortress Louisbourg twice: the first time in 1745, after which it was returned to the French by Treaty. In 1758, the Brits, taking no chances, captured Louisbourg, and then immediately burned it to the ground. The current version of the village was built between the 1960's and 1970's upon these ruins.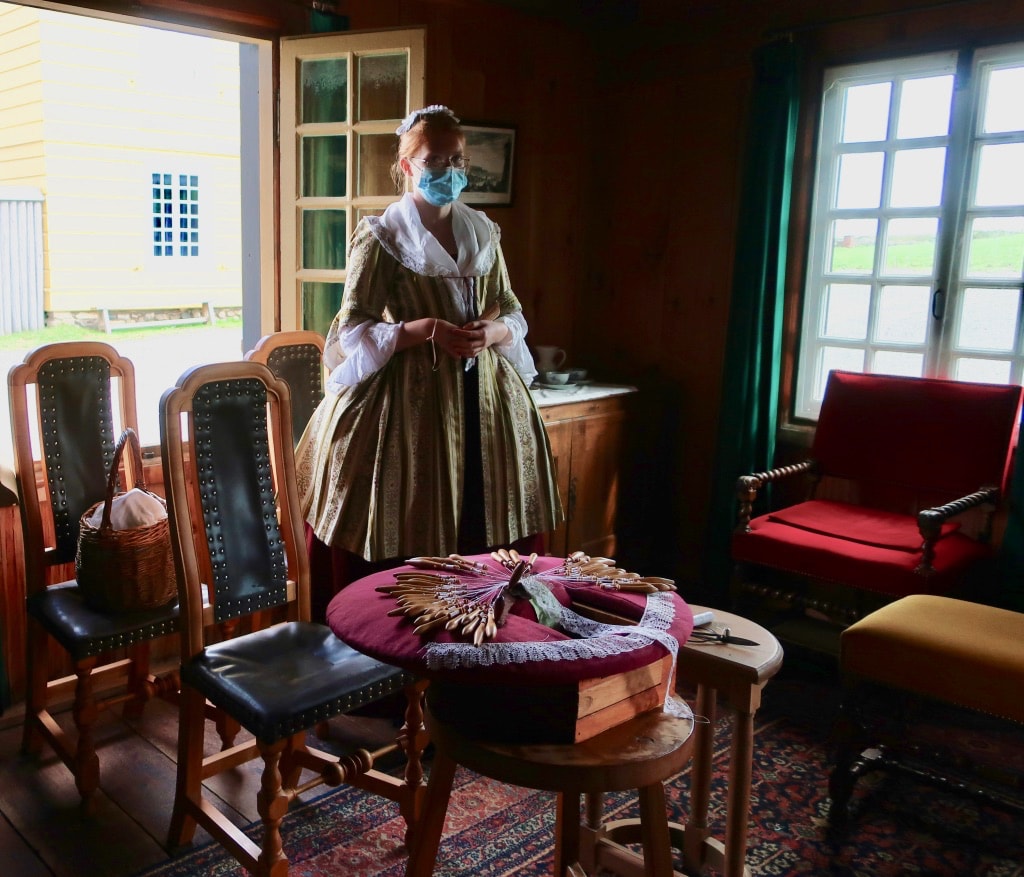 The recreation itself, a feat both tedious and inspired, is impressive. The property is expansive, with 37 individual residences, shops, and military posts to visit – each with informed docents in period costumes.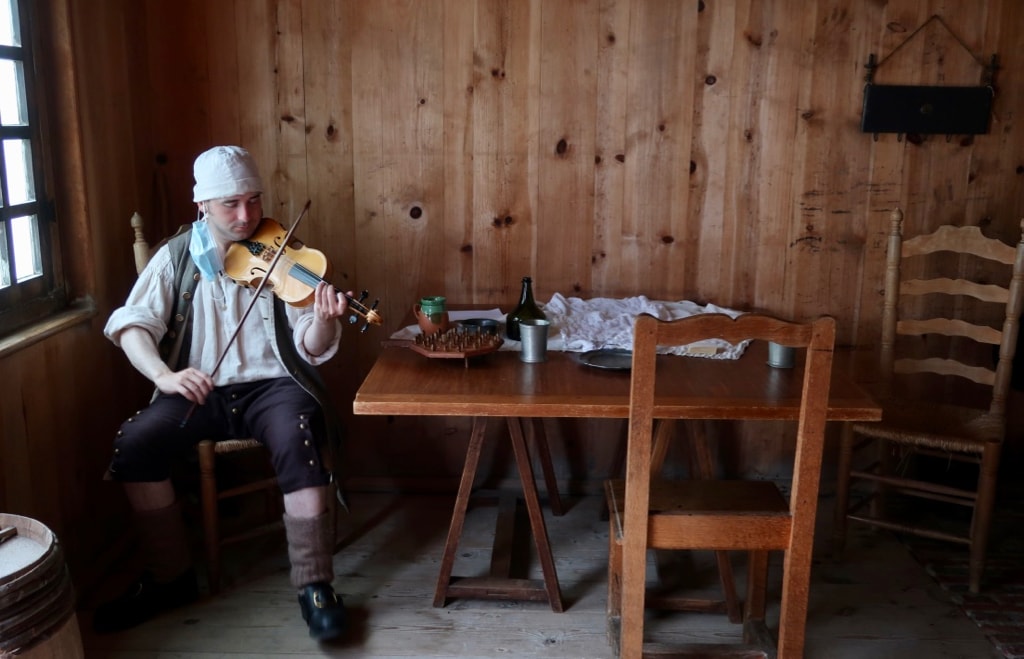 Naturally, as a Living History Museum, this Historic Site has the obligatory blacksmith, and Gift Shop. But you'll also find a baker from whom you can purchase fresh, hearth-baked breads; a fiddler who will play you a tune in the Tavern; and presentations by descendants of the Mi'kmaq, who were in Nova Scotia long before the Europeans arrived.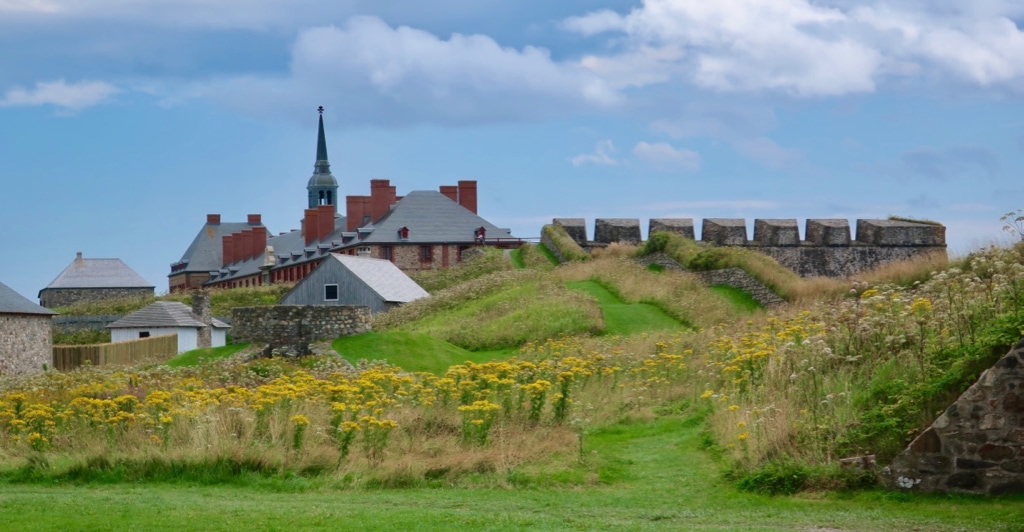 There's such a wide-ranging assortment of things to see and do – through tours (both self and guided) and programs – you'll need at least three hours here.
STAY: Hampton Inn Sydney
Day 2: Sydney to Baddeck to Ingonish
2 ½ hours
Start driving the Cabot Trail! (186 mile loop), with the first stop an hour from Sydney, in Baddeck.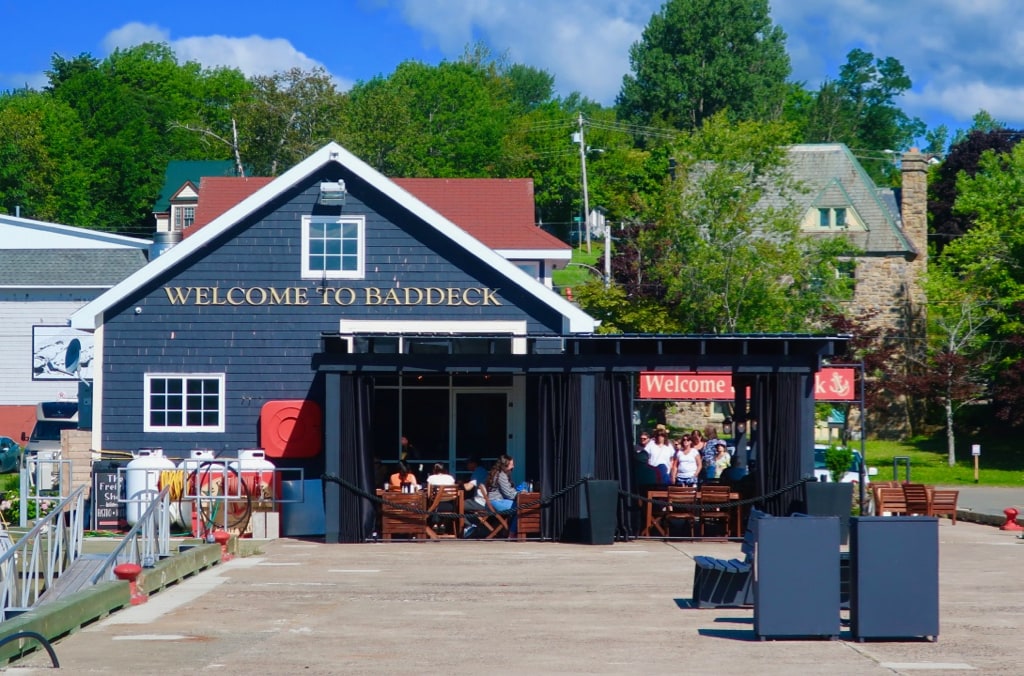 Baddeck NS
Many consider Baddeck the "start" of the Cabot Trail. (Although the trail is really a 186-mile loop).
Walk Around Baddeck
There are plenty of restaurants and tourists; art galleries and boutiques. Wander down to the pier for serene cove views. And then stop in to the Baddeck Visitor's Center for ideas about what to do around town and on the Cabot Trail. Before leaving Baddeck, don't pass up a visit to the Alexander Graham Bell National Historic Site.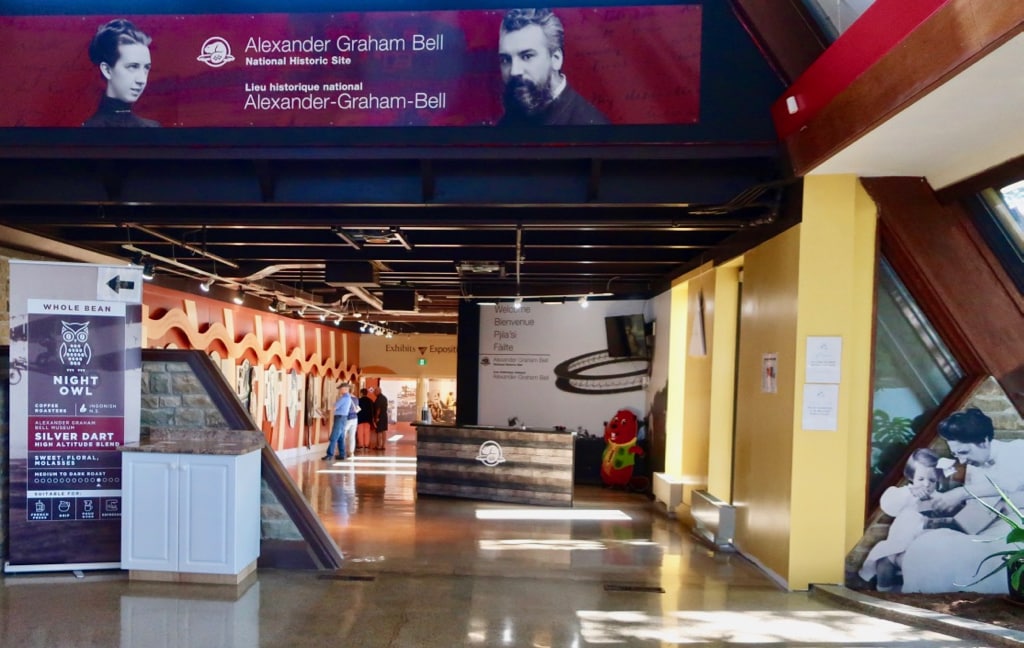 Alexander Graham Bell National Historic Site
Few know about Alexander Graham Bell's connection to Cape Breton NS, or that in addition to inventing the telephone, Bell was a tinkerer and prolific inventor the likes of Ben Franklin and da Vinci. He designed aeroplanes, hydrofoil boats, and conceived devices to teach and aid the deaf, as both Bell's mother and wife lost their hearing at young ages. (He was so well known in this space, he was asked to work with Helen Keller).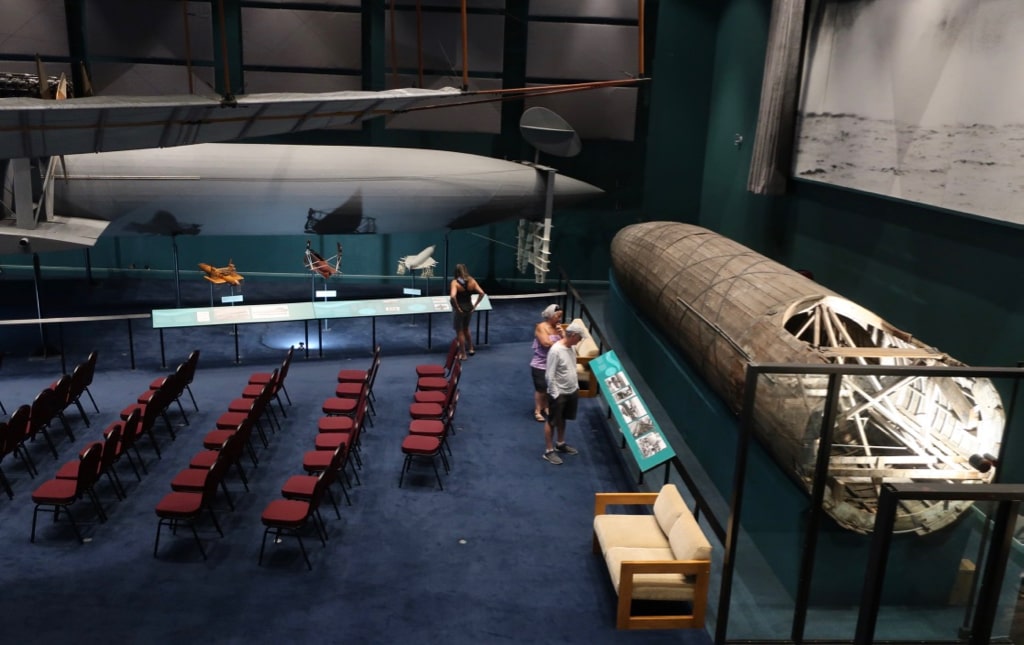 As a Professor of Vocal Physiology and Elocution at Boston University and through his studies of electricity, Bell had an idea to create a "talking wire" that would transmit human speech. Although other scientists at the time were working on this type of machine, Bell was the first to patent his invention: The telephone.
You can see models of the plane, and his structurally interesting hydrofoil – in the fantastic Alexander Graham Bell NHS. Bell was born in Scotland and lived in the United State, so why this NHS placed here? Because this was where he spent quiet summers with his family, and where he died and is buried. (The Bell home in Baddeck is still in private family hands and not open to the public).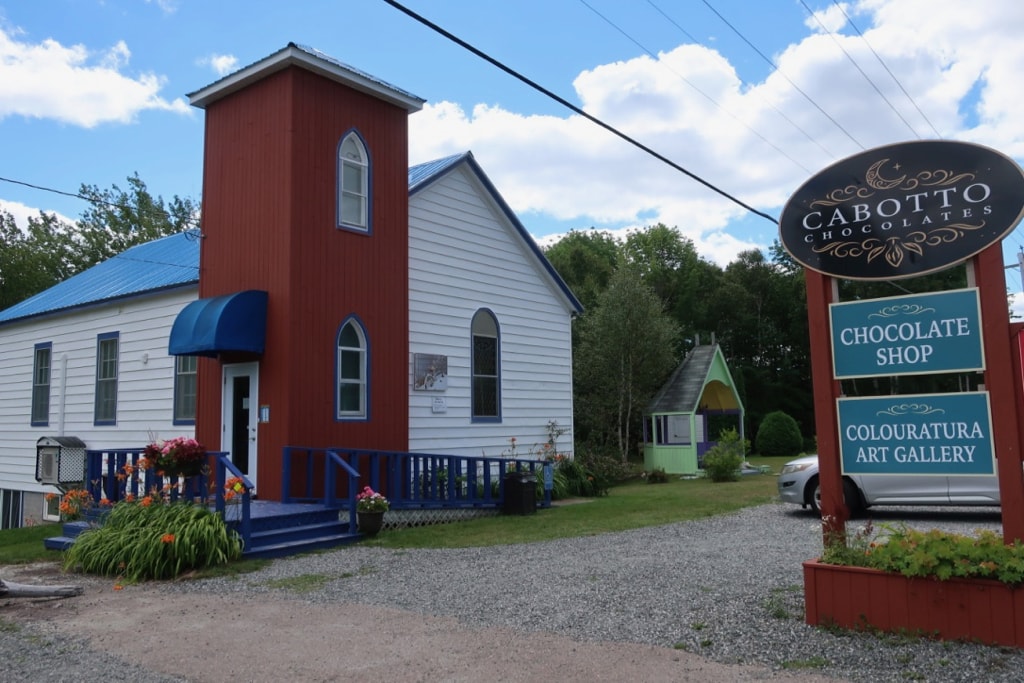 Drive 1 ½ Hours from Baddeck to Ingonish on the Artisan-Studio-Studded Cabot Trail
Cape Breton Island is renowned for its crafts and artisans, so be prepared to stop at galleries and studios along the Cape Breton Artisan Trail where you can talk to the actual artists. If you fancy glass, ceramics, wood, chocolate!!, fiber, iron, pewter, painting, and island specialty, Hooked Rug, art – you're in luck.
These intimate studios seem juried-fine. There are ten between Baddeck and Ingonish and not one schlocky shop among them.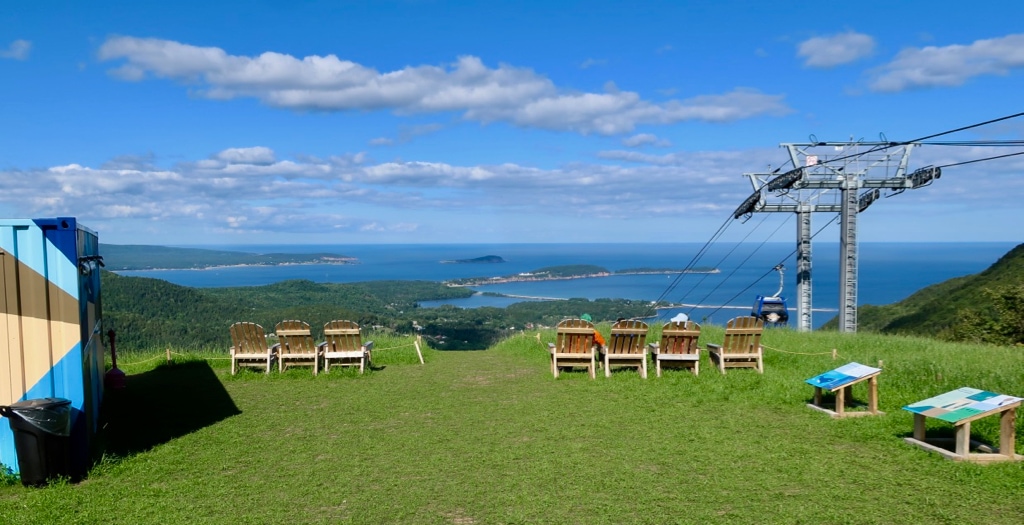 On Top of Ole Smokey: Cape Smokey Gondola Ride
At about $40 American Dollars ($53 Canadian) per person, the cost of lifting up to the summit on the Cape Smokey Gondola isn't cheap. But the beguiling views of the Atlantic Ocean from the top of Nova Scotia's highest ski hill is worth it if your idea of healing meditation is kicking back with a beer (from the shipping-container-bar up top), securing an Adirondack chair, and reveling in the scene for awhile.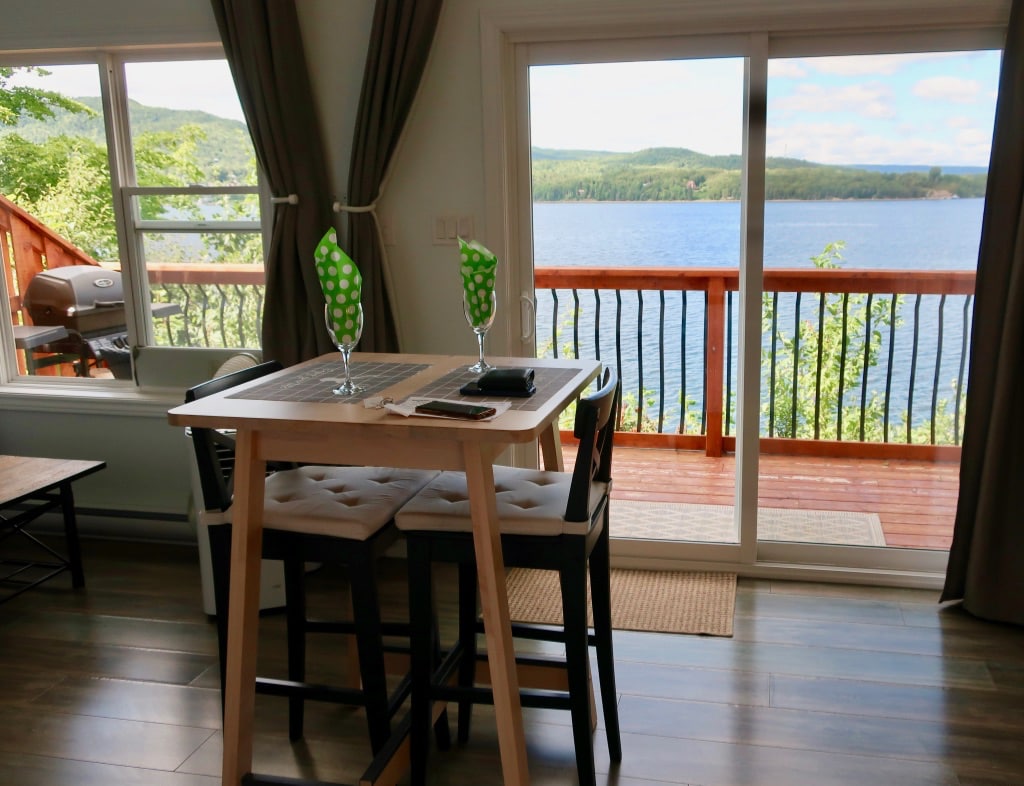 STAY: Knotty Pine Oceanfront Cabins, Ingonish
Sure, the words, "Knotty Pine" don't scream high-end luxury. Or even contemporary. But these Knotty Pine Cabins – especially ones situated where the water meets the land – certainly are. Yes, from the outside, they look like concrete boxes (or, to my mind, bomb shelters). But walk into your own space – and one wall of windows reveals a tree-lined cove right outside your private deck (complete with a grill). A high-top table for two is set with wine glasses. The bed is dreamy. It's all so romantic – you might just want to get a late start the next morning. (But don't – see below).
Day 3: Ingonish to Cheticamp With Detour to Meat Cove: Hiking Euphoria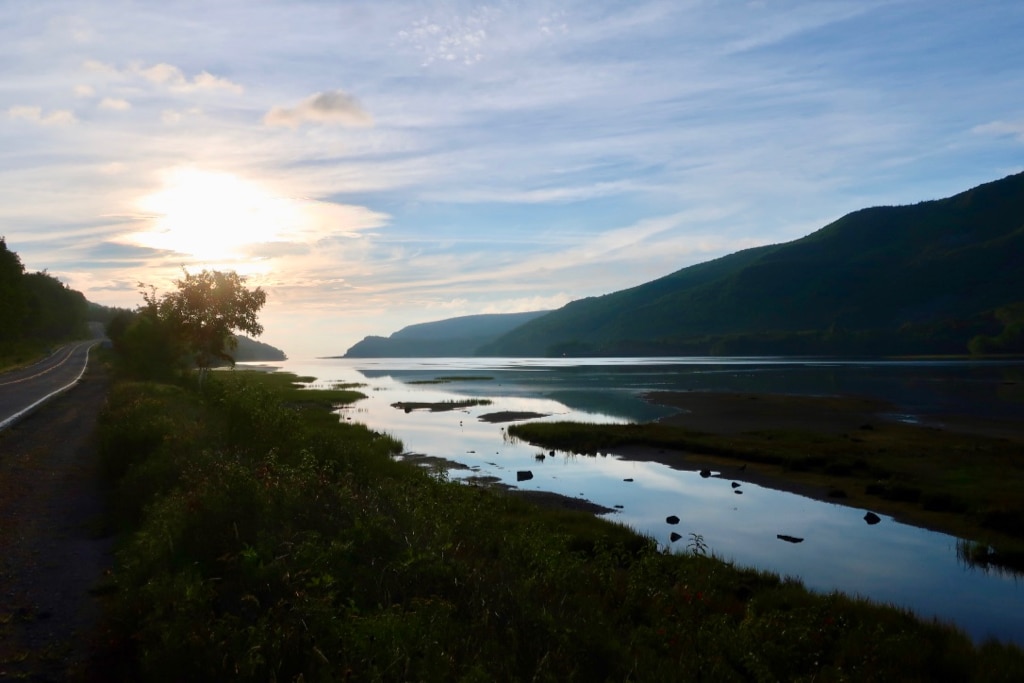 This is a long day, so leave Ingonish early and get your walking shoes on. You will finally be entering Cape Breton Highlands National Park, We highlight four short and one long hike that together amount to about 7+ miles of relatively easy terrain.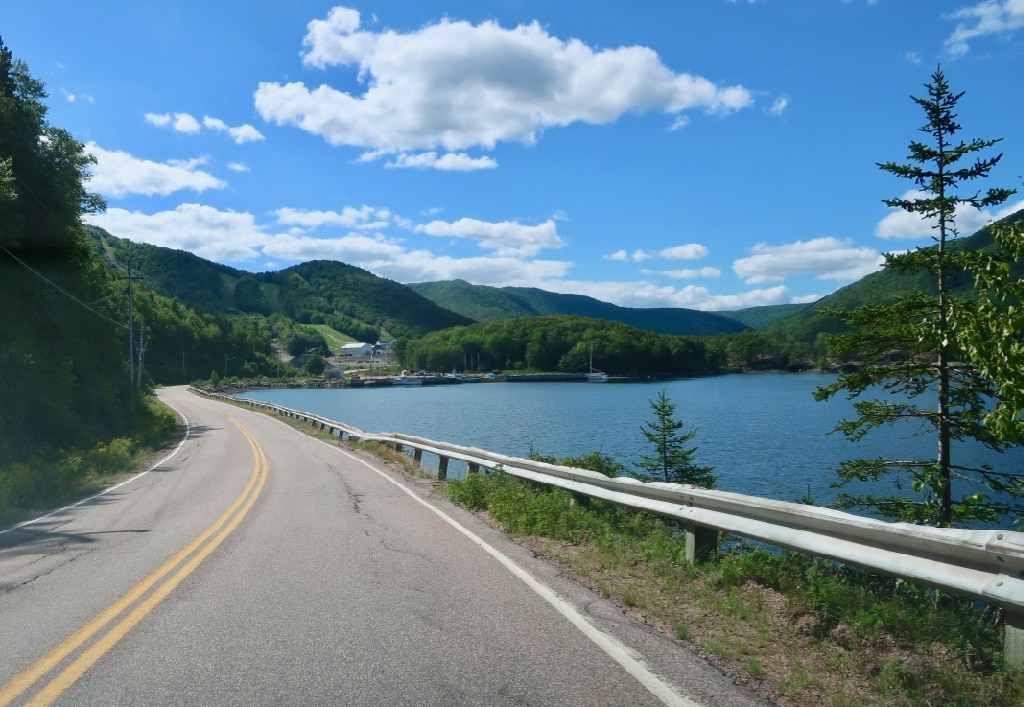 Locals in the know will tell you to go "Off Cabot" once you get up to Neil's Harbor, so you can hug the shoreline. And then, again, in Cape North to Bay Saint Lawrence and Meat Cove, where views are unparalleled.
Purchase Entry Ticket to Cape Breton Highlands NP
Just north of Ingonish on the Cabot Trail, stop at the National Park Visitor's Center to purchase your entry ticket – $8.50pp Canadian (about $6.55 USD), which allows you to stay within the park until 4pm the following day.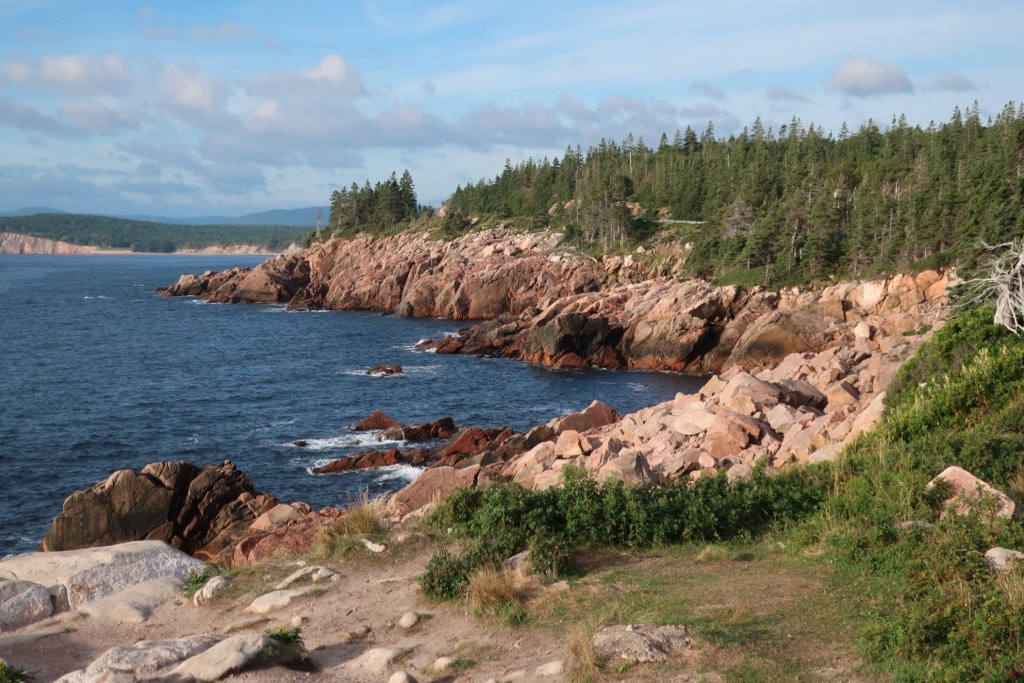 Green Cove
From the Visitor's Center, drive 11 miles to the Green Cove overlook. There's a series of boardwalk steps with a terrific visual payoff: a remarkable, boulder-strewn shoreline. Some have compared it to the better known Peggy's Cove outside of Halifax NS.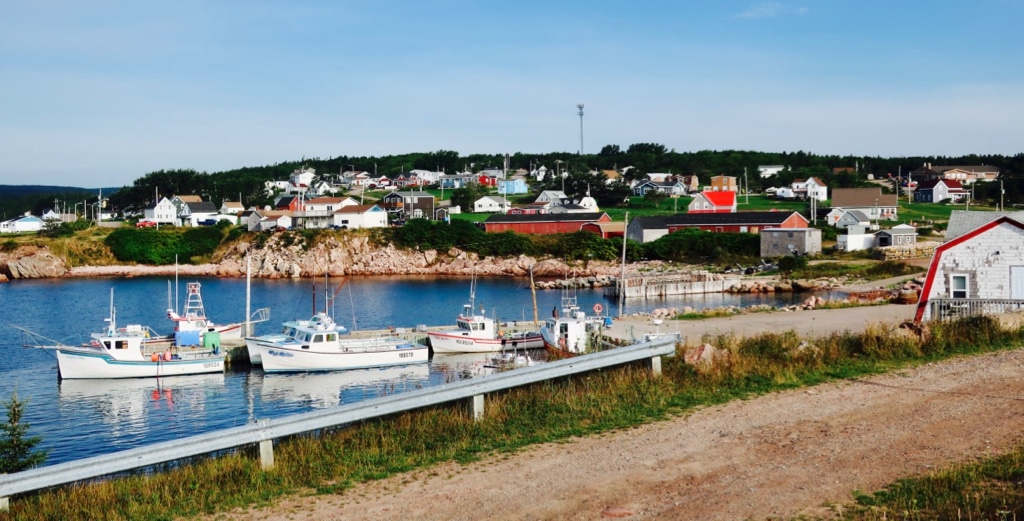 Neil's Harbor and Off Cabot Trail to White Point and South Harbor
Another 6 miles brings you to the picture-perfect fishing village of Neil's Harbor. Here, veer right, into town, where the Cabot Trail continues to the left (west). After White Point you'll hug the shoreline until you get back to the Cabot Trail in South Harbor. This 20-minute drive gets you a bit more waterfront time.
Detour Again Out of the National Park to Bay St. Lawrence and Meat Cove
About 1 ½ – 2 Hours out and back drive.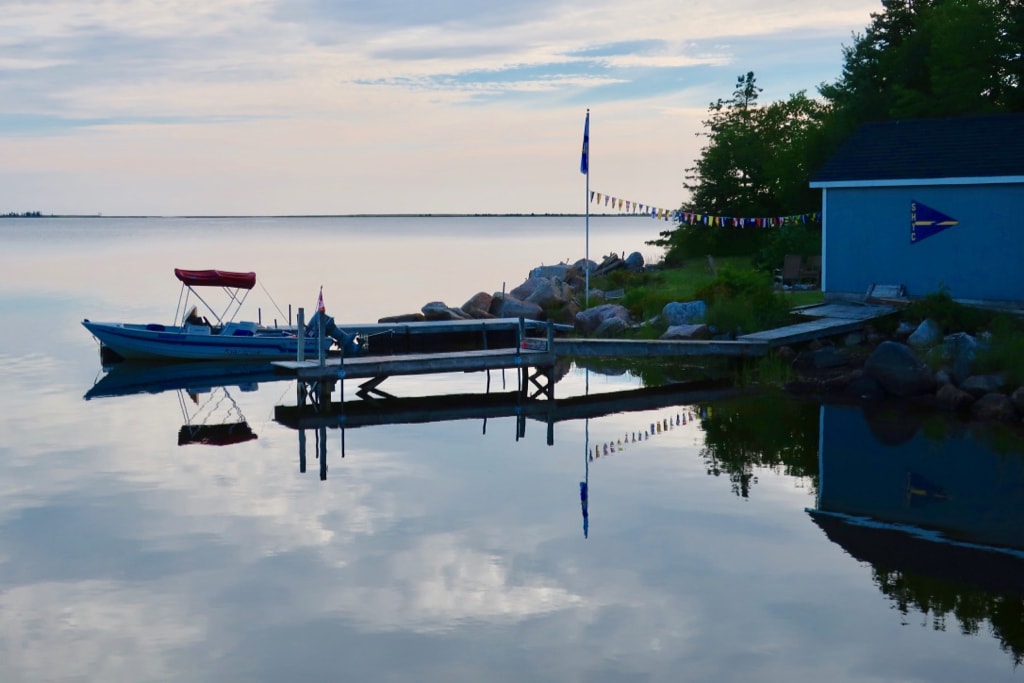 I promise you – this detour out of the National Park to Bay St. Lawrence and then on to Meat Cove at the top of Cape Breton can be harrowing, but so worth it.
To get there – take a right off the Cabot Trail at Morrison's Restaurant in Cape North (a couple of miles from South Harbor). From Morrison's – it's 10.5 easy, paved miles to the stunning bay and Atlantic Ocean scenes in Bay St. Lawrence.

But wait. There's more. (Although you can just head straight back to the Cabot Trail if time, or your guts, don't allow. Otherwise, continue).
Meat Cove Road
Double back on Bay St. Lawrence Rd. for a mile or two (towards St. Margaret Village), and take a right on Meat Cove Road. You'll be on this half dirt road for 8 miles (16 miles round trip), FYI – so get comfy.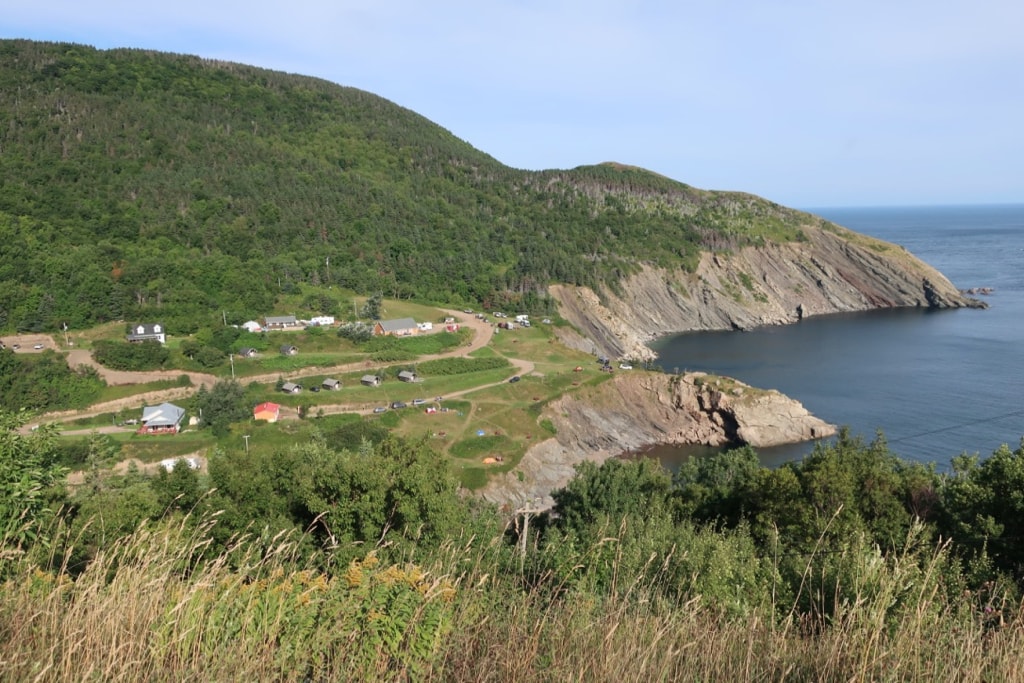 Meat Cove Road begins as a paved road for a few miles, and then, atop hulking cliffs and switchbacks, it's rutted dirt and gravel lot of the way, baby! However, if you're like me, you won't mind because…the views. Fantastical, ends of the Earth remote.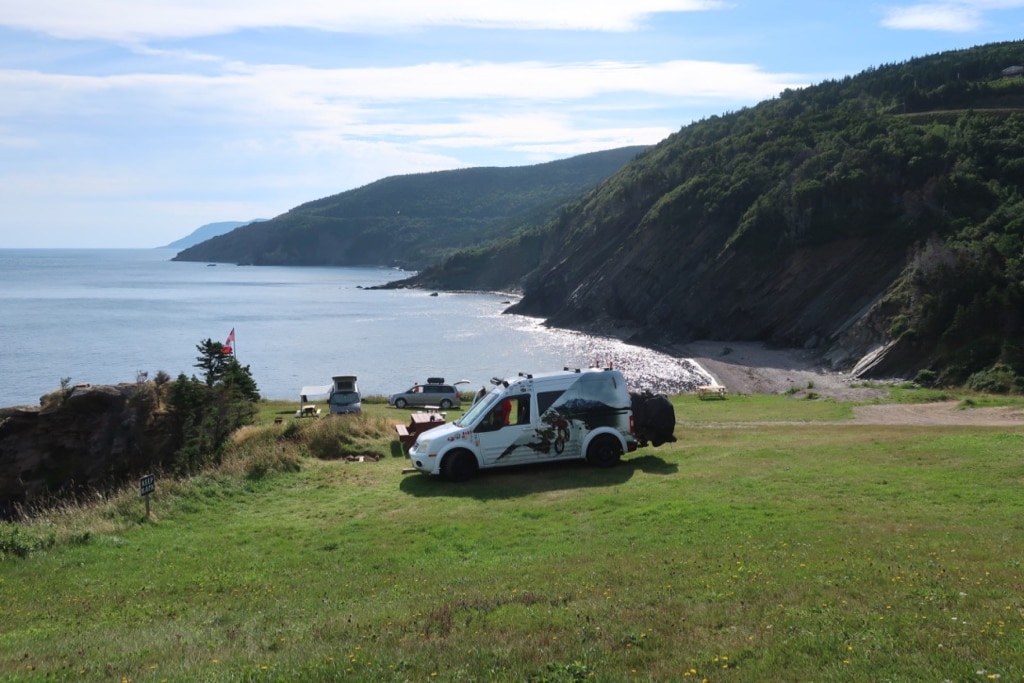 There are others at this apparently coveted campground: of course there are. Just look around! Tents and campers are all welcome. A tiny camp store sells Meat Cove t-shirts. There's a beach down below. Turns out, Meat Cove is quite the civilized place after all that dusty driving.
Back on Cabot Trail
Return to the Cabot Trail the way you came, taking a right when you hit Morrison's Restaurant.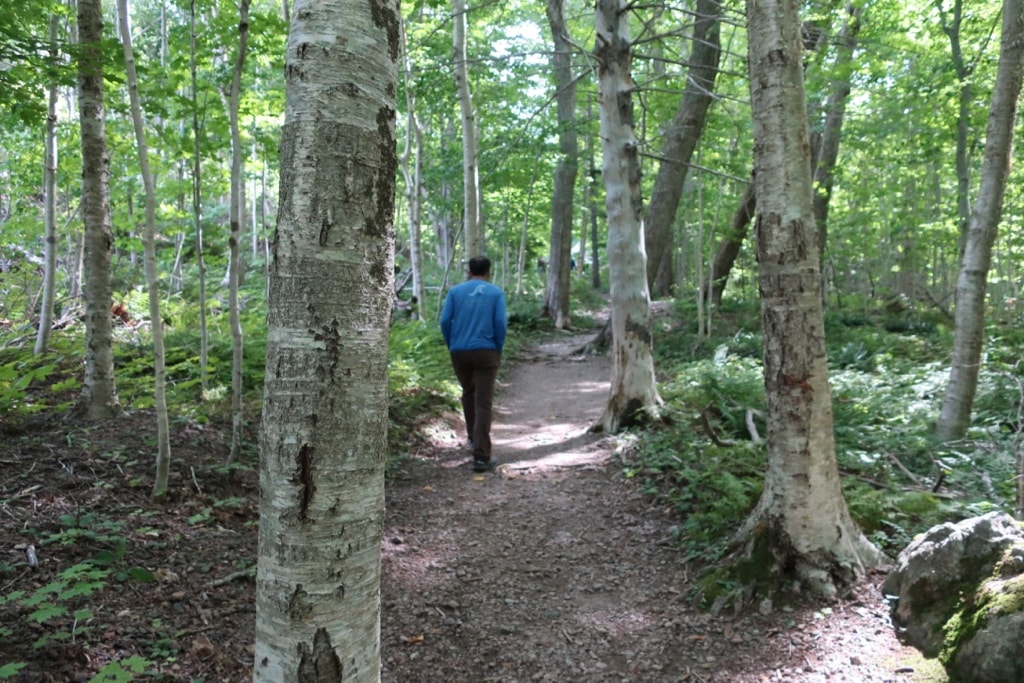 Walk Lone Shieling Trail (.5 mile loop)
From Morrison's Restaurant – continue 14+ miles towards Chetticamp to your first walk: Lone Shieling. The replica of a Scottish "crofter's hut," it sits among Maple Trees along a pleasant half-mile loop path.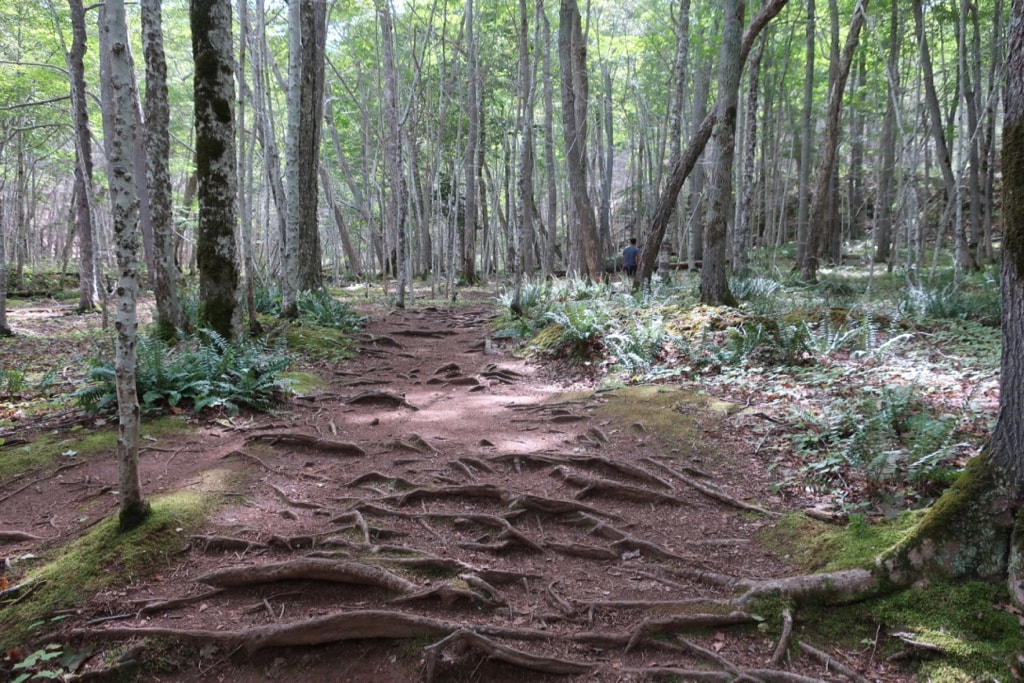 MacIntosh Brook (1.1 mile out and back)
Drive 2 miles to the MacIntosh Brook trailhead. It's a bit over a mile (total) out and back, on a rooted path through old growth forest, to a sizeable waterfall. Take hiking poles if you're not sure of your footing.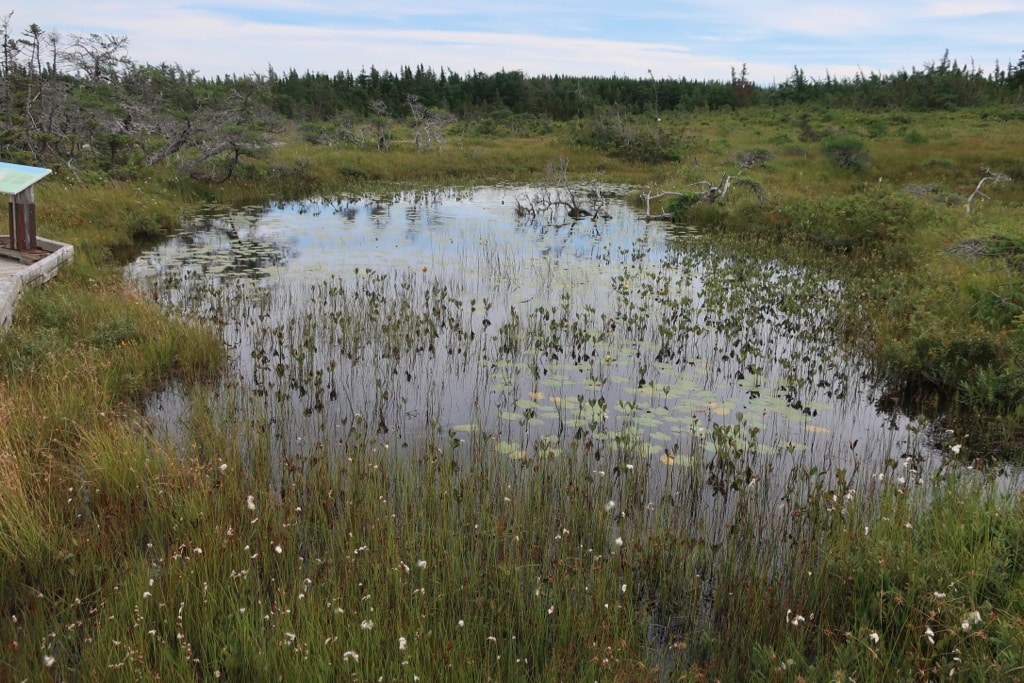 Bog Trail (.3 mile boardwalk loop)
Drive 11 miles to the Bog Trailhead. If you love boggy boardwalk trails, cool marshy flora and fauna, and the prospect of seeing Moose, stop to meander this "typical highland wetland."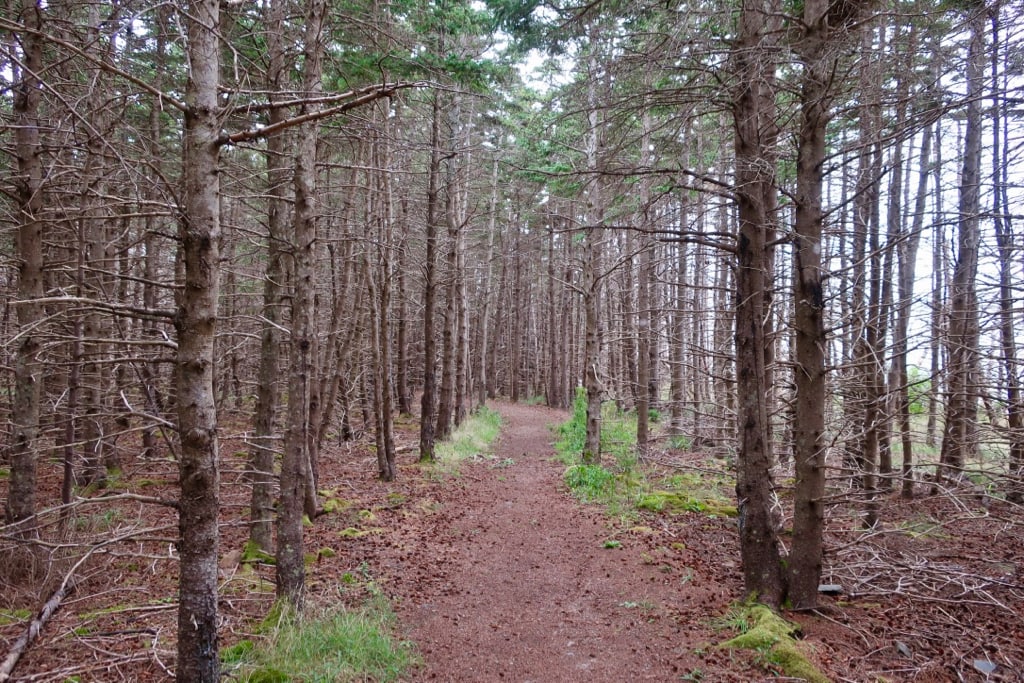 Le Buttereau Trail (1 mile loop with some elevation)
Drive about 12 miles to the Le Buttereau Trailhead, bypassing for now the "Main Event" – the Skyline Trail – which you'll return to in later afternoon.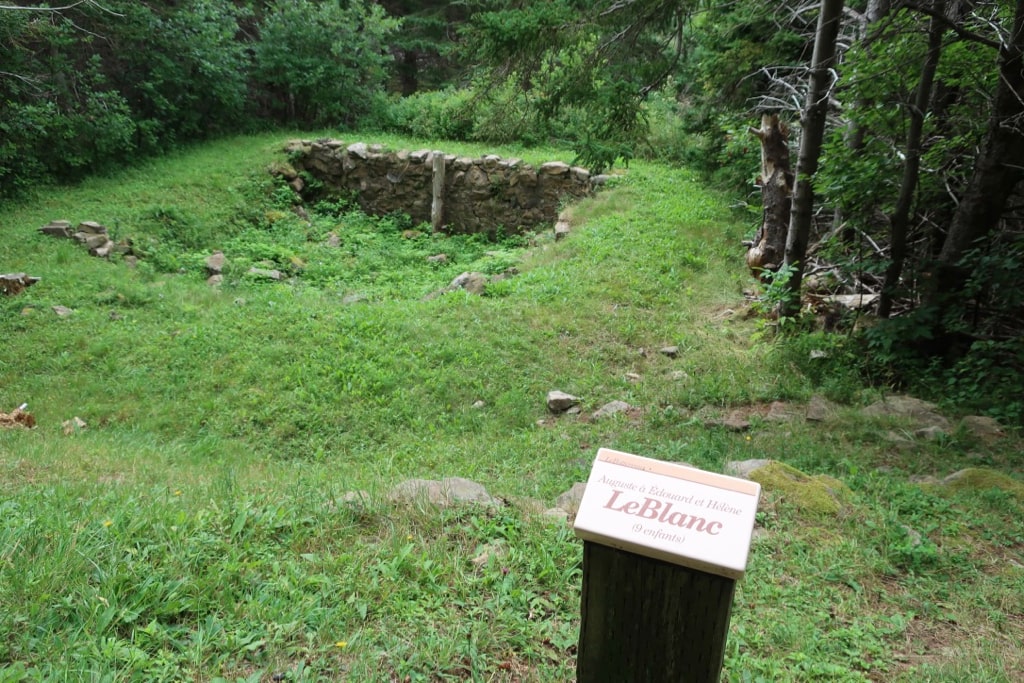 Le Buttereau begins with a long upward swing, and takes you to overviews of the Ocean, a beach, through fields and forests. There are information panels about the Acadian families, like the LeBlanc's, who lived here. (Perhaps this is where Matt "Friends" LeBlanc's French-Canadian father's people hailed from). Keep your eyes pealed for remnants of their homes.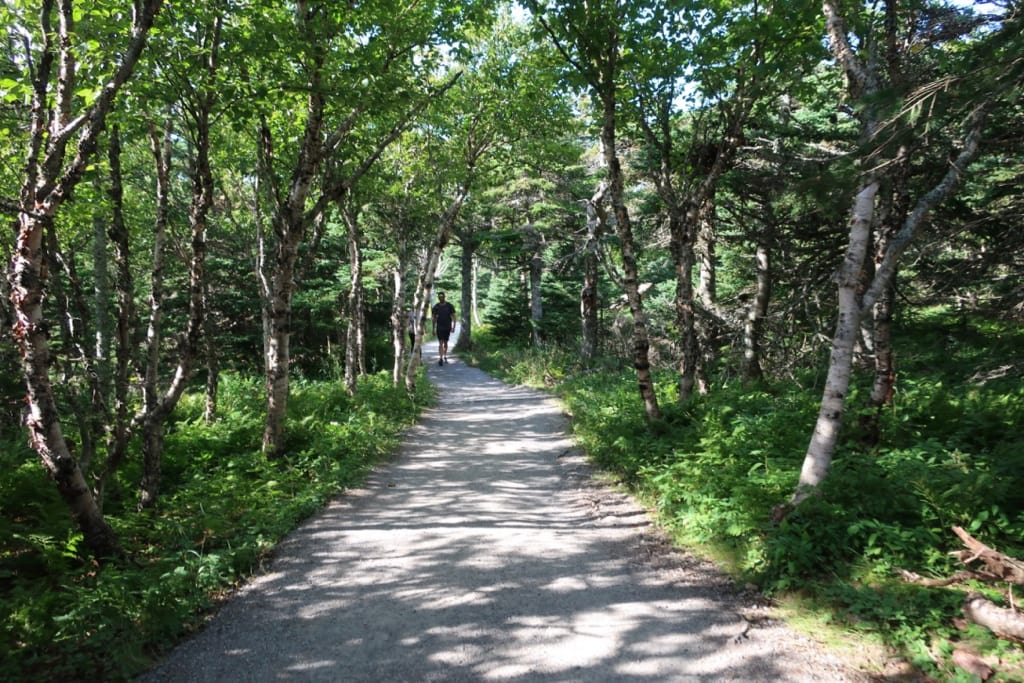 Skyline Trail (4 miles out and back, or 5.2 miles loop)
Double back from Le Buttereau Trailhead about 8.5 miles on the Cabot Trail. The highly popular Skyline Trail is best done in later afternoon, when you're likely to catch one of the most magnificent views on Cape Breton during the Golden Hour. You'll be in plenty of company.
A tip: There are two large parking areas. You pull into the one farthest from the trailhead first – so try to get a spot by continuing up the hill to lot closest to where the trail begins. Otherwise, you're adding a ¼ mile (each way) to the already long walk.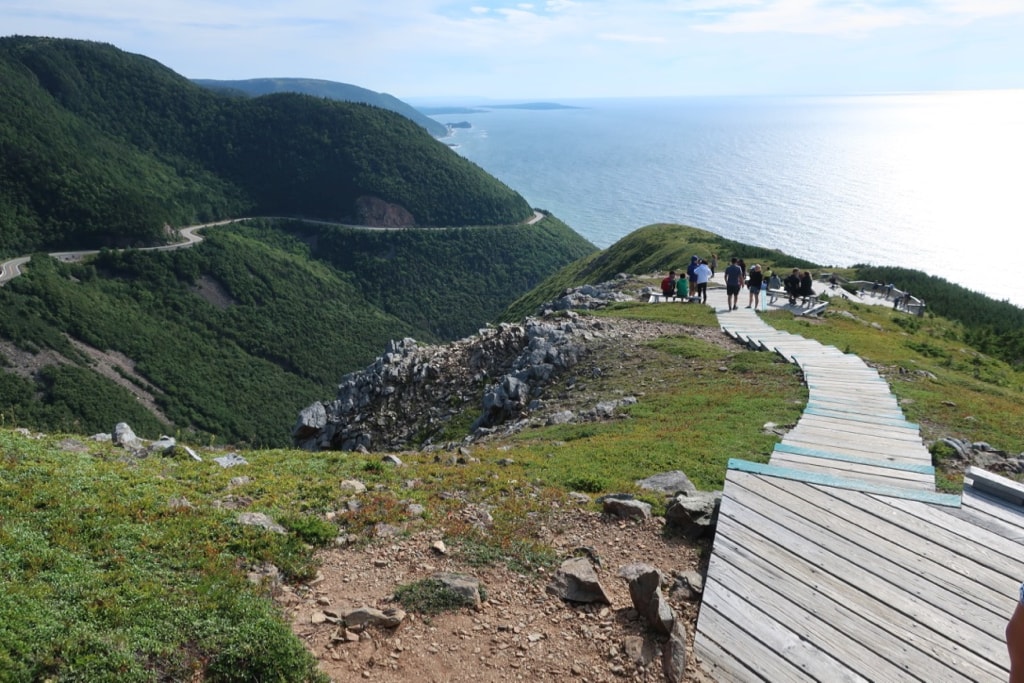 Another tip: the payoff of this rather pleasant, flat, but long, walk is at its extreme end. For this reason, most people will just do the 4-mile out and back route, rather than the 5+ mile loop, which takes you to the same ocean vista, but then through the woods with no additional water views.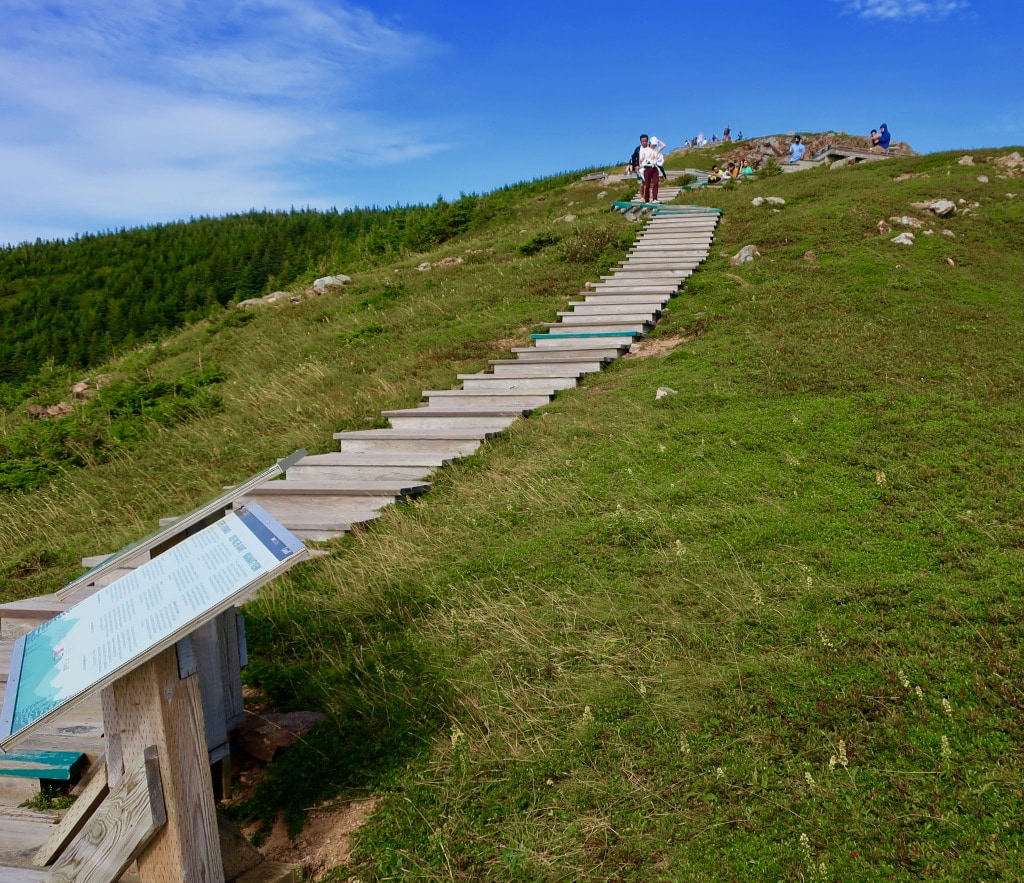 Last tip: The Skyline Trail ends atop a cliff at the Atlantic Ocean, with viewing platforms descending down from the main path. If you think you'll have problems walking down and then up about 350 steps at the end of this, again, very flat trail, you can still get amazing ocean vistas without going downhill.
Stay and Eat in Cheticamp
Cheticamp NS is closest to the Skyline Trail, so plan to have dinner and stay in town. You'll need a reservation for the hottest restaurant, L'abri Café. Although there are several decent motels and chalets with ocean views, I stayed at the friendly, Outback Inn, about 1 ½ miles from the waterfront. Sure, the exterior is nothing special. But room interiors are surprisingly immaculate and fashion-forward.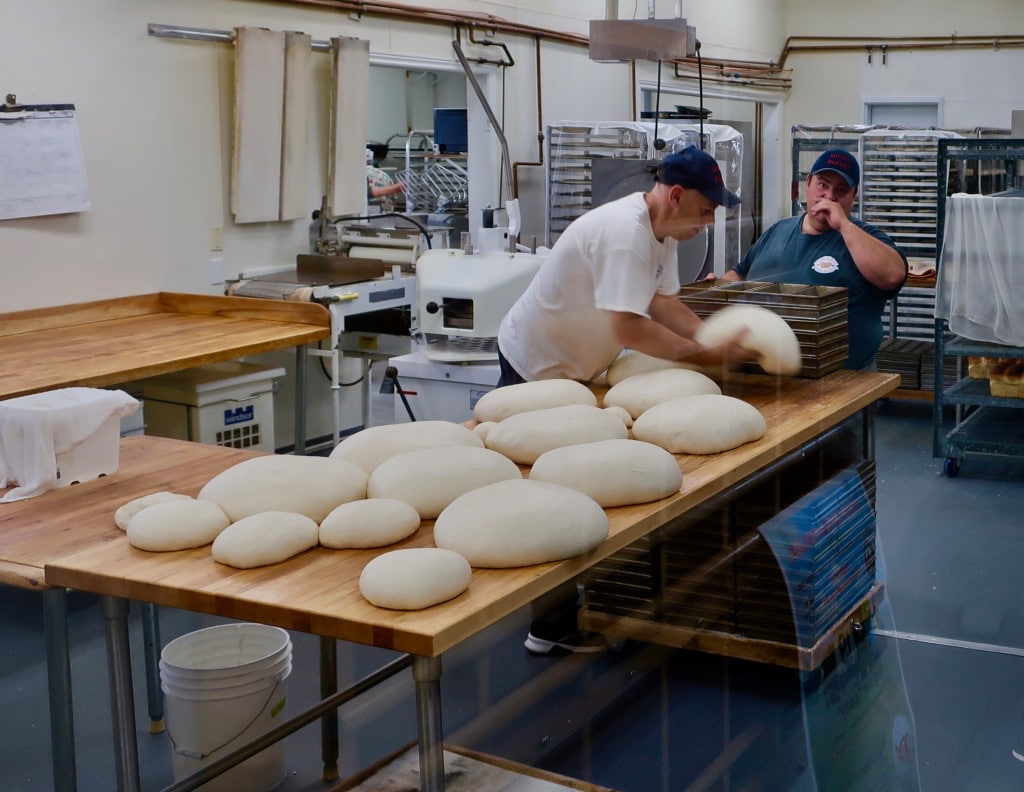 In the morning you MUST join the throngs of fans queuing up at Aucoin Bakery for real, flaky, fresh-baked croissants, bread, and other warm from the oven treats. There's a line out the door for a reason – no matter what time you come. I haven't had a butter croissant this amazingly fresh since Paris.
To create your own 2 week Canadian Maritimes Road Trip, start with this 7 Day Nova Scotia Road Trip for Adventurous Romantics. And then add this 3 day Prince Edward Island Road Trip.