Last Updated on May 16, 2023 by Editor
WHY GO: Mystic Connecticut is probably the best known town in the State – by virtue of the living history Mystic Seaport Museum. And, of course, that maritime museum is worthy of a few hours or a day. But, there are so many other things to do in Mystic CT, a few miles from where the Mystic River meets Long Island Sound.
Of the 2,700 commercial whaling ships that plied the seven seas in the 19th and early 20th centuries, only one remains – not only in the United States, but in the whole wide world. The Charles W. Morgan. And it happens to reside right here.
But seeing the Morgan is not the only reason to visit Connecticut's most popular tourist town, especially for couples. You'll find great dining, great bar/restaurants, beluga whales, historic bridges, and quaint inns in this quite touristy town. For maximum romantic impact – come off-season (Spring and Fall) to beat the crowds.
Things To Do In Mystic CT
TOUR: Mystic Seaport
Mystic Seaport is probably the most touristy attraction to ever grace the Getaway Mavens website, which is supposed to offer ideas about how to AVOID crowds. But in this case, why beat a dead horse? Or, how can you beat a dead horse?
Or, what exactly IS a Dead Horse in the Seaport's Dead Horse Ceremony? No, we're not telling you here, but it is festive and fun and involves hoisting a canvas replica of a horse overboard to celebrate….something.
Stroll the 17 acres of Mystic Seaport, founded in 1929, and you might come across the engaging "Demonstration Squad" and Shanty singers who will do their best to drag you into their shticks.
Take a horse and carriage ride, amble around the boardwalks, bricks, cobblestones, and unpaved paths of Mystic CT, enjoy a beer at Spouter Tavern while listening to live jazz, take one or several boat tours, or just watch costumed interpreters at work.
As for restoration of the Charles W Morgan, 250 tons of government-protected Live Oak salvaged from the destruction of Hurricane Katrina in Louisiana, along with White Oak and Yellow Pine were used to repair parts of the 113 ft. 165-year-old whaling ship. After being restored to sea-worthiness, the historic ship returned to the water in July, 2014 and after making its way around New England on its 38th voyage, is back to where she belongs.
The Thompson Exhibition Building, a huge futuristic boathouse-meets-space-shuttle-hangar, opened in 2015 at the North Entrance and hosts rotating exhibits in its soaring halls.
The standout contemporary architecture is reason enough to stop inside, though you can purchase Seaport tickets here as well.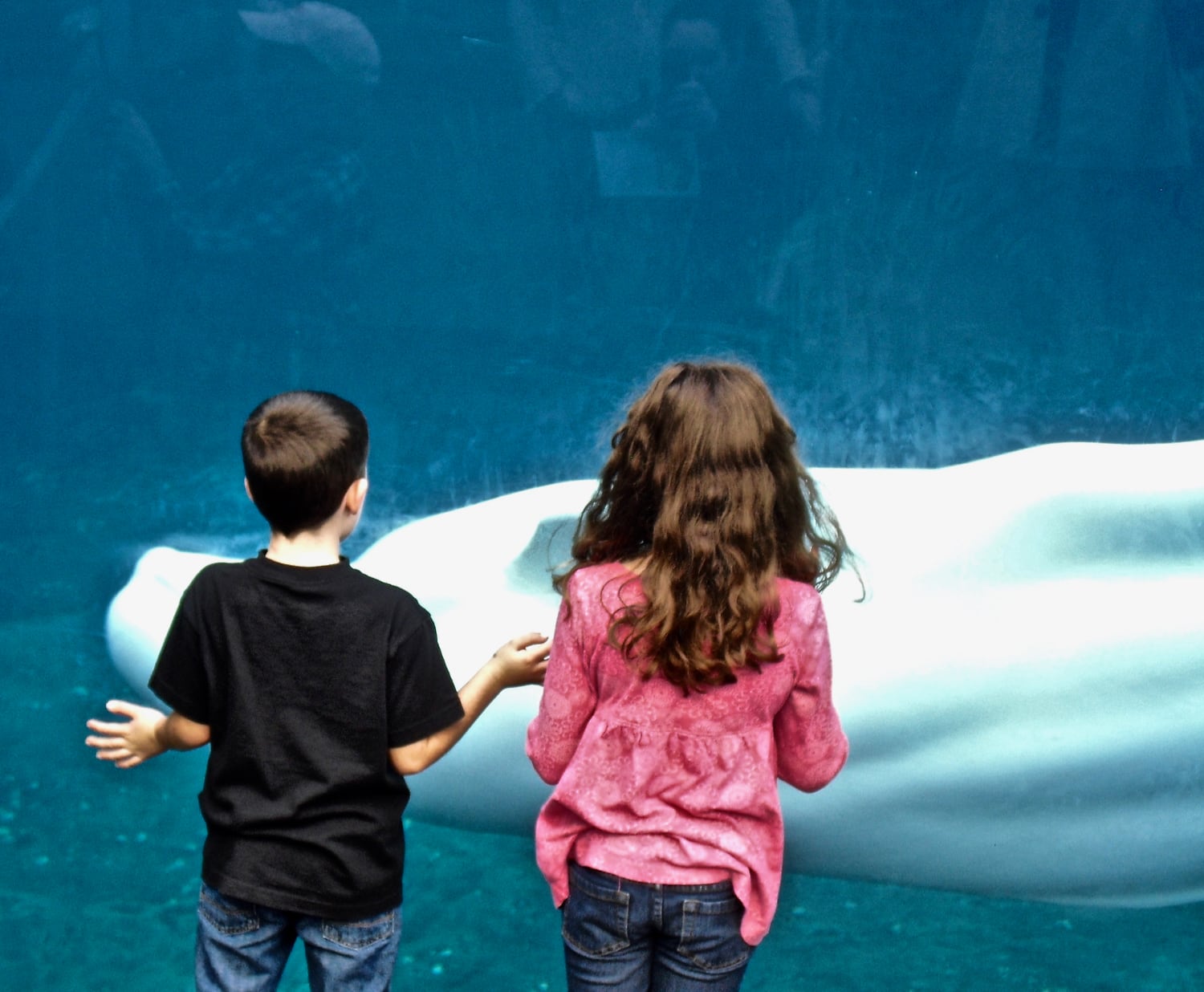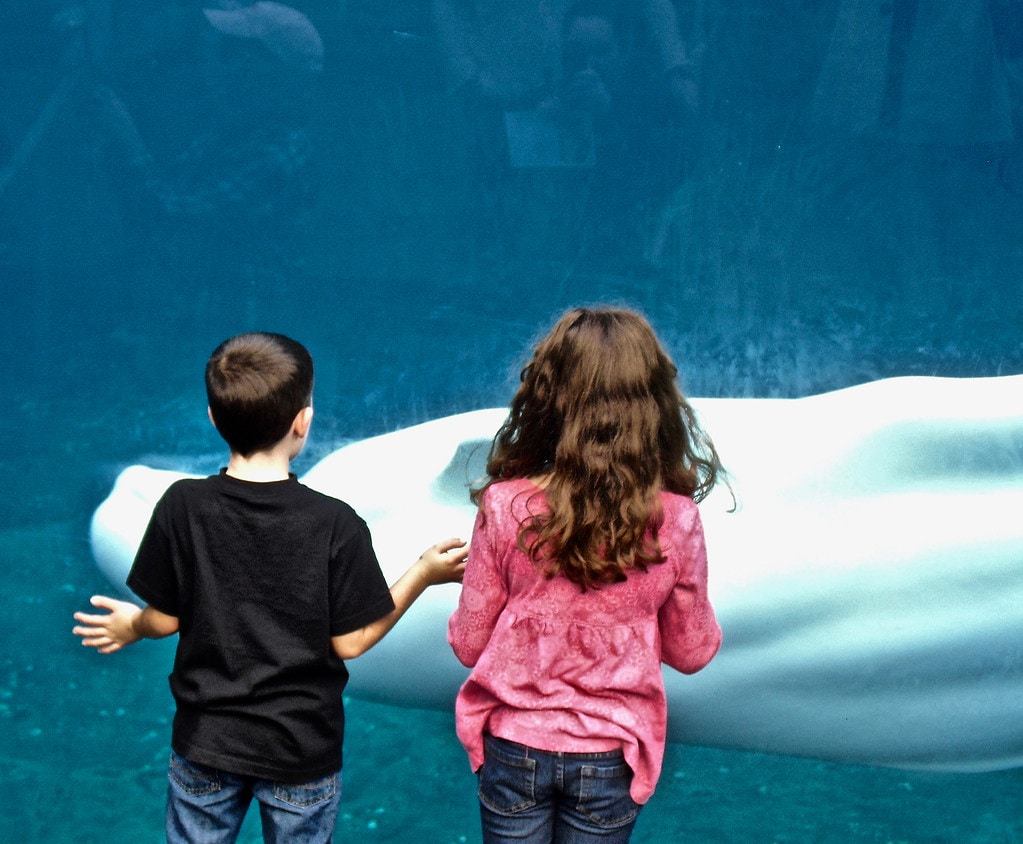 VISIT: Mystic Aquarium, Mystic CT
If you can't resist the ghostly grace of rescued beluga whales, or the antics of African Penguins and Sea Lions, stop in at the Mystic Aquarium, where you can spend a day communing with seals, penguins, jellyfish, and other sea creatures in this beautifully well-rounded attraction that is so much more than an "aquarium."
THRILL: Mystic Boat Adventures
You're the captains of your own two-person watercraft (kind of like a paddleboat meets Segway meets jet-ski) on a 3-hour tour of the Mystic Waterfront through Mystic Boat Adventures. Built as catamarans, these small boats are as stable as can be, and fun to "drive." It's a unique and fun way to see Mystic – the way mariners, and romantics – do.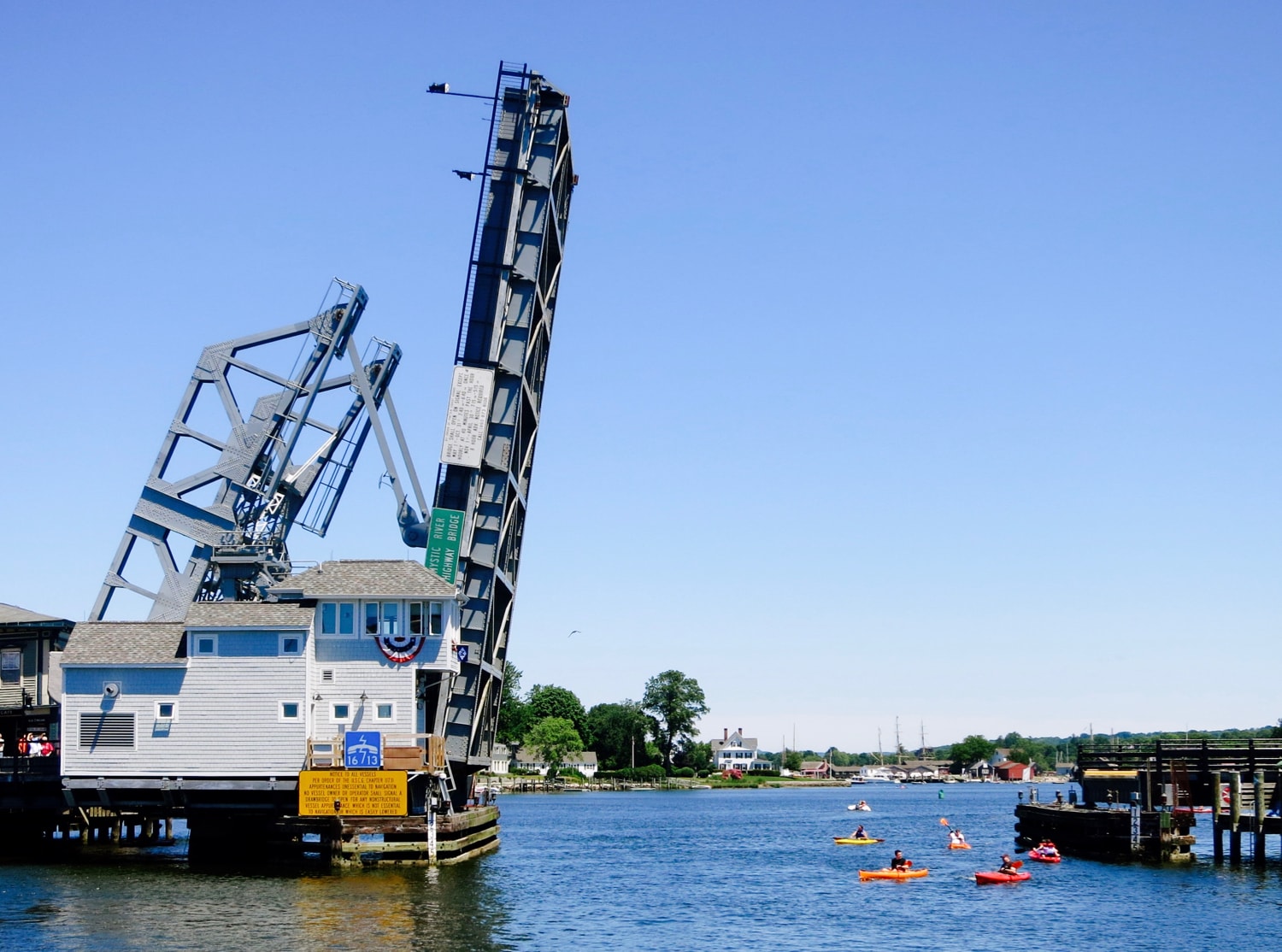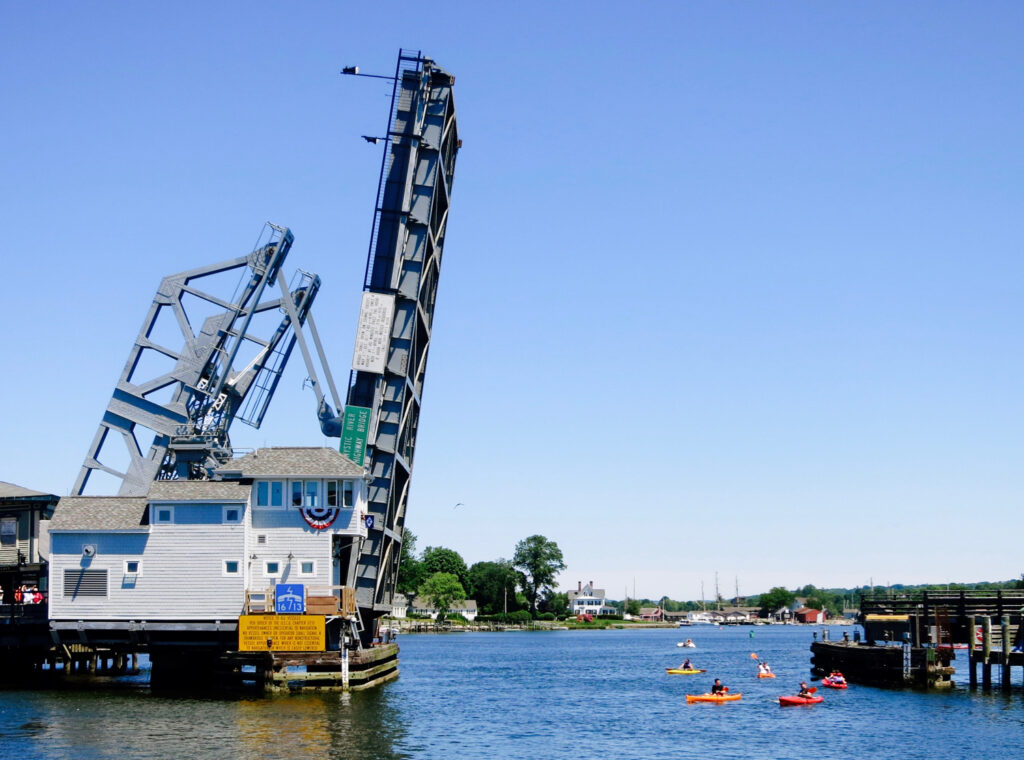 DO: Rent a Kayak or Paddle Board at Blue Heaven
There's nothing more serene than paddling up the Mystic – past the Seaport and into a salt-marsh rimmed basin. It's about a 6-mile round trip excursion, and the folks at Blue Heaven Kayak will fix you up with your preferred mode of water transport.
VISIT: Mystic Museum of Art
The Mystic Museum of Art might be small, but it packs a punch. See permanent and temporary exhibits in 4 galleries.
GO: Denison Pequotsepos Nature Center
If you're in need of some forest bathing, or want your evening of birdwatching to end with wine, the Denison Pequotsepos Nature Center satisfies. With over ten miles of trails on two adjoining sites (Coogan Farm and Denison Homestead), and fun programming for both families and adults, this woodland attraction can balance out all of those on-the-water activities.
SHOP: Historic Downtown Mystic CT
Shops change over quickly, so we don't cover most on main street. But two have stood the test of time: Bank Square Books and Mystic Army Navy Store.
SHOP: Mystic Knotwork
Any kid who spends lots of time on boats will at some point or another purchase a Mystic Knotwork Original Handmade Sailor Bracelet, which he or she will wear for years until it's so gunky, it must be removed. (Believe me. I know). But that's not all that's knotted in this 50+-year-old establishment. You'll find placemats, key rings, jewelry, door mats, pet toys, and so much more.
PHOTO OP: Mystic Bascule Bridge
Make sure to stroll over the bascule bridge in the downtown area, with its truck-sized cement counterweight poised overhead. Built in 1922, and rehabbed in 2013, it uses electric motors to drive huge wheels and "linkages" in its ingenious, pre-computer age, engineering.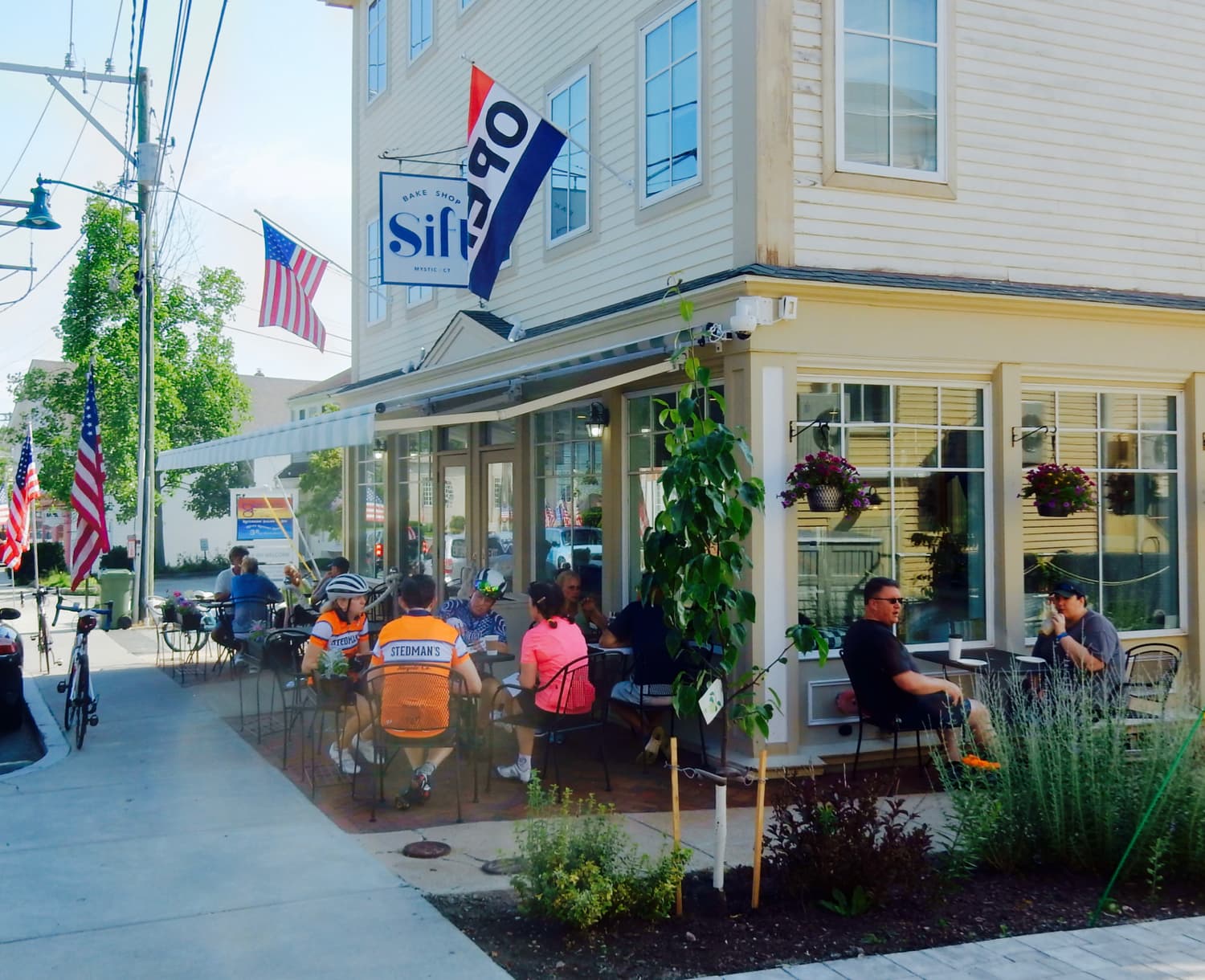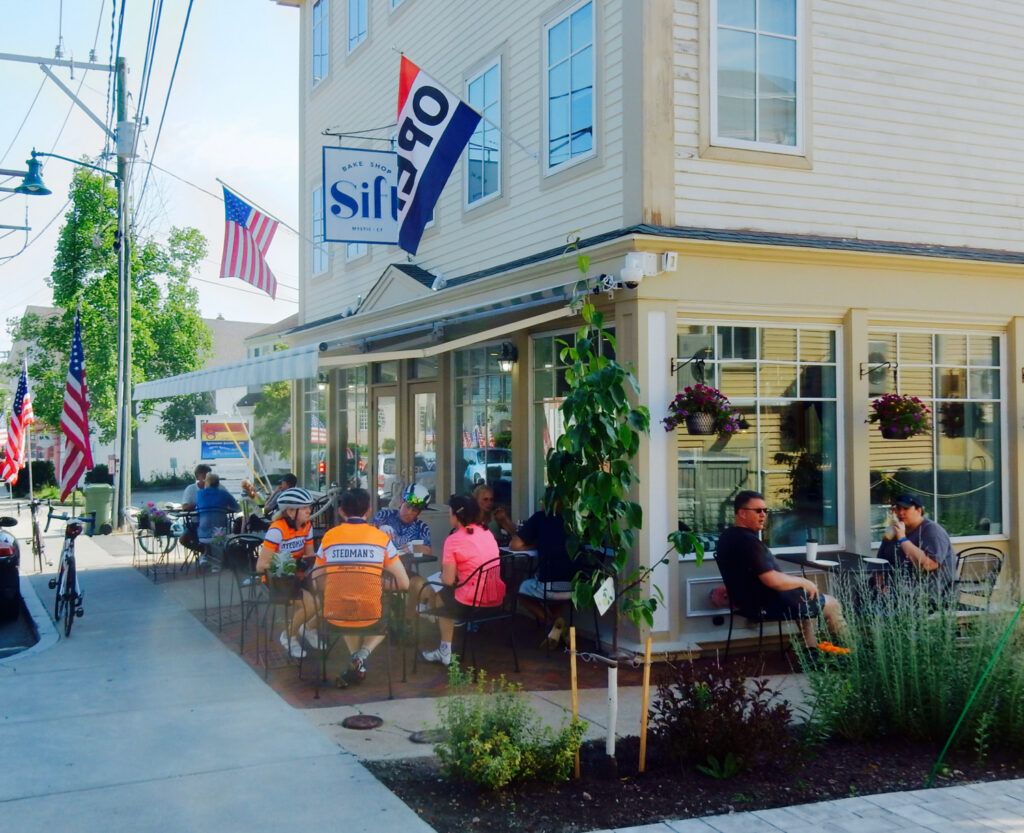 SHOP/BITE: Sift Bake Shop
Forget Mystic Pizza, all visitors to this tourist town should head to the only Mystic bakery that counts: Sift. All I can say is Wow! You'll hardly find another baked goods shop of this caliber outside of Paris. Owner/pastry chef par excellence, Adam Young, perfected the craft during his multi-year stint at the venerable revamped Ocean House Hotel in Watch Hill RI, and it is very apparent. Wow and wow again.
SHOP: Mystic River Chocolate Cafe
There's a reason that chocolate is the confection of choice for Valentines Day. This new Mystic River Chocolate Cafe makes its own Organic Craft Chocolate in Small Batches from Bean-to-Bar. So, it's a perfect place to stop and shop with your S.O.
SHOP/MOVIES: Olde Mistick Village
With establishments that include a movie cinema, Olde Mistick Village is a ye olde village like Jack Sparrow is a real pirate. But the open-air retail district (near Mystic Aquarium) is a nice diversion for shoppers: with the movie theater a great rainy day option.
Best Restaurants In and Near Mystic CT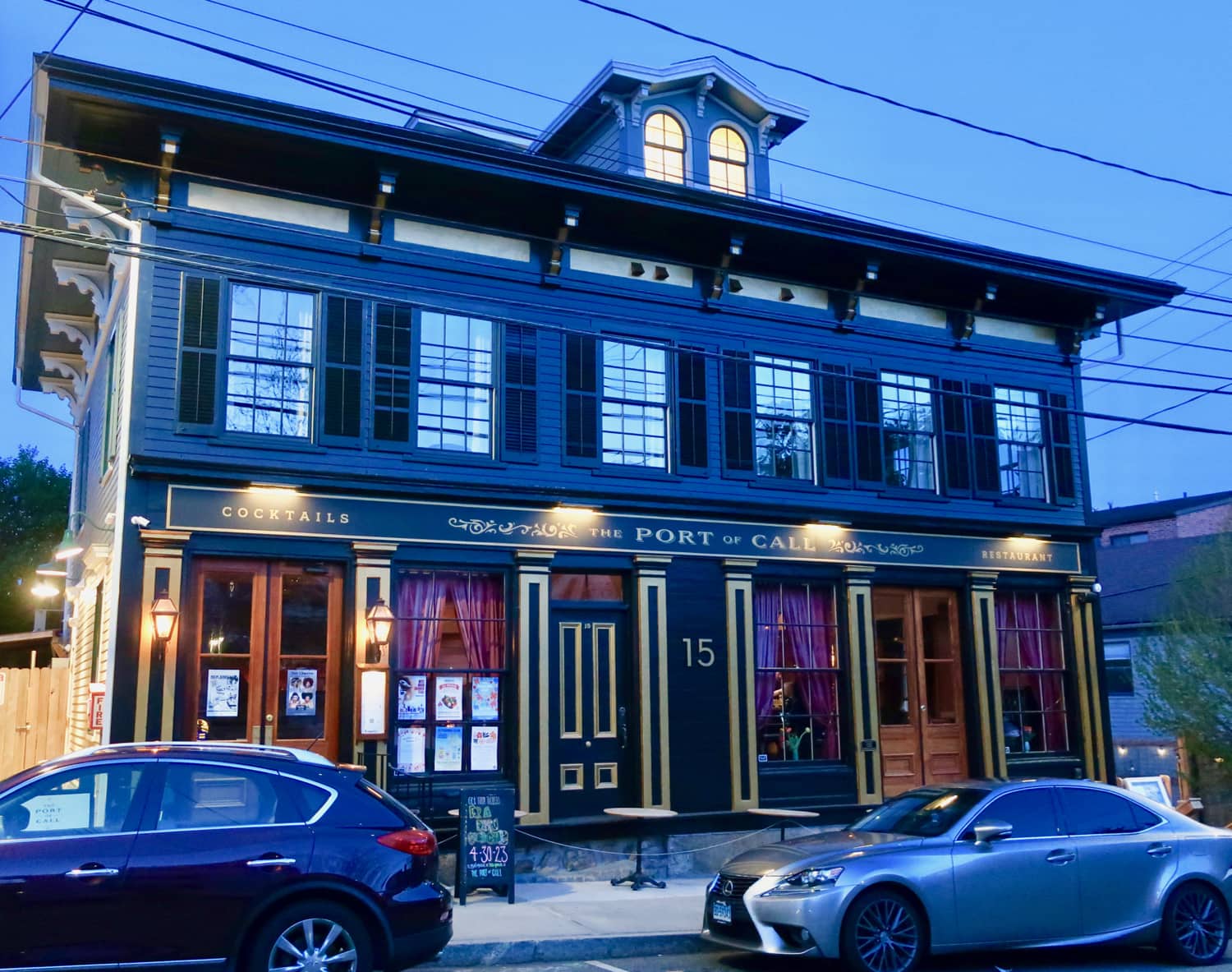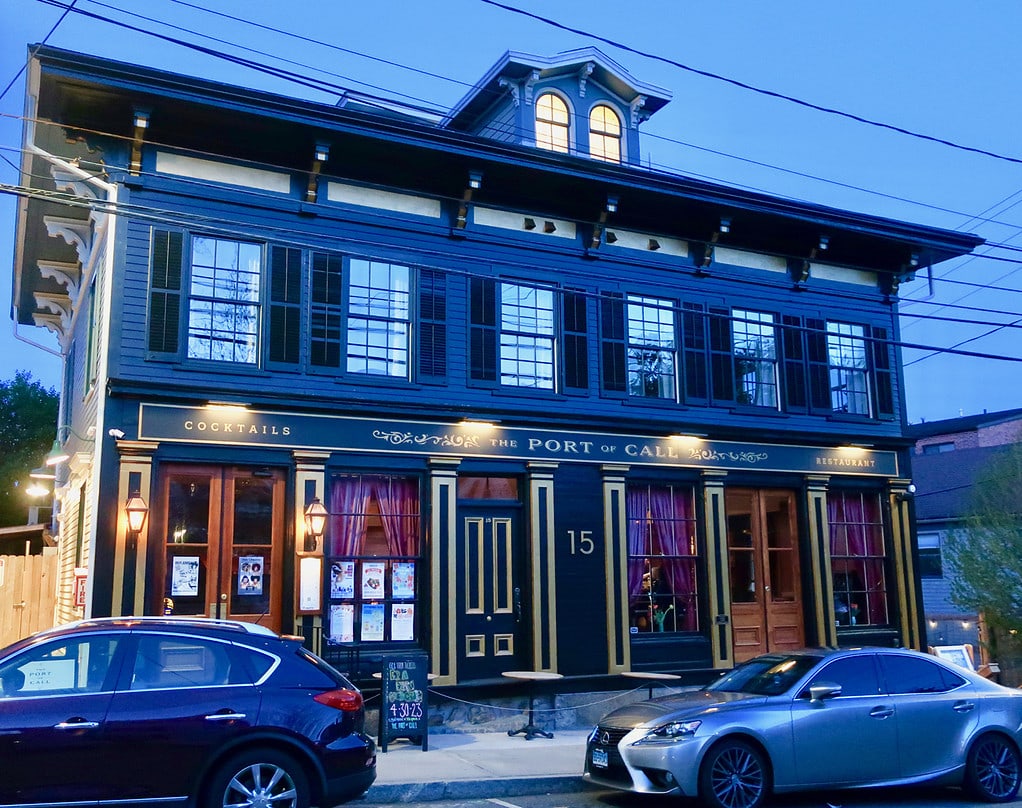 DRINK/EAT: The Port of Call Restaurant and Cocktail Bar
Esquire Magazine voted The Port of Call one of the Top 24 Bars In America – no small feat. This new watering hole in Mystic CT calls itself a "nautical themed cocktail lounge and restaurant." The vibe is what you'd imagine 1800's mariners encountered after pulling into port and checking out the dockside bars – only here those explorers are hedge funders, bartenders are eager and knowledgeable enough to customize your favorite cocktails, and the world-fusion food is incredibly good.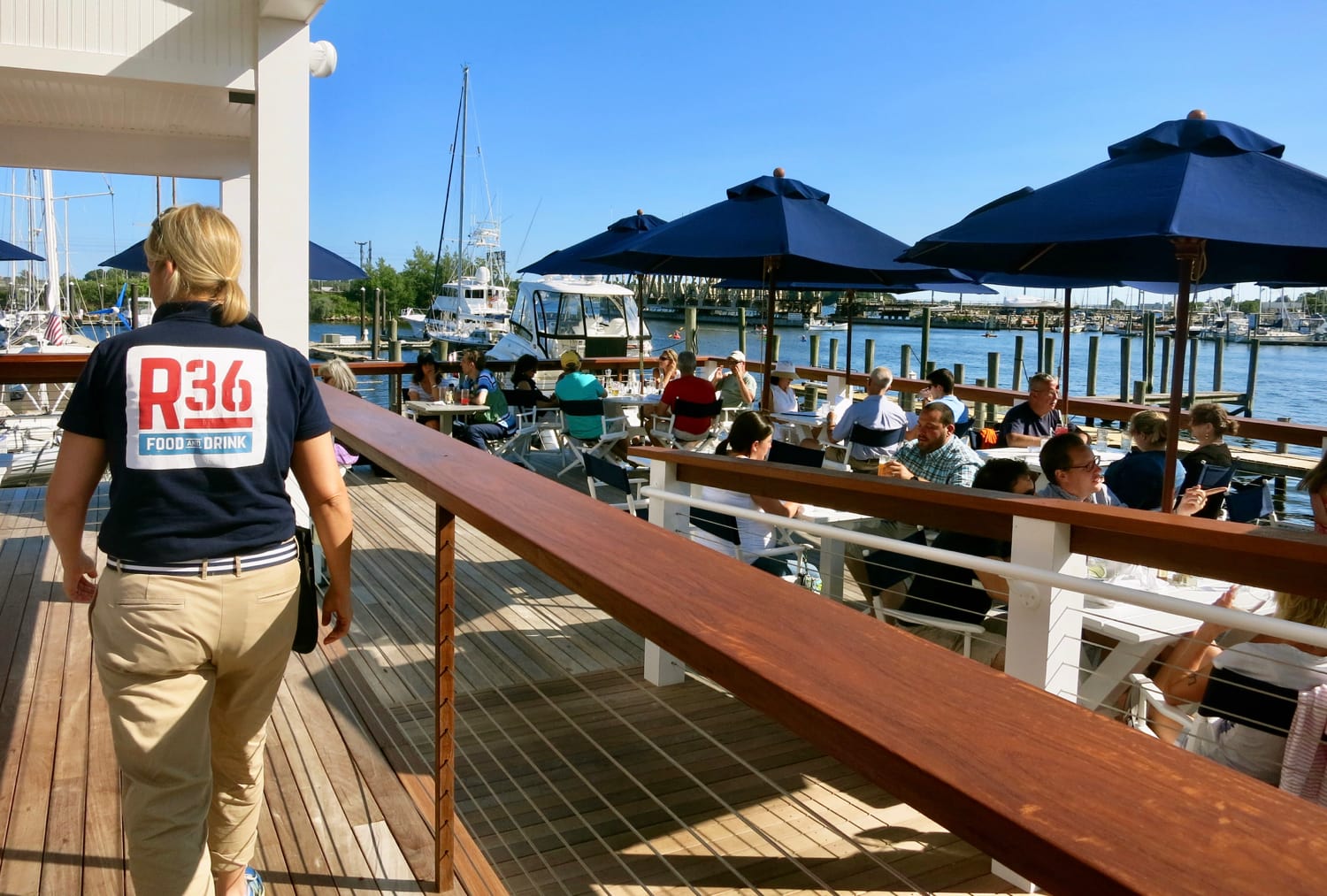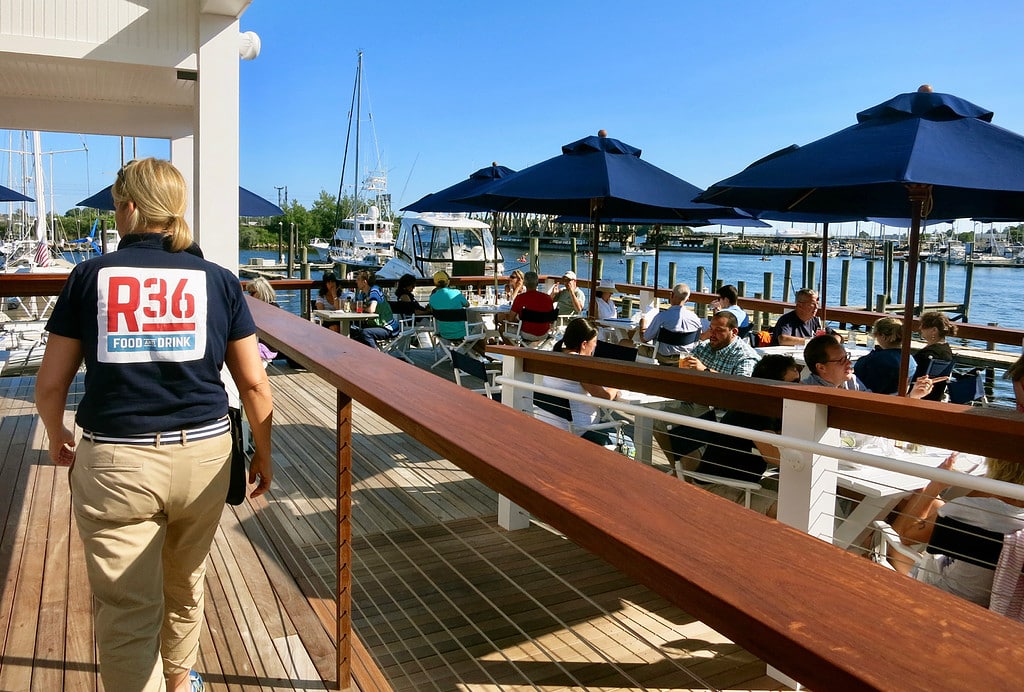 EAT: Red 36
R-36 (owned by the Bravo-Bravo group and named for the red channel buoy), is sensationally set right on the Mystic river in the shadow of the rotating railroad bridge. Singular location and great service are but two aspects of a successful restaurant: The food has to be good as well. And Red 36 delivers. Located at Seaport Marine, R36 is within a few steps of visiting and seasonal boaters and just a few blocks from the center of town.
DRINK/EAT: Captain Daniel Packer Inne
Purportedly haunted restaurant and cellar tavern within a restored 1756 Sea Captain's home, the Captain Daniel has been packing in old salts since 1983. If you're looking for low-lit Colonial atmosphere and good food, this is your place. Ask to see a supply ledger dated June 1769 – the place seems to have been run on rum. And onions.
EAT: Oyster Club
Mystic's "Sea and Farm to Table," Oyster Club, adds to the non-franchise, foodie bent of Connecticut's most touristy town. Oysters come from beds a few miles offshore, and foliage that ends up on your plate is foraged nearby. Though the menu changes daily (as befits a farm-to-table restaurant), you'll find dishes like "Baked CT river shad with a rich potato puree, rhubarb- brown butter and wilted spinach"
EAT/DRINK: Bank & Bridge Brewing
The new Bank & Bridge Brew Pub just opened a few days before 4th of July Weekend 2021. So, if you want to know how the beer, cider, wine and vittles are, wait awhile – or take a chance, visit, and try it out yourself. The Lobster Joystick ($18), like a corn dog but with lobster, sounds like a winner. Can't decide between lobster and scallops? The Wasabi Scallop and Lobster Roll ($18) has both.
EAT: Pizzetta
Yes, there's plenty of pizza in Mystic, and if you want a plain pie on the go, Mystic Pizza (which is not actually where Julia Robert's first big movie was filmed. That was done in nearby Stonington, CT) is decent. But if you're looking for a sit-down brick oven gourmet pie , book a table at Pizzetta. The whole place is fun and colorful, and perfect when you just can't stomach another fish dish.
EAT: Bravo Bravo
Bravo Bravo brought cosmopolitan flare to this seaside tourist town. Streamlined décor and excellent straightforward dishes draw big summertime crowds. A go-to staple for locals.
EAT: Ford's Lobster, Noank
Boaters love this riverside lobster spot. You'll see them jockeying for a place to tie up on a smallish dock – or hovering just offshore. What's the draw? Ford's Lobster Bomb: a 1/2 lb of fresh lobster meat, stuffed, like spinach dip, into a huge bread roll, and topped with melted butter. Of course, there are some less heart-afflicting items on offer as well, like salmon and salads.
EAT: Abbott's Lobster In the Rough
Abbott's is absolutely a tourist mecca. That's because it's been dishing out fresh steamed lobster at this riverfront location since 1947. A bit over 30 years ago, you could get a complete Lobster Meal (1 lb., corn, clams, coleslaw) for $9.95.
Now, without the corn and clams (but including chips and coleslaw), a 1 1/4 pounder costs $25 or thereabouts, and prices go up as the lobsters get heftier. But they are still fresh and tasty, especially when eaten on a picnic table overlooking the boats on the river.
ICE CREAM: Mystic Drawbridge Ice Cream
Cap off dinner with a perfectly cold and creamy home-churned scoop at Mystic Drawbridge Ice Cream. It's the most delicious way to end the day, and the location at the groaning edge of the drawbridge can't be beat.
Best Places To Stay In Mystic CT
STAY: Steamboat Inn, Mystic CT
Stay in the shadow of the mechanical wheels and huge cement counterbalance weights of the fascinating Route 1 bascule bridge – book one of eleven upscale rooms at the spectacularly located Steamboat Inn, perched on the most exciting and constricted section of the Mystic River.
In 2011, Kim Kardashian stayed at The Whaler's Inn – Steamboat's sister property across the bridge-which was consequently completely booked for months.
All articles belong to Getaway Mavens LLC, and all photos belong to us as well, unless otherwise noted. It's all copyrighted. Please don't repost anything elsewhere without asking us first. All rights reserved. This site uses cookies to enhance your experience.
We make no guarantees of any price listed on our site. We are not responsible for content on external websites linked to ours, including linked resources, an external blog post, any partner site, hotel property sites, or affiliate sites. We only write about places we have vetted, but can't guarantee that your experience will be exactly the same.
Posts may contain affiliate links at no cost to you. Several of our trips are also compensated by the respective tourism boards for the city or state we are visiting. This never impacts how we share the destination with you – opinions are always our own and we pride ourselves on that. We do not sell links or accept unsolicited guest posts under any circumstances. Don't even ask.
United States Copyright, Getaway Mavens, LLC