Last Updated on September 7, 2022 by Editor
Where Is Moline IL and What Can You Do There?
Moline IL, one of the "Quad Cities" situated on the Mississippi River, is International Headquarters for John Deere, Inc.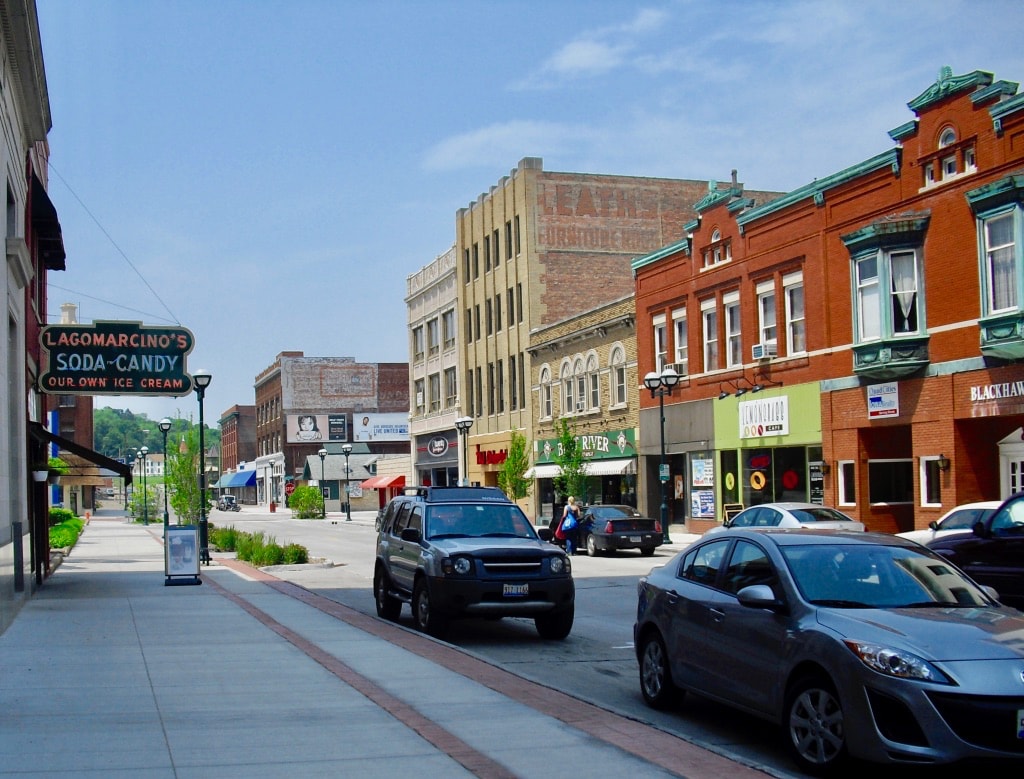 Together with the other "quads," – Rock Island IL, Bettendorf IA, and Davenport IA – Moline is furiously revamping, renovating, and building its way into a draw for tourists, and it's worth a full day or two to explore. Especially if you're into heavy equipment, Army life, and exploring lesser known towns on the Mississippi.
Hold hands over an old-fashioned ice-cream soda, dance away on a riverboat, see who can work an excavator better, and watch river traffic negotiate a lock. You and your honey can do all these things in Moline IL. Just read on.
Moline IL is a US Route 6 town. For more information on Route 6 coast to coast, check out this Getaway Mavens post.
And, for information about US Route 6 in Illinois, check out our 10 Best Romantic and Historic Stops on Route 6 IL.
Things To Do in Moline IL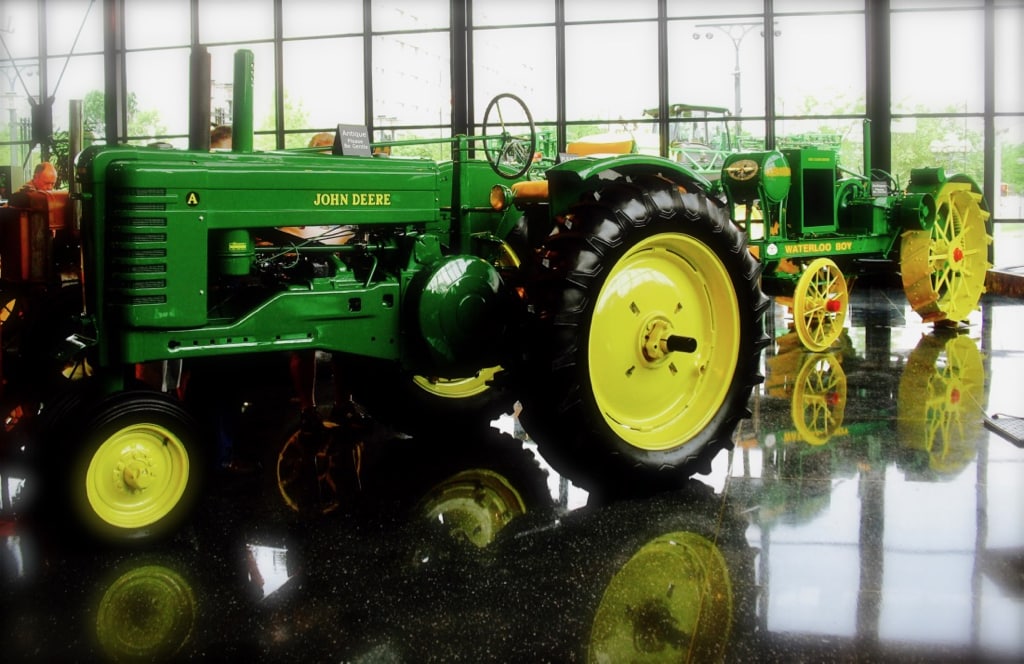 VISIT: John Deere Pavilion (Planned Reopening Fall 2021)
First opened in 1997, with renovation and planned reopening in Fall 2021, the John Deere Pavilion was the 5th most popular attraction in Illinois. This slick 14,000 sq. ft. glass and steel enclosure is "A celebration of Agribuisness and innovation," containing life-size equipment both old and new.
When John Deere moved from Vermont to Illinois in 1847 to establish his self-scouring polished steel plow manufacturing company, he insisted that the railroad line extend to this Mississippi River outpost. Moline has been a Deere Company Town ever since.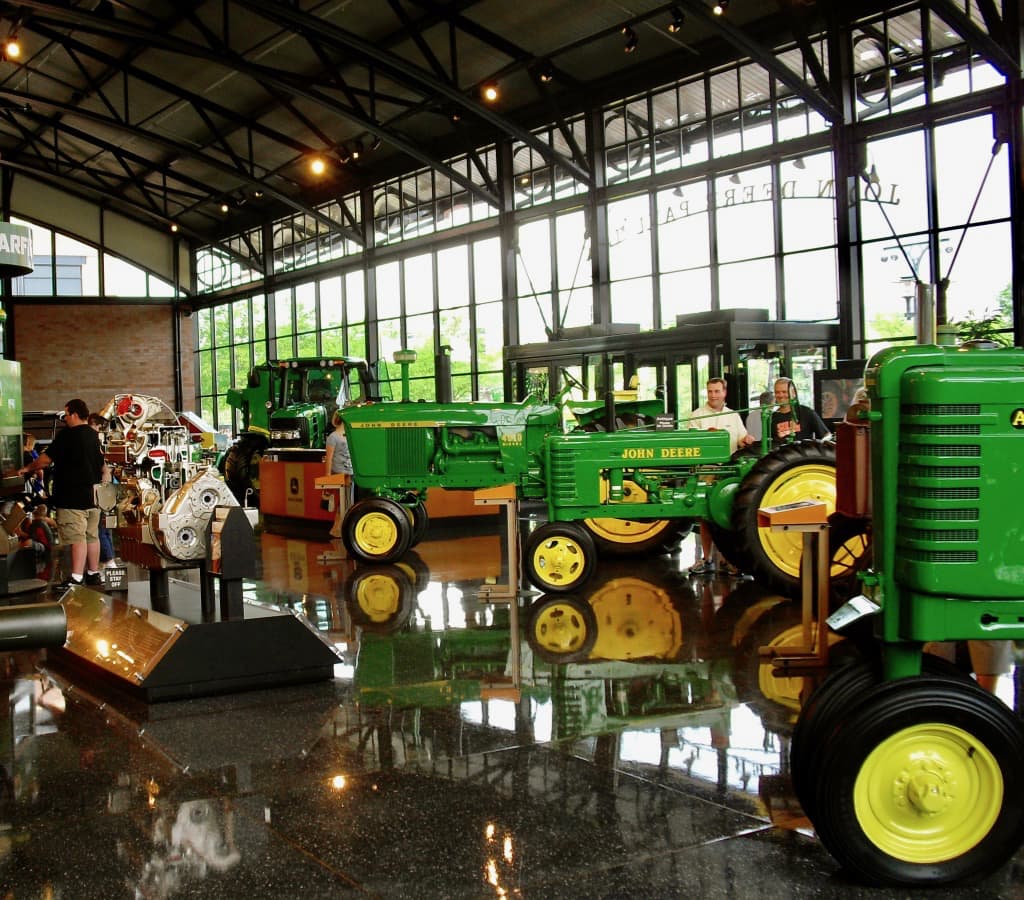 The John Deere Pavilion is an indoor wonderland for everyone who's ever been awestruck by big trucks and tractors. Here, you can climb into the cabs of these shiny-green pieces of equipment and pretend that you're on the job. In fact, you can also try your hand at maneuvering a John Deere Excavator using the same simulator that trainees use. Open year round, Mon. – Fri. 9 am – 5 pm, Sat. 10 am – 5 pm, Sun. Noon-4 pm.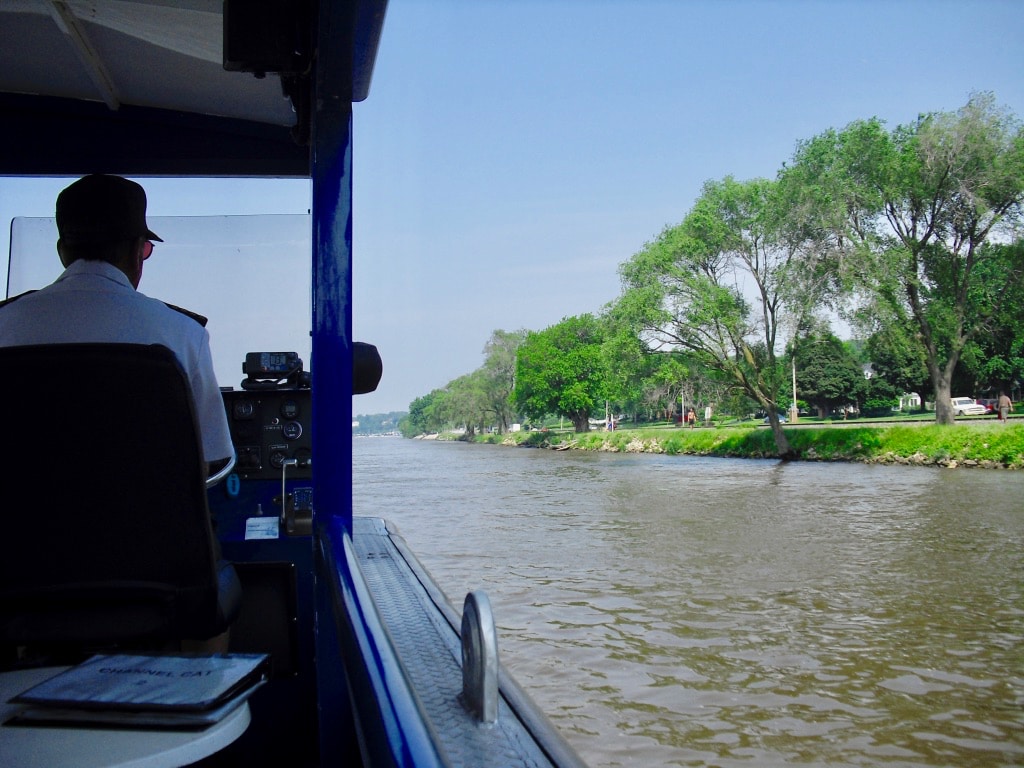 The unique Channel Cat Water Taxi transports bicyclists, commuters, and others who wish to avoid jammed bridge traffic over the Mississippi River. For just $8 ($4 kids) you can ride the hour-long circuit (it makes stops in four places; two on the Iowa side and two on the Illinois side) and get on and off whenever you'd like.
From Moline IL, you'll cruise past large mansions set on hilltops, blue herons landing on river rocks, and through decommissioned Locks; a most mesmerizing way to see these river towns.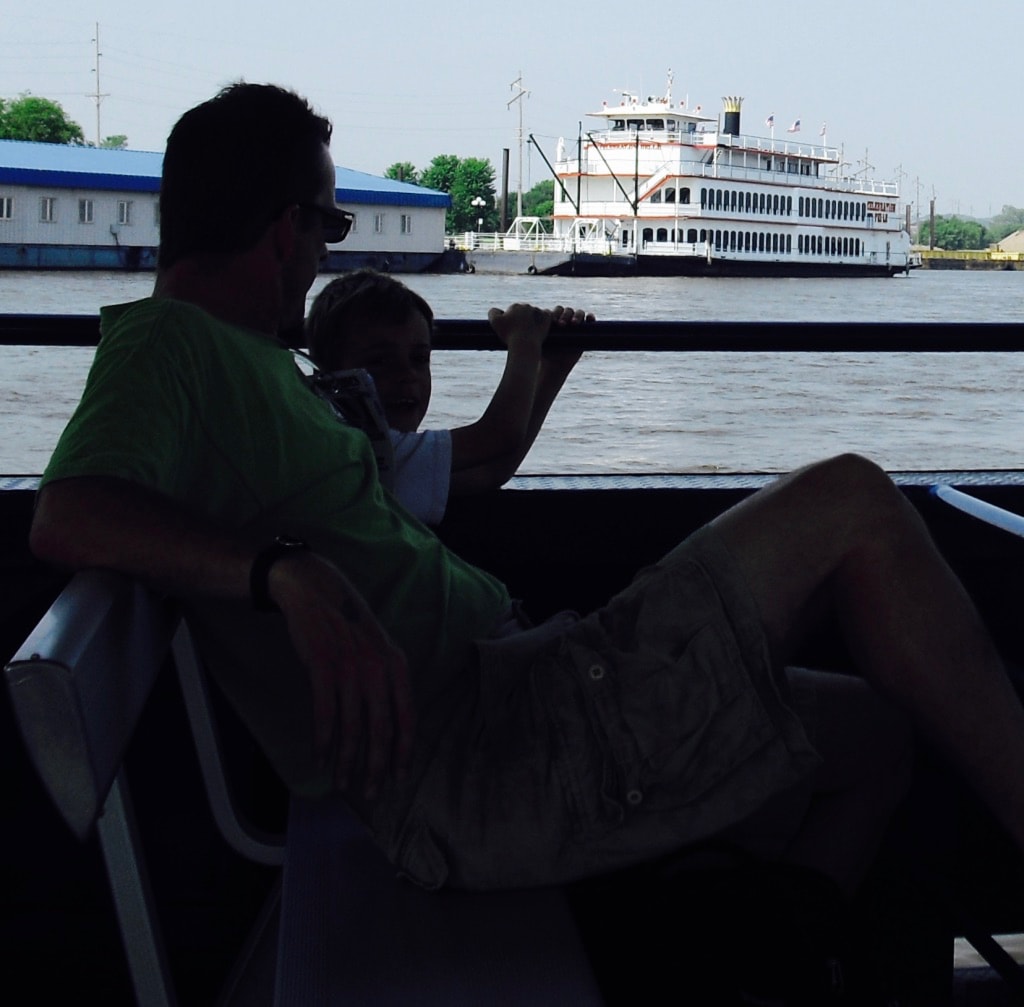 Sure, it's old school (prime rib dinner, anyone?), but the Celebration Belle Riverboat Mississippi River Captain's Dinner-Dance Cruise is a hoot. And, it's just perfect for young-uns looking for a retro-experience.
You'll get a full buffet dinner (meat, chicken, pasta, salad, etc.), a live band, and an overview of sites like the Rock Island Arsenal and Lock and Dam 15. Runs through the fall, and some other days off-season. Check schedule online. Dance, dinner cruise $52.95 per person. Other themed cruises and 1 1/2 hour narrative cruises also run through October.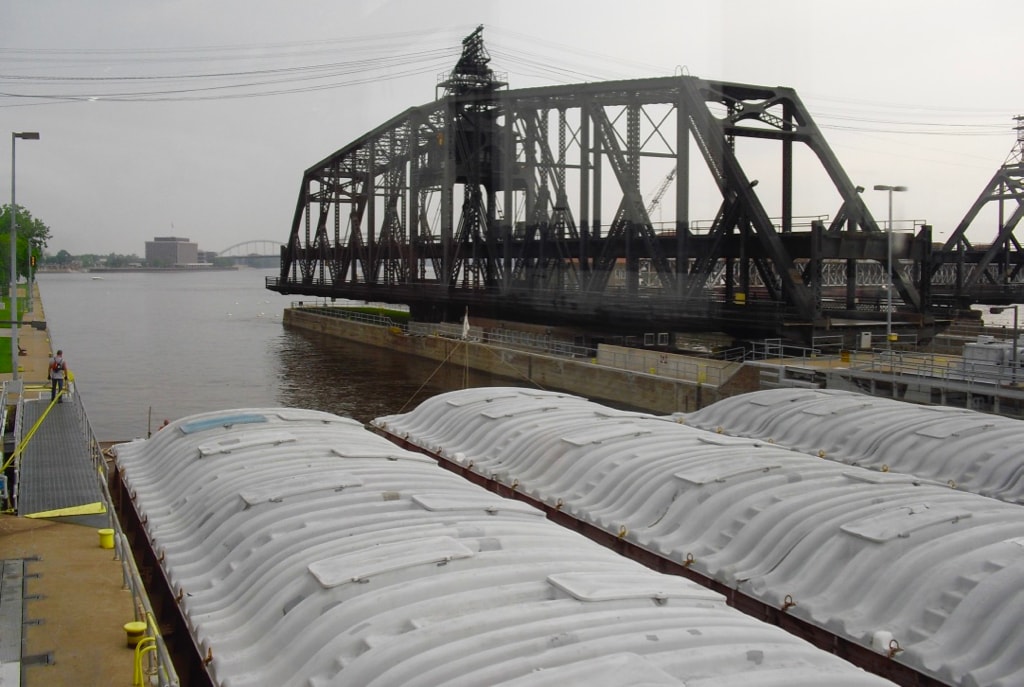 **To gain entrance to the 946-acre Rock Island Arsenal and get past the checkpoint, you must show a valid photo ID and pass a criminal background check at the Moline Gate Visitors Center.
Headquarters of the First Army, and an active US Army Installation, the Arsenal is the largest government-owned weapons manufacturing facility in the United States. The munitions compound produces a range of military products including aircraft weapons sub-systems, weapons simulators, small arms, gun mounts, recoil mechanisms, artillery pieces, fighting vehicles, and ordinance.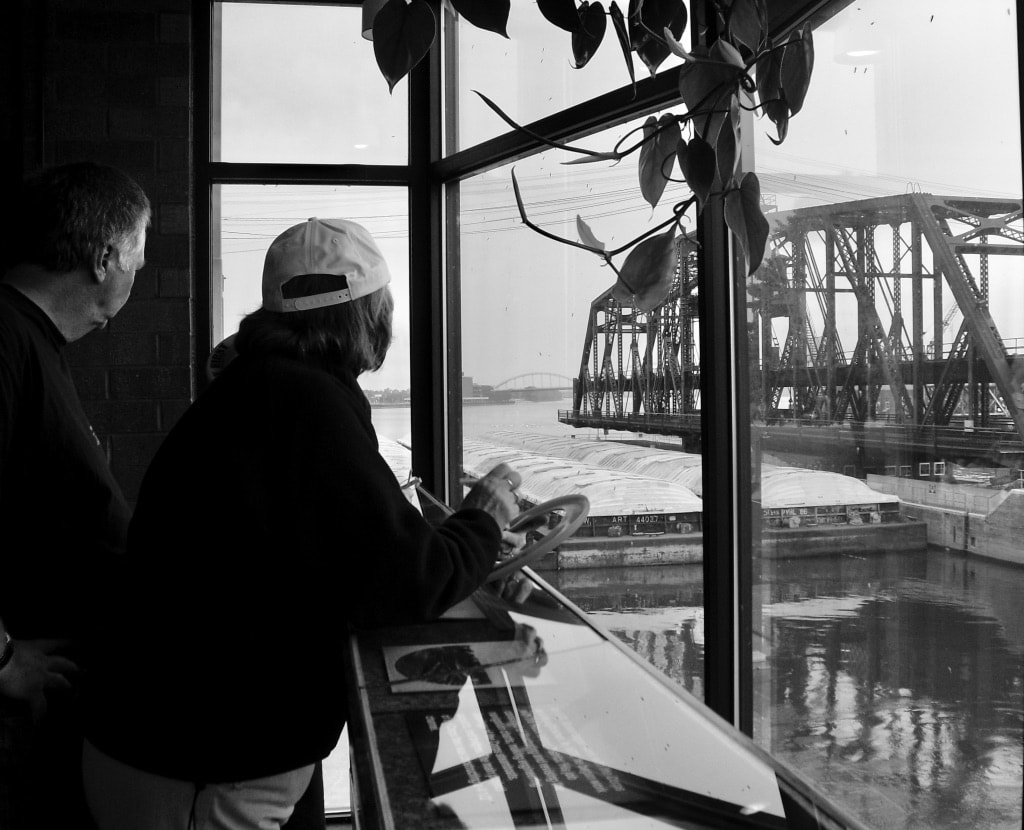 US Army Corps of Engineers Mississippi River Visitor's Center – Lock # 15
In addition to factories, there's a 66-acre National Cemetery, and several museums, including the Rock Island Arsenal Museum, (closed for renovations until summer 2022) and the US Army Corps of Engineers Mississippi River Visitor's Center – Lock # 15 on site.
Before the construction of the Rock Island Lock, this part of the river was rocky, rapid and hazardous to boating traffic. Now, not only can commercial ships pass safely through, but visitors can also watch them do it though floor to ceiling windows or from an outside deck. Observing a wide barge as it squeezes into a narrow lock is definitely worth waiting for.
Where To Eat in Greater Moline IL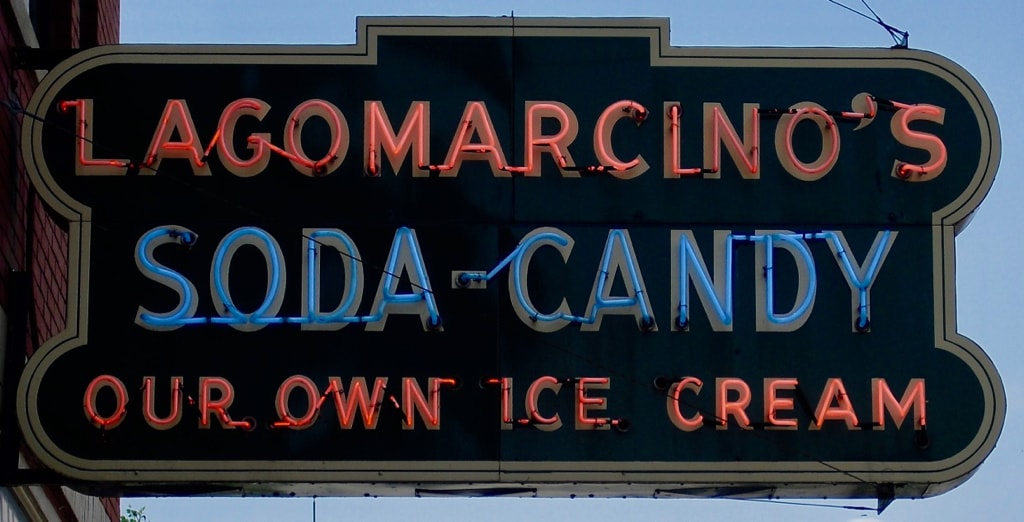 There are plenty of places to grab a bite in the Quad Cities, from fast to fine, but Lagomarcino's is a Moline IL institution. Founded by Italian immigrants, and still owned and operated by the Lagomarcino family, this tough to pronounce but easy to find place has been dishing out hand-made chocolates, ice-cream and fantastic hot fudge sundaes since 1908.
Not much has changed here since it opened; dark mahogany booths, green Tiffany-style lamps, a colorful/whimsical candy counter, tin ceiling, and the "Green River" vivid-emerald-colored phosphate soda still remain. Lagomarcino's is a city – and quite possibly a National – Treasure. You will dream about your sweet tuna salad on homemade rye bread (from a 1920 recipe) and that gooey, rich-chocolate-y hot fudge long after you leave.
Drive six miles from Moline to the rollicking Mulligan's Valley Pub. Don't let the nondescript strip center exterior deter you: There's plenty of craft brews on draft and a huge selection of bottled beer – plus the requisite pub food along with live music. Be warned – it can get pretty packed on weekend nights
EAT: Locals Recommend
Fifth Avenue Syndicate at the Axis Hotel for craft cocktails and French flair. Lemongrass Café for Pan Asian and noodle dishes.
Where to Stay in Moline IL
The Stoney Creek Hotel features a bit of "Piney Woods" on the Mississippi River. Slightly Adirondack with a Western twist, rooms are upscale with log pine furniture, and woodsy architectural details.
The Stoney Creek Hotel is near the center of Moline action on the Mississippi River, just a 10-minute walk to the John Deere Pavilion and Lagamacino's. It's a magnet for concert-goers (TaxSlayer Center is blocks away), and romantic road trippers of all kinds. Rooms from $127 per night.
STAY: Axis Hotel, Tapestry By Hilton
If you're looking for a contemporary boutique hotel, the brand-new Axis Hotel fits the bill. Rooms from $127 per night.