Last Updated on February 25, 2020 by Editor
Mitzpe Hayamim, an Organic Farm/Spa/Hotel/Restaurant in northern Israel, is better than ever after a $23 Million renovation in late 2019.
Although this review was first written in 2015, and photos of the building itself do not reflect the update, the pool and grounds (especially the Farm and Gardens) have remained the same.
Near the mystical city of Tsfat, in Rosh Pina, Israel, this upscale, naturally wild spot features lavish spa treatments, ample time for reflection, and some of the best meals to be had in Israel.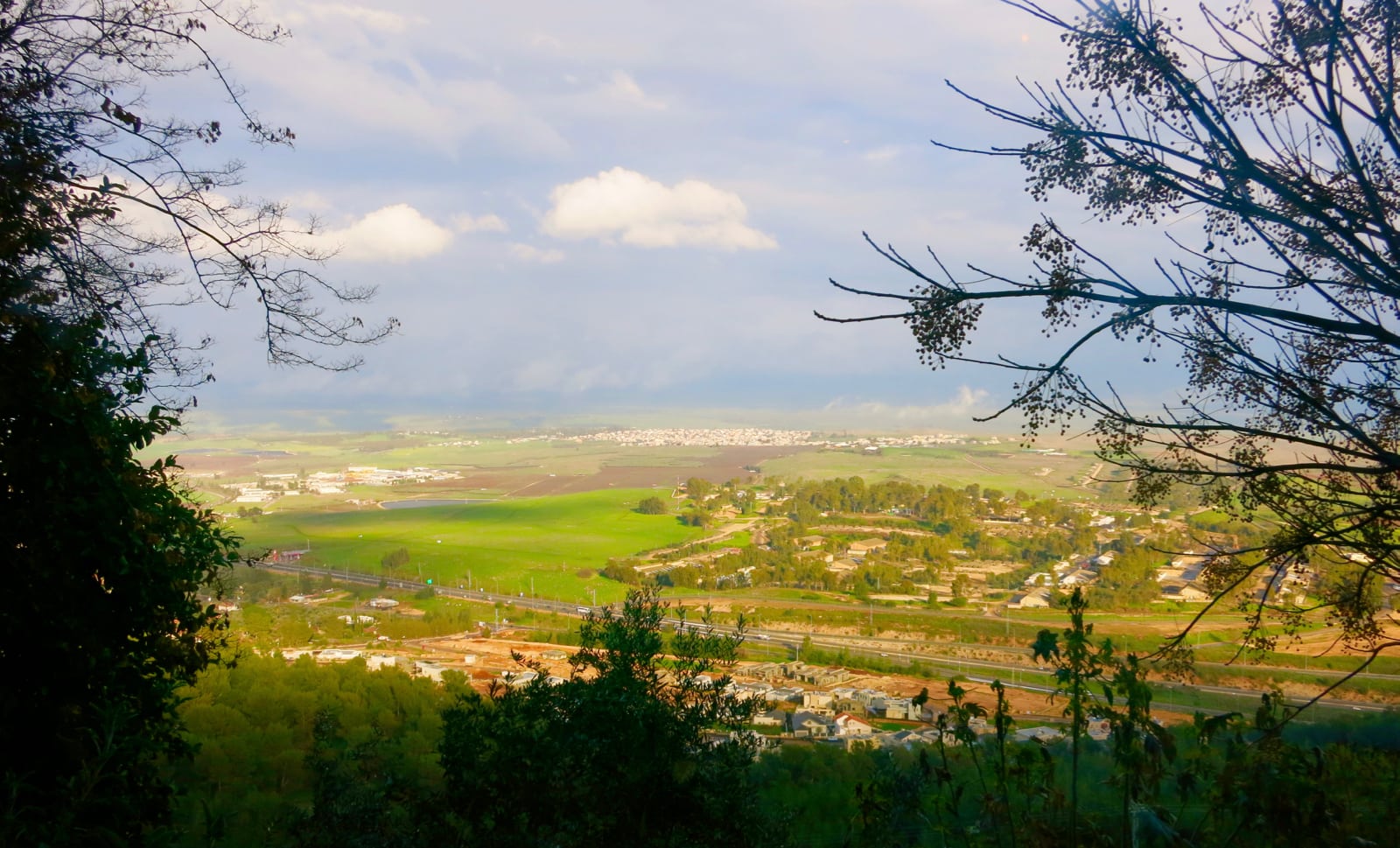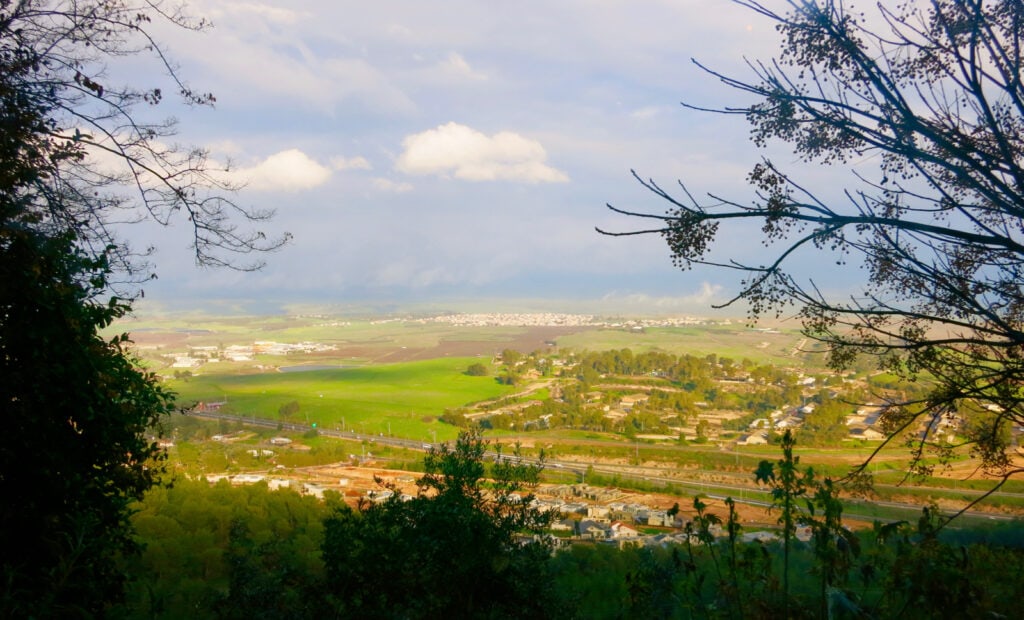 Though Mitzpe Hayamim ("view of the seas") draws mostly Israelis, this organic farm on a hilltop is heaven for English speakers as well.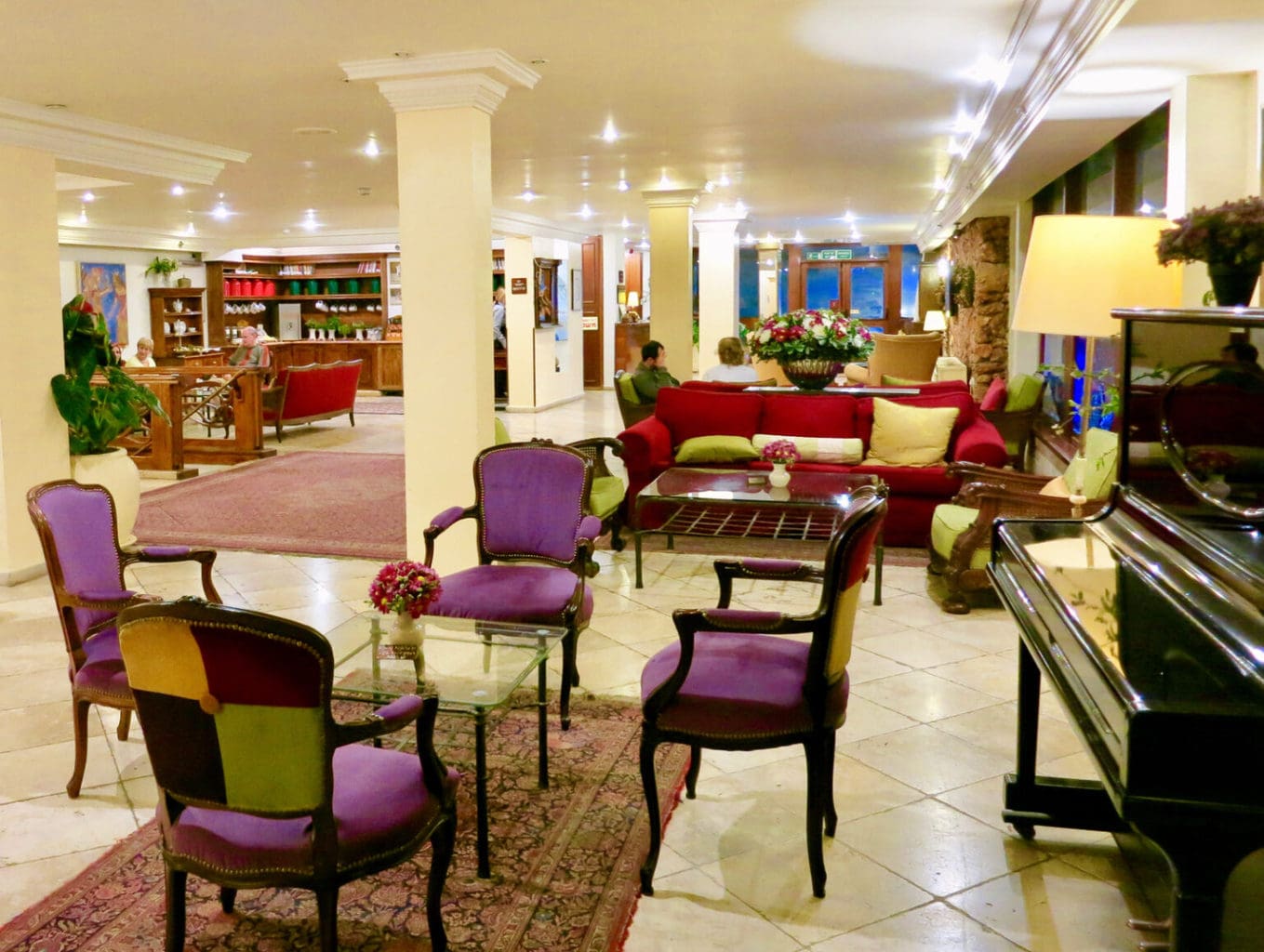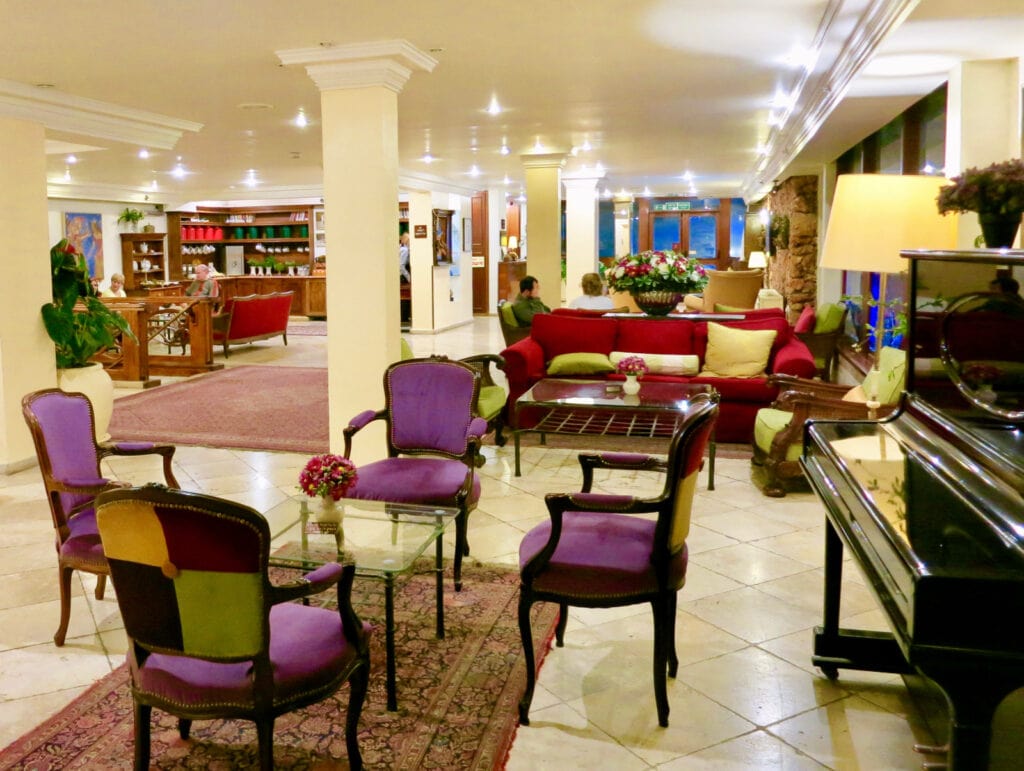 Enter the front door into a lobby that showcases old-world European art and antiques offset by jungle-like interior corridors and courtyards. It's a Yin/Yang that satisfies both the civilized and less tame aspects of ourselves.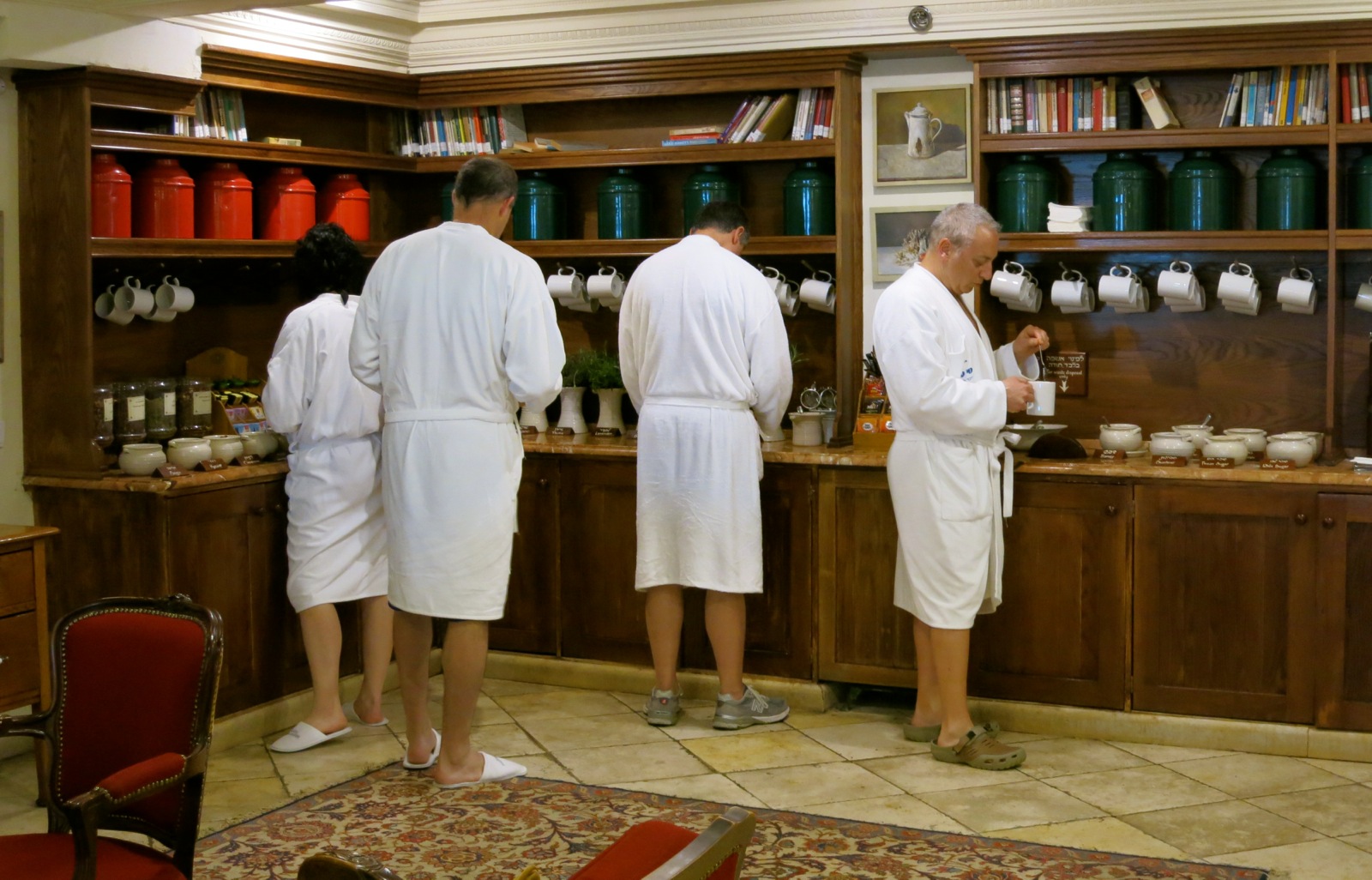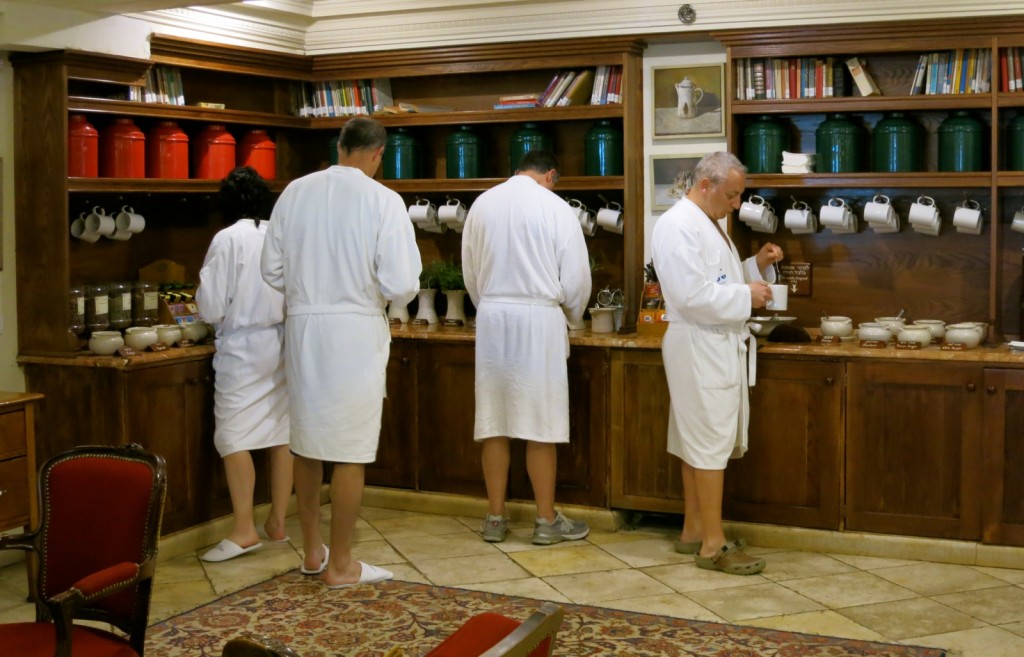 Common areas are lovely gathering spots – where you'll find men and women clad in ubiquitous bathrobes, grabbing a cup of tea made from fresh herbs, on their way to the Olympic size indoor pool or a spa treatment.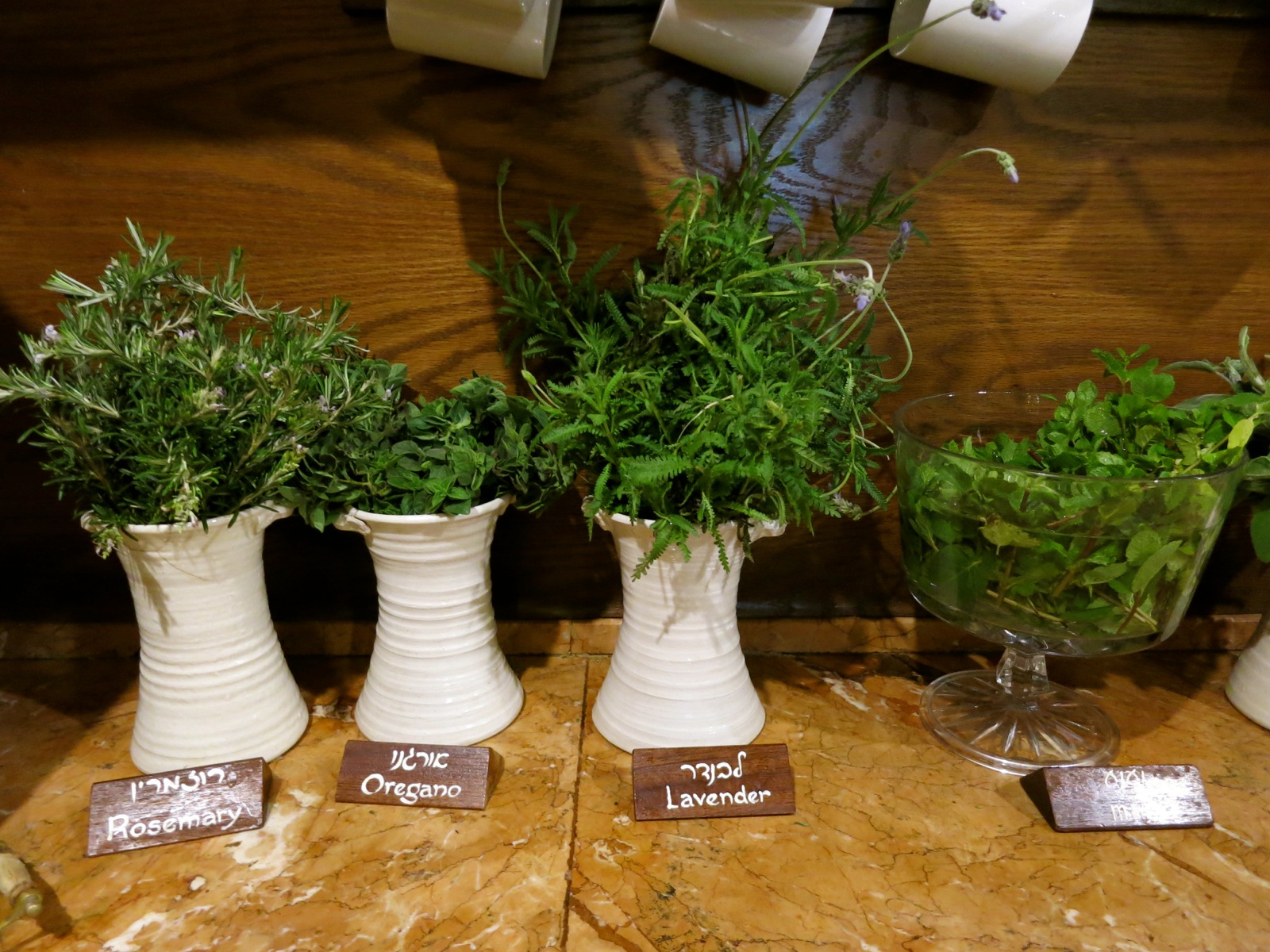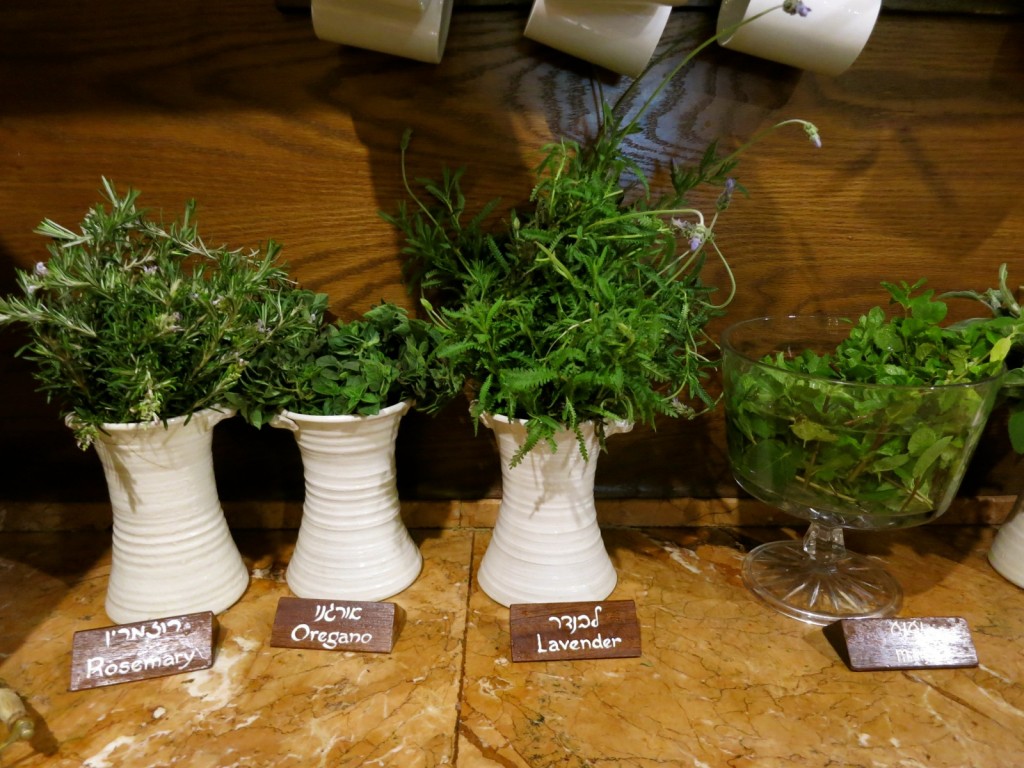 Rooms at Mitzpe Hayamim
Guests are welcomed with house-baked cookies (amazing), dried fruit and bottles of water set out in each room each day.
While standard doubles are somewhat small, spend more for a luxury "suite." It's got a sitting area, floor to ceiling windows and balcony overlooking either a courtyard or the Hula Valley and Lake Kineret (Sea of Galilee).
Those used to typical Israeli stone floors will be taken aback with hardwood beneath your feet. Rooms are equipped with the latest upscale amenities – glass showers, flat screen TV's, and high-end toiletries.
Dining at Mitzpe Hayamim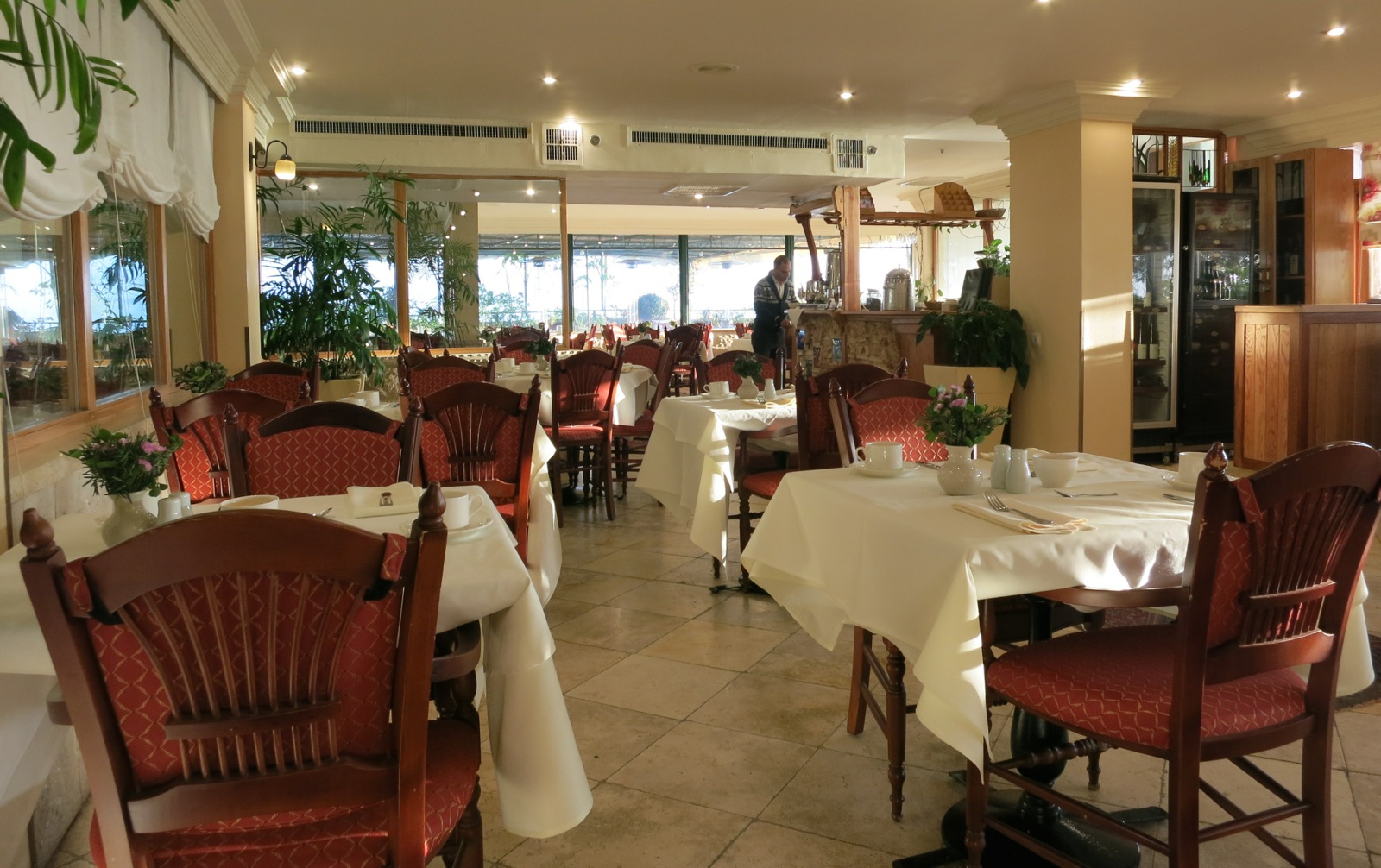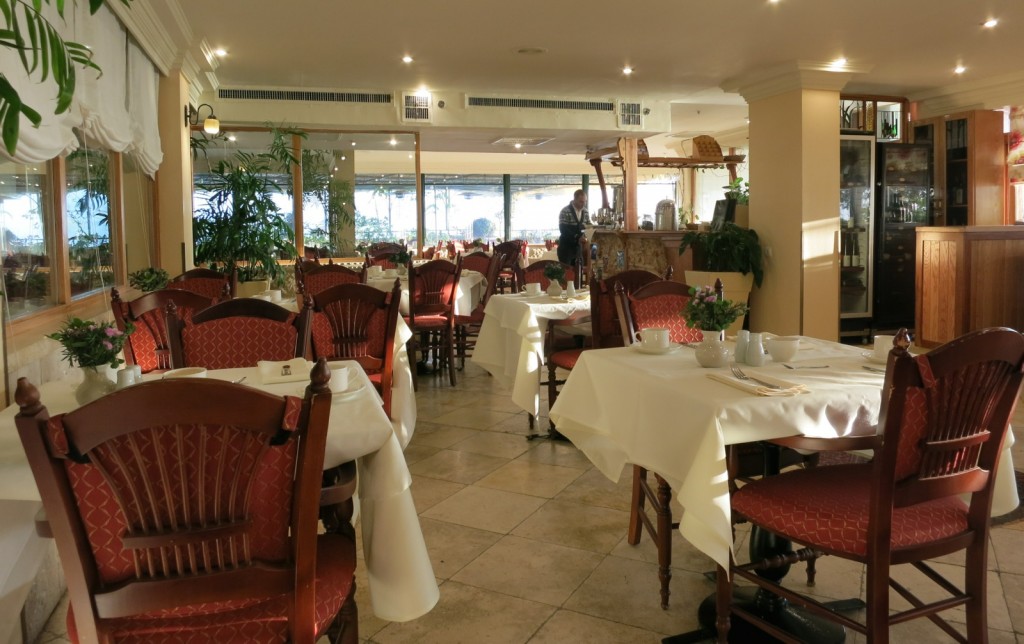 You will want to dine here every night – the food is that good. Both the expansive Israeli breakfast and an excellent vegetarian dinner – both buffet style – are included in room rates.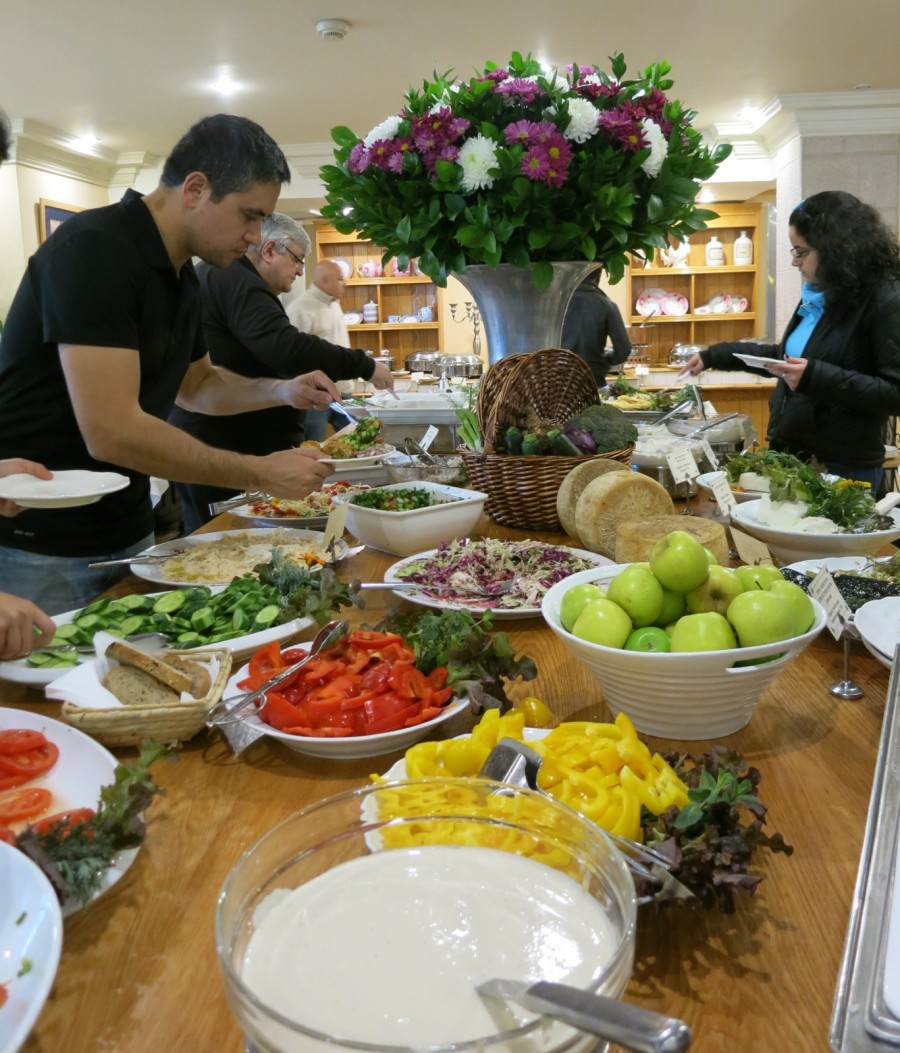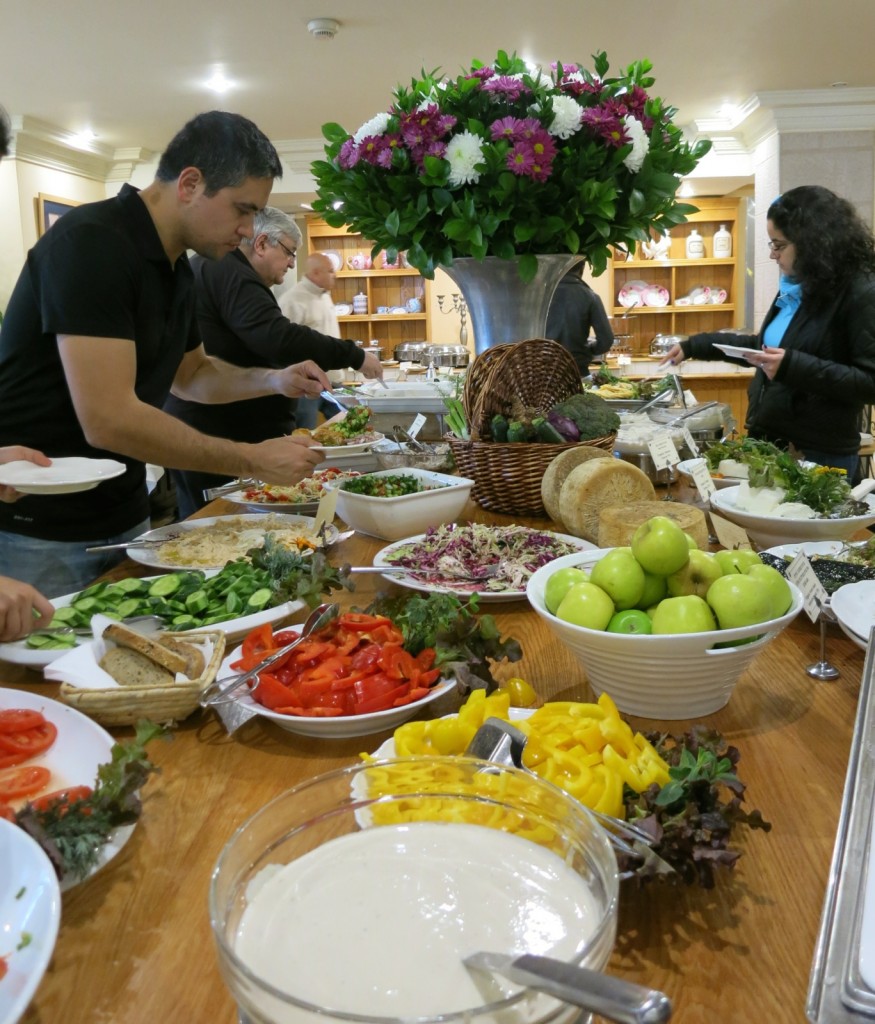 For an extra special treat, book a table at the onsite Wood Grill (formerly the Muscat Restaurant) – where locals celebrate special occasions even if not staying overnight.
In all cases, chefs create farm-to-fork cuisine that can stand up to the best restaurants of the world.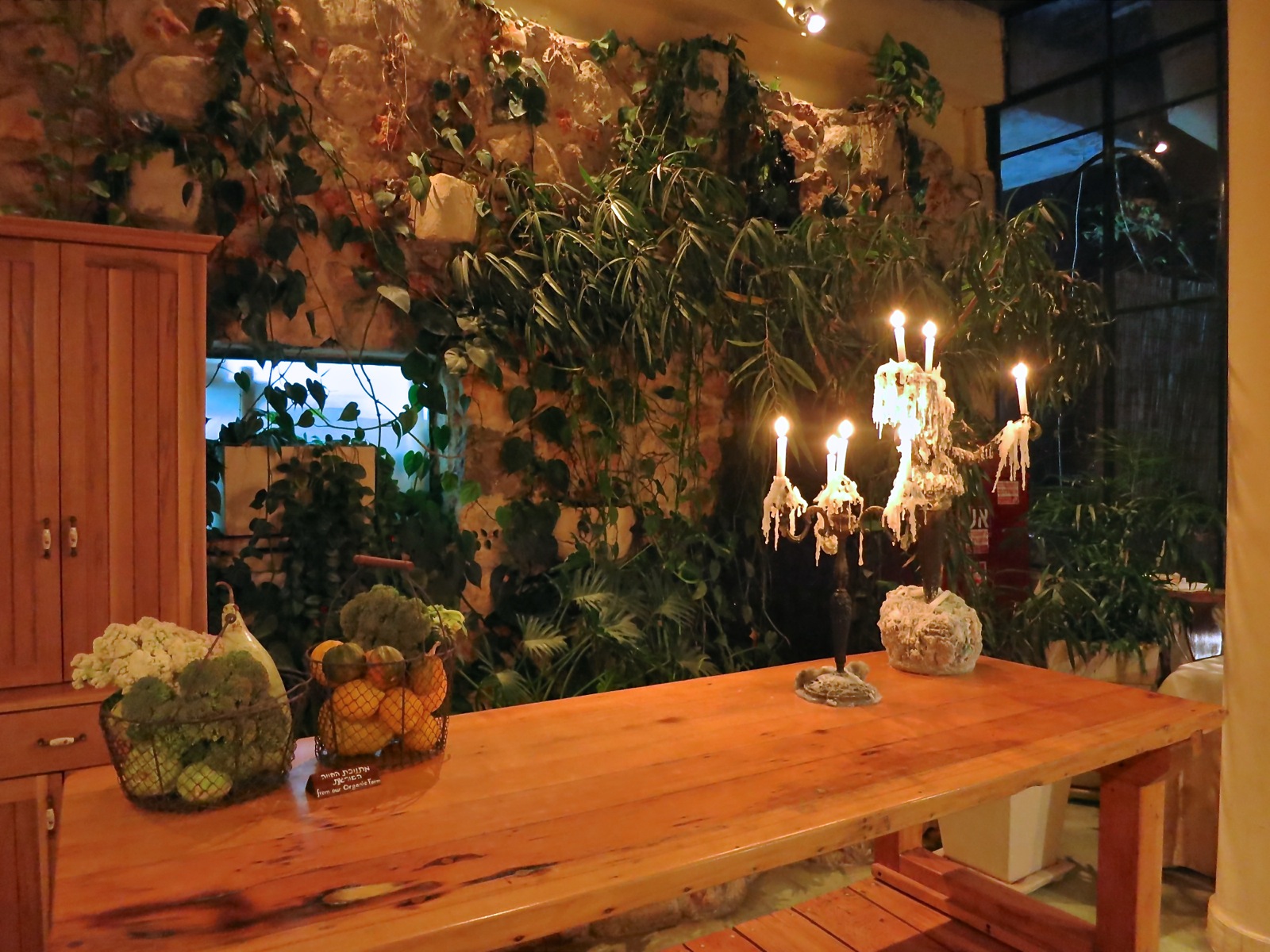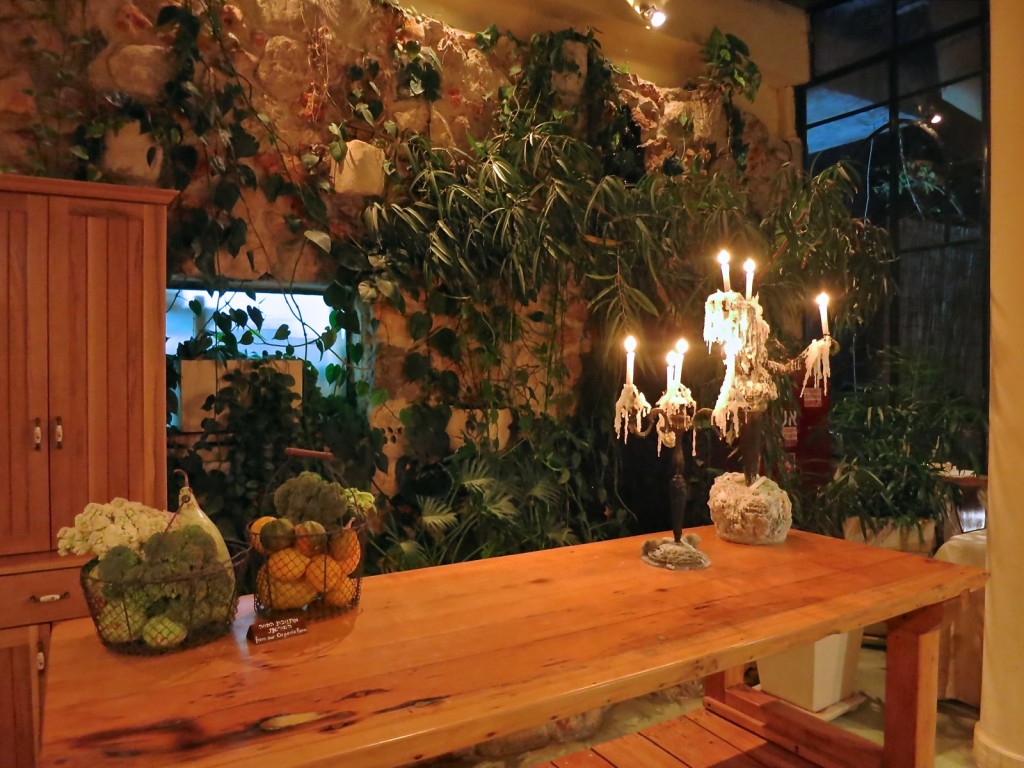 Activities at Mitzpe Hayamim
Spa
Before arrival, check out all of the treatments in the Spa, and book ahead. The 60 Minute Galilee Special is a combo exfoliation (using coconut husk) and hot oil massage; BLISS.
All massages, in fact, are drool-inducing – so don't be shy about stacking them up, at least one per day. Spa treatments are not included in the cost of the room, but are relatively reasonable by US standards.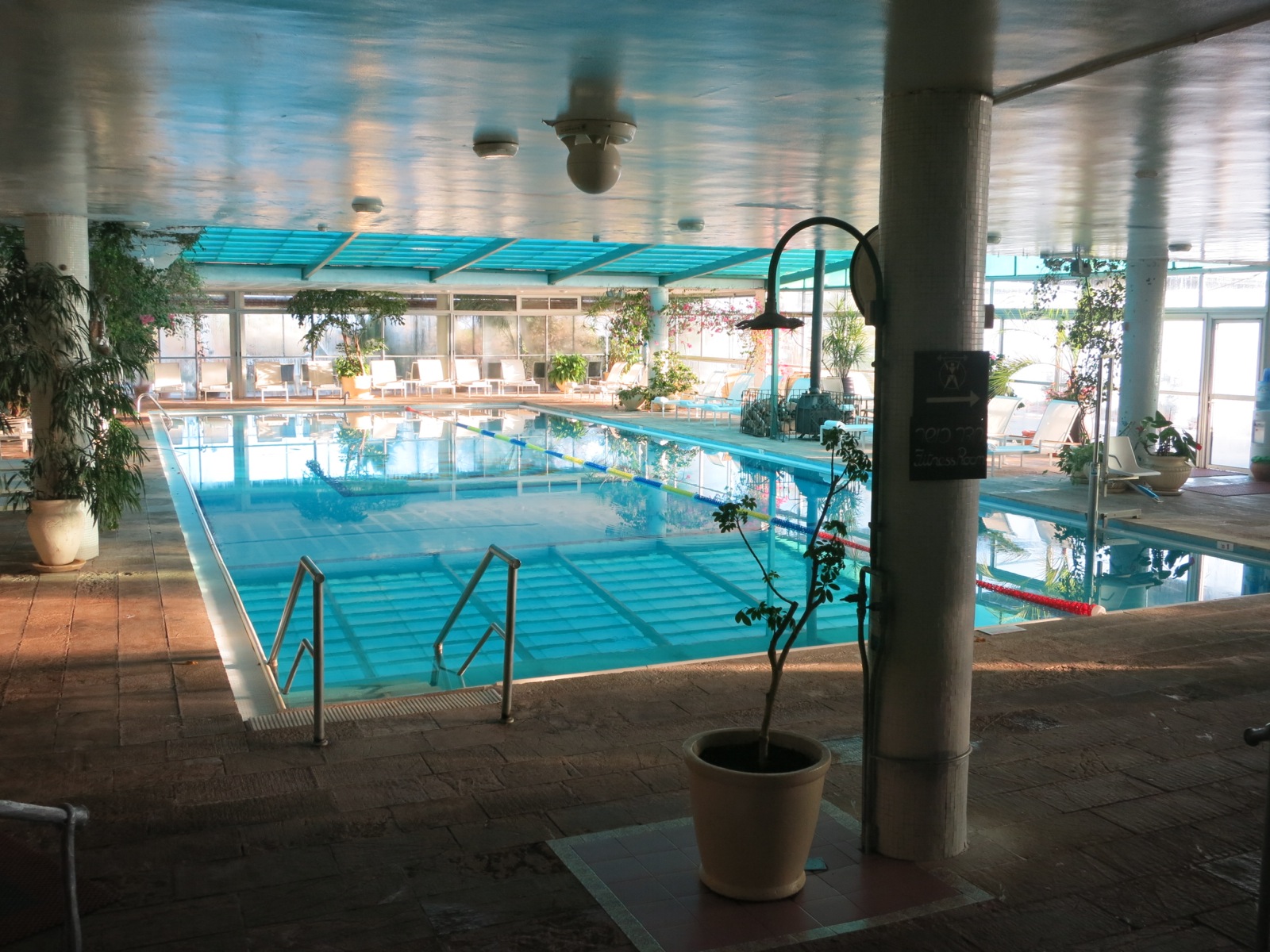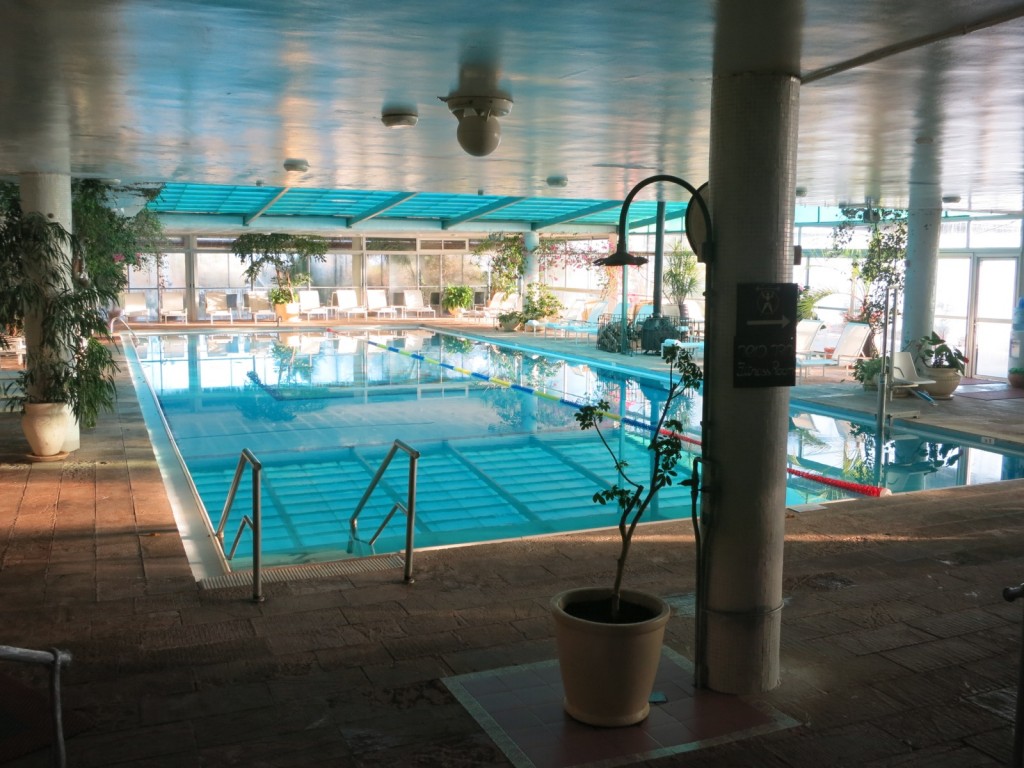 Exercise Classes
Check the daily schedule. You'll find aerobic water exercise in the Olympic pool, dance, yoga and other movement classes – all included in the room rate.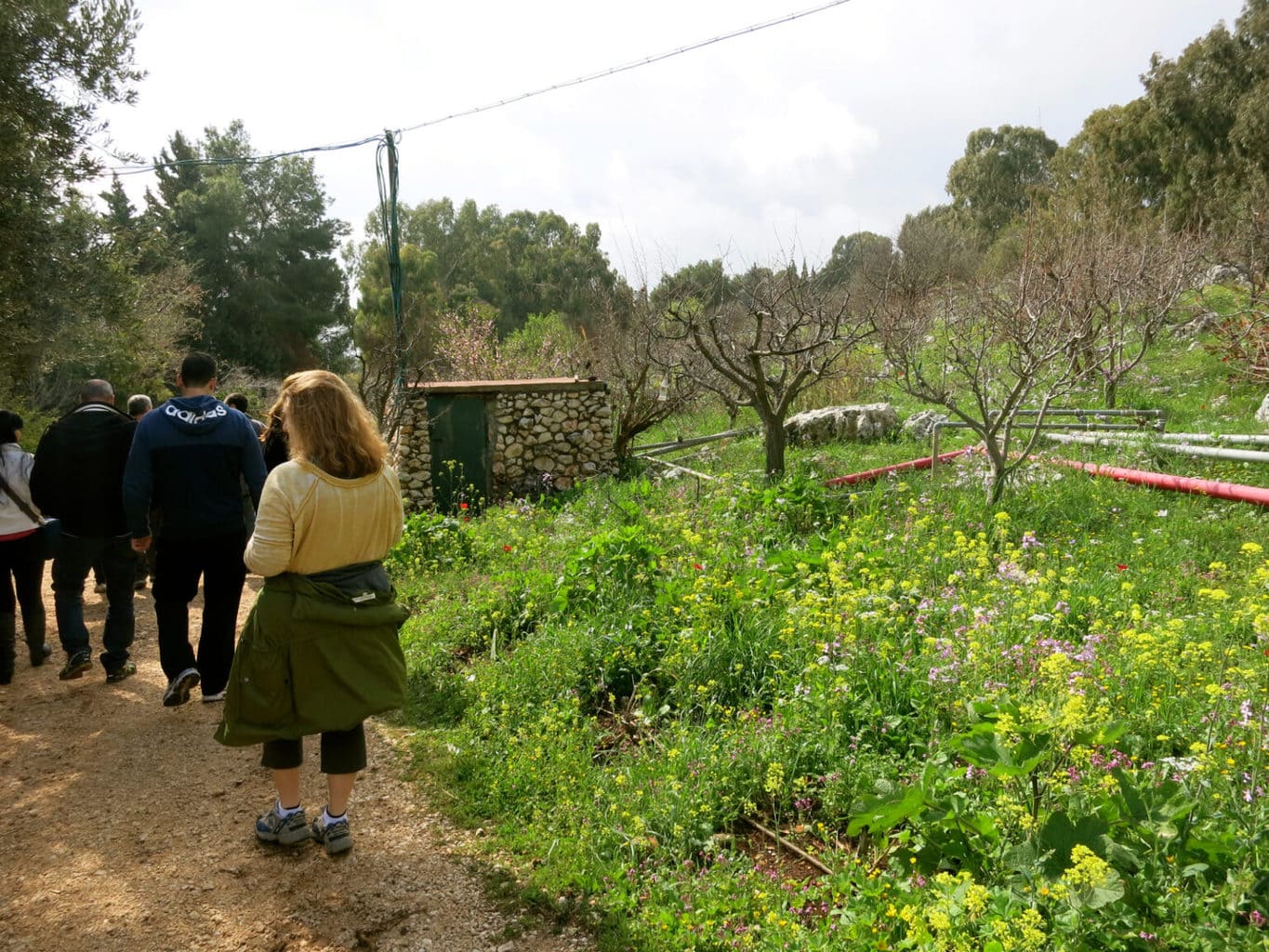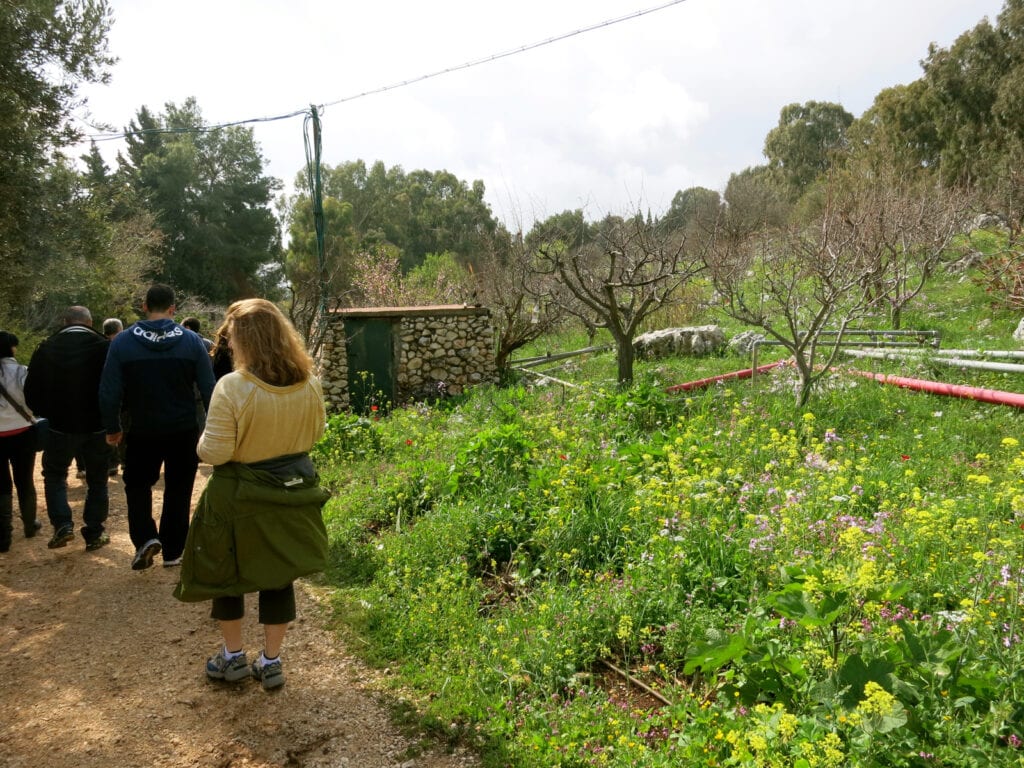 Farm Tour
Be sure to ask for English translation, as most people who come here are Hebrew speakers. You'll discover how the organic farm grows photo-worthy food without pesticides.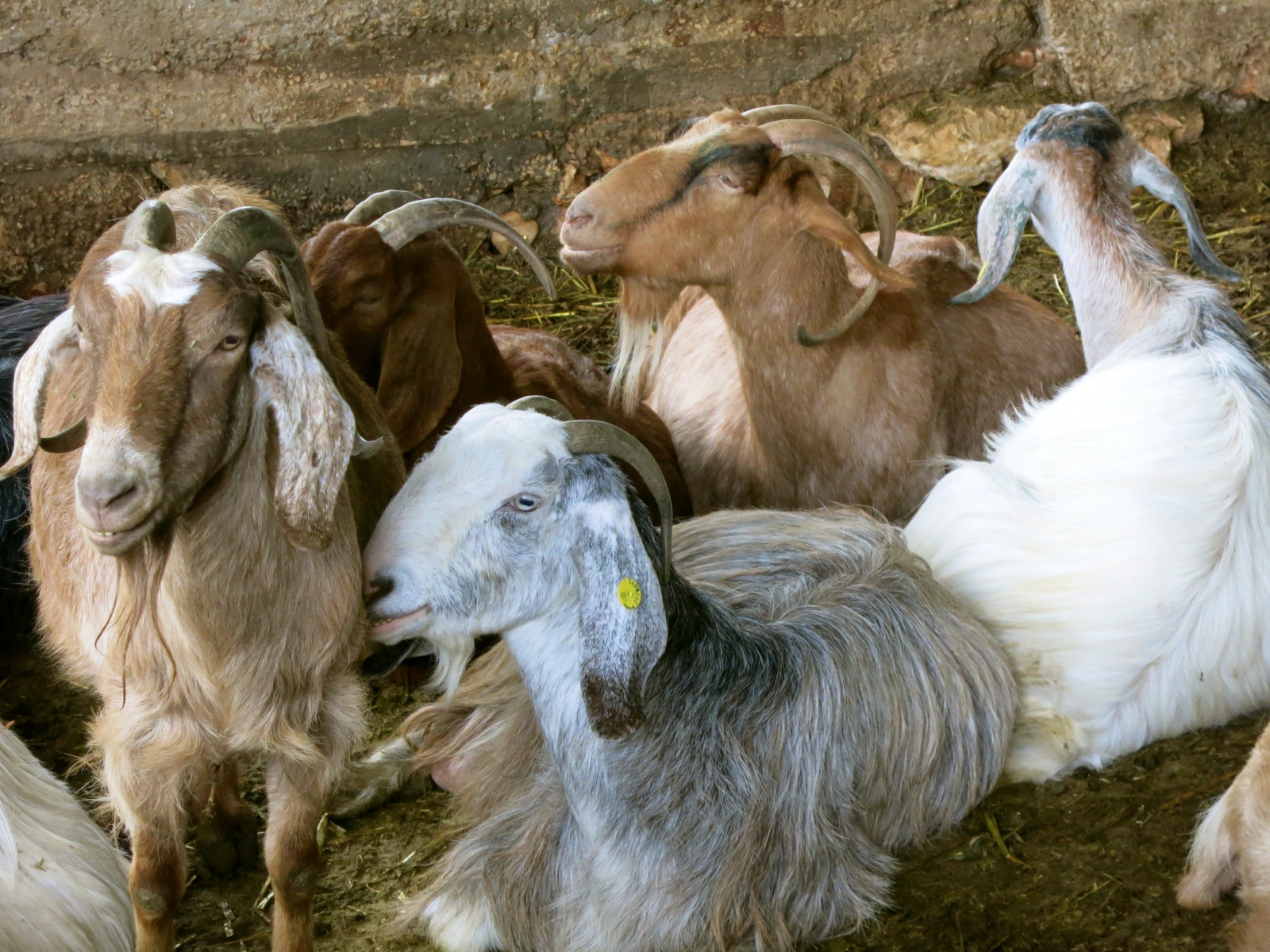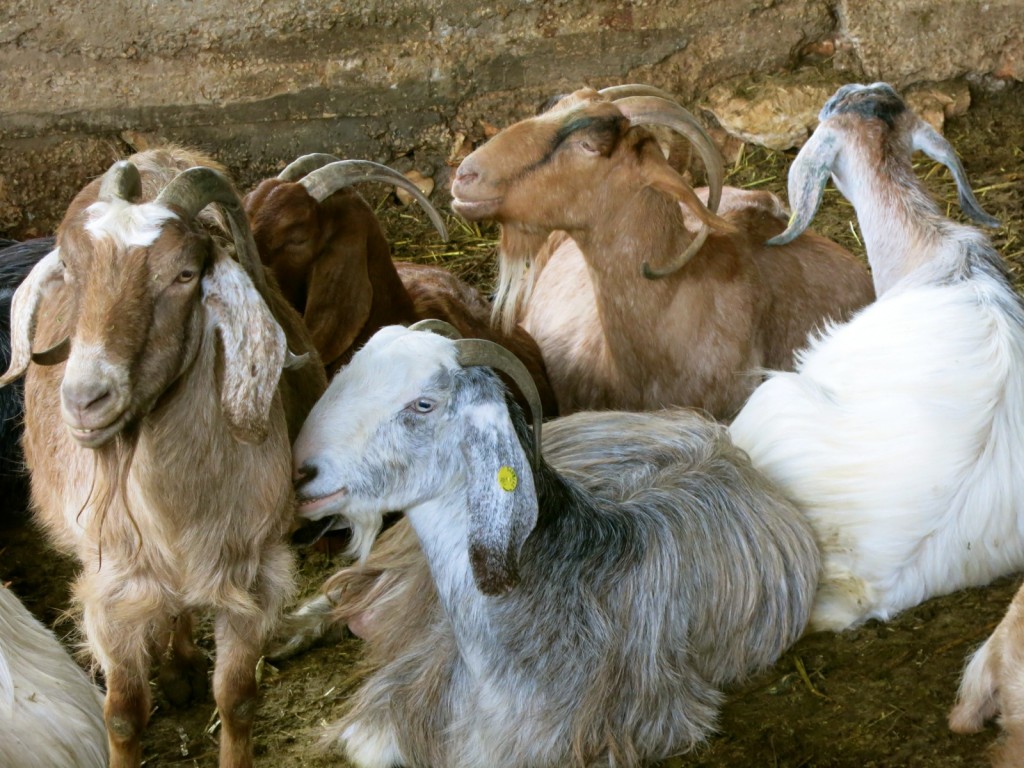 You'll be introduced to the animals who provide milk for the yogurts and cheese offered at on-site restaurants.
The farmers are so concerned about keeping these animals safe and sound, they employ a couple of guard dogs to protect them.
Watching dogs and goats interact can engage you for a good 15-20 minutes and you'll want to go back for more.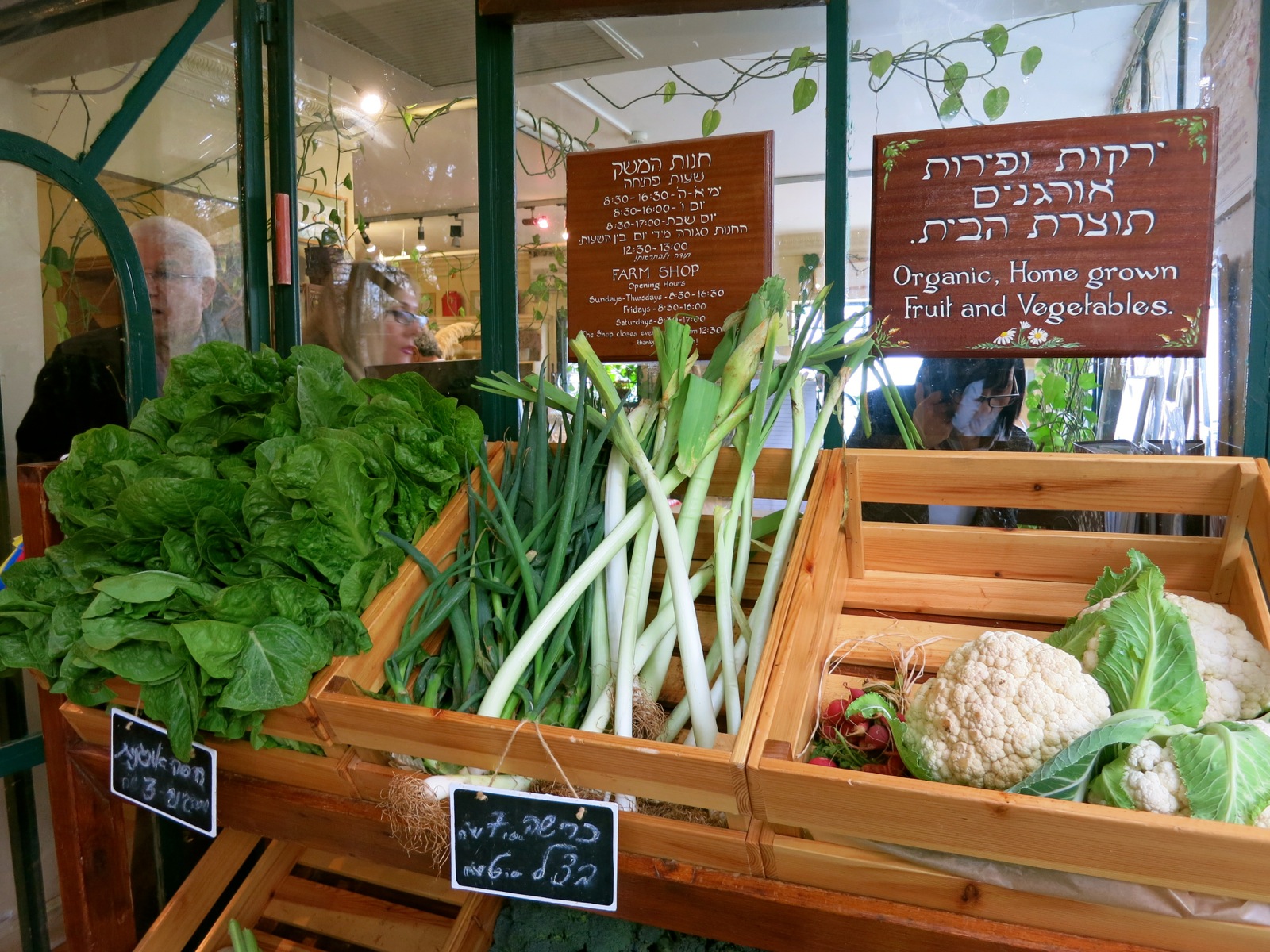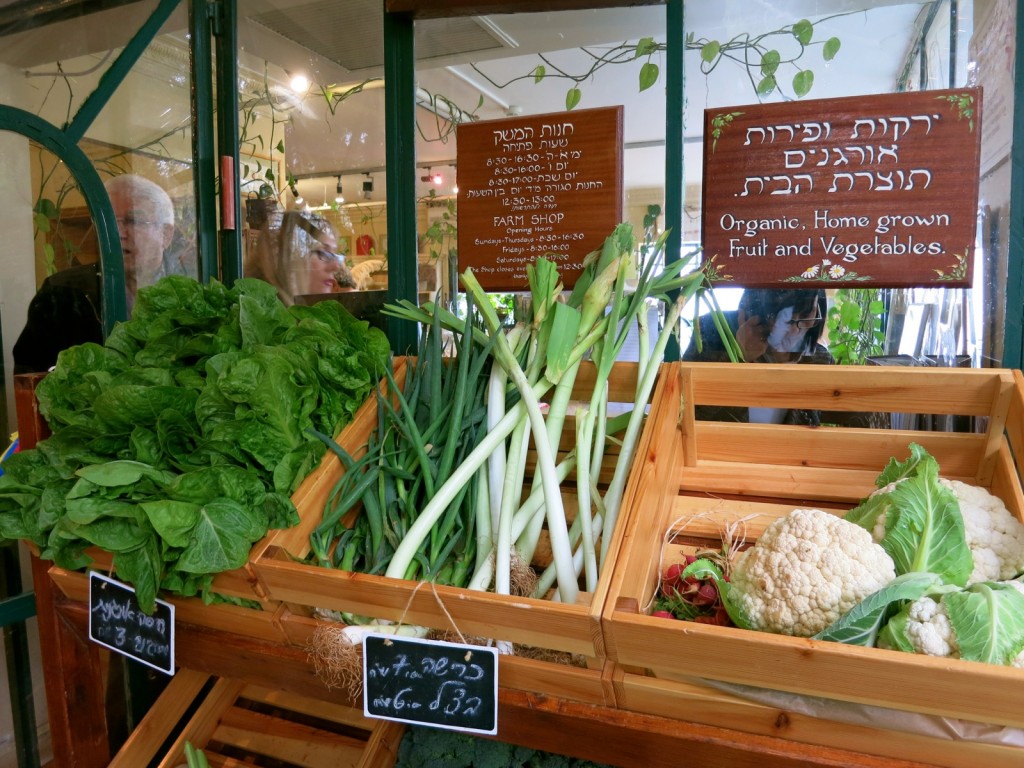 Farm Store
You can also purchase baked goods, dried teas, cookies, and gifts in addition to organic produce.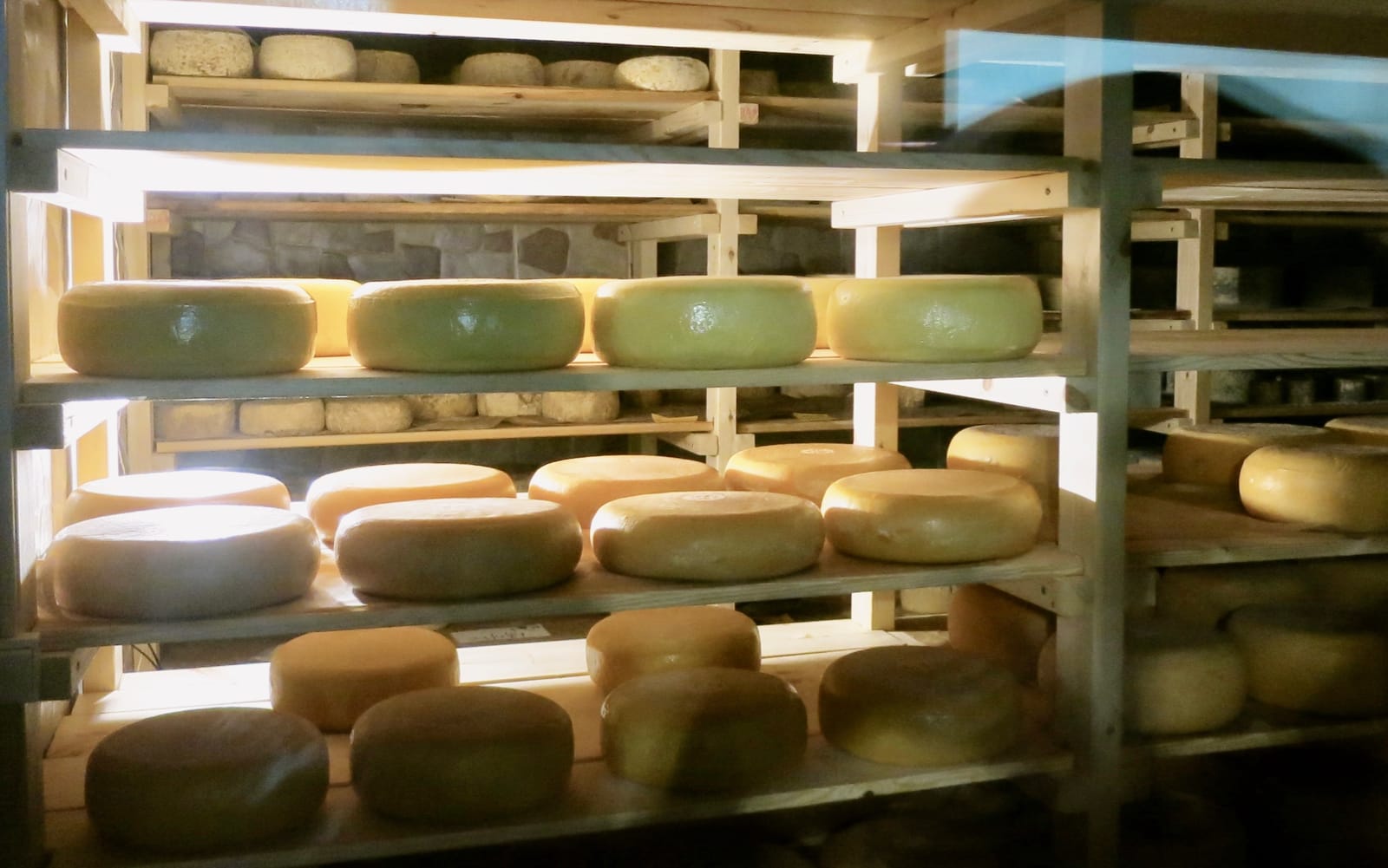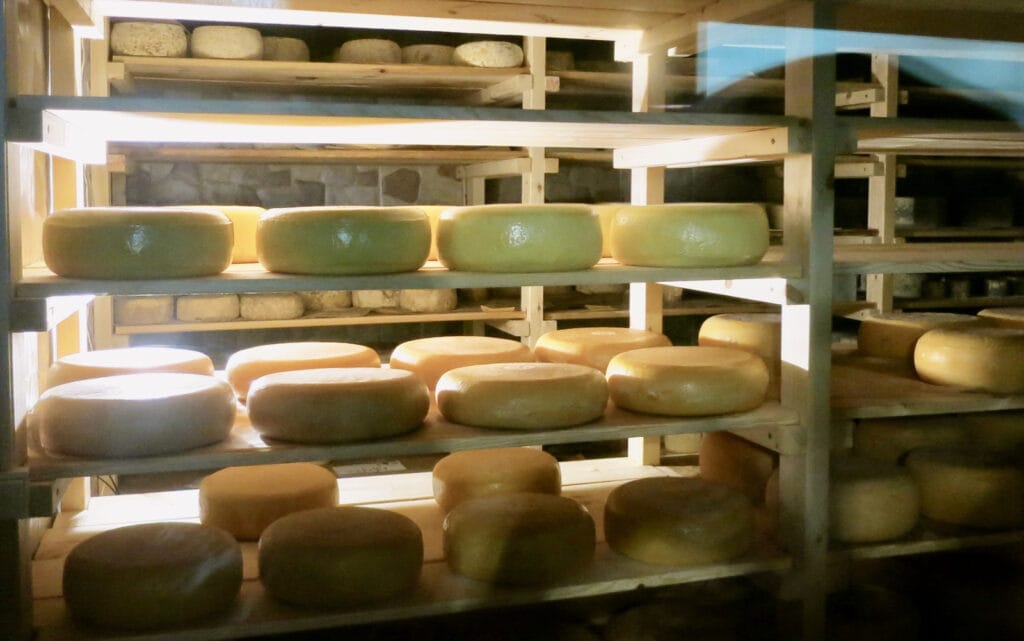 You'll peek into the Cheese-making room.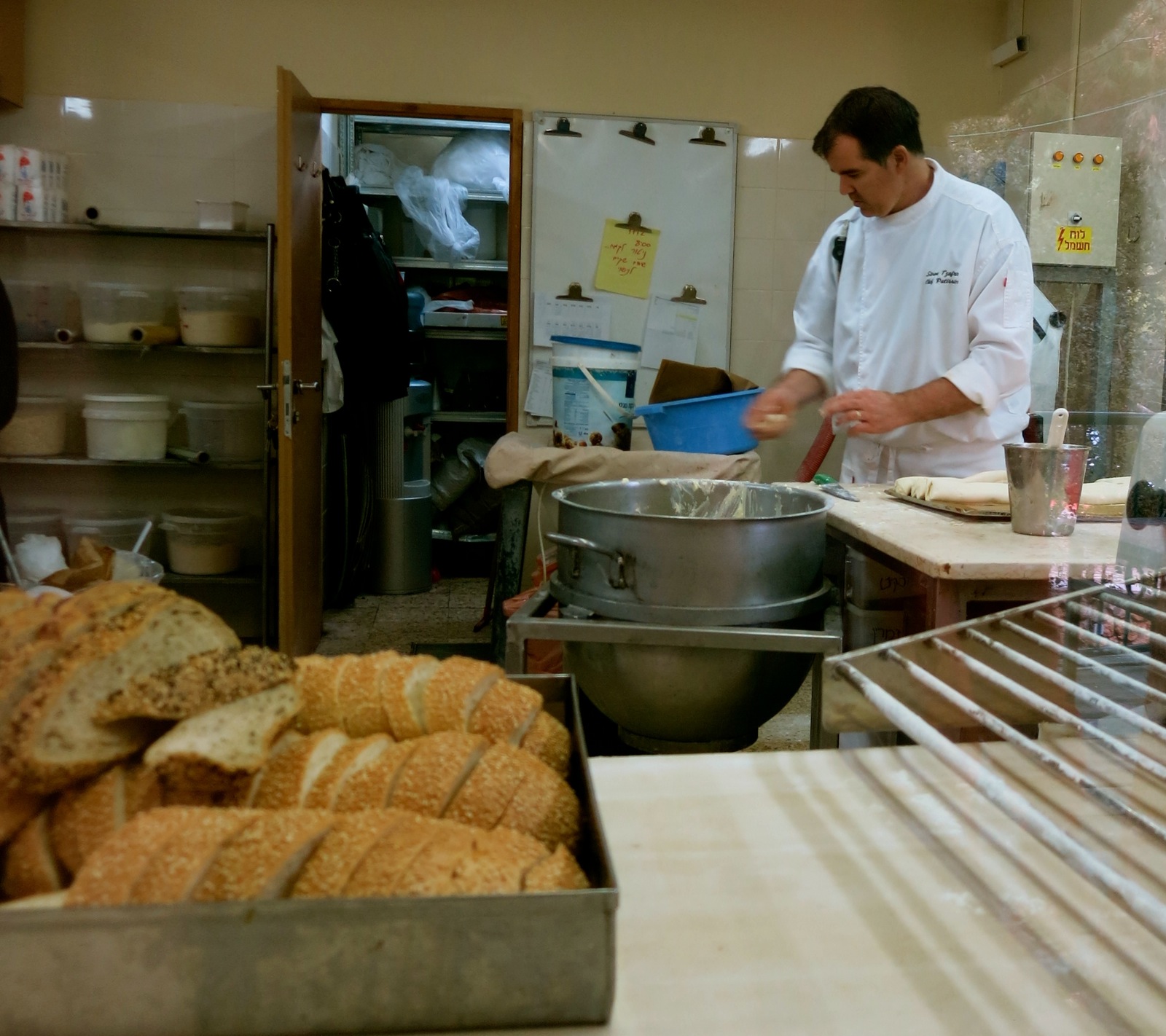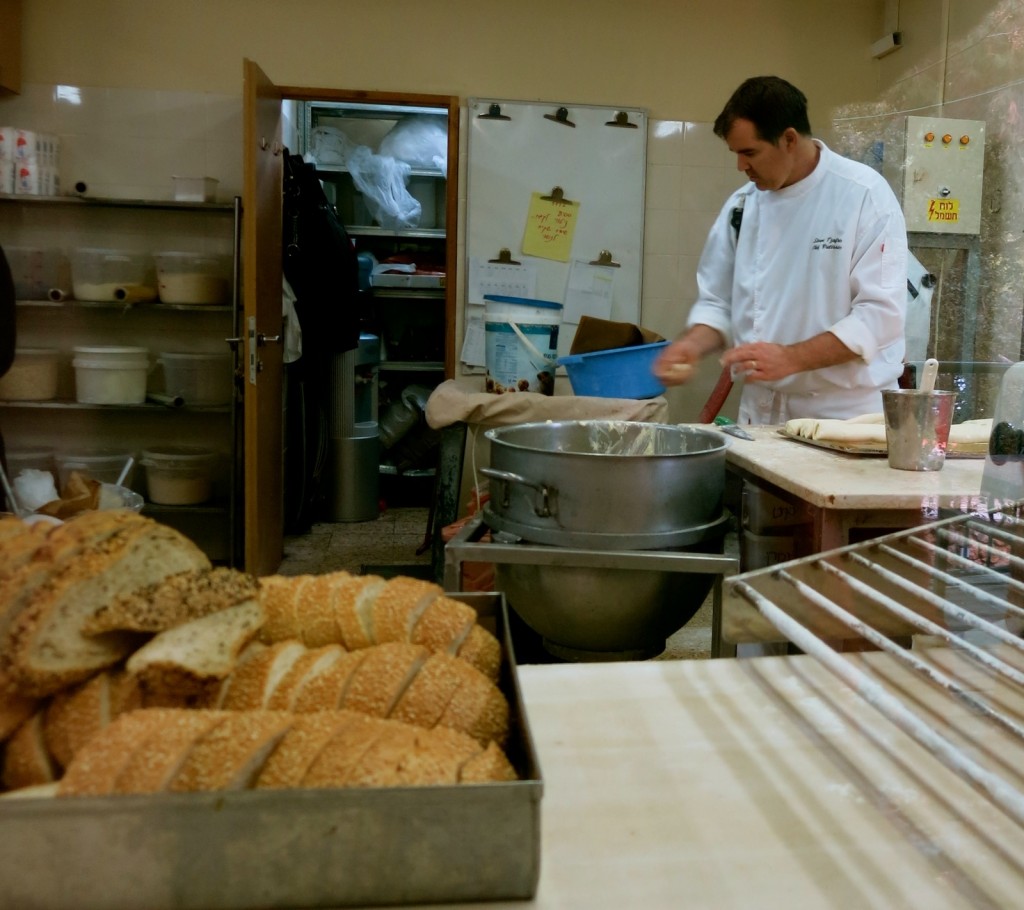 And into the Bakery – to assure you that all foodstuffs are grown and made right on the property.
Art Gallery
Find one of a kind pieces of ceramic, paintings and jewelry made by locals.
JUST THE FACTS: Room rates start at $375, suites $450 per night and include breakfast and vegetarian dinner (for 2), fitness classes, use of pool and hot tub, tour of farm and lectures (in Hebrew). Spa treatments, dinner at Muscat and tips are extra.