Lake Atitlan, Guatemala, a four-hour drive from the international airport in Guatemala City, is beguiling in its beauty. Ringed by mountains, volcanoes, and twelve towns and villages, Lake Atitlan is best discovered by small boat.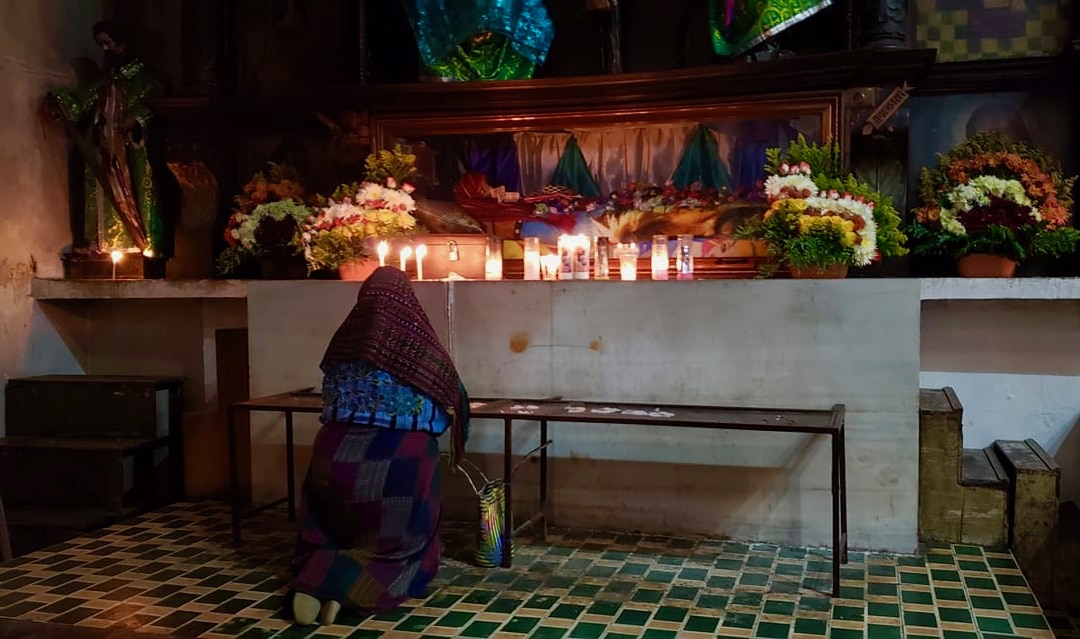 From artisan weavers, to legends of The Little Prince (the author spent time here recovering from injuries sustained in a plane crash) to a Mayan god who drinks and smokes – this Getaway Mavens "Greater Getaway" to Guatemala's most famous Lake is not only resplendent, it is the source of both mythical and ridiculous folklore as well.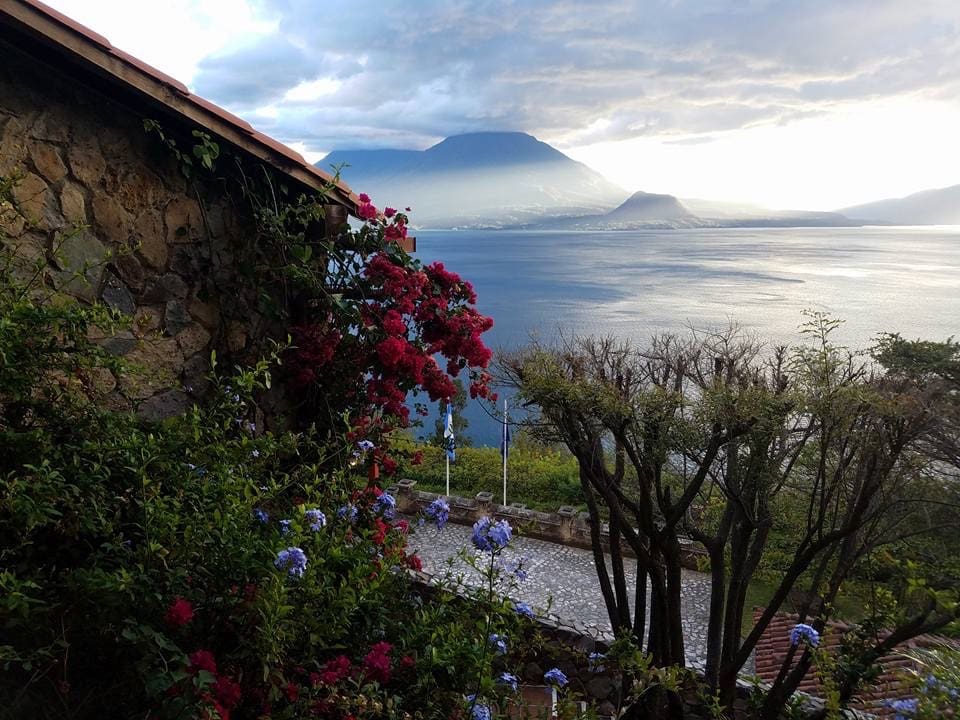 DO: Climb a volcano
Lake Atitlan guide, Domingo Solis, insists, "I don't carry my clients." Which is another way of saying that you better be in tiptop shape to scale the hills of Lake Atitlan. The dormant volcano, San Pedro, is the most challenging here. Plan to hike five miles straight up – a climb of 4,000 ft. to a nearly 10,000 ft. elevation. From base to summit and back takes the better part of seven hours. Alternately, you can choose to climb the "steep but short" Cerro de Oro – "Hill of Gold." Or try the "Sleeping Elephant." It's rumored that this hill was inspiration for a classic illustration (elephant swallowed by a snake) in The Little Prince. Author Antoine de Saint-Exupéry stayed in Guatemala after a plane crash here. So that theory is plausible.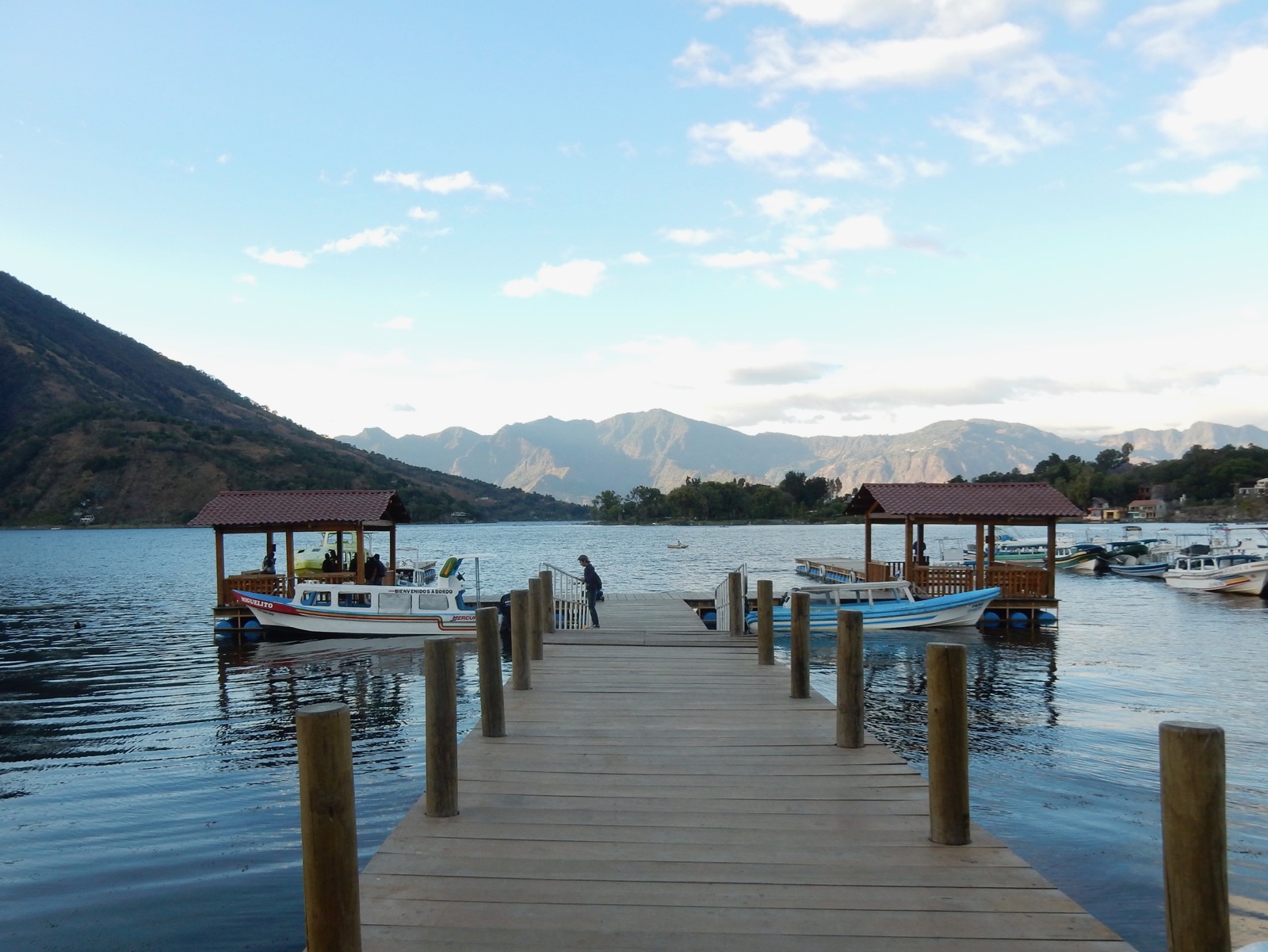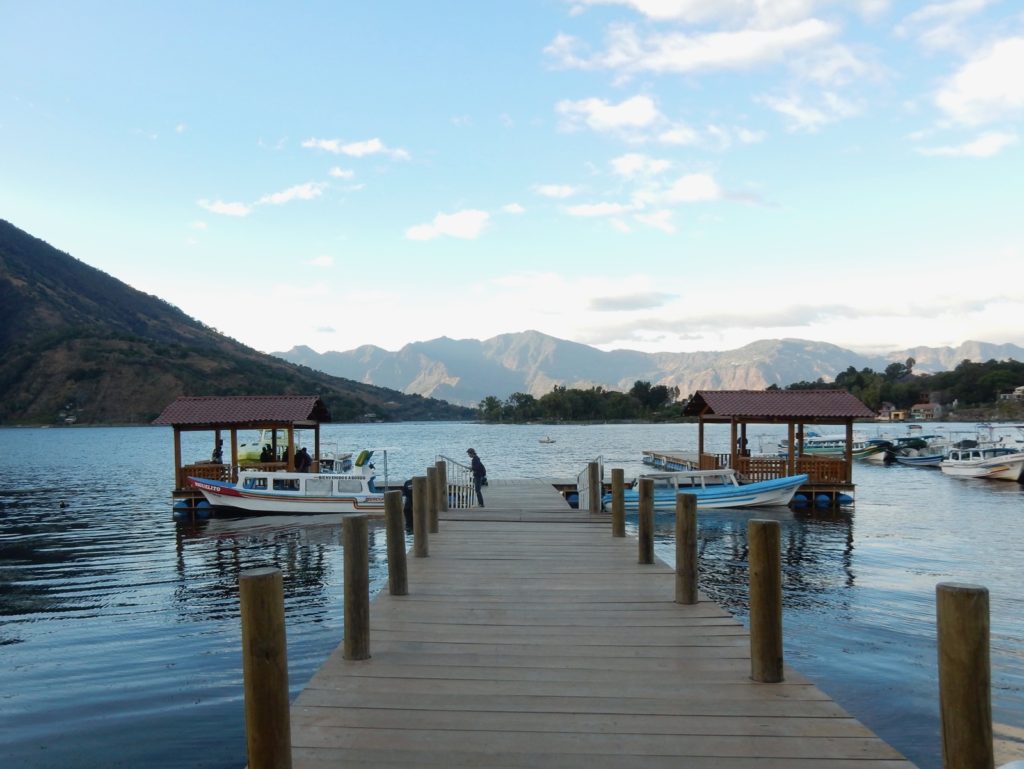 TOUR: Hire a boat to take you to various villages around Lake Atitlan
The artisan community of San Juan La Laguna is the most popular. Followed by the tiny but colorful Santa Catarina Palopo, and the larger Santiago.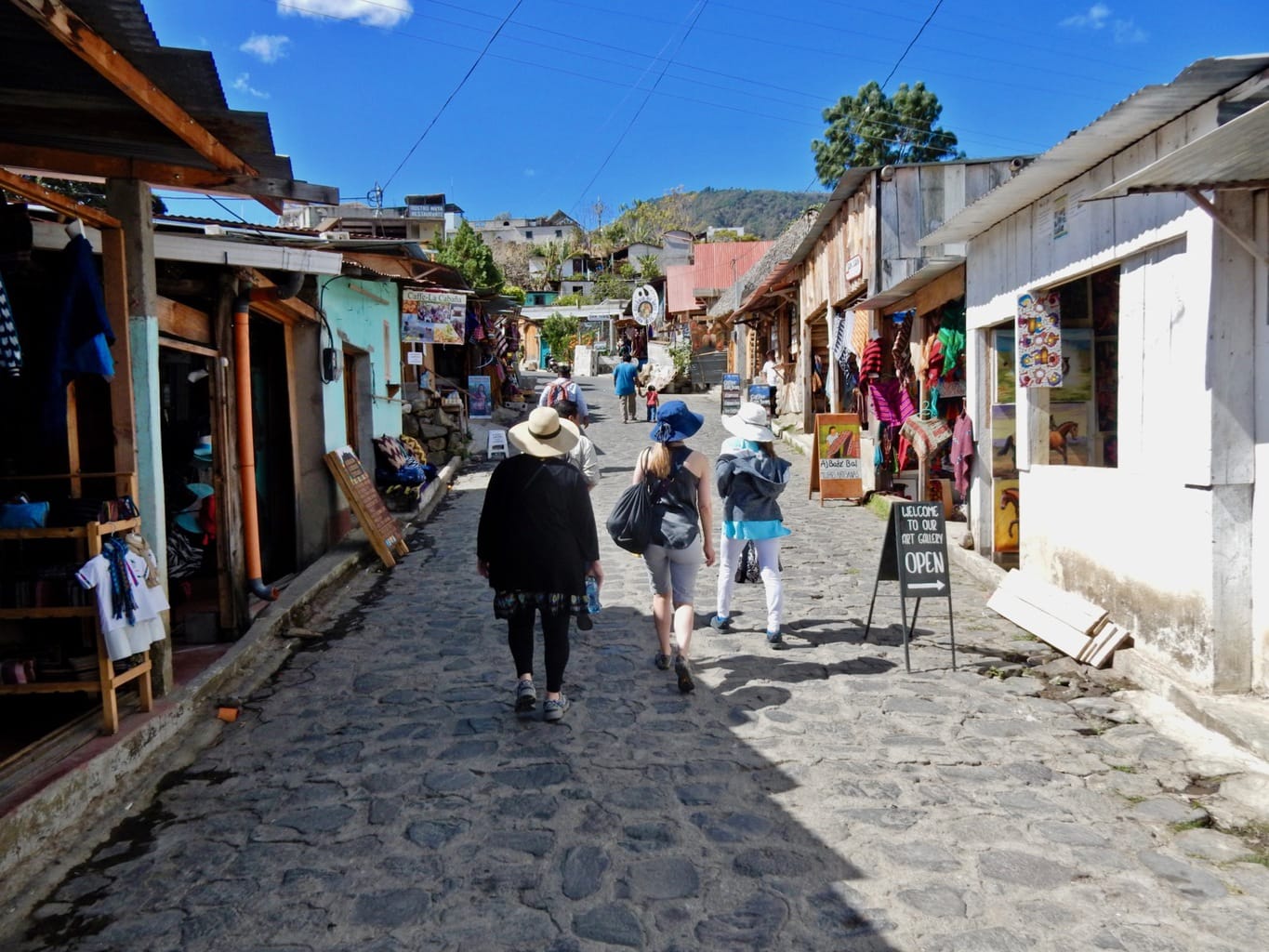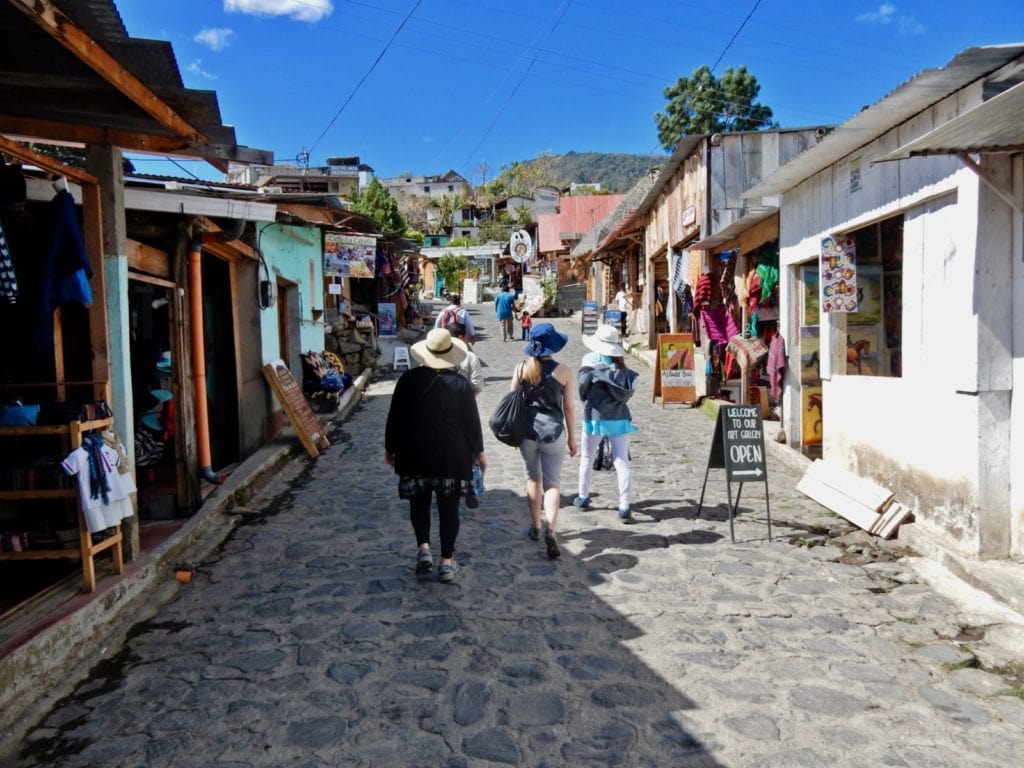 DO: Wander the hilly streets of San Juan La Laguna
Stop into art galleries and textile shops. San Juan is known for its embroidered birds and flowers on woven fabrics.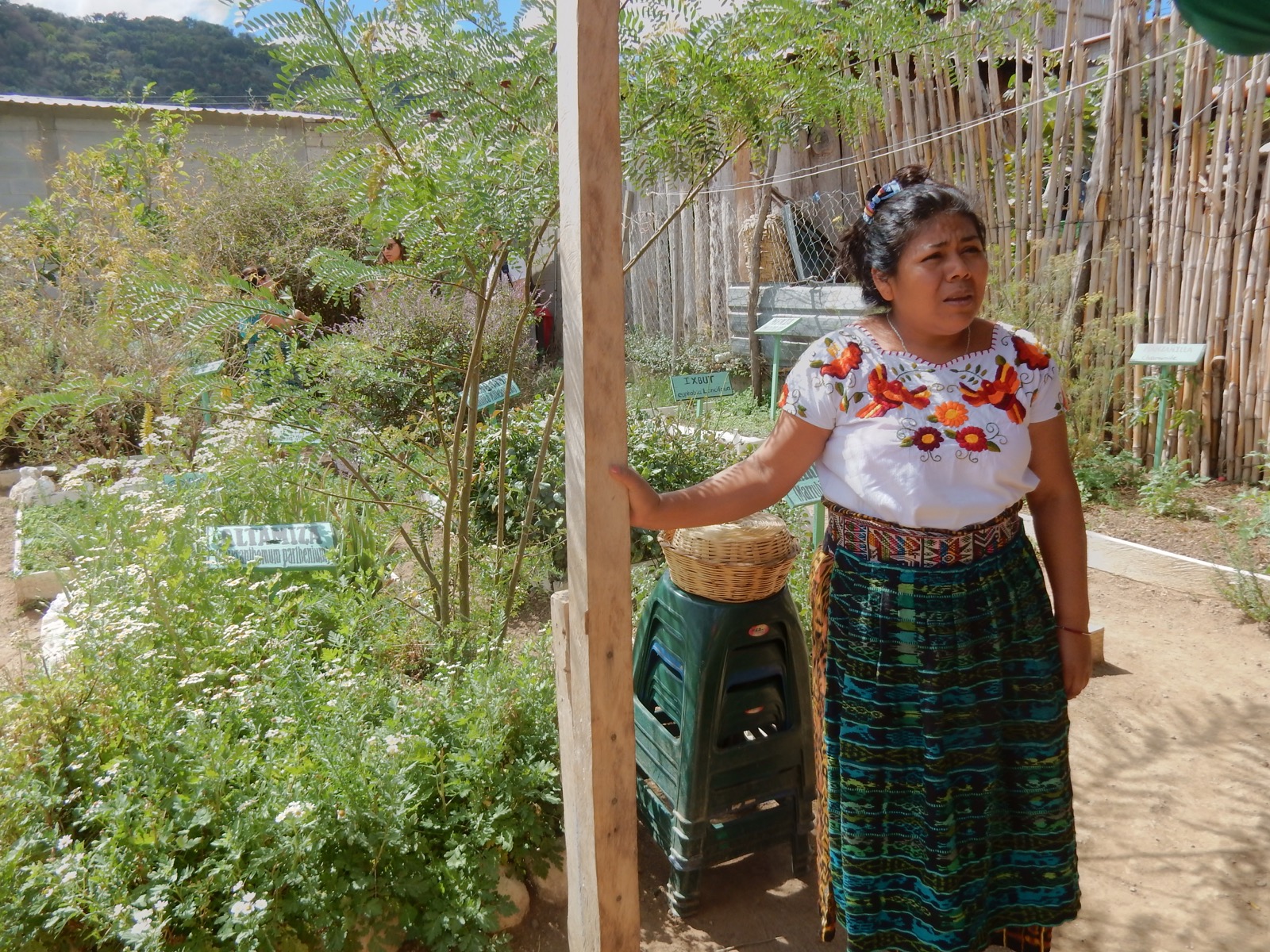 DO: Learn about medicinal plants and herbs at Q'omaneel Collective, San Juan
And then purchase natural bug repellant and wrinkle erasers.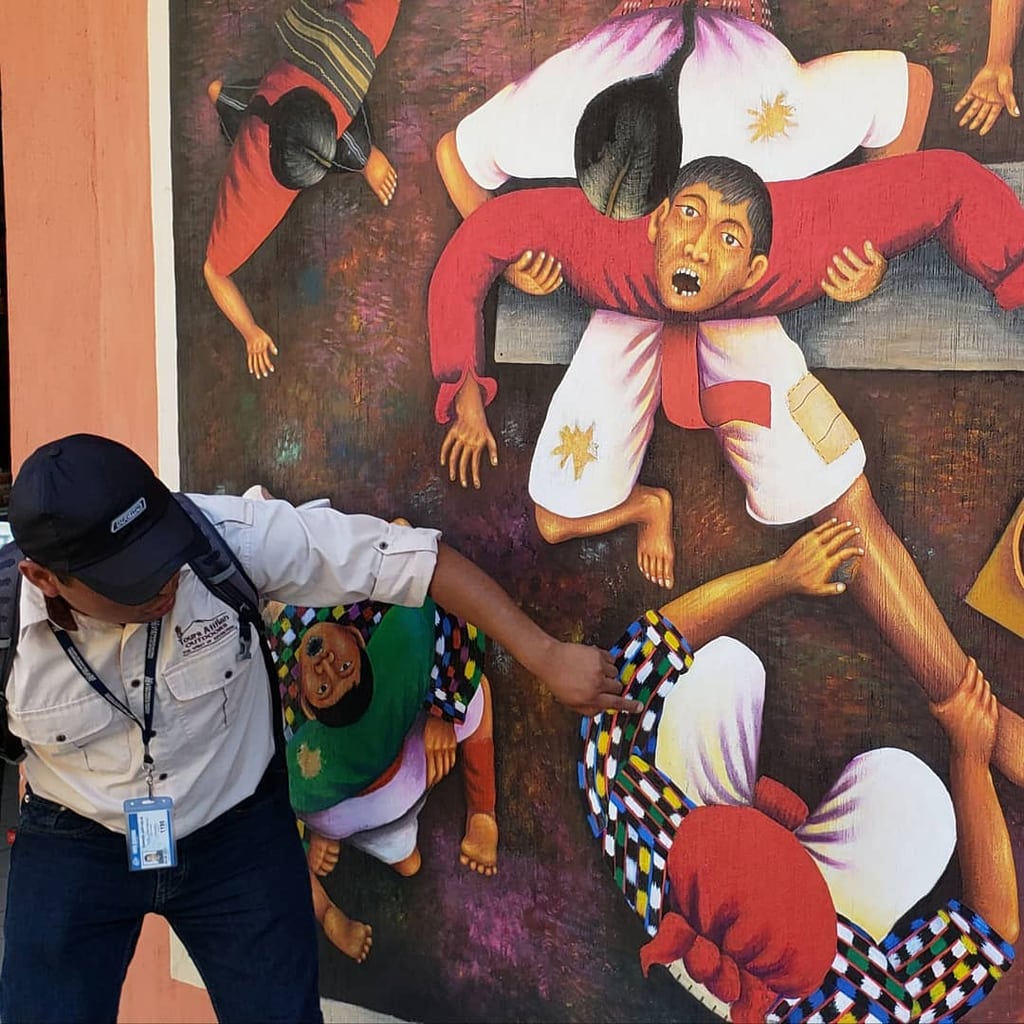 DO: Look for the "Bone Healer" mural in San Juan
It's not hard to find.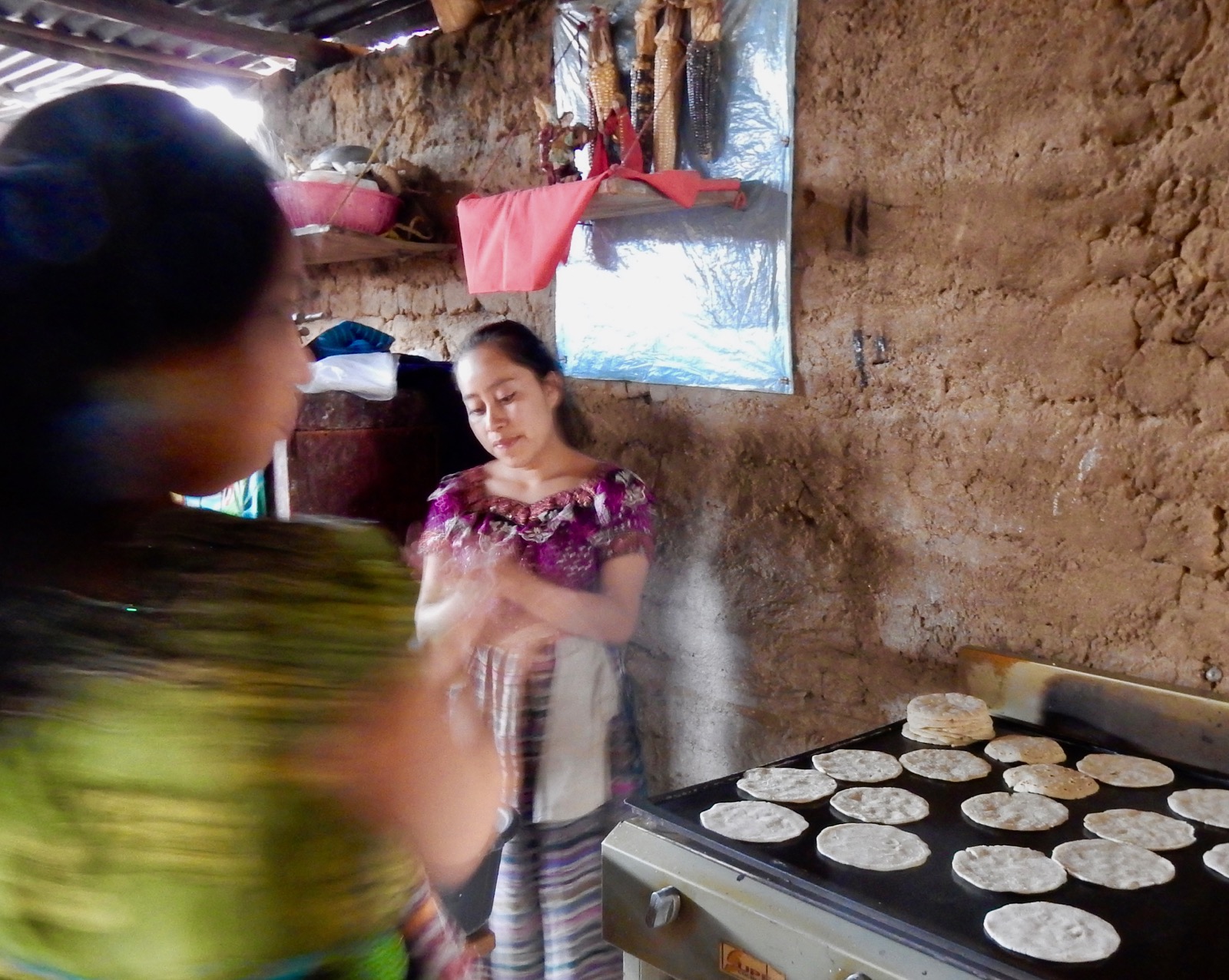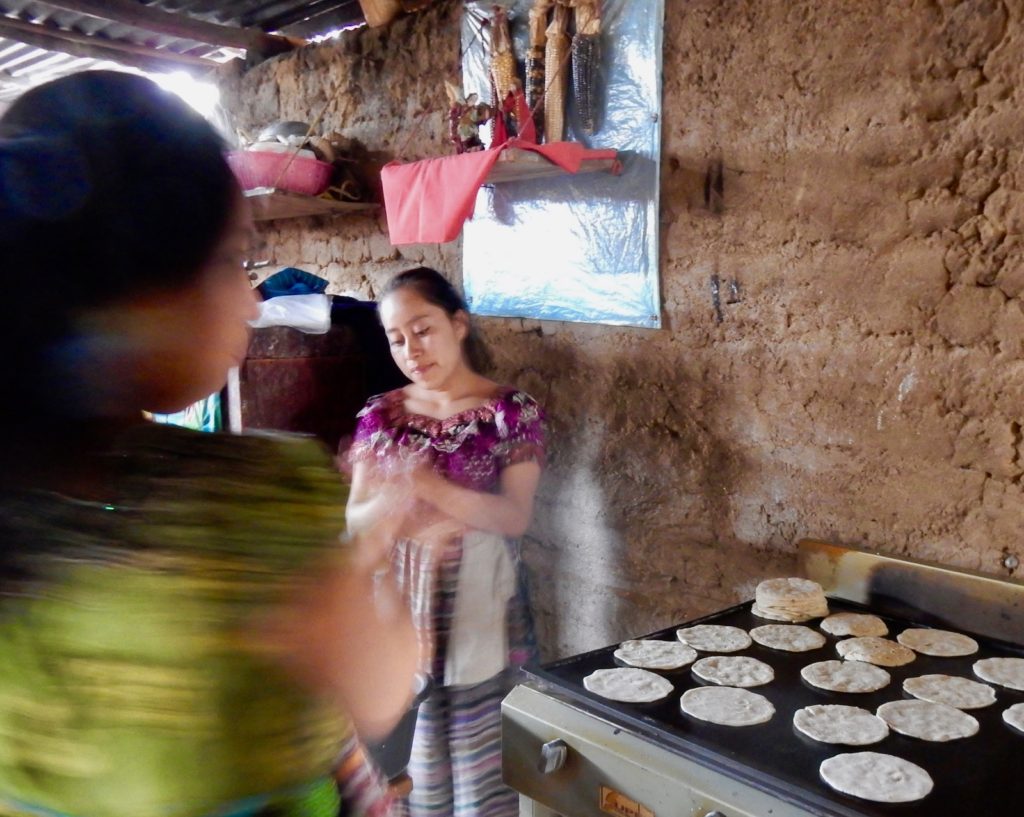 DO: Help make tortillas the way it's always been done
That is, with dried corn kernels soaked in limestone, ground to paste, patted flat, and roasted.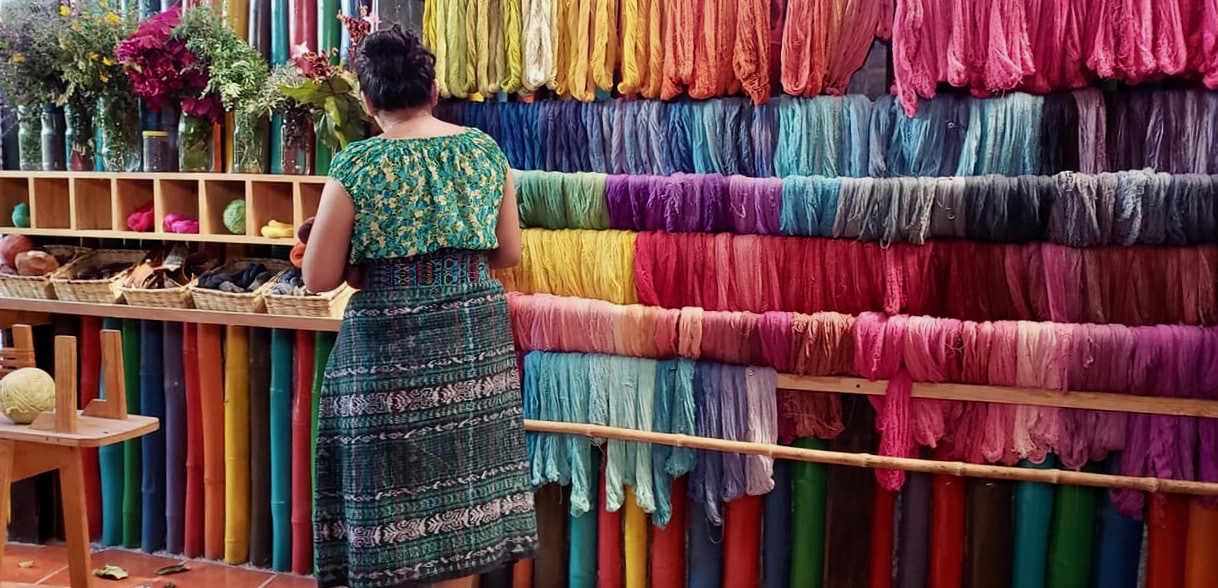 VISIT: A weaving collective – Casa Flor Ixcaco – in San Juan La Laguna
Witness all the handiwork that goes into spinning and dying organic cotton with natural dyes. And then creating works of wearable art on back-strap looms. Most amazing – scarves and throws in a rainbow of colors, some which take weeks to make, start at only $40 each.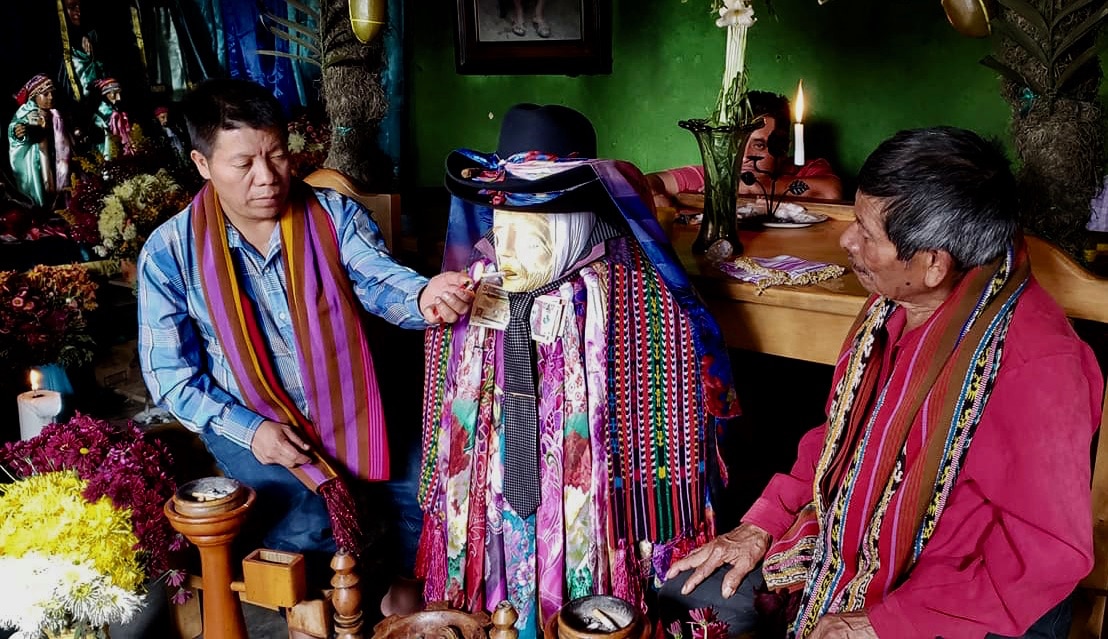 FIND: the Mayan god, Masimon, in Santiago
In Santiago, ask a Tuk-Tuk driver (or your guide) to find the Mayan god, Masimon (pronounced "mo-she-mon"). On May 1st every year, this deity, cloaked in men's ties, is moved to a different private residence. Concealed from the Catholic Church in apartments accessed by back alleys, Maximon drinks and smokes thanks to his Shaman handlers. These fellows keep the irreverent, legless, wooden god, pretty plastered. Want a picture? It will cost you ten Q's (about $1.30).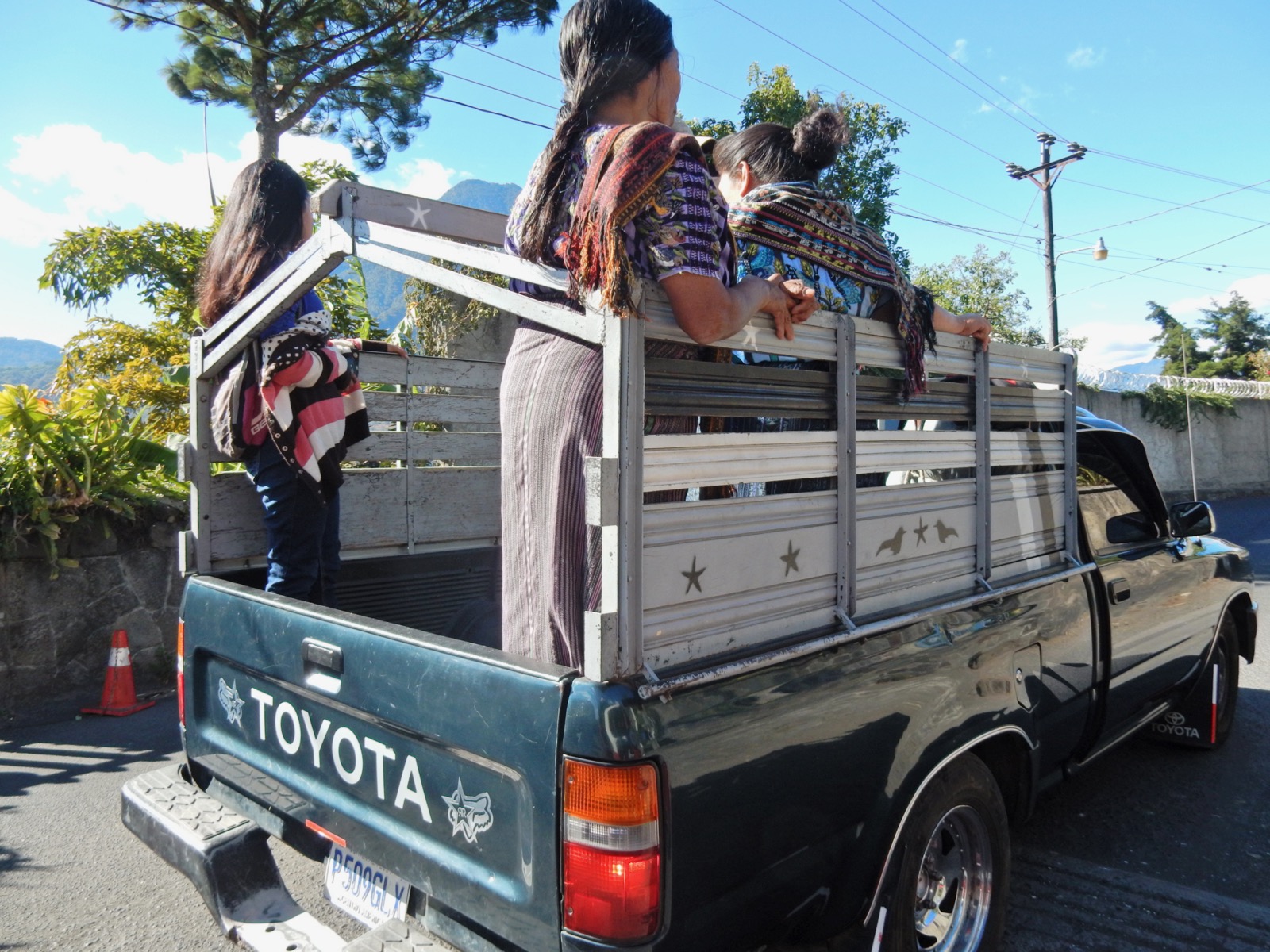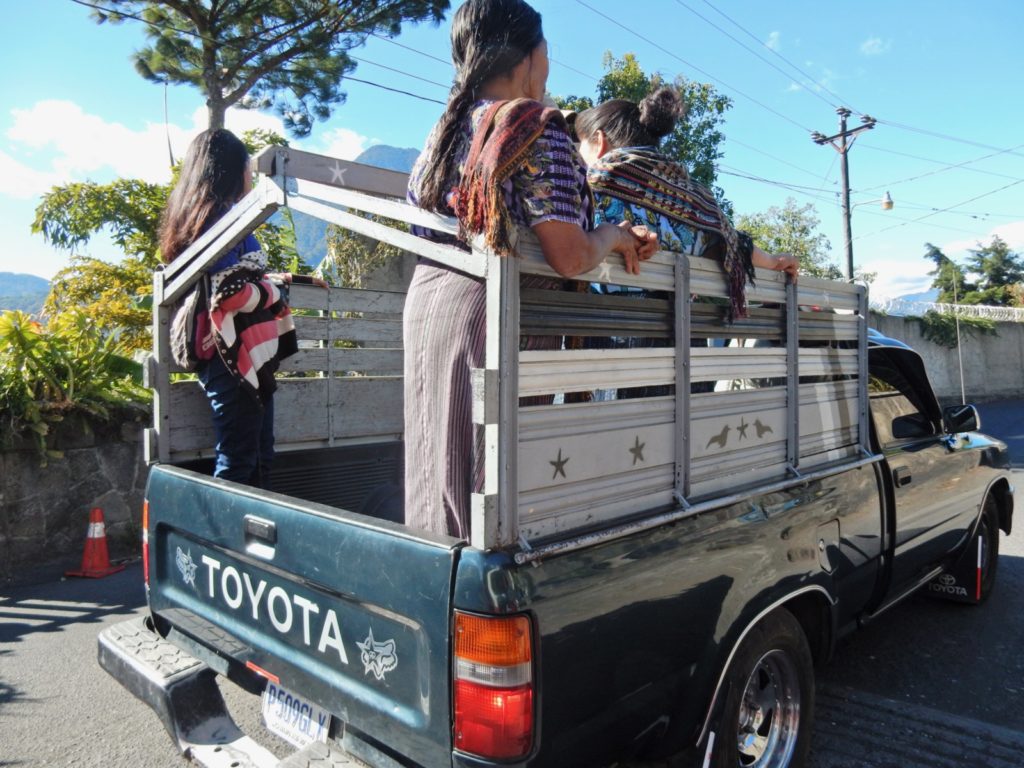 EXPERIENCE: A "Guatemalan Taxi"
Tuk-tuks are fine, but for a real thrill take a "Guatemalan taxi." It's basically an open flatbed truck. Though some have benches, most people stand up.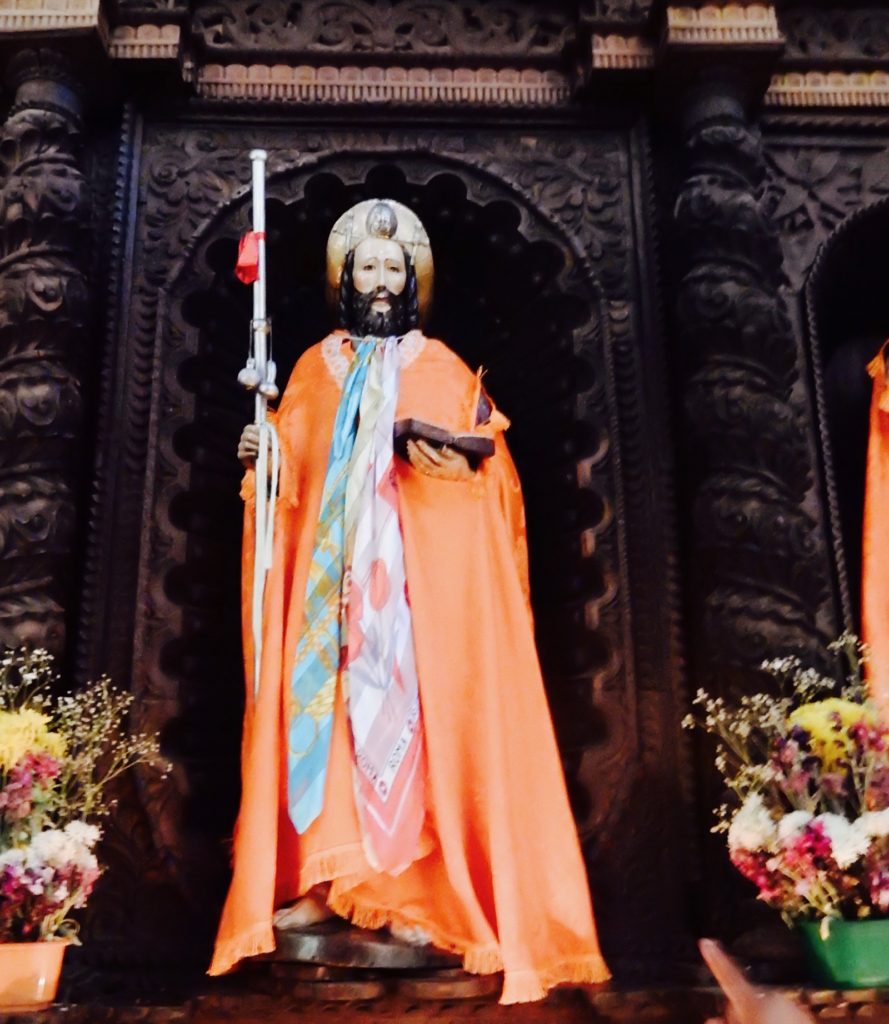 Visit: A Catholic Church in Santiago, where you'll see the co-mingling of Mayan and Catholic iconography
Find saints and Jesus dressed in scarves and ties –the attire of Mayan god, Maximon. Locals state that when the Spanish came to Guatemala in the 1500's, attempting to convert the indigenous population to Catholicism, they failed miserably. Instead, this – and Mayan alters in other churches – represent the compromise between the two religions.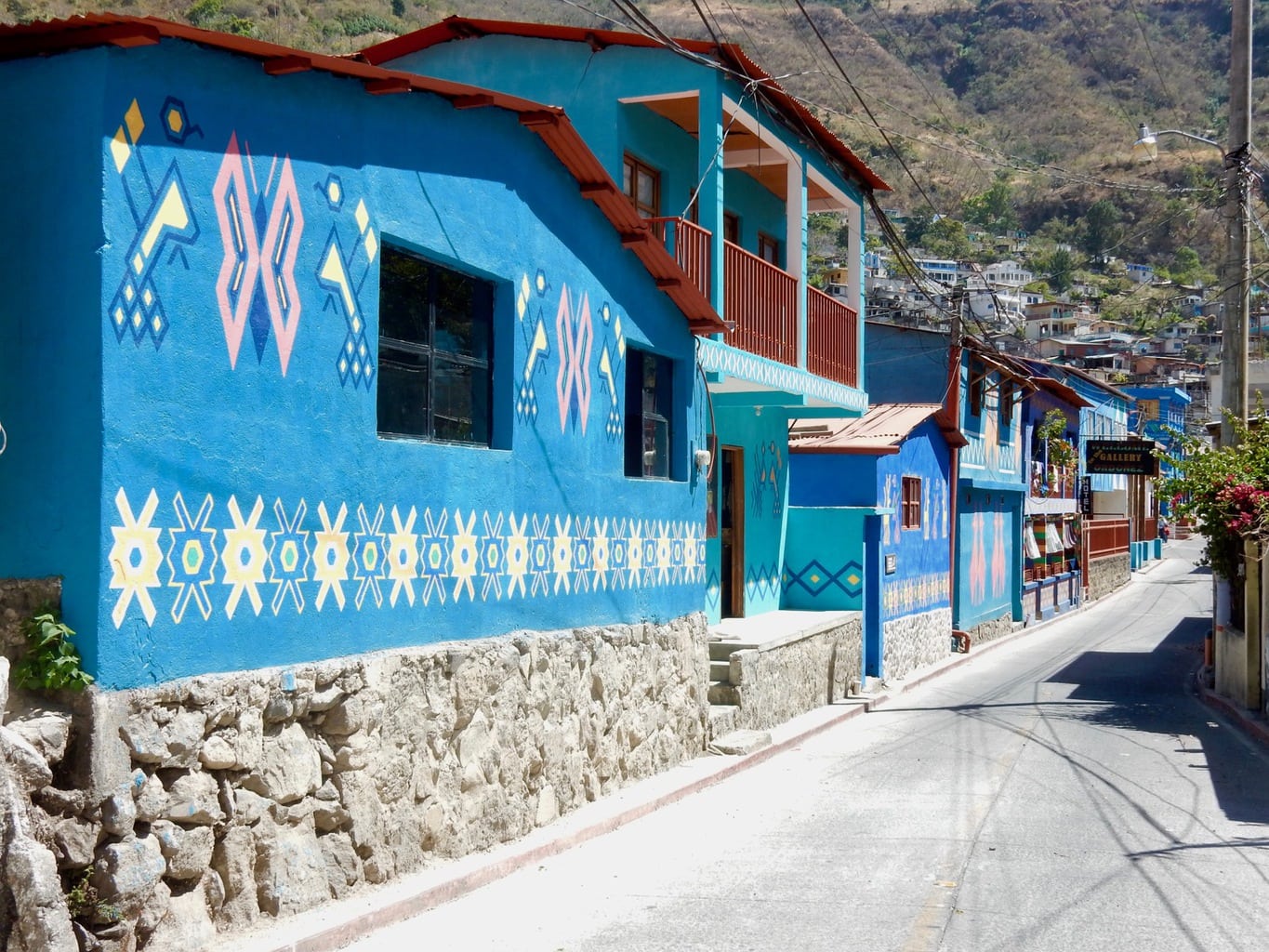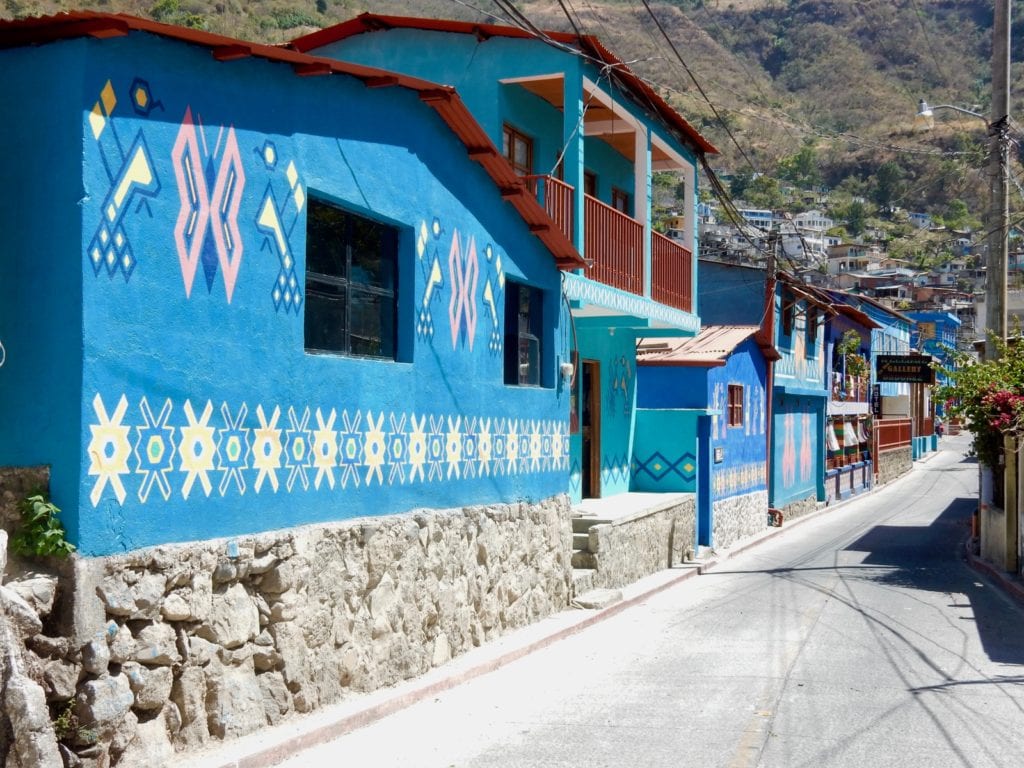 MEANDER: in the tiny, colorfully painted town of Santa Catarina Palopo
Women on front porches hand weave intricate cloth in vivid colors. You can buy their handiwork, straight from the weaver. And rest assured that you are contributing to her household.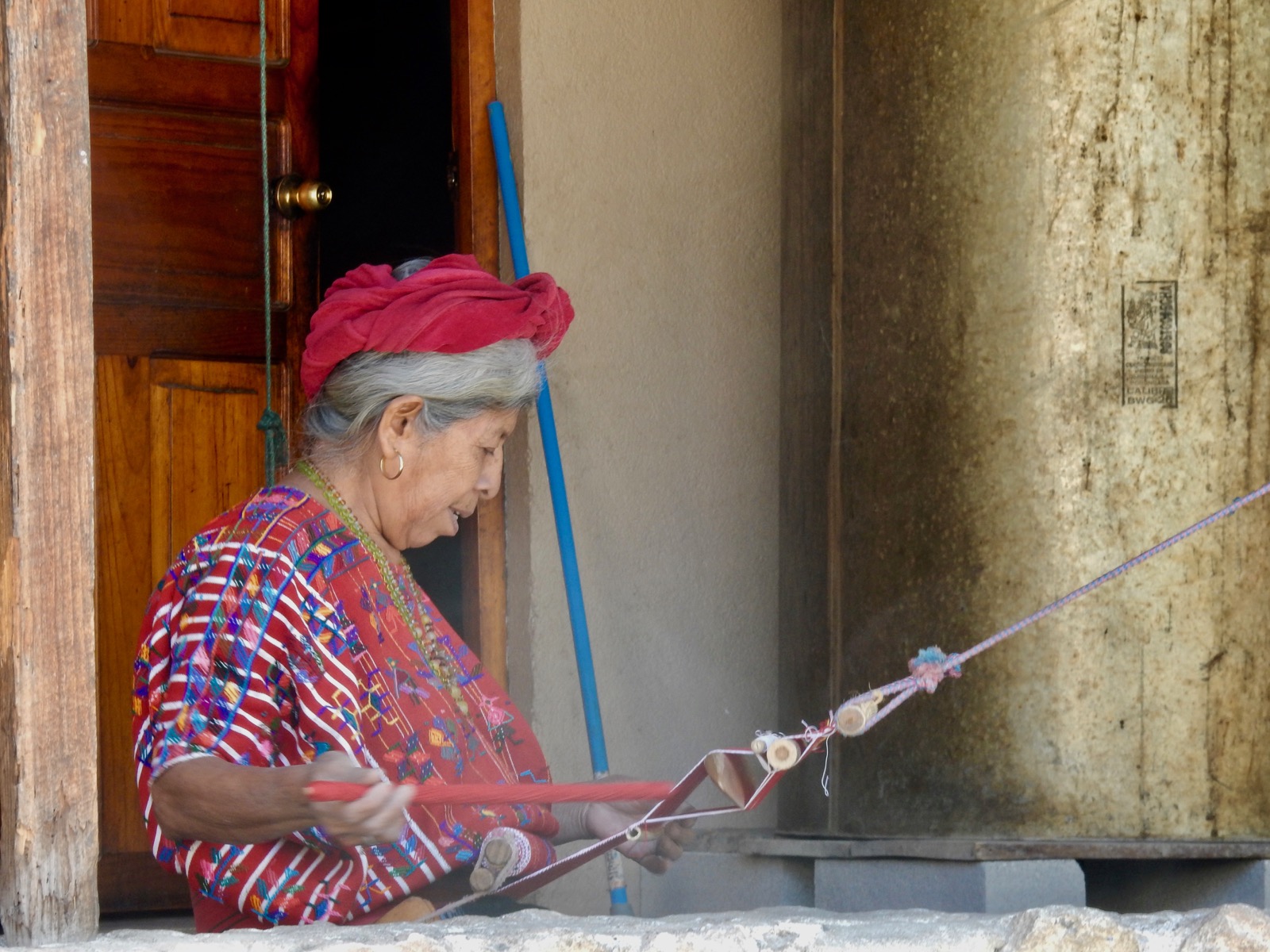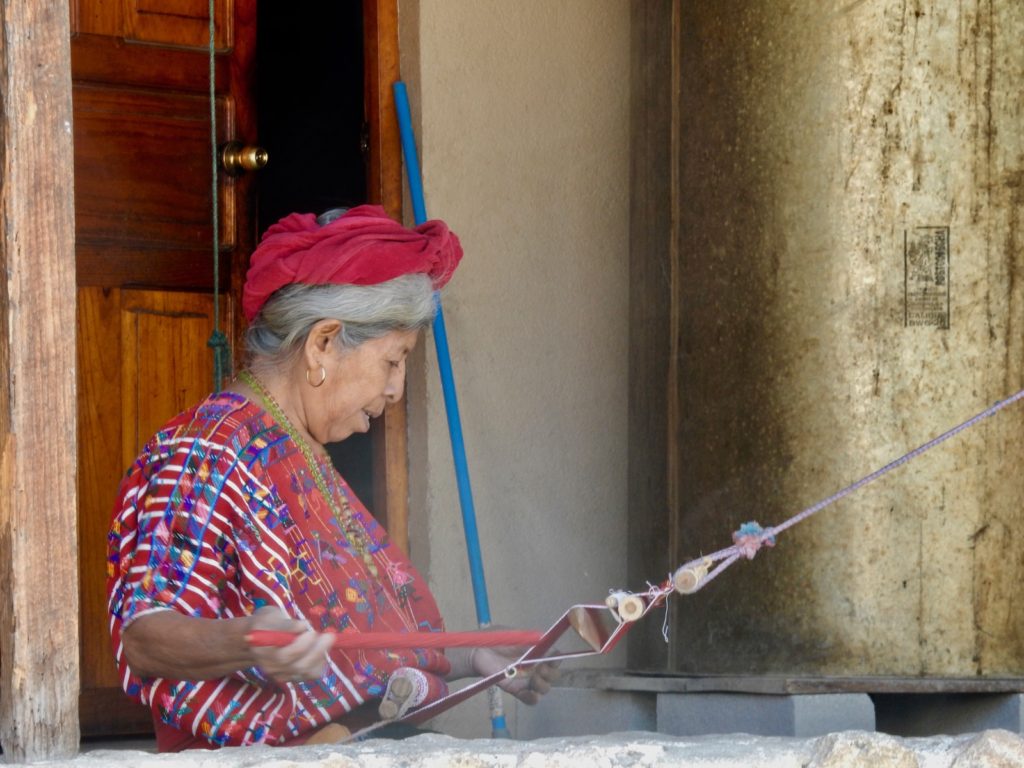 STOP: into small family-run shops in Santa Catarina Palopo
Discover inexpensive one of a kind table runners, placemats, and embroidered local blouses.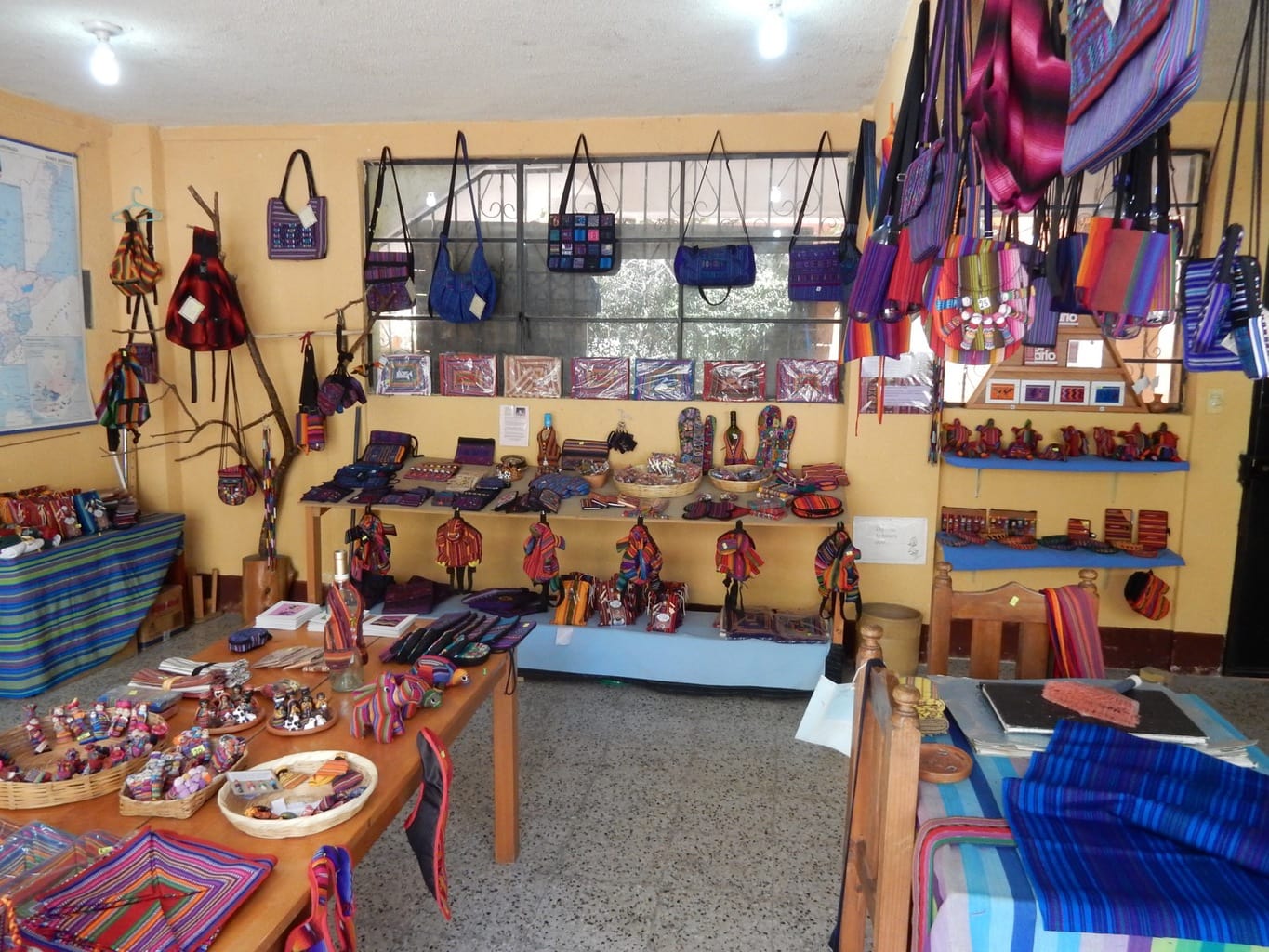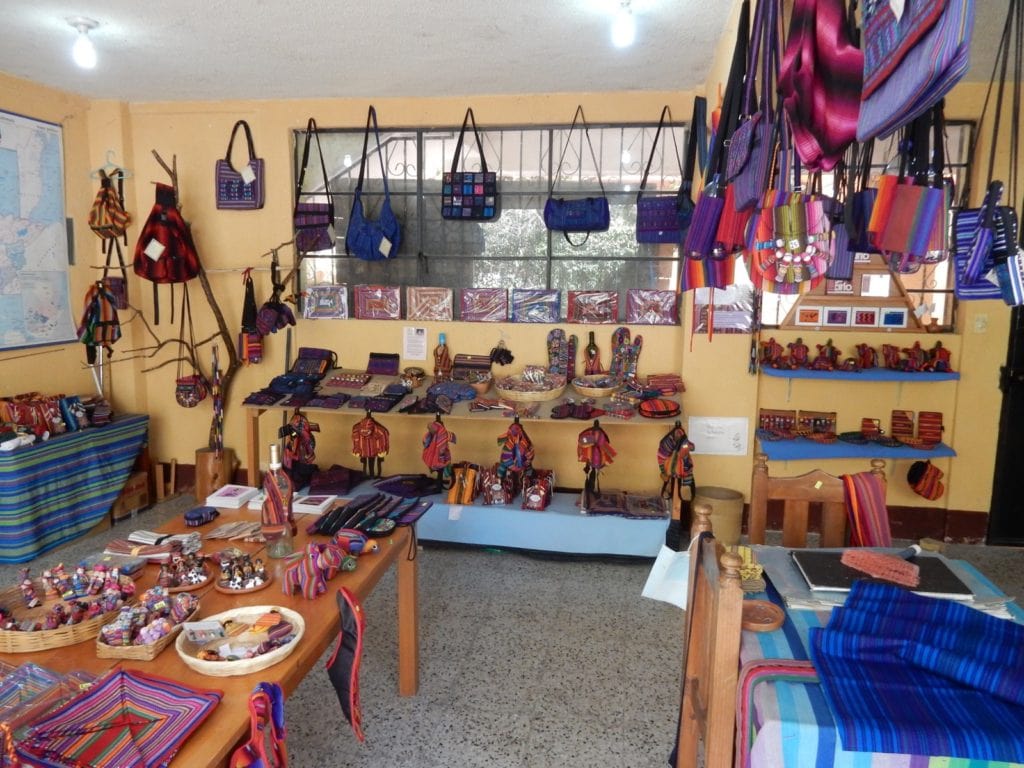 BUY GIFTS: On your way to the dock in Santa Catarina Palopo
Stock up on gifts at the High School Craft Collective, which helps fund the local schools.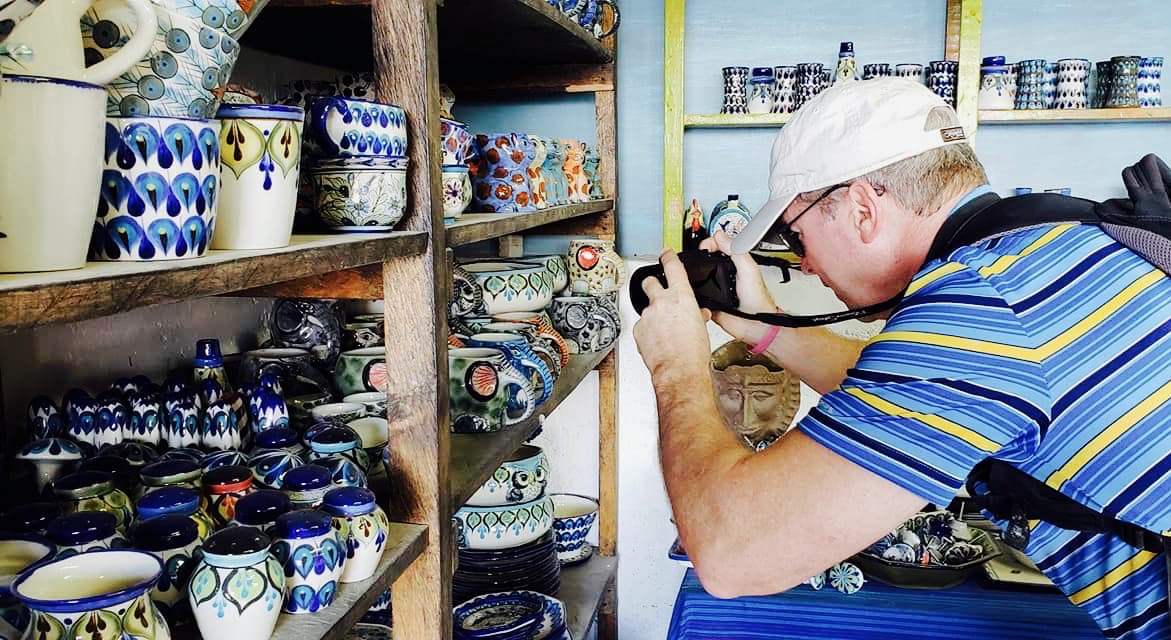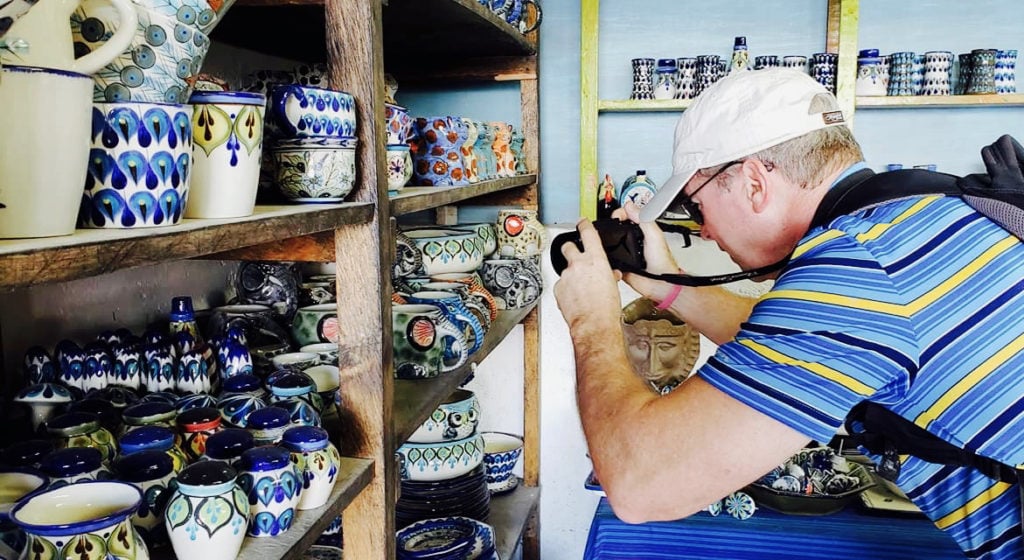 CHECK OUT: Famous Guatemalan Ceramics
Purchase signature ceramics right from the source in San Antonio Palopo – a town known for its ceramic-ware emblazoned with timeless designs.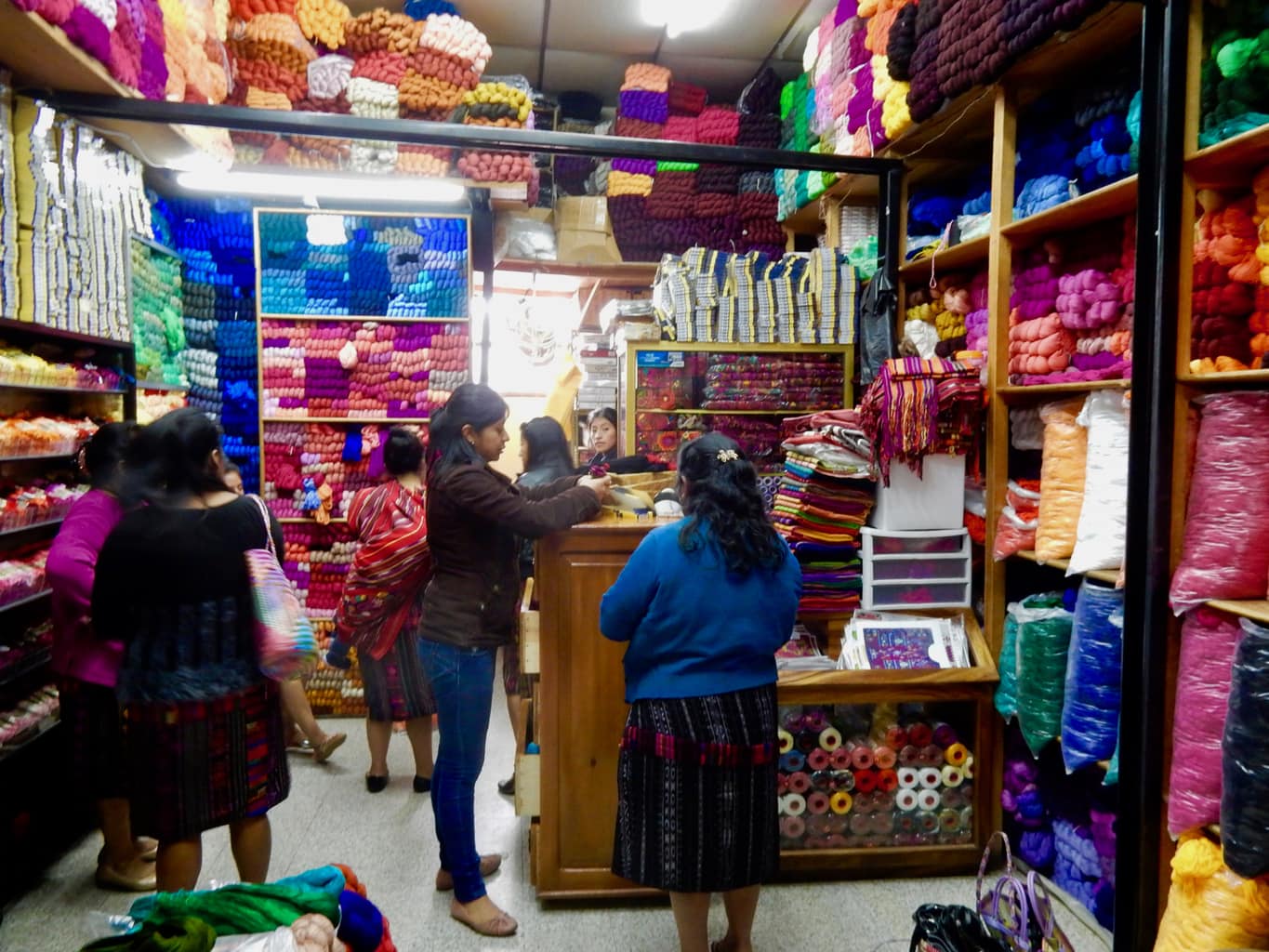 DRIVE: to the market town of Chichicastenango
It's about an hour from Locals buy produce and ritual objects for church visits (candles, incense, rum). Tourists, on the other hand, are over stimulated with shop after shop of crafts in kaleidoscopic colors. You might discover sophisticated gems among the schlocky establishments, but it requires patience and a keen eye.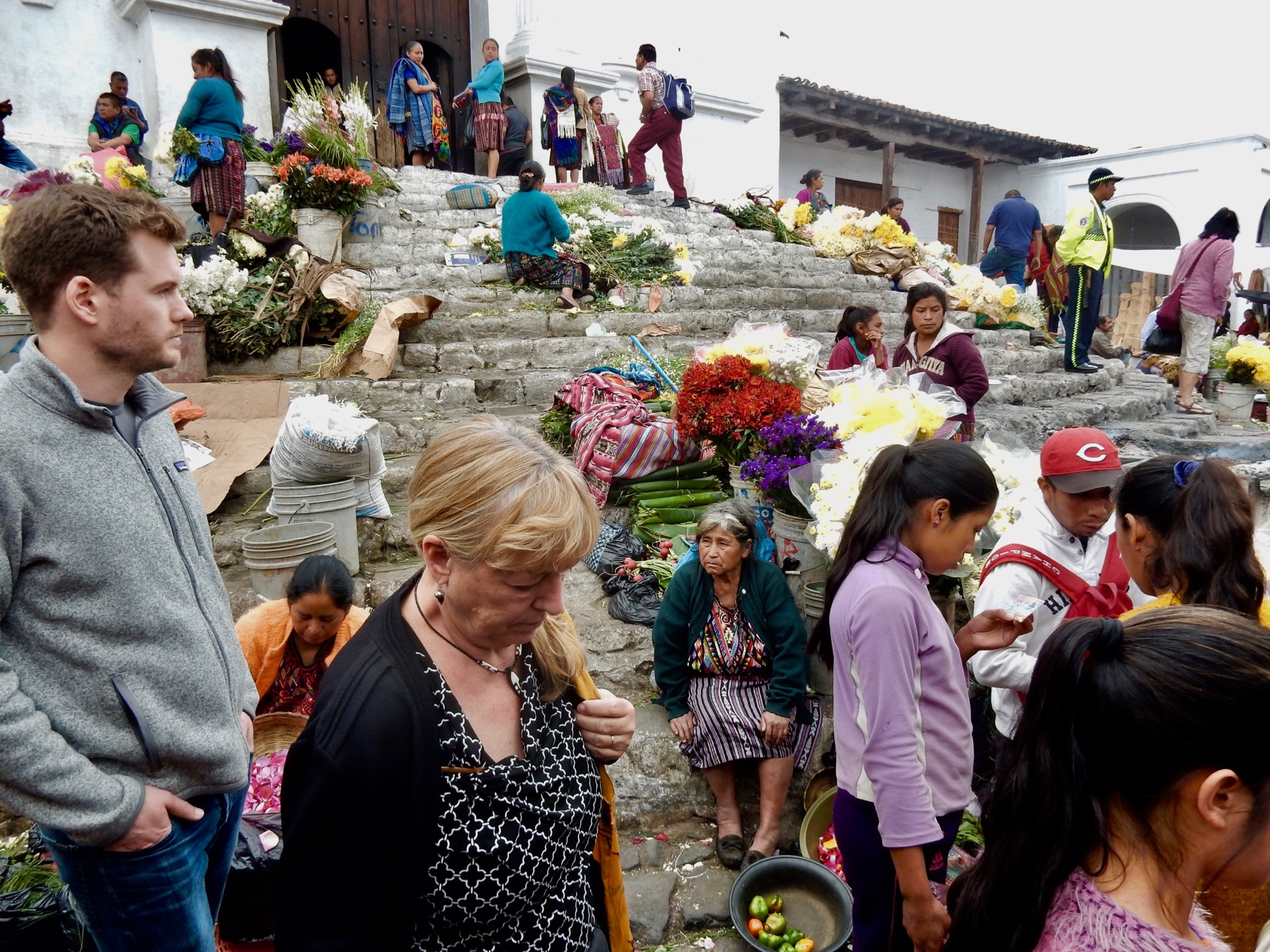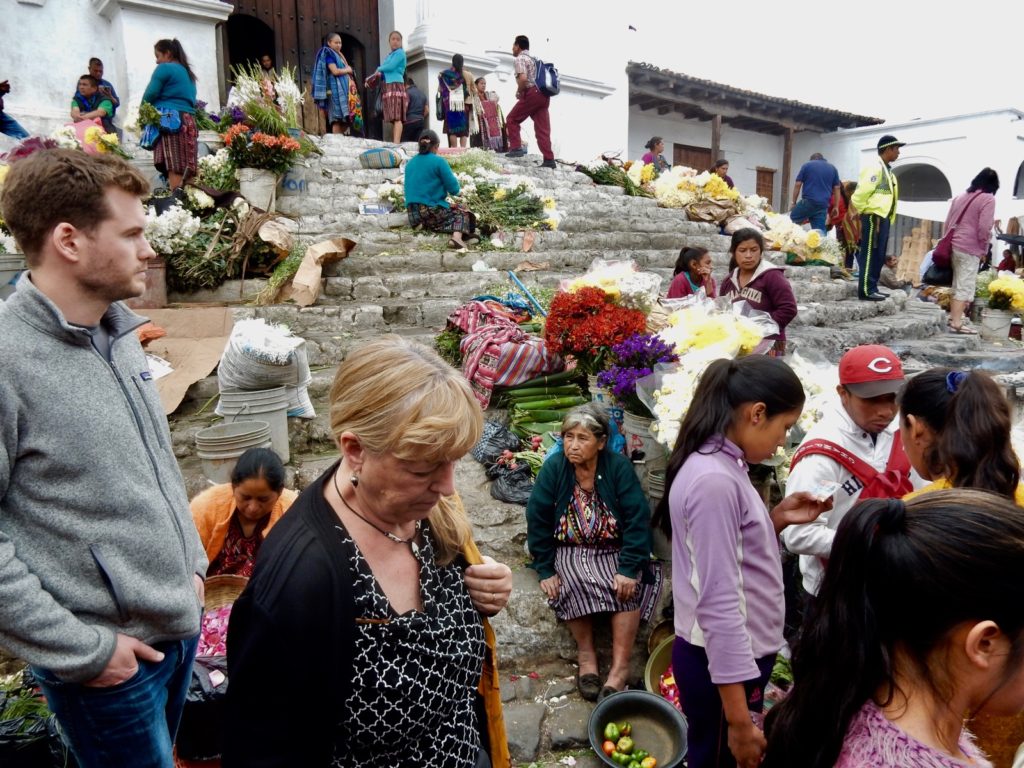 Visit: The church in the center of the Chichi market for the best example of the co-mingling of Mayan-Catholic cultures
The 18 steps leading up to the front door are all that is left of the Mayan Temple, destroyed by Spaniards in order to build the church in the 1500's. Inside, slightly raised stone Mayan altars line the center aisle of the church, leading up to the gilded Catholic alter at the front. Stay long enough and you'll witness locals lighting candles and pouring rum on flower petals on each square altar. Quite the departure from our own rituals. It is not uncommon to see devout worshippers on their knees moving from the back of the church to the front, praying and sobbing.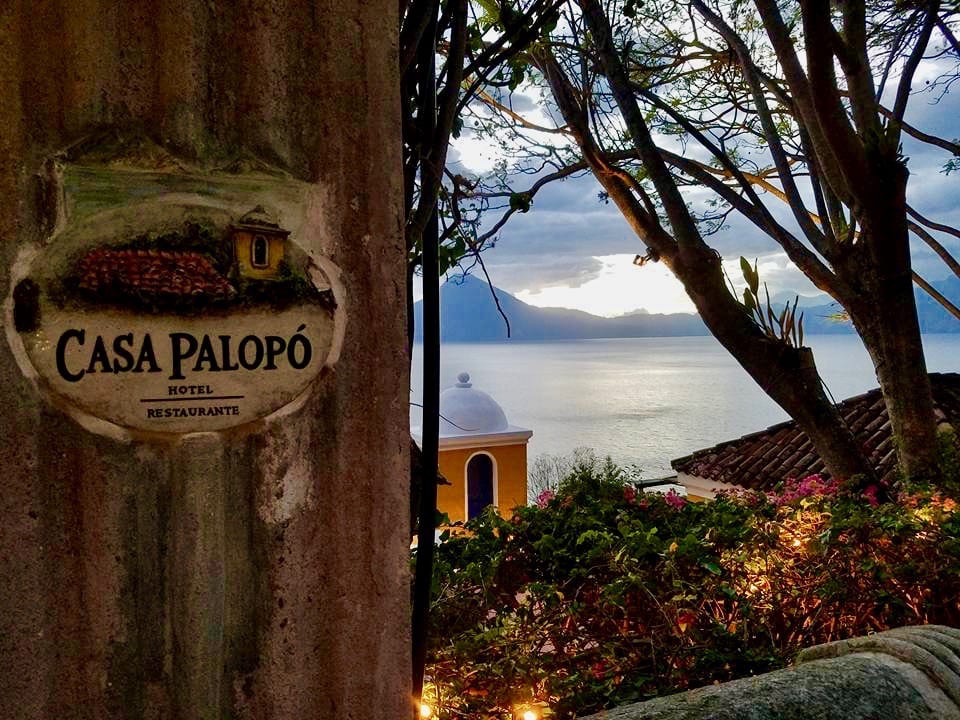 STAY: Posh at what is arguably the best hotel in all of Guatemala: Casa Palopo.a Relais and Chateaux hotel
And for the best of the best, ask for one of three rooms in the Villa, which has its own kitchen, living room and infinity pool and hot tub. There is nothing more transcendent than watching the sun set over Lake Atitlan and its volcanoes from your private outdoor pool.