Last Updated on September 7, 2022 by Editor
WHY GO: What's so great about Jersey City NJ?
The view. The food. The youthful, collaborative, entrepreneurial energy. And it's all just one subway stop from downtown Manhattan. I cannot emphasize the vitality of this Hudson River city enough.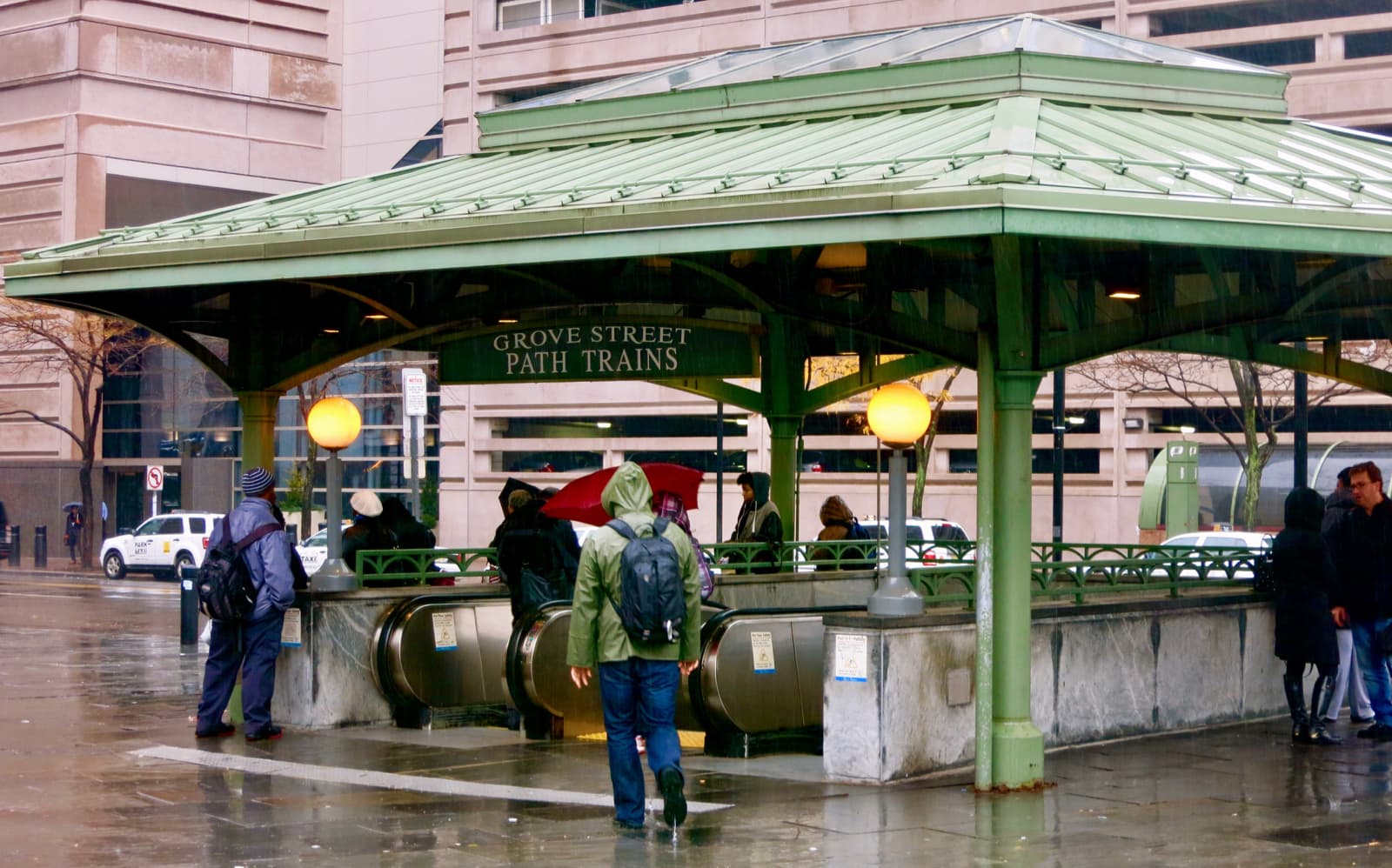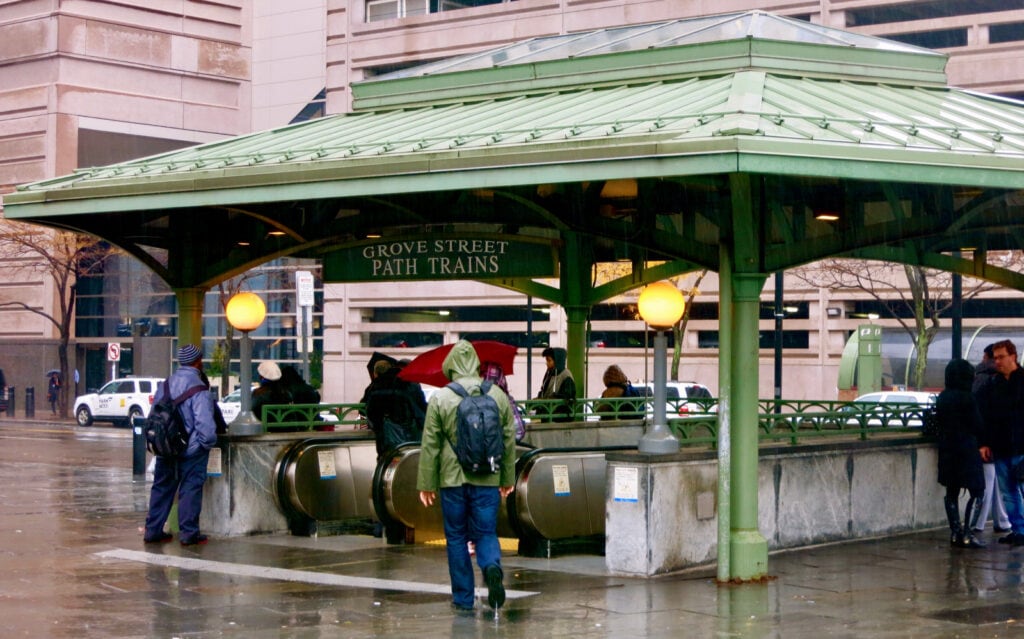 Home to Liberty State Park, the iconic Colgate Clock, and some of the most anticipated art and culinary projects in the Tri-State area, today's Jersey City has shed its industrial identity and celebrates a shared industriousness.
At night, stay in a waterfront hotel with a singular exquisite panorama of Manhattan, just a few hundred yards across the River, for a completely unique close-by getaway.
Combine this trip with a stay in Lower Manhattan – just one PATH stop away.
The Getaway Mavens included Jersey City on our "12 Romantic New Jersey Getaways" roundup here. Check it out for more to do in the Garden State.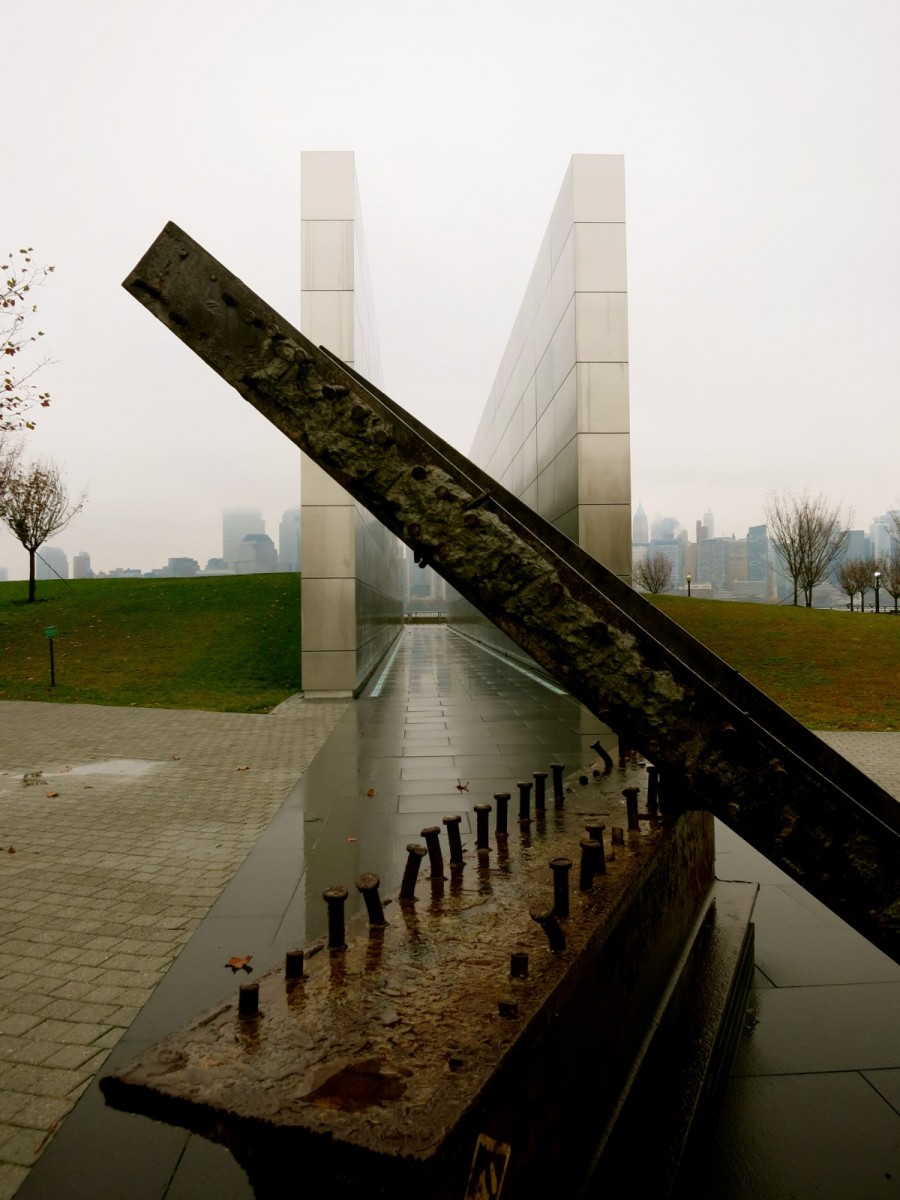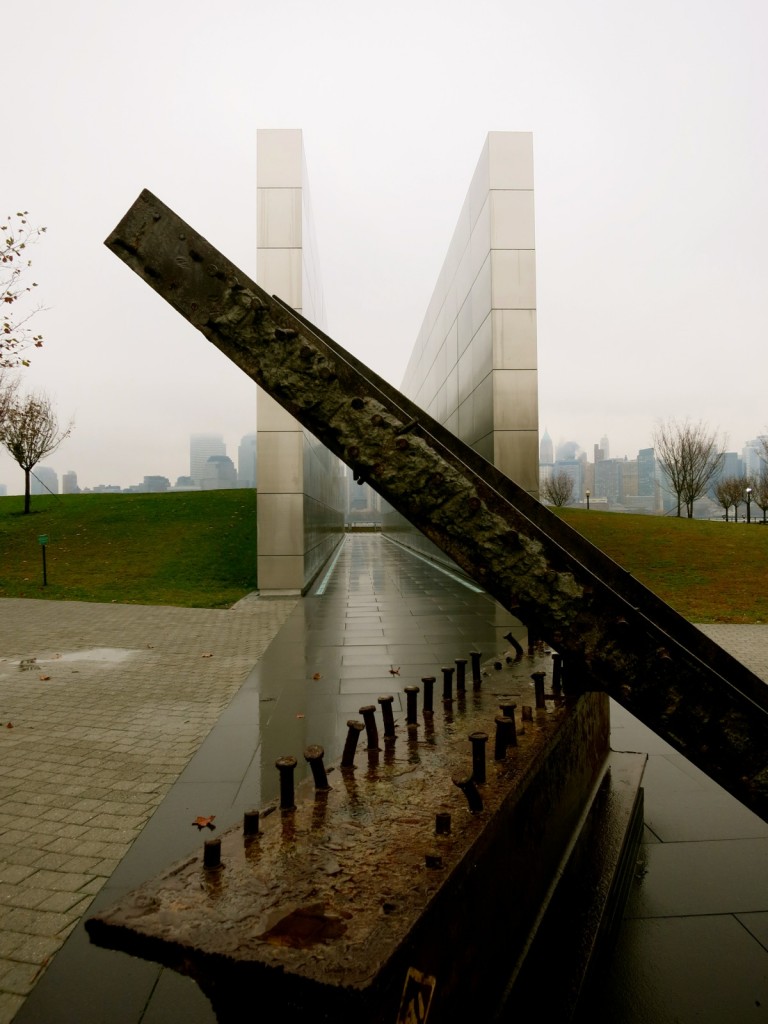 Two 210-foot long brushed steel rectangular slabs, lying on their sides and inscribed with the names of 749 victims of 9-11 from NJ, represent the fallen World Trade Towers. Peer through them towards downtown NYC, and they reintroduce the towers back into the skyline.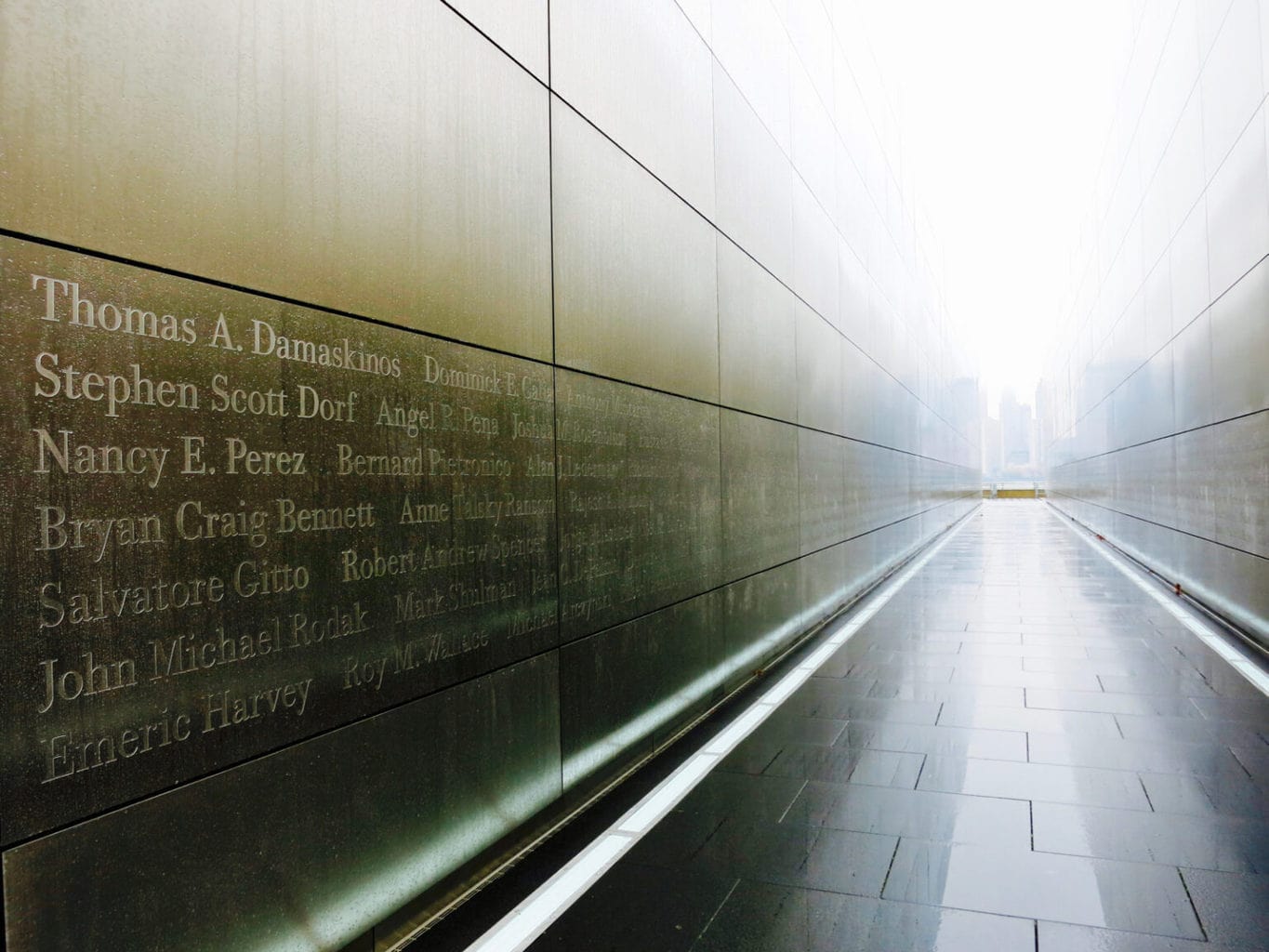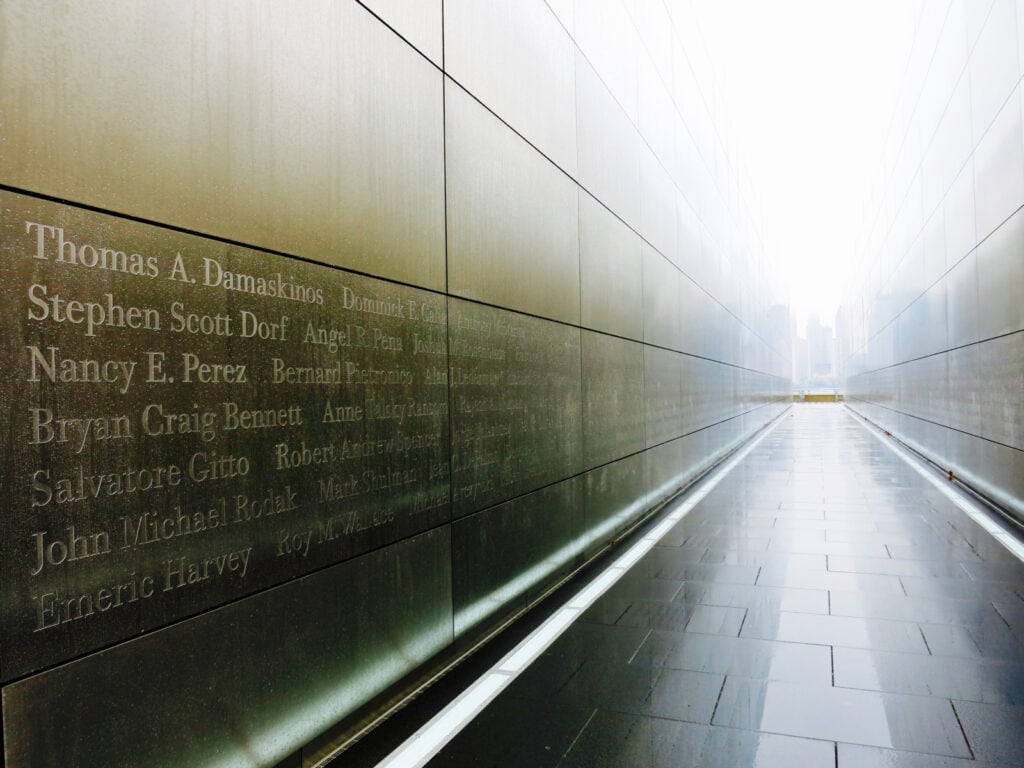 It's a poignant optical illusion, plunging you back to that horrific day. In the park, you can also visit the interactive Liberty Science Center, or take a quick ferry to the Statue of Liberty. Be aware that there are no signs to the Memorial, but Liberty Park Visitor's Center staff will provide you with a map to get you there. Park open daily 6am-10pm.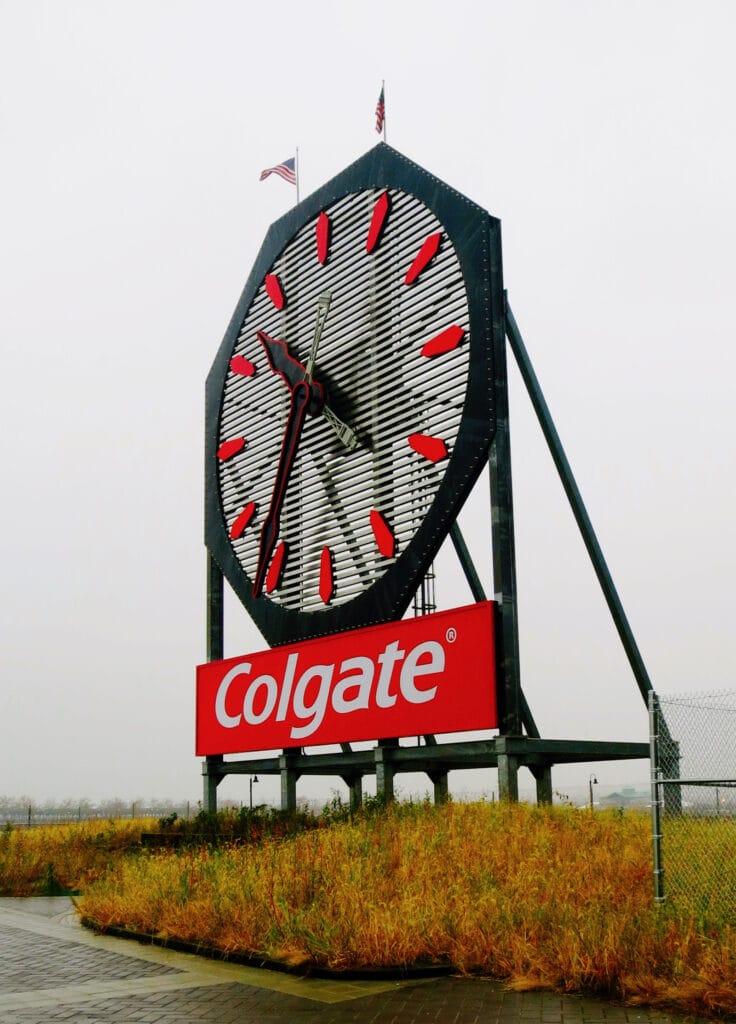 PHOTO OP: Colgate Clock
Formerly sitting atop the demolished Colgate-Palmolive building, this 50 ft wide clock has been a Jersey City icon since 1924. The factory building may be gone, but the octagonal clock remains, and has become a JC attraction in and of itself, right on the riverfront.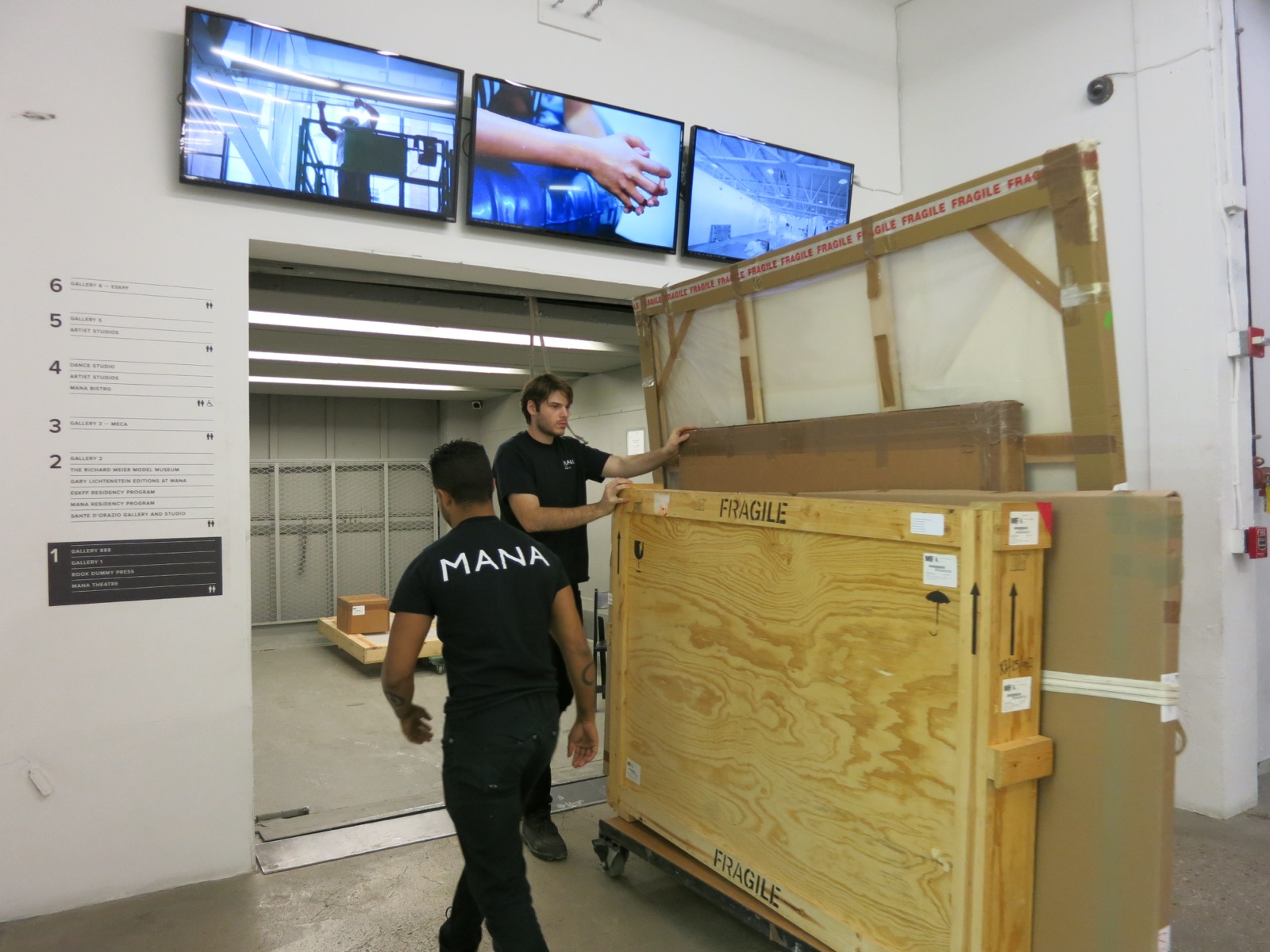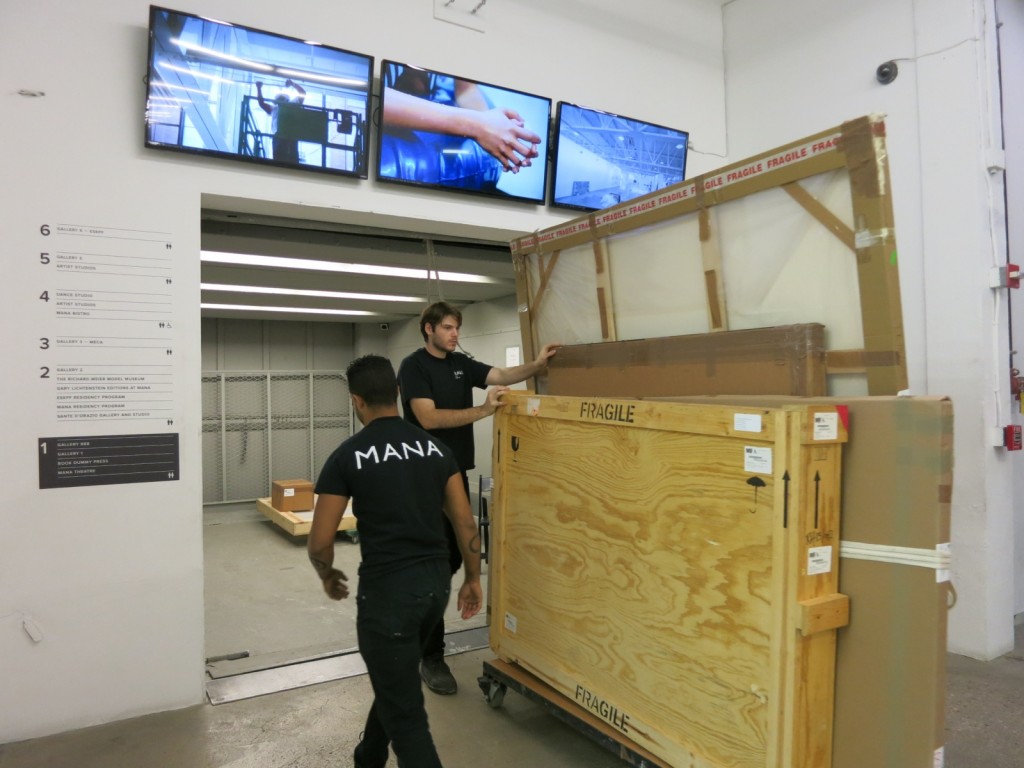 This is the most pristine, museum-like, collaborative, mixed use storage facility of its kind. Anywhere in the world.
A brand new concept, championed by two Israeli guys, Moishe Mana and Eugene Lamey, who brought Moishe's Moving to New York, the million square-foot Mana Contemporary has coalesced into a self-contained networking community for the performing and fine arts: Basically, a terrarium for artists and those who work with them.
What began as a storage and shipping center is now a magnet for artists and art collectors – and now the public as well.
Not Quite, But Almost, A Museum
Mana and Lamey asked high profile collectors, "why keep your artwork packed in crates when you can exhibit your collections for all to see? They're here, anyway." So the partners built big, bright, gleaming galleries to showcase contemporary art to greatest effect.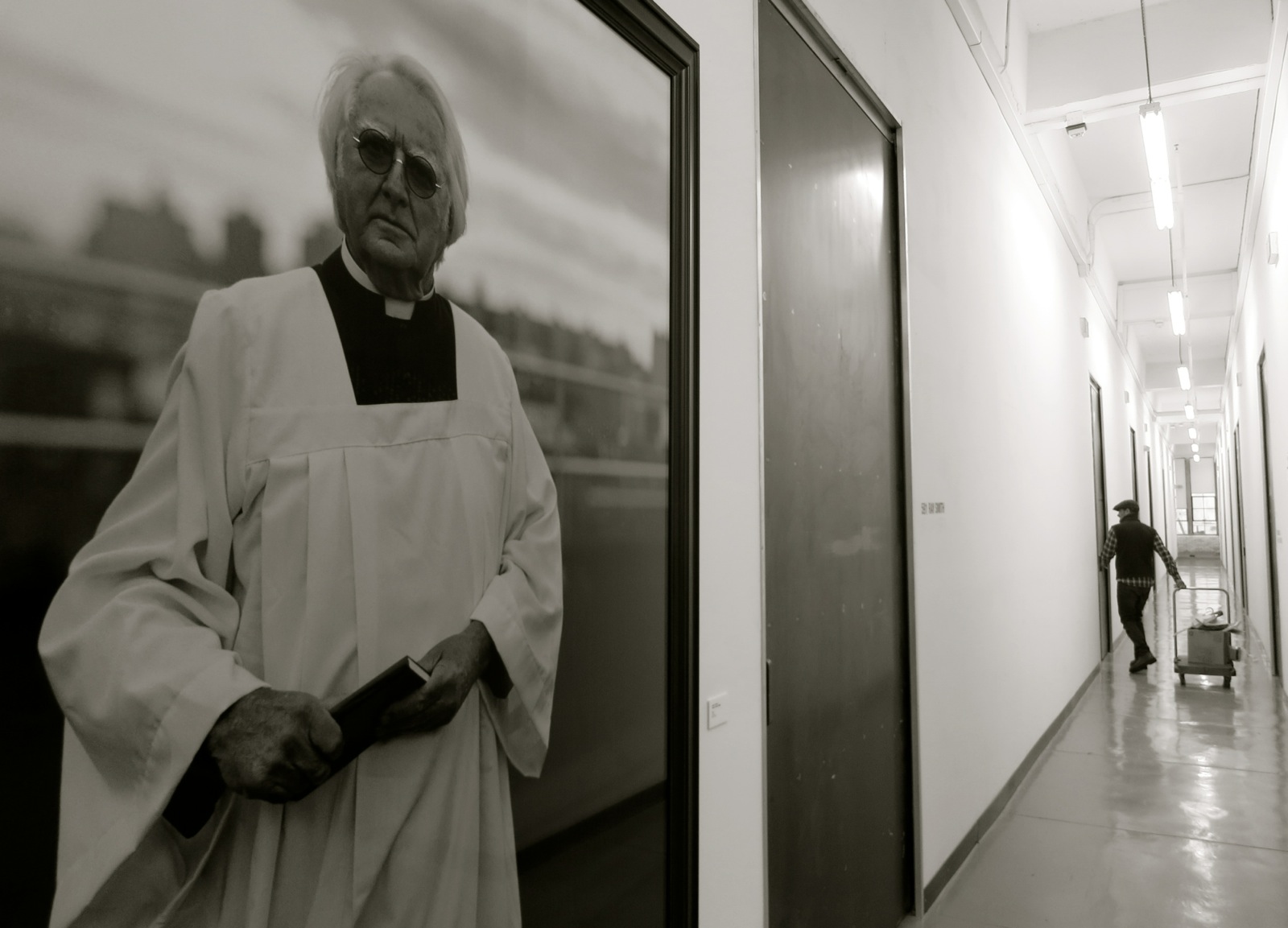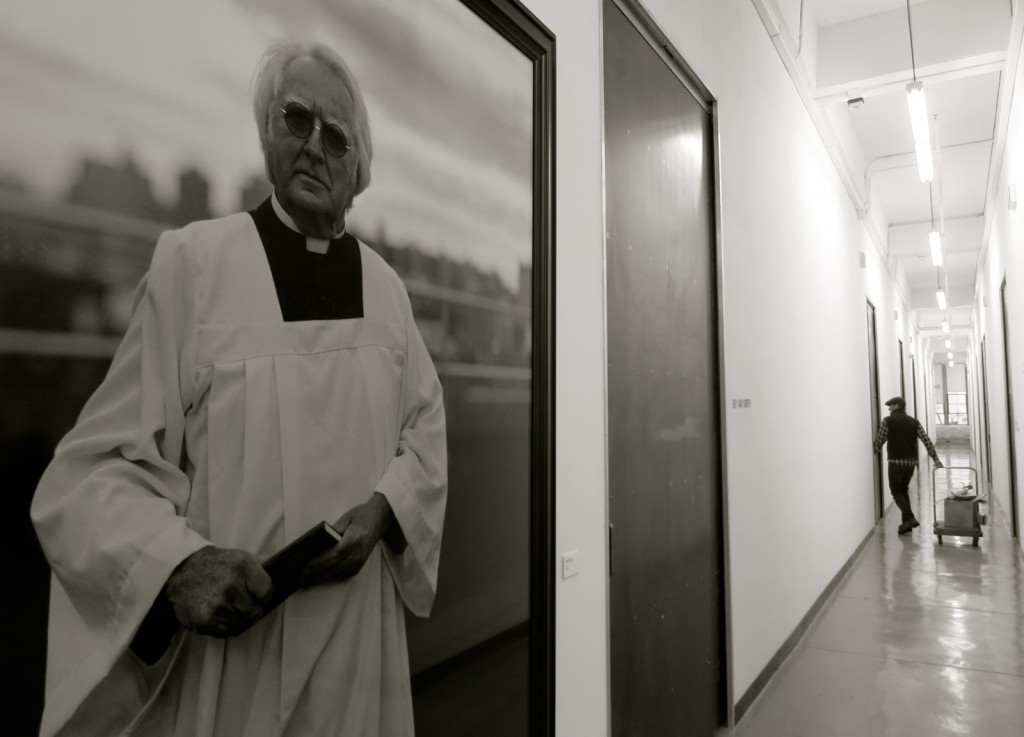 Then, Mana and Lamey enticed established and emerging artists to this repurposed tobacco factory, opening 100 individual studios that provide both solitude and "lets-get-a-cuppa-coffee" community. (When an artist's studio door is open, it's an invitation to come in and talk).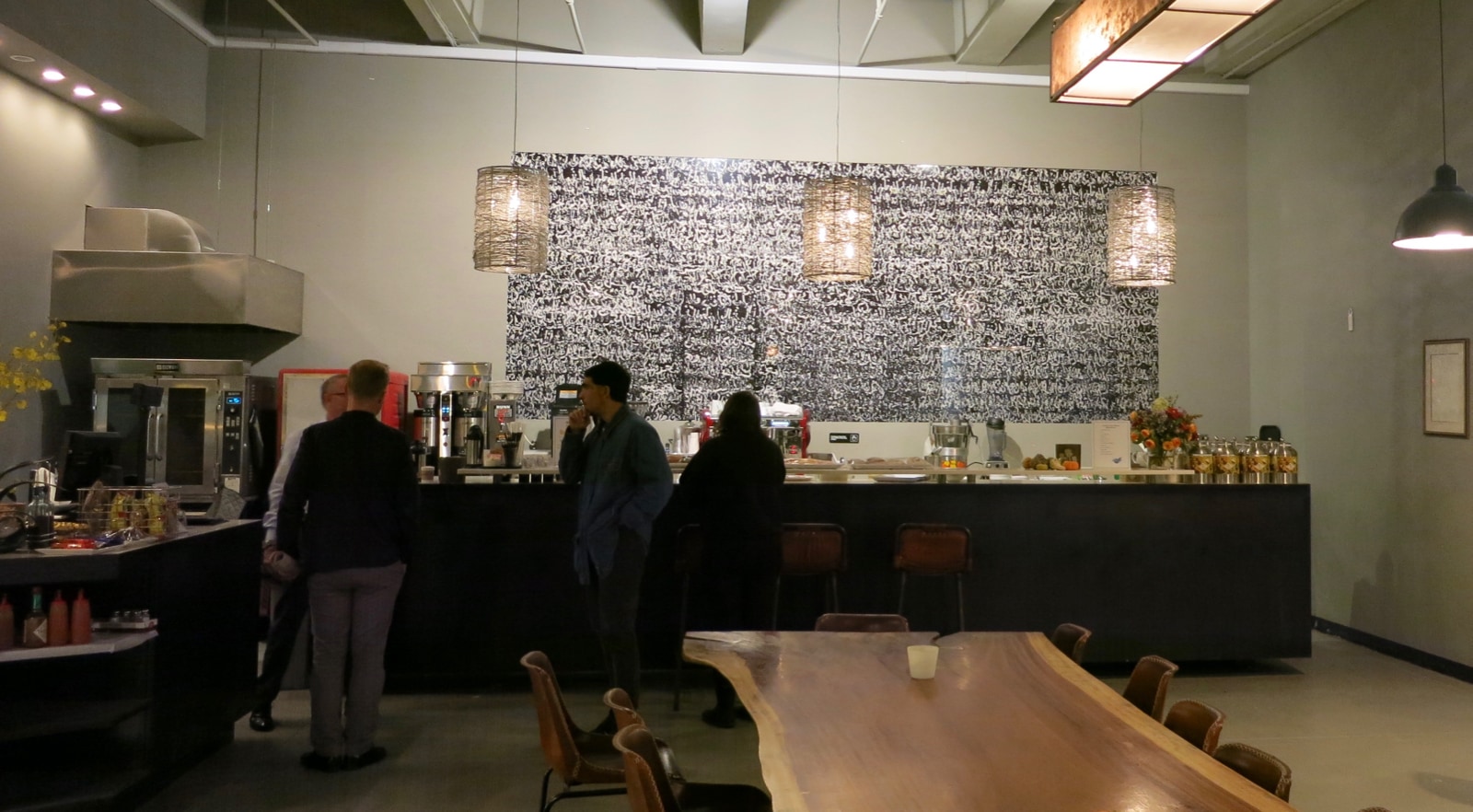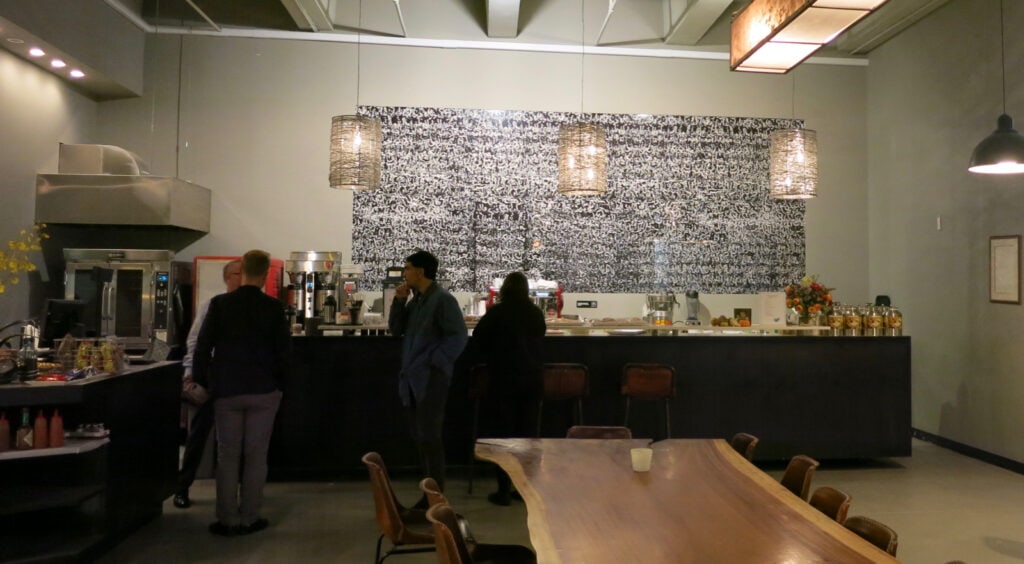 The six massive floors of Mana Contemporary are full of all aspects of fine and performing art. A whole gallery is devoted to four hundred Richard Meier architectural models. There are also photography studios, book publishers, a silk-screening workshop, a crating shop, a frame-maker, and eateries.
Lemay insists that this facility is "not a museum. There's no place like this in the world." Collectors can come and visit their once-hidden-away, now exhibited art, and then head into the warren of artist studios to see what tickles their fancy next. Collectors-in-the-making find a fertile field here.
Artists need not leave the grounds (or the building) in order to frame, crate, and ship their pieces around the world.
And a growing number of art-lovers are learning about this Jersey City sensation, and come for an hour-long tour (Tues – Friday) or occasional Open Studio Tours. But you cannot roam around the place – only artists are allowed to do that. The rest of us must take a guided tour. Tues-Fri 3pm tours, Sat. 11-5, tours at noon and 3pm, free.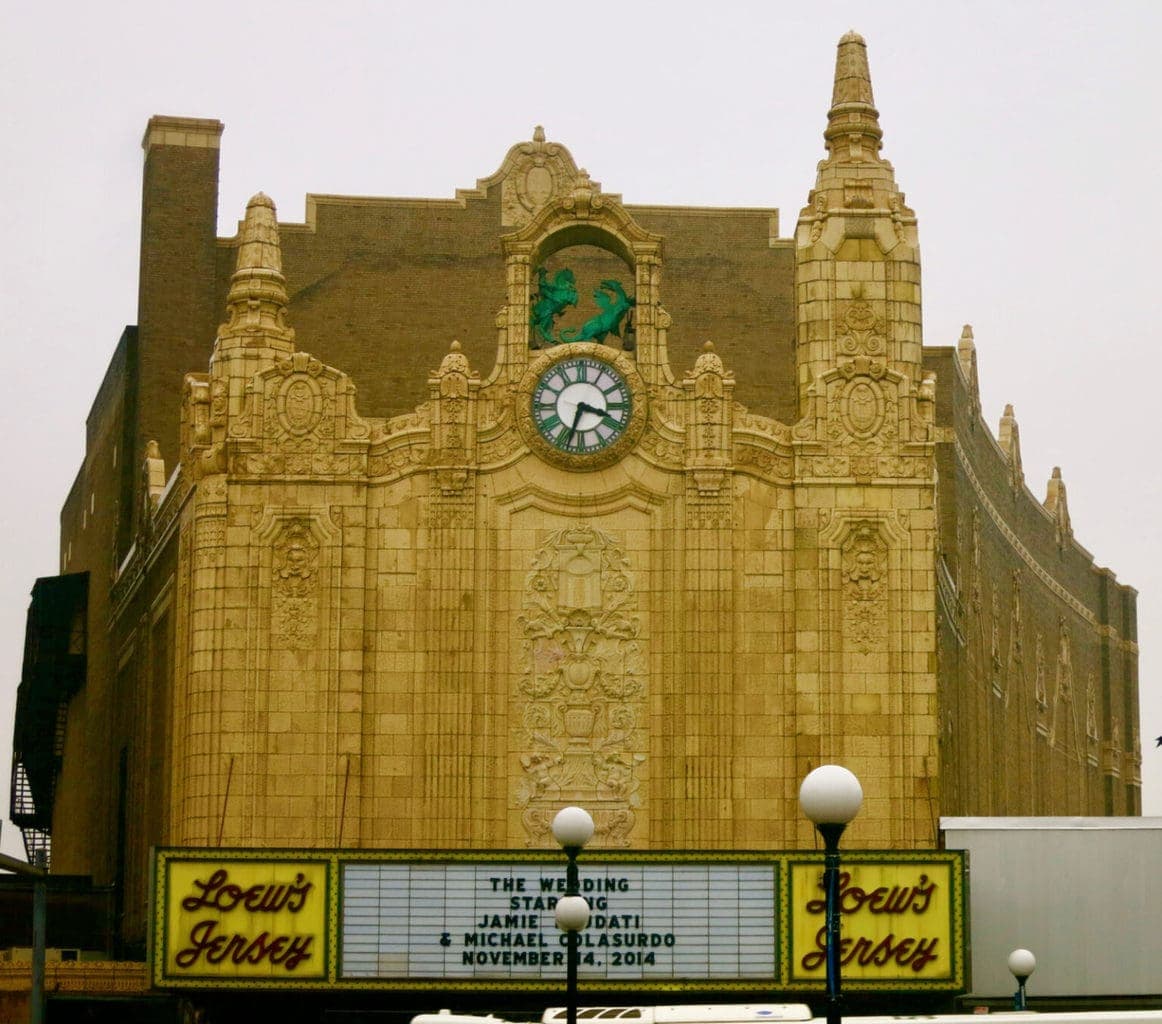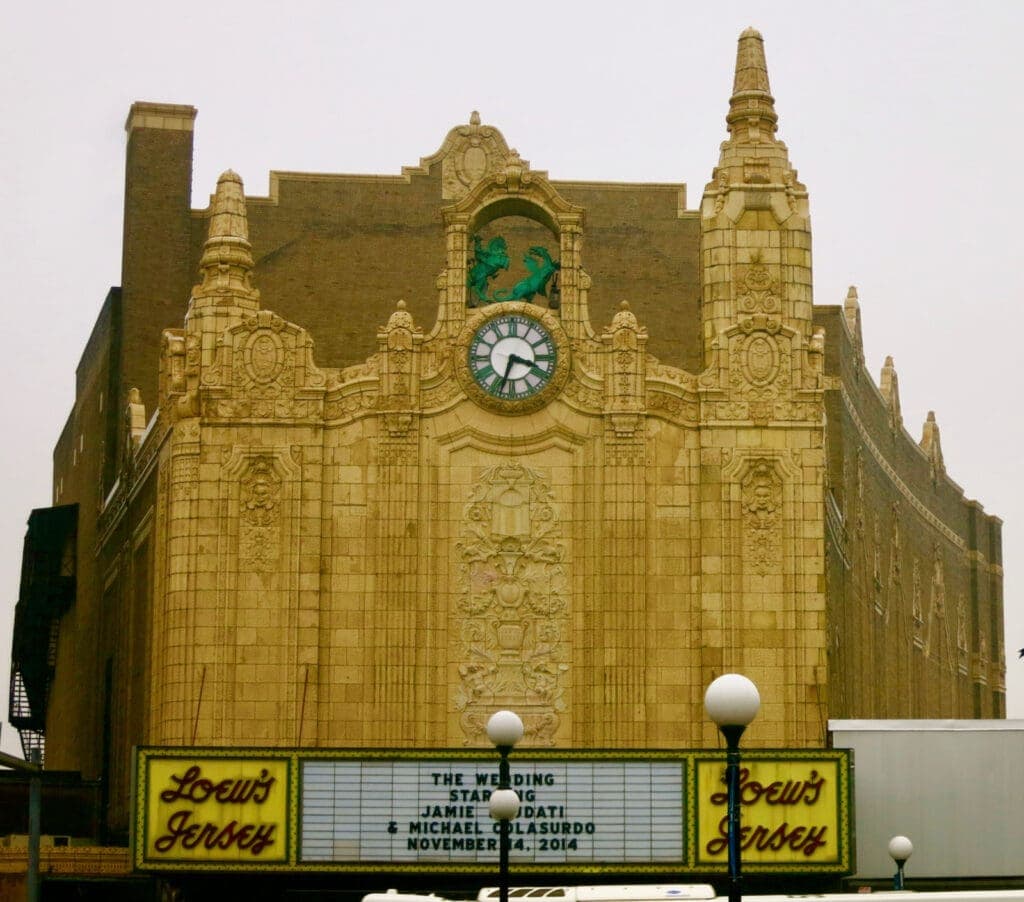 Called "The most lavish Temple of Entertainment in New Jersey" when it opened in 1929, The Loew's hosted all the preeminent stars of the day. Burns and Allen, Bob Hope, Judy Garland, Cab Calloway, Jean Harlow and more graced its boards before the Landmark Loews fell on hard times and descended into rats nest shambles.
In the 1980's The Friend of Loew's, recognizing the theater for the astounding palace it is, saved it from the wrecking ball. The city took it over in the 1990's, turned into a multiplex cinema, and then closed it down, leaving this Landmark an attraction in process.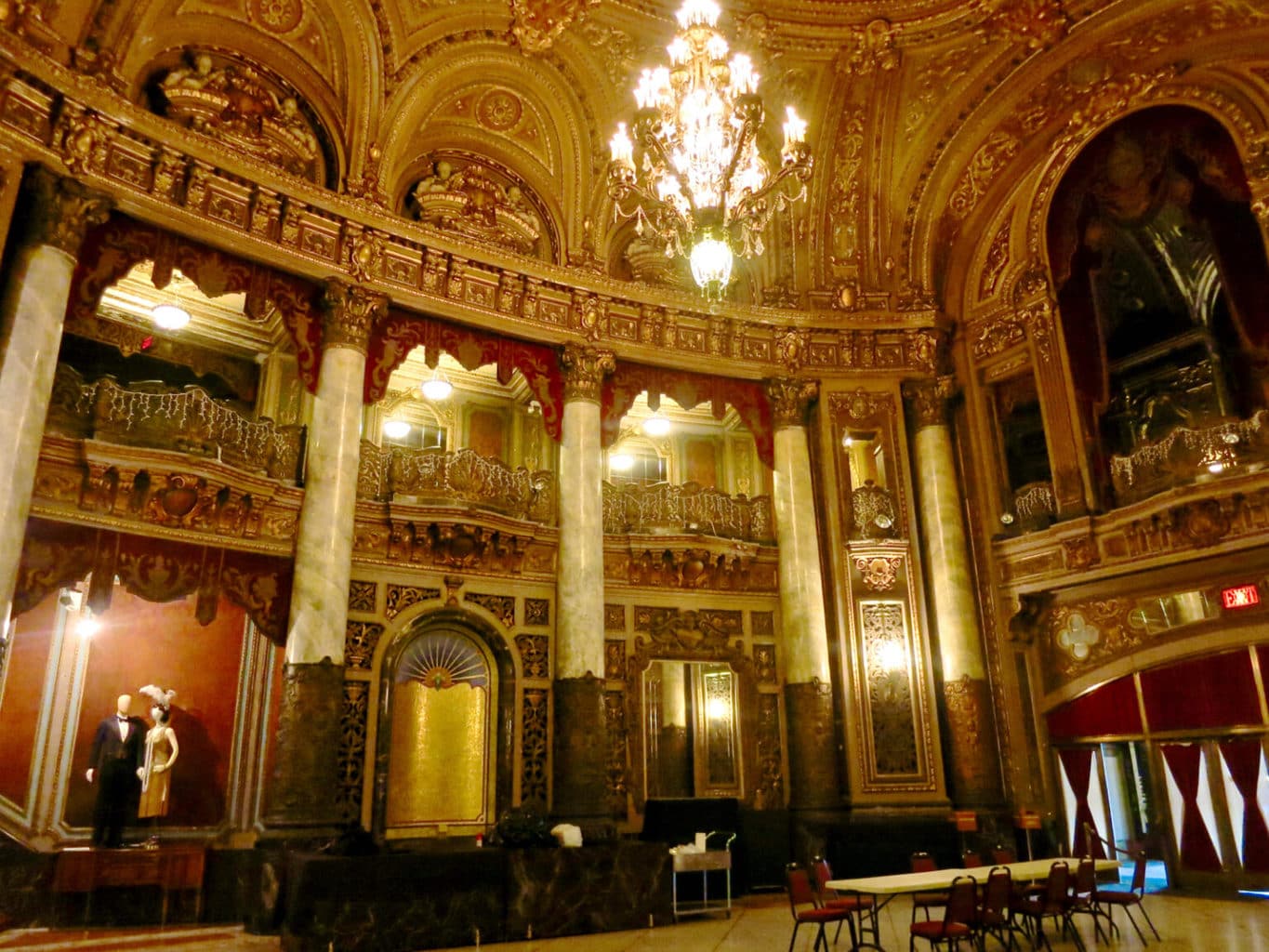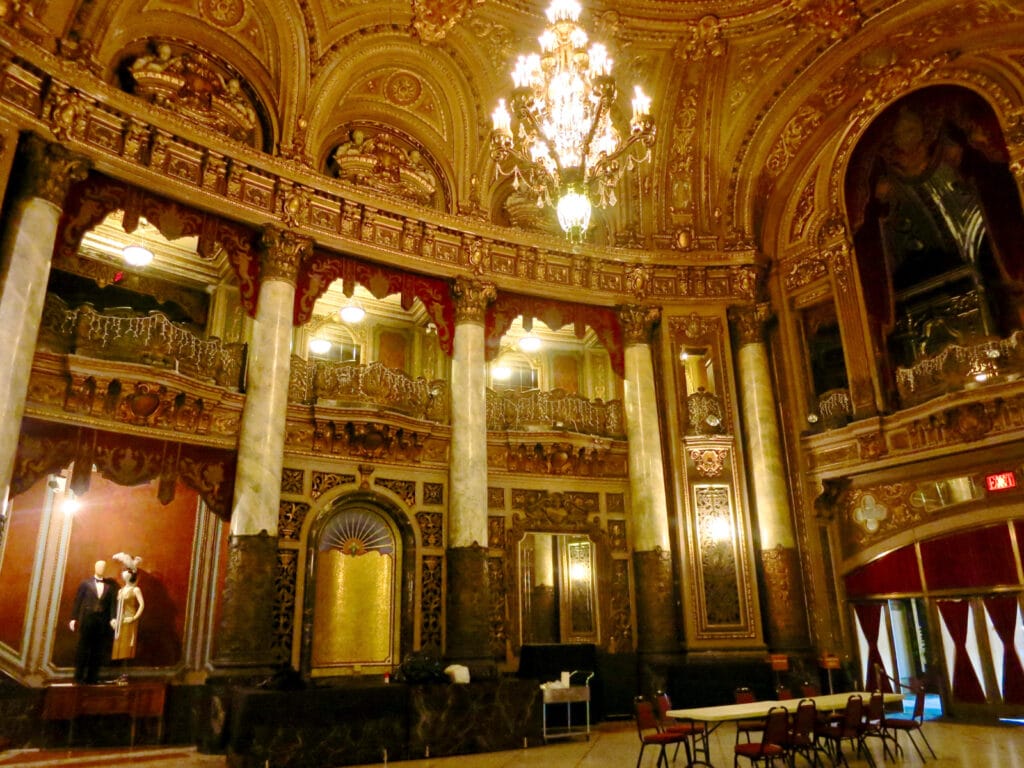 Walk into the lobby, and its opulent beauty will stun you. The theater still houses its original light board and an intricate organ, identical to the one that played during silent films in the '30's. This one came "in pieces" from an old movie theater in California. "It took eleven years to put together – like a jigsaw puzzle," said one docent. Tours can be arranged through the office for now.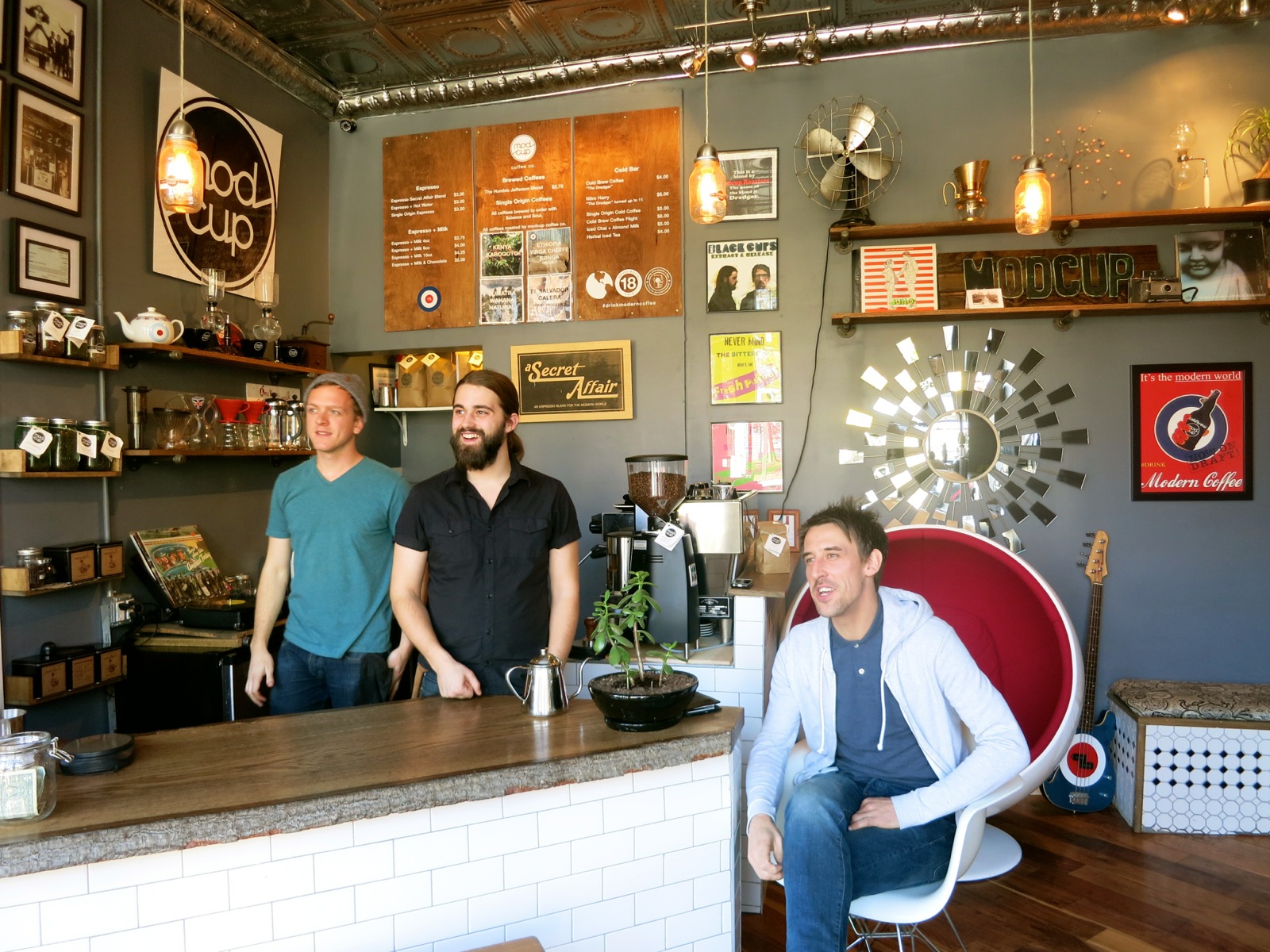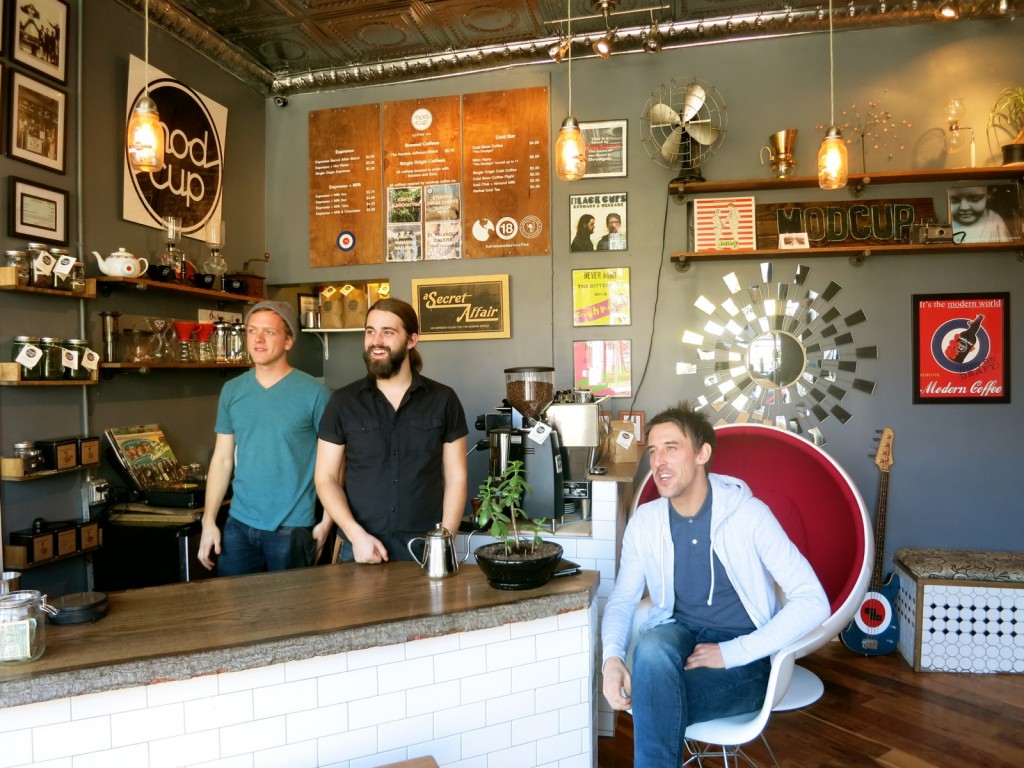 VISIT/COFFEE: ModCup
Did you know that 99% of all coffee served is either stale, burnt or both? This is the philosophy of ModCup founders, Justin Hicks and Travas Clifton, who began their coffee company with "one simple cart" in May 2013.
This area of Jersey was built on the stuff – Maxwell House was the largest employer in Hoboken, NJ in the mid 20th century (before closing altogether in 1992). "We're reawakening the coffee culture here," says Clifton.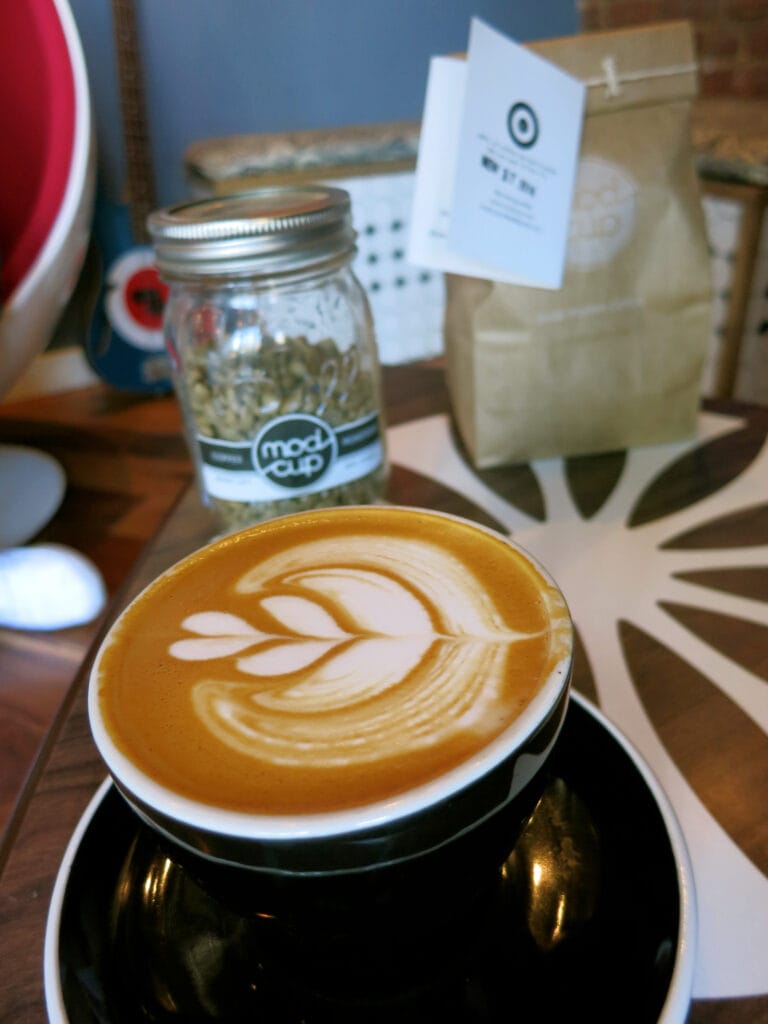 "Coffee is one of the most complex fruits known to man," says Clifton. "The coffee 'bean' is actually a seed with 1,200 chemical compounds." ModCup uses only fresh beans, does not roast to a crisp, and will only make coffee with beans up to two weeks after roasting. "After 14 days, coffee beans go stale. Most people have been doing it all wrong."
Best Places to Eat and Stay in Jersey City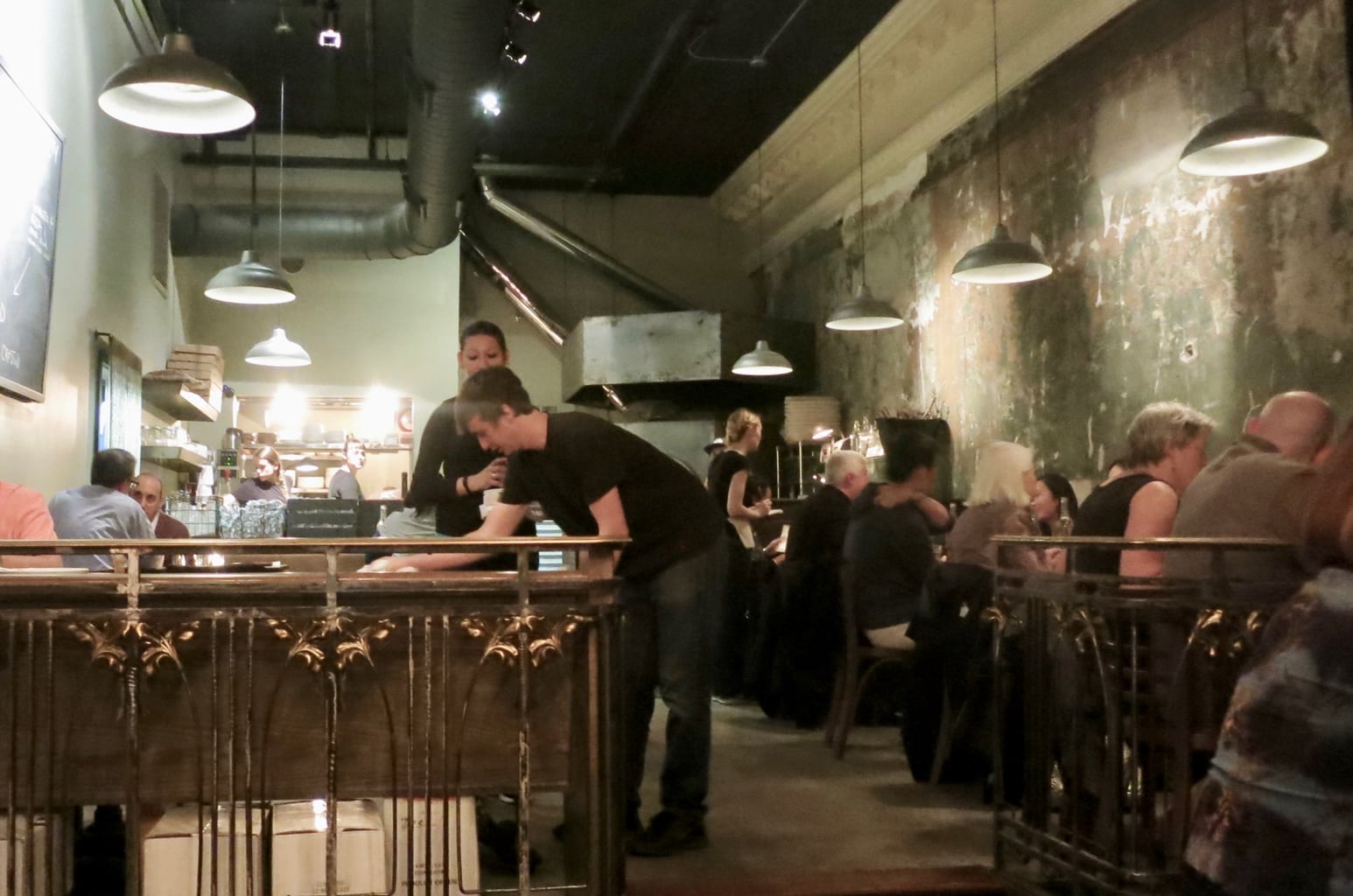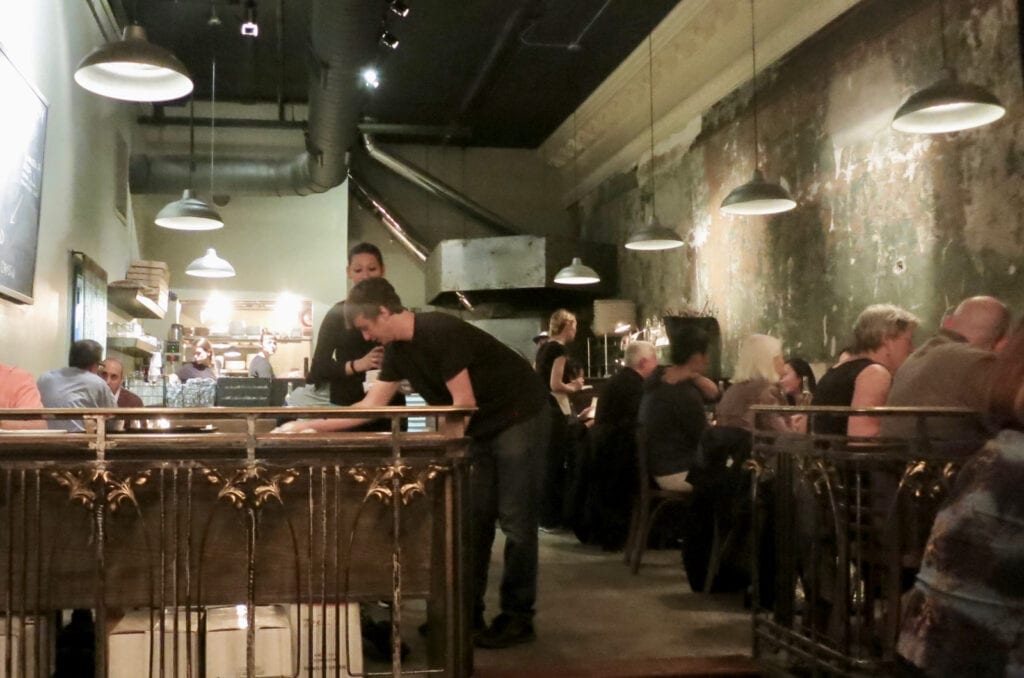 I've never met a man so euphoric, so PhD scholarly, about yeast and bread as Dan Richer, owner of the Jersey City pizza joint, Razza. He has a habit of carrying around a tub of warm, frothy dough to showcase his proprietary yeast blend, revealing his passionate obsession with all things naturally leavened. Passion, of course, doesn't always translate into excellence. But in this case it does.
Distressed plaster walls, wooden church pew booths, stacked cordwood reception desk – Razza is woodshed chic. But what drives the nightly crowd isn't the surroundings – it's what emerges from the wood-fire oven.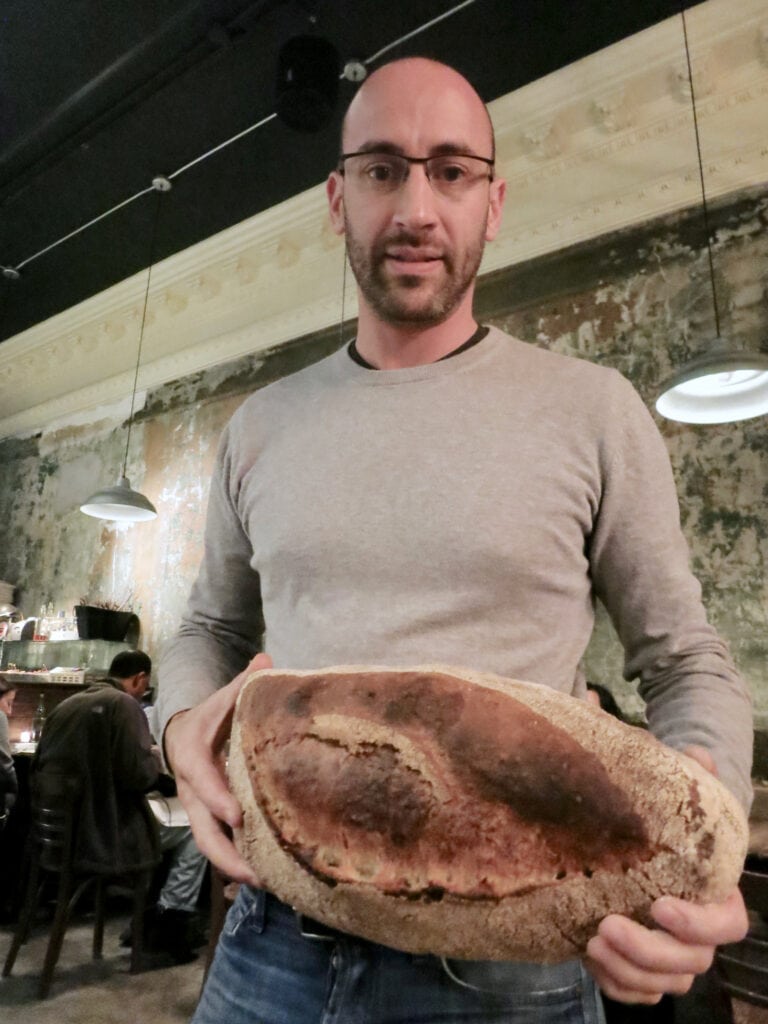 I cannot even begin to describe the incredible taste of Dan's beloved bread. All I can say is that it is worth the cost (comes with "handmade cultured butter from grass-fed Lancaster PA cows") and then some. One bite of the crust that crumbles without the need to gnaw, and the warm, chewy, yeasty center and I was hooked. Hooked enough to rethink my order of pizza and request another few slices of bread.
But the pizza, and the mountain of "Kale Caesar" salad that accompanied mine, was just as addictive as the loaves of rustic wheat and rye that Dan bakes daily, and rivals the world-renowned pies charred in my home state of Connecticut. No wonder New Yorkers swarm here.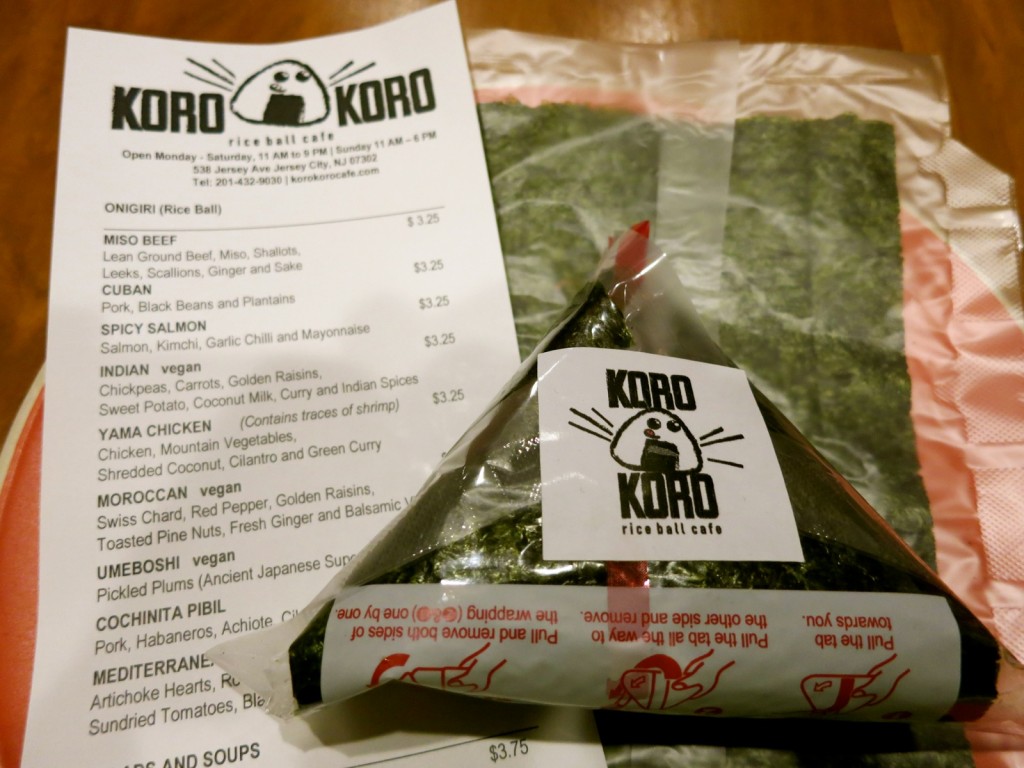 Carrie Grosso and Vincenzo Bove have perfected the art of the sticky rice ball. Selling onigiri – Japanese comfort food – from a tiny storefront, these sweet triangles of deliciousness, wrapped in seaweed, can be made a bunch of ways. Try Spicy Salmon with Kimchee and Cuban Pork with Black Beans – the most requested. Just $3.50 a pop, two will more than fill you up, and are healthy, gluten free and awesome.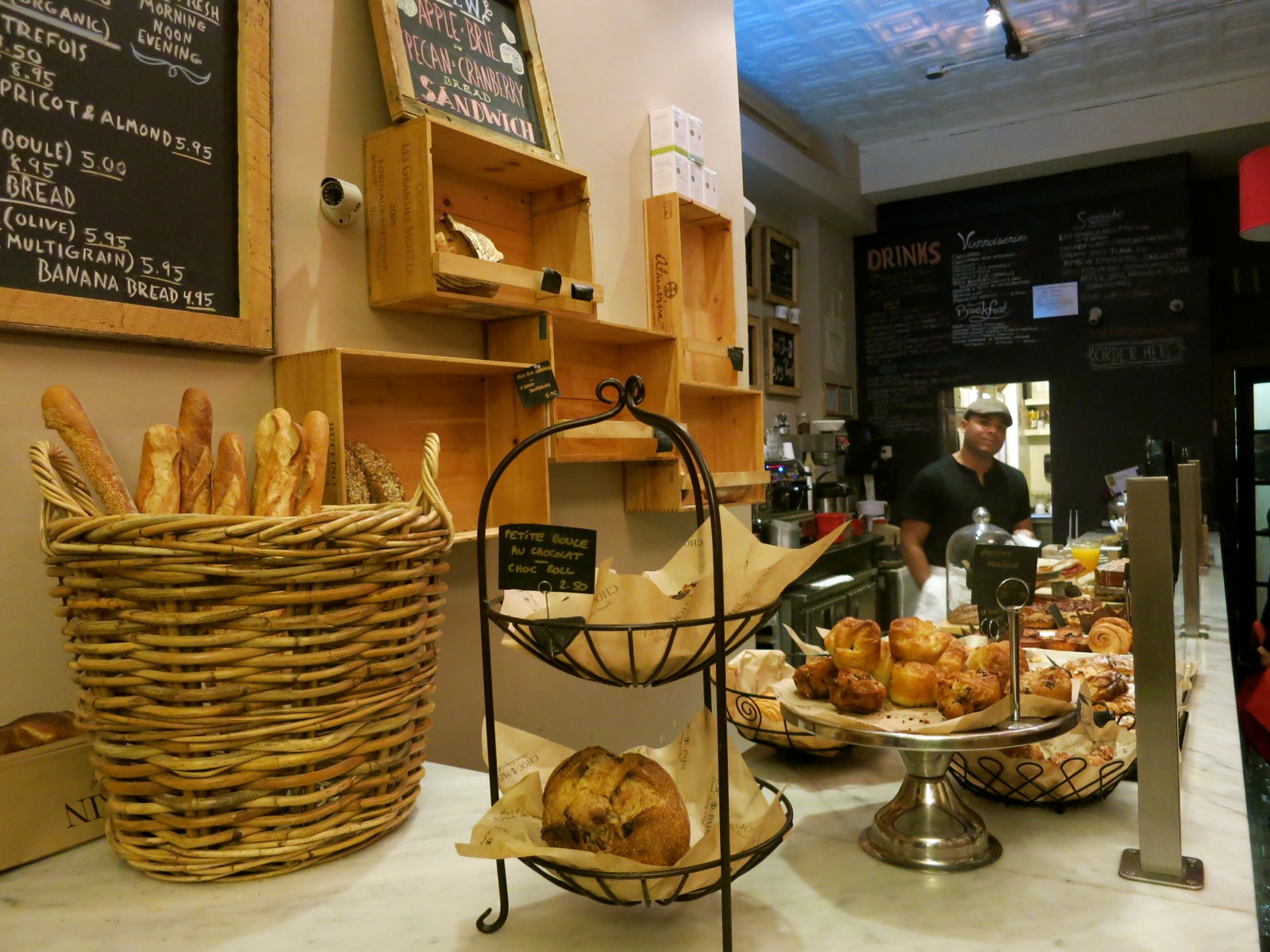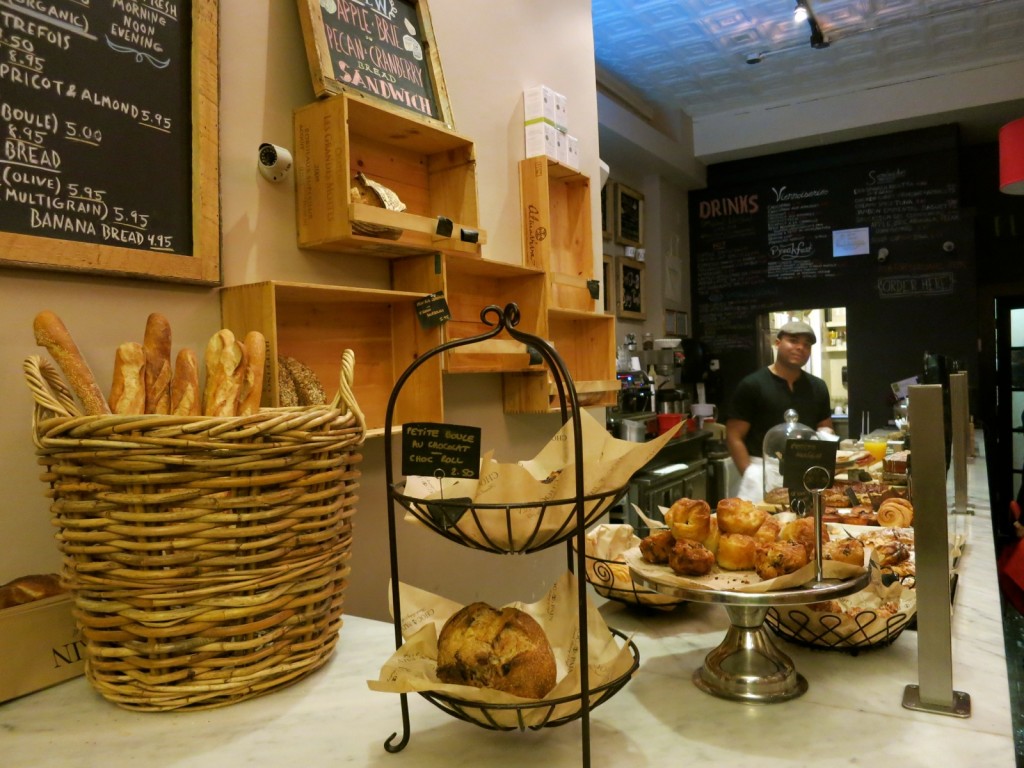 Next door to Koro Koro, satisfy your cocoa cravings at this real deal bakery. Half of the pastries feature chocolate, including the "fly out the door" Kouign (pronounced "Queen") – caramelized min-croissants with chocolate chips. Uh oh. Cholesterol be damned.
EAT: Locals Recommend
Cellar 335, Fire & Oak, Luna, Latham House, and a growing roster of eateries. Culinary-wise, JC is a happening place, and everyone has his or her favorites.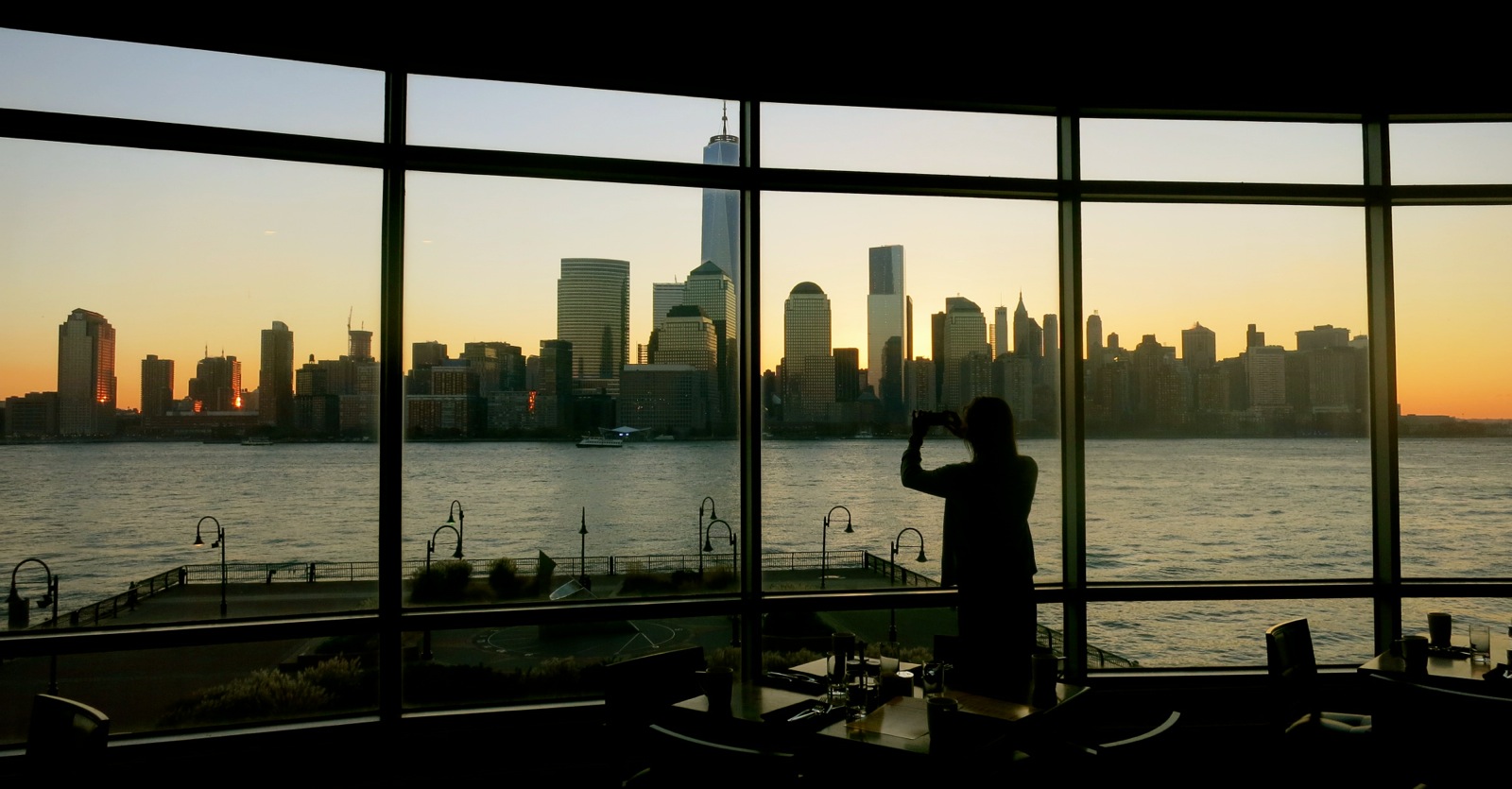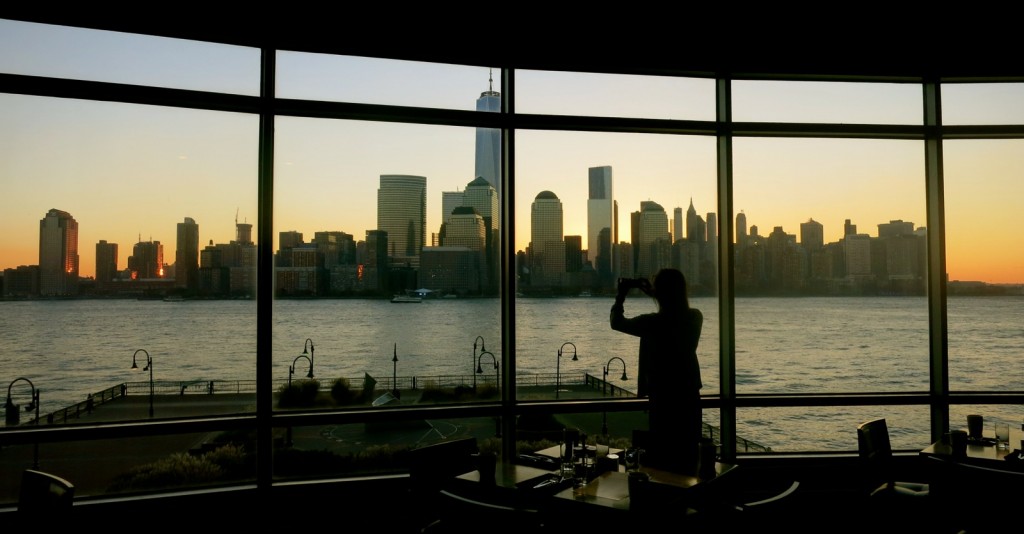 STAY: Hyatt Regency Jersey City
Stay right on the pier with unparalleled views of lower Manhattan. These are especially sweeping from the chic restaurant/lounge, Vue. Rooms are Hyatt fine, with updated cloudlike bedding and granite counter bathrooms. Rates start at $230 per night.