James NoMad, the flagship of the James Hotel brand, opened in the Flatiron District of NYC (29th and Madison) in August 2017. Originally built in 1904 as the Seville Hotel and then, in 1987, rebranded as the Carlton, the space was gut renovated in 2017. Developers kept its elegant Beaux Arts exterior, and re-imagined the interior as the boutique James NoMad.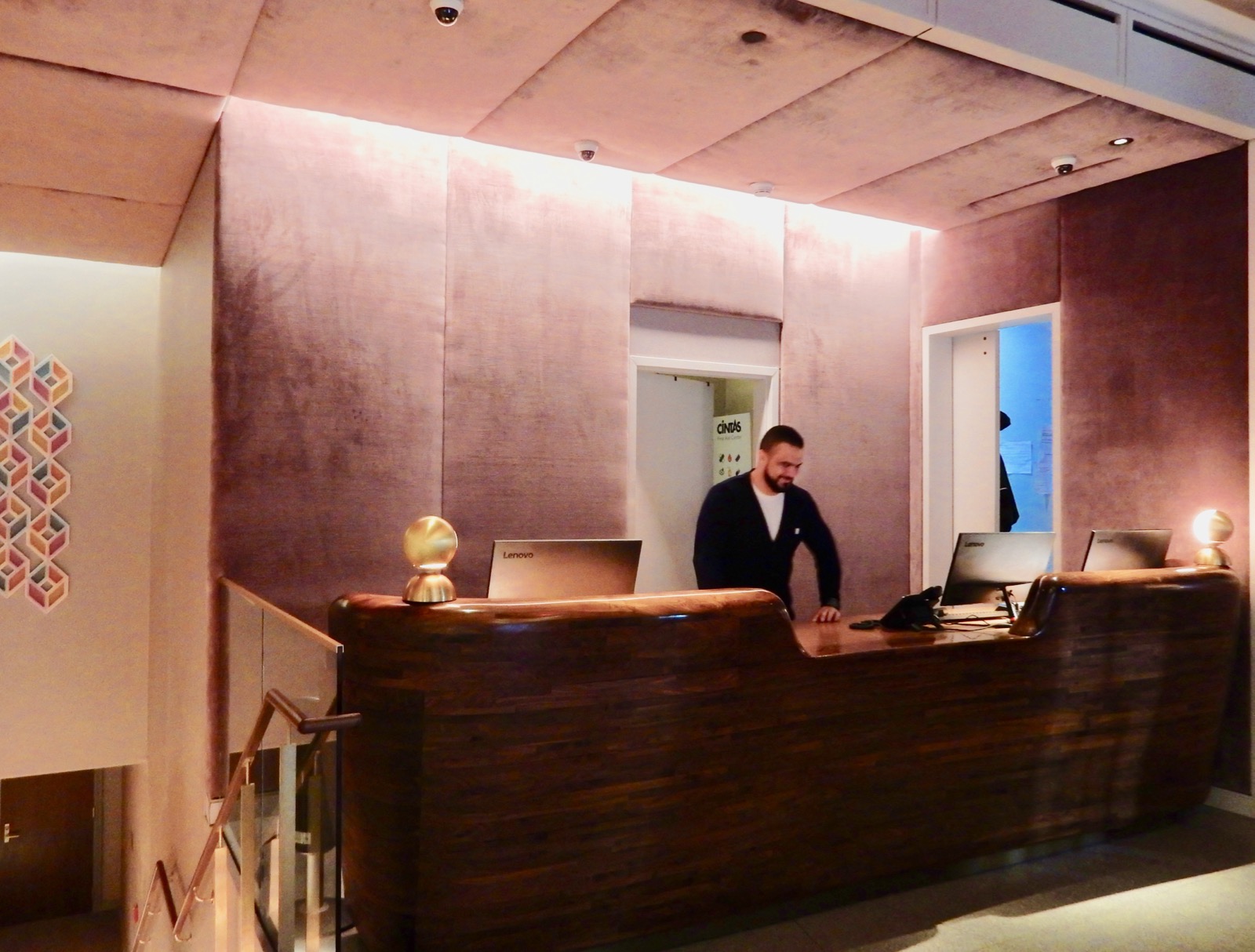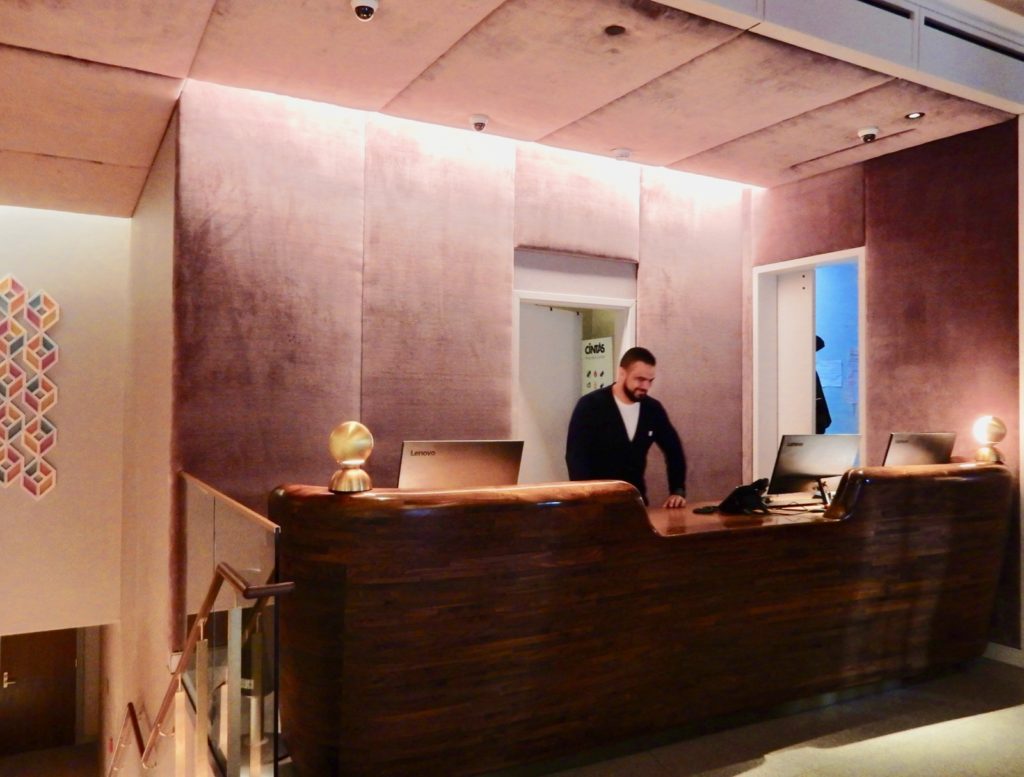 The James NoMad, however, is just one of countless chic boutique hotels in New York City to crop up lately. So what sets it apart? In a nutshell, a proprietary program called Four Bodies Wellness, designed to ease your city-clobbered physique and psyche.
Four Bodies Wellness at James NoMad
In partnership with consultant Ruby Warrington of The Numinous, in-room programming was designed to help balance all four bodies: Physical, Mental, Spiritual, and Emotional, in pursuit of total wellbeing.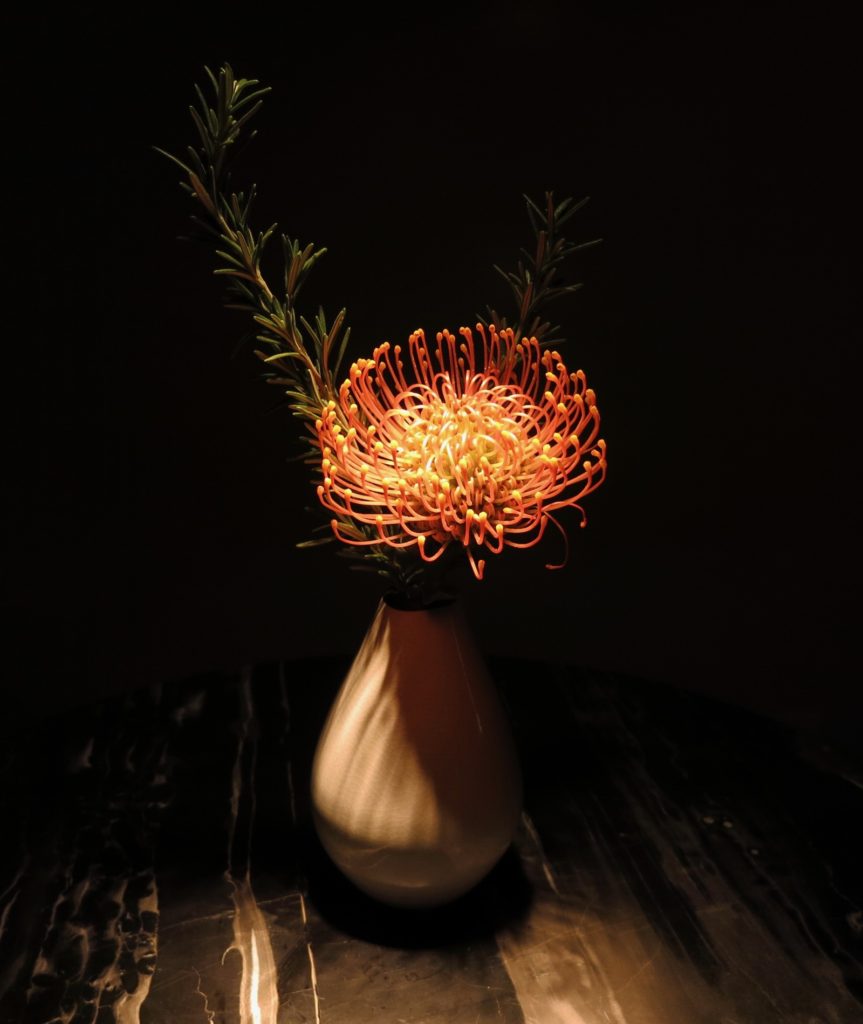 To this end, the James has enlisted exemplars in the areas of Fitness, Yoga, Meditation, and even the mystical arts of Astrological Chart and Tarot Card reading. Aerospace Co-Founder, Michael Olajide, Jr. – he of the rockin' gunmetal eye patch – takes care of the Physical.
Guru Jagat, founder of the RA MA Institute for Applied Yogic Science and Technology in Manhattan, leads the Spiritual.
INSCAPE Meditation studio and app founder, Khajak Keledjian, oversees the Mental.
The Numinous founder, Ruby Warrington, was the mastermind behind #FourBodiesWellness. She also offers "Readers on Room Service" with one on one in-room astrology chart and tarot readings for the Emotional piece. Each is prominent in his or her chosen field. With blazing, passionate auras to match.
Guru Jagat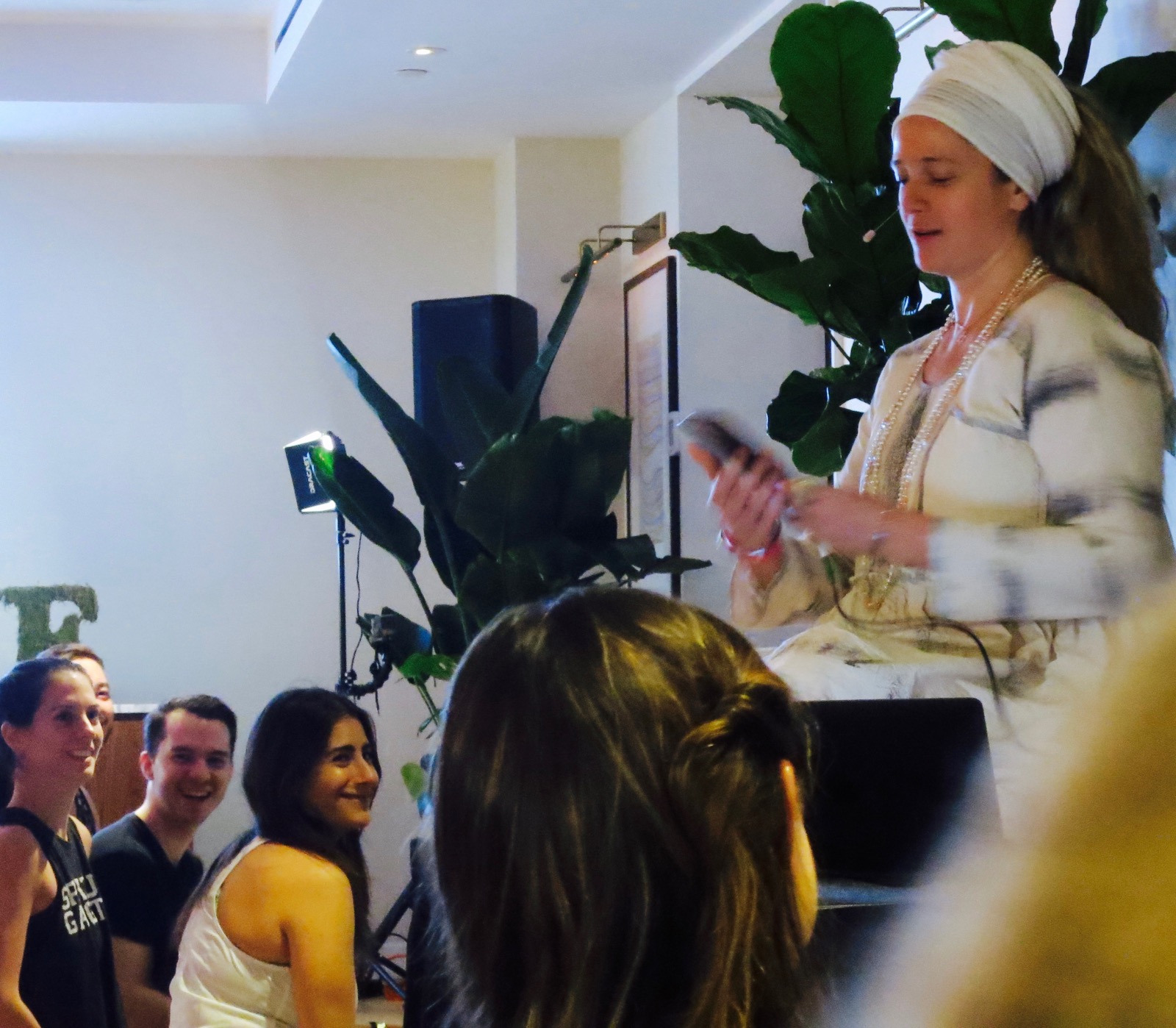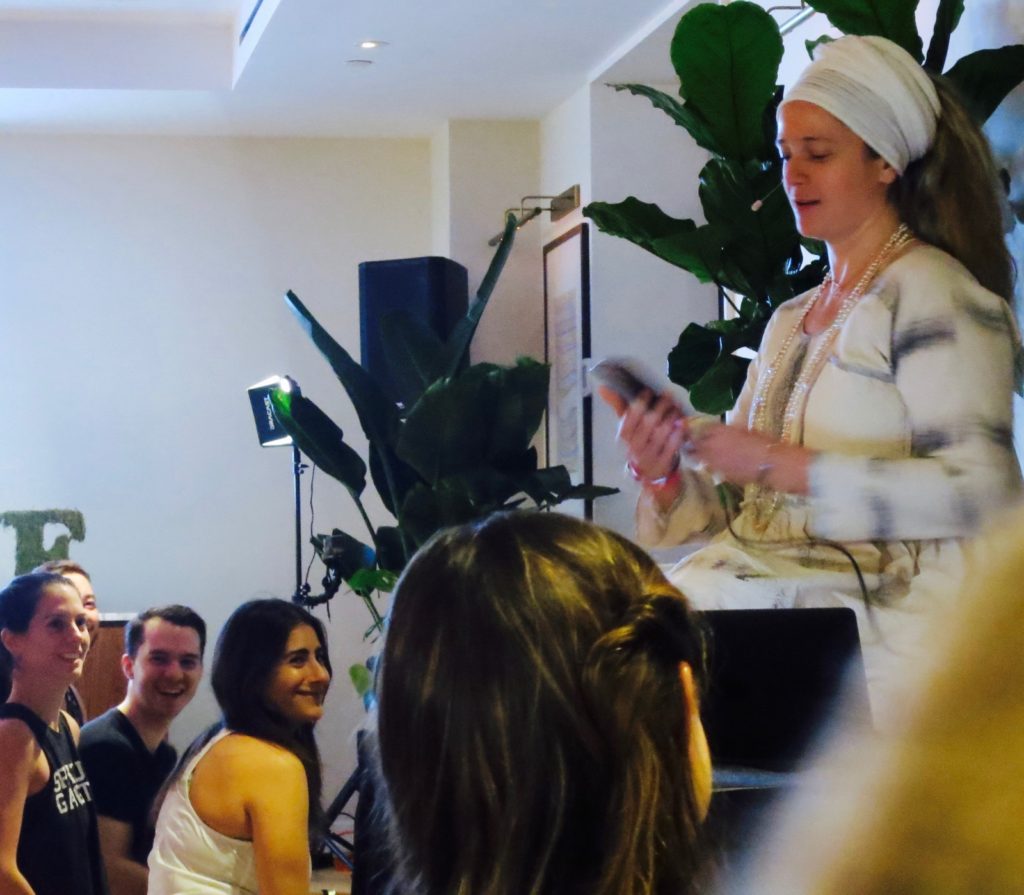 Kundalini Yoga teacher, Guru Jagat is swathed in white. Jagat, with her long blond locks twisted up in a white turban, is the CEO of her own brand. As founder of RA MA TV, RA MA Records, and the RA MA Foundation with Institutes in LA, NY, and Mallorca, Spain, Jagat explains what makes this type of Yoga so compelling.
"There's no barrier to entry," Jagat says. "Kundalini Yoga involves a lot of breath work that anyone can do." Which actually makes it perfect for in-room practice. Two several-minute sessions with Guru Jagat are programmed on a large flat screen TV's in each James Hotel guest room. These sessions are easy to follow and surprisingly effective in reducing stress.
Khajak Keledjian, INSCAPE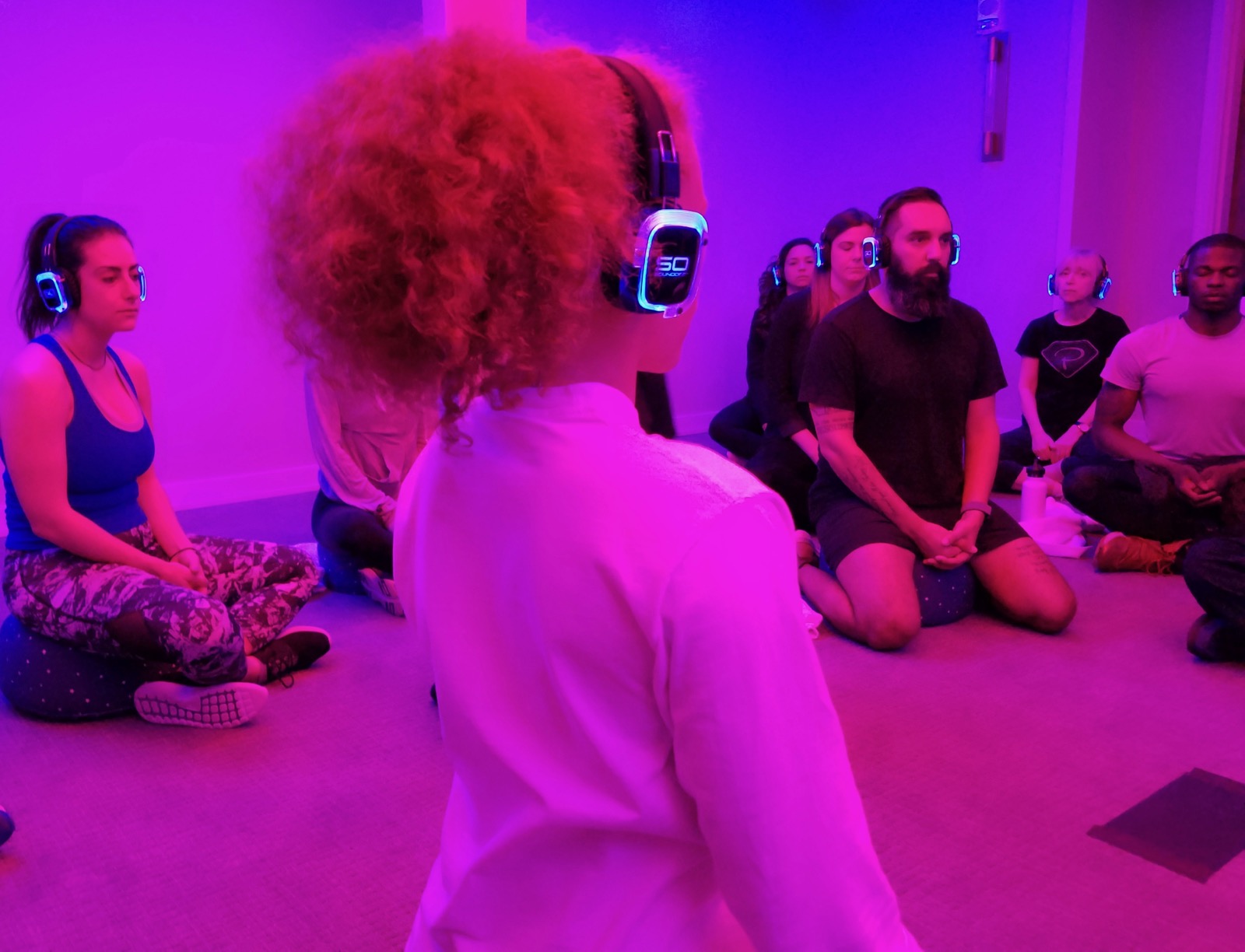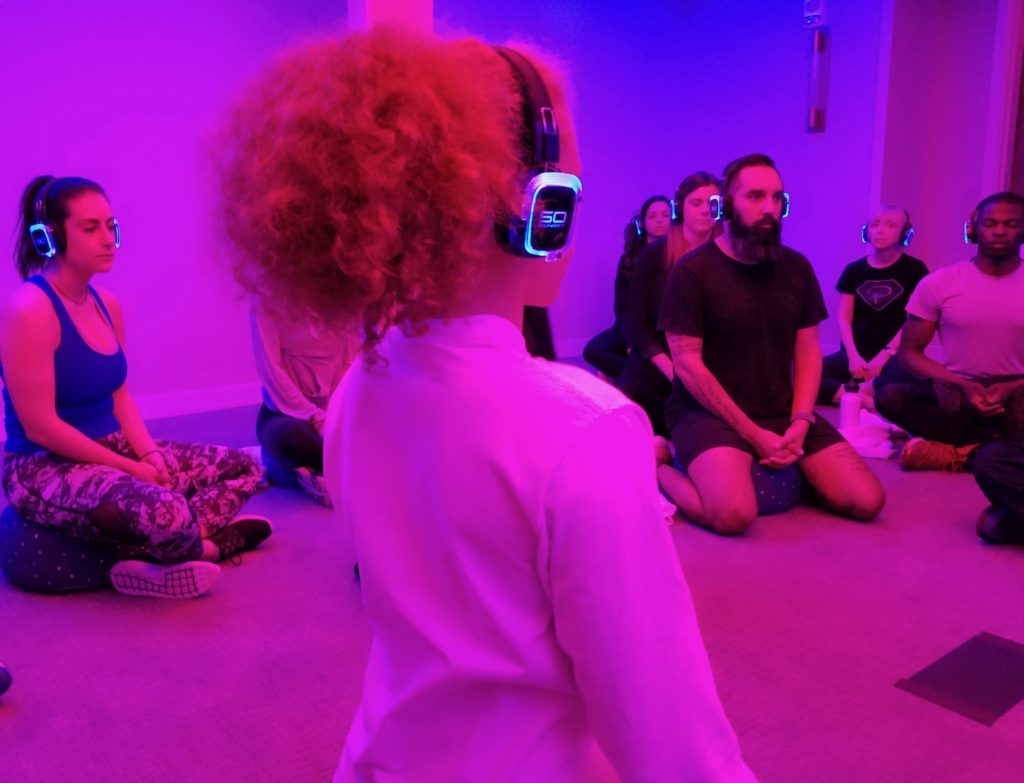 Khajak Keledjian, founder of the Meditation Studio and App, INSCAPE NYC, knows firsthand the toll that a high-pressure career can take on the mind and body. Thirty years ago, he left war-ravaged Lebanon to come to New York. At age 19, with his brother, he launched the women's fashion brand, INTERMIX. (Sold to Gap, Inc. for $130 million).
Keledjian discovered meditation during the 2008 recession, when the stressors of owning a business in a sinking economy was making him ill. "Meditation was the only thing that helped." After selling Intermix, Keledjian realized that though the city was crammed with Fitness and Yoga studios, there were no brick and mortar places dedicated to Meditation.
Seeing a void in the wellness market, he partnered with Coach founder, Lew Frankfort to open INSCAPE. "People want to feel more fulfilled. They might be wealthy, but are less happy."
You can certainly access beautifully produced guided meditations on your smart phone through the user-friendly INSCAPE App. But for an in person experience, the Studio is a mere 10 minute walk from the James NoMad.
Put on a headset in a dark, comfortable room, listen to the soothing Australian voice of "Skye" and all else melts away. (You can do this via app, as well, even on a plane.) "Enter mindfully. Travel Gently."
Michael "Silk" Olajide, Jr., Aerospace NYC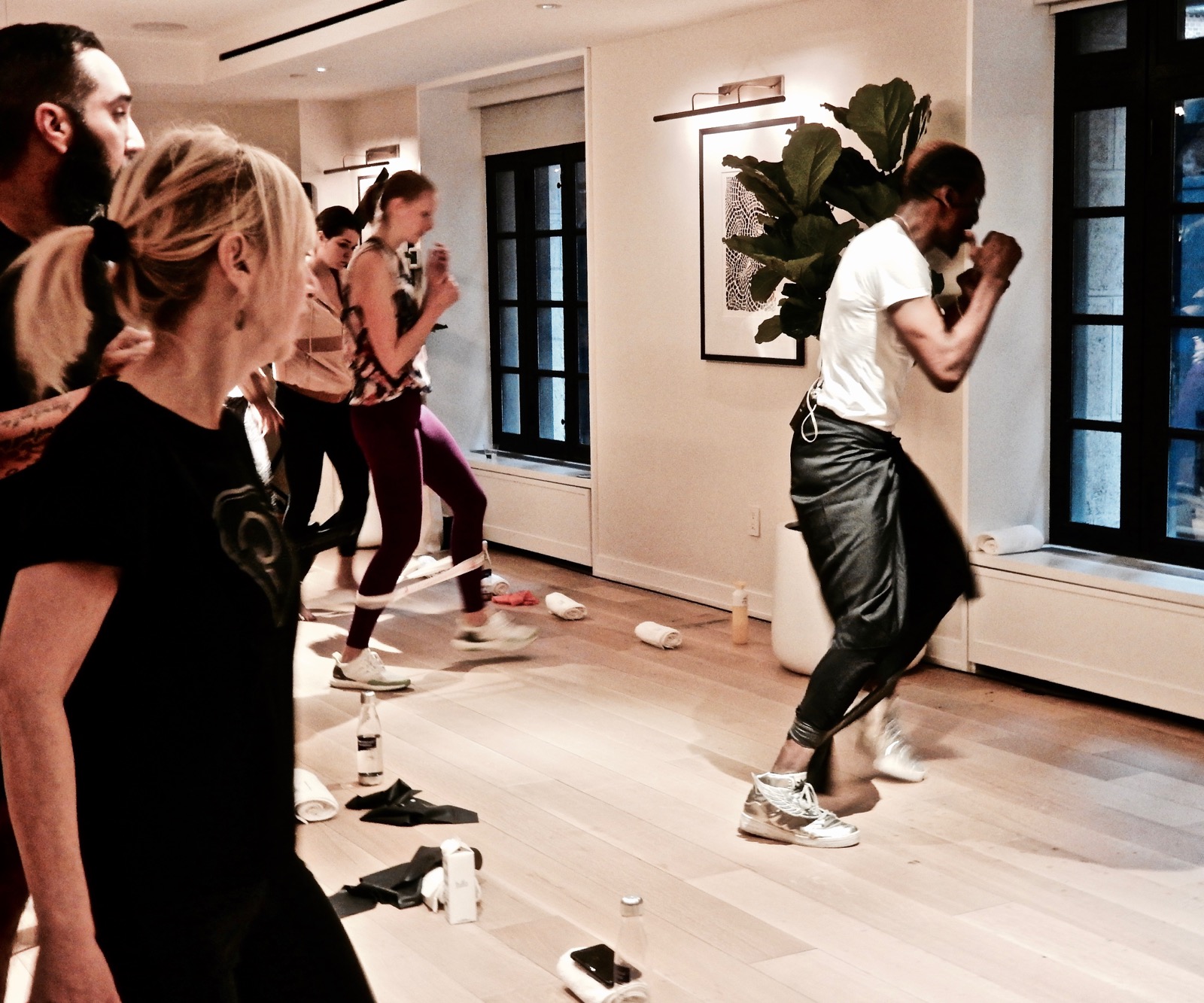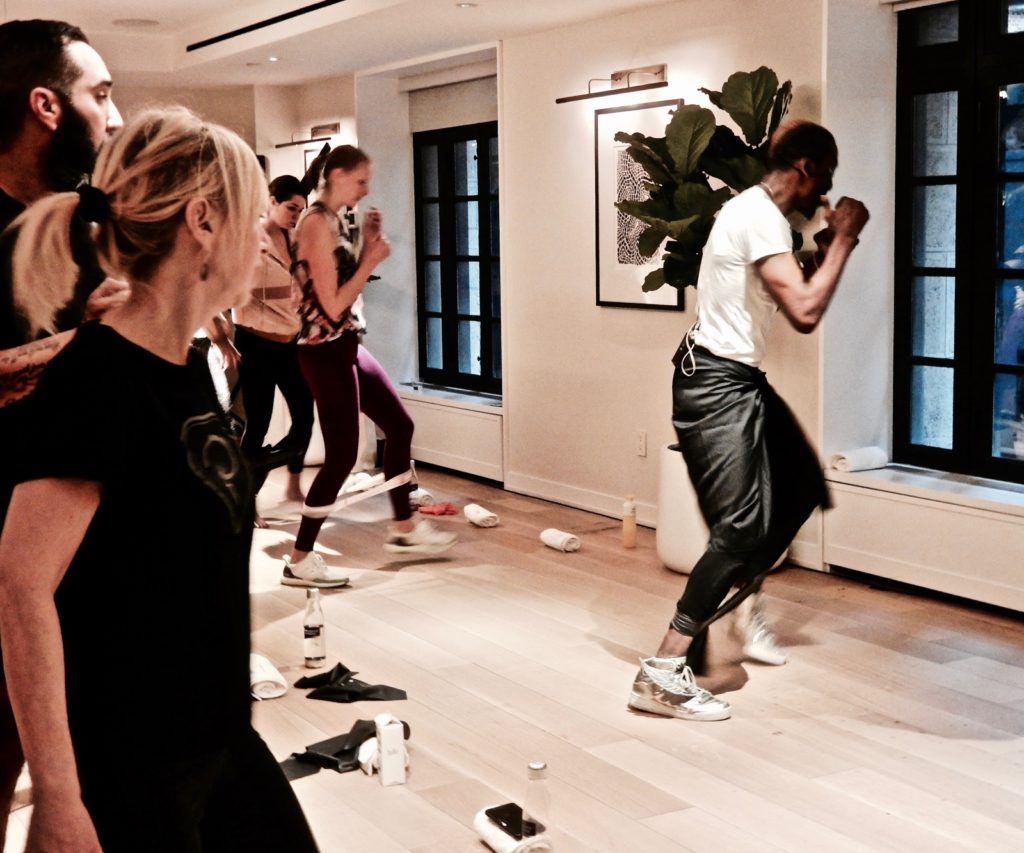 You can't miss Michael "Silk" Olajide, Jr., with his intensely bad-ass gunmetal eye patch. He calls one  The Eye of Horus – an Egyptian god that symbolizes positivity, health, and wealth. Olajide has certainly achieved all three, as a former championship boxer turned cardio workout guru to the stars.
After an eye injury in 1991 ended his prizefighting career, Olajide managed to transform his misfortune into a profession training others at AEROSPACE NYC, a machine-free performance fitness center. But success didn't come fast or easy. In the 90's, Olajide taught shadow boxing and jump roping in an unused church. It took him until 2004 to open his first boutique boxing gym in NY's Meatpacking District.
After he trained Victoria Secret model, Adriana Lima, and was covered by Entertainment Tonight, "every single model wanted to box." Olajide opened a studio in L.A. and has trained Hugh Jackman, Rachel Weis, Jake Gyllenhaal, Dustin Hoffman, Spike Lee and others, prepping them for the Big Screen.
Olajide calls his cardio workouts "aggressive meditation," as you must focus on movements and timing. "It's the Western Hemisphere's marshal art. You get fit without getting hit." Join a complimentary pre-programmed workout session on a James Hotel guest room TV (ask downstairs for resistance bands), or walk two blocks to Aerospace NYC.
Ruby Warrington, The Numinous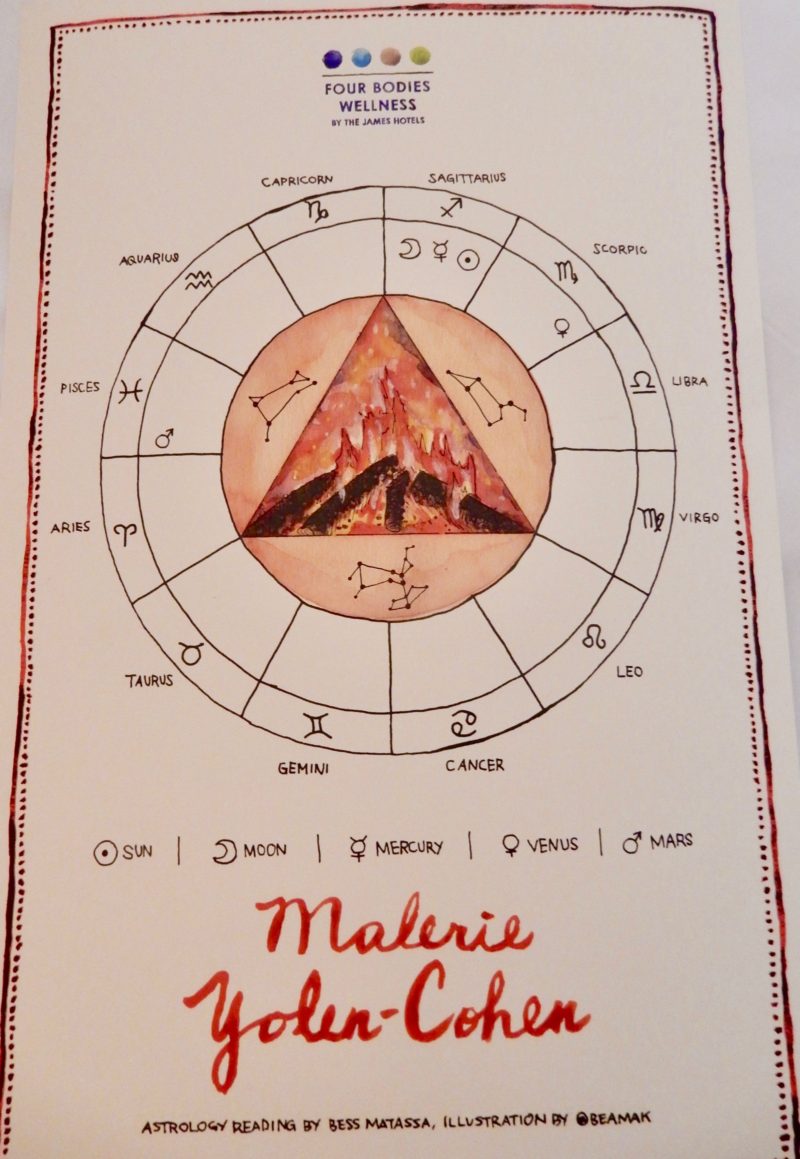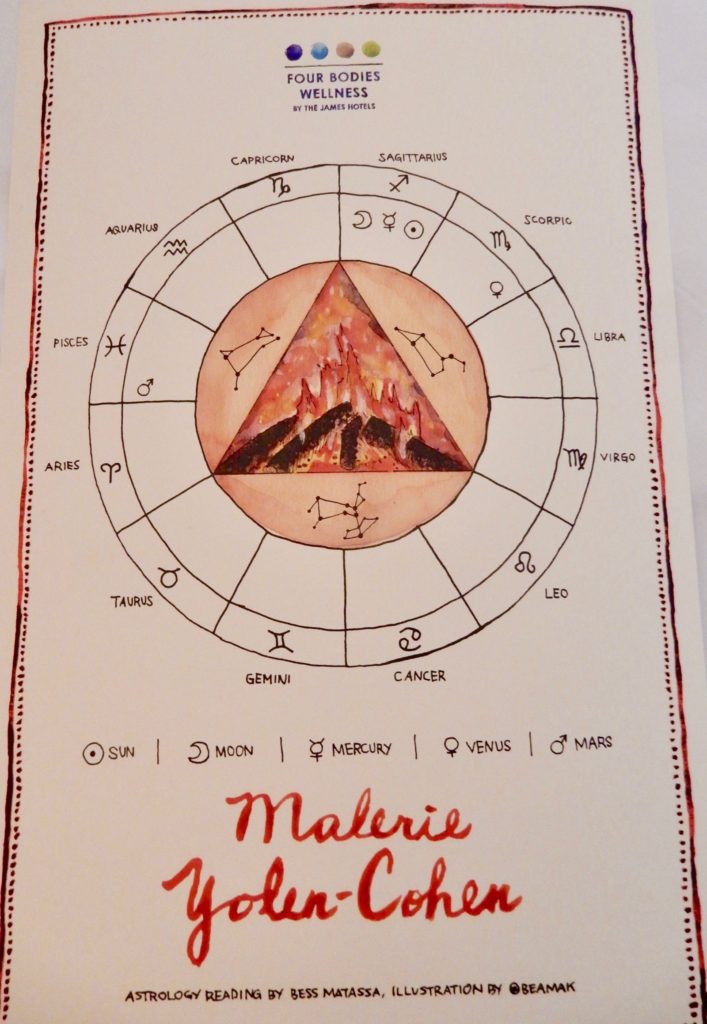 Ruby Warrington, a fashion journalist who wrote Lifestyle and Fitness features for the UK Sunday Times, is privy to what's new in spirituality, fashion, wellness and the mystical.
n 2013, she launched The Numinous website, which features weekly horoscopes and personal stories. She coined the term Four Bodies Wellness, and partnered with James Hotels.
From experience, Warrington knows that people don't look up random Astrologists and Tarot readers online. They want personal recommendations. And so she handpicks those she recommends for her "Readers On Room Service."
First Impressions of The James NoMad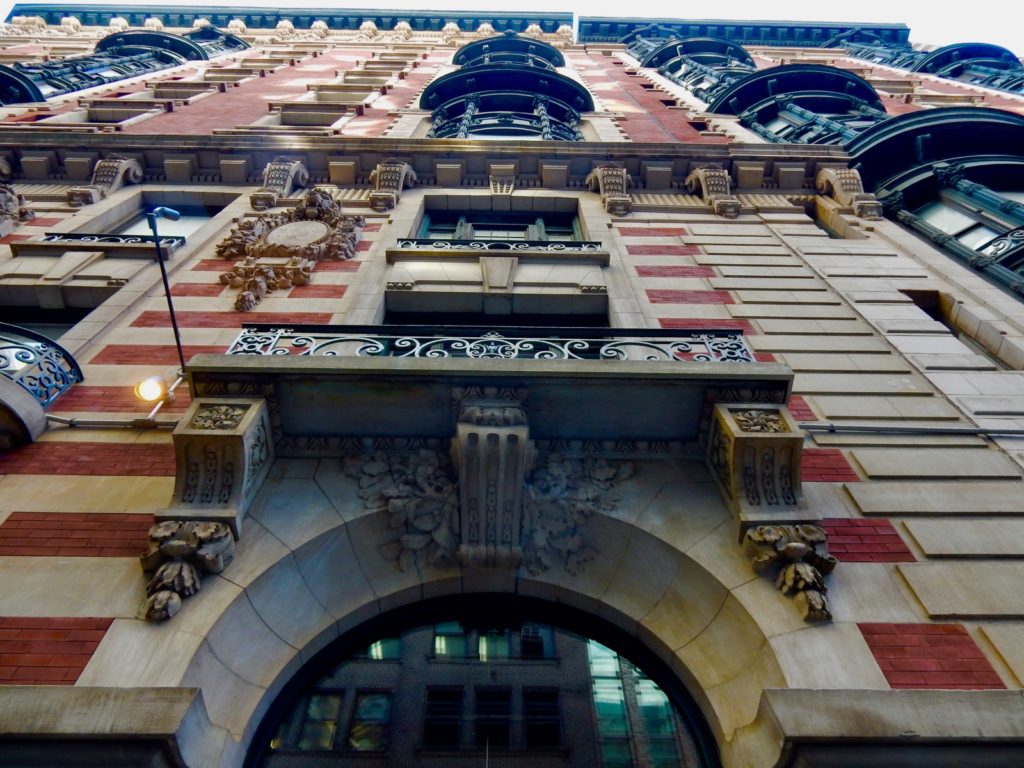 You'll recognize The James, on the corner of Madison and 29th, by its intricate and stunning façade of terra cotta, limestone, and sculptural wrought iron. Take a moment to look up and appreciate the workmanship of a lost era.
Inside, all has changed. The curvy hardwood reception desk is as polished and sleek as the stern of a yacht, and is nicely juxtaposed by soft deep-mauve suede-like wall panels behind it.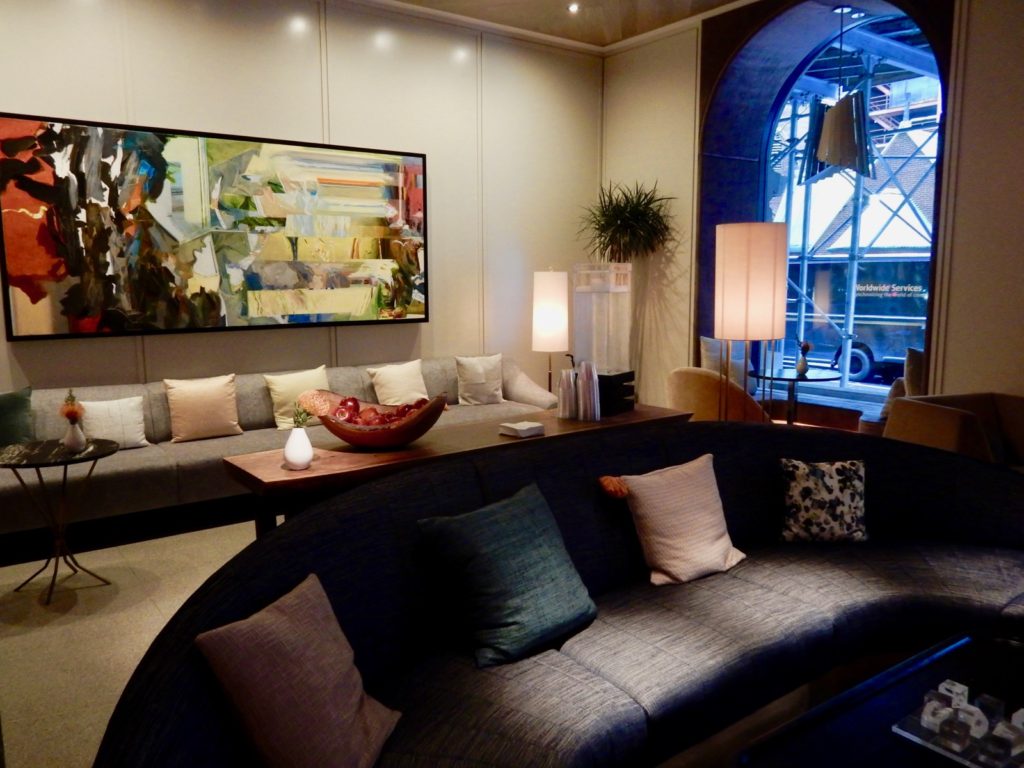 The lobby area is long and narrow – with ample seating, including conversation nooks nestled within several high arched windows.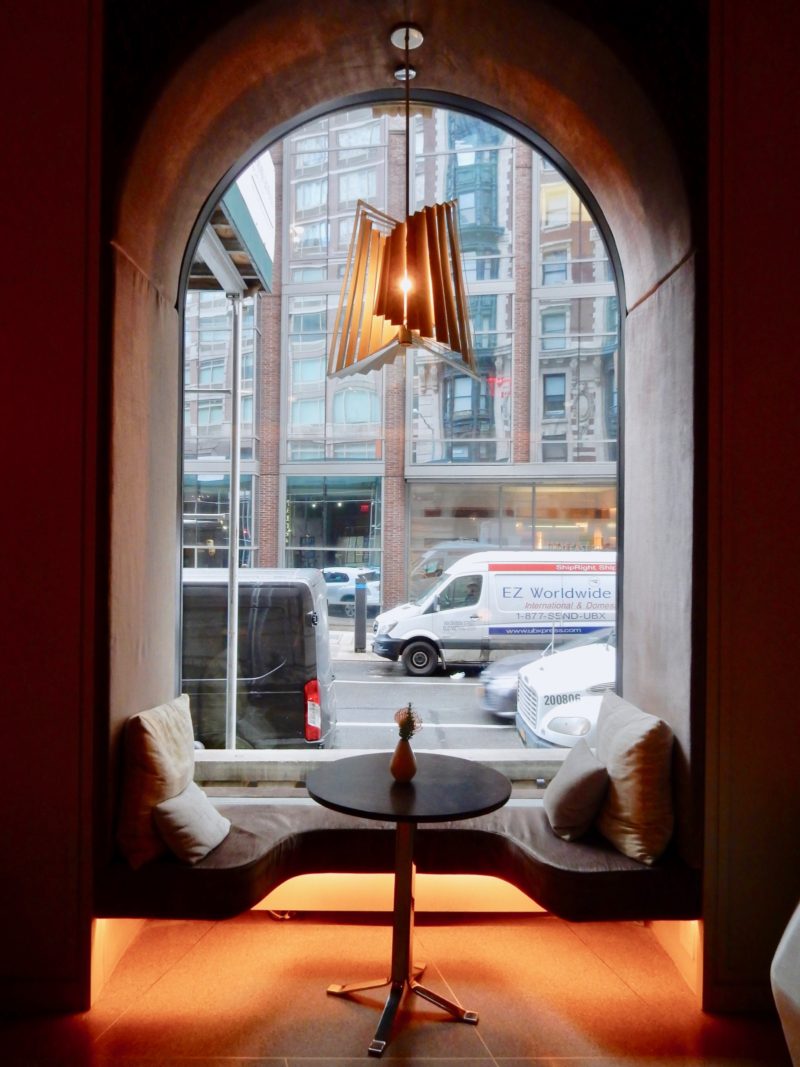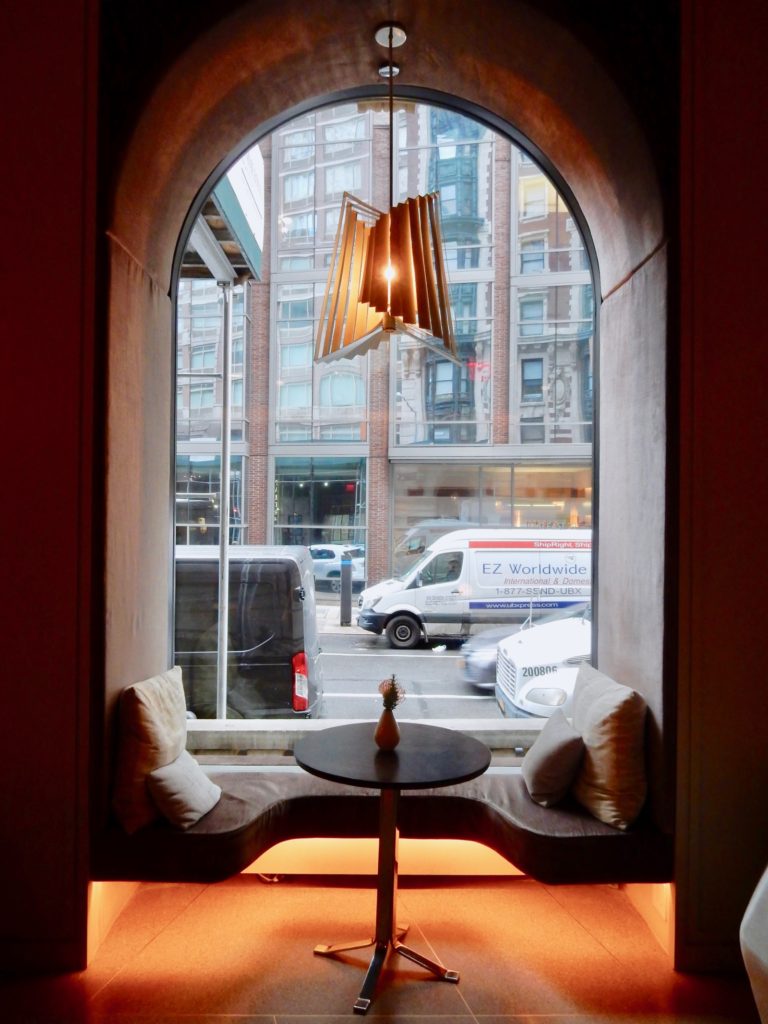 Couches cluster around cocktail tables topped with contemporary Chess sets and other knickknacks. The room is warm and inviting, and seems to be full of friends, groups, and strangers meeting up at all times of day.
Rooms at James NoMad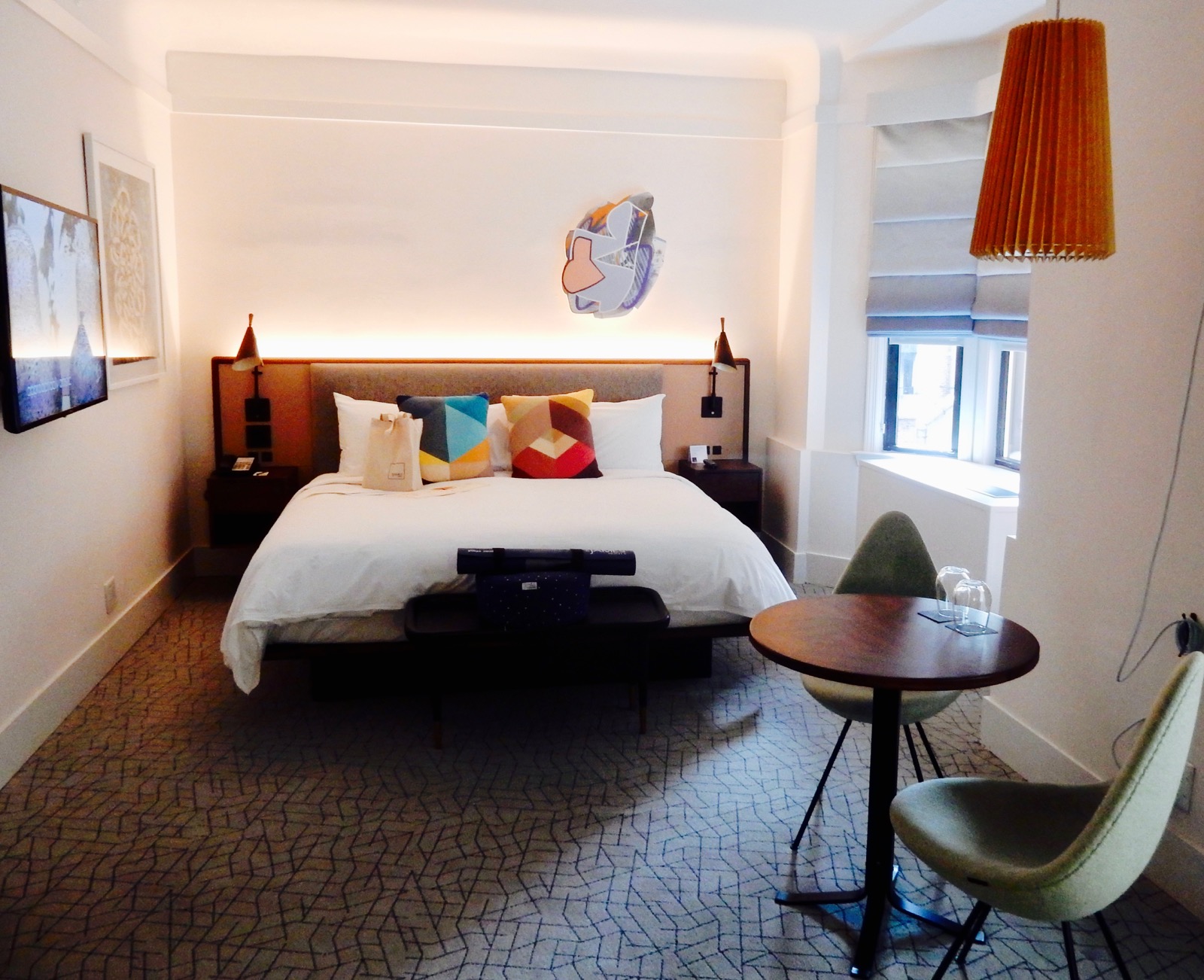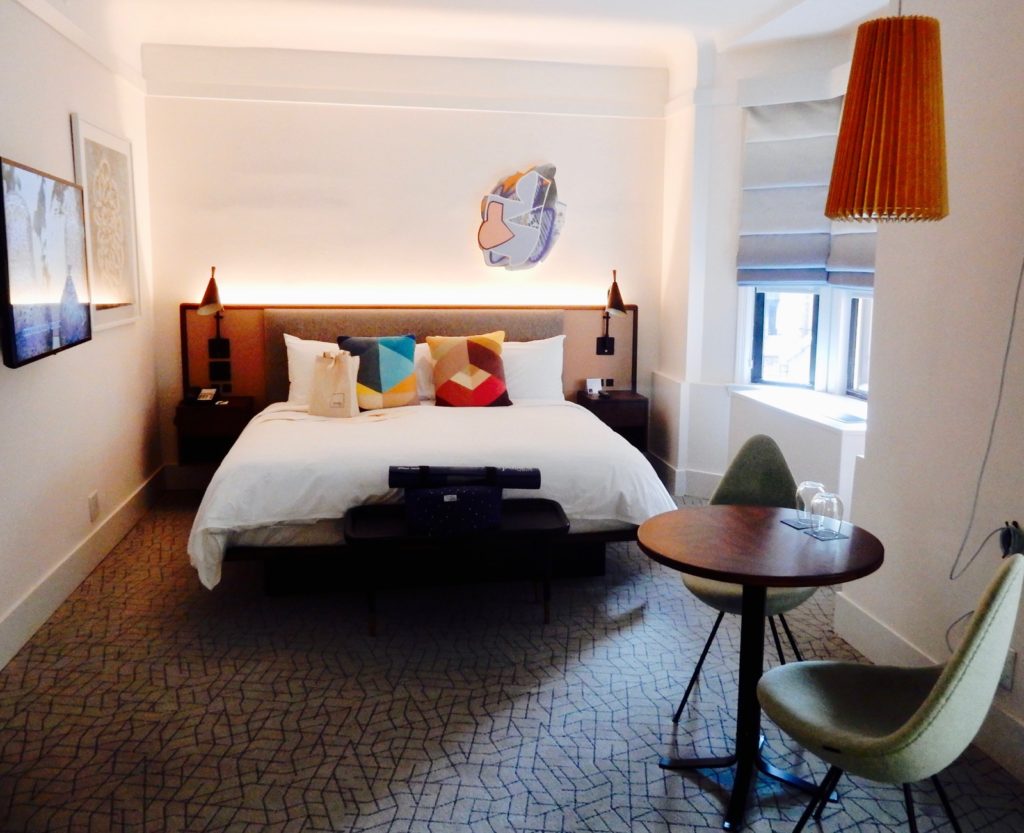 Spacious guest rooms are Designs Within Reach modern. Pleated lamps hang from the ceiling and voluminous white duvets are punched up by large pillows in shades of turquoise, sunshine, and cantaloupe.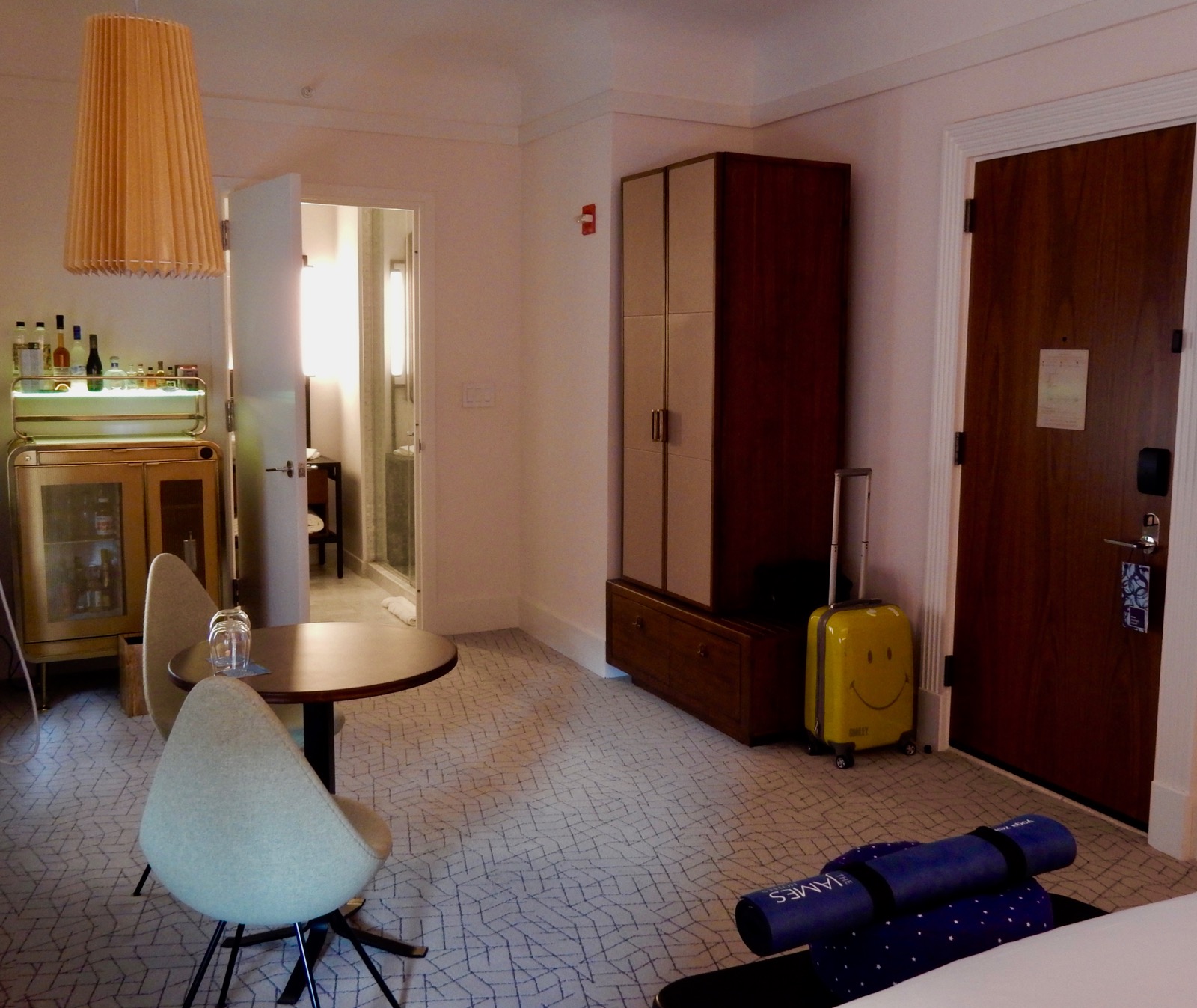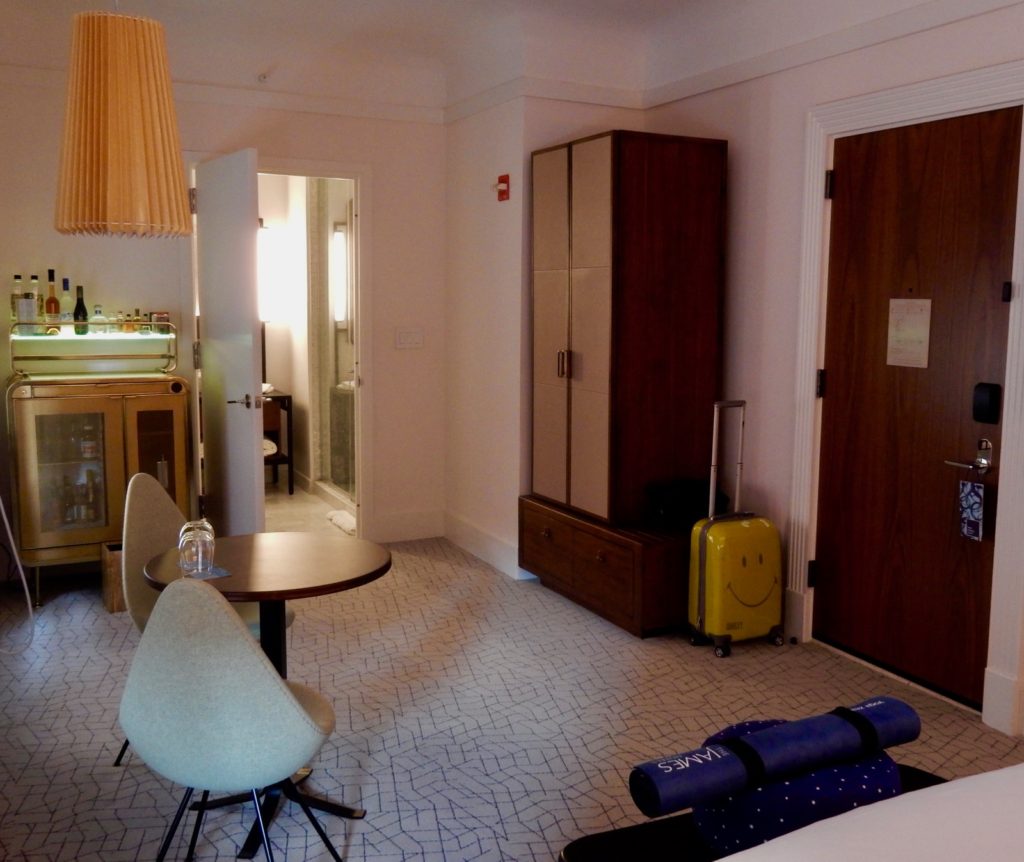 Full bottles of Grey Goose Vodka, Don Julio Tequila, and more are dramatically up-lit in a 20's style mini-bar. In addition, lower cabinets hide a small fridge and snacks for purchase.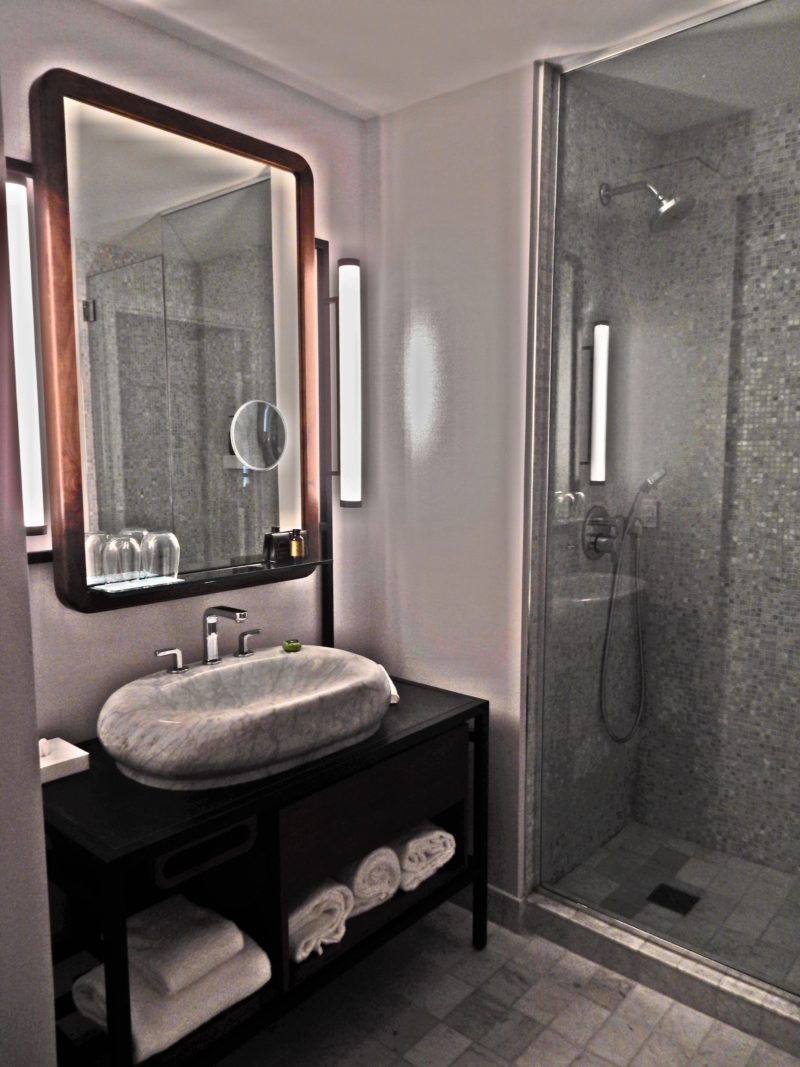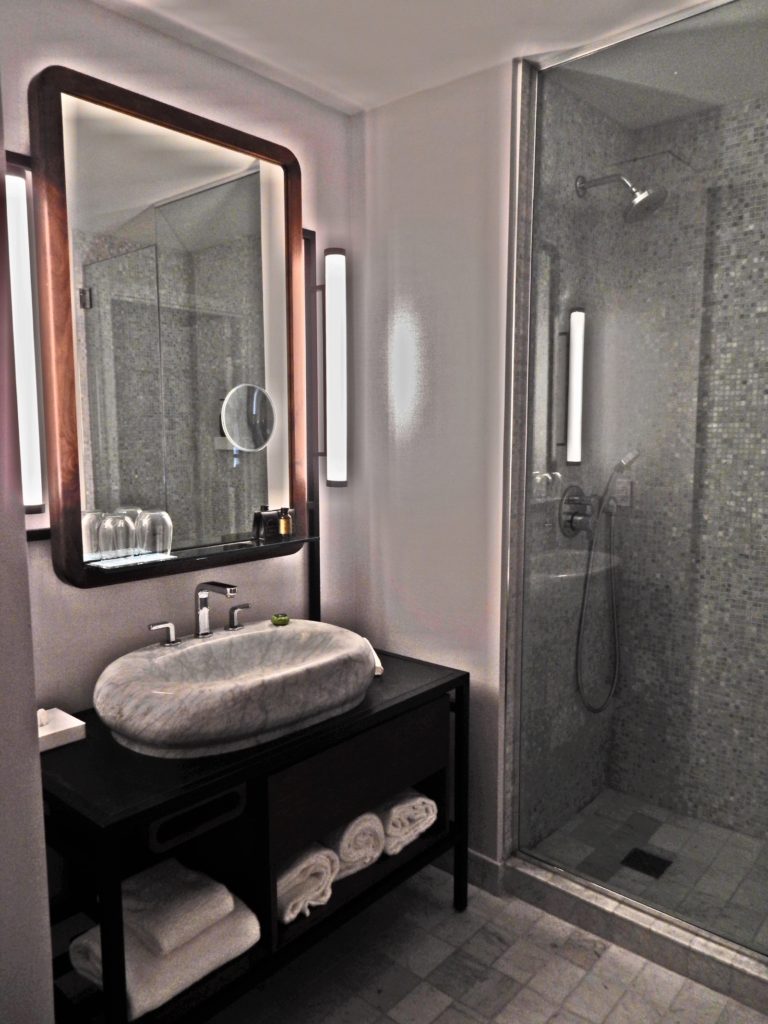 The bathrooms here are the stars, fashioned with grey veined marble tiles on the floor and in a large glass shower. The centerpiece is the sink, however. It's a smooth carved worry stone writ large. Just running my hands over its cool, curved surface was a soothing Zen exercise.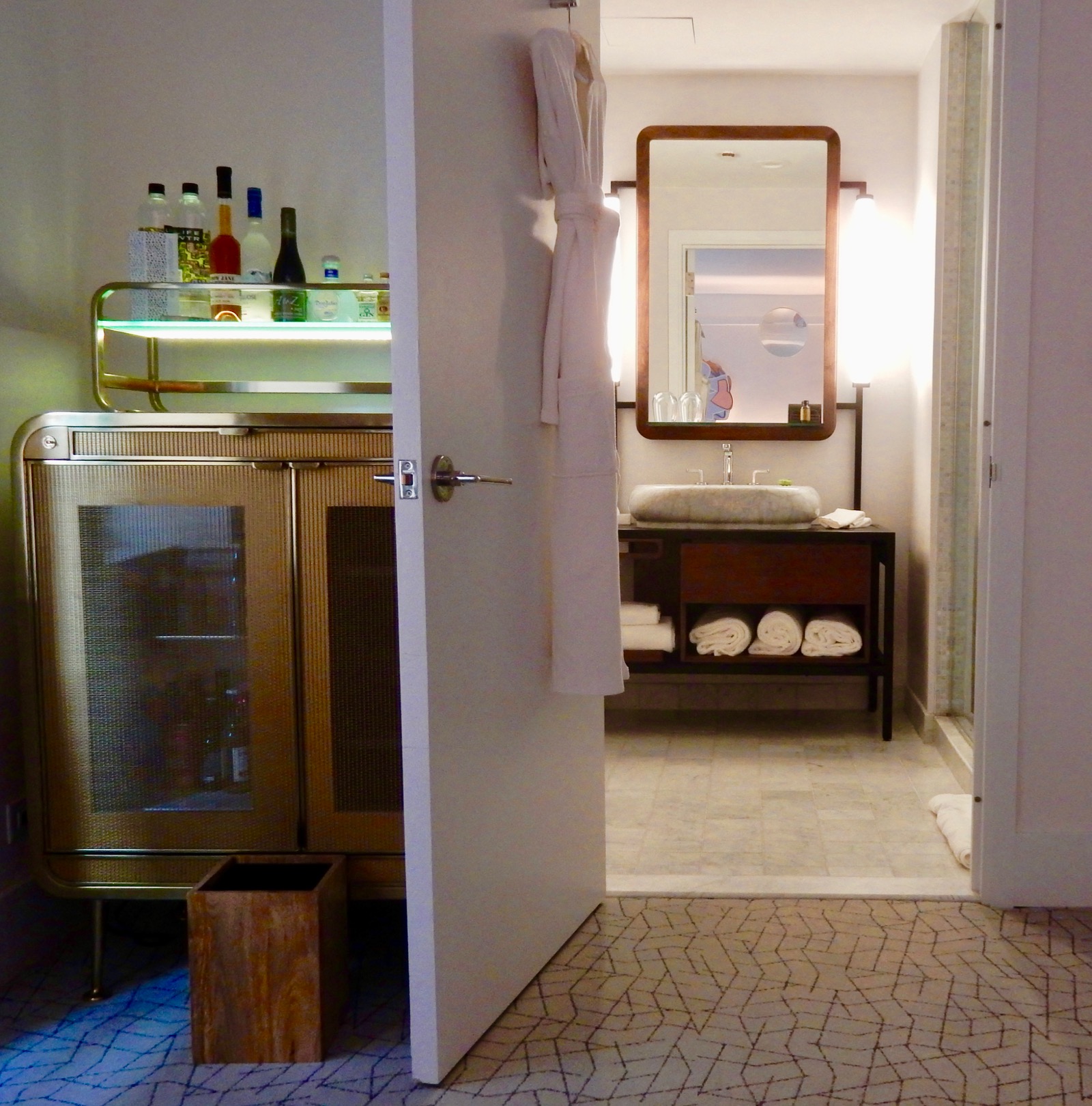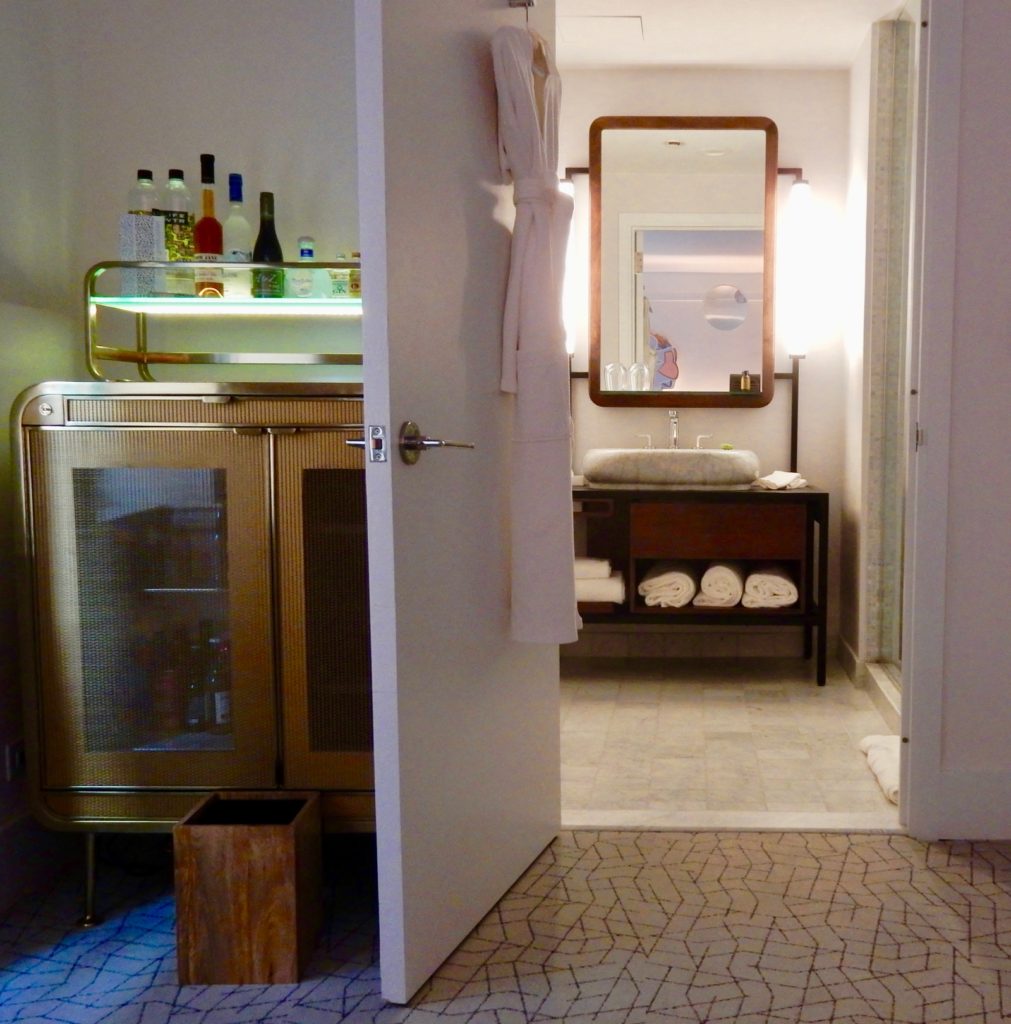 You won't find chocolates on your pillow at turndown. But you will find a small "Sleep Well" tube of therapy balm. Applied to my pulse points, this stick of essential oils helped me relax and sleep.
Amenities at James NoMad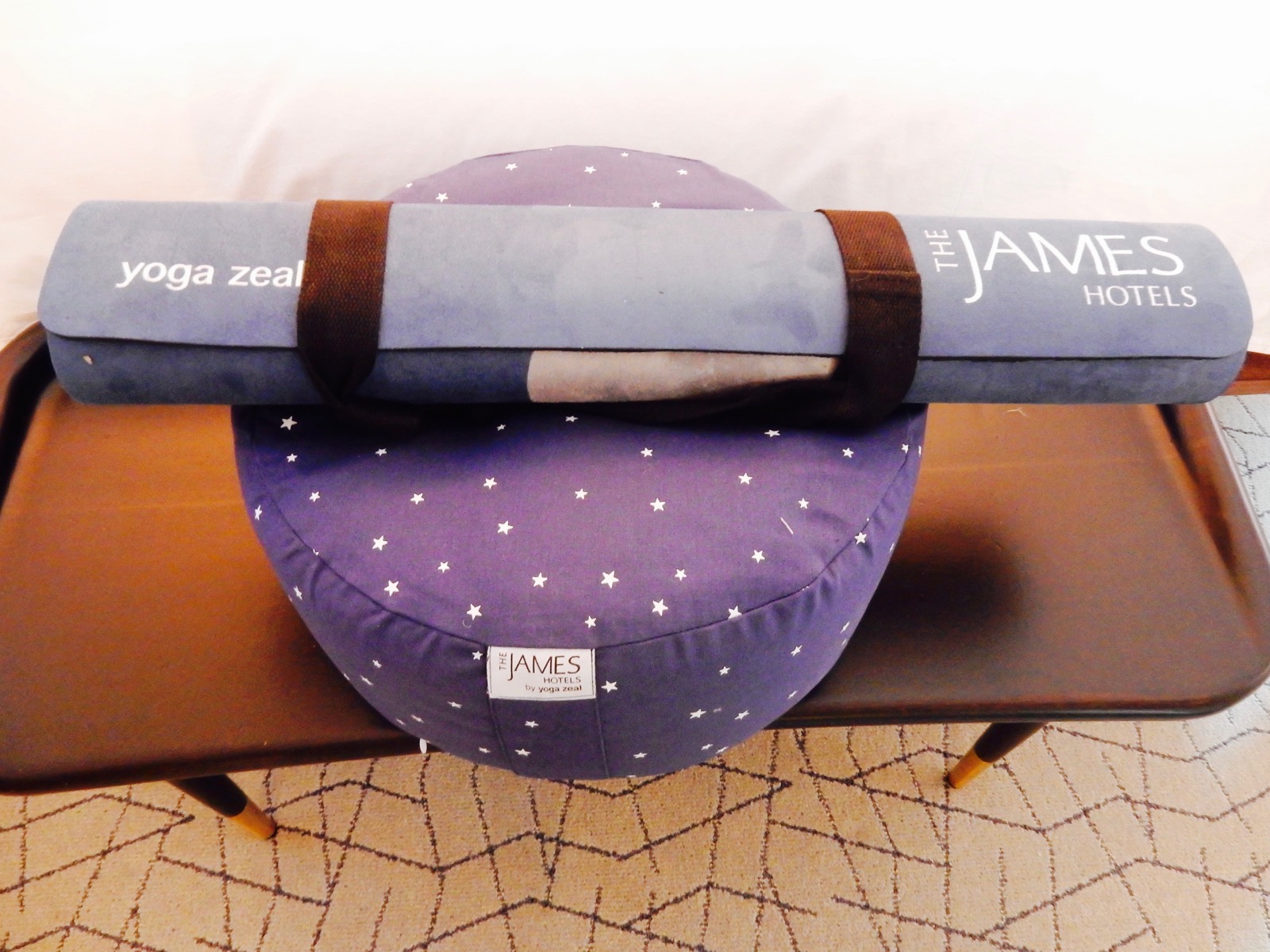 Experience a complimentary Yoga, Meditation, or cardio workout session in the privacy of your own room –  a nice perk. (There's a fee for an Astrological Chart or Tarot Card reader to come to your room).
You can also fill up the water bottle, provided in your room, with triple filtered water at any tap.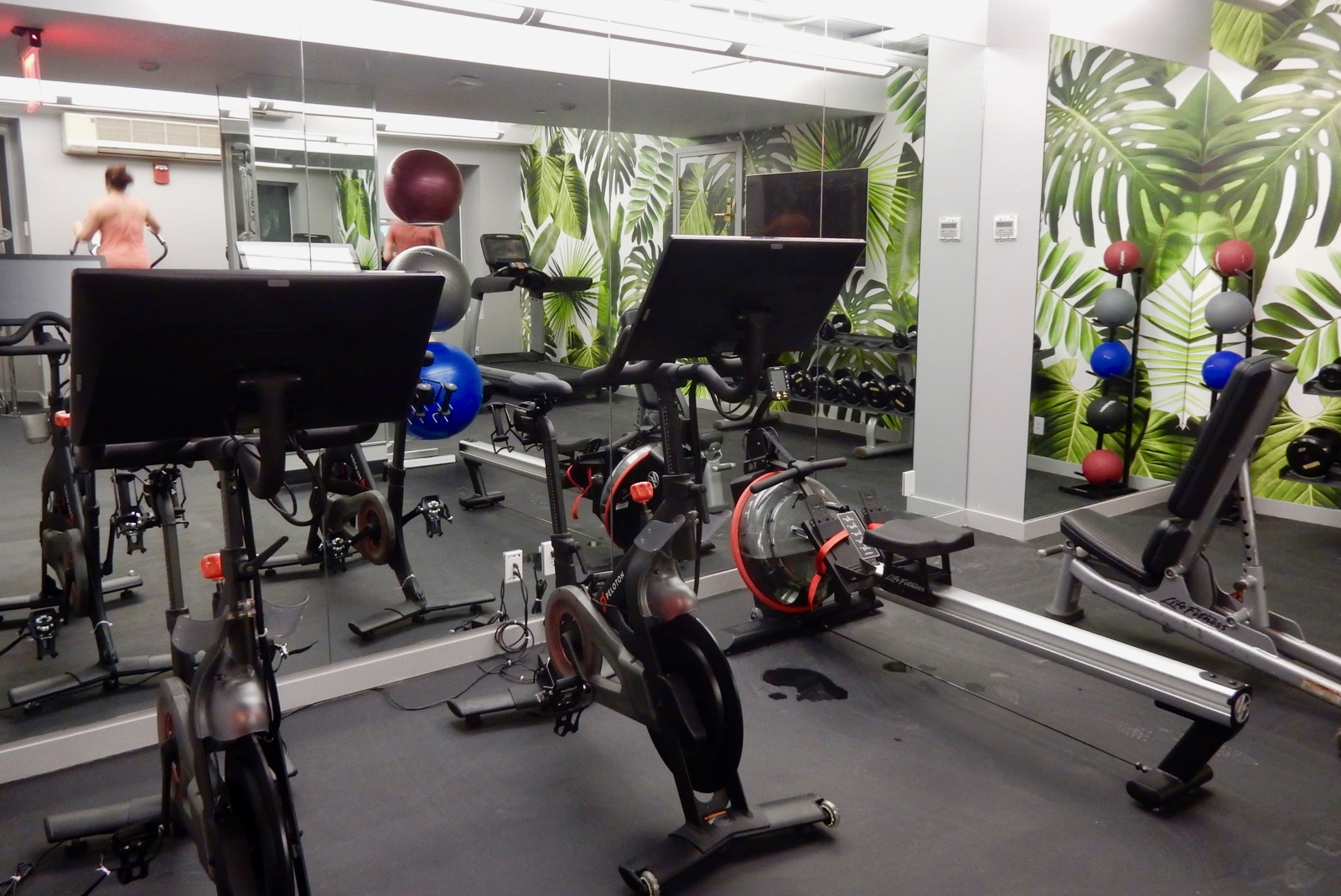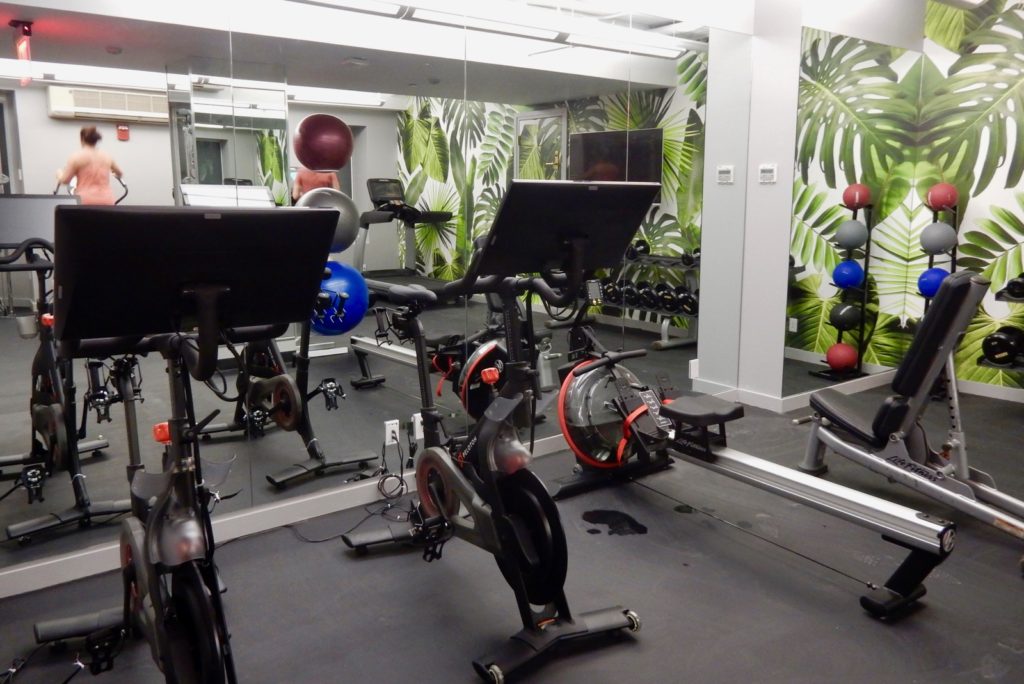 The Fitness Center is small but has everything you need. And, if it doesn't suffice, Aerospace is 10 minutes away.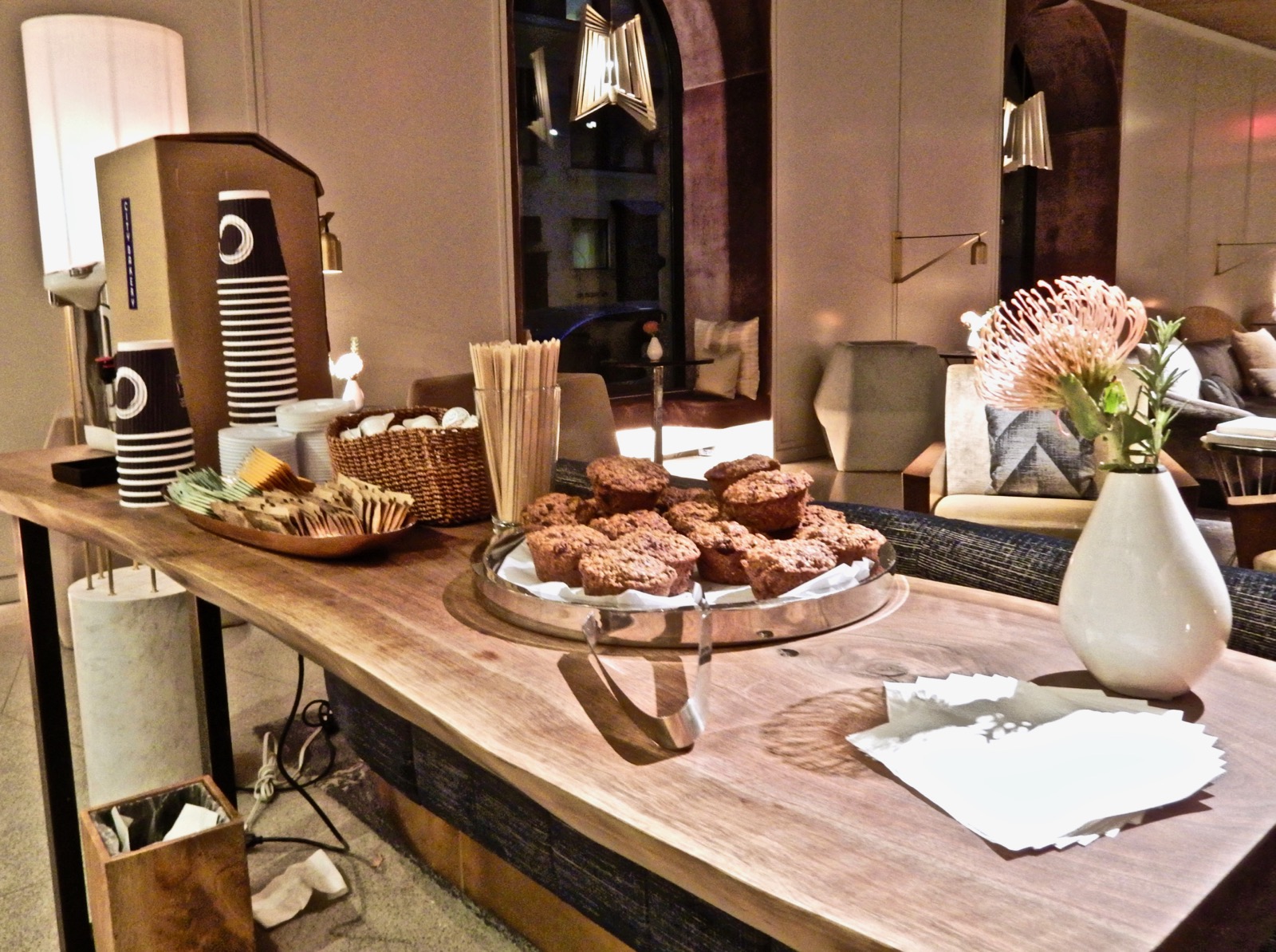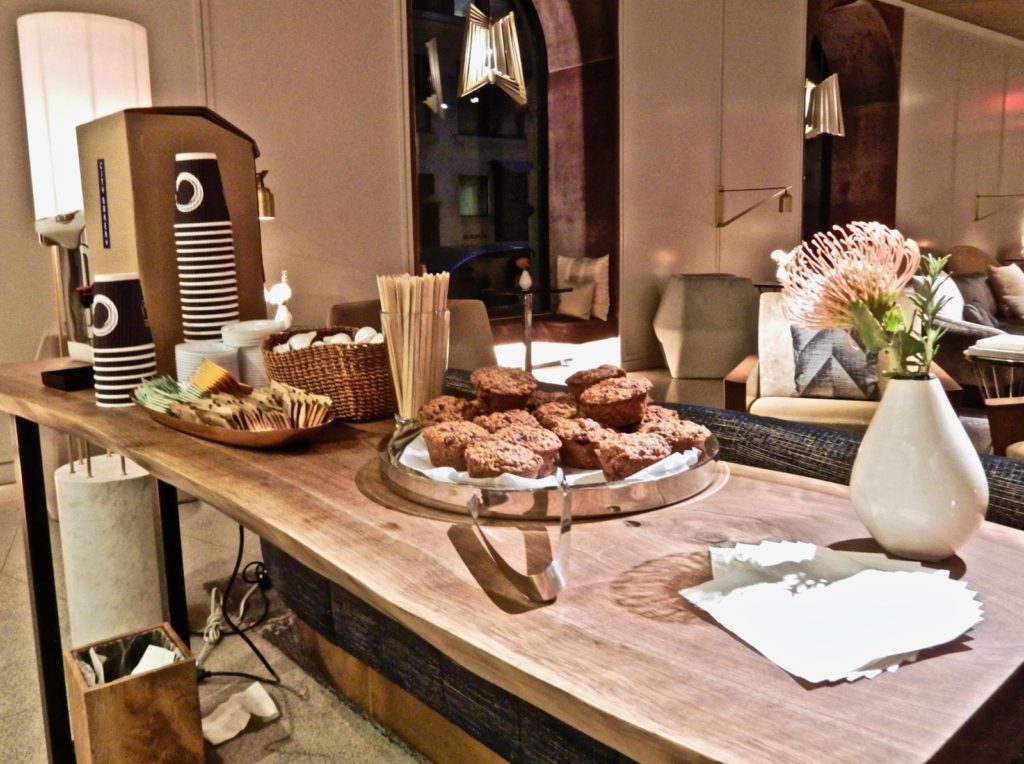 Moreover, there's coffee and fresh-baked muffins from 6-8 every morning in the lobby.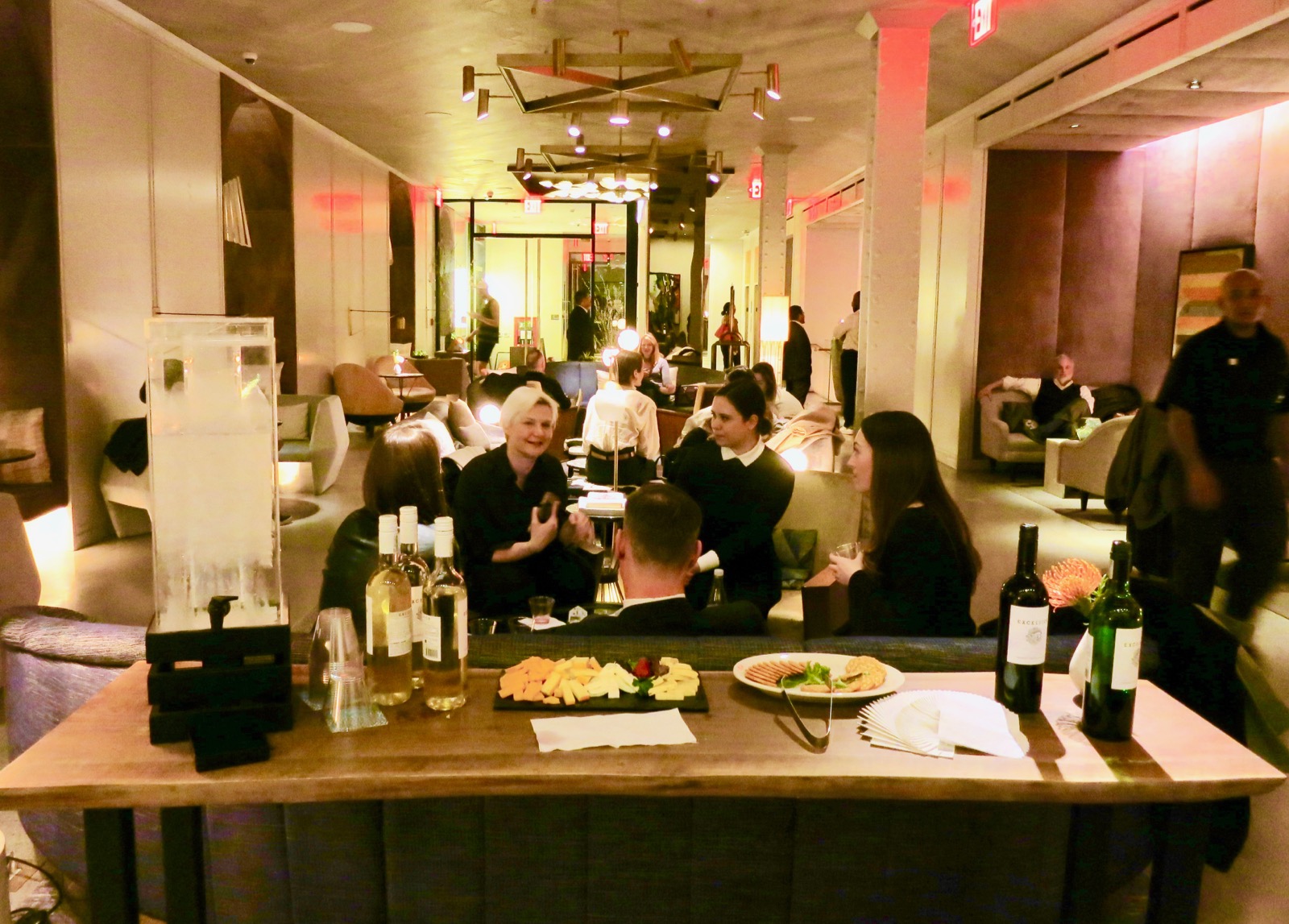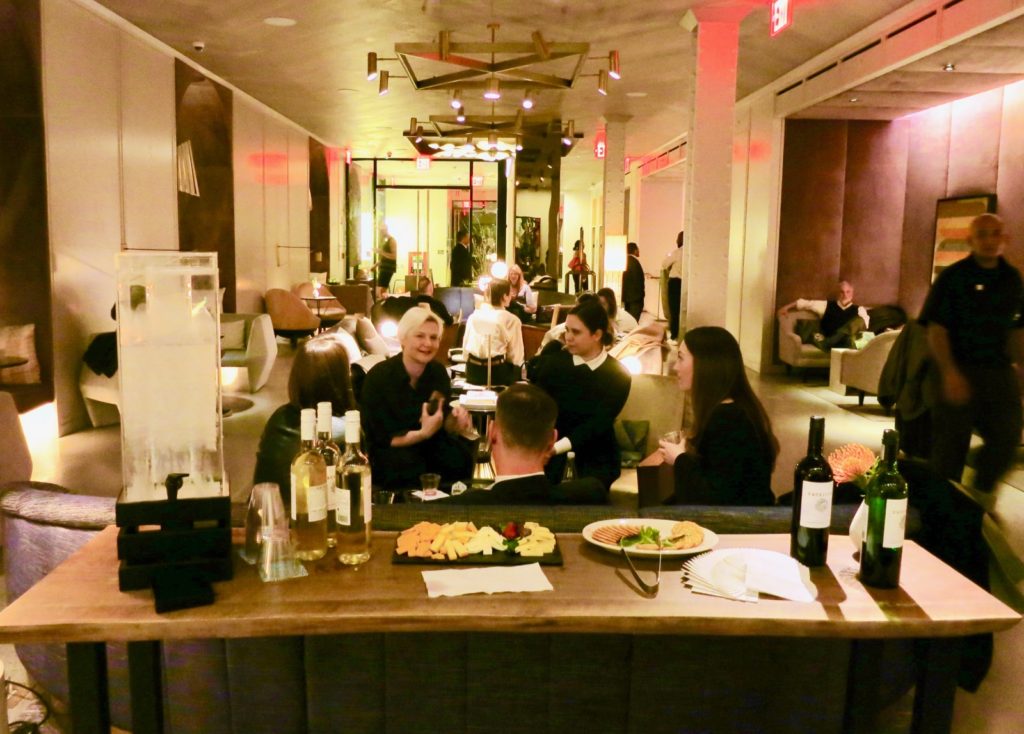 At 5pm every night, the low-lit lobby turns into a wine and cheese (complimentary) gathering space where young media types sip Chardonnay, nibble Smoked Gouda, peck on laptops, make quiet phone calls, have intimate conversations, and interview for new jobs. Though the opposite of rollicking, it's a much-appreciated social aspect to what could otherwise be a solitary stay.
Room rates at James NoMad start at $189 per night in January for 195-235 sq ft. room, up to $792 for 640 sq ft. 2-room suite in high season. Includes coffee/muffin in morning, wine hour in afternoon, use of fitness center, in-room Yoga, Workout, Meditation.
Nearby Attractions In NoMad New York City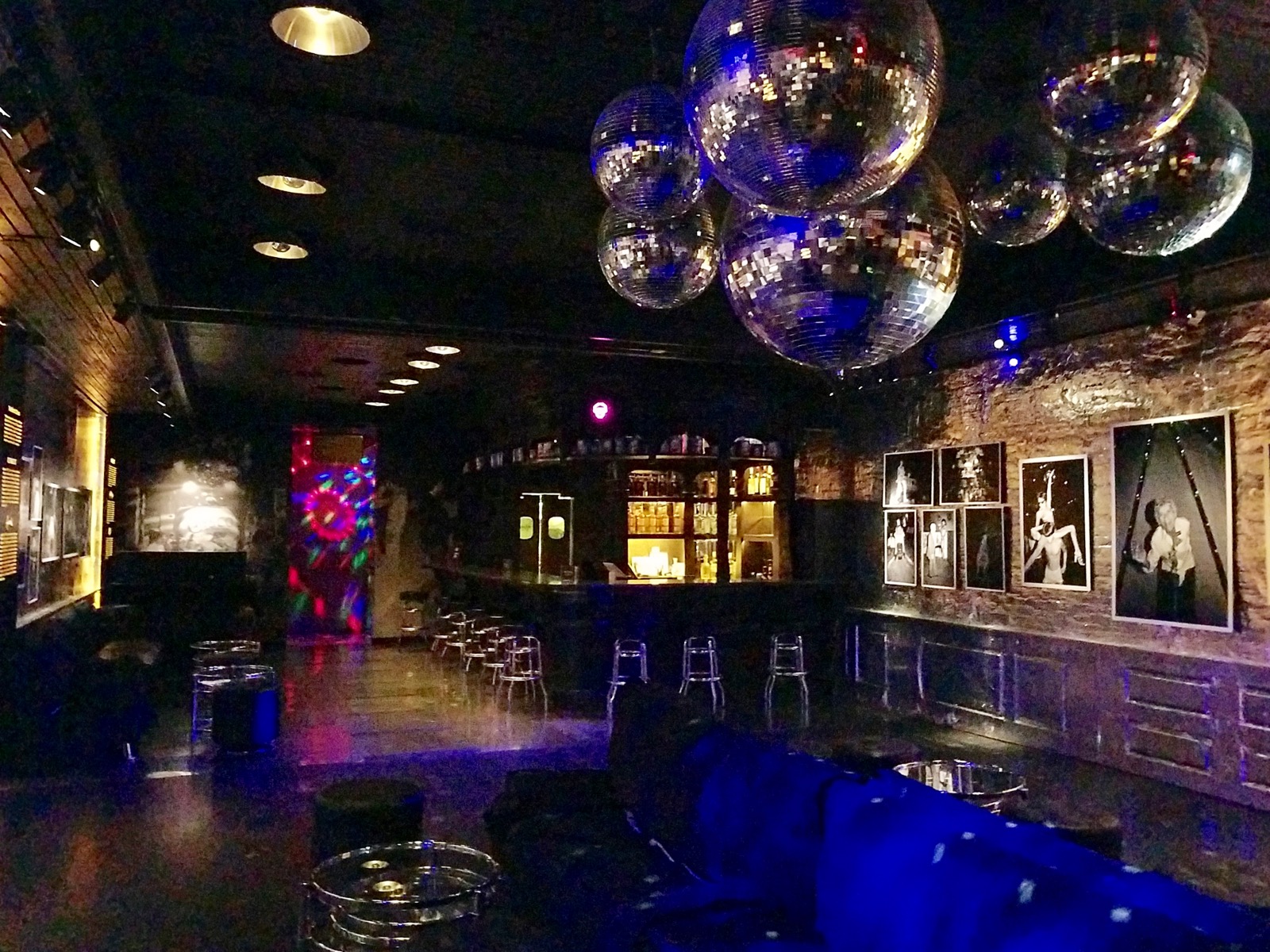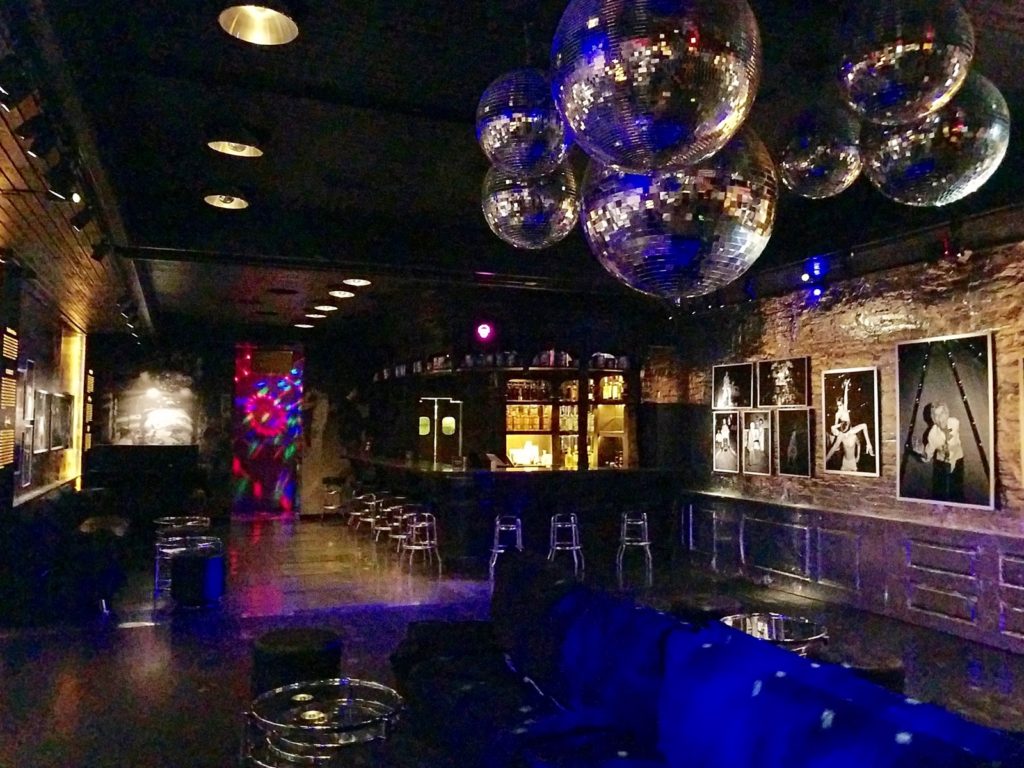 (Two blocks from James NoMad). Although not an all out porn fest, if you do take the kiddos, be prepared to answer lots of questions. There are, for instance, sex toys, dildos, inflatable anatomically correct dolls, S&M devices, and tons of risqué candies. Open Mon-Thurs 10-9, Fri/Sat 10-11, Sun 11-9, $20.50.