If you had to be holed up somewhere, you'd be lucky to find yourself at the charming Groton Inn in the small pastoral boarding school burg of Groton MA.
A Colonial-style roadside lodging, this brand new iteration stands on the footprint of what had been one of the oldest inns in America with the same name. The original Groton Inn first opened in 1678.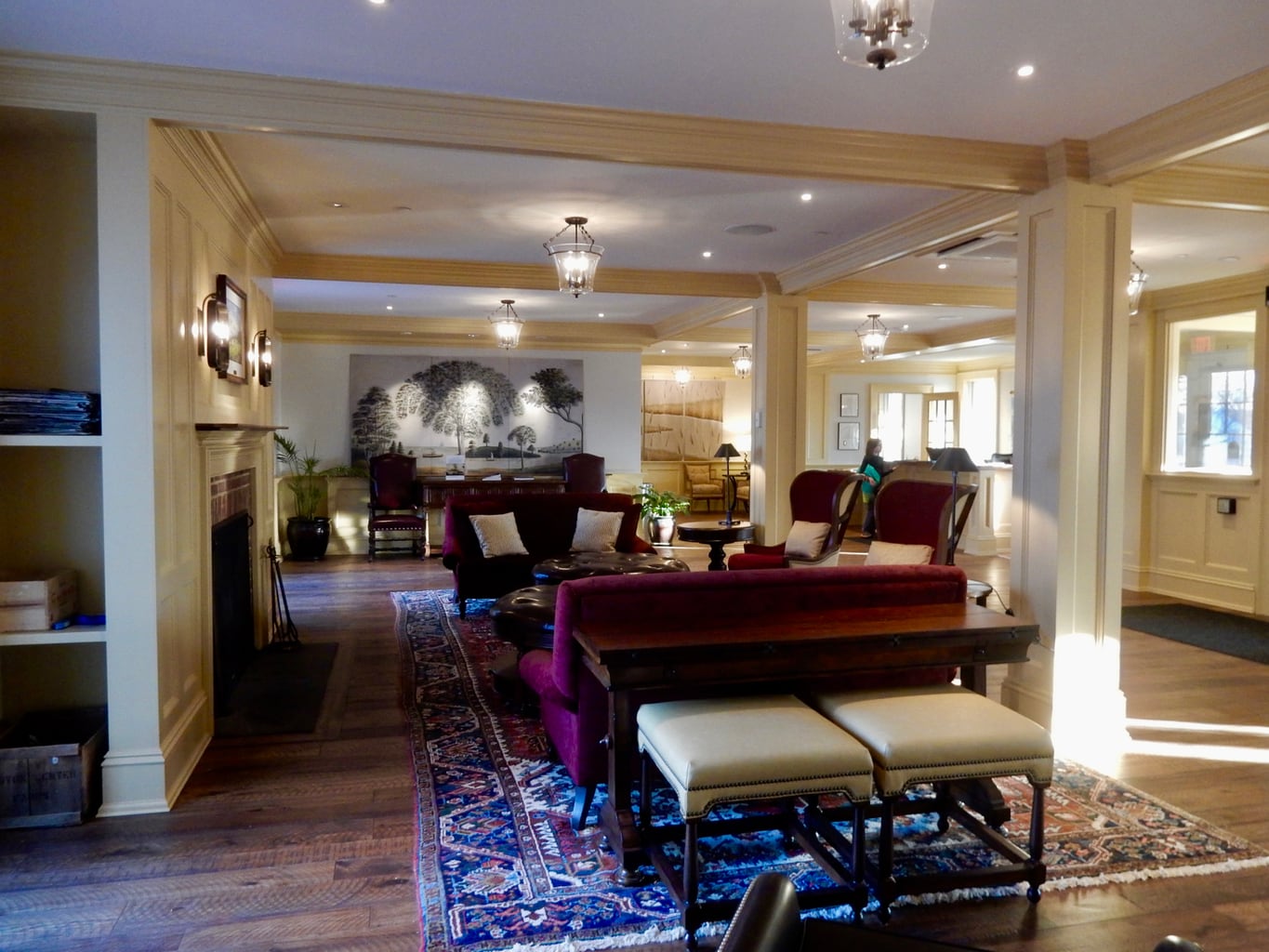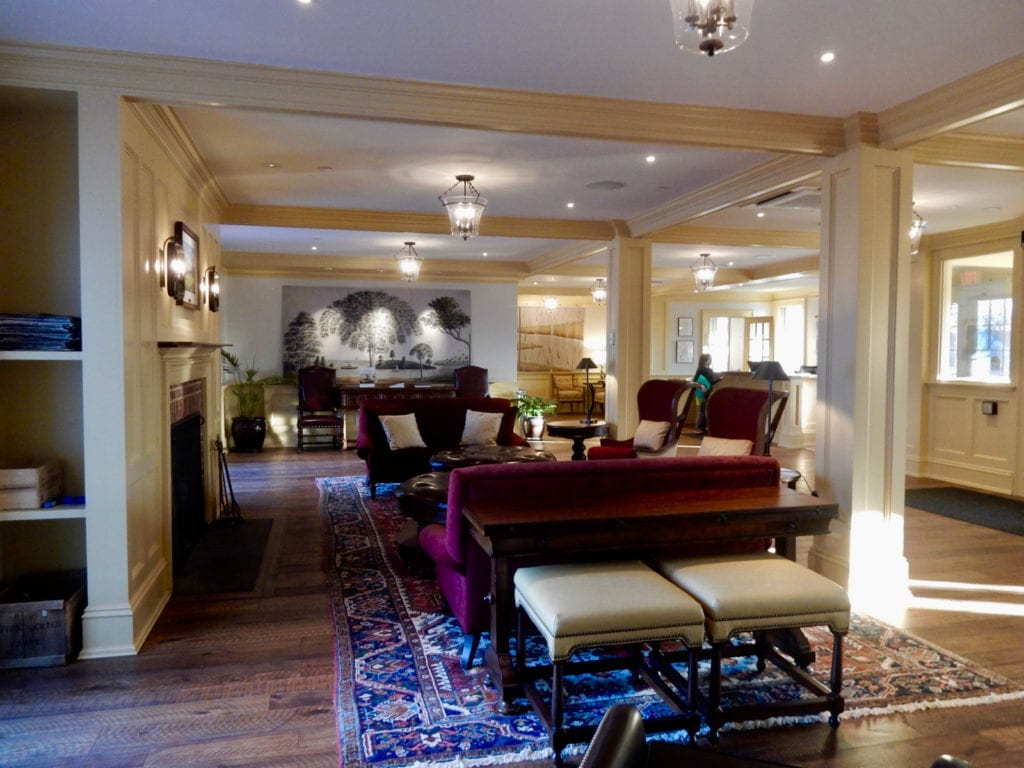 It should be no surprise that, just 20 miles from Lexington/Concord MA, Minutemen strategized here during the Revolutionary War. Later, the tavern served as St. Paul's Masonic Lodge, chartered by Grand Master, Paul Revere, in 1797.
The old Groton Inn was destroyed by fire in 2011 – a tragedy that devastated this tiny community. The lot sat empty until 2017, when the Migis Group built this new 60-room Groton Inn. It re-opened on May 2018.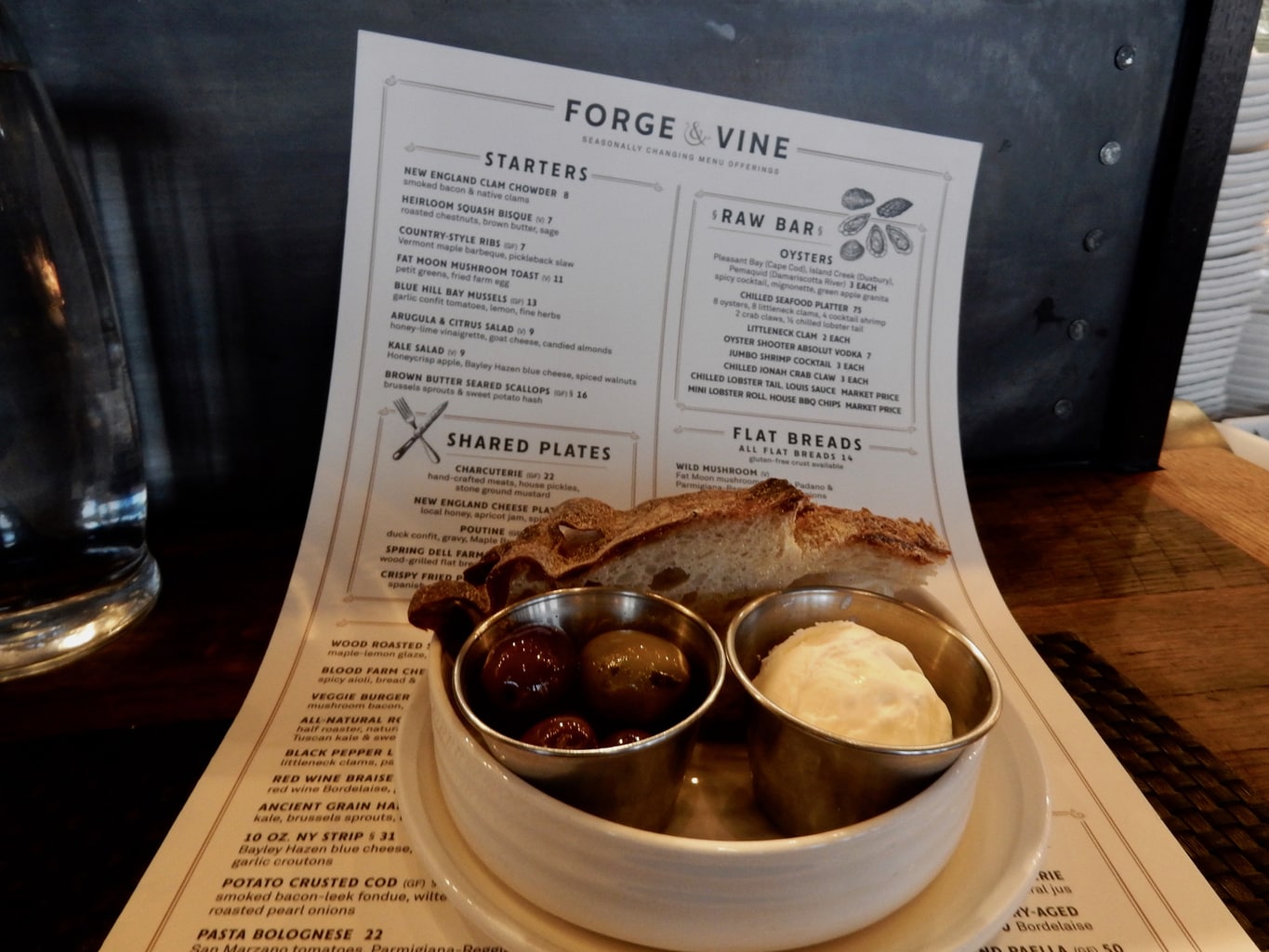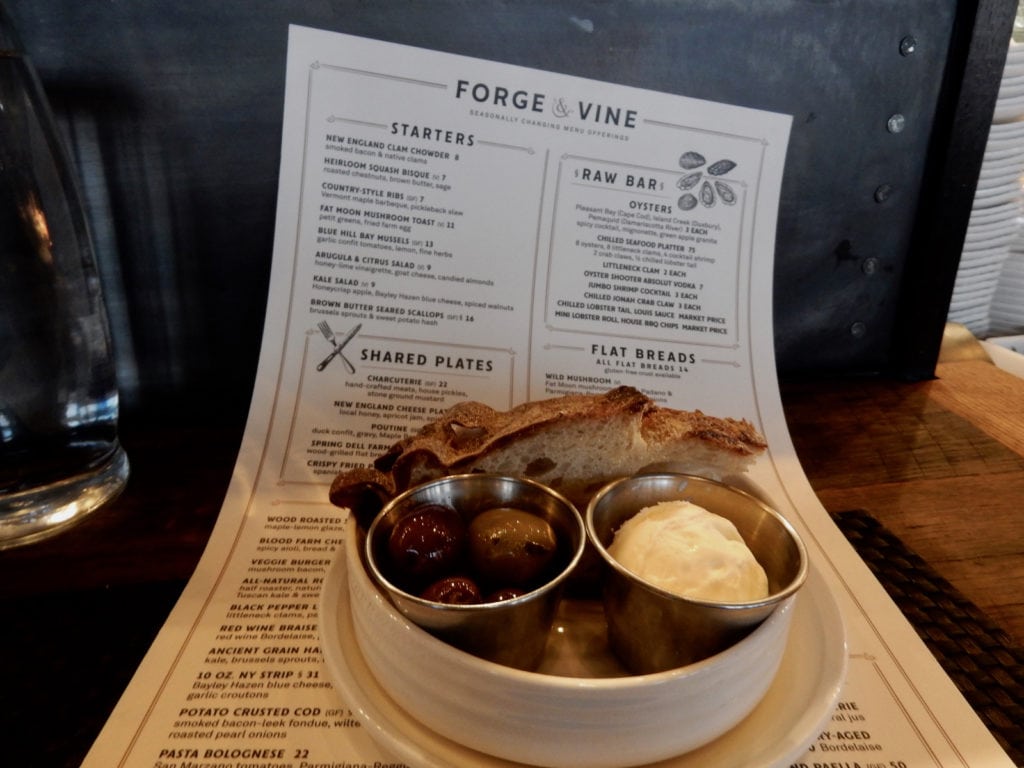 The hot restaurant, Forge & Vine , stands behind the inn, in place of the old Carriage House. With fetching views of the cow-dotted Gibbet Hill beyond, the complex has become a huge wedding draw.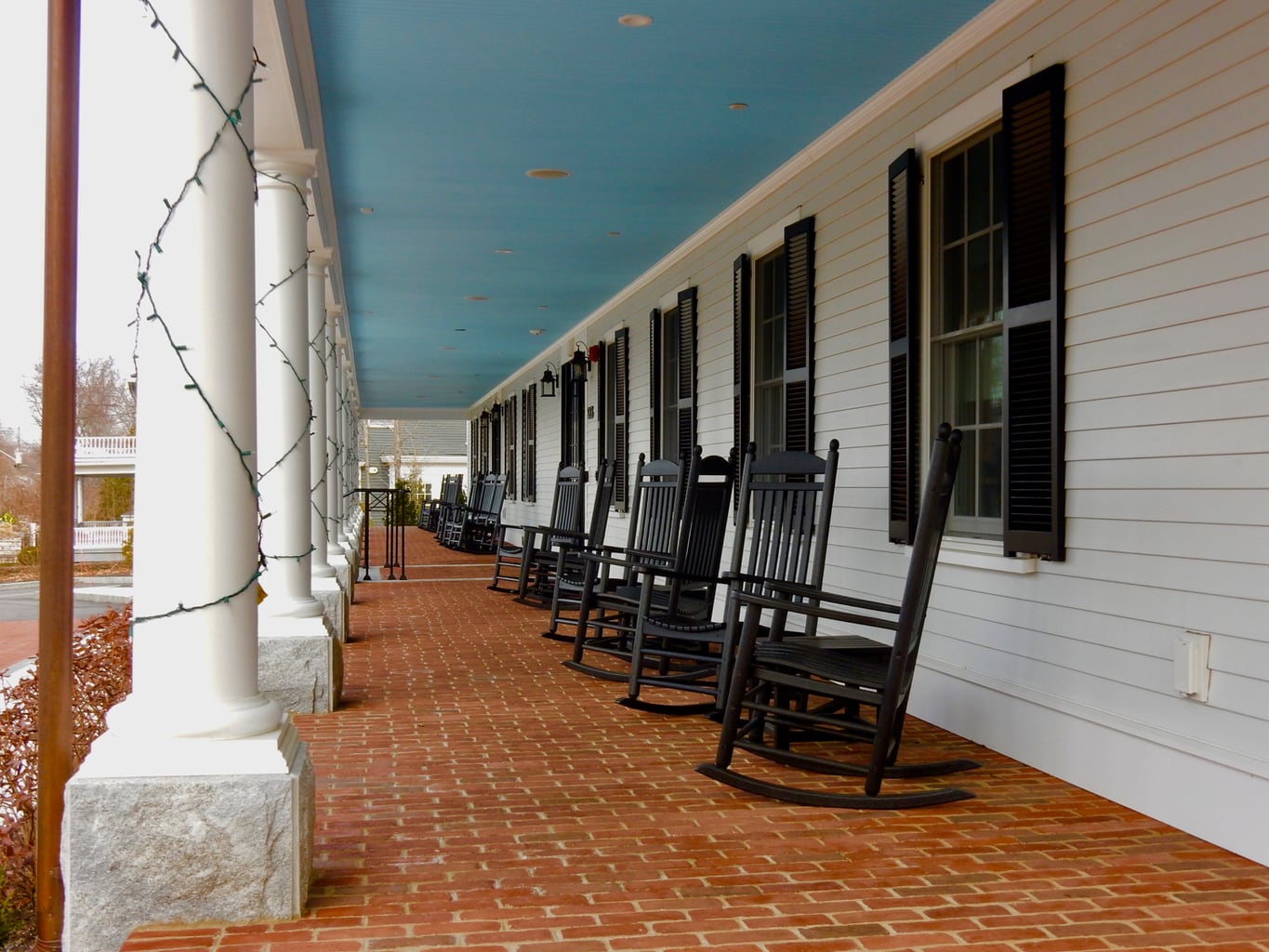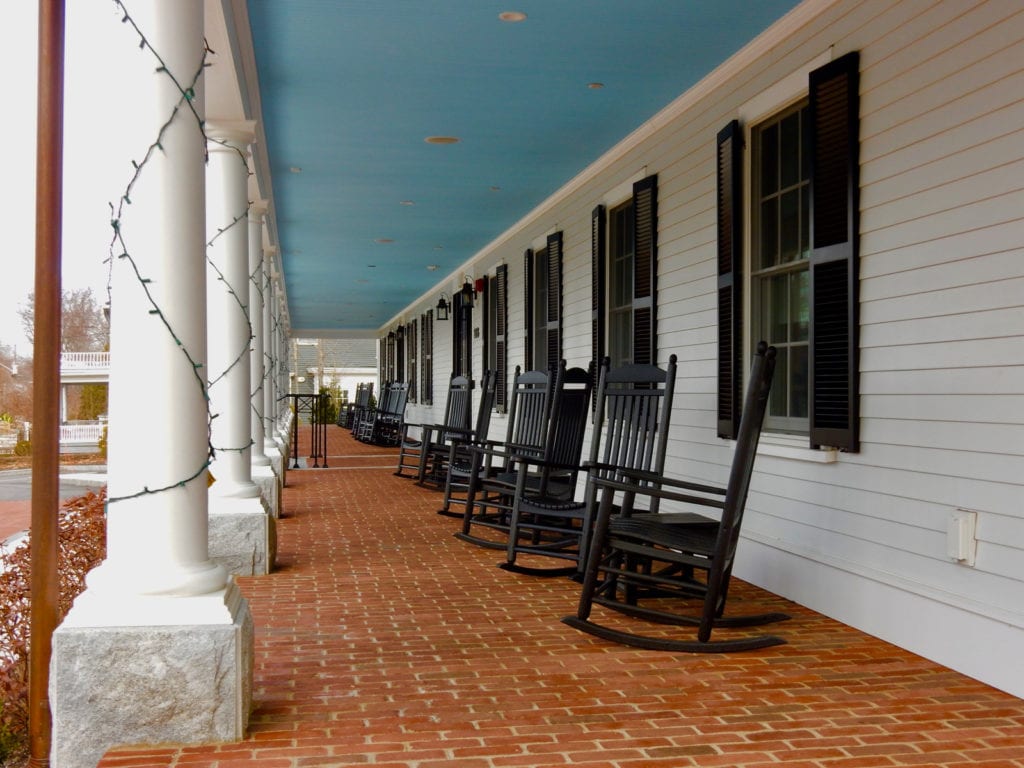 Who stays at the Groton Inn? Parents of students who attend Lawrence Academy and The Groton School, and guests of area weddings, of course. But there's also a growing number of business travelers ("captured off of I-495") who are seeking a homier, boutique-y hotel stay for business retreats and corporate meetings.
First Impressions of the Groton Inn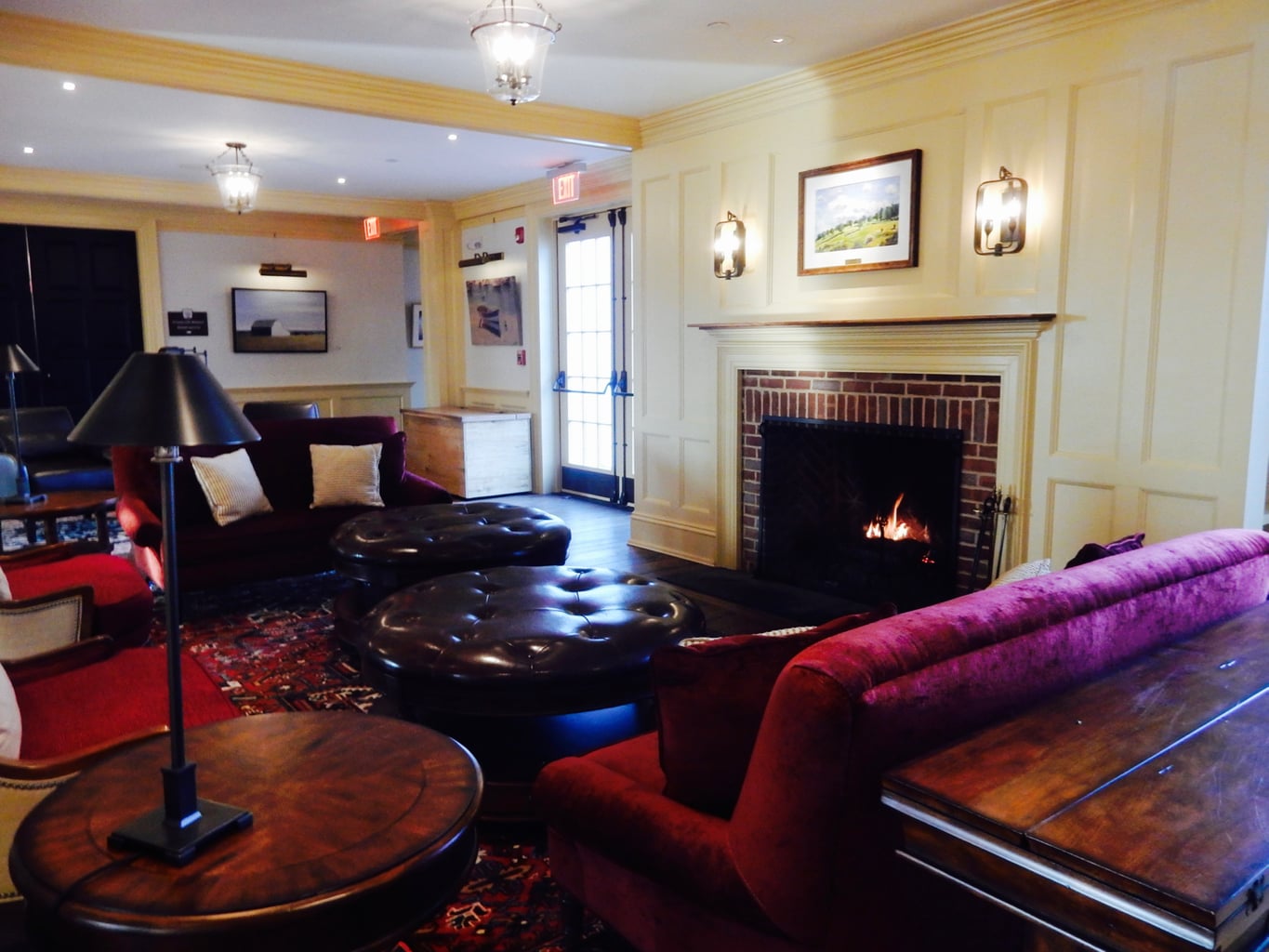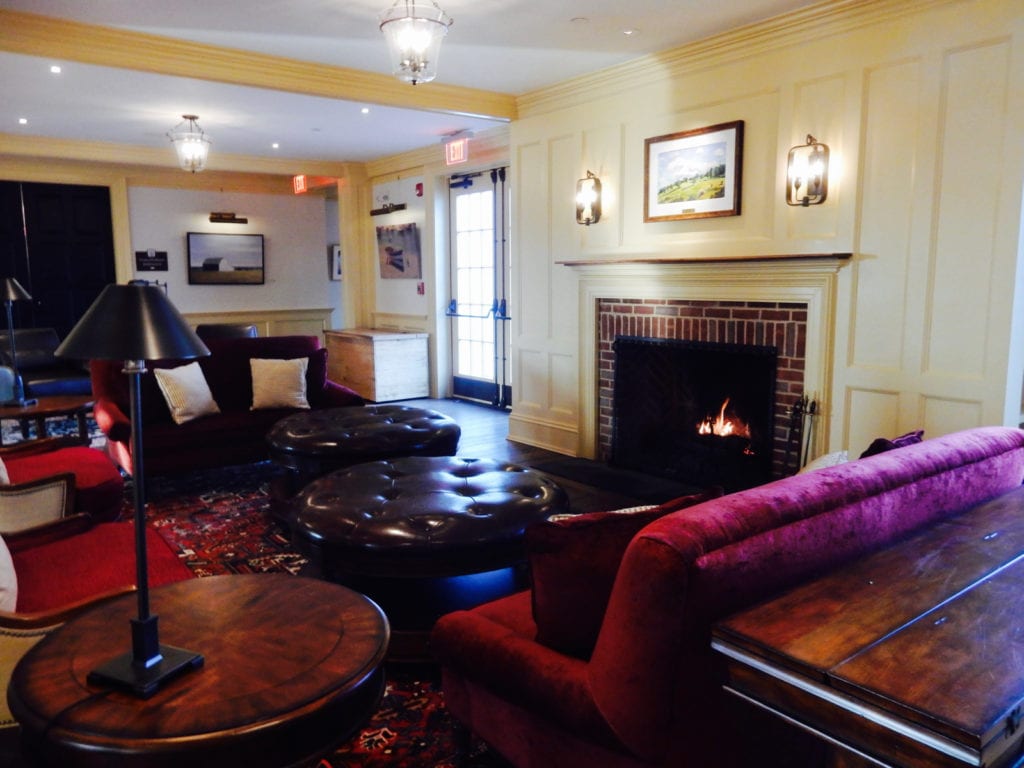 The Groton Inn is warm and inviting in a couple of ways. Enter the front door from the rocking chair porch in winter, and there's sure to be a bone-thawing fire ablaze in the lobby's wood-burning fireplace.
And then there's the reception staff, who seem to be genuinely happy to have you there.
For folks who have lost faith in humanity, this warm and friendly greeting can thaw out the chill in your soul. As it must have been 300 years ago, the Groton Inn is a welcome shelter from the road.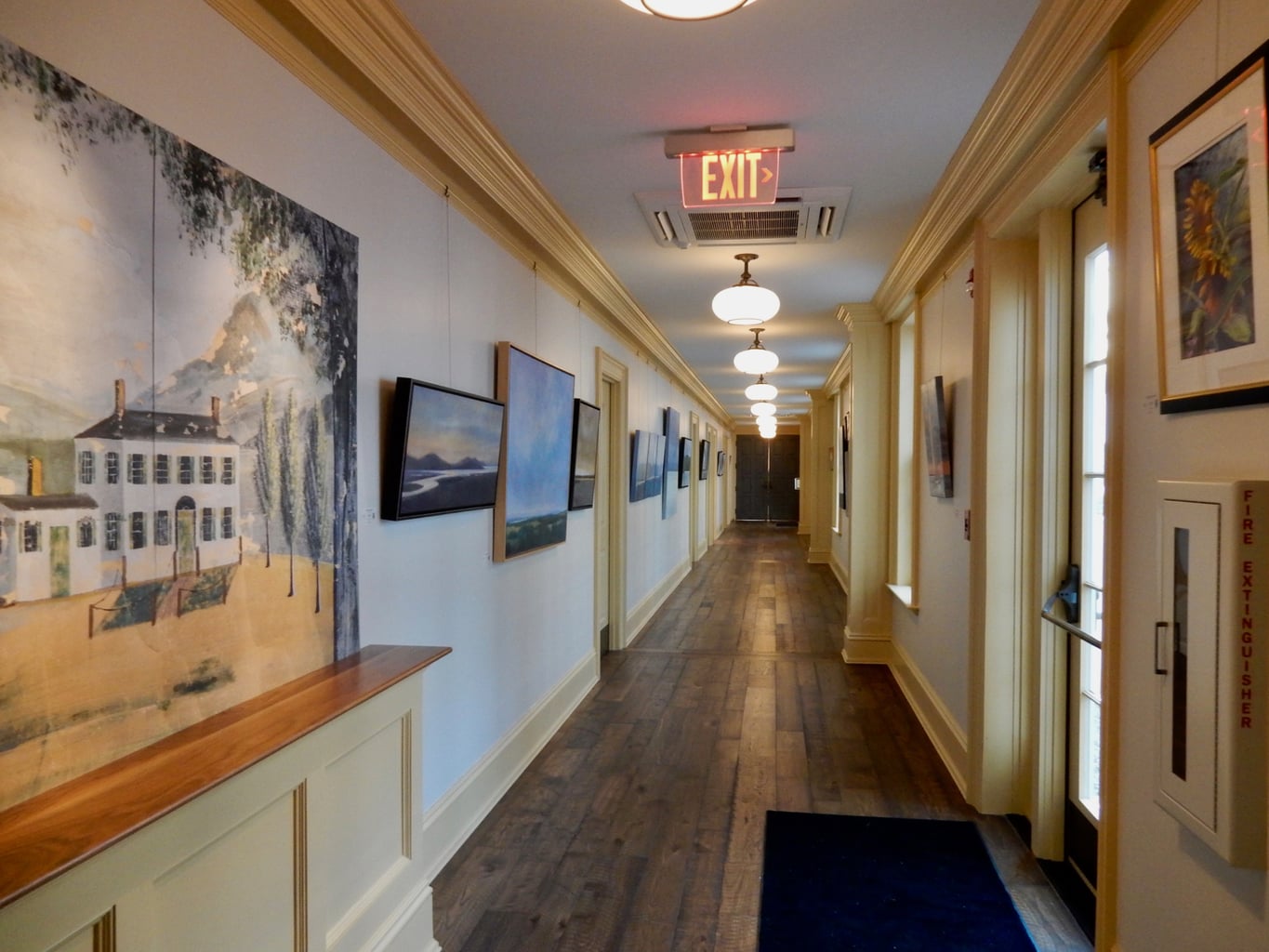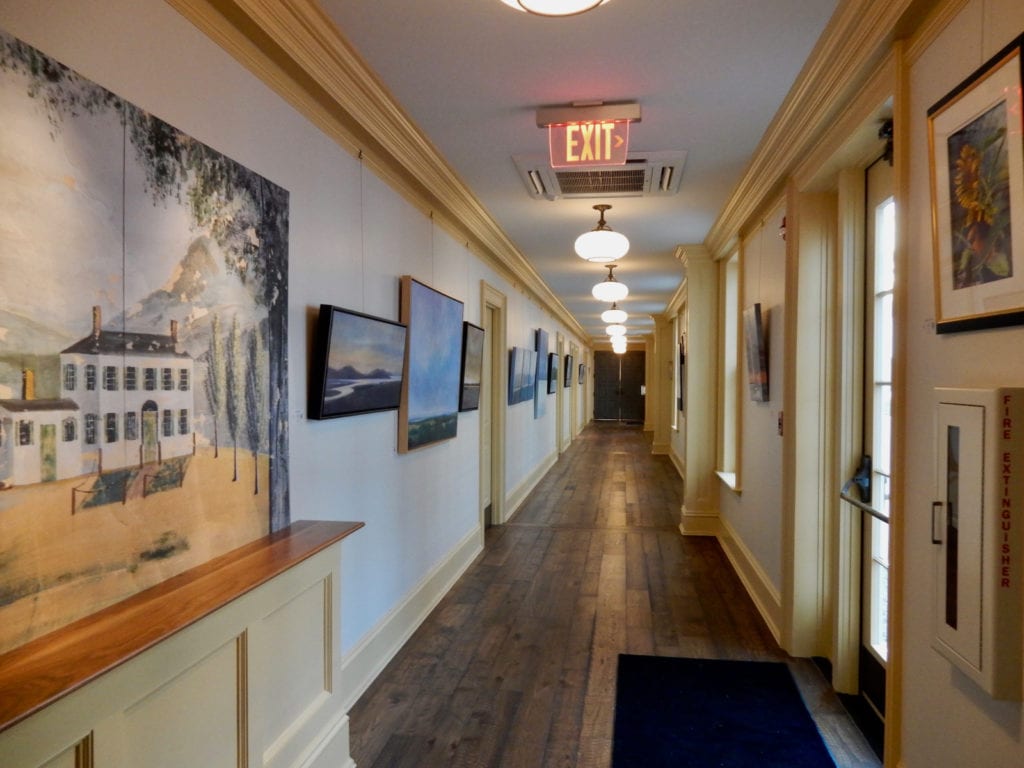 Yes, the Groton Inn is a boutique hotel. Mostly, because it doesn't scream "corporate" in any way. You can purchase the paintings and other artwork hanging on hallway walls, as well as the antique (and decidedly quirky) Delaney "Tall Case" Clocks on display ($9,500 – $12,500).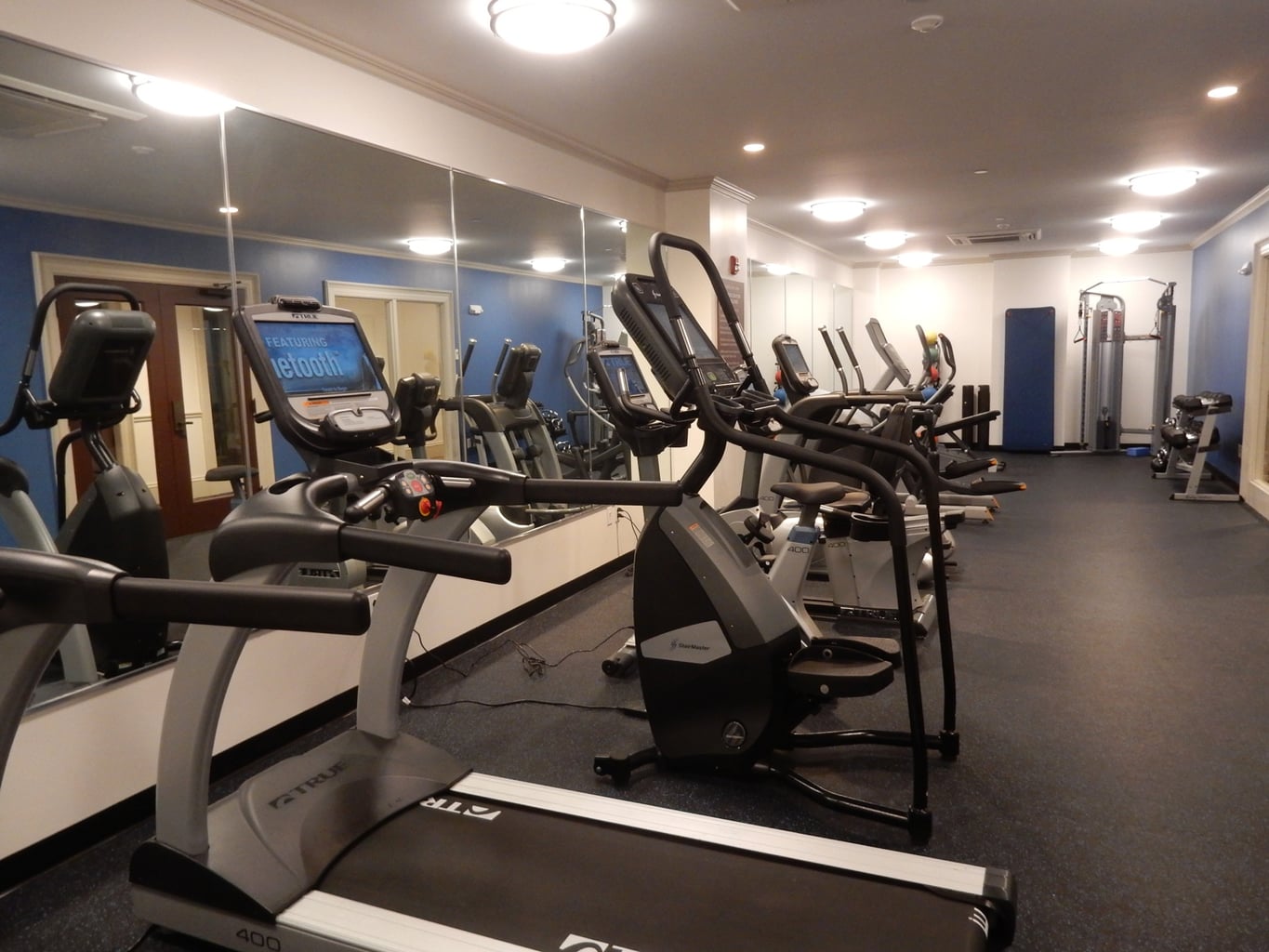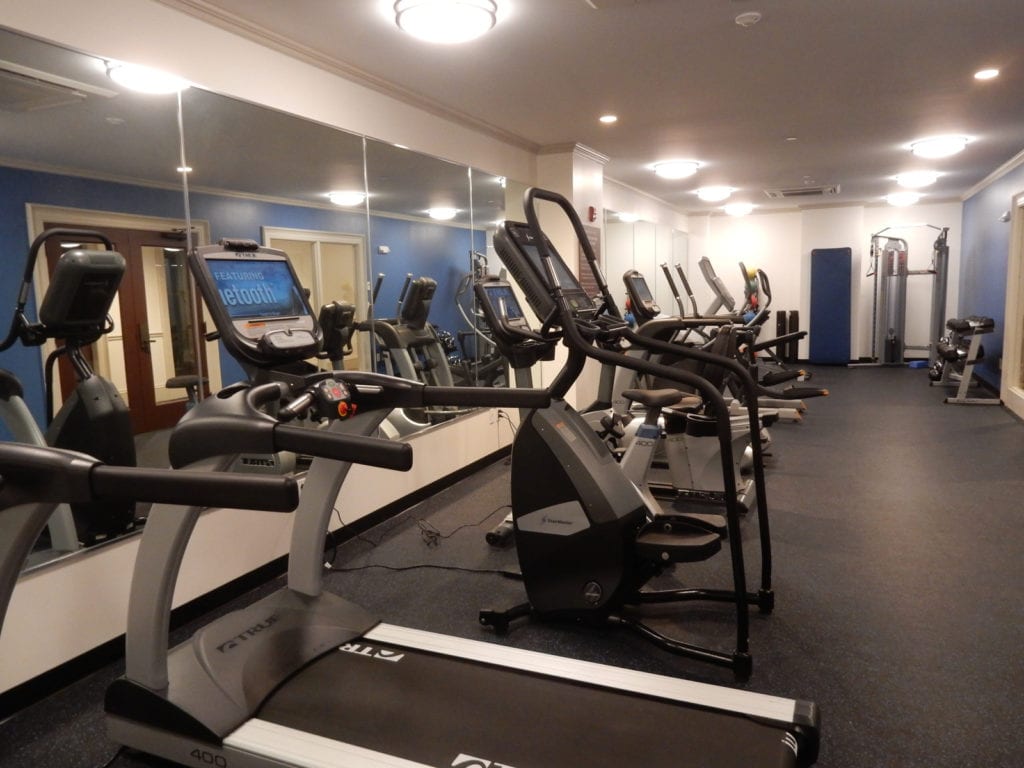 Filtered water stations on the third and first floors dispense both flat and bubbly water (complimentary). And, should you require a personal trainer, just contact the folks at the front desk. They can arrange someone to meet you in the fitness center (open 24/7).
Rooms at Groton Inn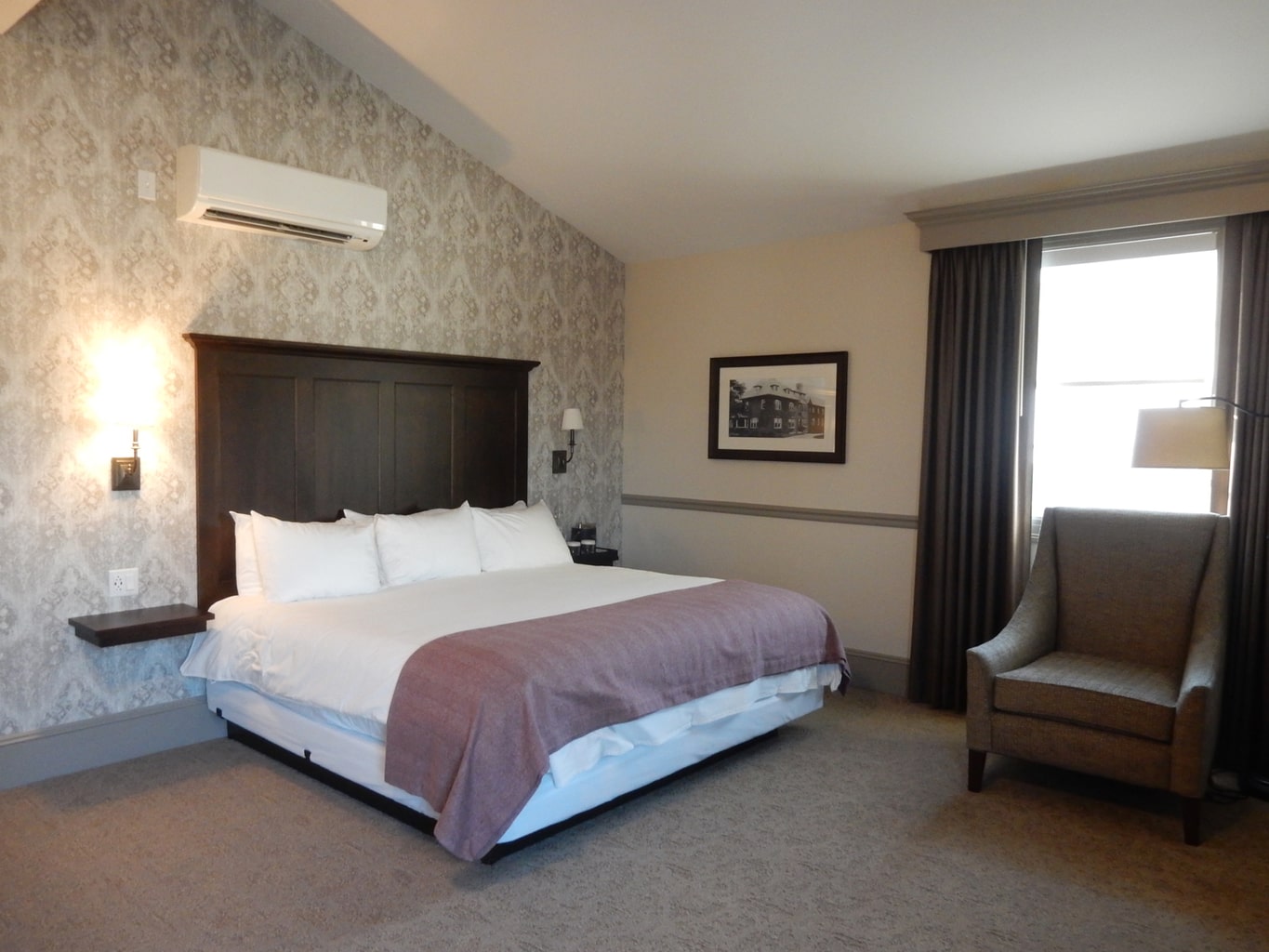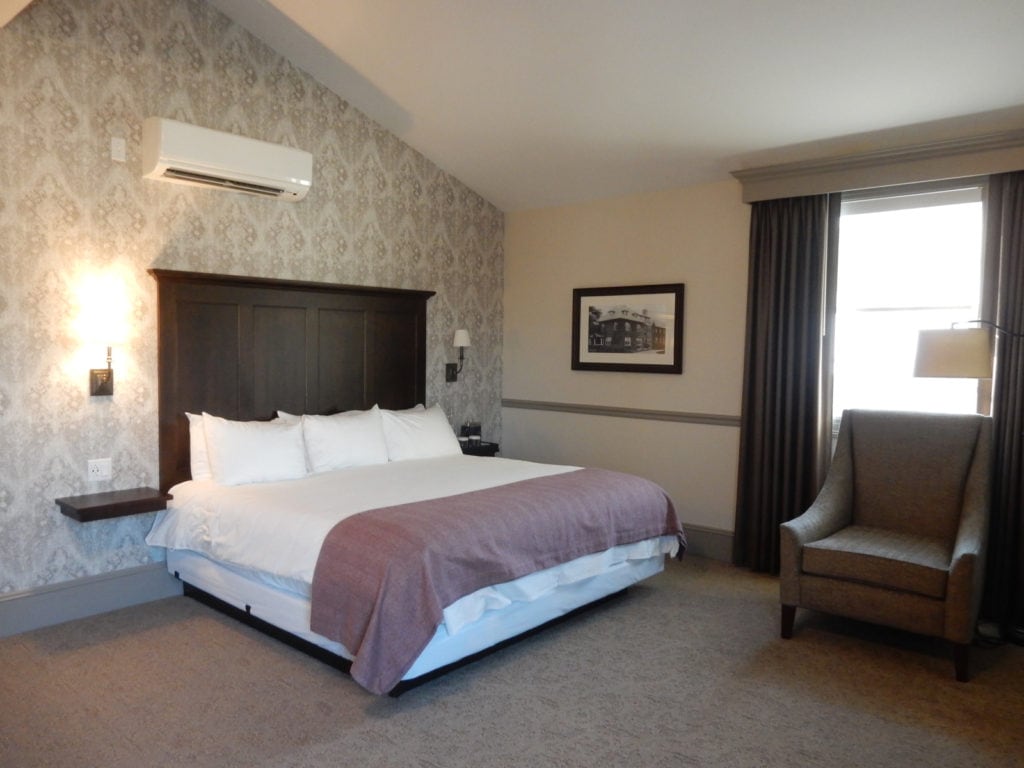 Rooms, in creams, light grays, and other muted colors, are spacious. Modest furnishings reflect the Yankee way of not being too much of a showoff.
But the beds are dreamy. There's a Keurig coffee maker with paper cups. And you'll find plenty of outlets for electronic devices. Best of all – those romantic views of pastoral hills that glow orange at sunset. (A hotel spokeswoman commented, "In season, baby cows run down the hill to graze. It's so adorable, and kids love watching them.")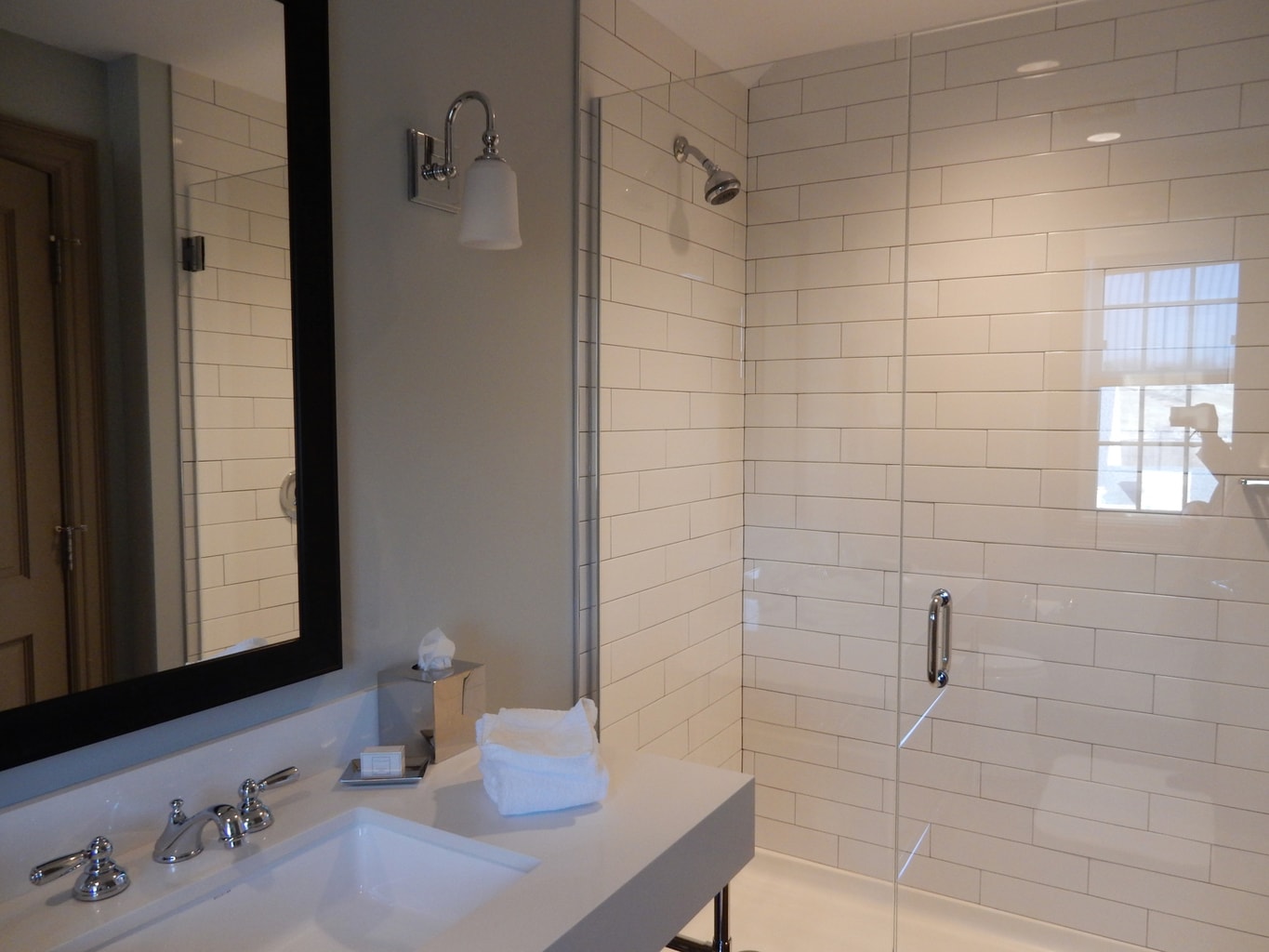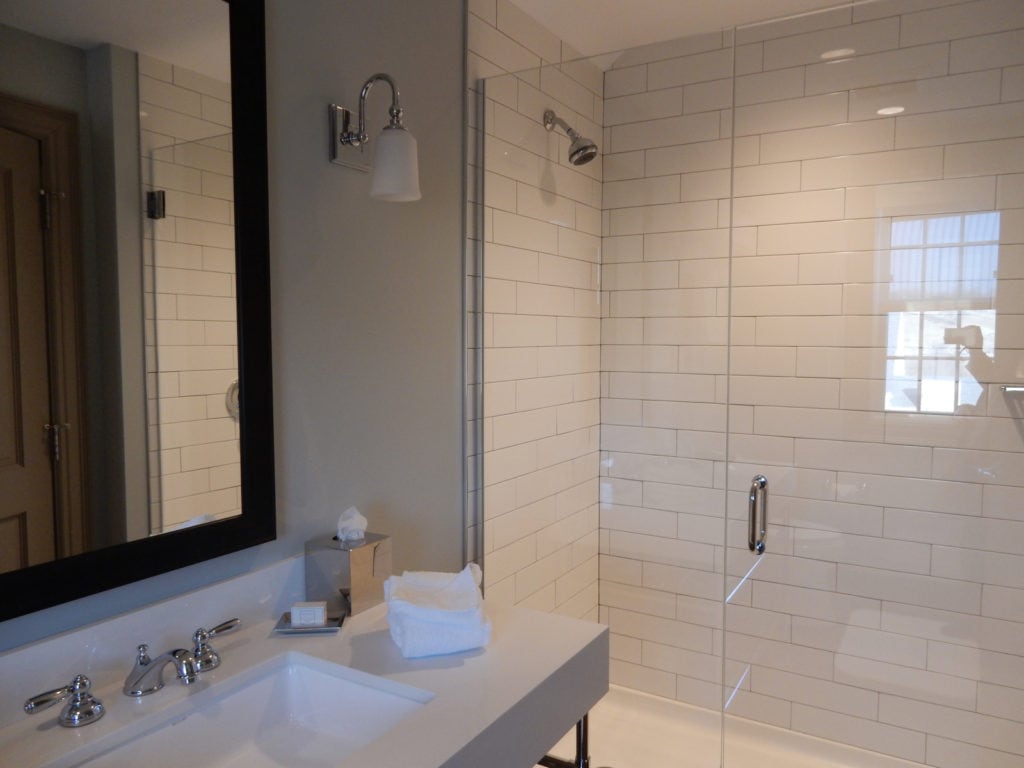 Bathrooms gleam in white subway tile, and sport large glass showers and Gilchrist & Soames products.
Where to Eat near Groton Inn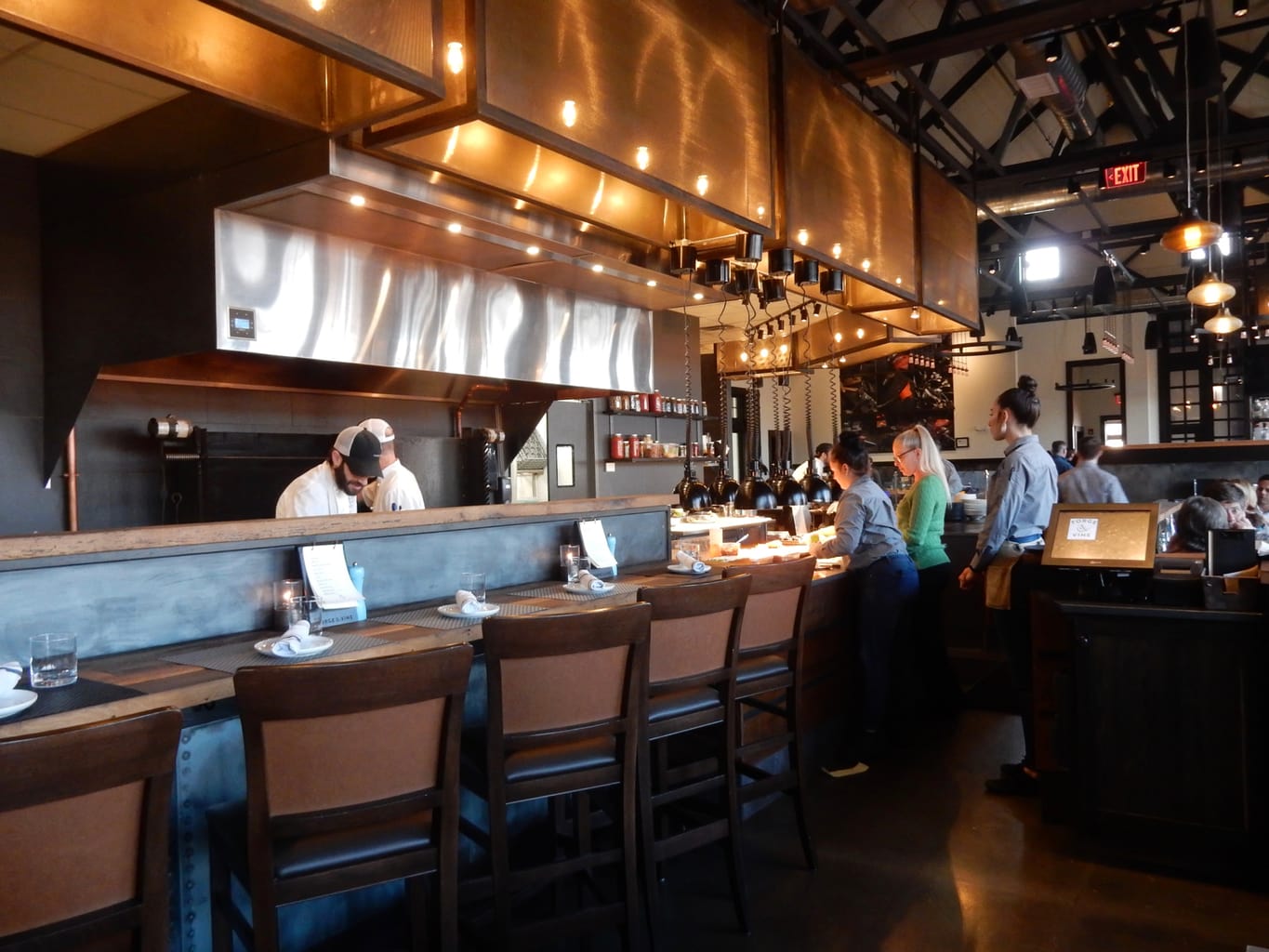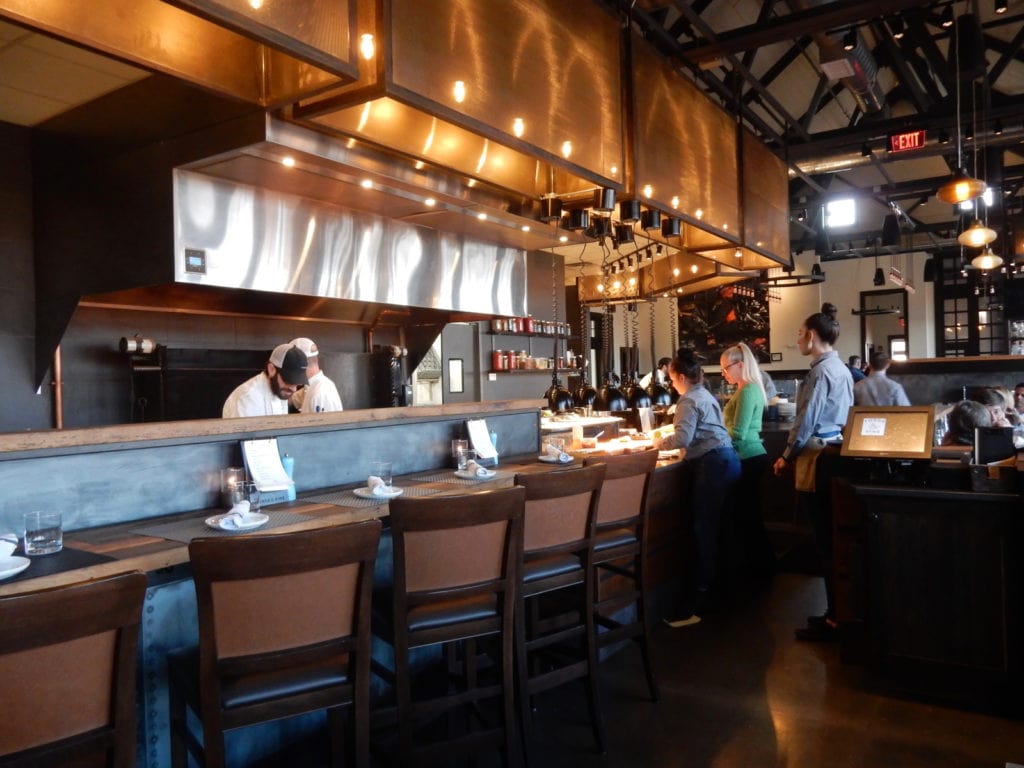 You don't need to drive anywhere – just cross the parking lot to the hot new eatery, Forge & Vine. This 156-seat restaurant, with contemporary barn-like interior, open kitchen, raw bar, and fiery grill, is one of the most popular in the area.
Big French and Biodynamic
The wine list tends toward Big French and Biodynamic. As such, signature dishes range from Poutine to fresh Oysters, Rotisserie Chicken, and NY Strip Steak.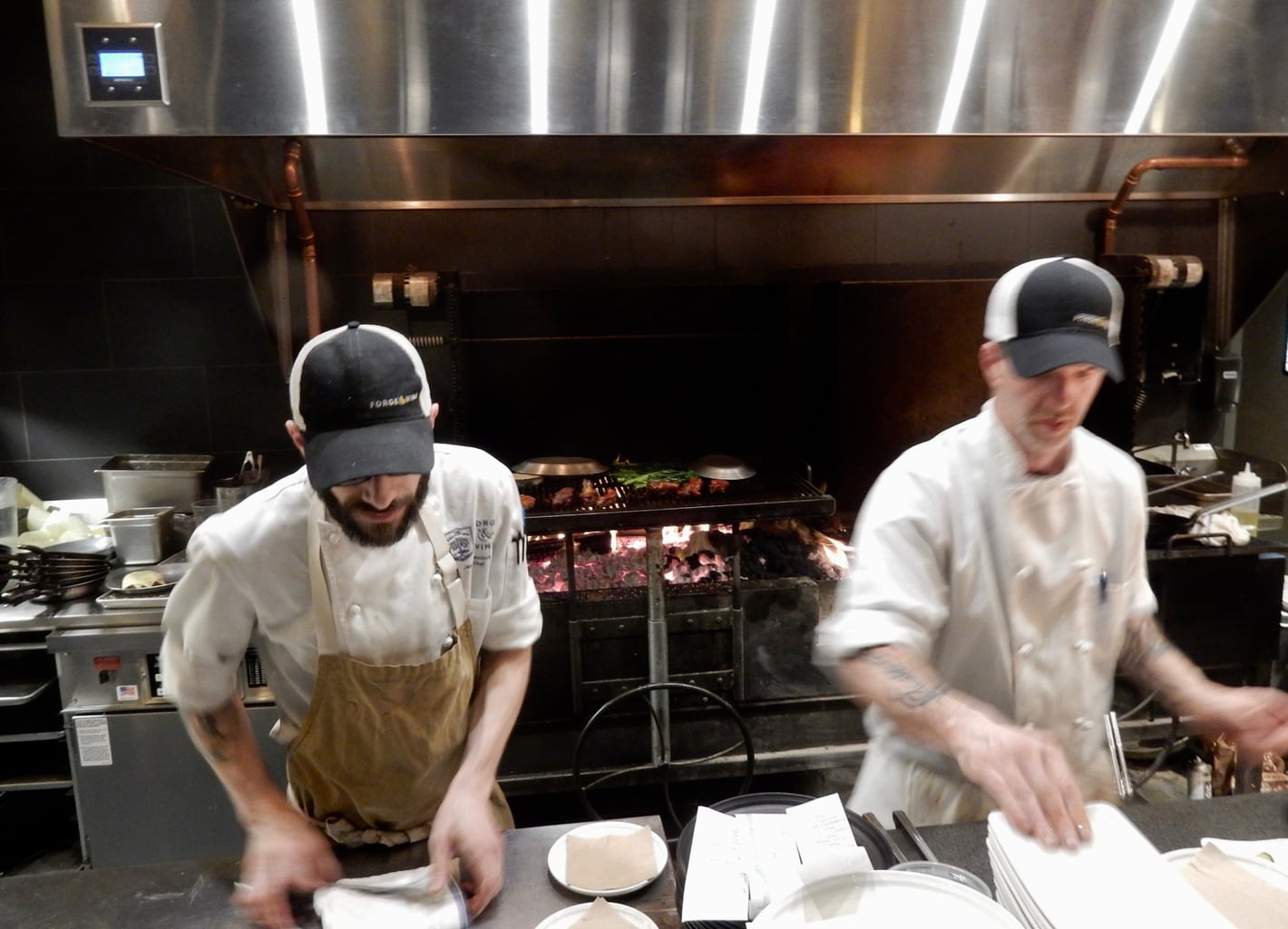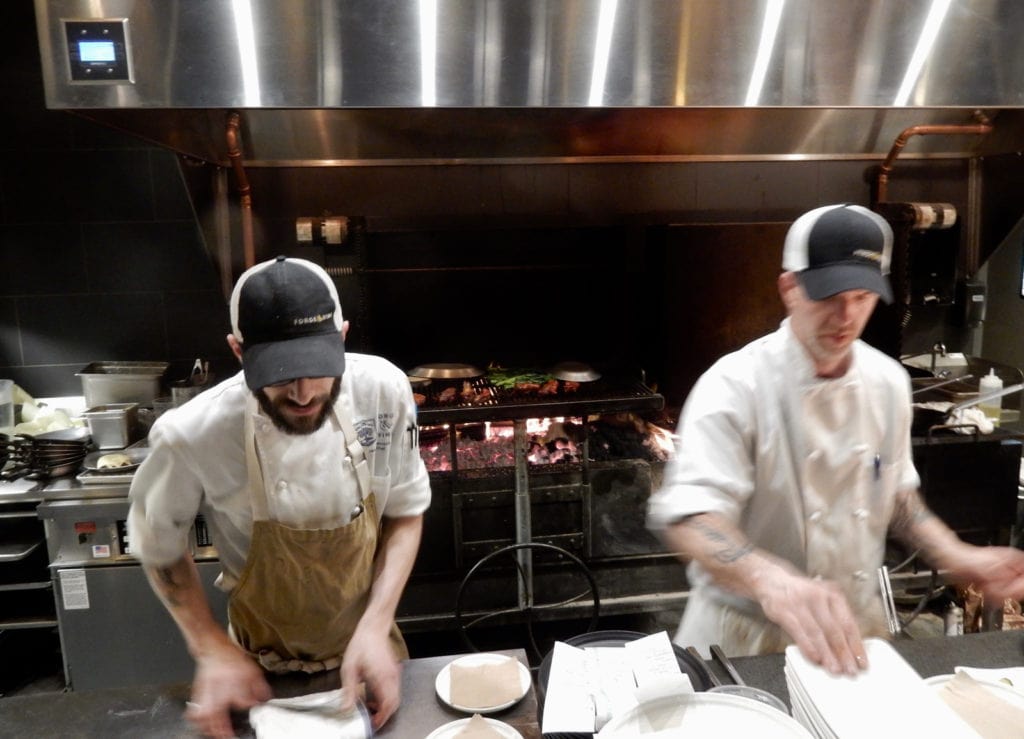 If you're solo, or want a "fun seat" like I did, plan a spot at the "Chef's Bar" facing the stoves and wood fire grill. This open kitchen is (wo)manned by talented cooks who certainly know what they are doing and can stand the heat of the flames. If you sit here, you'll feel the heat as well. But it's tempered by witty conversation, and food samples passed during slow moments.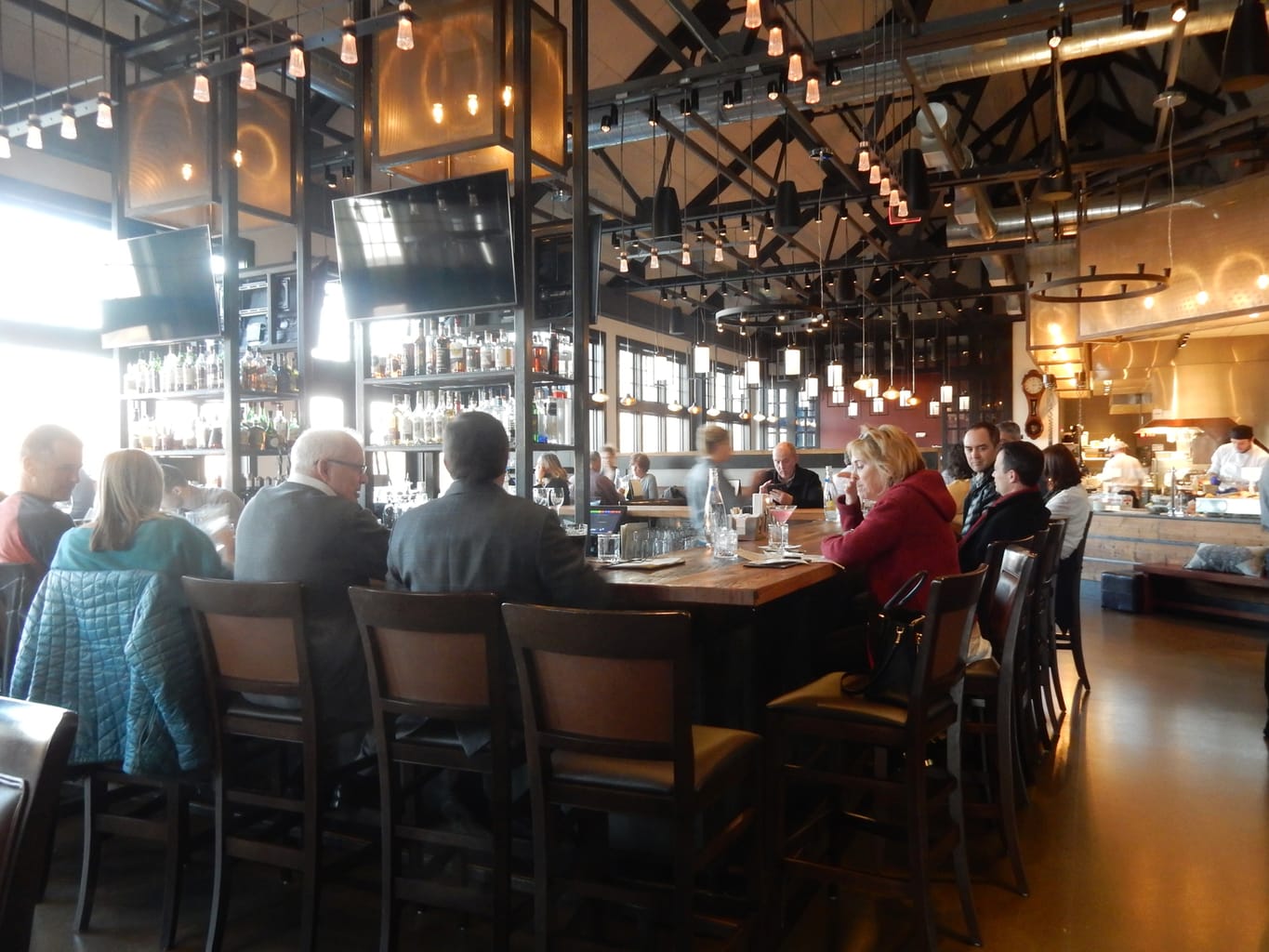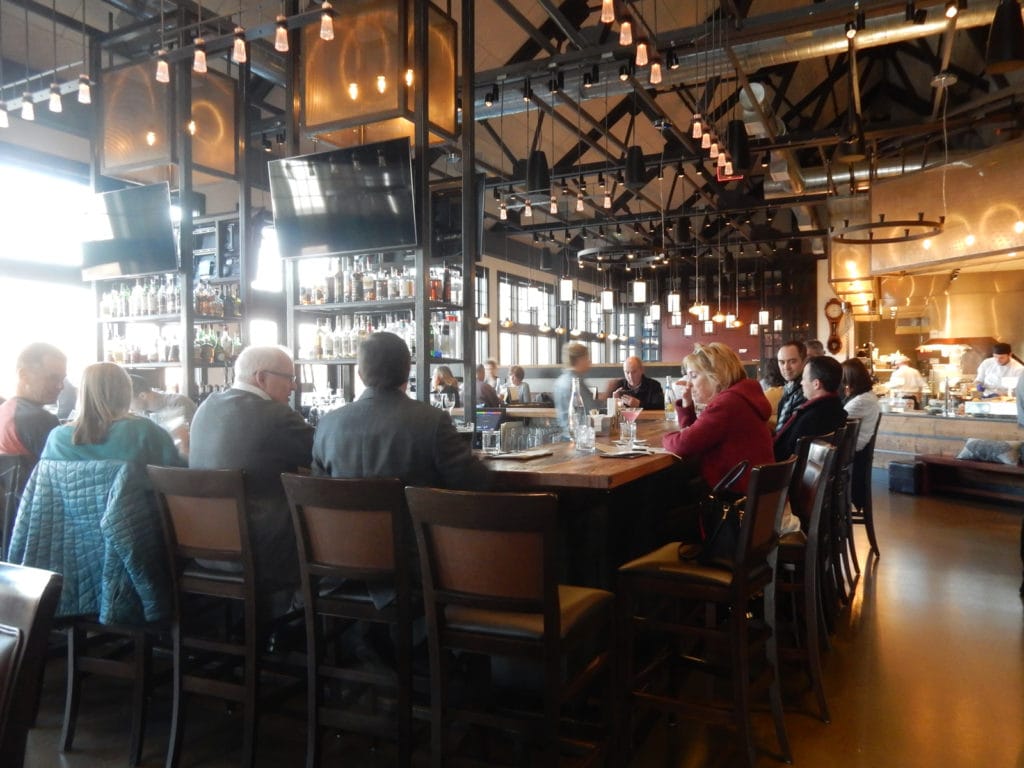 The most popular dishes, according to these hard working chefs, are the Brown Butter Seared Scallops appetizer ($16) – silky-crunchy discs that I cut into ever smaller slices to make it last longer, it was so outrageously good; a tangy trio of meaty Vermont Maple BBQ Country-Style Ribs ($7); Potato Crusted Cod ($25); a variety of Flat Breads ($14); NY Strip Steak ($31, the priciest dish on the menu); and the most popular on the night I dined, Red Wine Braised Short Ribs ($26). All are phenomenal.
Patrons come from just across the street to over 30 miles away. Of course, they will most likely travel much farther, once the word really spreads.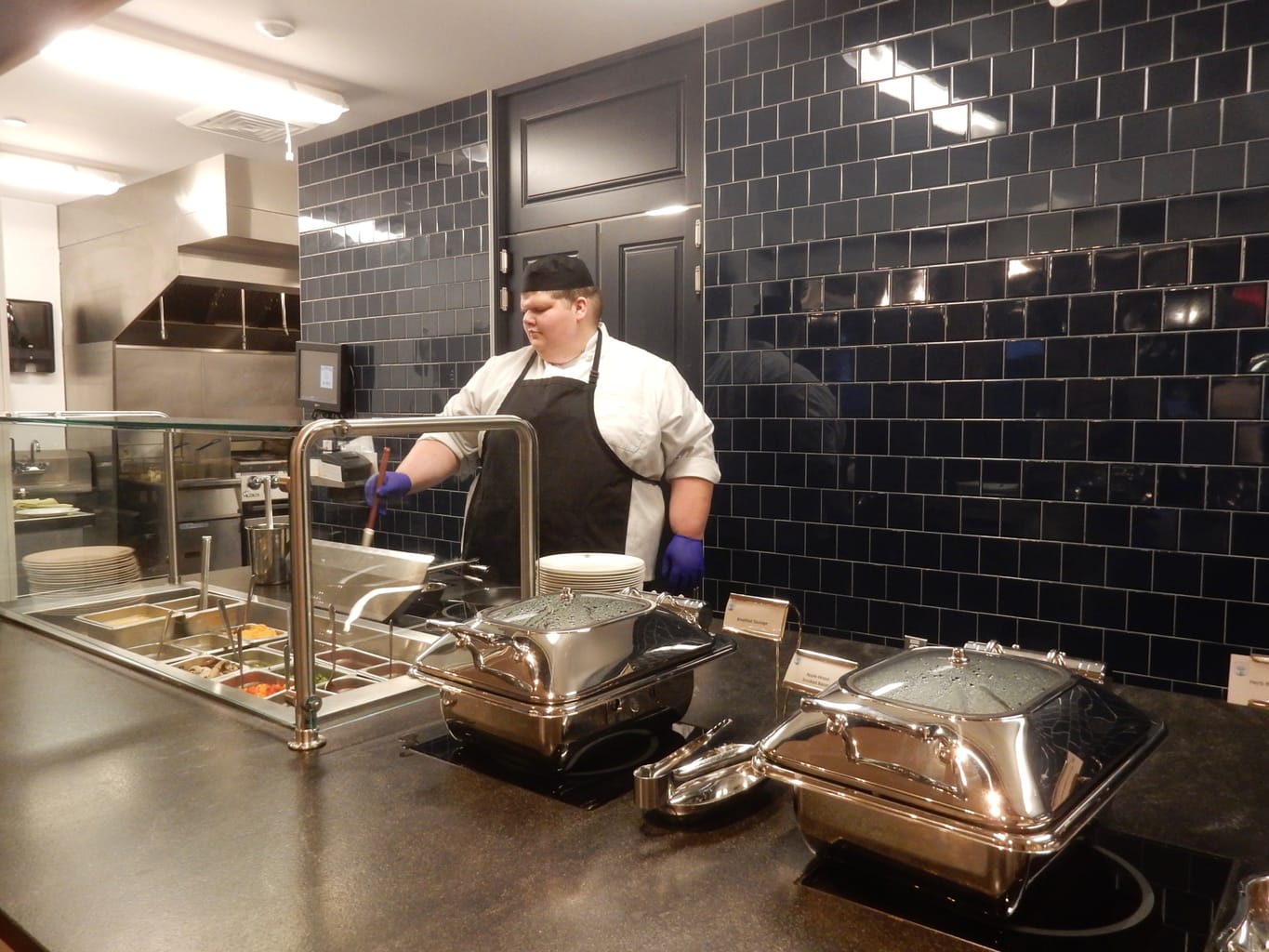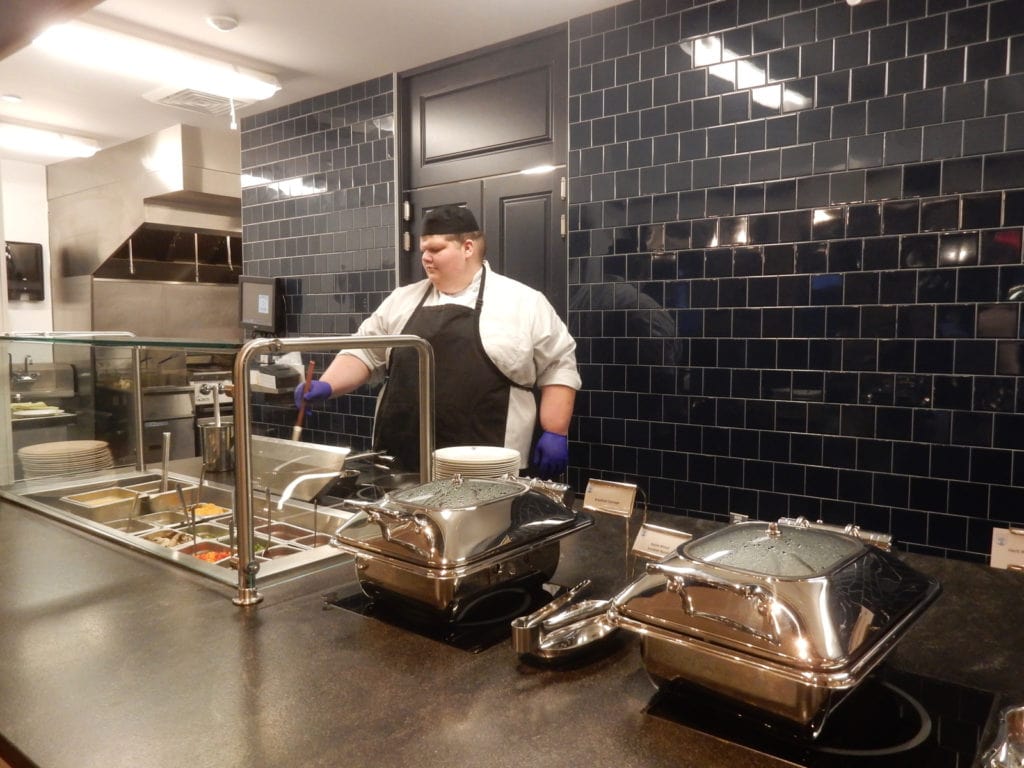 Guests of the Groton Inn enjoy a hot Continental Breakfast, including omelets made to order, served off the lobby in Keep's Conservatory (a restaurant space that serves as a private dining area for groups at night).
Where to Shop in Groton MA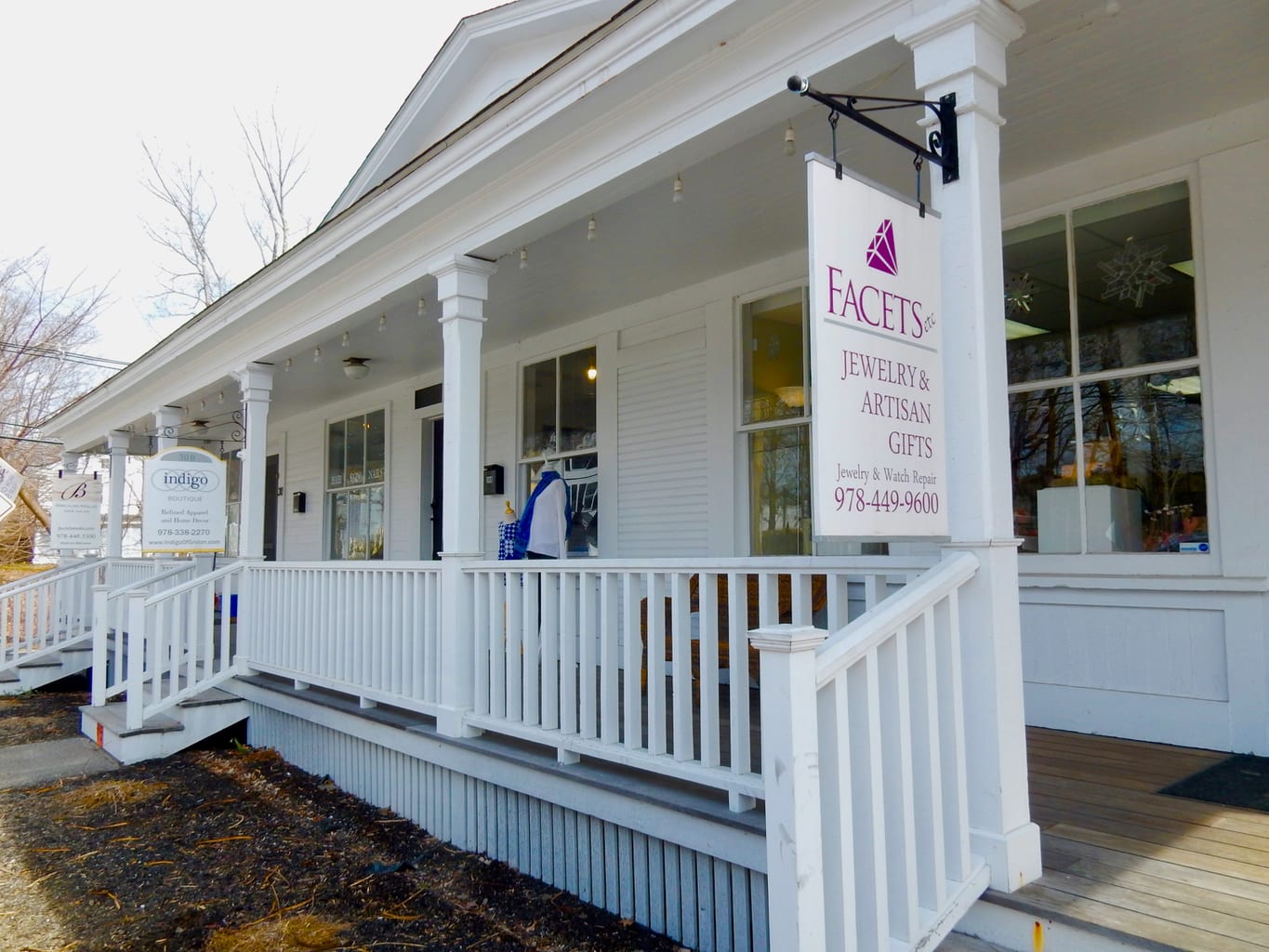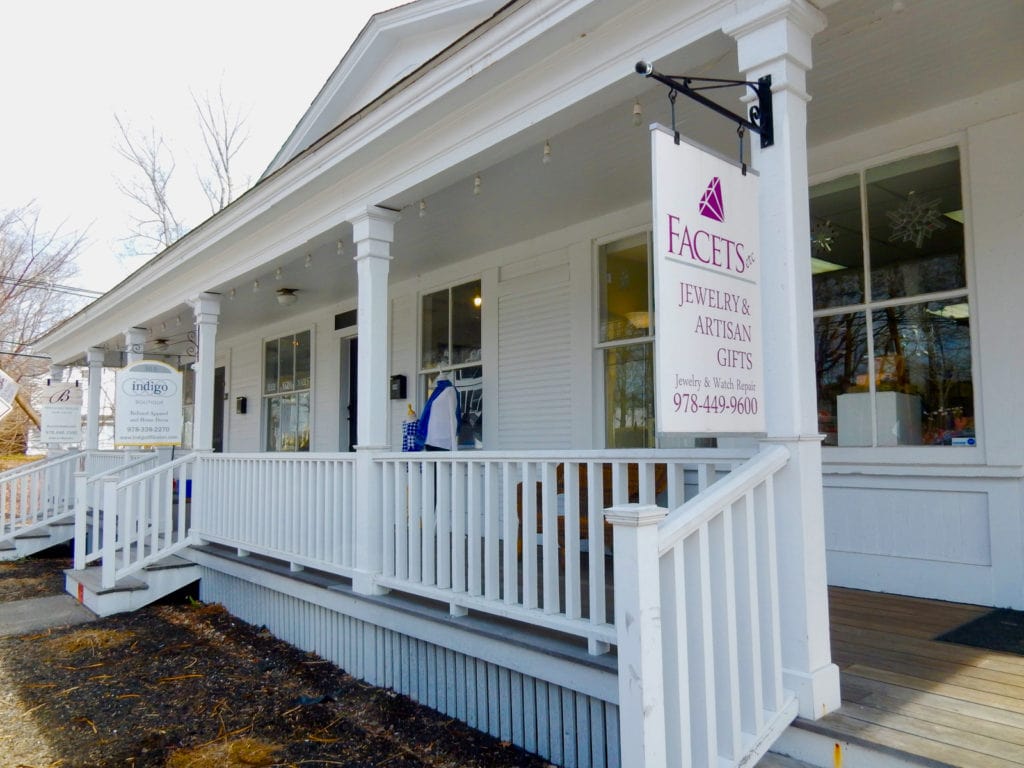 There are just a few stores in tiny Groton MA. My favorites are around the corner from the Groton Inn on Hollis St.
I discovered some cool jewelry, crafts, and happy items.
Indigo
Indigo, right next to Facets, sells ethically sourced clothing and accessories.
Shopping at both of these independently owned stores is a pleasure.
Room rates from $149-$339, depend on time of year and day of week include hot Continental Breakfast (if you book directly through the inn), wi-fi, parking, and filtered flat or sparkling water. Graduation or wedding weekends can be higher.