Why Go to Golden CO?
Founded in 1859, Golden CO was named for Thomas L. Golden, (a man whose name apparently portended his profession), one of the first prospectors to pan for gold here during the Pikes Peak Gold Rush.
Originally called the "Golden City," it was certainly that for the merchants who set up shop to supply hopeful gold miners with the necessary gear.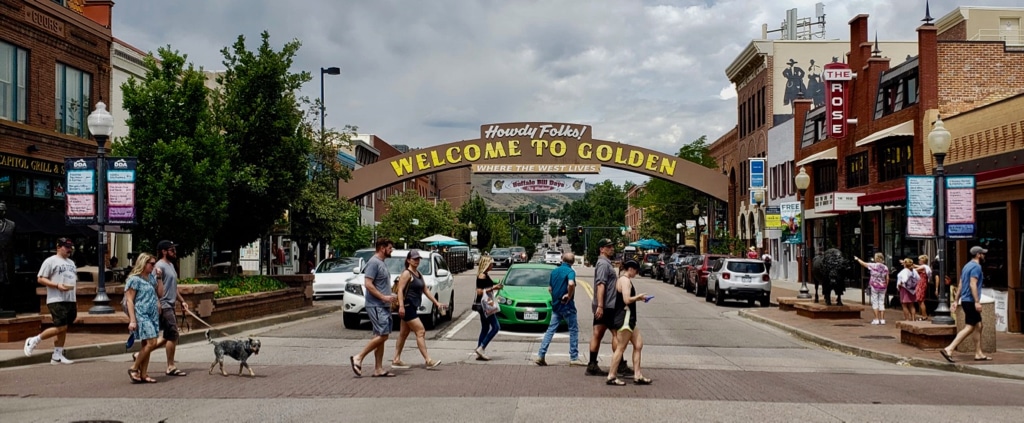 A few years later, a German immigrant found riches, not in gold ore, but in the golden brew that bears his name: Adolf Coors. The snowcapped mountains and crystalline creek that so transfixed Coors when he took the new Transcontinental train to Golden CO in 1873 remain one of this Rocky Mountain town's most stunning features.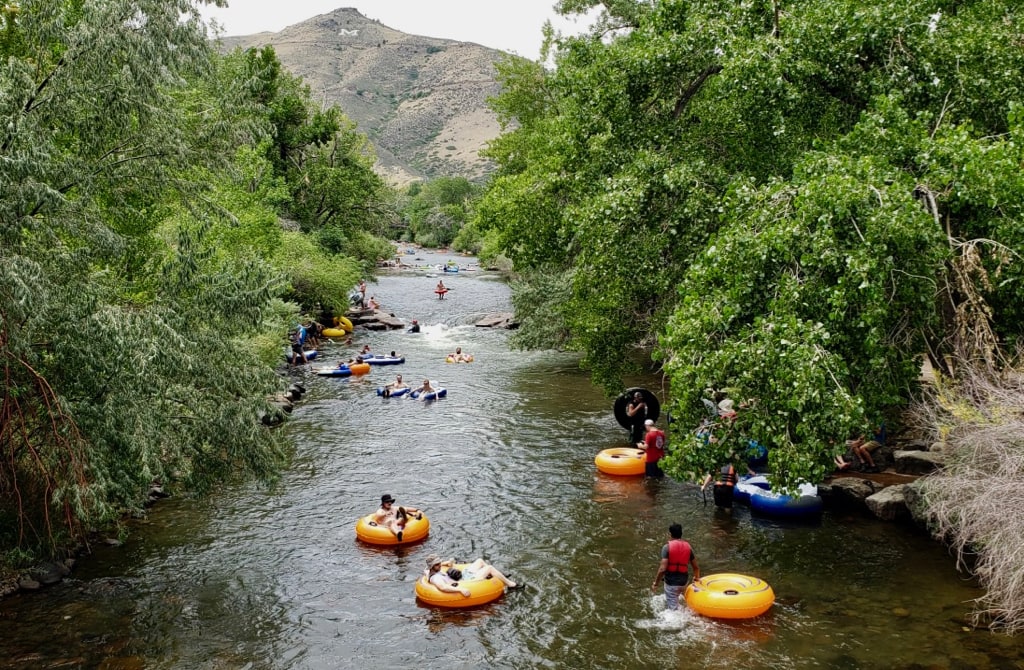 Golden CO is also home to the Colorado School of Mines, which maintains the massive white "M" monogram built into the cliffs of Mount Zion above the campus. For American candy trivia buffs, Jolly Rancher was created right on Golden's main street.
Find beer, Mother Nature's stunning features, railroad history, Buffalo Bill's final resting place, art, and so much more on this Rocky Mountain getaway. Just follow along below…
Golden CO is a US Route 6 town. If interested in driving 3,652 miles coast to coast on Rt. 6, check out our Transcontinental US 6 Road Trip here. And think about using it as a base to explore the incredible landscapes nearby such as that of Black Canyon of the Gunnison National Park.
Discover our best 20 Romantic Stops on over 450 miles of Colorado Route 6 in this post.
Attractions in Golden CO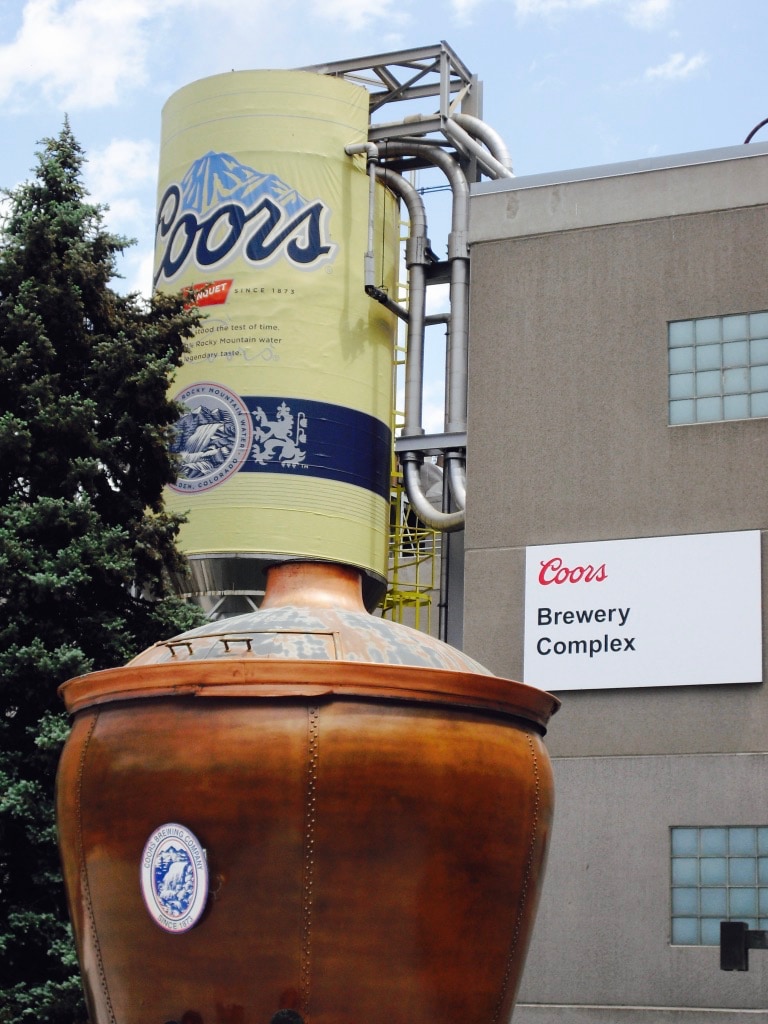 This is Golden's premier attraction for a reason.
Not only can you traipse through the inner sanctum of the World's Largest Single Site Brewery, you were entitled to three complementary 8 oz. glasses of a beverage "that has never left the brewery." You can even skipped the tour and precede directly to the "Lounge," an obvious "cheap date" choice for Colorado School of Mines students.
Tours begin with a narrated drive around Golden's charmingly rustic main streets, followed by a walk through the malting, brewing and packaging sections of the plant.
You smell the malt, see the NASA-like operations center, and midway through the walking tour, taste a 4 oz sample to whet your whistle.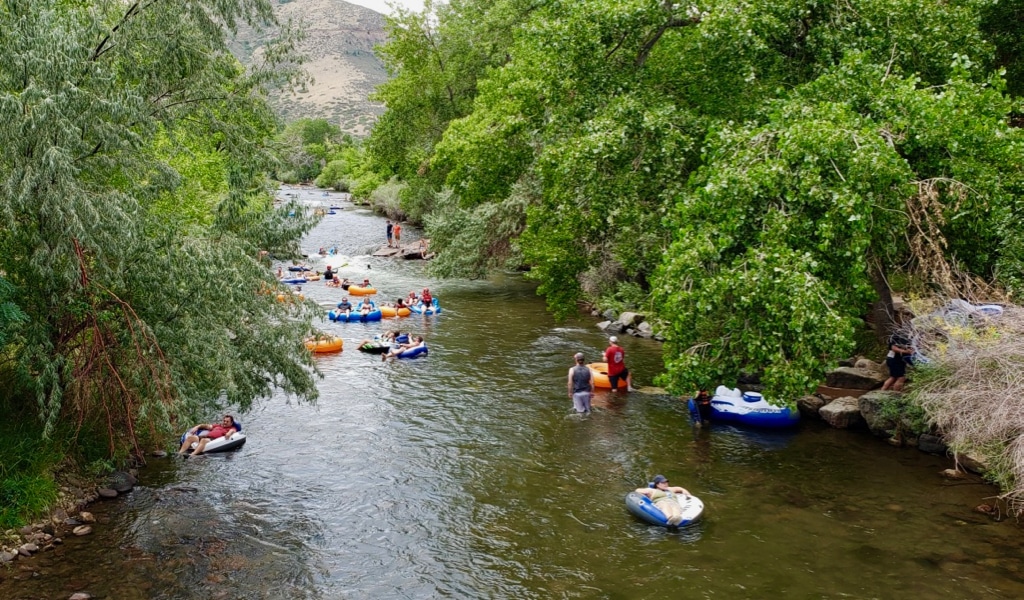 Go Tubing on Clear Creek, Downtown Golden
Yes, even Colorado mountain towns can get oppressively hot in summer. So, join the crowds, rent a floaty tube from a downtown merchant, and walk a few paces to Clear Creek. You certainly won't be alone cooling off in the calm water.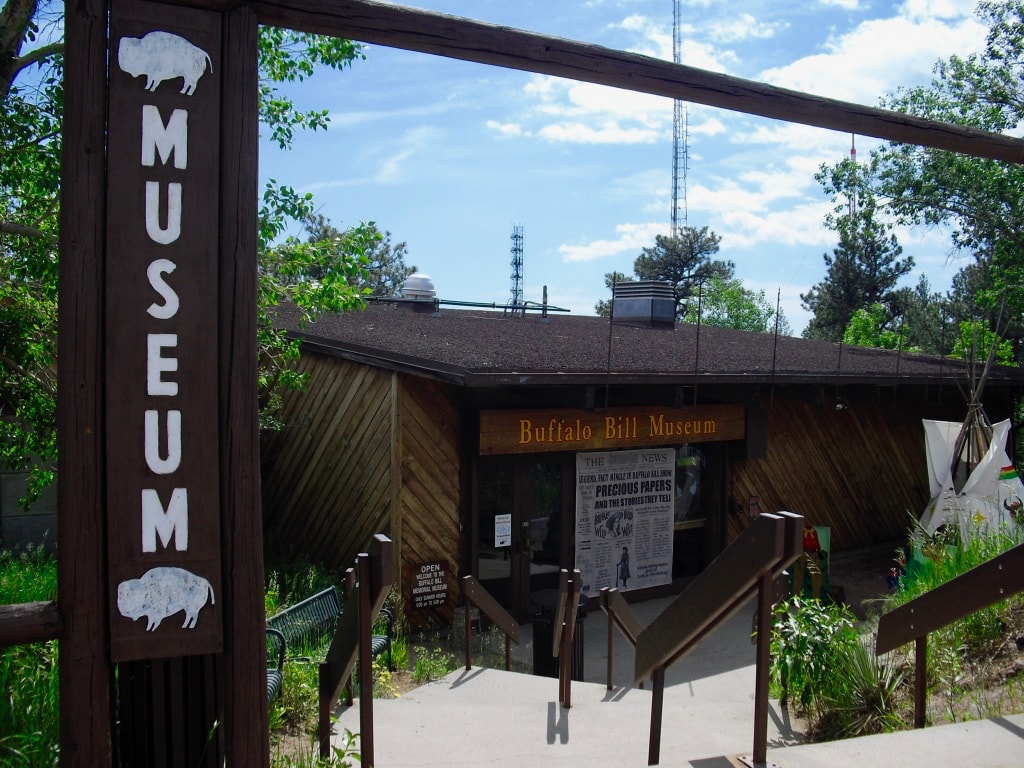 Switchbacking up to the top of Lookout Mountain affords unparalleled views of Denver, Golden, and broad vistas of the Great Plains and the Rocky Mountains. It's worth it just for the views alone, but this is where William F. "Buffalo Bill" Cody is buried.
Cody earned his name by hunting buffalo for the Railroad, and as a US Army soldier. He then packaged his experiences into a production that took the world by storm – Wild West Show. Cody was considered "The Spirit of the West" – and his show was THE extravaganza of the day.
Employing a cast of thousands, including Indians and women, Cody made many, including Annie Oakley, household names.  A terrific museum about the West's most romantic hero features Wild West Show outfits and posters, and other Western artifacts.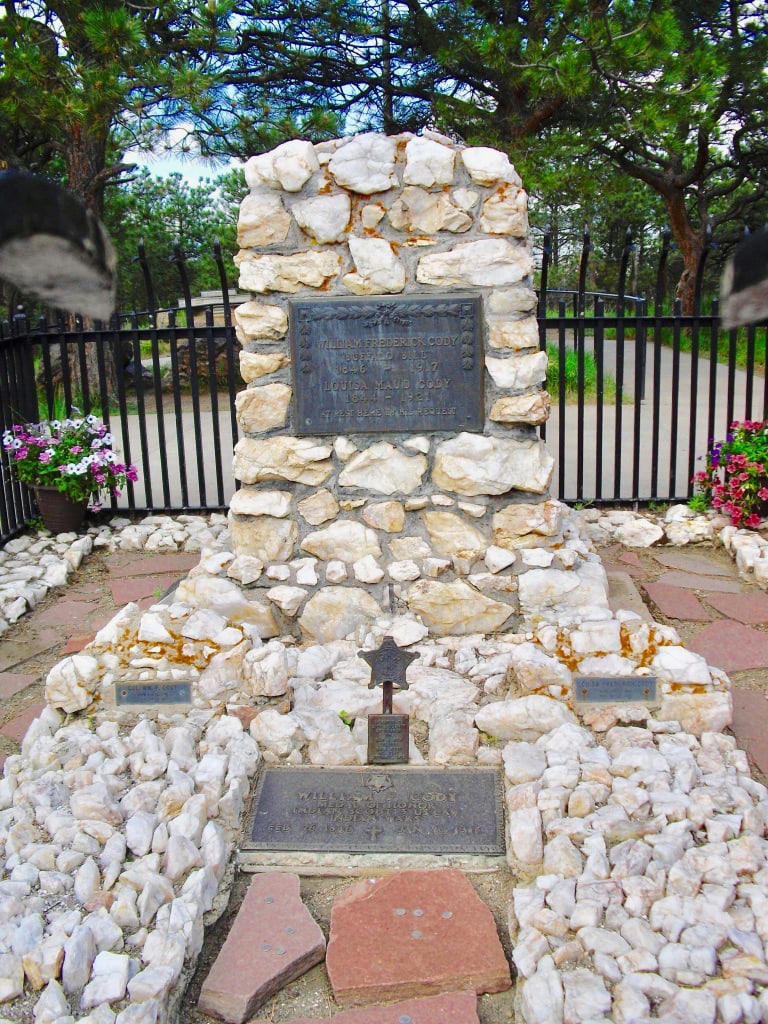 It's just a short uphill climb to the granite-pebble gravesite where Buffalo Bill was laid to rest in 1917. Open Spring and Summer daily 9-5, $5 adults, $1 kids.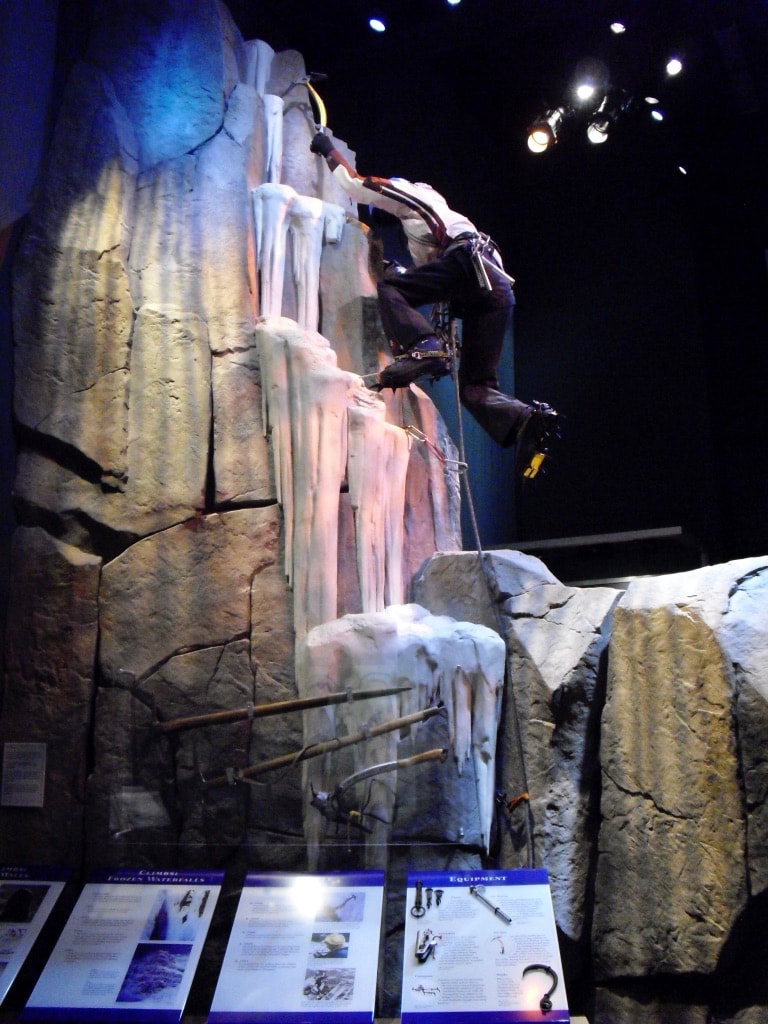 If you have an appreciation for the extreme sport of high-peaks rock and ice climbing, this fun and sometimes unnerving museum, dedicated to the heroism, technology, culture and spirit of mountaineering, is a joy.
Displays are quite dramatic – the centerpiece is a scale model of Mt. Everest – and you'll discover how far the sport of climbing has come in 50 years; in 1958, it took climbers 17 months to ascend the Nose of El Capitan. In 2002, two climbers did it in 2 hours 48 minutes. Open Tues-Fri, 10-4, (Wed till 6pm), Sat, 12-5, $7 adults, $3 kids.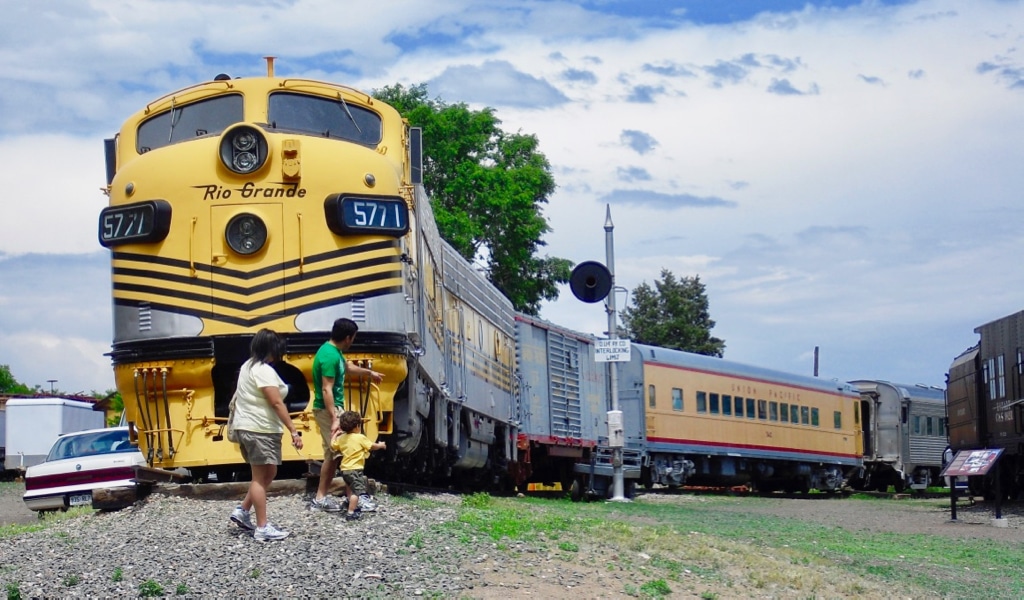 An amusement park for all train enthusiasts, this 12-acre outdoor museum is stocked with old steam engines and train cars from every era. A scaled down (but still large) engine pulls tourists around a short track.
There's a model train set downstairs in a recreated 1880-style masonry railroad depot, but it will cost you a quarter to make the train go. Skip it and climb on the big trains outside. Open Tues-Sun 10-5, $10 adults, $5 kids.
If you have extra time, this small recently expanded museum, set right on the raging Clear Creek takes an intimate, down-home approach to Golden's history. Fans of pizza, beer, and Jolly Rancher candies will be particularly captivated by exhibits here. Open Wed-Sat. 10-4, free.
Best Restaurants in Golden CO
D'Deli is crammed with Panini and salad lovers during the lunch hour. Sandwiches are inventive, fresh and amazingly good. You can customize your own salad or choose from menu items. To make it even more appealing, the owners and staff are a funny, helpful and engaging bunch.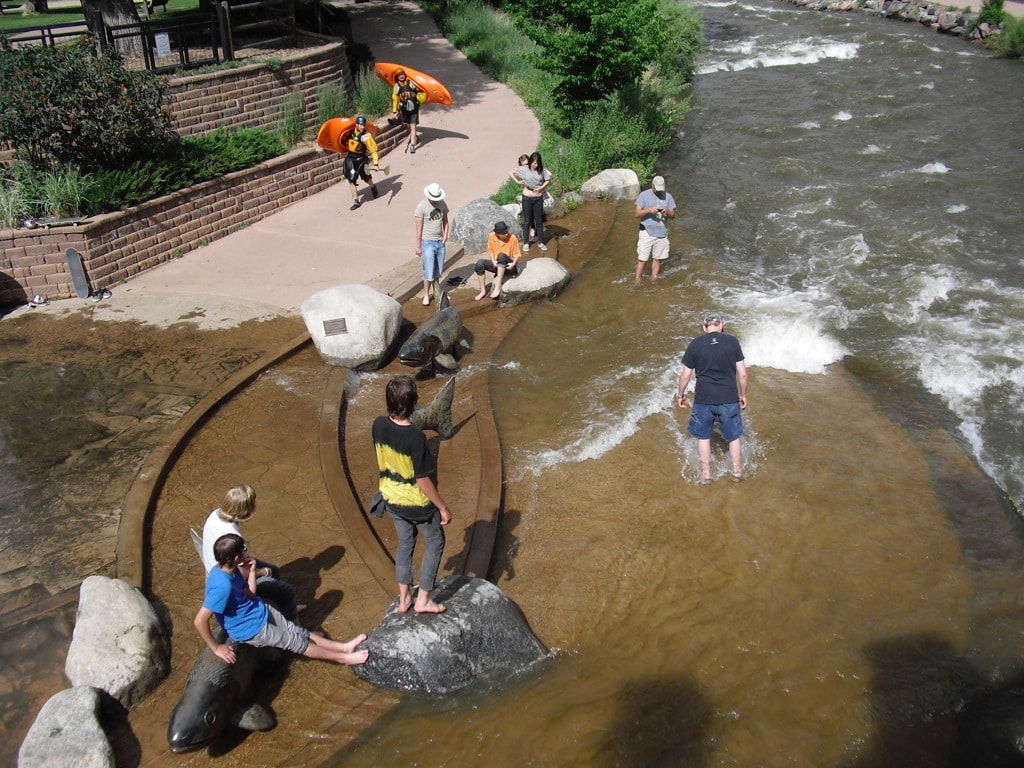 The hotel sits right on the beautiful clear creek, and the restaurant takes advantage of this to the max. You'll see kayakers and families splashing in the clean, coursing water. The views are phenomenal, the food is good and service is friendly.
EAT: Locals Recommend
Woody's Woodfired Pizza for pies even New Yorkers love. Abejas for New American special occasion dining. Colorado + 49 Cidery Pub for cider/beer flights and Nashville Hot Chicken sandwiches. Miners Saloon for small plates.
Best Places to Stay in Golden CO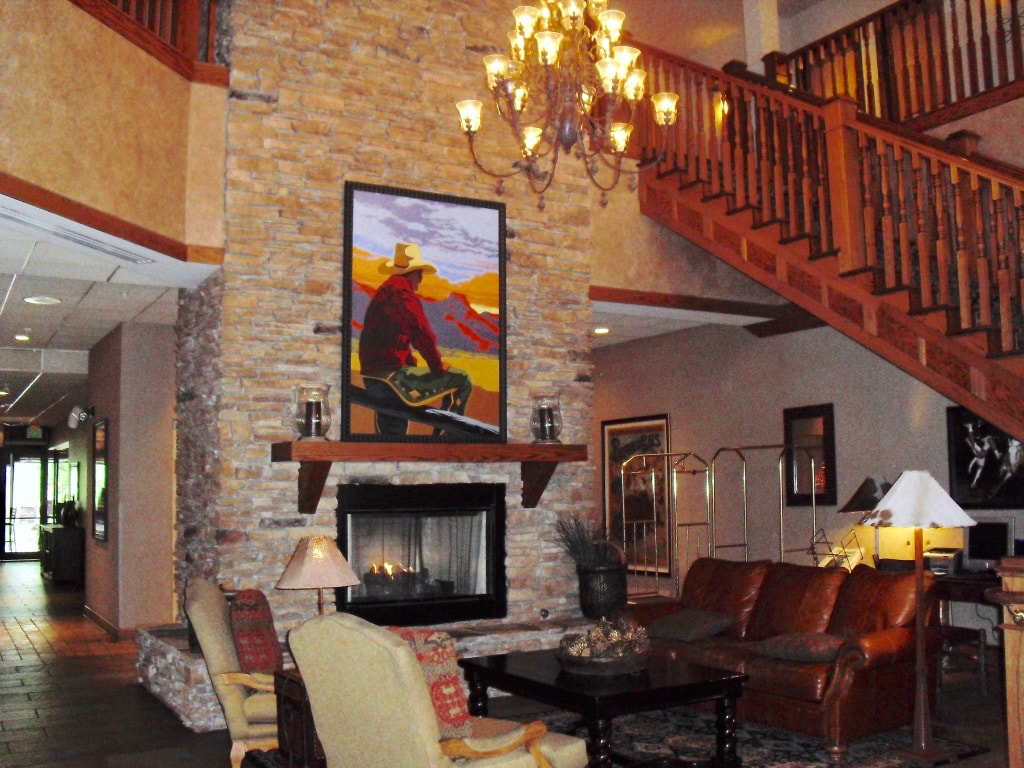 STAY: The Golden Hotel
The clubby lobby has the feel of a luxurious mountain lodge, and the location – right on the creek in the heart of town – can't be beat. Room rates from $125 off season.
Table Mountain Inn has an interesting Southwest theme. You may actually believe you're in Arizona if you book a room overlooking the "table" butte atop the mountain. Rooms are nice and clean, with great luxury bedding and terra cotta tiled bathrooms. Room rates from $130 off-season.