WHY GO: The Harriet Tubman story continues into Caroline County MD. Though a powerful draw, that's not the only reason to come and stay a few days. There are some surprisingly sophisticated restaurants and inns, funky and cool local-arts and craft stores, and a Specialty High School for the Culinary Arts in tiny Eastern Shore towns surrounded by vast tracks of farmland.
Where is Caroline County MD? In the center of the Delmarva Peninsula, it's the premier agricultural county in Maryland, known more for what it grows in the earth than what it gleans from the Bay. You'll want to stay at least a night. Read on.
Things to Do in Caroline County MD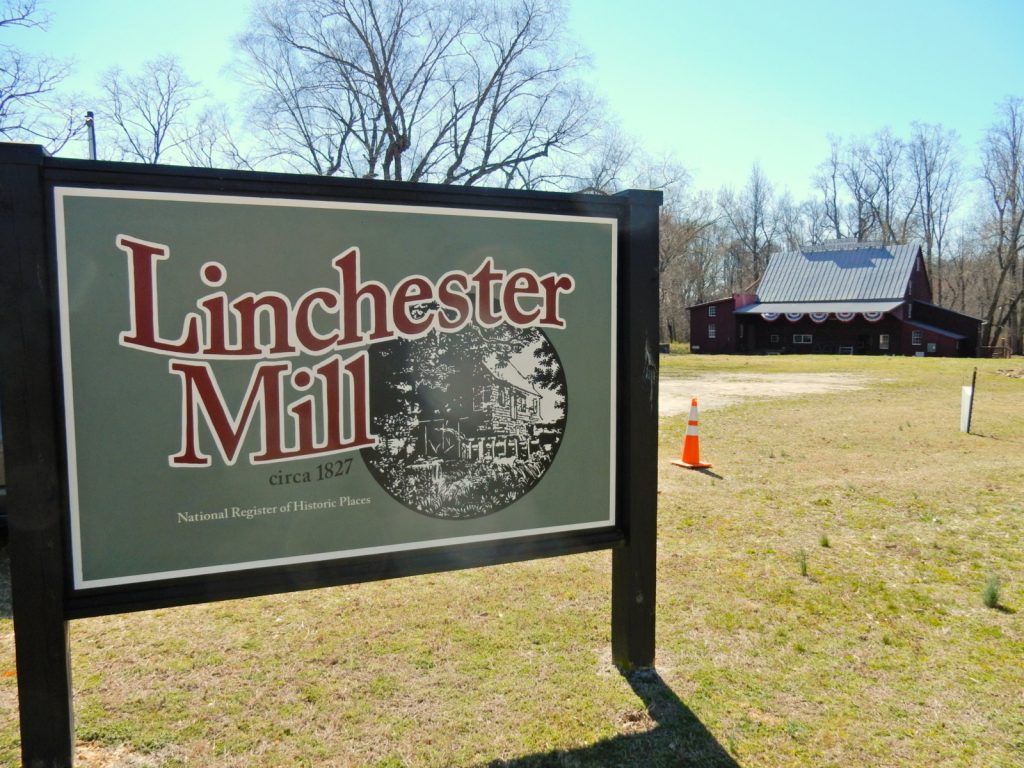 The Linchester Mill complex includes the grist mill, of course, but also Maryland's only Braille Nature Trail. The mill itself was an inadvertent gathering place for slaves, free blacks, and white sympathizers, who all brought their grain to be milled here.
In fact, though there is no documentation, it's probable that Harriet Tubman's father, Ben Ross, came to this flour mill. He lived just two miles away in Poplar Neck, the spot from which he, his wife, and Harriet escaped the Eastern Shore. The Mill, currently in a ramshackle state, is open for self-guided tours.
You'll get a good sense of how dense the woods were in the mid 1800's along Hunting Creek. Tubman and her family and friends had to find their way along the creek that feeds into the Choptank River in the dark of night. It was a punishing journey.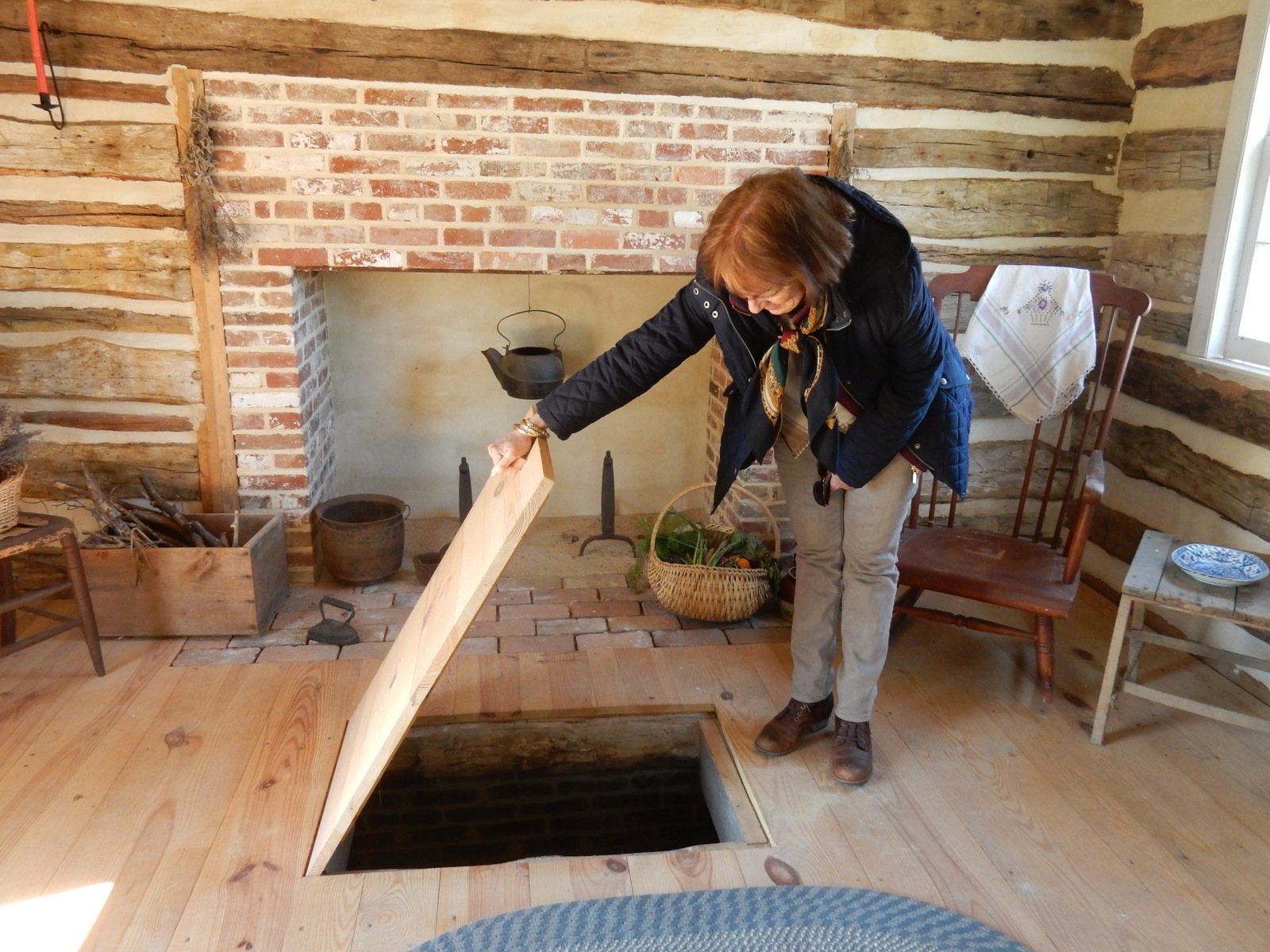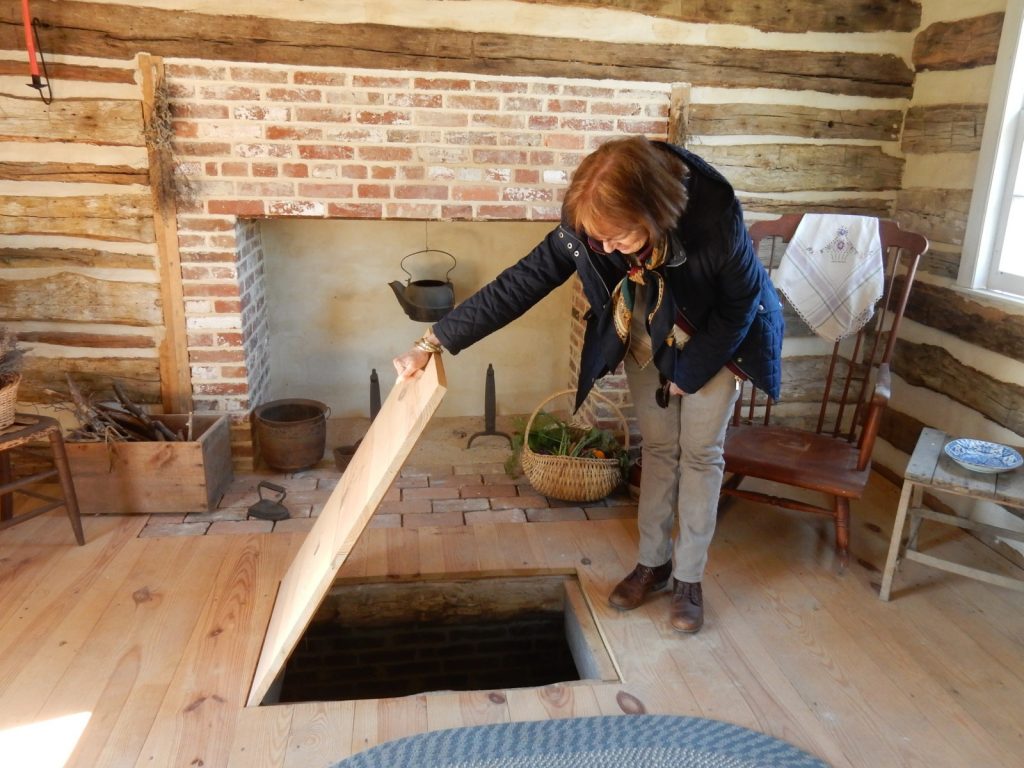 Owned by free Black farmer, James Webb, this 1850's homestead was a typical African American one-room farmhouse with loft and root cellar. There is no documentation that that root cellar was a "hidey hole" for runaway slaves. But that doesn't mean it wasn't.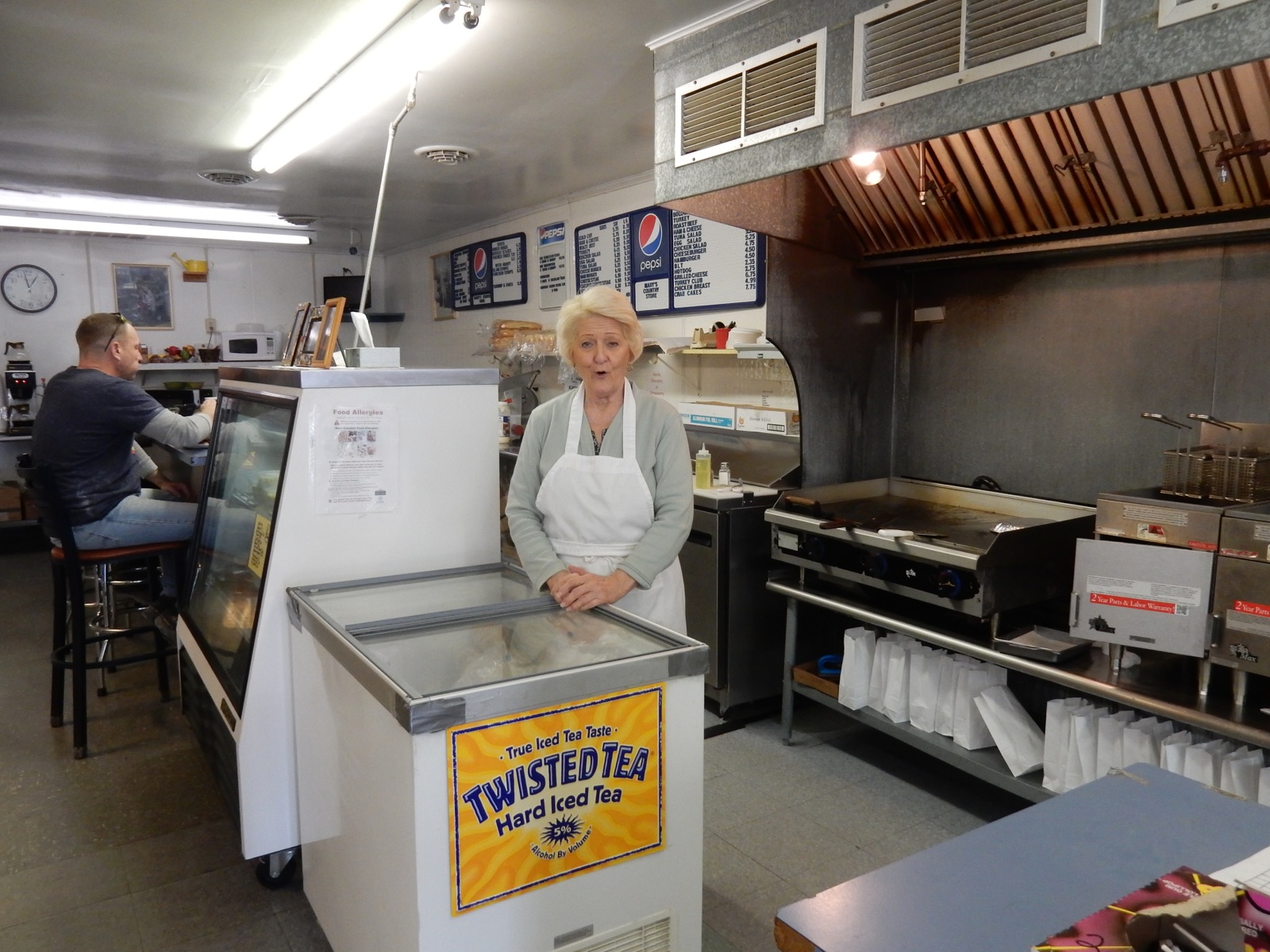 STOP/SHOP/SNACK: Mary's Country Store, Harmony
Mary's is a cute little country store on the Tubman Byway. Owned for 25 years by Mary Vonville, her scratch brownies and crab cakes are known far and wide. Harmony is not much of a town – there's Mary's and….. not much else.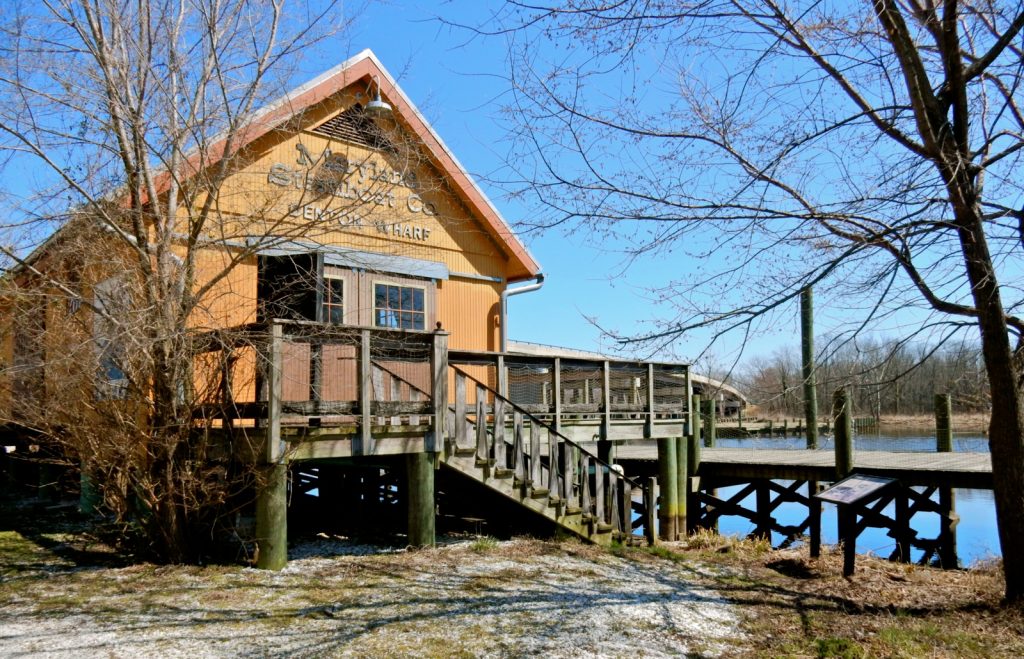 This site doubles as an Underground RR Byway stop. Situated on the Choptank River, slaves were offloaded for auction at Steamboat Wharf. Ironically, the Wharf also teemed with free Black watermen who brought news, passed gossip, and whispered escape advice.
One such celebrated escapee was Moses Viney, whose portrait hangs in the Union College library in Schenectady NY. One Easter Sunday, Viney fashioned oars from two fence posts and rowed a stolen canoe to freedom.
Viney planned his getaway for months, training the slave-catcher's hounds to quietly expect treats and then go home, rather than loudly give chase. He reached Schenectady, worked for Union College, and owned his own carriage service. After awhile, Viney saved enough to purchase some downtown buildings.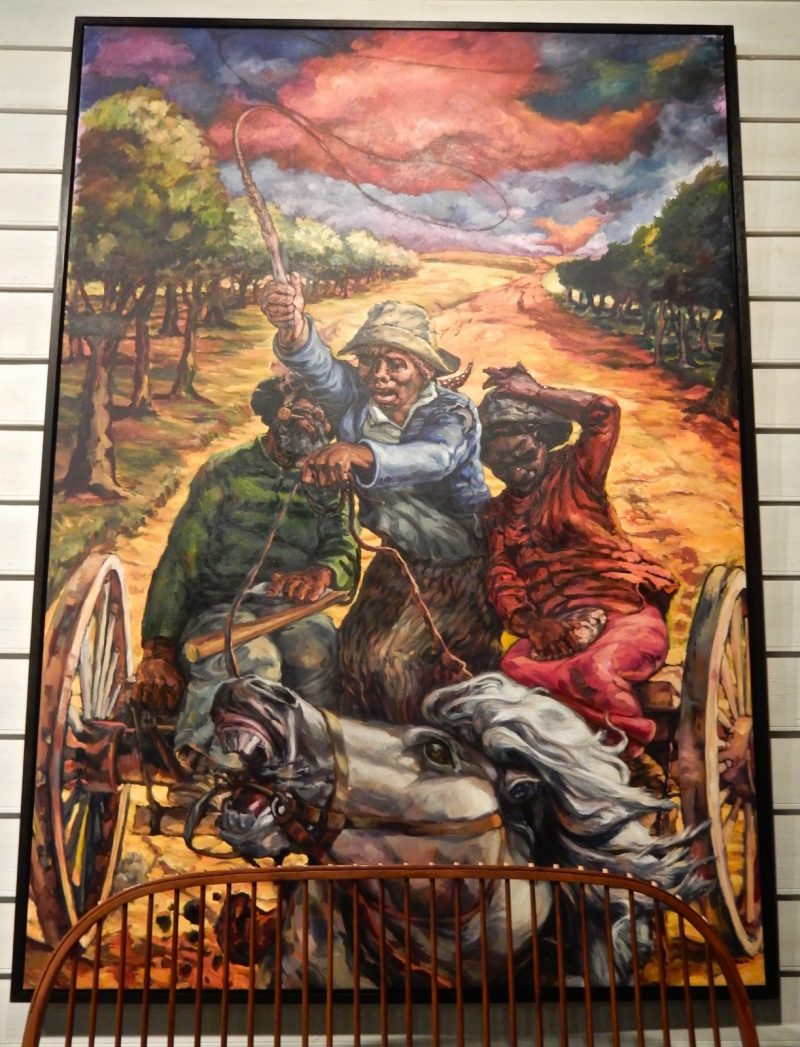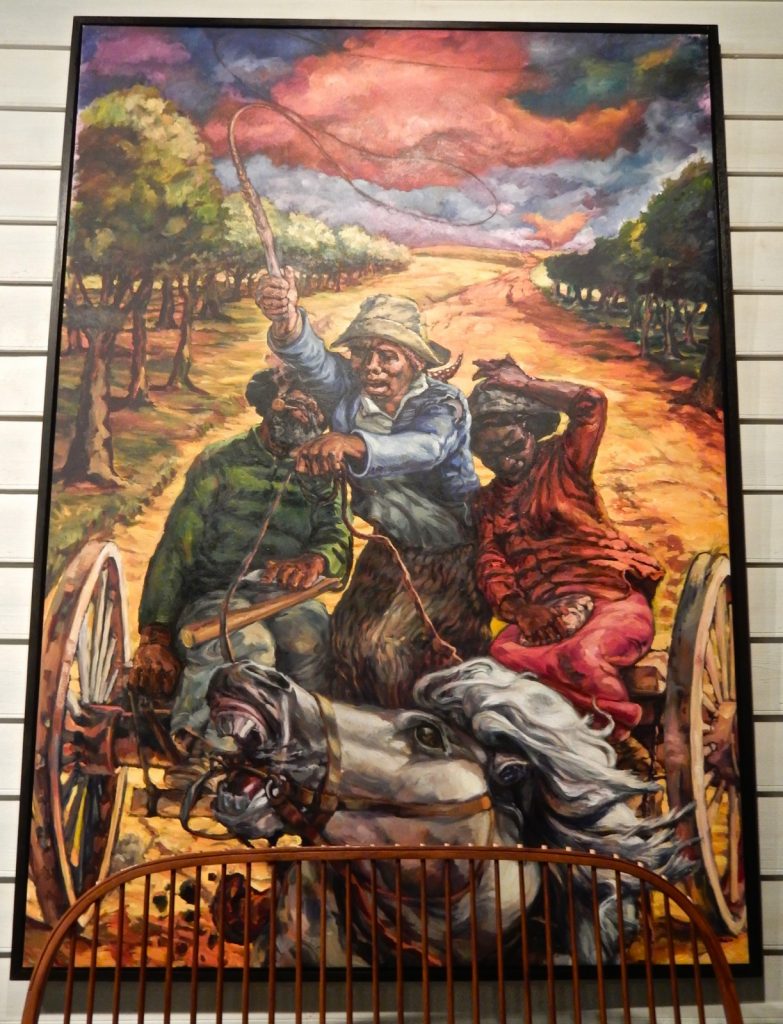 Plan to spend 20 minutes or half an hour in this 1819 Town Home, now a small museum. Take a long look at the original "Escape From Poplar Neck" – the painting of Harriet Tubman and her parents riding for their lives out of Maryland. (A copy hangs in the Harriet Tubman Visitor's Center in Cambridge).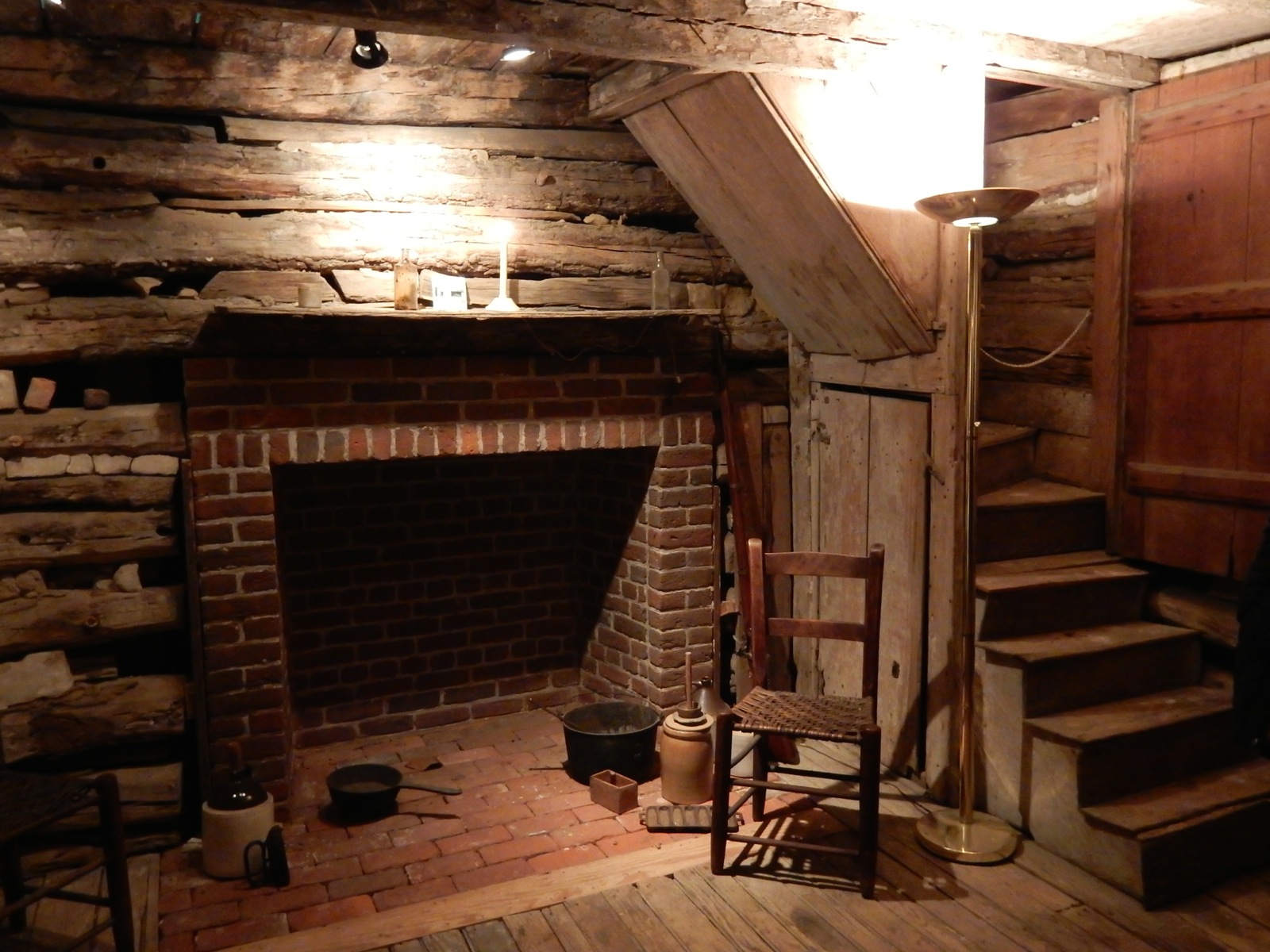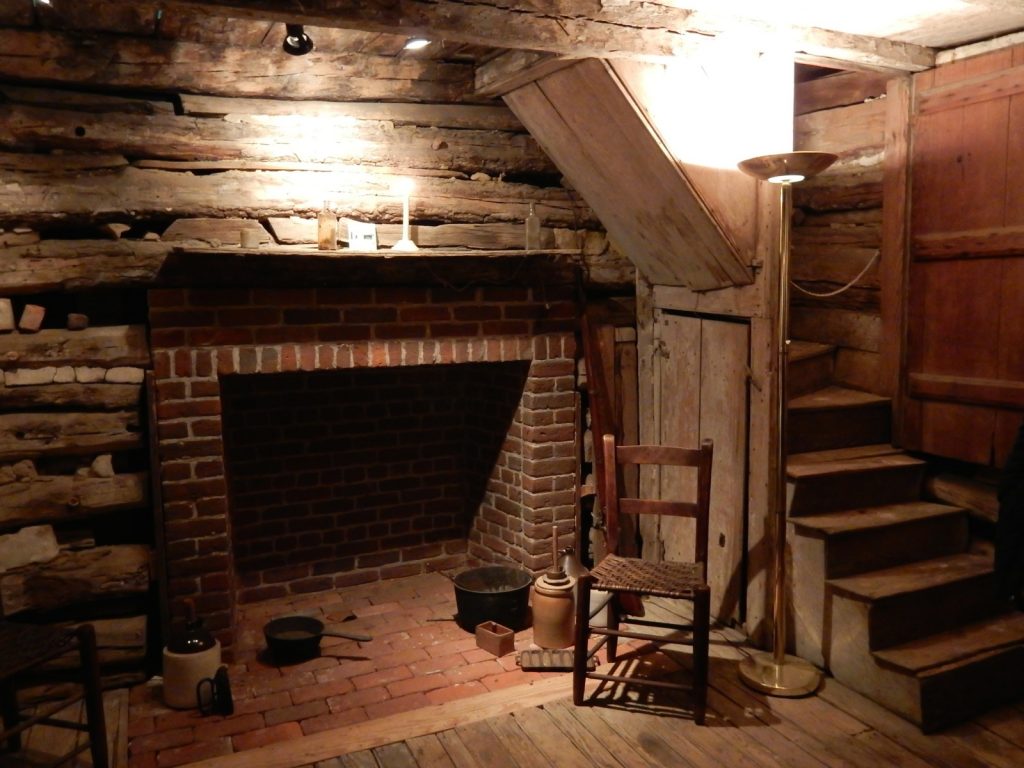 Also find an original farm cabin and a parlor from a 1790 home. The photomural titled the "Seeding of Alaska Peas," dated March 1906, allows a glimpse of local farm life. No big surprise that at one point, Caroline County MD was considered the "Garden of America."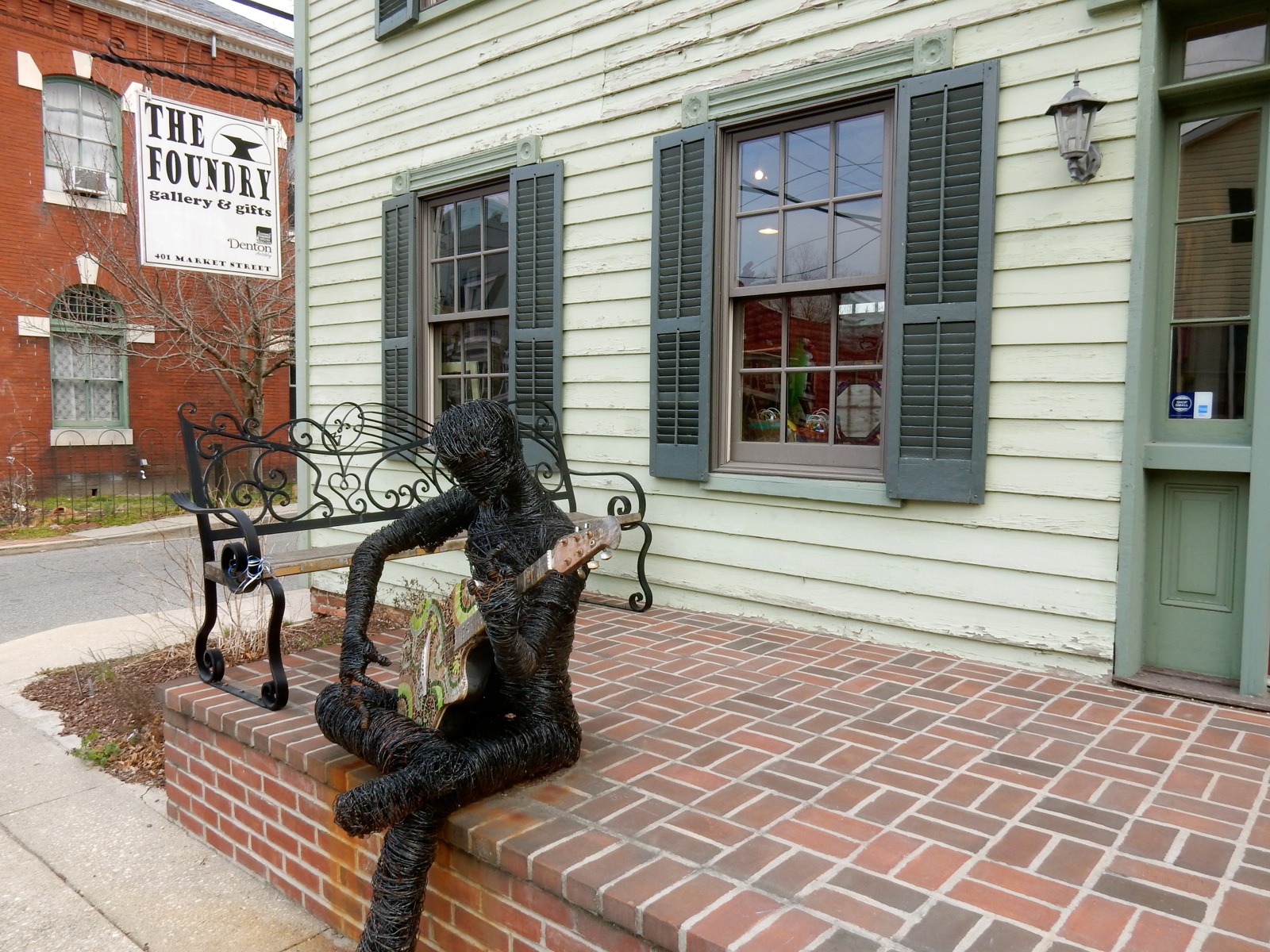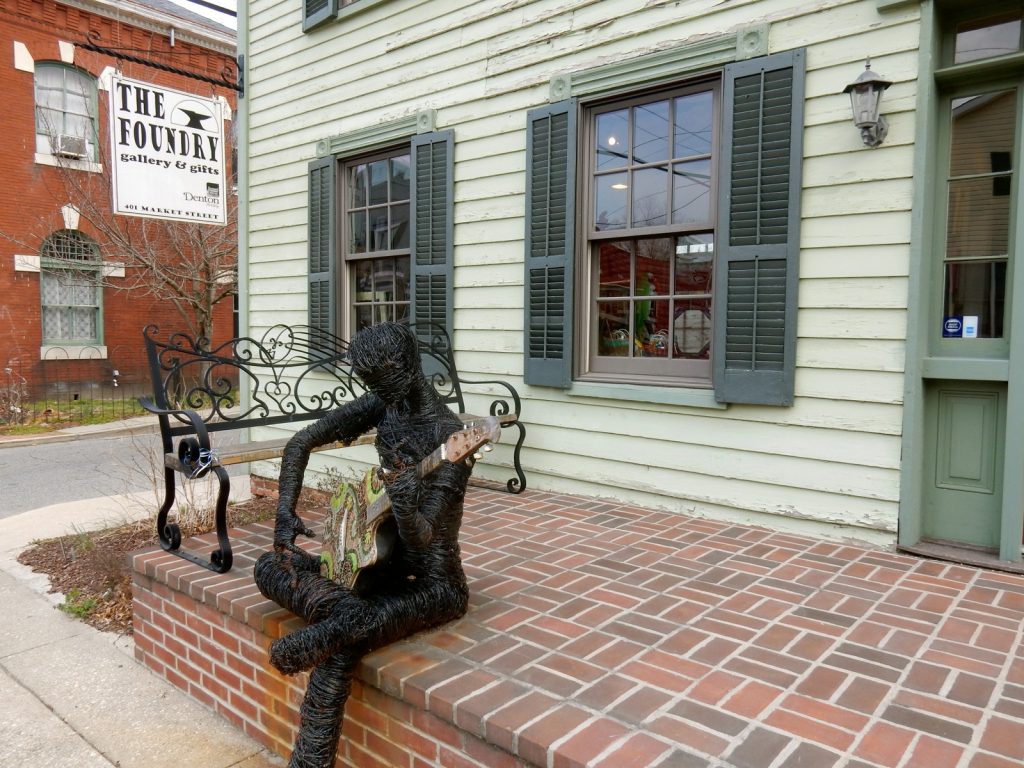 Forward thinkers in this tiny farm town took a derelict neighborhood and turned it into an "Arts and Entertainment" district.  Artists were offered incentives to buy or rent houses, fix them up and use them as studio/shops. The results have been fantastic – for creatives, visitors, and locals alike. A true win-win-win.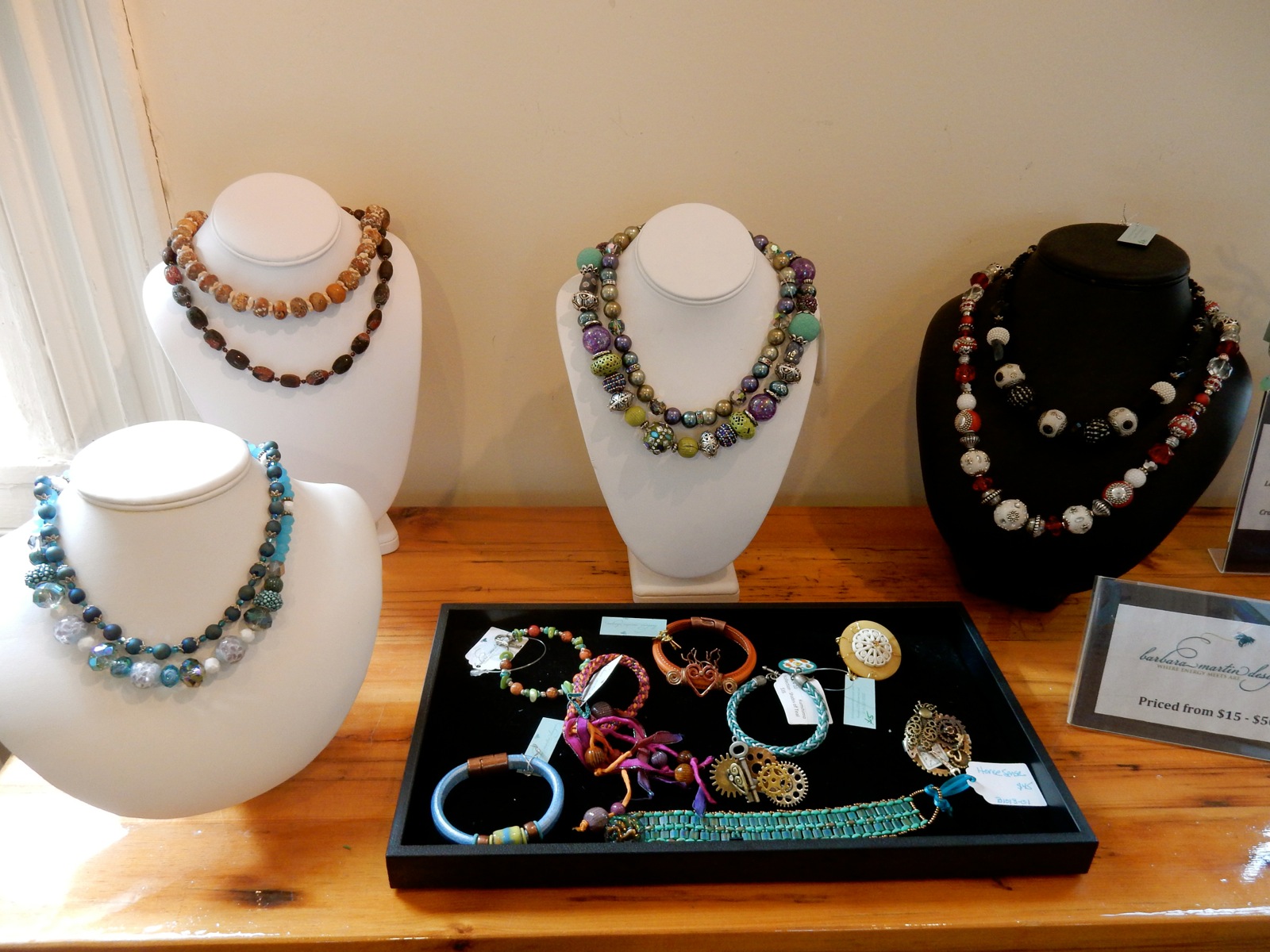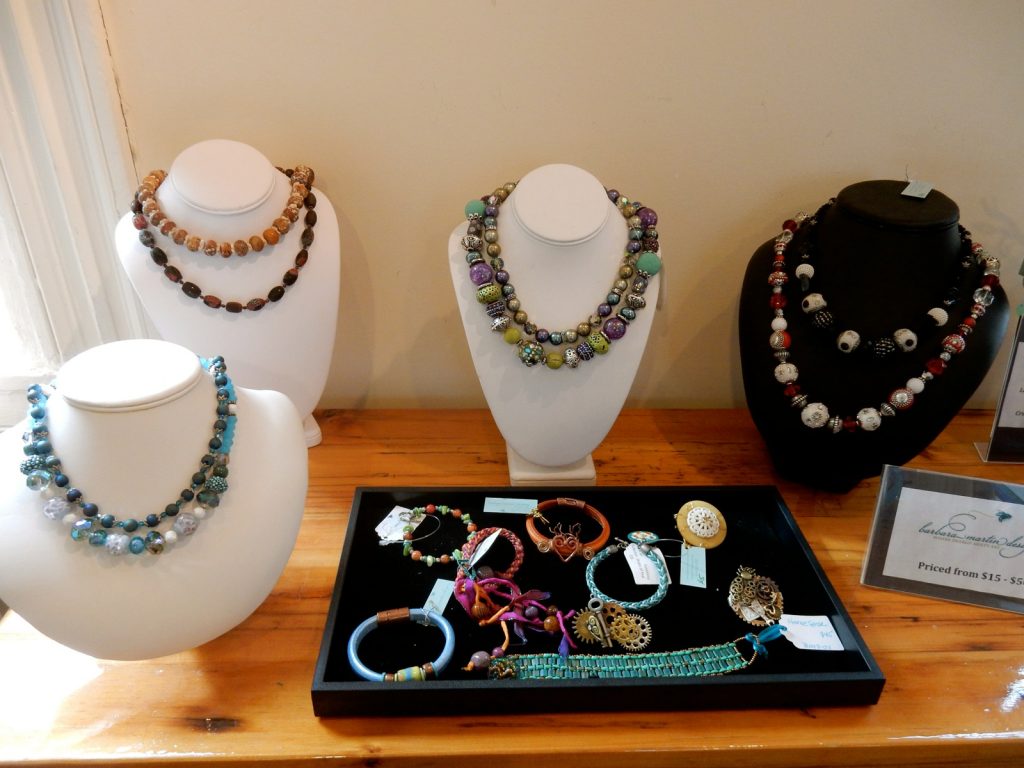 The Foundry Art Gallery gathers the work of 50 local artists in one place, with offerings as far from cookie-cutter as you can get. You'll find arts and crafts here you won't see anywhere else for much less than you'd spend in cities or resort towns.
Large silk-screen pillows are $50. One of a kind jewelry from $30-$40. And you'll find woodwork, paintings, and handmade furniture at reasonable prices.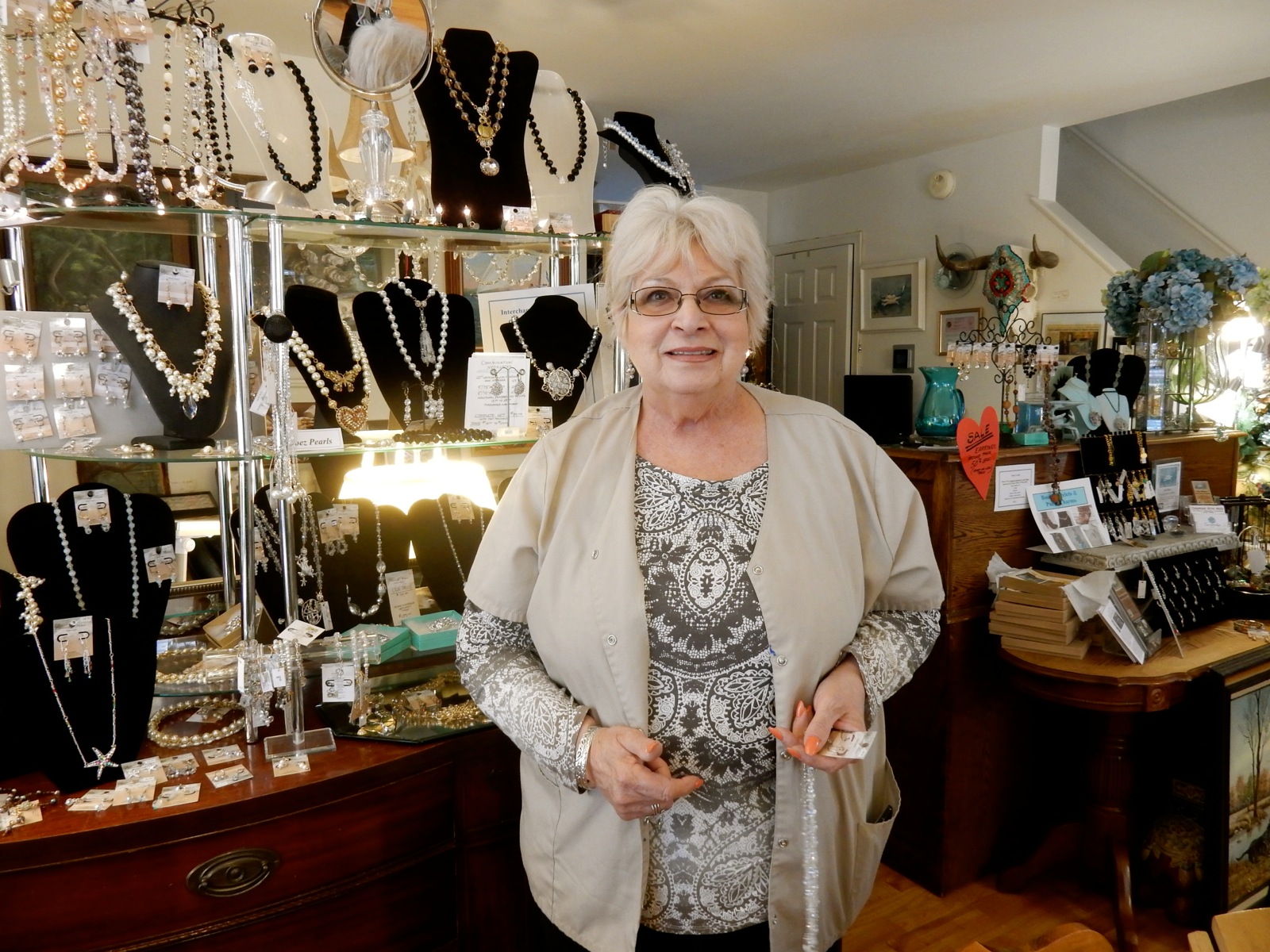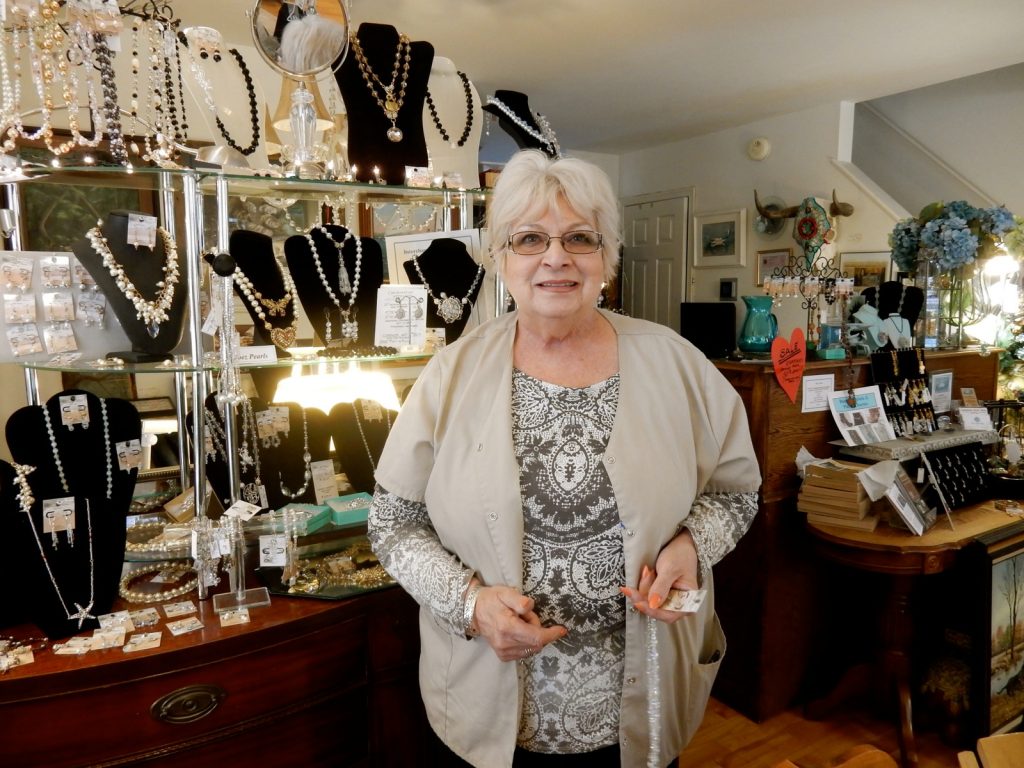 Jan creates fun and funky fashion jewelry. Some sport semi-precious stones that are so unique, a world-traveled craft jewelry maven like moi hasn't seen the likes of them anywhere else. You probably won't need much cajoling to pick up at least one seahorse themed multi-chain necklace ($49.95). At least I didn't.
SHOP: Other shops on 4th in Denton
Fiber Arts Center  hosts "sit and sew" groups.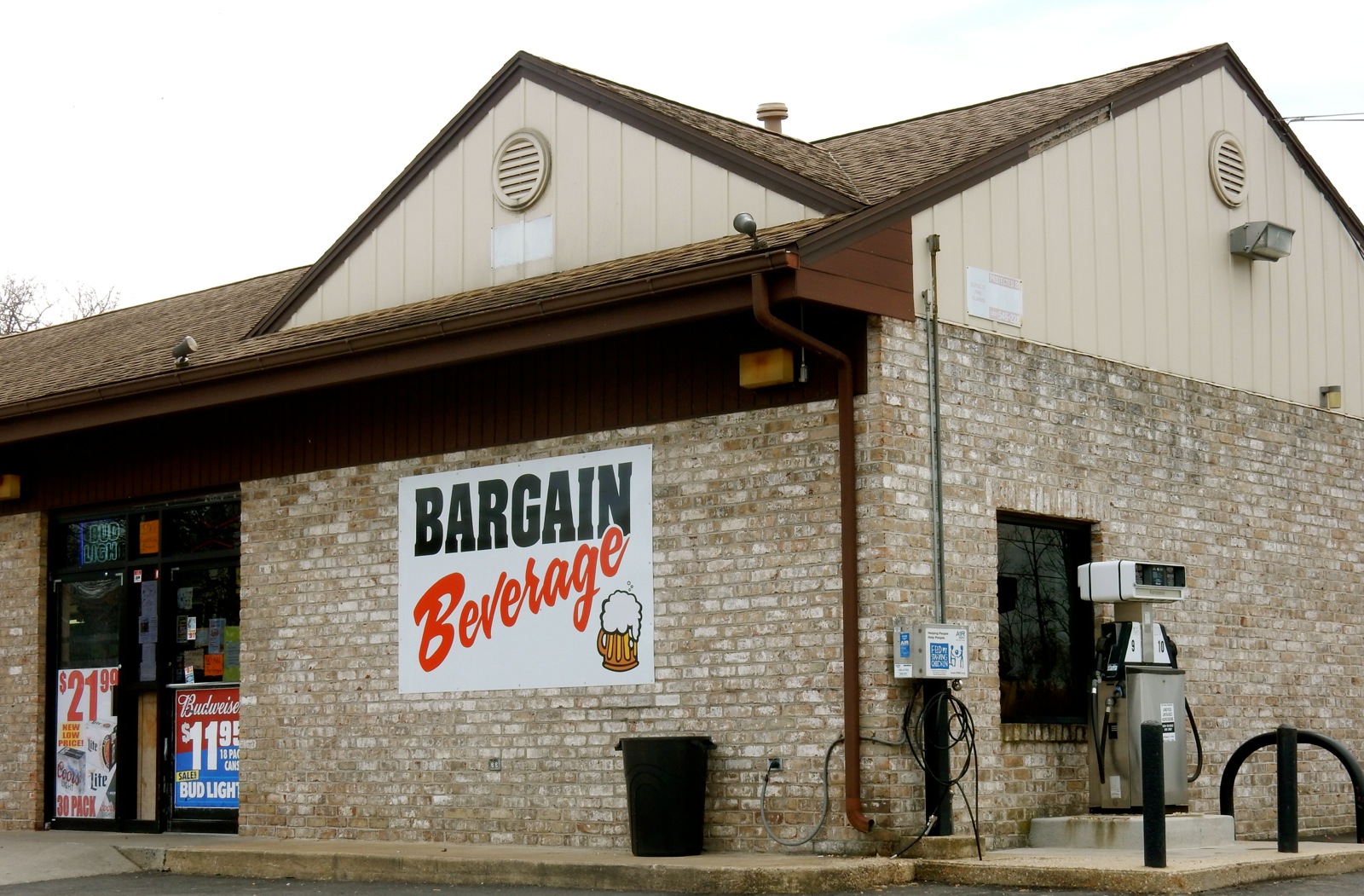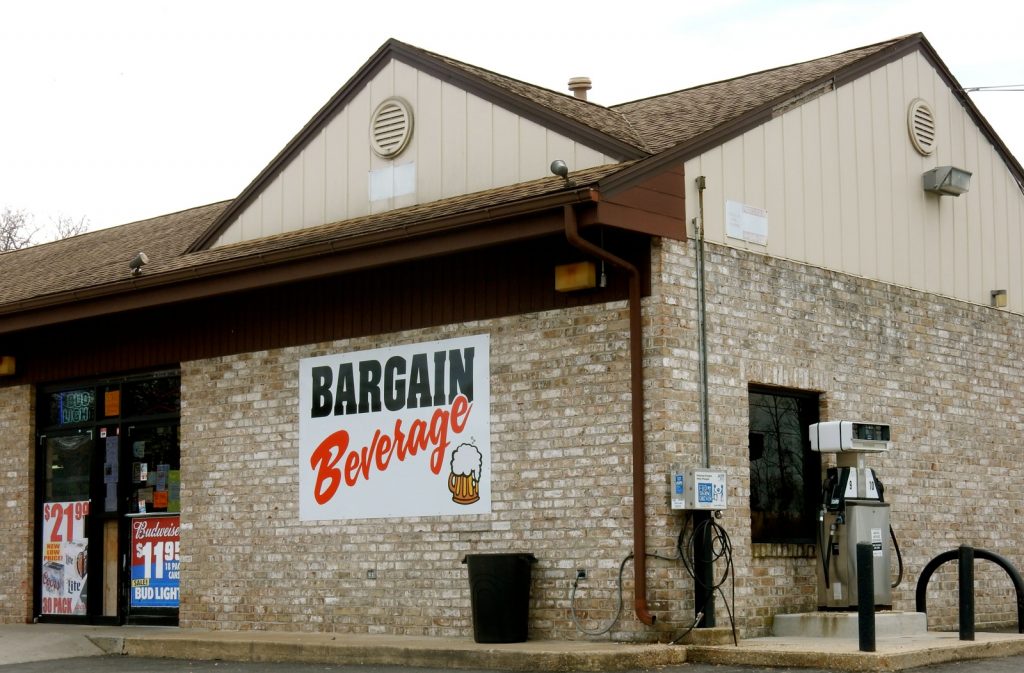 SHOP: Bargain Beverage
In the know beach-bound tourists stop here between Baltimore and the beaches for booze. It's apparently the cheapest and most convenient place on the road to stock up on spirits. But now that you know what else is in town, you'll want to stay awhile.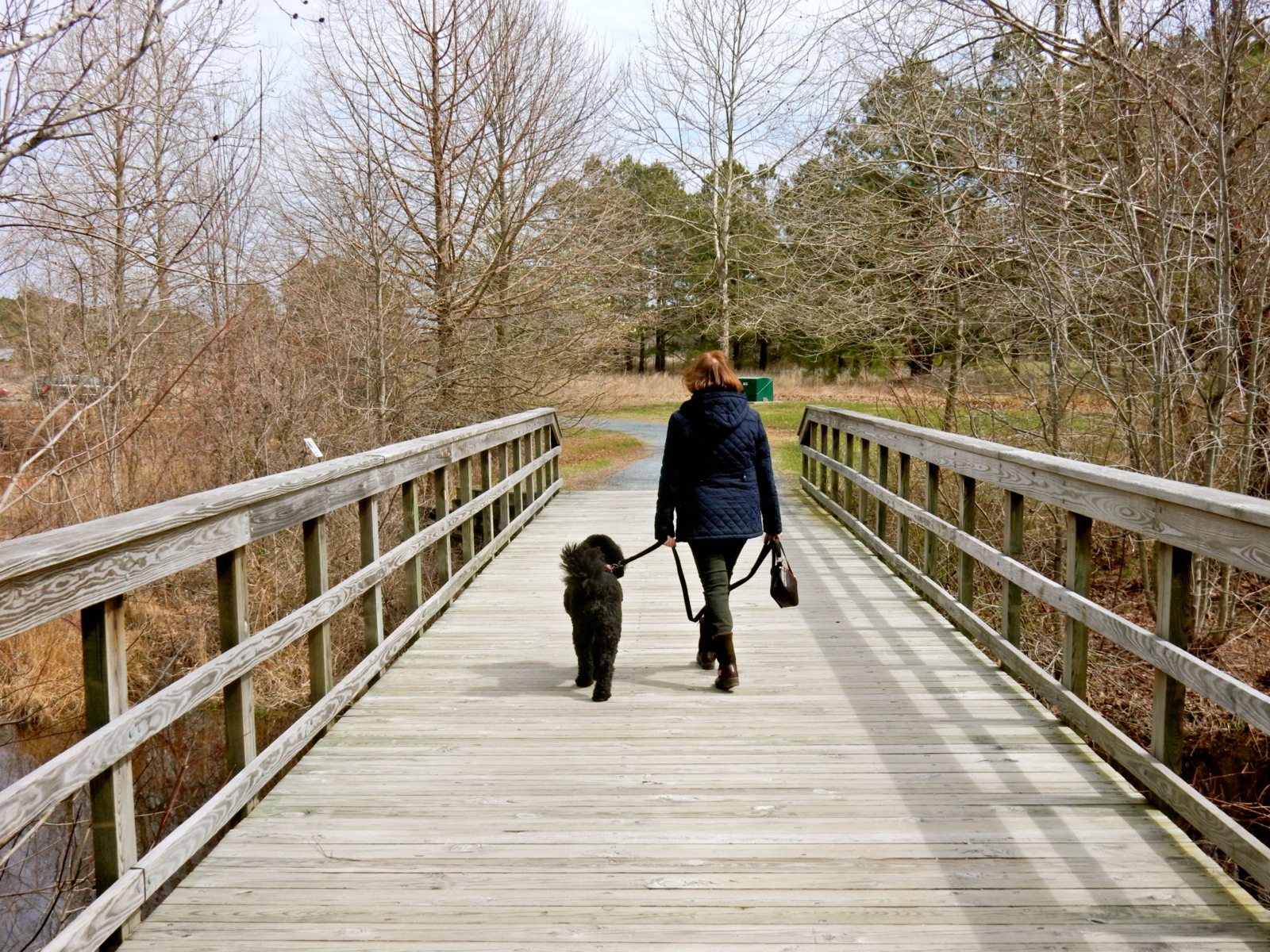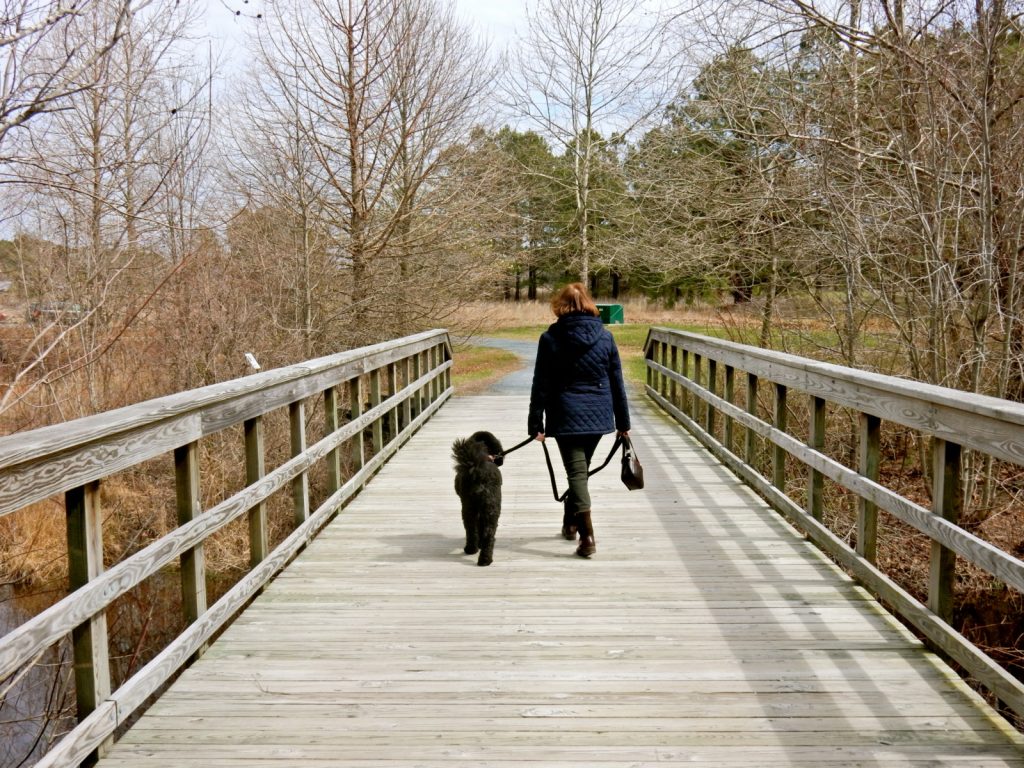 With four miles of well-marked bike and walking trails, this 400-acre preserve has been a magnet for nature lovers and birders since it opened in the 1980's. Bring your dog (treats and bowls of water provided). Wander the wetlands, woods, meadows, streams and gardens. Investigate native Maryland plantings. And say hi to four resident goats that eat invasive species – a low-tech approach to a significant problem.
If you have an hour, or haven't been here in awhile, stop in to the small but informative Visitor's Center. Alternately, check out this webpage, "Nature's Role in the Underground Railroad," a realistic imagining of what it felt like to be lost in the woods in the dark, with audio accounts of stops you can take along the way.
This tangled landscape hasn't changed much since Harriet Tubman's time, when she and others faced grueling natural obstacles "while breaking from bondage." $5 adults, $3 kids. Tues-Sat 10-4, Sun 12-4.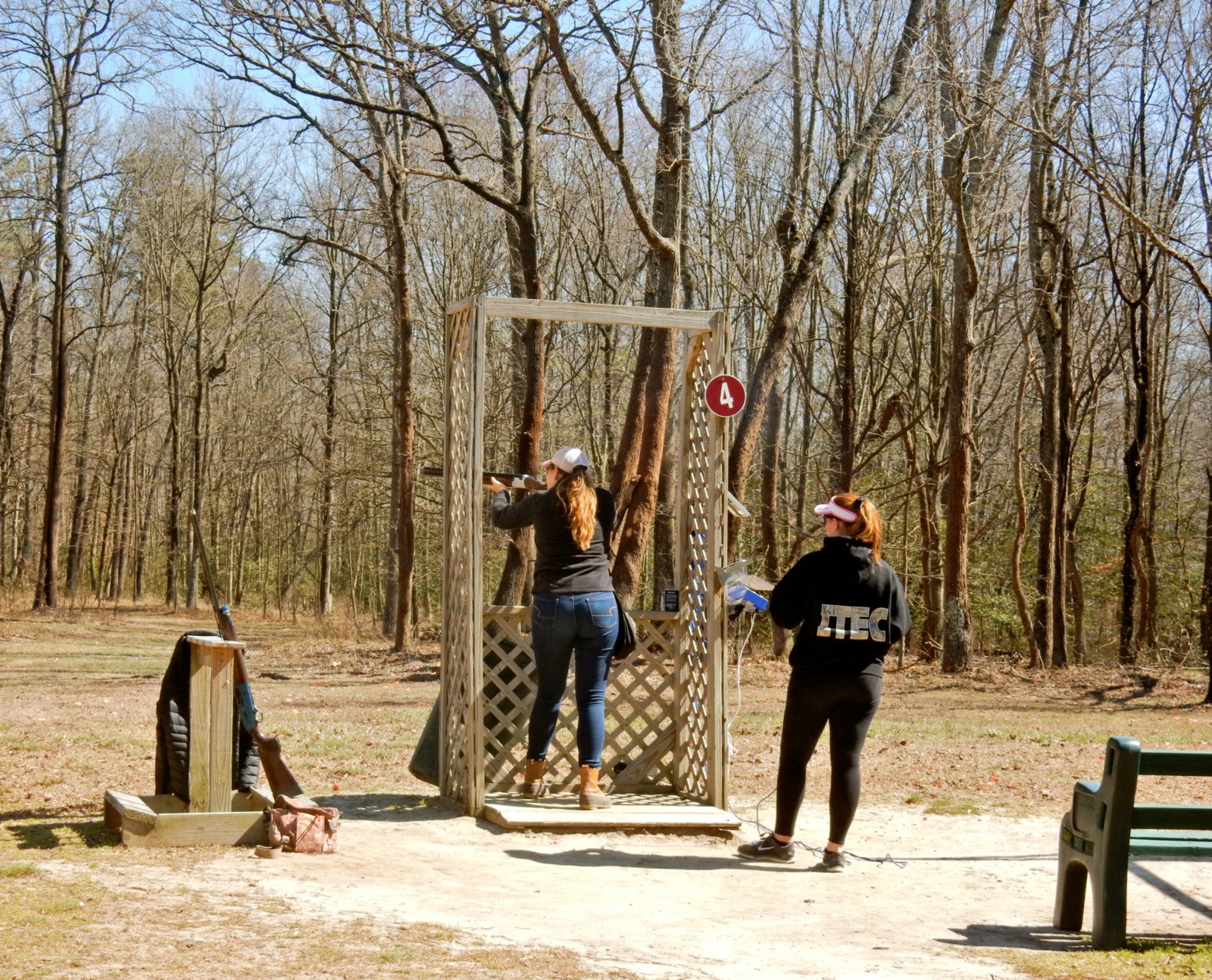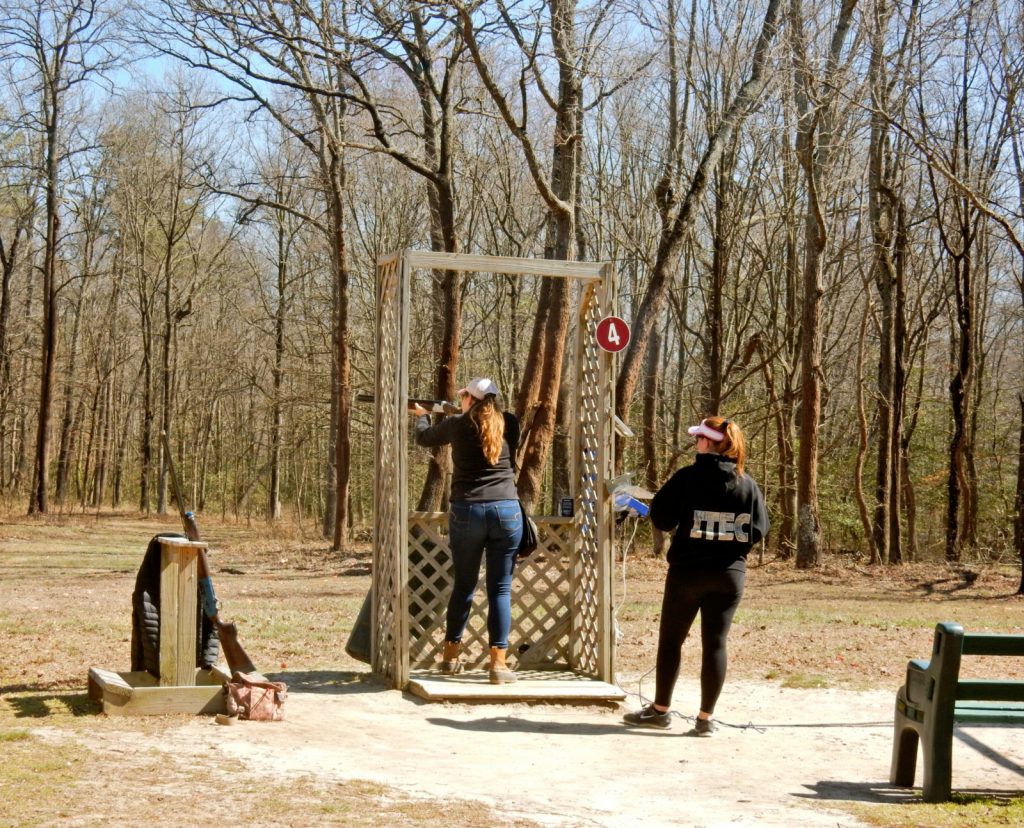 DO: Shoot Clays at Schrader's Outdoors, Henderson (aka Schrader's Bridgetown Manor)
Schrader's Bridgetown Manor is known as a "hunting lodge" and sportsman's retreat. In fact, there's a hidden poker room behind a wall, and lockers for muddy camouflage-wear and ammo. But Schrader's also offers one of the best Sporting Clay courses – what aficionados call "golf with a gun"- in Maryland.
You'll find 16 stands on a scenic one-mile course, taking you through forest, field and by a turquoise-water-filled gravel pit. For those who want to test their sharp-shooting skills but don't want to kill anything, Sporting Clay is the perfect activity.
Come for the day, or plan to stay the night in one of 10 guest rooms. Schrader's Outdoors runs many competitions and programs, including deer, small game, turkey and upland bird hunting, 3-D archery, sport fishing, Corporate Team Building, and other packages on 25,000 acres of "the finest hunting properties on Maryland's Eastern Shore."
$195 Beginner Sporting Clays Package includes gun rental, one hour of instruction and lunch. Dozens of other packages from clay to hunting. Check website.
Faulkner's hard cider is made with apples from its own orchard, and is the only hard cider made on Maryland's Eastern Shore. Come in for a tasting on Saturdays from 4pm-8pm.
Restaurants in Caroline County MD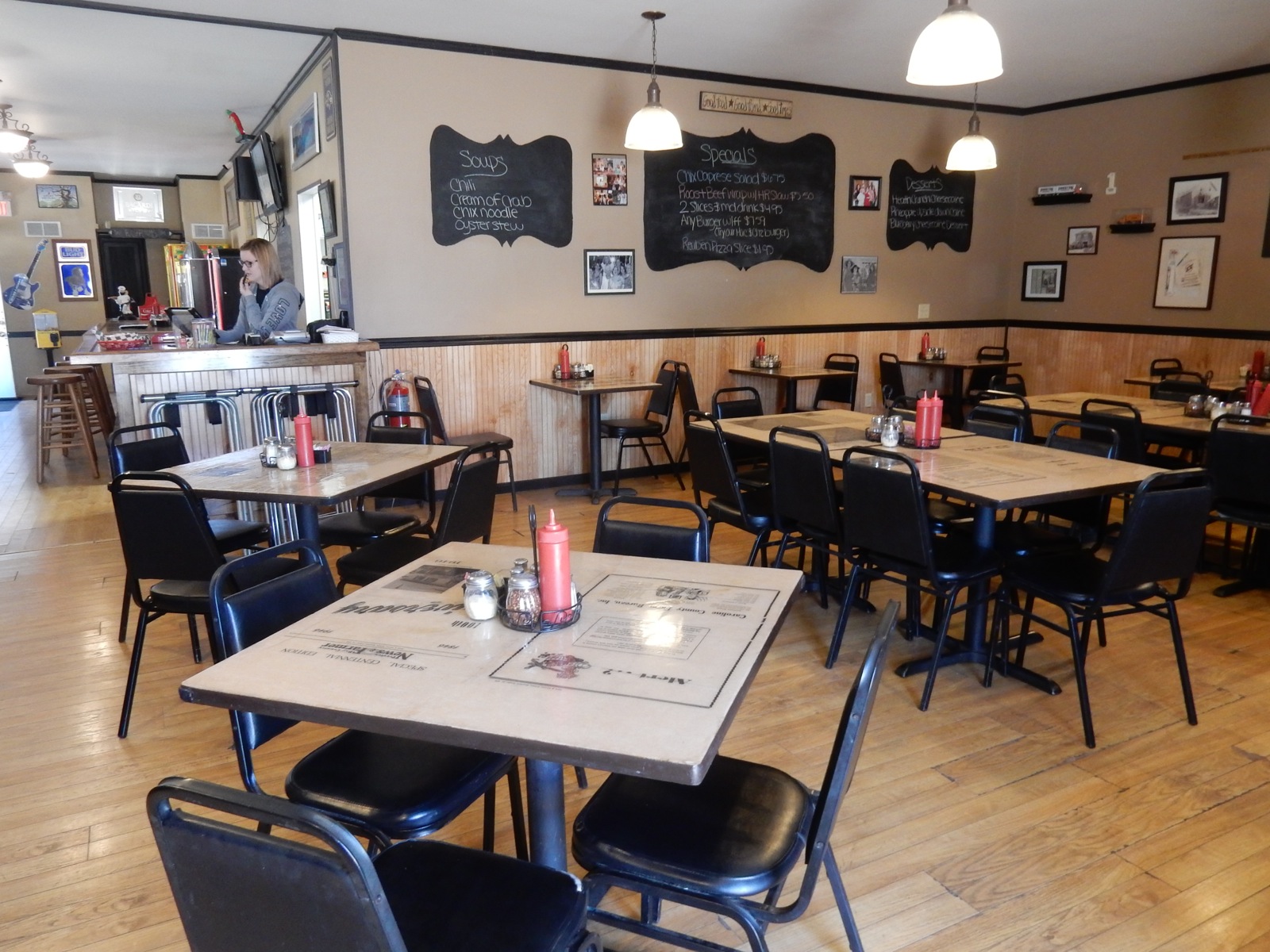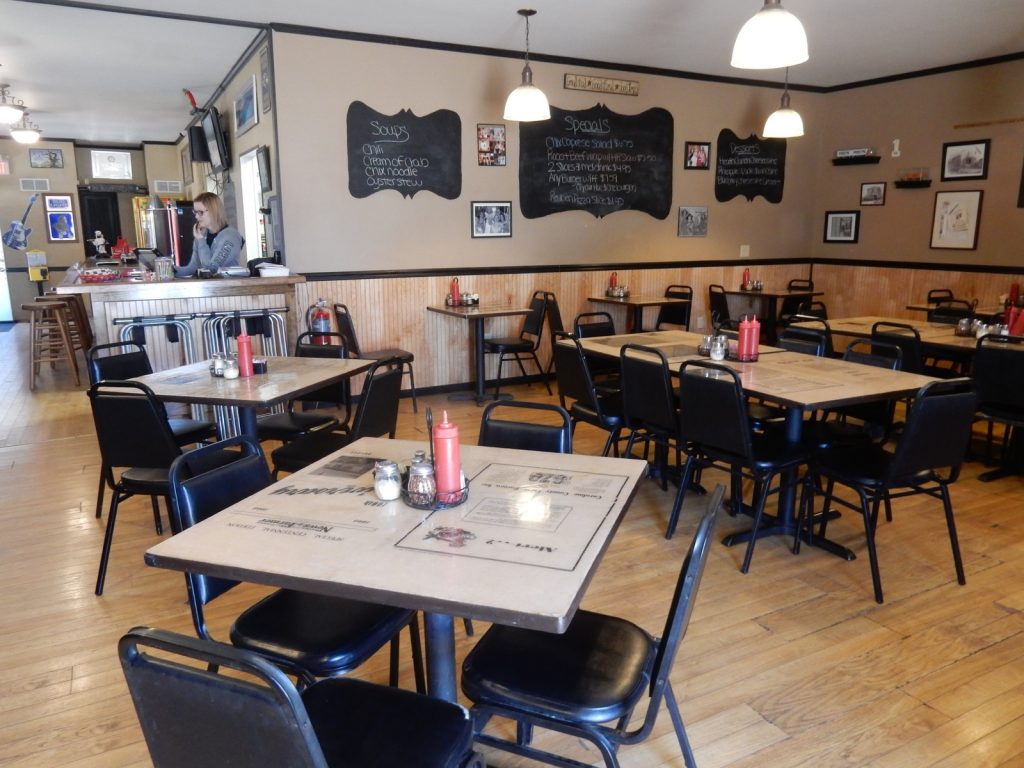 On the Harriet Tubman Byway – this makes a great stop for lunch. It's got your basic sandwiches ($5-$7), subs ($6-$8), and of course local faves, like Cream of Crab Soup and Oyster stew, served up in an unpretentious homey space.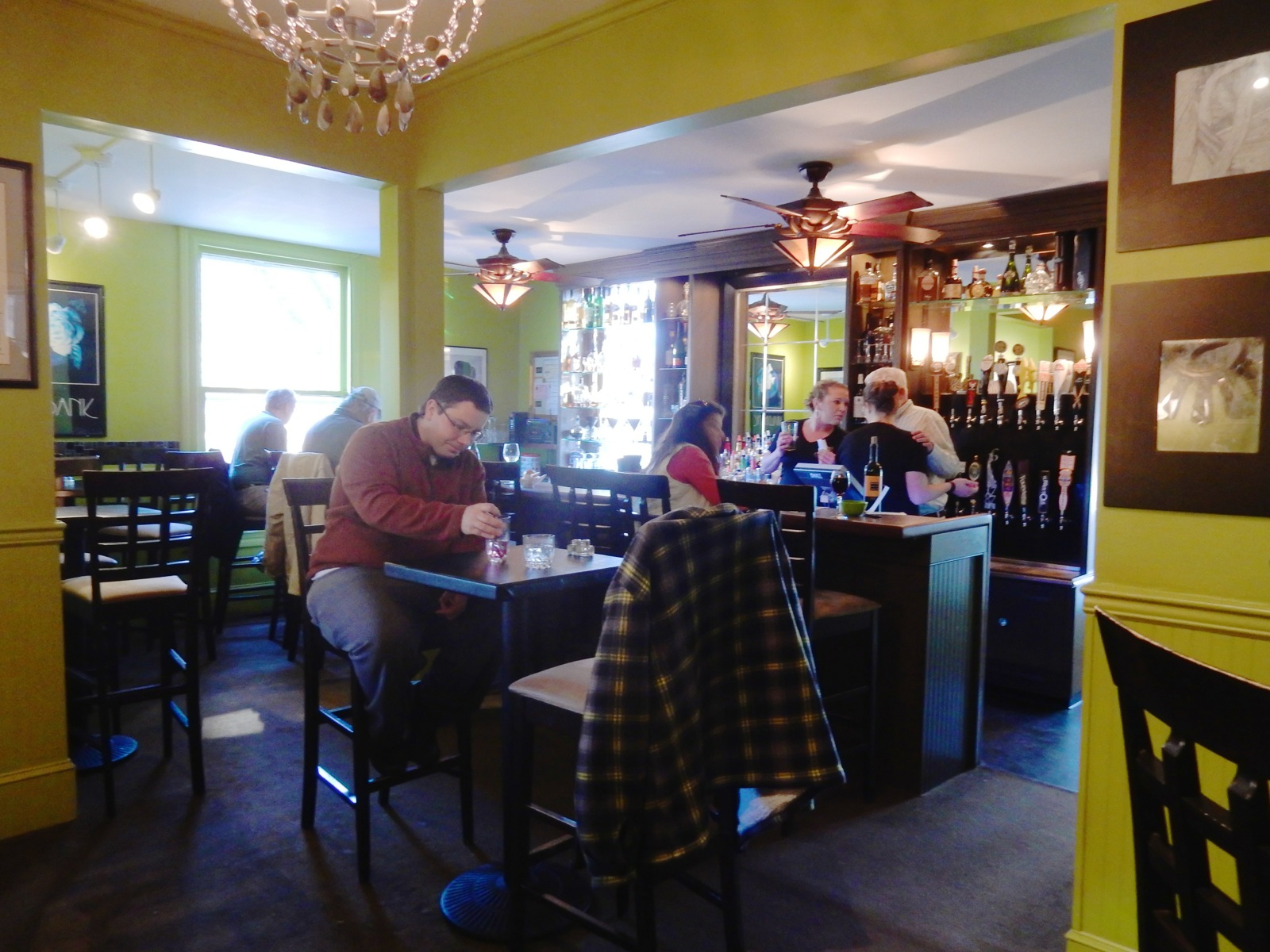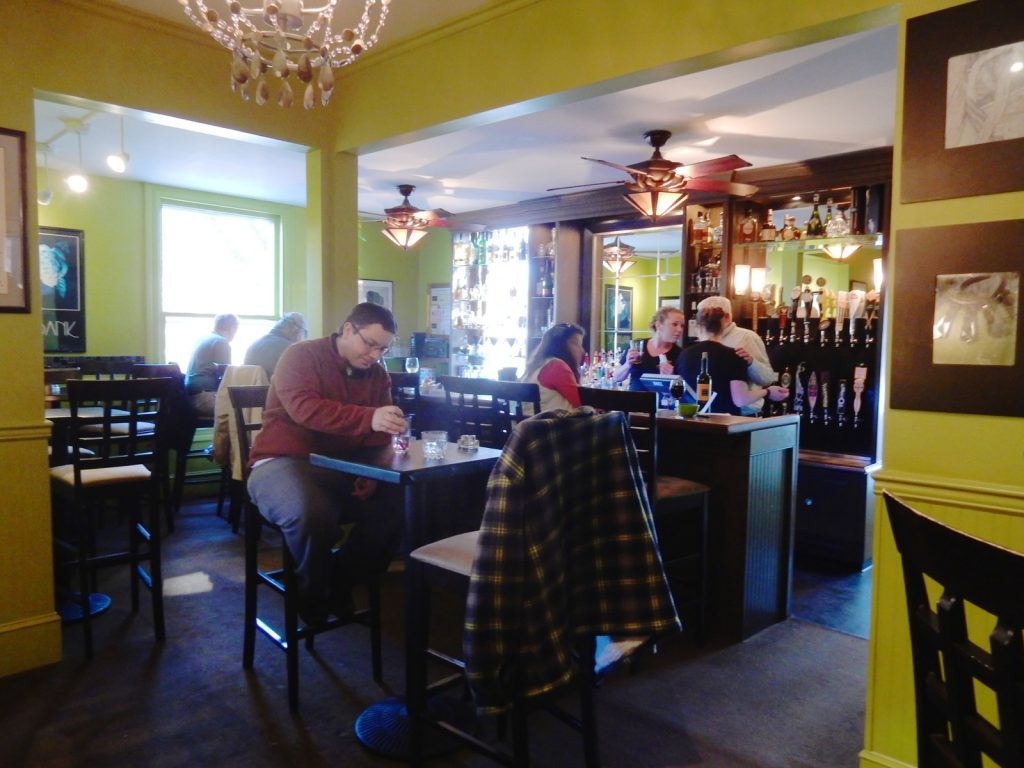 Formerly in Greensboro, Harry's moved to this renovated house in Denton and went wild with color. The bar area is as lively as its walls are lime green. Food is "eclectic with French Influence," according to owner Harry, though it seems to be French by way of the UK – with Irish Potato Nachos and Scottish Oysters on the $5 "Harry Hour" menu.
You'll also find excellent house signatures – Mixed Grill with Duck and Sausage, and Seafood Platter with Baked, Broiled and Grilled seafood. Enjoy, among other dishes, in the more subdued and intimate dining rooms.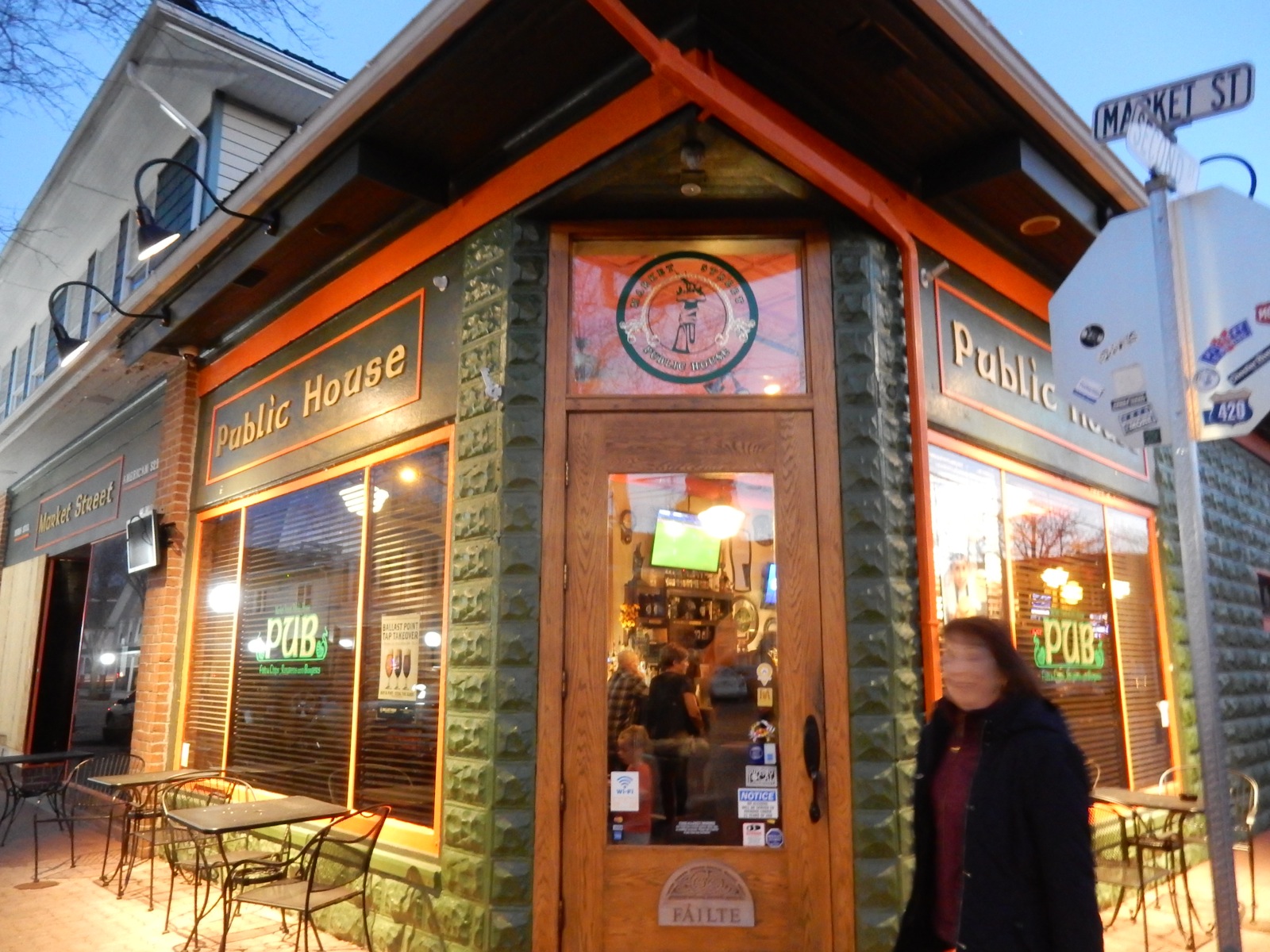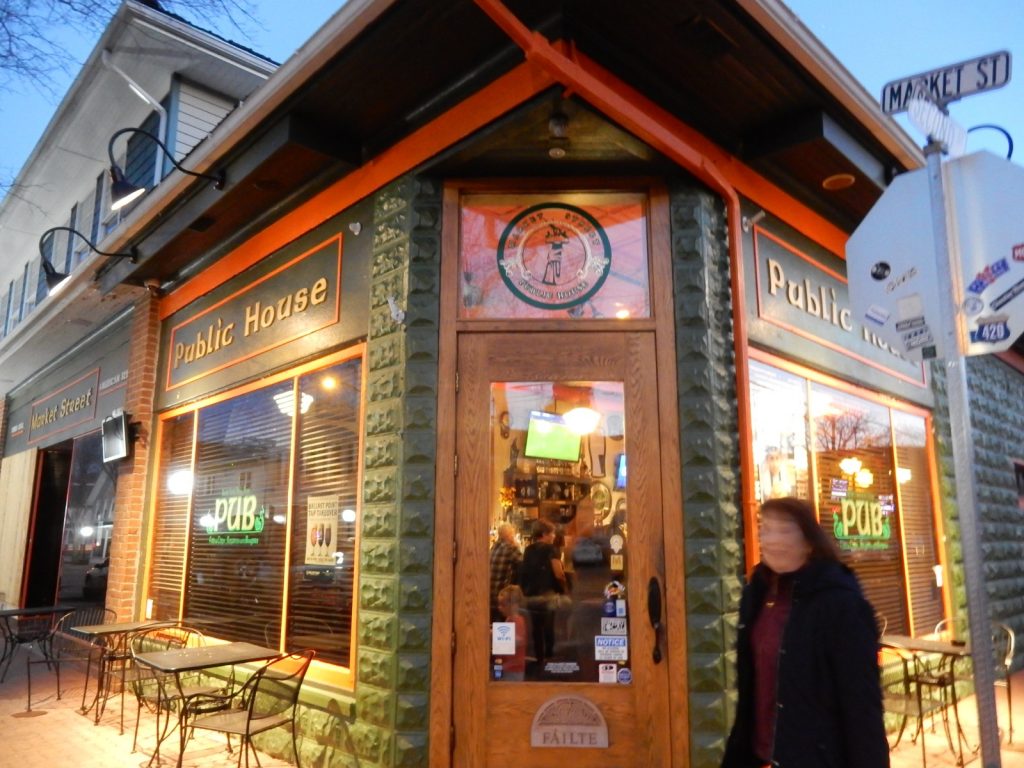 Raise a glass of expertly poured Guinness in the "Cheers" of Denton MD.  The food is decent and the vibe celebratory. It's a gathering spot and local watering hole packed nightly and loved by all.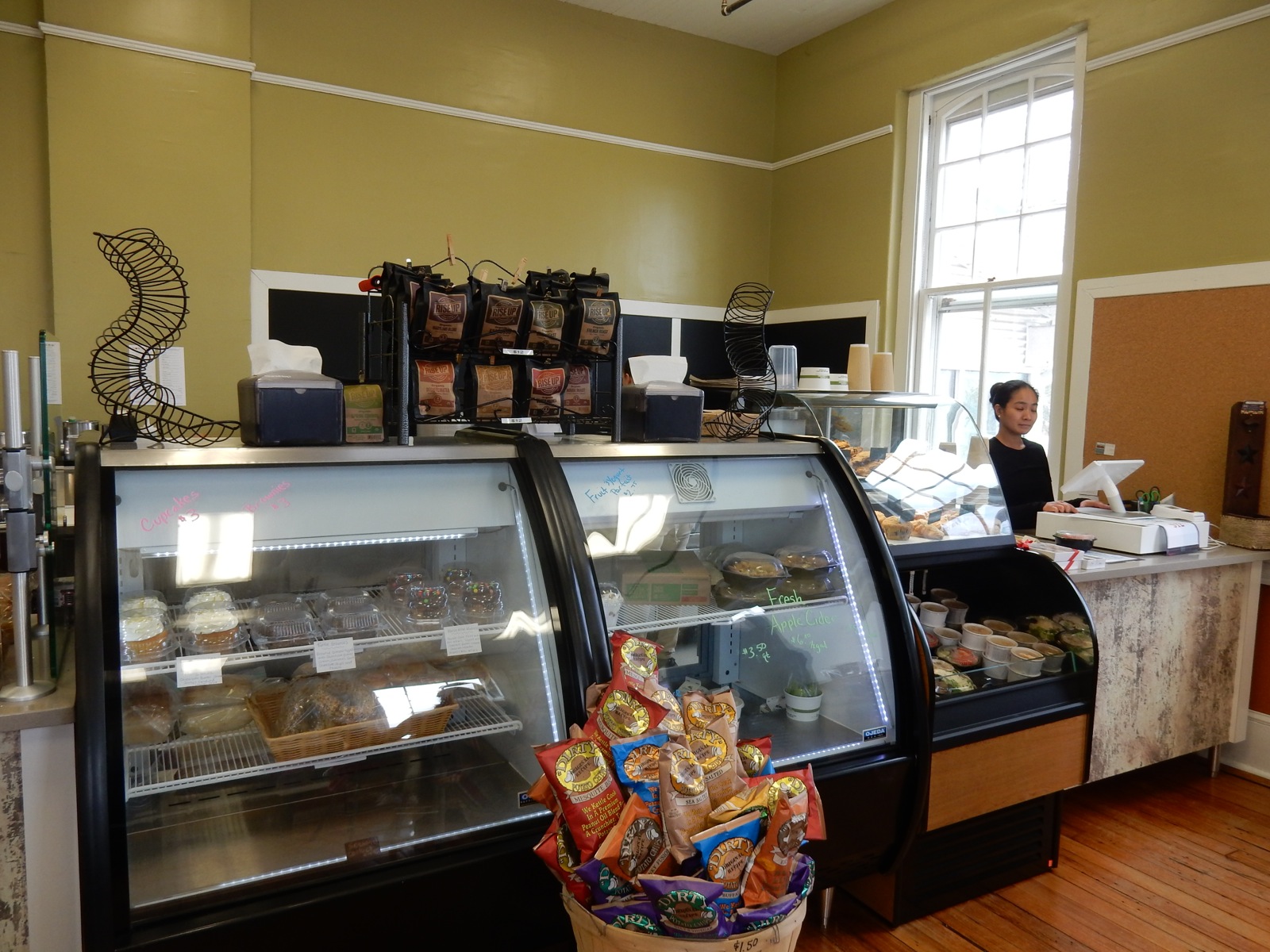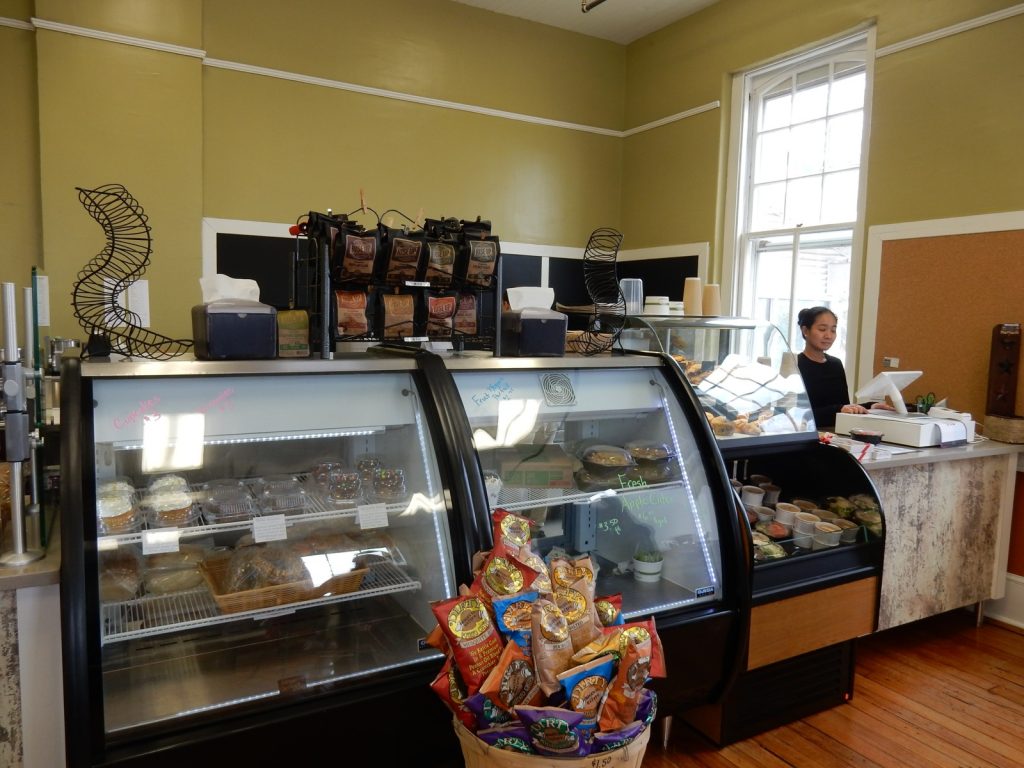 Here's a not so hidden secret in Denton. You can get a great breakfast, lunch, or picnic meal in the gleaming, renovated culinary center's café.  Caroline Culinary Arts is a local treasure and feeder school for top restaurant staff.
I didn't expect this caliber of fresh and creative at a specialty trade High School. But hot pressed sandwiches like "Waffled" Grilled Cheese ($6, made with a house blend of cheeses and herbs, hickory smoked bacon, and veggies on buttered sourdough bread pressed in a waffle iron) and the like impressed me no end. Buy breads, bagels, salads, hot sandwiches, and other prepared food to eat in or take out. And then, check out the spotless instructional kitchens on the main floor and upstairs. You might meet a "Top Chef" in the making!
Where to Stay in Caroline County
STAY: Best Western Denton Inn
With the closing of the charming Turnbridge Point B&B, the Best Western is a good choice for those who'd like an nice, clean room in Denton.