*Be sure to check with each attraction about Covid-era hours and closures. These change by the day. 
WHY GO: The largest town in Cumberland Valley PA, in Pennsylvania's south-central region, is Carlisle, home to Dickinson College. But the County also includes Boiling Springs on the Appalachian Trail. When we first covered Carlisle in 2014, it was just starting to draw visitors beyond the college tour. Now, downtown Carlisle bustles with breweries, and the Appalachian Trail seems to be attracting more Covid-escapees.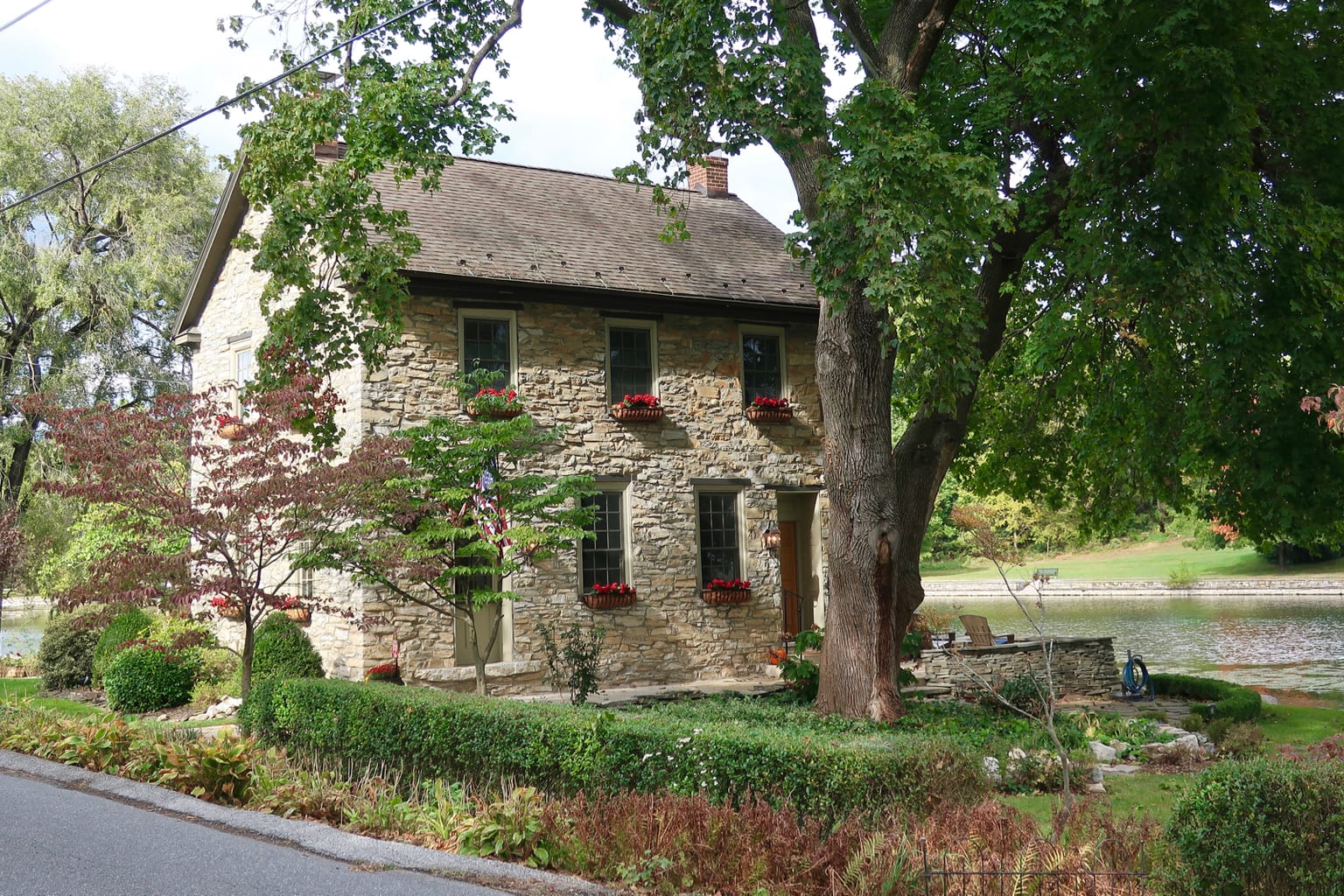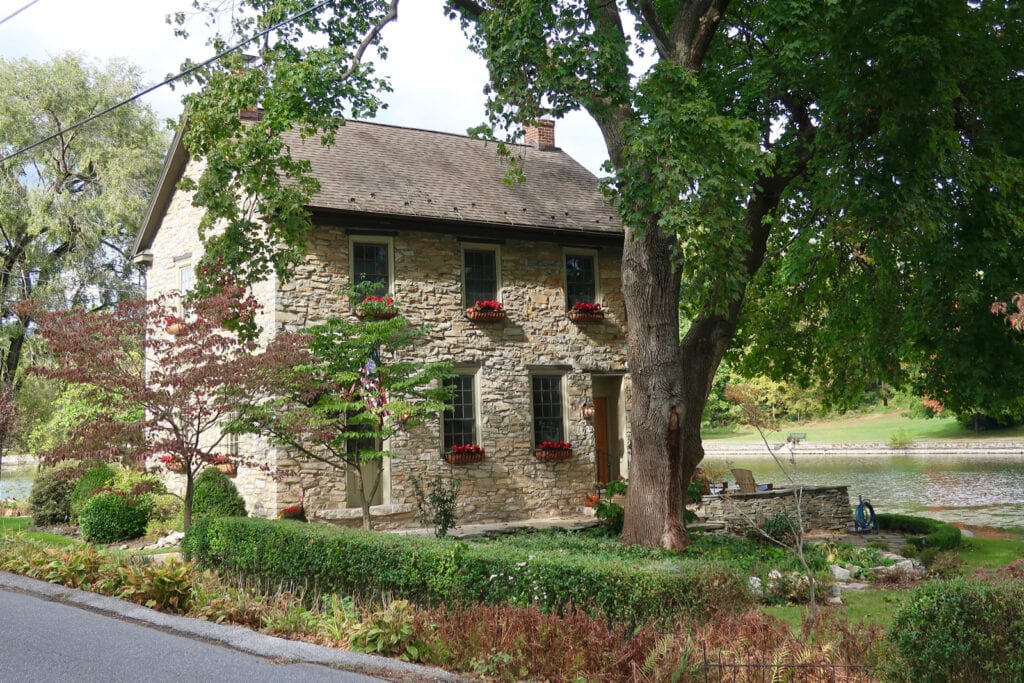 As we first wrote, Carlisle is a "College Town" – for both the Art of War and Liberal Arts (US Army War College, Dickinson College). A portion of its history is controversial – as the site of the Carlisle Indian Industrial School, which removed Native American children from their homes to educate and Anglicize them.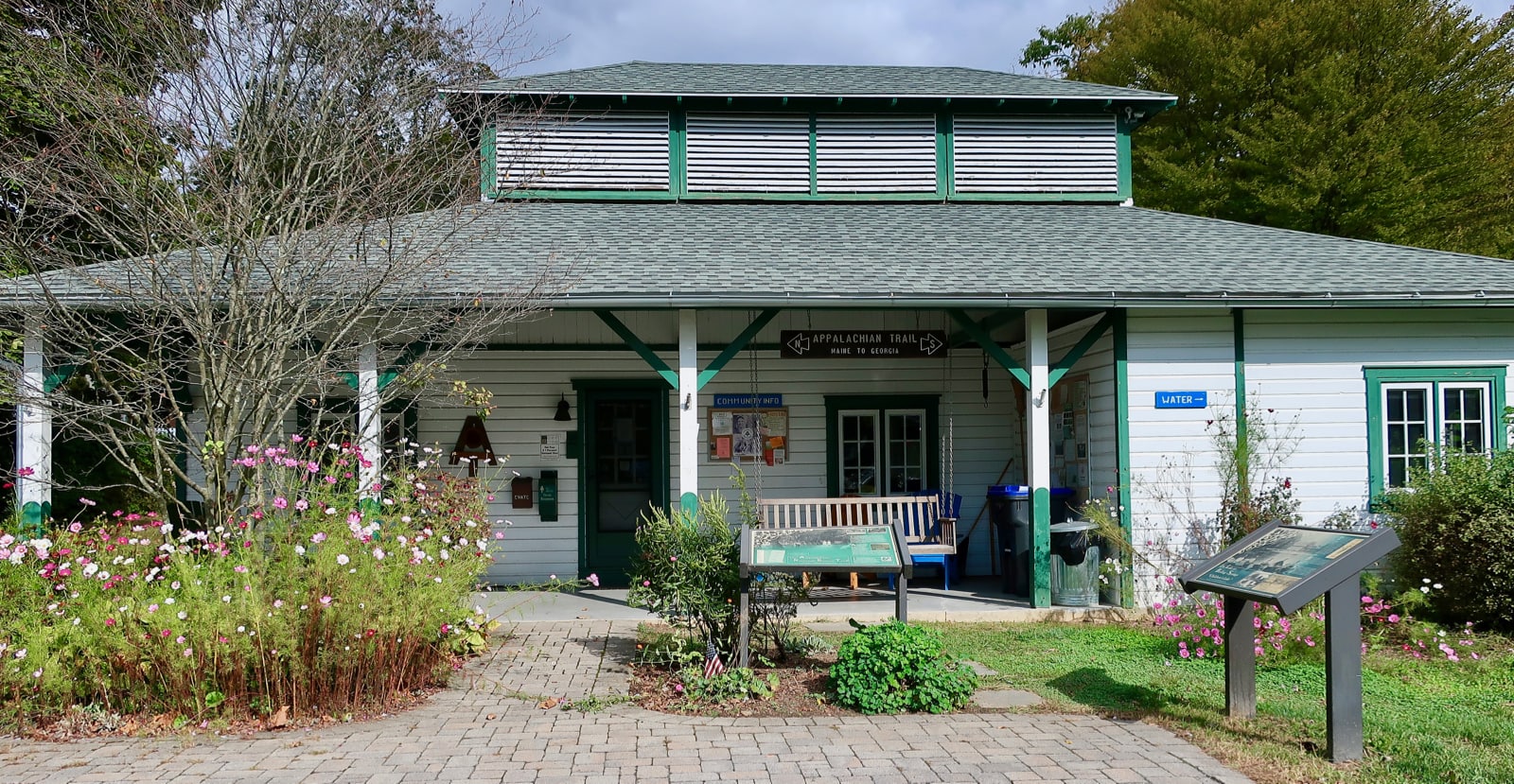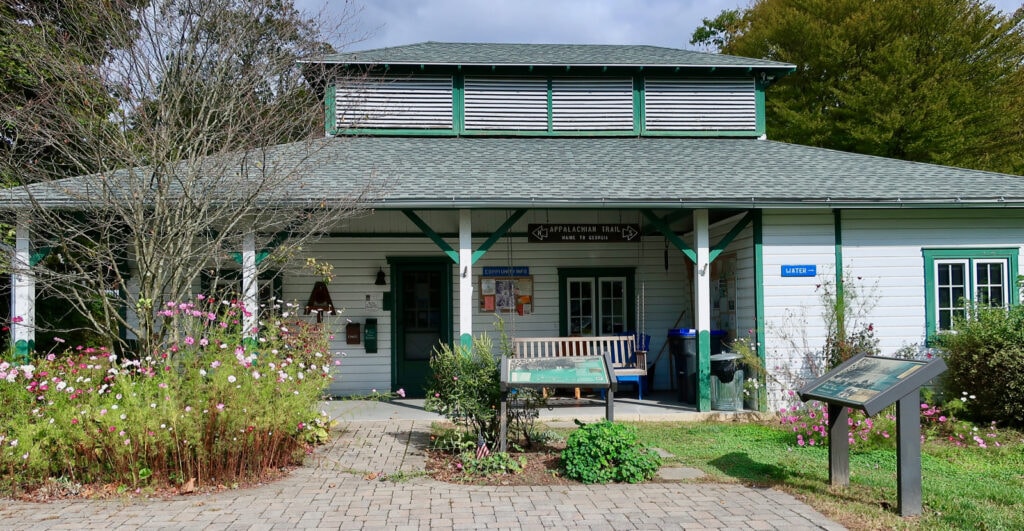 But, in Cumberland Valley PA,  you'll also find a fascinating US Army Heritage Museum and Library, the largest gourd crafting factory, a regional Appalachian Trail Conservancy office, a slew of spirit-makers, popular art galleries, good eats, a renovated family resort, and a historic luxury inn.
Extend your Getaway with a dive into Civil War History in
Plus, Cumberland Valley PA joins this roster of 18 Top Romantic Getaways in Pennsylvania. You might just get some more romantic getaway ideas.
Things to Do in Cumberland Valley PA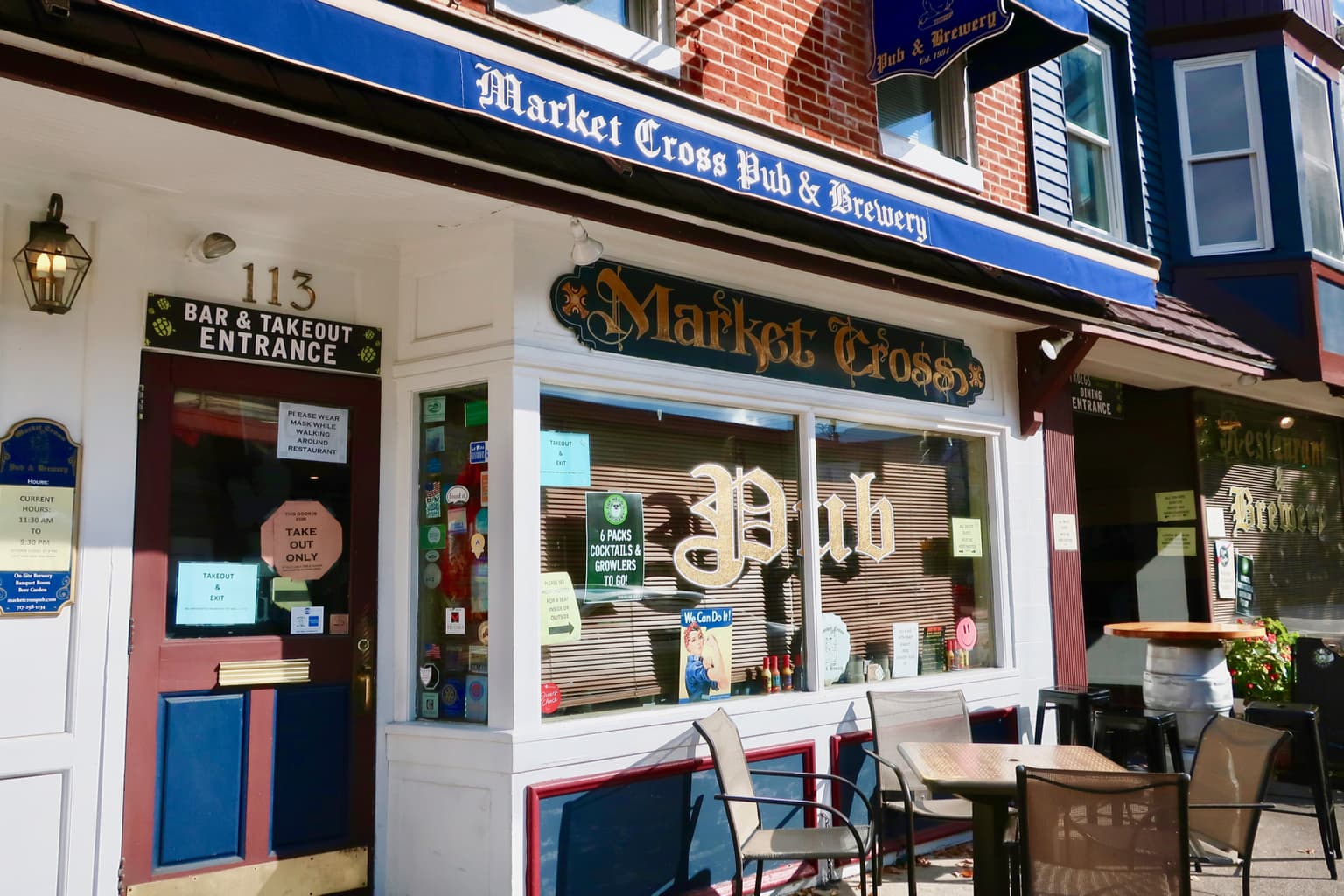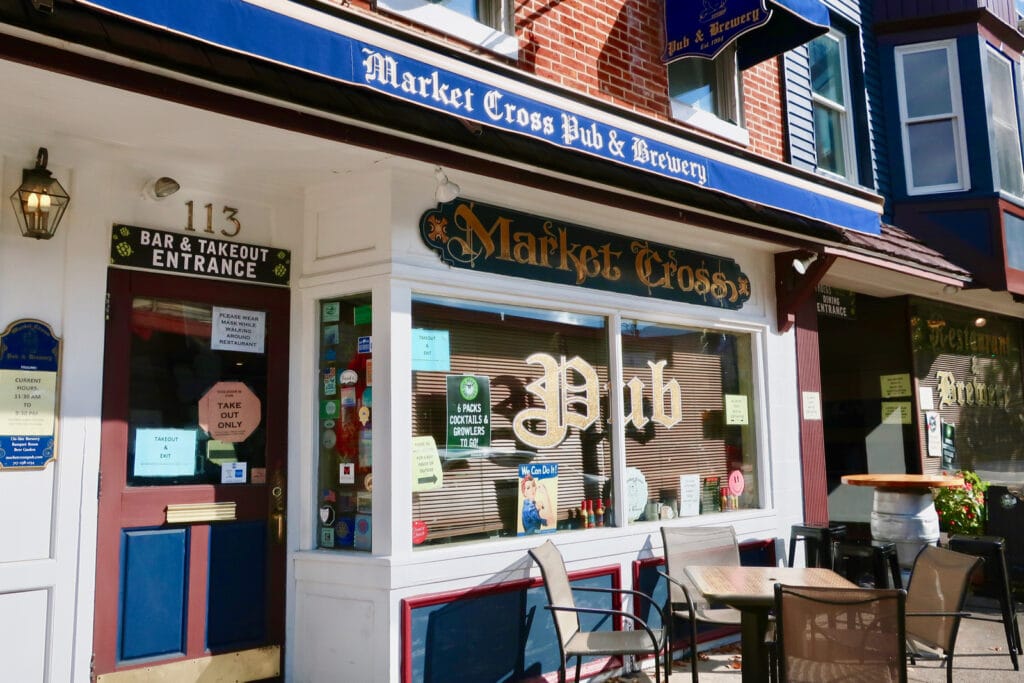 There are 30 beverage makers on the Cumberland Valley Beer Trail, from Shippensburg to Harrisburg PA, but several stand out in Carlisle alone. Molly Pitcher Brewing Company, Hook & Flask Still Works, and Market Cross Pub and Brewery are all worthy of a pint or sip. (Collect Passport stickers at each location to win prizes, such as bottle openers, t-shirts, and coolers).
But my favorites are: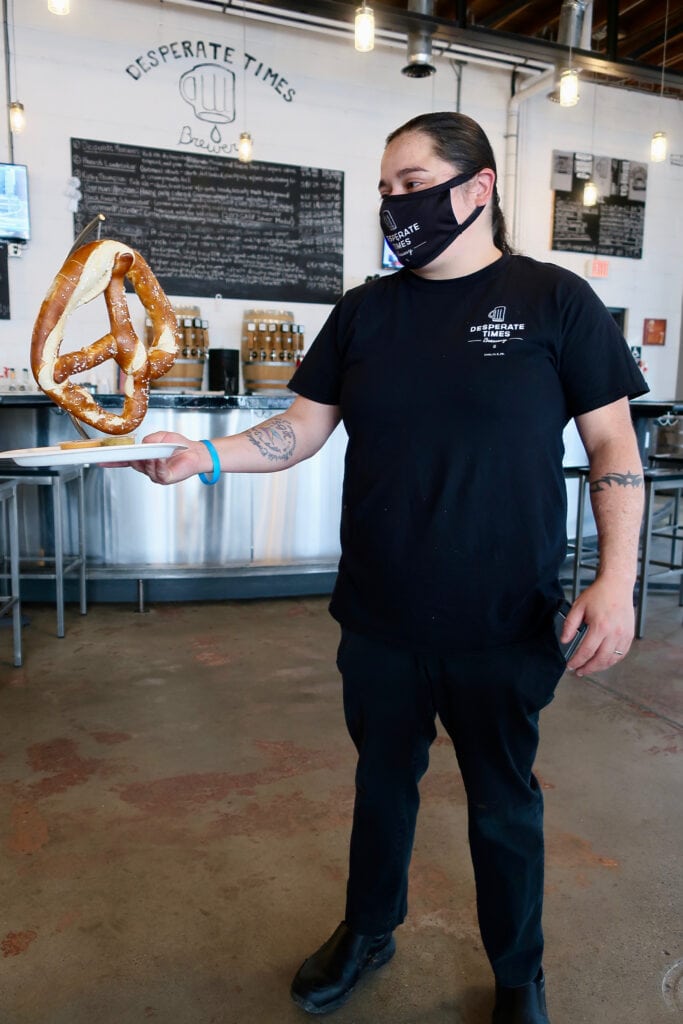 This seemingly named-for-our-current-times brew house is actually 4 years old. But the German-style brews and nibbles are as fresh and new as can be. Try the German Weizen, a wheat with notes of banana and clove. I love that Kinky Thompson Pale Ale was named for a violent curly-headed Prohibition enforcement officer in Seattle WA who was ironically killed by police when he was found drunk and belligerent. Pair your pint with the "super popular" soft pretzel – so massive, it begs sharing.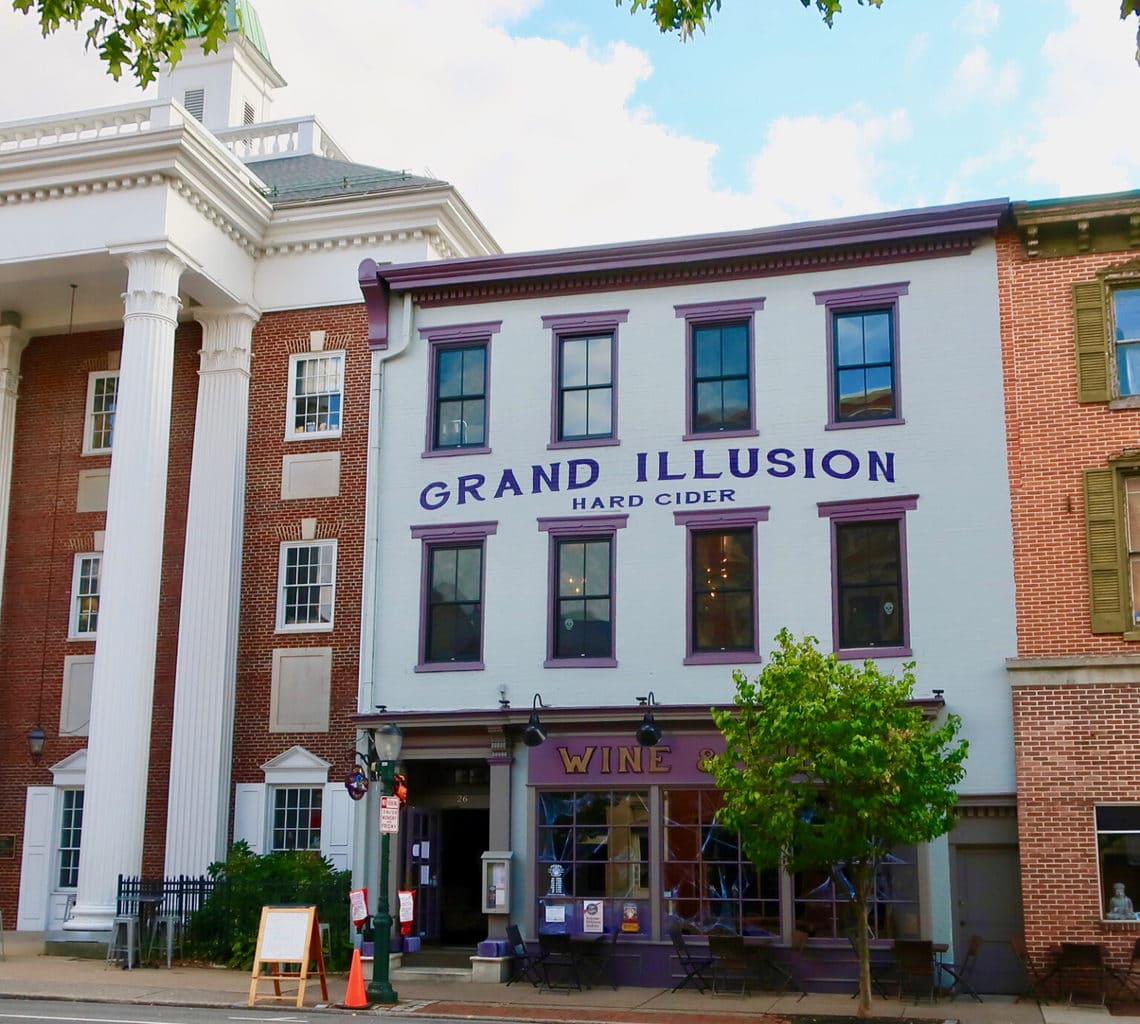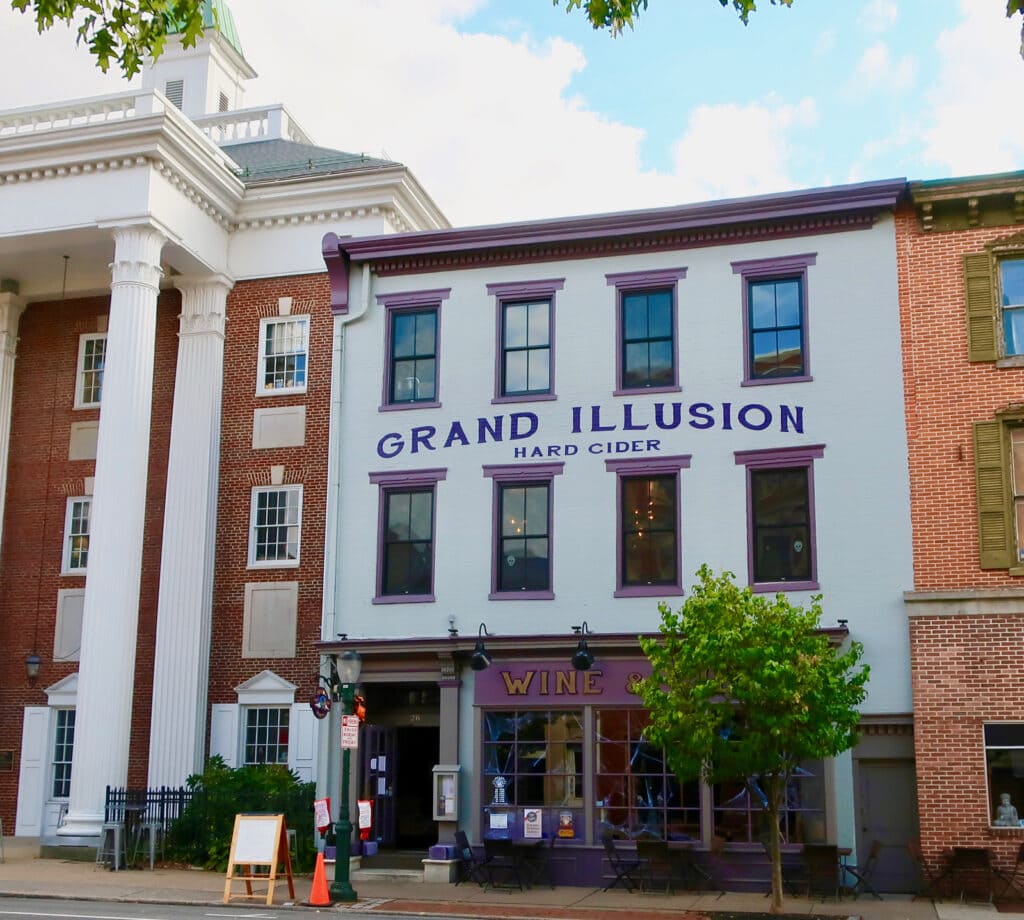 I'm a "purple person," and apparently, Grand Illusion is a purple company. At least, in its décor and top-selling hard cider, "Blue Illusion." With hints of blueberry and lavender, it's a departure from your average, strictly apple, hard cider, and much more intriguing. But in my estimation, other Grand Illusion concoctions are just as delectable.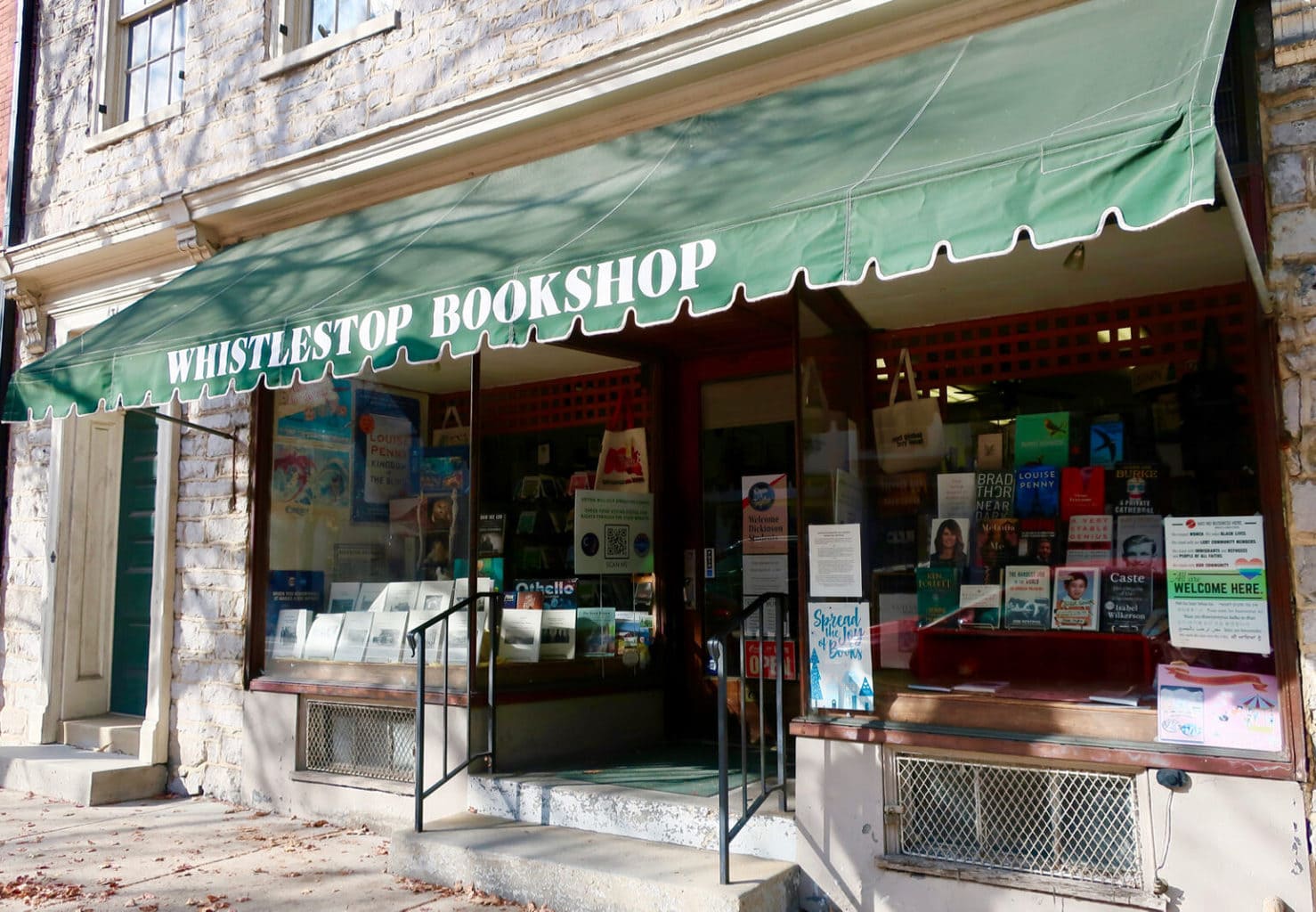 In these corporate times, I'll never ignore a true independent bookstore. Nice to see that Carlisle PA supports one.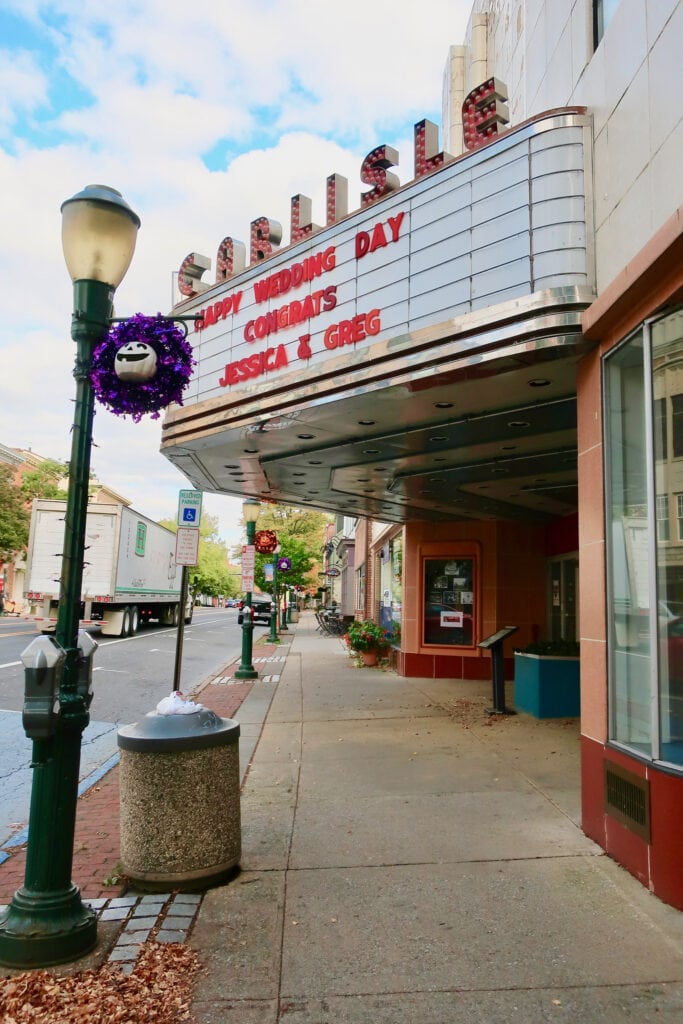 This historic Art-Deco theater first opened in 1939, and was restored and reopened in 1993 as an indie movie theater and performing arts center.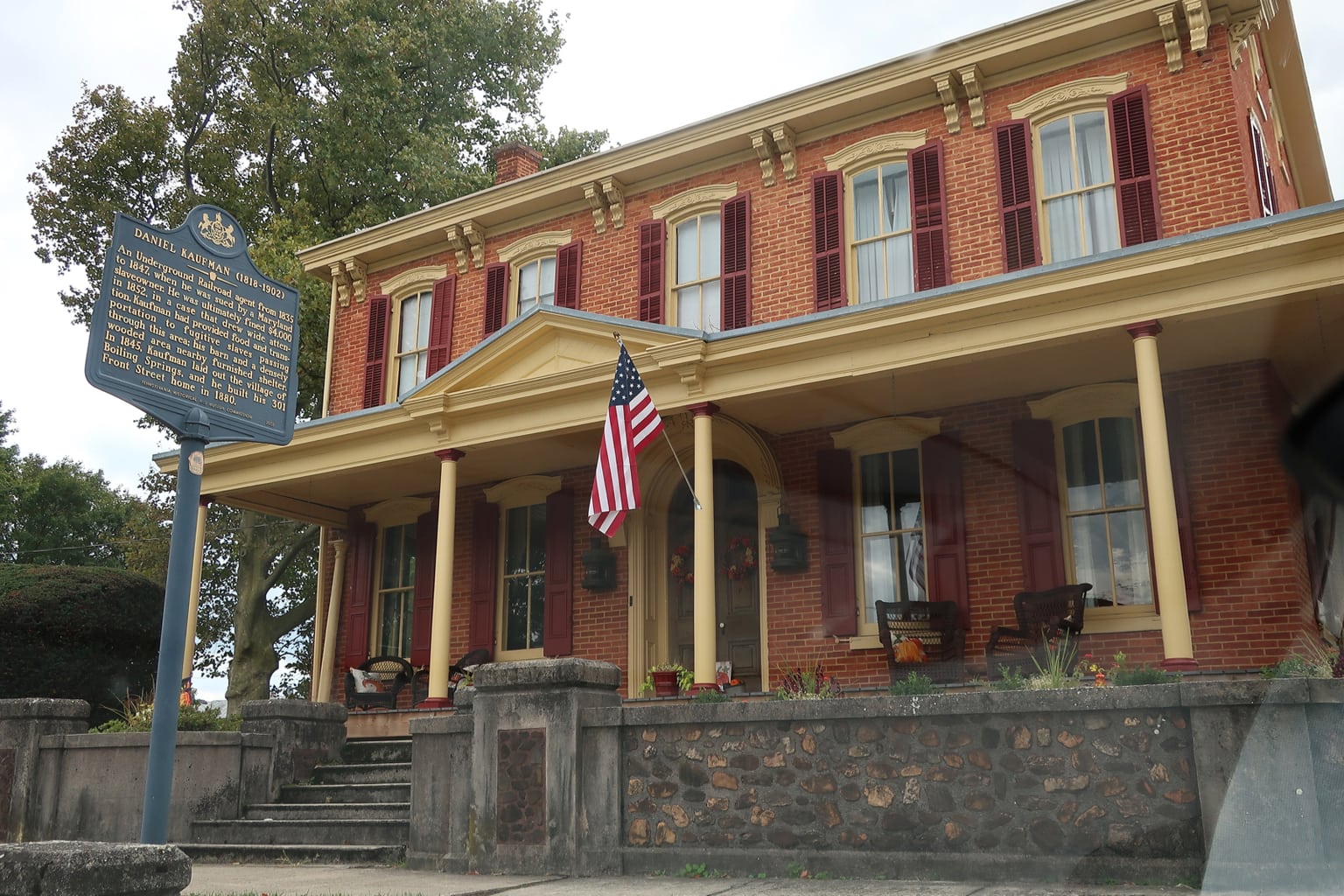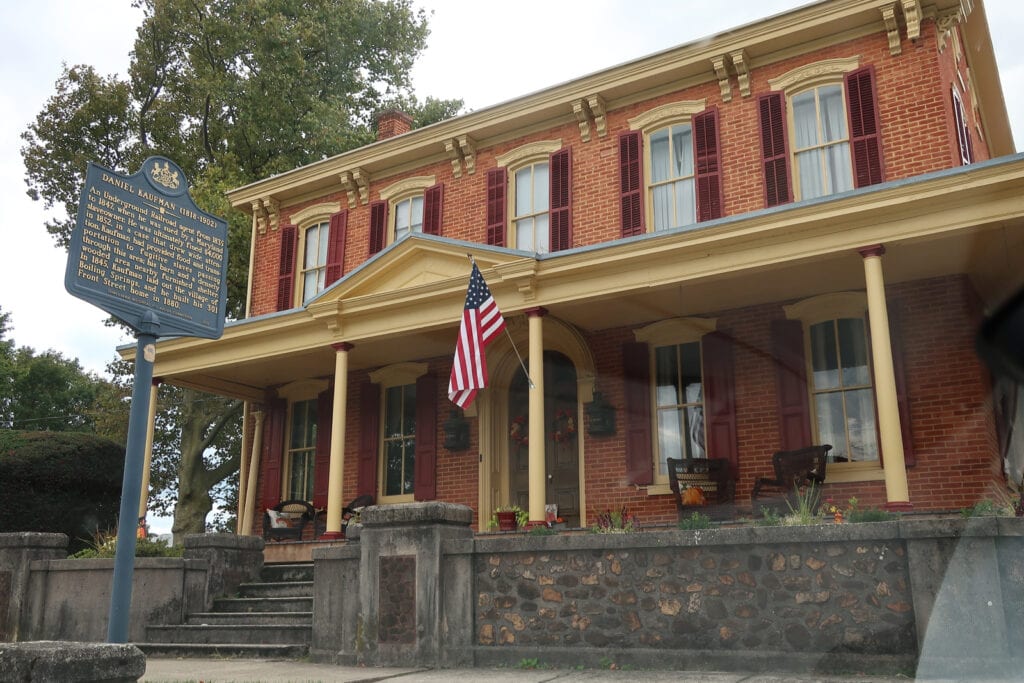 EXPLORE: Boiling Springs PA
Boiling Springs PA would be charming enough as is. But the fact that it was "laid out" by Daniel Kaufman, an "agent" on the Underground Railroad, renders this tiny burg compelling as well. In 1837, Kaufman was sued by a Maryland slave-owner for harboring his "property," and fined $4000 – a case that apparently drew national attention.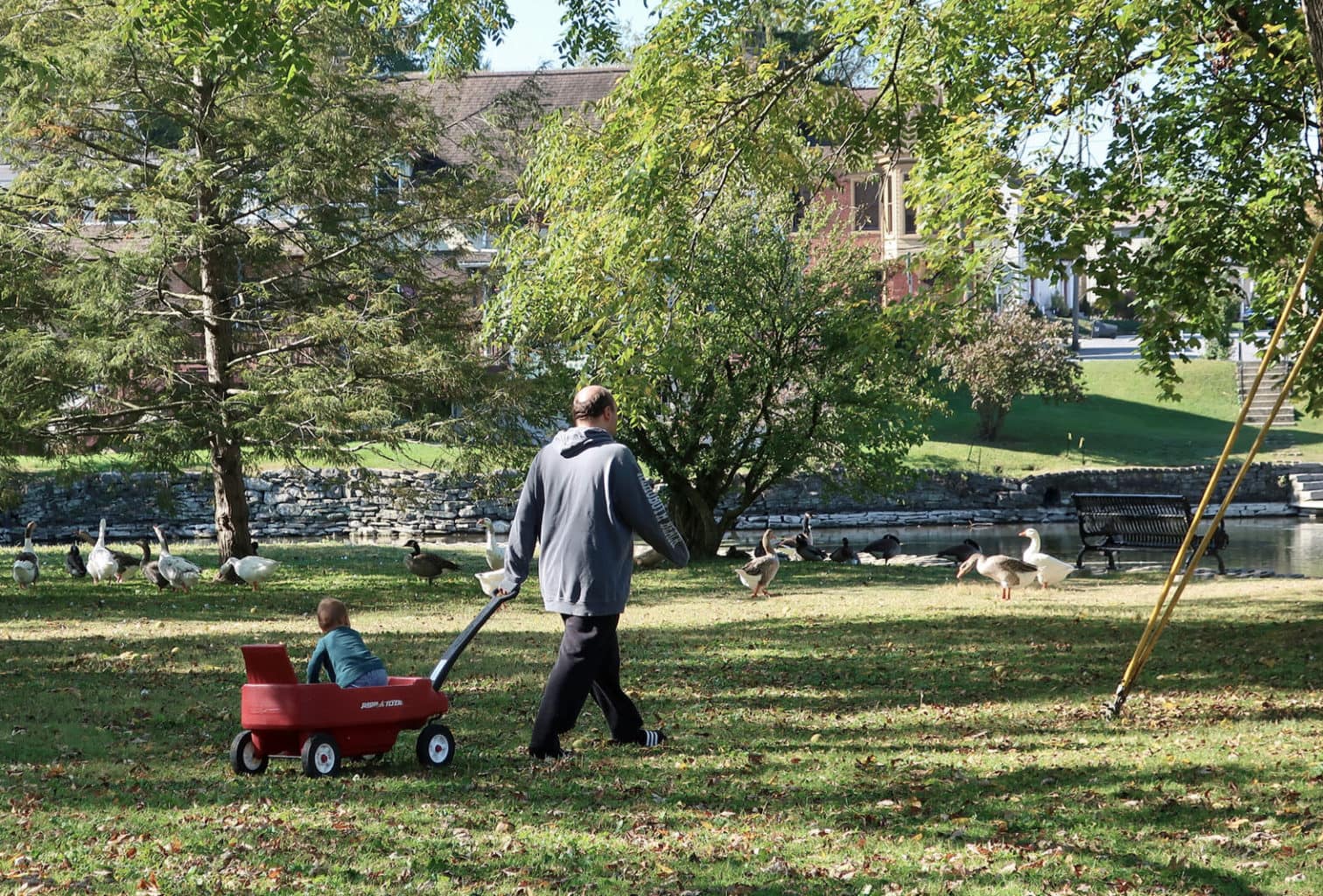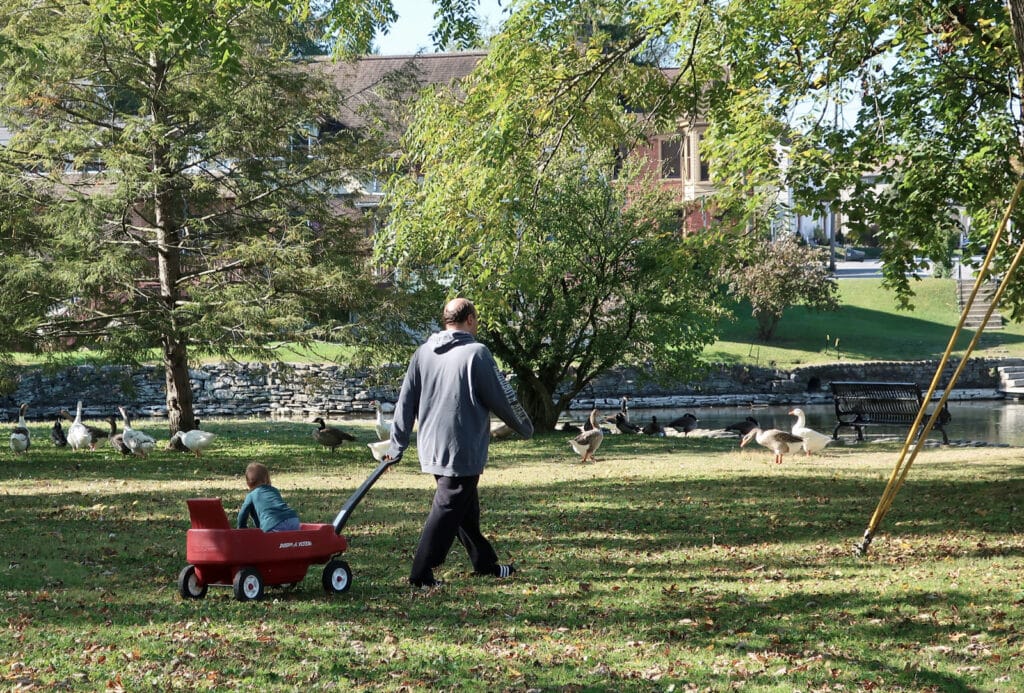 Children's Lake, Boiling Springs
The centerpiece of Boiling Springs is this 7-acre man-made lake, dating to the mid 1700's, initially used for iron production. Now, it's a lovely, waterfowl-and-trout-filled town center where generations of families fatten up the ducks and geese. Stroll along a segment of the Appalachian Trail that traverses its bank, and then across the street to see a remaining Iron Works furnace.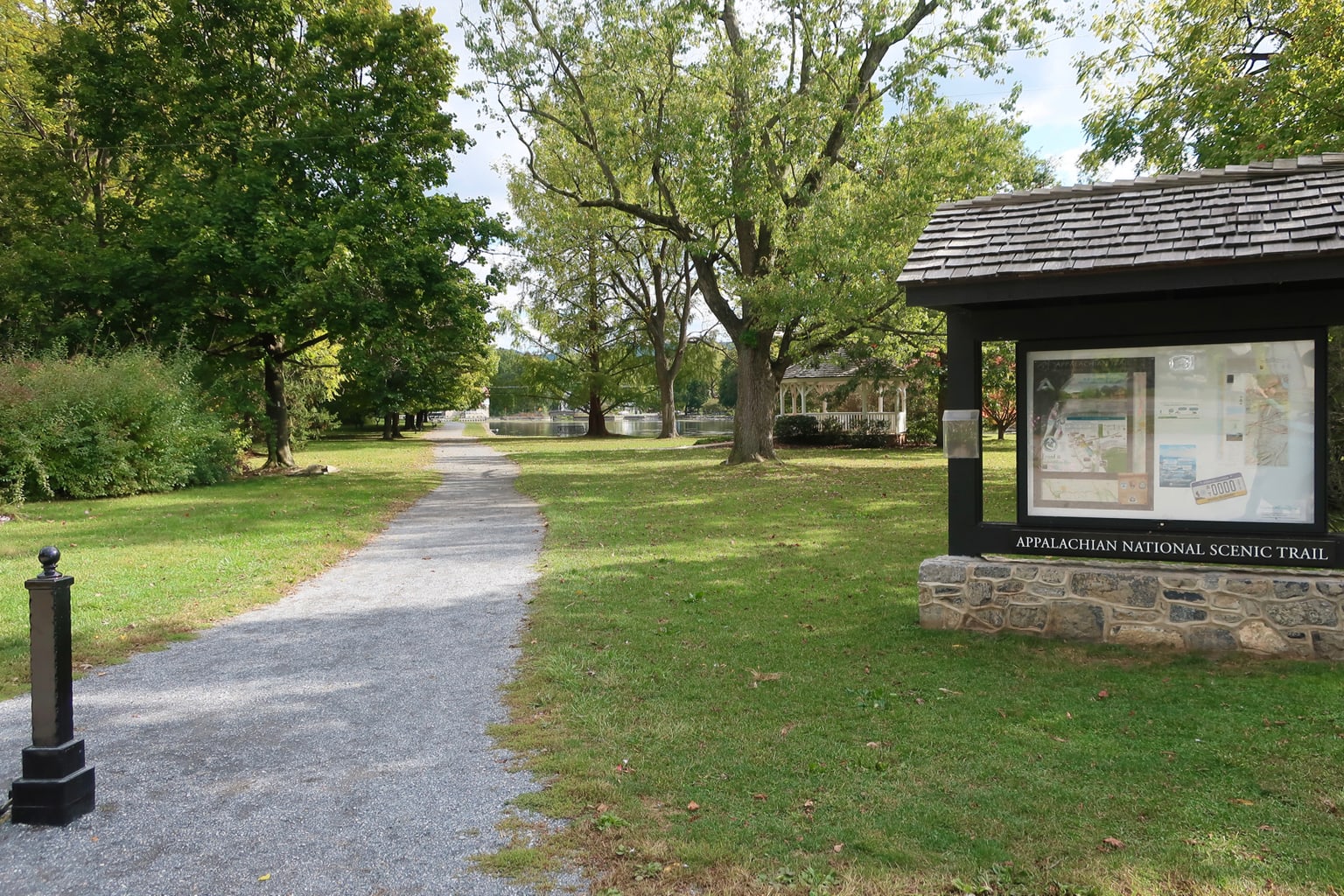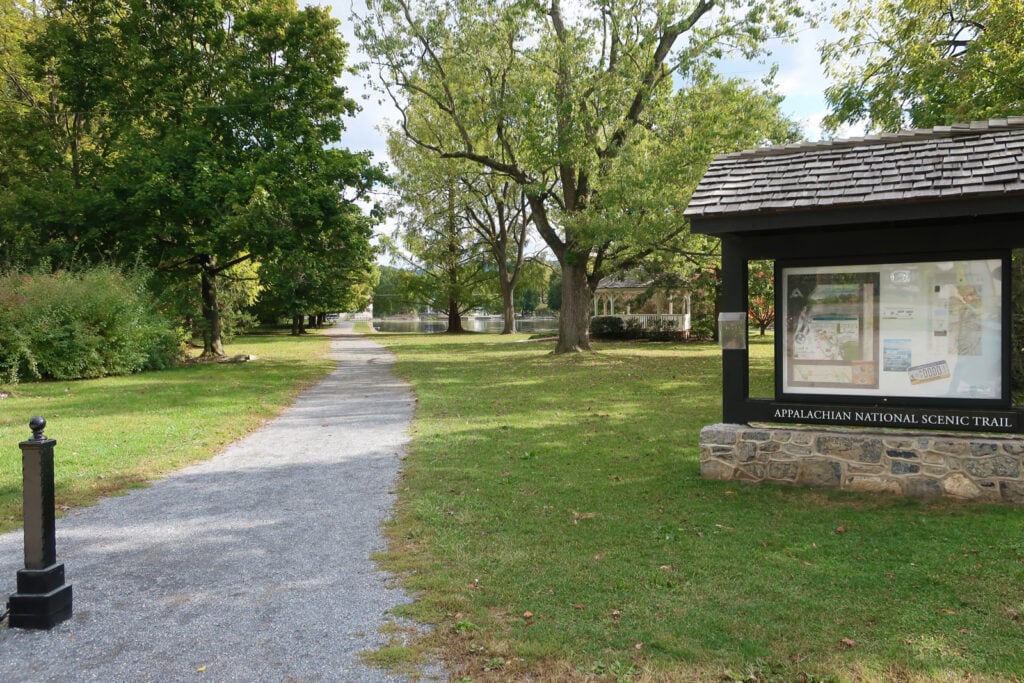 Appalachian Trail, Boiling Springs
About 46 miles of the 2,189-mile Appalachian Trial runs through Cumberland Valley PA. Boiling Springs is located pretty much at the midpoint between its terminus in Georgia (1,115 miles) and Maine (1,069 miles).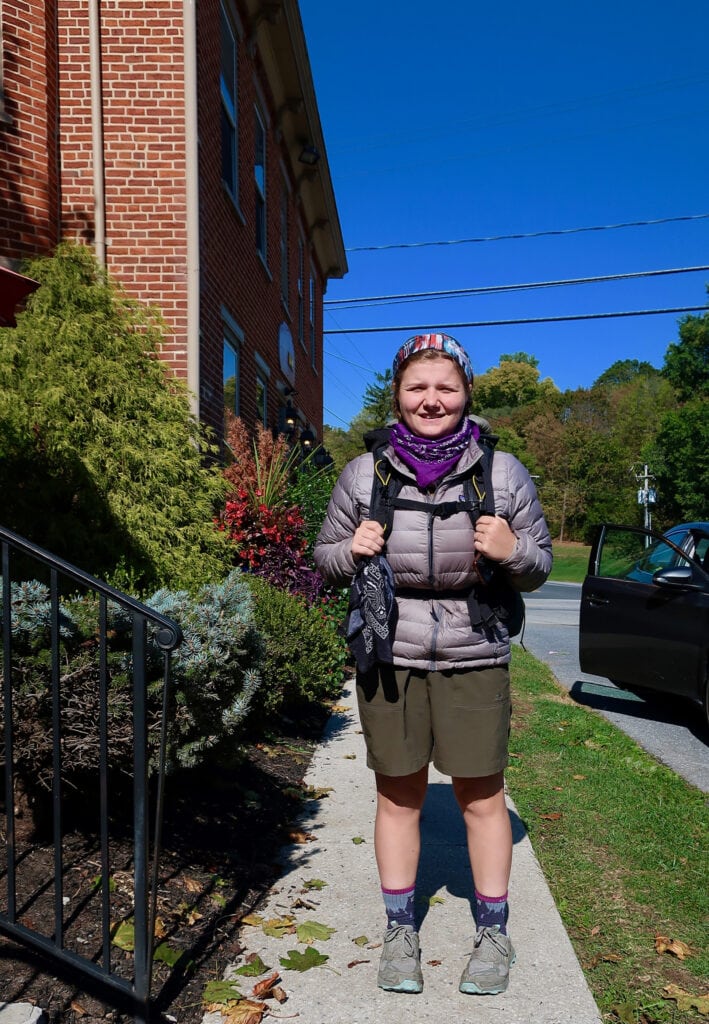 Chances are you might encounter some thru-hikers in their trademark boots and backpacks. I was honored to meet the affable Kelli (Trail Name, "Baby Powder") from Westbrook Maine.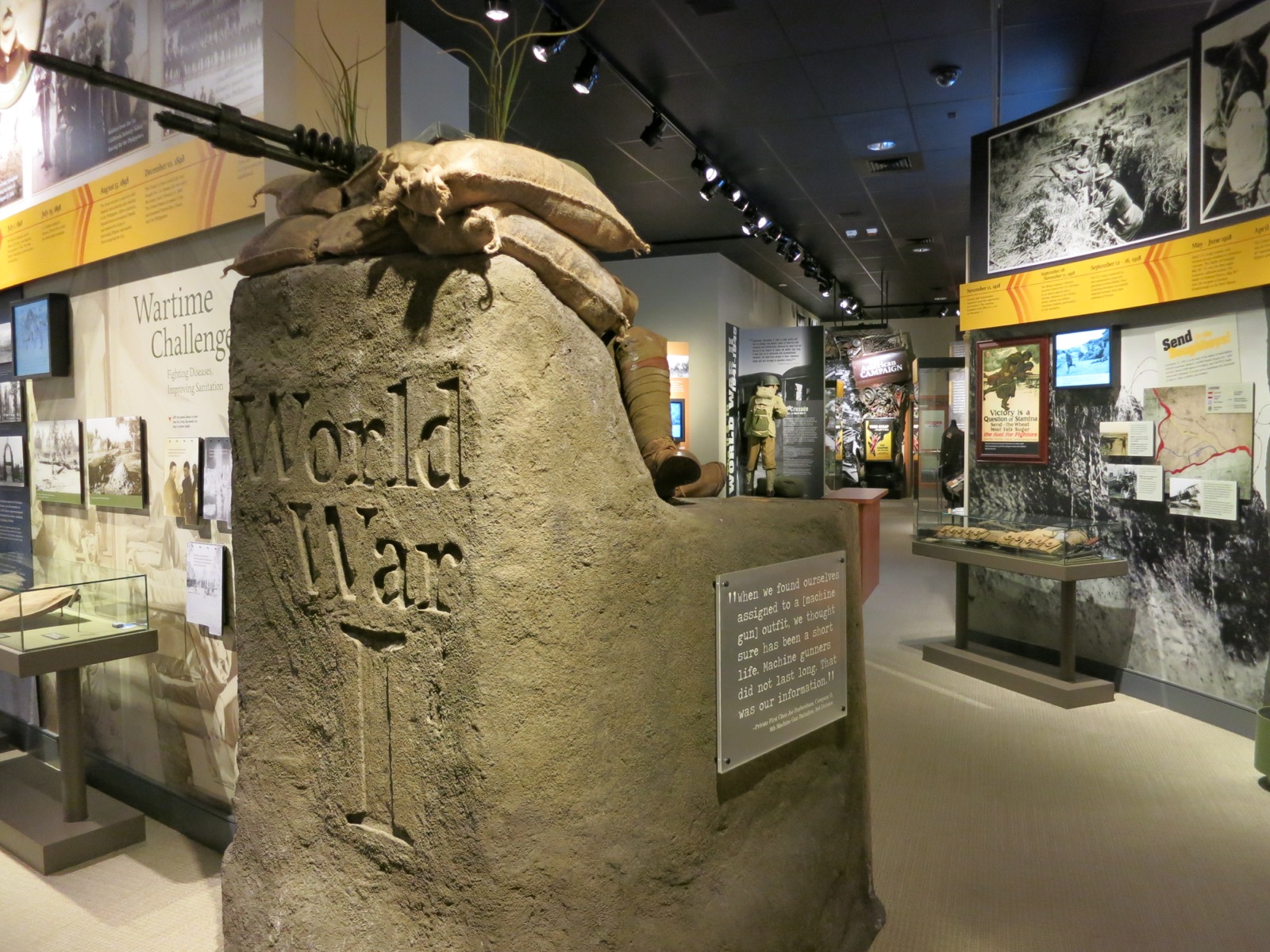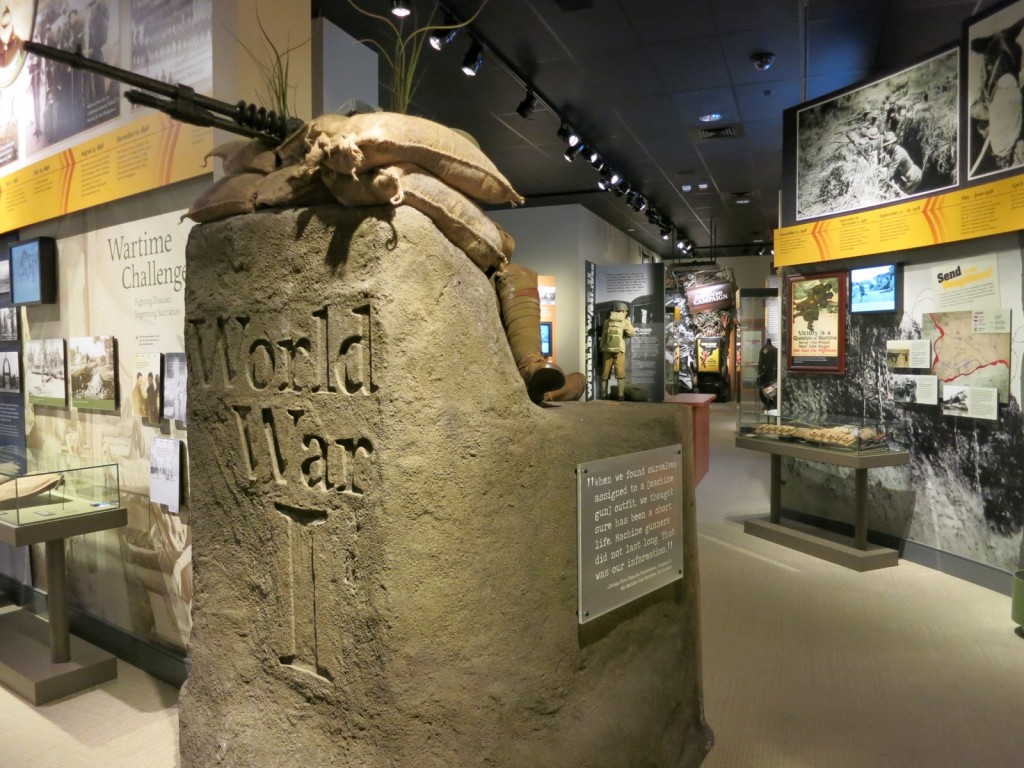 With very little signage, you just might miss this fantastic, interactive, well designed homage to our military men and women that "tells the Army's story one solder at a time."
Encompassing an indoor museum, a mile long outdoor Heritage Trail, and a large, personal-papers archival library (as opposed to the National Archives which are Government documents), you can spend several engrossing hours here. And it's FREE.
Indoor Interactive Exhibits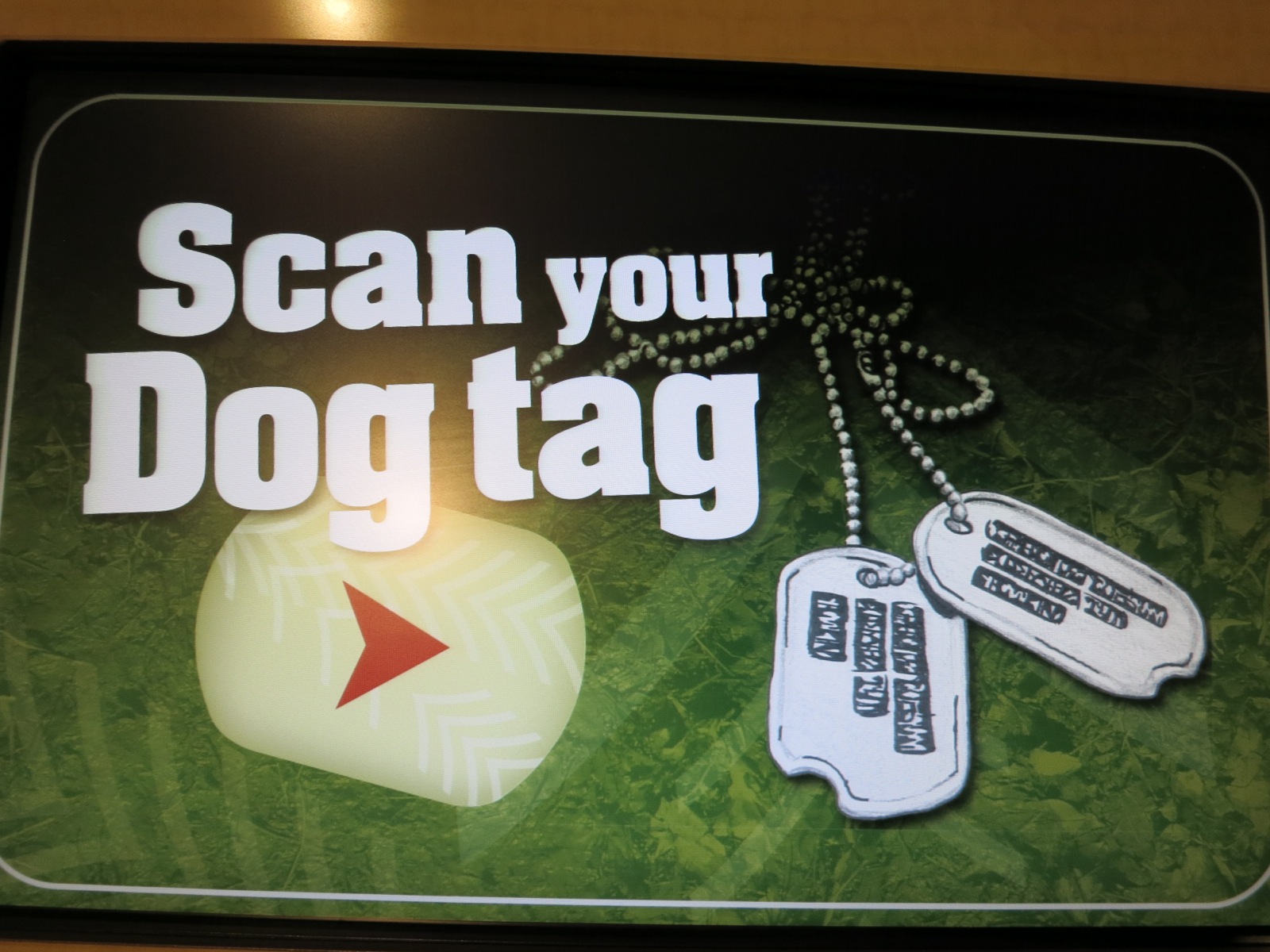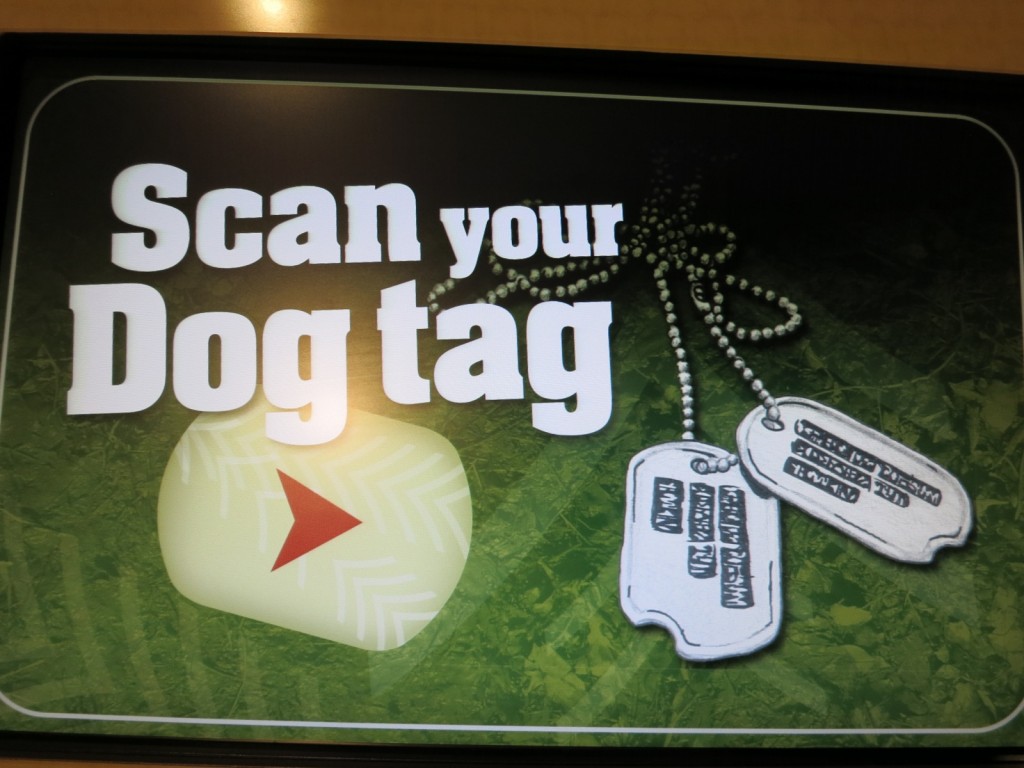 Begin at the reception counter for your scannable "dog-tag, " which personalizes information as you walk through the museum. Try to lift the weight of a backpack donned by Iraq and Afghan-bound troops (I couldn't). Turn the "rattle" that warned men during WWI of a gas attack. Try your hand at parachuting 700 ft. into enemy territory via a cool interactive simulation.
Imagine you're at the controls of a Vietnam-era Huey helicopter. And listen to messages from US Soldiers in Iraq that were left on loved-ones' answering machines (one from a woman who couldn't believe that she was standing in Saddam Hussein's bedroom). It will blow you away.
Outdoor Army Recreations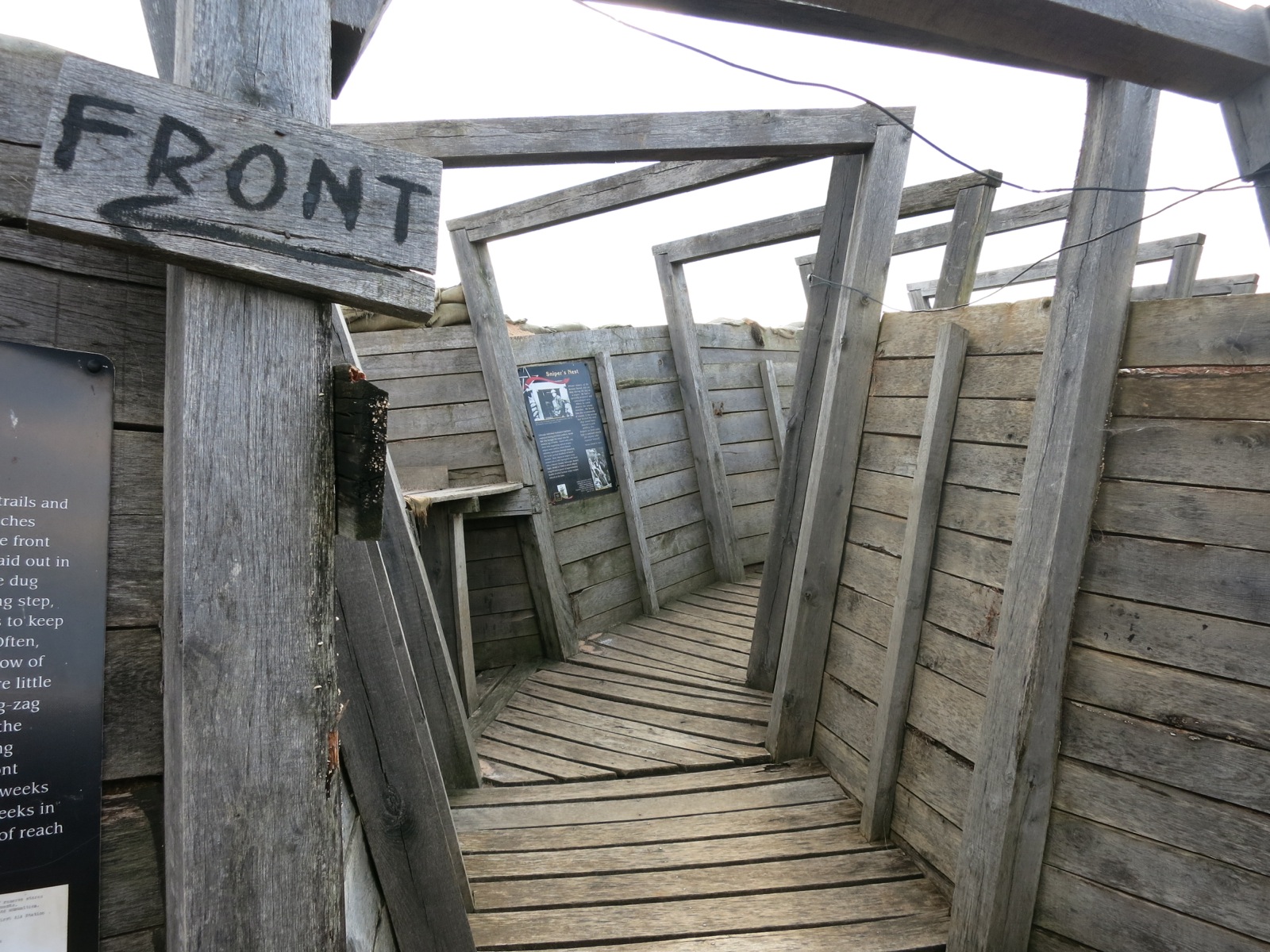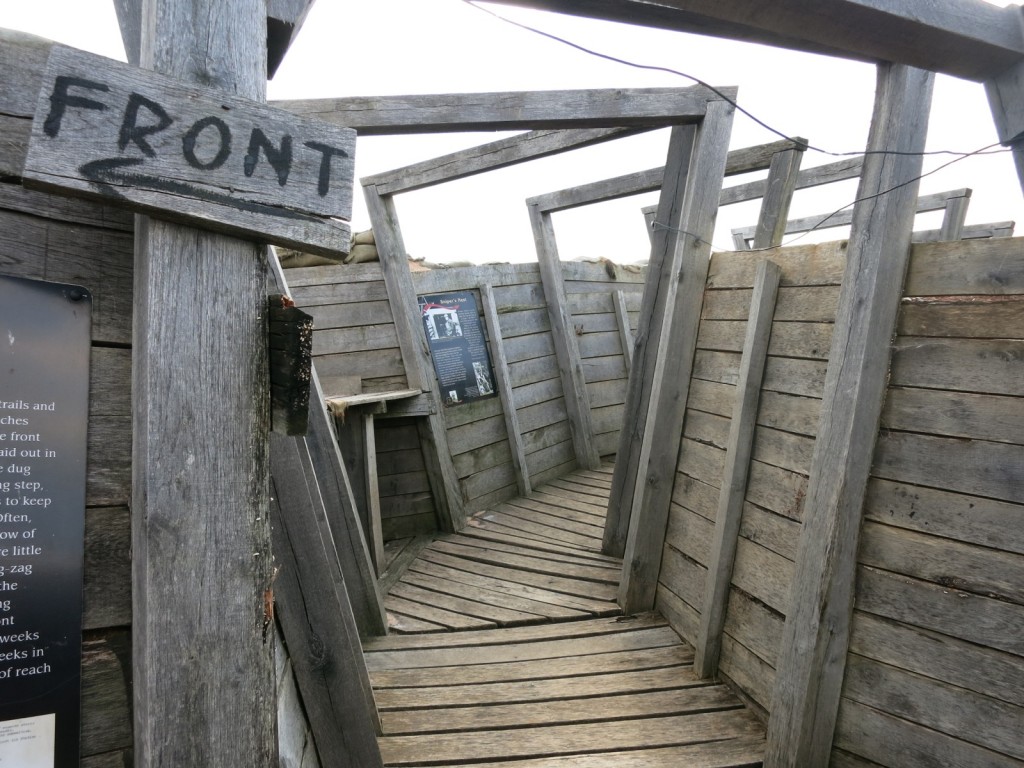 The outdoor Heritage Trail features interactive war era recreations exactly like the real things, from the Colonial Period to a Security Checkpoint in Iraq. You'll find a Cobra Helicopter, a Sherman Tank,  WWII barracks, Civil War winter cabins, a Revolutionary War "redoubt," an extensive, maze-like trench system from WWI and much more. It will take an hour to walk and explore, so plan accordingly.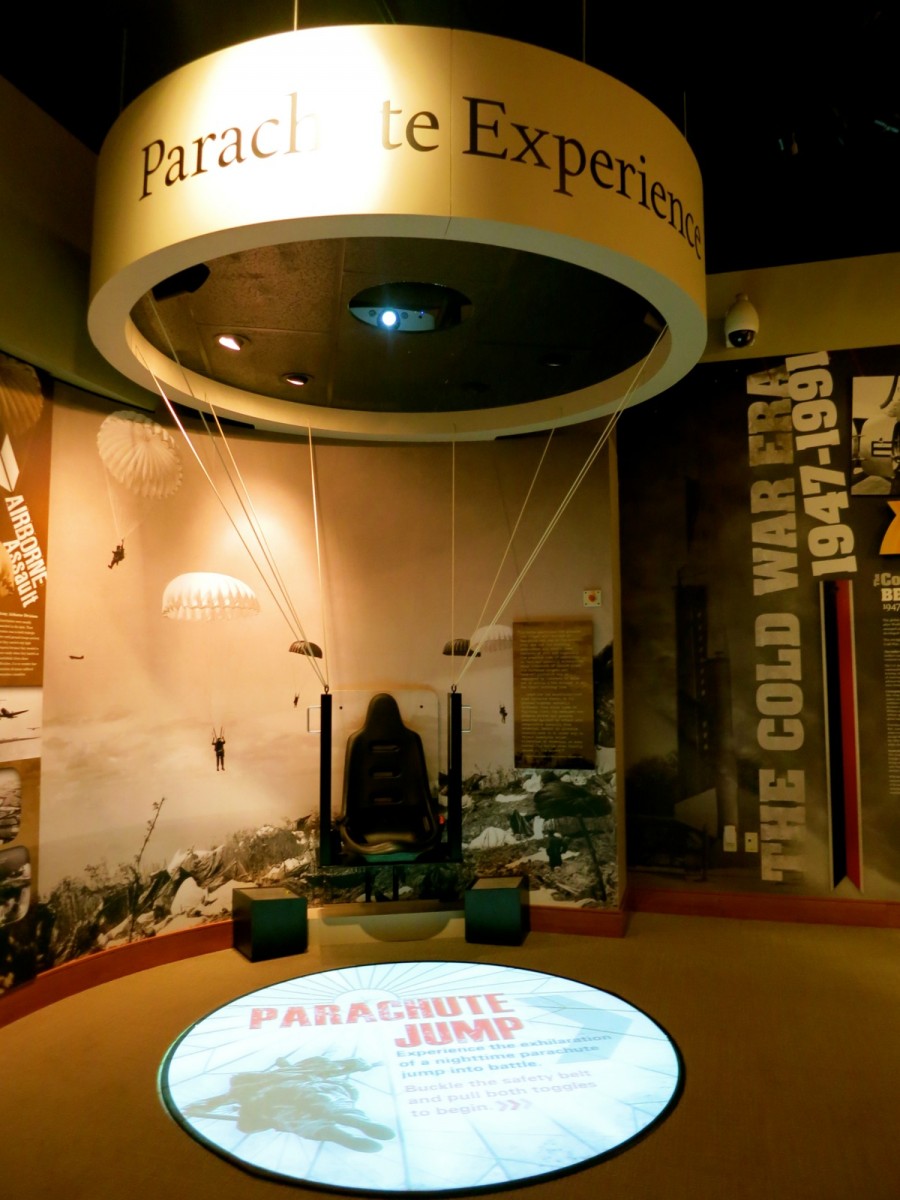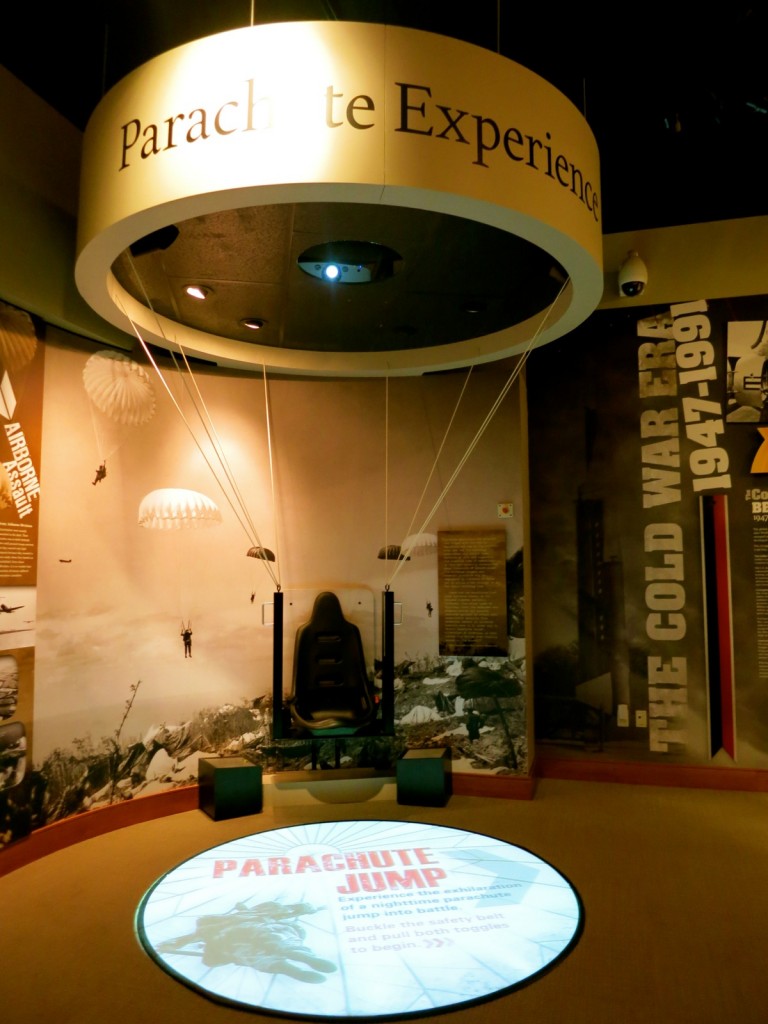 The Archival Library is staffed by historians with extraordinary knowledge of the history of warfare dating to the Colonial period. The oldest book dates to 1494 – just two years after Columbus sailed the ocean blue. At least one Pulitzer Prize winning author – Tom Ricks – has researched background for his books here. Museum open all year, Mon-Sat 10-5, Sun 12-5, Heritage Trail daily dawn to dusk, FREE.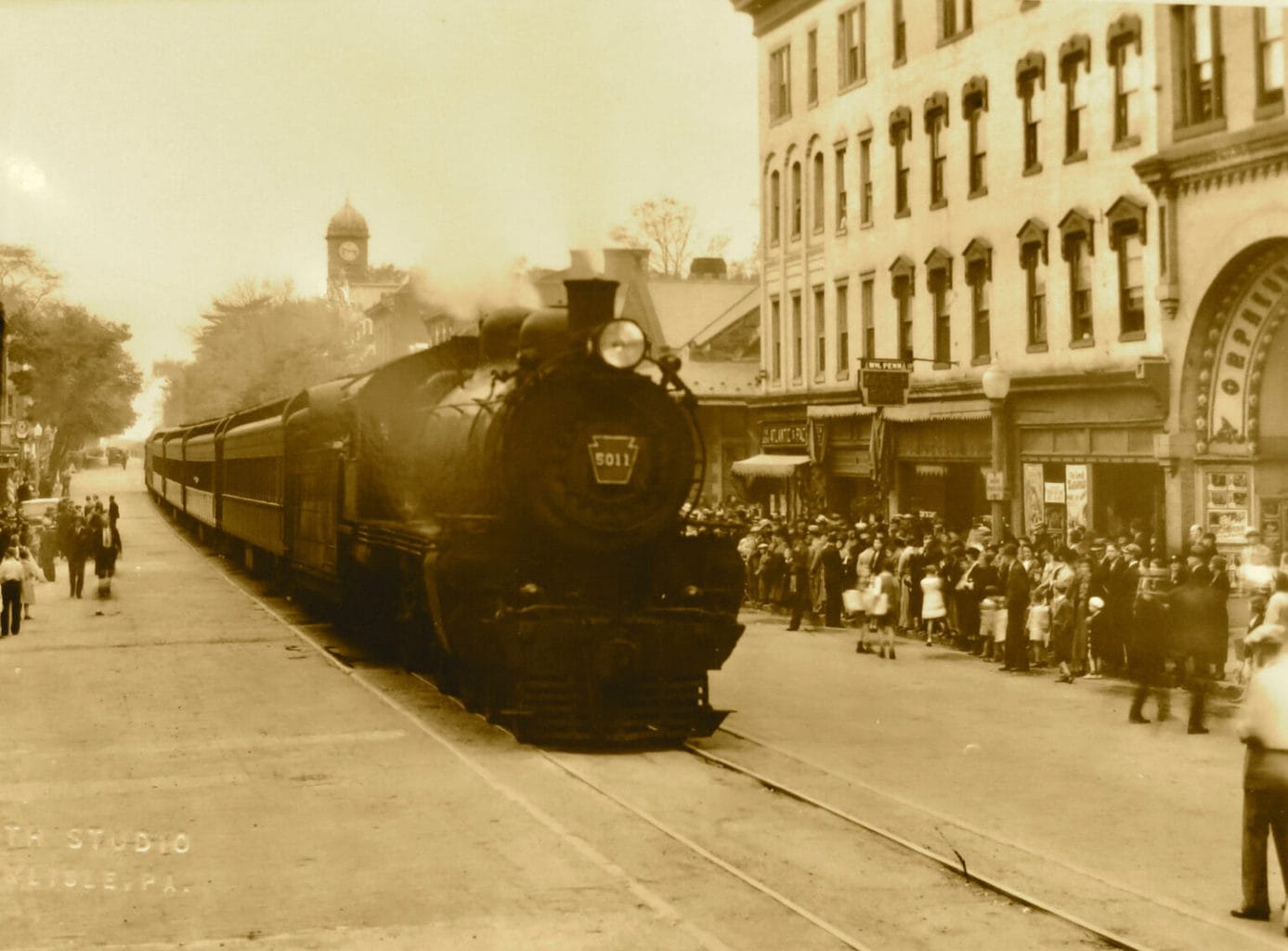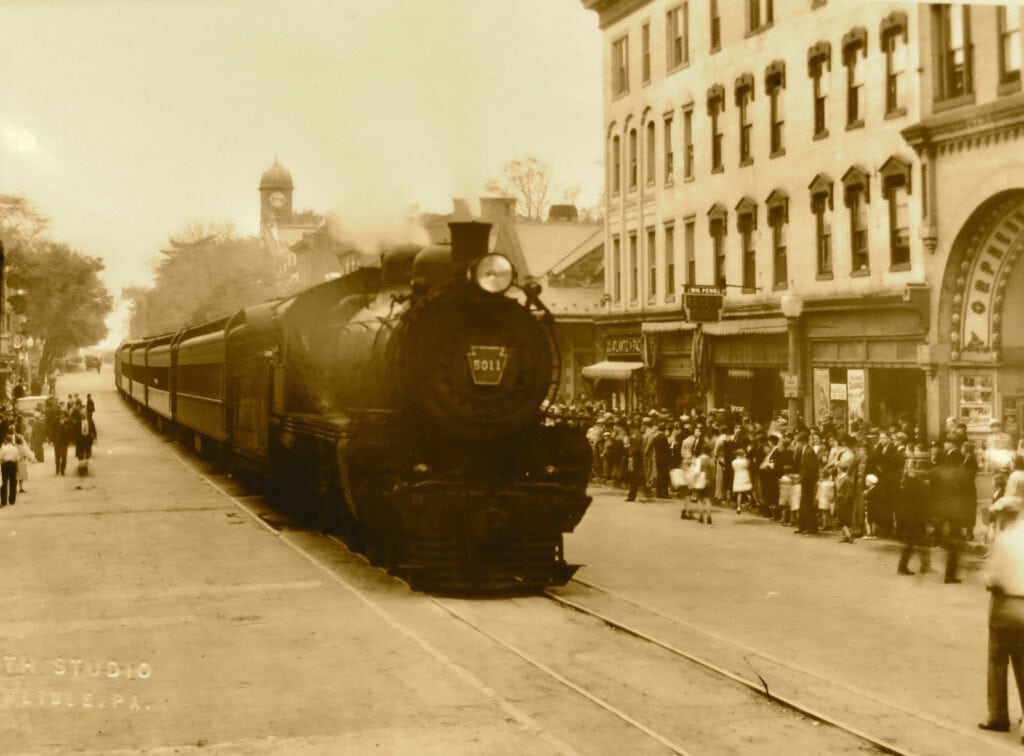 You can tell that the Cumberland County Historical Society, one of the oldest in Pennsylvania, is well funded. It's run like a first-class museum. Incredibly, historians here are "constantly busy doing research for the Metropolitan Museum of Art in NYC as well as other institutions."
The upstairs museum is repository for the largest collection of Wilheim Schimmel, "a local drunk who became the embodiment of folk art in the United States," according to one docent.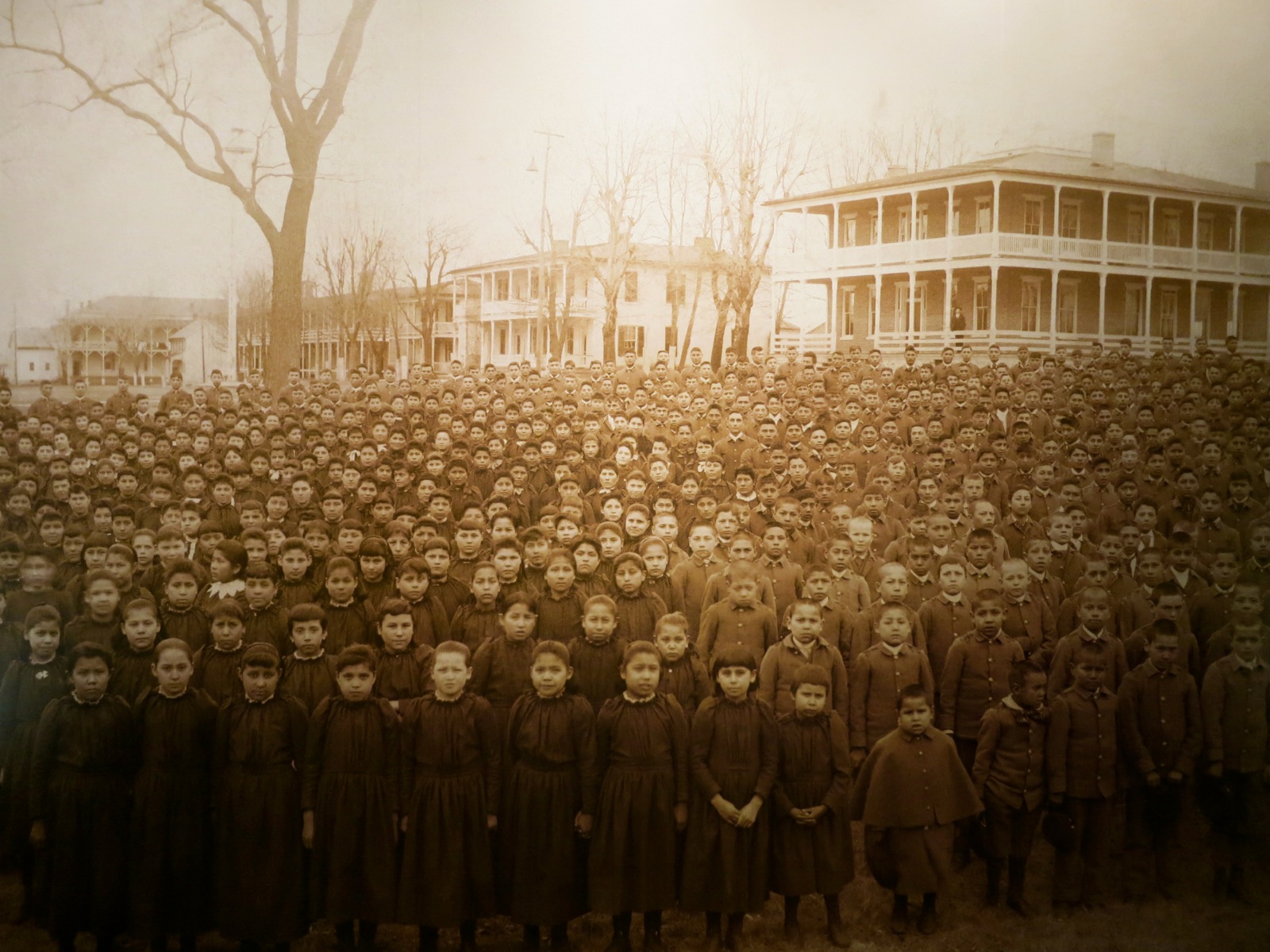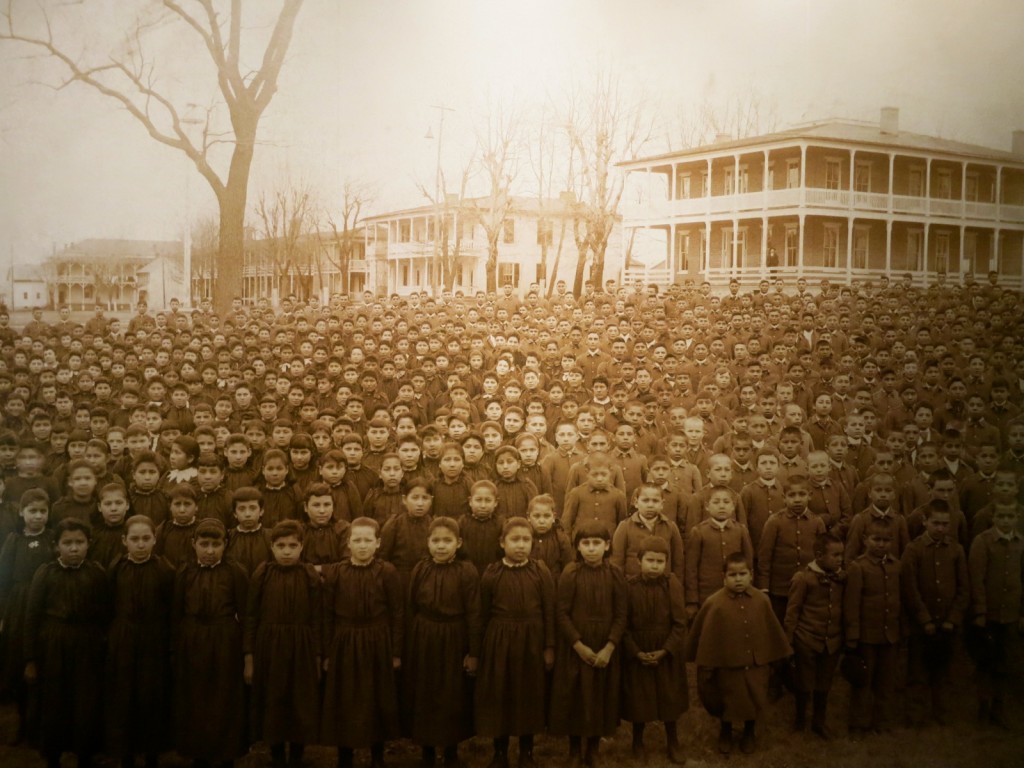 In one of the most riveting exhibits, artifacts and photos from the Carlisle Indian Industrial School will both confuse you and break your heart. Established in 1879 (and in operation until 1918), the Indian School sought to assimilate Natives into White Society.
Before and after pictures, group photos, and information about the school's most famous graduate, Olympic Gold medalist Jim Thorp, are disquieting at best, forcing a dialog about good intentions and bad ideas.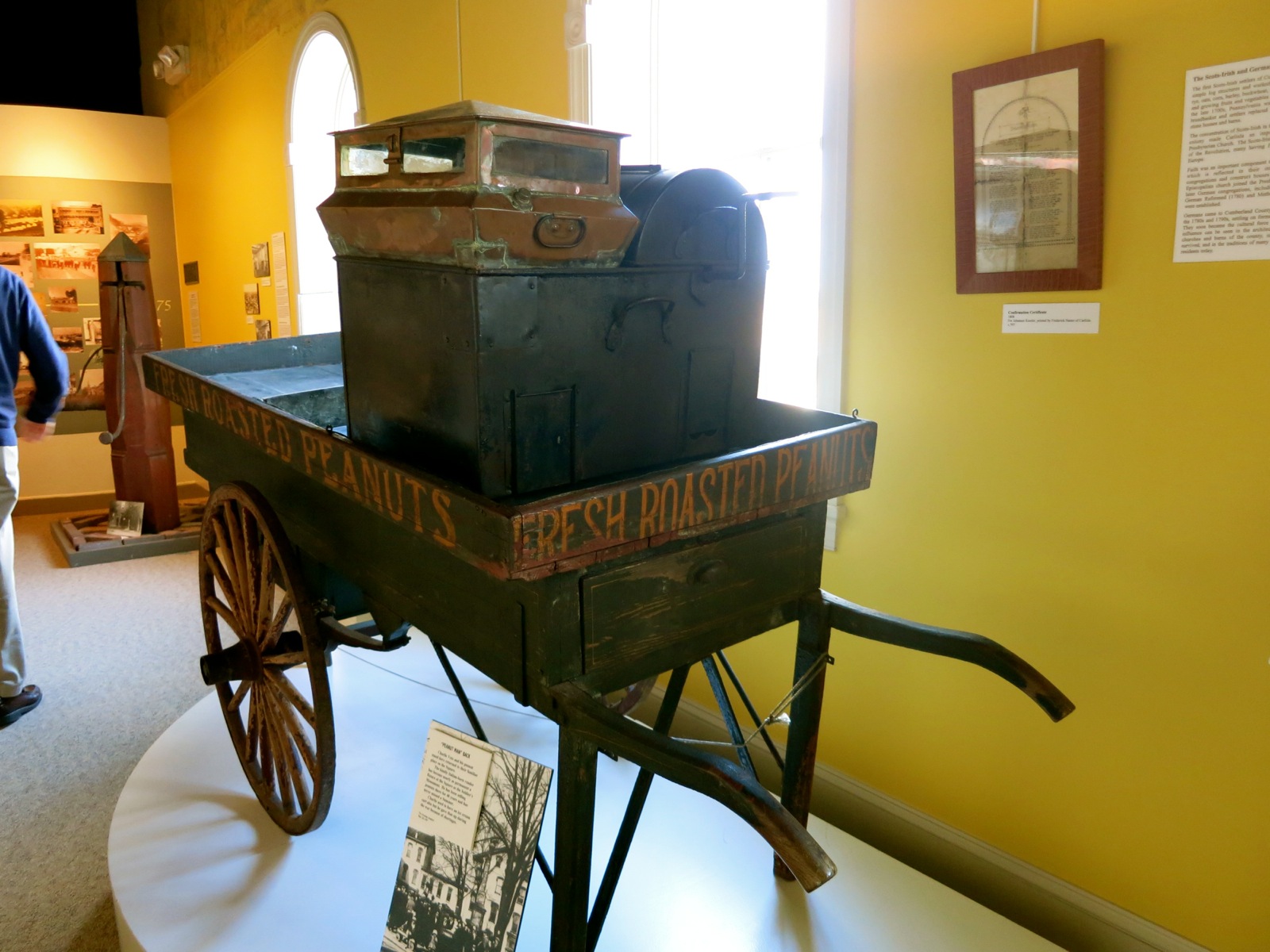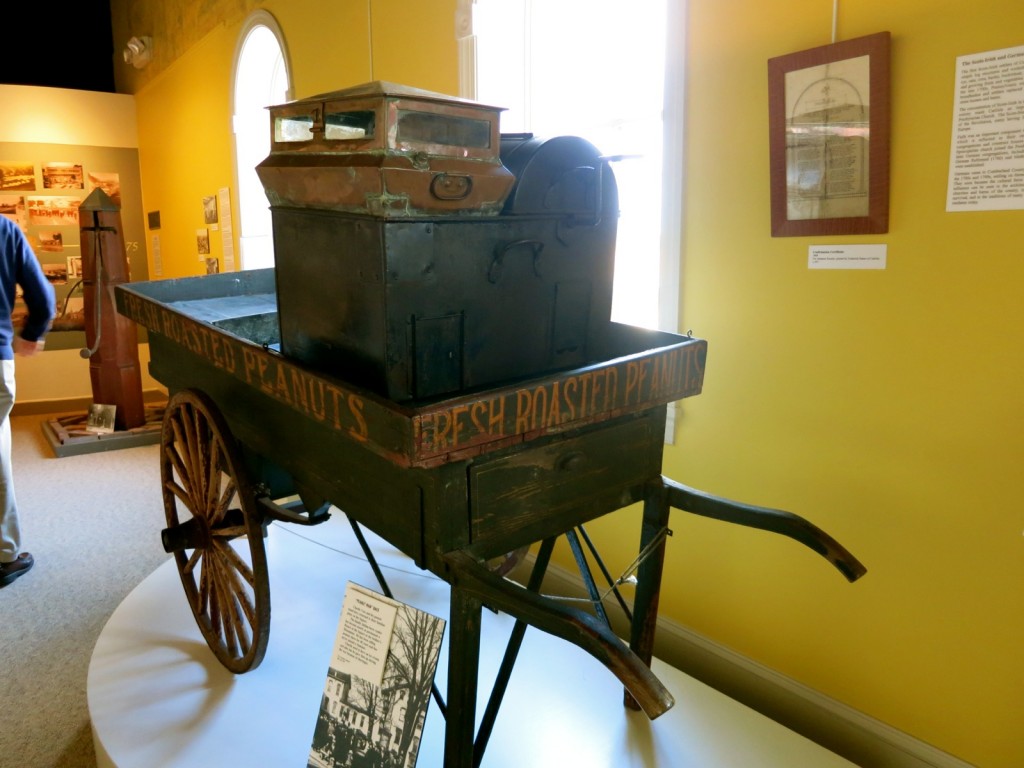 Exhibits range from quirky (Schimmel folk-art) to hometown poignant (the peanut cart owned by "an Italian fellow" that stood right outside for 50 years, when the train ran right down High Street) and lots more. Come in to get to know Carlisle a bit better – 30 minutes will do it. Monday 4:00 – 8:00 p.m., Tuesday through Friday 10:00 a.m. – 4:00 p.m., Saturday 10:00 a.m. – 2:00 p.m. FREE.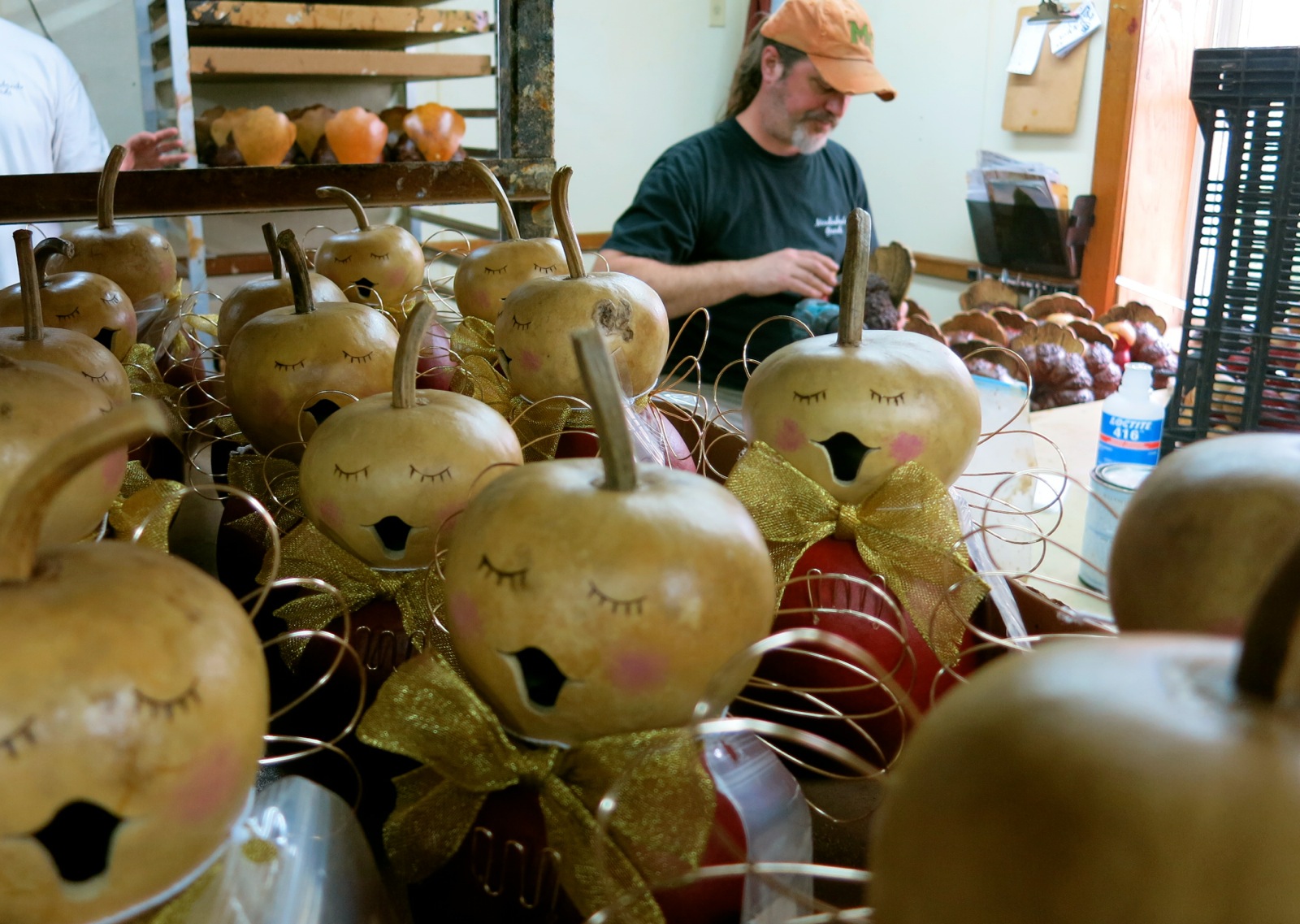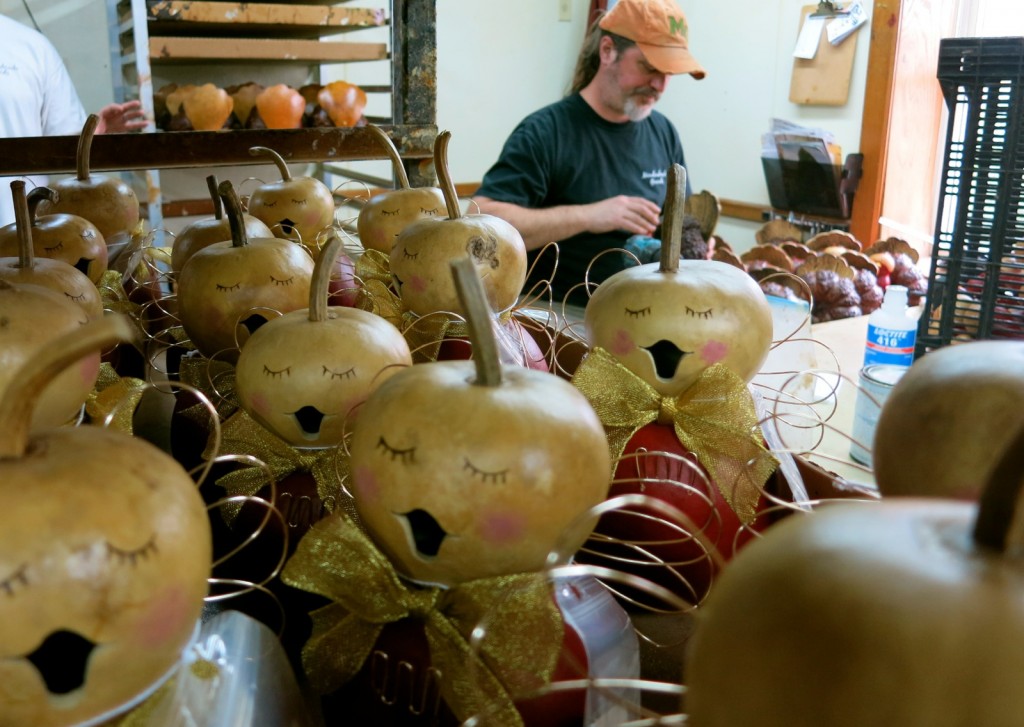 If you're into adorable holiday handiwork, you've probably received catalogs from this hardshell-gourd crafting company. Come to Meadowbrooke's 200-acre farm, to see the whole gourd-crafting process from ground to store. These cousins of squash are not edible, but once they dry can be carved like wood.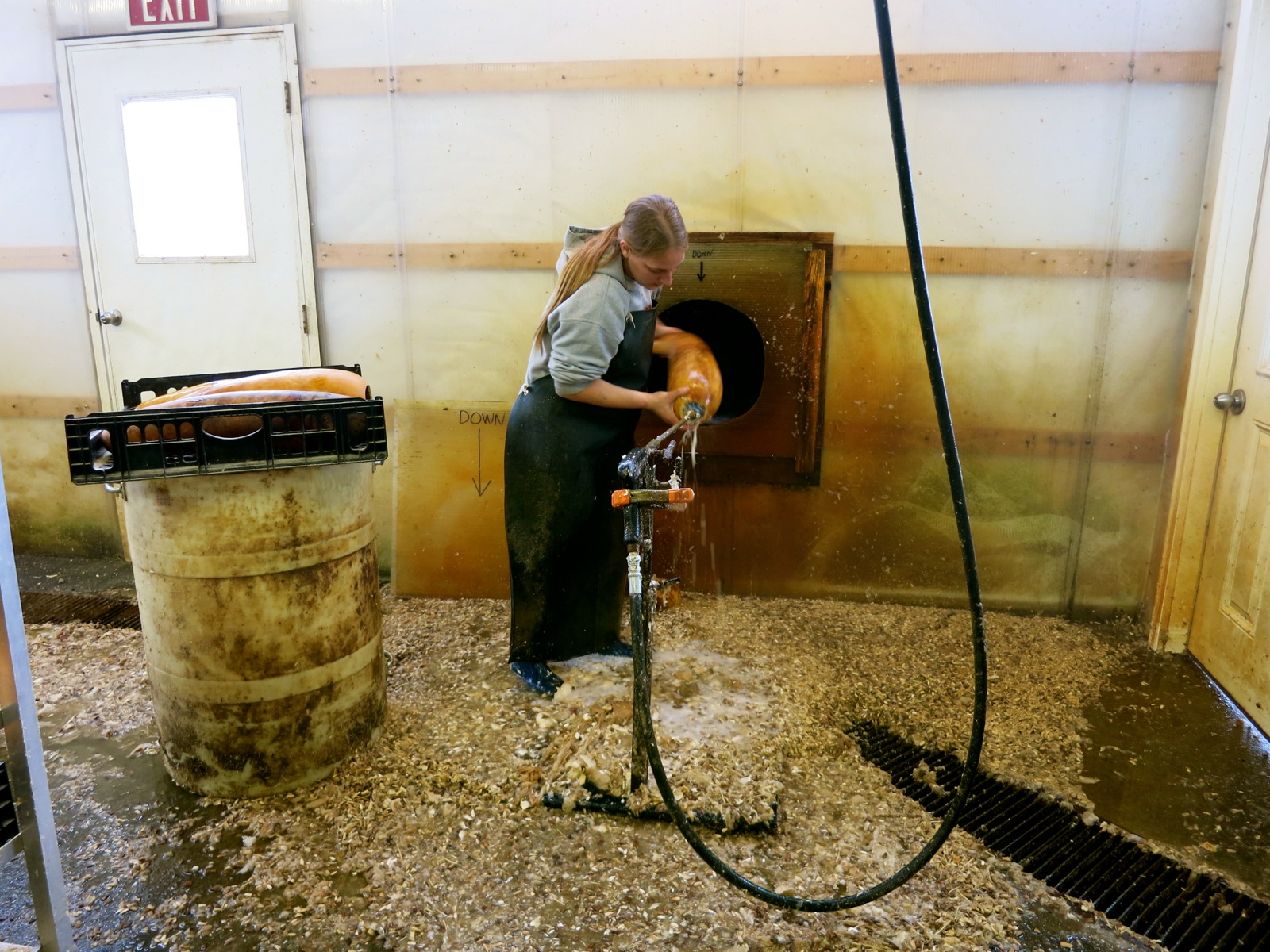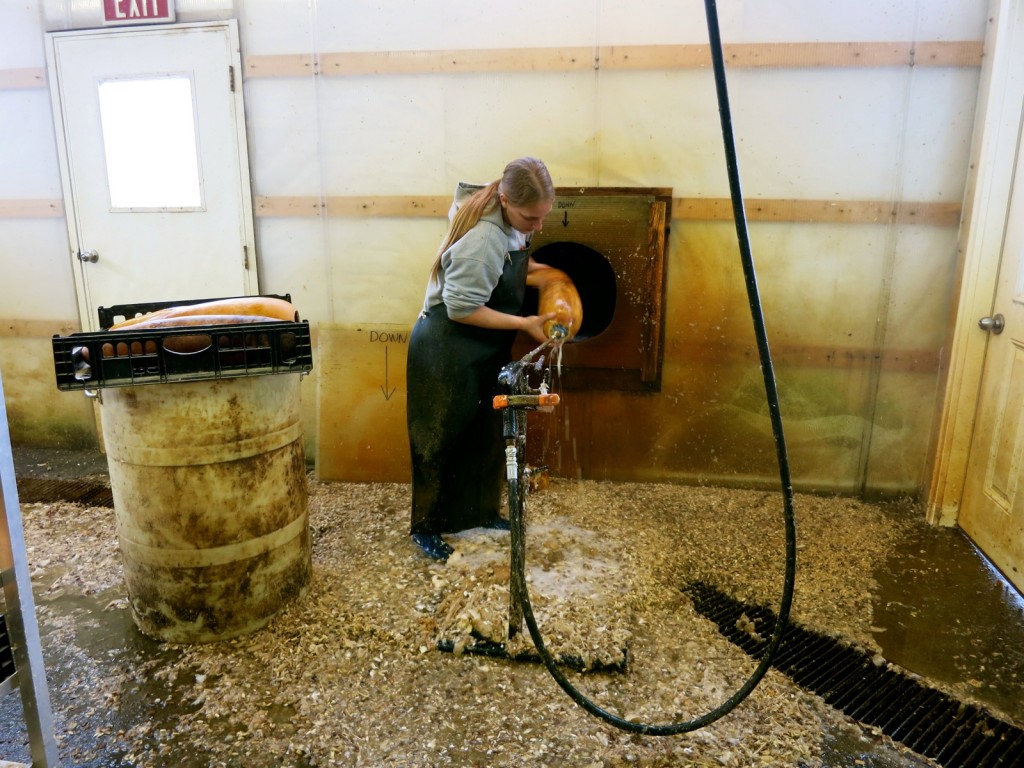 Employees work on 3,000 pieces a week. The tour takes you from the drying sheds to cleaning tanks, de-seeding room (the TV show Dirty Jobs filmed this portion of the process), to the workshops of craftsmen and women.
You'll end up in the gift shop, of course, where you can score a birdhouse for $12 and large lightbulb-lit lanterns for $65. 45 minute tours every Tues at 2pm. Free. Groups of 10 or more by appointment.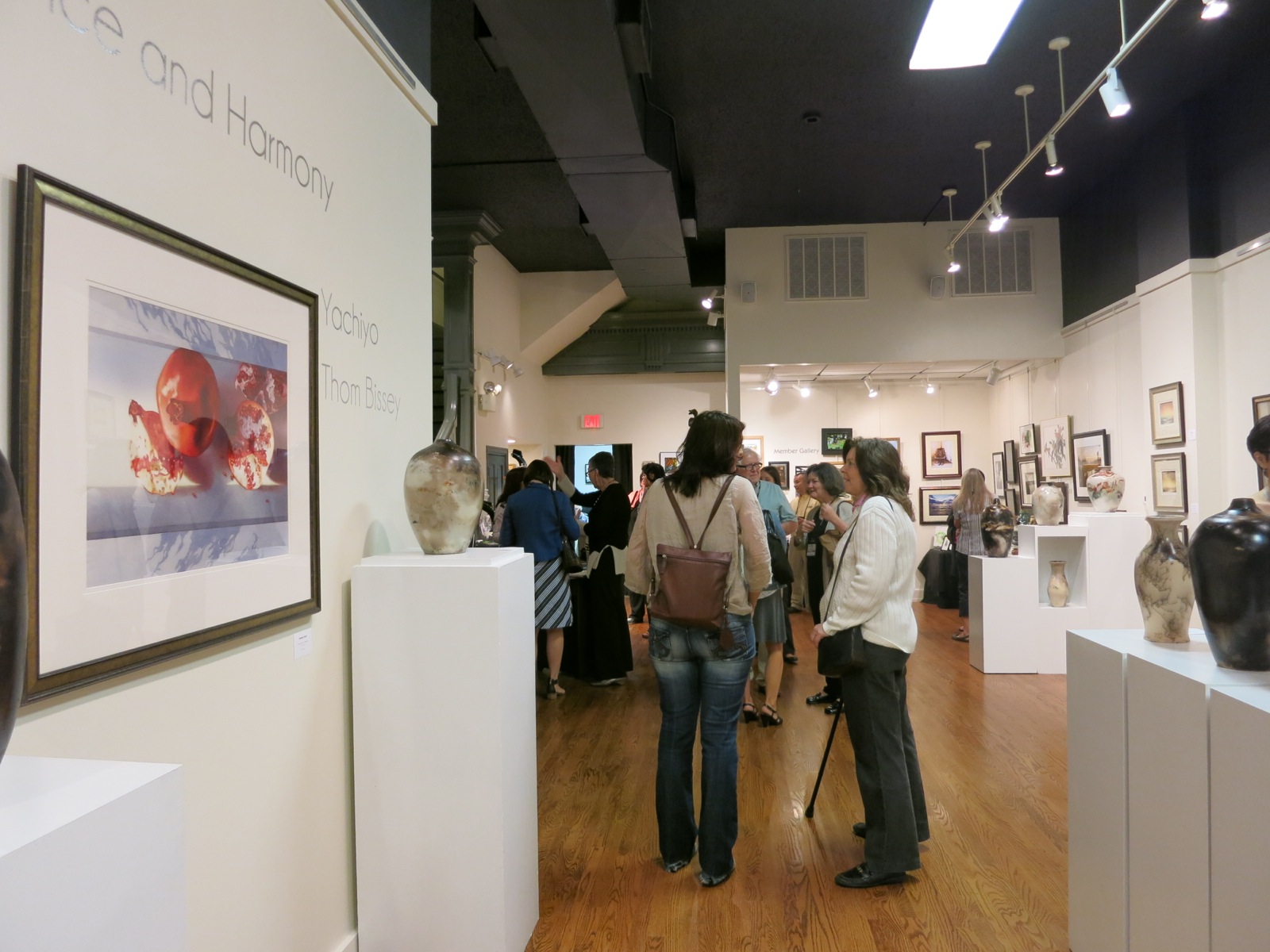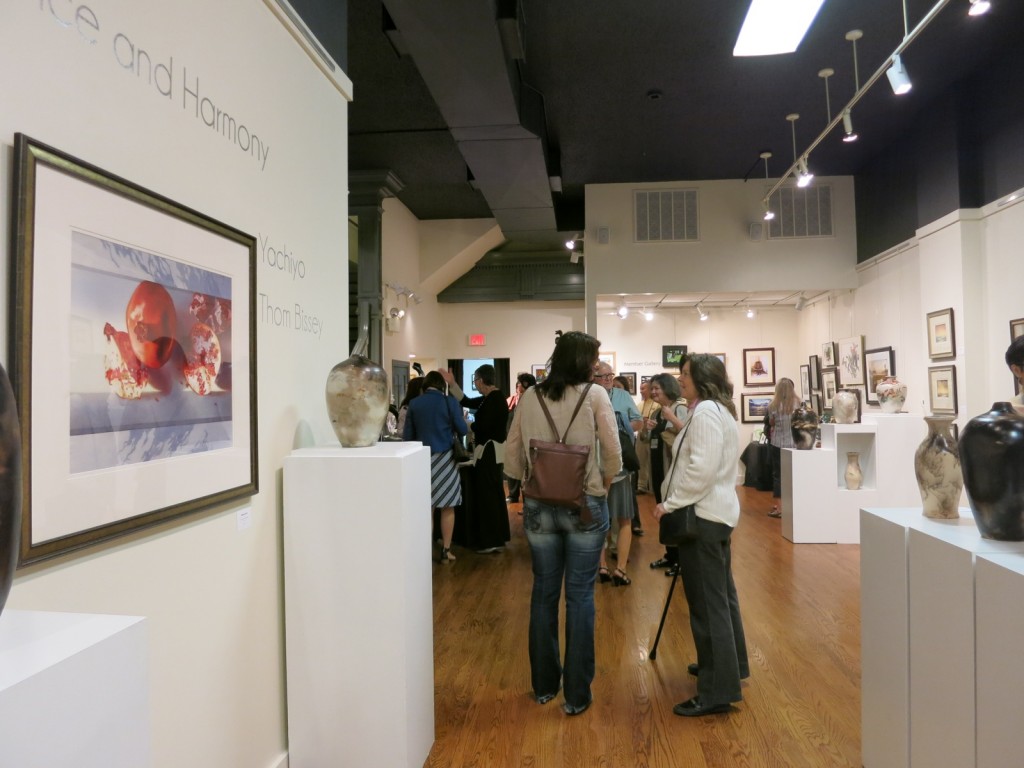 Try to time your visit to attend an opening reception at this beautiful two-story art gallery. They occur nine times a year whenever exhibits change. Free and open to the public.
Best Restaurants In Cumberland Valley PA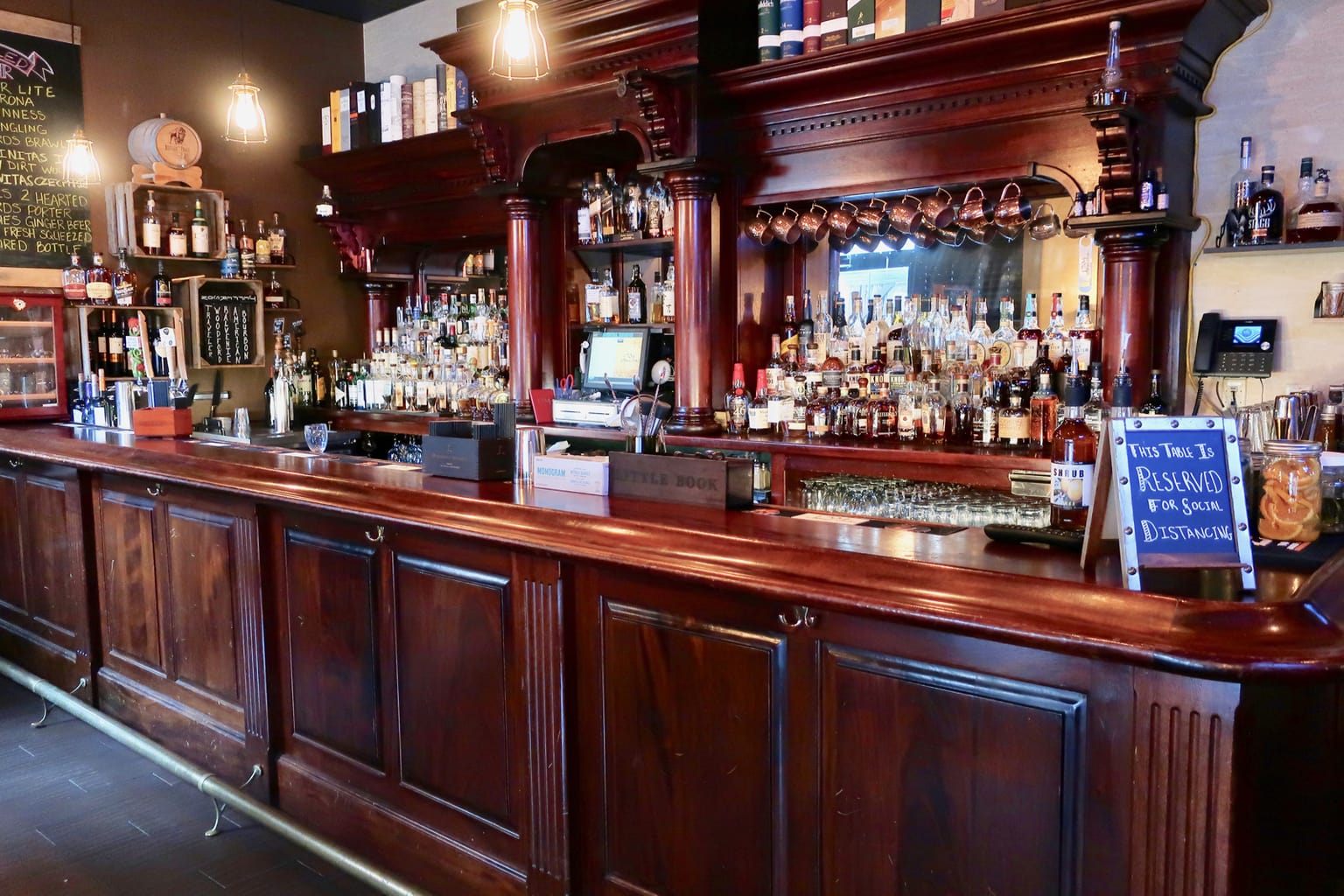 Attached to the Comfort Suites hotel, the Whiskey Rebellion Restaurant celebrates the independent spirit that sparked our country's first domestic tax rebellion. George Washington swung through Carlisle on his way from Philadelphia to Pittsburg on his mission to quell the Rebellion out in the Western parts of PA.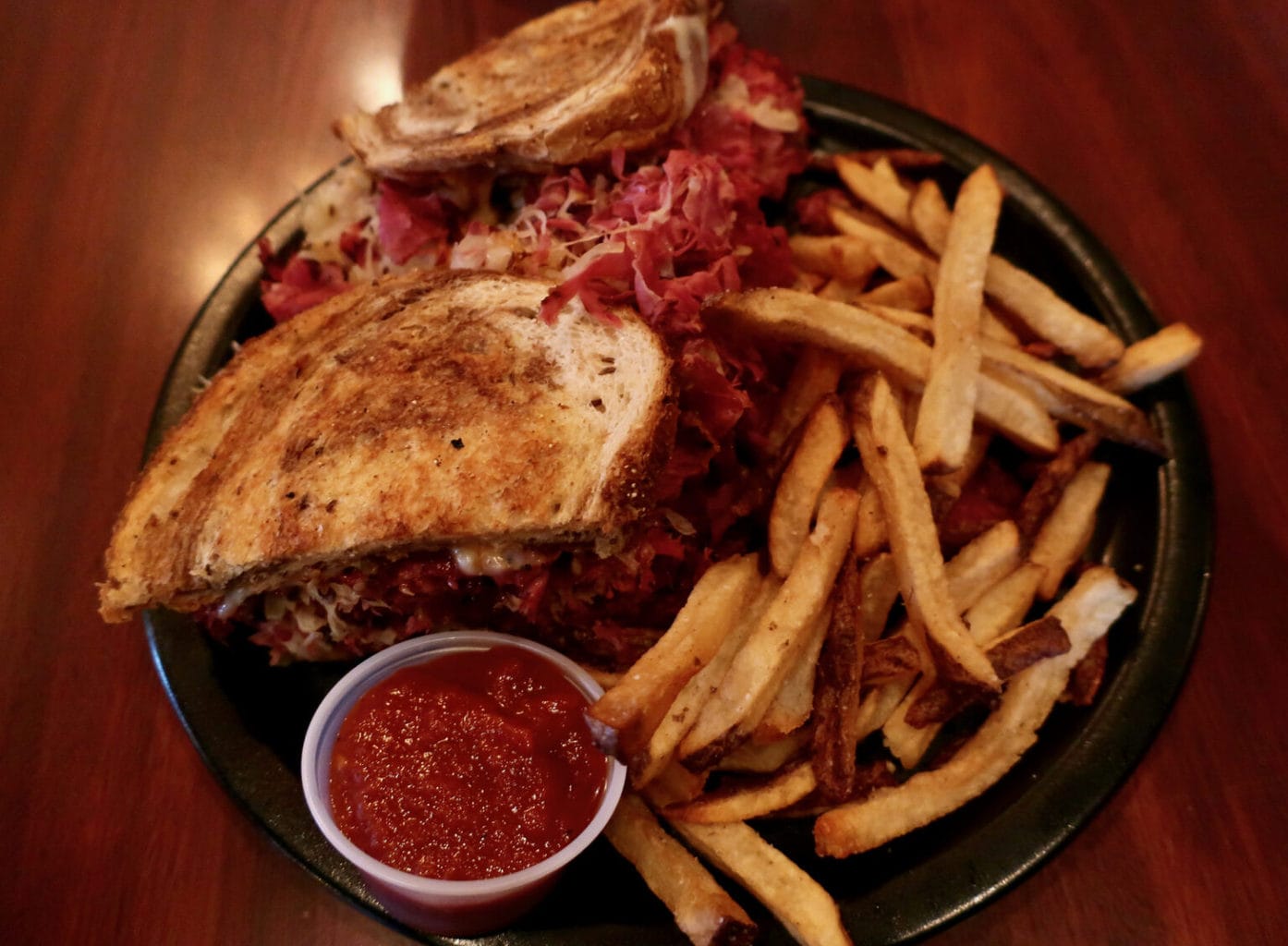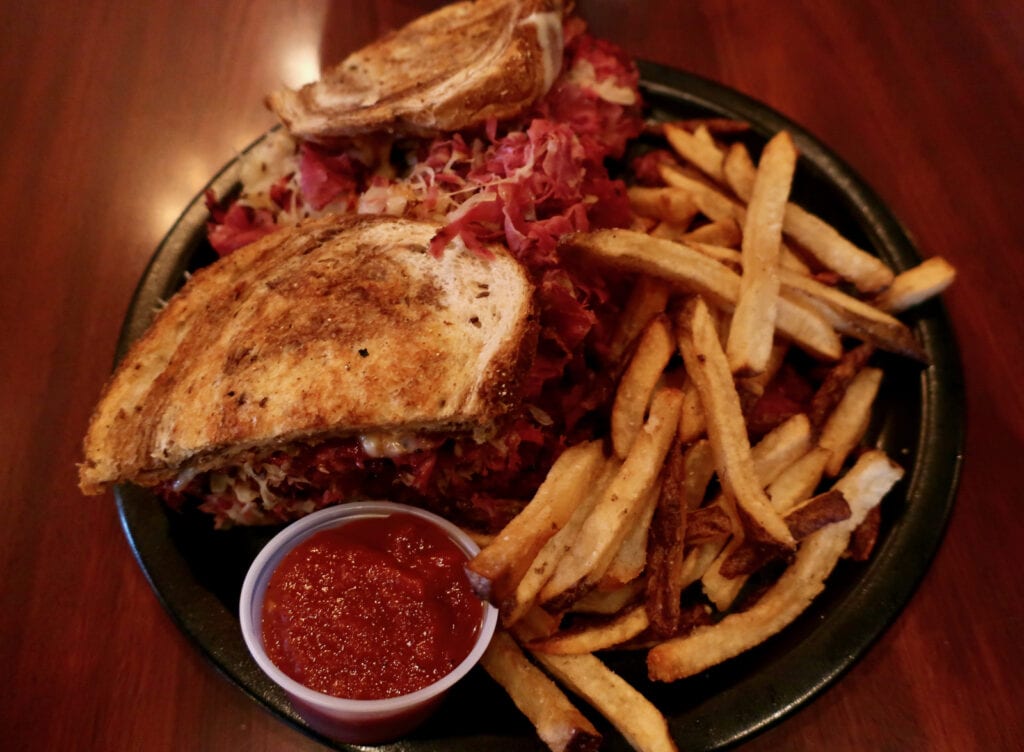 The English tavern bar features over 100 different whiskies along with farm to table food. Try the Whiskey Swiggin' Shepherds Pie ($18.94) with Hand Cut Fries and House Made Ketchup ($5.94), Bourbon Bird ($19.99), or my favorite, Rebellion's Reuben ($15.94) with "house candied" corned beef on thick cut marble rye.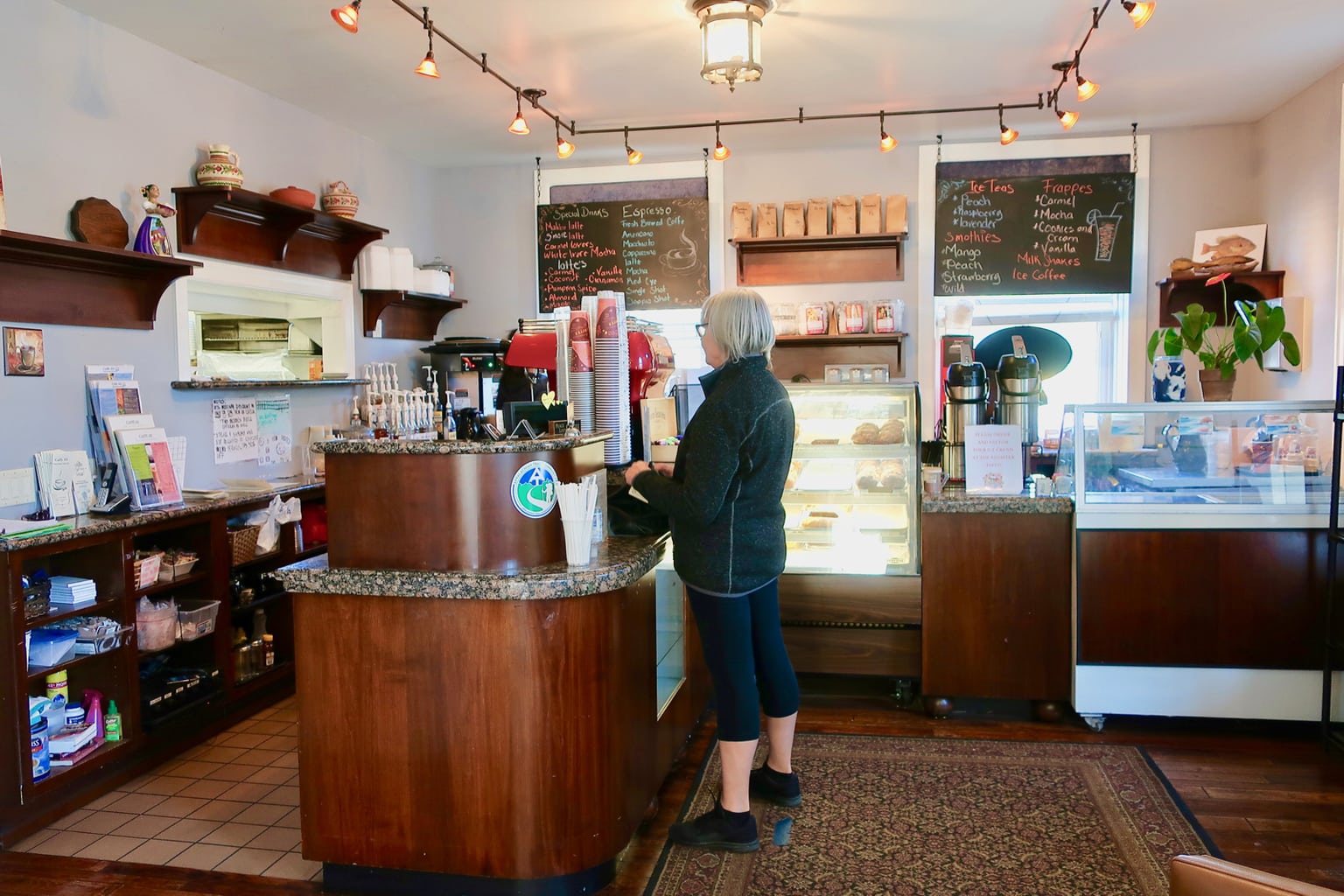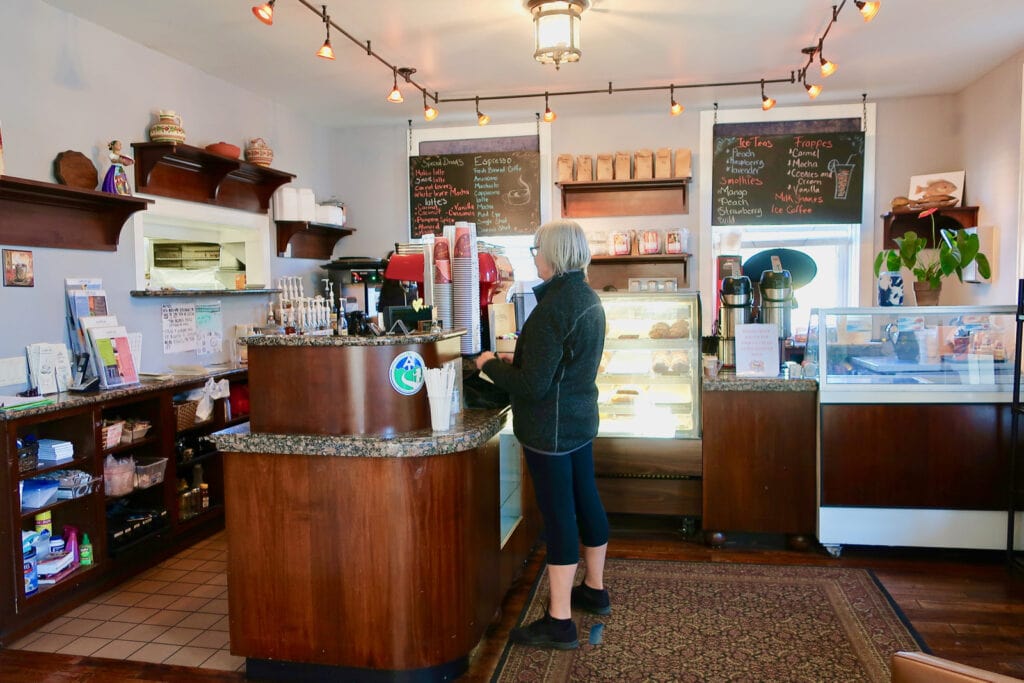 EAT: Café 101, Boiling Springs
Order fresh, house-made soup, salad, sandwich, or according to fans, "the best" tacos, and eat on the outdoor patio overlooking the head of Children's Lake. Sit there long enough, and you might see backpackers, straight off the Appalachian Trail, go by.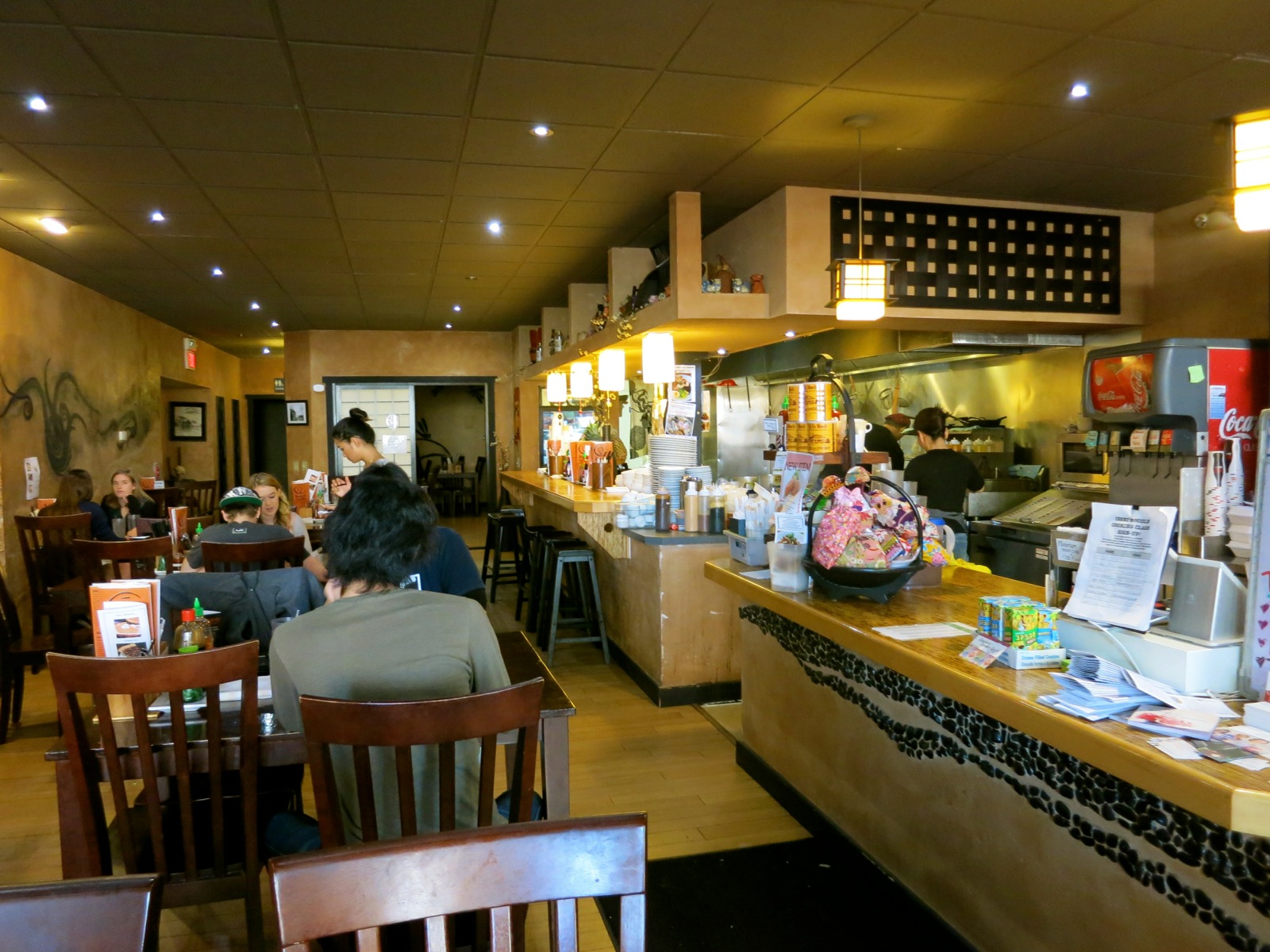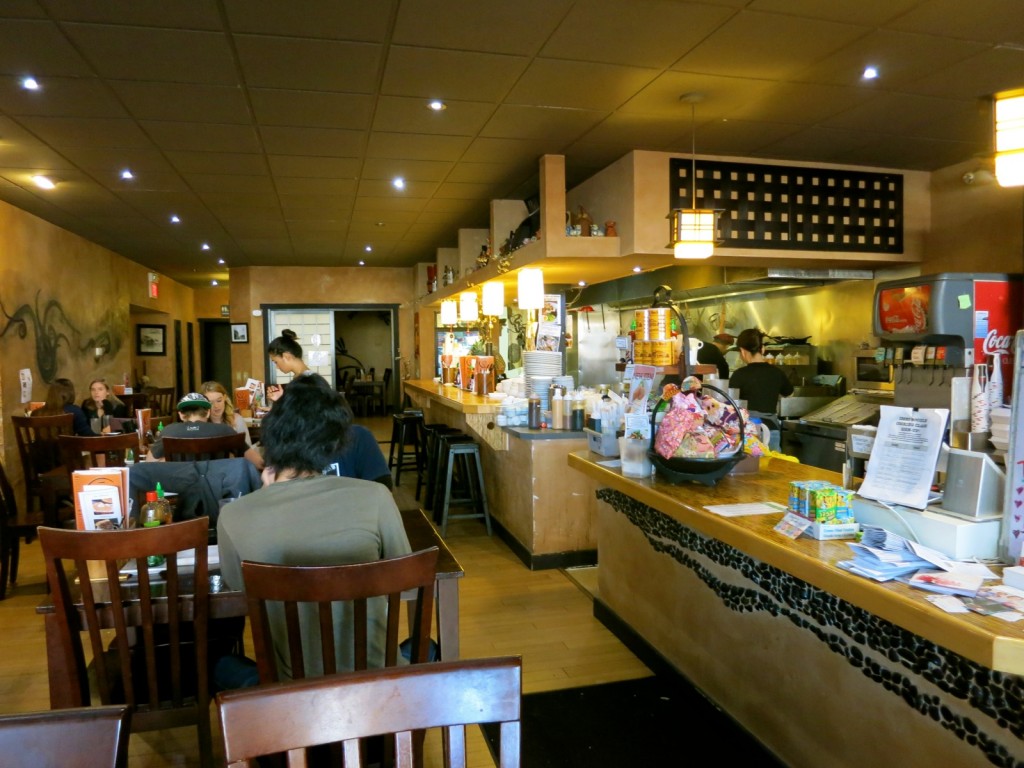 EAT: Issei Noodle Shop
Yum, is all I can say for this casual spot for great food on a budget. Momma and Poppa Pham offer traditional flavors with a new "Phamily" twist. Signatures Egg Noodle Delight with ground pork, garlic sweet soy sauce $11, and Rice Bowls like Asian Sesame Don-Buri – Mongolian seared beef with fresh veggies are "phamominal."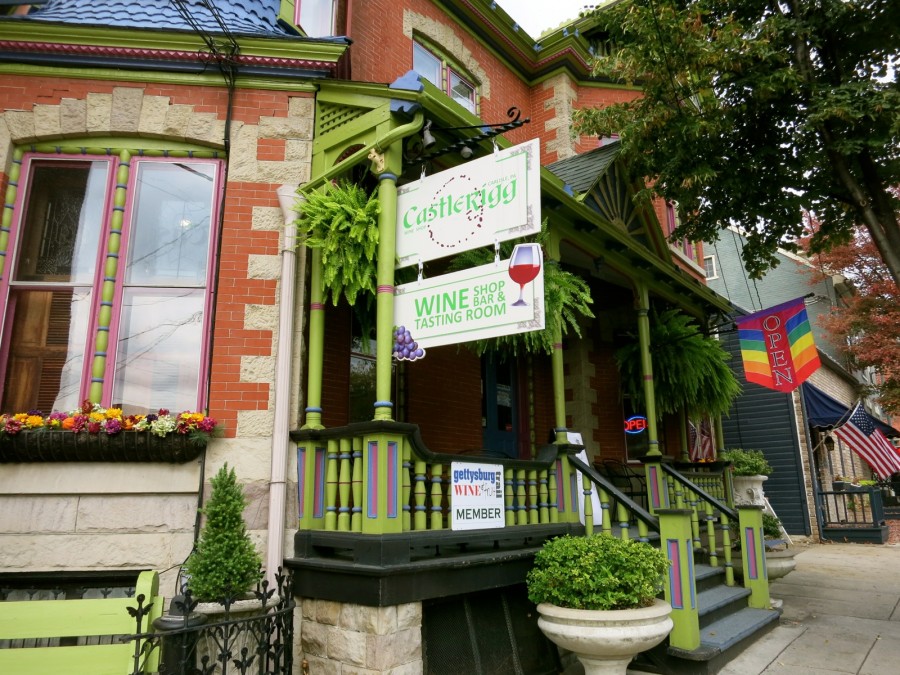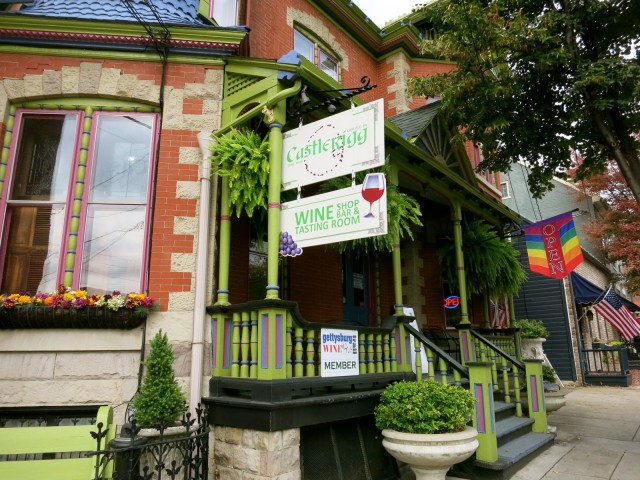 When it's warm, sip local wine on the front porch of this colorfully funky wine "Bar, Shop and Tasting Room."  Perfect for conversation and people watching.
Where to Stay in Cumberland Valley and Carlisle PA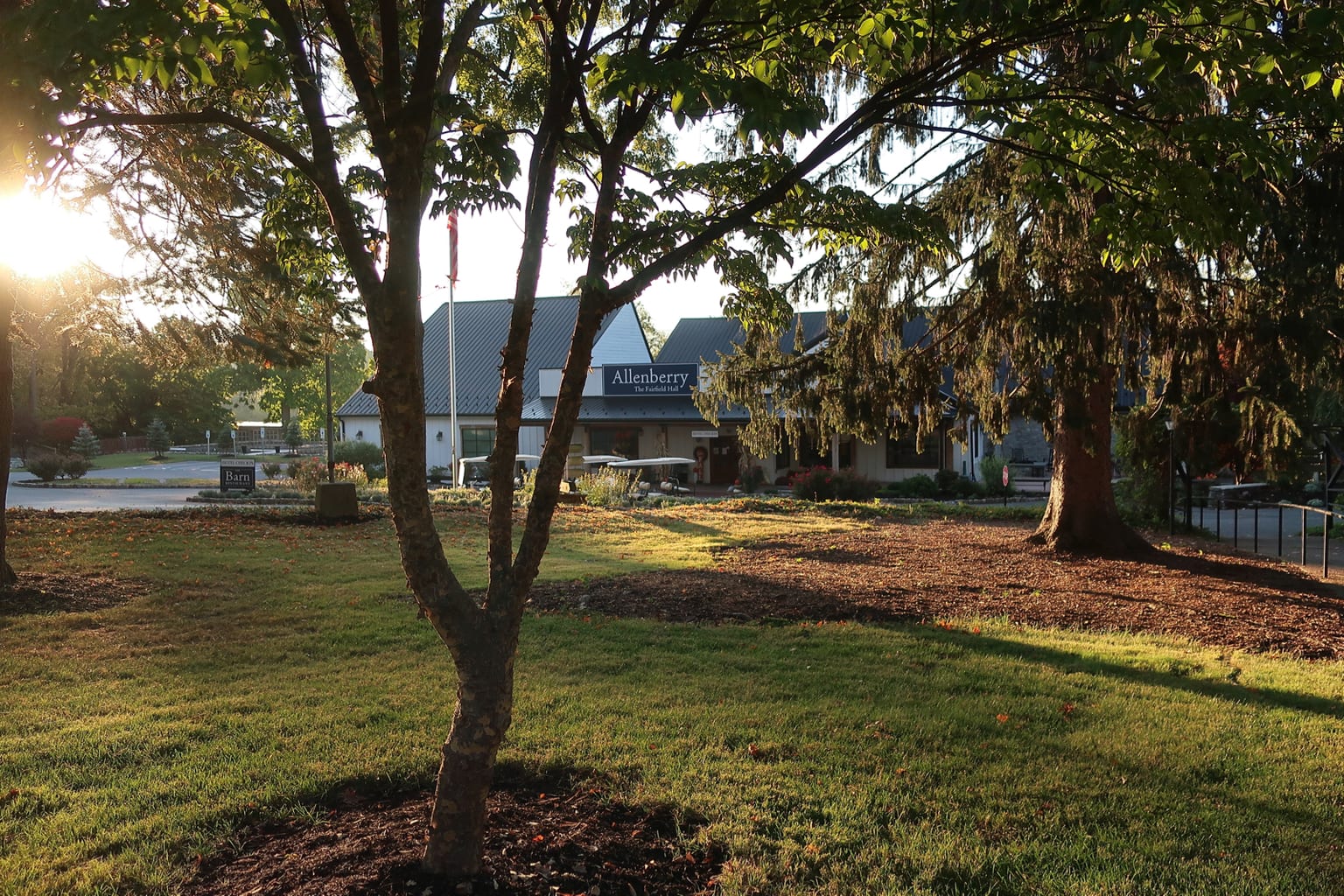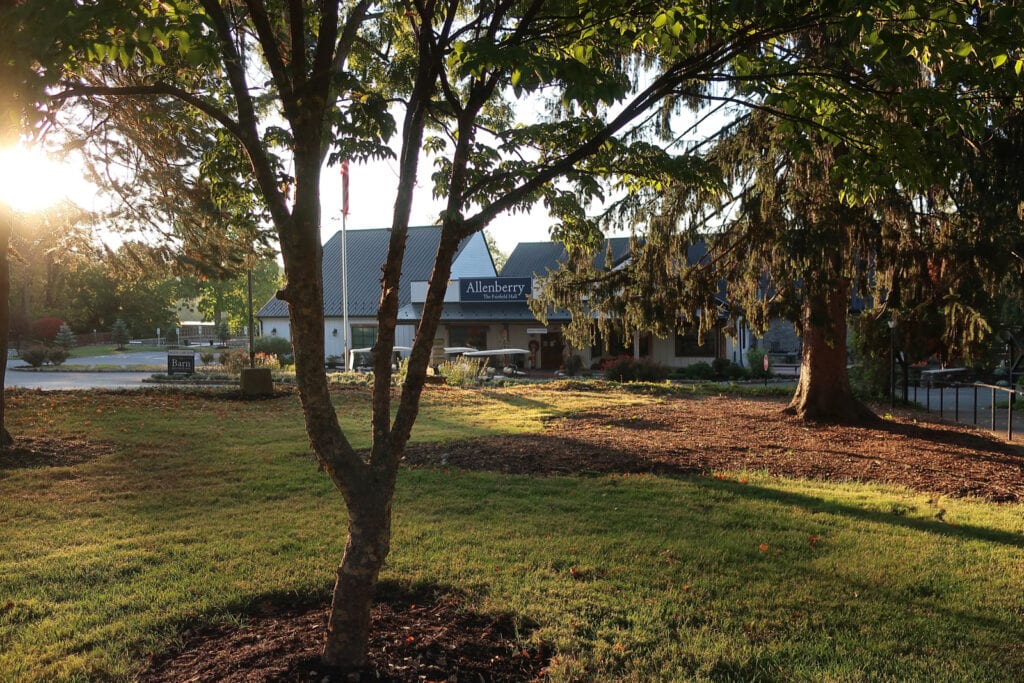 Legend has it that Davey Crocket' uncle, James Crocket, first settled the land along Yellow Breeches Creek, the current location of the Allenberry Resort. Crocket's limestone home, The Still House, remains.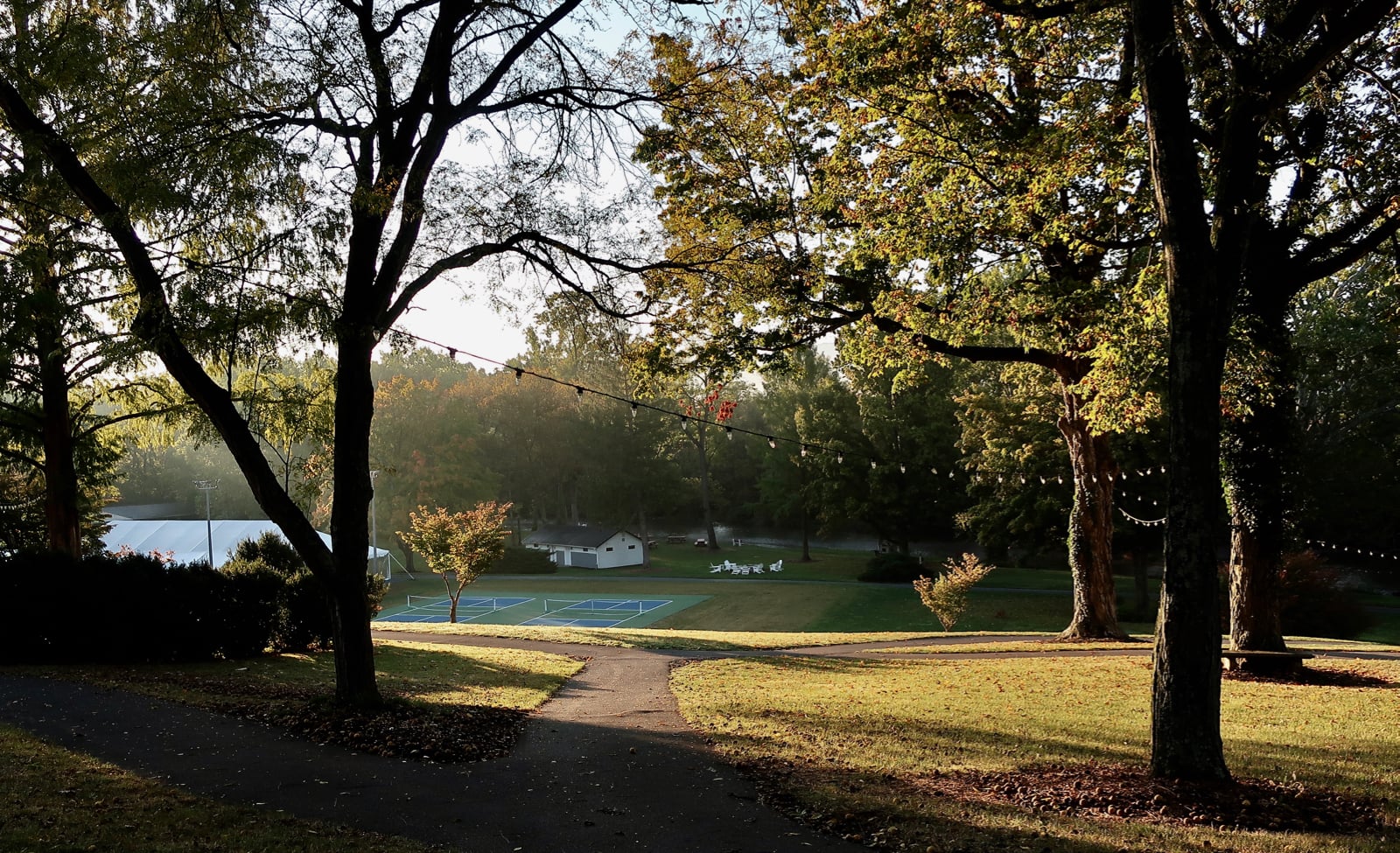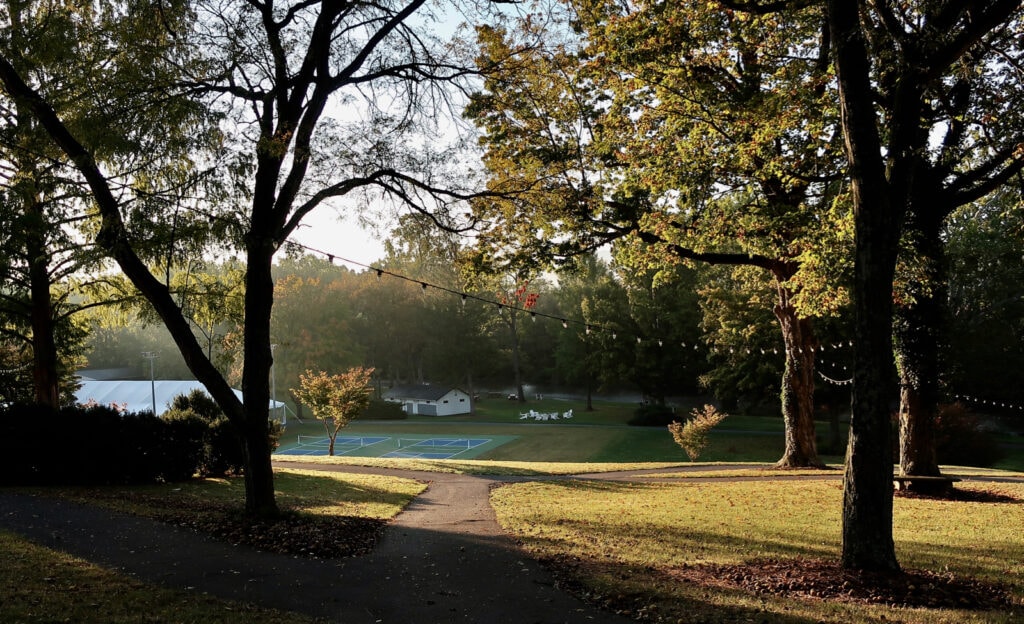 Set on a hill that slopes down to tennis courts and the tranquil Yellow Breeches Creek, The Allenberry Resort encompasses a collection of 16 buildings and cottages.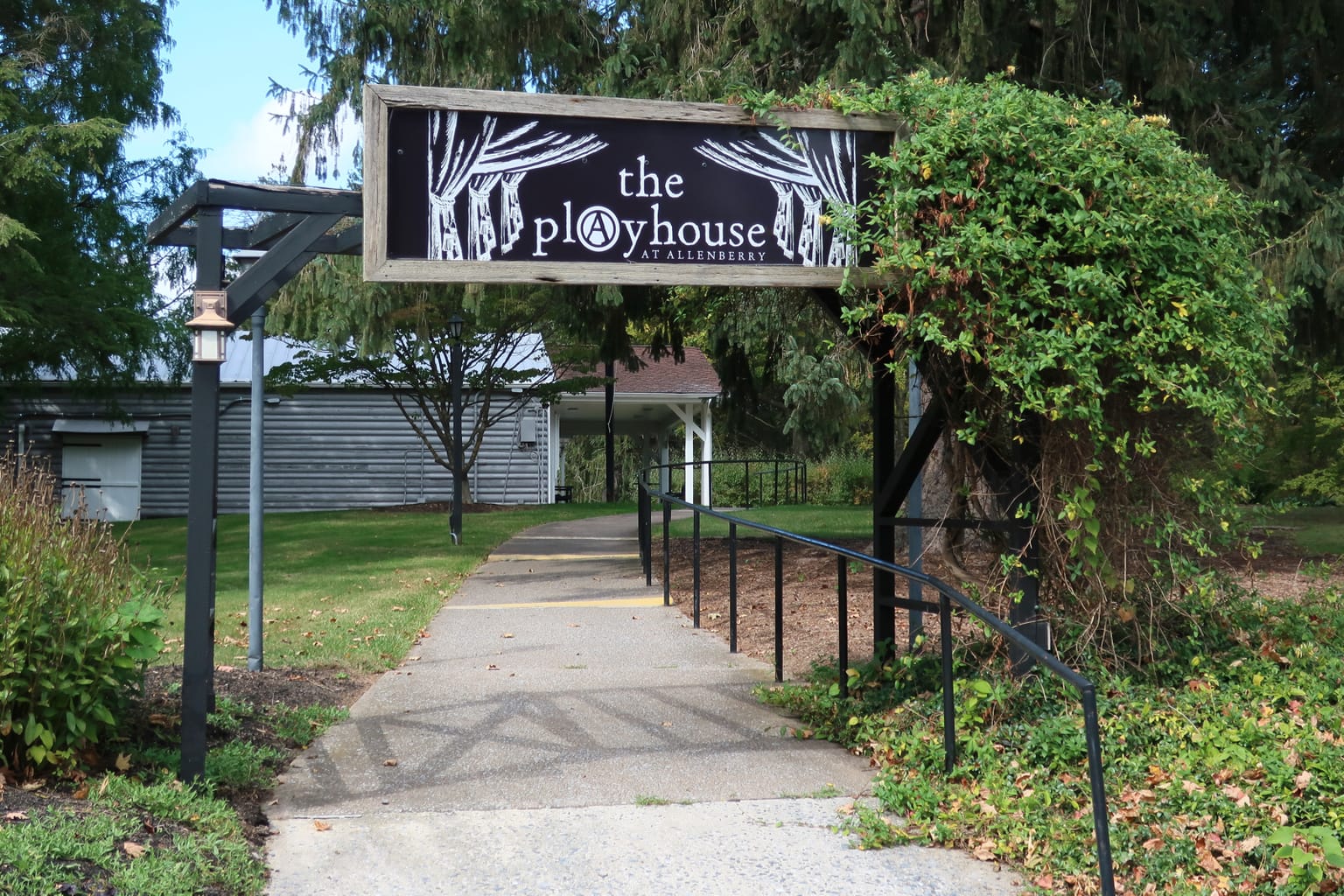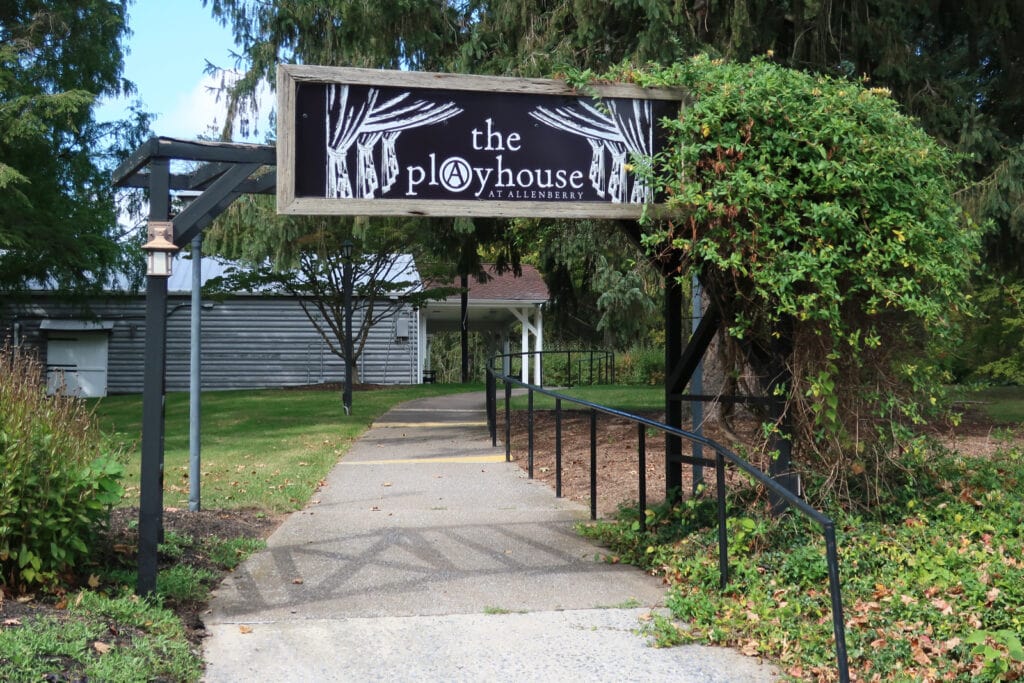 Just a few years ago, Allenberry was a popular, but fading family resort. It's still popular – but now updated – with upscale rooms throughout the property surrounding a central Playhouse (dormant now due to Covid). It's also one of only three Orvis-endorsed fly-fishing lodges in Pennsylvania – drawing anglers from nearby Baltimore, Philadelphia, and Washington DC.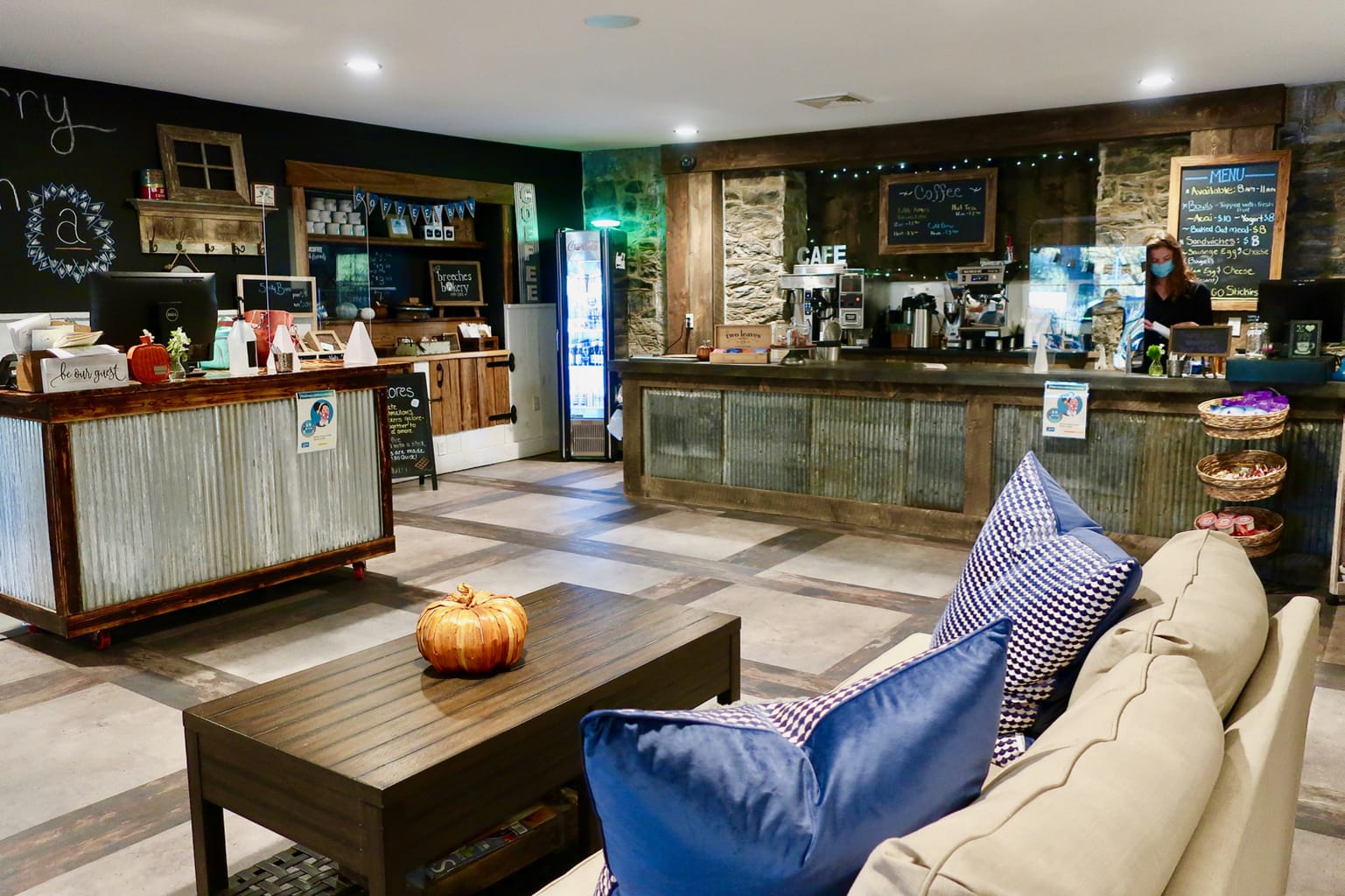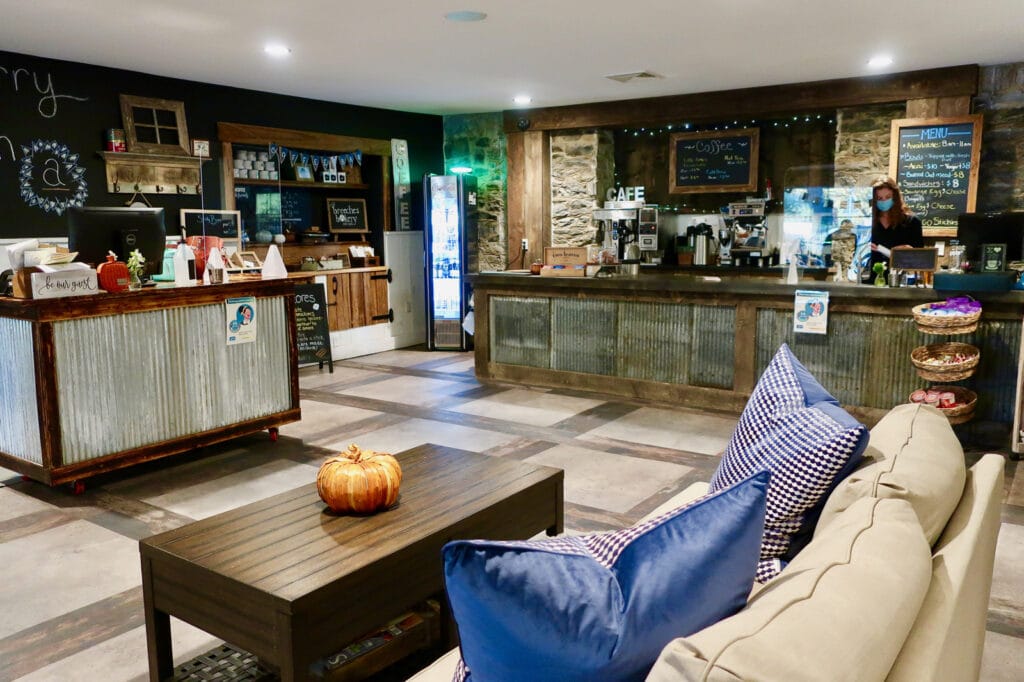 Check in at the central Fairfield Hall that features a comfy lobby/library/map room, the exquisite Barn Restaurant, the more private Cellar, and Breeches Café, where you can purchase coffee and Allenberry's most famous baked good – fresh baked sticky buns.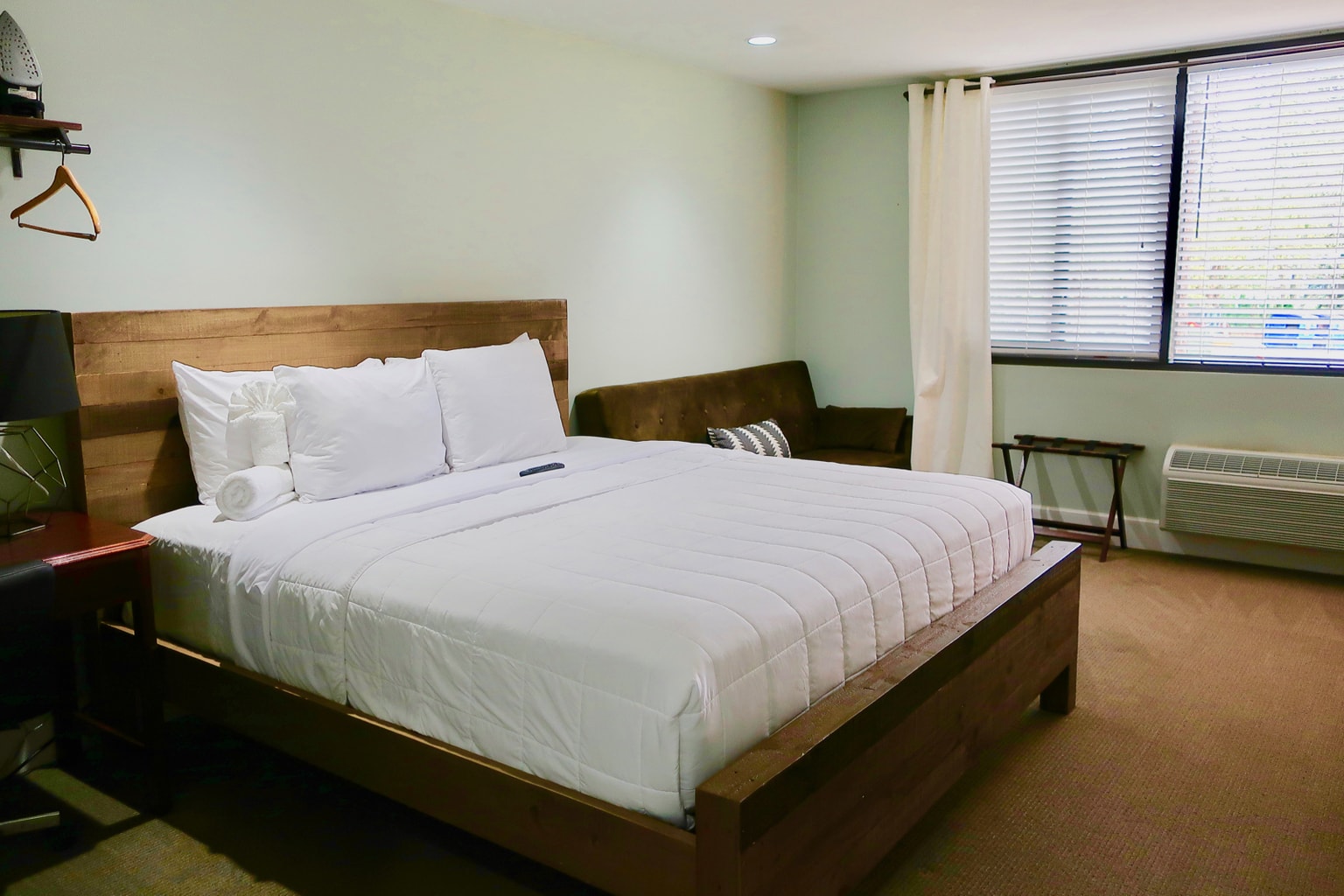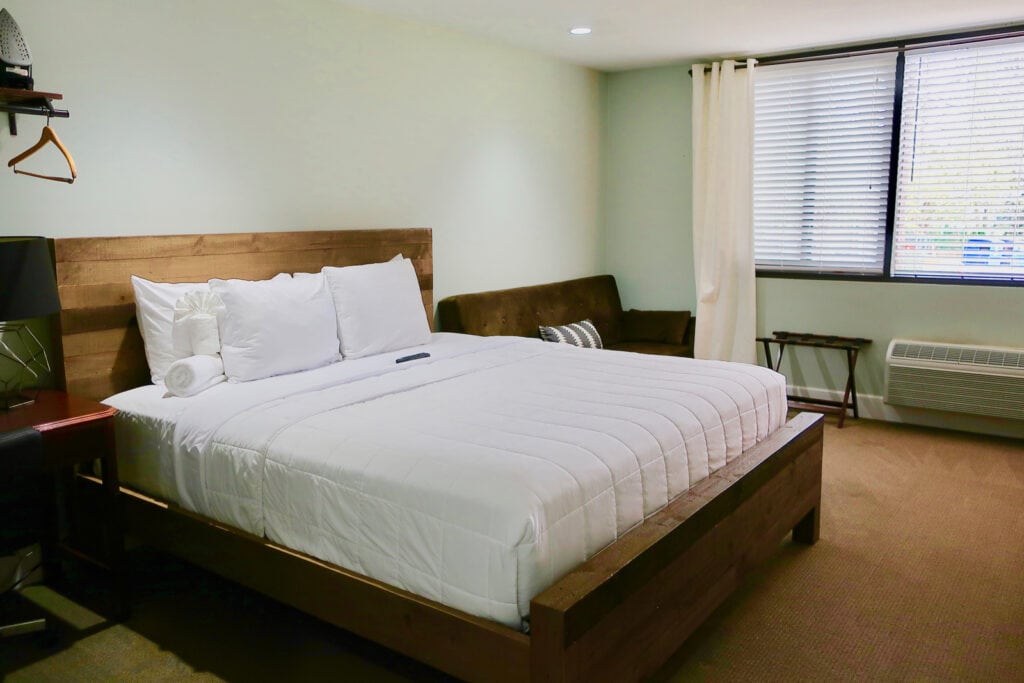 These gooey morsels are as desirable as farm market cider donuts in fall. Dense and yep, sticky, I took one back to my room with a large cup of coffee and could not resist eating the whole thing.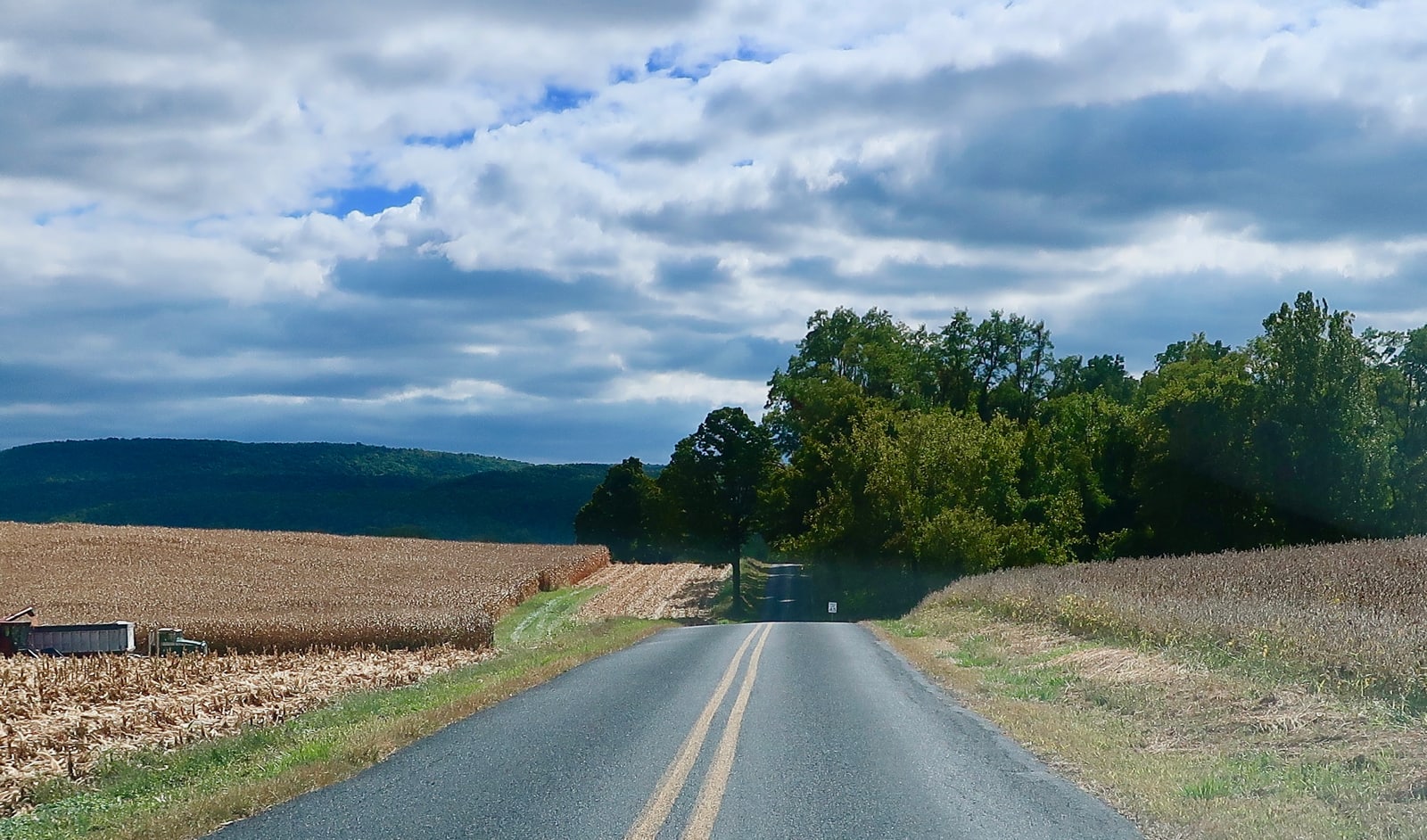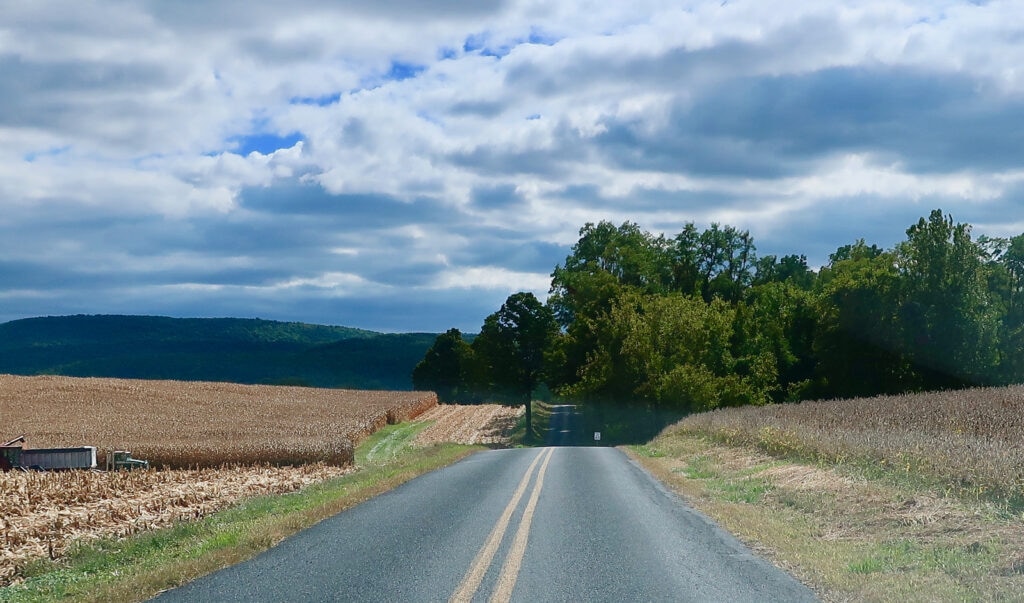 Just a scant mile from the Appalachian Trail in Boiling Springs, the Allenberry draws hikers looking for a splurge, romantic couples, and theater buffs out for a weekend at the Playhouse. Rates from $170-$350 includes wi-fi and parking.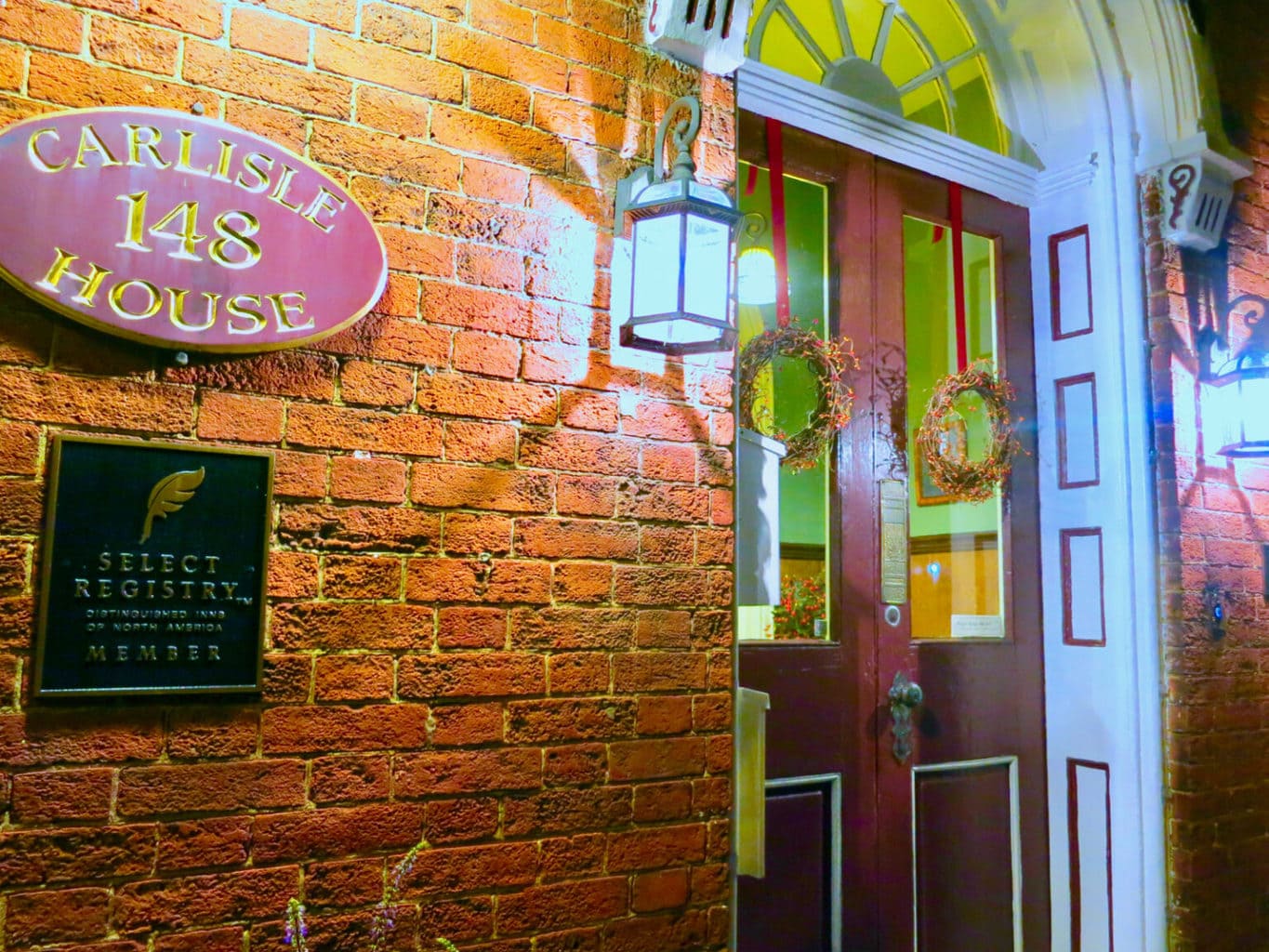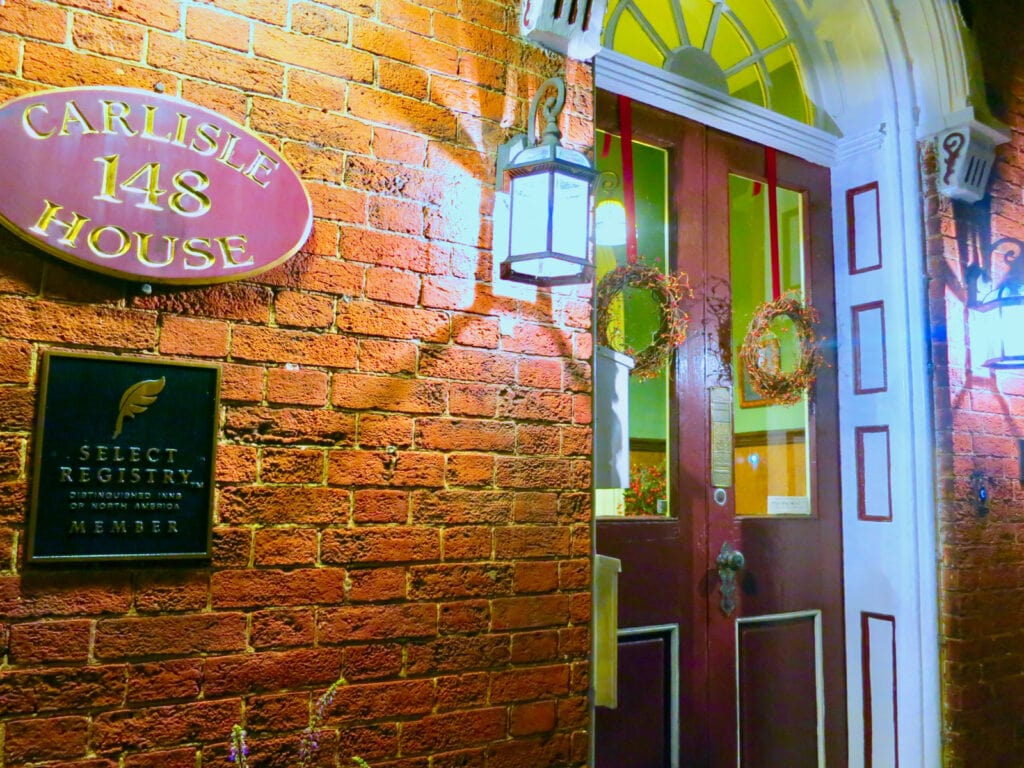 If you drive a Tesla or a Leaf, you might know that this historic luxury inn is, incredibly, the only B&B in the area (in the whole State?) with its own EV car-charging station.
Yes, The Carlisle House, on the Select Registry, does draw its share of electric car owners who know nothing about the accommodations. But most guests come for the unmatched service and six baronial rooms and four suites that are painted in surprisingly vibrant "Historical Preservation" colors.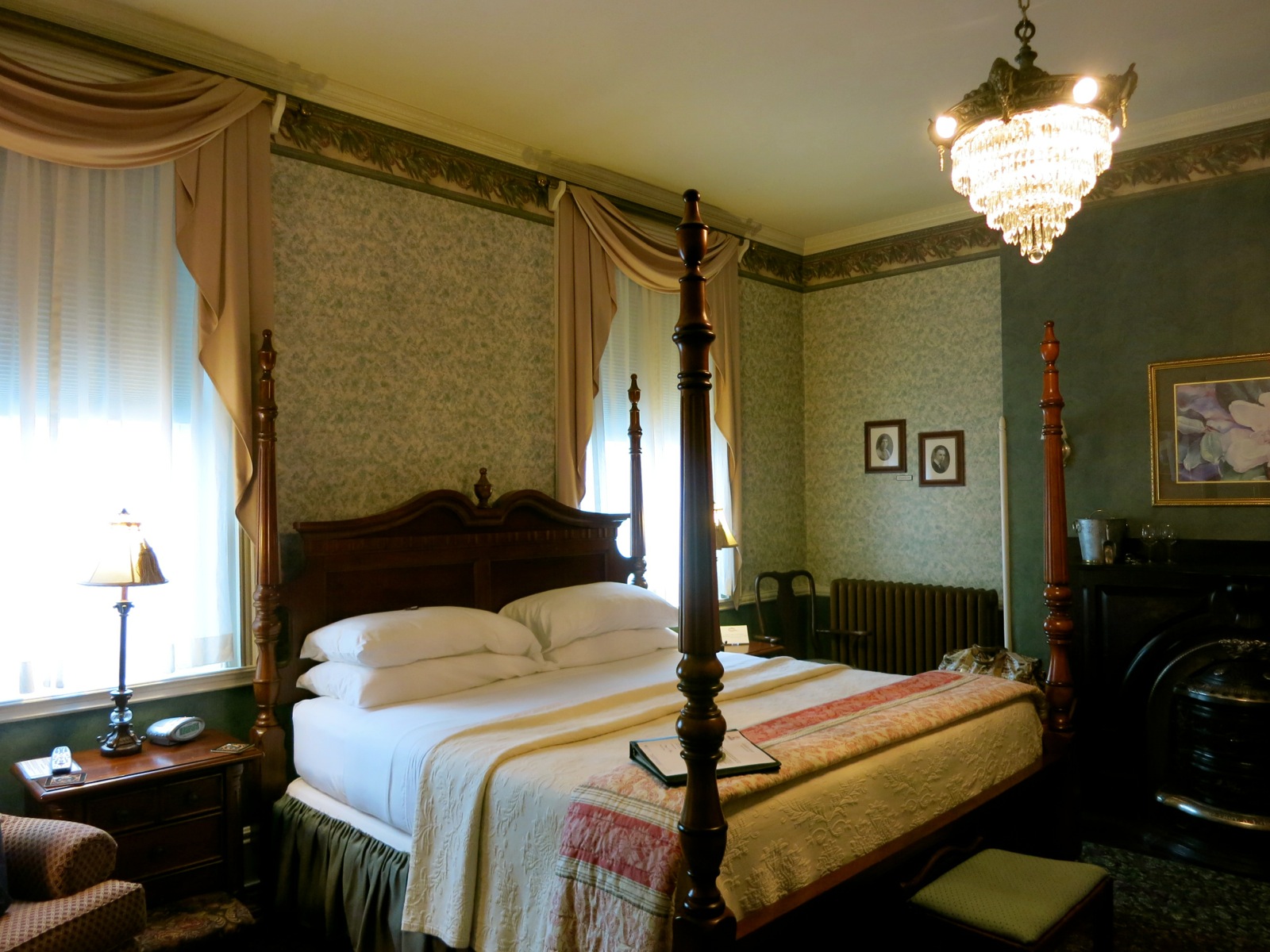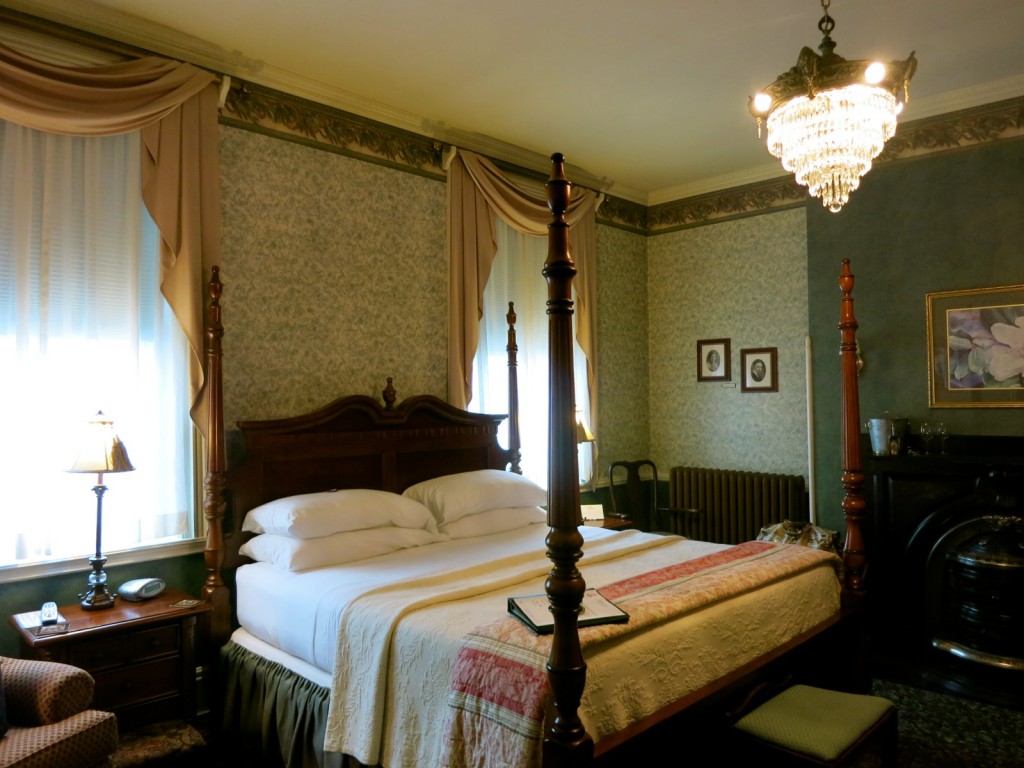 Owners, Carolyn and Tim Carlisle, go out of their way to make your stay here wonderful. The most romantic rooms feature crystal chandeliers, wood stove fireplace, four-poster beds, an arrangement of antiques and double Jacuzzi/shower – sporting double power-jet rain heads. Of course, all are  perfect for honeymooners or anniversary-celebrating couples.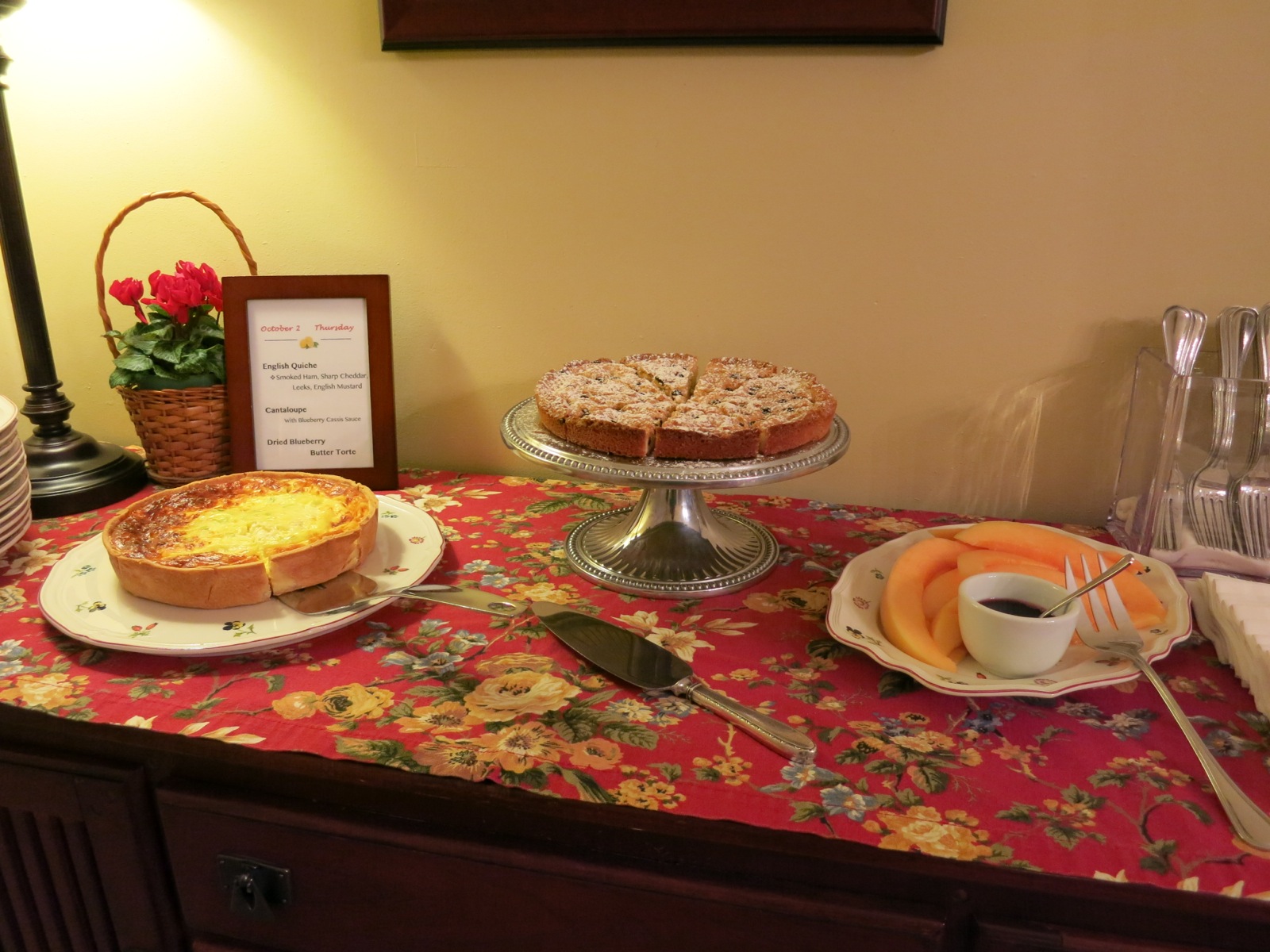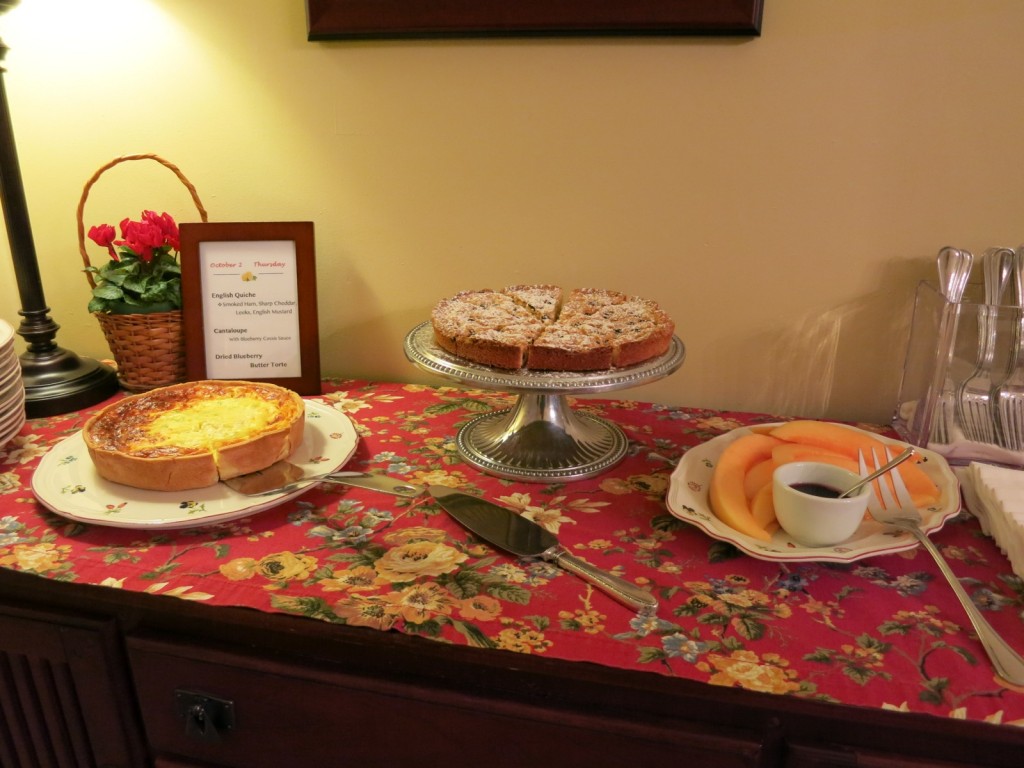 A gourmet style, indulgent breakfast is served in the morning. Rooms $159-$269 include welcome treats, free wi-fi, free parking and gourmet breakfast.