WHY GO: Once a steel town, Bethlehem, PA has reinvented itself as an arts powerhouse. Plus, it's got the oldest continuously operating bookstore in the world. With Sands Casino, Arts Quest and Lehigh University on one side of the Lehigh River and the Moravian stone buildings of Historic Bethlehem on the other, Bethlehem has somewhat of a split personality, but all is wrapped up in one big Christmas Gift.  You can bet your advent calendar that there's something going on in The Christmas City every day during the Holiday Season.
Things To Do In Bethlehem, PA
DO: Listen to music, see a show, or participate in an art project year round at ArtsQuest on the Steel Stack Campus.  You may recall Billy Joel's song, Allentown ("Out in Bethlehem they're killing time; Filling out forms; Standing in line"). At its height, Bethlehem Steel employed 30,000 people. Behemoth blast furnaces, spewing cobalt-blue flames and set over a quarter mile, were focal points of this working class town.  Bethlehem Steel  manufactured the beams that held up the Empire State Building and Golden Gate Bridge, and thousands of structures in between.
When it closed in 1995 after 135 years of operation, Bethlehem Steel's  town-sized compound became the largest Brownfield redevelopment site in the United States. Some buildings have been repurposed as event and performance spaces, auditoriums, and cinemas, with plans for more revitalization in the works.  Honoring the factory's history and its workers, the site has evolved into one of the country's largest Arts and Cultural organizations, Arts Quest, which opened in April 2012 amid rusted-out 230 ft. high smelters, on what is known as the "Steel Stack Campus."
TOUR: Download six self-guided Heritage Trail audio tours ($12) that take you through 275 years of Bethlehem History from Moravian settlers to Steel entrepreneurs and artists.
TOUR: Martin Guitar in Nazareth, PA (8 miles from Bethlehem).  Smell the treated wood, tread on sawdust, watch artisans measure, sand, glue, and stain the parts of each Martin Guitar into a burnished, musical whole. Learn about "highly engineered bending devices," otherwise known as clothespins, and see the special robots built to polish each guitar body to a high gloss. Though cut and polished by machine, each guitar is still hand-assembled with the same care and precision that six generations of Martins have tendered since CF Martin opened its doors in 1839. The narrated walking tour takes you past craftspeople working on 8,000 acoustic guitars in various stages of assembly, with 250 completed every day.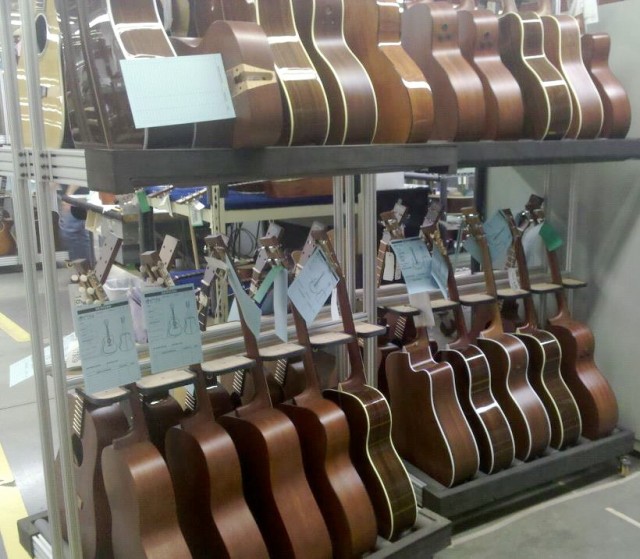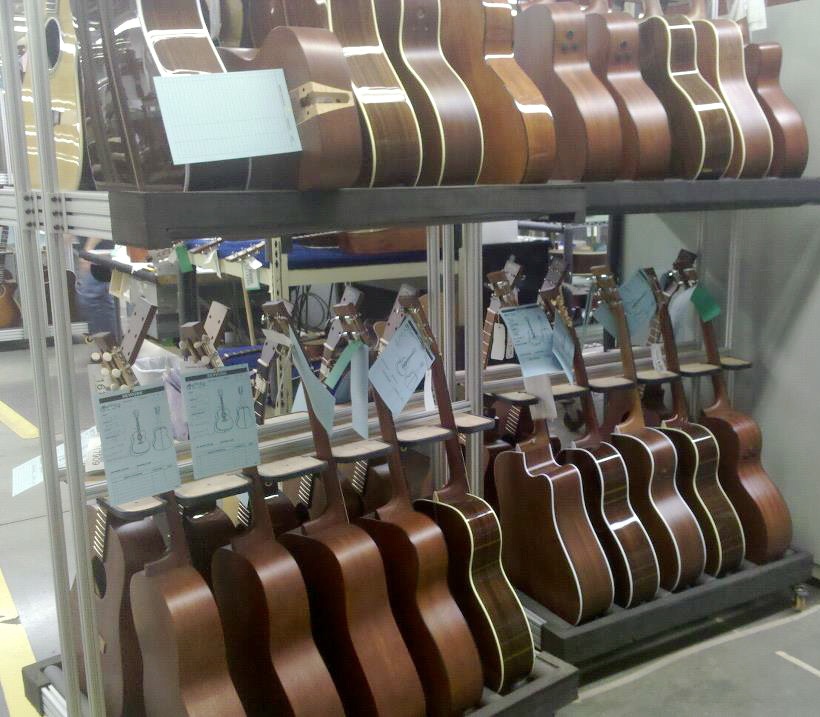 Who loves these Martin Guitars? The Japanese do! And Paul Simon, Eric Clapton, and John Mayer. The Beatles used them for the White Album. Steven Stills coddled one on the cover of the first Crosby, Stills, Nash album. Paul McCartney played one during Superbowl halftime, and Jimmy Buffet came in to personally check on his custom design. Tours last about an hour and run from 11am-2:30PM Monday-Friday. Free.
SHOP: If it's a Kilt you'll be lookin' for, there's a selection at Donegal Square; your source for everything Celtic. Next door, visit the "World's Oldest Continuously Operating Book Store," the Moravian Bookshop, which has many books and a dizzying number of gifts, home goods and even artisanal foodstuffs and has been in continuous operation since it opened in 1745.
FAMOUS FESTIVAL: Musikfest.  Most events are free, but some, such as those mentioned above, will cost a bit of moola.
Where To Eat In Bethlehem, PA
EAT: Sun Inn. Put your John Hancock where the original did – at the Innkeeper's desk of the 1758 Sun Inn.  Once on the frontier of these not yet United States, this place was probably a welcomed slice of hospitality and civilization when it received its first guest in 1760. George and Martha, John Adams and most new American dignitaries found their way to this little outpost. Now you, too, can enjoy a farm-to-table dinner from Thursday – Saturday nights and brunch on Sundays.
EAT: Emeril's. If you're in the mood for an excellent steak, inventive cocktails and toothsome sides, go post haste to Emeril's Chop House at Sands Casino. White linen, crystal, and attentive service – you'll feel like a million bucks even if you've emptied your wallet at the gaming tables.
EAT: McCarthy's Red Stag Pub. Visit the British Isles at McCarthy's Red Stag Pub, a cozy, unpretentious place for breakfast, lunch, tea or dinner, where homemade soups and stews will put you right.
DRINK: The Bookstore.  Enjoy a Prohibition-era cocktail at The Bookstore; a candlelit speakeasy that is literally hidden behind a bookshelf.  Enter the low-ceiling, dimly-lit warren of rooms and peruse the drink menu book, listing a goodly number of inventive alcoholic concoctions.  It's one of the heppest date-night spots in the Lehigh Valley.
EAT: Locals also love Apollo Grill for all around great grub, Bolete for inventive cuisine in a historic home, and Tapas On Main for great Spanish bites.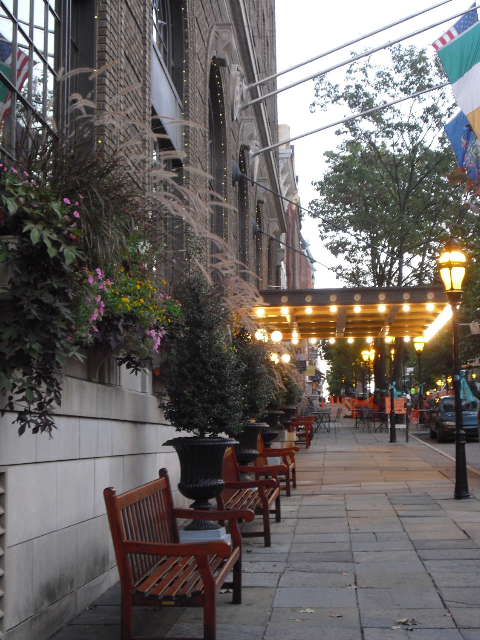 Hotels In Bethlehem, PA
STAY: The Sayre Mansion Inn. In 1850, prominent philanthropist Robert Sayre, chief engineer of the Lehigh Valley Railroad, a director of Bethlehem Steel, and trustee of both St. Lukes Hospital and Lehigh University, built his Gothic Revival stone mansion high on a hill overlooking his gritty enterprises.  Turned into a boutique inn in the 1990's, the parlors and dining room remain elegantly majestic, with unusual architectural details such as whitewashed filigreed wrought iron moldings and period paw-foot chairs, brass candlestick sconces, and columned fireplaces.
Room décor adheres to original opulent fashions of the day though brand new pillow-top, high thread count, disappear-into-down bedding has been added to up the comfort factor in each of the 22 rooms.  The Robert Sayre Suite ($205-$235 per night) is particularly historic, with a bedroom in baronial blacks, burgundies and gold complete with an impressive sitting room that features a soaring gold-leafed domed ceiling and marble fireplace.  This was once the home's library where Sayre kept most of his 10,000 books. In the morning, fresh flowers adorn several small tables in the formal dining room where made-to-order breakfast (complementary with room), is a big hit with travelers who appreciate a warm and hearty morning meal in stately surroundings.
STAY: The Hotel Bethlehem was built for those natty steel and railroad tycoons in the 1920's and has surged back to life recently as the most posh full-service hotel in the Lehigh Valley. It was built on the site of the city's first structure – a two room loghouse. Find the plaque on the side of the hotel that states; "In this house on Christmas Eve 1741, Count Zinsendorf, conducting a Love Feast, named this place Bethlehem." Try the Moravian Sugar Cake – it's complimentary with your coffee in the lobby every morning. Traditionally elegant guestrooms are worth taking the slow creaky elevator to get to, and many have wonderful views of Bethlehem's Historic District.
Getting There
Bethlehem, PA is best accessed by car: 69 miles from Philadelphia, and 82 from New York City.