Quito has become a popular first taste of Ecuador for visitors traveling on to the Galapagos (around 650 miles – a two hour flight – offshore).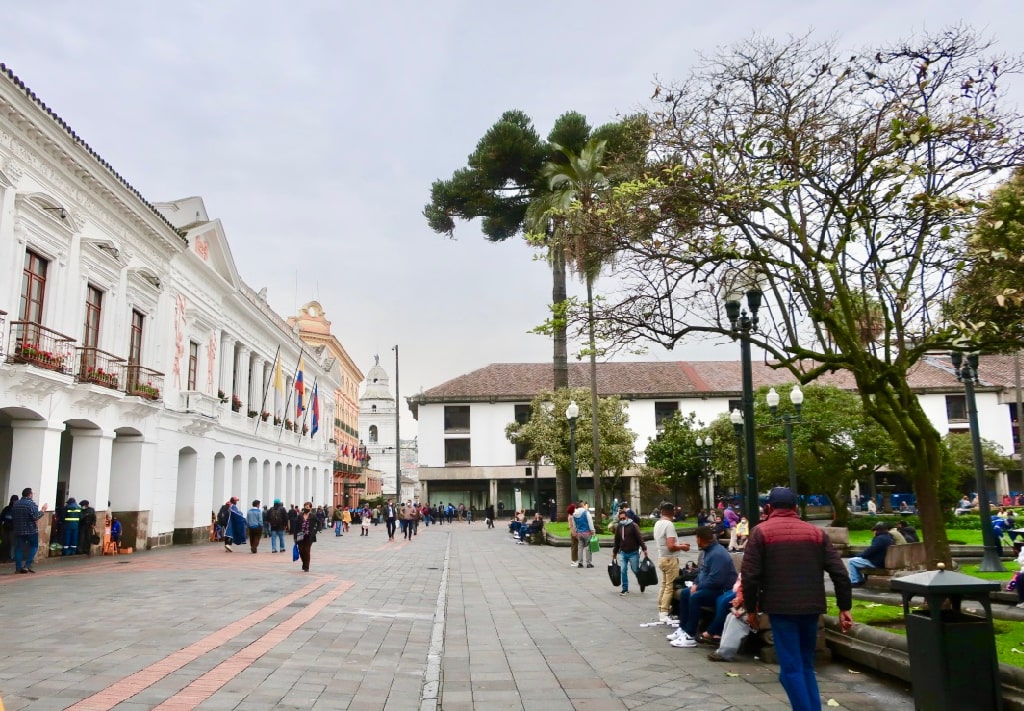 If you are heading to the Galapagos, you probably have a day – or less – to explore this high-elevation, equatorial city. (In fact, Ecuador was named for its mid-Earth location). So, it behooves you to have a game plan. We give you one in the list below.
For those with a limited amount of time, the most efficient – and delicious – way to explore Quito is with a knowledgeable guide. We used Juan Carlos Guerra (jcneotropics@gmail.com), who came highly recommended by travel agents in the know. Juan Carlos is not only a historian, birder, and naturalist – he's a former chef. So, attention foodies! JC seemed to know everyone in the local markets, including…..a shaman!
FYI – Be aware that Quito's elevation is 9,350 – nearly twice as high as the Mile High City of Denver. When you arrive, drink a lot of water and have pain relievers handy for headaches. And, don't push yourself.
Best Things to Do in Quito Ecuador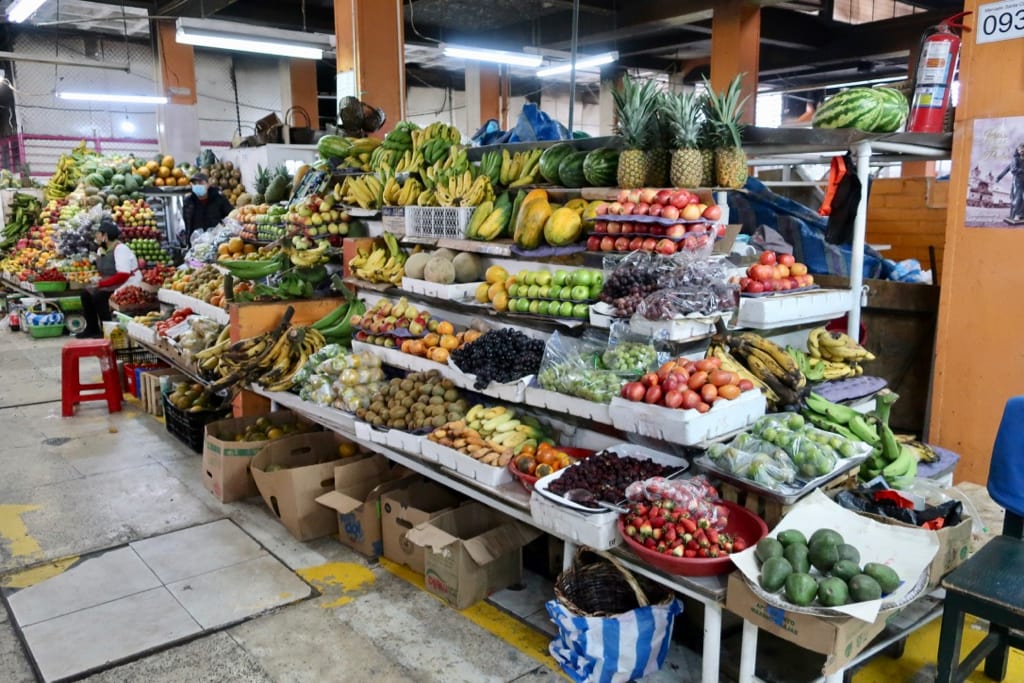 VISIT/EAT: Mercado Santa Clara (Santa Clara Market)
This enclosed food and flower market bustles with locals. So, for those looking for a cultural immersion, this should be stop #1. If you don't have a guide, it's important that you, or someone in your group, speaks Spanish. Vendors don't typically speak English.
Ecuador is known for its variety of tropical fruit and fruit juices, so plan to taste some here.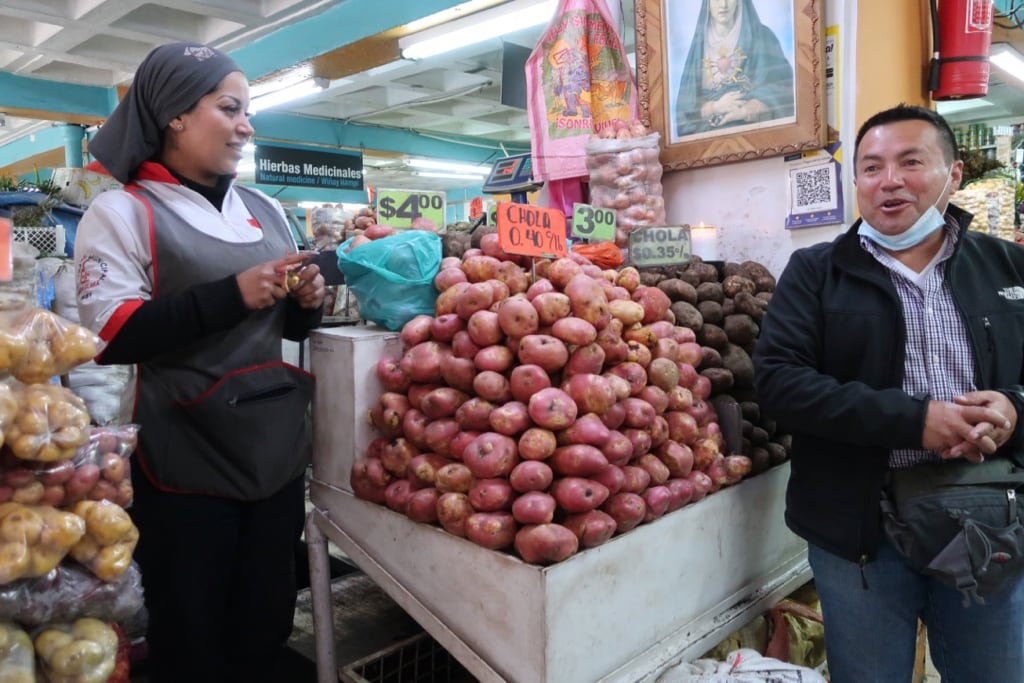 There's a woman who only sells potatoes – and is known for her swift peeling skills. Another vendor dishes out fried fish and fried plantains – a bargain lunch for only $3.50. (Ecuador's currency is the US Dollar – quite convenient!). Yes, it's ok for sensitive American stomachs.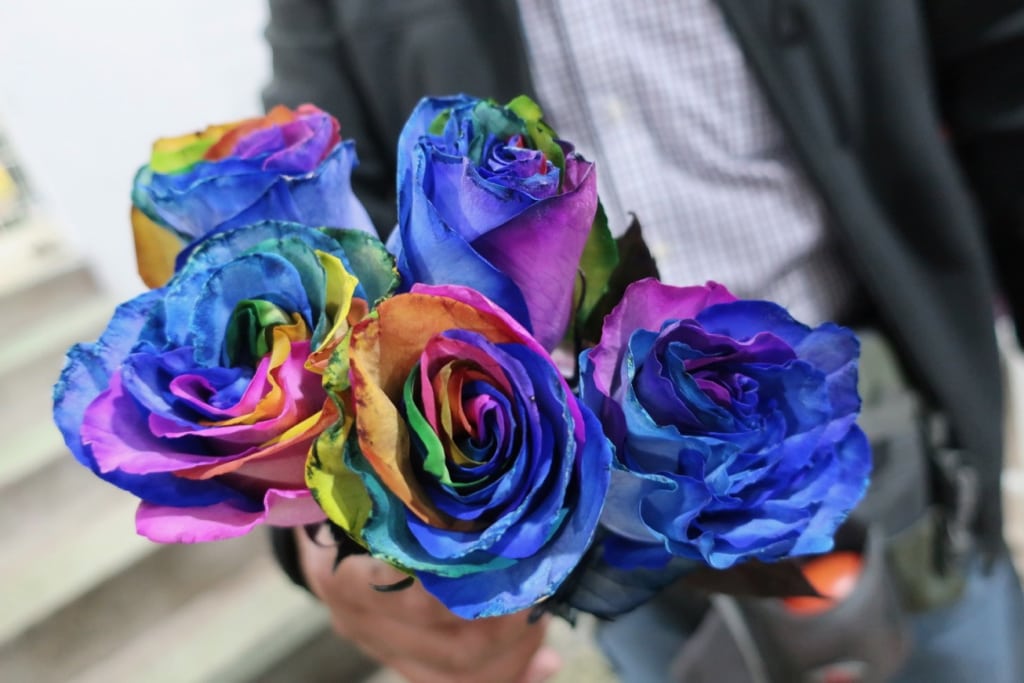 Everything is large and in abundance here. You'll find massive pork rinds, unbelievably huge vegetables, fruits, and flowers. The Rainbow Roses (created by soaking split stems in a kaleidoscope of dyes) are astonishing in their vivid hues.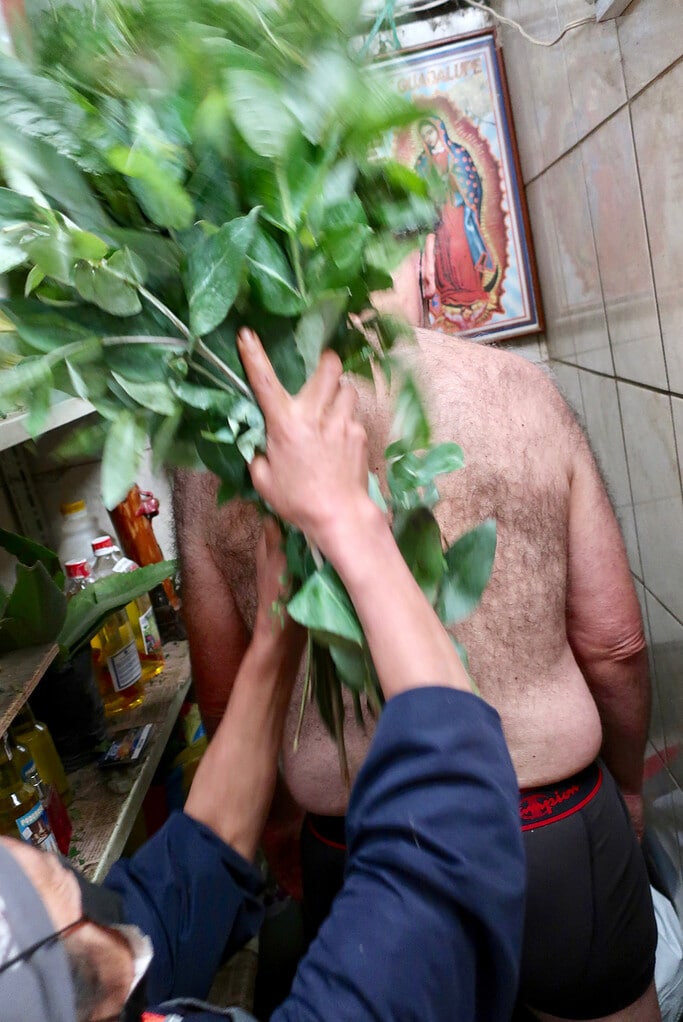 DO: Get Whipped
One feature of this market that you'll never find in those stateside is a resident "healer" – or Shaman. In this case, the 4' 11" tall Carmen. Grabbing a bouquet of plants from her market stand (in the Natural Medicine section), she leads you to her "office." Carmen's patients, and adventurous tourists, wait outside three teeny rooms in which they strip to underwear so she can whip their chakras into balance. Perhaps this isn't one of the best things to do in Quito Ecuador for many, but it just may be the quirkiest. A mere $5 for five minutes.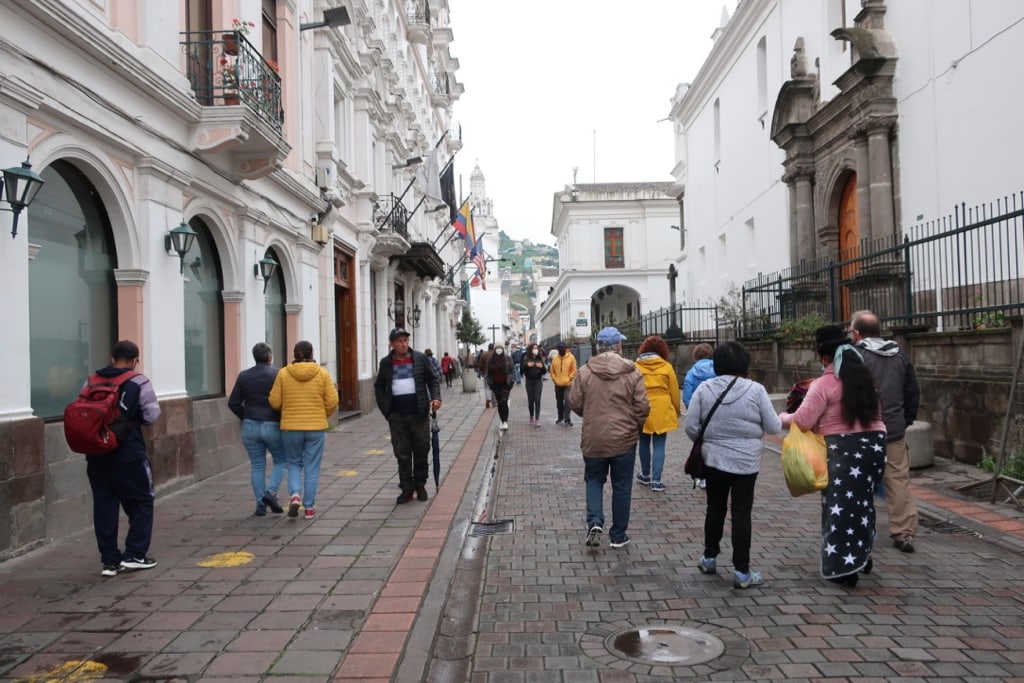 WANDER: Old Town Quito – UNESCO World Heritage Site
You can spend days exploring this cobblestoned-streeted town within a city. There are half a dozen plazas in the historic center of Quito, and so many churches, it's impossible to enter them all in one day. But if you have just an hour or two – plan to wander a bit.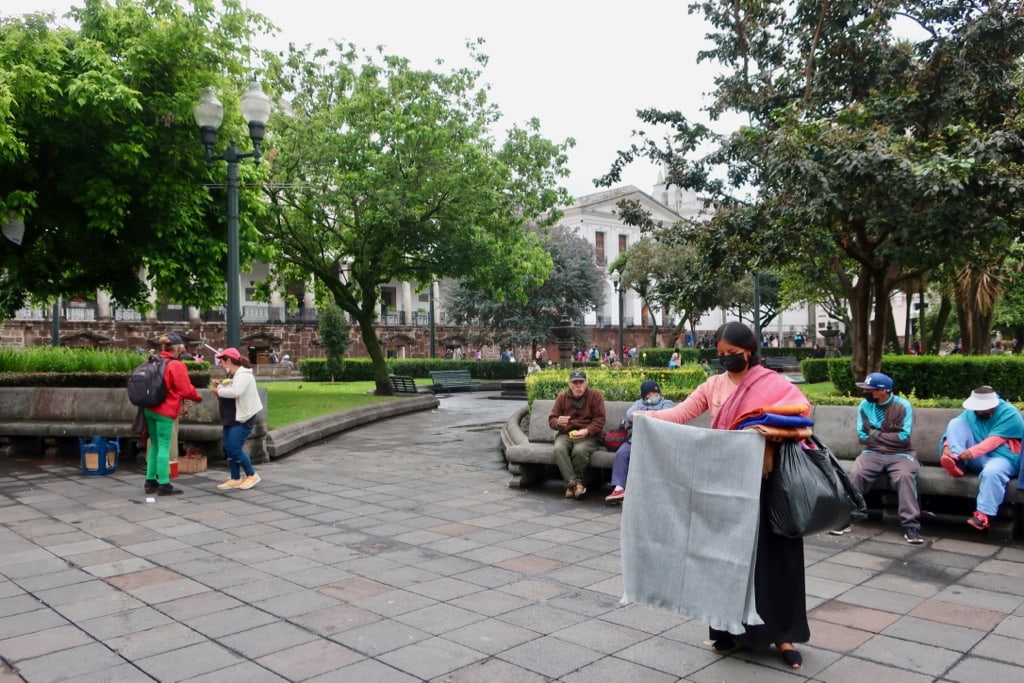 BUY: Scarves
You'll no doubt be hit up by the scarf ladies who carry a colorful assortment of scarves in black bags: a bargain at two for $5. (Juan Carlos told us that it's better to buy from them, as they can help support their families this way).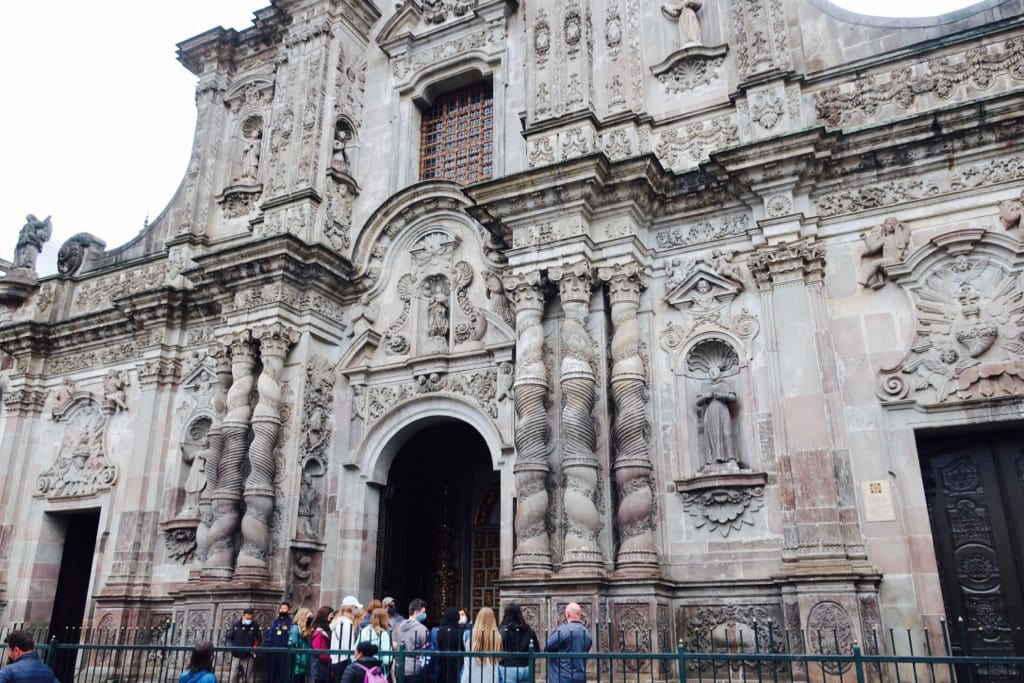 VISIT: Gold Church
Stop into the most dramatic of all churches here. Locals say its one of the best things to do in Quito Ecuador. You'll pay a small fee to see the interior blazing glory of the "Gold Church" – the Church of La Compañía – completely blanketed in gold leaf. Although you're not allowed to take photos inside, its exterior provides an idea of what's to come. Intricately carved fluted columns, and a frenzied rococo design, the façade is a wild whirlwind of religious icons. Inside – much more of the same – but in gleaming gold.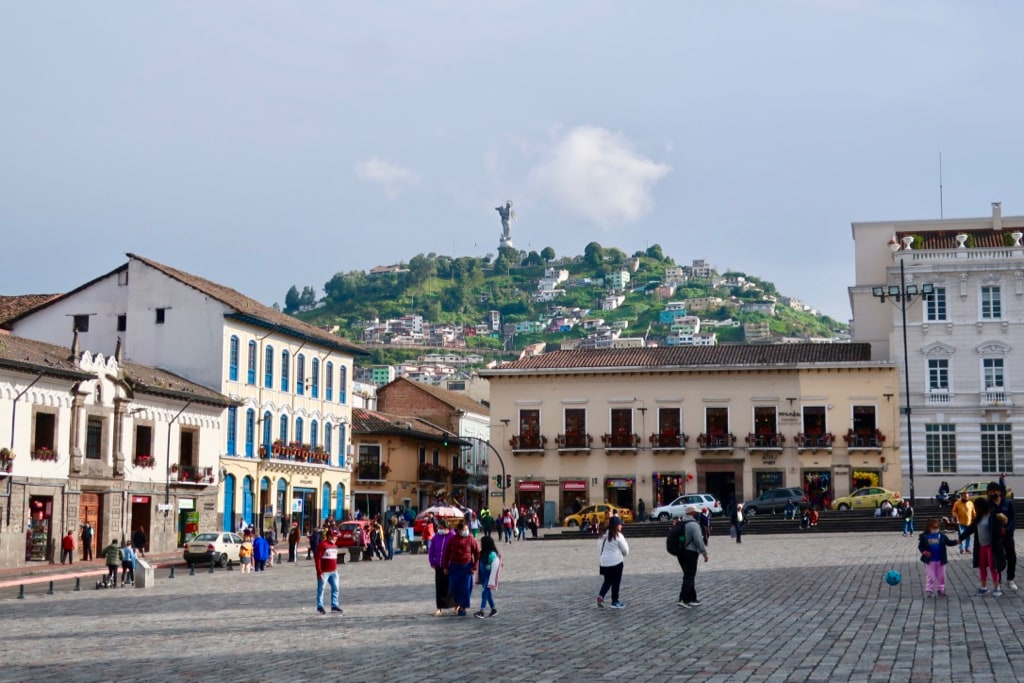 SEE: Winged Virgin Mary Statue
The largest aluminum representation of a winged Virgin Mary in the world sits on a hill above central Quito. Completed in 1975, she stands 135 ft. from base to crown and is visible from almost anywhere in the city.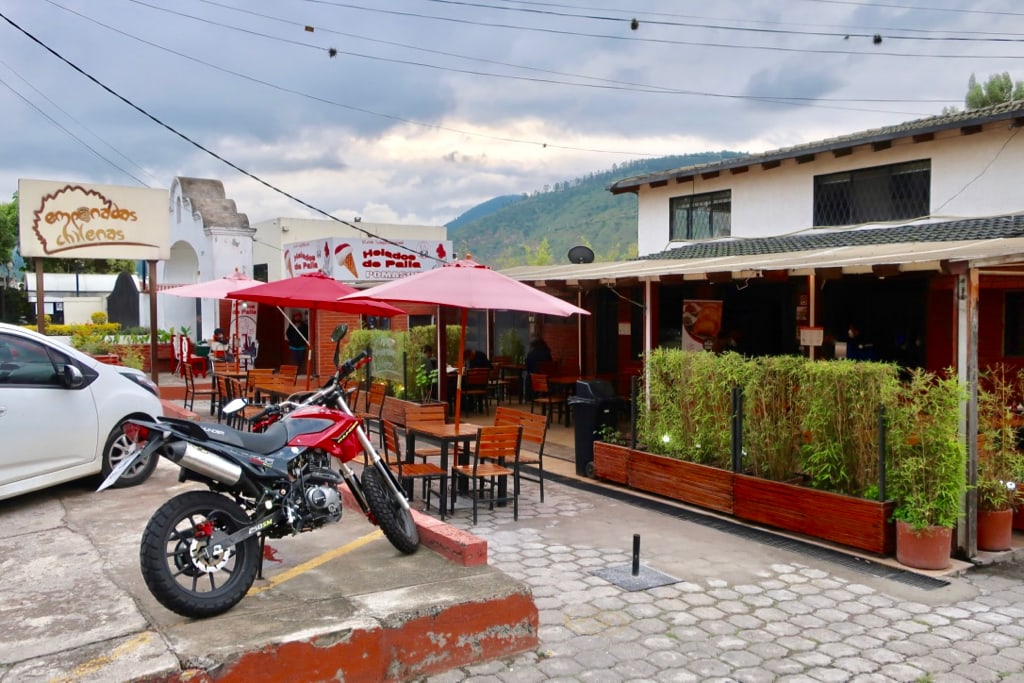 EAT: Empanadas Chilenas
Juan Carlos is partial to these fried cheese and meat empanadas, and now, we are, too. More a roadside stand (next door to an ice cream shack) Empanadas Chilenas is obviously a hit with locals, too, as evidenced by the "Uber Eats" sign above the order counter. These toothsome half-moons of deliciousness make for a perfect afternoon snack or early dinner. At $1.50 per large empanada, it's a steal.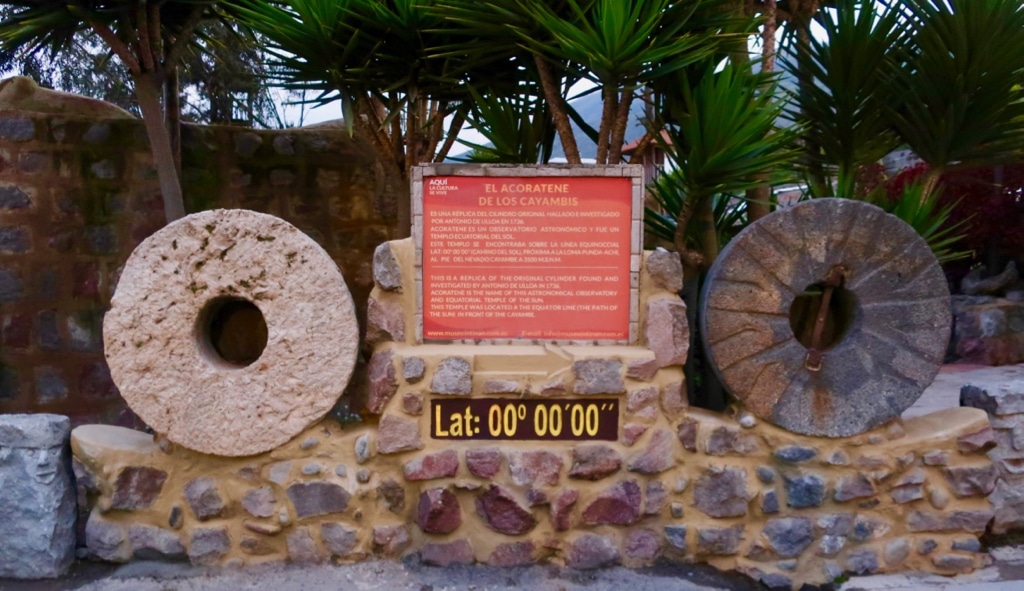 TOUR: Intinan Museum Equator
A monument, Mutad del Mundo, still stands in what was once believed to be the middle of Mother Earth – the equatorial line. But, newer technology determined that the monument's placement was off by about 100 yards. The Equator line actually lays across private property.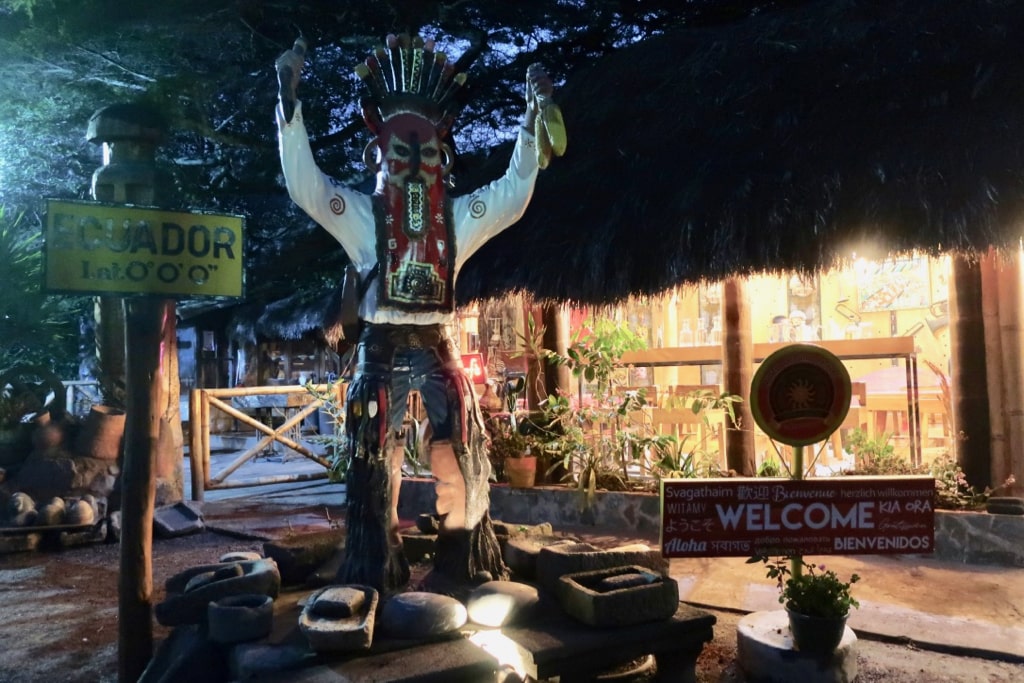 So, what's an entrepreneurial family to do? Open a museum, of course. This one, a somewhat kitschy Florida-roadside-attraction-ish tourist trap, has one hell of a central feature: A painted line on which you can straddle Earth's Northern and Southern hemispheres. (While the Equator runs through Brazil, Columbia, Africa and Asia, most of the line spans the Atlantic, Indian, and Pacific Oceans. No other country features an equatorial line attraction).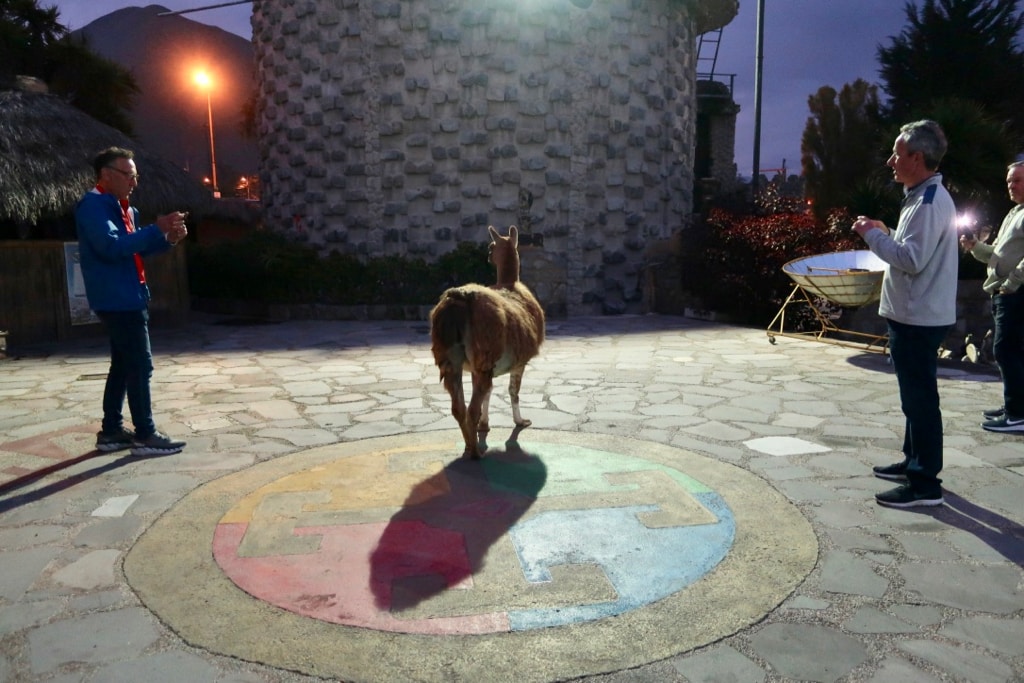 The sprawling Intinan Museum is replete with oddities: shrunken heads, taxidermied animals, and other indigenous artifacts. There's also a lone, carrot-loving lama, a chocolate-tasting program, and a place to grab a wine or beer. But, of course, the piece de resistance is that painted line.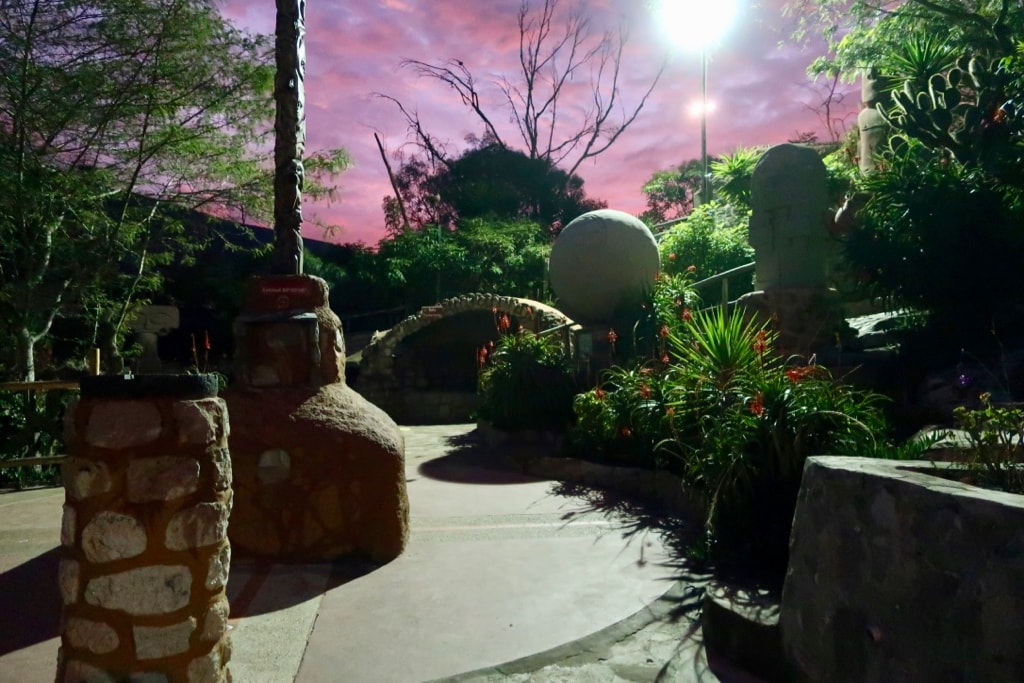 I have to admit, at night, when the museum was open for us (Juan Carlos knew the owners), the place seemed otherworldly.
Though debunked, the interactive activities on and around the equatorial line were lots of fun. These included watching water drain in opposite directions in each hemisphere, and balancing a raw egg on a nail-head. (Guides have since called these promotional stunts "representations" and not accurate depictions of what happens so close to the equator). Open daily 9:30-5, $4 adults, $2 kids.