Where is US Route 6 Nevada?
US Route 6 in Nevada takes you through the most uniformly remote landscape in the entire country. With Las Vegas a couple of hundred miles to the south, and with only two towns of any significance (Ely and Tonopah), make sure you've got a full tank of gas and plenty of water as you make your way across the portion of Nevada known to UFO seekers as "Area 51."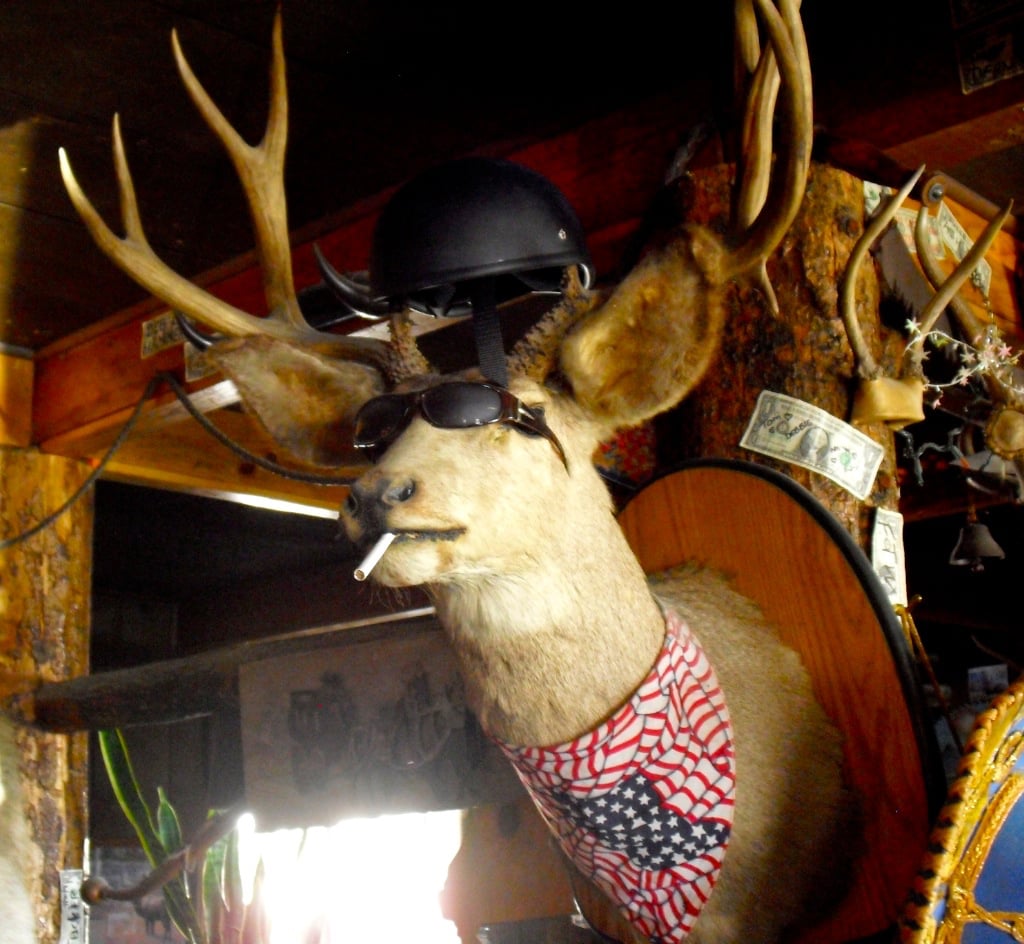 The Getaway Mavens let you in on the quirkiest and most romantic ways to experience this western state, whether you're into clowns, silver, casinos, lunar landscapes, UFO's, or are just hungry for one of the most geologically exciting road trips of your life.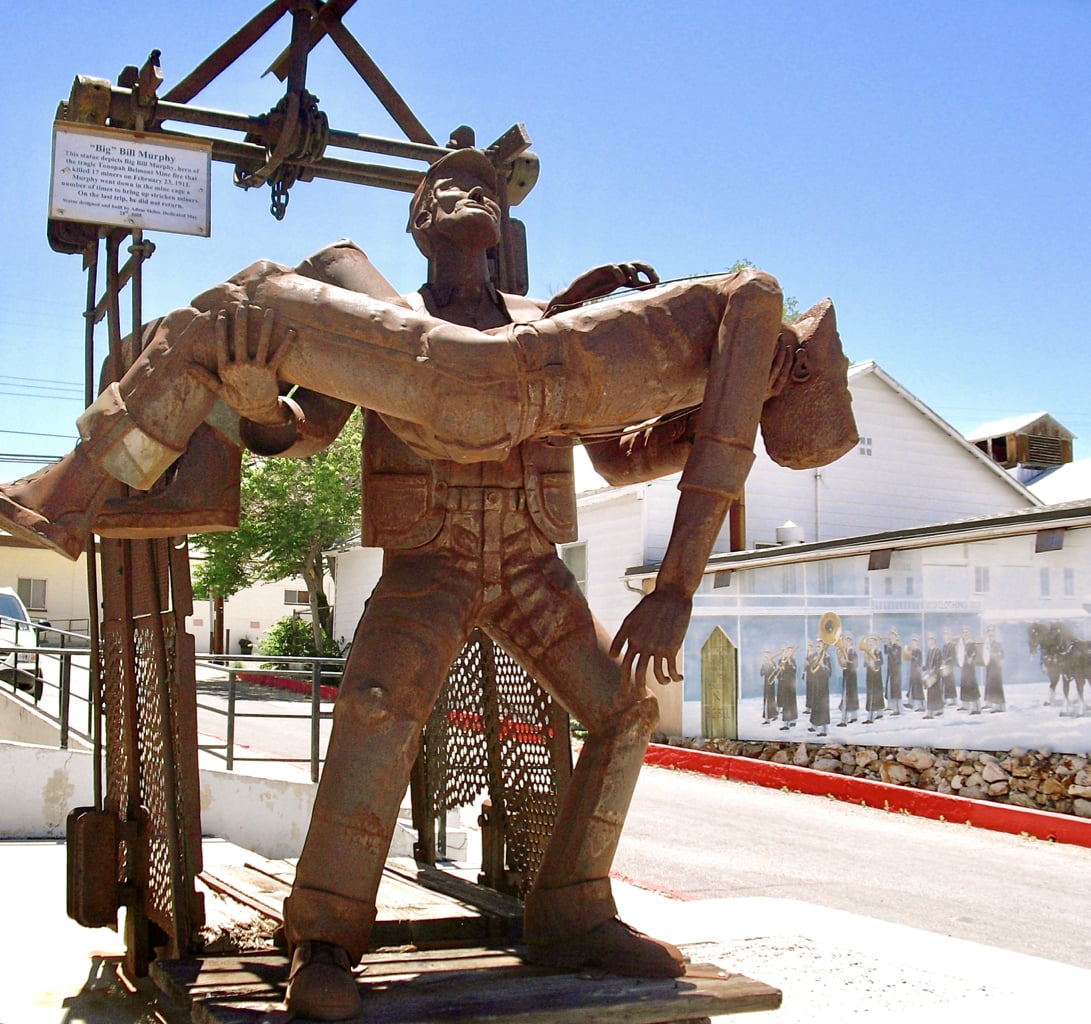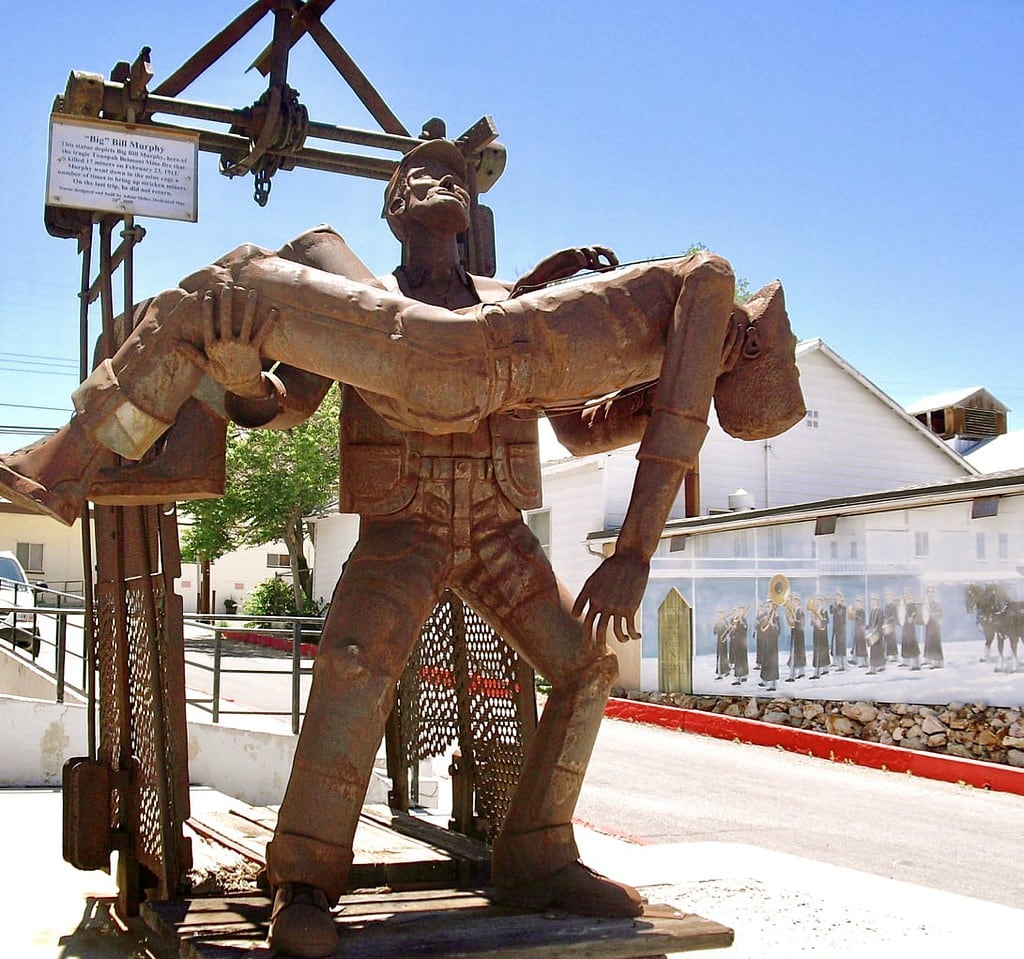 Nevada is just one US state among 14 on transcontinental US Route 6. Discover more about Coast to Coast Route 6 on this post.
20 Must Do Adventures East to West, on 305 miles of US Route 6 NV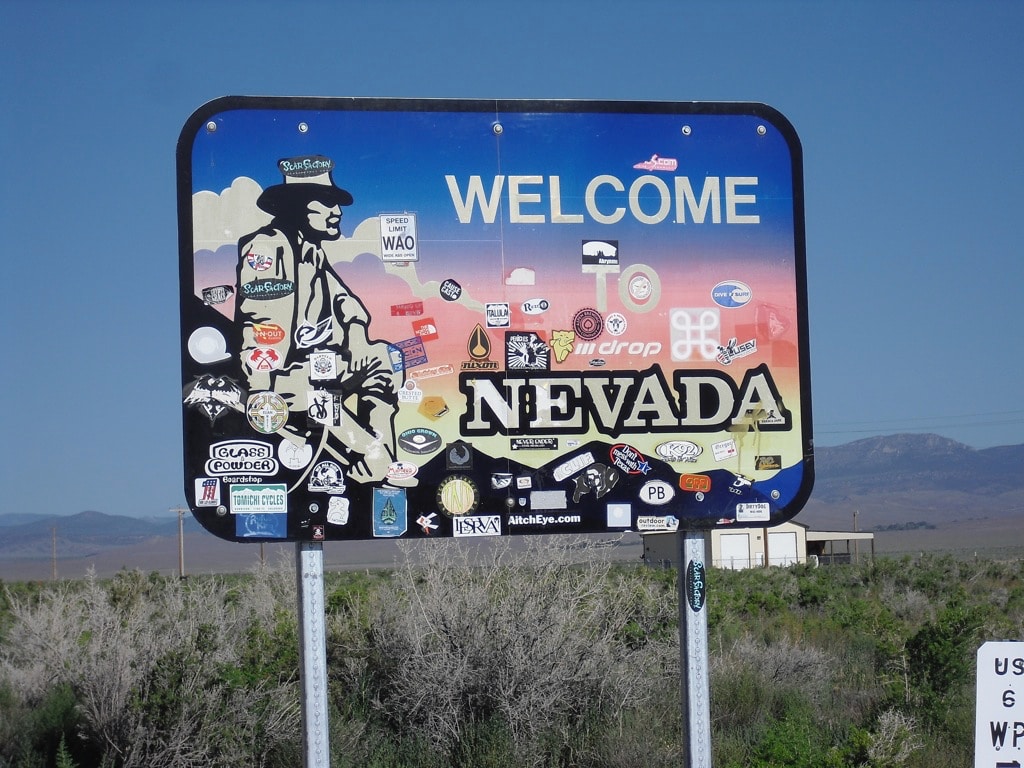 Welcome to Nevada on US Route 6 NV
At the Utah/NV border, there's a big sticker-plastered Welcome to Nevada sign on Route 6/50. And then straightaway, an Army of the Republic Highway sign.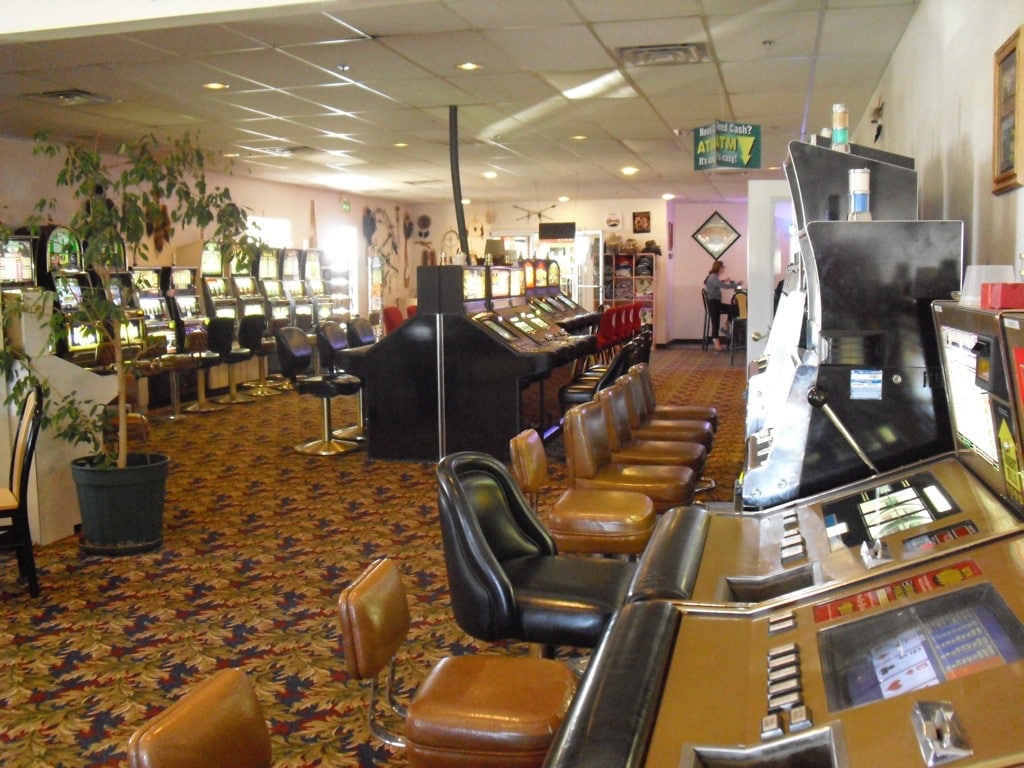 Play the Slots The Minute You Cross Into Nevada
Border Inn Casino lies a split second into Nevada. At nearly 90 miles from Delta, Utah on U.S. 6/50, any sign of civilization is immensely welcome. There are basic motel rooms, pool tables, a restaurant, a gift shop, a casino, and…gas! The Border Inn is quite the relief to those who thought they'd fallen off the edge of the world.
Gather 25 Pounds of Pine Nuts at Great Basin National Park
A designated "Scenic Byway," and much like Western Utah, you'll drive Rt. 6/50 on flatland then rise up into a mountain range, snake through rock cuts and outcroppings and descend into flatland again. Repeat.
The Baker Archeological Site is near here, as is the entrance to the Great Basin National Park. If you want to avoid swarms of tourists, this remote national park is ideal. About 10 miles from U.S. 6/50, the park maintains a 12-mile scenic byway and offers guided expeditions into Lehman Caves.
A high-desert habitat, Great Basin features groves of bristlecone pines and piñon trees, which produce a very delicious pine nut. Visit in autumn, and you can harvest up to 25 pounds of this generally costly delicacy per household, per year. That's a lot of pesto sauce.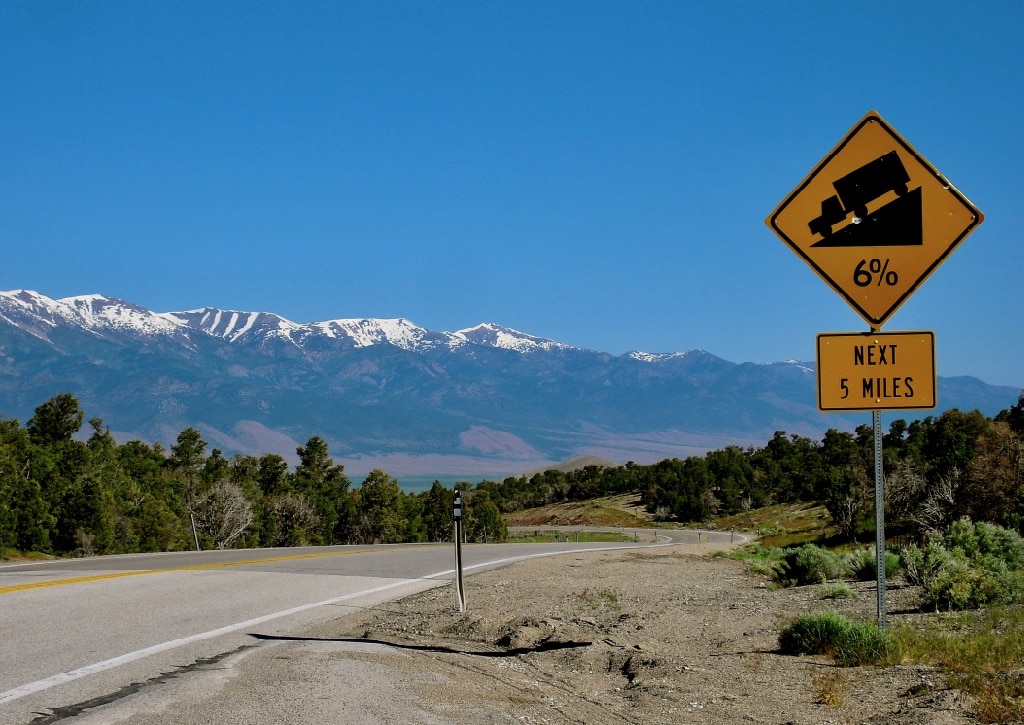 Travel the "Loneliest Road In America"
These mountains require chains on tires in winter, though in the warmer months there's no need for that. Route 50 has been called the "Loneliest Road In America," but here, where it pairs with Route 6, you'll most likely be in the company of a steady stream of campers, RV's motorcycles and SUV's.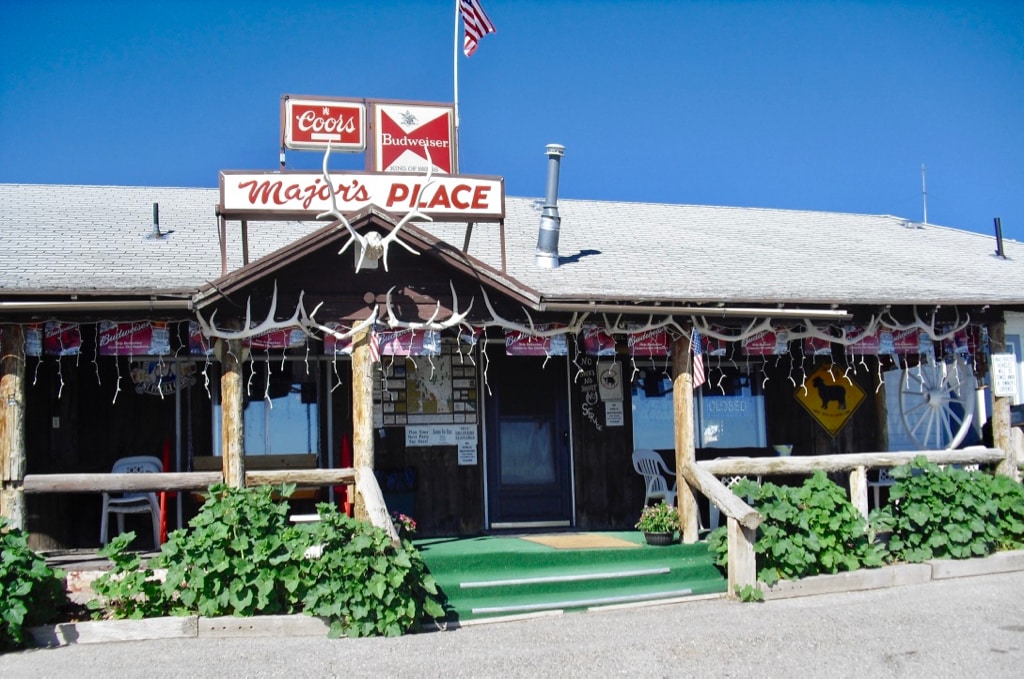 Stop At Funky Major's Place
Just 26 miles from the Utah/Nevada border, Major's Place (aka Major's Station), at the Junction of Hwys 6-50-93 appears on the map as a little dot – a nothing town. But it's not even a town. It's one PLACE; a roadside café kind of place.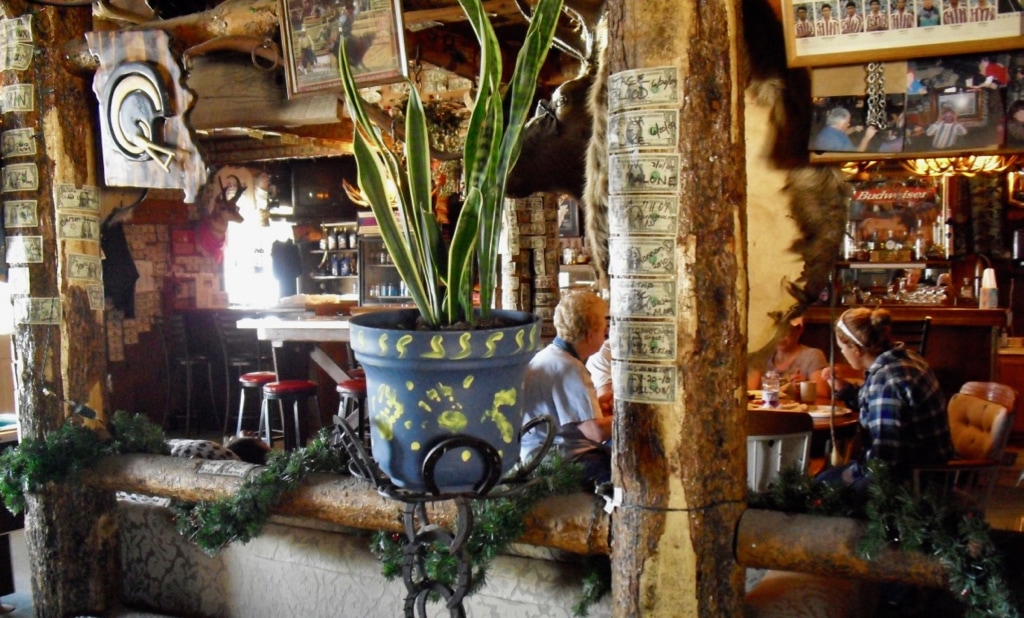 It's a pub so quirky, you'll just have to see it. Built of logs, over-decorated with antlers and animal heads (at least one with a cigarette in its mouth), and walls and ceiling plastered with over 1,000 dollar bills from patrons who come from all over the world, Major's Place is too cool and cornball to miss. Ely is only 28 miles to the west, and many people make that drive to eat and drink here.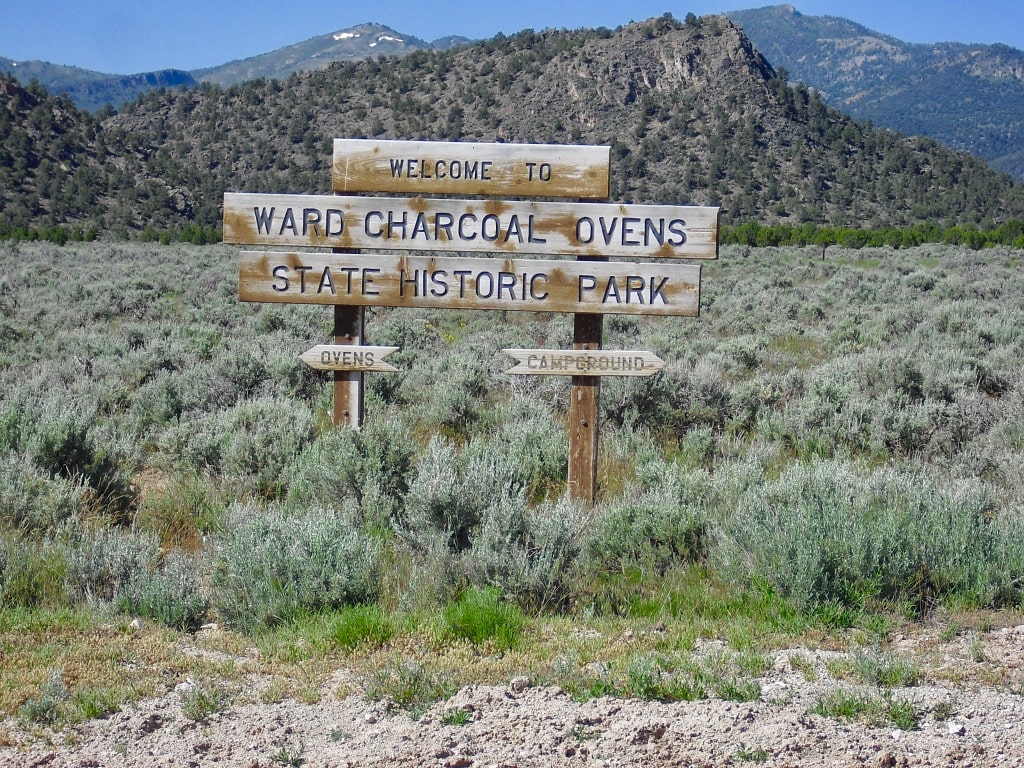 Detour to Ward Charcoal Ovens
In 8 miles (about 14 miles east of Ely), turn left on Taylor Rd. to see the Ward Charcoal Ovens. It's definitely worth kicking up 7 miles of dust on a dirt and gravel access road to see these remarkable structures.
Like giant beehives, the six 30 ft. high ovens, built by Italian masons in the mid-1870's, were used to make charcoal to fuel the once-nearby silver ore furnaces.
Ely NV – Old School Vegas
Back on Route 6/50, head 14 miles into Ely, NV, a place reminiscent of what Vegas must have been like before it became the "what happens in Vegas Stays in Vegas" town.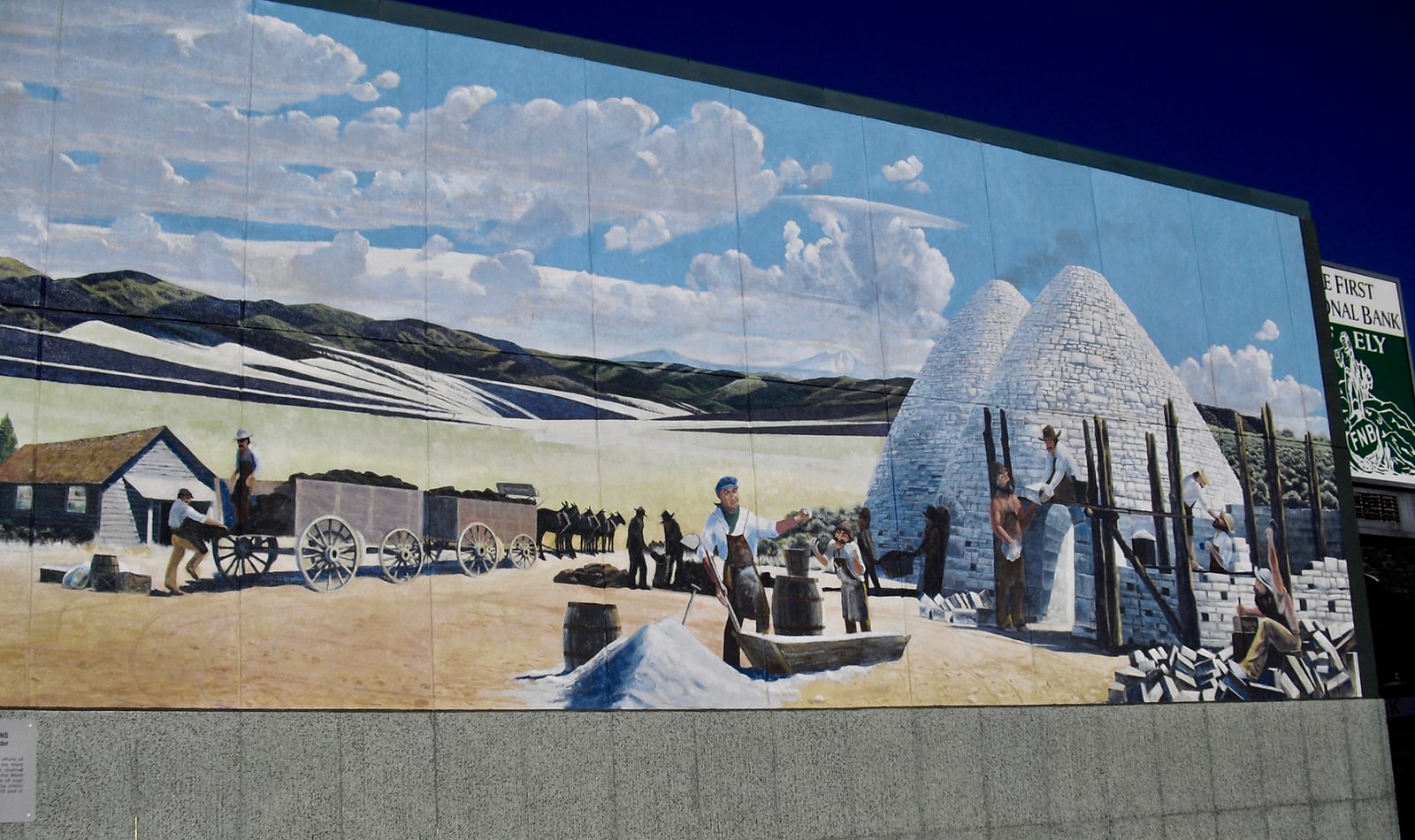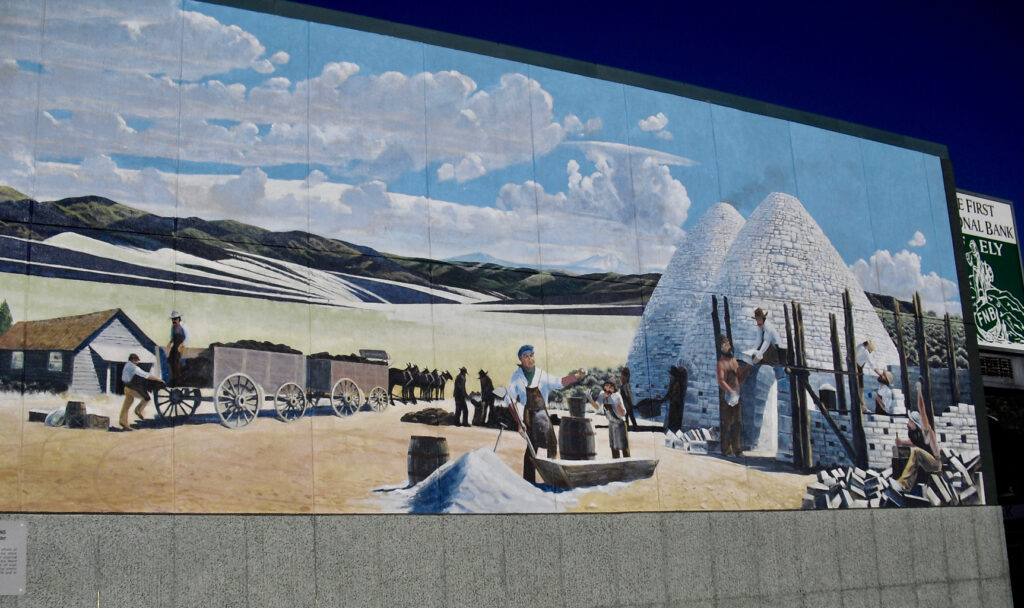 Ely remains a rustic casino town with legalized prostitution. Yet even with these nefarious elements, and thanks to the Ely Renaissance Society, Ely also imparts a growing artsy and historic vibe.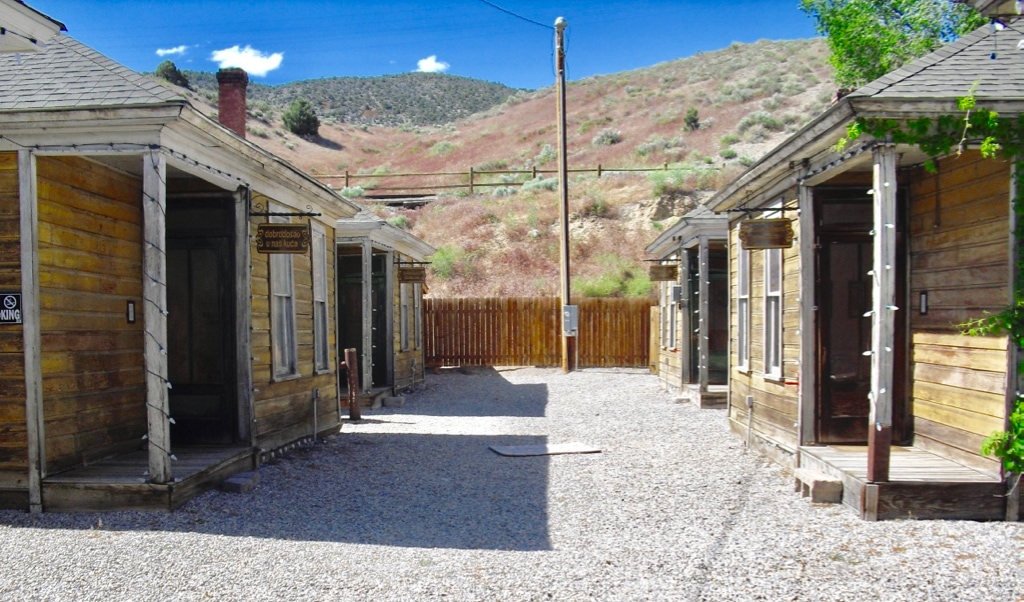 International Ely NV From the 1860's at Ely Renaissance Village
Follow the outdoor Art Trail comprised of 27 murals and sculptures. And then, spend an hour at the Ely Renaissance Village. Due to the considerable amount of labor required for ranching, railroad building, and mining, Ely was from its beginning a surprisingly diverse city.
In the 1860's and 70's, the Welsh and Cornish arrived with their extensive knowledge of mining techniques. Yugoslavians came in the early 1900's to work in the burgeoning mines. Italians moved here to build charcoal ovens and lay railroad track. Greeks were smelters and mineworkers who also set up businesses in town while Chinese segregated themselves in "Chinatown," working as laborers and domestics.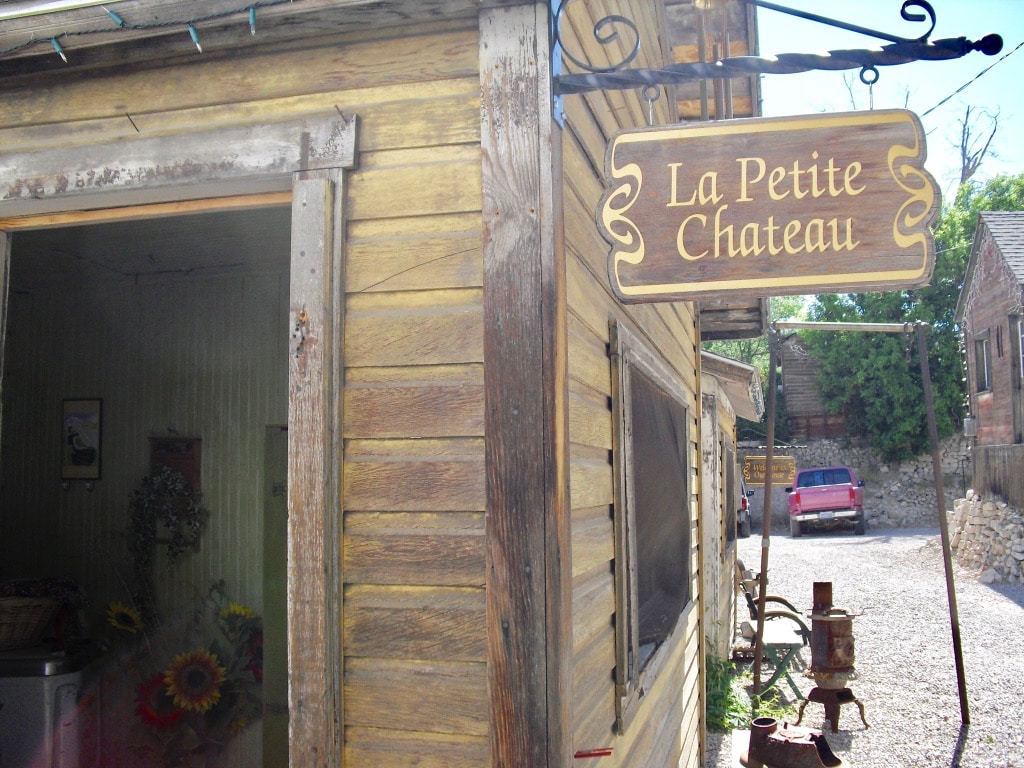 In the 1920's, the French Basque came to tend sheep, as did the Spanish Basque after loosing title to their land in New Mexico. Renaissance Village pays tribute to this diversity by showcasing five authentic Rail Kit Homes, and two shotgun style houses, as if each was owned by a family of a different nationality.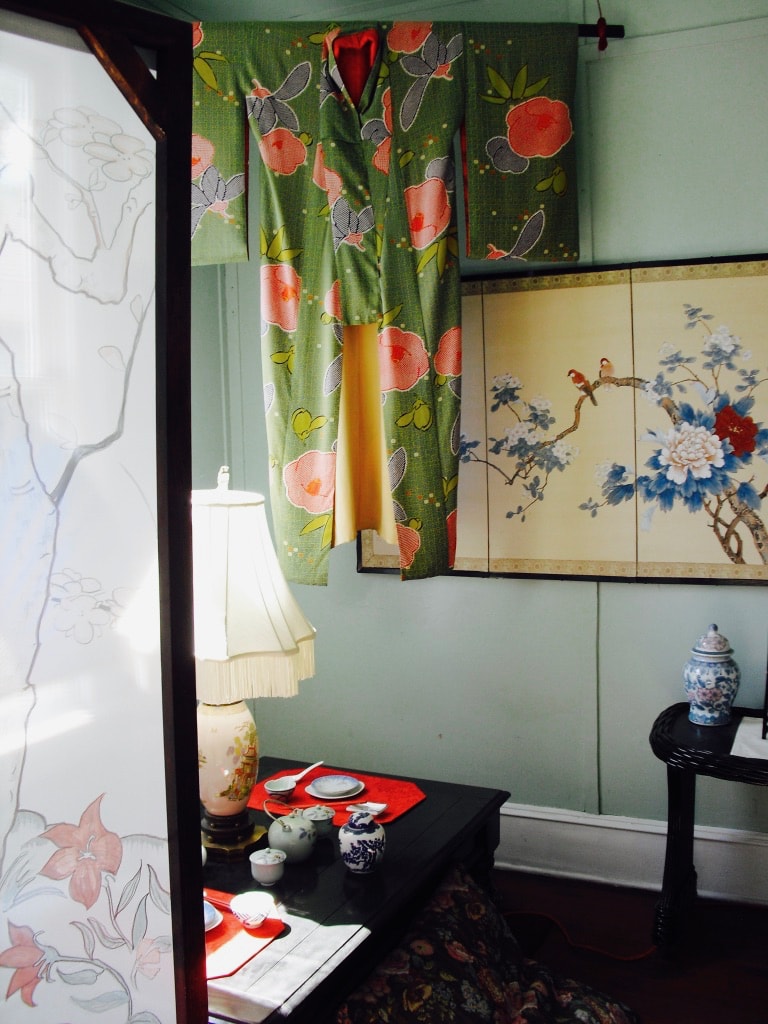 These homes have been decorated circa 1915, and feature original linoleum floors, wood stoves and indoor plumbing including flush toilets – rare for the day. Over each front door a sign proclaims "Welcome to Our Home" in the owner's national language. Décor was so painstakingly researched – down to the color of the walls – that when international travelers arrive, they've been known to exclaim, "this looks just like my grandparent's house!"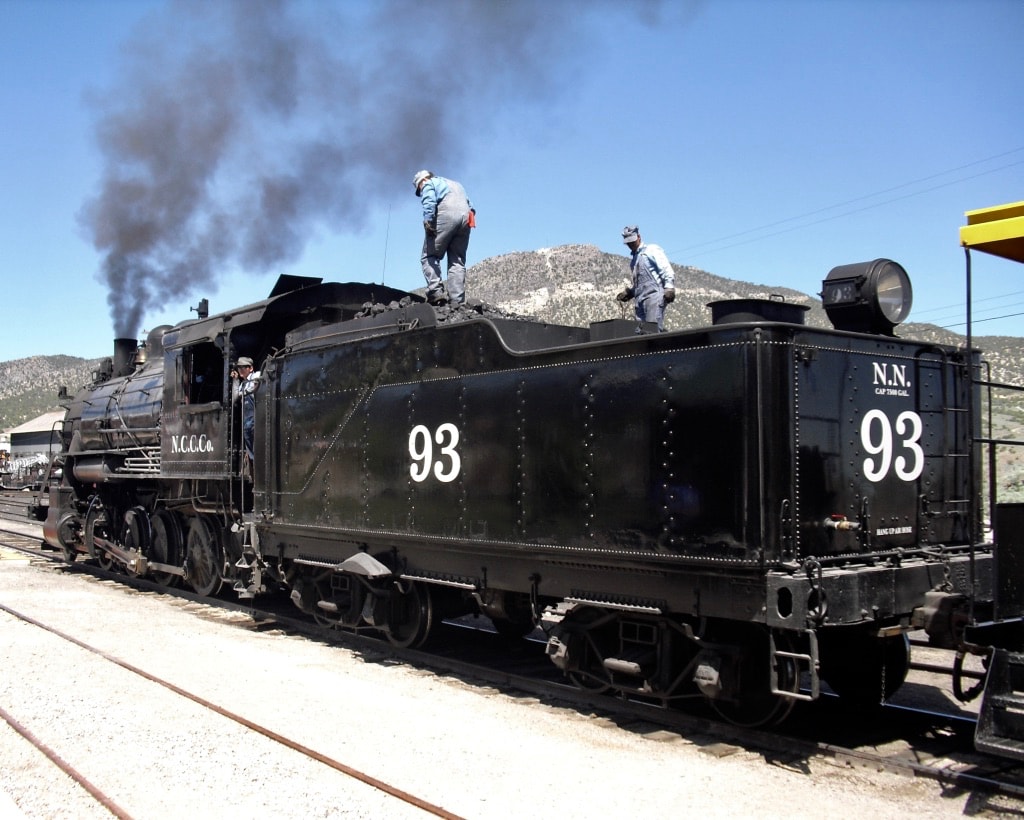 Take A Ride on A National Historic Landmark: Nevada Northern Railway, Ely
Most non-gambling visitors come to Ely for the Nevada Northern Railway National Historic Landmark. Embark on the narrated 1 ½ hour Ride Back In Time pulled by Engine 93, built in 1908 "for power, not for speed."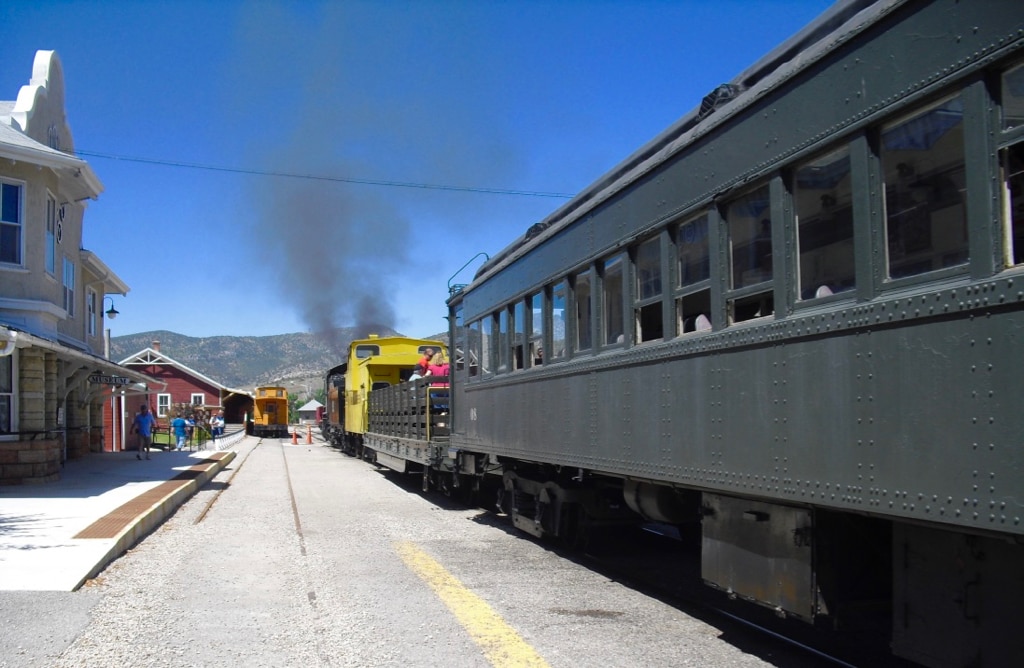 The mighty engine, used to haul ore to the smelter, was retired in 1950 and now hauls tourists. The excursion ends (then turns around) at a huge mountain of dirt – the tailings from the KGHM Polska Miedź S.A. copper mine. Not only is Ride To Keystone popular with riders, it is also a boon for trainspotters and photographers who park cars along the road for optimal photo shooting.
See a Model of a 12,000 Year Old "Cave Bear" at White Pine Public Museum
If you have a few extra minutes and it's open, stop into the White Pine Public Museum, a Grandma's attic if there ever was one. The museum does contain a few interesting gems like a Wells Fargo Stagecoach Lockbox, the model a 12,000 year old Cave Bear named Lilly, a xylophone found in an abandoned mine, and the requisite cabins and one-room schoolhouses outside.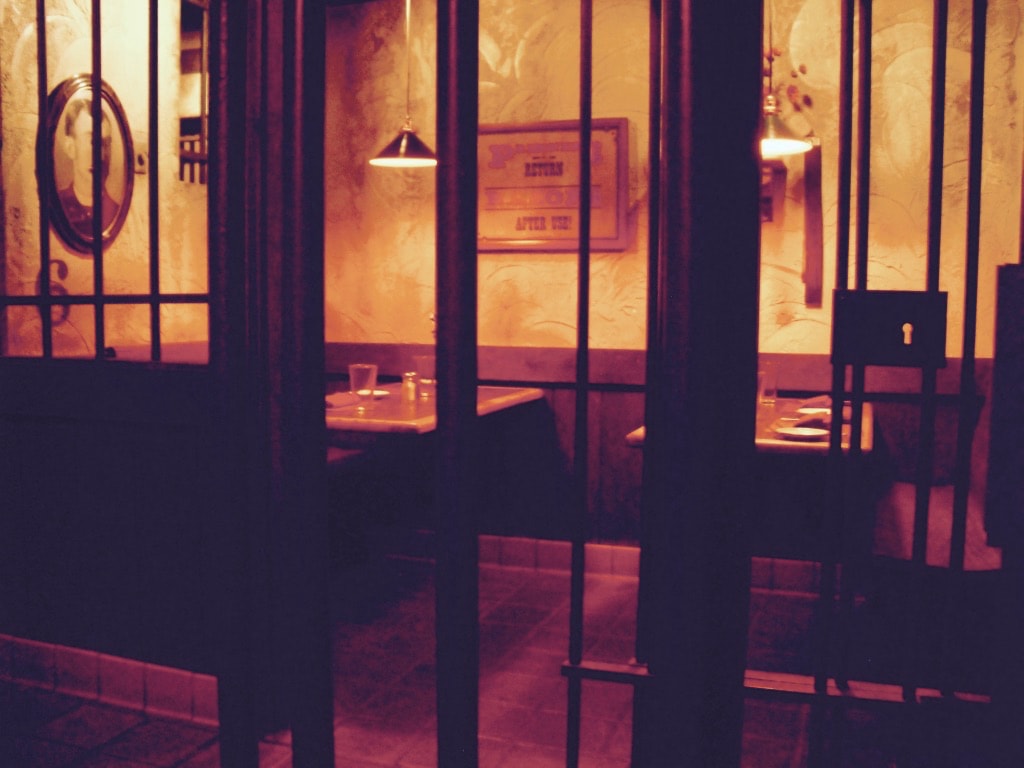 Fine Dining in A Jail Cell
Ely is not a foodie destination by any means, but the Cell Block Steak House at Ely's Jailhouse Hotel and Casino is hands down the best, most atmospheric restaurant in town. Each table is set inside a low-lit cell, which is at once intimate and isolating. It's an ideal meal setting for romantic couples.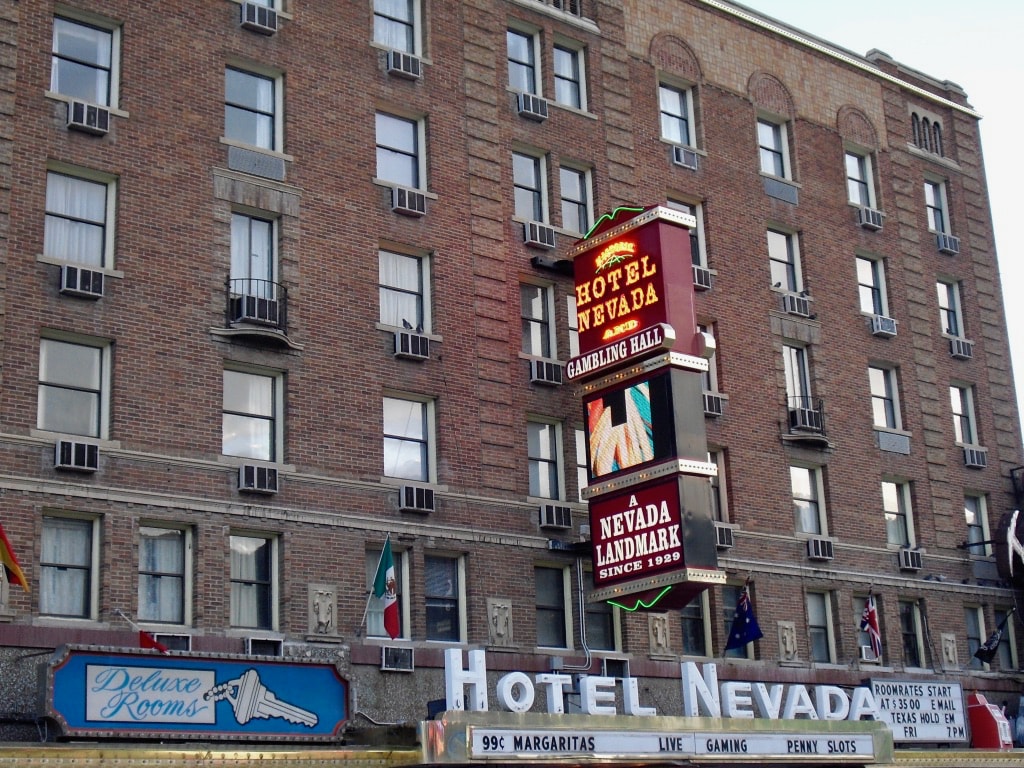 Stay in Hollywood History at Hotel Nevada, Ely
Sure, you can bed down in an upscale chain hotel. However, if you wish to get caught up in the essence of old Nevada, stay at the Hotel Nevada. This six-floor hotel and casino was the tallest building in the state when it was built in 1929. At the halfway point between Hollywood and glam Sun Valley, Idaho, celebrities of the day would stop to spend the night.
That history is marked both inside and outside the hotel – the sidewalk is imbedded with the names of stars. Formerly favored by raucous bikers and gamblers, the Hotel Nevada lobby used to be fogged in by incessant smokers, and crammed with a haphazard assemblage of art, oddities, and relics.
Some of that remains. But in 2014, rooms were updated with flat screen TVs and a more modern style, and are better than expected, especially for the price. Around $67 for a basic room includes a breakfast voucher for up to two at in-house Denny's.
NO GAS FOR 167 MILES – Ely to Tonopah on US Route 6 NV
Hum Little Feat's trucker's anthem, "Willin'" (I've been from Tucson to Tucumcari, Tehachapi to Tonopah…), while heading west on US Route 6 NV, which diverges from Route 50 in Ely. Fill up your gas tank before traversing Nevada; signs blare NO GAS FOR 167 MILES, and continue the countdown as if those sweating it out with near-empty gas tanks could forget.
Route 6 continues its mountain/valley/mountain/valley rhythm but the landscape here is dustier, browner, more the bleached-skull-by-the-road desert than it was from Delta to Ely. The immensity of our country's nearly unpopulated desert region is mind-blowing.
You'll pass several cattle ranches with cows grazing on sagebrush (how the hell do those cows survive, you might ask yourself), climb and descend through National Forests without one glimpse of a single tree, and drive through a "Railroad Valley" without sign of track or train. You'll see an oil refinery in the middle of nowhere and a lone, lonely oil derrick pumping away.
Did We Land on the Moon? Lunar Crater National Landmark
Chunks of lava are scattered by the road with colossal mounds of dirt in the distance. It's like being in the Land of the Giant Moles. A signpost for Lunar Crater National Natural Landmark marks a turn – 8 miles from Route 6 off a gravel road – to the 430-foot crater formed by massive seismic eruptions. To your right you'll spy an area where the earth spewed chunks of black lava, part of the vast Lunar Crater Volcanic Field that covers over 100 square miles of central Nevada.
UFO or Stealth Bomber?
Watch for the remnants of a missile standing forlornly by the side of the road about 13 miles from Tonopah, marking the old Tonopah Bombing and Gunnery Range. The Stealth Bomber and other experimental aircraft were tested at the Tonopah Army Air Field, resulting in speculation about aliens and UFOs.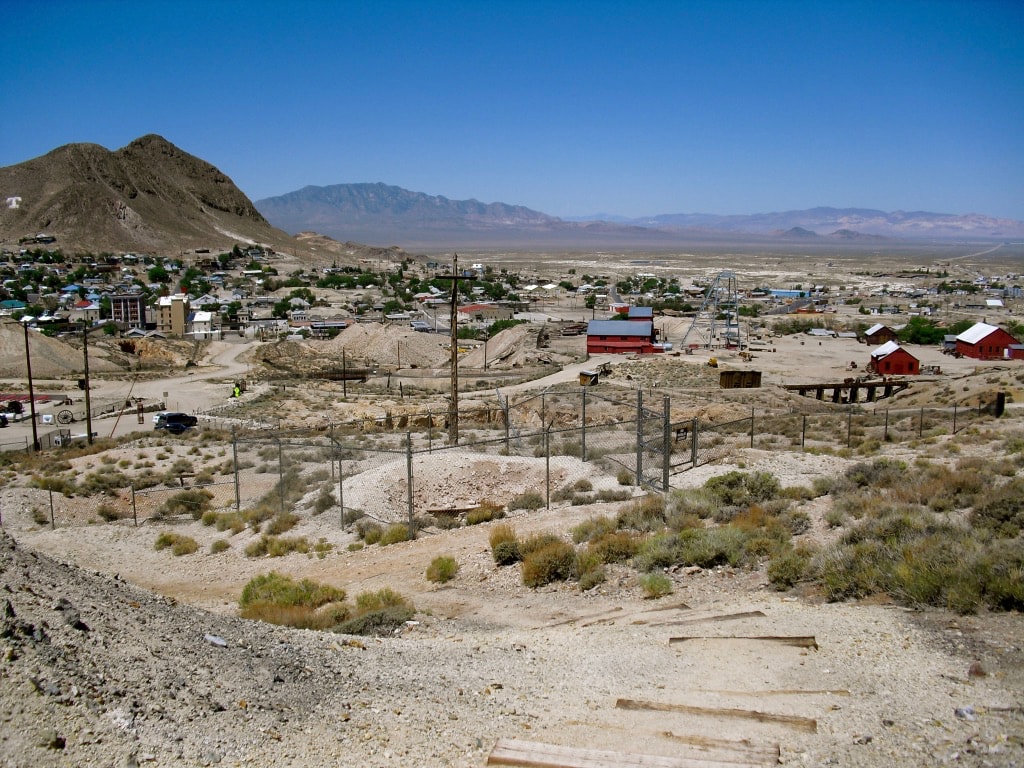 Wander Through a Decommissioned Silver Mining Operation, Tonopah
Tonopah, NV was once the "Queen of the Silver Mining Camps," so what better way to soak up local history than to wander around in one? In the spring of 1900, Jim Butler was camping around Tonopah Springs when his burro wandered off. While looking for it, he discovered what appeared to be silver ore – and the rest is history.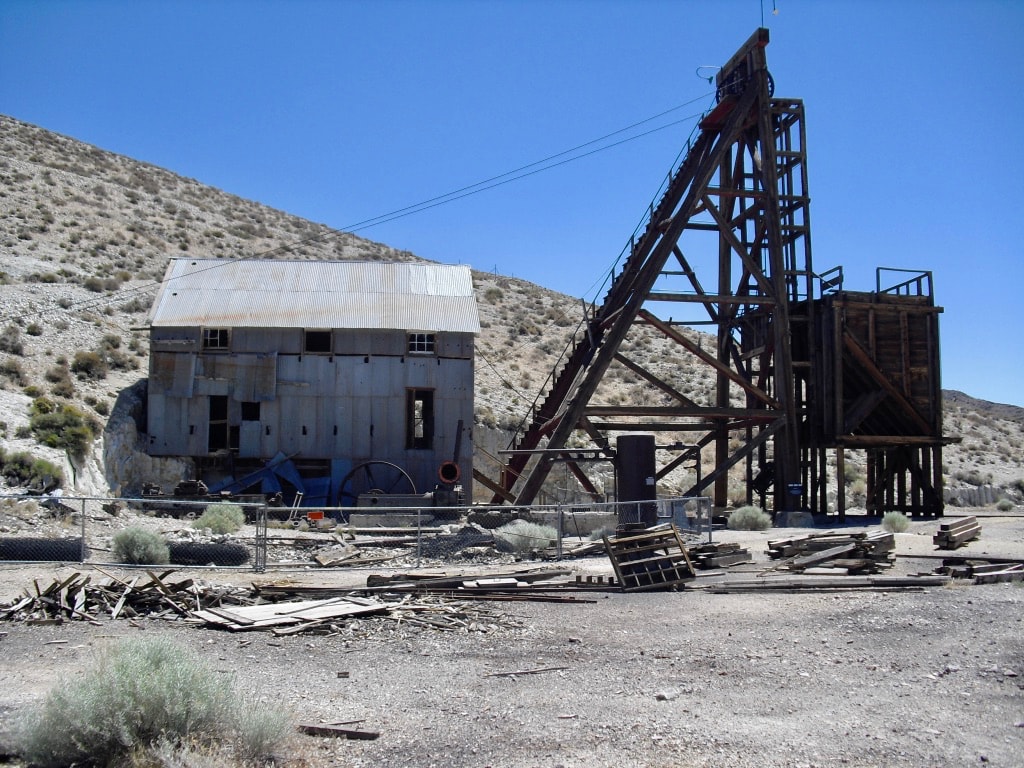 From 1900 to 1912, mines here produced roughly two billion dollars worth of silver (adjusting for inflation). Take a self-guided walking tour of the Tonopah Historic Mining Park. On 100 hillside acres it's a leg-stretching, lung-expanding way to delve into this town's past.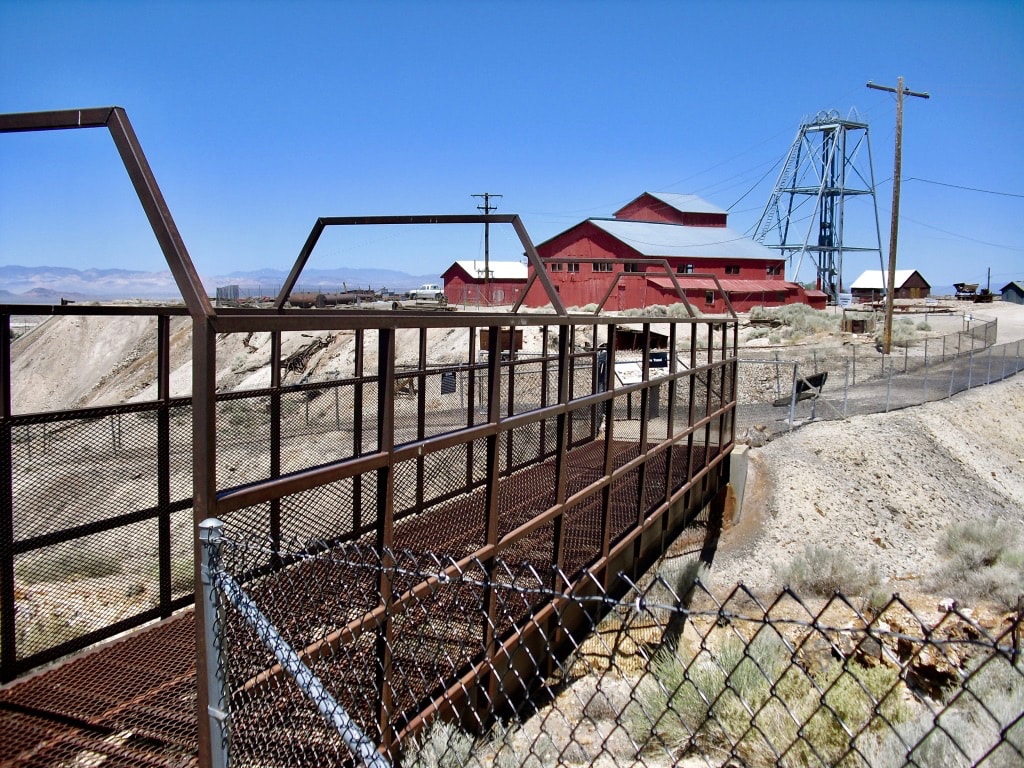 Wind whistles through the remains of old mineshafts, head frames (the structures that held electric hoists), and miner's shacks. You might just hear the spirits of the dead whispering around the ruins. It's spooky, interesting, and very informative with great explanatory signage. Plan to stay an hour or longer.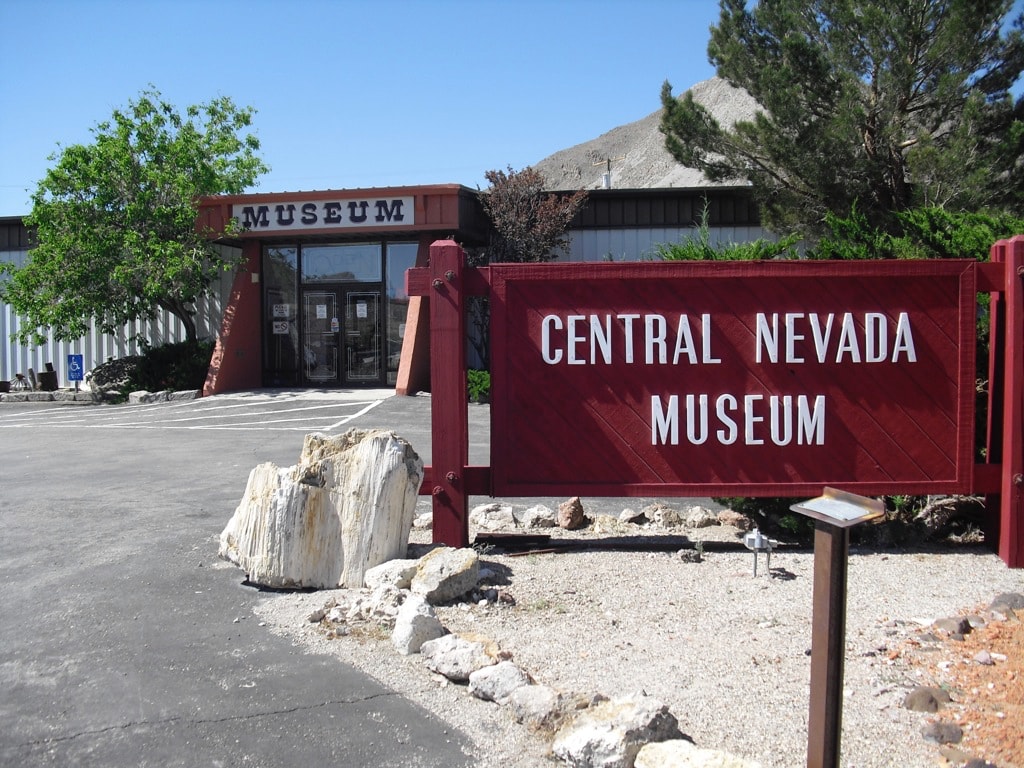 Discover Tonopah's Quirky Past at Central Nevada Museum, Tonopah
Walk the boardwalk of an old miner's town at the Central Nevada Museum.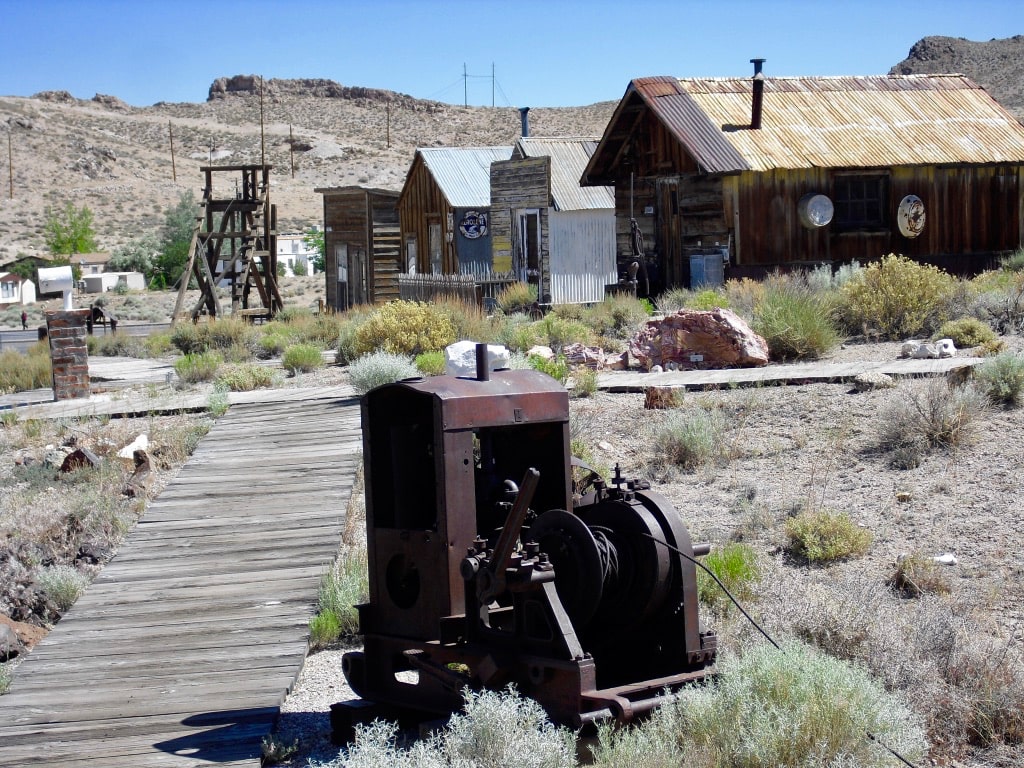 Inside catch exhibits showcasing Jim Butler, Wyatt Earp, Howard Hughes, Madison Square Garden builder George "Tex" Rickard, the founder of UPS Jim Casey, and the last woman to be executed in California, Barbara Graham (aka The Butcher of Burbank) – all who left their mark in this little mining town.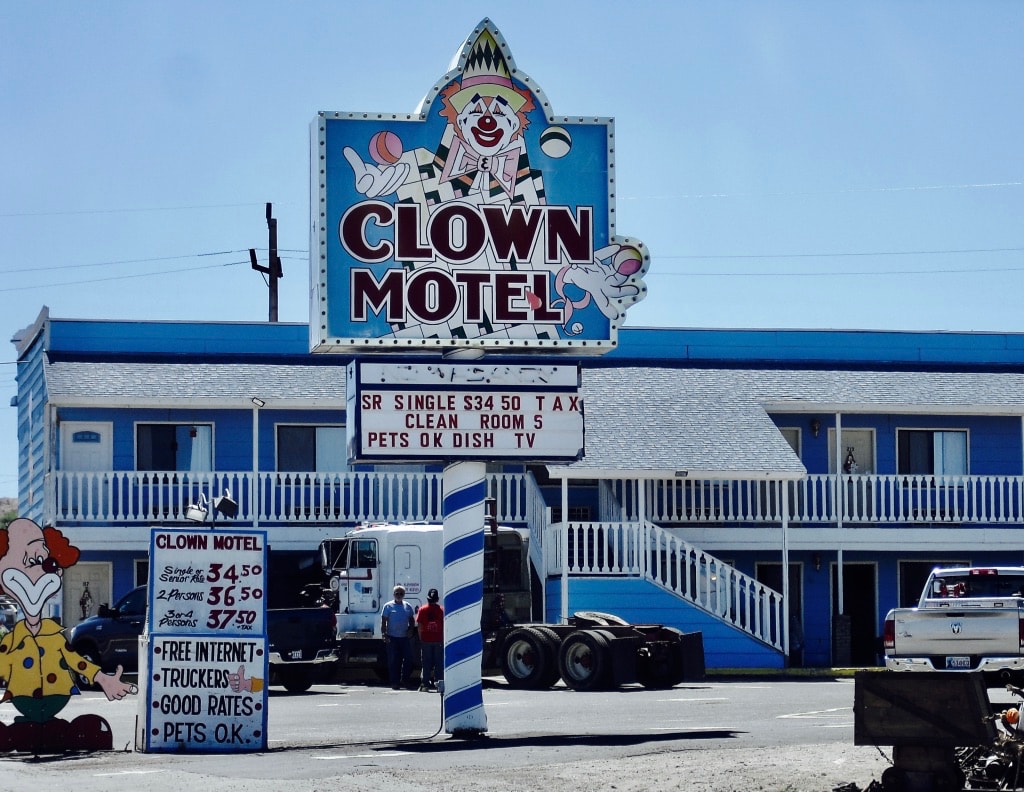 Cuddle with Clowns at the Clown Motel, Tonopah
Tonopah NV is where you'll find the "World Famous" Clown Motel. The guy who built it loved clowns and is buried in the cemetery next door. Stay if you dare. Renovated rooms now start at $120 per night.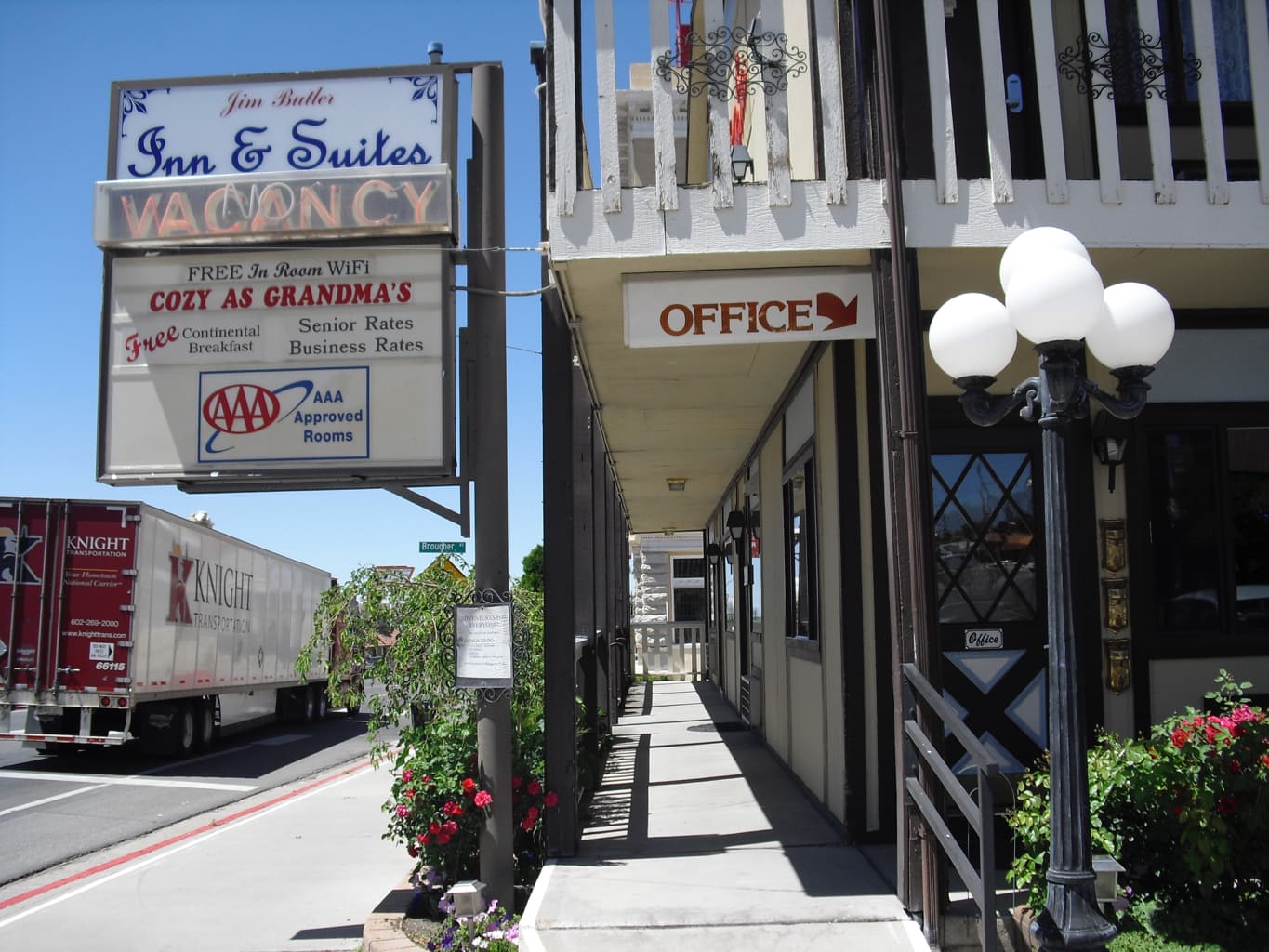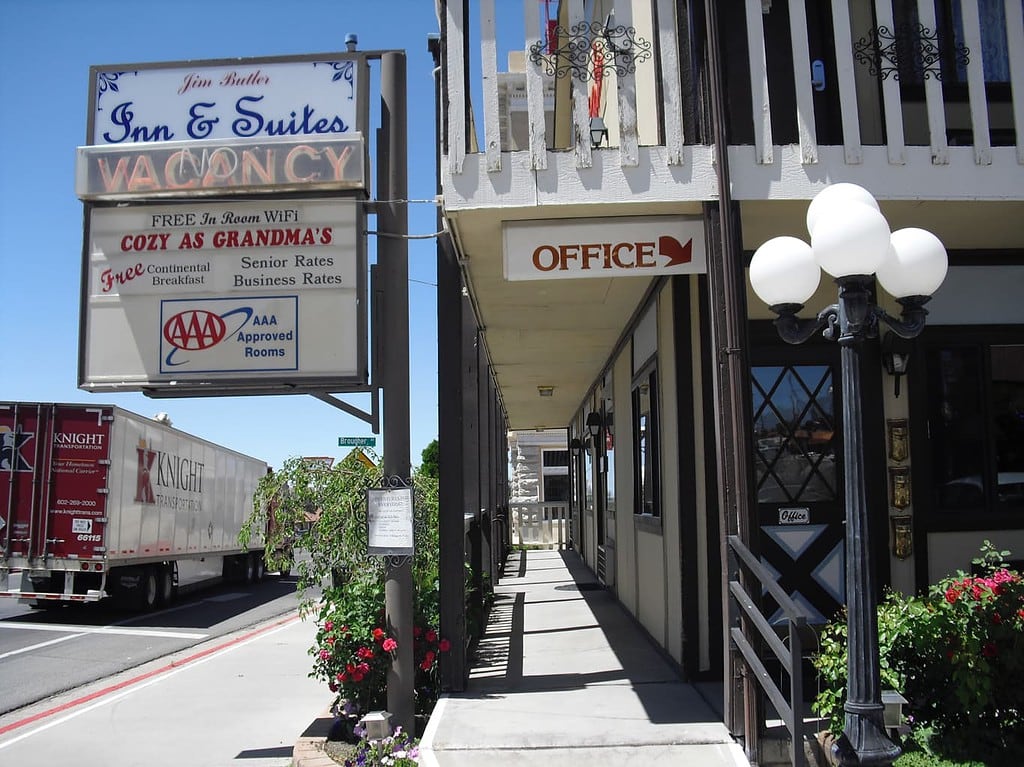 Stay in Victorian Finery at the Mizpah Hotel, or Budget-Clean at Jim Butler Inn, Tonopah
History buffs with upscale tastes can spend the night at the iconic Mizpah Hotel. Originally built in 1907, when it hosted big-spenders who struck it rich in the silver mining camps, the Mizpah was the tallest building in Nevada until the Hotel Nevada in Ely took that honor 20 years later. Rooms from $125 per night.
If you're on a budget, stay next door to the Mizpah at the Jim Butler Inn & Suites, a good, clean and very friendly bang for your buck with surprisingly well appointed and ample rooms that include a sitting area, gas fireplace, a flat screen TV, free wi-fi and comfy bed with nice bedding. Rooms from $75 per night.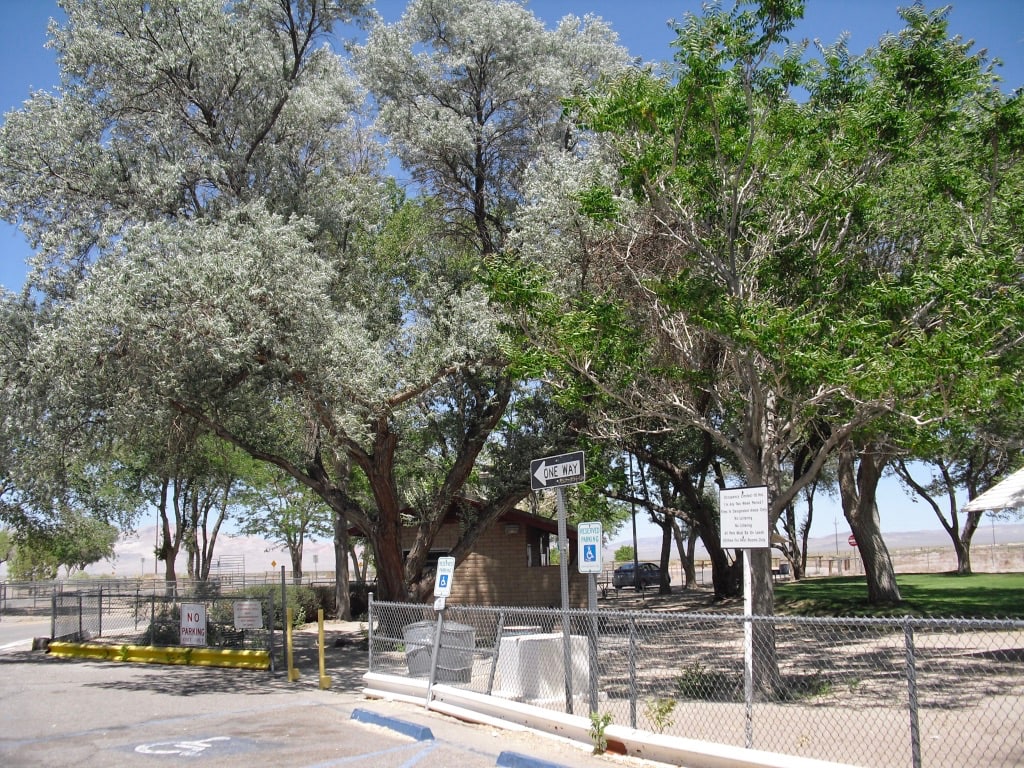 Look for Birds at Miller's Rest Area
About 13 miles west of Tonopah, on US Route 6 NV / Rt. 95, you'll come upon a lovely oasis – the beautiful Miller's Rest Area – once a railroad station and watering stop, now just a few shade trees, covered picnic tables, a water pump and bathrooms. An "island of green vegetation in a sea of dry desert scrub," (Jim Boone – www.birdandhike.com), Miller's is also considered one of the best birding spots in Nevada by in-the-know ornithologists.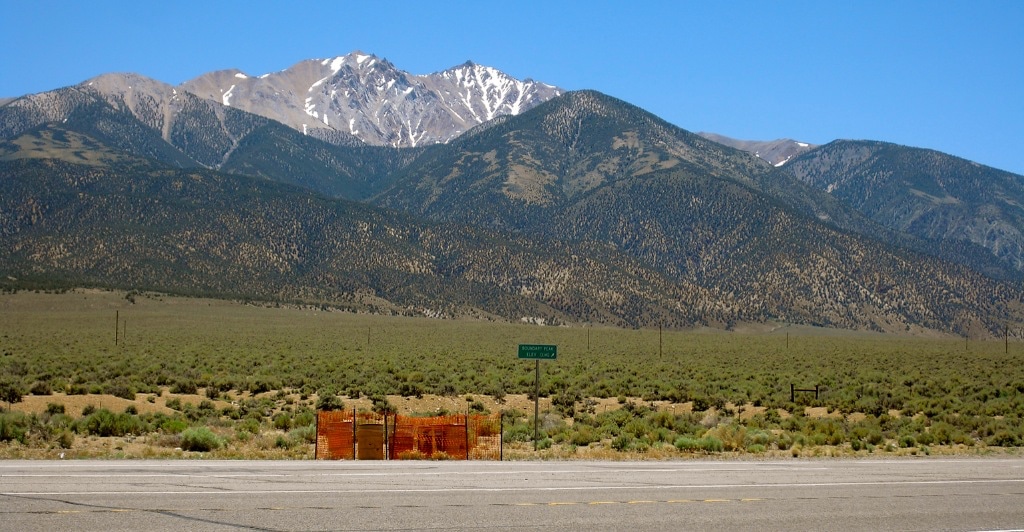 Salt Beds, Snowcapped Mountains, Wild Horses on US Route 6 Nevada
From Miller's, scenery remains exquisite, geologically speaking. Random upheavals of basalt and red sandstone hills form an otherworldly, and yes, alien landscape.
When 95N peels off from 6 and you take a left towards Benton, CA traffic thins. Black blocks of lava, patches of white saltbeds, snowcapped mountains, sepia mountains, dull green sagebrush, and hazy blue sky can put you in a trance.
Along the way, watch for wild horses (there are plenty of Horse Crossing signs), and abandoned burned out, gutted, decayed buildings. There's nothing on the remainder of Route 6 in Nevada except the unparalleled high desert and mountain panorama.