Last Updated on July 28, 2022 by Editor
WHY GO: Granted, not many people rhapsodize about Rutland VT.  But come here and you'll see another side to this much-maligned Vermont city. Whatever challenges Rutland has faced, it has done so with heart and soul and has come out on top.
How else would you describe a town of 17,000 beating out Boston's Fenway Park in its annual Gift Of Life Marathon Blood Drive for several years running? Nearby, there's a homespun Maple Museum, a cool Marble Museum, a collection of Norman Rockwell magazine covers, good eats, beautiful inns, and of course, ski resorts. Read on:
Things to Do in and Around Rutland VT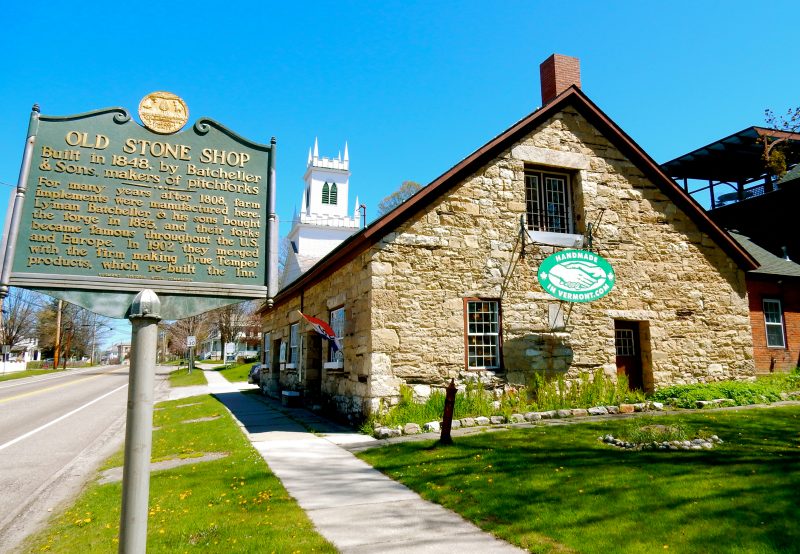 The last thing you'd expect before walking through the door of this historic stone building, America's first pitchfork factory built in 1848, is an assemblage of contemporary home décor, crafts and lighting.
It's quite the surprise.  As the largest Hubbarton Forge dealer, Handmade In Vermont features gorgeous lighting fixtures and other home accessories and furniture hand-forged in Vermont.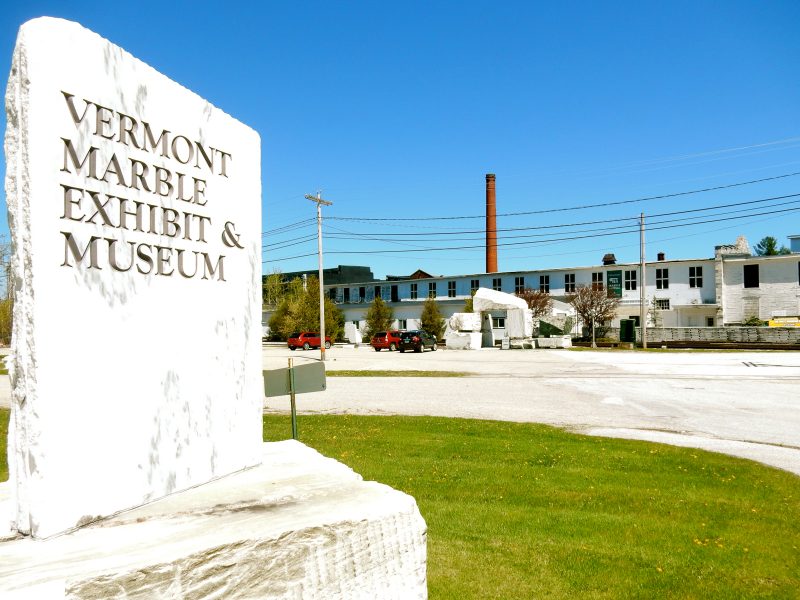 New Hampshire might have its granite, but Vermont has marble: Beautiful, white, veined stone. Not all iconic national monuments were made of marble quarried in Vermont, however.
The Tomb of the Unknown Soldier in Arlington Cemetery, for example, was excavated in Colorado by the Vermont Marble Company, and sent to Vermont to be carved. The museum is housed inside the company's industrial building, with a gleaming white marble plaza.
A tour imparts information about geology, history of the marble industry, and brings you to past US Presidents, carved in bas-relief, in the stately Hall of Presidents. Open mid-May to October, daily 10-5. $9 adults, $4 kids.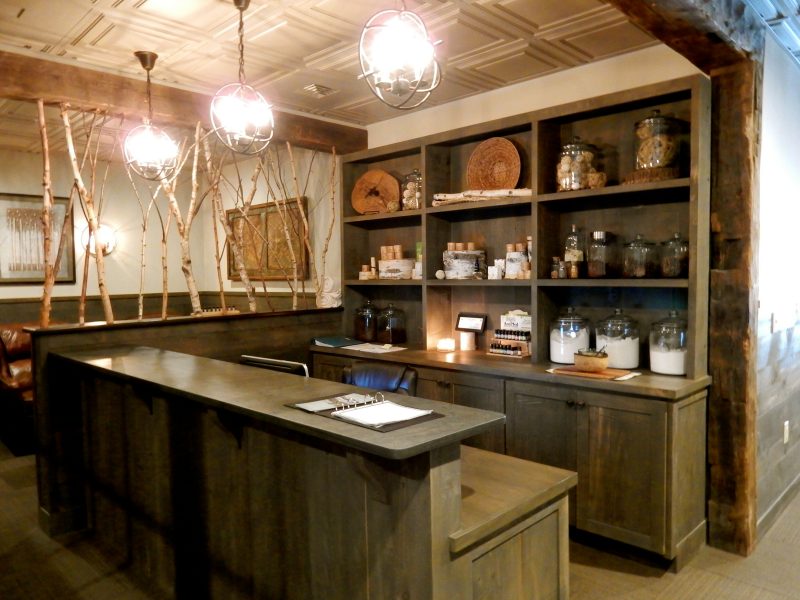 DO: Spa Treatment at Mountain Top Spa, Chittenden VT
Even if you don't stay there, plan a treatment at Mountain Top's barn-chic Spa. Treatment rooms, for facials, body wraps and all kinds of massage, are stone-tile chic.
Participate in Yoga, Guided Meditation, X-Country Skiing and Snowshoeing in season. If your time is limited, revel in the mountain and lake views  while soaking your feet in hammered copper bowls filled with warm water and soothing salts. 50-min. massage and treatments from $110-$135.
SKI: Killington and Pico
Both Killington and Pico are close by, and the reason most people visit here in winter. But if you are not a skier, use the above ideas to explore.
Where to Eat in Greater Rutland VT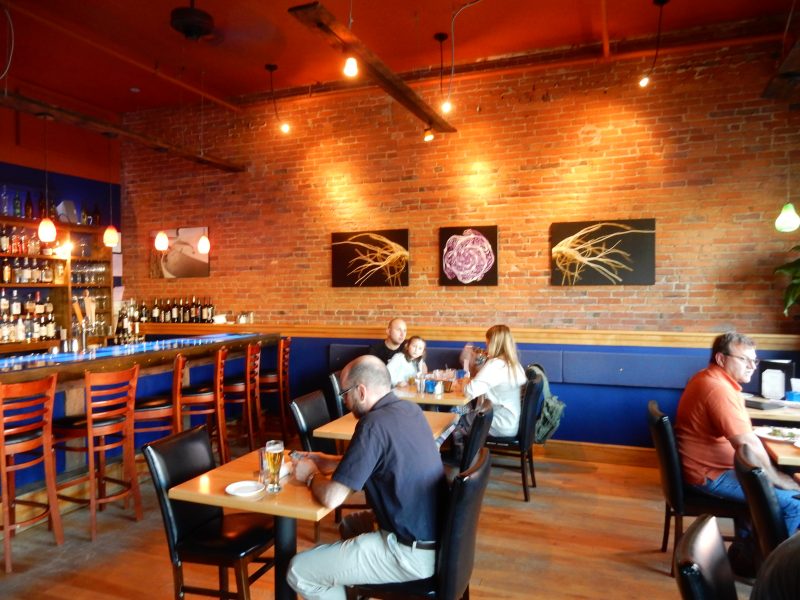 EAT: Roots, Rutland VT
I've never had Chicken Thighs quite like these: tasty, tender and glazed in Vermont honey-butter. I'd return for these delectable treats alone. But this popular farm-to-fork eatery is also known for its craft cocktails, house-made pastas, Emu Meatloaf , and a Signature Cheese Fondue that incorporates local milk and cheese.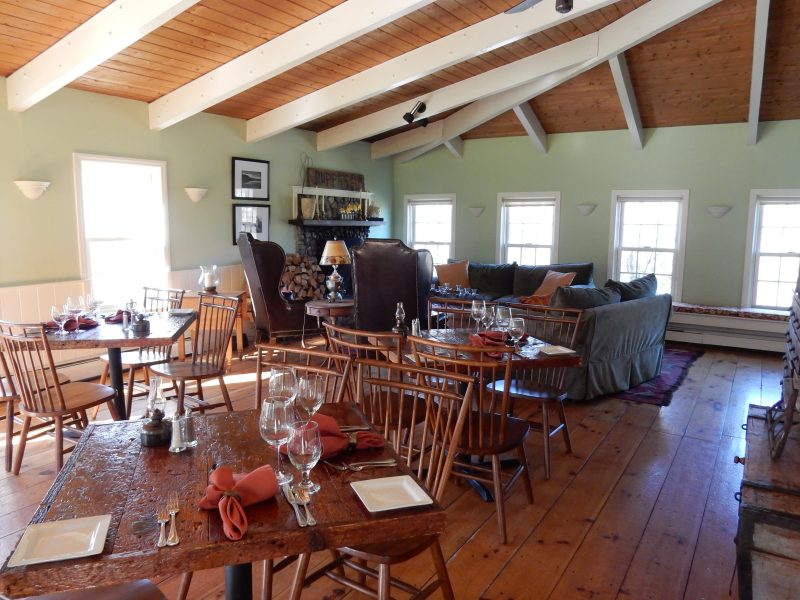 A destination restaurant at a stunning country inn (see below in "Where to Stay"), Red Clover is as innovative as it is excellent. You'll find Escargot atop a bed of seaweed, Duck pan-roasted with pomegranate demi-glaze, and other remarkable dishes on a menu that changes seasonally.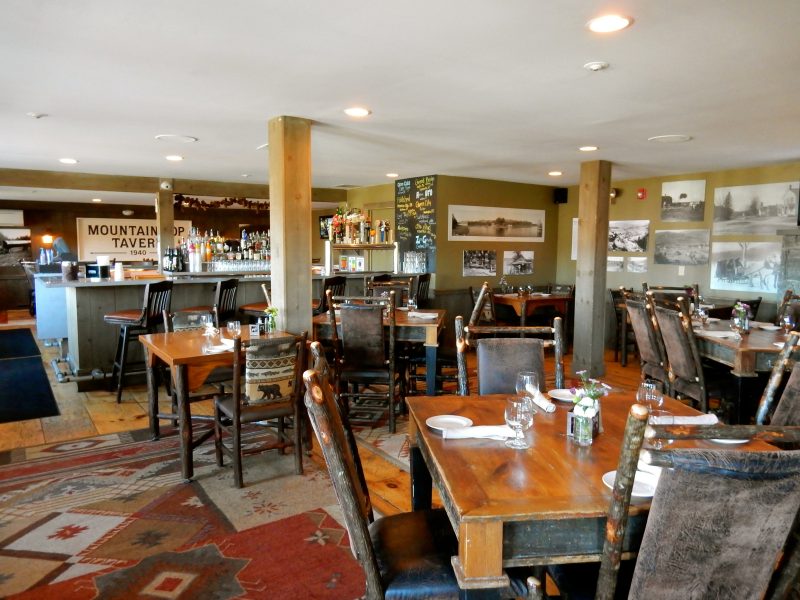 Another destination restaurant, this is less experimental, but excels in Vermont Cheese and craft beer.
Where to Stay in Greater Rutland VT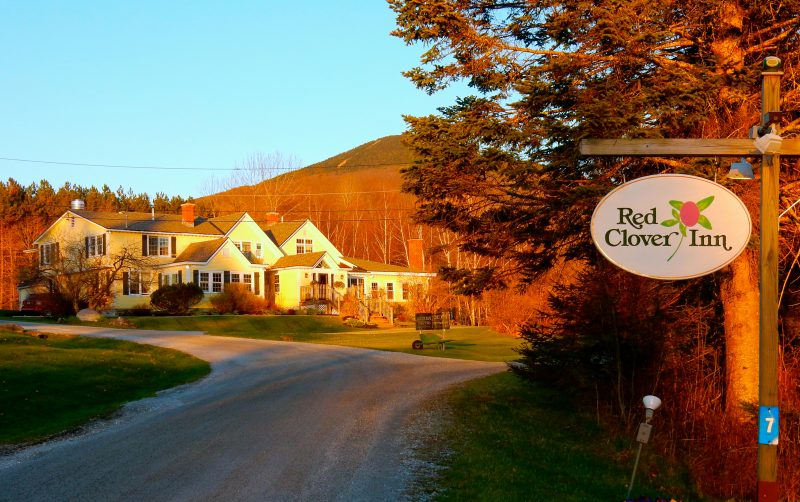 Just a few miles from downtown Rutland, and about 15 minutes from Killington Ski Resort, many consider The Red Clover Inn to be one of the top B&B's in central Vermont.
This attractive yellow inn is fine enough for the local Chamber of Commerce to hold a monthly soiree, friendly enough to feel like family, and pretty enough to impress a jaded travel writer.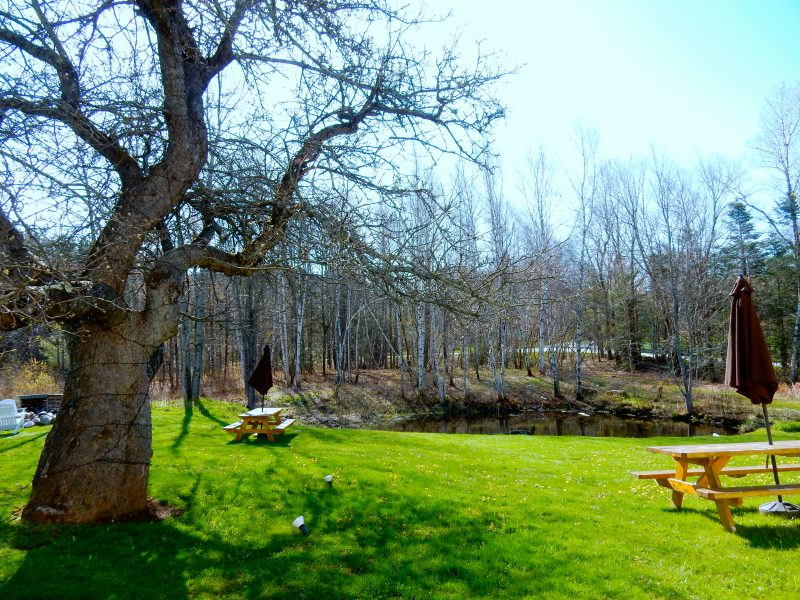 Built in 1849 as a summer retreat and 200-acre farm for the Ripley family of Rutland, what is now the Red Clover Inn became the SATCO Lodge in the 60's and 70's before falling into disrepair.
The Tyler's (who also own the family-friendly Tyler Place Resort), purchased the property in 2009. They then renovated and updated all 14 rooms to striking effect. Thankfully, the 100+ year old apple tree out back was left alone.
In late 2021, biotech entrepreneur and outdoors adventurer, Dr. Mark Allen and wife Venetia purchased the Red Clover Inn.  Building upon the beautiful work of the prior owners, they are restoring and re-imagining the property in a rustic, elegant style.  They brought back Carol and Mike Ryan to offer the same impeccable service and amazing food that made the Red Clover famous.
First Impressions of Red Clover Inn
About a half mile off busy Route 4, the inn isn't tough to find. Despite its name, The Red Clover's canary yellow exterior shines like a beacon.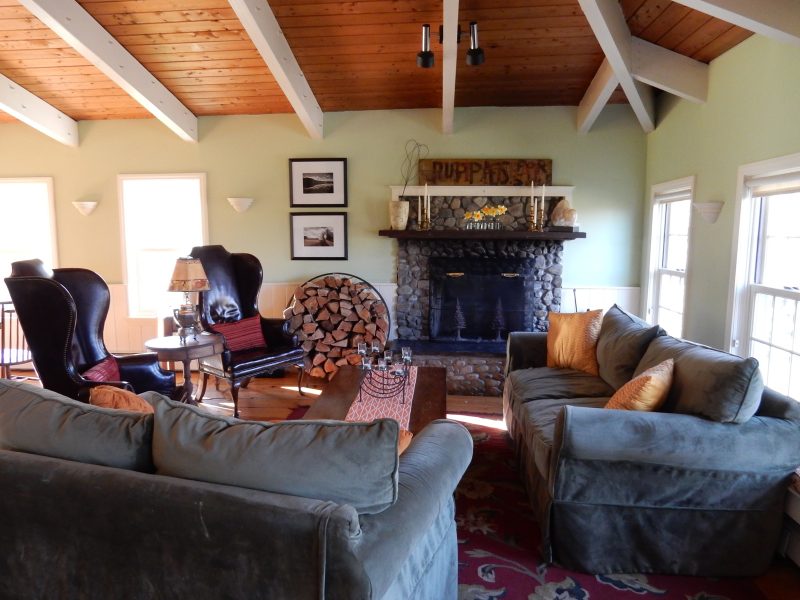 Check in is warm and welcoming. While touring the Federalist-meets-Adirondack style common rooms, the innkeeper points out towels available for a small hot tub outside. There are also complimentary water bottles, and popcorn near a microwave for the taking when you need a little snack.
Rooms at Red Clover Inn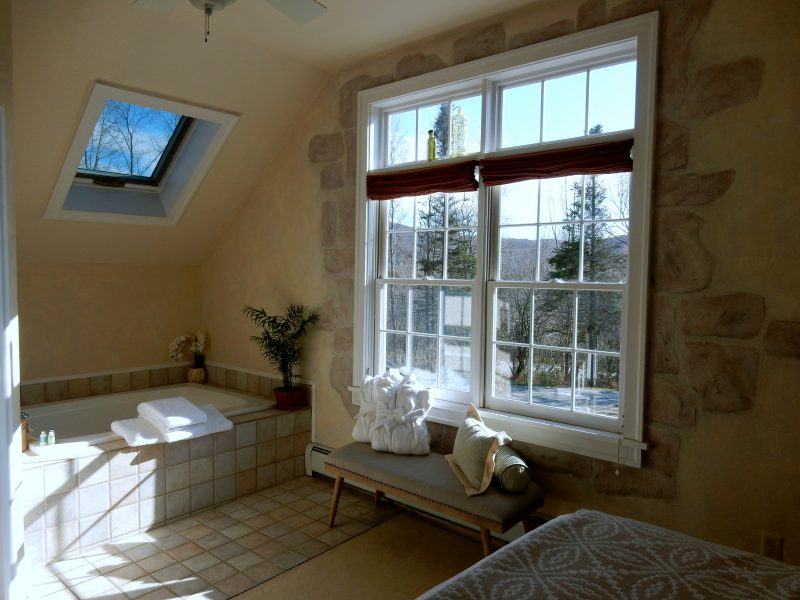 Rooms are named after each of the 13 kids in the Ripley family. Ask for a corner one, like Emma. This sun drenched dormer with two skylights – one over an in-bedroom Jacuzzi, the other in a sizable bathroom – is romantic plus.
Tromp l'oeille stones peek out in sections of cream colored sponge-painted walls, lending Mediterranean flair. Sunset casts the whole room in amber.
Other chambers are smaller and more traditionally decorated, but all are elegant and fine. Apparently, the interior designer had a grand time creating a different atmosphere in each room.
Dining at Red Clover Inn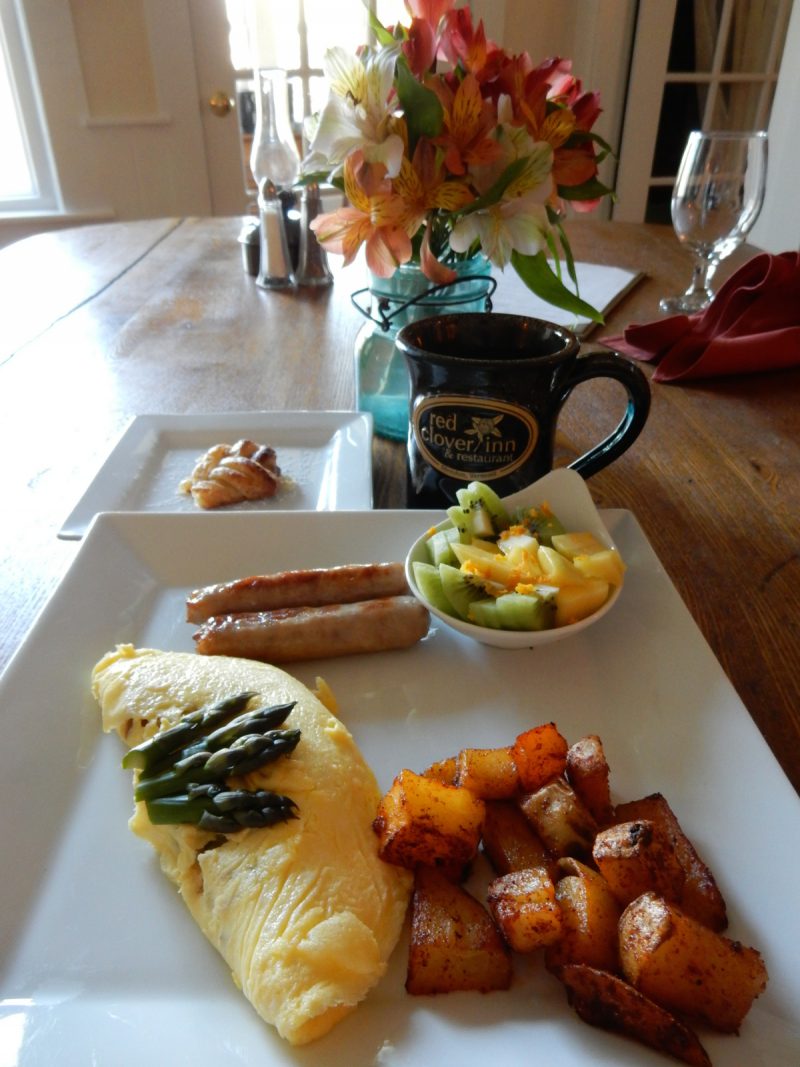 Breakfast here is as farm-to-table as it gets, with locally made raspberry jam, fruit, and made-to-order omelets with potatoes.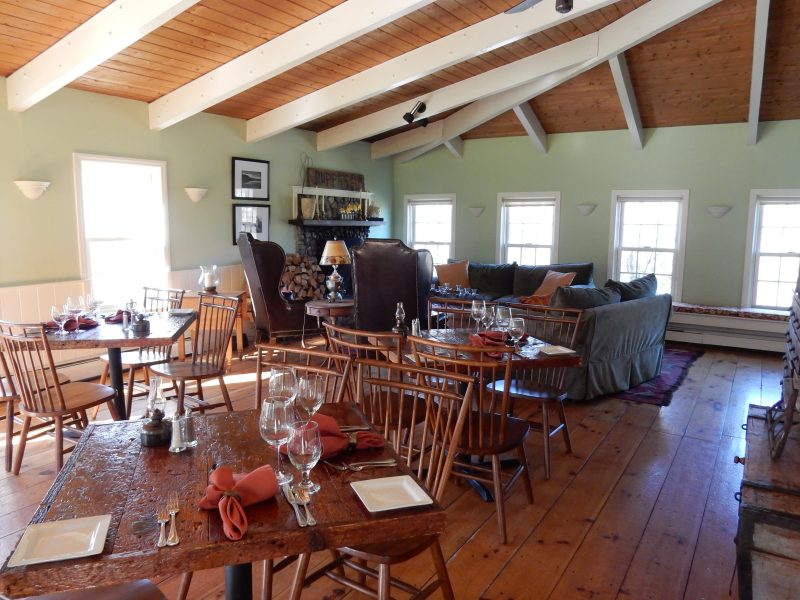 The Red Clover Inn is known for its destination restaurant, as innovative as it is excellent. You'll find Escargot atop a bed of seaweed, Duck pan-roasted with pomegranate demi-glaze, and other remarkable dishes on a menu that changes seasonally. Rooms and suites from $125 – $350 per night. Includes gourmet hot breakfast, parking, wi-fi, popcorn.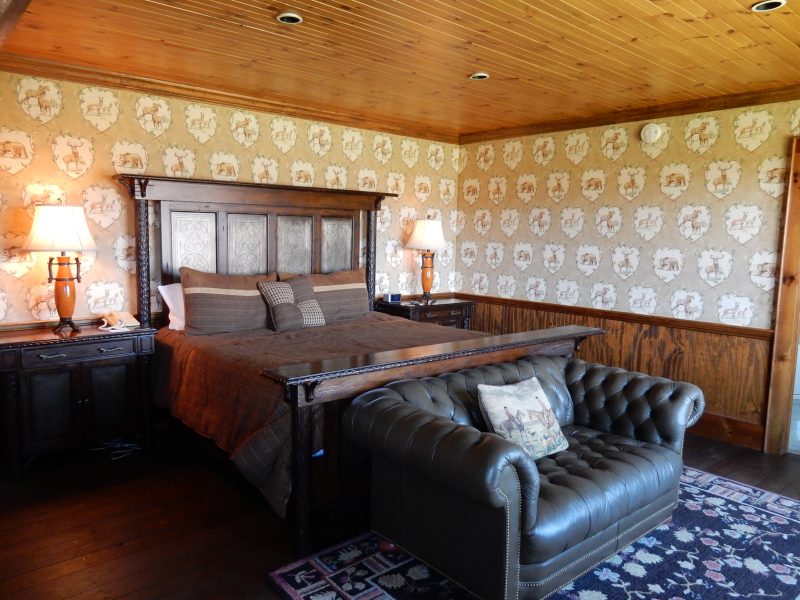 This high-end, newly renovated resort high on a hill has fantastic views of the Chittenden Reservoir and mountains. It's also an Equestrian Center with miles of trails on 350 acres for horses. You can trailer your horse here, board it (limited stalls) and stay in luxury yourself.
Ask for a themed room, like the woodsy Adirondack or Elk Cove. Or book a family cottage or rustic cabin for larger families. The Spa is enticing and out of this world (see above). Rooms from $275 per night.  Includes morning coffee, afternoon refreshments, us of hot tubs, pool, x-country ski trails, parking, wifi. 
According to the owner, these 4 wonderfully renovated homes are "tricked out for people traveling with elderly parents and dogs." And lots of kids. About 15 minutes from Okemo and Killington, homes have two or three bedrooms each. $180–$300 per night for each house.