Last Updated on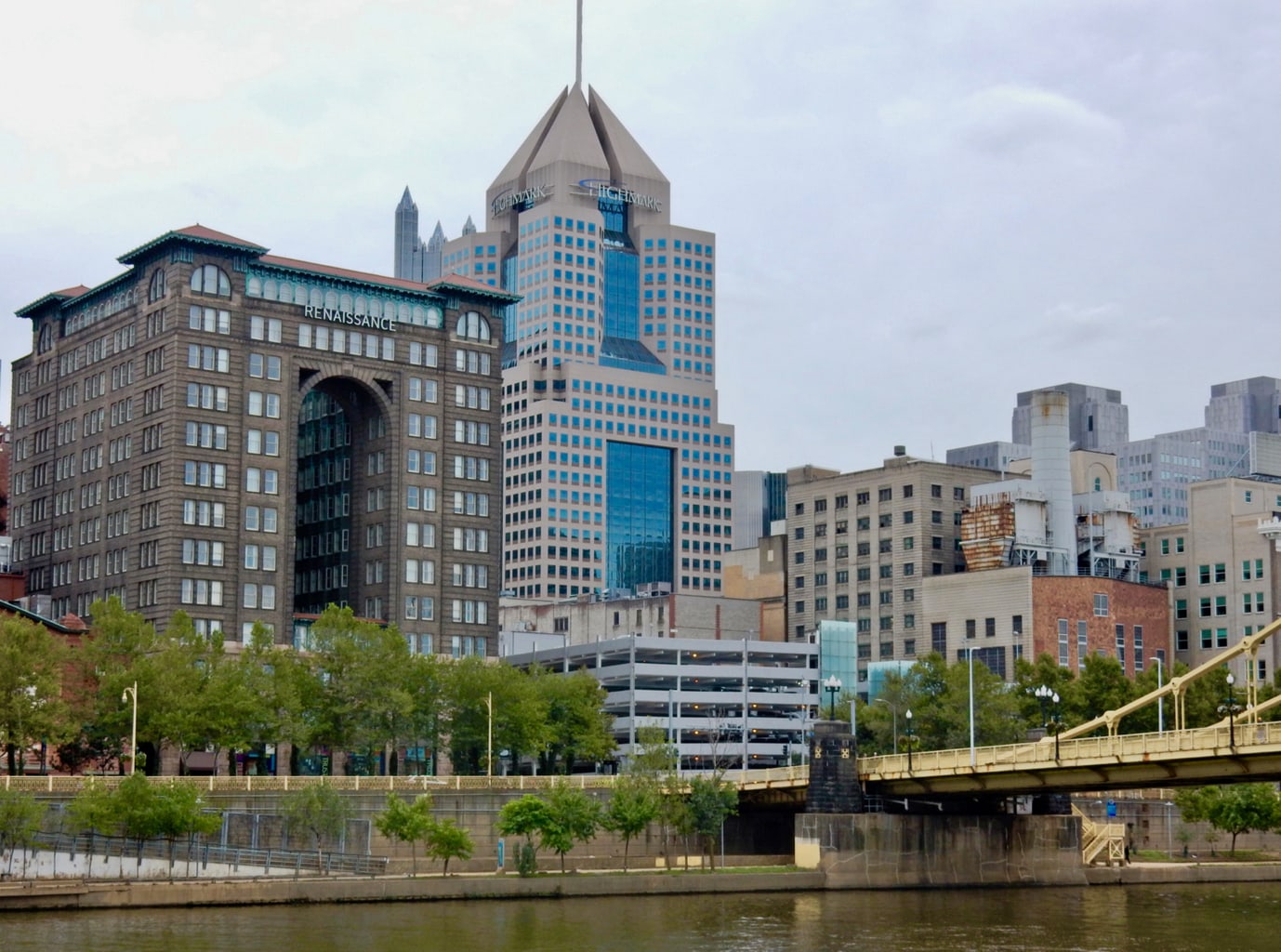 STAY: Renaissance Pittsburgh. After a savvy redo, the cooly designed luxe Renaissance Pittsburgh in the former Fulton Building, on the riverfront opposite PNC Park, is a top choice for style-minded travelers. Located in Pittsburgh's Cultural District, the Renaissance is right next door to the Byham Theater, within a couple of blocks of the Benedum Center and Heinz Hall, and across the river from the Andy Warhol Museum.
First Impression of Renaissance Pittsburgh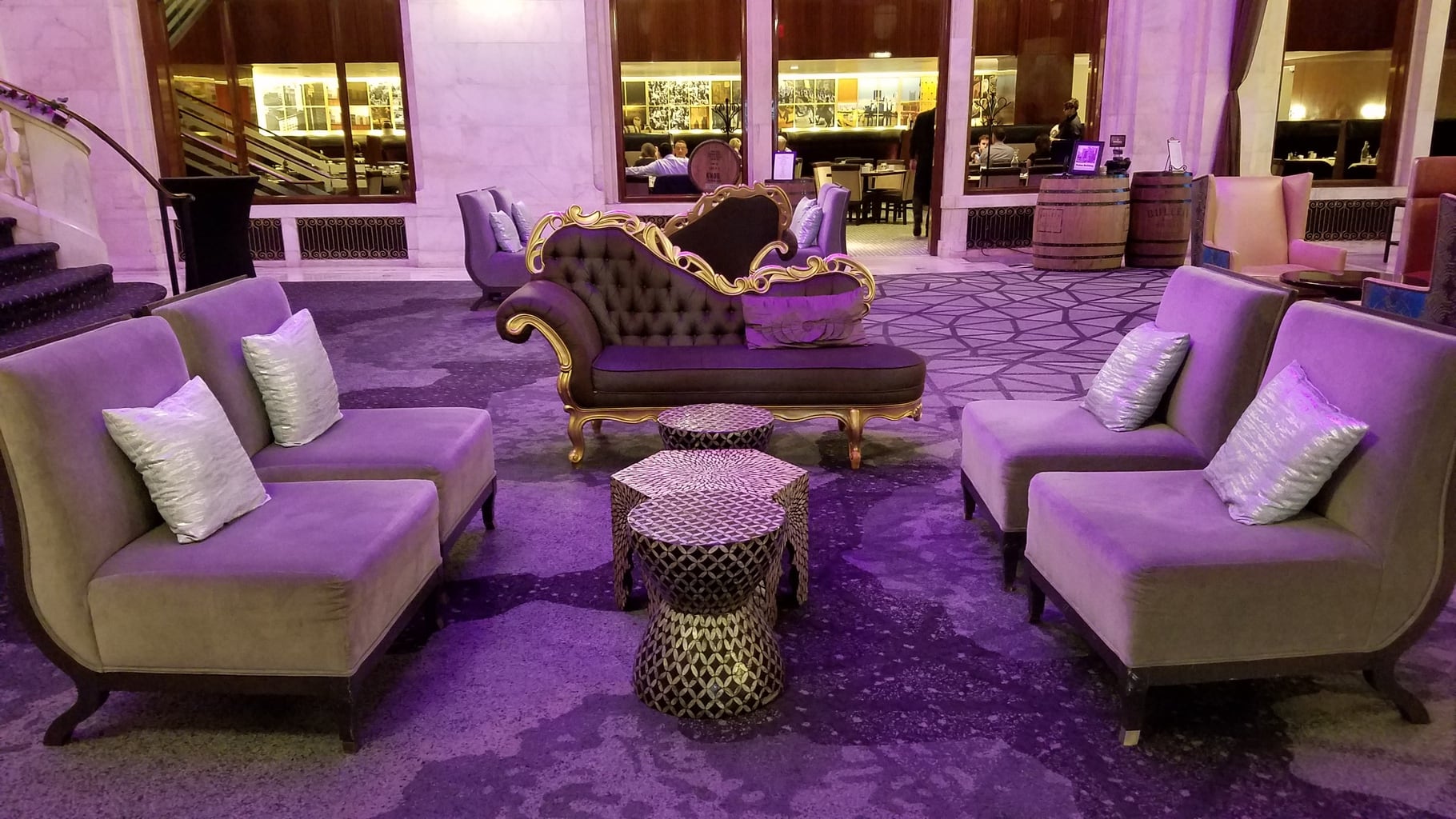 The vast central hall, white marble staircases and arches awash in purple light that emanates from a soaring domed ceiling, provides a striking first impression, in a Beaux Arts meets Avant-Garde kind of way.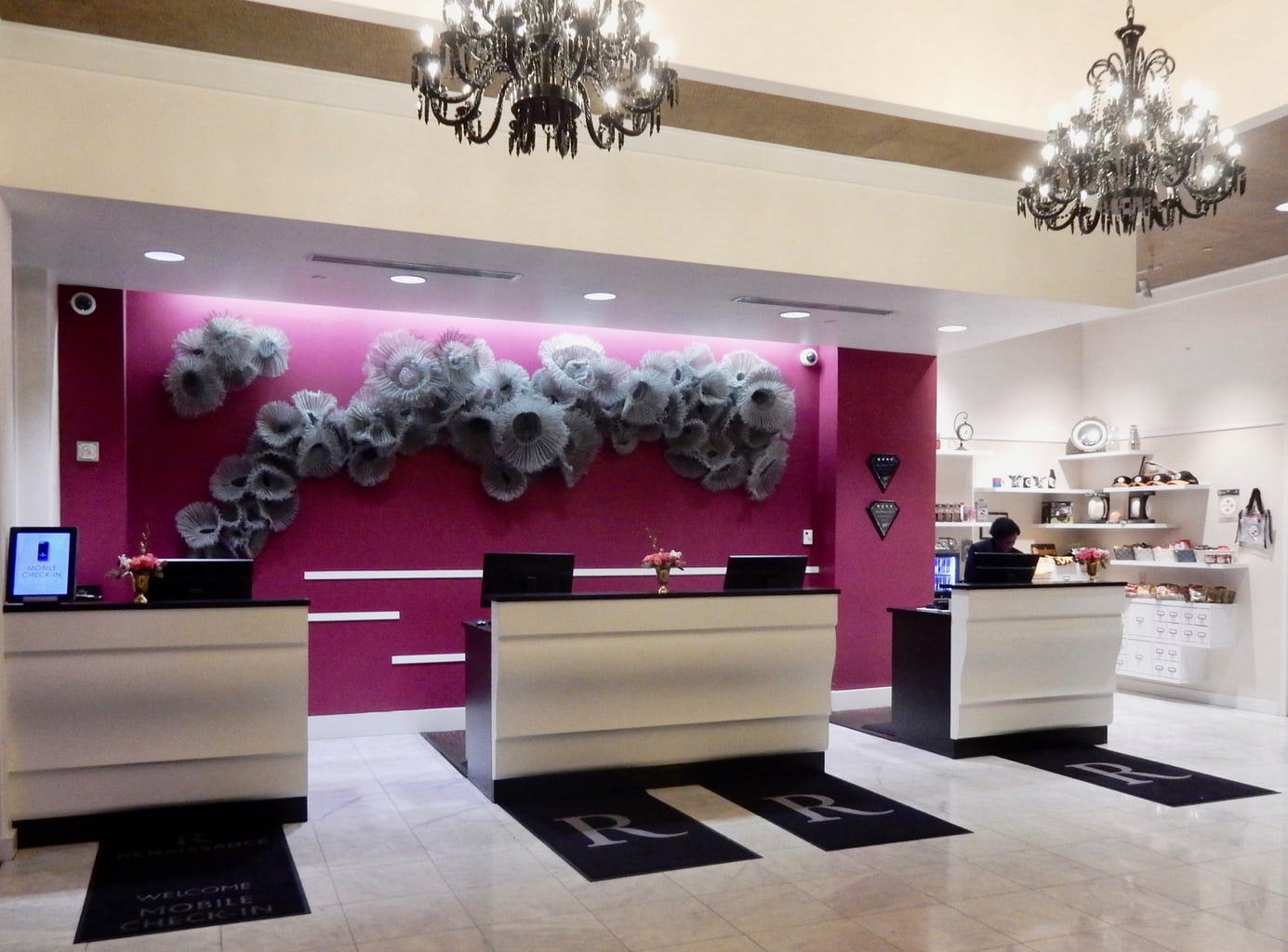 The reception area, staffed with friendly folks, is sleeker and more contemporary, with a sculptural pink and grey wall.
Rooms at Renaissance Pittsburgh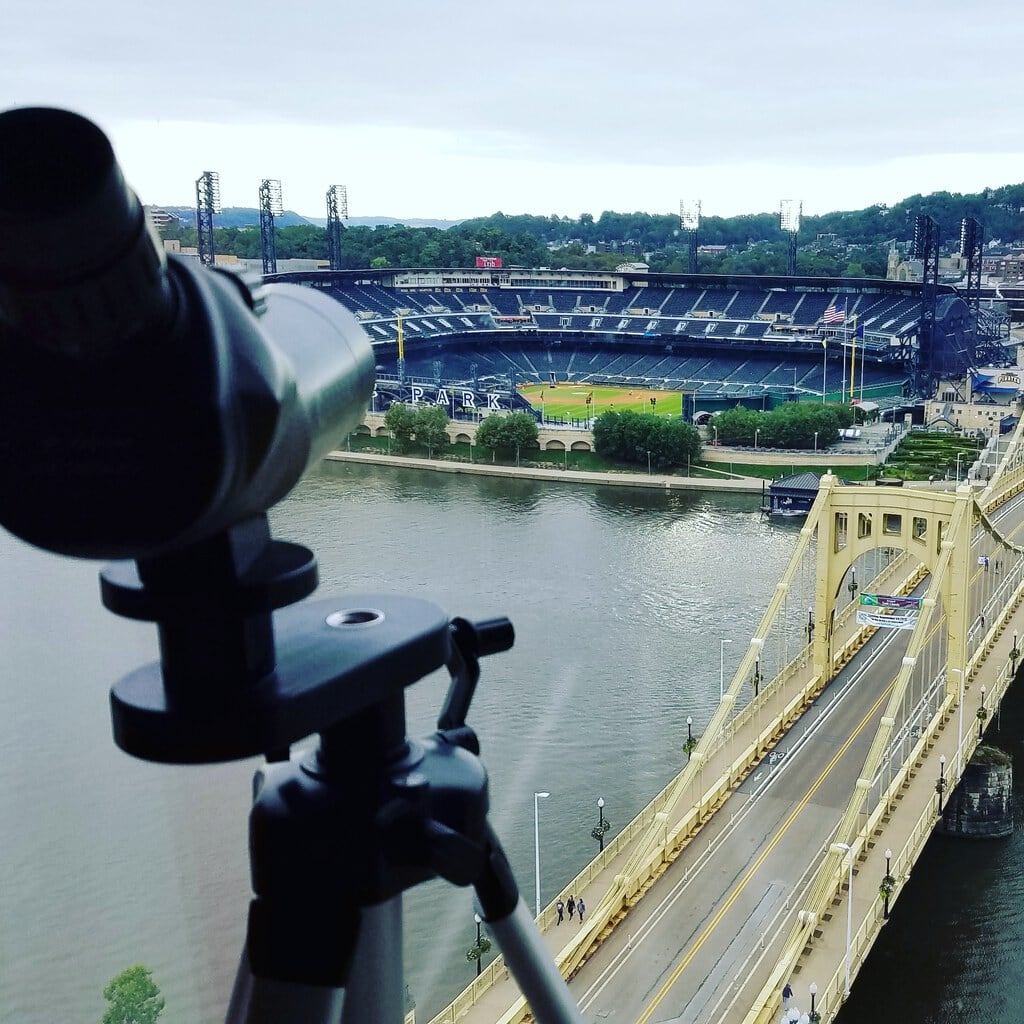 Ask for a Corner Executive King for the best view of the river, bridges, and all Pirates home games. From afar, you can see the scrolling announcements and cannon fire after each home run, but the Renaissance also provides a telescope, so you can watch each player at bat or rushing to catch a fly ball up close.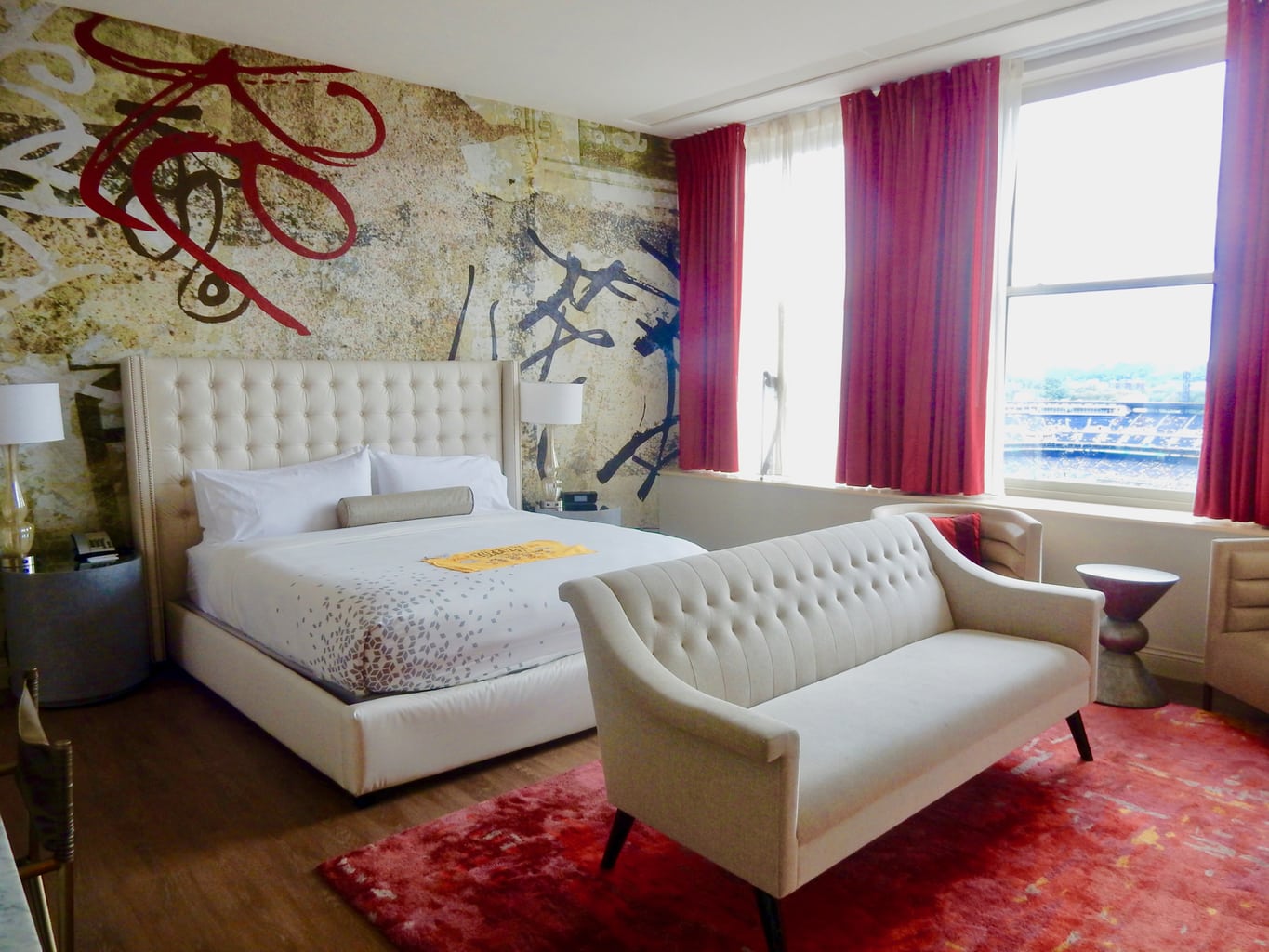 Yes, you'll spend lots of time looking outside, especially if there's a game, but the newly renovated rooms are eye-catching, too. The bed is sinkably dreamy, cloaked in a white duvet – upon which a yellow Steelers' Terrible Towel has been placed. Its tufted, cream-hued headboard leans up against an abstract wall mural. Deeply hued pink area rugs and window curtains add punch to the room. The effect is fashion-forward without being flamboyant – a modern and balanced oasis of serenity: always a plus for this traveler.
The bathroom, composed of white marble floor, white tiled shower and walls, and black marble sink, while immaculate, is a stylistic departure from the vibrant bedroom – lending it an aura of a different age (and decorator).
Dining at Renaissance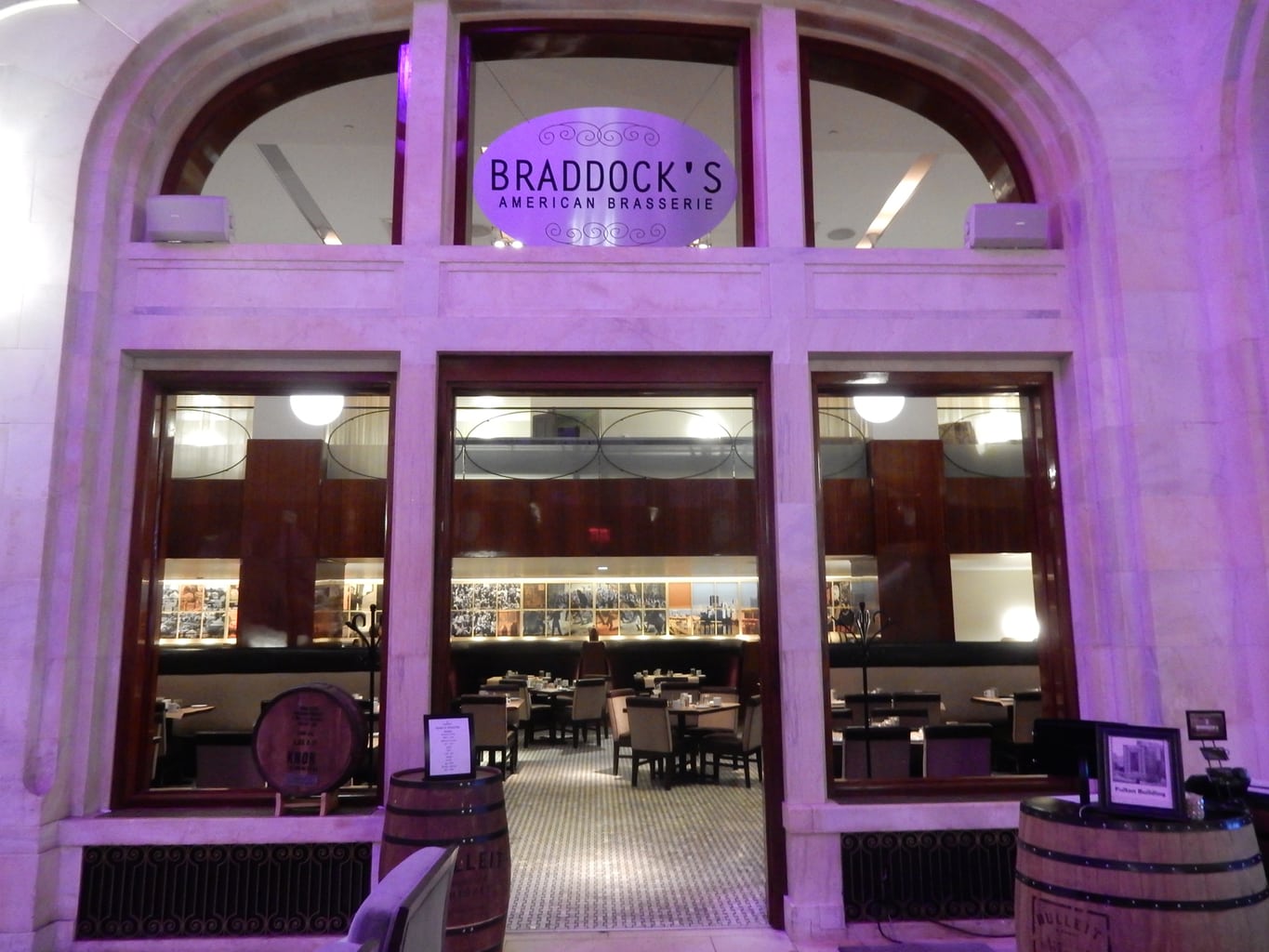 On site restaurant, Braddock's American Brasserie serves diverse cuisine "in tribute to Pittsburgh's melting pot culture," in a modern, upscale space. With a focus on Bourbon and other distilled liquor, the bar celebrates the Whiskey Rebellion dissenters of yore. There's also a small Starbucks-like coffee shop right off the elevators on lobby level – perfect for the "must have caffeine" guests who don't want to walk very far for their morning cuppa Joe.
Just the Facts
Room rates from $179-$379 per night.