All About Harbor Light Inn Marblehead MA
Even the name promotes a feeling of tranquility and comfort: Harbor Light Inn Marblehead MA.
A light in the storm. A safe harbor.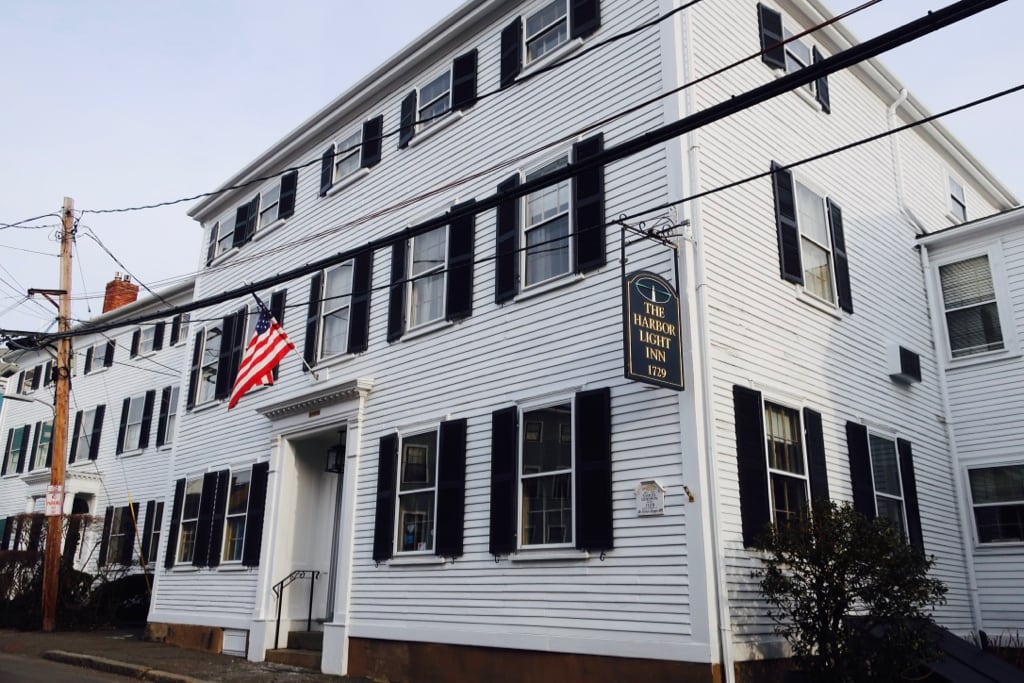 There is no better – or other – place to stay in Marblehead's historic district. Speaking even more romantically, it's the only inn on the North Shore of MA with Jacuzzi tubs.
Although rather small, with only 20 rooms of various traditional décor, Harbor Light Inn features an outdoor swimming pool – a unique and quite unbelievable amenity for a modestly sized lodging located in the heart of a small town Historic District.
(If you care to leave your love nest, here are some Getaway Mavens suggestions of Things to Do in Marblehead MA).
Harbor Light Inn History
Until about 40 years ago, the Harbor Light Inn was just a gleam in the eyes of Peter and Suzanne Conway. There were no hotels or inns in Marblehead's historic harbor district for tourists who were starting to discover this charm of a town, and the Conways had plans to rectify that.
They implored town officials to allow the renovation of an historic main street home that had gone to seed, and then open it as an inn – a win-win for Marblehead. Initially there was some pushback – mostly about traffic and parking. But, Peter and Suzanne eventually won out.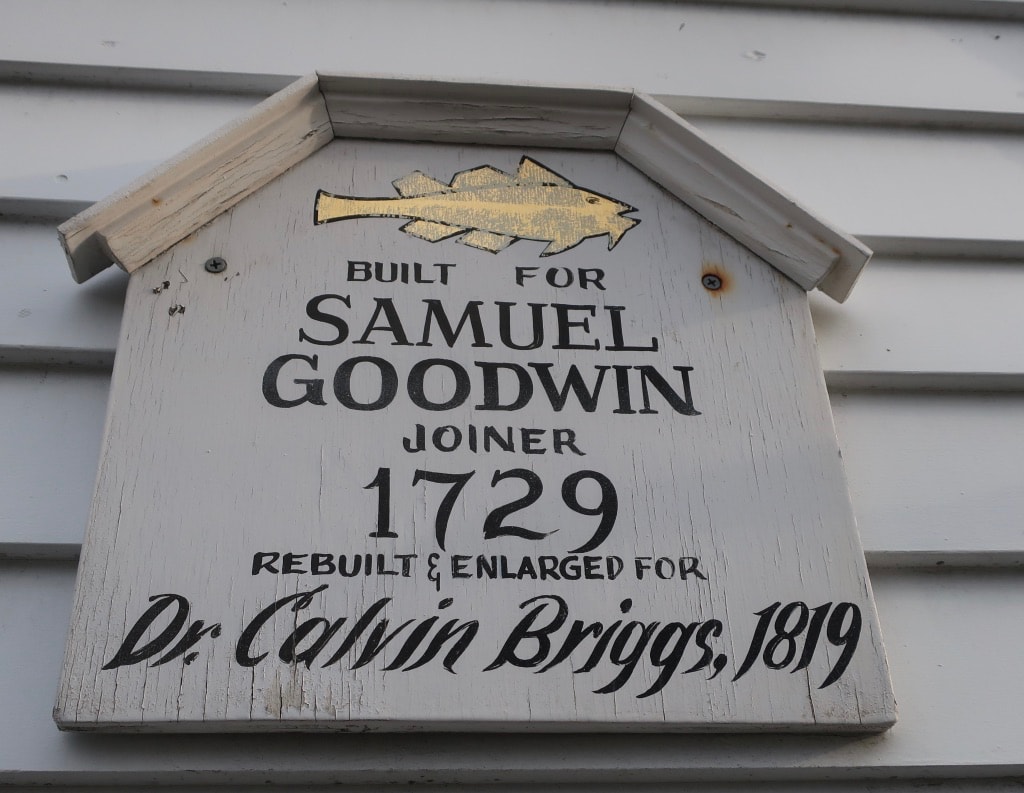 In 1985, the Conways purchased the first house – built in 1729 for Sam Goodwin and then rebuilt and enlarged with a third floor for Dr. Calvin Briggs in 1819.
Five years later, they bought the home next door, initially built in the later 1800's. It had been occupied by an insurance office, with parking in the back. The Conways demolished the parking lot to create a courtyard swimming pool, renovated each room to add en-suit bathrooms and decorated them with fine antiques and art.
The Conways hired architectural engineers to link the two homes together so that they'd appear as one large building from the same era. This was accomplished via an ingenious, period-perfect design, that formed one complete inn. (By the way, this is the reason that there are two separate staircases, and why consecutively numbered rooms might not be adjacent to one another).
Nowadays, Pete and Suzanne's daughter, Carolyn, manages the inn. Carolyn explains that her Grandmother painted quite a bit of the art that hangs in guest rooms and throughout the inn, rendering the Harbor Light a true, multi-generational family business.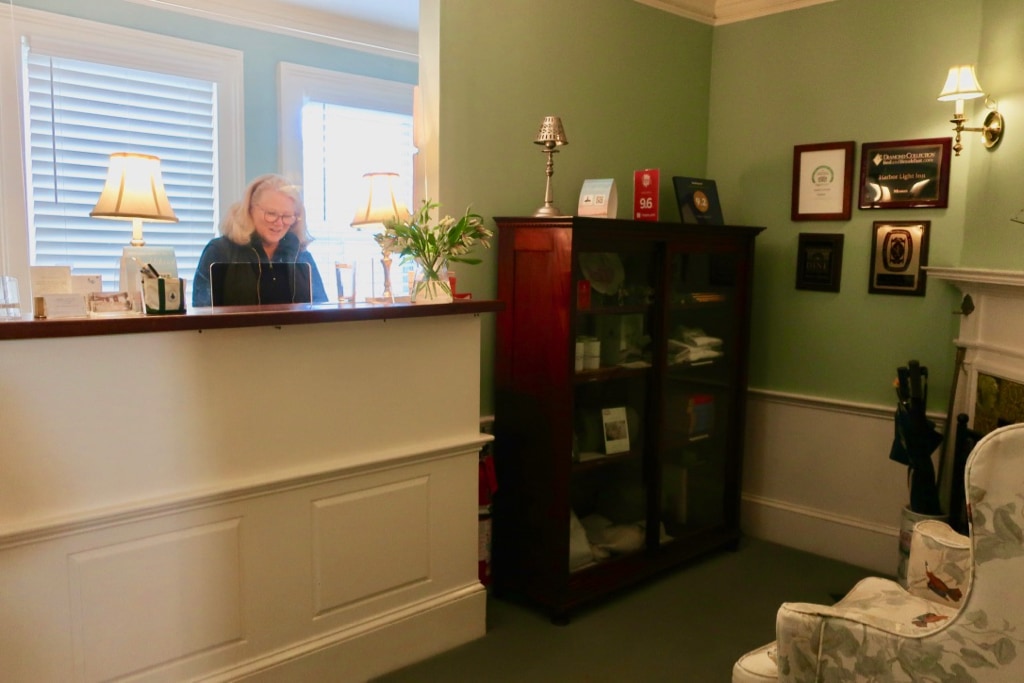 First Impressions
The Harbor Light Inn Marblehead is a traditional New England inn, in one of the most traditional New England maritime towns. So, I was happy to find this whitewashed lodging a block or two from shops and restaurants – right on the Harbor District's main commercial boulevard, Washington Street.
Enter into rooms that reflect the style of wealthy Colonial-era maritime merchants and captains, with up to date HVAC systems, and other modern conveniences.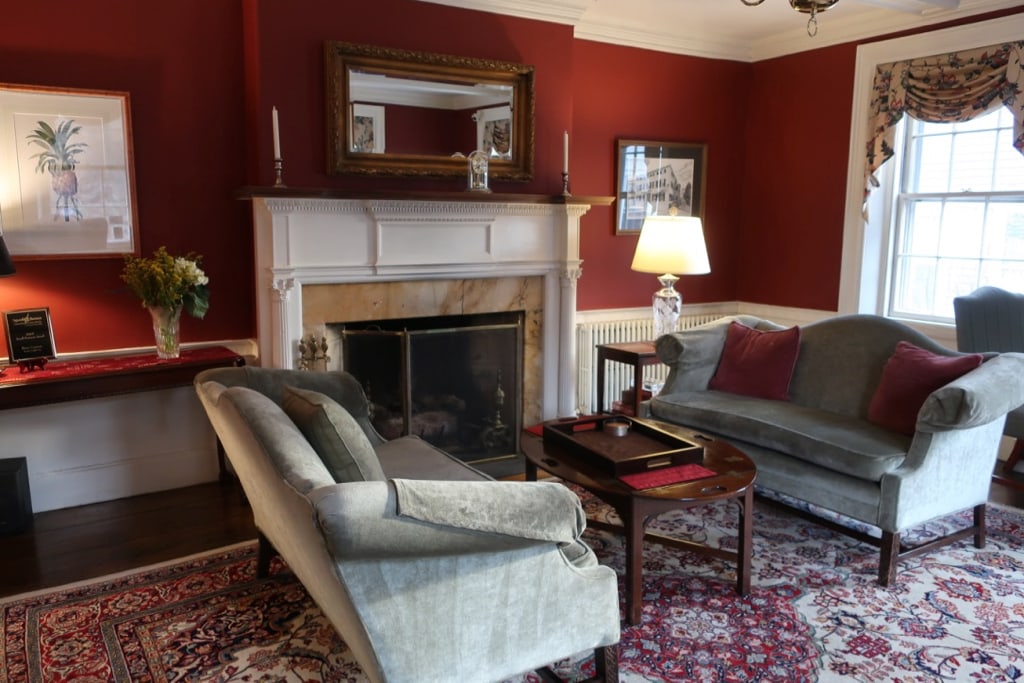 Common rooms are fine and cozy, with carved fireplaces ablaze in winter. There are wingback chairs and sconces on the walls (lightbulbs in place of candles, of course).
The interior is so adorable and authentic, in fact, the Disney Co. filmed one of their Christmas movies, Godmothered, here.
Reception is intimate with super friendly staff. Check-in is followed by a lay of the land tour of the inn and an escorted walk to your room.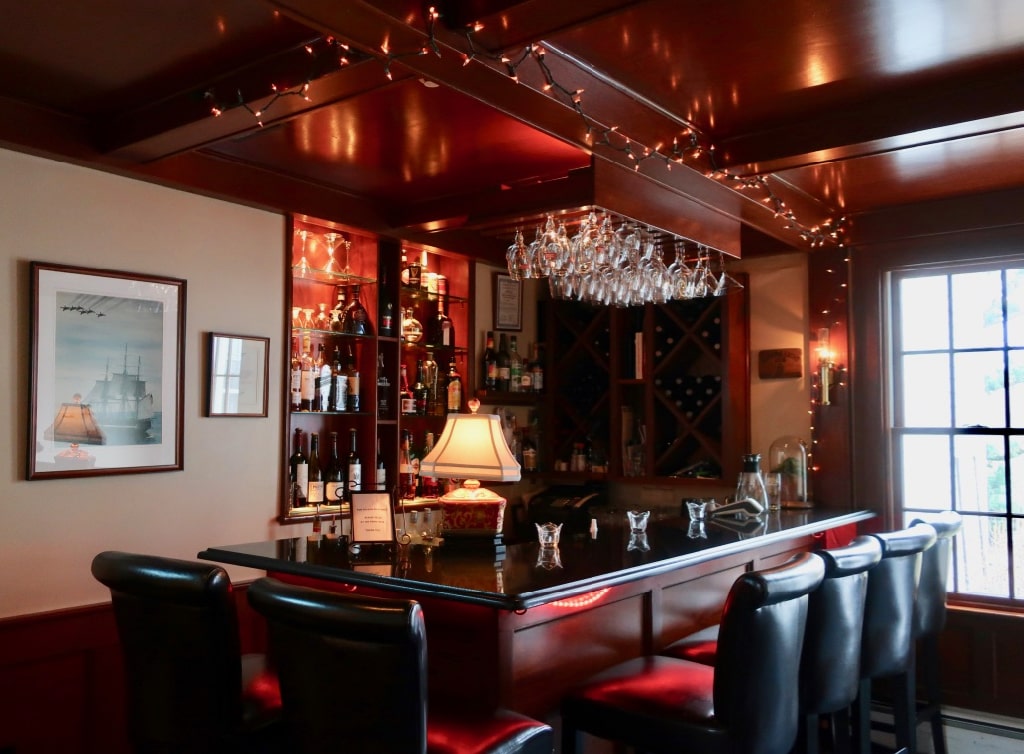 The Tavern
If there's a blizzard or thunderstorm outside, and you don't want to leave the inn, you're in luck. The snug, nautically dressed, tavern is right downstairs. You can get a beer, wine, cocktail, and bar snack with fellow guests. And even next door neighbors who are feeling convivial might make an appearance. (Yes, The Tavern is open to the public, however – it's not a full-service restaurant).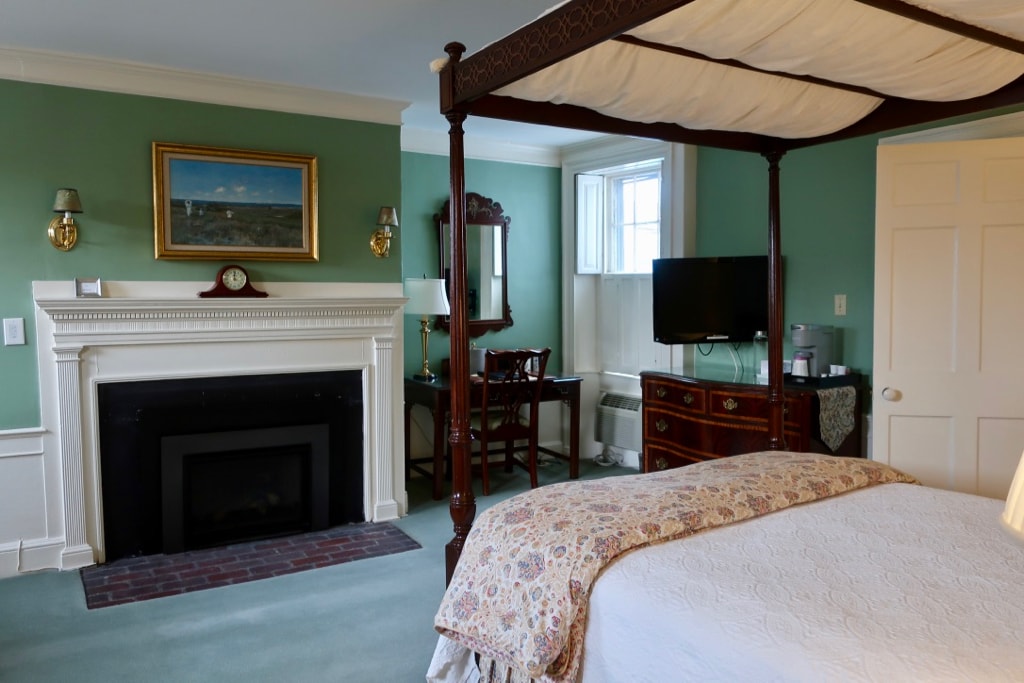 Guest Rooms
Each of 20 romantic guest rooms are decorated with antiques and Federal furniture. Blessedly, they are not designed to the nines, or duded up for wild nights.
Nope – guest rooms are as serene and calming as the soft music that plays as you enter your own space. Five rooms sport jetted tubs. Ten feature gas fireplaces.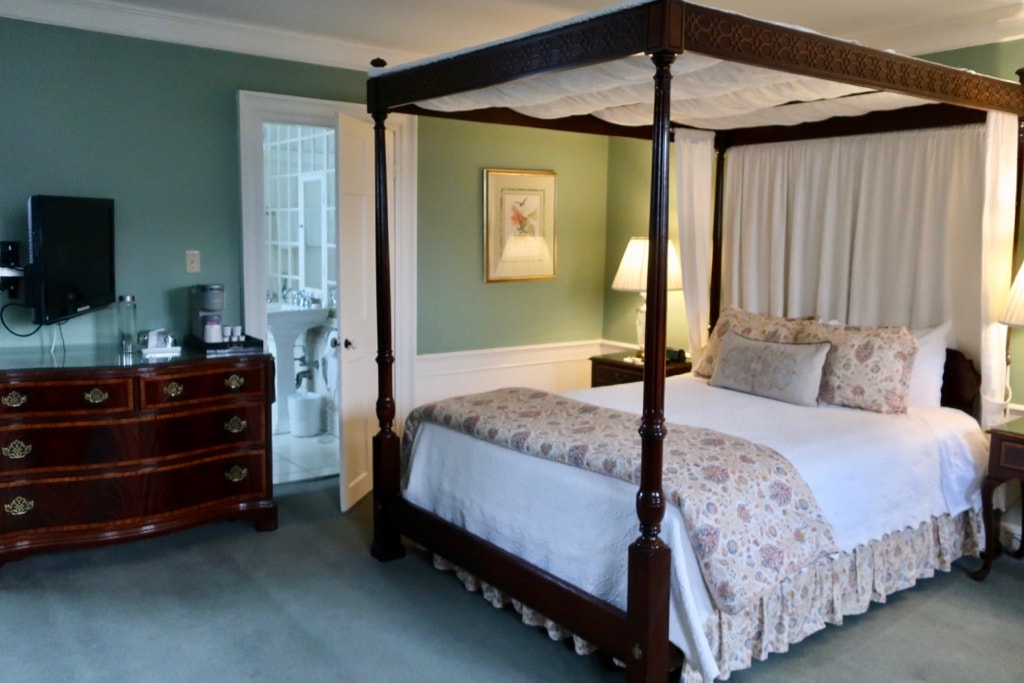 Mine, room 26, was bedecked in Federal-style finery: four-poster canopy bed, fireplace (gas), brass-handled bureaus, half-shutter windows, and watercolor paintings on soothing green walls. Although, for sure; you wouldn't have found flat screen TV's and pod coffee makers in these rooms when the first house was built in 1729.
Though small, the bathroom, with unique paneled mirror walls and grey veined marble tile floor, is pristine and perfect.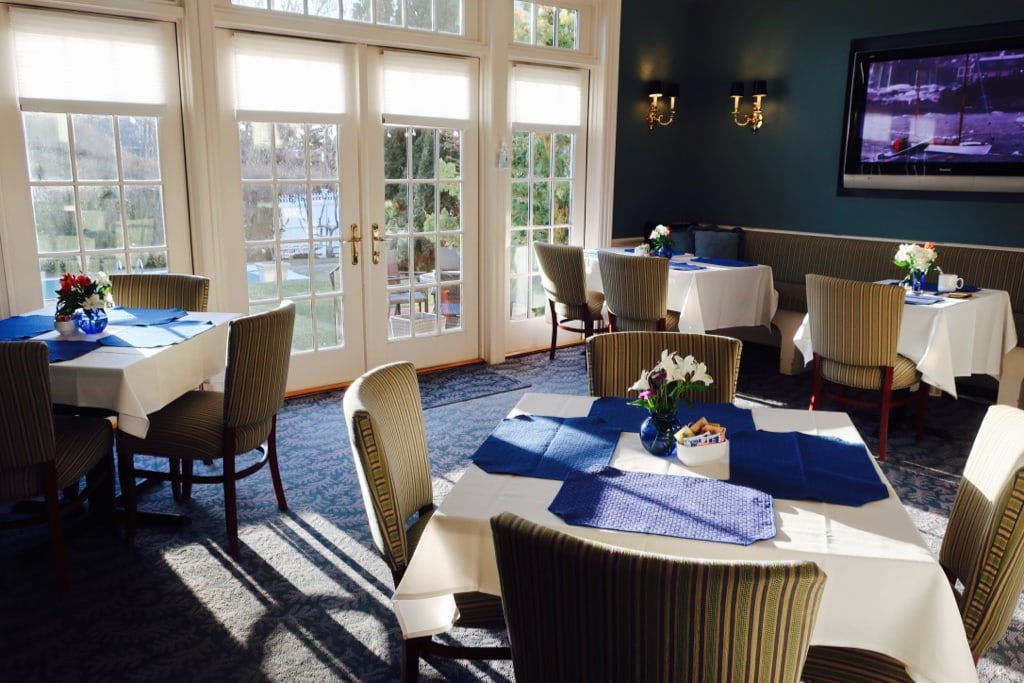 Breakfast
You'll start the day with a bountiful hot breakfast, served on a large dining room table beside a fireplace, or in a sunlit enclosed porch overlooking the pool outside.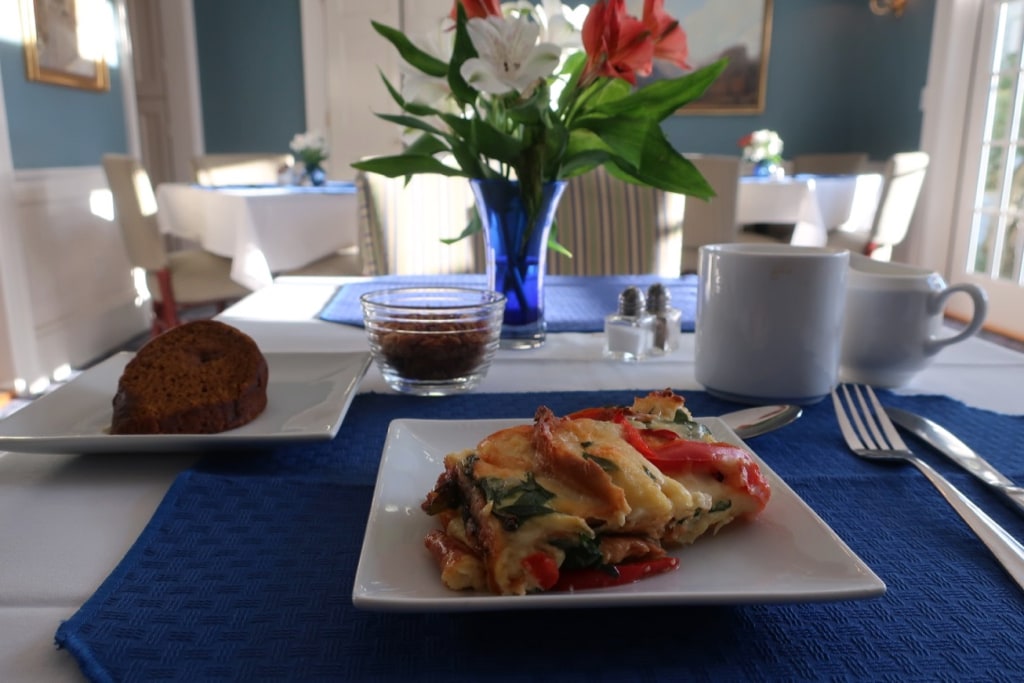 I opted for the sunlit room and loved my "Veggie Strata" – basically a loaded omelet – served with homemade granola and fresh baked pumpkin bread.
Just The Facts
Rooms from $239-$500+ depending on season include hot cooked breakfast, afternoon treats, parking. For a very romantic add-on, order a Lobster Roll Picnic Basket for two (in season, under $100 for lobster rolls, a bottle of wine, and Harbor Sweets chocolates), and take it to one of the many parks in town.