Last Updated on April 15, 2021 by Editor
When we're not sitting down to write, the Getaway Mavens are on our feet and on the go. So, finding the best travel shoes for walking, beachcombing, and meandering, without adding a ton of weight to our luggage, is of prime importance. Fortunately, technology has advanced to the point where you can find nearly weightless but sturdy footwear that packs down to almost nothing.
My high-heel-wearing days are far behind me. I'm not into the pain and pinching that results anymore. I like to put on a pair of shoes in the morning and wear them all day long – a tall order for most decent-looking footwear these days. And especially when traveling, when I have to choose my packed items carefully.
In the past, shoe brands manufactured one of two kinds of footwear:
Heels so high, I'm concerned about the health of my shin and ankle bones and
They may be super comfortable, but I'd never be caught in those dowdy old lady style shoes.
But times they are a changing. Comfy is getting cuter. After putting dozens of pairs through the test, I've boiled my preferences down to these five high-quality favorites:
Best Travel Shoes For A Weekend Getaway
Arcopedico's Town
$80
arcopedicousa.com
I've been a fan of the travel-friendly Arcopedico footwear line for years. This year, the company debuted "Town," that looks sort of like a boat shoe, and is easy to slip on. Arcopedico Town molded to my feet, allowing my little piggies to breathe so they did't feel hot and sweaty.
In addition to the streamlined and clean look, the lycra upper, mesh-lined foot-bed and patented twin arch support system coddled my feet in comfort, even on the long walks I regularly take in Manhattan. These shoes are nearly weightless yet durable. Plus, they're machine washable, which is key.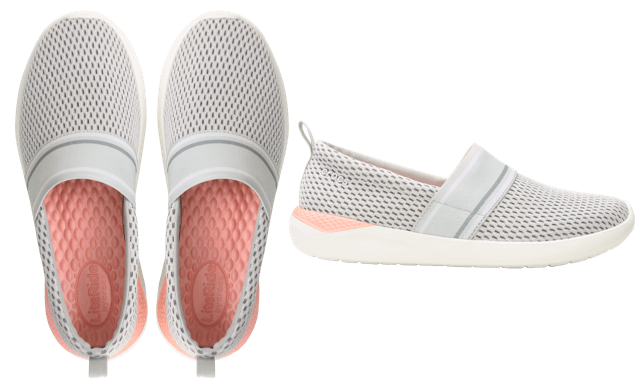 Crocs Reviva™ Collection Sandals and Shoes
$55
Crocs.com
This pair of, dare I say it, adorable shoes was the biggest surprise of all. Who knew Crocs could be so trendy and soft? I'd always associated this brand with those ugly Swiss-Cheesy-like clogs, so this style was a revelation.
Engineered to deliver all-day comfort, Crocs Reviva™ foot-beds feature smushy bubbles that give each foot a massage with every step. So, after my daily rounds, my feet actually felt better towards the end of the day. The mesh upper looks at first glance like Crocs plastic, but is actually a smooth fabric.
These slip-ons that come in several colors are well-made, lightweight, and are reasonably priced. And they squish quite nicely in a weekend bag or backpack.
$140
vivobarefoot.com/us
I tested the comfy VivoBarefoot Primus out on the pebbly beaches of Croatia and felt badly for my bare-footed friends who struggled to walk. I had the best travel shoes and experienced no problem at all. In fact, I could hardly feel the rocks beneath my feet.
This close-to-weightless shoe, made with recycled PET plastic bottles with a patented nearly puncture-proof thin sole, has won overwhelming approval in the water and out.
I swam with them. I kayaked with them. And the beauty of these shoes is that they don't feel waterlogged after a long dunk. Though not marketed as water shoes, these are the perfect pair for sports by and in the sea.
Designed for maximum breathability and durability, the Primus Lite folds up small for packing. Very small. And light as a feather. I'd almost forgotten I put them in my purse.
Yes, these shoes are pricey. But they cost less than those stiletto's you've been eyeing and are MUCH better for your feet.
$99
Plae.co
PLAE Packables are stylish and uniquely designed and packaged (without a box) to compress flat, taking up a lot less space in a bag or a glove box. Given PLAE's thin profile, they are surprisingly rugged but pleasingly snuggly after walking miles and miles.
And, when you hear "where'd you get those shoes?" repeatedly, you know you've gotten your hands on something awesome.
The Sun style – a modern twist on vintage football and soccer cleats – comes in an assortment of vivid colors and features diamond-patterned soles, inspired by bicycle treads, providing multi-directional, lightweight traction. I like a good grippy shoe, and these are ace in inclement weather and on cobblestone streets.
$88.95
Available at DSW and Nordstrom
obtshoes.com
Remember that time a minute ago when all the California tekkies were wearing grey felt shoes? Well, OTBT has improved on the design – and it's pretty snazzy looking, I must say.
So, whether you're going to Silicone Valley or Sedona, this crafted synthetic wool and genuine leather sneaker is on-trend and slipper comfy. Not to mention practically weightless.
Travel Lite® styles feature ultra lightweight technology making it a perfect shoe to wear year round. In fact, based on the heft, or lack thereof, I couldn't tell I was wearing shoes at all.
Subtle leather details and cotton laces create a unique mix of textures in monochrome shades. Its cushiony foot-bed and thick, deeply scored sole makes this a perfect Fall and Winter walking shoe, though probably not the best idea in snow.
And for more gift giving ideas this season, check out our list of Best Travel Gifts of 2019.