Last Updated on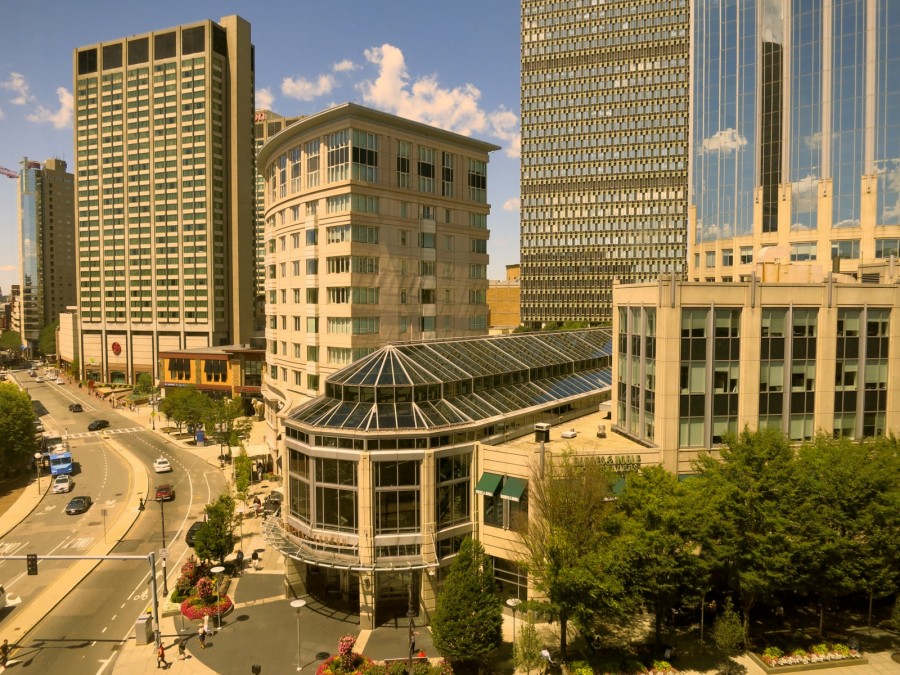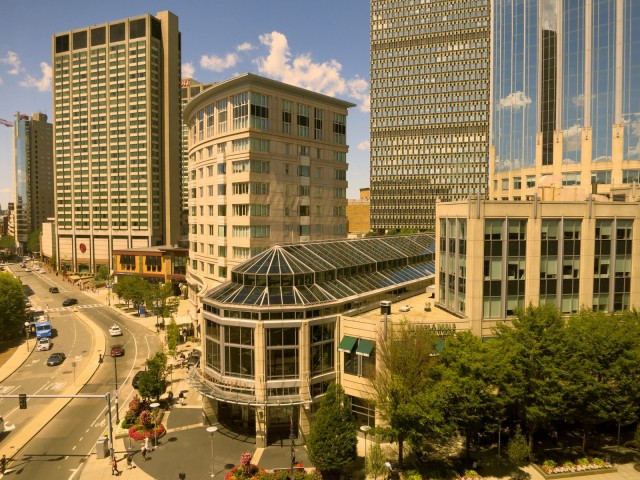 Across the street from the Prudential Center in Back Bay, The Colonnade has been hosting businesspeople and tourists for decades. Every now and then a hotel of this caliber needs to update, and so the Colonnade has, to beautiful effect. Pleasant rooms have been redone in handsome earth tones, and the lobby impresses with vivid art, but it's the roof-deck pool that elevates The Colonnade Hotel to standout status in Boston.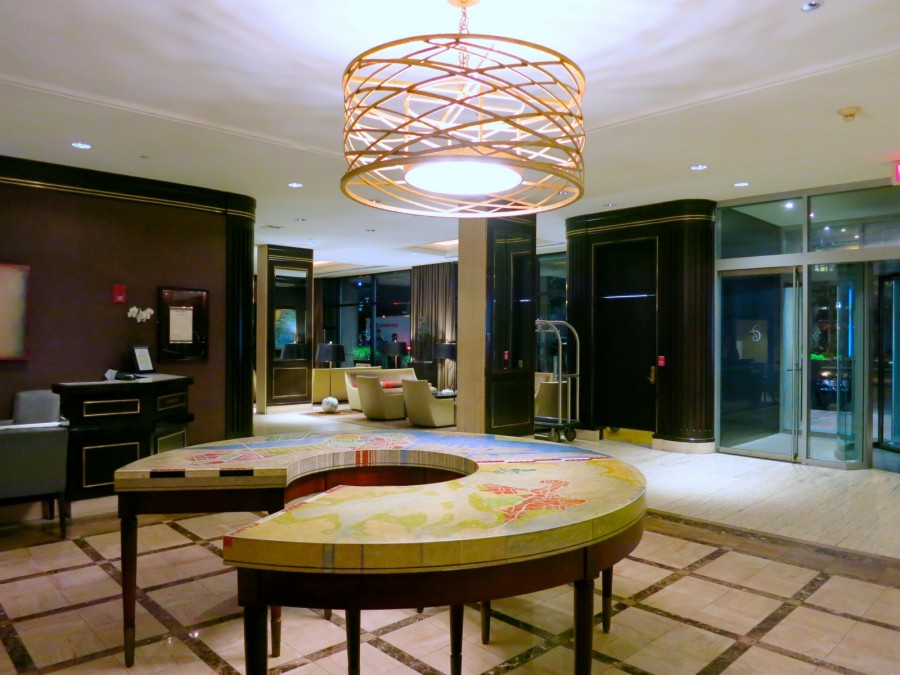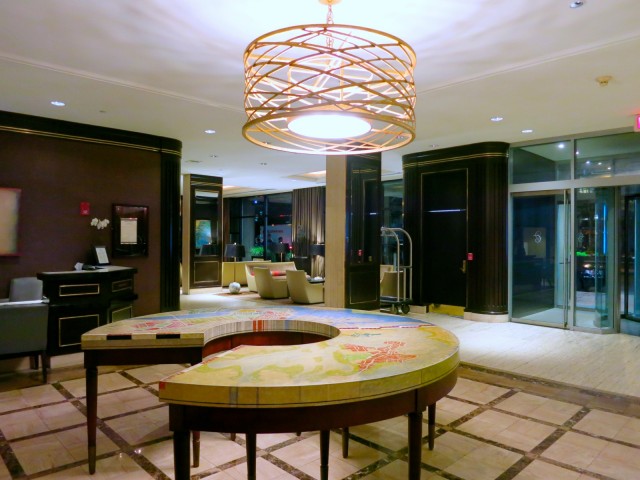 If you're driving in, you'll be guided to the self-park garage from the front entrance by a bellman who will also offer to take your bags. An elevator to the lobby is inside the garage – so no need to walk outside. On the first floor, the contemporary lobby is lightly stylized with colorful modern art and furnishings. Check in is courteous and swift.
Rooms at The Colonnade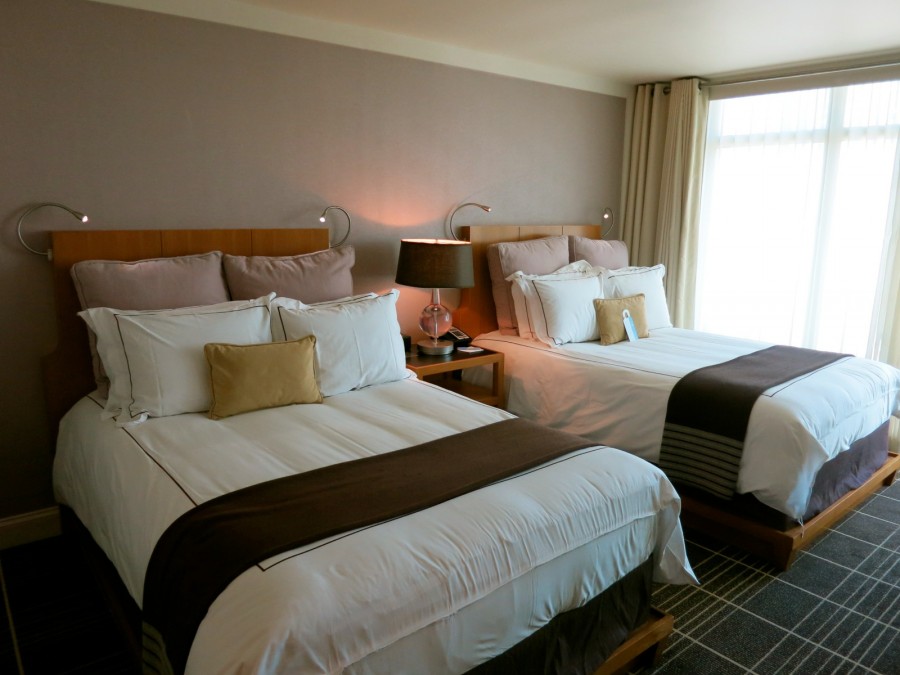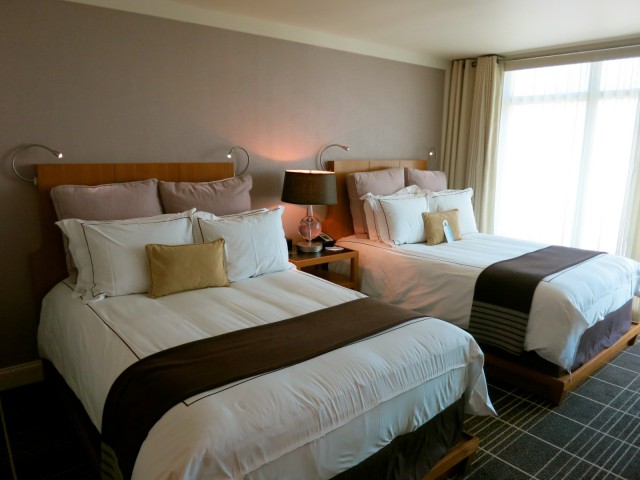 Modernized rooms feature white soft duvets punctuated by brown throws, ergonomic chairs around a small table, flat screen TVs, Keurig coffee makers, white marble baths with rain showers, and upscale Thyme amenities.
Bedding is marvelously downy, and floor to ceiling windows reveal constantly moving "city life" views of Back Bay Boston.
Dining at The Colonnade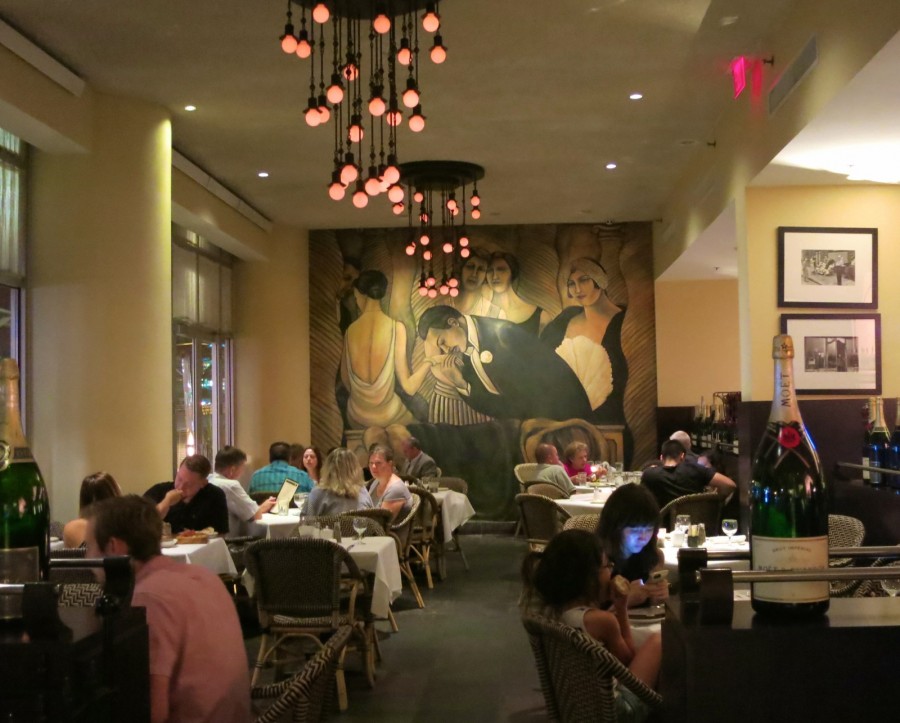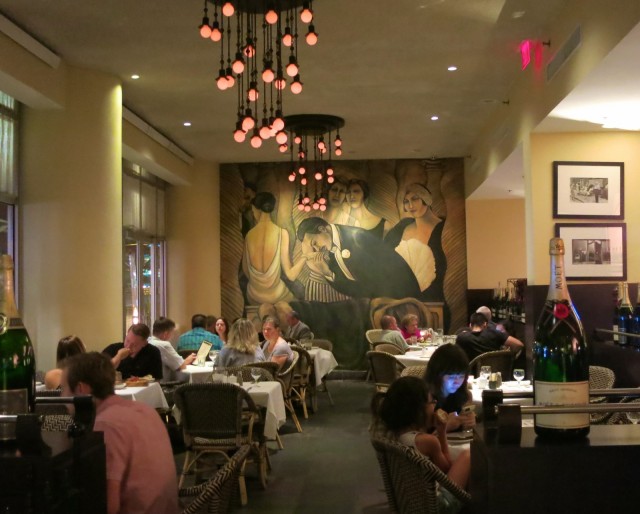 Do you prefer French cuisine indoors or omelets served "en plein aire?" Try both.
White linen covered tables illuminated by unique low-lit bulb chandeliers sit in the foreground of a 20's era full-wall mural, evoking an out-of-time European feel at Brasserie Jo a classic French restaurant that serves, bar none, one of the best baguettes in the country (the world?). Warm from the oven, crusty exterior, perfect moist chewiness within, a loaf slid inside a bread bag comes to the table along with deliciously seasoned al dente carrots as prequel to the meal.
I'd be happy with the bread, a glass of wine, and the sweet and bacon'y Shaved Brussels Sprouts ($11.95) alone. But other dishes – Cauliflower Steak ($20), Chicken Pallard ($20) among them – are fine as well.
If it's a nice day, order breakfast or lunch beside the Roof Top Pool (RTP). The food is decent, but who really cares when you're surrounded by the Boston skyline. Views like this make everything taste exemplary. At night, the roof deck turns into a huge bar scene. The pool is just an added bonus (see below).
The RTP (Roof Top Pool)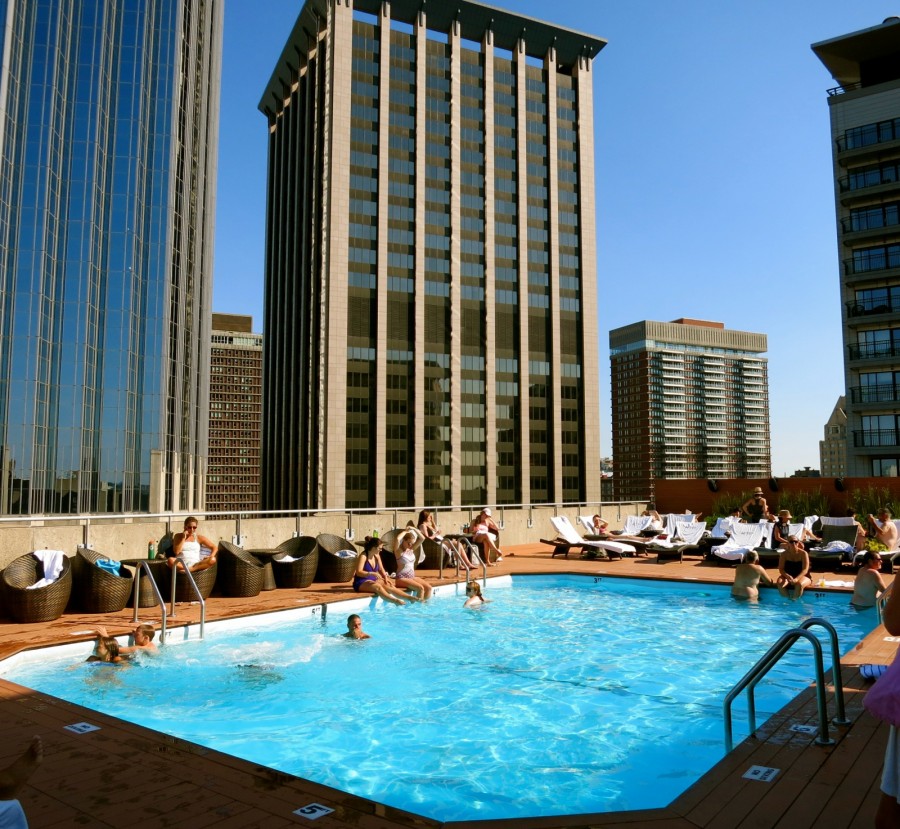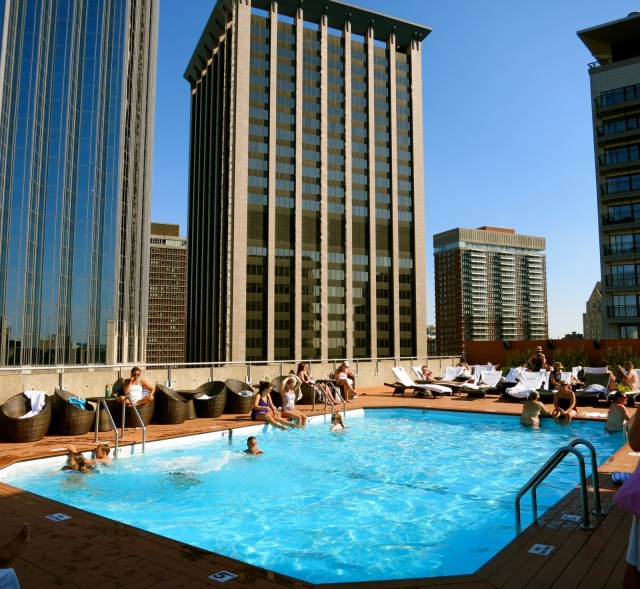 This is why you book a room at the Colonnade in the summer. Guests of the hotel can access this rooftop resort for free, while all others must pay $45. And yes, I call it a resort because people actually pay good money to tan and dip and shower and drink up here for the day. Just recently, I met a family of three from a New Hampshire beach town (yes a beach town), who booked the RTP to celebrate their son's first birthday (and teach him to swim in a safe place).
By day, the pool attracts a mix of families with kids, bikini-clad teens, businessmen and women on break, empty nesters enjoying adult life – in other words, the whole of humanity seeking relief from the heat of the city.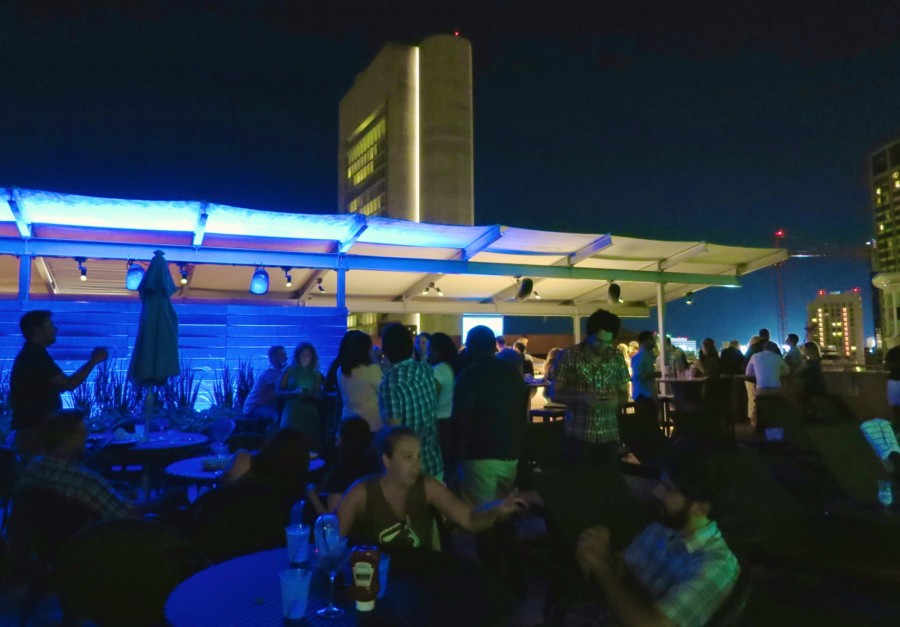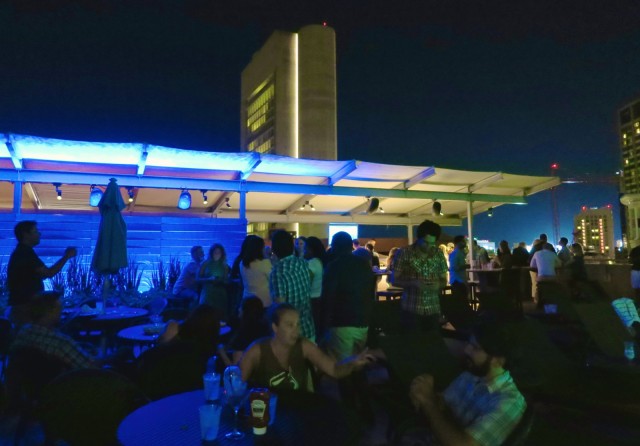 At night – the place turns into an illuminated wonderland. Floating balls in the water glow with ever-changing colors. There's a "beautiful people" element to the crowd at the bar: 20 and 30-somethings capturing themselves and surrounding views on their cellphones, getting progressively boisterous as the drinks pour. It's a party crafted nightly by weather and personalities – a good deal of fun, even more so for hotel guests since it's just an elevator ride (and a two-level staircase) away.
Just the Facts
Room rates start at $225 in cold season, $349 in summer, includes free wi-fi. Parking an additional $48 per night.