Last Updated on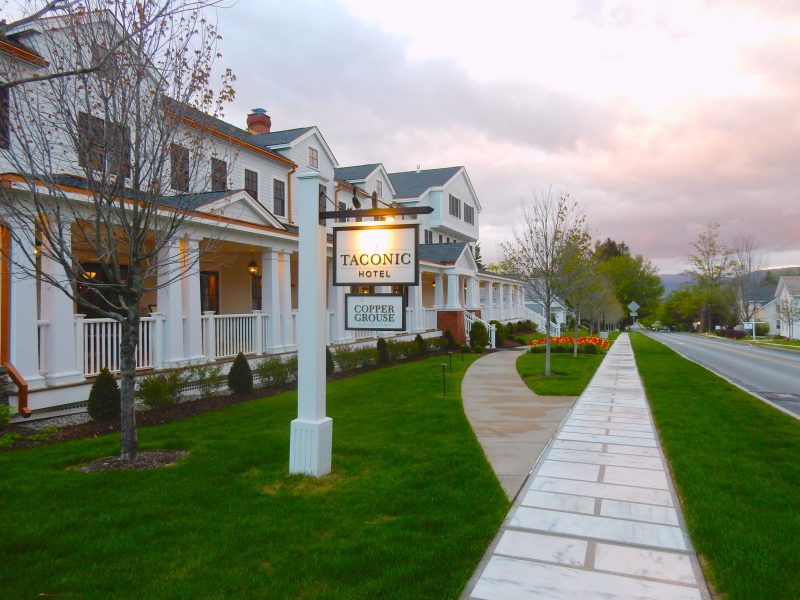 Kimpton's first hotel located outside of a city, the 86-room Taconic in Manchester VT is less flashy than those in metropolitan areas. There were several hotels on this Route 7A property between the Equinox and downtown, before the last was torn down and replaced by the Taconic in late 2015. I make no bones about it – I'm a huge Kimpton fan, and have been since the brand opened its first hotels on the East Coast in the mid 2000's. Why? I love Kimpton's thoughtfully conceived décor and friendly attentive service, the delicious, social aspects of its nightly wine and nibbles hour, complimentary bike use, and how Kimpton staff fawn over each Fluffy and Fido that walks through the door. (FYI – for things to see and do in Manchester VT – check out this Getaway Mavens post.)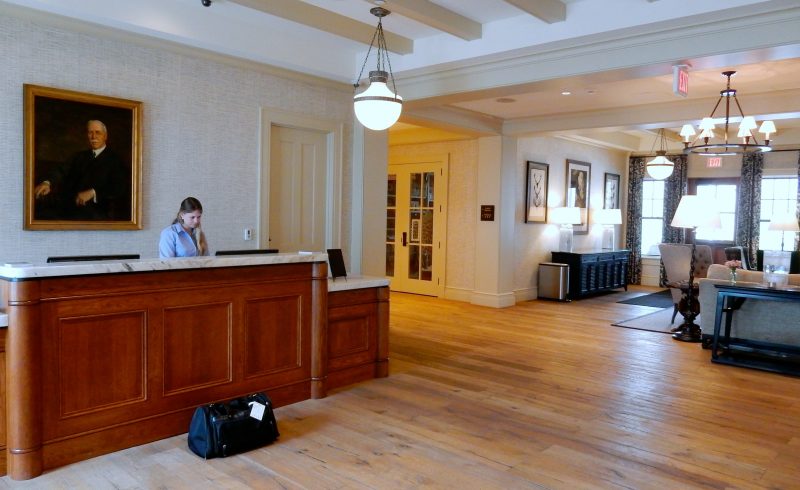 Reception, Kimpton- style, is friendly but not gratuitously so. Kimpton's pet-friendly policy allows you to bring any housebroken or crated creature from dogs to cats to potbelly pigs up to the size that can "fit comfortably in an elevator."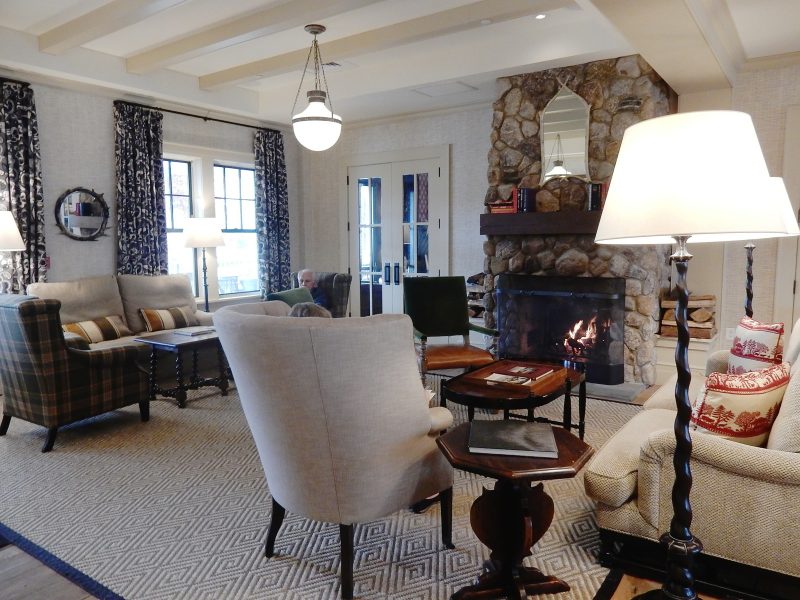 Those familiar with the urban Kimpton aesthetic might find the earth tone palette here uncharacteristically subdued. But, while the Taconic is not wild with color and funky knickknacks, there are touches of Kimpton whimsy – like a gilded deer skull – scattered about.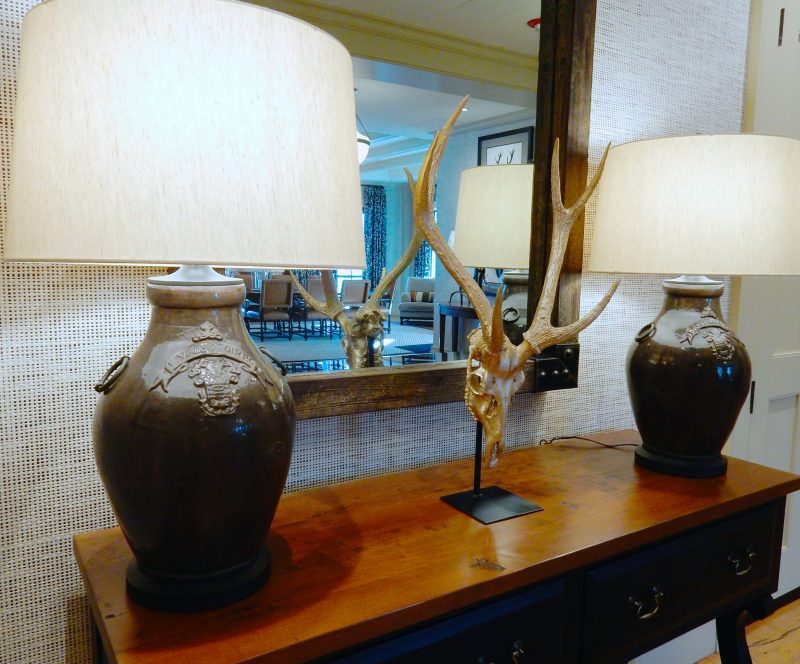 When cold out, there's a fire ablaze in a comfortable lobby. And no matter what the season, the huge front porch with tables and rocking chairs (blankets offered when it's chilly) is tailor-made for brisk fresh-air and sunset enthusiasts.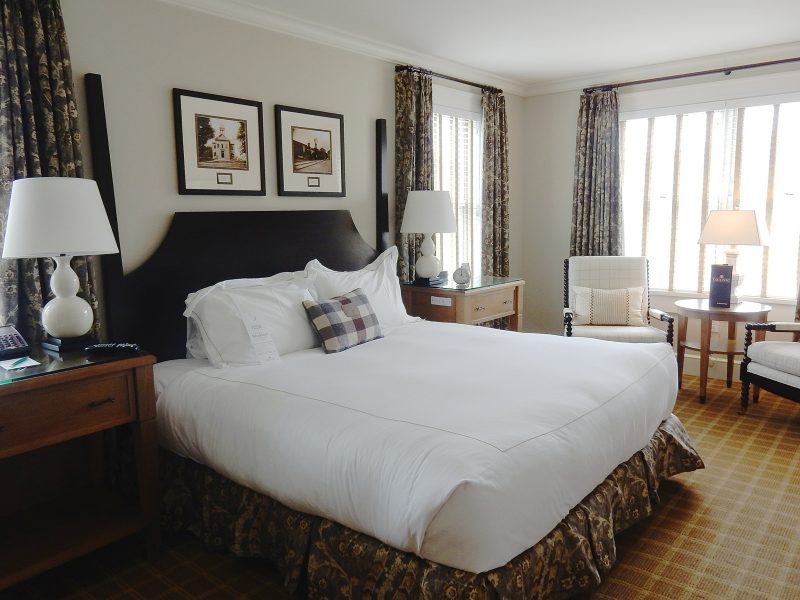 Wood tones, from birch to mahogany, bespeak a hike in the mountains that ring the town. The feeling is comfy-cozy, without a stick of frou-frou or stark modernist to be found. Upholstered chairs, a bureau with twig shaped pulls, and bed sheathed in a white duvet – the gestalt is "woodland-chic," as it should be in these parts.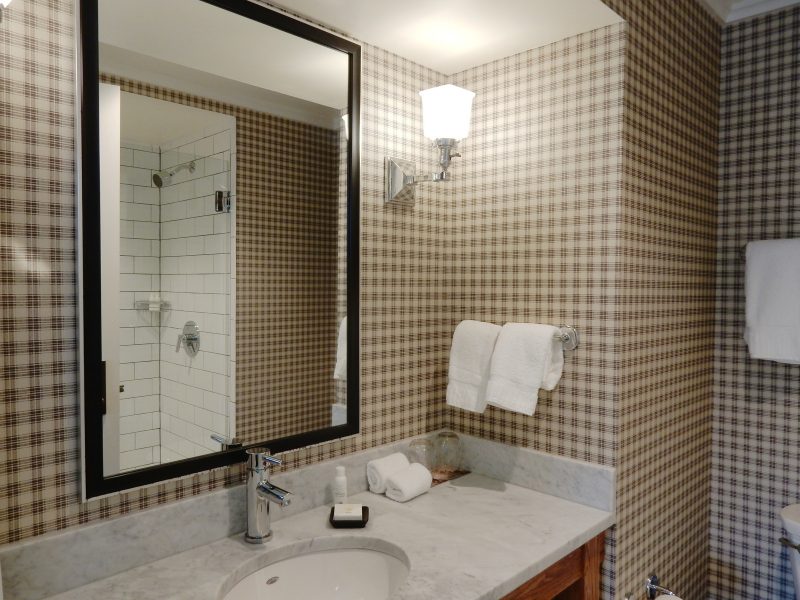 Bathrooms have glass showers with white subway tile and plaid print wallpaper. At turndown, you'll find an old-fashioned alarm clock placed on one bedside table which also features, conveniently, two embedded electrical outlets.
Dining at The Taconic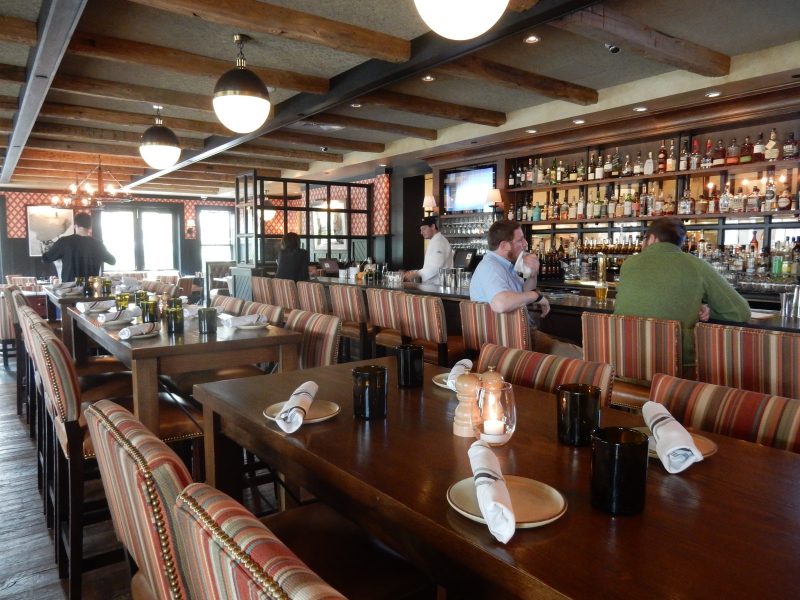 The Copper Grouse, with rough-hewn dark wood floors, tufted leather banquettes, espresso-colored wainscoting, and fowl and cornucopia art aplenty, is a Ralph Lauren-esqe version of a hunting-lodge. In the morning, try the signature Lemon Ricotta Pancakes ($12) with fresh blueberry syrup along with fresh-pressed juices like "Drop the Beet," and Carrot Ginger concoctions. By night, the scene is farm-to-table locavore – with tweaks on the familiar. You'll find Mustard Seed Crusted Atlantic Cod ($27) and Misty Knoll (VT) Stuffed Sattler Chicken with Vermont chevre ($33), among other takes on New England favorites.
Amenities at The Ticonic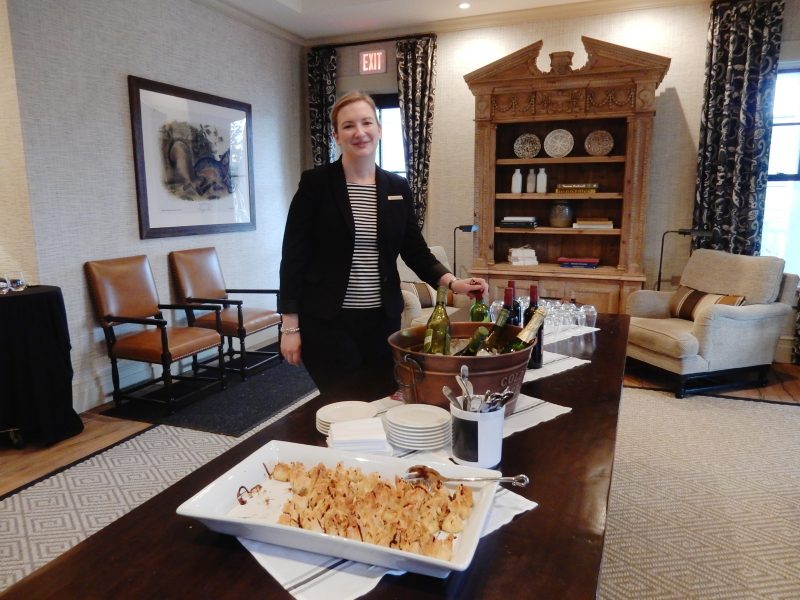 Wine and Nibbles Hour – 5-6pm each day. This is a great opportunity to meet and converse with fellow guests. For some reason, Vermont only allows one glass of wine per person. Take your drink out on the front porch, or enjoy it near the fireplace in the lobby. The Copper Grouse Chef always creates a mouthwatering appetizer (also complimentary) to stave off hunger before dinner.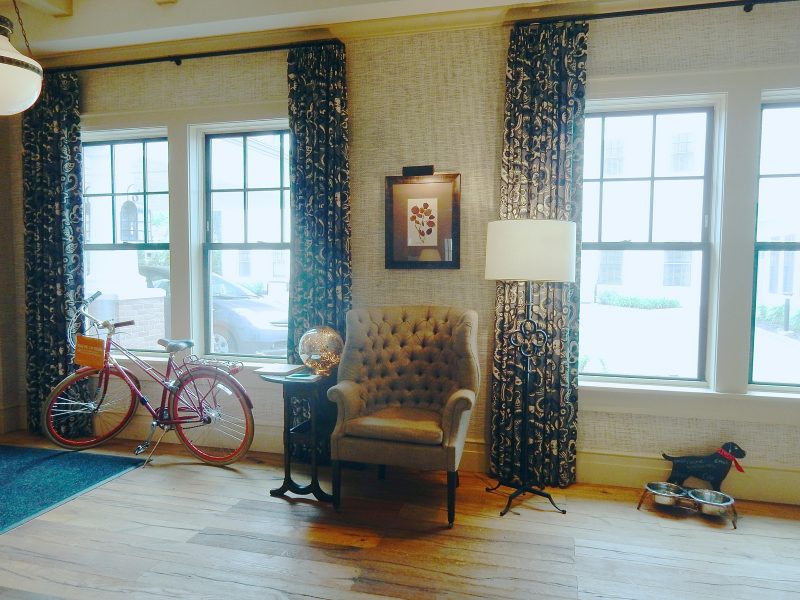 Loaner bikes complimentary for guests.
Dog Walkers ($10 per 15 minutes).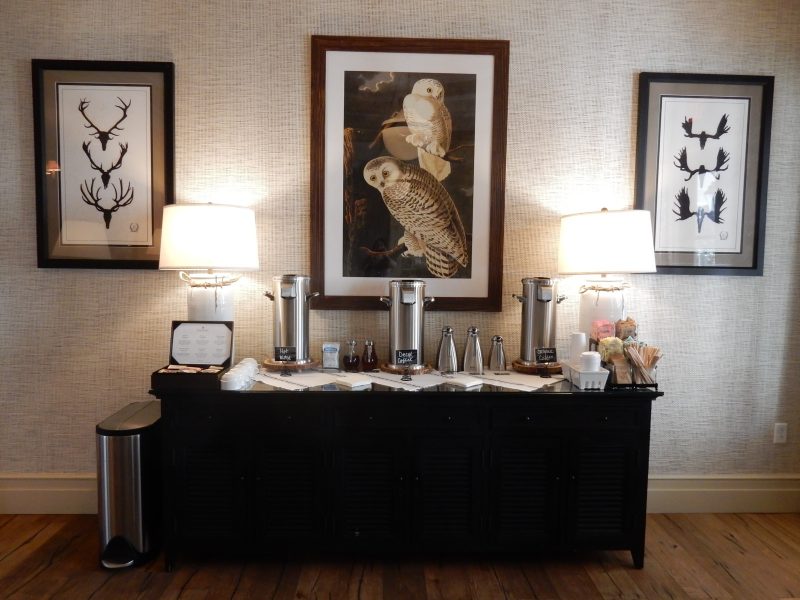 Morning Coffee and Tea
Just the Facts
Rooms from $149 midweek offseason to "mid-$500's" on peak weekends include one glass of wine and nibbles during wine hour, use of bicycles, wifi and parking.