Last Updated on
Imagine entering a real life version of the Beatle's Yellow Submarine, and that's what you'll find when you first walk into the lobby of Studio Allston Hotel in Allston MA, opened in April 2018. A mosaic of color above and below you – leading to and splashed on the elevators, it's like a psychedelic Yellow Brick Road.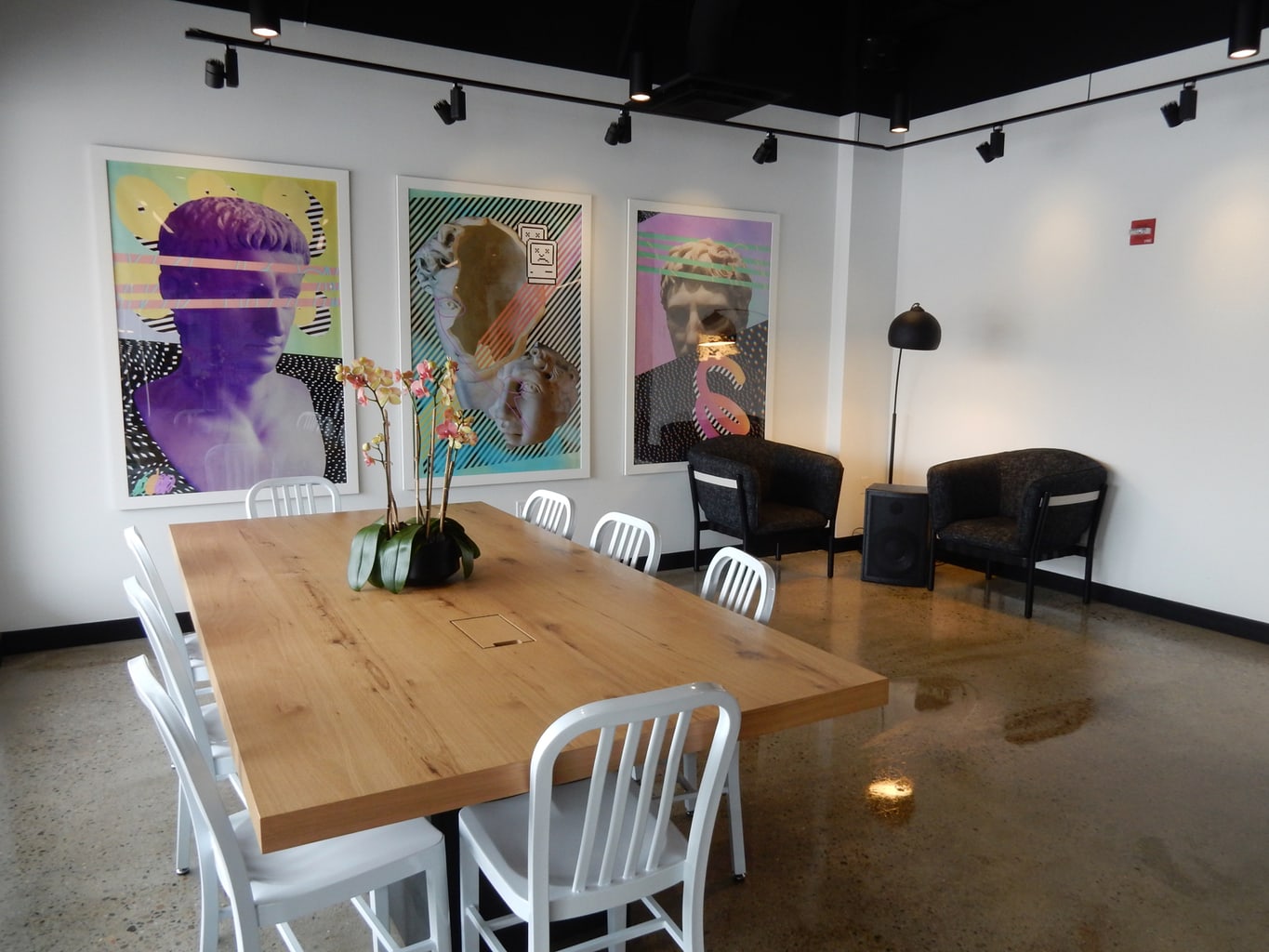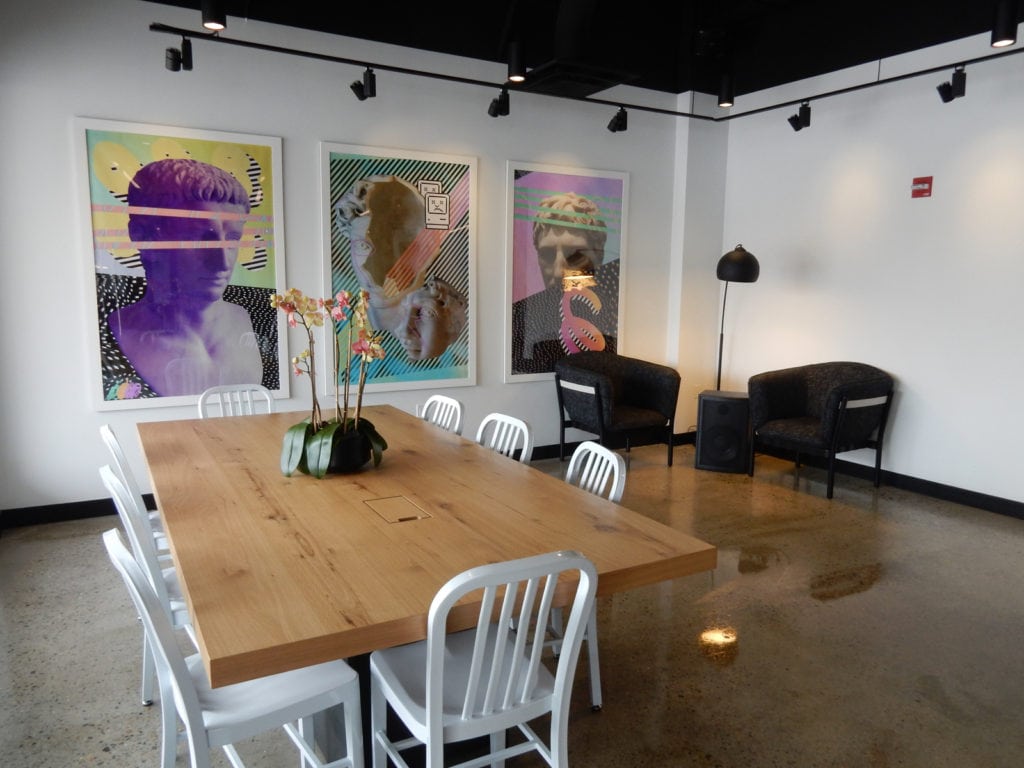 Adjacent to Harvard University's football field, where the Charles River bends on Soldiers Field Road, what was formerly a Day's Inn is now a playful place with the vibe of a youth hostel on the main floor and upscale, witty, Mid-Century Modern guest rooms. It's a great out-of-downtown alternative for parents visiting their Boston and Cambridge students. The hotel's tag line? "The counterpoint to Colonial Boston."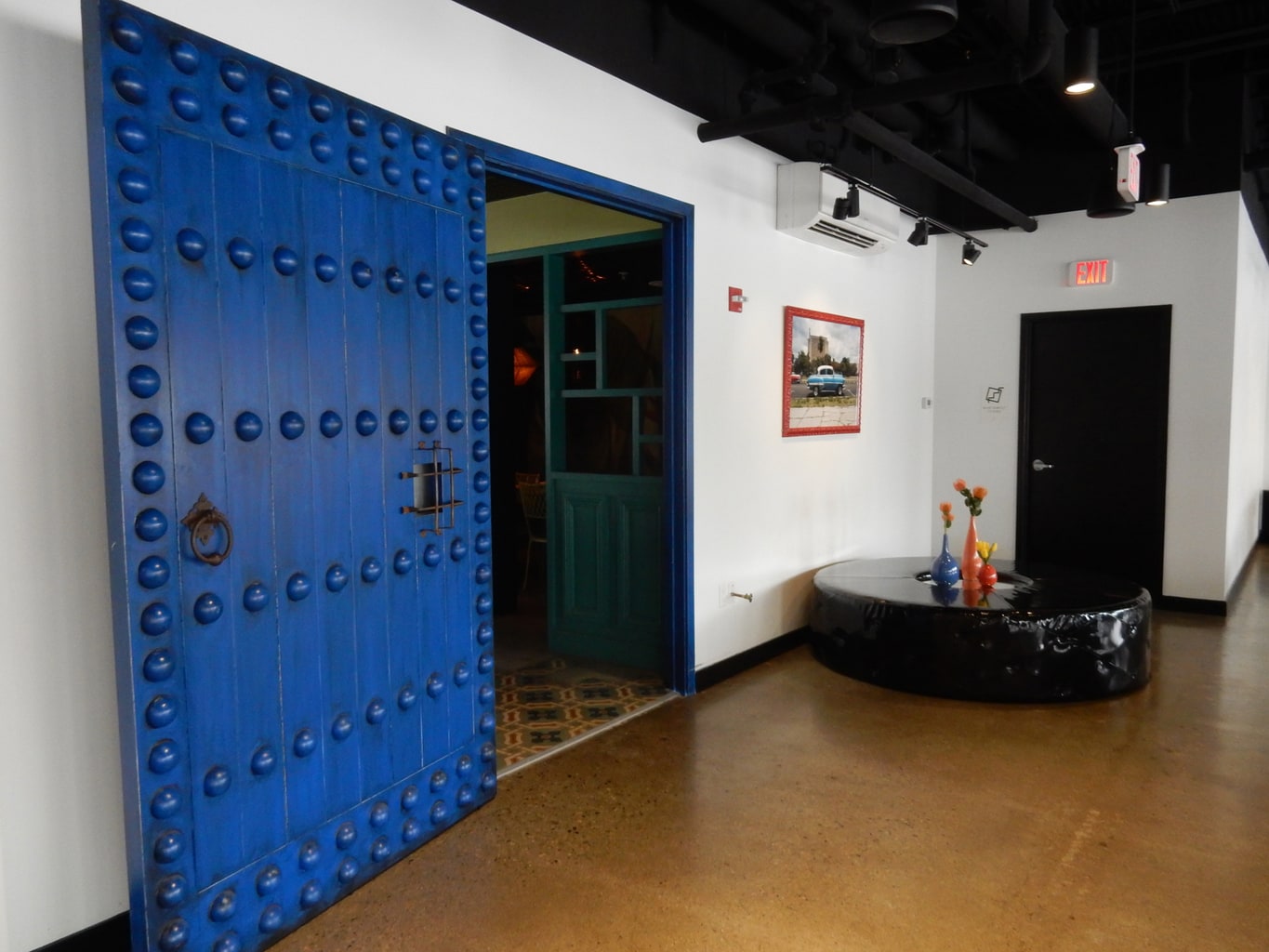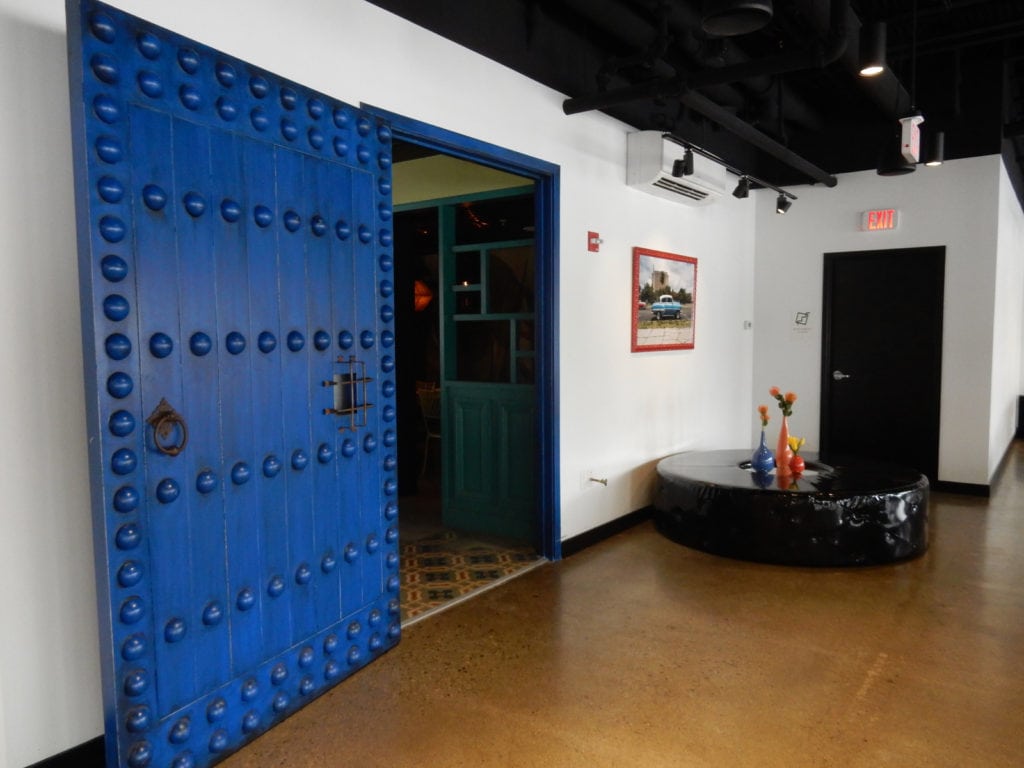 Brought forth by the same development team that transformed the faded Howard Johnson's at Fenway into the cool-bean music-centered The Verb, Studio Allston has art at its heart.
An "art studio" – get it? Like the Royal Sonesta Boston, which purchased art from prominent modern artists when it opened in the 1960's, Studio Allston covers its walls with the work of 22 local and national contemporary artists. The hotel is every bit as outlandish as The Verb, and, mark my words, will be every bit as popular.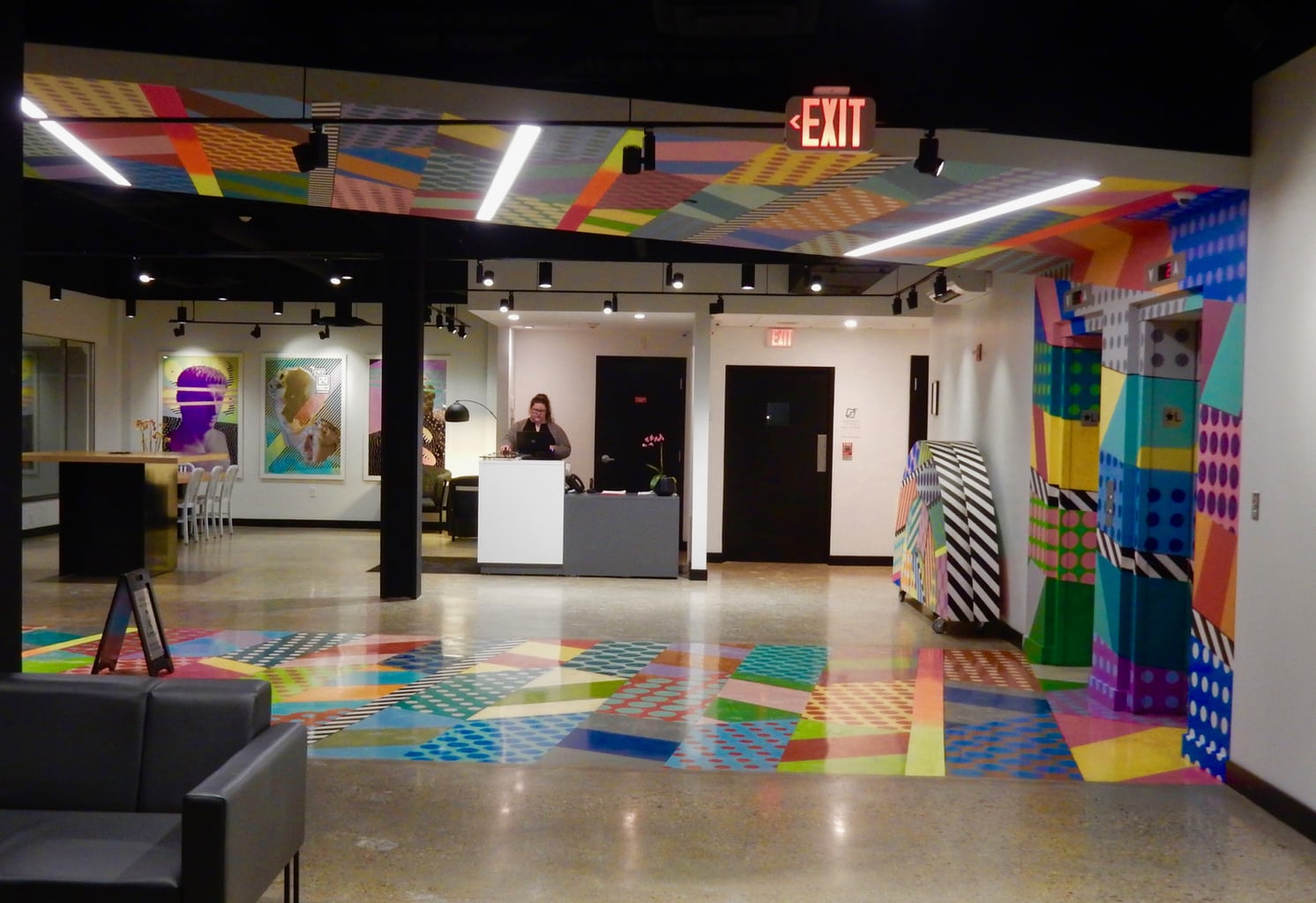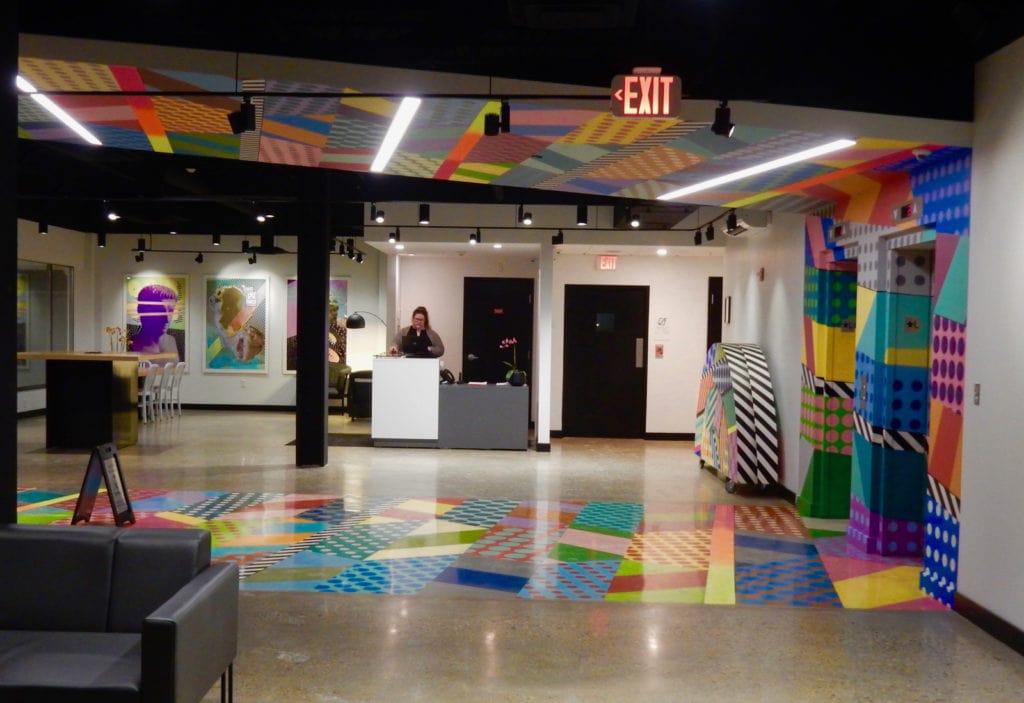 Right on the main thoroughfare of Soldiers Field Rd. Studio Allston is easy enough to get to. Even easier – there's no valet, just nice abundant self-parking. Take your bag, lock your car, walk in. It's that simple.
The lobby, as mentioned above, is both sparse and wild. There's one really personable employee at one reception desk, who, with an open heart rarely found in the lodging industry, genuinely wants to make sure that everything is ok.
While a section of the space is painted like the groovy 60's, the rest is polished concrete, industrial elements, and tables and seating for communal gatherings. It's fun, funky, and casual – not exactly plush luxury. But just wait till you get to your room.
Rooms and Suites at Studio Allston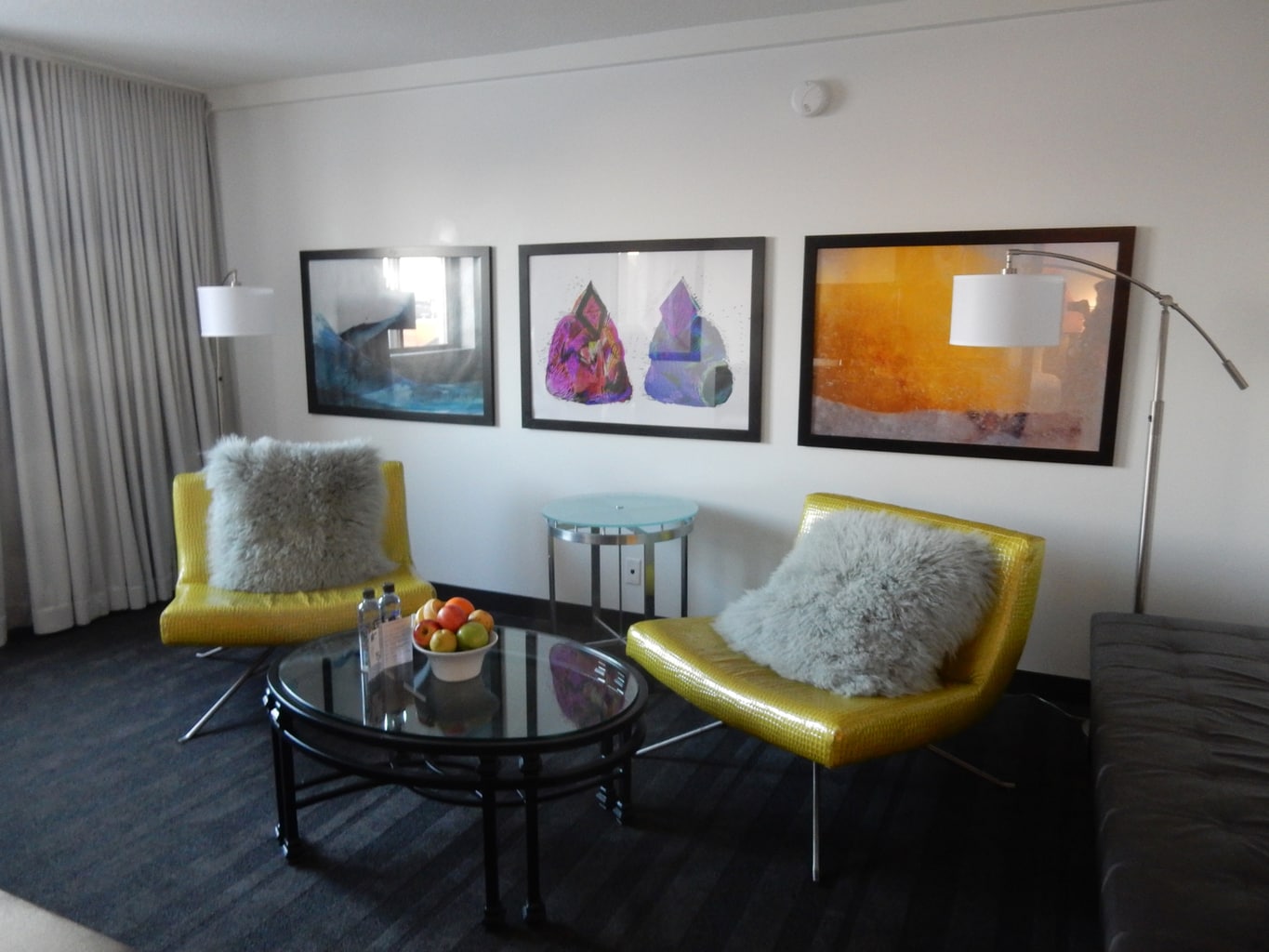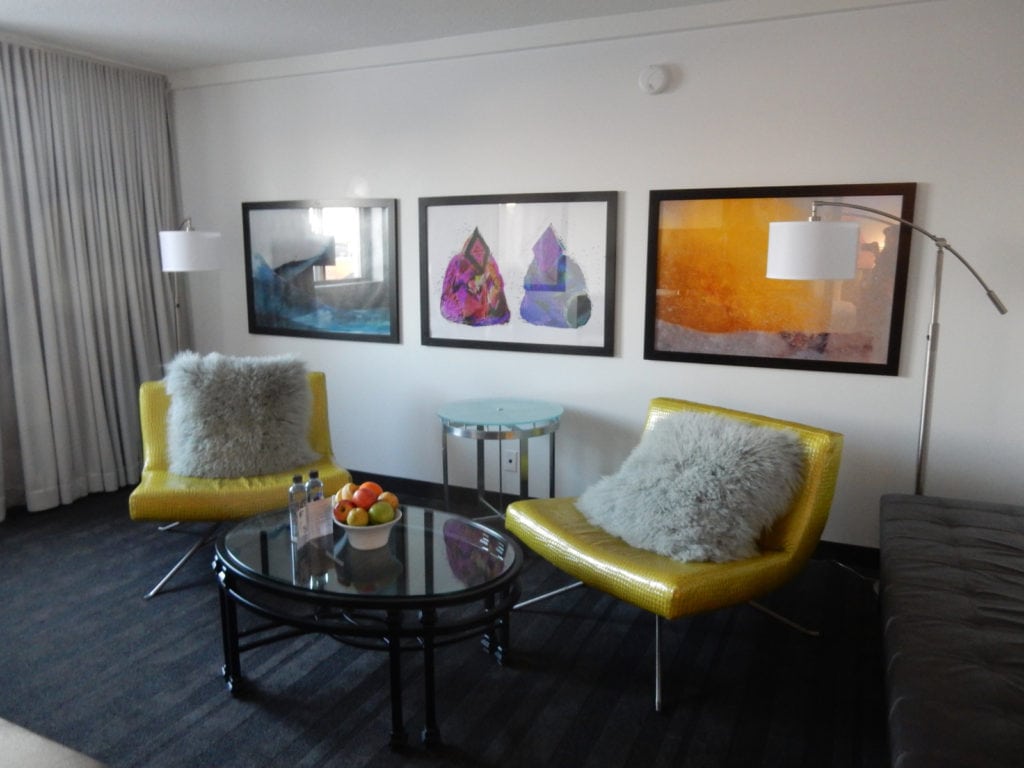 Guest rooms are done up in a preponderance of pigments, where faux leather, color, and Flokati rule. Each suite features a different décor, and showcases more local artwork. As far out as the rooms are decorated, the bathrooms are spare. Though immaculate and fine, there is no art, no color. A Corian skink, a bathtub shower.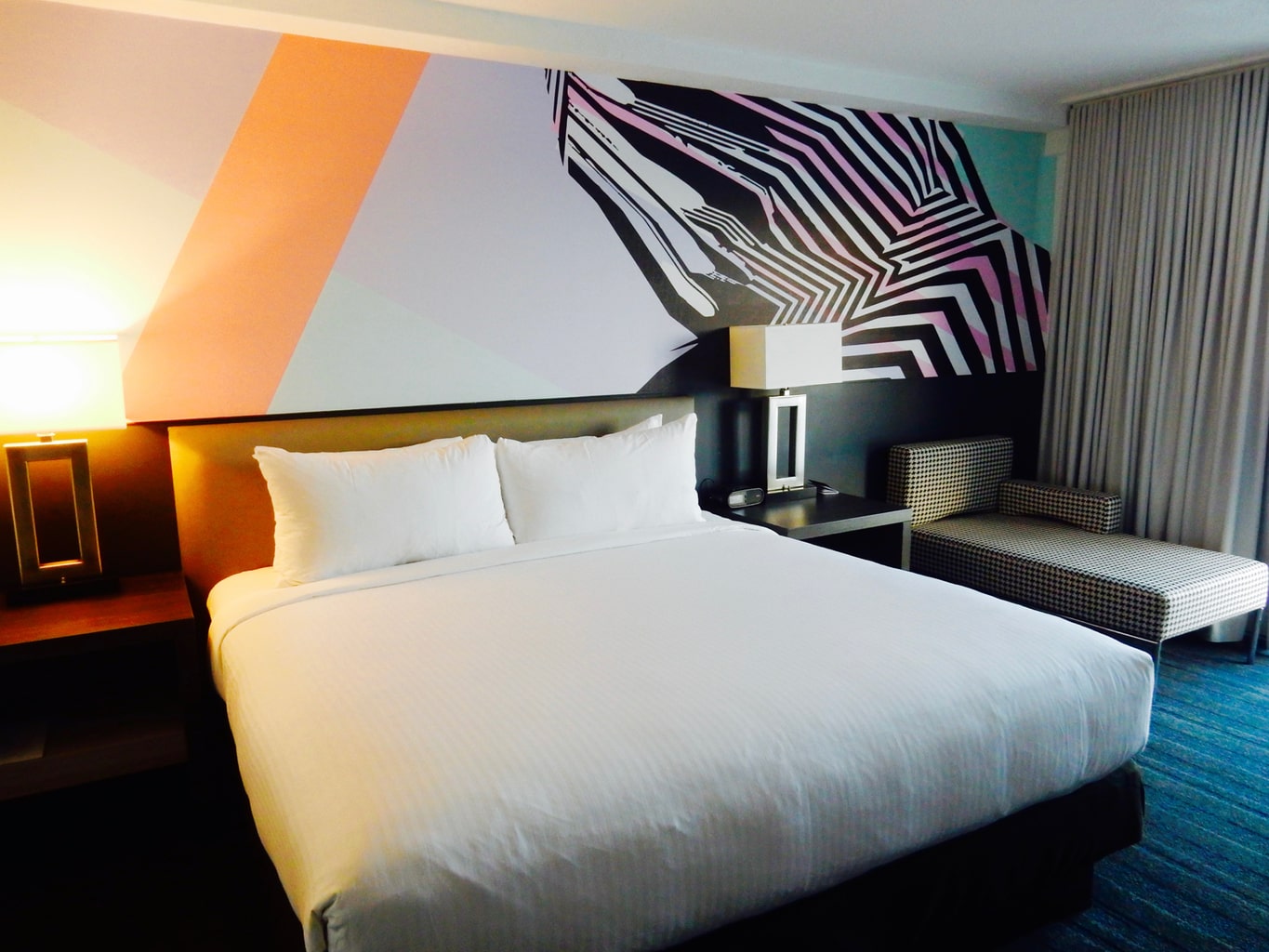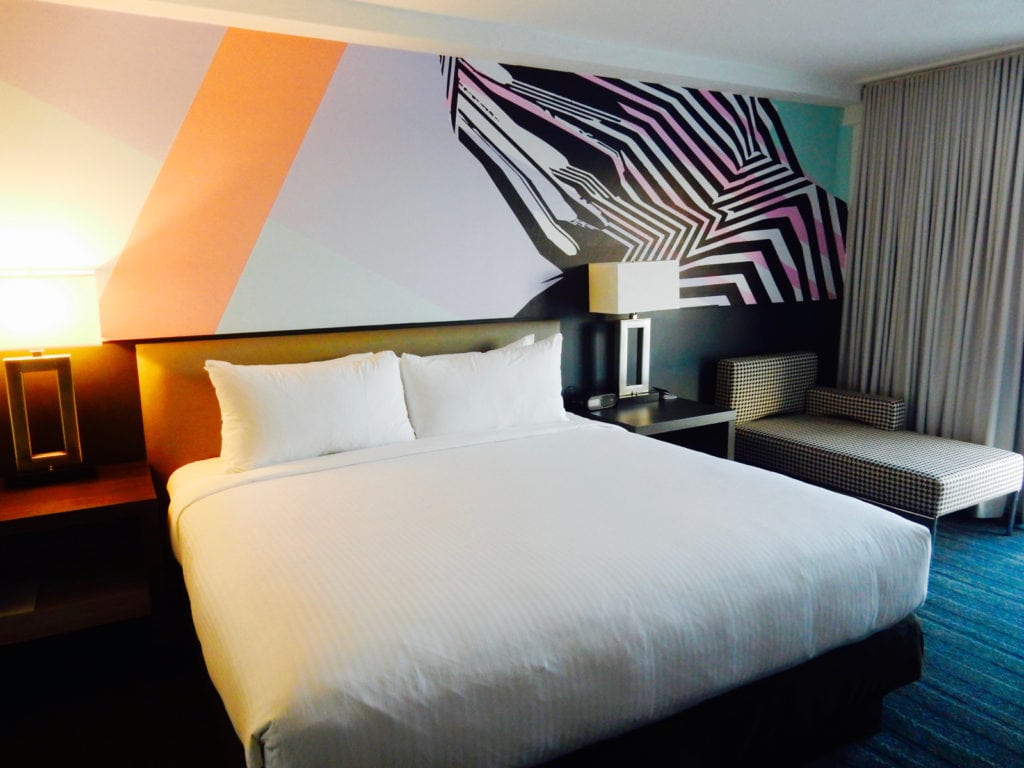 But the bed. Oh, I wanted to take that bed home with me. It was so comfortable, soft, with the scent of cleanliness; and affording perfect sleep. Guests have remarked on how exemplary those beds are. I concur.
Dining at Studio Allston Hotel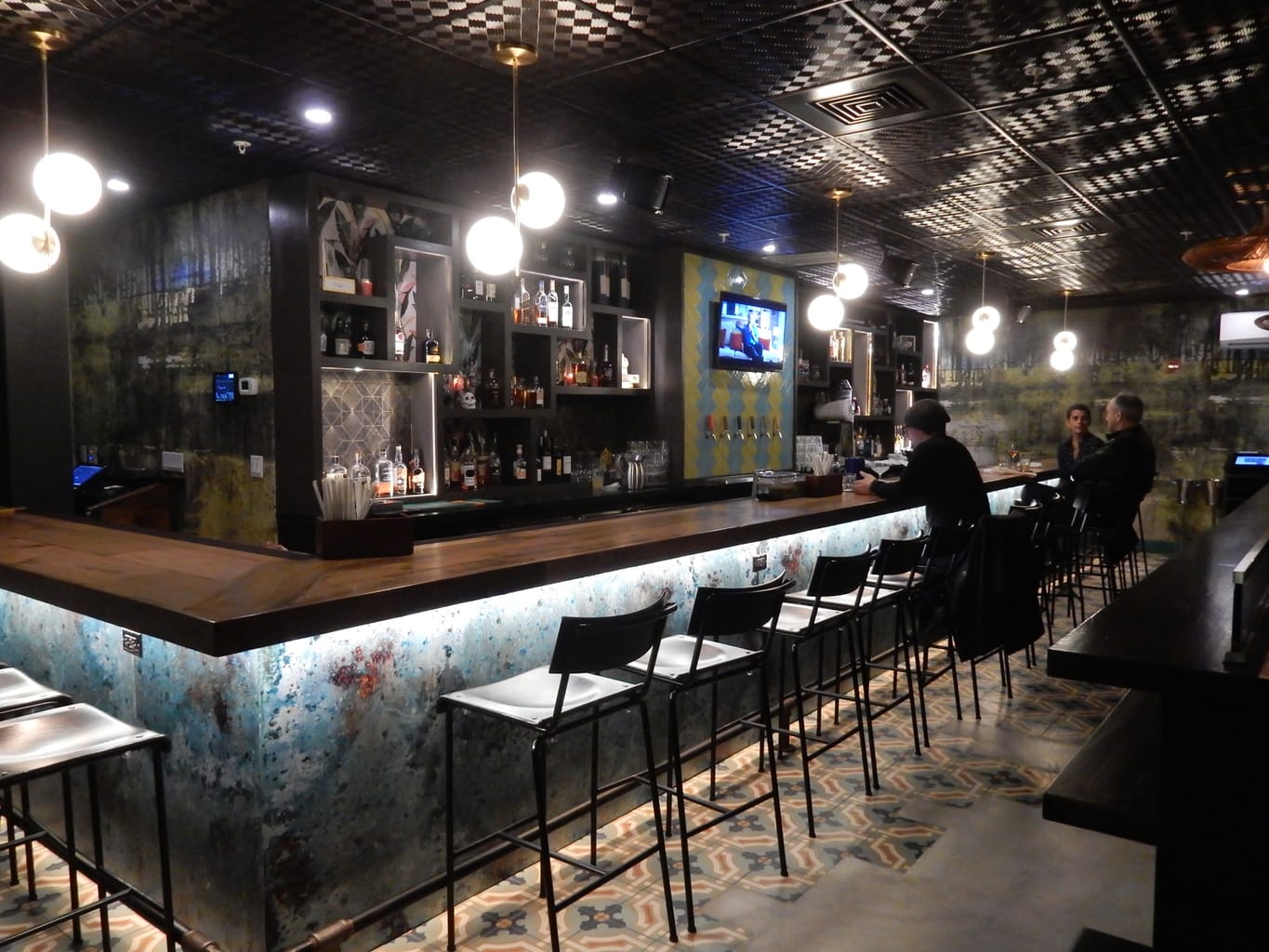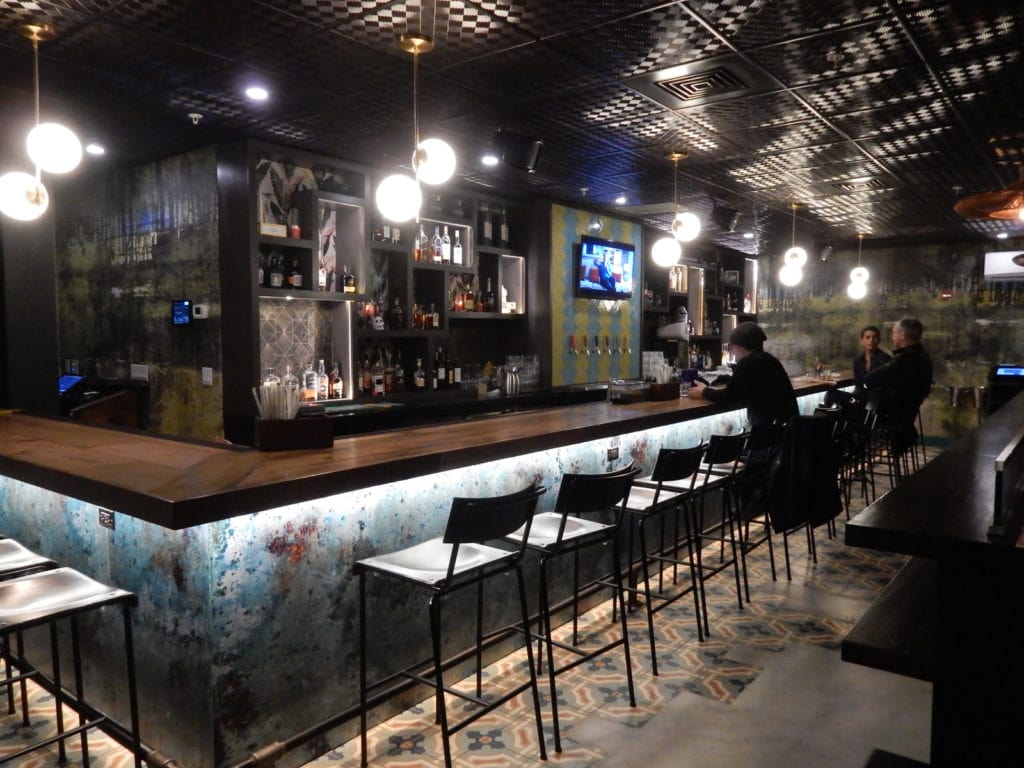 Casa Cana Latin Kitchen and Rum Bar is attached to the hotel, yet not owned by it. Nevertheless, guests of the hotel need not go anywhere else – the food and scene in this Cuban-influenced restaurant is beyond good. Drawing foodies from Boston and beyond, Casa Cana is becoming a kind of sensation, especially when the outdoor patio, the largest in Boston, is in full swing. I felt lucky it was just an elevator ride away.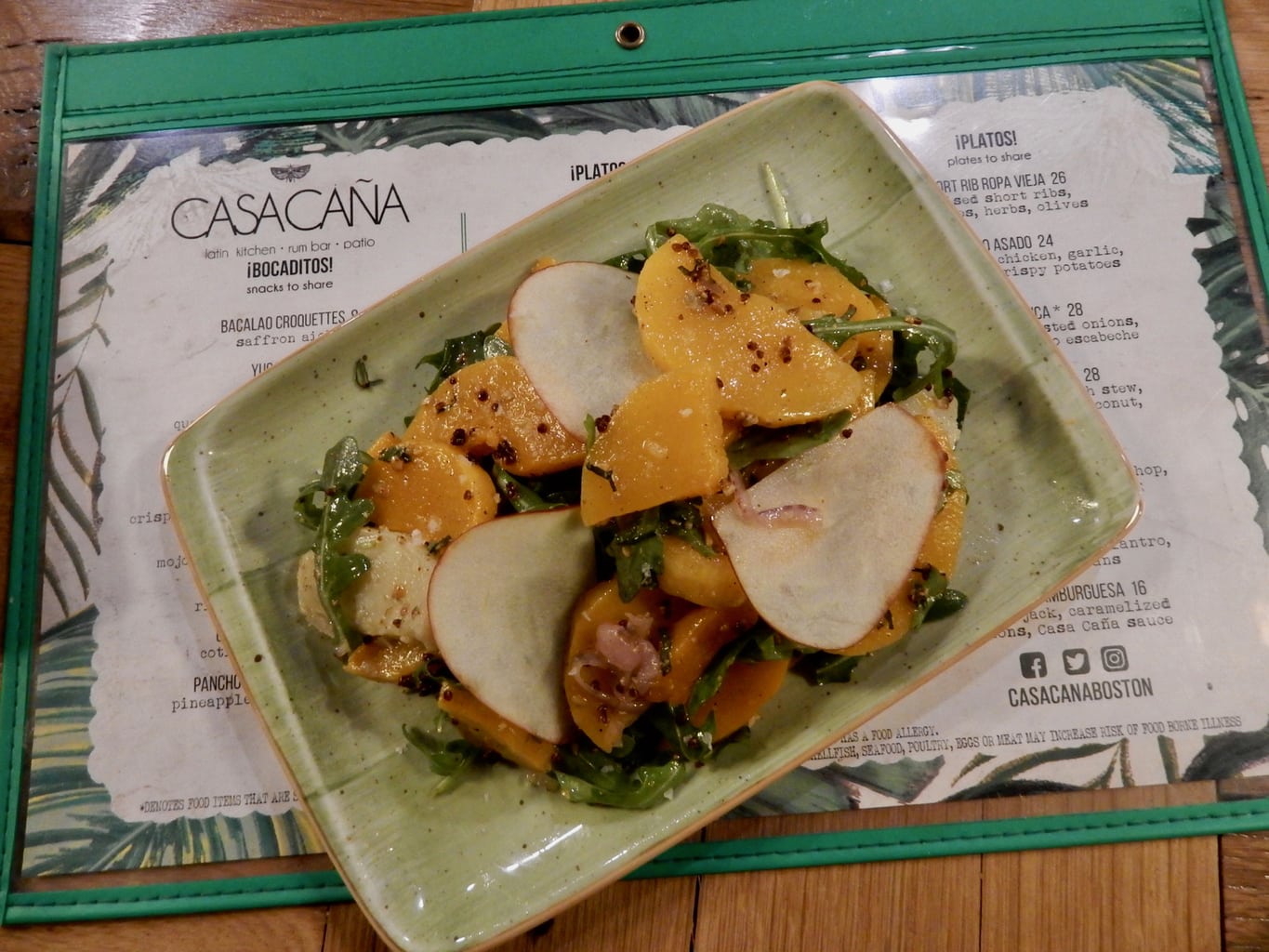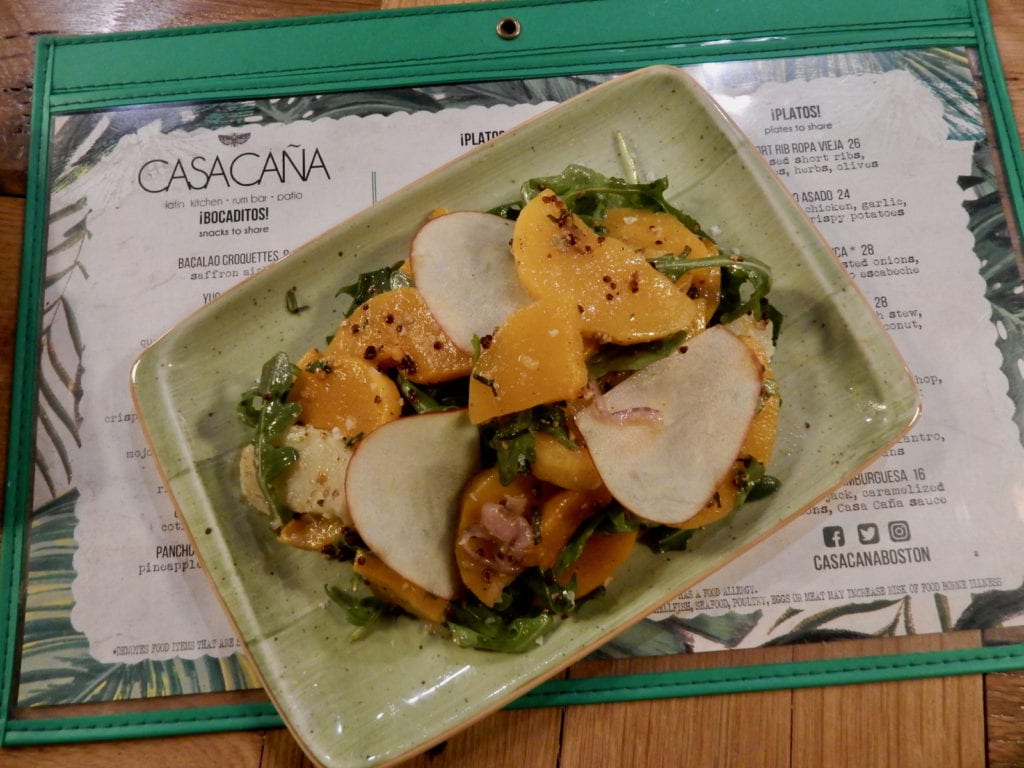 I sat at the bar and ordered Cuban Street Corn (ambrosial, but messy to eat, $8), and a Pumpkin-Apple Salad with honey lime dressing ($10) that blew me away with its combination of fall season tastes.
I wanted to order another just as soon as I pretty much licked my plate clean. But plenty of people come for the cocktails and rum drinks for which this new eatery-Rum Bar is known.
Programs at Studio Allston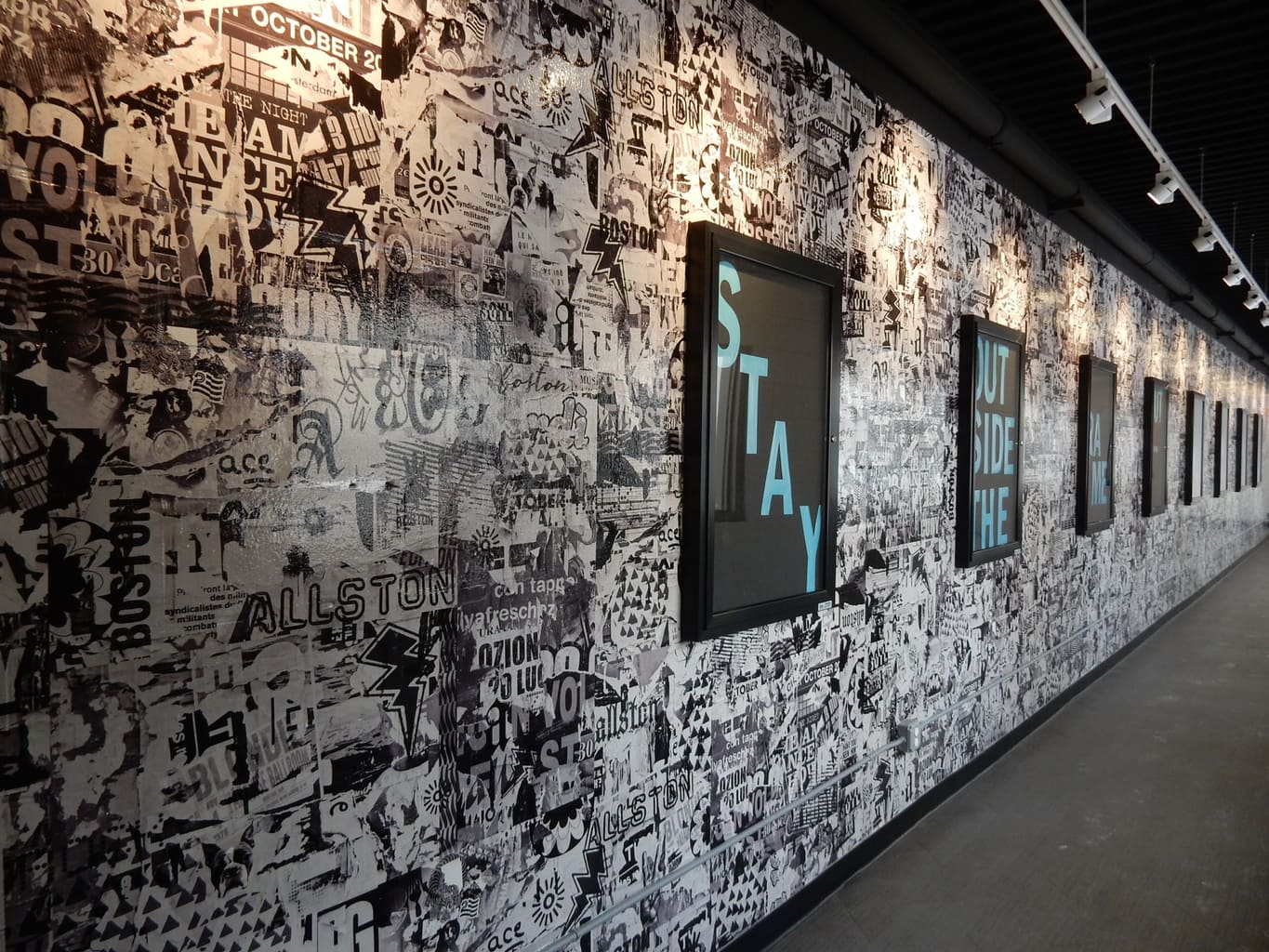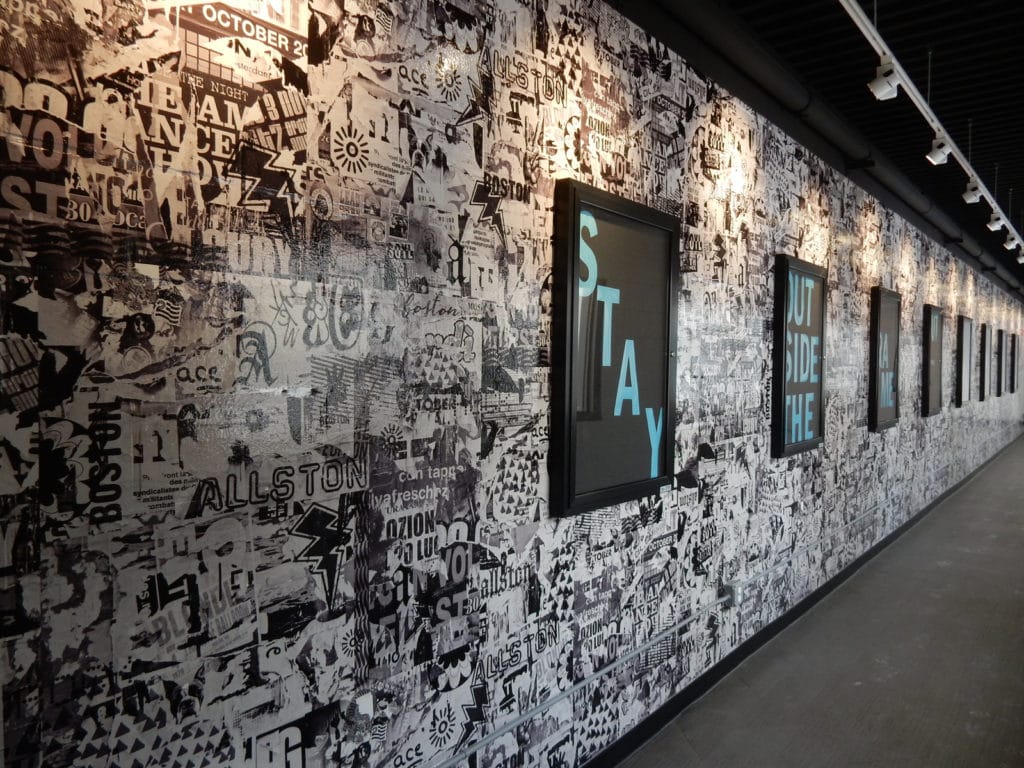 The hotel maintains relationships with its artists and offers programs to engage the community and guests. New art shows go up periodically in Studio Allston's breezeway Gallery. And plans are afoot to offer calligraphy classes and paint nights.
Management is keen to integrate into the local Allston community – a neighborhood experiencing revitalization just outside of Boston that is at a point where the now steaming hot Fenway area was seven years ago. The Harvard Art Lab and other great restaurants are opening nearby and young families are moving in.
Just the Facts
Rooms from $109 and suites from $169 include free parking and wi-fi.
Want a great gift for the gin lover in your life? Stay here and visit the iconic Our Fathers restaurant for the "Our Fathers Package."
This private tasting and educational experience guides you through the history and styles of gin, highlighted at Our Fathers' bar; stocked with more than 100 gins from around the world. Learn whether the perfect martini is shaken or stirred, sample bites from the modern Jewish deli kitchen, and go home with a special gift!
Package includes the Our Fathers experience and gift valued at $180, in addition to your choice of room at Studio Allston. Package rates start at $309 for 2 people. The Our Fathers experience is $39/person for each additional guest. Experience available Sunday – Wednesday • Must be booked a minimum of 2 weeks in advance