The Saybrook Point Inn and Spa, perched on a Long Island Sound peninsula, encompasses a "green" marina, an outdoor heated pool (hot and steaming in the snow-cold days of winter), a large indoor pool, an excellent Spa, a fantastic restaurant – Fresh Salt – affording dazzling panoramas, a community Fitness Center and a brand new "boutique inn," Tall Tales, in addition to the next door Three Stories Guesthouse opened two years ago.
In fact, all the buildings are "green."  Each property recycles its rainwater – which funnels from gutter to cistern – to water plants, each room is equipped with infa-red thermostats that determine if you are there or not (and if not, turns down the heat or ups the AC accordingly), and year round outdoor and indoor pools are heated with co-generation energy (utilizing a diesel engine). To say that The Saybrook Point Inn and Spa is on the forefront of environmental hospitality is an understatement.
The Saybrook Point Inn is quite an about face from the hotel that stood on this site in the 1960's and 70's. Due to its striking location at the mouth of the Connecticut River, Saybrook Point has been luring tourists since the late 1870's: First as The Pease House and then Rat Pack favorite, Terra Mar. Had Terra Mar survived, it would have made the ideal location for a Mad Men episode. Fifties Modern, three large outdoor pools, a big-yacht marina – Terra Mar drew Frank Sinatra, Jane Mansfield, Ted Kennedy, Tom Jones and a slew of celebs. In the warm months, Terra Mar was Las Vegas meets Miami Beach, attracting gambling, gangsters and finally, The Law, which cracked down on illegal activities and effectively put Terra Mar out of business. (Apparently, what happened in Old Saybrook couldn't stay in Old Staybrook).
Now, in contrast to the Terra Mar, The Saybrook Inn's main building, bright canary yellow on the outside, is decorated with ornate florals and sturdy furnishings within (soon to be renovated). The lobby, cozy and thick with antiques, brightens from a shock of sunlight through glass doors that open to an outdoor deck. In warmer weather, this deck vibrates with wedding parties, corporate groups and anyone who enjoys a good meal overlooking a collection of sleek yachts.
THREE STORIES GUESTHOUSE: This is Saybrook Point Inn's answer to requests for a "Boutique Luxury Hotel." Within the three-story (get it? Three Stories?) former 1892 Italianate home of railroad engineer, William Vars, you can choose from eight renovated rooms – each one elegant and luxurious in its own way. Several, like the Katharine Hepburn Suite, offer seaside balconies – from which, even in the freezing days of winter, you'll find magnificent sunrise and sunset views. Each suite is named after a local notable: Kate Hepburn, of course, but also Anna James, William Vars, and Saybrook Point owners Mary Tagliatela and her son, Steven (the current co-owner).
Three Stories' main floor is inviting and warm, with long dining table (set with cold breakfast in the morning), an electric fireplace and plenty of room to do puzzles or sit and talk.
Downstairs, the billiards room and large flat screen TV is popular with family or friends reunions, providing a casual space to catch up.
The Hepburn Suite's massive bathroom features black and white basket-weave mosaic floor, large multi-head glass shower and just the faintest whisper of lilac paint above white wainscoting. A high four-poster bed faces an electric fireplace and a sitting area with plenty of plush seating. I loved the selection of Kate Hepburn photography books on several shelves, and discovered that she would have much preferred sitting on the floor!
Three Stories has a room for every taste – including William Vars Room – the former owner's bedroom, sleekly designed in blues and masculine accoutrements – perfect for a guy who wishes to avoid pink, chintz, or any stereotypical B&B décor at all costs.
And, my personal favorite, and very rare in the B&B or Boutique Inn world – suites with two Queen beds: Perfect for platonic women friends traveling together. Three Stories has two such rooms – both stunning.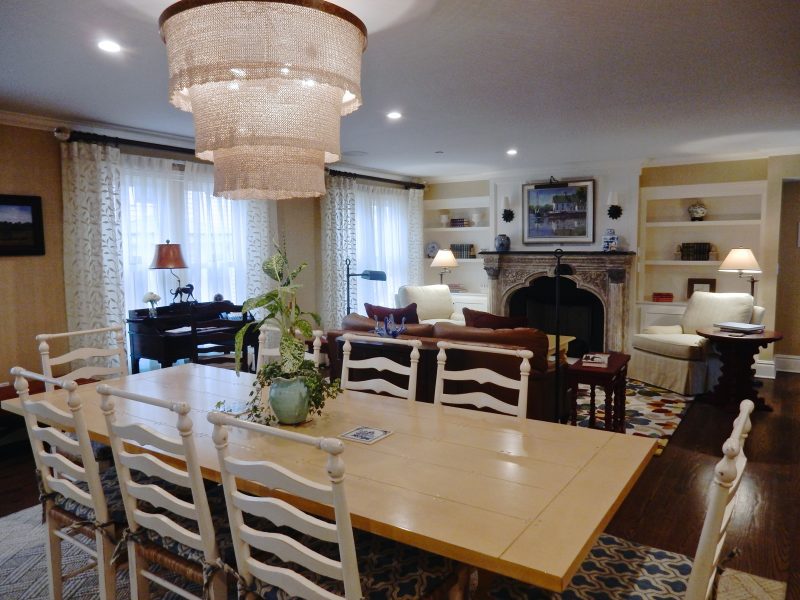 TALL TALES GUESTHOUSE: With a French Country Contemporary decor, the 6-room Tall Tales is slightly more casual than the more formal Three Stories next door, but equally eye-catching and eminently lovely and dreamy when it comes to bed comfort. Like its sister property, Tall Tales features different rooms for different tastes. There's one with bold red walls, others dressed in pastels, and one with two queen sized beds perfect for a girlfriend getaway.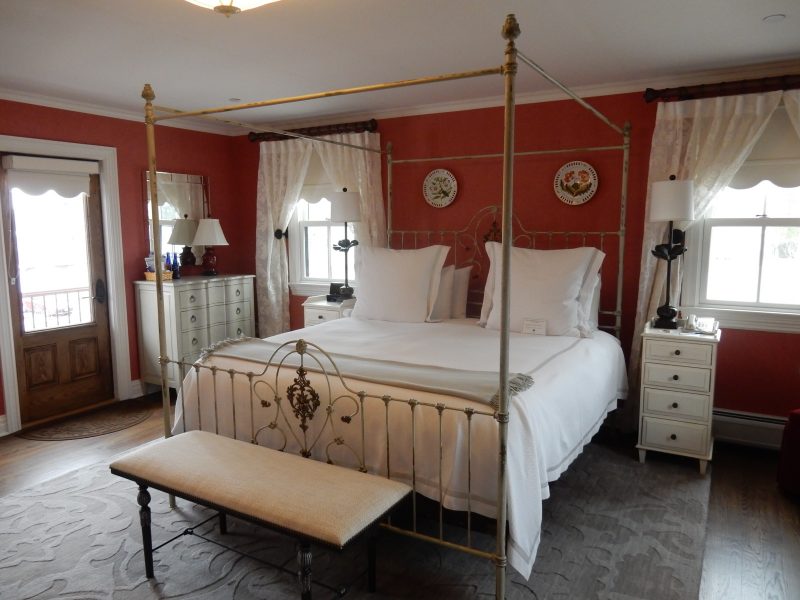 The delightful decor of all rooms and common areas throughout the hotel complex comes from the creative mind of interior designer, Lisa Silver, who sources one of a kind furniture and accessories from "all over."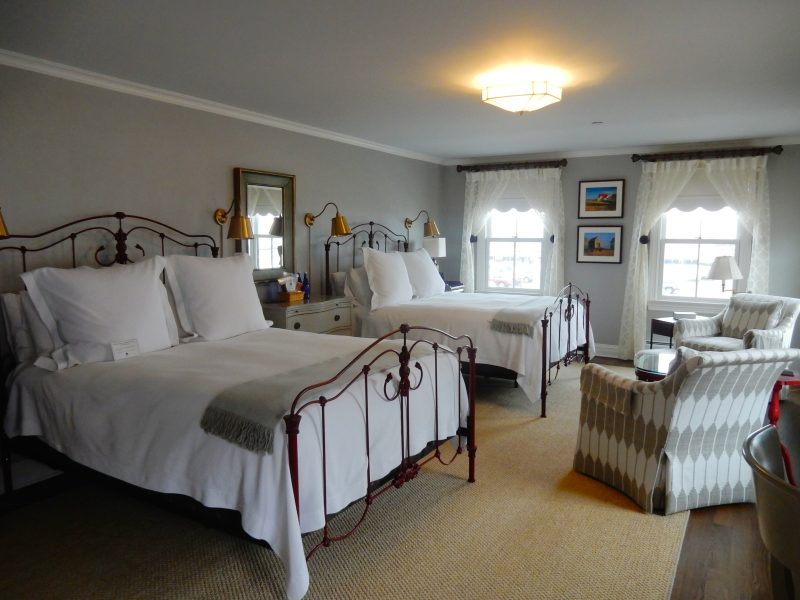 Arguably, the most striking piece is a three-tier lamp that hangs over the parlor dining table, crocheted with tiny creme-colored wampum. I wasn't the first guest who wanted to take it home with me.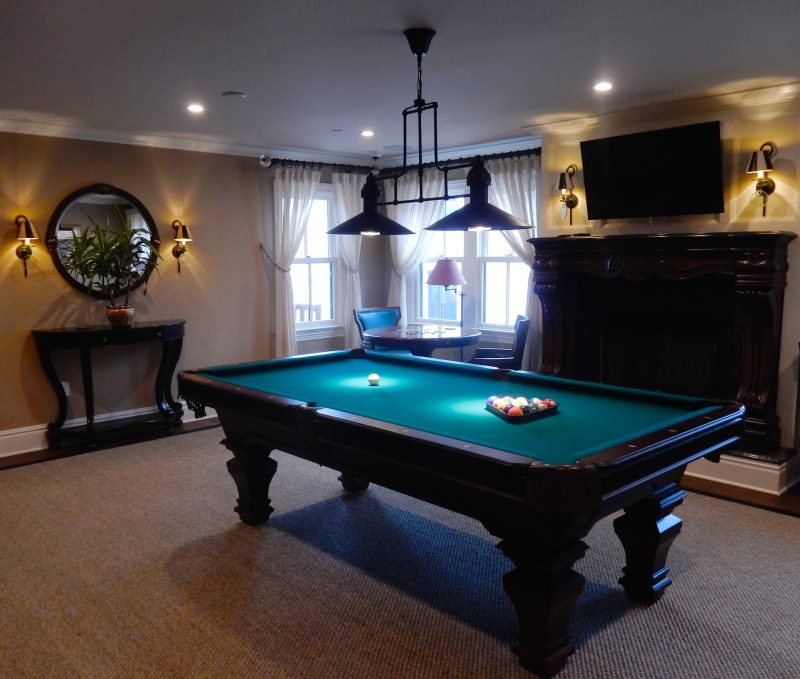 Like Three Stories, this building has a billiard table for all to use – in this case on the second floor in the common area between two guest rooms. Coffee and tea is available 24/7 and in the morning, staff delivers homemade pastries to the guesthouses – and these delicacies alone are worth staying here. Of course, you could always walk across the street for a full breakfast at Fresh Salt. But on nasty days, who'd want to.
Health Club/Fitness Center: Saybrook Point Inn's fitness room is much larger than most. That's because it's also a fitness center and health club for the community at large. So, feel free to "crash" a class – Aqua, Tai-Chi, Zumba, Spin, Pilates or Yoga – for just $19 per session.
SANNO Spa @ Saybrook Point Inn. Excellent massage therapists know how to work the kinks out of even the most tense, stressed out bodies at SANNO, Saybrook Point Inn's in-house full service spa. The 50-minute Swedish SANNO Massage ($119) leaves your skin baby soft and muscles supple, but if you stick around for another treatment, go for the 80-minute "Ocean Memory"($148) – which incorporates a "marine based oil massage" with tingling algae mouse moisturizer. Or The Signature Kate (50 minutes, $118), embracing Hepburn's love for the outdoors with a body scrub, rinse and head to toe moisturizer. This is the first Spa I've been to where the "Relaxation Room" is stocked with small bottles of wine and Champagne (extra cost) along with infused waters and snacks –tailor-made for Bridal Parties and Girlfriend Getaways.
Fresh Salt @ Saybrook Point Inn. The recent return of Chef Gese Rodriguez, who sends out plates from the kitchen as delicious as they are gorgeous, brought back an innovative, New England/Asian/Seafood fusion cuisine to Fresh Salt, resulting in an uptick in accolades and two thumbs up reviews. Formerly Terra Mar Restaurant, the space was renovated in 2014 to reflect a more casual, clubby dining experience. A bank of windows overlooks the marina, prints of sailing ships line dark wood walls, an illuminated salt-water fish tank adds color pop, and the wood-burning fireplace offers cozy warmth in winter. Rodriguez left the signature Cioppino (seafood stew, $27.95) on the menu, and added vegan approved dishes like Quinoa Salad ($13.95) and Cauliflower Steaks ($23.95). I was partial to the expertly seared Stonington Scallops, the exceptional Sushi Tuna Triangles ($14.95), which, with a glass of wine, could have been my perfect dinner, and a succulent Colorado Lamb Porterhouse ($26.95 for one).  End with one or two fresh baked Chocolate Chip Cookies ($1.95 each).
Facts and Figures
Rooms start at $225 off-season – in guesthouses that includes coffee and tea 24/7, morning pastries, wi-fi, parking.
Author, Malerie Yolen-Cohen, was hosted by Saybrook Point Inn, but all opinions and views are entirely her own.