Last Updated on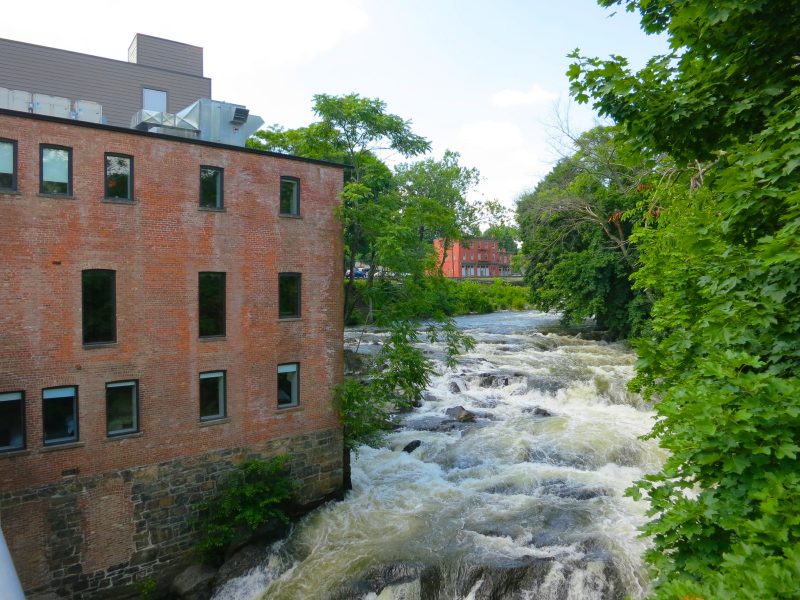 Opened in 2012 in a former dye-works (and then lawnmower) factory, The Roundhouse at Beacon Falls brought boutique cred to Beacon NY. Perched right over cascading waterfalls and boulder-strewn rapids, its crisp, industrial-luxe design drew urbane guests from The City, giving them a reason to stay in town after visiting DIA:Beacon. Since November 2016, there's another reason to stay or at least eat at the Roundhouse: Michelin-starred chef, Terrance Brennan has taken over the kitchen.
(For a list of things to do in Beacon, check out our post HERE).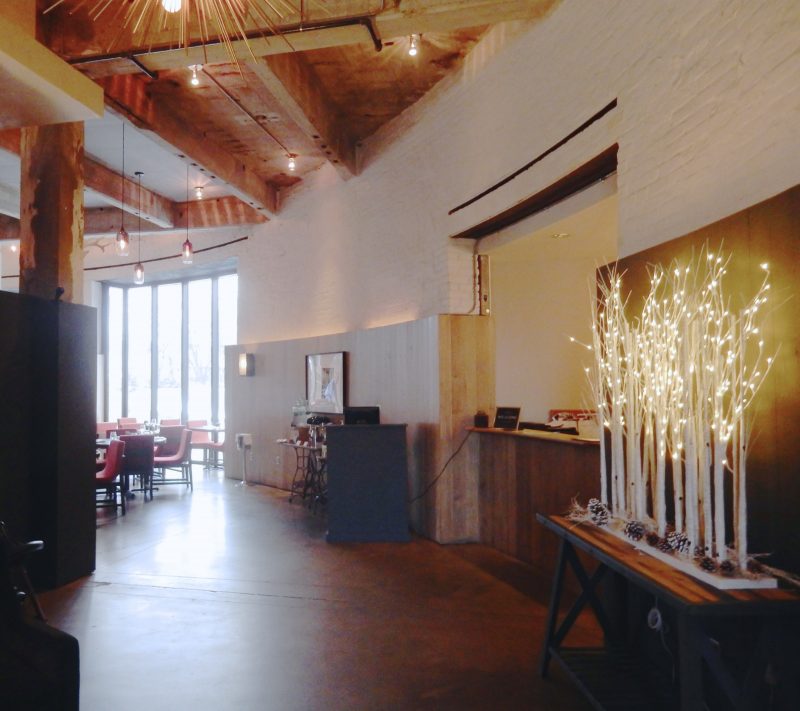 As a hip boutique hotel, expect a somewhat DIY aspect to arrival. If you come by car, you'll park in a lot across the creek and walk to the subtly marked front door. Greetings are warm and friendly, though if you require help, you'll have to ask for it. The reception area, twinkling with pin-lights, expands to include the in-house restaurant and its curved bank of floor to ceiling windows overlooking the falls. Since it opened, the hotel has grown into a campus, with guest rooms in both the Roundhouse and the Mill House.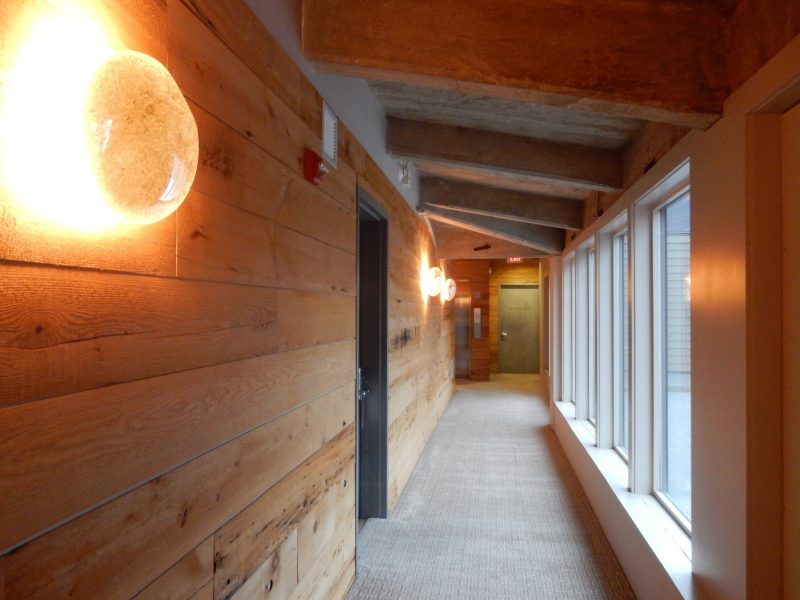 For the best views, plan to stay in the Roundhouse, where you'll also find the Lounge and the restaurant, Roundhouse By Terrance Brennan. The Mill building sits on the other side of the creek atop the falls, and offers rooms for significantly less than the ones in the main building. You are, after all, paying for a bit more opulence – and the view.
Rooms at Roundhouse at Beacon Falls
Honeymooners generally book one of two Penthouse Suites on the 3rd floor, if only for the private deck nearly cantilevered over the frothy water, round soaking tub at the foot of the bed, and deep-colored metallic tiled double rain shower.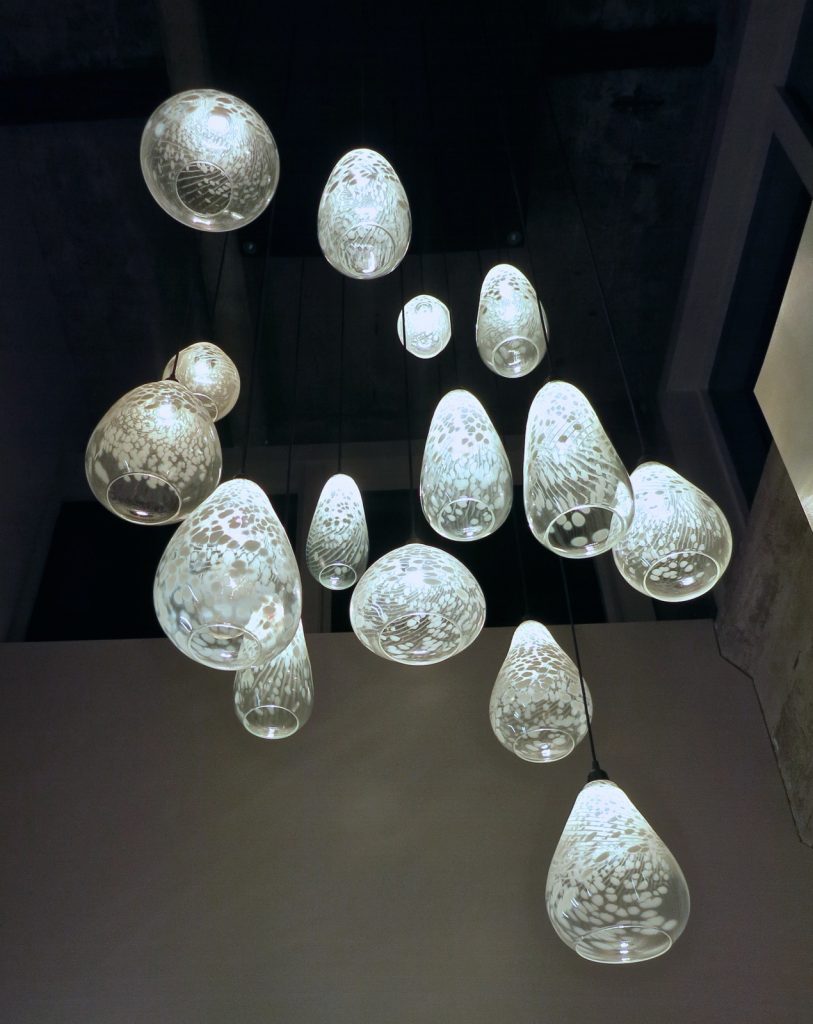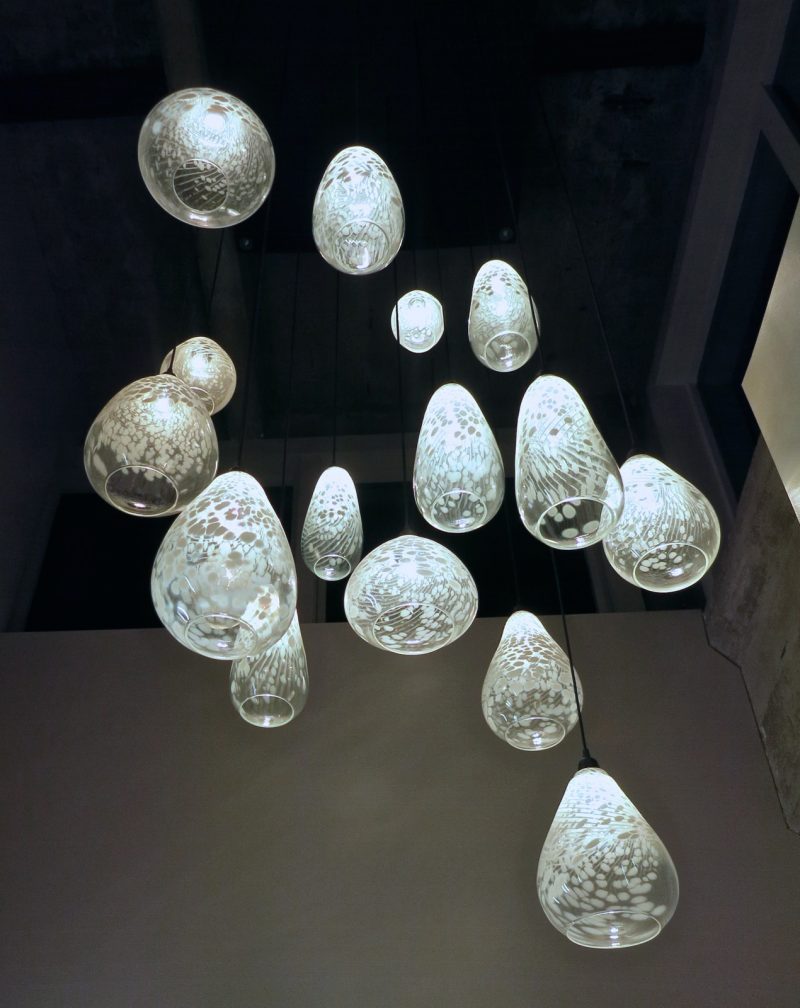 Homey hardwood floors and area rugs offset the industrial cool concrete cathedral ceilings, and the cluster of hand-blown glass lamps in the bathroom add an artisanal element to the otherwise minimalistic room.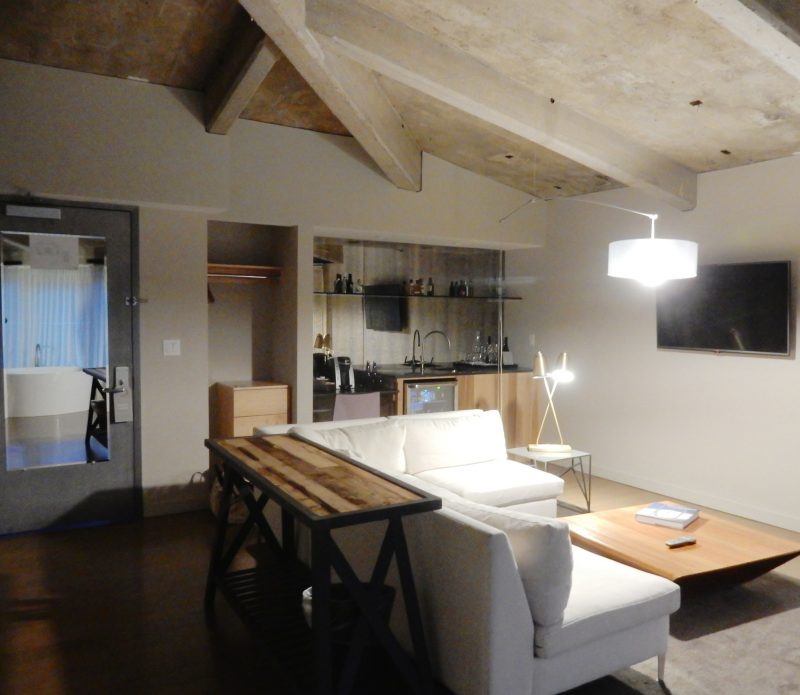 The sitting area, with small flat screen TV and wetbar, most likely won't be used much by hot and heavy romantics, but it gives you plenty of room in which to spread out.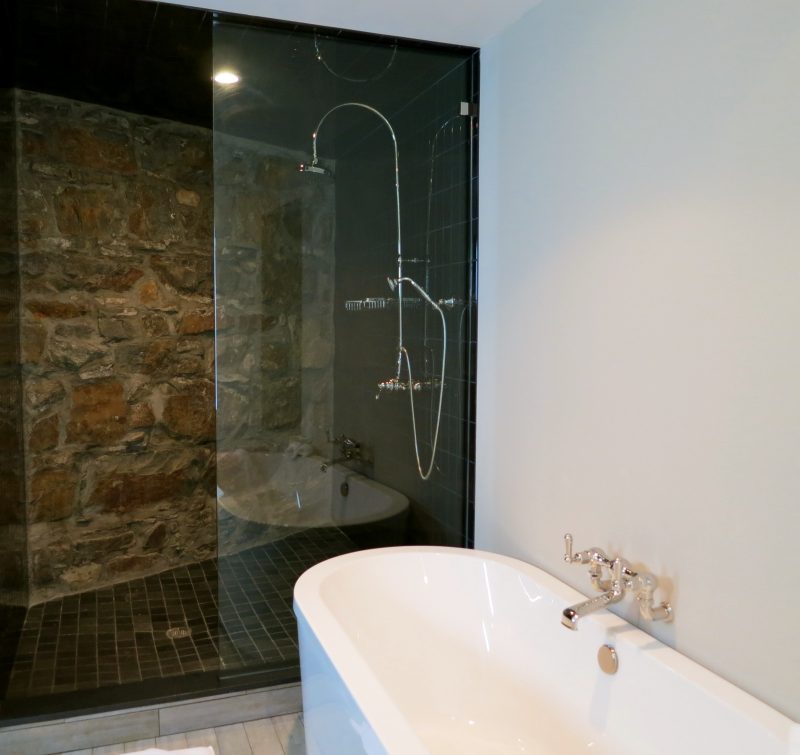 For those who wish to be closer to the action in a cozier space, you can't beat Room 101. A corner suite, you are surrounded by cascading water as the raging creek within 15 feet of all six windows makes its dogleg turn. It's a tranquilizer unlike any other – and even if you never leave the off-white rather spare room you'll be happy. There's no door barring the view into the extravagant bathroom with a soaking tub and massive exposed stone rain shower.
Dining at Roundhouse at Beacon Falls
Roundhouse by Terrance Brennan: Star chef, Terrance Brennan recently took over the Roundhouse restaurant, and his Nose to Tail, aka "Whole Farm Cuisine," with ingredients sourced from the Hudson Valley, befits the stunning David Rockwell-designed dining room overlooking Fishkill Creek.
Try for a table next to the curved bank of floor to ceiling windows with an ever-delightful view of the wild water, at night bathed in violet light. There are plenty of craft cocktails and beers on tap, but if you're a hard-cider hound, you're in luck: the Roundhouse offers 12 different kinds, including the "Naked Flock Citrus Cider," with a local back-story worth hearing (ask your server).
For now, Brennan's Nose to Tail offerings revolve around pork products and so on the Charcuterie Plate you'll find Fig Ears, Pig Trotters, and Bone Marrow among other meat offerings ($32 for 3).   But Chef is not only about meat – there are at least three Vegetarian options on the menu each night, and he tweaks fish like no-one's business. His Day Boat Skate "Pastrami" turns Skate into a fish dish brined, smoked and spiced just like the cured beef version, and served with Cabbage and Rye Crumbs ($18 on Lounge Menu, $26 on Dining Room menu). The three signature Ramen items (veg $16, duck $21 and pork $18) from the Lounge Menu are deeply flavored and lip-smacking ($16).  Even if you don't have room for dessert, go for the Lemon Diplomat – a thin disk of crisp meringue over lemon custard dusted with candied olives. Heavenly.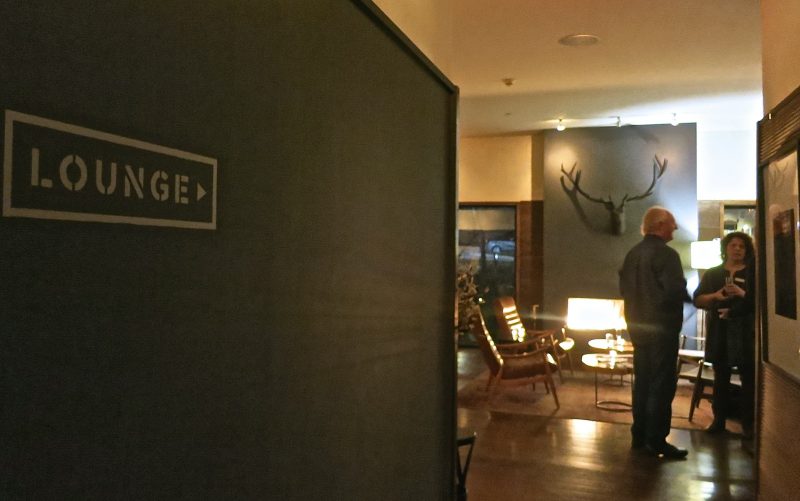 The Lounge: A cozy spot for a drink and bite (from the Lounge Menu). Sit in front of a small gas fireplace or at a table.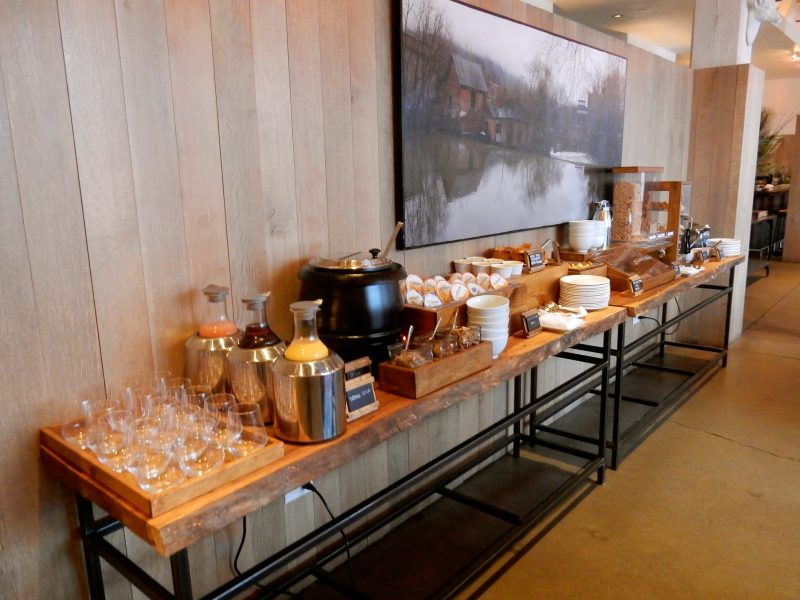 In the morning, a cold Continental-Plus Breakfast Buffet is included with the room. You'll find Quiche, cereals, fresh fruit, baked goods, coffee and juice set out in the main dining room.
Just The Facts
Rooms in the Mill House start at $189 midweek off-season, Roundhouse rooms start at $209. Penthouse Rooms from $439 (up to $750 in peak season). All include parking, wi-fi and Continental Plus breakfast.