Last Updated on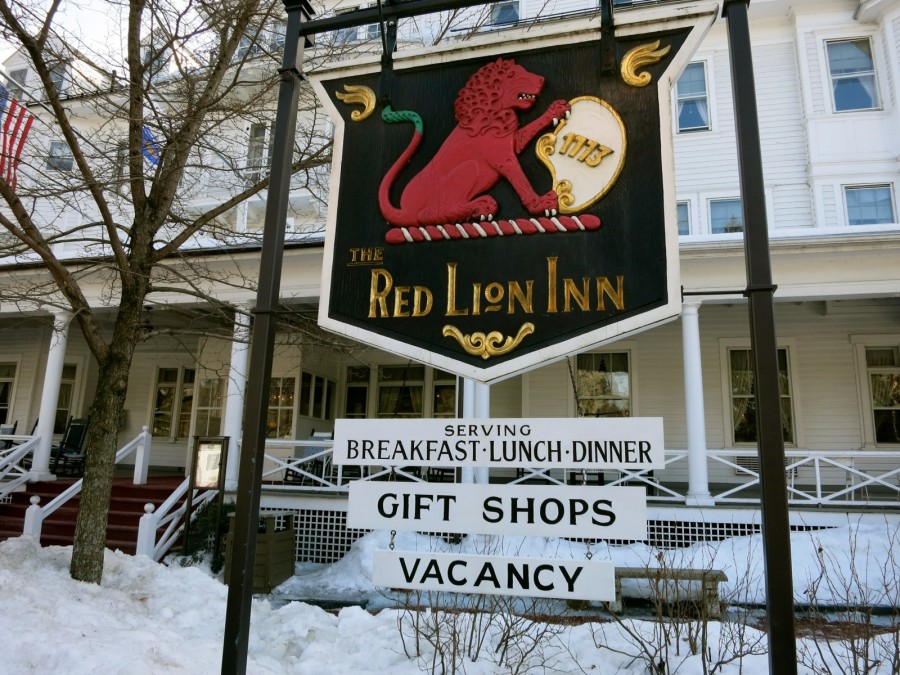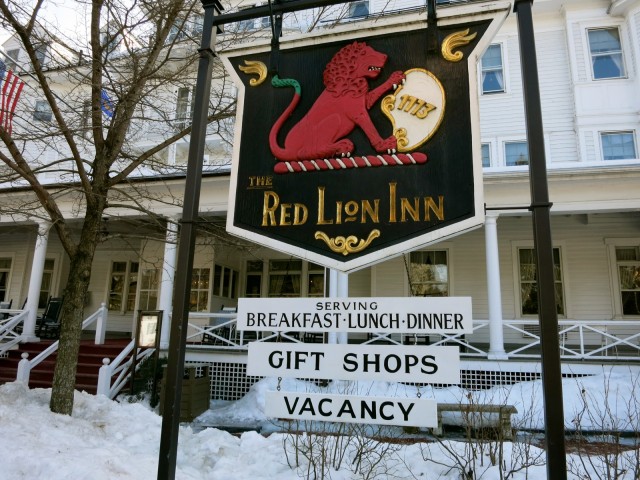 First opened in 1773 as a rough and tumble stage coach stop, then evolving into a way-station for prosperous sojourners, The Red Lion Inn's current owner, Nancy Fitzpatrick has breathed fresh, plush life into formerly dated rooms and has added several cottages. If original sloping floors could talk, they'd tell of the tens of thousands of guests who have wandered down these mazelike hallways; filled with enough art, including hometown hero, Norman Rockwell's, to make historians and museumgoers giddy.


Rockwell's painting of Main Street Stockbridge in winter depicts an unlit, closed-up Red Lion Inn. From the mid-1860's, when it became a summer country escape for city folk, until the 1960's, the inn was open only in the warmer tourist season.  Now, wintertime is prime time, and if you come when the snow starts to fall, you'll see why. (For more on what to do in the Berkshires, see this Getaway Mavens post).
First Impressions
Step onto the wide white porch and through the door, you'll be hit with a nostalgia not necessarily your own. Deeply colored upholstered Victorian chairs and couches face a warming fireplace. A collection of teapots line shelves and cram crevices all around. I nearly bumped into the "Lincoln Table" – from the old Union League Club of New York – bequeathed to long-time Red Lion Inn owner, Mrs. Plum right after the Civil War. Charles Dickens and Abe Lincoln were purported to have dined at this table.  Who am I to dispute this claim?
Service is laid back, the kind you'll find in a rambling old hotel.  All will be fine, you'll be attended to presently, but there's really no rush.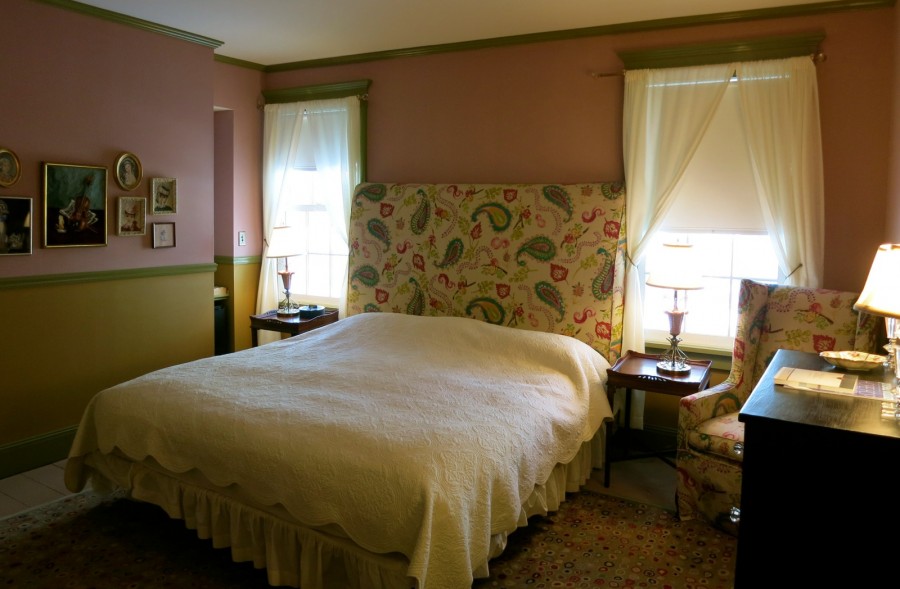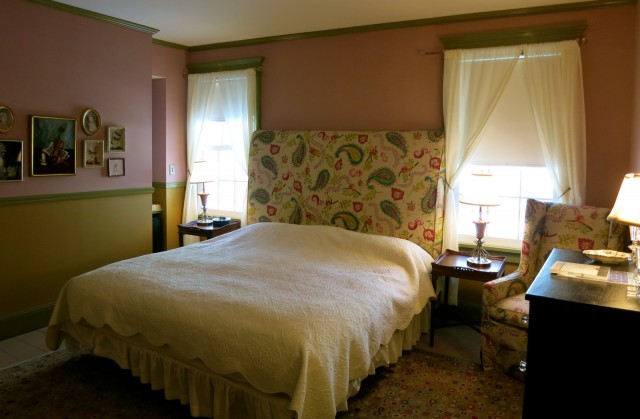 In the 1990's the Red Lion had seen better days.  And then it was refreshed. Country Victorian with modern amenities, each room harks back to the days when city-folk came to the county for fresh air and homey ambiance.  Bathrooms are updated with marble sinks and subway tiles, and color pallet is the mauve-olive combo and others you don't see much of today. You can choose to stay in the main inn or in one of the cottages just a block away – each with its own parlor and fireplace.
Burgundy carpeting, pewter plates and crystal chandeliers bring a turn-of-last-century ambience to the Main Dining Room, which has much improved over the last few years. Roast Turkey with Farmhouse Stuffing, Mashed Potatoes and Gravy ($ 27) is the comfort food signature, of course, but the Quinoa Pasta With Harvest Vegetables ($24) was quite delicious and would satisfy any picky vegan and quite a few meat eaters as well.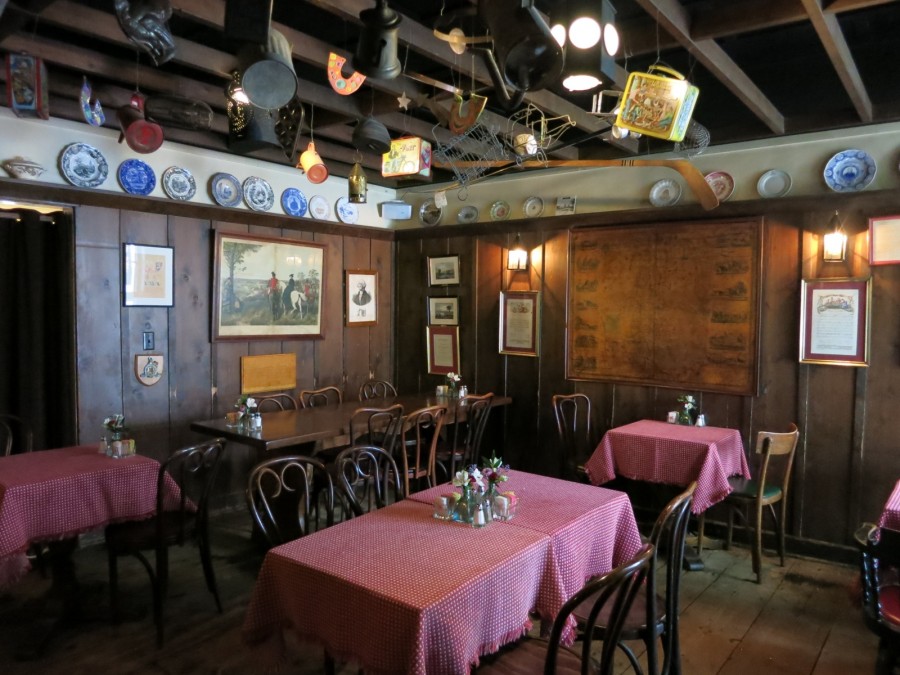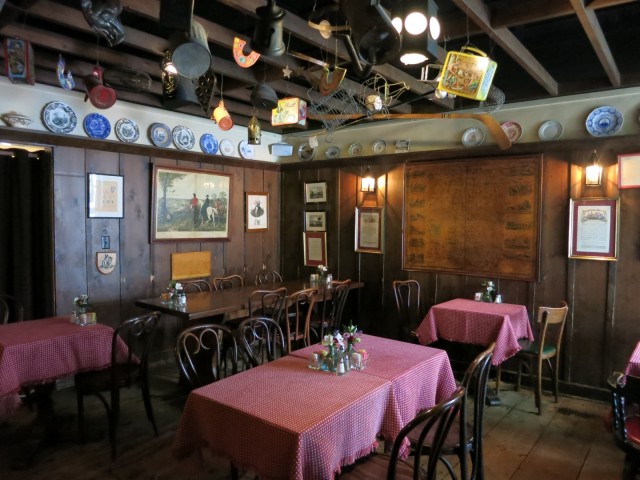 You can get Yankee Pot Roast ($24) and Prime Rib "Popover" ($19) at the Widow Bingham's Tavern – where complementary coffee is served each morning.
Just the Facts:
Rooms off season start at $99 per night, in season up to $250.