Last Updated on
The Red Fox Inn and Tavern in Middleburg VA is one of the oldest and finest inns in the country – established in 1728 – so it's not hard to imagine Bold Faced Names like Elizabeth Taylor and Jackie Kennedy overnighting here during fox-hunting seasons of yore.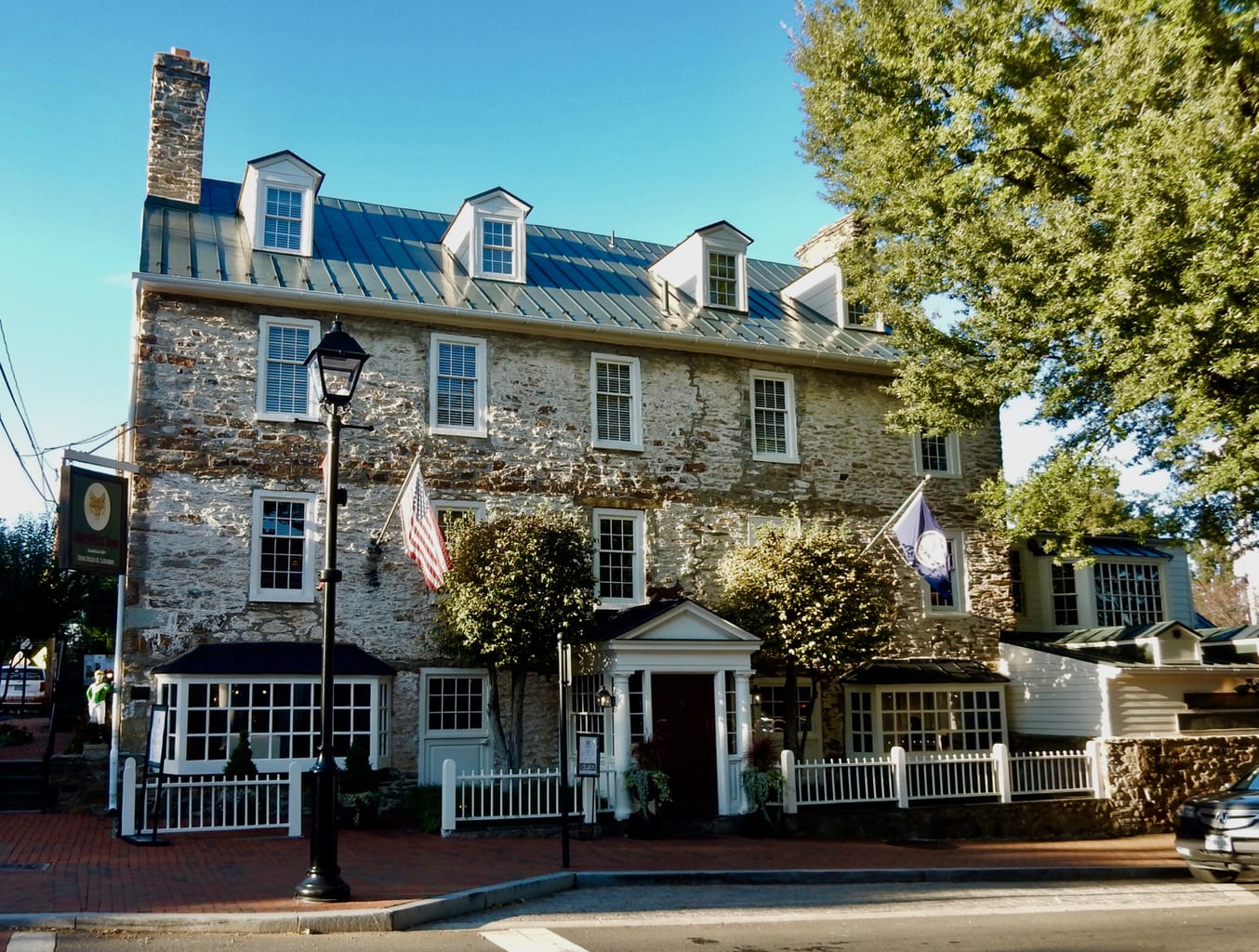 While the restaurant and several rooms are located right on Main Street, most guest rooms are scattered in cottages a block from the busy intersection – where you can stay quietly in lap-of-horse-country luxury. Pictures and sculptures of horse and riders, dogs, roosters, and other genteel pursuits are found at every turn.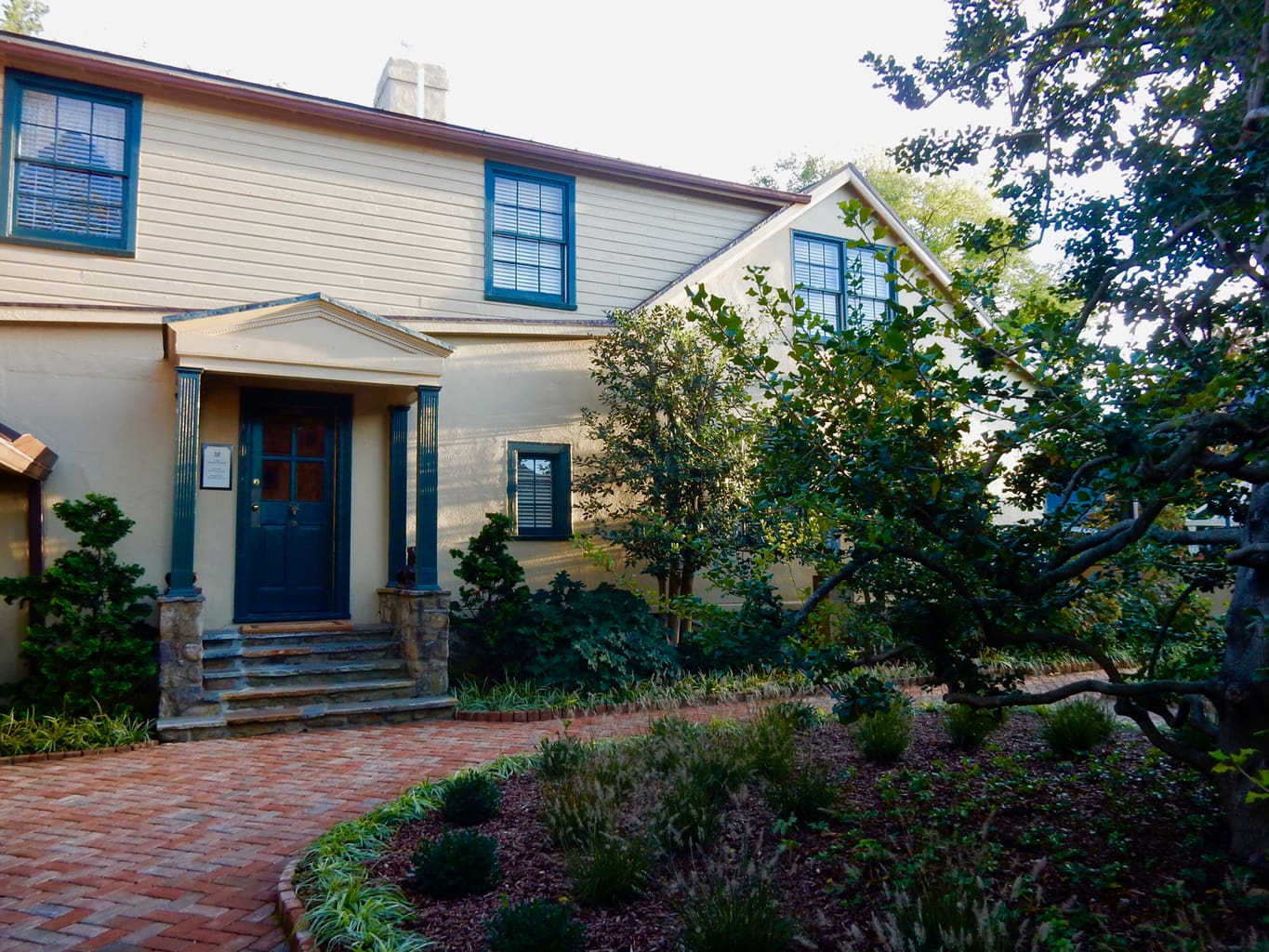 If you want to stay one step from the restaurants and shops of downtown Middleburg, and your skeptical, beaten-down heart yearns for the balm of a genuine, relaxed, and friendly welcome, this is your place. Pull in to the parking lot, park in a temporary unloading spot, and walk past the outdoor patio into the small reception area on the 2nd floor (upstairs from the street Tavern entrance). Check-in feels like an embrace.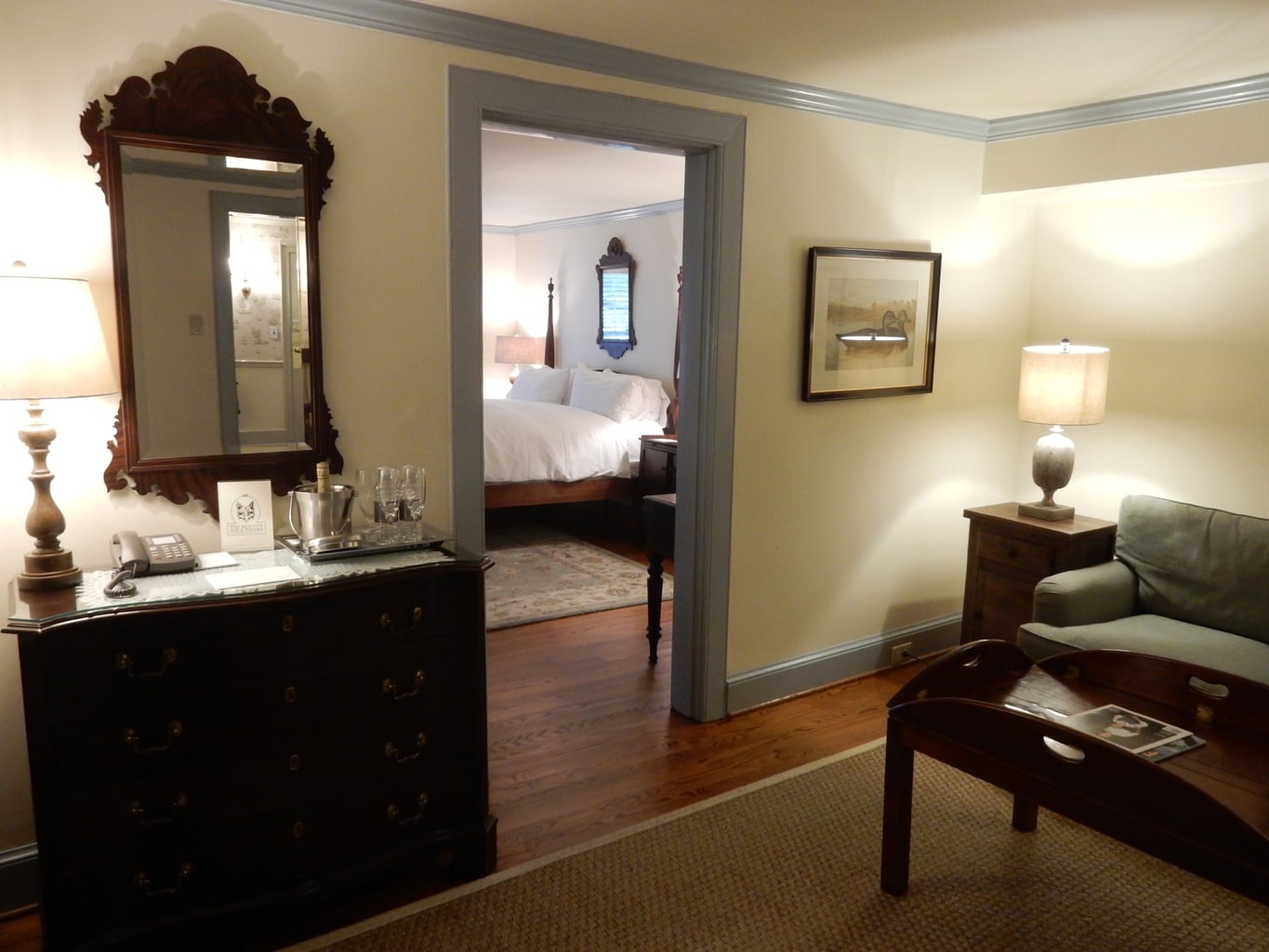 Each room and suite is country-luxe with four-poster beds and burnished wood floors that even extend into charming antique-filled bathrooms sporting pedestal sinks and bathtub showers. The doilies on side tables are elegant, not kitschy, and horse, quail, and duck prints that hang on the walls establish a sense of place. Best of all is the pillowy bedding – so downright comfy, I wanted to take it home.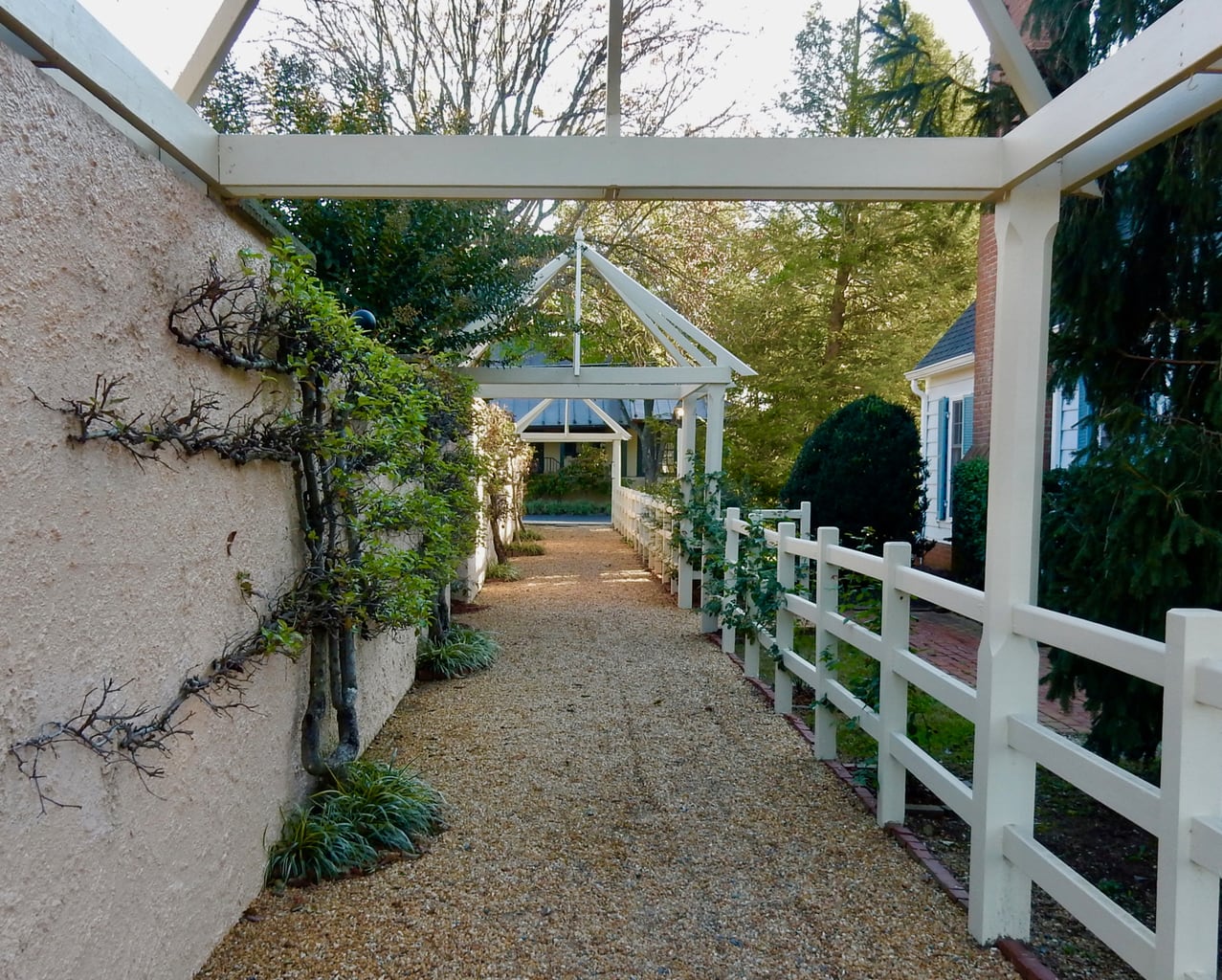 Given that most guest rooms are a walk from the restaurant, The Red Fox Inn offers crack of dawn coffee brought right to your room at an hour that you designate. As a caffeine addict, this perk remains one of my all-time favorites, particularly because the housekeeper brought it to me exactly on time – the mark of a well-run inn.
Breakfast and Dinner at Red Fox Inn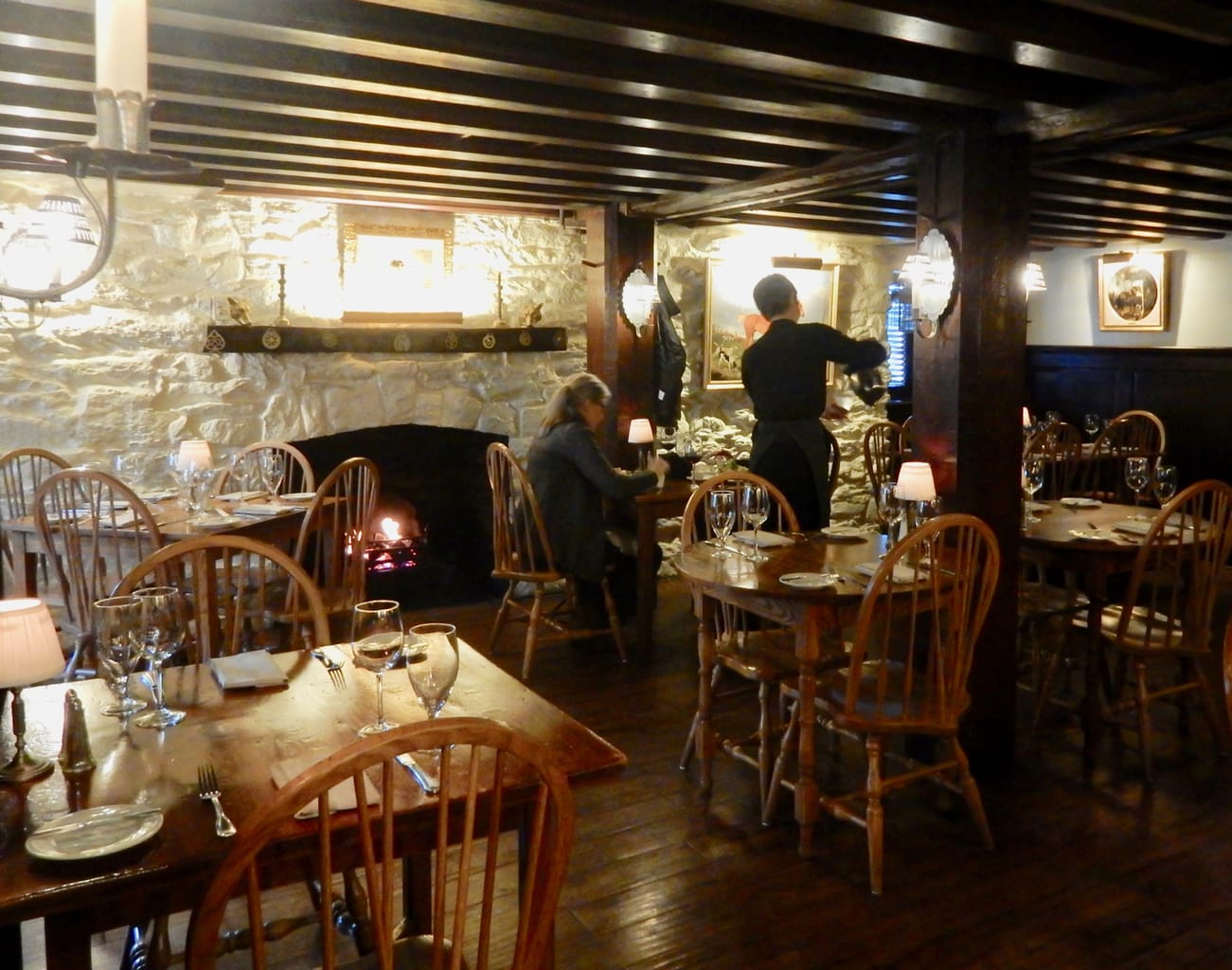 Picture a whitewashed fieldstone-walled hunt club with fireplace, wood tables, low ceiling. And then add excellent food. Within a warren of rooms, the Tavern, shade-lamp votives aglow, features Southern cuisine with local produce. Observed on a cool autumn Monday night, this is one of the most popular restaurants in town – for a very good reason. Virginia Peanut Soup ($5 cup), Shrimp and Grits ($15), Rack of Lamb ($46), 16 oz. Ribeye ($54), and more are all expertly prepared and arrive to your table with a healthy dose of Southern hospitality. I'd return for the Hickory Bourbon Glazed Salmon ($34) on a bed of grits and sweet, noodled carrots – decadence without guilt.
In the morning a full made-to-order breakfast come complementary with the room, and is served in the Tavern. On the menu is a Veggie Omelet or Huntsman's Breakfast (2 eggs any way, potatoes, bacon, toast, etc), and only-in-the-South offerings like the Fried Green Tomato Benedict. Sourced locally, everything on the plate tasted fresh from the farm.
Just the Facts
Rooms midweek off season start at $195 per night and include parking, wifi, coffee delivered to your room and a full country breakfast.
For more to do in Middleburg VA, check out THIS POST.