Leave it to the 19-room Rabbit Hill Inn in Lower Waterford VT to make log-pine luxurious. The Cedar Glen room, kited out in Adirondack-chic, is an elegant blend of pine and plaid, and one of the most difficult rooms to leave once settled in.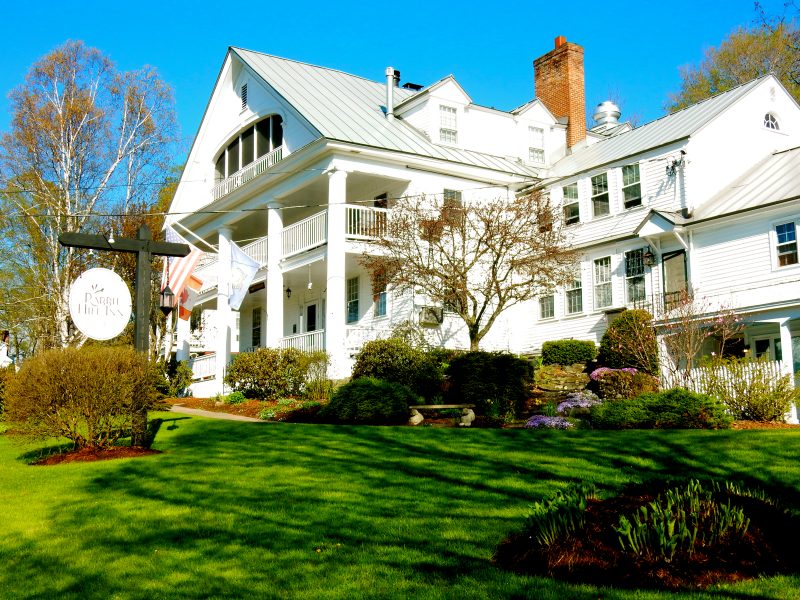 But this is not the only reason the Rabbit Hill Inn has been among the top lodging establishments in Vermont: any country inn can be prettied up. No, Rabbit Hill is tops due to its owners, Brian and Leslie Mulcahy, who have been here 23 years, and exude the kind of warmth and good will that radiates brightly around them.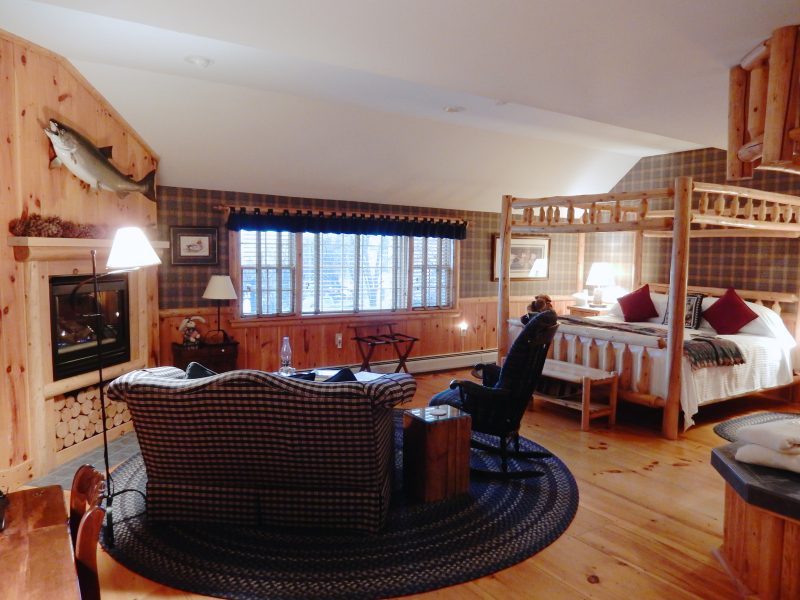 Each morning and evening, Leslie makes her way around the inn's dining room, asking if everything is ok, her heart overflowing with kindness. It is no wonder that there are so many repeat guests, and that those there for the first time plan to return. For the Mulcahy's, turning first timers into lifelong friends is what its all about.
Check out this Getaway Mavens post for a few days worth of Things to Do in Vermont's Northeast Kingdom.
It's a quick nine miles from St. Johnsbury to Lower Waterford, but a whole other vibe on this corner of Route 18. Here, a country-hamlet-white church stands across from this inviting whitewashed rambling antique inn; a bucolic slice of rural Vermont. It's no surprise that many guests come from East Coast cities. If there was ever a place to unplug, it's here.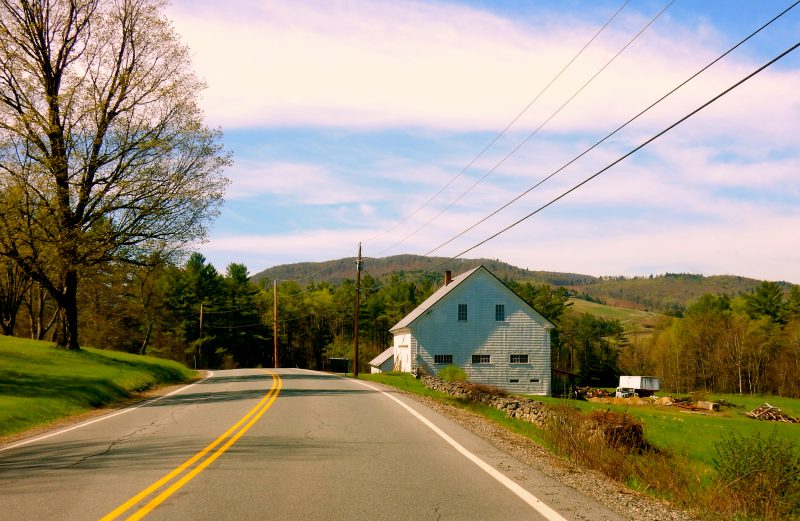 This is really a place to relax, but that does not preclude taking advantage of the beauty of the area. To that end, Brian serves as the "Hike Concierge," and will design the most appropriate custom day hikes based on time, fitness level and "available footwear".
The Mulcahy's see to it that you know your way around, (especially for afternoon drinks at the Snooty Fox Pub in a cushy tavern-style living room studded with games and jigsaw puzzles). Then, he'll escort you to your room.
Rooms at Rabbit Hill Inn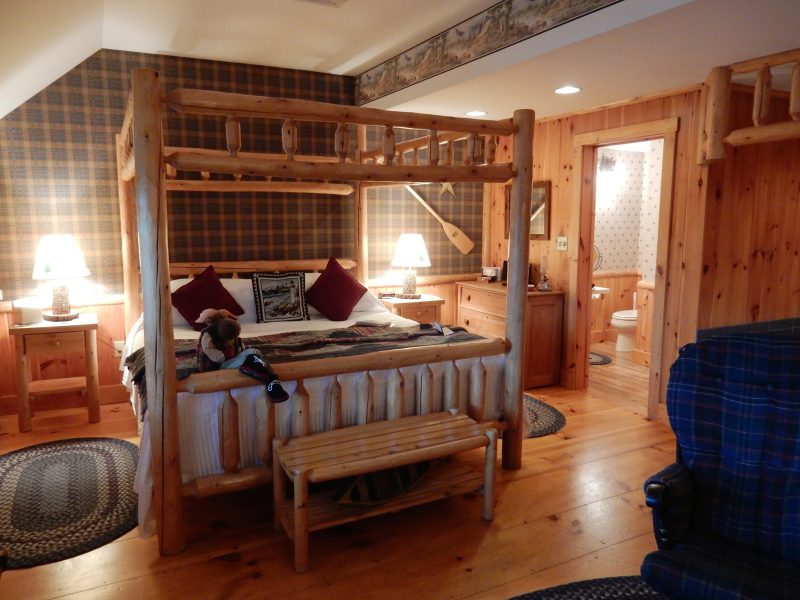 Rooms range from Standard to Luxury, and most are dressed in 18th Century finery. My favorite, in the Luxury Category, is the aforementioned Cedar Glen, which places you in a ridiculously lavish pint-clad Adirondack Cabin.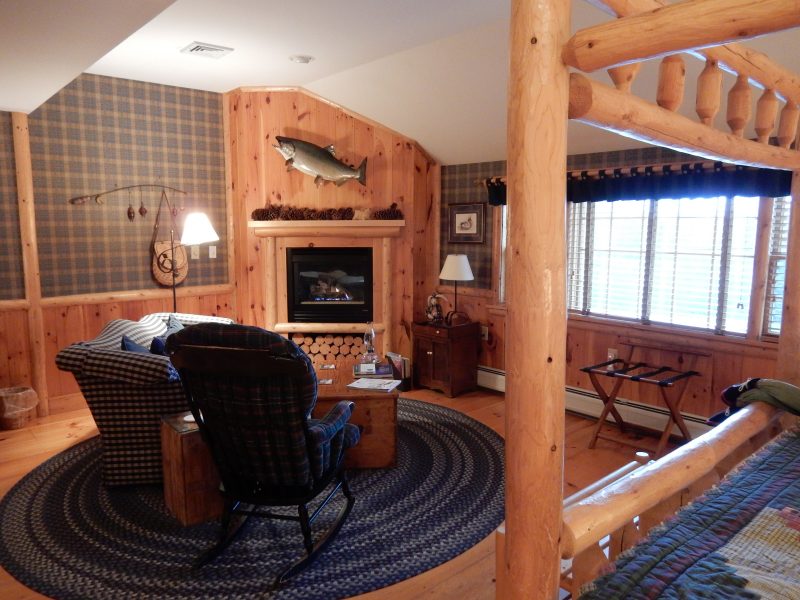 A log-pine canopy King bed sits near an in-room Jacuzzi backlit by a stained glass woodland scene. A large trout gussies up the space over the gas fireplace. And there's plenty of seating.
What the room doesn't have is a television, which, um, forces you to do "other things." If traveling alone, those things could include heading to the Snooty Fox Pub just two steps away, for a drink and to socialize with other guests.
Dining at Rabbit Hill Inn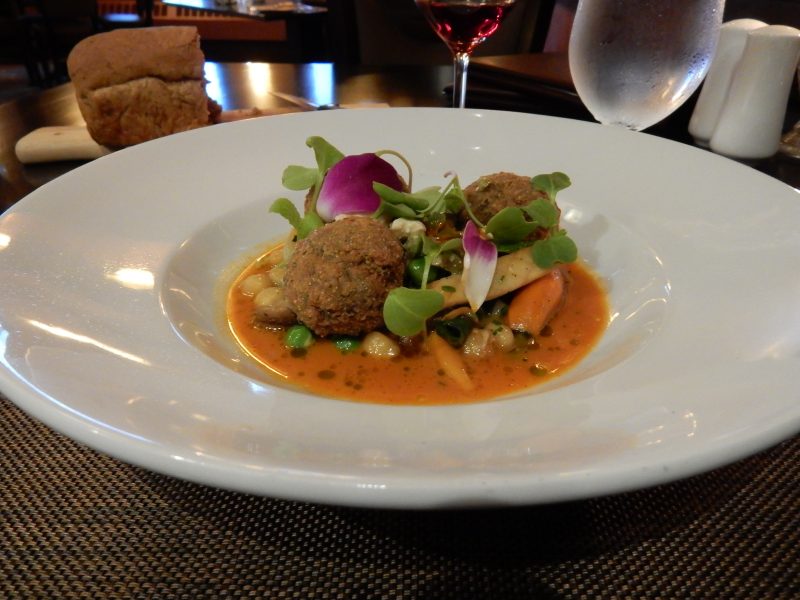 Out with the old Tavern, in with the new. Once styled like a classic Colonial-era Tavern, Rabbit Hill Restaurant was renovated in more contemporary fashion. Two dining rooms are beautifully polished, modern art adorns the walls, and the food, well, the food is destination worthy . It's innovative and perfect for foodies – Big Picture by Executive Chef, Andrew Hunter.
Although the menu changes constantly, I wolfed down incredibly tasty House-Made BBQ Duck Sausage, which stood in for pork in steamed Asian buns, and the Vegetarian (pictured) English Pea Falafel With Spring Veggies, Braised Chickpeas, and Olive and Feta Salsa. The latter was Spring on a plate and outstanding. It's a very special place.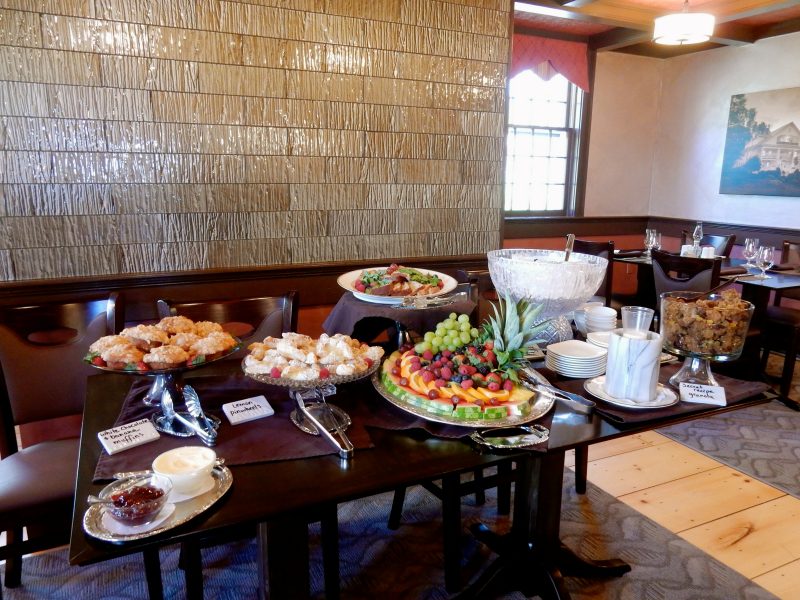 But even breakfast is a 5-star event. Brill Williams, formerly chef/owner of the highly regarded Inn at Sawmill Farm in W. Dover (now a Hermitage property), creates spectacular morning meals here.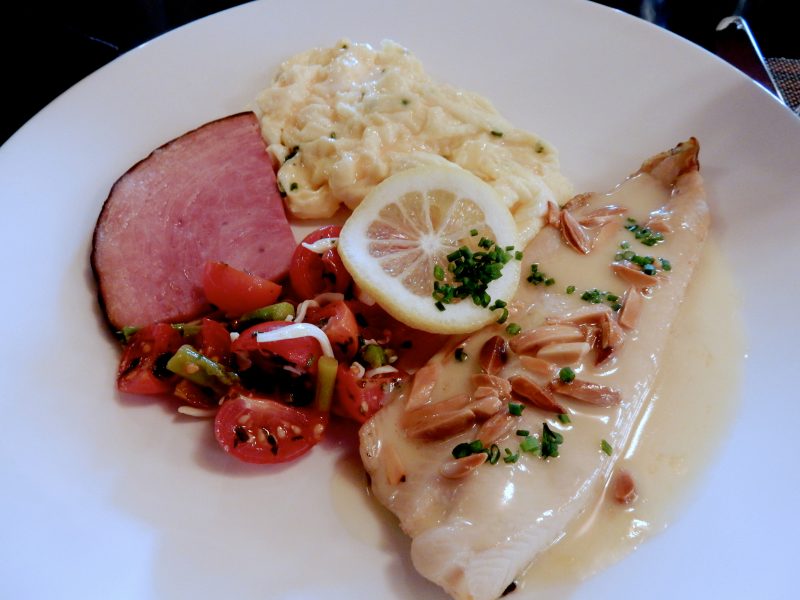 Breakfast begins with a lovely spread of baked goods the likes of flakey Lemon Pinwheels (by wonderful pastry chef, Phyllis Grech), yogurt and house-made-granola, followed by a hot dish. I couldn't believe that the Omelet with Chives, Trout Beurre Blanc, and Cherry Tomato Salad, plated together beautifully and equally delicious, came complimentary with the room.
Just the Facts
Rooms from $170-$279, Luxury Suites from $345-$355 include afternoon tea and pastries, large gourmet – really gourmet – breakfast for two, wi-fi and parking.