Last Updated on
The Portland Harbor Hotel, a newly renovated luxury lodging in the center of the artsy, foodie, cobblestone old port town of Portland ME, has been drawing celebrities and people who eschew franchise overnight accommodations since way before Portland was a crazy-trendy destination.
As Portland has grown in culinary prominence, attracting more and more tourists, a slew of other hotels have opened to house a growing number of visitors. But the Portland Harbor Hotel has kept up with the times, refashioning formerly traditional rooms into cool nautical-chic spaces, and updating its restaurant's name and menu. It's also located right in the middle of the action on Fore St., just one block from the revved up waterfront. For these reasons, it remains on or near the top of the Stay List in Portland.
First Impressions of Portland Harbor Hotel
Hand your car over to the valet in the hotel's garage, and head up to reception on the 2nd floor.
The ship shape lobby – where you'll find a small reception desk and the concierge – is dressed in navy blues and corals, with varnished wood floors. It's quite the departure from the more antique décor that greeted guests prior to the 2017 renovation.
Rooms at Portland Harbor Hotel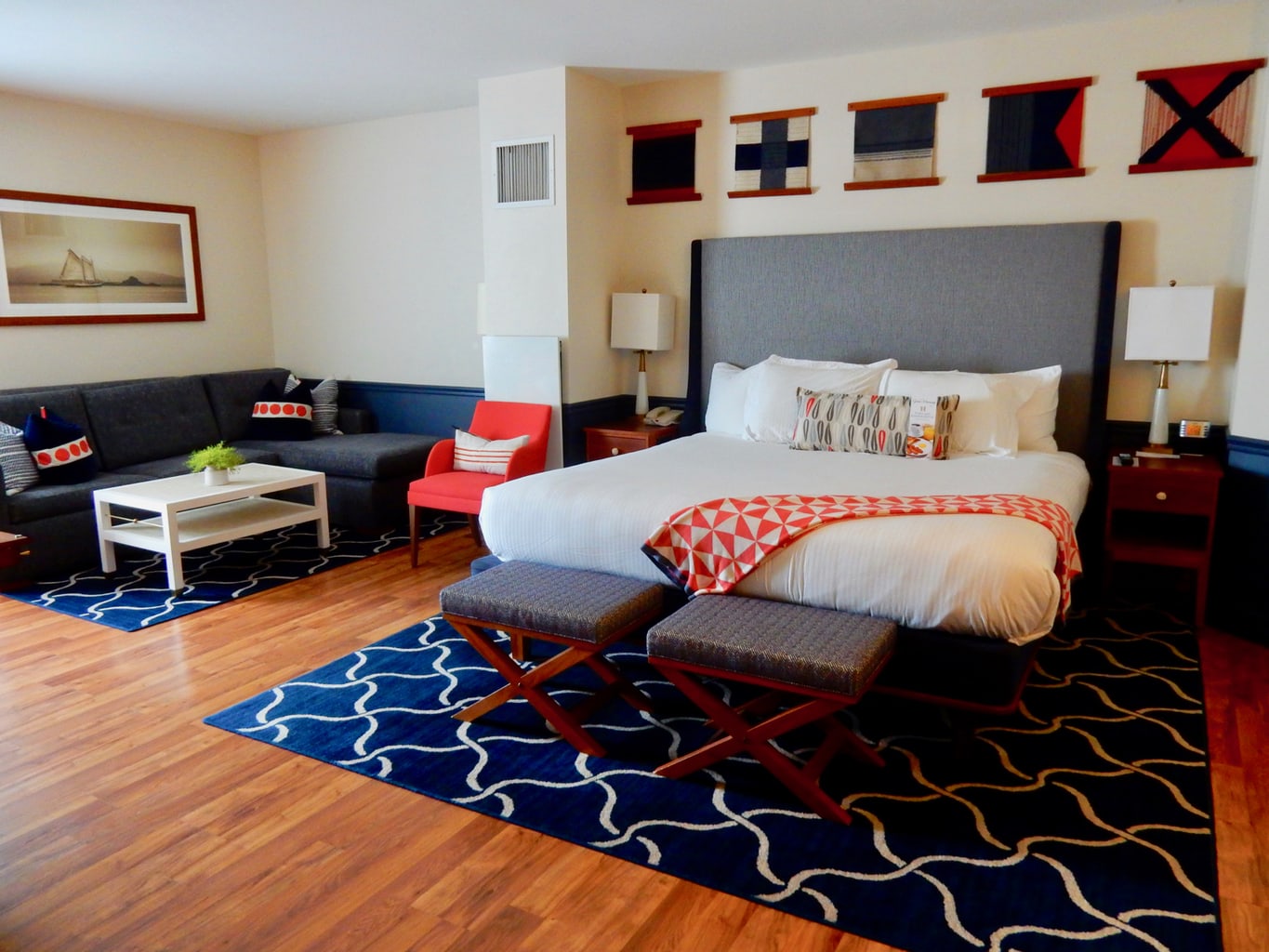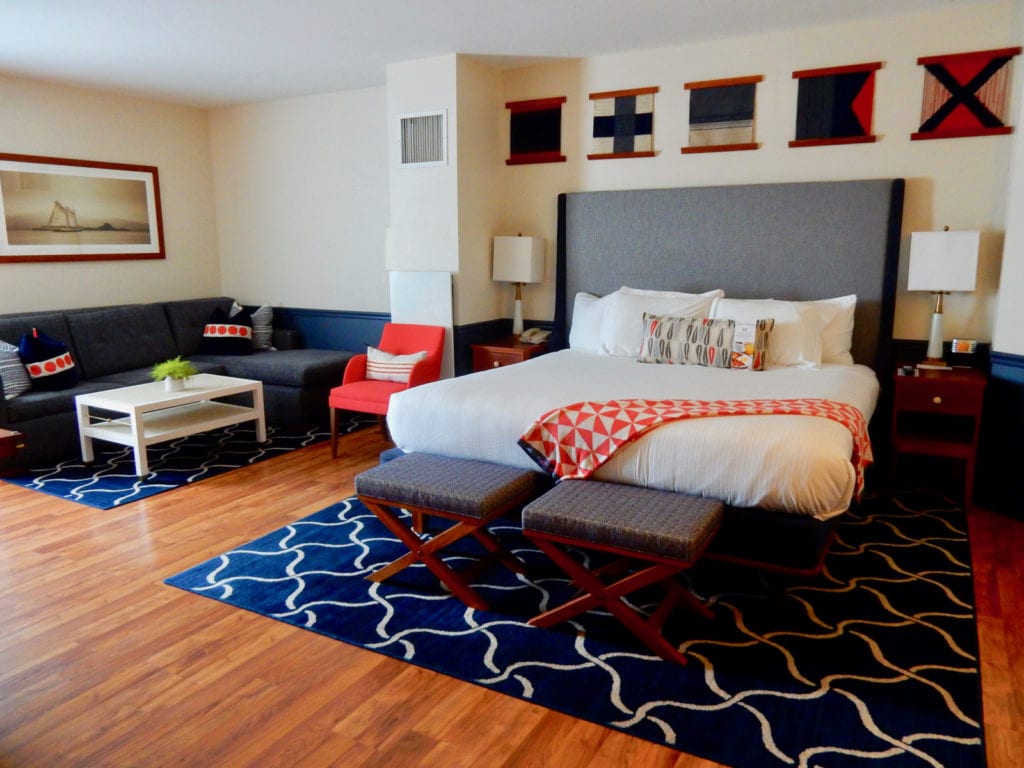 Now, guest rooms are spacious, bright, colorful and modern with elements that hark to the Old Port waterfront. Wood floors are burnished to a sheen. Woven maritime signal flags line the wall over each luxury bed. Pictures of old time sailing ships provide some historical perspectives.
Bathrooms are large, with tiled floors, granite sinks, and glass rain showers.
But if your taste runs to Zen contemporary, stay in of the six Executive King Suites, in their own exclusive wing. These rooms feature a two-sided glass fireplace and Japanese sliding doors that open onto a large soaking tub in a khaki-colored granite and wood bathroom.
Turndown service includes a tiny chocolate lobster on your pillow – how more Maine can you get?
Dining at Portland Harbor Hotel
The in-house restaurant, BlueFin, is the perfect place for a pre-dinner cocktail or a signature Lobster Popover. Yes, Portland is a James Beard-winning restaurant town, but this casual vibe in-house restaurant has one thing that all the others don't: an enticing patio garden with fire pit and fountain.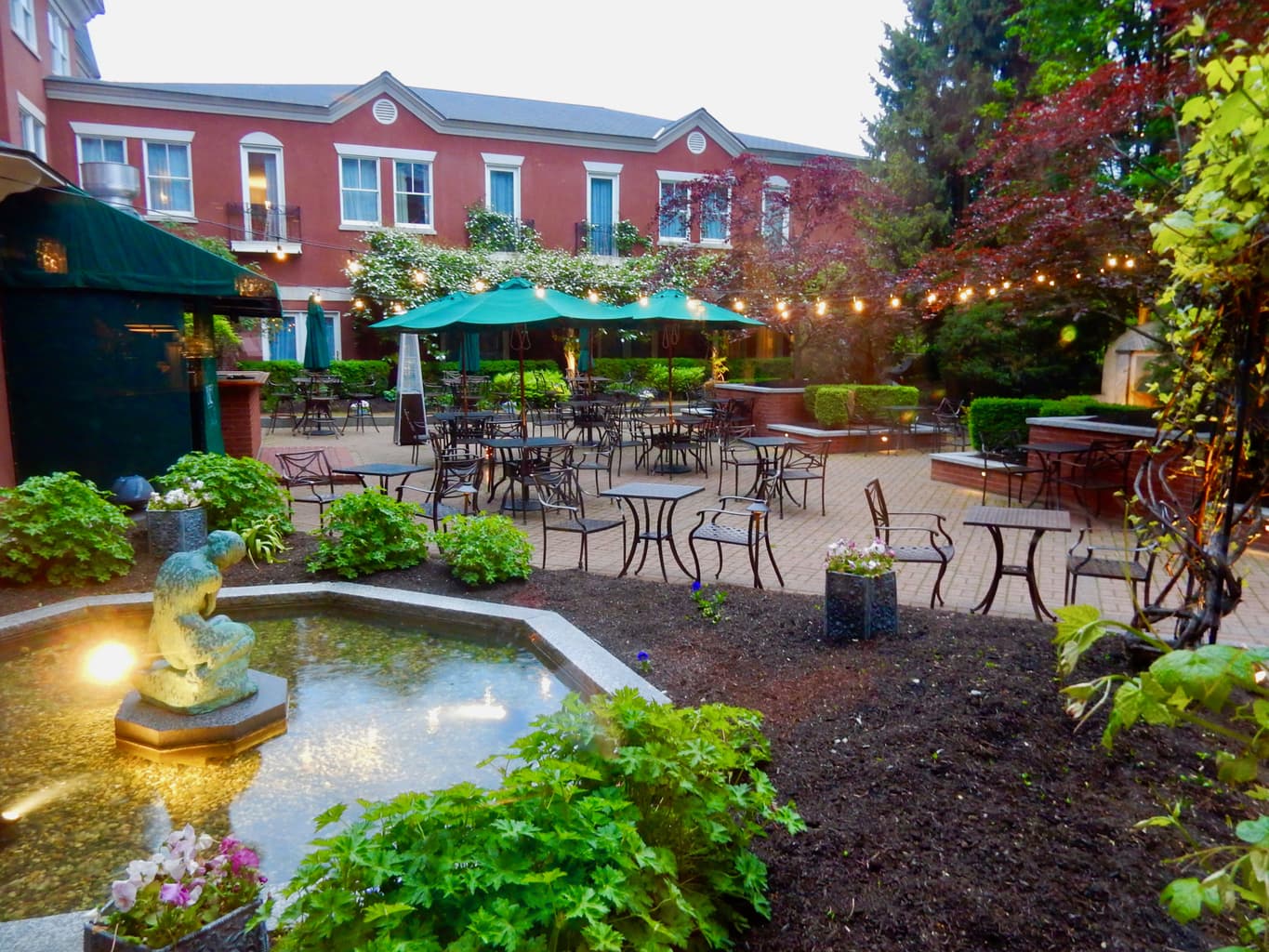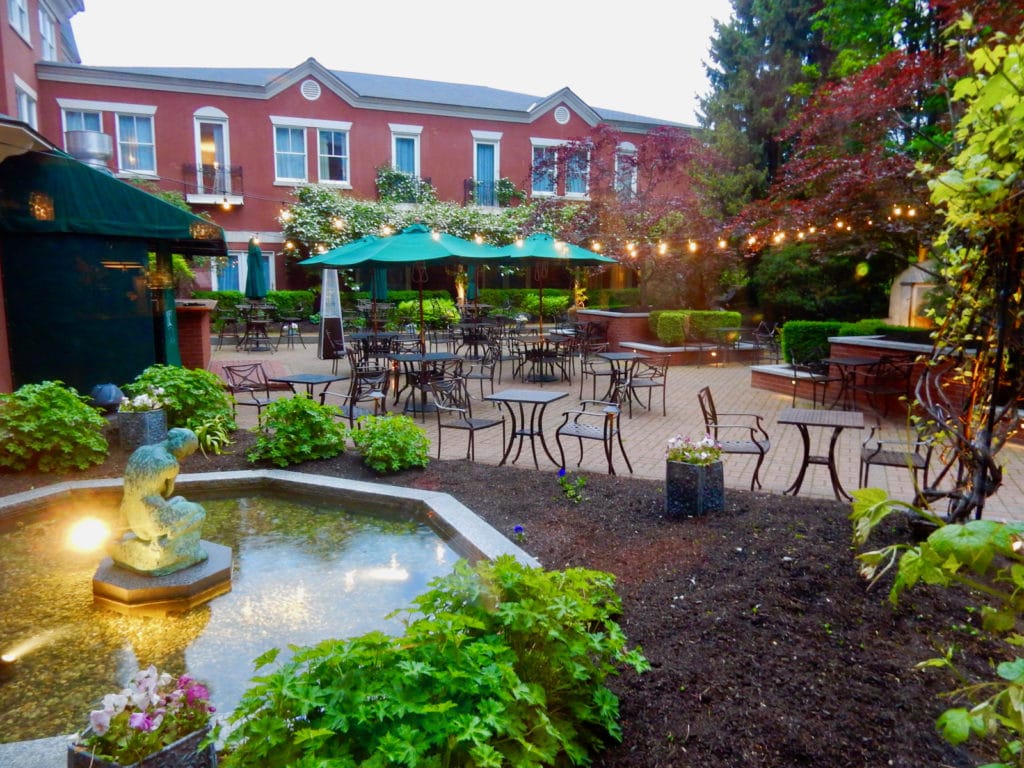 Off the lobby of the hotel on the second floor, diners who are not staying in the hotel won't find it wandering the storefronts, but it happens to be one of the coziest (read: low-lit) bars in town with savvy bartenders who can whip up the perfect drink.
Choose a love-seat or a table overlooking the garden and dine on "Lobster Scargo" – lobster chunks in garlic butter with herbed crumbed topping ($21), Fisherman's Ravioli (with fish of the day, $34), Wagyu Burger ($19), the above-mentioned Lobster Popover which comes with fries and slaw (MP), or any other surf-and-turf type dish.
Amenities
Fitness Center with latest machines in the Executive Suite Wing, though available to all.
Complimentary bicycles.
Starbucks coffee self-serve machines available in the morning on each floor.
Just the Facts
Rooms and Suites at Portland Harbor Hotel from $189 (low season deluxe room) to $529 (high season suite) includes use of bikes, wifi, and Starbucks coffee.