Last Updated on
An homage to the past, with an eye towards the future, Porches Inn is an example of witty repurposing. The ultimate in building recycling, developers took an eyesore and created a luxurious, but homey inn, utilizing pieces of the wreckage.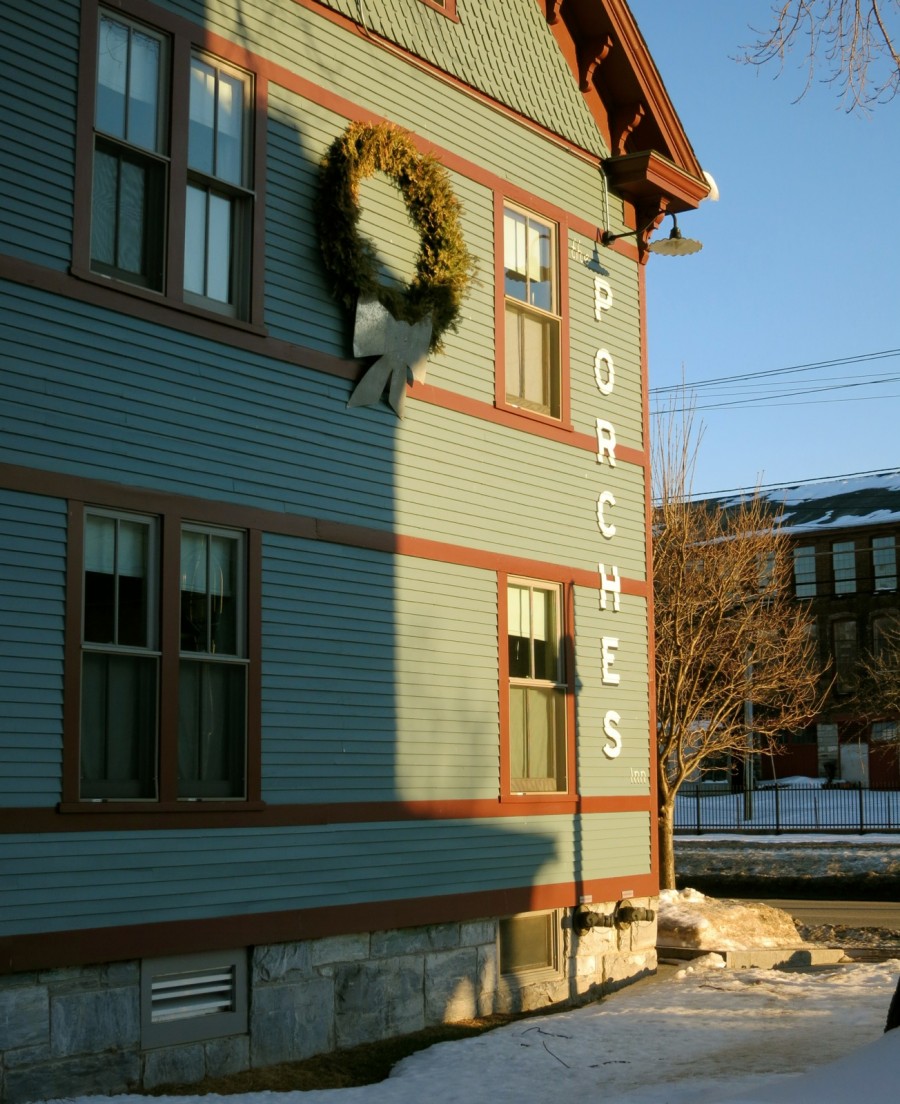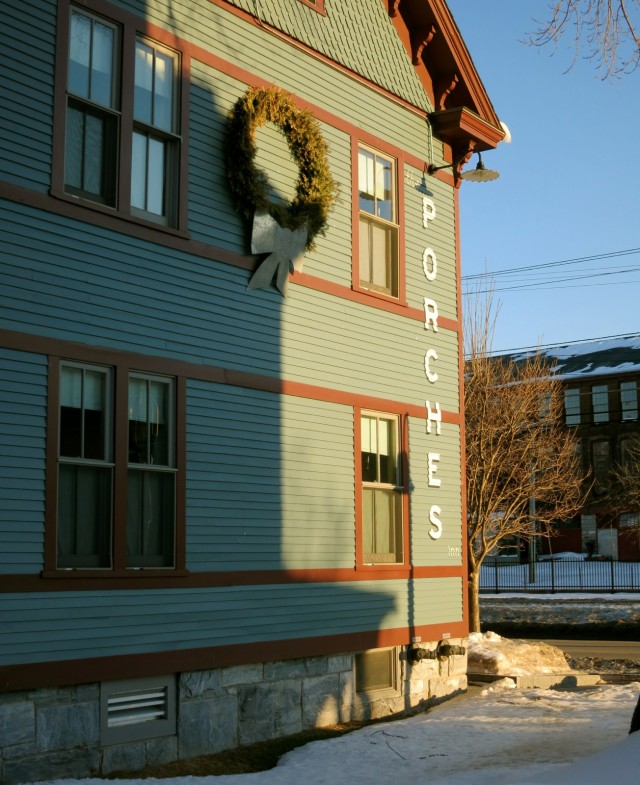 Once a dilapidated series of row houses for the millworkers who toiled across the street (in the factory complex that now serves as MassMoCA), each guest room is an upscale, charmingly quirky take on blue-collar Victoriana; what one reviewer termed "granny chic."
Though it opened in 2001, I first visited Porches in the late 'aughts and was very impressed. Another visit in March '15 only reinforced my positive impression. The owners have kept up the integrity and cleanliness of the property and rooms, while adding a few things: most notably, the honor bar in the parlor and a tiny gift shop.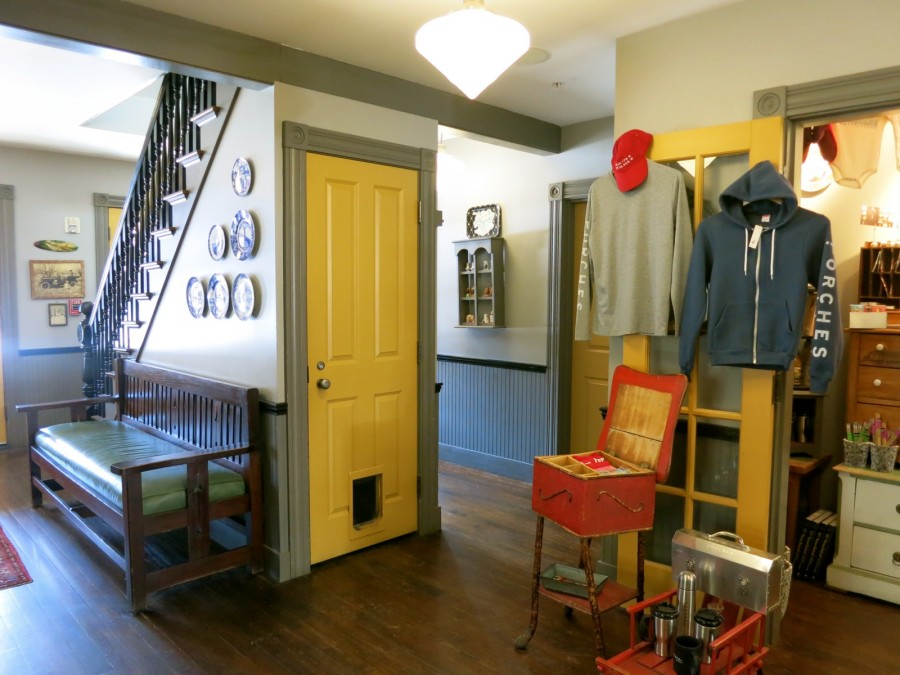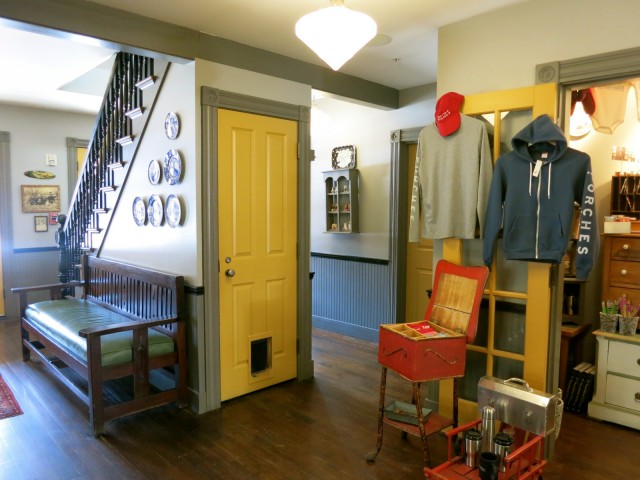 There are 52 rooms set inside 6 main buildings (each building comprised of two row homes connected by an interior hallway topped by skylight), so you'll have to walk outside at some point to get to your room.
GUEST-ROOMS AT PORCHES INN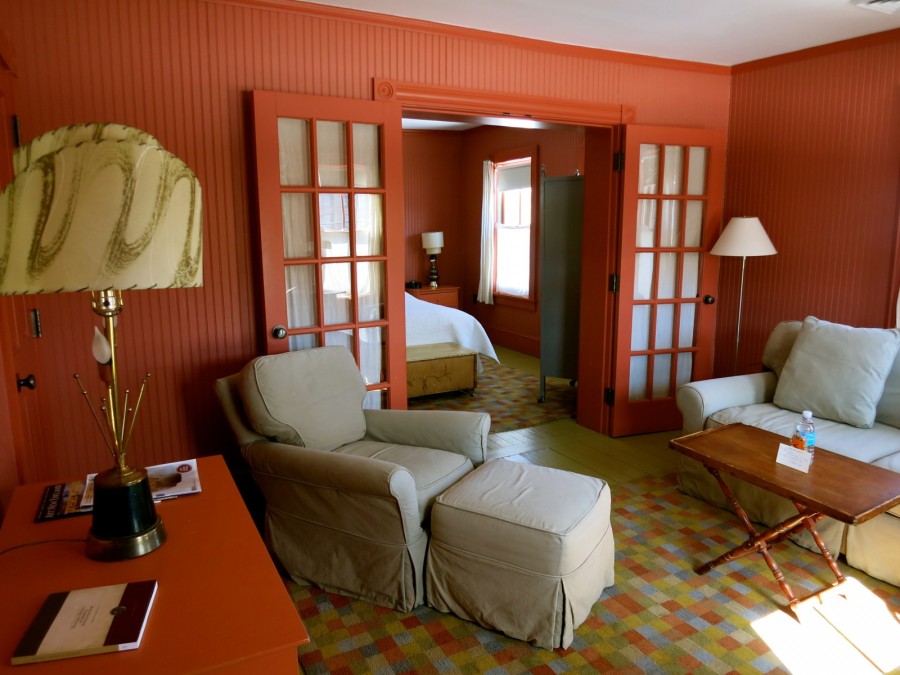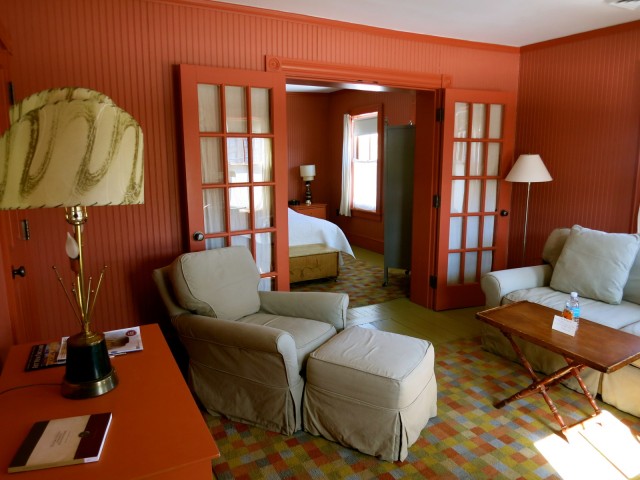 One-bedroom suites are spacious enough to contain a family of four – equipped with Queen bed and a pocket door that closes off a sitting room with desk, settee and pullout couch. Touches include pumpkin-colored wainscoting, linen curtains that look like hanging laundry, a TV/Minibar cabinet built like an apothecary case, and in the still-gleaming bathrooms; white subway tiles, slate floor, and mirrors made from salvaged window frames.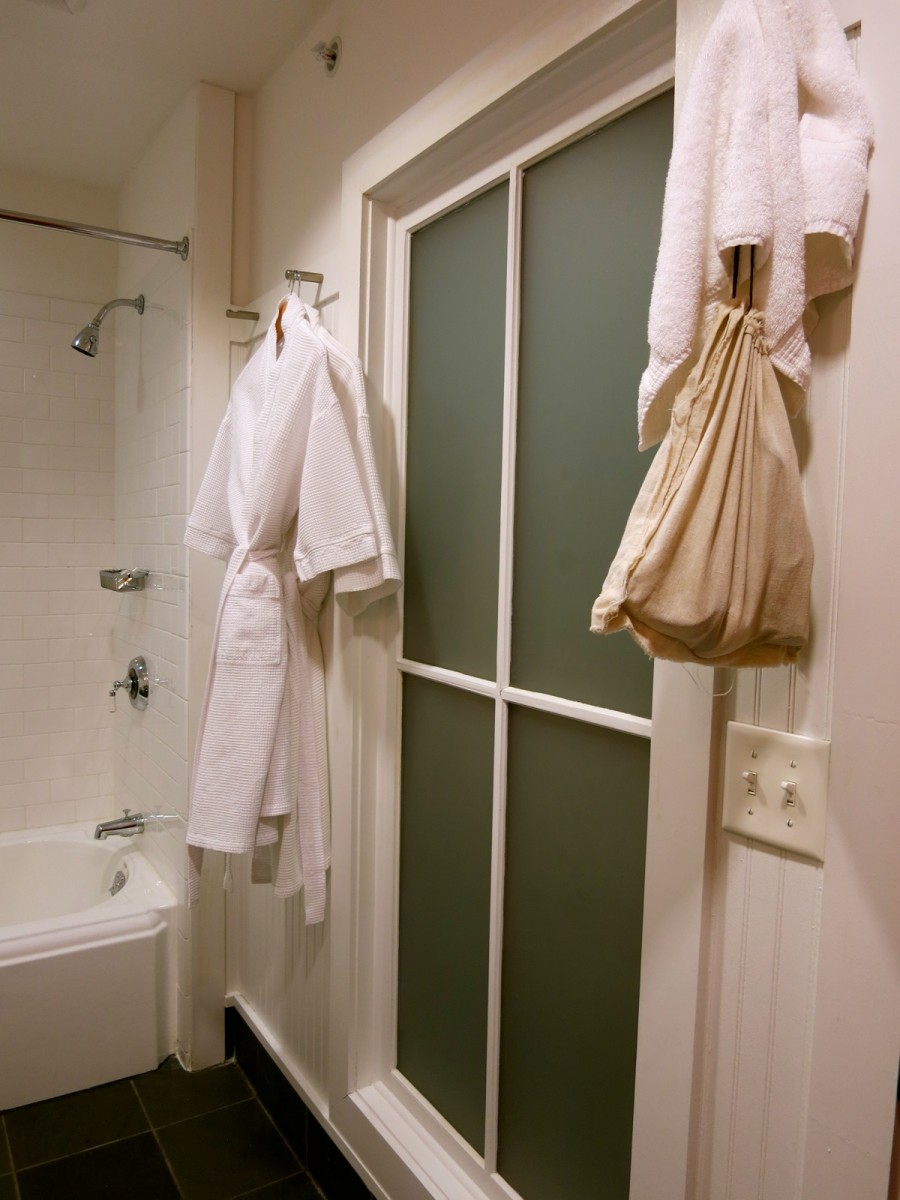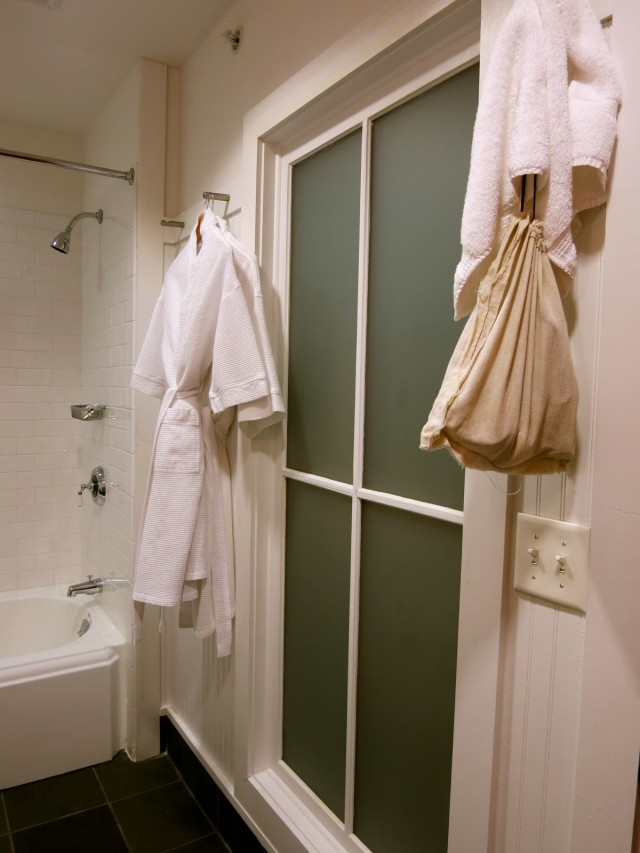 FOOD
Though a Continental Breakfast is set out in the Reception Building, opt for breakfast delivered to your room. Fill out a card the night before, and at your chosen time (beginning at 7am), a coffee-filled thermos and cakey croissant arrive at your door inside a vintage steel lunch-box – another nod to the millworkers who used to live here – along with your choice of newspaper. While there's no restaurant on site, staff will direct you to the best in town – just a few blocks away.
AMENITIES
For an insightful overview of Porches Inn and insider information about design choices, ask the front desk for an IPod tour – in actuality, a conversation between architect Ann McCallum and hotelier Nancy Fitzpatrick.
You'll hear about the history of each building, Nancy's predilection for old hotel signs and kitschy table lamps, and information about many vintage artifacts scattered about.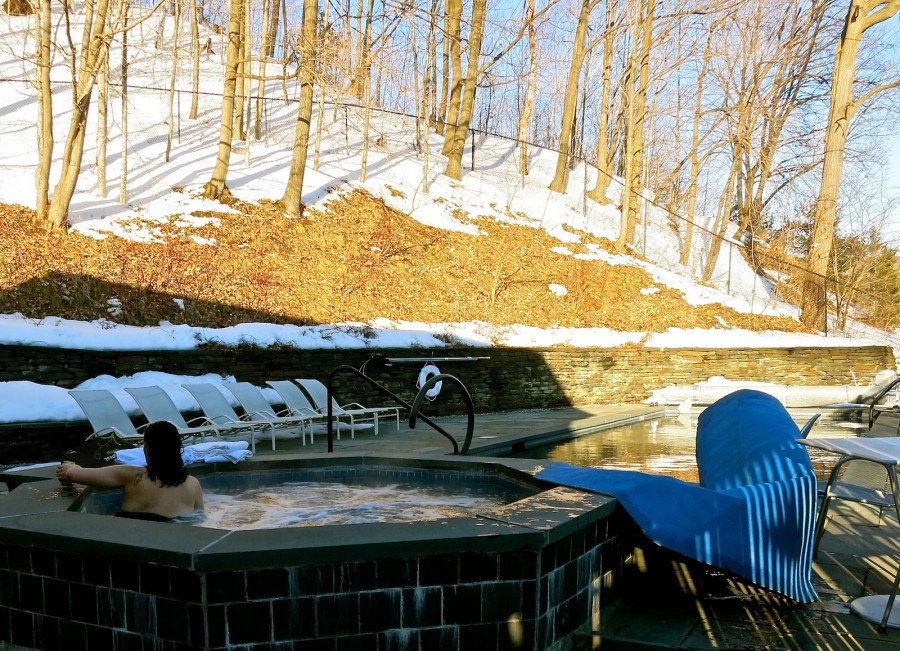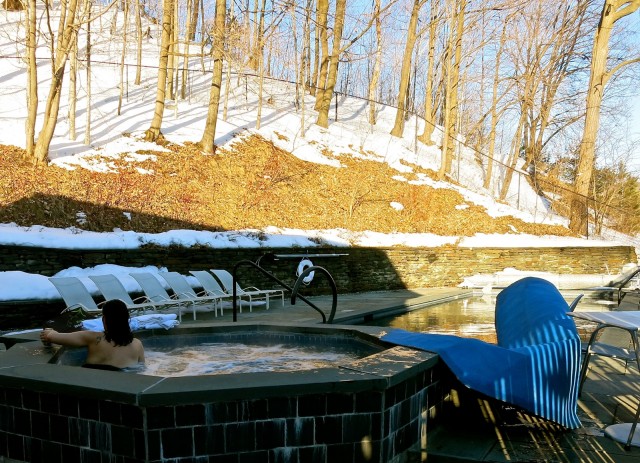 The Outdoor Heated Pool and Hot Tub is open year round.
A well-equipped Fitness Center is open 24/7.
An Honor Bar that includes mixed drinks, wine and beer, is set out from 5pm until late at night every day.
* Sabine, the cat, who claims her own leather chair in the parlor.
JUST THE FACTS
Room and suites from $159-$399 depending on size and season. Includes wi-fi, Flat Screen TV's with Blu Ray Disc players, welcome cookies, continental breakfast served to room in lunchbox. Museum and PJ Party Packages available.
For a more extensive rundown of what to do and where to eat in North Adams, check out this Getaway Mavens post.