Last Updated on
Initially built as a luxury condo complex, rooms at this boutique hotel are immaculate, contemporary and larger than almost any other in town. Some, like the 2,300 sq ft. two-bedroom, two-level Penthouse Suites – are many times the size of a typical New York City apartment, with appointments that any city (or country) dweller would crave. Rooms will soon be refreshed with more silk pillows for pop, more artwork to dress the walls, and new drapery. From here, it's  just a mile to the Saratoga Race Track from the hotel – a lovely walk down mansion-lined streets on a nice day.
One block off Saratoga Spring's main shopping artery, Broadway, the hotel is somewhat removed from the crowds, yet part of downtown. The lobby, in the vivid hues of racing silks, is a jewel-toned fantasia, offering a funky, colorful welcome to what was a delightful overnight stay. The lobby is so unique and eye-catching in fact, as I was checking in, photographers were setting up for a Ralph Lauren shoot. The kaleidoscopic lobby is small by design. That's because the owners decided to use ground-level space for a fantastic healthy food eatery, Blue Peacock Bistro,  and an in-house 4-treatment room salon and spa, Make Me Fabulous  (though you can also call for private spa treatments in your room).
Pavilion Grand Hotel Suites
Each of three floors has its own theme and color palate: Horse Racing on the 2nd floor, Mineral Springs on the 3rd floor and Saratoga Springs History on the 4th.  All 48 suites ranging from 600 sq. ft. to 2,300 sq. ft., are contemporary, but not overly done, with décor in soothing creams and grays punched by teal or orange (depending on the floor) and artsy photos reflecting Saratoga life.
Each suite is equipped with a full sized fridge, cook-top, oven, microwave, a dishwasher, and a washer-dryer – evidence of the hotels first iteration as a luxury condo.
The two-level "Penthouse Loft Suites" are so built for parties and get-togethers; you don't even need to venture out to have a great time. In addition to the fridge, cook-top, oven, microwave, and dishwasher, these kitchens are stocked with Henkel Knives, first class plates and cutlery, and even martini glasses – making it perfect for a bachelorette party getaway (you can hire a chef to cook for you in your own suite!), or just a group of friends who want to check out the baths, thoroughbreds – or a concert.
Beds, dressed in the highest-end sheets and duvets, are so comfortable, I enjoyed one of the deepest, most sound sleeps I've had in a long time. Bathrooms are large, with stylish tile floors, granite counters and bathtub showers.
Penthouse suites also feature huge outdoor patios – some with gardens – all with comfy seating. On nice days, just enjoying a book and/or a glass of wine with the sun on your face can be nirvana.
Dining and Amenities at Pavilion Grand Hotel
The Pavilion Grand is strutting its stuff as part of the rebranded "Pavilion Square," which encompasses the following:
Make Me Fabulous Salon and Spa (originally in Ballston Spa), "makes fabulous" all the cover models for Herlife Magazine, and provides facials and body treatments as well. (Hair, makeup, lash extensions, waxing, body scrubs, massage, reflexology, etc. – no nails, however).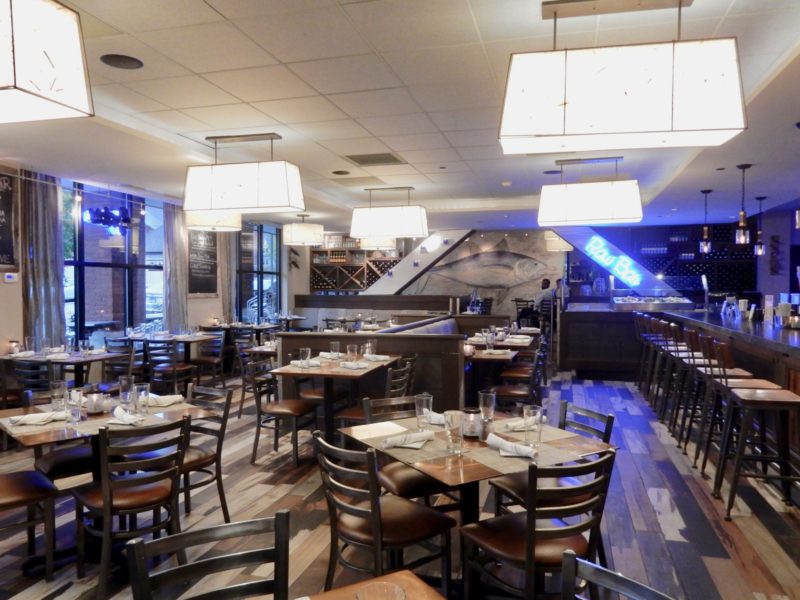 Fish @ 30 Lake, recently replaced Mingle on the Avenue. Back home from over a decade in Hawaii, Chef Jeff Rayno is skilled in the art of seafood prep – Fish is the place in town for lovers of Raw Bar offerings. Dishes like Line Caught Halibut with Skillet Fried Potatoes ($29) hit the mark, but I'd return any time, any day for the Ahi Tuna Nachos for two ($23, holy-moly-amazing), and Truffle Sweet Soy Roasted Brussels Sprouts. Sharing those two dishes with a glass of wine is my idea of the perfect light dinner.
Blue Peacock Bistro: Guests and non-guests alike can pick up something healthy, discover their next favorite craft beer, sit at a cute Bistro table, or take-away. Though several blends of cold-pressed Legacy Juice (founded in Saratoga, and now available throughout the US) are available, the Bistro's most innovative addition is the "Wine Kiosk" – a key-card operated fine wine dispenser – enabling you to have your one, three, or six ounce glass of wine at any hour of the day or night. You can also buy a whole bottle of wine, and cheese wedge, for an impromptu romantic evening in or picnic out.
Just The Facts
Suite rates $127-$300, with largest two-bedroom Penthouse Loft suites from $500-$1500 – most costly during racing season – includes free wi-fi. Parking $15 per day.