Last Updated on
A big darkly colored Victorian – something the Adam's Family might put up on AirBnB – Made Inn Vermont B&B is a contradiction in so many ways, starting with the fact that it is small (only four rooms) but has a growing reputation among fashionistas, rock & rollers, and mid-century modern style fans who also love craft beer. Here's why:
First Impressions of Made Inn Vermont, Burlington VT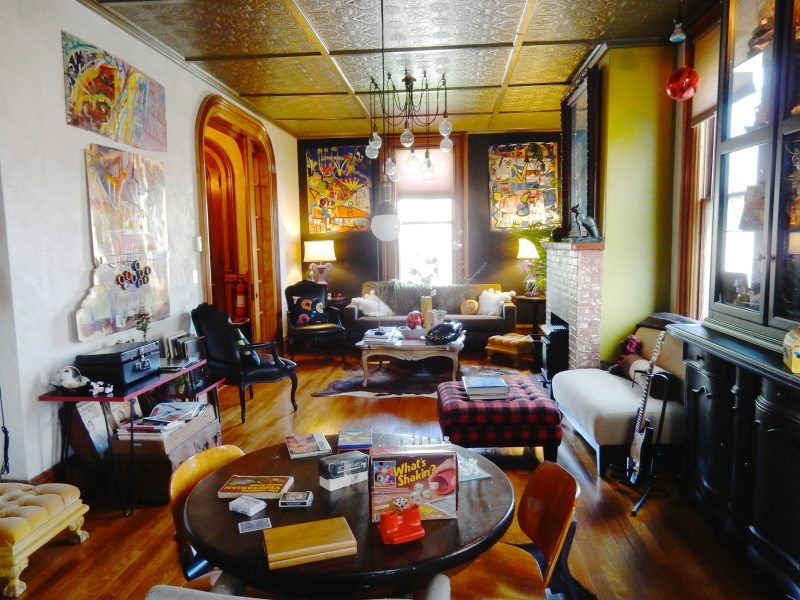 Meeting exuberant innkeeper, Linda Wolf, for the first time is like taking a shot of espresso. She's high-energy and all-in when it comes to granting guests a phenomenal stay, with a vivaciousness that ricochets around the room.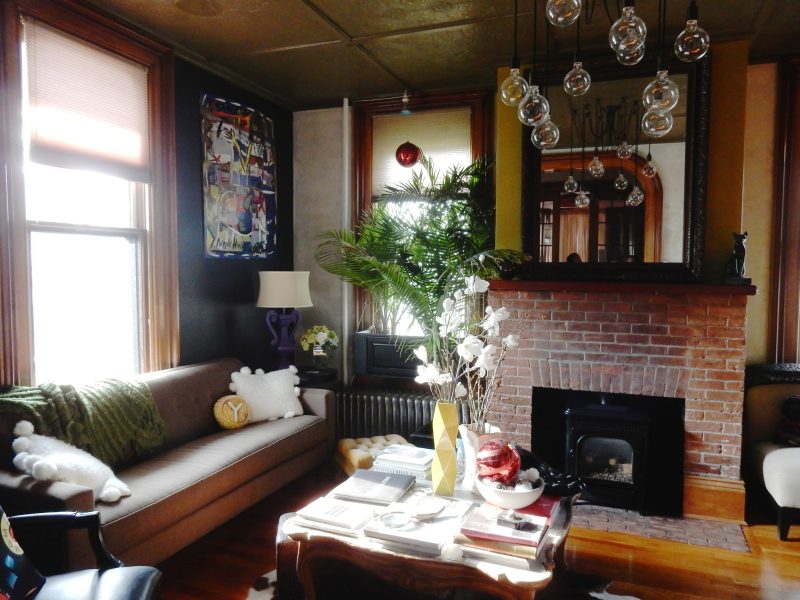 Contradiction # 1: as bouncy as your first exposure to Linda is – that's as chill as you will soon be after drinking deeply from the can of beer, glass of wine, or goblet of Sangria that she delivers out to the hot-tub patio or up to the "Widow's Watch" 360 degree-view third floor turret.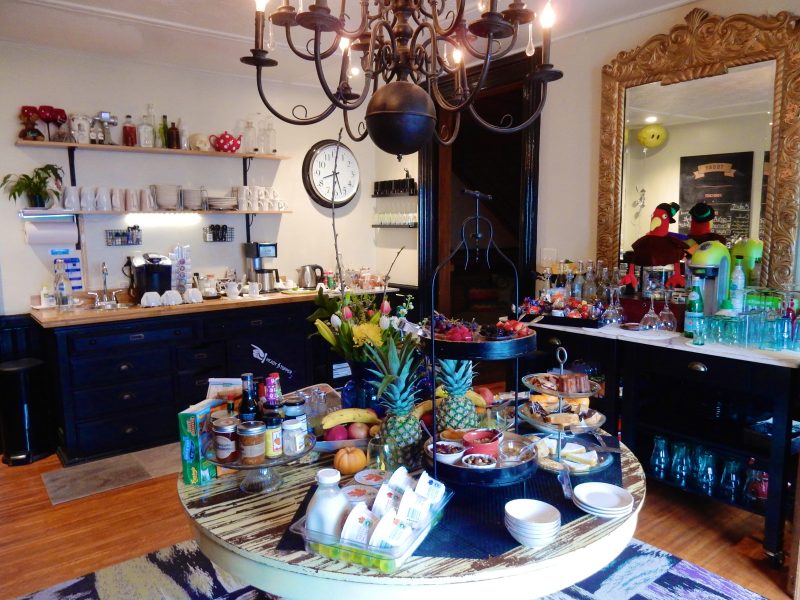 Contradiction #2: Made Inn Vermont is outwardly Victorian with "Urban-chic" innards. In this 1881 home, exquisite woodwork and high ceilings are to be anticipated, but common rooms are quite surprising: crammed with artsy bric-a-brac, vinyl records and record players, snacks, books, games, and colorful, contemporary paintings. It might be a tad cluttered – but it's Victoriana turned on its head.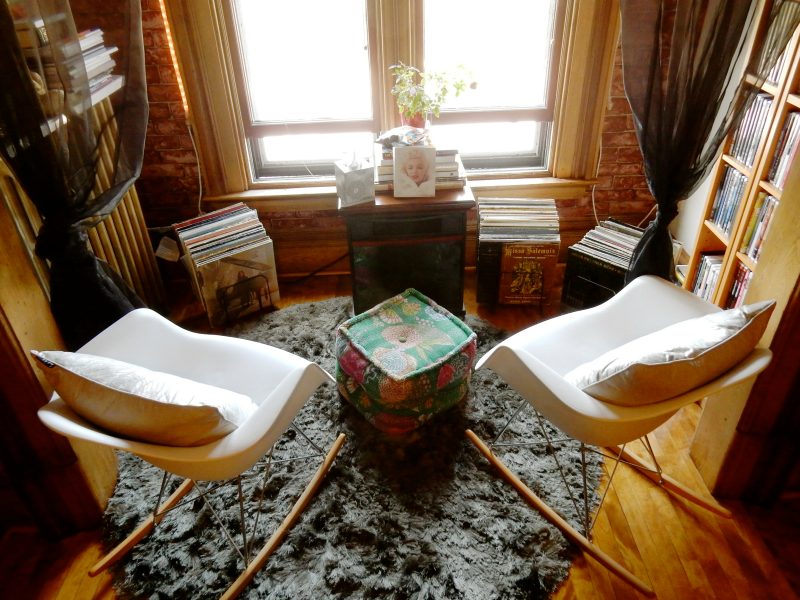 Contradiction # 3: Guests cross generational lines. Millennials love this place, but adventurous Boomers who appreciate free wine, beer and mixed drinks, unlimited snacks and water, and a large collection of vinyl rock and roll records to play in private on a turntable in each room, adore it here as well.
Rooms at Made Inn Vermont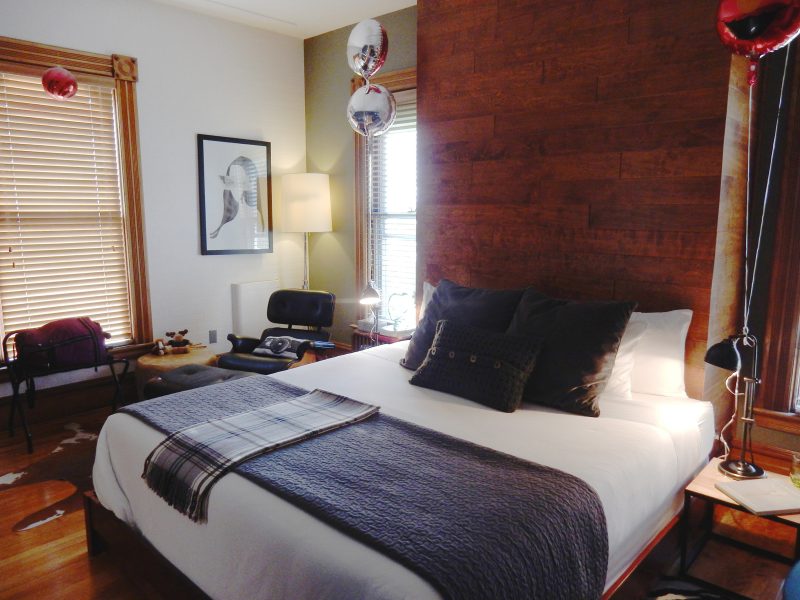 Contradiction #4. Guestrooms are airy and outstandingly designed in funky, cool, mid-century modern décor, but lack en-suite bathrooms (each room is assigned a bathroom down the hall – so you do not share).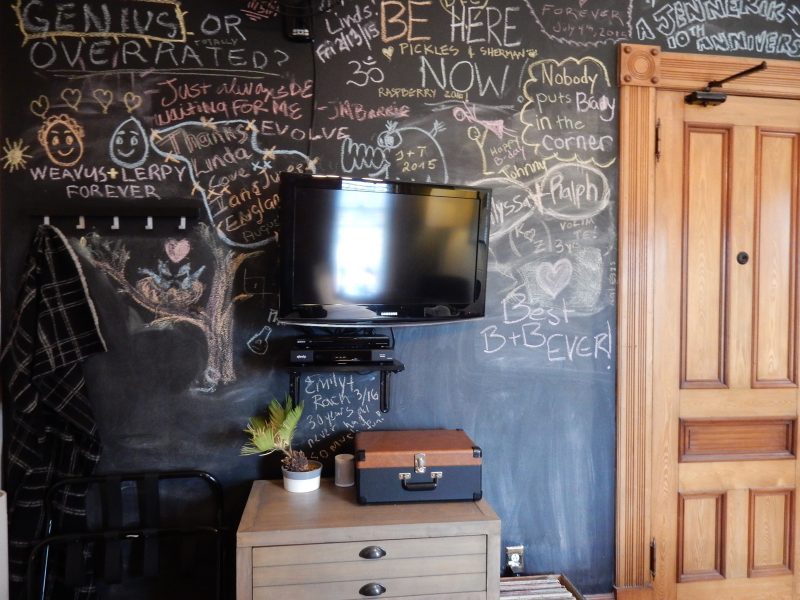 Each room sports one blackboard wall (with chalk) for guests to write on (right on!), lava lamps, soft sheets on downy beds that are oh so tough to leave, and fridges stocked with water, soft drinks, and heavens above, a can of Heady Topper and Focal Banger. Yes, complimentary.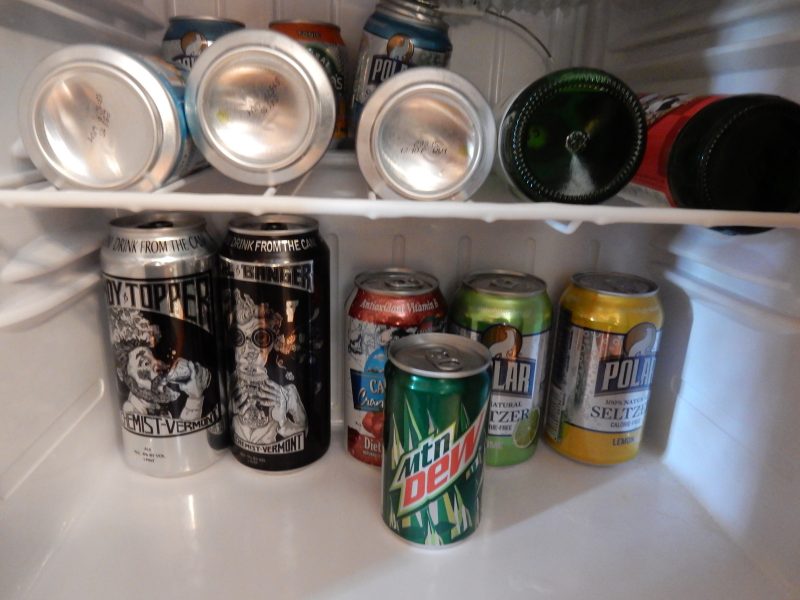 Food at Made Inn Vermont B&B
There's wine and beer on arrival, snacks and water at all times of day, a fridge in your room stocked with Heady Topper, Focal Banger and other soft drinks, a basket of snacks in each room, and a very lovely custom-made hot breakfast in the morning that just might be an artistic sampling of Linda's Greatest Hits: roasted brussels sprouts, breakfast potatoes, and anything else Linda finds fresh in the kitchen.
Just the Facts
Rooms from $279-$379 depending on size and season include wi-fi, drinks (soft, wine and beer), snacks throughout the day, buffet and made to order hot gourmet breakfast. Well-behaved dogs of any size are welcomed here, but people with fur allergies or who have problems with dogs should stay away (two – a Great Dane and baby Chihuahua – visit often).