Last Updated on September 26, 2021 by Editor
WHY: Though more and more cities are saving important buildings from the wrecking ball, the award for the most repurposed downtown goes to that bastion of Amish Culture, Lancaster, PA.
Most tourists visit this region for a glimpse of the austere, electricity-shunning PA Dutch. But there's another reason to make the trip out to the Pennsylvania countryside –  and that's for the burgeoning arts (both fine and performing) scene.
A SCENE?  An ART'S SCENE in the middle of Yoder's Meats-land with the vibe of Brooklyn, NY? Yep. There are over 150 art galleries and two performing arts centers along with a growing collection of gourmand-approved restaurants, wine bars and SoHo-style boutiques.
Plus, Lancaster was home to the country's 15th President, James Buchanan, and his stylish house is open for tours. Of course you can come back and do the Amish Country or Lancaster History thing, but this Getaway is all about Arts, Crafts, and Theater.
Things To Do In Lancaster PA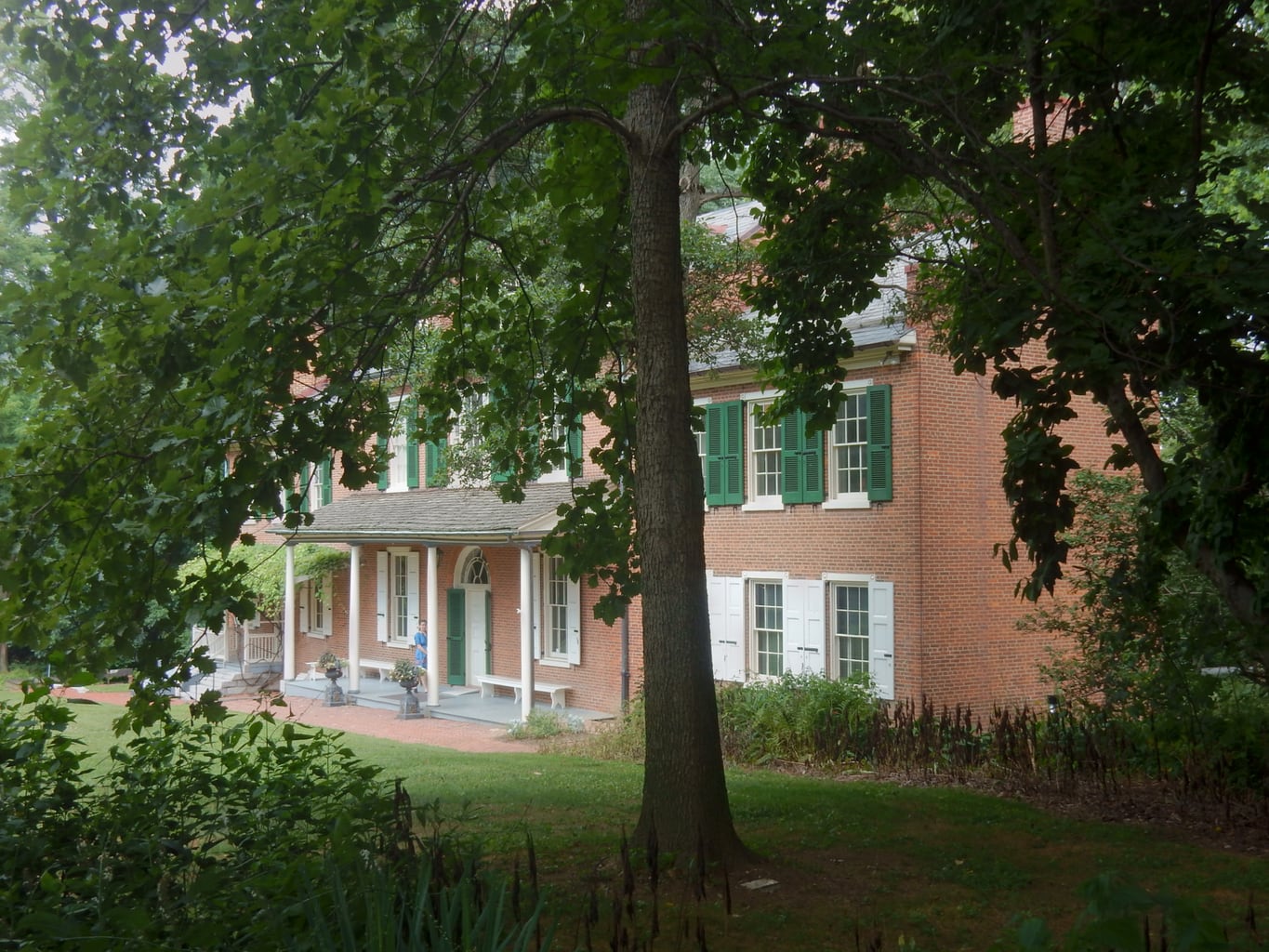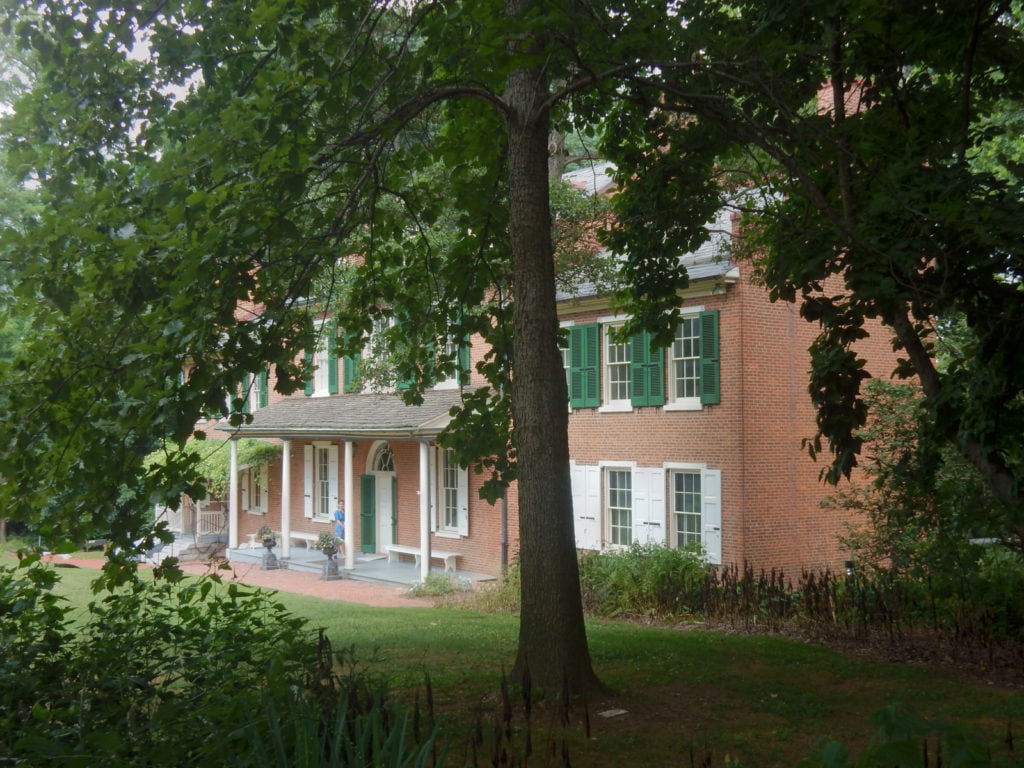 Your tour begins in the LEED-certified Visitor's Center, managed by LancasterHistory. Peruse the museum exhibitions – and don't miss the temperature controlled Decorative Arts storage room in the basement with a weird wax figure of Buchanan. Watch a 22-minute orientation film, and obtain tickets for your Wheatland tour next door.
The "Batchelor President's" Human Side
Buchanan's administration is commonly understood to be one of the worst in US Presidential history. But this 30 minute tour is fantastically entertaining – depicting the "bachelor President's" human side.
Fortunately, artists of the day sketched each room as it looked when Buchanan lived here. So historians were able to duplicate them with a third of the President's original pieces of furniture and the rest of the period – making for a very authentic look at the way he lived.
Buchanan purchased the stately circa 1828 brick home in 1848, and moved in with his orphaned niece, Harriet and nephew, Buck. A confirmed bachelor (the only US President who never married), Buchanan had no children of his own.
There are no ropes or barriers in the house, making it one of the most accessible Presidential House tours in the country. The foyer is bright and sunlit. Its stunning Mahogany rail and Tiger Maple spindle staircase lends a "Shaker-esque" vibe.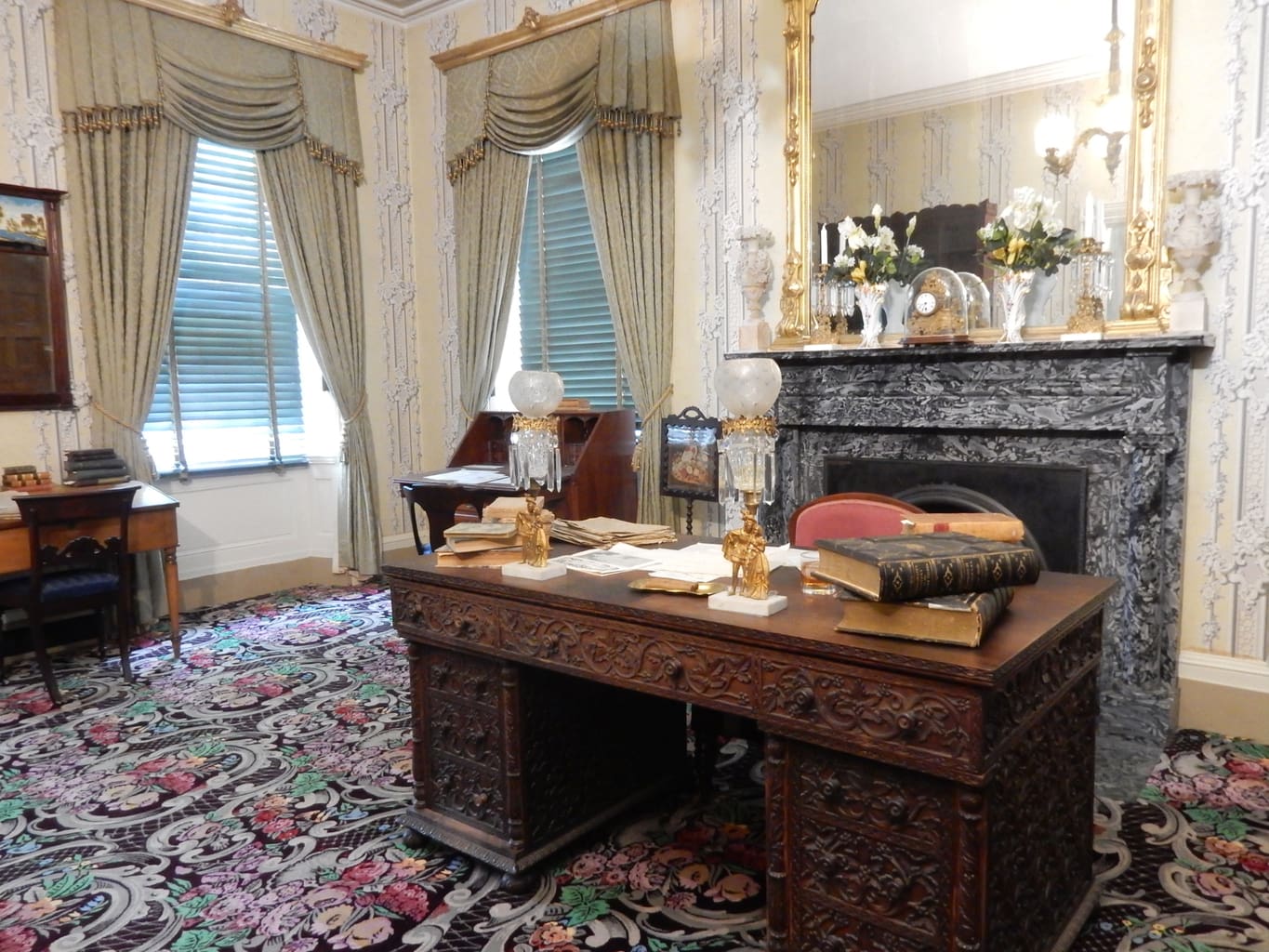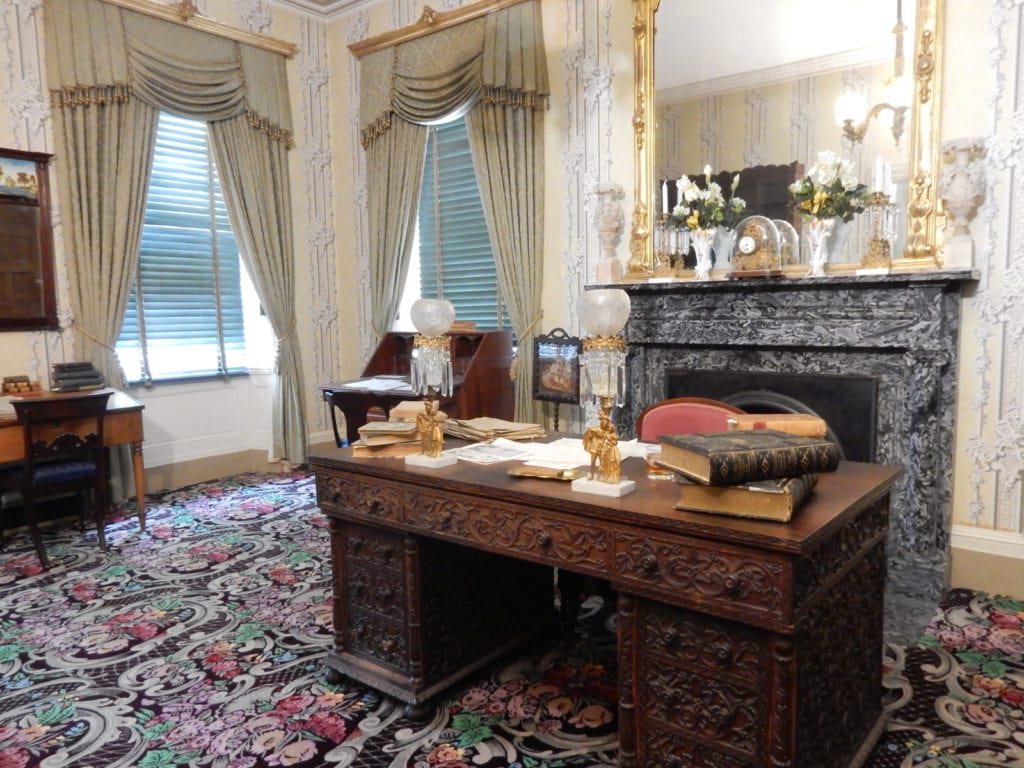 James Buchanan Desk Wheatland Lancaster PA
Set in his ways, Buchanan didn't campaign outside his house, but hosted movers and shakers in his parlor. The dining room is small and intimate. The table is set with authentic White House china that Buchanan brought with him to DC, because he liked his own stuff. To illustrate Buchanan's love of Madera Wine – an original bottle from 1827 stands on a side table.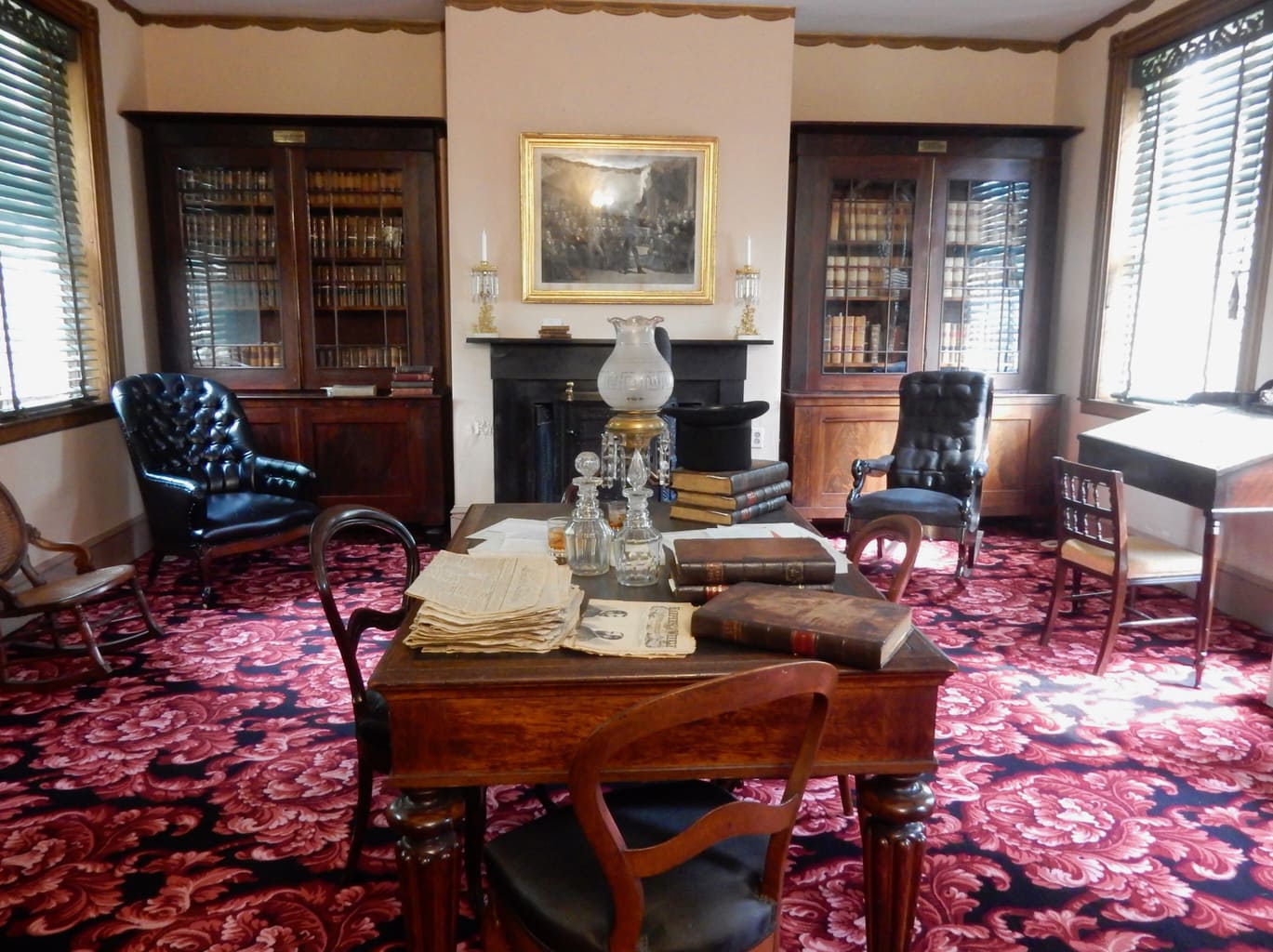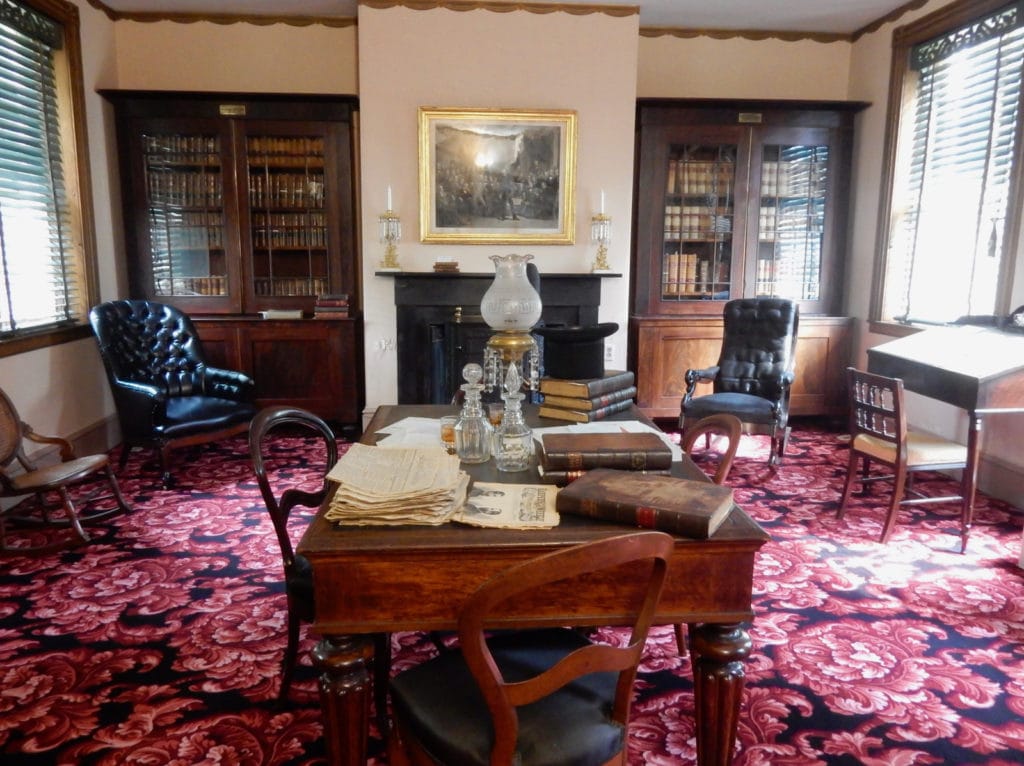 Buchanan's favorite hand-carved teak desk, a gift from Calcutta India, dominates his handsome office. And the reproduction rose and black floral carpeting in the low-lit Library reveals that décor in the mid-1800's was far from drab. Open Mon-Sat. 9:30-5. Tours on the hour from 10-3, $15 adults, $8 youth, children under 10 free.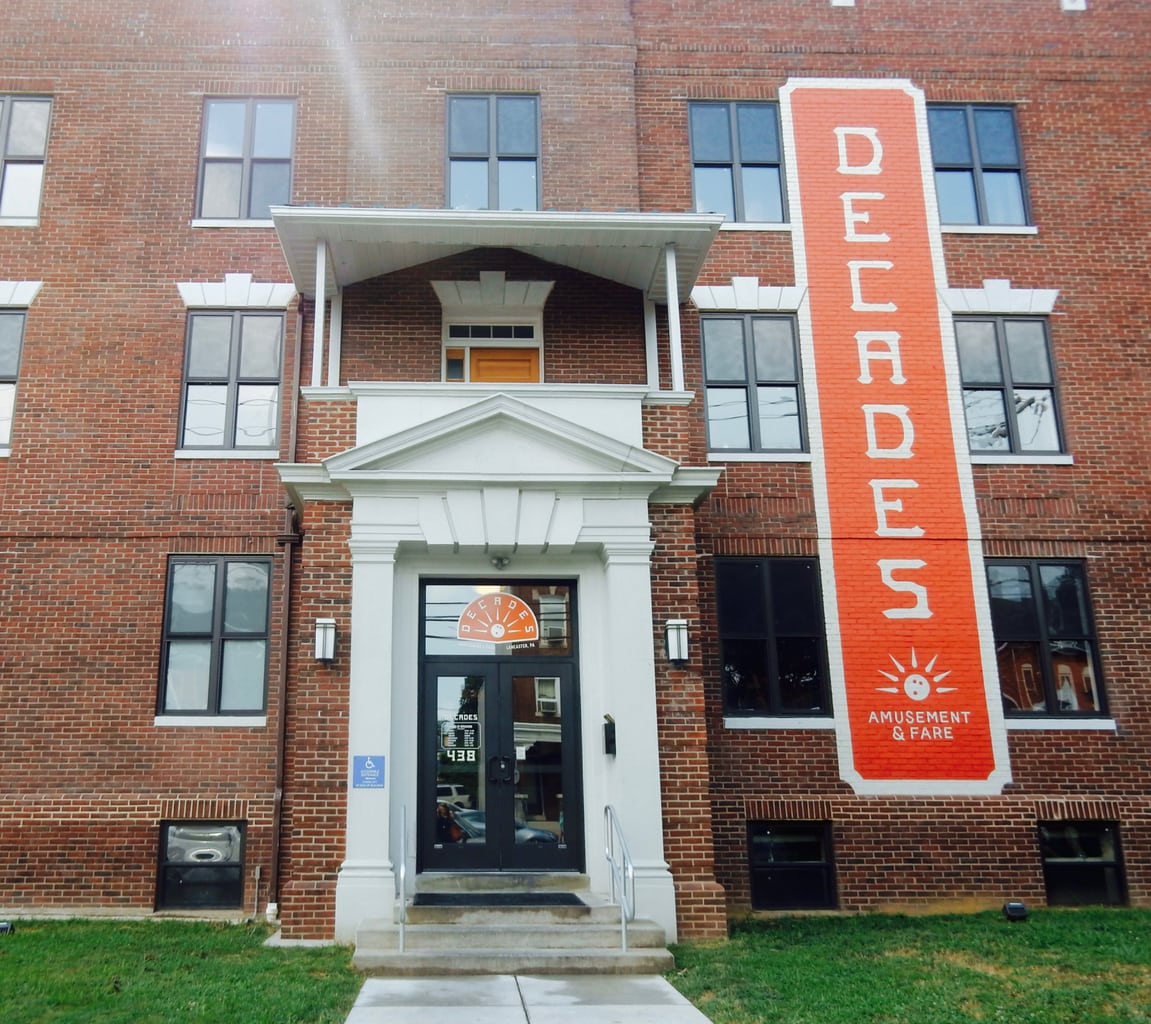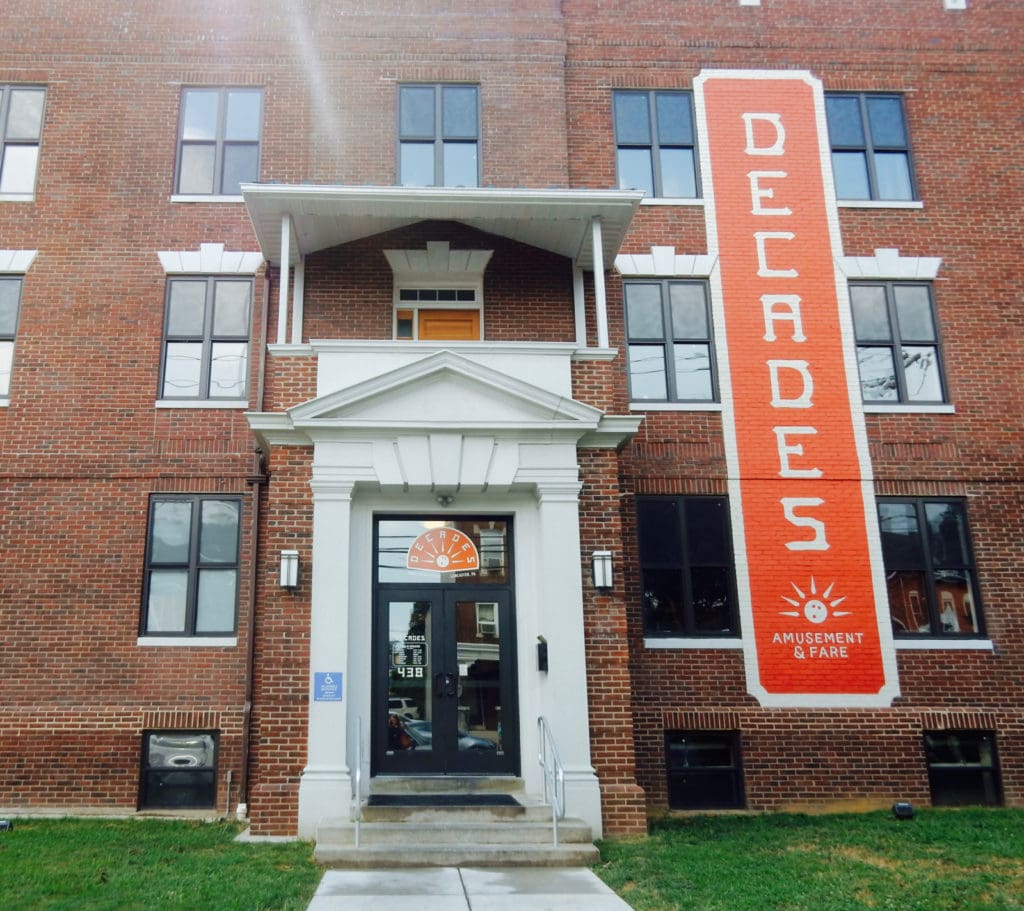 A half "deca" team (that's 5, by the way) got together to open a bowling alley, retro arcade, restaurant, and bar in the former Stahr Armory in Lancaster. Jonathan Yeager, Chris Trendler, Adam Ozimek, and Mike and Bri Callahan believed that locals yearned for a place to hang out where they could be active and social at the same time.
"There were bars, and there were arcades, but Lancaster lacked things to do," said Yeager. Opened in March 2019, Decades – so named to invoke a feeling of nostalgia for young and old – has been a boon to the city's growing nightlife scene since day one.
House of Cards fans might recognize some props scattered about. Most of the furnishings, including the host stand, the mirror behind the bar, pendant lights and chandeliers came from the Cards set. Besides the six-lane bowling alley, there's SkeeBall, Ms. Packman, Donkey Kong, and other blast from the past games.
I've heard that the Honey Garlic Wings are epic (I didn't try them, though), and the space is family friendly from the time it opens at 4pm until 8:30pm-midnight, when it becomes a 21+ venue. Closed Tues, weekends open at 12, weekdays at 4, till midnight or 1am.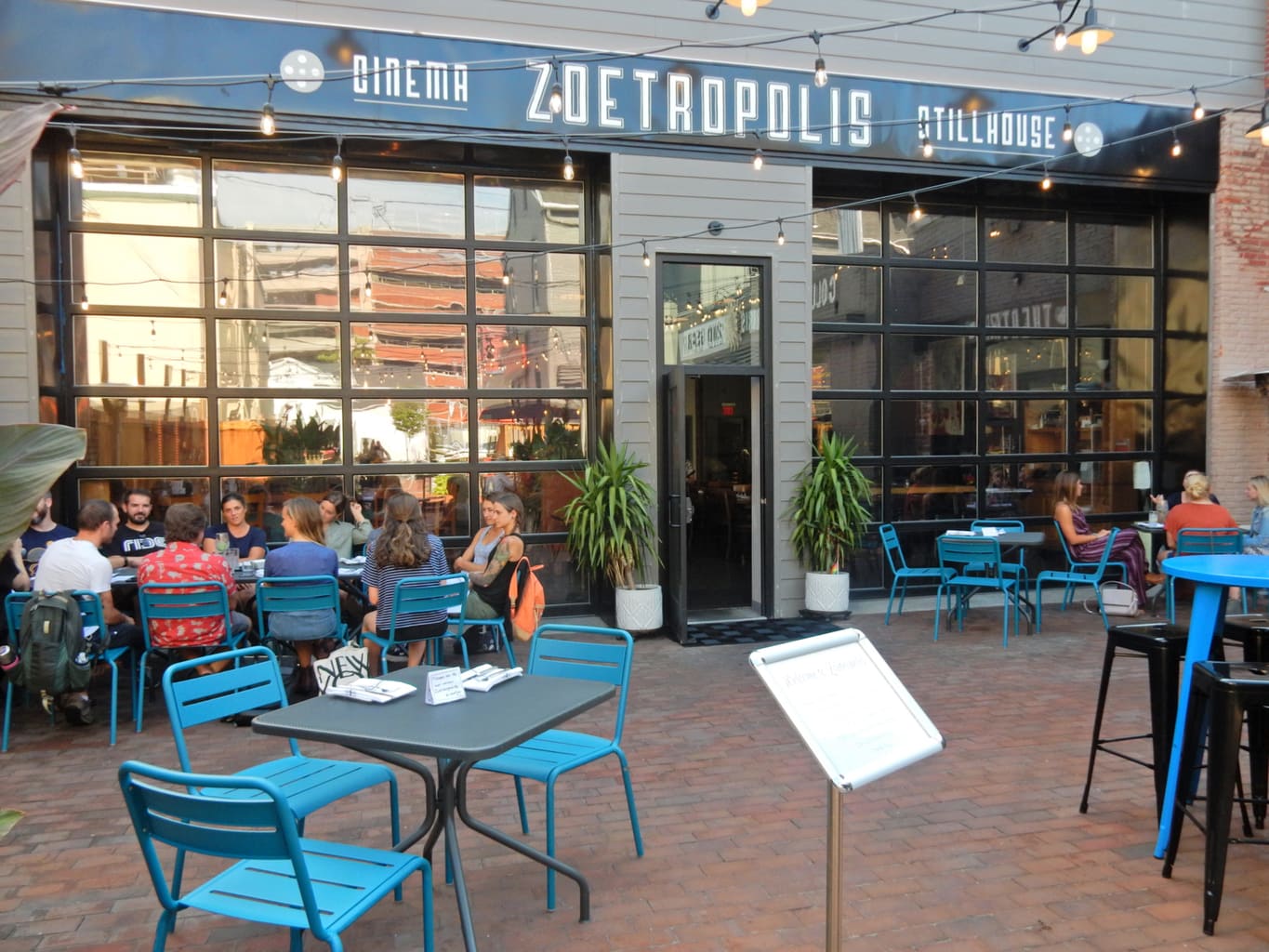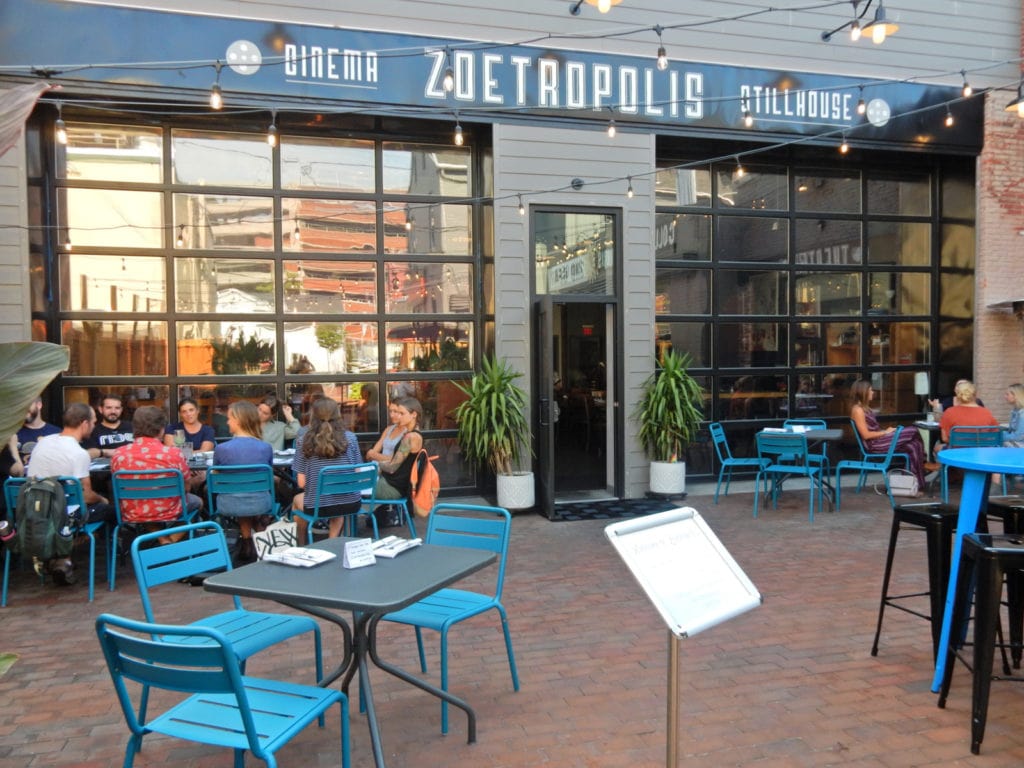 Middle School art teacher, Nate Boring (in partnership with 4 others), found a used furniture store and turned it into another mixed breed of bar/eatery.
Zoetropolis combines an indie movie/live theater venue with an open-kitchen restaurant and bar. And, a rum-focused distillery. Harking to Prohibition,  Zoetropolis turns out Silver, Spiced, and Aged Rum from a series of shiny looming stills.
The Restaurant satisfies the "small bite" crowd, centering on Tapas and a variety of inventive dishes like Smoky Molasses Glazed Salmon ($14), Scallops, and many Vegan options.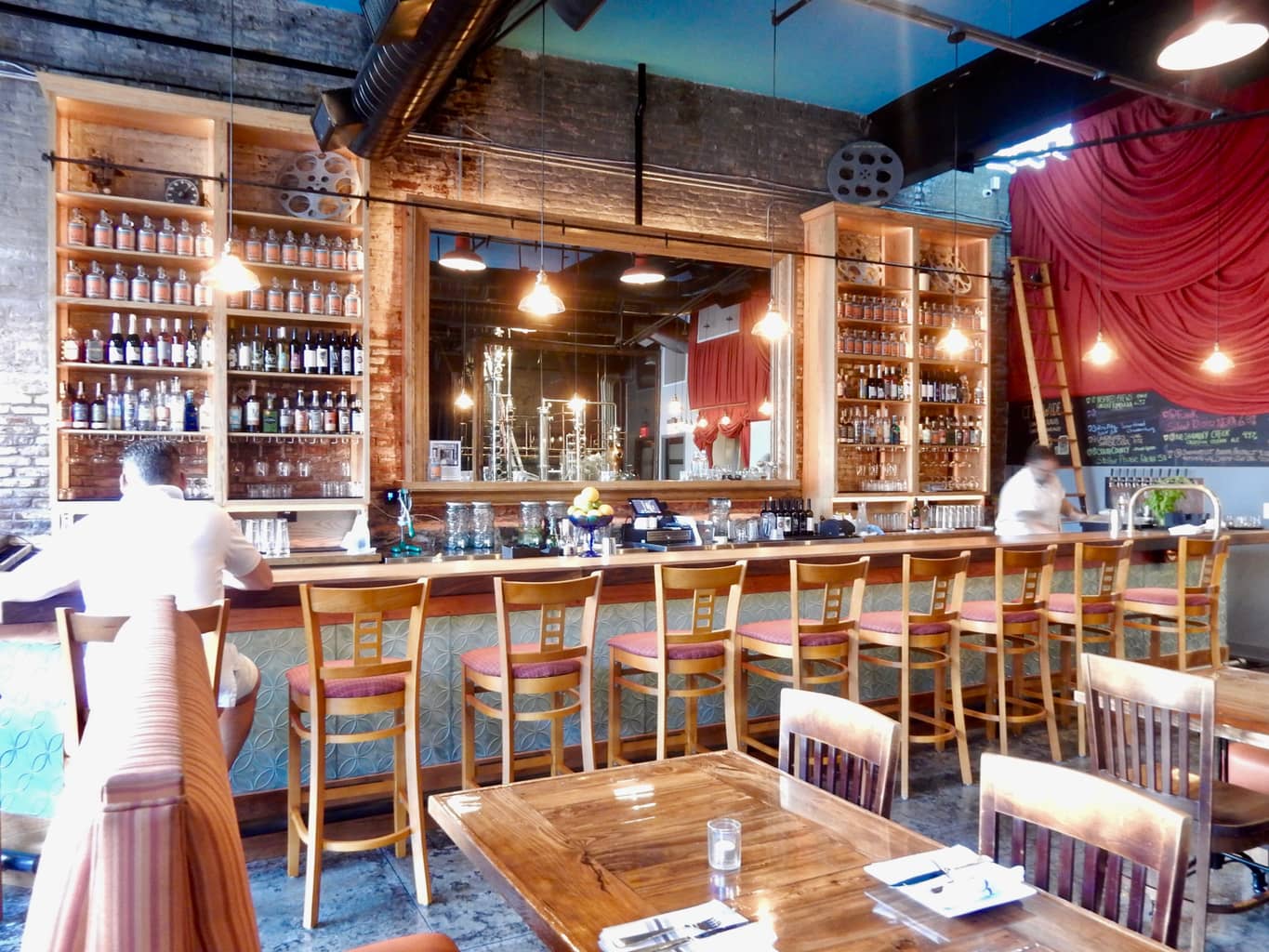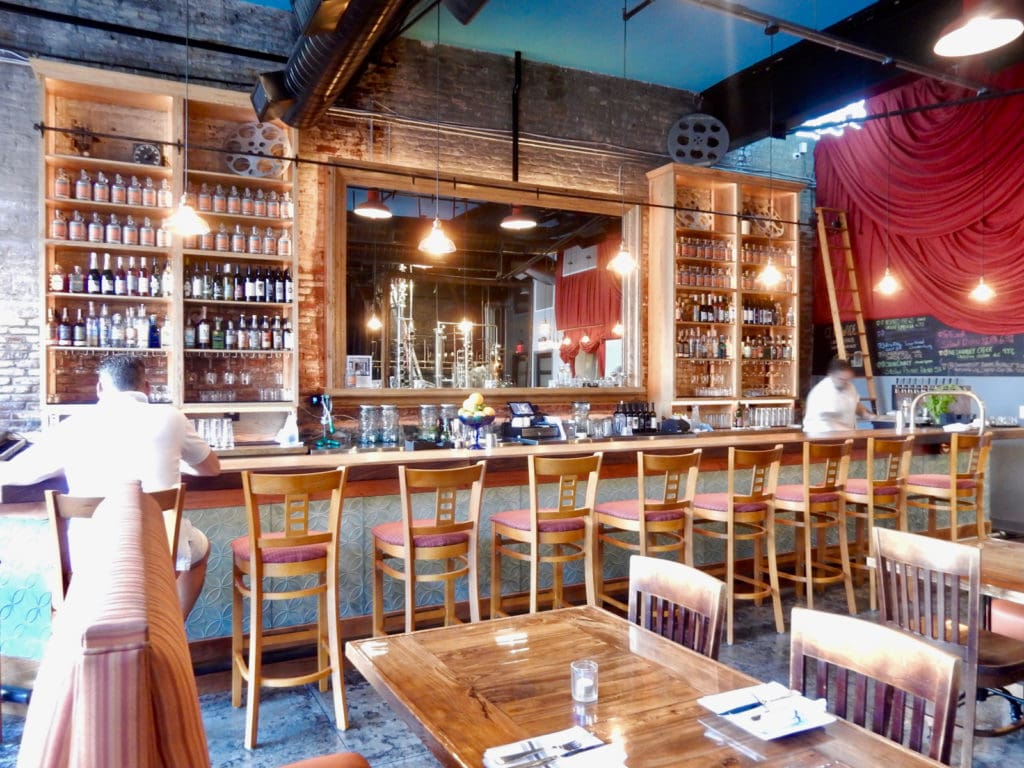 As an art teacher who continues to teach, Boring is in awe of the eclectic creative spirit involved in designing the building's interior and concocting the firewater made here. He contributed to it by fashioning a shuffleboard bar top, hand-making decorative tiles, and sourcing local trees for the black walnut shelves. Zoetropolis is certainly his labor of love and a true work of art.
If you arrive on Tuesday, Friday or Saturday bring a cooler, and tote it to the country's oldest continuously operating public market, Central Market, "where city and country have come to meet" for more than 200 years.
Locals are proud of this mainstay (Lancaster was an inland "market town" dating back to 1730), and you might very well hear a neighbor call out, "will I see you at market?" on non-market days. With sixty-two separate vendors (some operating as family enterprises for over 100 years), you can find an abundance of ethnic foods here, too.
Just don't forget to say "hi" to Vince at Sweethearts Celery. He sells celery and nothing but celery – the best, of course.
The PCAD, a leader in the installation of public art, has been a downtown anchor for thirty years. It hosts free lectures, international artists and signature events. At the very least, pop in to peruse the latest exhibition in the Main Gallery, as exhibitions change periodically.

This city of 60,000, amazingly, has two live theaters.  Built in 1842, and renovated in the 1870's after Sarah Bernhardt declared it "the worst place to perform," The Fulton Theater (named for Lancaster-born Robert Fulton, inventor of the steamboat), became one of the best places to perform, hosting the likes of Mark Twain, Louis Armstrong and Al Jolson. Renovated again in the mid 1990's, The Fulton Theater now stages innovative, engaging original productions.
DO: Go To An Event at the  Ware Center
Scope out the events at the Millersville University's Philip Johnson-designed Ware Center; a soaring space made up of an auditorium (with acoustics so perfect, you can hear a pin drop on stage), galleries, event spaces and classrooms.
There's something for everyone nearly every night; dance, lectures, art films and a weekly Jazz Cabaret in a windows-to-the-city room where you can watch the town light up as the sun goes down.
Arrive on the First Friday of any month and, from 5-9pm, the City of Lancaster turns into "Mardi Gras."  Over a hundred shops and galleries participate with music, wine and special events.
Even if you can't be here First Friday, come any other time, unplug from your IPad and "StumbleUpon" furniture, art and jewelry boutiques in real life.
A multi-level music/bar venue with Yoga space.
SHOP: 300 Block of Queen St. 
Your wampum goes a lot further in Lancaster and doubly so in the funkier regions of Queen St. (300's block). Don't miss Building Character, a vast co-op arts mall specializing in architectural salvage.
Restaurants In Lancaster, PA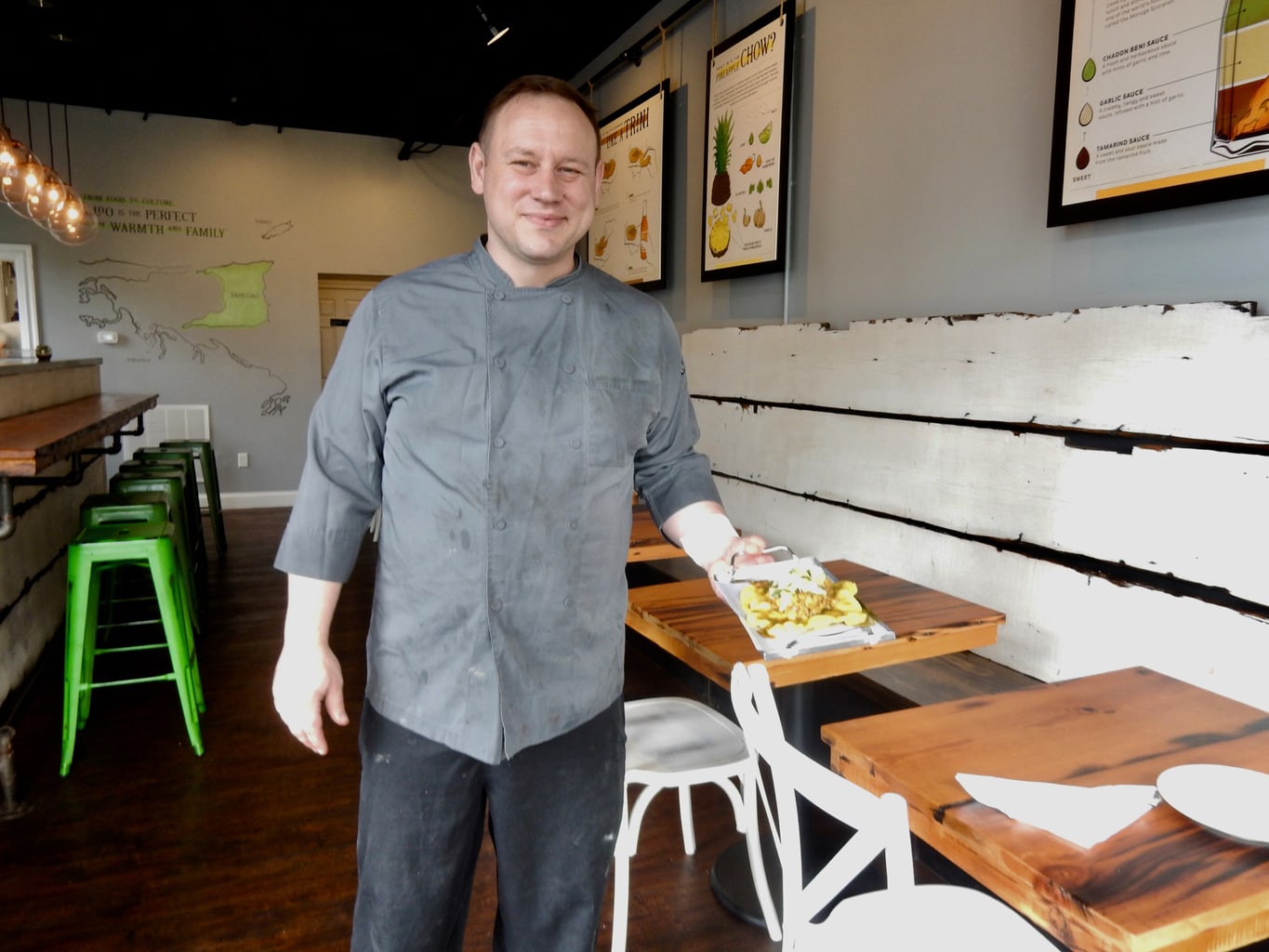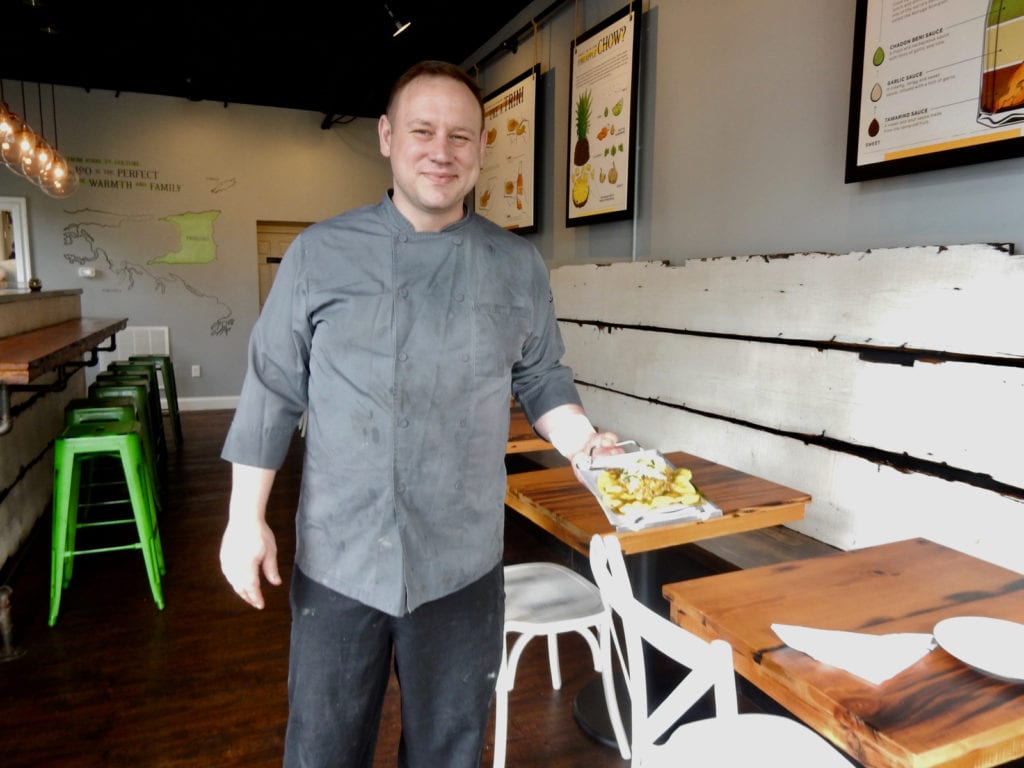 Slang for an "unlikely combination of things," the hot, new Callaloo introduces us to "Doubles" and Buss-Up-Shut. Basically, how to eat like a "Trini." Chef/Owner Amos Kinert lived and worked in this most Southern Caribbean island for three years, and brought his expertise back to Lancaster City.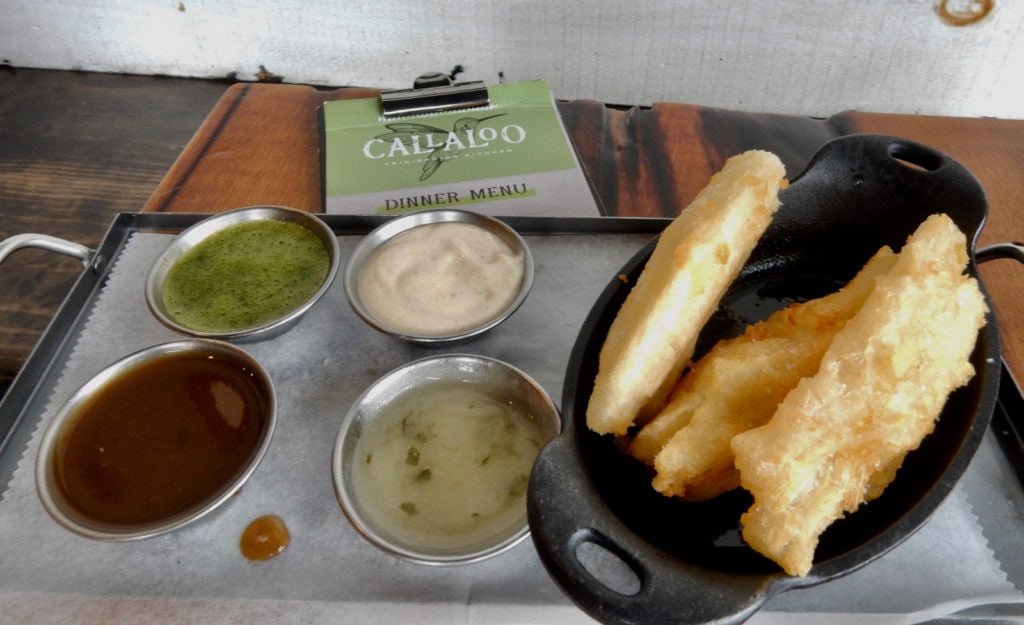 Dine on traditional Trinidadian breads with sauces made in house, addictive Cassava Fries, Curried or Coconut Jerk Chicken ($15), Wild Caught Red Snapper ($26), and yes, the tasty street food "Doubles" – two pieces of fried bread with curried chick peas, cucumber chutney, tamarind and cilantro.
Follow up with a glass of Sorrell (hibiscus flower ice tea). As for dessert, just order the Peanut Punch – it's like drinking the inside of a Reese's Peanut Butter Cup. Divine!!!!
There are two new places in Lancaster where you can eat, drink, and either play or see a show. Decades satisfies your inner child with great pub food, bowling, and a retro-arcade. Zoetropolis fulfills your desire to eat an inventive meal and then see an idie movie or concert. Both answer the question, "where to we go in downtown Lancaster to eat and be amused?"
If you love modern gastro molecular magic, you'll adore Amorette. It's quite the rarity in a small city, especially one best known for its horse and buggies. Each course is created to look like something it's not. But, according to new fans, they can't wait to get back right after they've left.
You're into beer. He's on a plant-based diet. What to do? Check out this vegan restaurant that seems to double as a sports bar. Quite the weird combo, but it works.
Chefs in the open kitchen turn out foodstuffs from colorful salads to pizza and fried veggies slathered with no-dairy cheese. Watch them work, and then enjoy the fruits and vegetables of their labor.
Locals rave about Rachel's creative crepes. There's an outdoor patio with plenty of heaters, so that you can stay safe while dining on these savory and sweet stuffed paper-thin pancakes.
This Lancaster newcomer feels as clean and fresh as the food and drink on offer. You'll find cold brews, smoothies, soups, and lunchtime menu items to eat in or take out, right in the healthy quadrant of Queen and Walnut.
Though not downtown, you've got one reason to stop at the Discover Lancaster Visitor's Center on Route 30, and it's not for maps (although they have them, and staff is a great sources of local info).
Order one addictive Sticky Bun from Mr. Sticky's shop next door, and you will either bless me or curse me.  Warm from the oven, Mr. Sticky's scrumptious treats put those mall-franchise cinnamon buns to shame.
Got a hankering for Bangers and Mash or an on-draft pint? Try this authentically dark and woody two-floor Irish Pub– a popular hangout for locals and tourists.
Grab a beer at its source at both Lancaster Brewing and Our Town Brewery. Not only are they blocks away from each other, but each is large enough for a crowd of friends (when it's safe to gather in crowds again.
EAT: Locals also recommend
Maison, a farm-to-table eatery on Gallery Row. The Belvedere Inn, housed in a Victorian brick building with a balcony and regular live jazz music. Bistro Baberet and Bakery, French fine dining with impressive bakery cases. Himalayan Curry and Grill, a small room with delicious food. Sprout Rice and Noodles, the place for Vietnamese. The Pressroom, newly remodeled. Luca, for wood-fired pizza. John J. Jeffries for local, seasonal, organic "New" American.  The Fridge for beer lovers (especially in winter with its big pot-bellied wood stove).
Hotels In Lancaster, PA
This 77-room boutique was built brick by handmade brick in 1865 as Lancaster Cork Works (purchased by Armstrong in 1895), for the purpose of pressing cork into disks that were then inserted into bottle caps.
The hotel is a study in repurposing; utilizing wood, stone and brick from the original buildings. It's not difficult to imagine foremen clumping up and down the main staircase, making sure that the cork-presses were working efficiently. Although, it might be a stretch to conceive of horses stabled where the ballroom now stands.
The bar top, tables and chairs in in-house restaurant Cork and Cap were all made from salvaged wood found on-site. Ask for a high-ceiling suite on the 4th floor where you'll be spared noise from upstairs neighbors. Guestrooms exude raw charm – you are, after all, sleeping in a former factory building. Exterior walls are original uneven handmade brick; warps, pits, and all. Ceilings feature exposed pipes and unadulterated planks of wood.
Beds are firmly comfy, with herringbone-woven leather headboards and white fitted comforters. With just a few pieces of furniture, designers went for "less is more," though the imperfections in the brick walls can be mesmerizing.
In the bathroom, stone tile, granite sink and glass shower bathrooms meet luxury boutique standards. Rooms are $117 to $219 per night and include complimentary continental breakfast, free parking and free wi-fi.
You can also stay in Tobacco-Warehouse luxury at the 63-room Lancaster Arts Hotel which features the work of dozens of PA artists in its lobby, suites and rooms. ($180-$360).