Last Updated on
There are 11 Kimpton Hotels in Washington DC, and many fans of the brand love to try them out one by one. Mason and Rook, opened and welcomed into the Kimpton family a mere two years ago, can be found on a quiet side street – steps from DC's zesty food and entertainment 14th Street District – with a nondescript apartment-like exterior that belies the customary Kimpton panache within.
First Impressions of Mason and Rook
On a residential street, the unassuming Mason and Rook has all the fantastic qualities of the Kimpton Brand, distinguished by a quirky, trendy sense of style, lots of art, eager and cheerful staff, and pet friendly – no matter what size your Fido or honey-bunny. "If your pet fits through the door, we will welcome them in."
There are two distinct parlors on the main floor – a quieter one closer to the in house restaurant, Radiator, and the other, a "library" featuring shelves of books. The latter buzzes with guests from 5-6 each evening for the wine and popcorn (or other nibbles) hour.
A gold and silver chess set sits on a mirrored table ringed by plush chairs that are often occupied by competitive players. Apparently, the board's "Rook" is one explanation for at least part of the hotel's name.
Rooms and Suites at Kimpton Mason and Rook
Guestrooms in a palette of earth tones – heather gray and ecru punched up by shades of marigold and moss accents – feature beds with Irish-linen-crisp sheets and pinstripe duvets.
Large bathrooms are 20's opulent, in black and white marble, dark walls and bright soaking tub in the suites.
One wall in the suite's living room is blanketed with artwork, and the large grey sectional couch makes for a fantastic laptop retreat.
Food and Drink at Mason and Rook
Coffee and Tea is served, complimentary for guests, in the lobby every morning.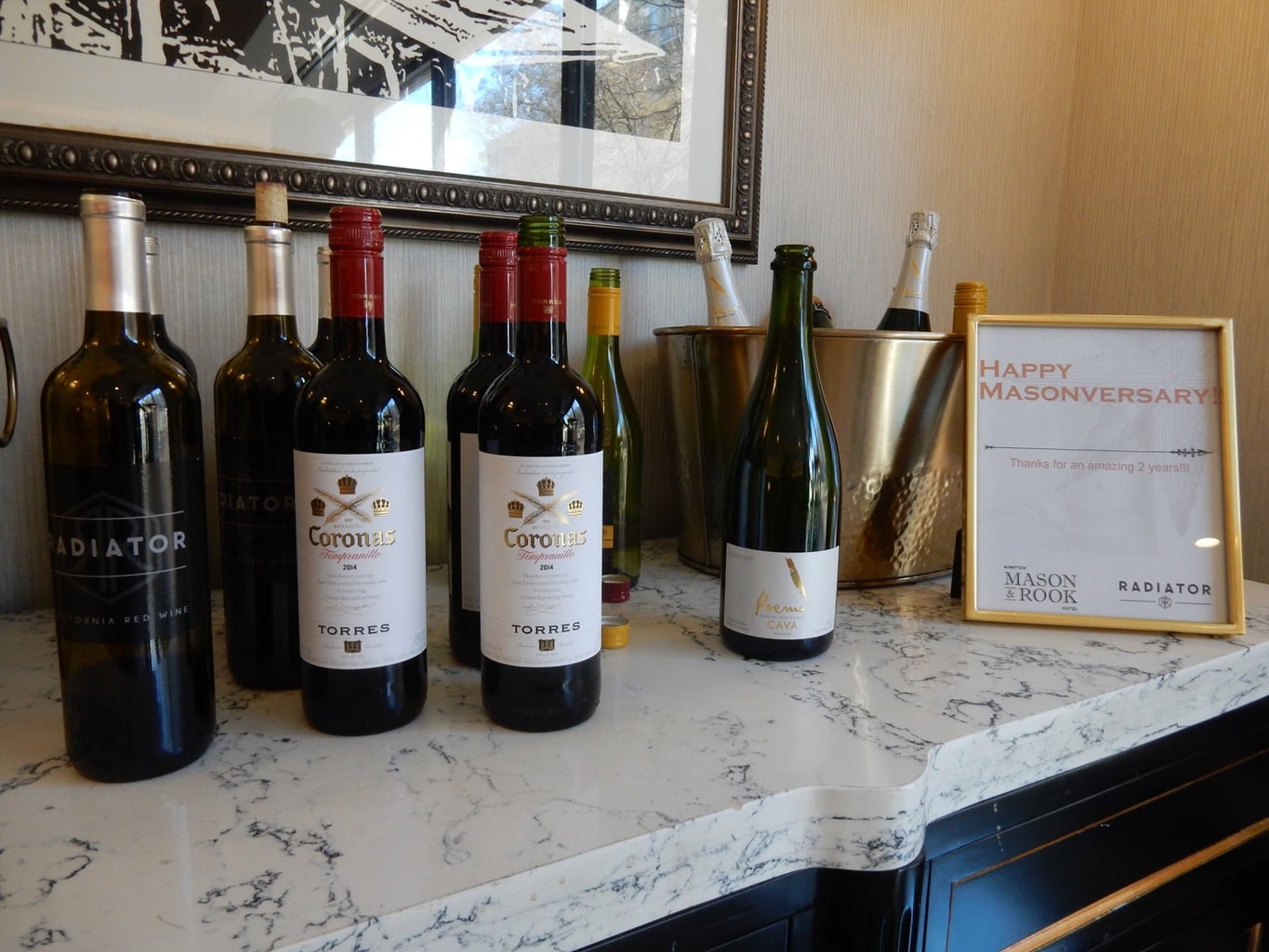 Kimpton Hotels are known for their popular wine and nibbles hour every day from 5-6 in the lobby. Meet your fellow travelers – it's a very social event.
In-house restaurant, Radiator, serves Breakfast, Lunch and Dinner inside and, weather permitting, in a backyard garden patio.
In the summer, the Rooftop Bar and Lounge serves guest lounging by the small rooftop pool.
Amenities at Mason and Rook
Complimentary use of bikes
Small fitness room
Complimentary wine hour every afternoon
Complimentary tea and coffee every morning
Just the Facts
Rooms here are more expensive during the week than on weekends. Summer weekends start at $127, Spring weekdays at $400, and go up to $550. Includes wine hour, coffee/tea, use of bikes.