Last Updated on July 16, 2020 by Editor
** Keswick Hall is currently closed for renovations in 2018 and according to the website, will reopen Fall 2020.
Read below for earlier review and photos from 2014.
Overview of Keswick Hall, Charlottesville, VA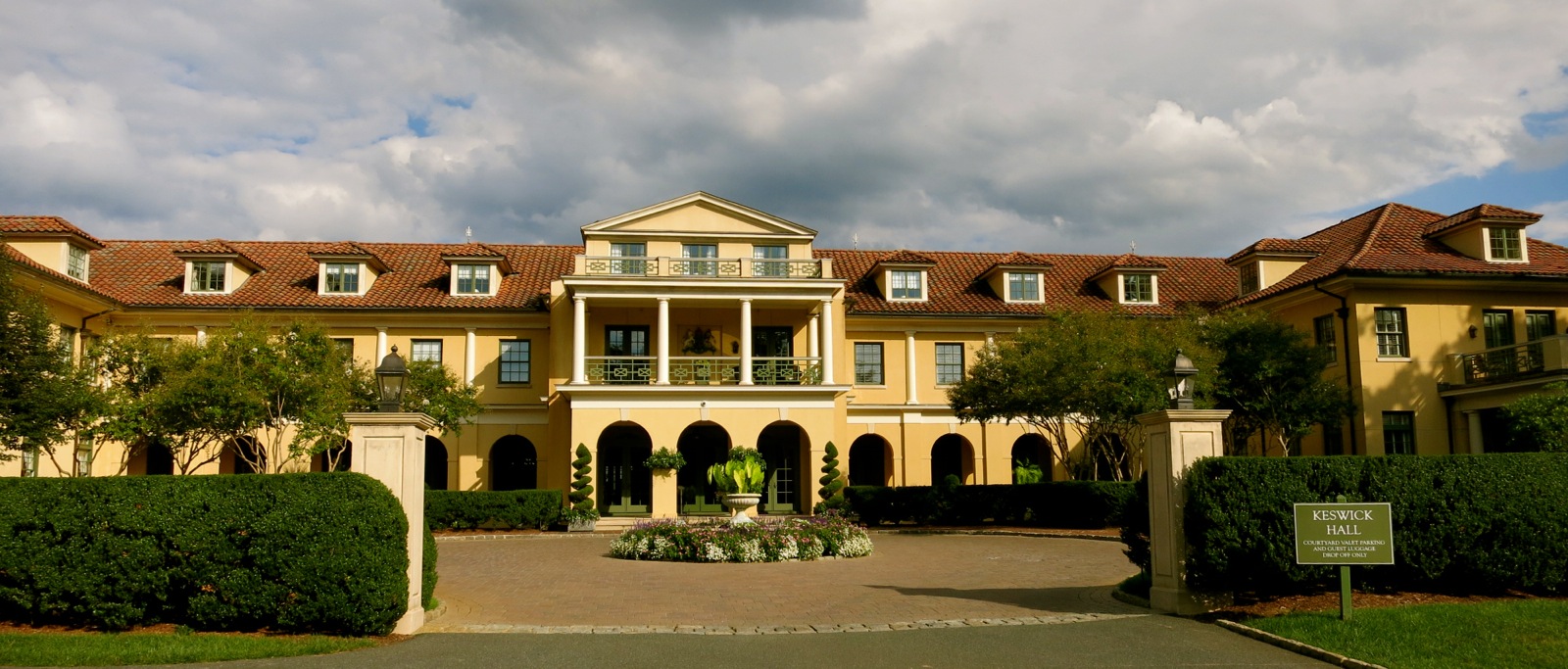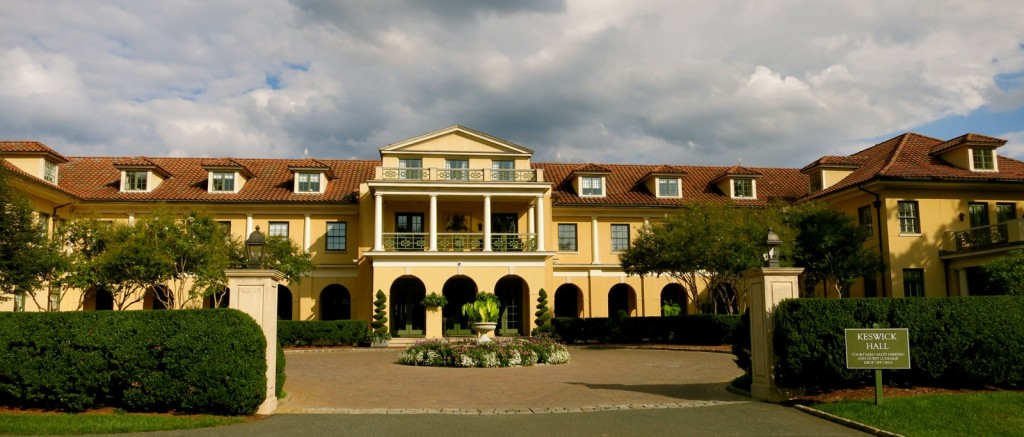 Keswick Hall casts a spell as you drive through the gate, past manicured and flowering lawns, to what appears to be an Italianate villa. With golf.
It's a sanctuary in and of itself and a self-contained destination. Built in 1912 as a private residence for Robert Crawford and his wife, Villa Crawford, as the inn is now called, was opened as a hotel in 1993.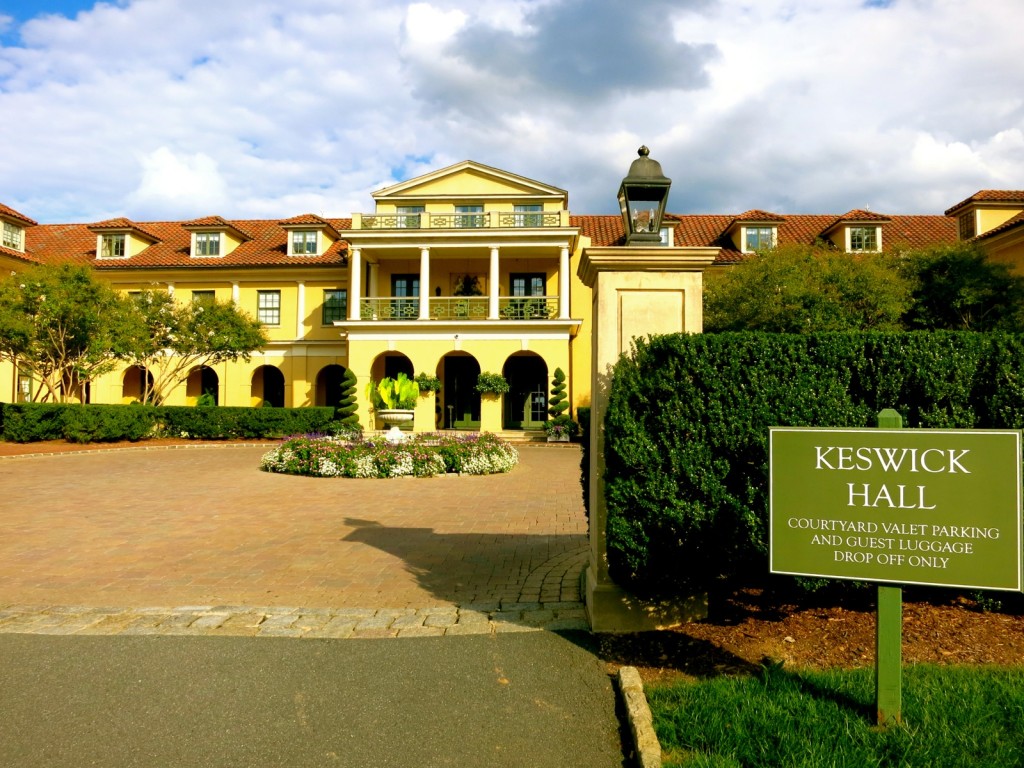 On 600 acres, The Keswick Hall Resort encompasses the guest rooms at Villa Crawford. Other buildings include the Keswick Club – where the Golf Pro Shop, Fitness Center, Palmer Room Restaurant, and Spa are located. There's also a Chef's Garden, and Tennis & Aquatic Center with your choice of Hard Surface, Har-Tru and Clay Tennis Courts.
There's a constant roster of available indoor and outdoor activities including Audubon certified Bird Watching, Bocce Ball, Nature Walks, Yoga, Wine and Beer Tasting – a true recreational camp for all.
The University of Virginia and Monticello are nearby, but even if you are not touring the school or Tom Jefferson's place, and especially if you are a golfer, I'd recommend that you stay on site for the ultimate gentrified escape.
The newly re-designed infinity pool, addition of another wing (with 42 more rooms), and re-envisioned restaurants promise to bring this 100-plus year old golf club up to current luxury standards.
Play golf on the Pete Dye course, Full Cry – named One of The Best New Golf Courses in 2014 by Golf Digest. Follow up by drinks and billiards in the study, dinner overlooking the grounds, and an early night in one of guest-rooms, so you can get up at the crack of dawn for another round.
First Impressions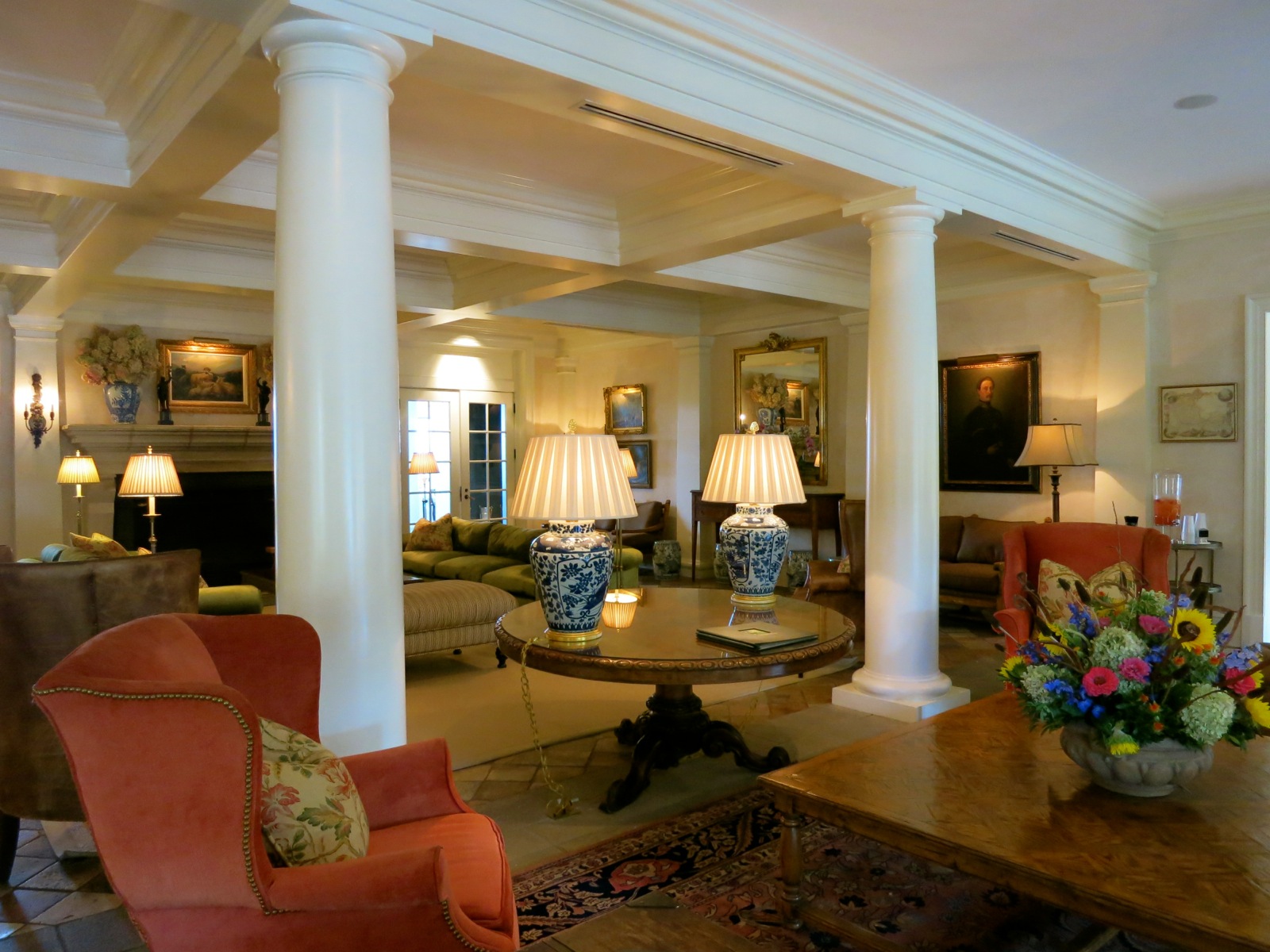 Though the former living room lobby is sure to be updated, Keswick's bend-over-backwards service will most likely remain. Affable, earnest receptionists are at the ready to check you in.
You'll sit down and begin a dialog. It's personal and serene: more like a conversation with your own private concierge, so it's no wonder that repeat visitors feel so at home here.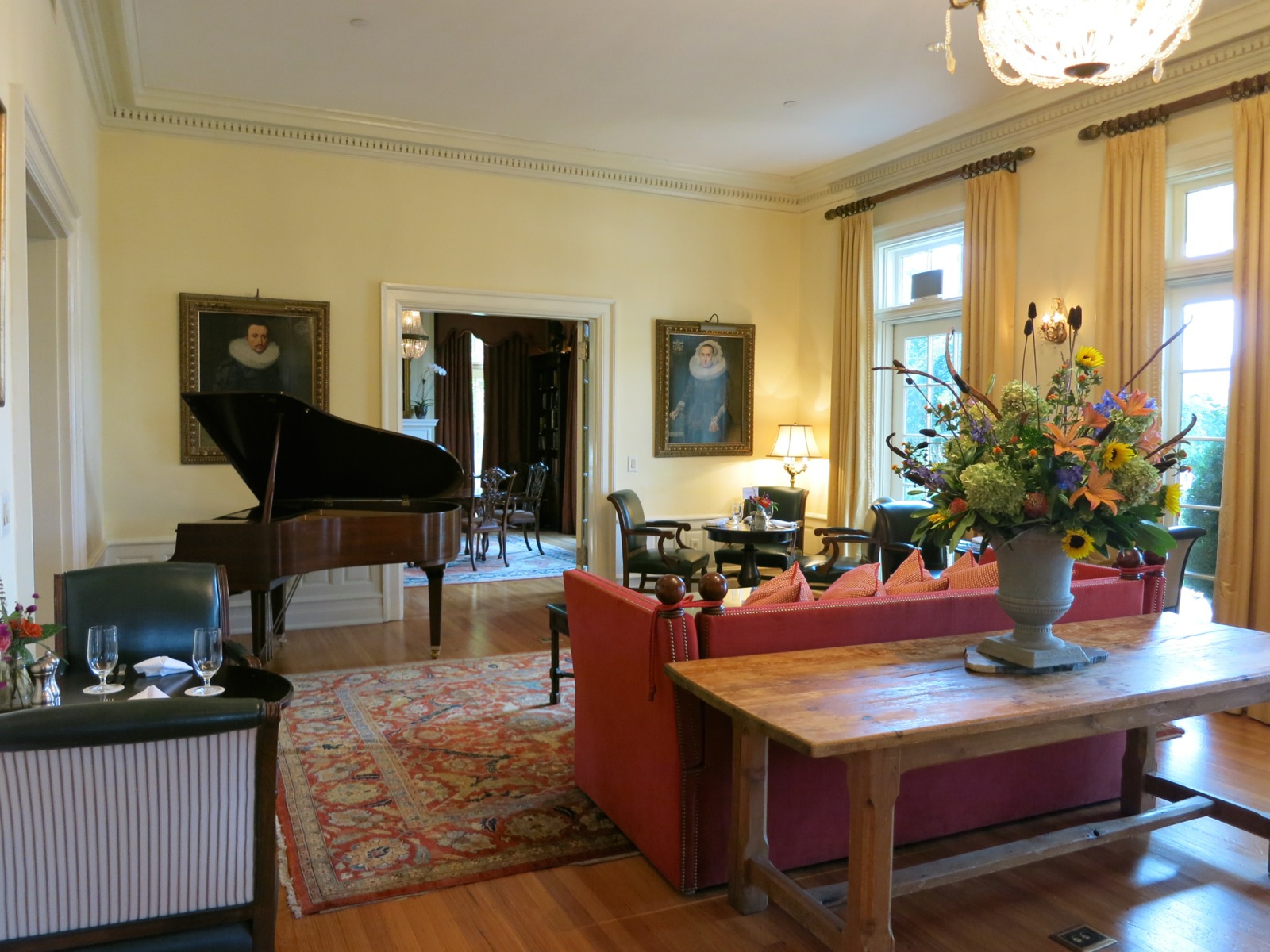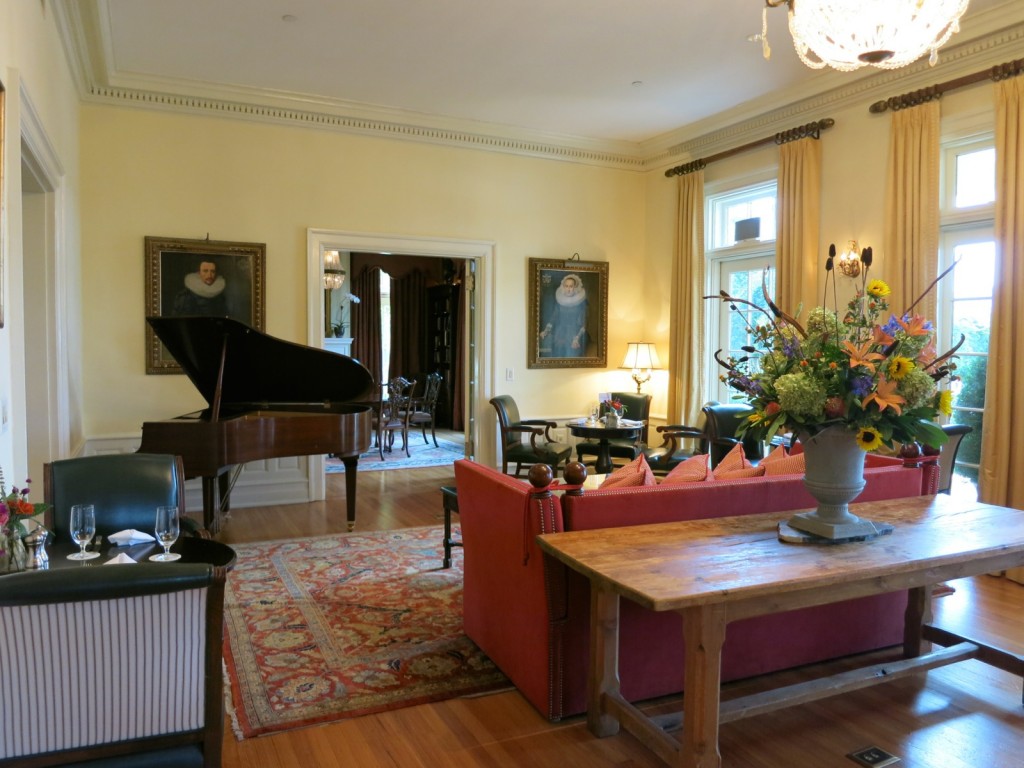 Amble down to the billiards room where you might find a game in progress, or sit in the library for a drink.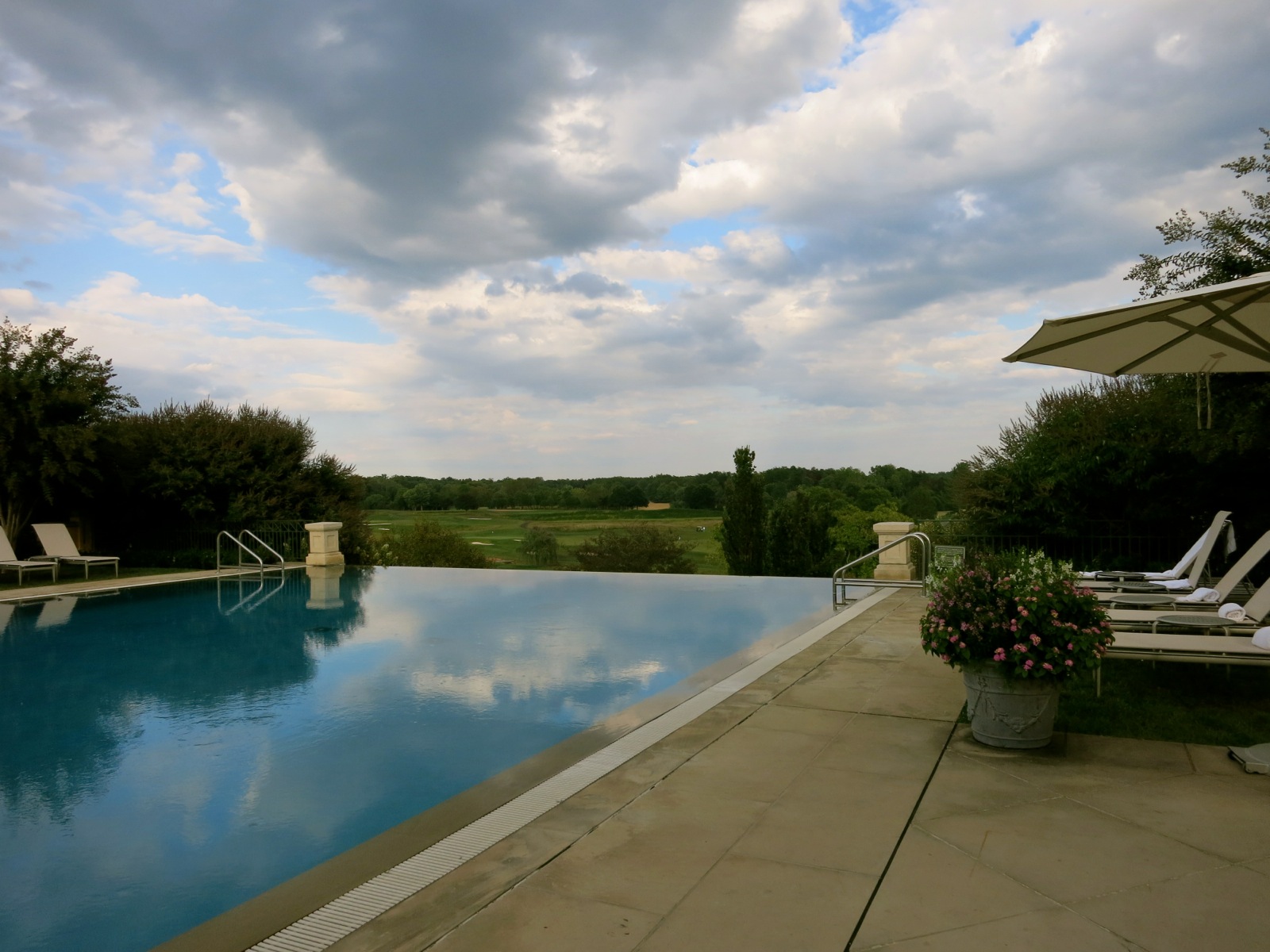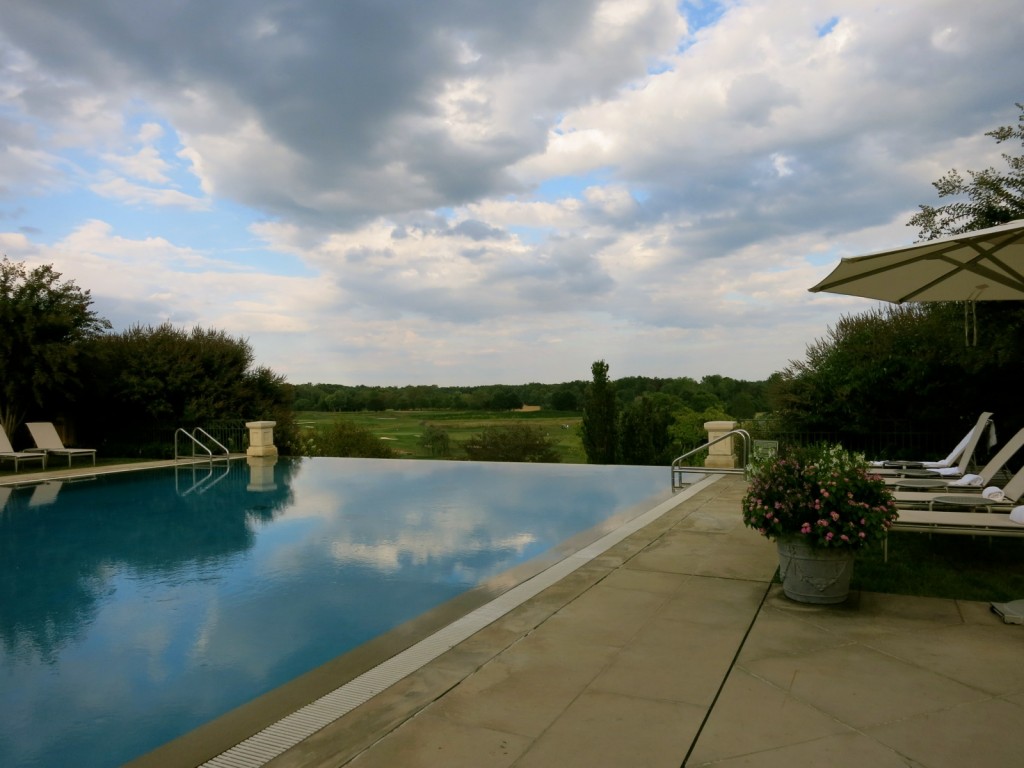 Out the door, you'll find one of the most enchanting infinity pools on the planet – a rectangle of crystal blue with one edge disappearing into the golf course and the Blue Ridge hills beyond.
Rooms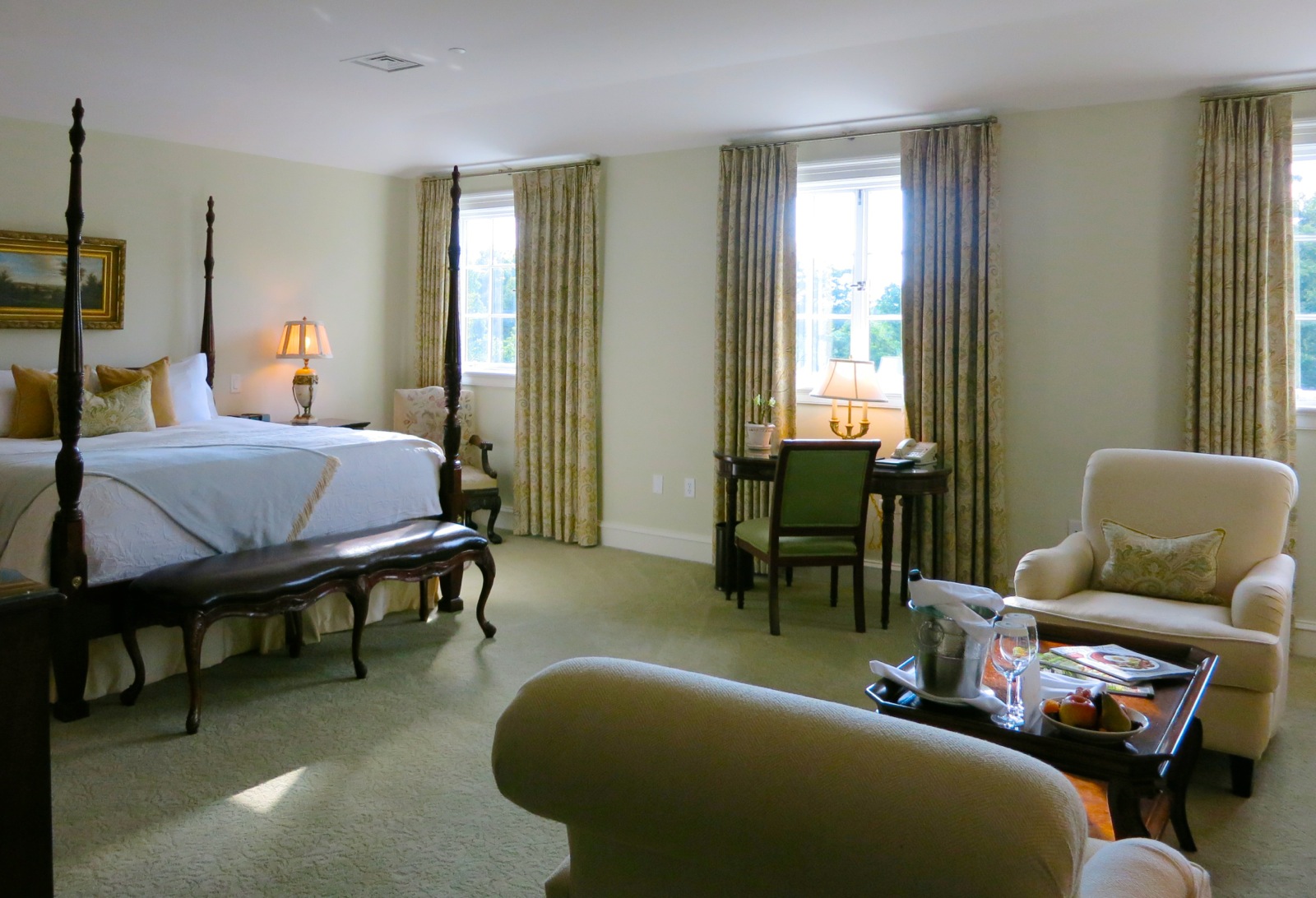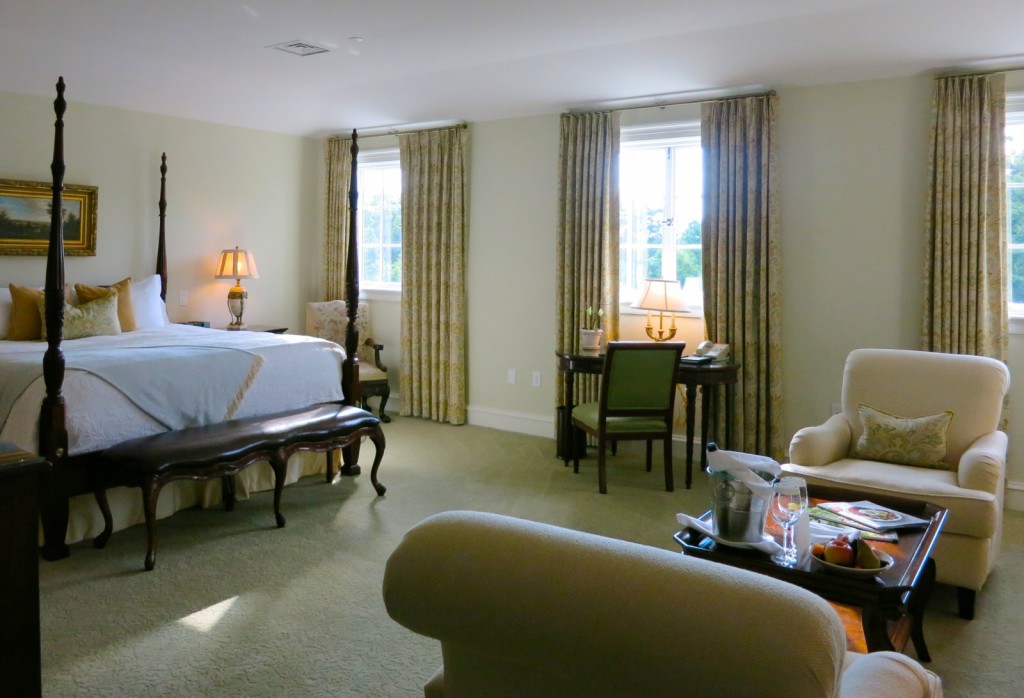 Rooms vary in size, but all appear to be awaiting Thomas Jefferson's arrival. Gone is the fussy Laura Ashley wallpaper installed after her widower bought and transformed the villa into a resort in 1993.
With light neutral colors, carved four-poster beds, sitting areas, wall-to-wall carpeting, and bright, gleaming bathrooms, guest rooms manage to be romantic and presidential at the same time.
Many celebrities, such as Mick Jagger, Jessica Lange, Anthony Hopkins and others have stayed here, only one couple – Paul Newman and Joanne Woodward – had a favorite room. They preferred the original master – Room # 9.
Dining at Keswick Hall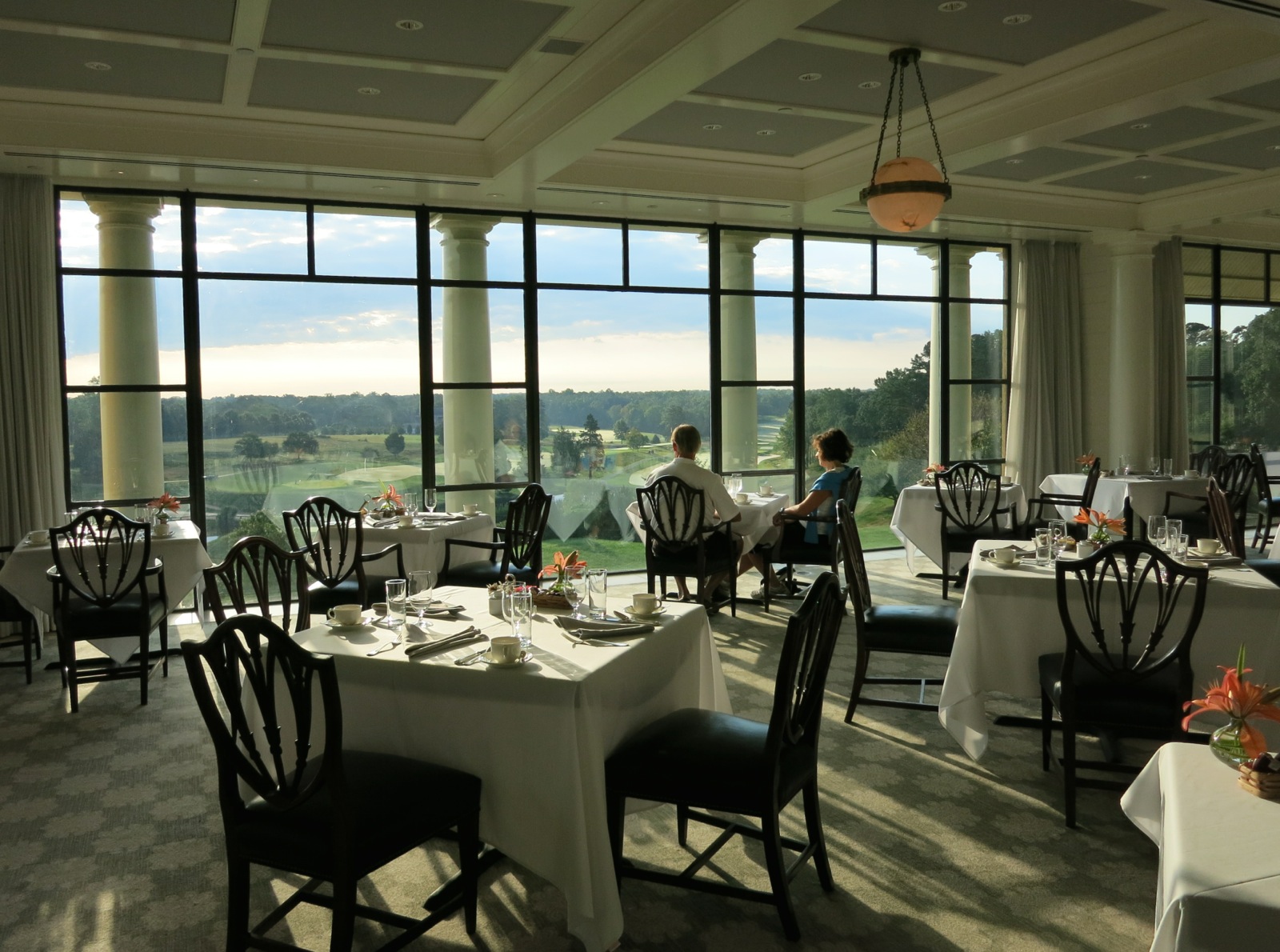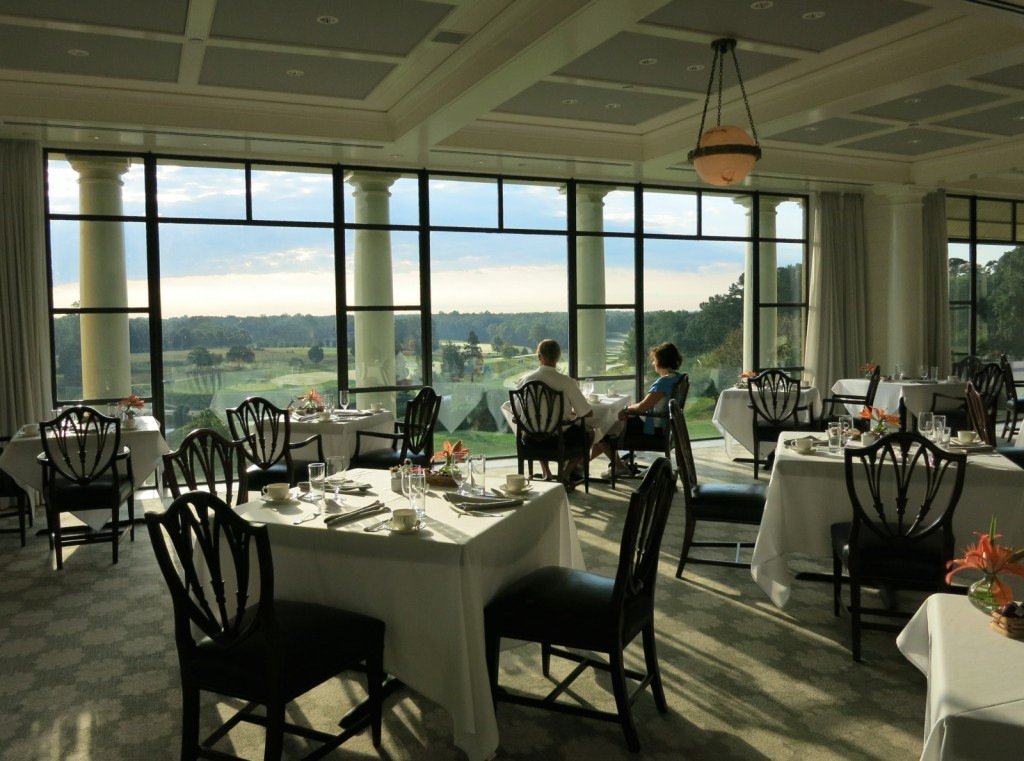 Thomas Jefferson's enslaved head cook at Monticello, Edith Fossett, trained under a French Chef. Kewsick Hall's in-house restaurant overlooking the golf course, is named in her honor. Plan to have at least one meal here. Yes, cuisine lives up to the view.
Amenities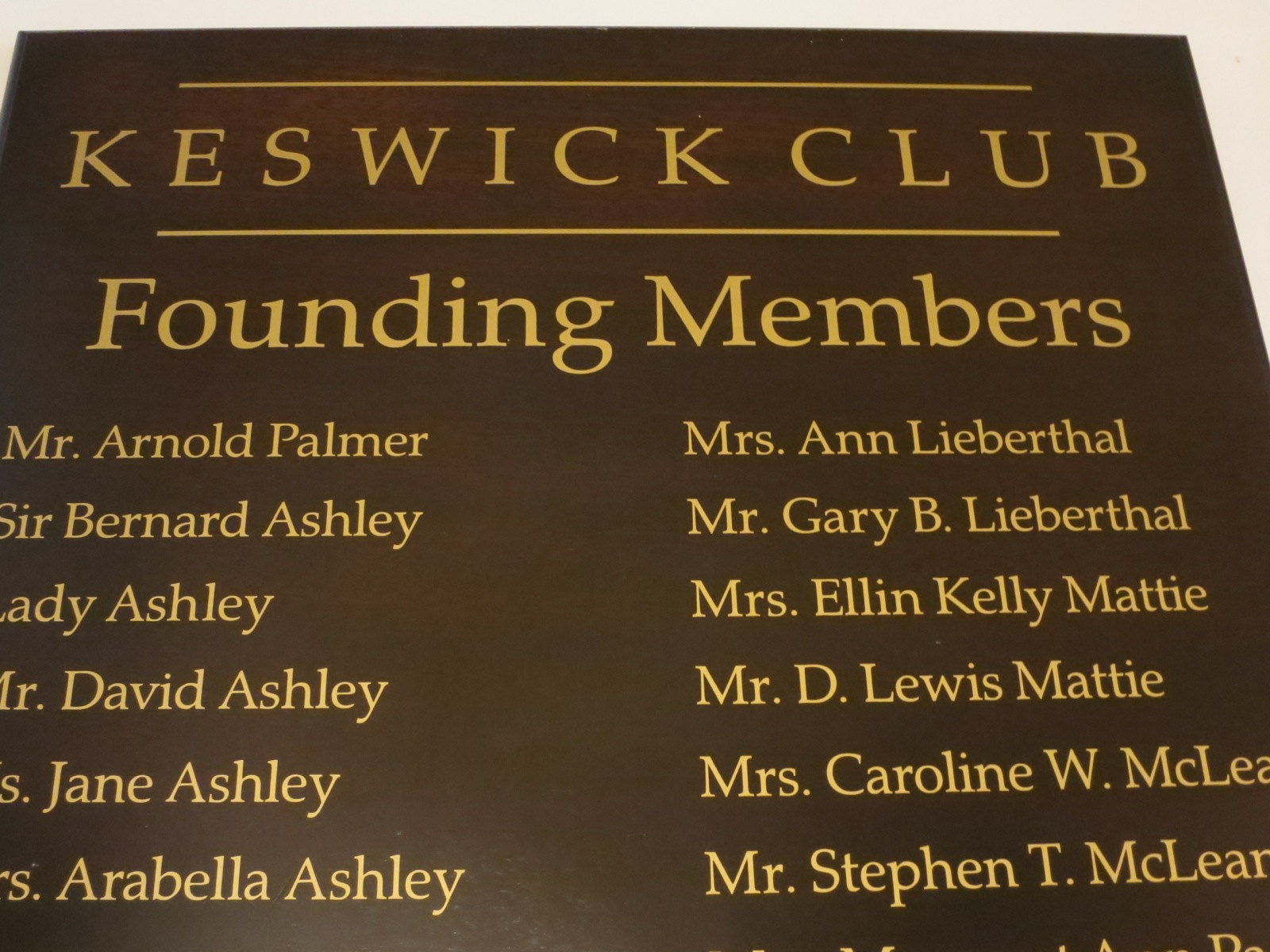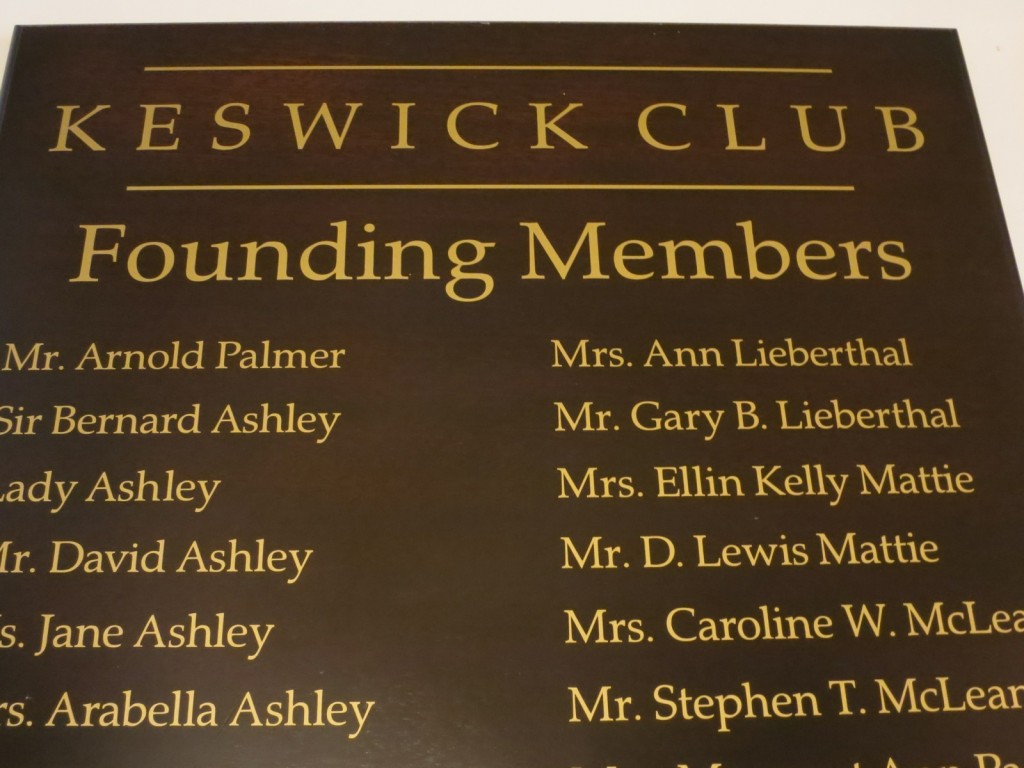 Golf great, Arnold Palmer, was among the founding members of the Keswick Golf Club, so the sport has been serious business here since day one. Palmer re-designed the resort's course in the '90's, but in 2014, Pete Dye completely modernized it to much approval.


But you need not pay big bucks to join in order to hit the links, work out in an expansive fitness center or catch a game on one of the TV's at the club's bar. All you have to do is check in to the resort.
Room rates and packages will be determined when Keswick Hall opens in later 2020.
Combine a stay at Keswick Hall with these two Charlottesville Getaways:
Art and Culture in Charlottesville VA
Charlottesville Land of Thomas Jefferson