Last Updated on
The Patriot's Day Parade, commemorating the first armed conflict of America's Revolutionary War, ends right outside the door of the stellar Inn At Hastings Park, and guests have a front row seat to the proceedings from its wraparound porch.
Lexington's Town Green – where the fighting began, is a five-minute walk away.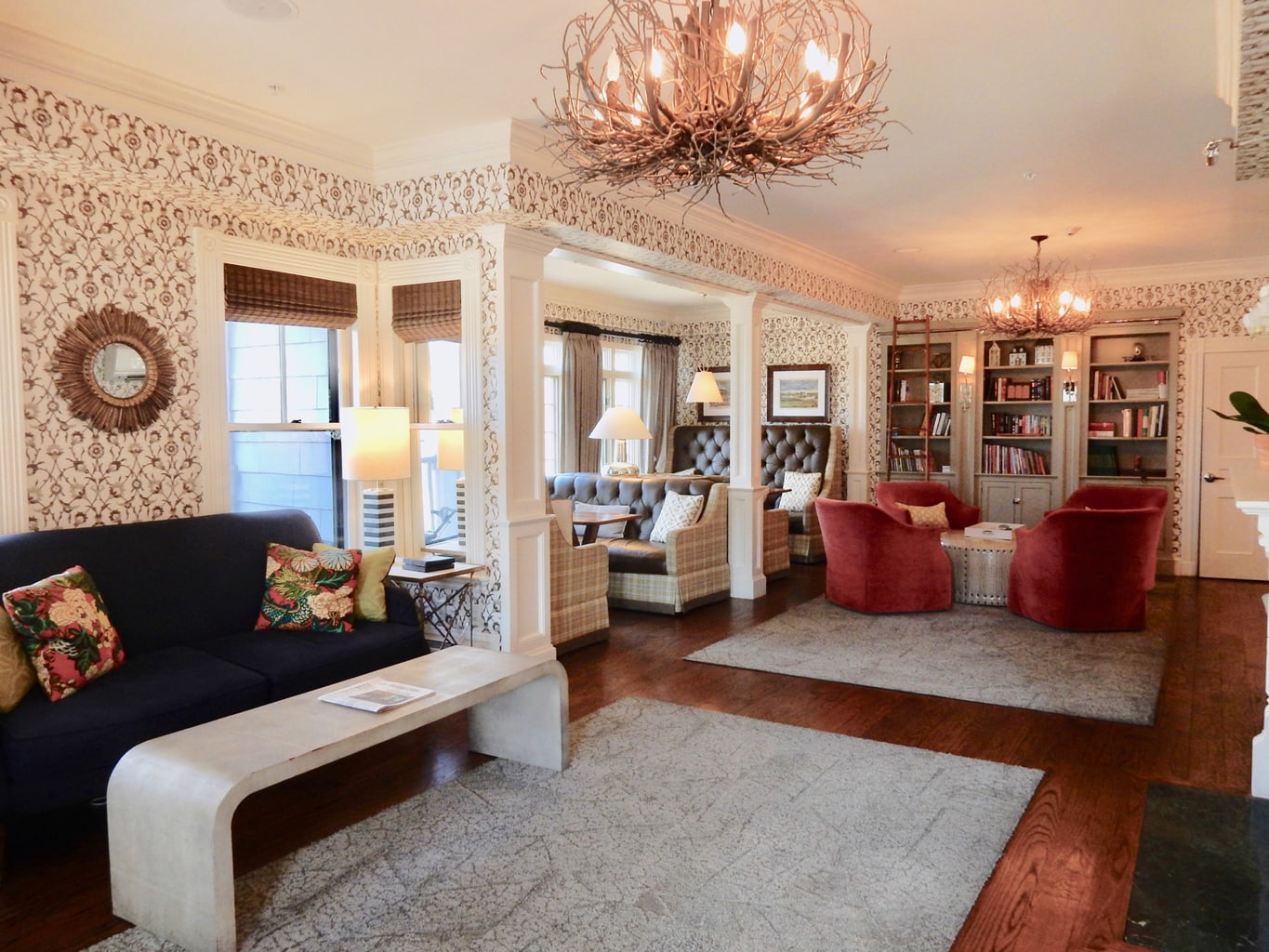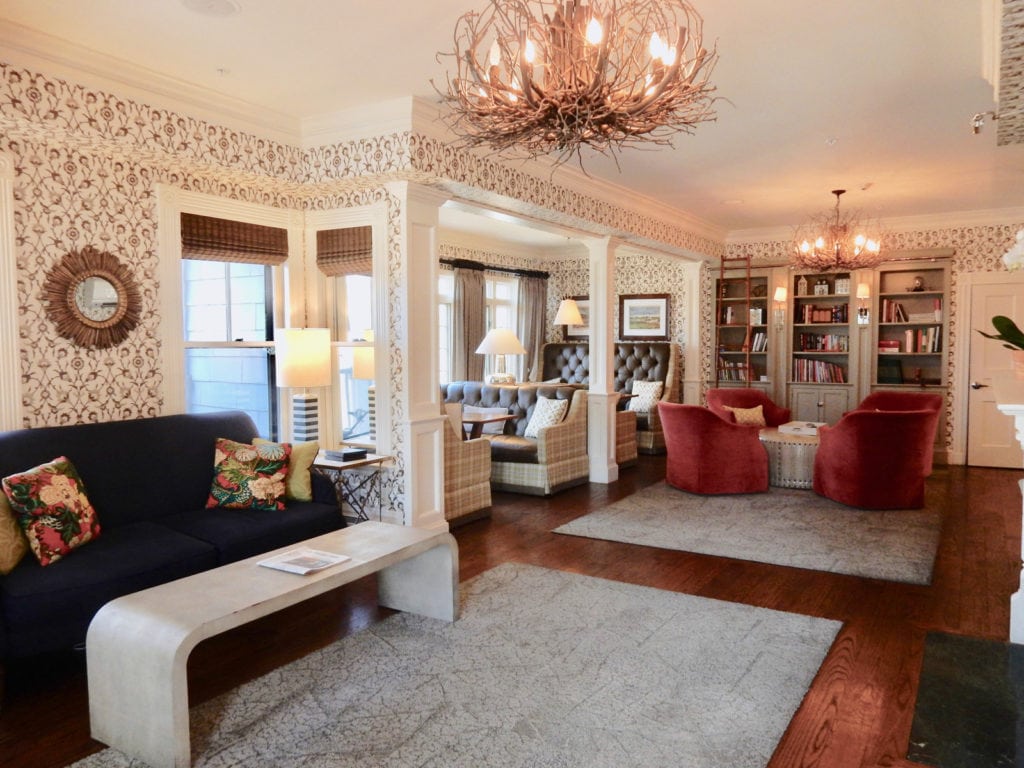 There are only 22 guest rooms and suites, throughout three building, in the Relais & Chateaux flagged Inn At Hastings Park, listed on Travel + Leisure Magazine's Top 100 Hotels in the World in 2016 and 2017. Each is a perfect example of Patriot Chic, with the American Flag featured in elegant rooms clad in modern-traditional décor.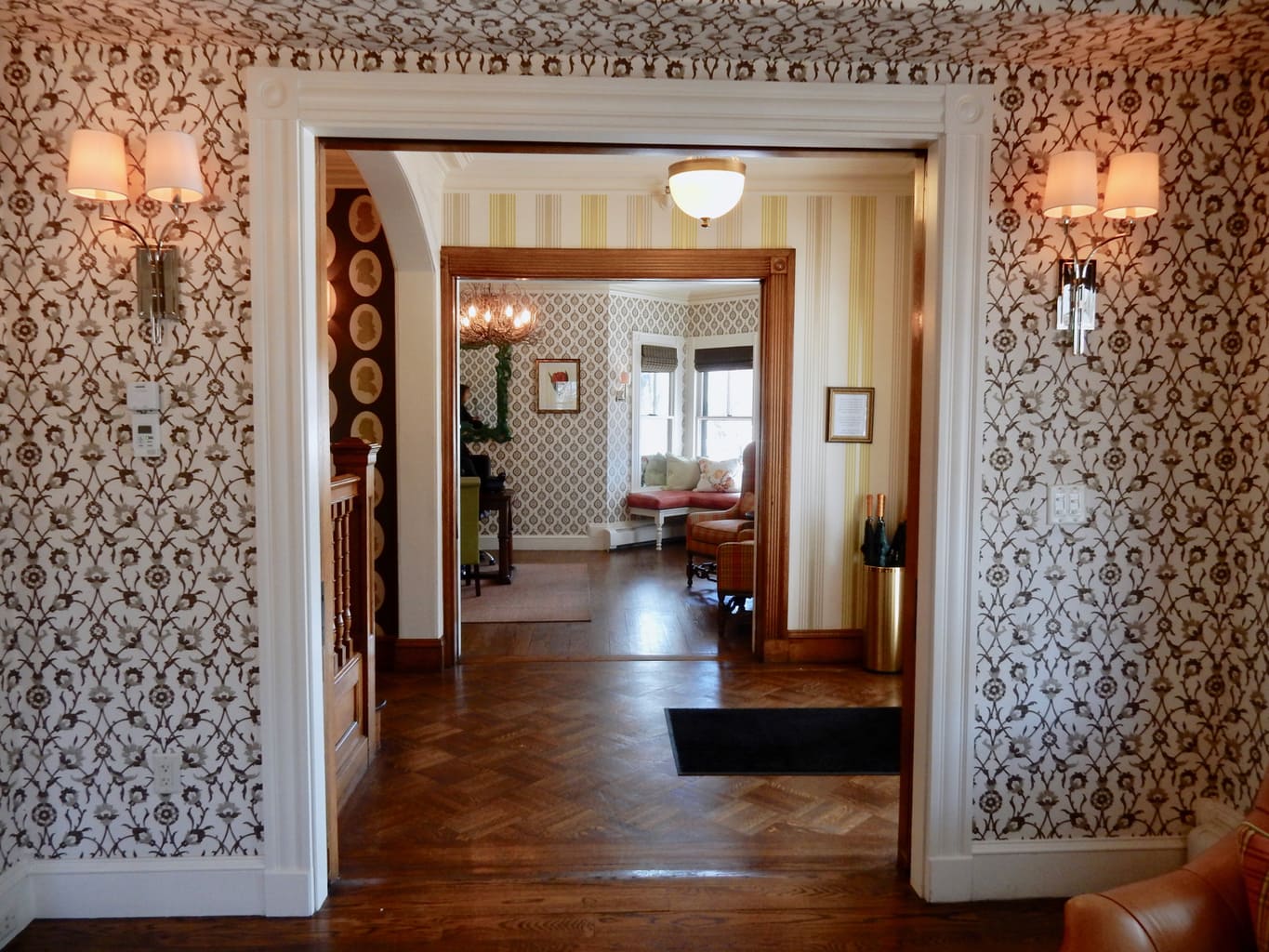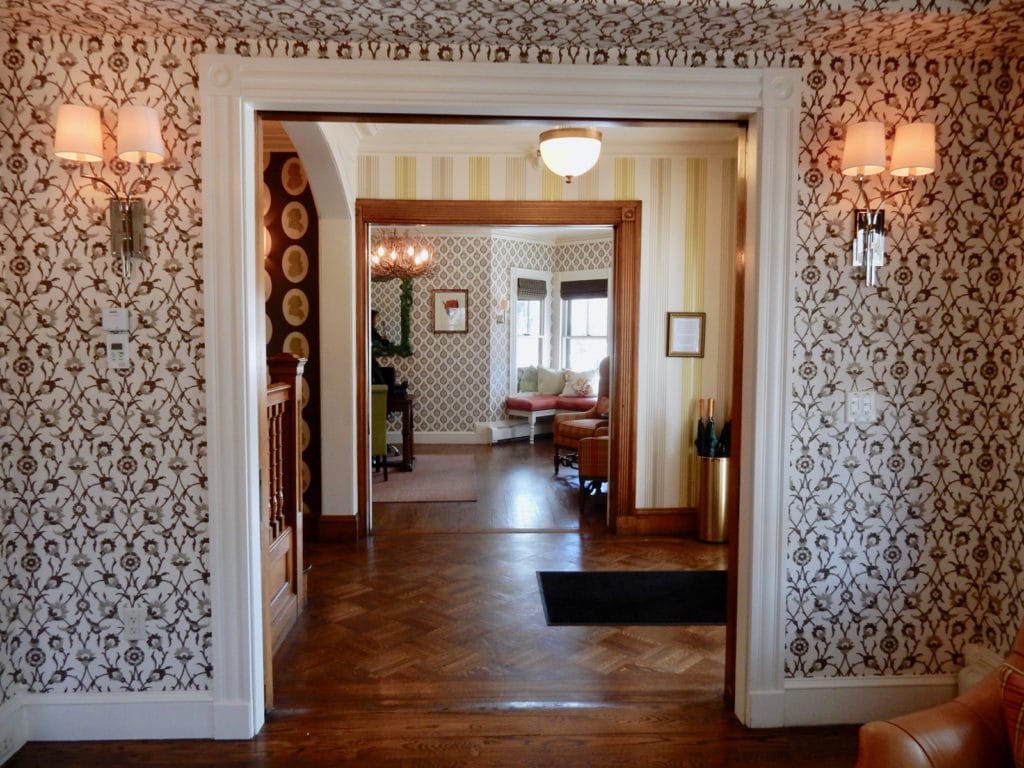 The main structure, and largest, was built in 1888 as a summer home for a wealthy Boston family, but from 1916 until recently served as a senior assisted living center, Dana House, run by the Lexington Home for the Aged.
A second building, built in 1850 by clockmaker Isaac Mulliken, houses several guest rooms. And the third structure, The Barn – the smallest containing two suites, was rumored to have been a casket factory at one time. They are all within steps of each other.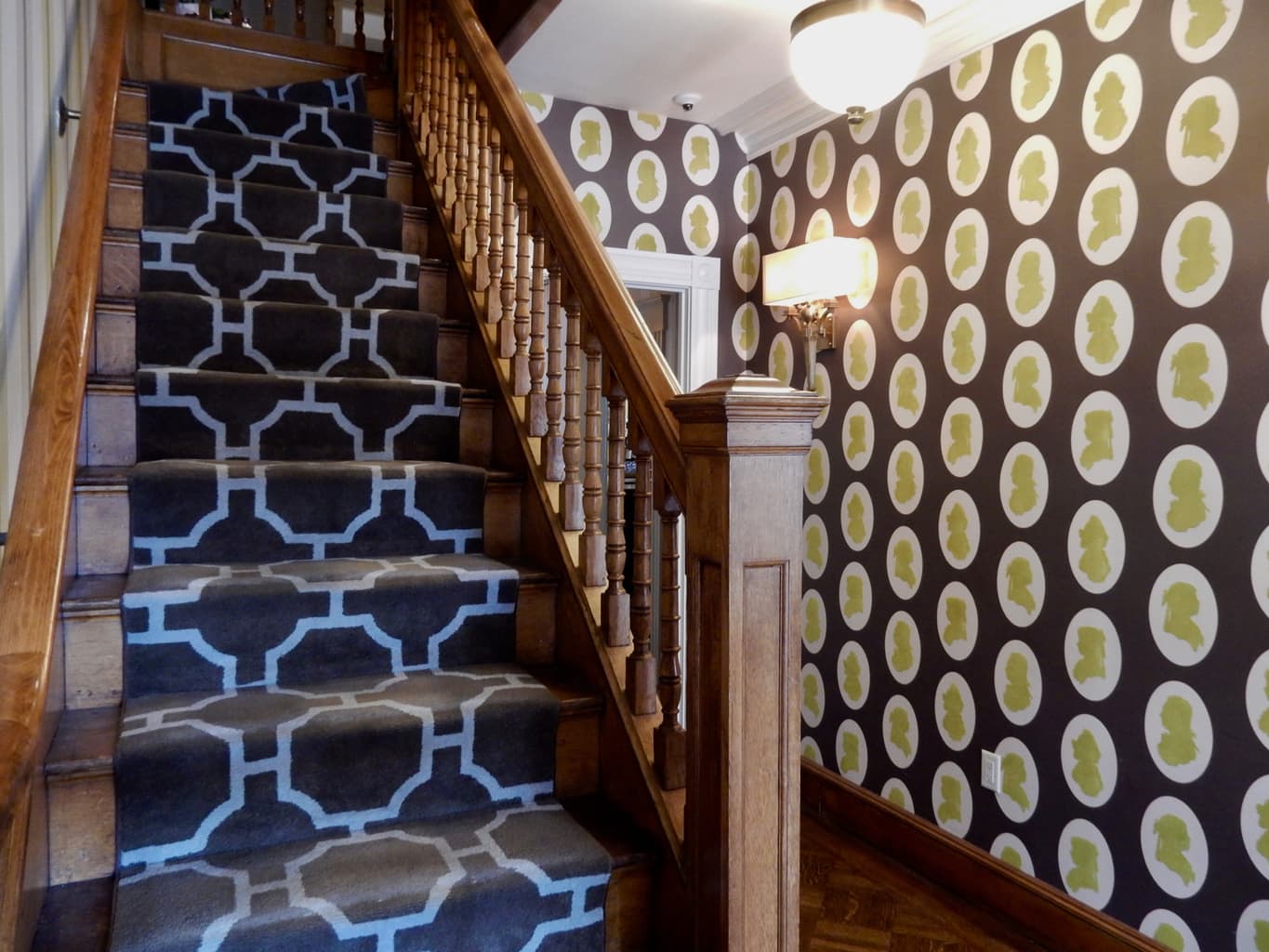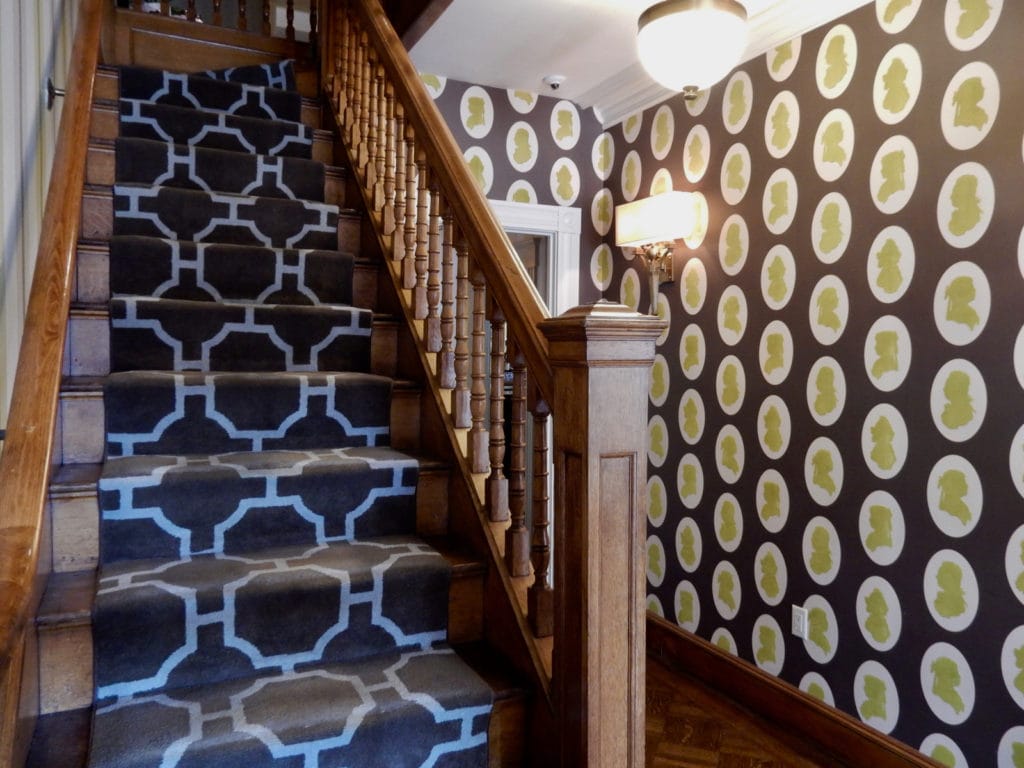 No wonder this inn has won so many accolades. Not only is it stunning and the first upscale lodging in Lexington to address a growing number of luxury-seeking American History buffs, but the people here are genuinely nice.
If you expect a pretentious greeting or experience, you won't find it here. The reception is warm and helpful – even at on-site restaurant, Artistry on the Green, which has been heralded as the top eatery in town.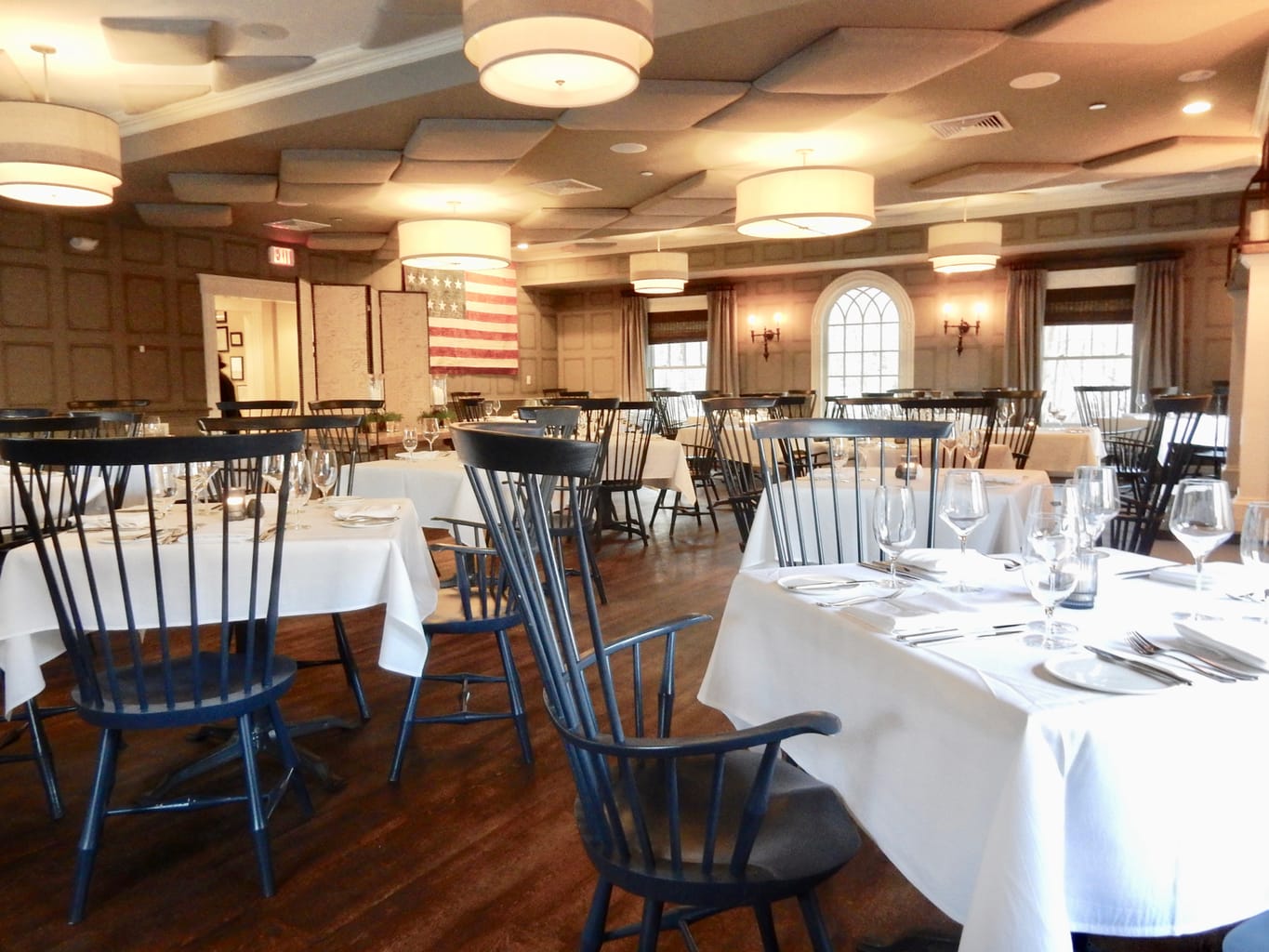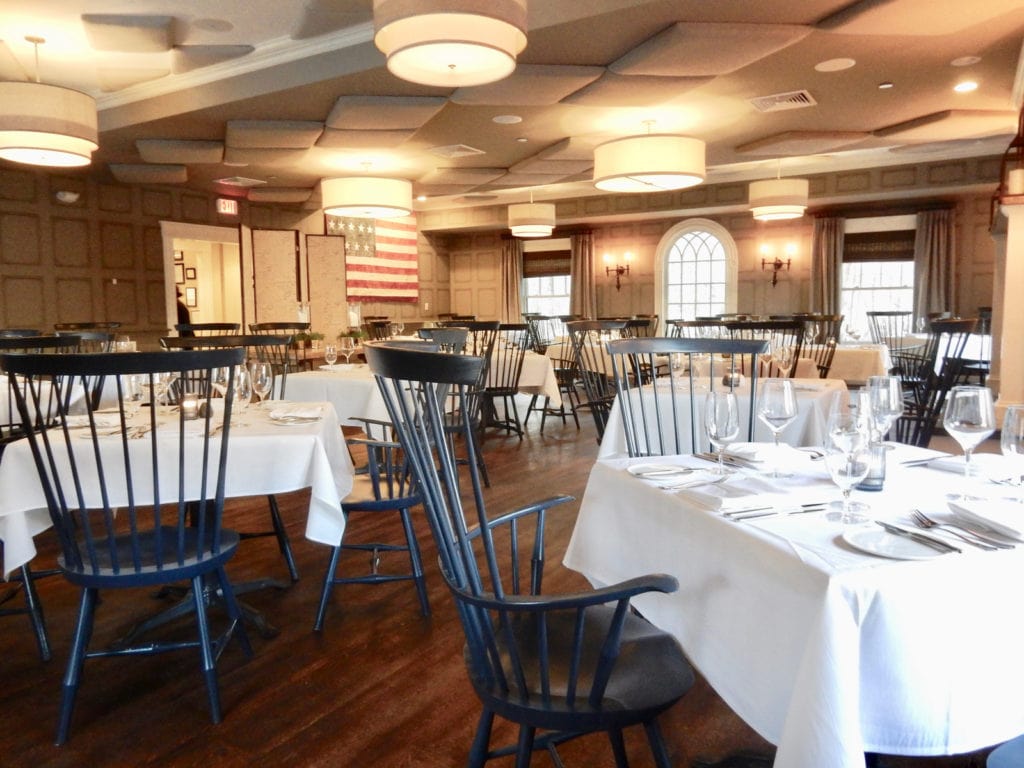 Inn owners hired local award-winning interior designer, Robin Gannon, a former criminal defense attorney with a penchant for sumptuous eye pleasing (and sometimes eye-popping) ensembles, to spruce up the place.
The main building common rooms are whimsical and colorful, with wallpaper and seating in surprisingly vibrant Colonial-era shades and wild patterns. Minuteman meets modern guest rooms feature all the creature comforts you'd expect from a top-notch lodging.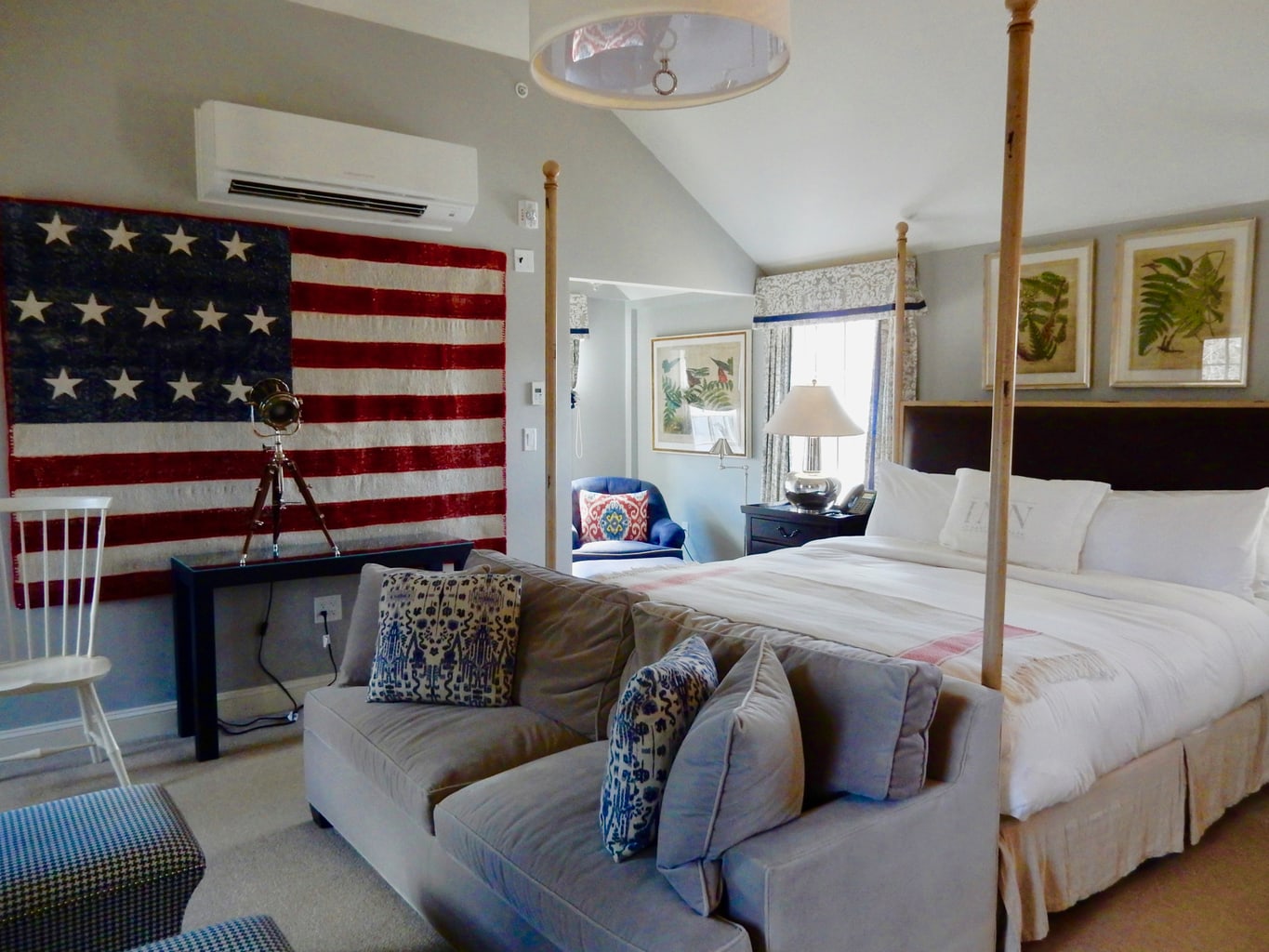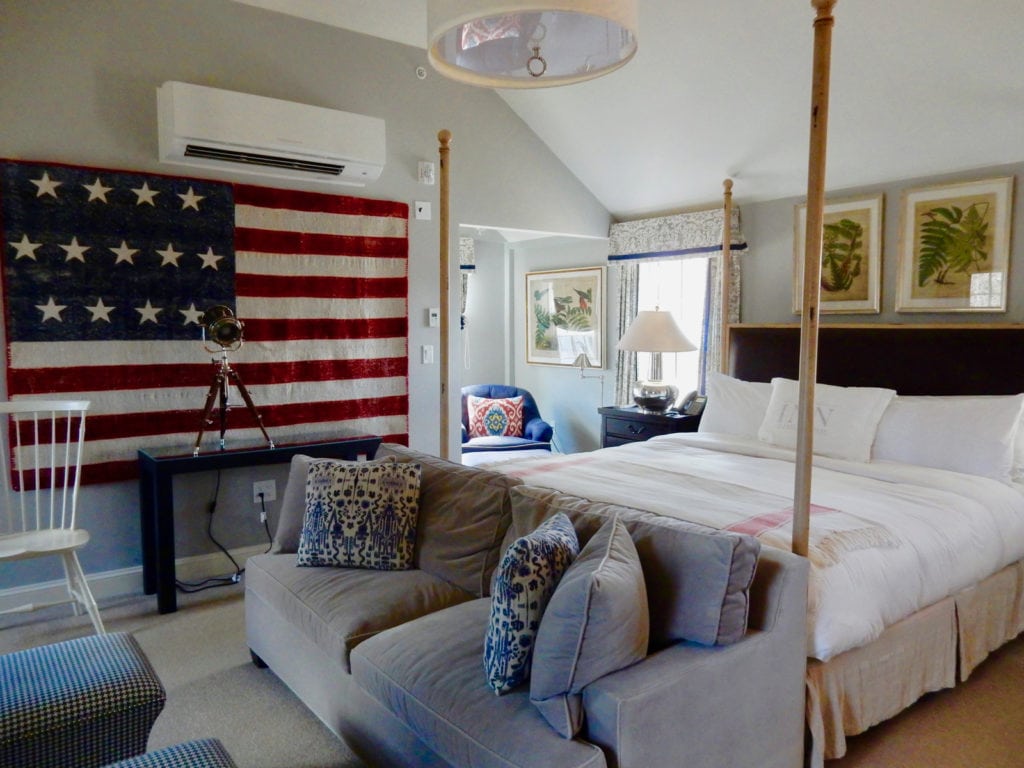 Suite #22, upstairs in The Barn, is sizable and contempo-colonial. High ceilings, grey walls, gas fireplace (fired up for my arrival), four poster bed, bulbous mirrored lamps on nightstands, stuffed couch, upholstered chairs, 42" flat screen TV, plus touches like a woven 13 star US Flag and table-top klieg light, marry Federal to modern Boomer splendor.
Turndown provides a piece of chocolate with a history lesson: this one – the fact that Paul Revere was just one of 40 riders that fateful night, but due to Henry Wadsworth Longfellow's poem, Paul Revere's Ride, all the rest were destined for obscurity. Until now.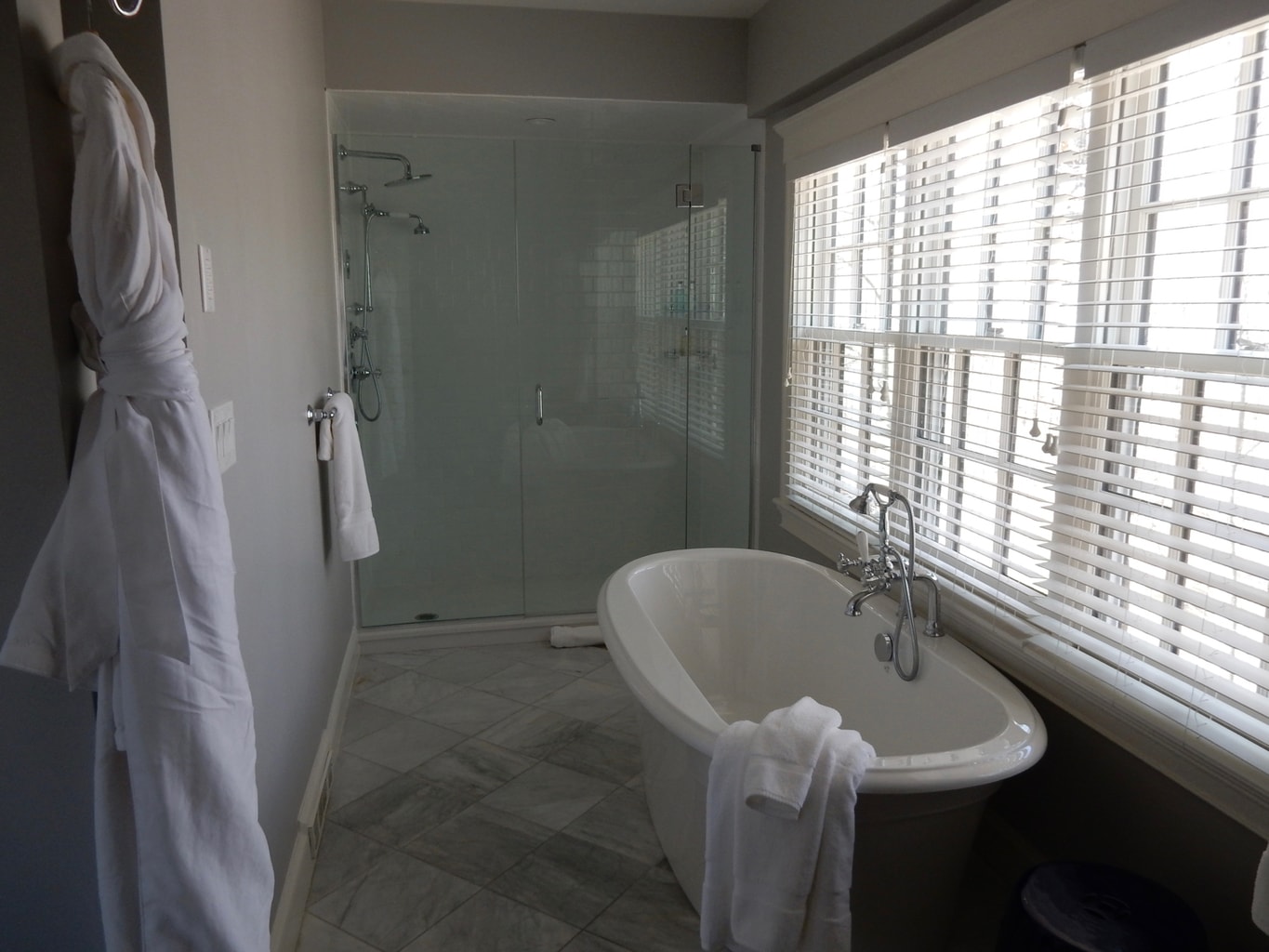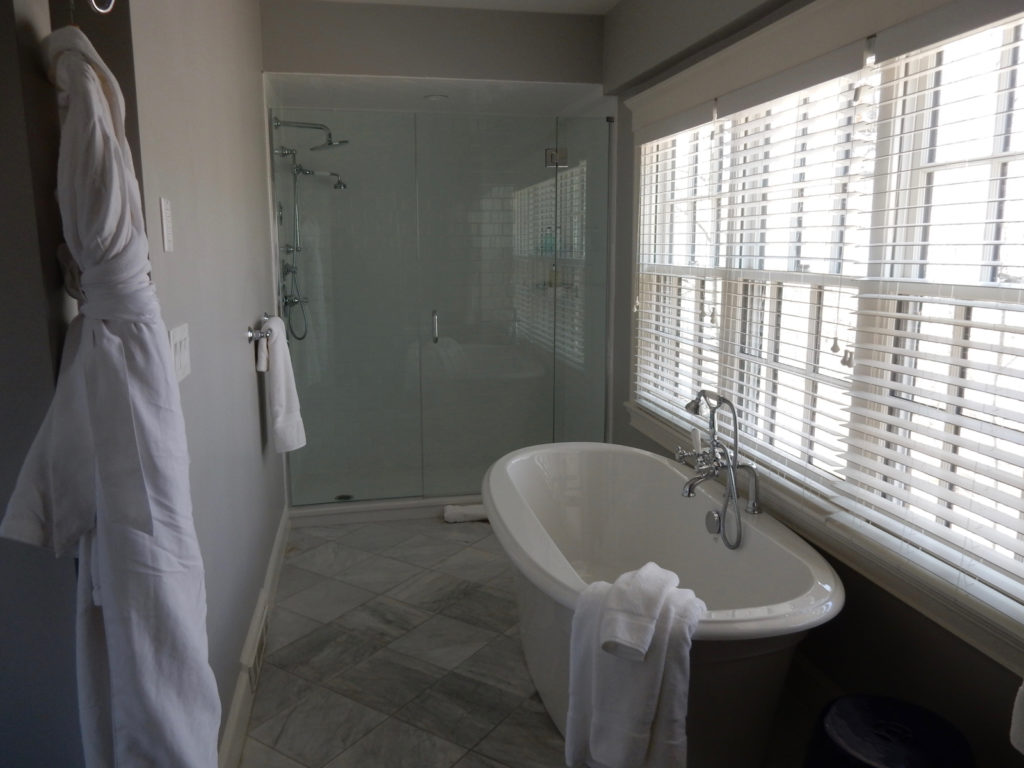 Bathrooms done up in white marble and bright subway tile, with double glass shower and soaking tub feature full bottles of face and hair products. No little bottles to topple landfills!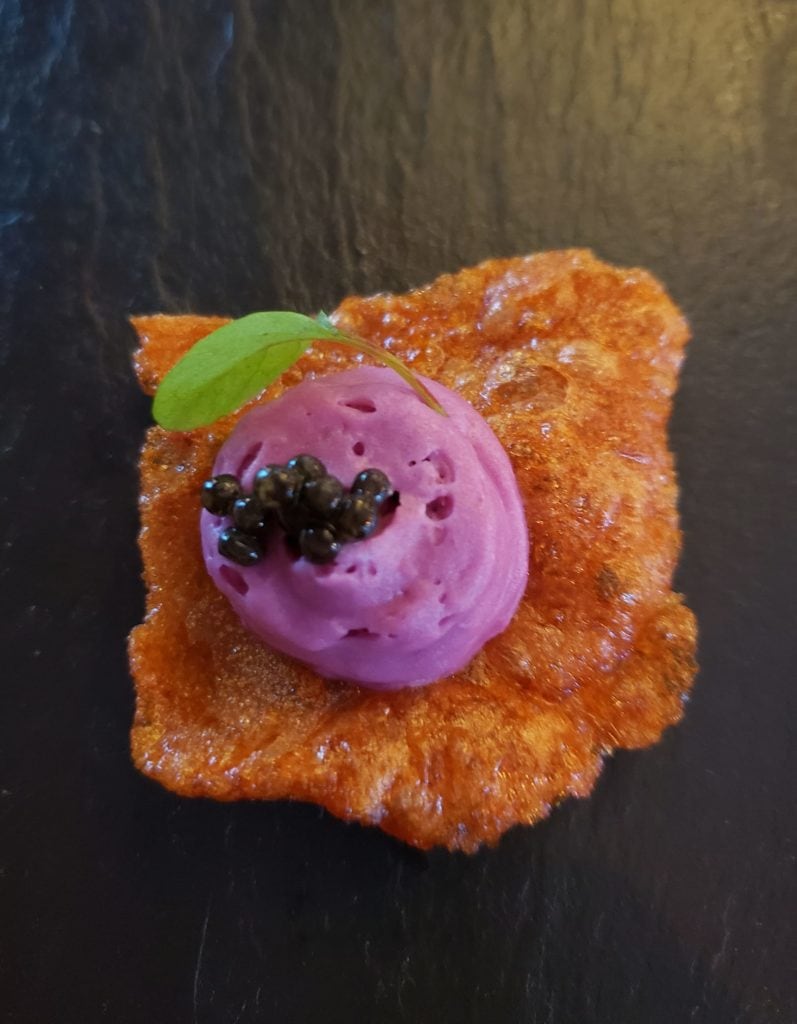 Artistry is certainly on the plate as well, in this fine, American cuisine restaurant. Starting with an "amuse bouche" that could double as a piece of pop art (here scallop cracker topped with smoked purple potato mouse and Sturgeon Caviar served on a small black slate), order Mushroom Risotto ($32), Cauliflower Steak ($24), Clam Chowder, Roasted Broccoli Salad ($14) and other tweaked New England fare. You will be duly impressed.
Just the Facts
Rooms and suites from $285-$550 includes parking and wi-fi. With the Pint Sized Patriot's Package, kids get tri-cornered hats and other treats at check-in.
To commemorate the latest Little Women movie, Inn at Hastings Park is offering the following package:
Learn and experience first-hand the literary richness of the Lexington/Concord area with the Inn at Hastings Park Literary Lexington Package.
With the growing interest in the Little Women movie, see the inspiration behind the life of author Louisa May Alcott and her home, the Orchard House. Experience Walden Pond, the site and scenery that was the foundation for Henry David Thoreau's most famous work. And visit The Old Manse, home to both Ralph Waldo Emerson and Nathaniel Hawthorne.
Enjoy trips to all three with complimentary use of the Inn's Volvo house car (based on availability). As a parting gift, receive a set of books to commemorate your stay.
Overnight stay in one of our luxurious accommodations
Access to three are attractions: Louisa May Alcott's Orchard House, The Old Manse and Walden Pond
Set of literary classics: Little Women by Louisa May Alcott, Walden by Henry David Thoreau and The Guide to Walden Pond.
All overnight stays include complimentary on-site parking and Wi-Fi.
Call for complete details. Reservations: 781.301.666o
Restrictions and blackout dates apply, and not available with any other offer. One set of books and up to two tickets for each guest room. Based on availability. Packages start at $380 plus tax and gratuity for single or double occupancy.