Last Updated on July 16, 2020 by Editor
Literary and Artistic Region of Western MA
Why is the Iconic Illustrators Trail in this area of Massachusetts?
Because Western MA is (and has always been) inundated with artists and writers of all kinds.
At the intersection of these two types of creatives are book and magazine illustrators – most famously, Norman Rockwell, Dr. Seuss, and Eric Carle – all who live or were born here.
People of all ages can experience an immersion into the worlds of all three notable illustrators on this cultural tour of Western Massachusetts.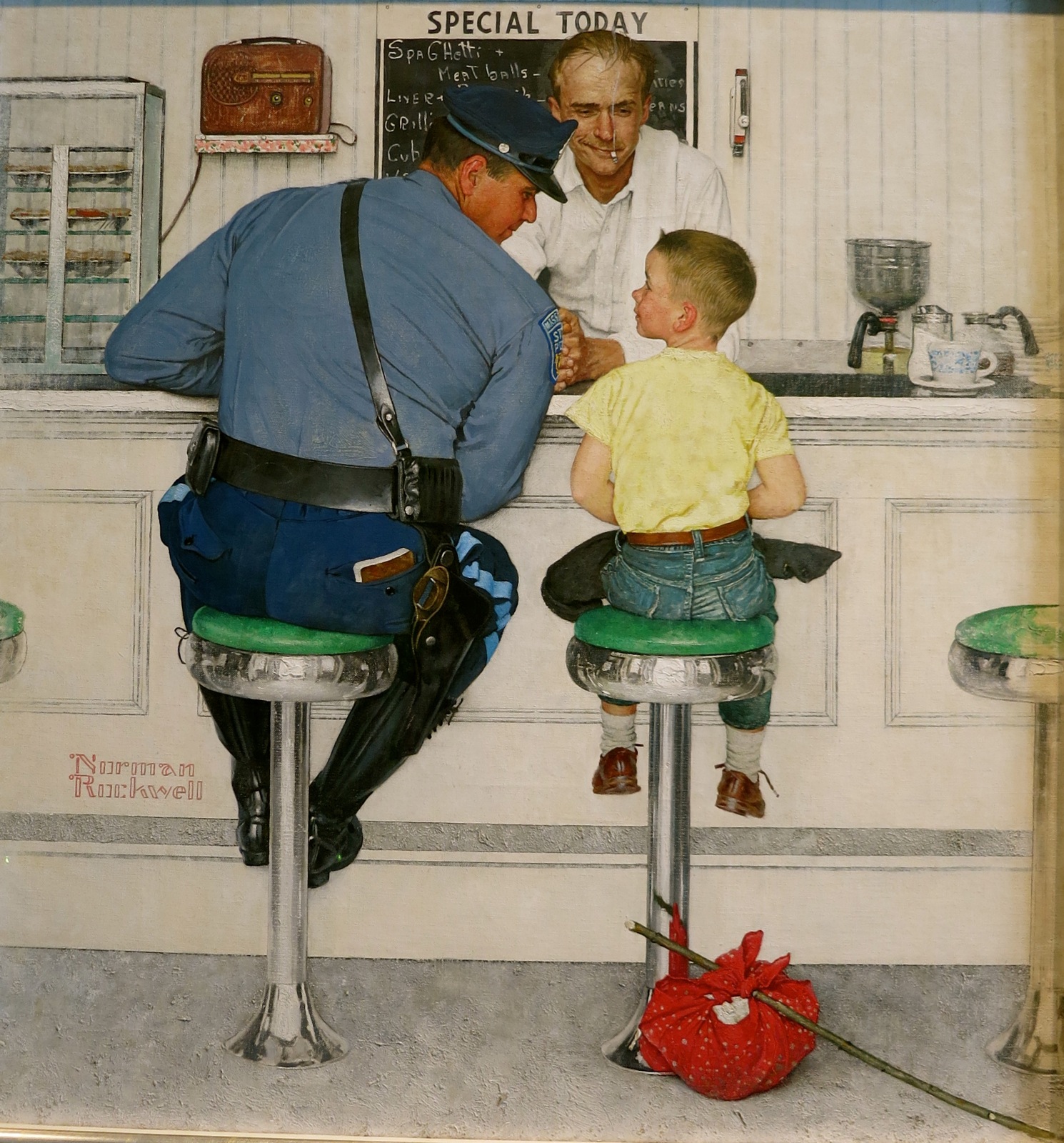 Discover Ticket Benefits of the Iconic Illustrators Trail
Three institutions, focusing on these three men, have collaborated to offer a Discount Ticket Pass along the newly formed Iconic Illustrators Trail.
Tickets cost $44 per adult and $120 for a family of two adults and two kids. This gains you entry into all three museums: The Amazing World of Dr. Seuss Museum in Springfield MA, The Eric Carle Museum of Picture Book Art in Amherst MA, and the Norman Rockwell Museum in W. Stockbridge MA.


The Deets on All Three Towns Along The Iconic Illustrators Trail
The Getaway Mavens have covered all three towns and regions.
Should you wish to follow the Iconic Illustrators Trail and then expand your road trip into a more substantial Western Mass journey, follow the links and enjoy.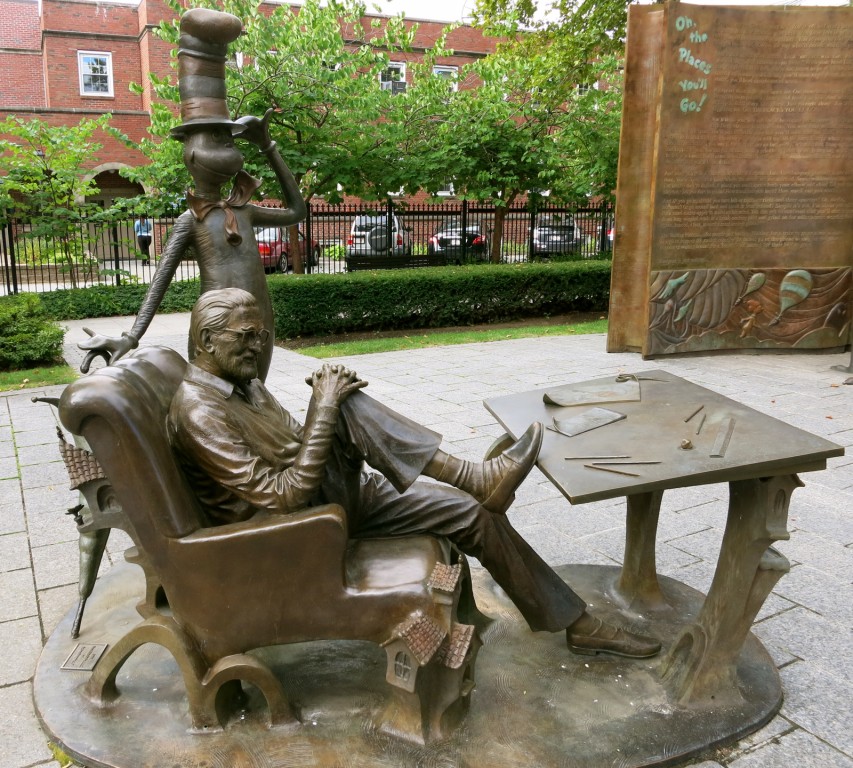 Those coming from New York or Boston might want to begin in Springfield MA (home of the Basketball Hall of Fame), and of course, The Amazing World of Dr. Seuss Museum….
The Amazing World of Dr. Seuss Museum is the newest of five Springfield Museums. Here you can see many of Dr. Seuss drawings, as well as a recreation of his Living Room and Studio.
Theodor "Dr. Seuss" Geisel grew up in Springfield MA. In fact, much of what he did and saw in his hometown ended up in his illustrations and writings. Geisel's father was a brewer who, when forced to find a new career after Prohibition, bought a zoo and allowed little Ted a run of the place.
It's no surprise, then, that Dr. Seuss's fantastical creatures stem from his childhood memories.
Plan a photo op with Geisel or The Cat in the Hat or any of the several dozen Seuss characters planted in the wonderful Dr. Seuss National Memorial Sculpture Garden. And then learn more about his life in Springfield's newest museum.
MORE TO DO AND SEE IN SPRINGFIELD MA
Drive 30 minutes North to Amherst MA where you'll find the Eric Carle Museum of Picture Book Art.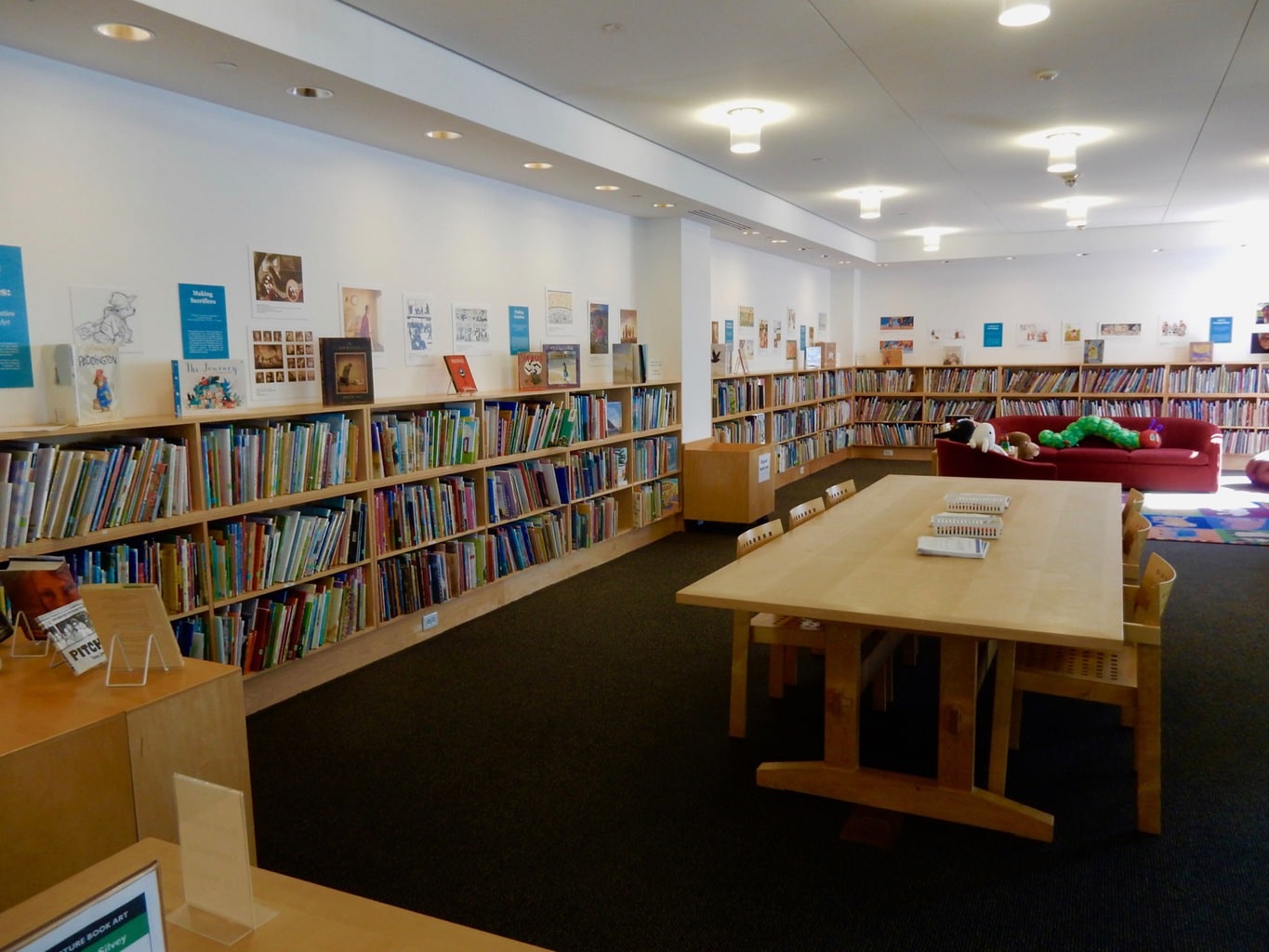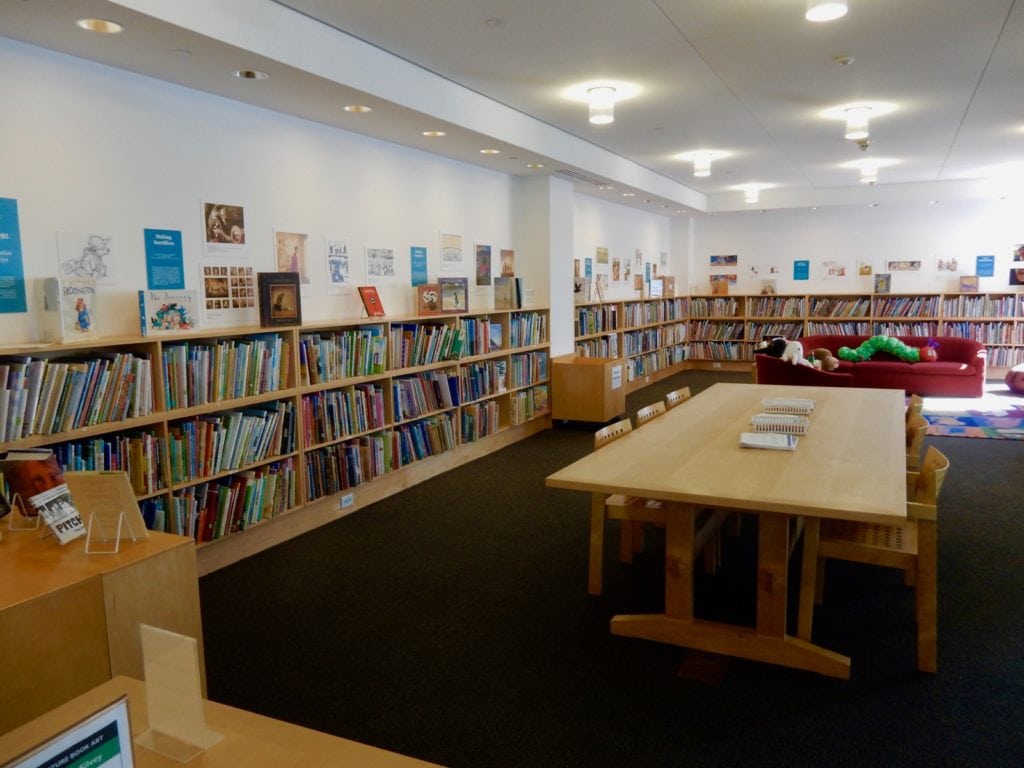 Located on the campus of Hampshire College, this homage to the man who wrote and illustrated A Very Hungry Caterpillar and Brown Bear Brown Bear is as fresh and vibrant as his books.
The sunlit, contemporary museum is composed of three galleries. There's also a comfy reading library with every Picture Book you can think of, a well-stocked gift/bookshop, and an Art Studio filled to the brim with colorful art supplies.
Kids enjoy the galleries. But the real draw for them is the fantastical Studio – free with admission. There, they can draw, cut and assemble pictures and work on art projects with help from Art Teachers.
MORE TO DO AND SEE IN AMHERST MA
It's about an hour's drive West through bucolic hills and farmland to the Berkshires, where you'll find the Norman Rockwell Museum.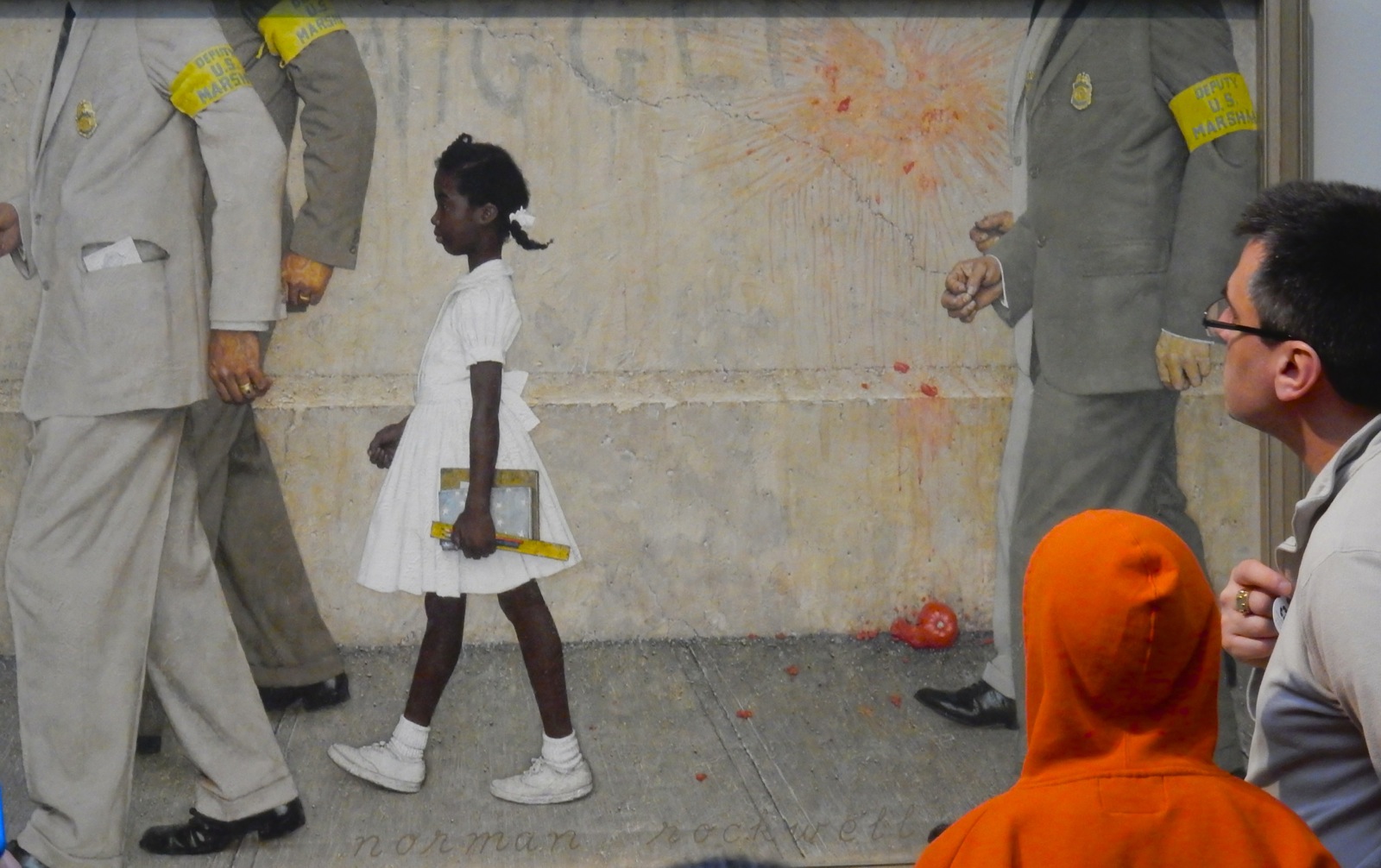 Norman Rockwell "chronicled the American Century as no one else did, with an eye for everyday drama and extreme attention to detail."
Rockwell was only 22 years old when he began creating covers for the Saturday Evening Post.
You'll hear tidbits and gossip about the life of one of America's most popular illustrators in the one museum that houses the largest number of original Rockwell's in the world. The great chronicler of American Life lived in Stockbridge the last 25 years of his life.
Take a wonderful 30 minute tour (free with entry) to learn about Rockwell's favorite model – Billy Pine – the disgruntled boy pushing a baby buggy in his first Saturday Evening Post cover. Plus, hear about the townspeople depicted in "The Gossips" who wouldn't talk to Norman for months after that issue came out.
Rockwell's Four Freedoms (of Speech, of Worship, from Want, from Fear) based on FDR's "inalienable rights," toured the country during WWII. The tour raised an astounding $145 million for War Bonds – the most successful drive ever.
In the turbulent, racially divided 1960's, when The Post shied away from controversy, Rockwell moved to Look Magazine. More progressive, Look was more than willing to print "Murder In Mississippi" and "Ruby Bridges."
Rockwell was born in 1894 and died in 1978, bearing witness to both the first flight at Kitty Hawk and the Moon Landing. Along the way, he illustrated Tradition and the Past while honoring the American Spirit.
MORE TO DO AND SEE IN MA BERKSHIRES