Last Updated on
One of the first "lifestyle" boutique hotels to open in this mid-town Manhattan locale in 2011, just a few blocks from Grand Central Station, the Hotel 48LEX was touted as a design-forward, customer-oriented establishment on the cusp of a growing demand for this kind of lodging.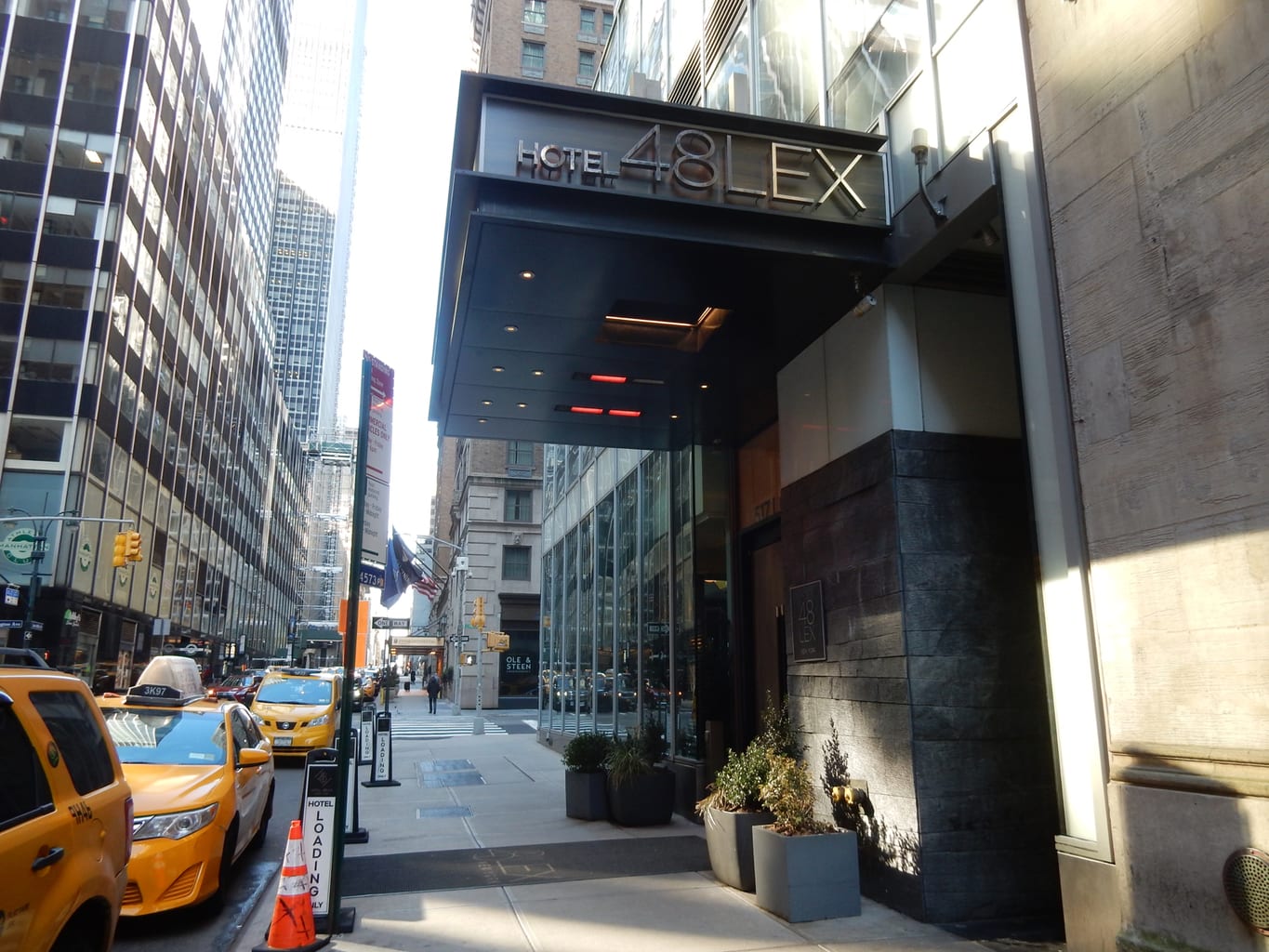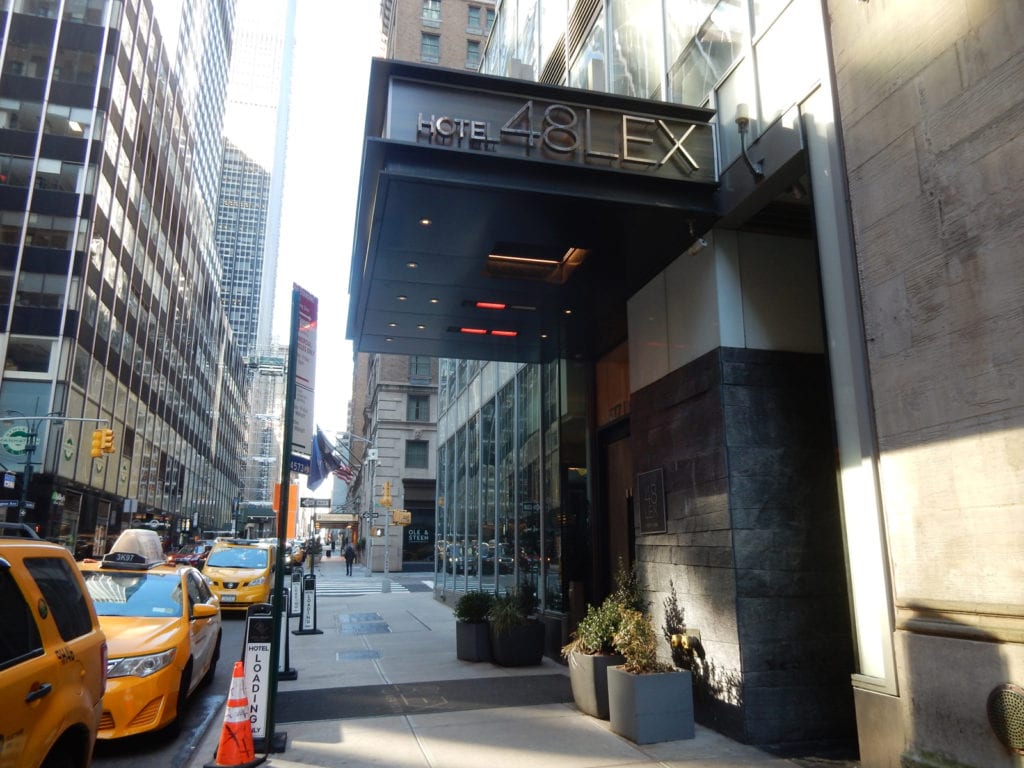 After 8 years and newly refreshed rooms, Hotel 48Lex hasn't lost its mojo – offering handsomely furnished rooms, breakfast with room, and a complimentary wine and cheese hour to guests every afternoon.
Best of all, off-season weekends see room rates as low as $135 per night – practically unheard of for an upscale NYC room and with all the attendant perks .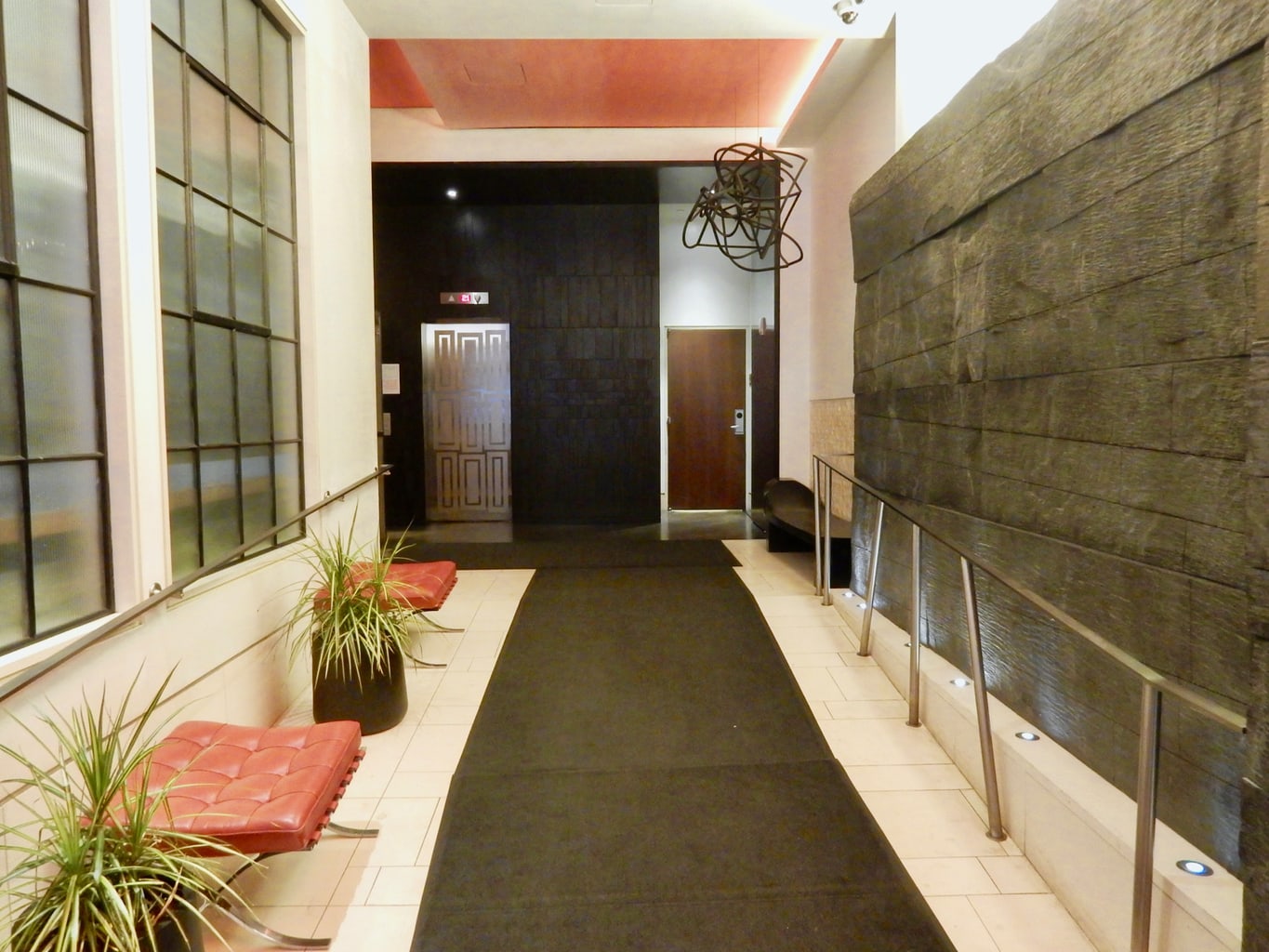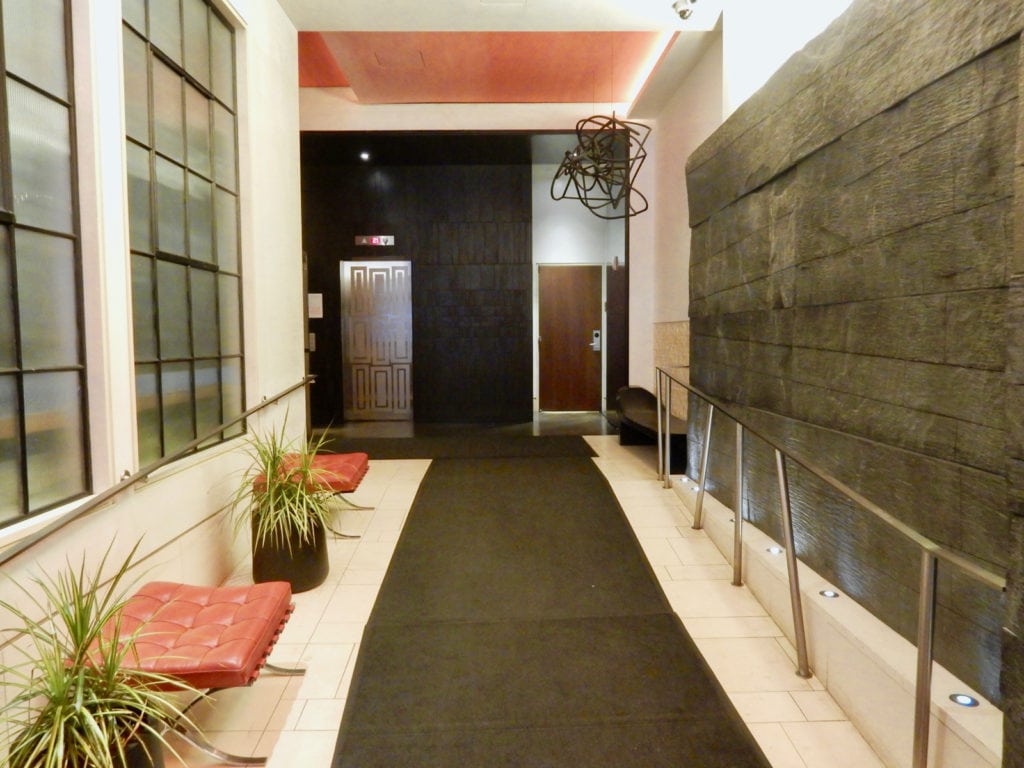 Walk through the nondescript entrance of Hotel 48LEX into a long slim foyer fashioned with elements of Mother Nature: one wall of up-lit roughly chiseled New York schist opposite orange leather benches and spindly plants.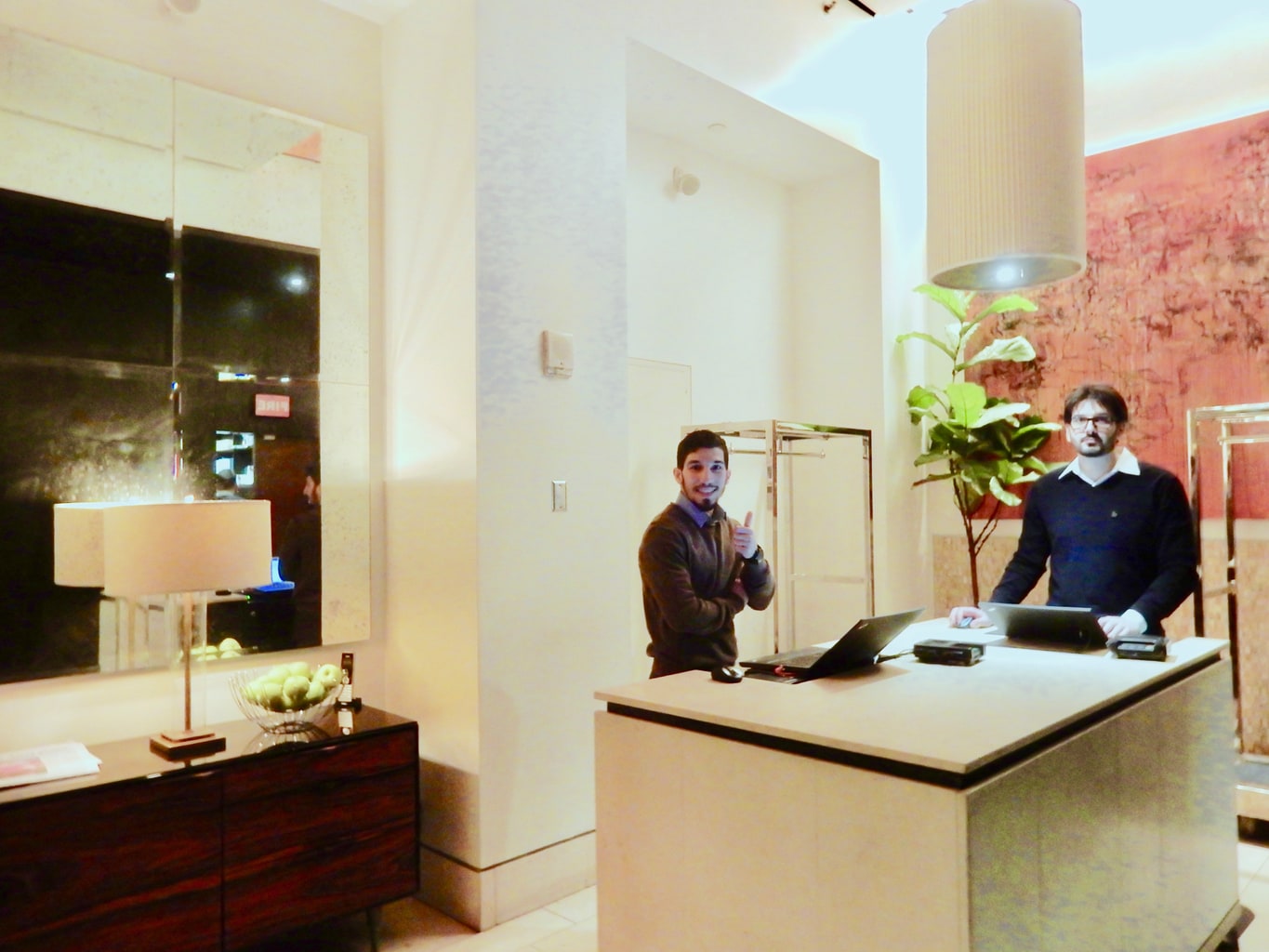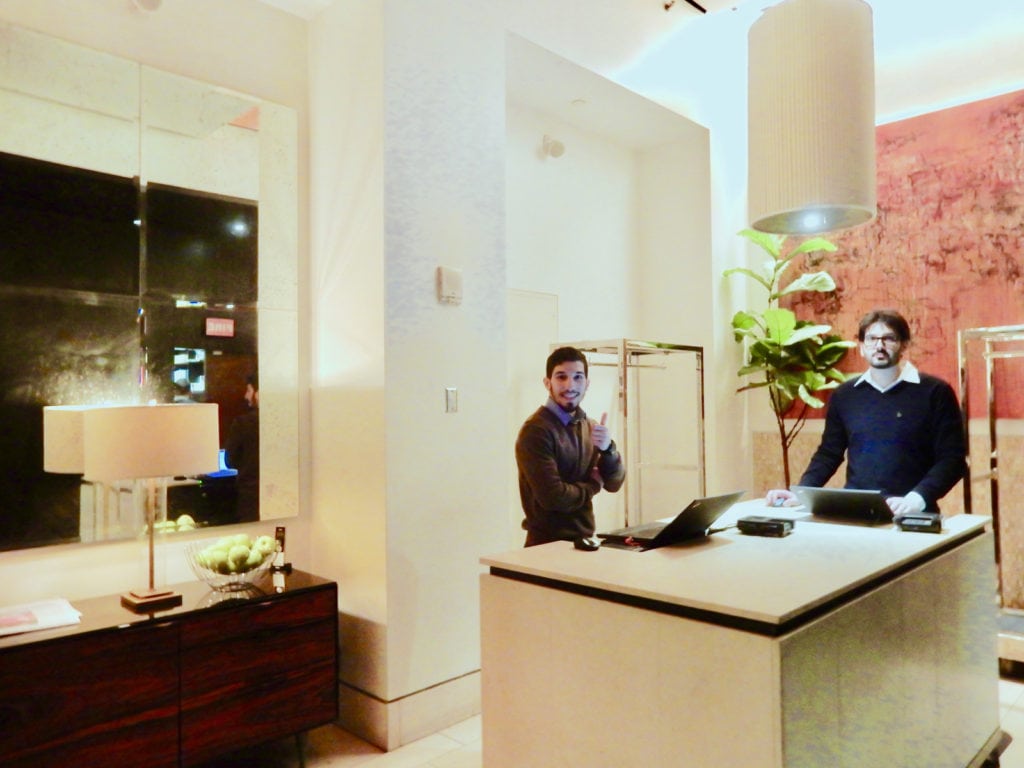 When first opened, reception was on the 2nd floor, in the Lexicon Lounge. Now, however, check-in is situated in a small area on street level where friendly staff usher you quickly through the process and into your room.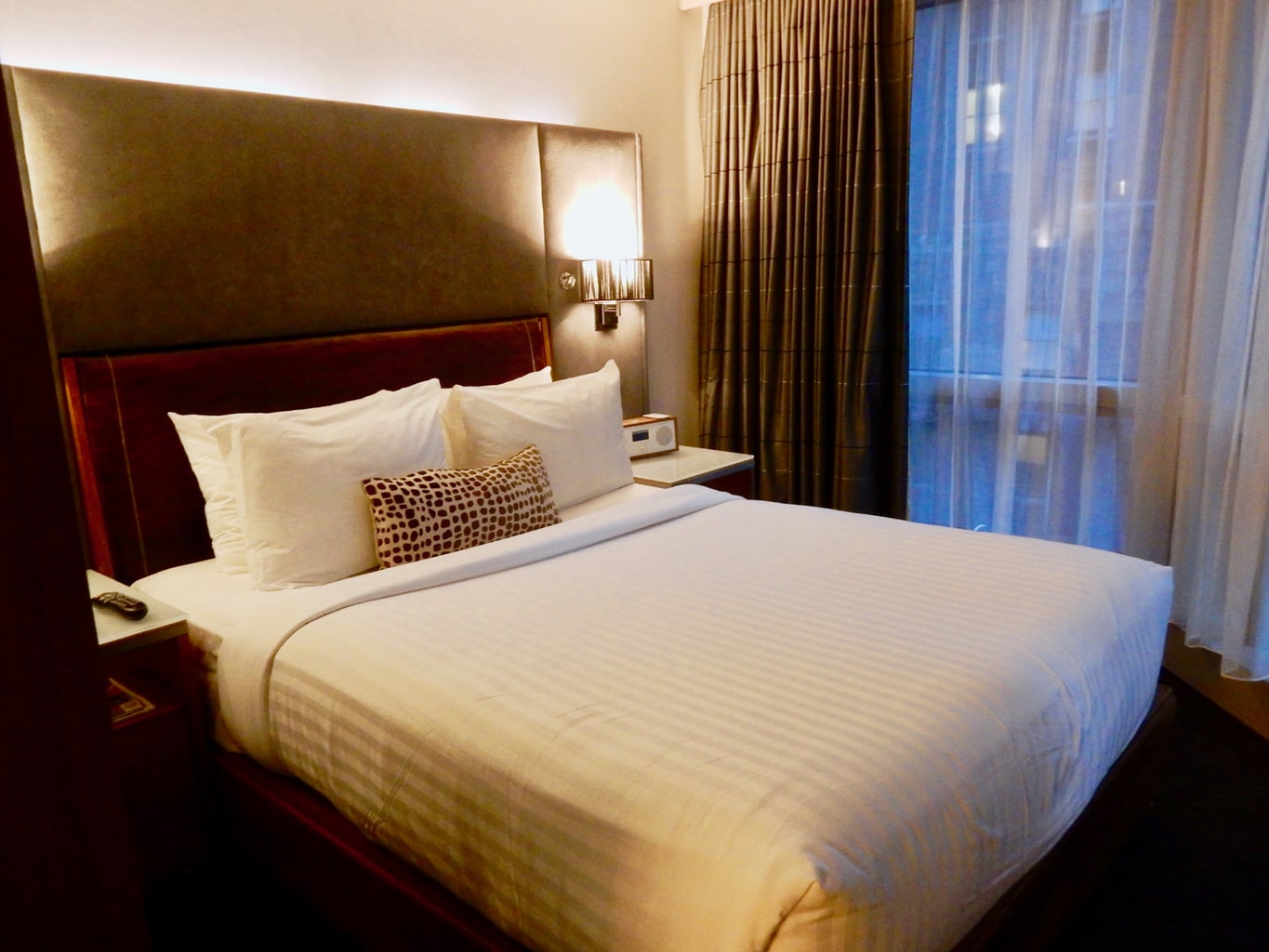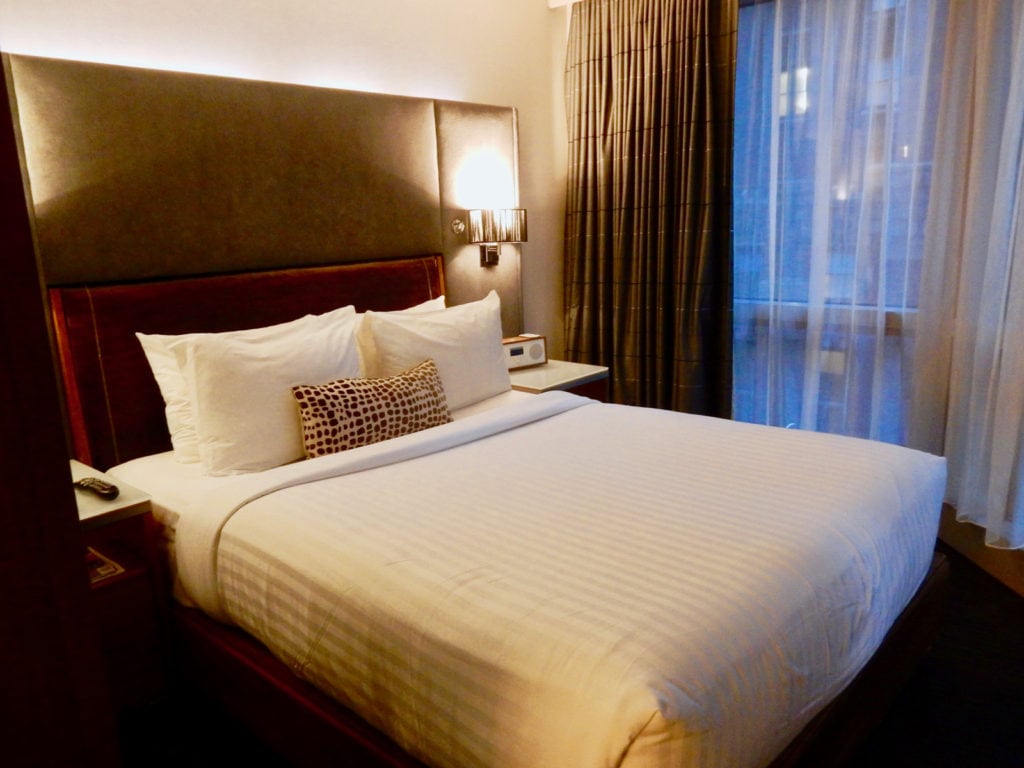 Guest rooms are crisply posh and modern with a certain masculine cachet; charcoal pinstripe carpeting and floor-to-ceiling windows presenting dioramas of midtown commerce framed by grey curtains.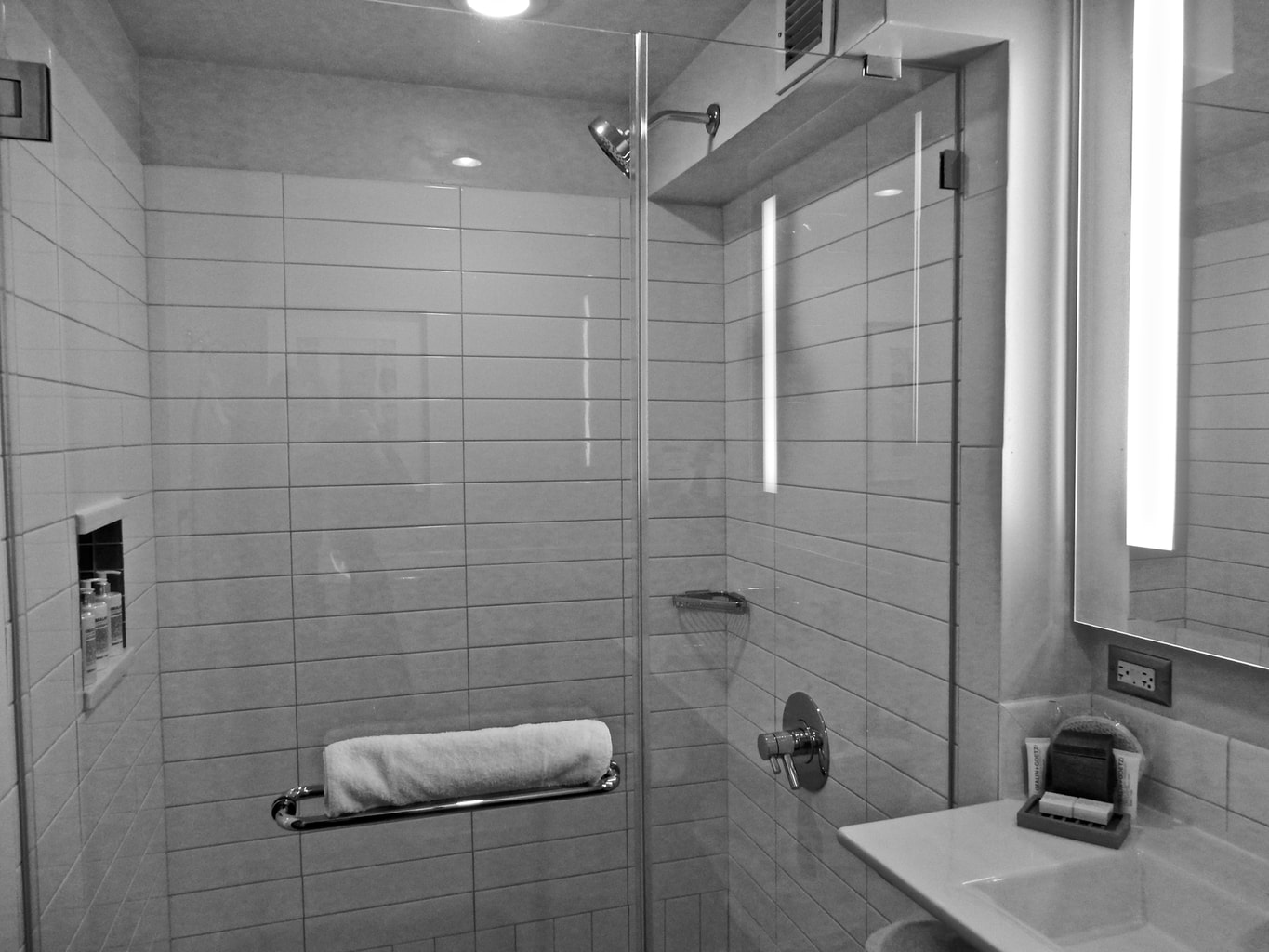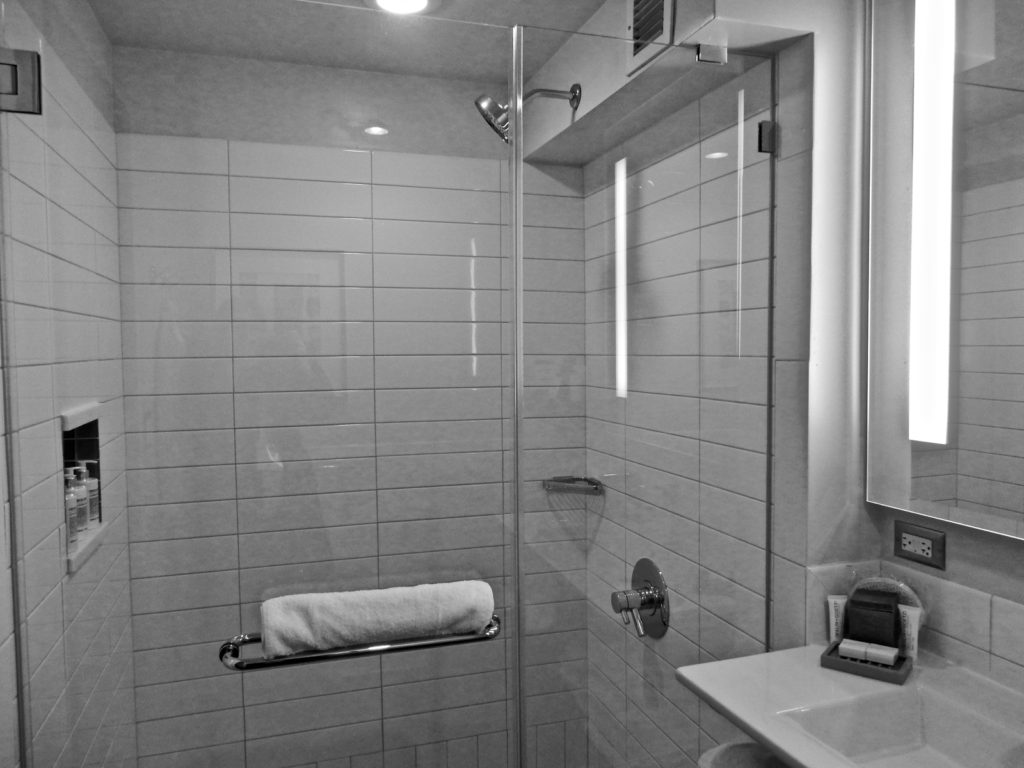 Bathrooms gleam with white subway tile and large glass showers – and, thankfully, plenty of lighting.
Lexicon Lounge at Hotel 48LEX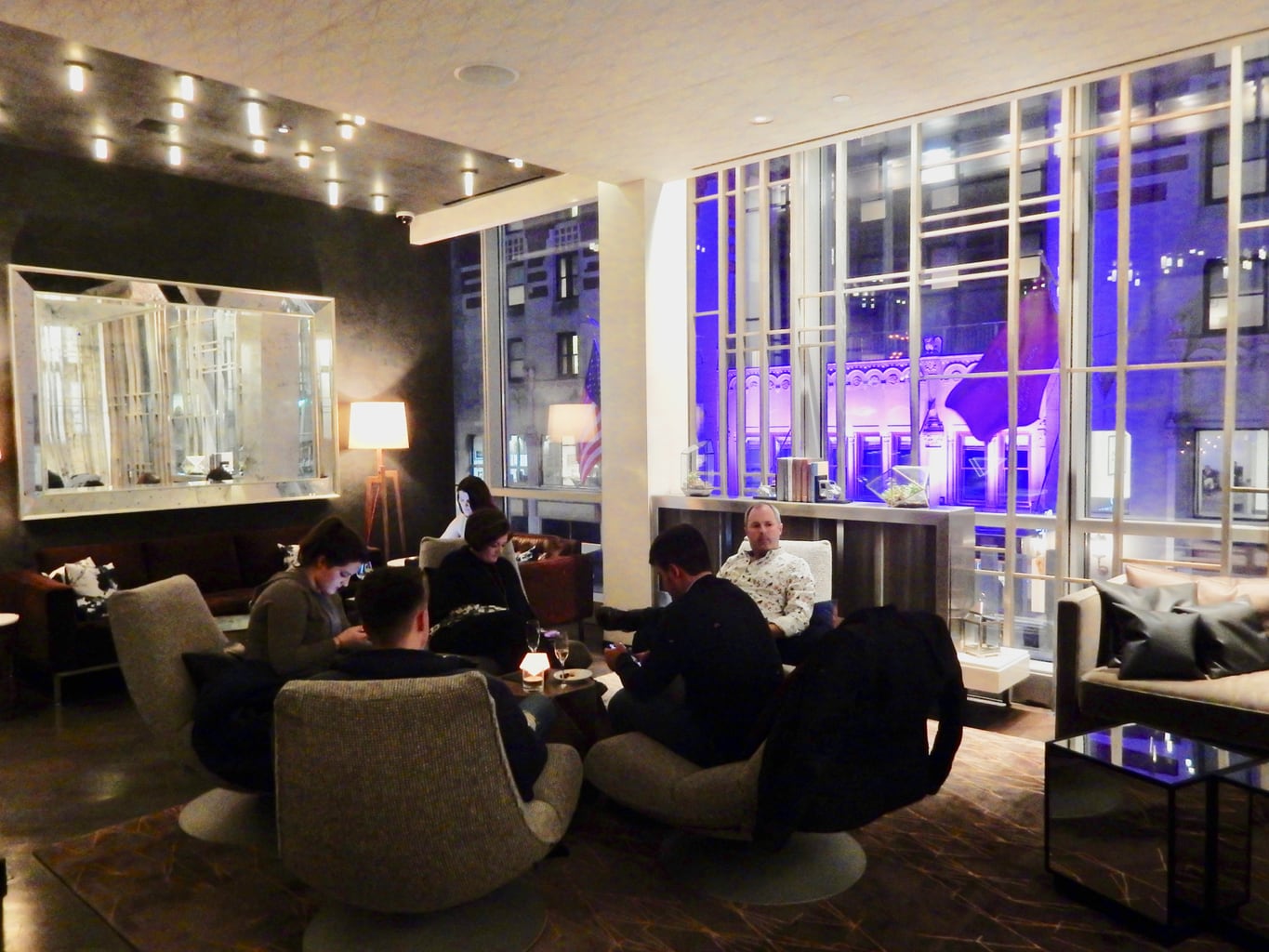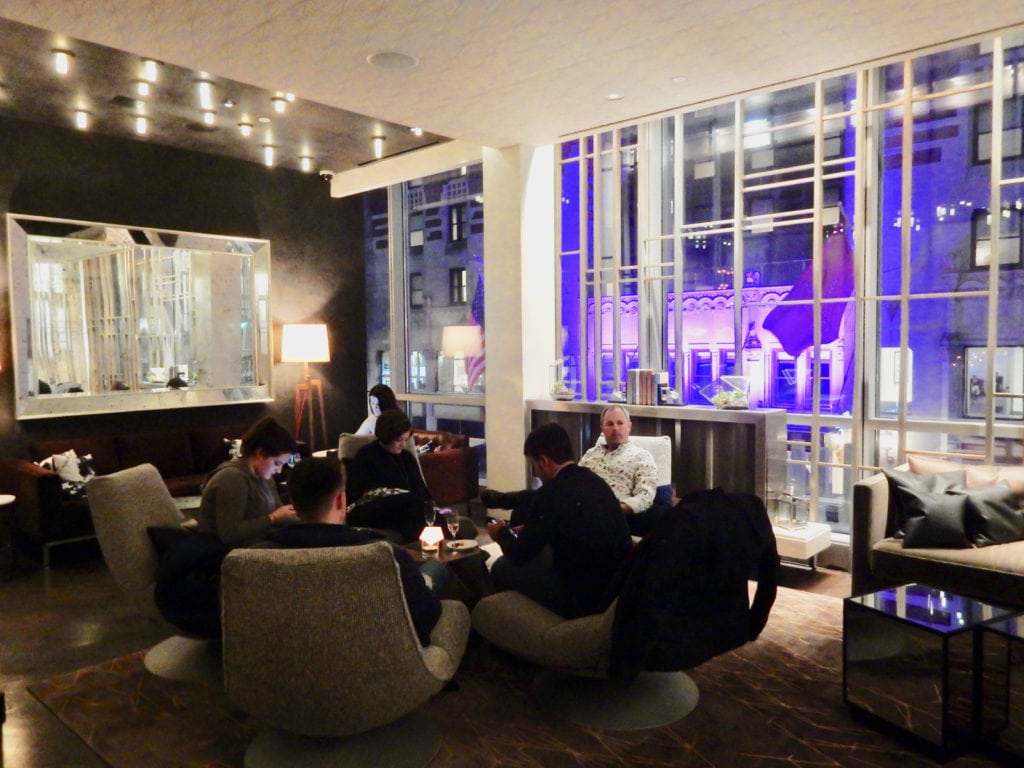 Every early evening, guests can enjoy a glass of wine and nibble on cheese and other small bites in the George-Jetson-hip Lexicon Lounge on the 2nd floor – with, again, floor to ceiling windows overlooking several iconic NYC buildings. Guests can use several available IPads and enjoy a complementary craft coffee while sitting on cushy couches or around a high-top communal table.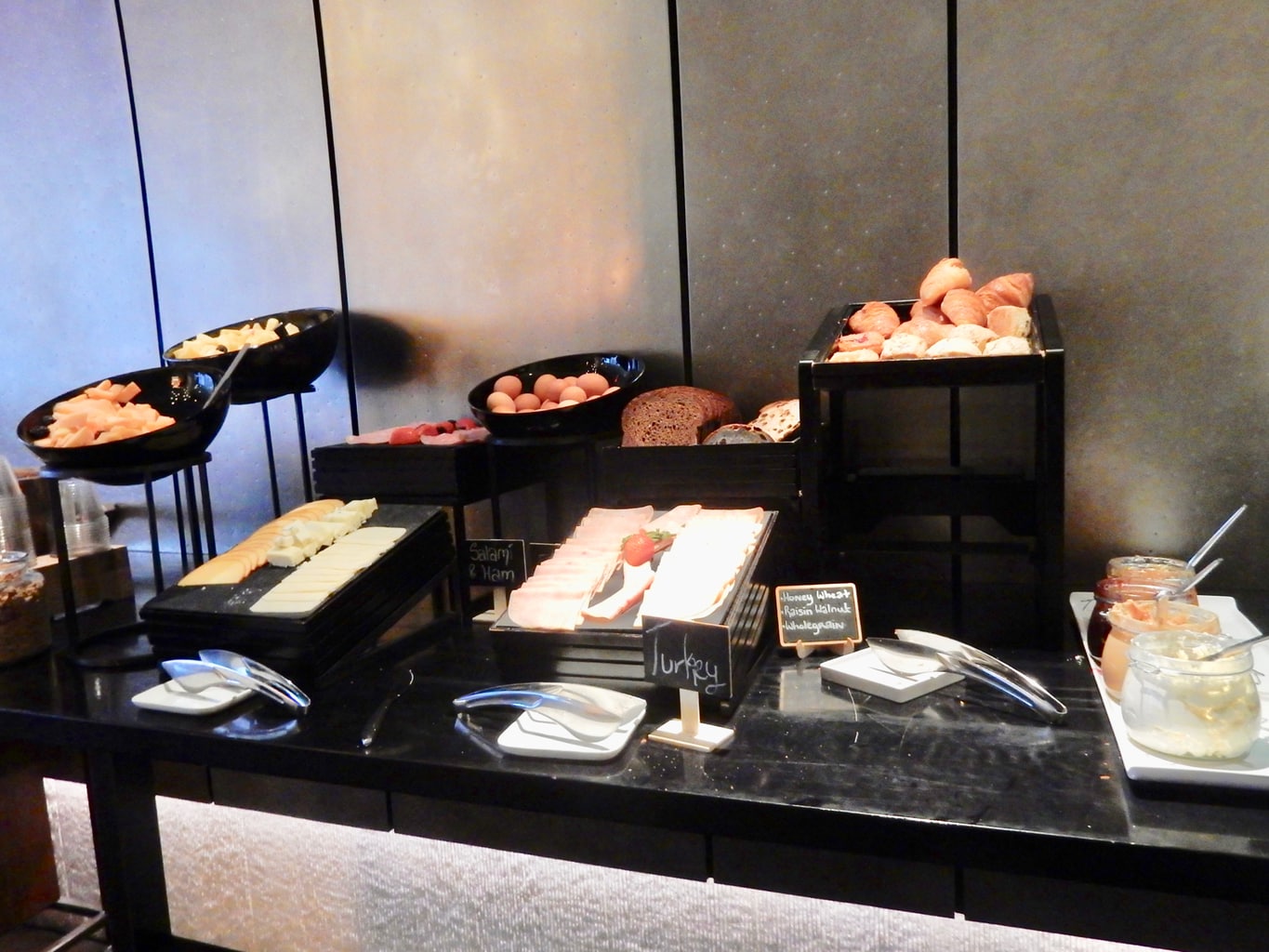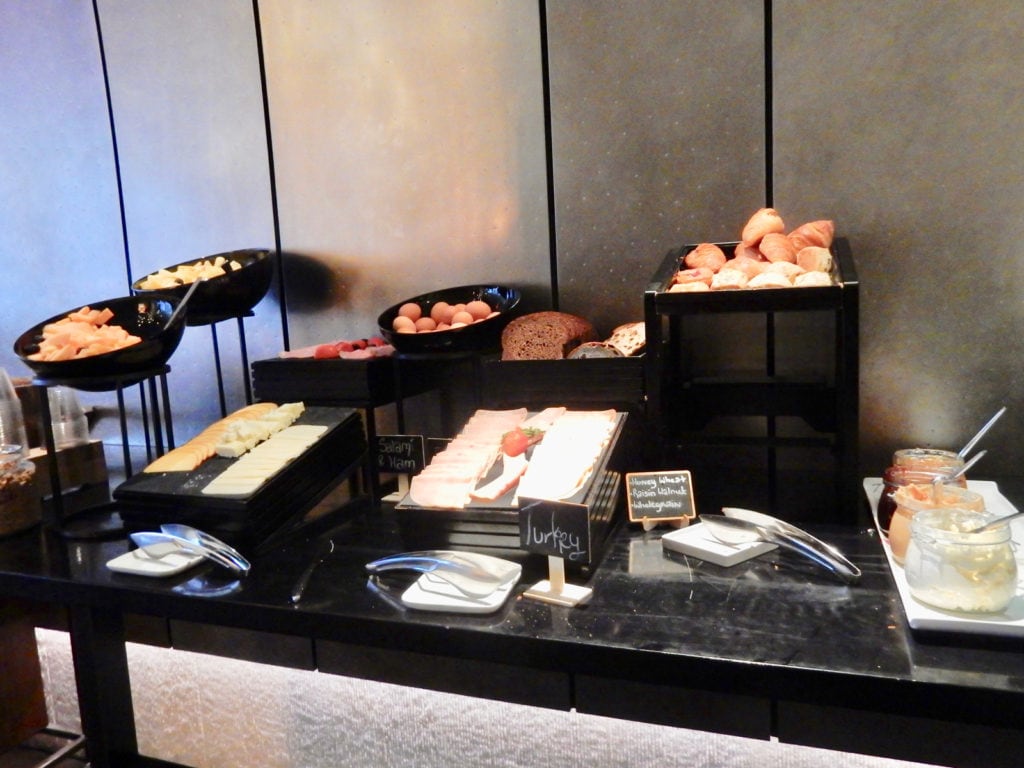 Morning brings a complimentary "European-style" breakfast – always a refreshing bonus in the typical "nickel-and-dime-the-guests" universe of other upscale hotels.
Laid out as a buffet in the Lexicon Lounge, fresh delectables range from cured meats and cheeses to cereals, granola, fresh fruit and pastries.
Fitness Rooms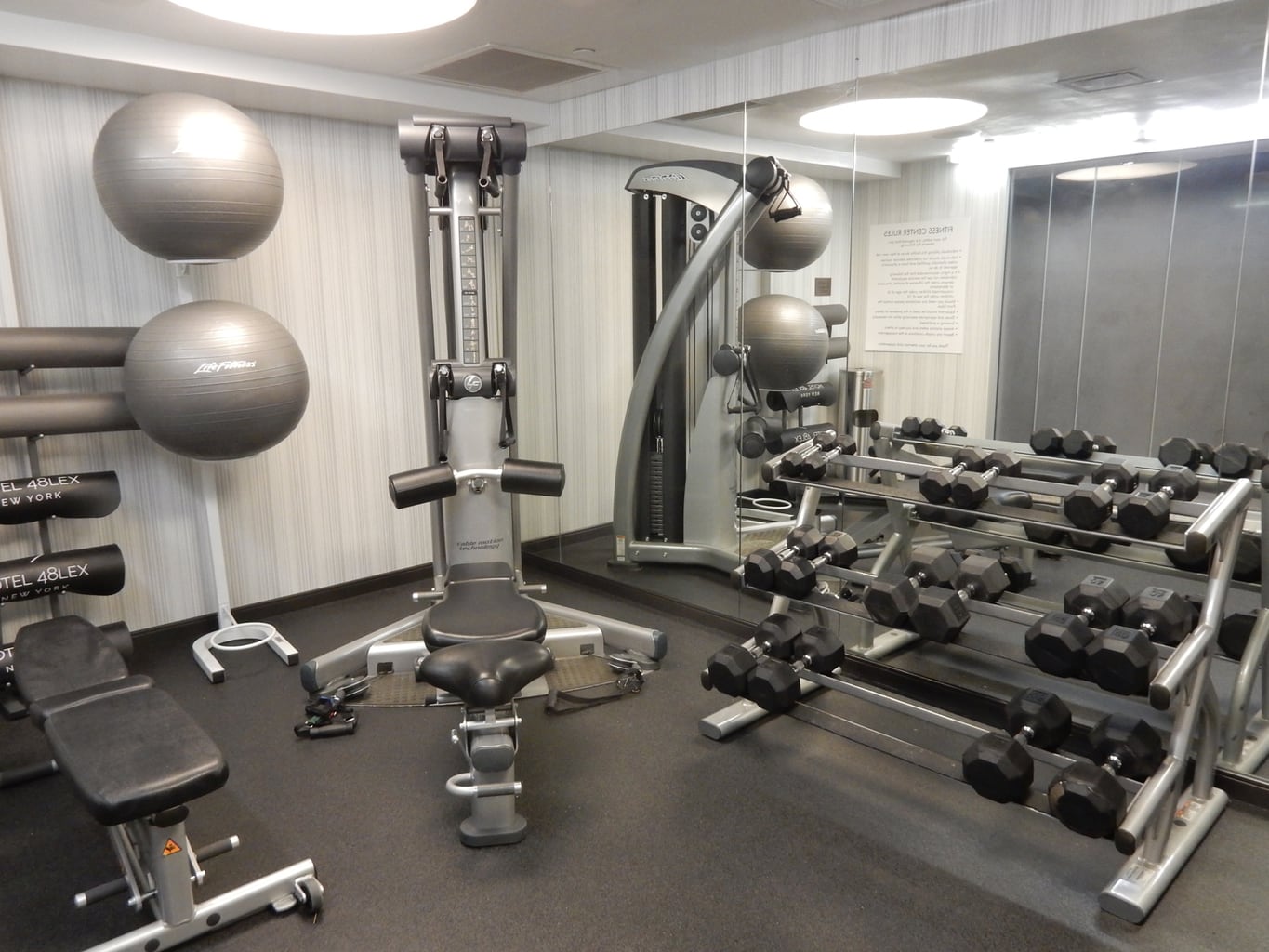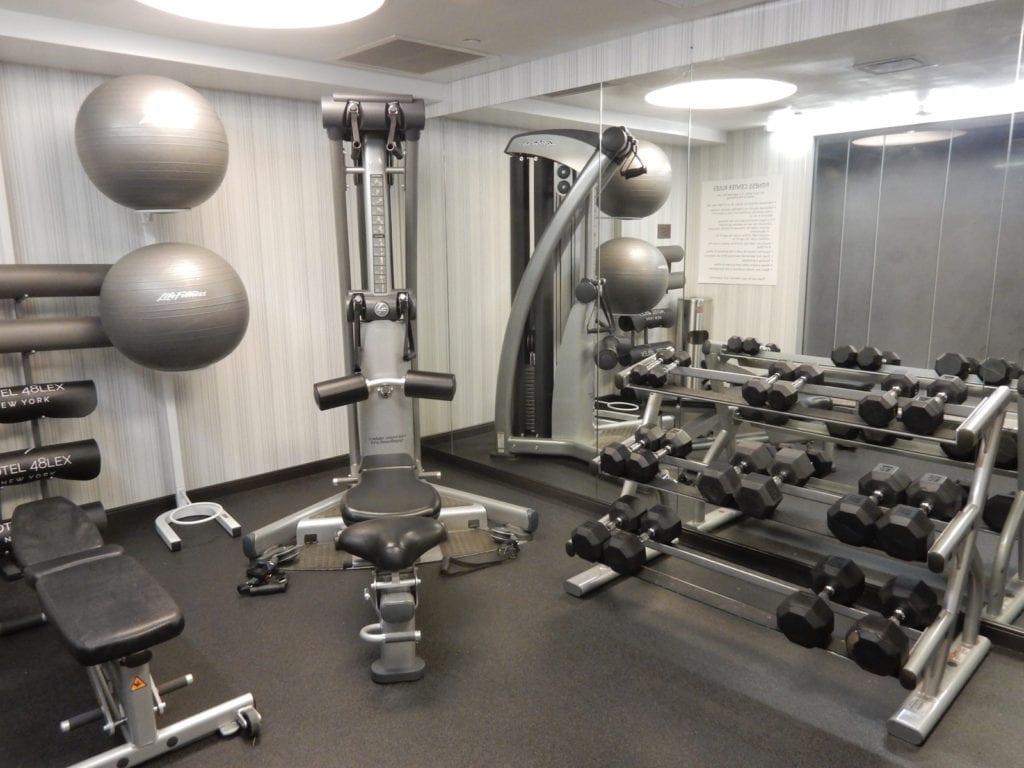 In the basement, fitness areas are divided into two rooms – one for treadmills, elliptical, and other machines, and a second for weights and balls.
Just the Facts
Stay weekends offseason for the best rates. Winter weekend rates start at $135 (winter mid-week at $250) and include complimentary wi-fi, European-style breakfast and early evening wine and cheese hour.
Hotel 48LEX Insider Rate
Want access to exclusive rates and seasonal offers? Select your stay dates on our website, click "View Insider Offers" and sign up by using your email, Facebook or Twitter account to unlock insider exclusives from Hotel 48LEX. Save an additional 10-15% on our flexible rate, or access extra perks such as complimentary breakfast at our signature restaurant, Lexington Brass.
While you're with us, utilize those savings for delicious cocktails and cuisine, or go out and explore the shops, restaurants and cultural attractions right outside our front door.
The Hotel 48LEX Insider Rate includes:
Daily European-style breakfast served in the private guests-only Lounge featuring cured meats, cheese, parfaits with seasonal fruit, melon, hard boiled eggs, croissants and artisanal jams, as well as fresh juices and gourmet coffees and teas
Evening wine and cheese reception featuring Sommelier-selected pairings
Premium WiFi for all devices
Nightly turndown service
Bottled water in room
Plus, much more