WHY GO: These Kennebunk, Wells, and Saco ME attractions should be added to THIS Getaway Mavens Kennebunks post, as there is very good reason to visit them all.
Preservation – of land, transportation and history – is the thread that connects all of these places; safeguarded by passionate volunteers and organizations.
Things to Do in Greater Kennebunk ME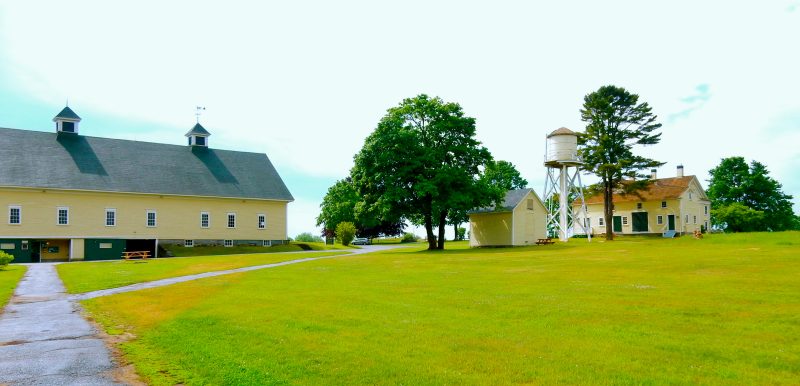 Just four miles from Kennebunk, this research property and historic farm is a beautiful place to stroll and learn. Named Laudholm from "Laud" (to praise) and holm ("meadow"), the property was owned by a succession of four farming families from 1717 to 1952.
They raised cattle and sheep, and grew hay, barley and potatoes. Old timers knew it as a dairy and chicken farm. Locals would purchase fresh milk, cream and butter, eggs and roasting chickens. During the depression, the farm took in summer borders. A room with private bath and three meals a day cost just $6 per person per day.
In 1952, the Guernsey's were auctioned off, and 100 acres of farmland and beach sold to the State of Maine. In 1982, the remaining acreage was turned over to the nonprofit Laudholm Trust to be used in a diverse way.
Open to the public, this seaside land now serves as an education and conservation center. It offers school programming, salt-marsh studies, and lots of trails for visitors who just want to spend an hour hiking in a refreshingly non-commercial place.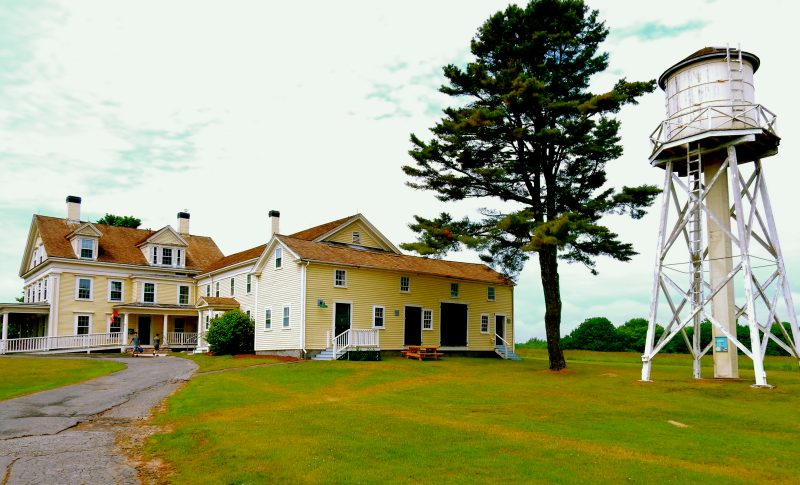 What can a drop-in visitor do? Peak into research labs, meet the scientists. Learn the Reserve's history in a well-designed Visitor Center. Join Morning Yoga on Tuesdays at 8am in summer. Come along on a summer walk with an informed guide.
Or just walk by yourself on seven miles of trails through a variety of habitats – fields, forest, salt marsh, sandy beach and mossy bogs. This is utopia for birders as well. Over 280 species have been seen here. Trails open 7am to sunset. Visitors Center open Memorial Day to Columbus Day, Mon-Fri 10-4, Sat 10-4, Sun 12-4.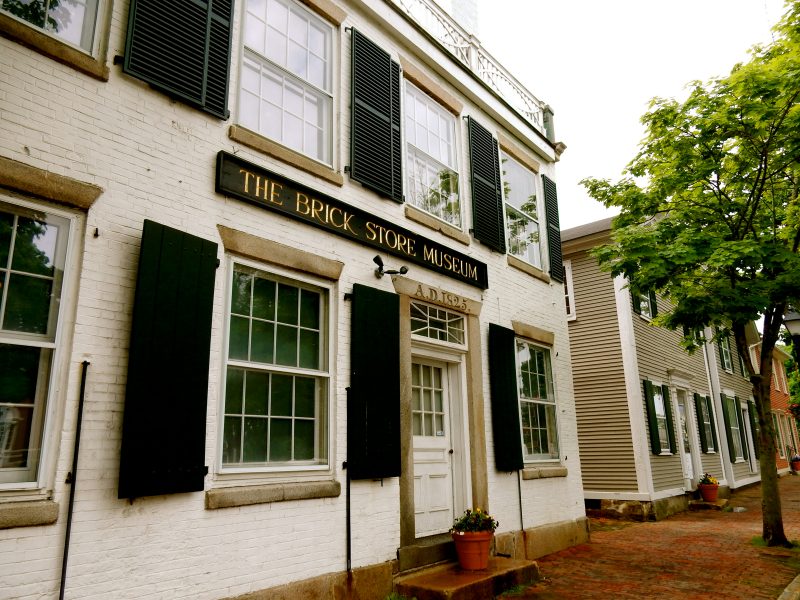 This eclectic art-history museum is over 80 years old. Once a dry goods store in yes, a brick building on Kennebunk's Main St., the museum came about when New York City artist, Edith Barry, inherited the store from her Grandfather in 1936.
Barry never married. She was devoted to her craft and the founding of this hard to define museum, which now encompasses several galleries within a whole downtown Kennebunk block.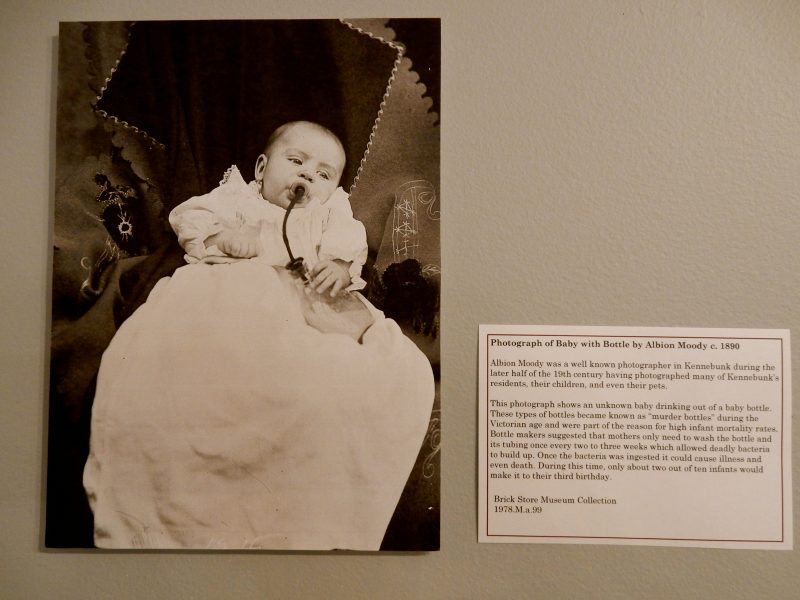 You'll find mostly rotating exhibits that feature paintings, furniture, decorative arts, fashion, and even ingenious inventions that proved Yankee Ingenuity was alive and well here.
A temporary exhibit about The History of Modern Medicine included photos of "Murder Bottles:" Victorian-era baby bottles that bred deadly bacteria causing high infant mortality rates. All due to the manufacturer's recommended twice a month cleaning. Open Tues-Fri 10-5; Sat 10-4; and Sun 12-4. $7.50 adults, $3 kids.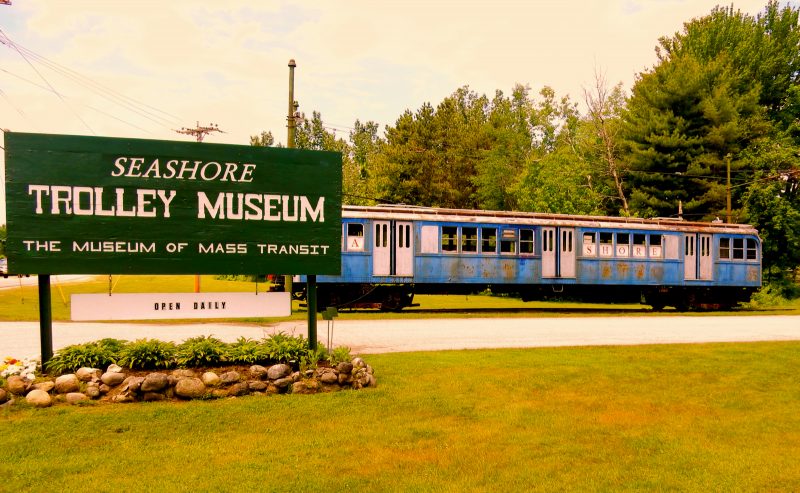 The "oldest and largest trolley museum in the world" happens to be in Greater Kennebunk. STM has been a tourist favorite since it opened in 1939. Amazingly, it still holds tremendous appeal to kids, history buffs and anyone who likes to ride old trolleys and see the best of them from around the world.
I loved the impassioned volunteers who do everything from driving and maintaining the trolleys to taking passenger tickets to working the reception desk. It's a very dedicated, and funny group.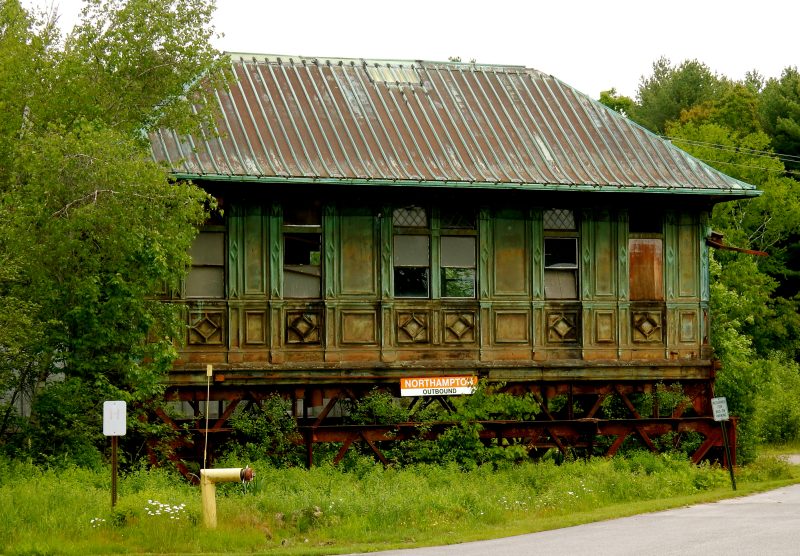 You'll find 300 trolleys in various stages of restoration, from decrepit to gleaming. Over 30 are operational. As a Public Transportation Museum, "The Largest Collection of International Transportation in the World" in fact, you'll also see buses, subway and rail cars.
But predominantly, trolleys. Each sports an information plaque that includes origin, date, and name of manufacturer, and the year it retired.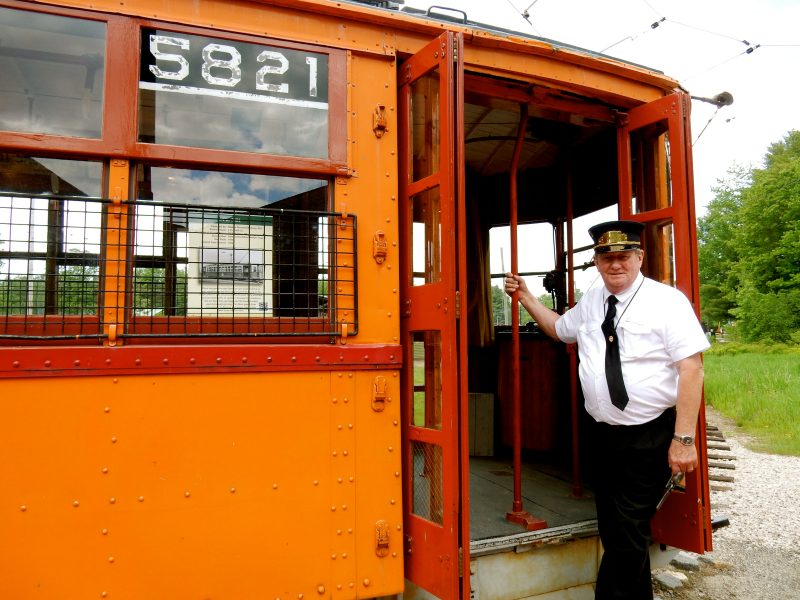 It's quite delightful to ride these electric beauties on 1 ½ miles of original trolley tracks while motor-mouthed motormen, like Mike Curry (retired from Federal Law Enforcement whose wife told him he "needed a hobby") inform riders about the history of the trolley industry and its demise.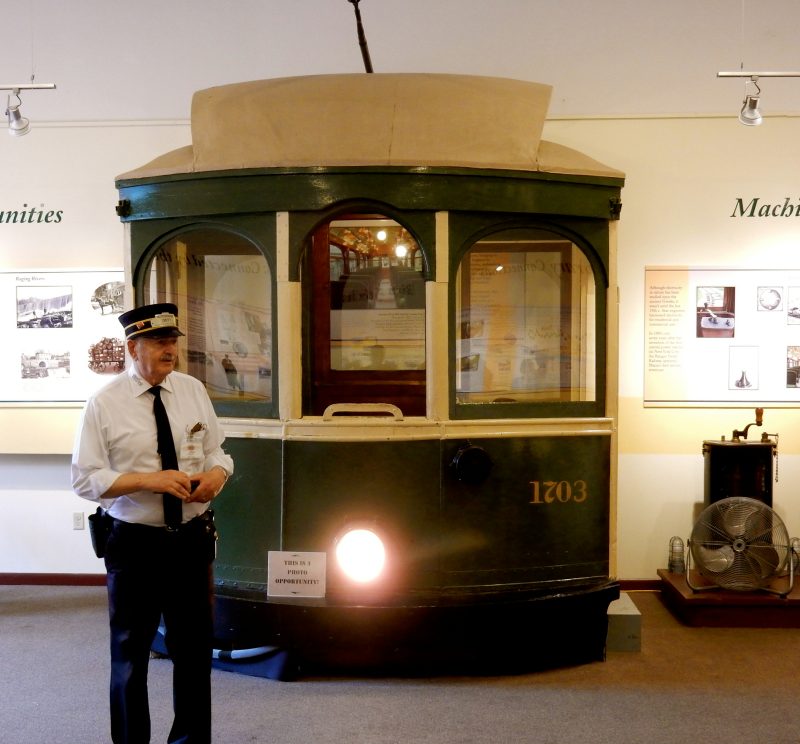 Privately owned trolley companies served American cities, which were hot and dirty at the turn of the 20th century. Initially, trolleys ran from Monday to midday Saturday – the workweek. But they sat idle the remainder of the weekend.
Seeking to capture a new, paying market, these companies built amusement parks (also called "Trolley Parks") outside of cities, laying down track through farmland. It was a win-win situation for recreational customers who couldn't wait to escape the heat, and the farmers who could get their products to market quickly.
Saving the Trollies
But by the late 1930's, this form of transportation was being replaced by city buses. These new vehicles didn't have to rely on tracks or overhead electric wires to move people and products. Across the country, trolley cars were being stripped for scrap metal and burned.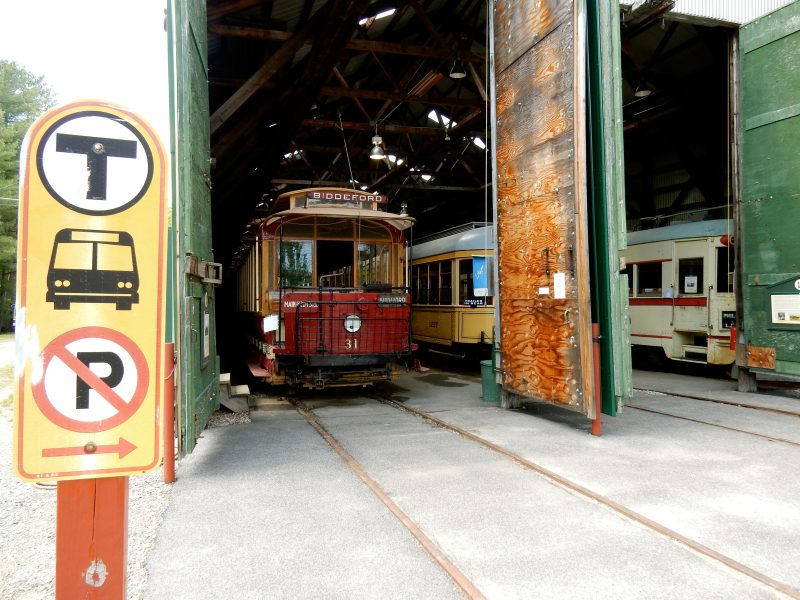 Enter three young guys – Ted Santarelli, John Amlaw and Gerald Cunningham – who were determined to "keep history alive." They purchased the first car for $150 – a Biddeford & Saco RR Co. "breezer" (open sides). It now holds a prominent spot in one of the three Exhibit Barns that contain a most esoteric collection of trolleys, both foreign and domestic.
These include the open air observation car with stadium seating (called the "Golden Chariot") from Montreal, an Australian car with separate compartments for smoking and non-smoking riders, and a double-decker from Glasgow, Scotland that ran until 1963.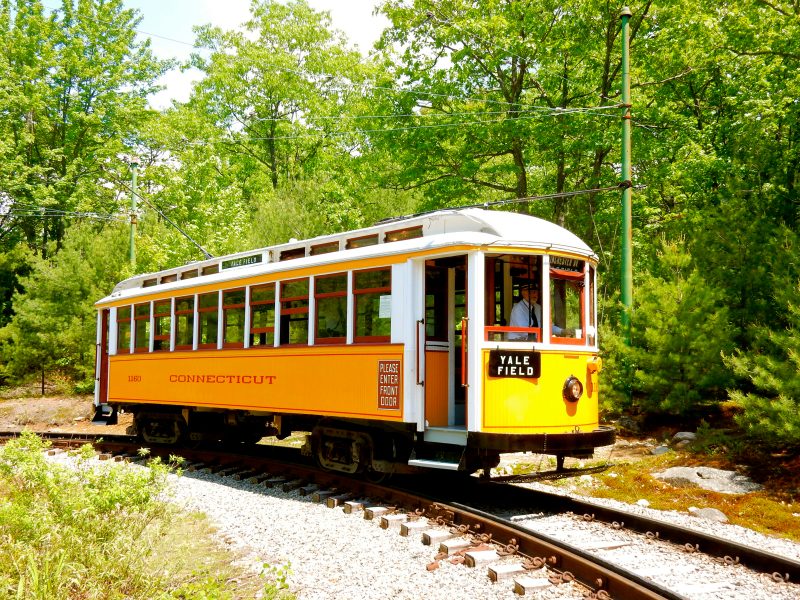 My favorite trolley was the one I transferred to on my way back to the Visitor's Center. It was a 1906 rattan-seated car that ran in New Haven, CT until 1948. My Grandma Rose was born and raised in New Haven. She very well might have taken that exact trolley to Yale Field back in the 20's and 30's when she was young. Just the thought of that possibility gave me a thrill. $10 adults, $7.50 kids, open daily Memorial Day to Columbus Day 10-5.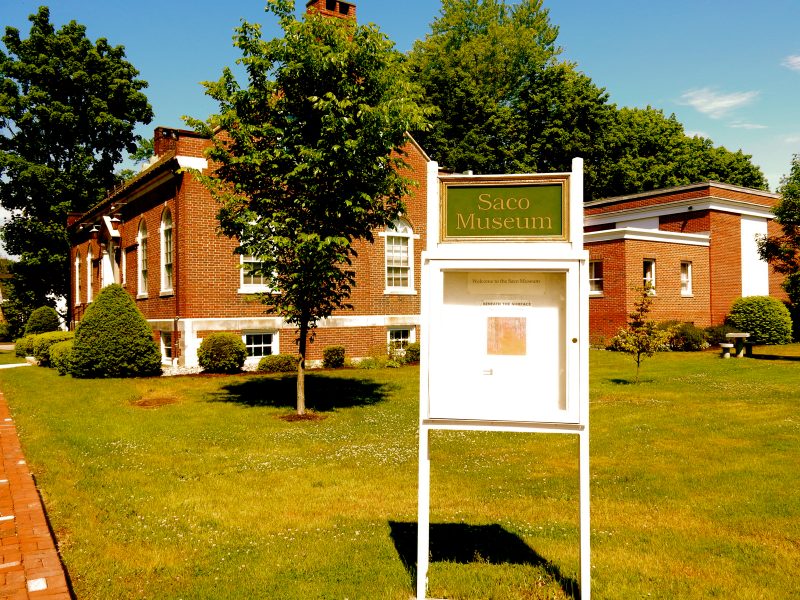 VISIT: Saco Museum (formerly York Institute), Saco
Just 8 miles from Kennebunk, the towns of Saco and Biddeford Maine were known for their mills. Nike Corp's closed its last USA factory in Saco in the mid '80's.
But in the mid-1800's, the towns hummed with industry. And all of these cotton mills gave rise to the "Factory Girl;" droves of women who came from abroad or disadvantaged homes to work outside the home.
Mill Girls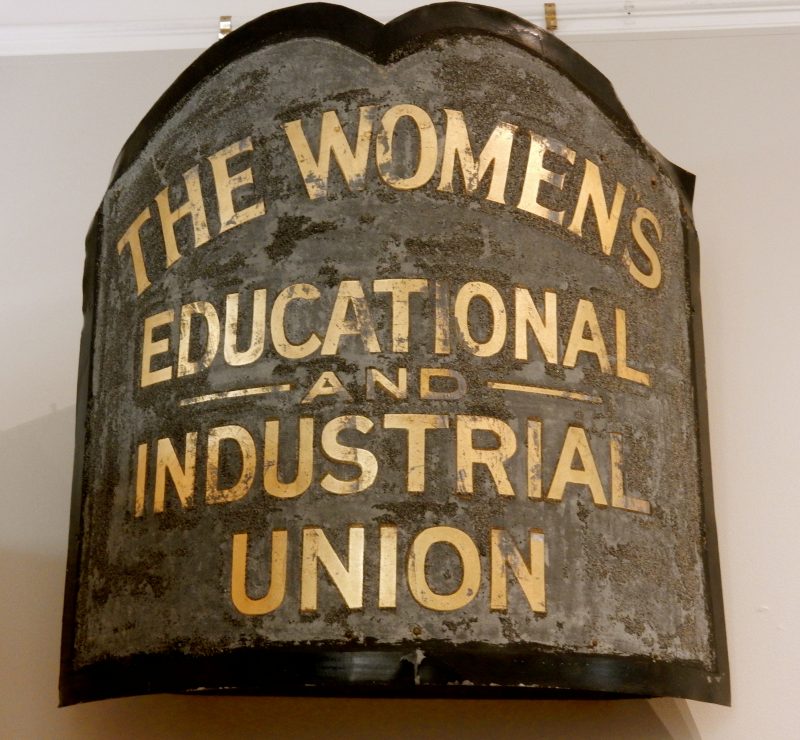 In fact, the Saco Museum, which has been a museum since 1866, provides a mountain of information about these girls. And that includes a recreation of a Factory Girl's boarding house bedroom.
The influx of immigrants to work the Maine mills produced a hate-fueled backlash. This unfortunately resulted in violence and other forms of bigotry directed towards Blacks, Jews, and even French Canadians. By 1925, over 150,000 Mainers belonged to the KKK statewide.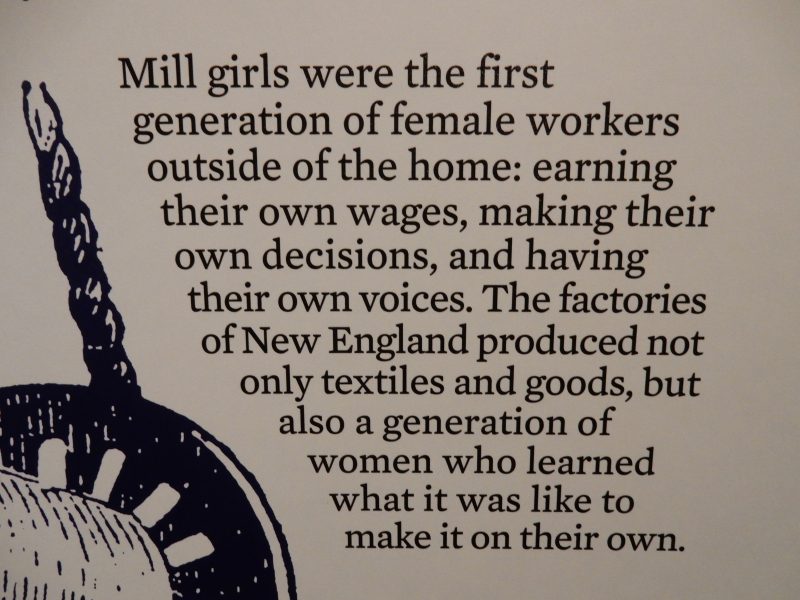 Learn the history of the Saco River Valley in well-thought-out exhibits in large, bright galleries. The Saco Museum makes for a great beachgoer rainy day activity.
The Saco is also known for its wonderful collection of thirteen 1790's portraits painted by the deaf itinerant portrait painter, John Brewster, Jr.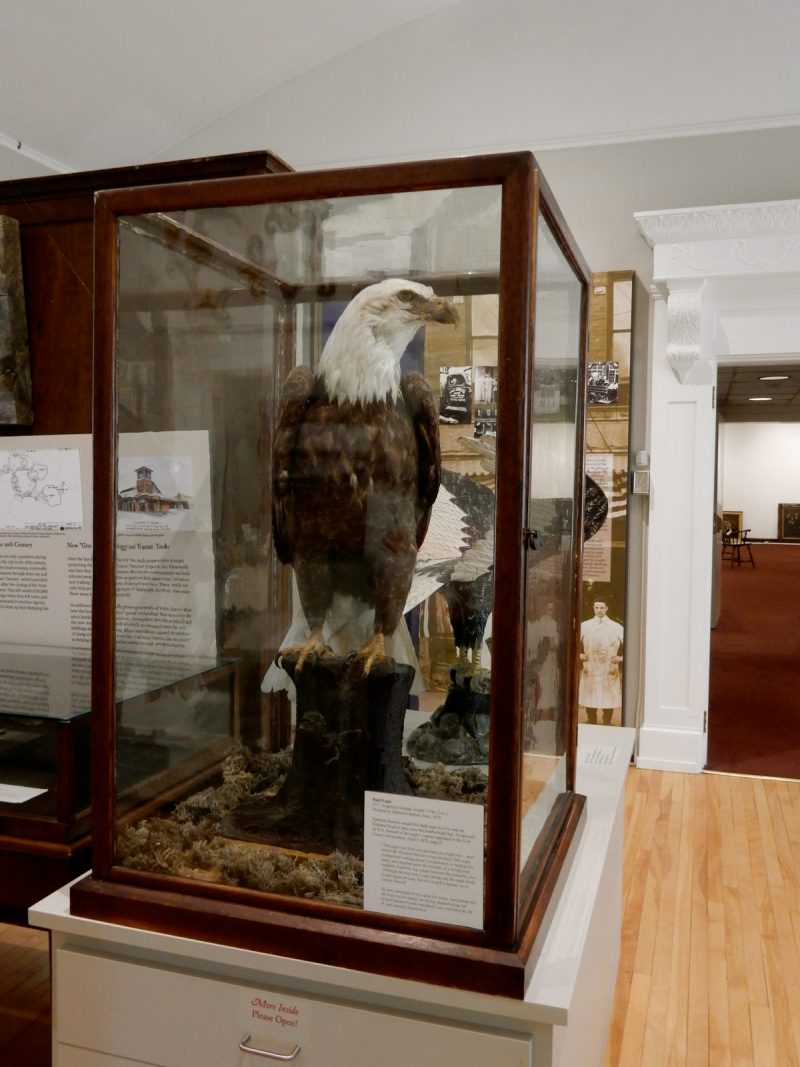 Downstairs, you'll find early Victorian bird-mounts in original glass cases from the time when this museum was still the York Institute. But the "prize of the collection" is on the main floor – a taxidermied Bald Eagle that was caught in a foxtrap in 1870. $5 adults, $3 kids. Tue., Wed., and Thursday noon-4 p.m. Friday noon-8 p.m. (free after 4 p.m.) Sat.: 10 a.m.-4 p.m. Sun.: (June-December only) noon-4 p.m.
Where to Eat and Stay in Kennebunks
You'l find more to do and advice on best places to eat and stay in this Getaway Mavens post.