Last Updated on
Though about 2/3rds the size of Gaylord Opryland Hotel (in number of rooms), the 1,996 room Gaylord National Resort Convention Center in National Harbor MD, is the tallest of the Gaylord Hotels – with its 19-story glass atrium overlooking the shores of the Potomac.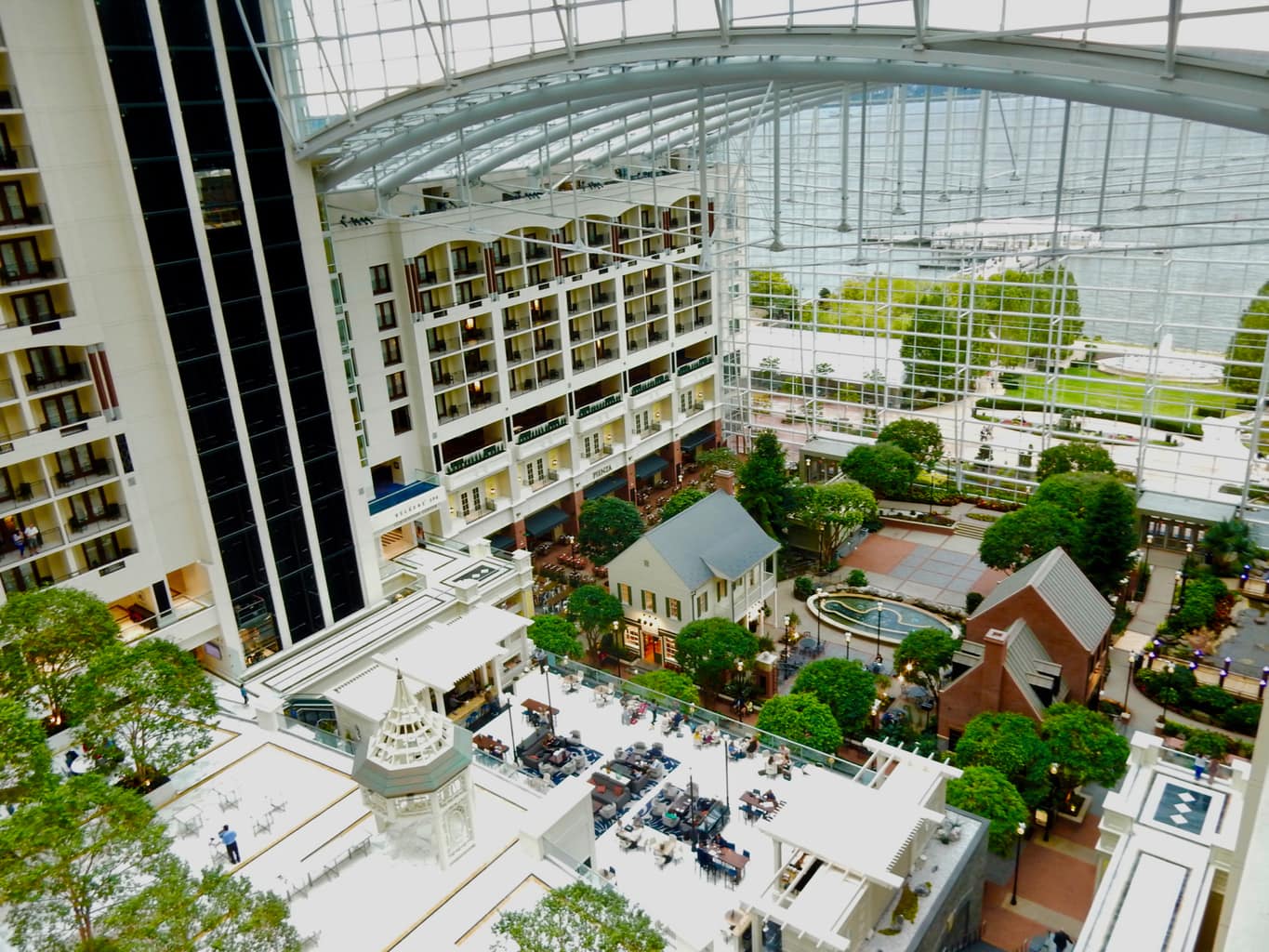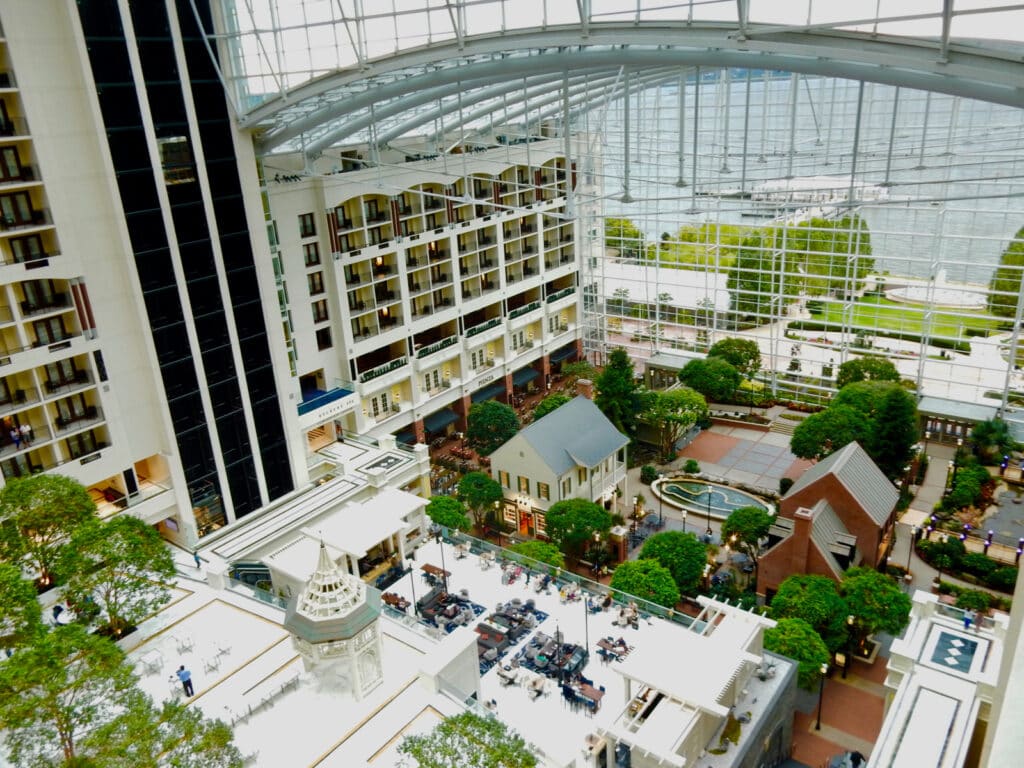 Anyone who's been to Opryland Hotel in Nashville TN will recognize Gaylord's signature architectural element; multiple acres under glass (in this case, 1.5) enclosing burbling brooks, secondary buildings, restaurants and shopping, stone pathways, water features and interior gardens.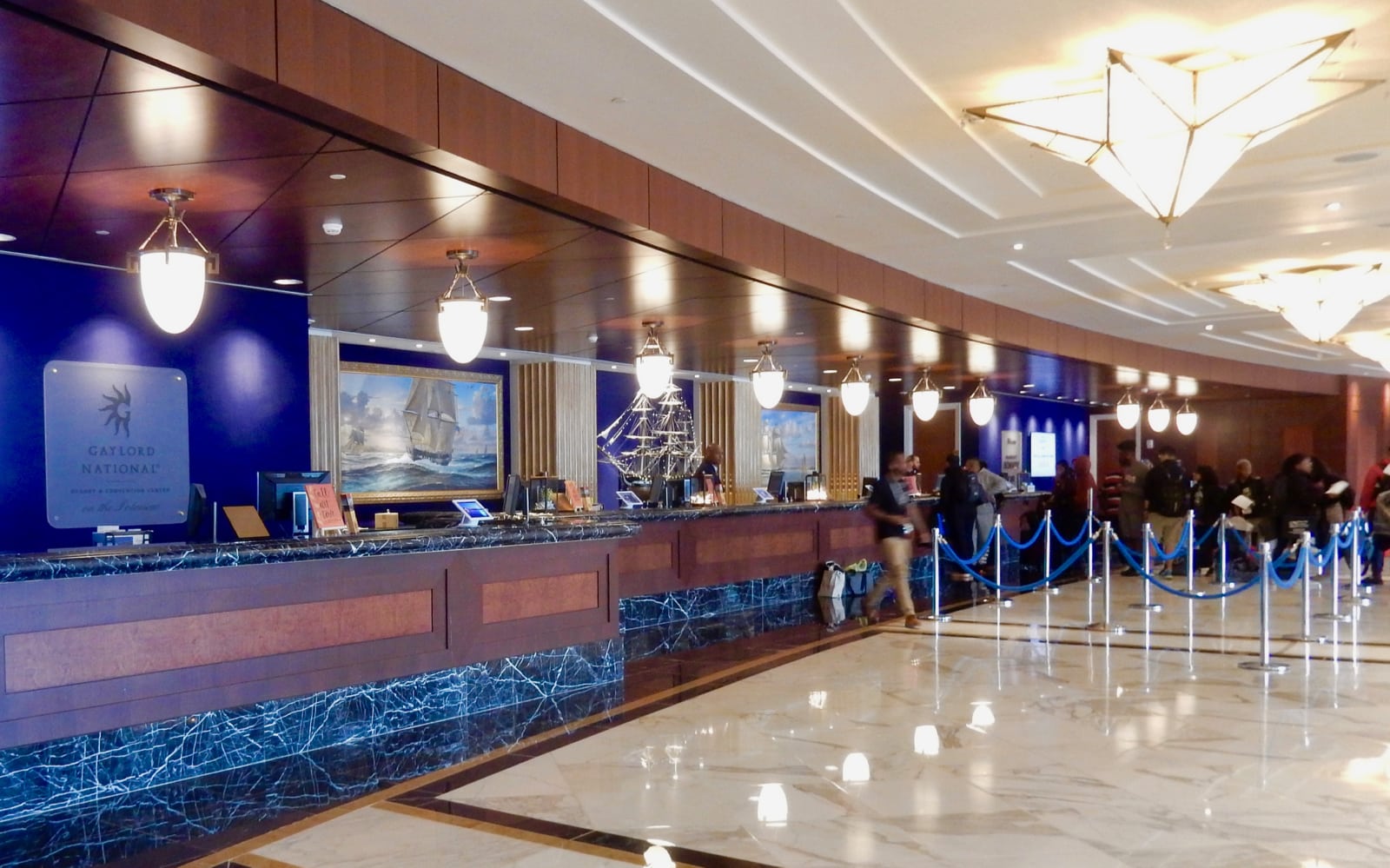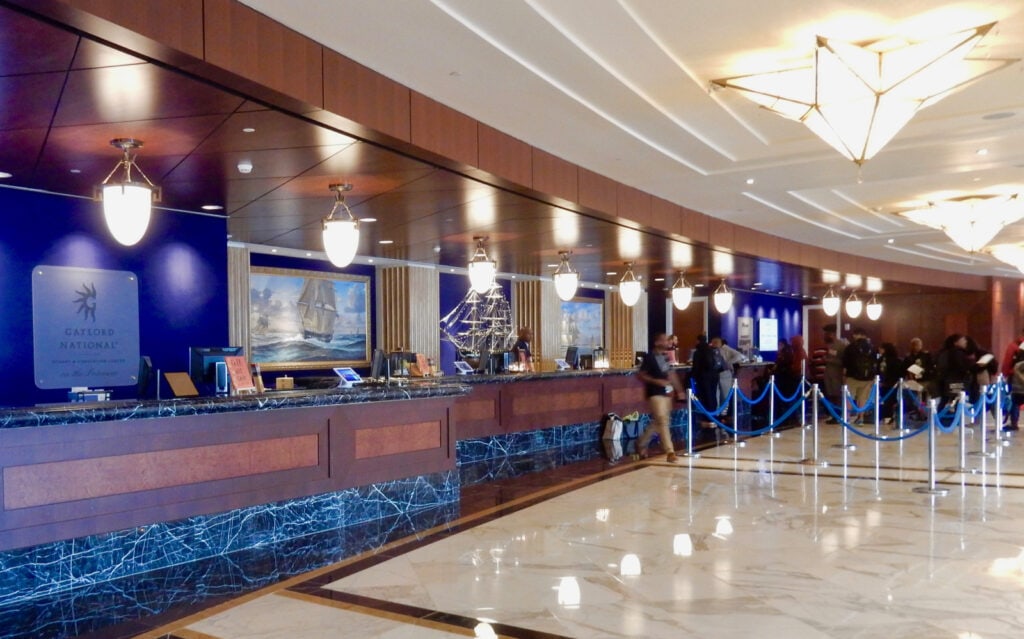 The pure scope of it can be overwhelming, but Gaylord knows how to bring things down to the personal. Quick and friendly check-in (at one of a multitude of beautifully updated reception desks) is like clockwork. VIP Guests are treated to exclusive service in a private room, where snacks and drinks await.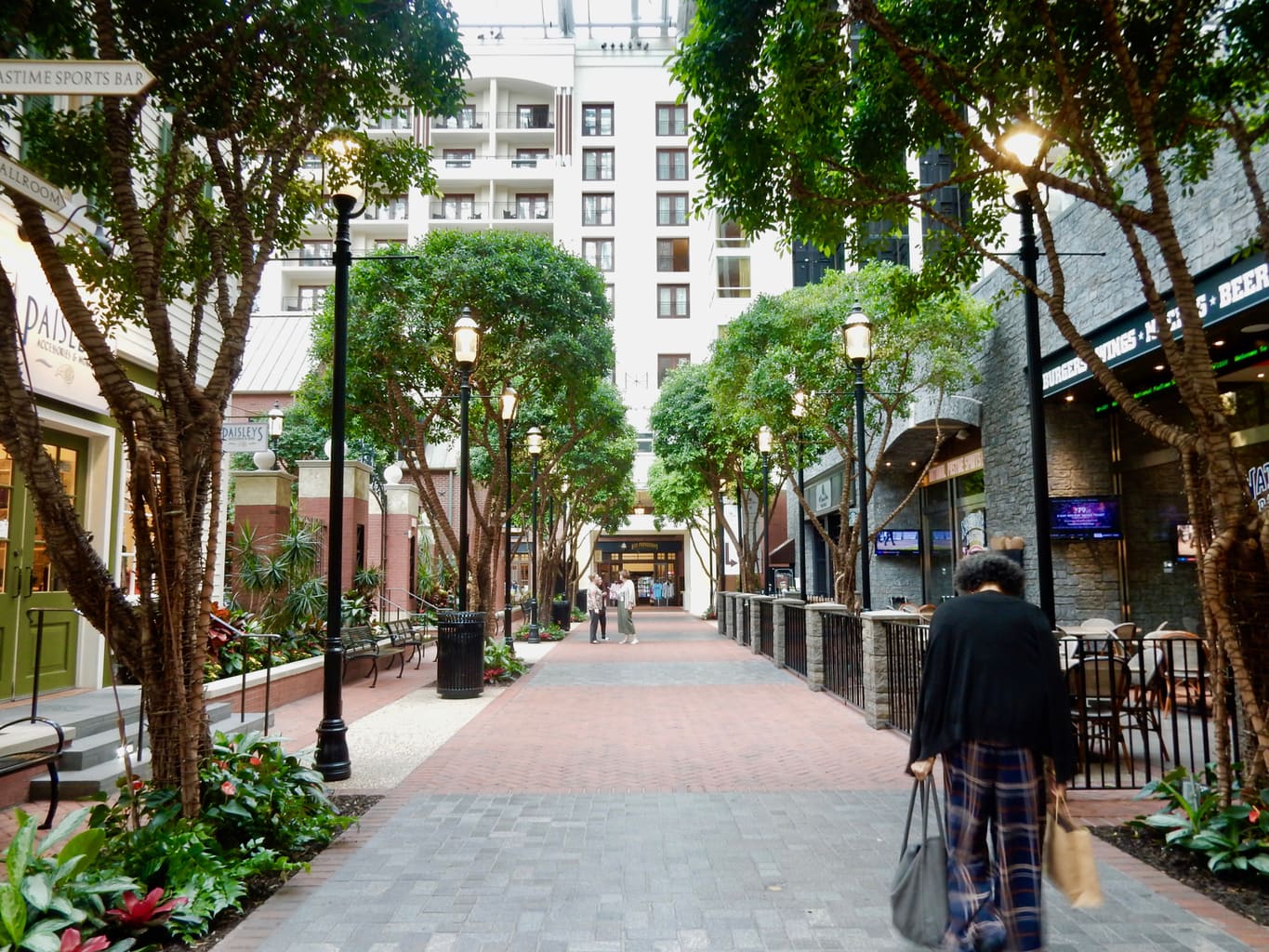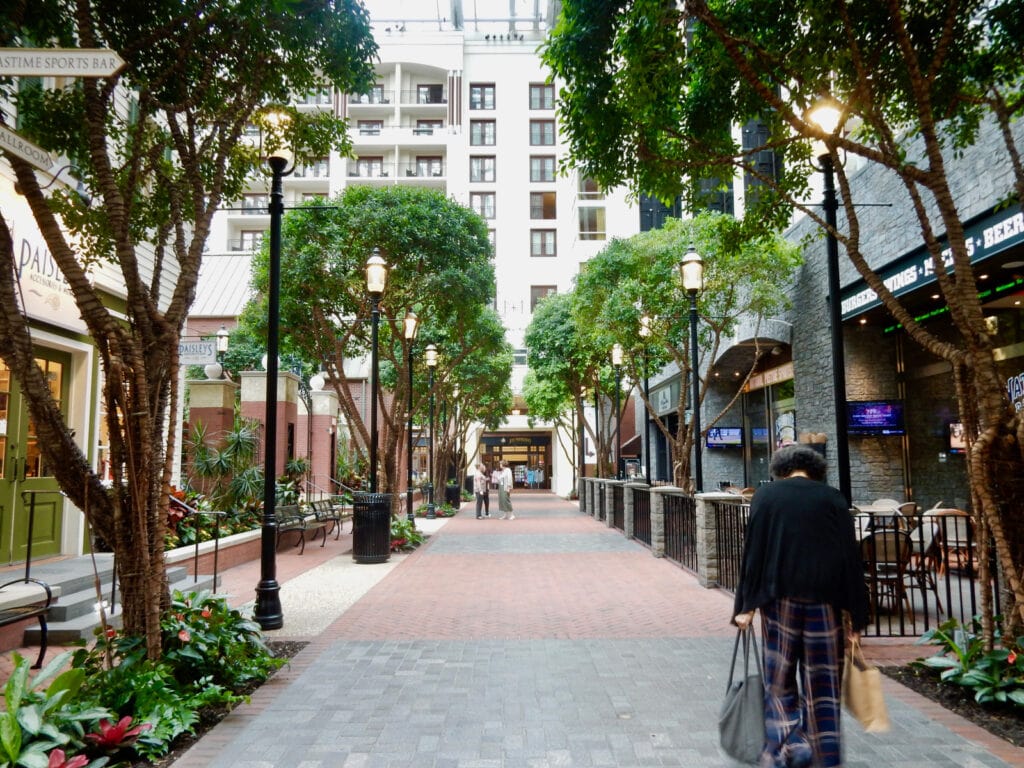 Interior designers incorporated nautical elements (referencing the Potomac River) and nods to downtown Washington DC, with Georgetown style brick buildings housing gift shops and eateries. Over 400,000 bees work hard on the hotel roof making honey for use in drinks and restaurant dishes, and infused in the Spa's Body Lotions. Last year, these busy bees produced nearly 450 pounds of honey!
There's a nightly Fountain Show, and in the popular Christmas season, a profusion of lights and indoor snowfall, which gives guests the fantastical impression of being inside a humongous snow globe.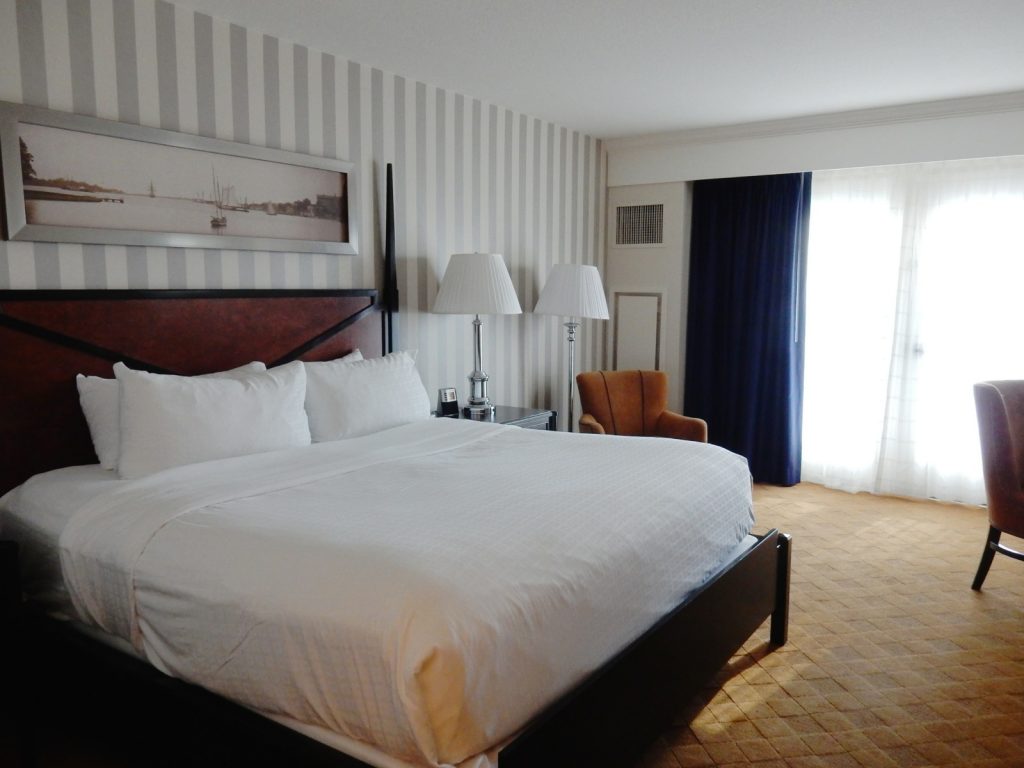 Each guest room is elegantly traditional. Crisp white duvets, gray and white striped wallpaper, sand-hued carpeting, and local photos as art leave the drama for the spectacle outside the window, especially if you request a room overlooking the enclosed atrium. Vertiginous from higher floors, it's a perfect perch from which to watch the activity below.
Dining at Gaylord National Resort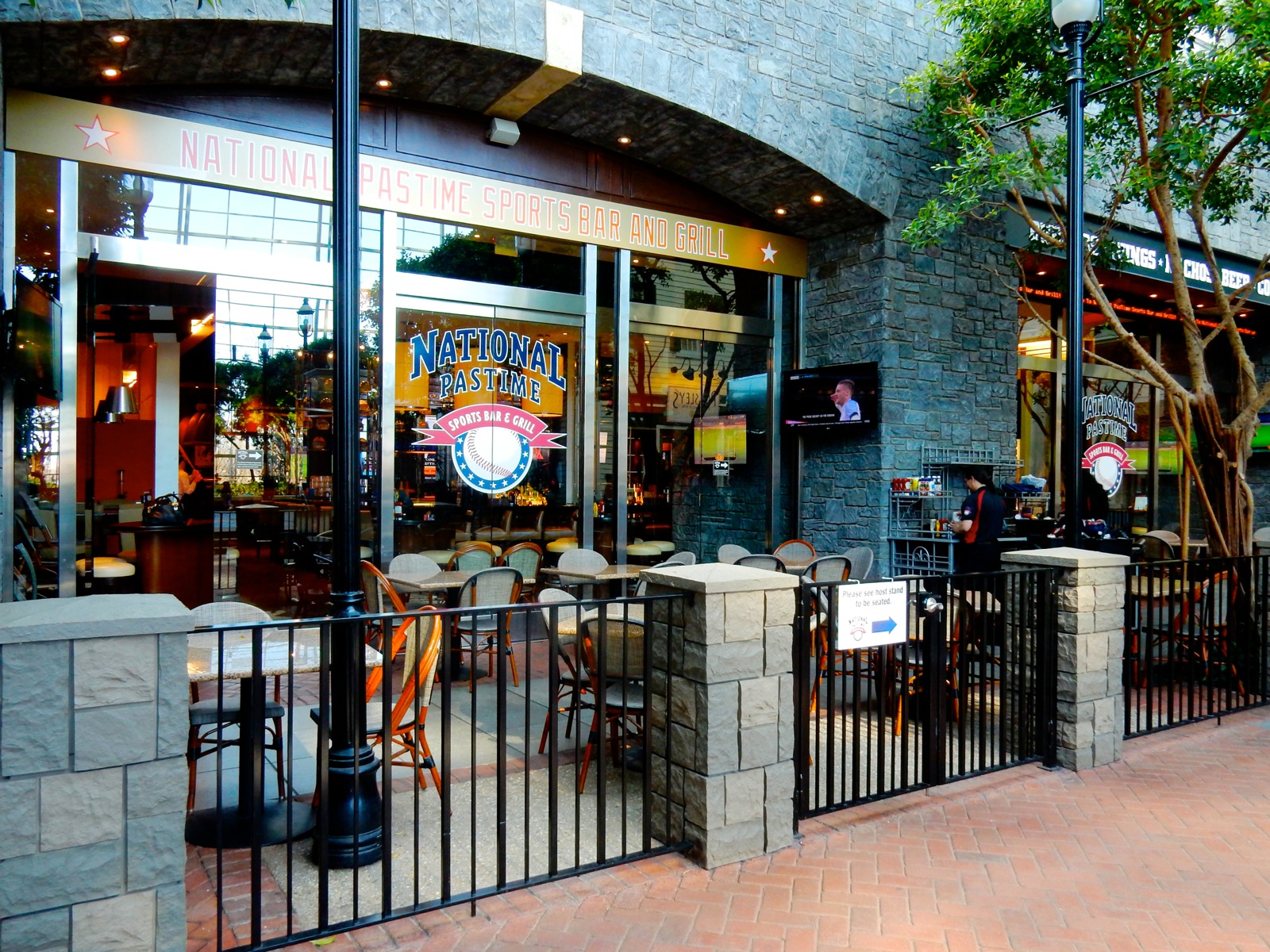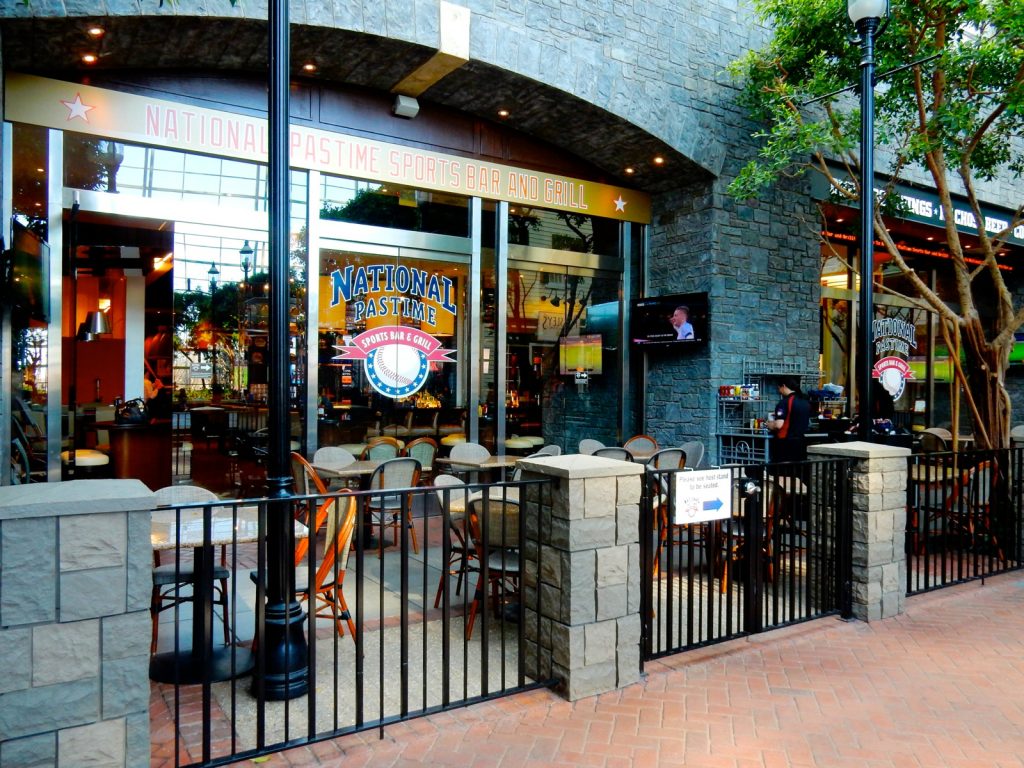 Though there's a selection of casual eateries at Gaylord National Resort (Pienza Restaurant, National Pastime Bar and Grill), Getaway Mavens readers will want to experience at least one of the two upscale restaurants.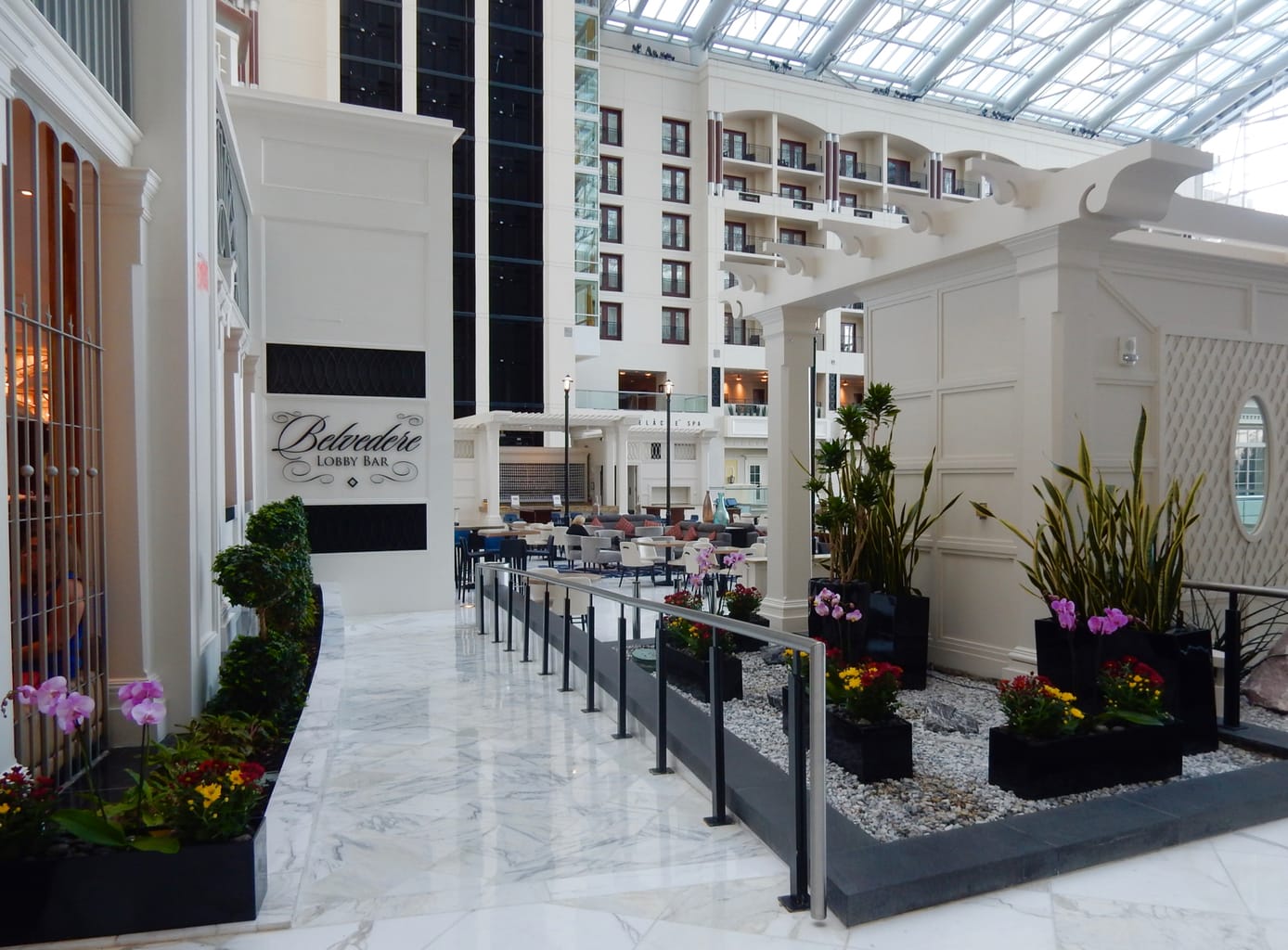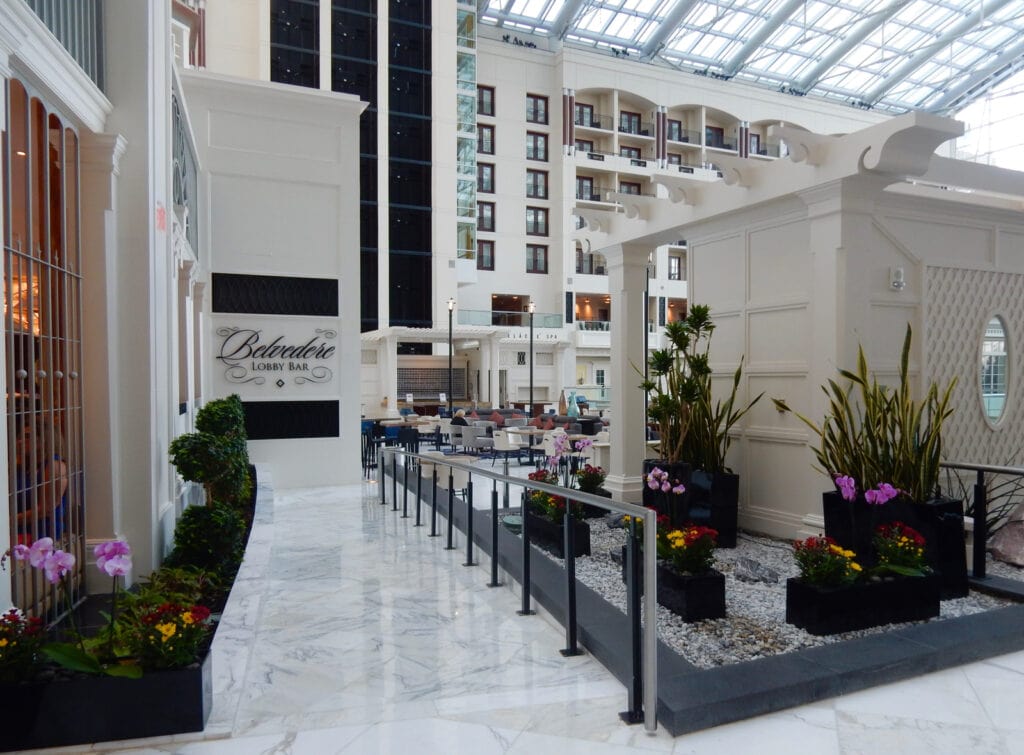 The Belvedere Lobby Bar, overlooking the atrium's ground floor, is actually a Sushi Bar, and it's thrilling to watch the Fountain Show each evening on the hour between 6pm-8pm, the lit up Capital Wheel, and beautiful sunsets while munching on Spicy Tuna Rolls and other raw fish delights.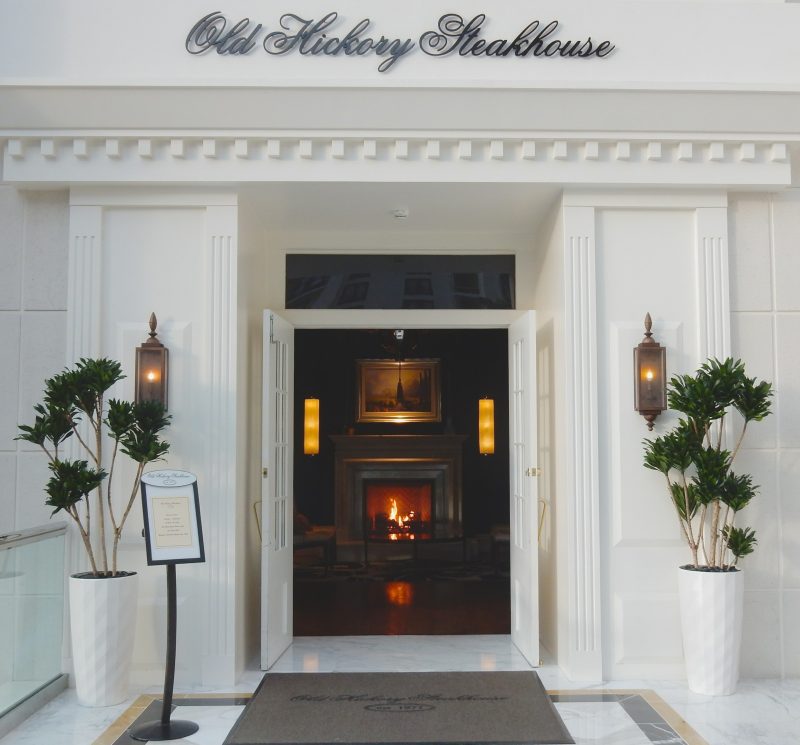 But for the best meal in National Harbor, book a special dinner at Old Hickory Steakhouse, and be prepared to settle in for a few hours in a room imbued with Southern charm. The restaurant is named after Andrew Jackson, nicknamed "Old Hickory," who was known for throwing parties, featuring big wheels of cheese, in the White House.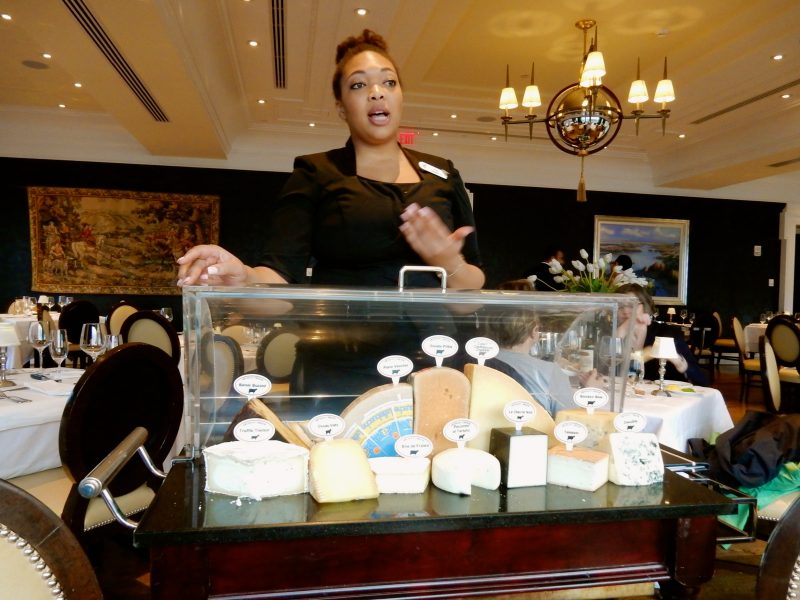 Your meal begins with a selection of artisanal cheese, in fact, carted to the table by the Maitre D'Fromage, aka "The Cheese Diva," who helps you choose several to enjoy either before or after the main course. Crusty breads are divine, and steaks ($40-$52), of course, are phenomenal, but so are other dishes. Though located in a large resort hotel, Old Hickory Steakhouse is destination dining at its best.
Amenities at Gaylord National Resort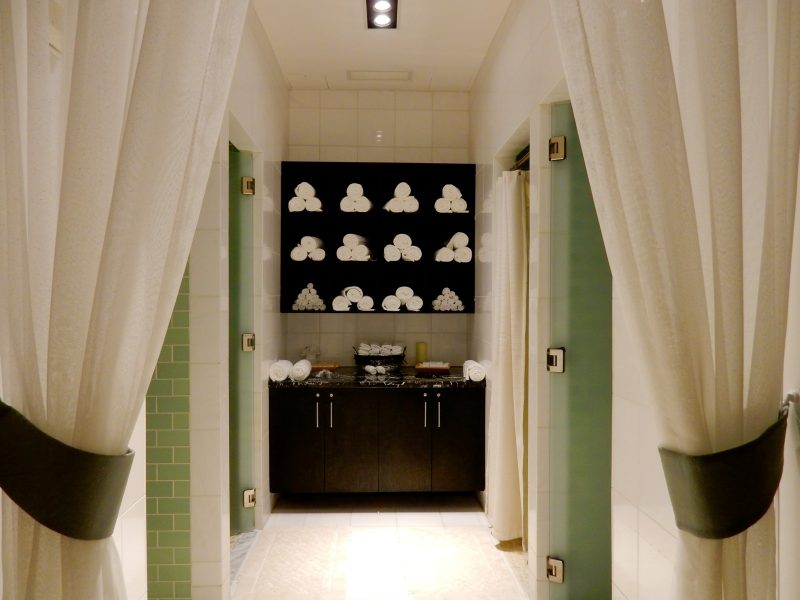 The excellent Relâche Spa is the largest full service spa in Metro DC area with 20,000 sq ft of space featuring 11 treatment rooms, a Riverview Relaxation Room, and a Hair and Nail Salon.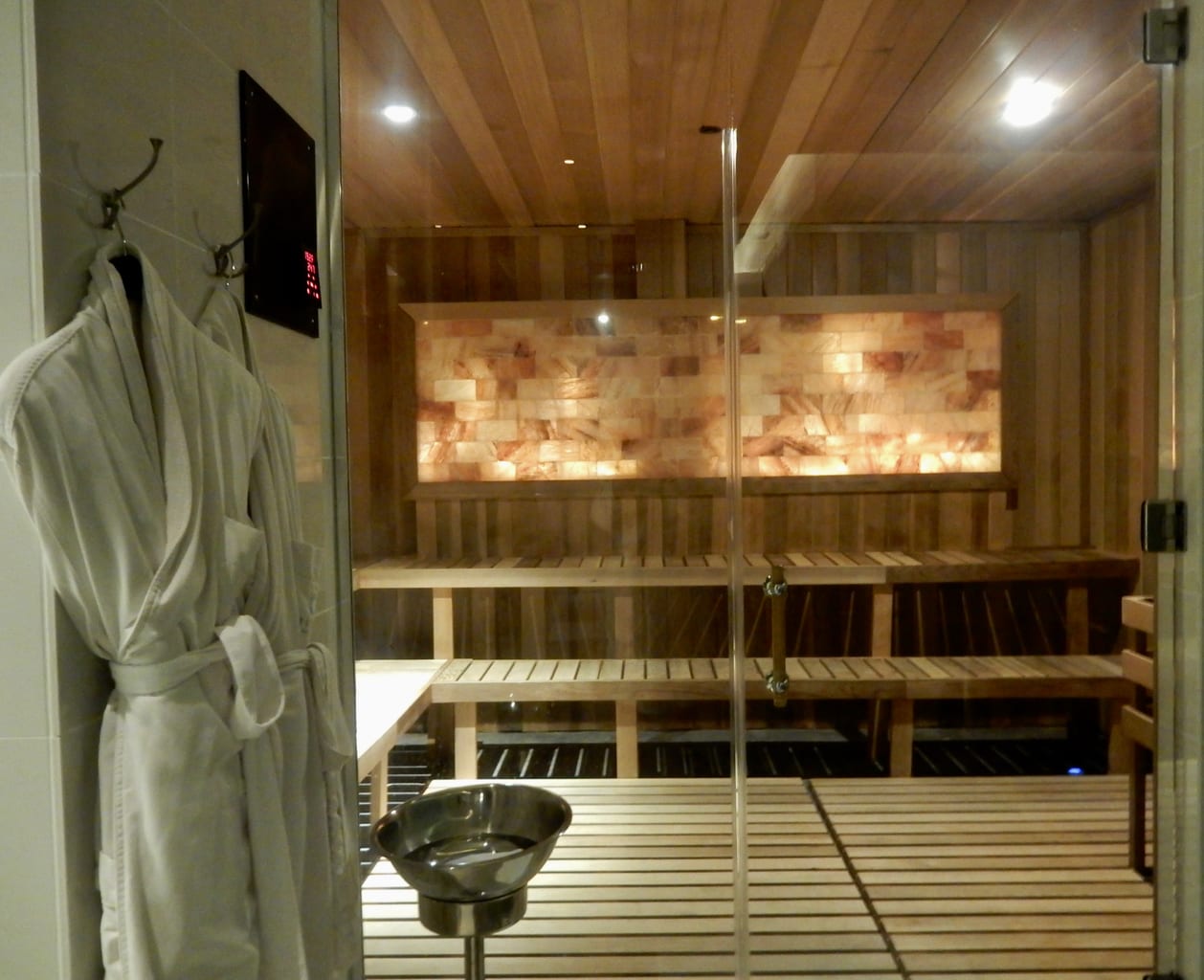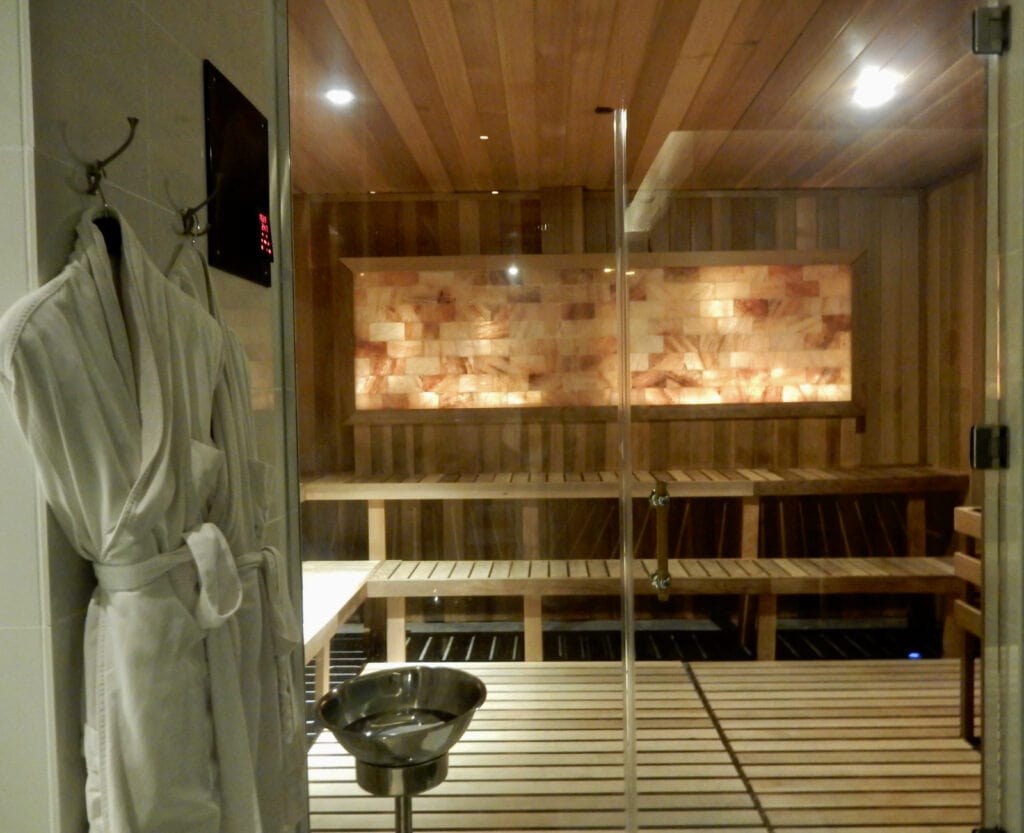 I can attest to the elegance of the décor, warm reception, and quality of treatments, having had several. My big tip: if you're in need of a top-notch massage, request Mario! He's got the magic hands that alleviated months of tension from my neck and years of pain from my feet. A treasure.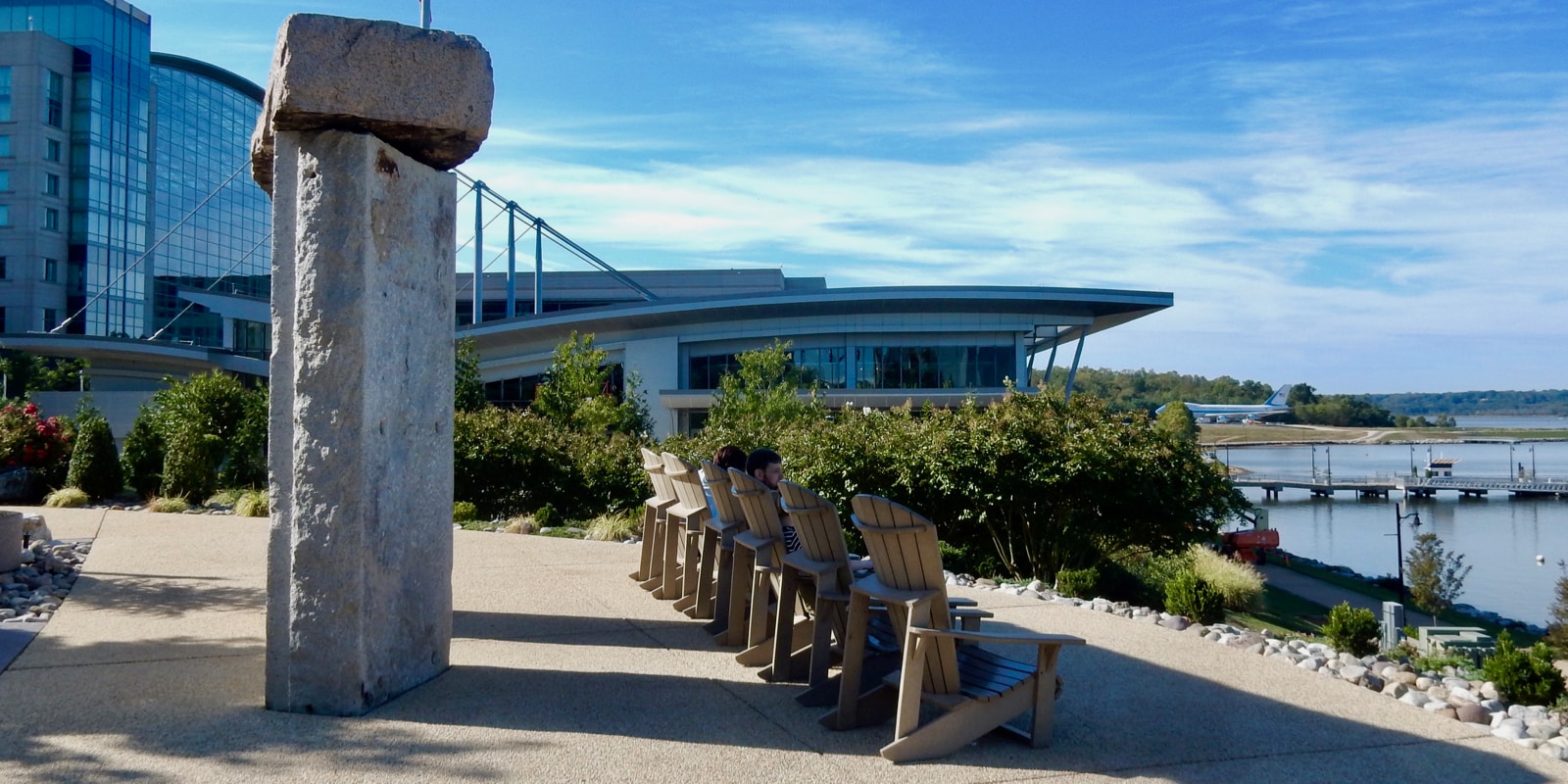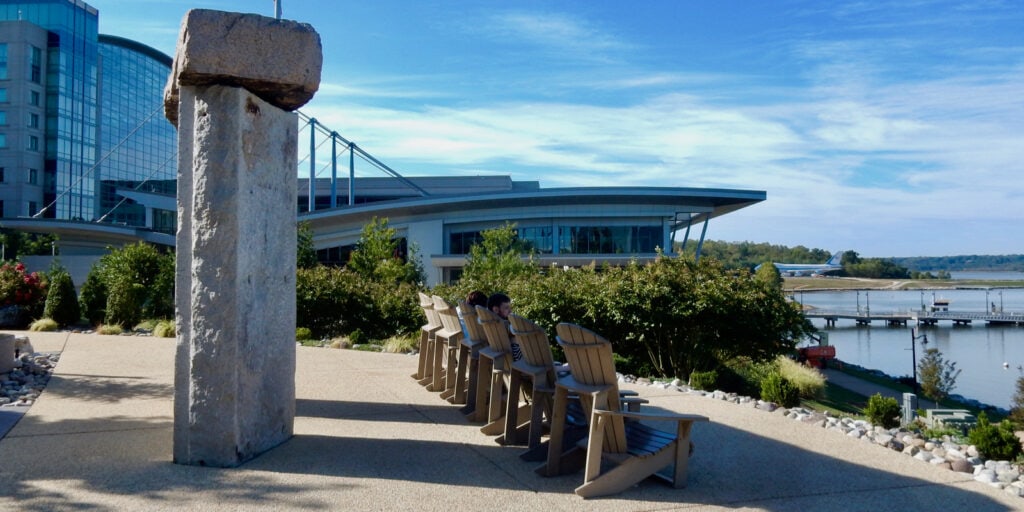 The RiverView Ballroom (nicknamed the "Infinity Ballroom" because it seems to project right over the Potomac), opened in 2017 as Gaylord's entry into the large wedding and event category. The 16,000 sq. ft. space, with a spectacular 270-degree bank of windows overlooking the water, can accommodate a whopping 1,850 seated guests.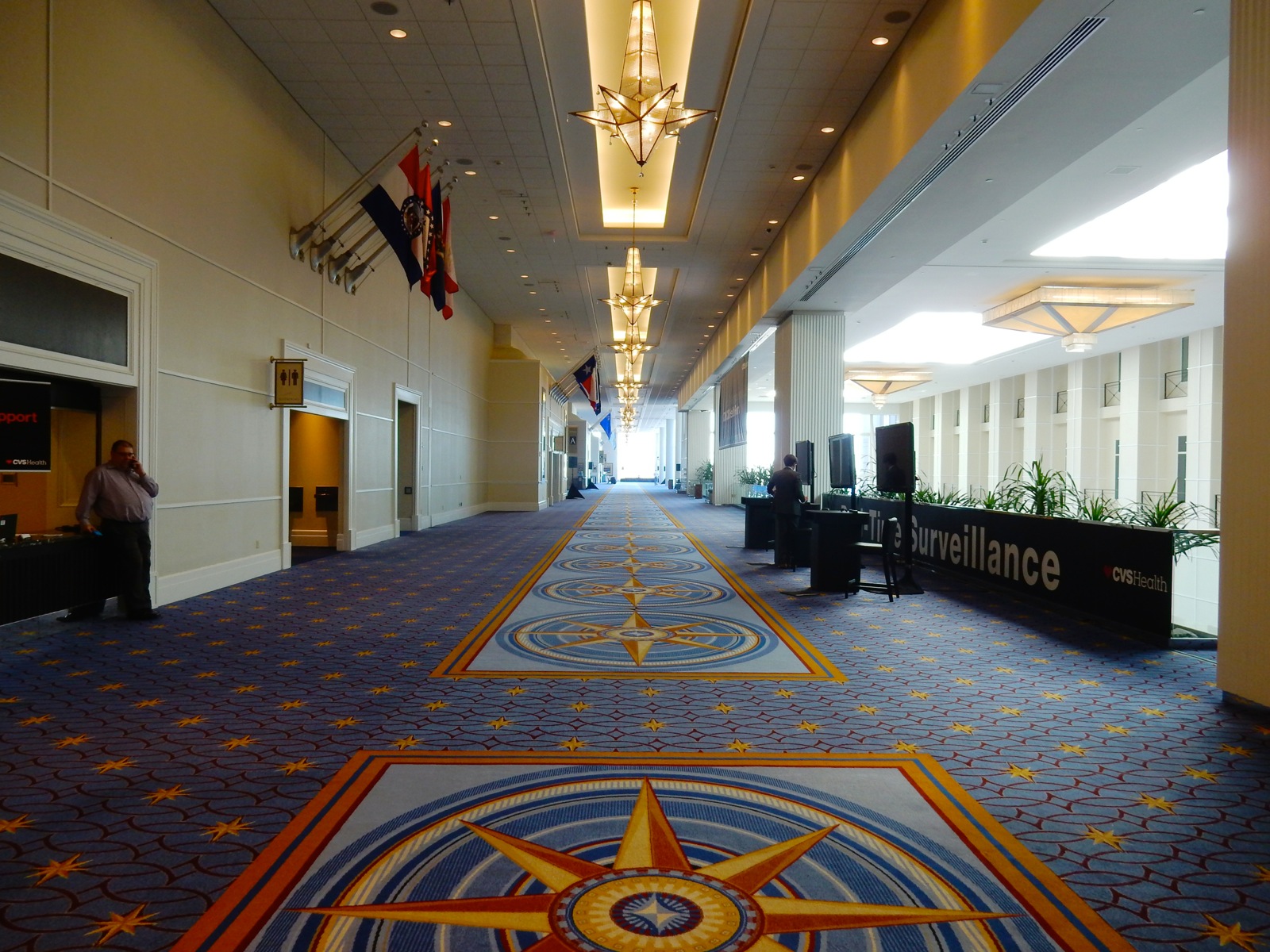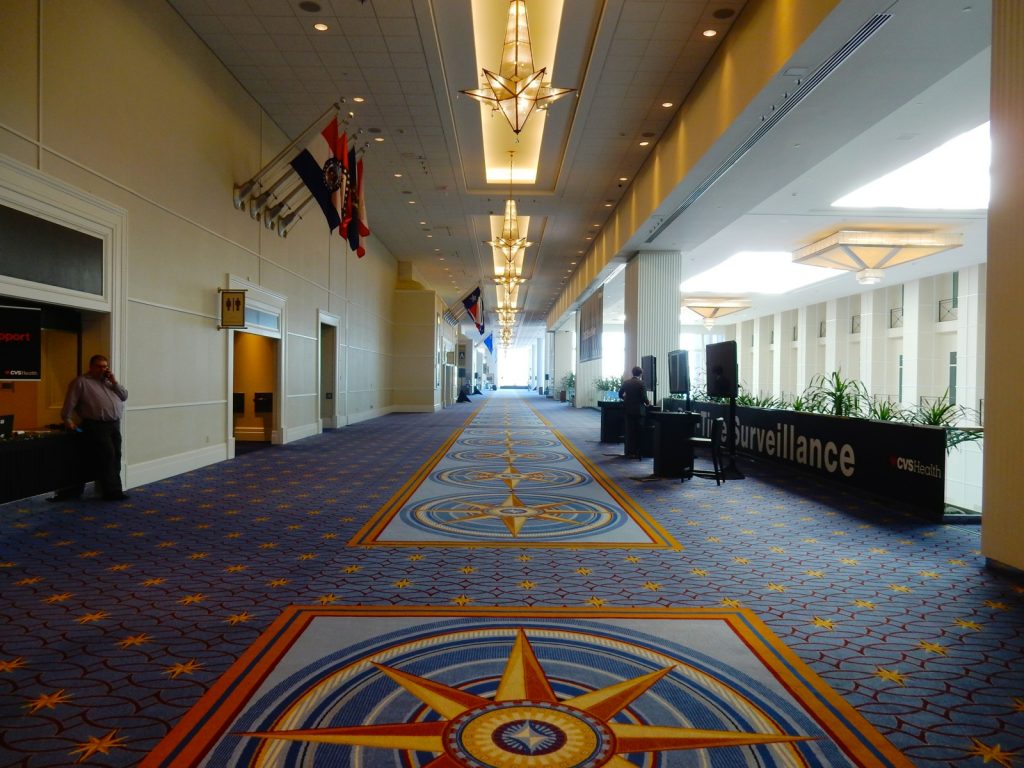 The massive Conference Center wing of the hotel – a whopping half a million square feet of meeting space – includes a main hallway so long, you can lay the Washington Monument (555 ft.) on its side and still have a few feet of corridor left.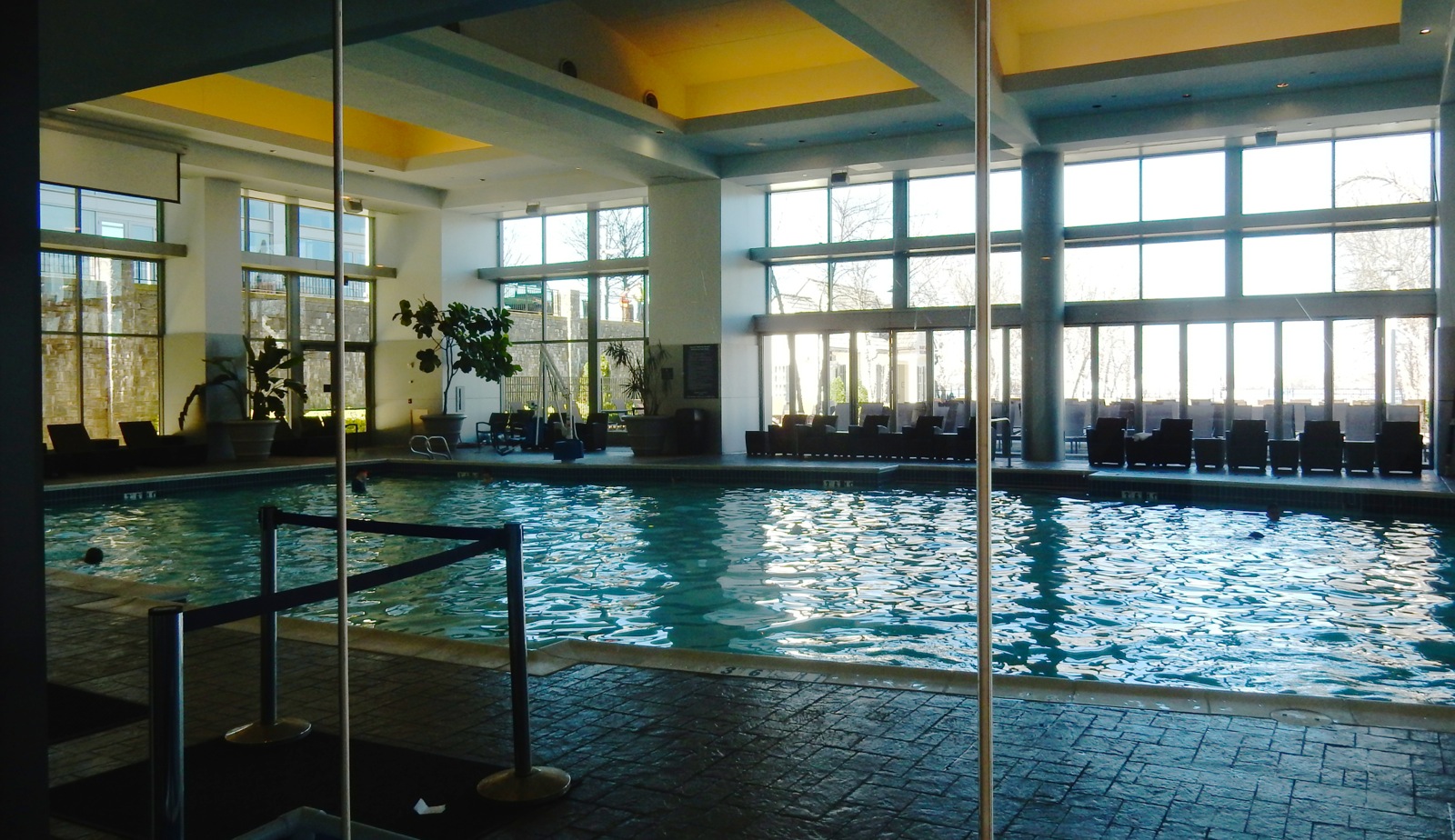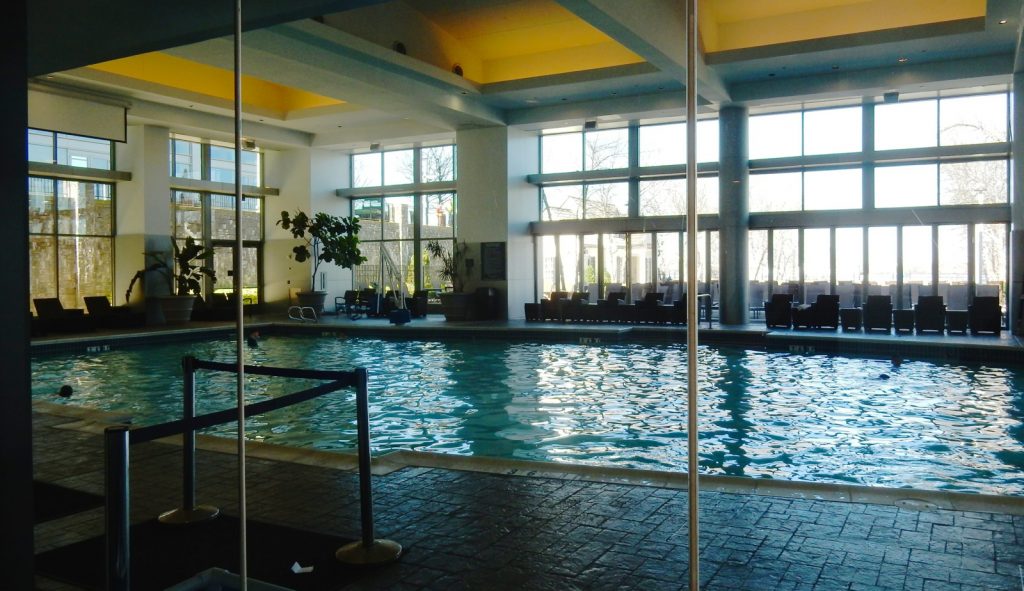 A state of the art Fitness Center contains every single cutting edge machine you'd ever need, and the near-Olympic-sized indoor pool is a favorite with kids and lap-swimmers.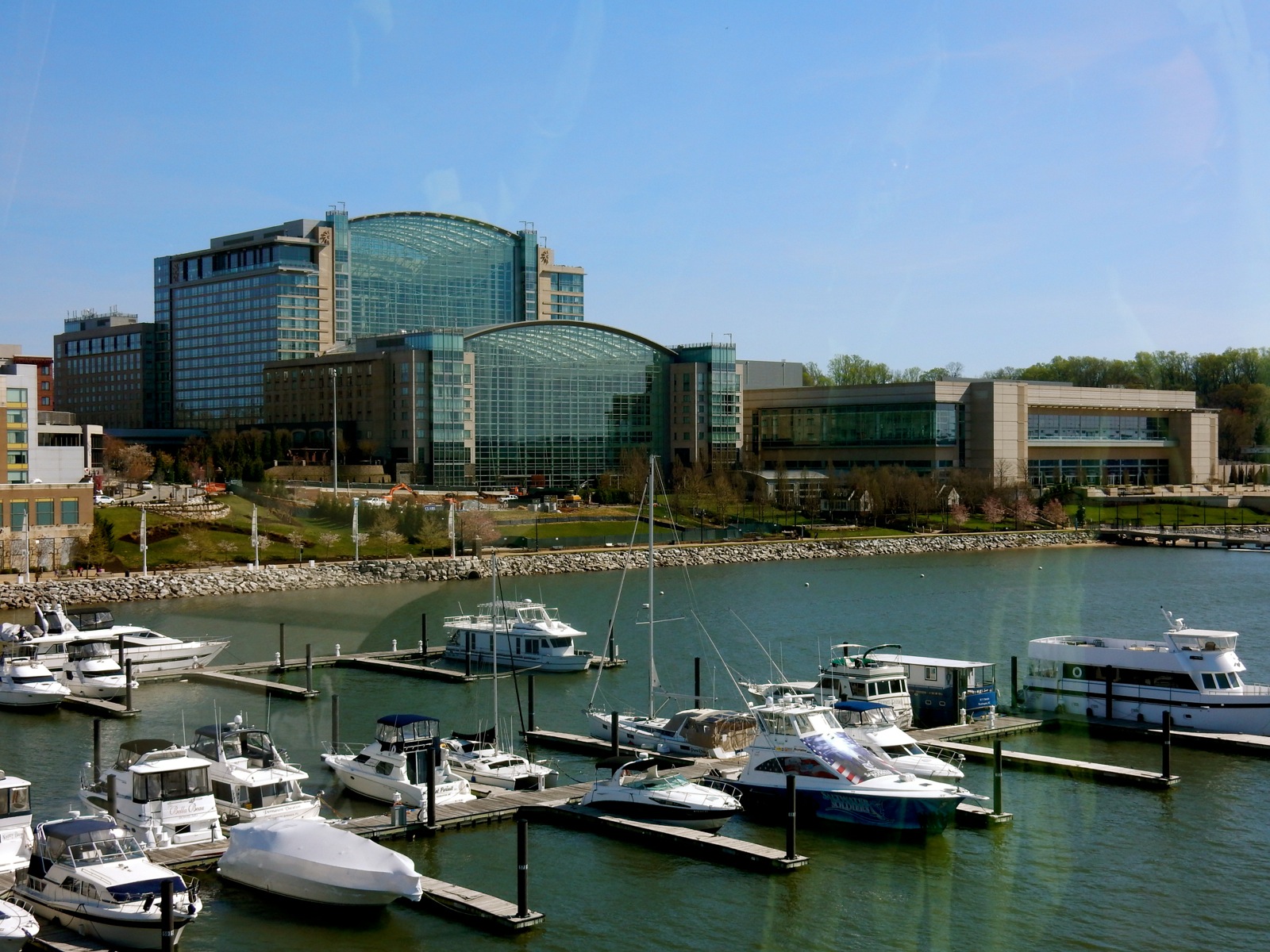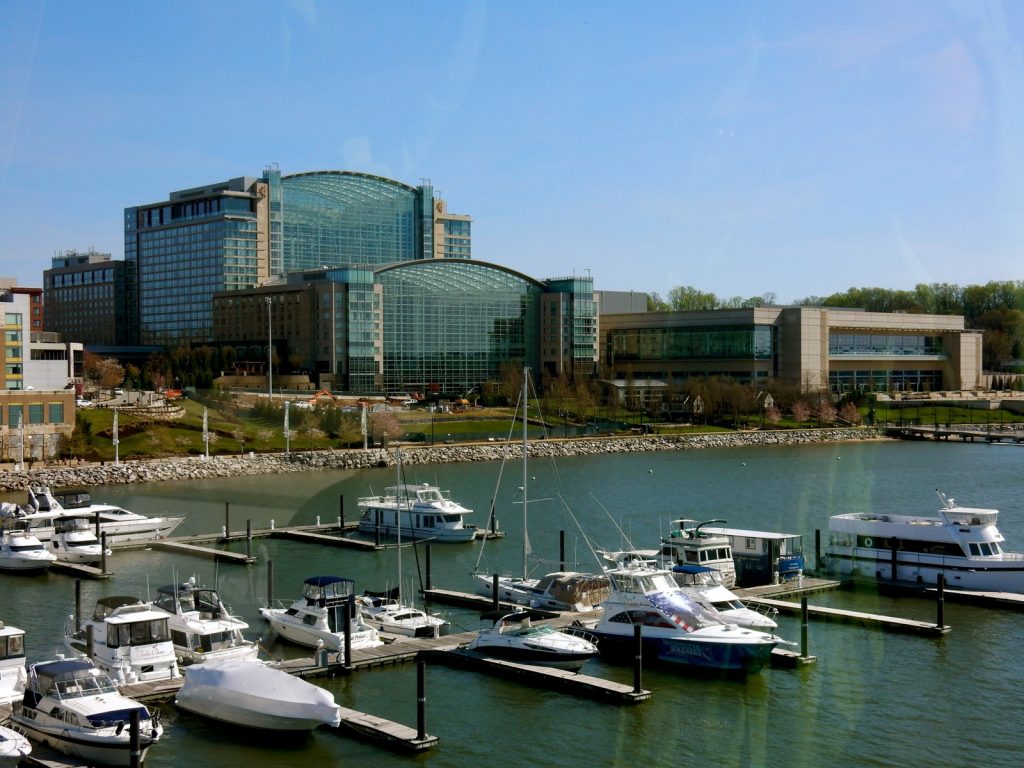 Outside on the Potomac Riverfront, local Water Taxis stop at Gaylord National Resort's private dock to take guests to and from Old Town Alexandria (just across the River), Georgetown, Mount Vernon, and even the Nationals Ballpark.
Just the Facts
Rooms rates from $125 per night, with multiple packages for families and adults available. Check website as they change seasonally.
You'll find more to do in National Harbor MD in THIS Getaway Mavens post.