Last Updated on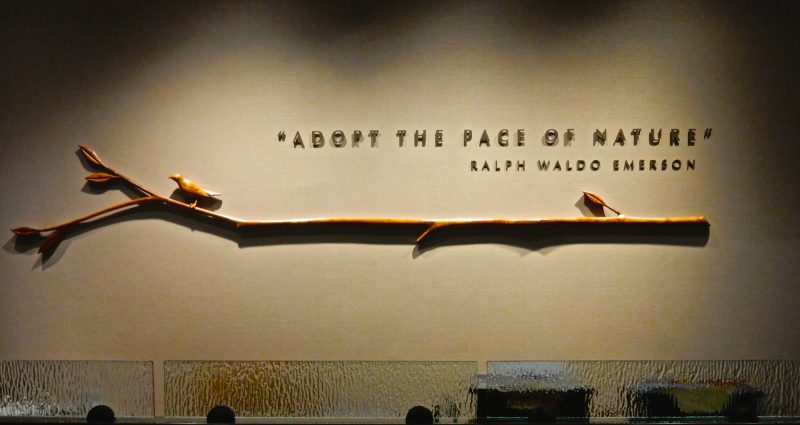 Emerson Resort and Spa is named after poet Ralph Waldo Emerson, and in fact, excerpts of his poems can be seen throughout the property, most notably over the reception desk, and above gas fireplaces in deluxe rooms. In 2007, after being destroyed by fire, the Inn portion of Emerson Resort was rebuilt next to the existing (and undamaged) Lodge, incorporating the façade of the Risely Family's Dairy Farm house, local bluestone, and lots of antiques and artifacts from India and the Far East. Just emerged from a $6 million renovation, most of the antiques and Asian furnishings are gone (except for the ornate wood door that serves as entrance to to Spa), leaving public areas and guest rooms bright and modern. Emerson Resort is both classy and serene and for those looking for a luxurious home base from which to hike, bike, ski and otherwise explore the Catskills, its a self-contained treasure. To top it off, it's Dog Friendly.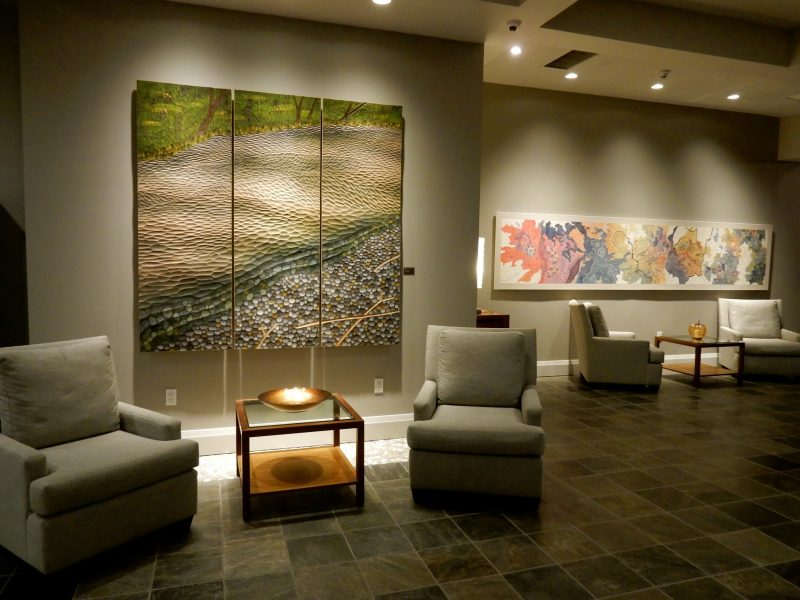 The resort is actually made up of several establishments; the 26 room Inn, the 27 room Lodge, and an inclosed shopping mall, the Emerson Country Stores containing the World's Largest Kaleidoscope. The Inn is the most luxurious (the lodge, though upscale, is perfect for families), with a lobby enhanced by stunning original works of art by local artists (including a textural carved-wood painted centerpiece). Staff is friendly and helpful, with lots of advice on places to hike and information on neighboring towns.
Rooms at Emerson Resort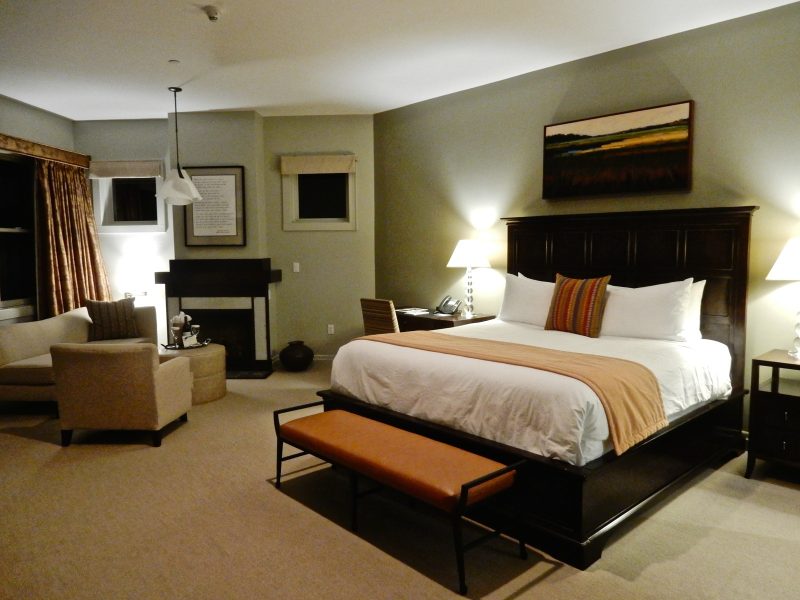 Though formerly styled to evoke Arabian Nights, spacious suites have been updated in earth tones, with clean-line furniture, flat screen TV's, gas fireplace, and a bed you don't want to leave in the morning.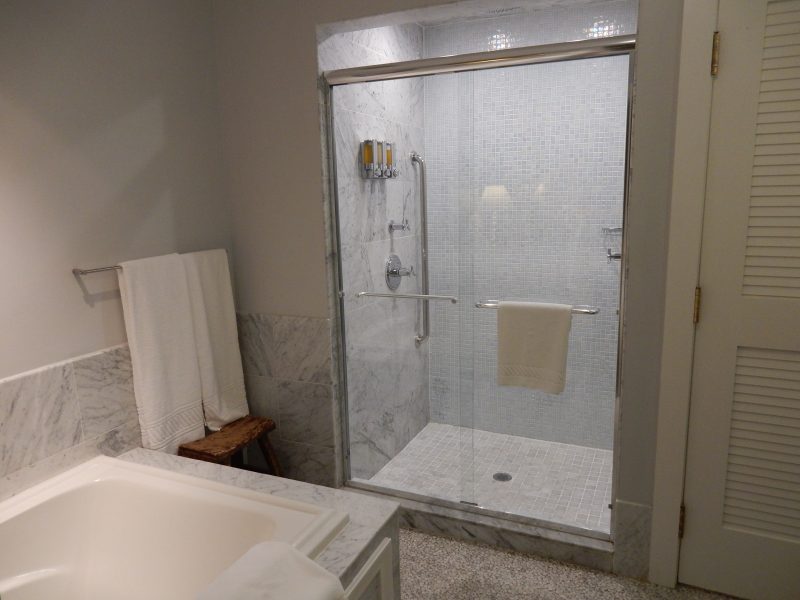 Bright marble bathrooms are outfitted with rain showers featuring iridescent mosaic tile, and a tub perfect for apres-hike soaks.
Emerson Spa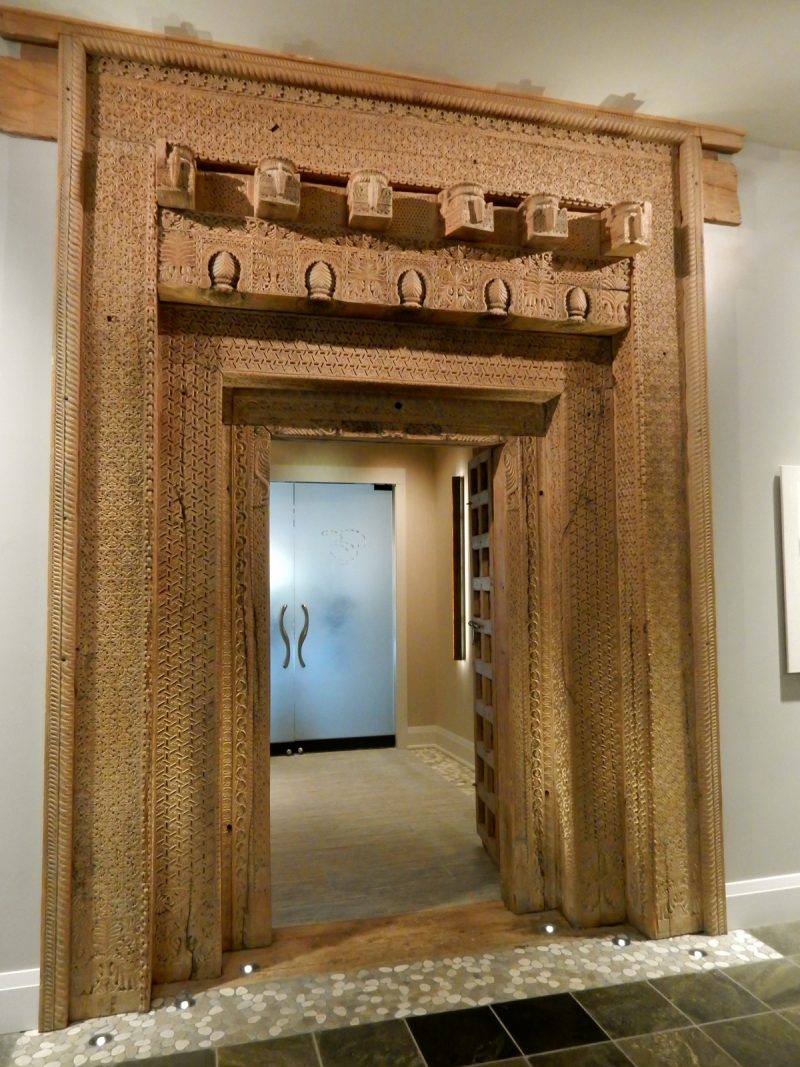 Stride through authentic carved 17th Century Rajasthani Palace Gates for a splurgy spa treatment. Candle-lit treatment rooms are equipped with heated, ergonomic beds that lull you into a relaxed state even before healing hands begin. My favorite treatment is the Ayurvedic Oil Scalp Massage, which does for the neck and scalp what Reflexology does for the feet. This 30 minute mini-vacation will send you into cranial nirvana, and leave your hair dripping with nourishing, liquorice-scented oils ($80).
Dining At Emerson Resort
Woodnotes Grill is open for breakfast, lunch and dinner – a brand new hotel restaurant that is fast becoming a dining destination in and of itself.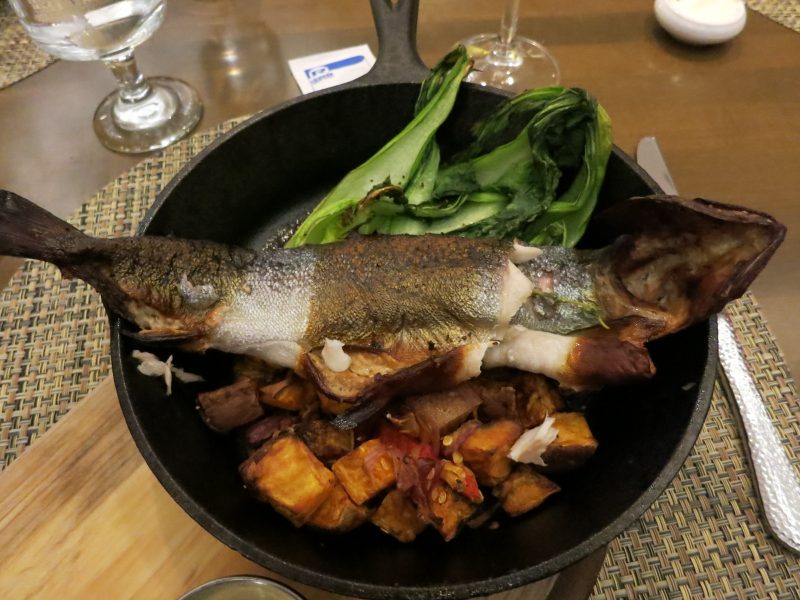 This is true stream-woods-farm-to-fork fare, described as "Catskill Creative Cooking," inspired by the Hudson Valley, and worthy of a top-notch inn. To whit: the delightfully tasty smoked trout, plated in a cast iron skillet over cubes of seared sweet potato and wilted bok choy. Though the menu changes often, you can be assured of an outstanding meal, even if you're vegetarian.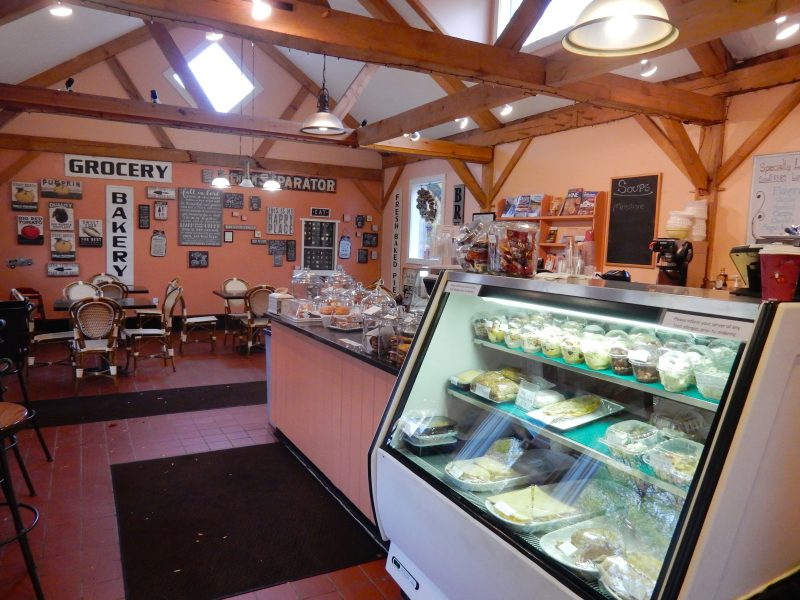 If you don't want a huge meal, or would like to order a picnic lunch to take out on a hike, head to the back of the Country Stores where you'll find the Emerson Cafe. It's open for Breakfast and Lunch, offering casual fare from soup to sandwiches.
Emerson Resort Amenities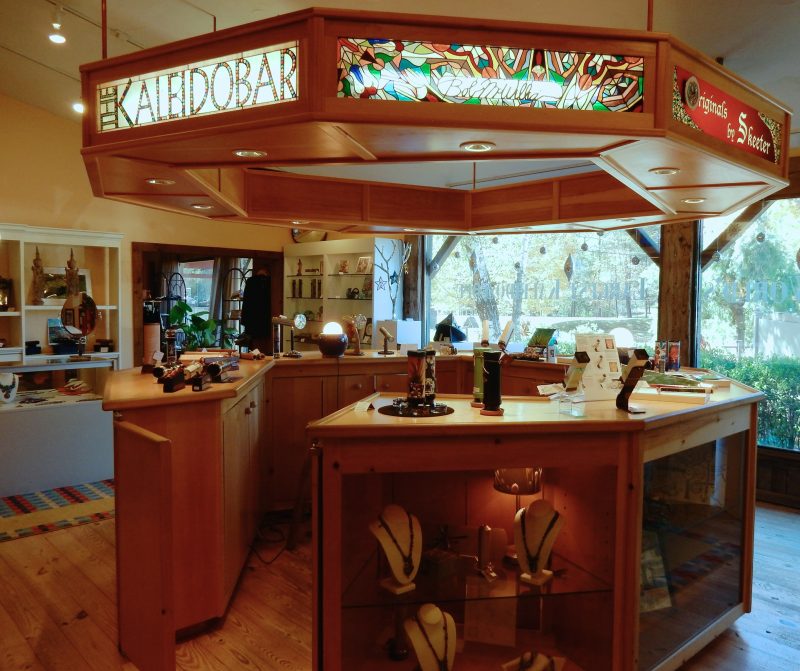 Experience The World's Largest Kaleidoscope. Step into this 60 ft tall mind-bending vibrating, pulsating, audio-visual extravaganza and sit either tilted slightly on padded boards or on your back. You'll end up on the floor – it's the better of two choices for viewing the trippy ten-minute cavalcade of outer-space and "we are all stardust" images. When done, doors open onto the Kaleidoscope shop, where, primed, you can purchase any type from cardboard ($3.95) to amazing art pieces (many $thousands), most in the $50-$500 range. Free for Emerson Resort guests and $5 for walk-ins.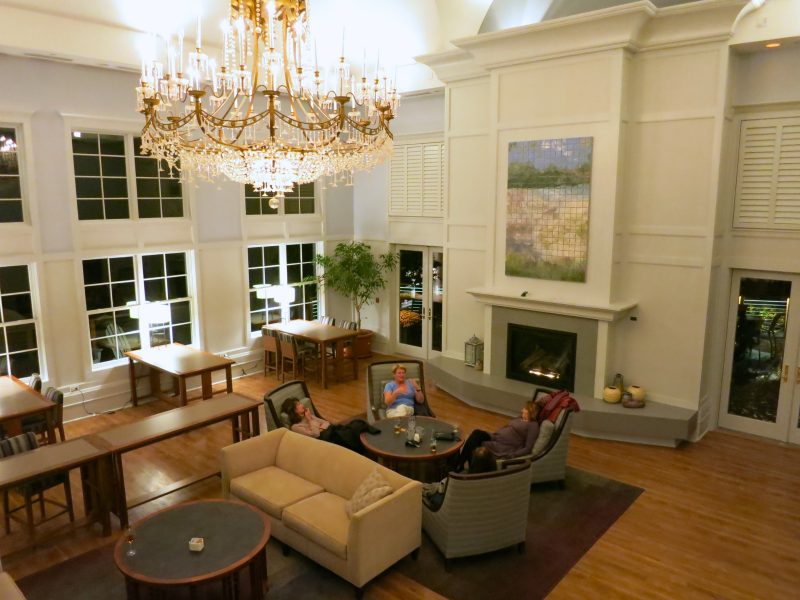 In cooler months, you'll be tempted to read by a roaring lodge fireplace in the Great Room, lit by a dramatic chandelier that once hung in the Florida Breakers, or climb a set of stairs to the Great Room balcony for a wonderful overview and an intimate game of chess.
Join locals in the extensive Fitness Center, or participate in a morning or afternoon Yoga Class – free for overnight guests.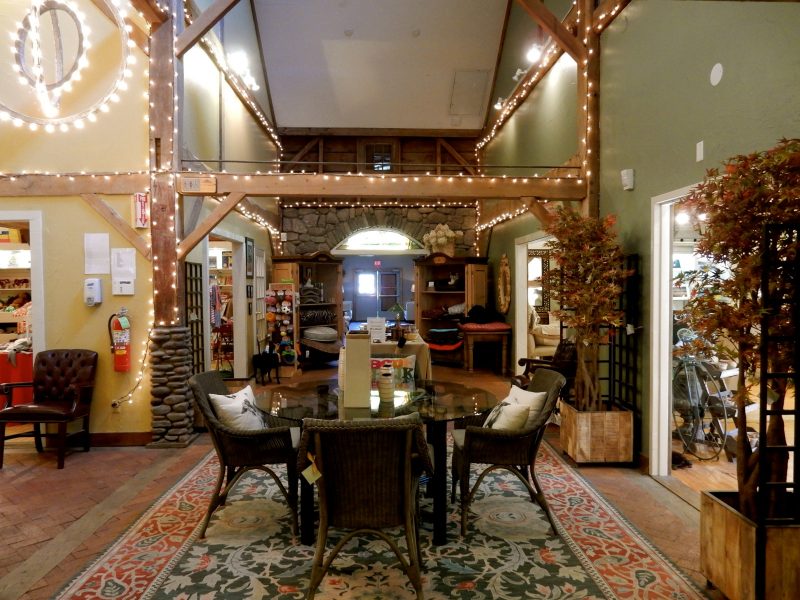 No need to leave the premises: shop at the in-house Emerson Country Stores.  More like an elegant enclosed mall, this series of shops in a former dairy barn can take up a good part of a morning to peruse.  An indoor brick-lined walkway takes you through clothing, pet, gourmet food (including a rack of penny-candy jars) and house-wares shops; and the piece-de resistance – a Kaleidoscope Store where you'll find every conceivable permutation of the rainbow-hued light bending toy.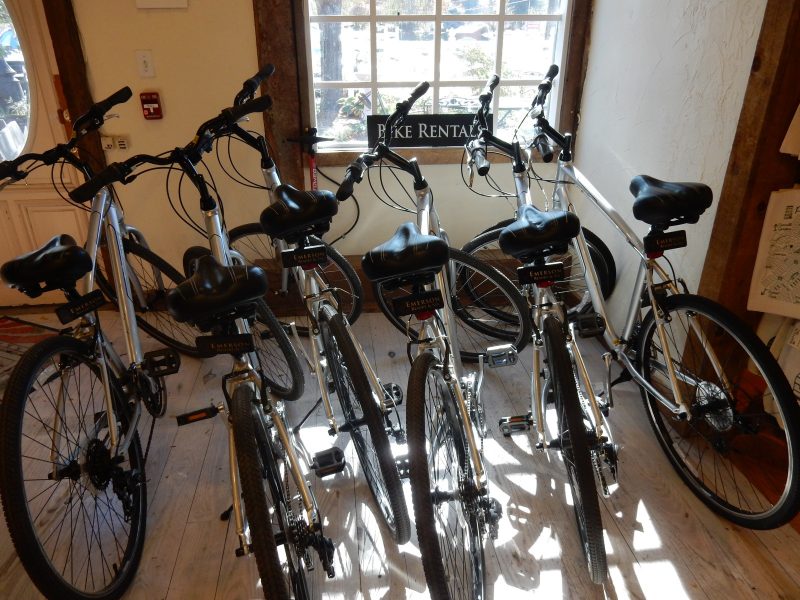 Rent X-Country skis or snowshoes at the Emerson Country Stores and glide outside on site; no need to get in your car. Bikes available in warmer months.
Just the Facts
Both the Emerson Inn and the upscale rustic Emerson Lodge welcomes families of all ages. Lodge rooms begin at $259 per night – $439 for family suites. Inn rooms and suites are $359-$409 per night.  And bring your dogs! Both are pet friendly and offer a great dog park.
For much more on what to do in the area, CLICK ON HERE.