Last Updated on
The handsome Ellwanger Estate, former home of Rochester socialite Helen Ellwanger, wife of horticulturist George Ellwanger, and founder of the Landmark Society of Western NY, sits very near the park-like Mount Hope Cemetery – where Susan B. Anthony and Frederick Douglas are buried – in this historic and wealthy section of Rochester. First built as a farmhouse in 1817, and then purchased and enlarged by Ellwanger (co owner of Ellwanger and Barry Nurseries) in 1867 and 1910, staying here is an immersion into the wealthy lifestyle of the Victorian Age. The gardens, as one would imagine, are beautiful.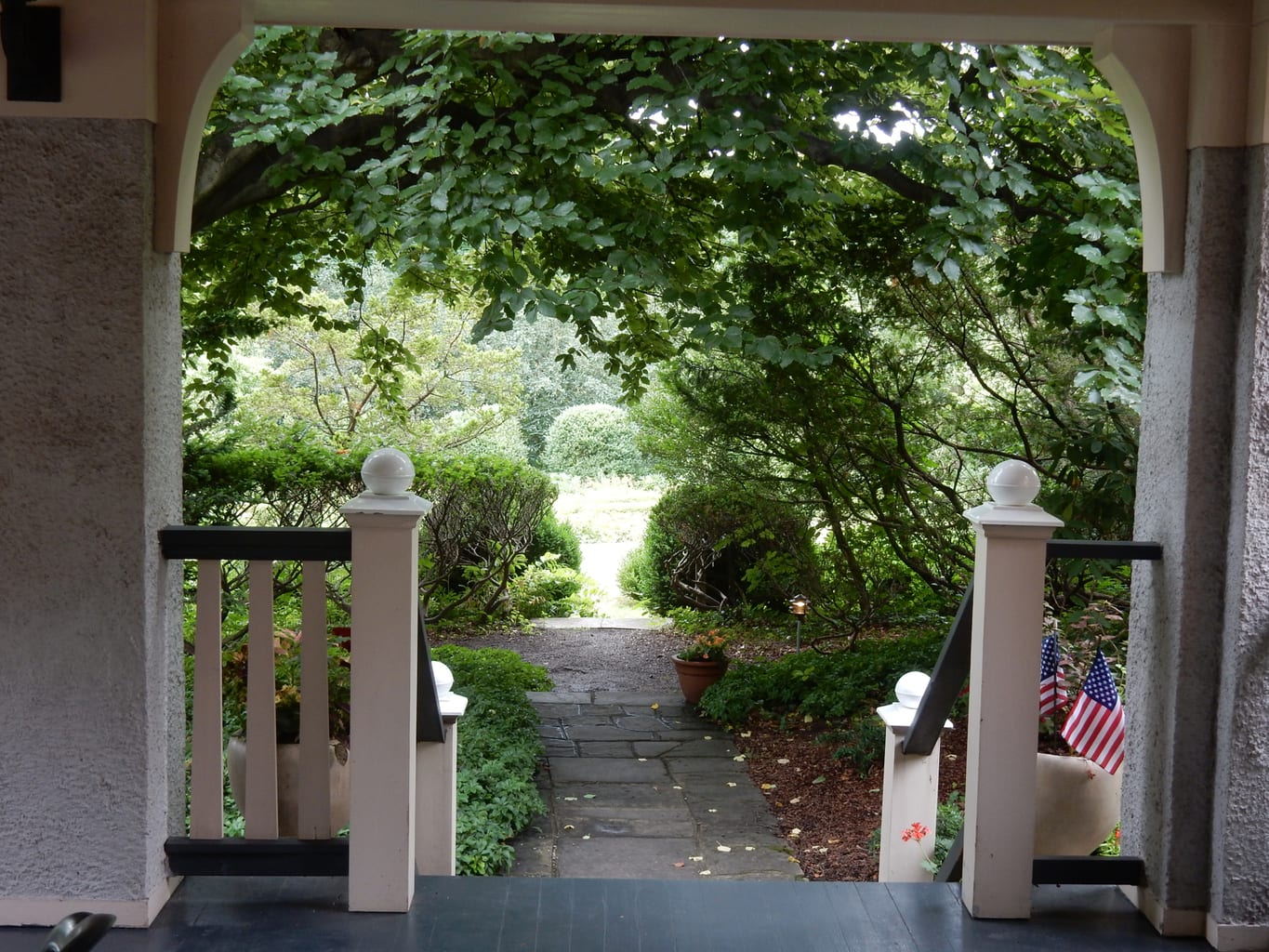 Owner, Rosemary Janofsky, purchased the estate in 2006 (it was already operating as an inn), and has lovingly preserved it. In 2008, as a "Design House" fundraiser for the Rochester Philharmonic Orchestra, guest rooms were used as fresh canvasses for interior designers, so each offers a unique and posh experience.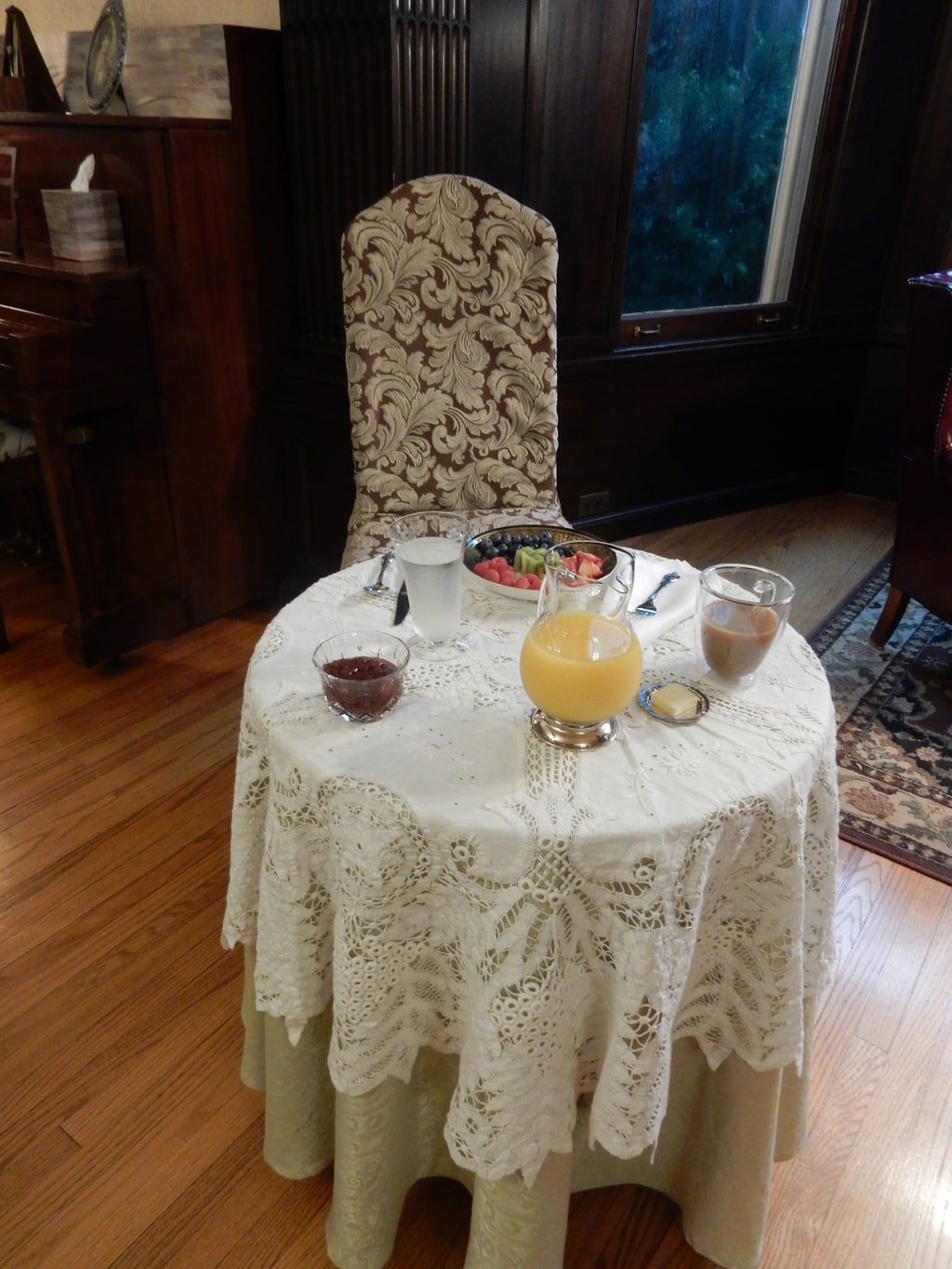 Who stays here? Business travelers, honeymooners, romantic couples, and anyone who favors sleeping on firm organic mattresses. Children over 8 are welcome, and in fact, Janofsky "loves to cook for kids."  If a television film crew is in town, chances are they choose to stay here. Just recently, Dateline came to investigate a Rochester murder mystery. When I arrived in late July 2018, the TLC Network (Say Yes to the Dress, etc.) had been using the Ellwanger Estate as its Western NY base for a month.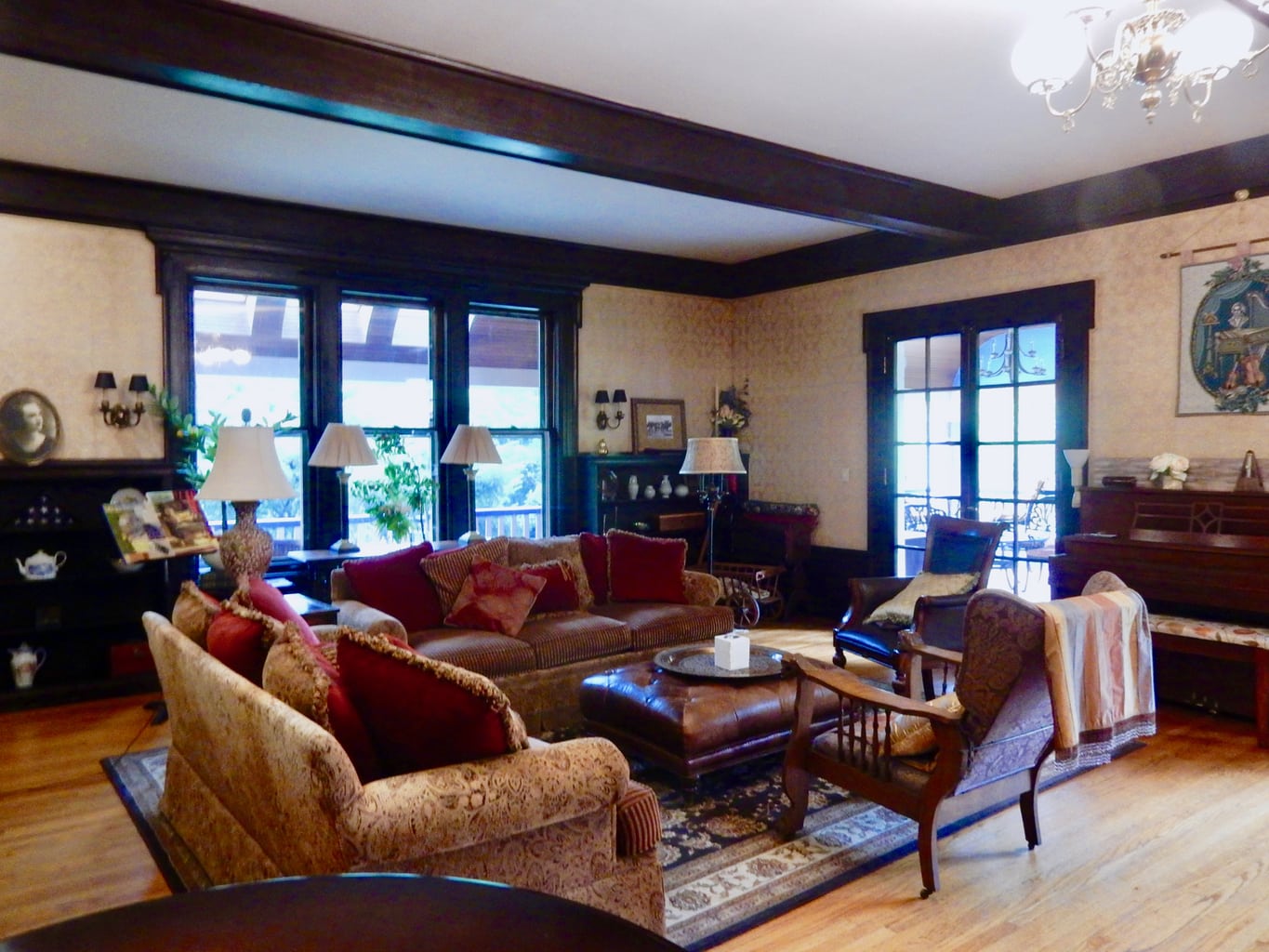 Off the main street, the driveway climbs past the Carriage House, gardens and greenhouses – the remnants of George Ellwanger's horticulture business. Park and walk up the gravel path to the portico where Janofsky greets guests like a lady of the manor. You're swept into a small check-in area, and then, ta-da, a door opens onto a burnished wood parlor/living room, with plenty of seating and conversation nooks.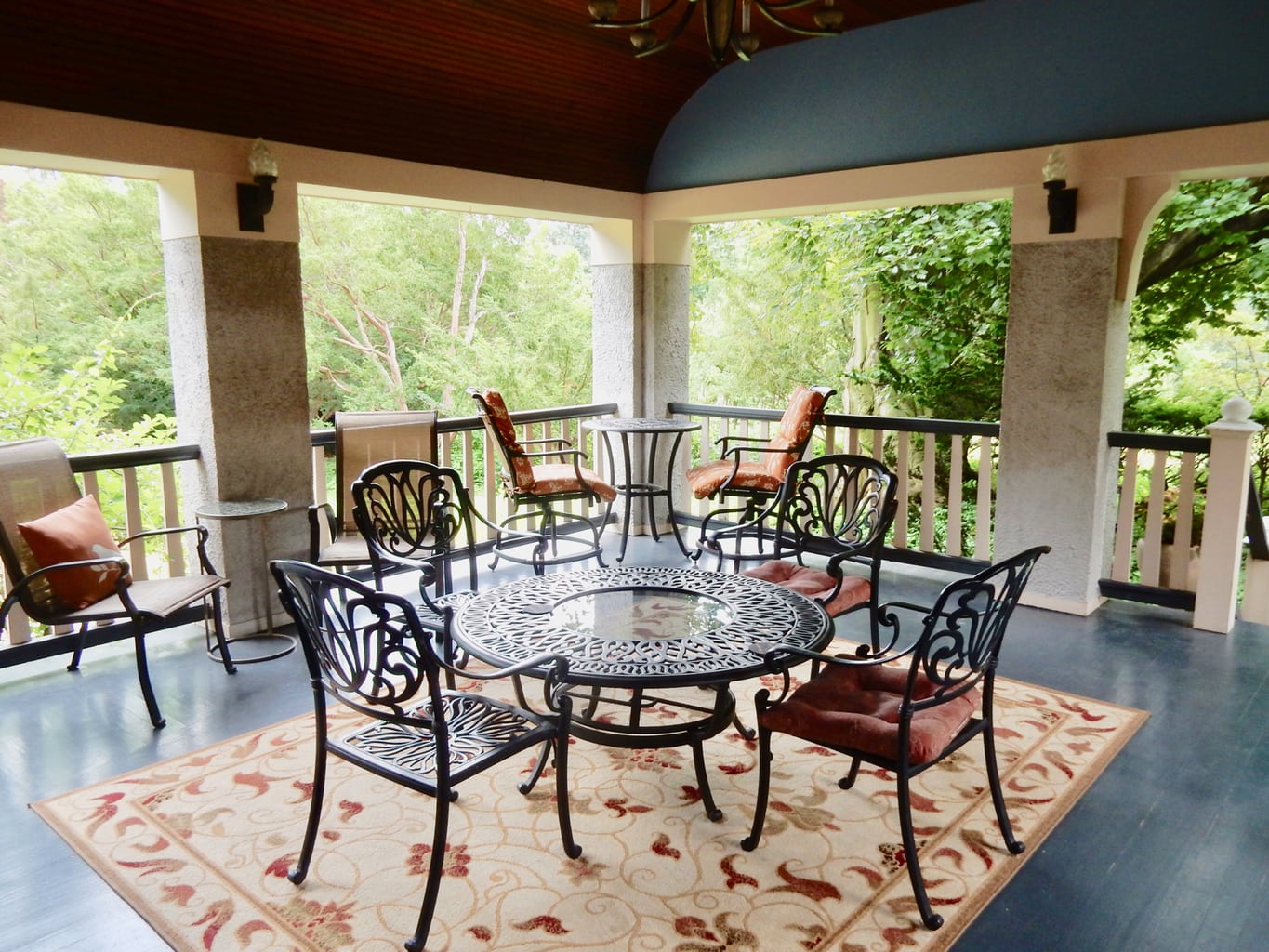 A lovely covered porch opens onto stunning gardens, and in good weather, guests can enjoy a stroll.
Rooms at Ellwanger Estate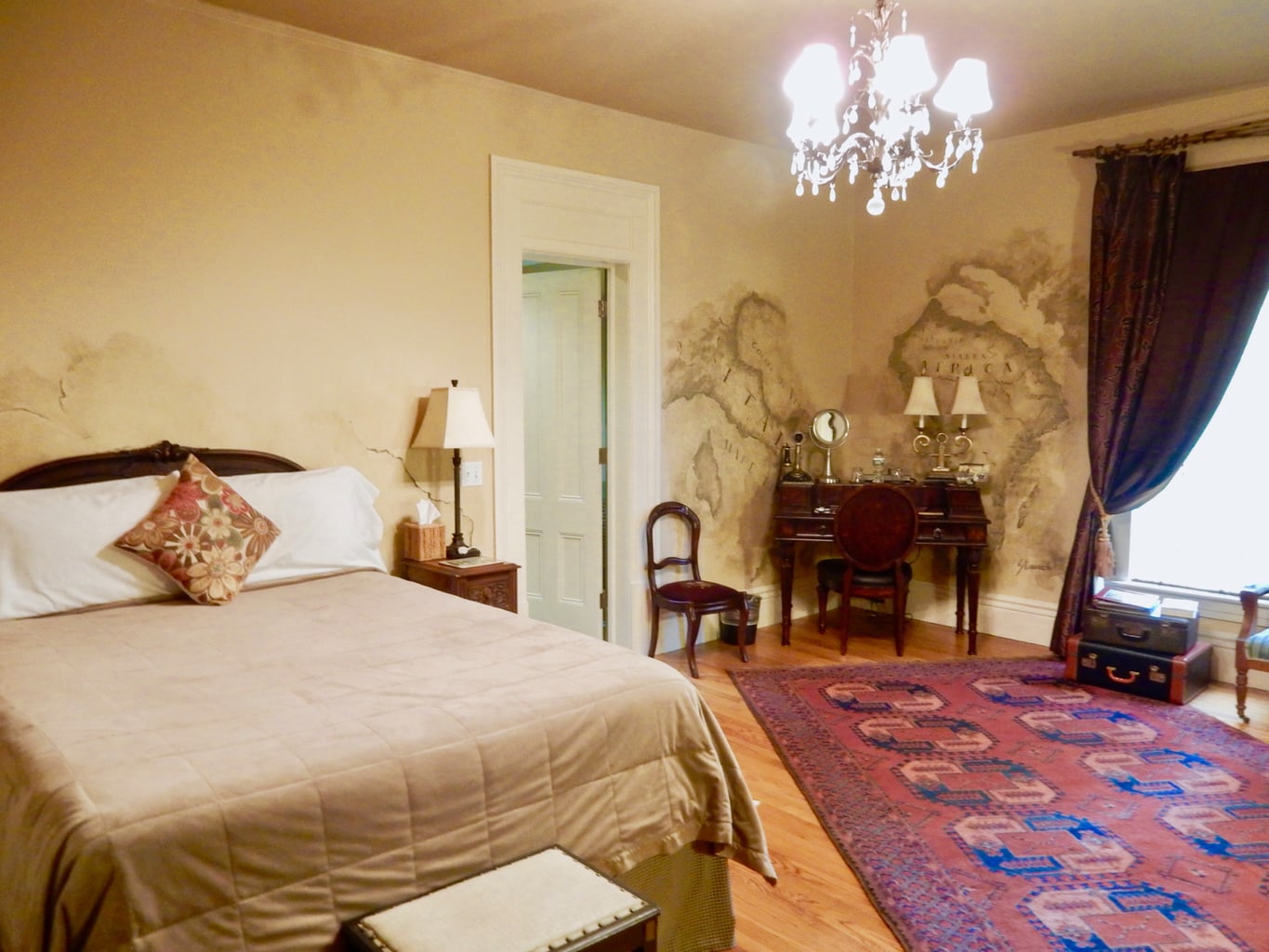 My room, Travelers Rest, was the perfect chamber for a travel writer. A map of the world covers the walls, steamer trunks serve as display tables, Oriental Rugs cover the hardwood floor, a kimono hangs on a closed door, and Asian letters grace the wall above the fireplace mantle. Though seemingly from another era, (and with no TV), the room has plenty of outlets (power strips) for charging electronic devices, and lots of light (with switches conveniently near the bed!), which is very rare in a Victorian inn.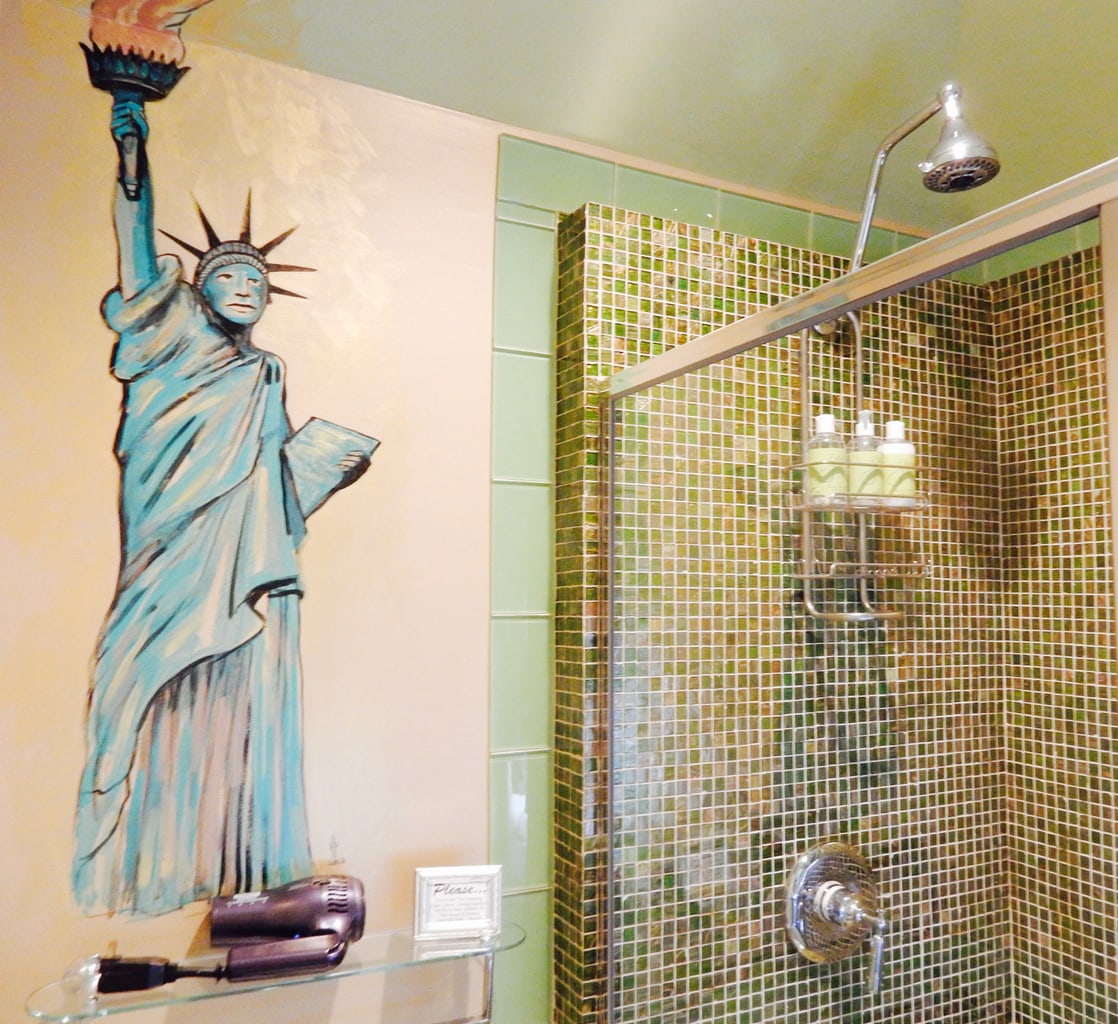 The small bathroom is delightfully whimsical, clad in small green iridescent tiles, and a rendering of the Statue of Liberty.
Breakfast at Ellwanger Estate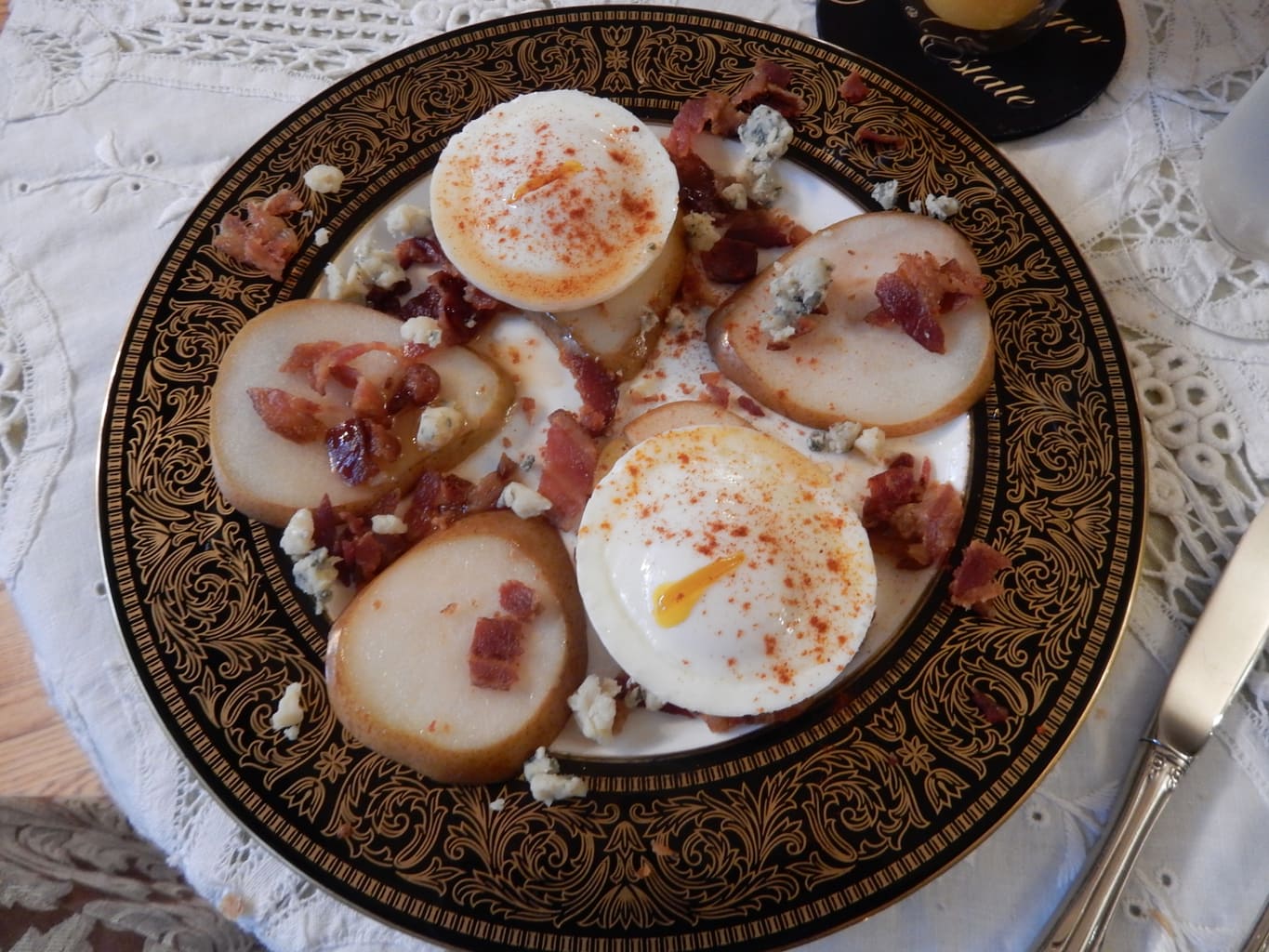 Accolades of Janofsky's breakfasts are well deserved: you won't find the customary B&B stuffed French Toast here. What you might be served is something like "Pairfection" – beautifully plated sliced poached pears with "loaded eggs" topped with bacon and blue cheese – an amalgam of palate-pleasing textures and tastes.
Just the Facts
Room rates $185-$265 include gourmet breakfast, parking, wi-fi, and afternoon tea and treats.