Last Updated on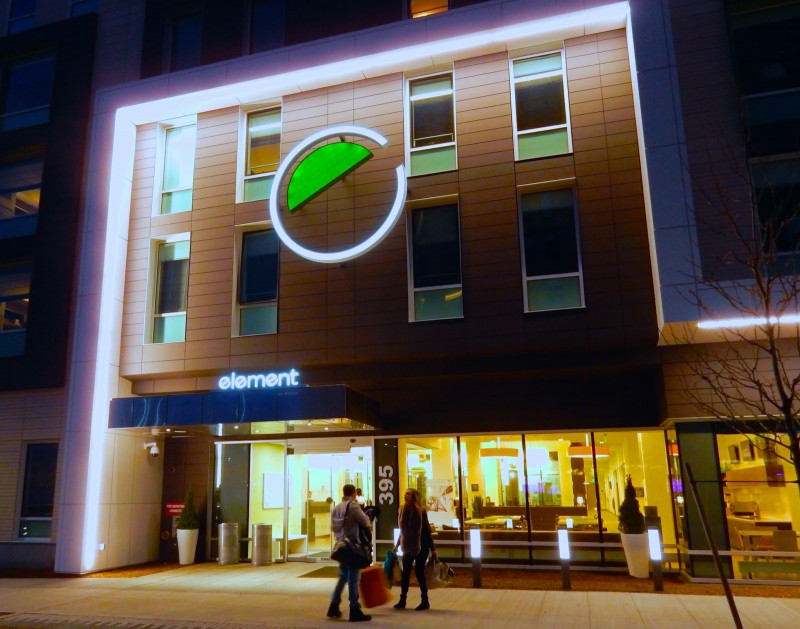 Newly opened in Jan 2016, Westin's Element Boston Seaport (one of Starwood's "Specialty Select" Brands, including Aloft and 4-Points by Sheraton) will certainly fill up with relocation, business, and home restoration clientele (through insurance company claims), or when a convention convenes at the Boston Convention and Exhibition Center, just steps from the front door.
Though not LEED Certified, Element is "LEED Certifiable" – meaning it's green enough to pass muster with environmental regulations. The hotel was built with recycled materials, the indoor pool is filled with salt water, lighting is LED, shampoo and conditioner are in shower dispensers, and there's priority parking for fuel efficient cars.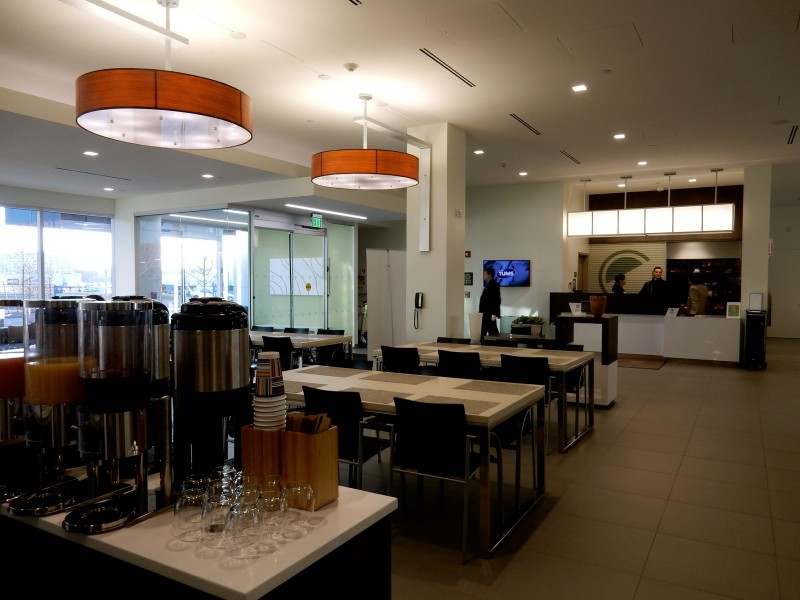 A "health and well-being" extended stay property, Element has a clean contemporary feel – unusual for a type of lodging option where design typically runs traditional and nondescript.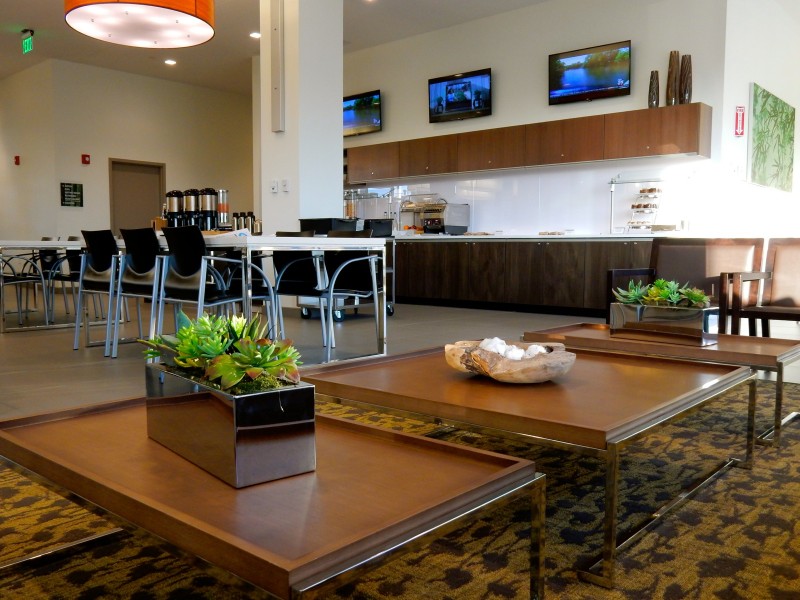 There's no bellman, room service or valet (that's left to the Westin just down the street), but as such, room rates won't break the bank. Both Element and next door Aloft are Starwood's more affordable properties.
Element Hotel features Westin's color palette; neutral natural earth tones, punched by grass-greens. There's lots of sunlight, large floor to ceiling windows, an array of tables and seating. In fact, Element's lobby looks like a cross between a college cafeteria and high-tech company lunch room – with outlets for laptops and clusters of couches for more intimate conferences.
Rooms at Element Hotel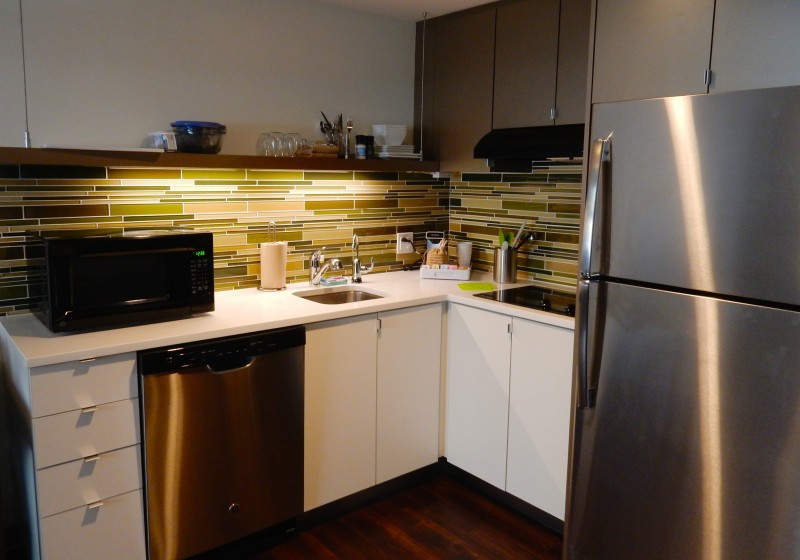 Each room is really a "mini apartment" with fully outfitted kitchen sporting a colorful glass tile backsplash, a small sitting area (which can benefit from a bit of color – some throw pillows or art), and a cozy bedroom with large flat screen TV. (I watched The Academy Awards on this HD TV, and felt as if I were in my own private theater; the quality was so perfect).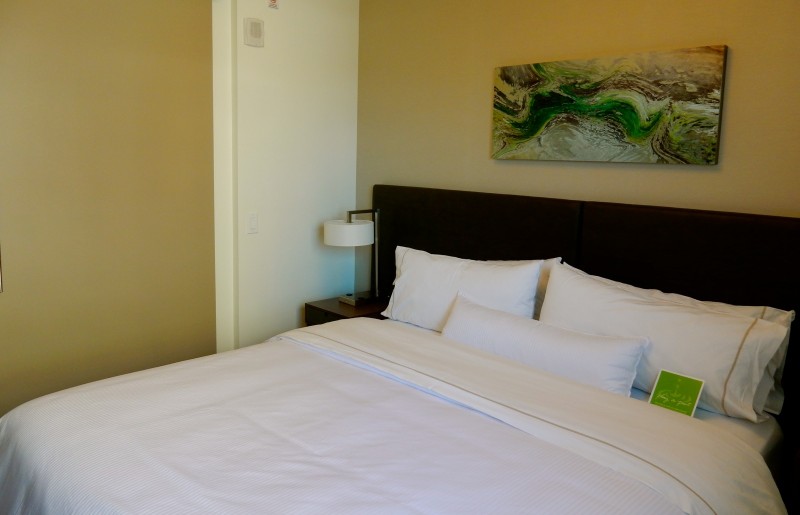 The bathroom, though a bit bland, features a rain-head glass shower and contemporary tiles – definitely more upscale than the fiberglass version you'll find in many hotels at this price point.
Amenities at Element Boston Seaport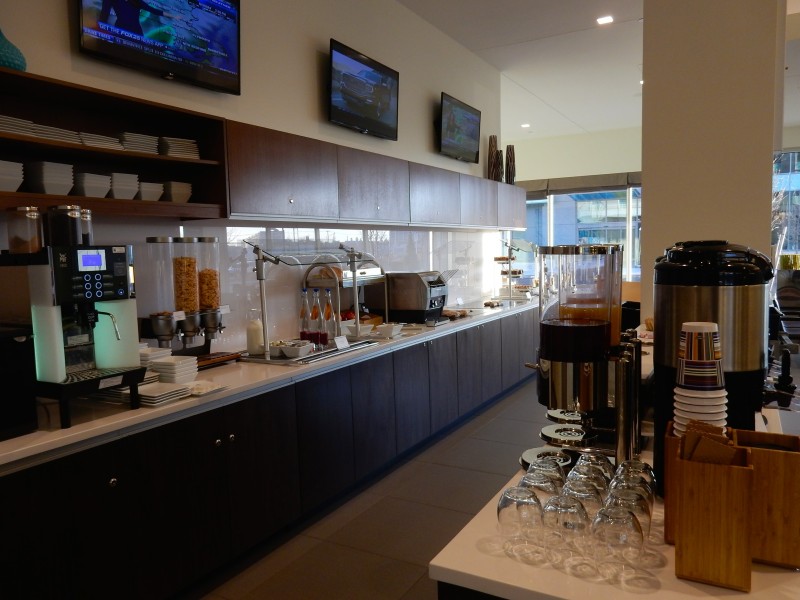 "Rituals" – included in the price of the room, will appeal to business people who don't want to cook in their suites. The "Rise" breakfast offers standard items like cereal and fruit – but also hot wraps and great smoothies – impressive for the price-point. Even more impressive is the "Relax" evening ritual from 5:30-7pm Mon-Thurs, offering appetizers and complimentary wine and beer. After a day of work, it's nice to come "home" to.
Right now, there is no grocery store in Boston's Seaport District. Element's workaround is to offer packaged and refrigerated food in the "ReStore" pantry behind the reception desk, and help guests order from PeaPod – a grocery delivery service for those who wish to cook in their own rooms.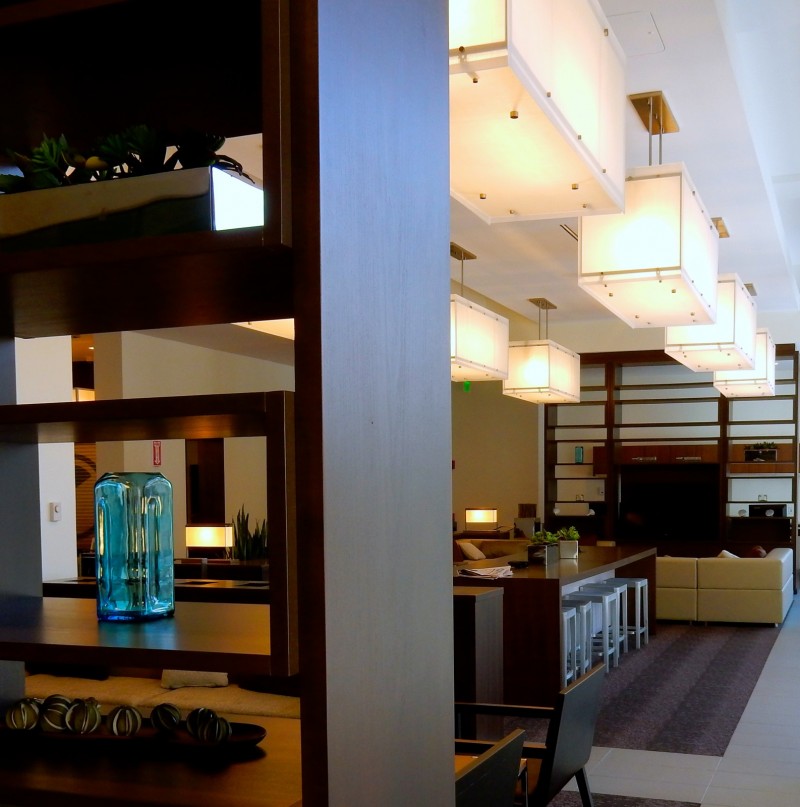 Small meeting rooms are "tech-ready" for pop-up pow–wows, though for larger business gatherings, you'll have to book your summit at the Aloft Hotel next door.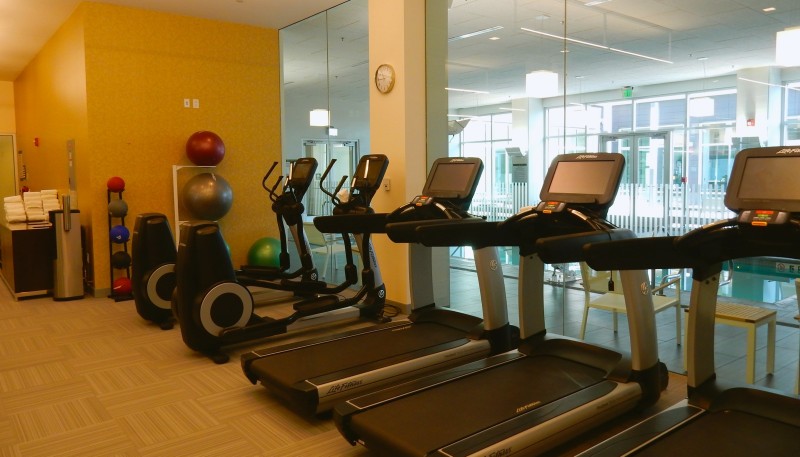 There's a small indoor saline pool and a Fitness Center with state of the art machines as well.
Just the Facts
Suites from $189-$500 depending on season and Conference Center demands, include wifi, hot breakfast buffet, evening wine and bites Mon-Thurs, pool, fitness center. Parking $25 per night.