Last Updated on
Resurrecting the spirit of the paper mill that used to command this dogleg turn on Partition St. (before it burned down in the mid- 70's), then dusting it with understated glitz, the 30-room Diamond Mills Hotel has become a go-to for weddings and special events for both locals and NYC Brides and Grooms.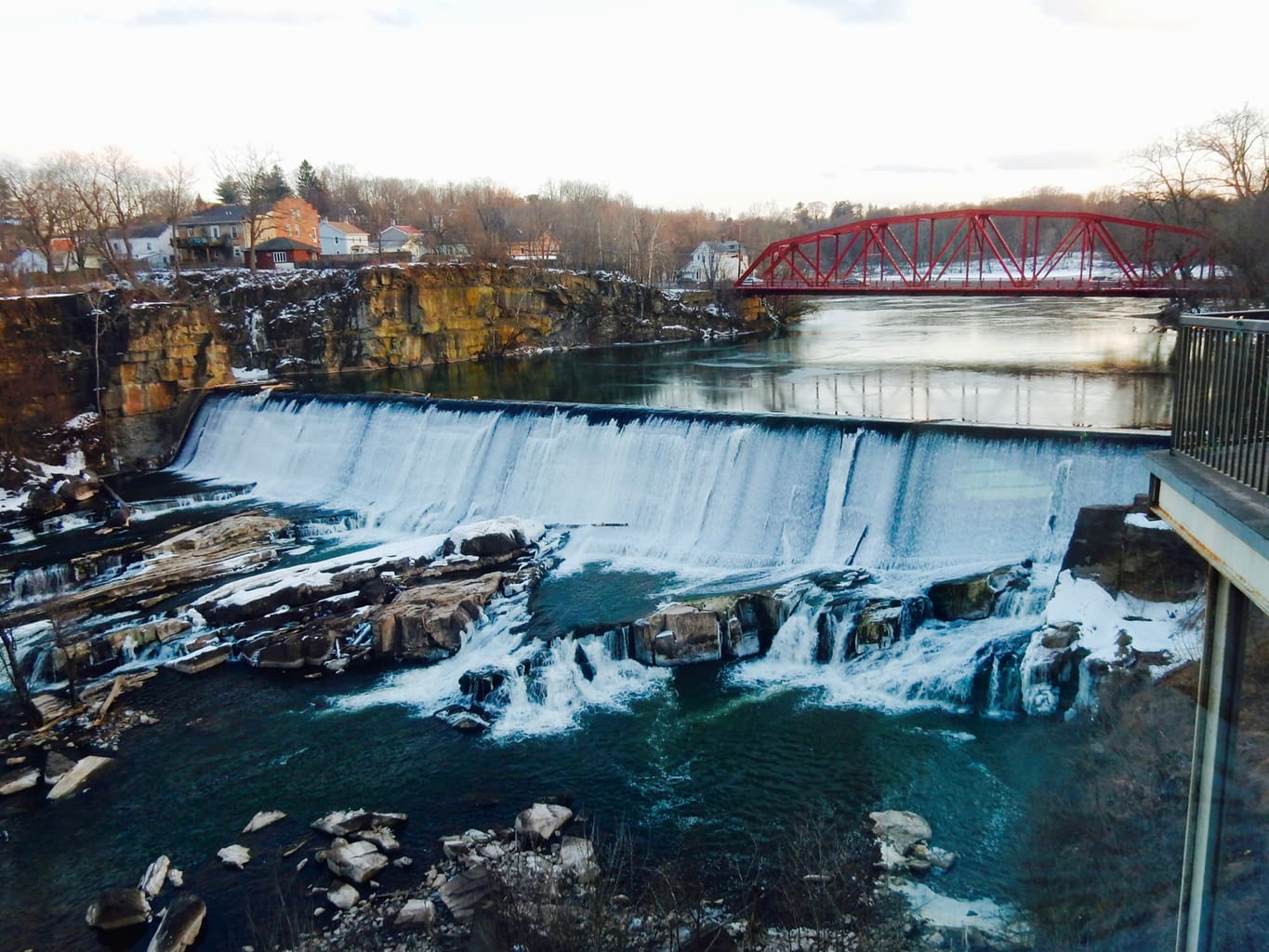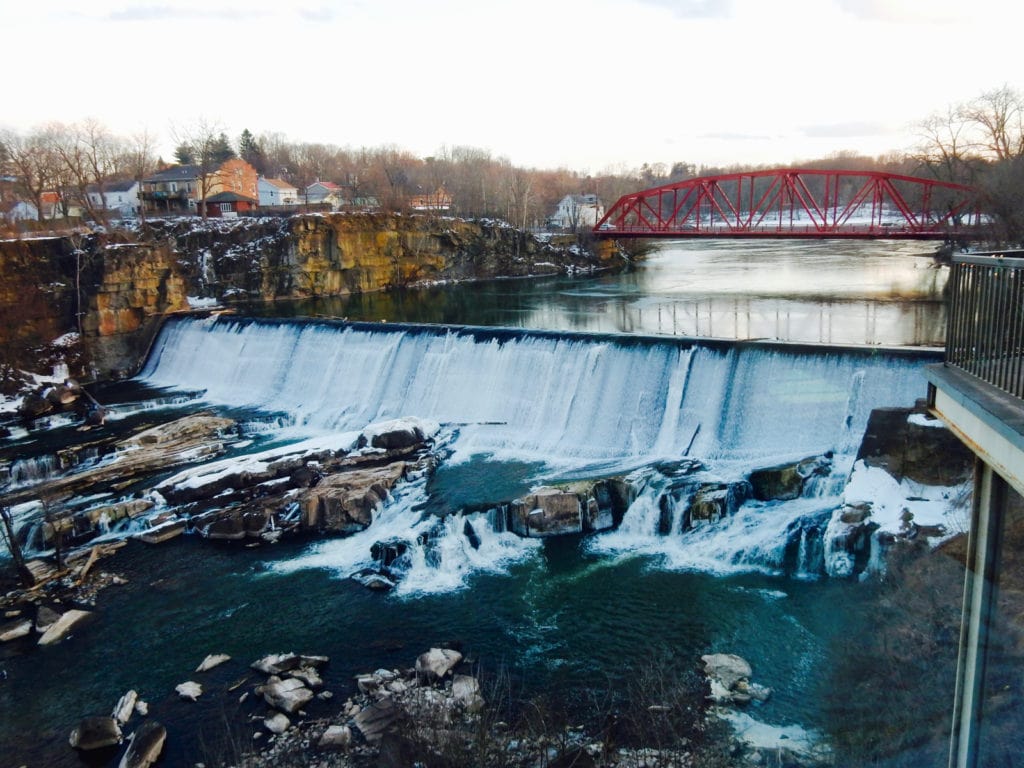 The hotel, perched on a cliff overlooking the Esopus Creek, was a personal – and ambitious – project for Tom Struzzieri, founder/producer of the Hunter/Jumper competition Horses in the Sun (HITS), which takes place over the summer in Saugerties, drawing thousands of horse owners and enthusiasts.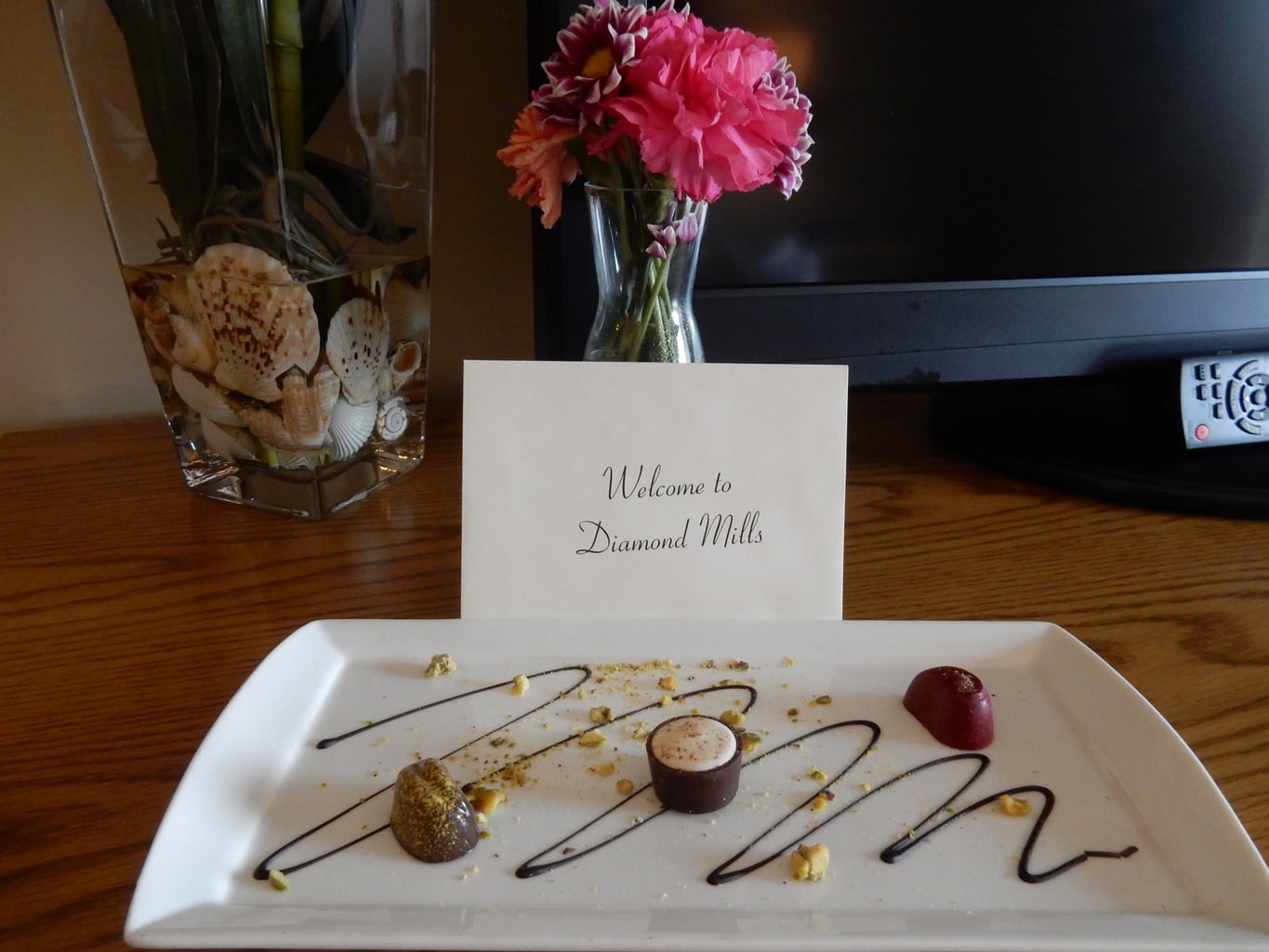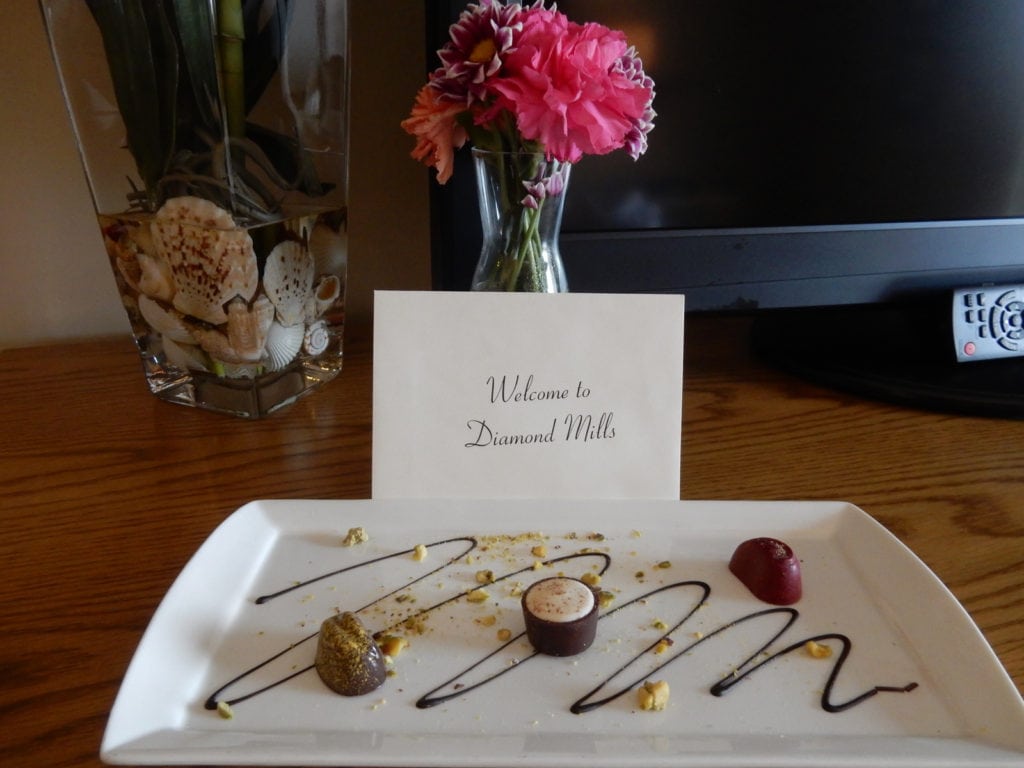 Struzzieri developed the property partly as an upscale lodging option for HITS participants, though now the complex is popular with a wide variety of travelers, especially wedding parties. There are "winks to" the former mill – gears, weights, pulleys, brick and stone walls – throughout the small lobby, public areas, and on-site restaurant.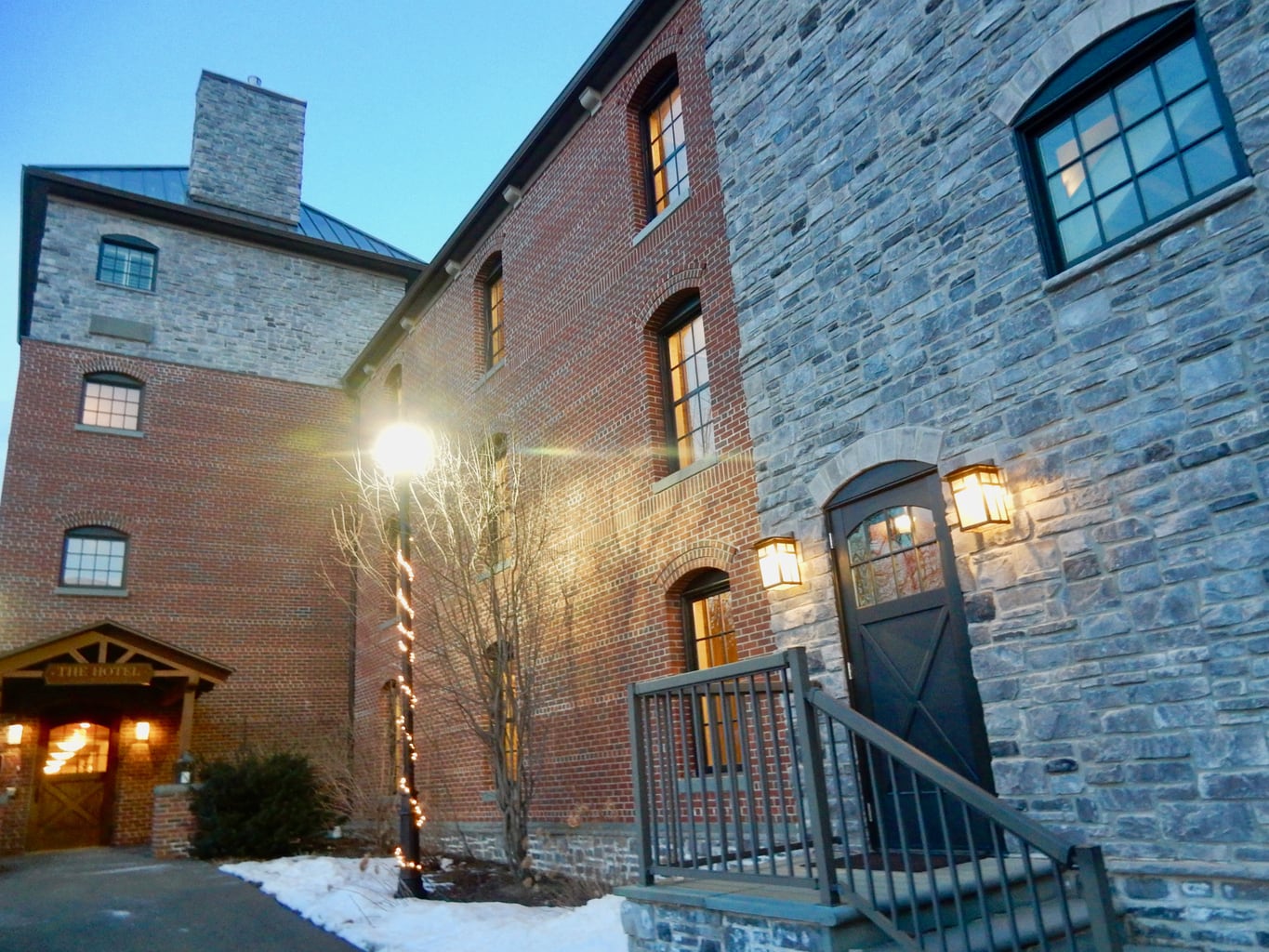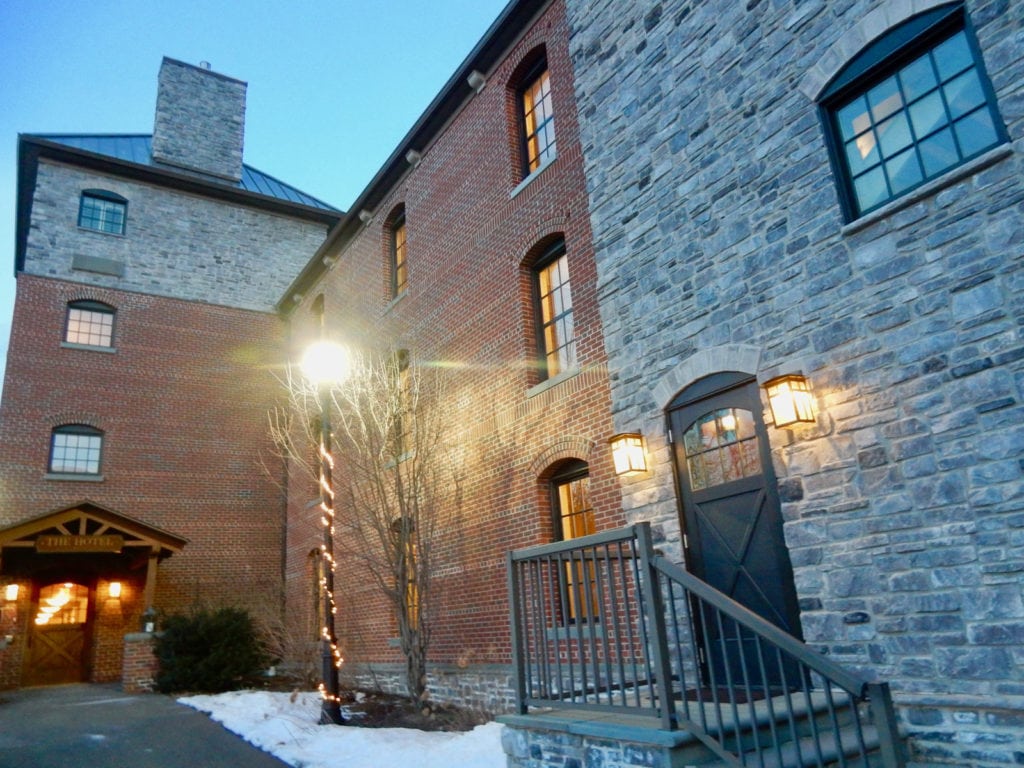 The property is divided into three sections; the fortress-like hotel itself, a large event space perched right on the creek, and the on-site restaurant, The Tavern.
The hotel lobby is small and intimate, with one friendly and helpful staff person at a casual reception desk. In off season, there is no valet. Unless there's an event (and especially off-season), plan to park your own car in the very convenient lot, and roll your own luggage in.
Rooms at Diamond Mills Hotel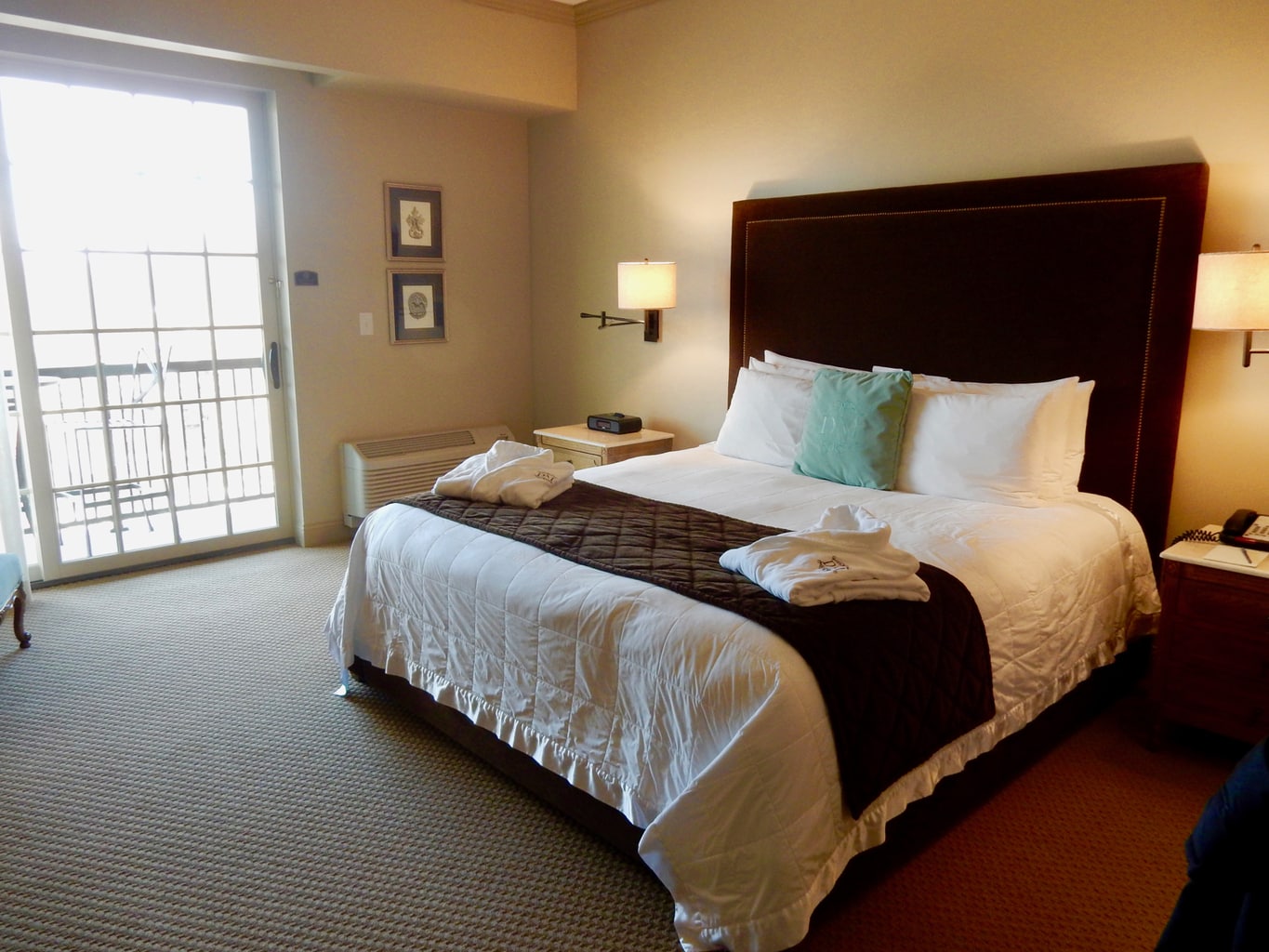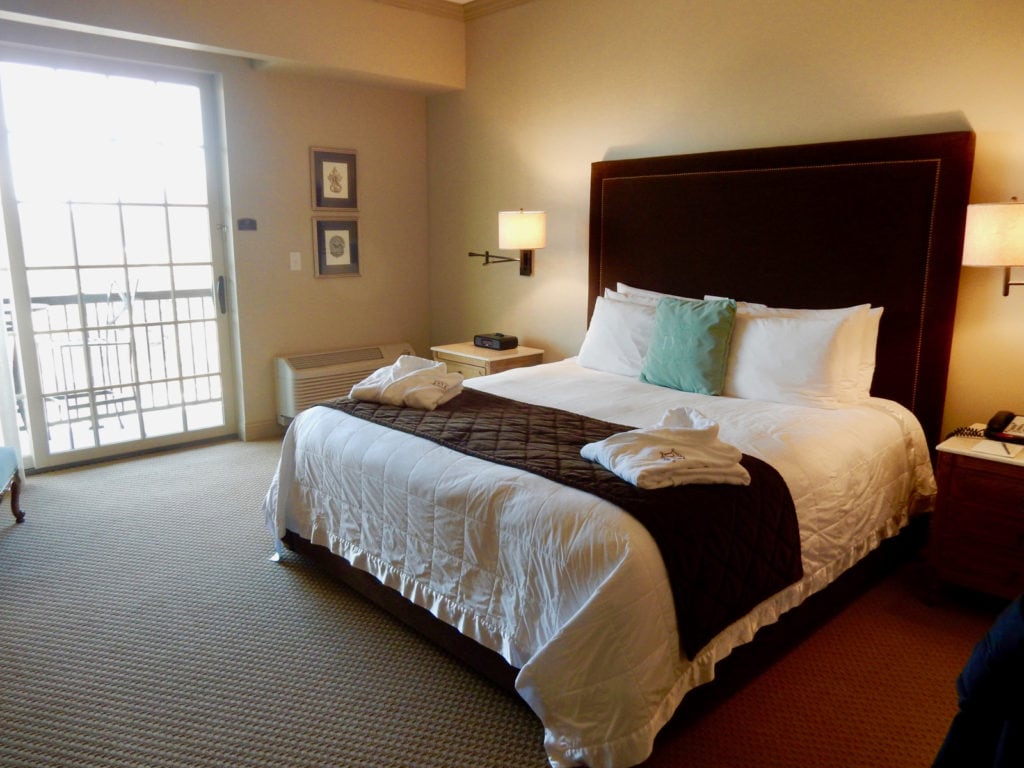 Subdued and classy, each sizable room is angled for optimized views of the surging water over a man-made dam.
Unwind on your balcony or whole patio off your room clad in tawny, sea-foam, and cream shades. Extras like Kerug coffee maker, mosaic tile radiant heat in the bathroom, glass rain shower, and custom "DM" toiletries enhance your overnight experience. (There is talk of putting Savor//Beauty samples and amenities in the rooms as well – a nice synergy with a skin care company based in Saugerties.).
Dining at Diamond Mills Hotel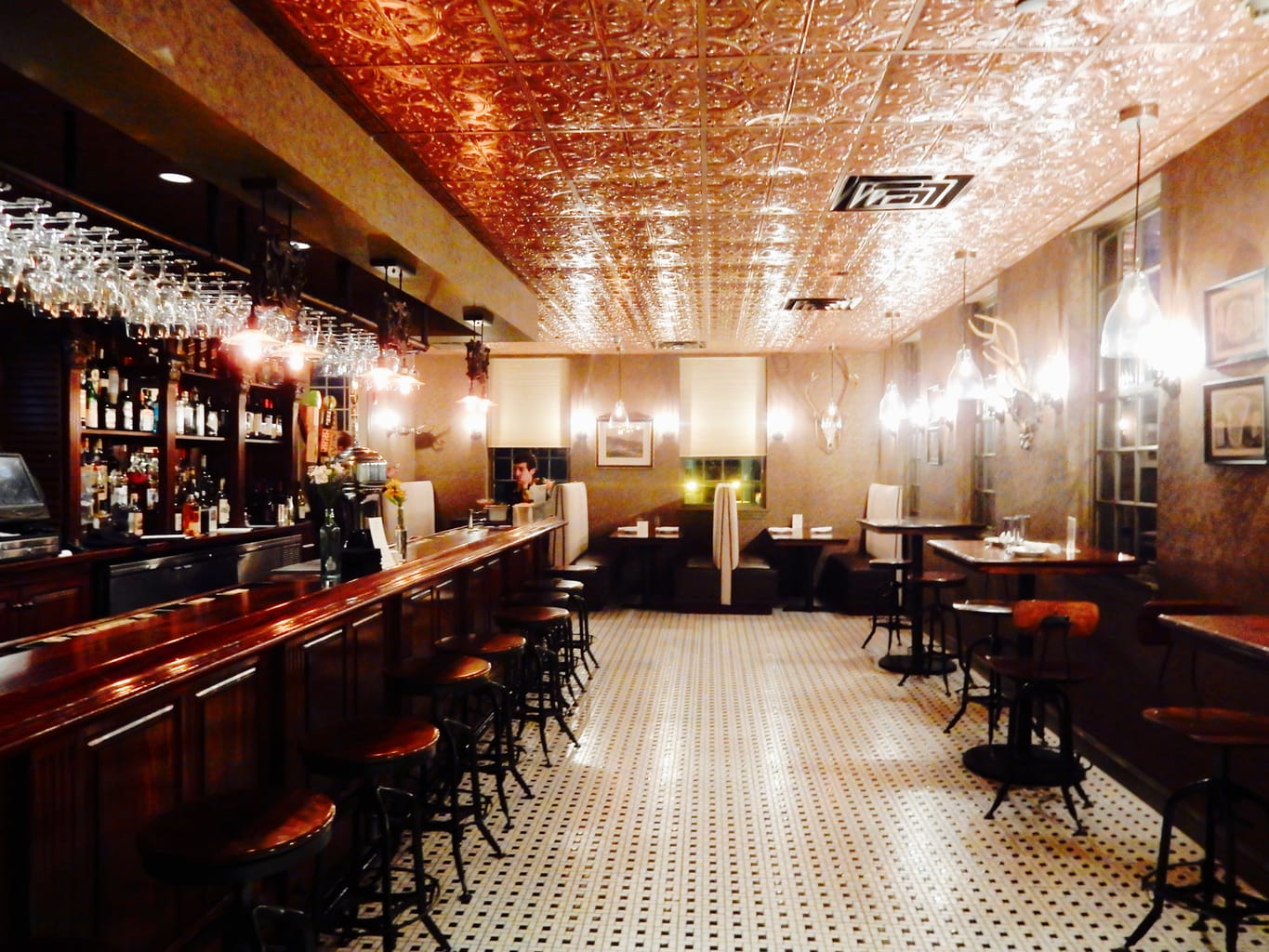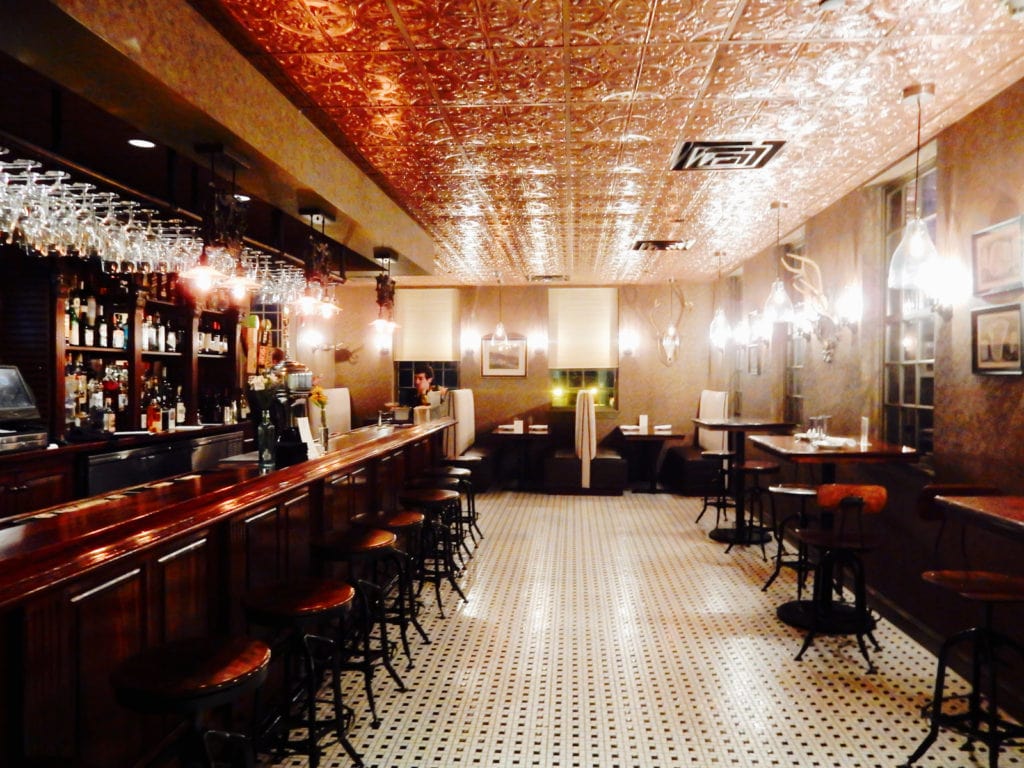 Though the rooms at Diamond Mills are upscale and wonderful, the in-house restaurant, Tavern, is really where this place shines.
Tavern, is a soaring, bright two-story atrium, with espresso-dark wood floors, stone slab fireplace, contemporary tableware, views out to the overflowing dam and river, and, like many establishments in the Hudson River Valley, crammed with CIA grads, even in the front of the house.
While a number of tables sit in the center of the not-so-intimate vast and modern room, several high backed banquets create nearly encapsulating cloisters for parties of two or four.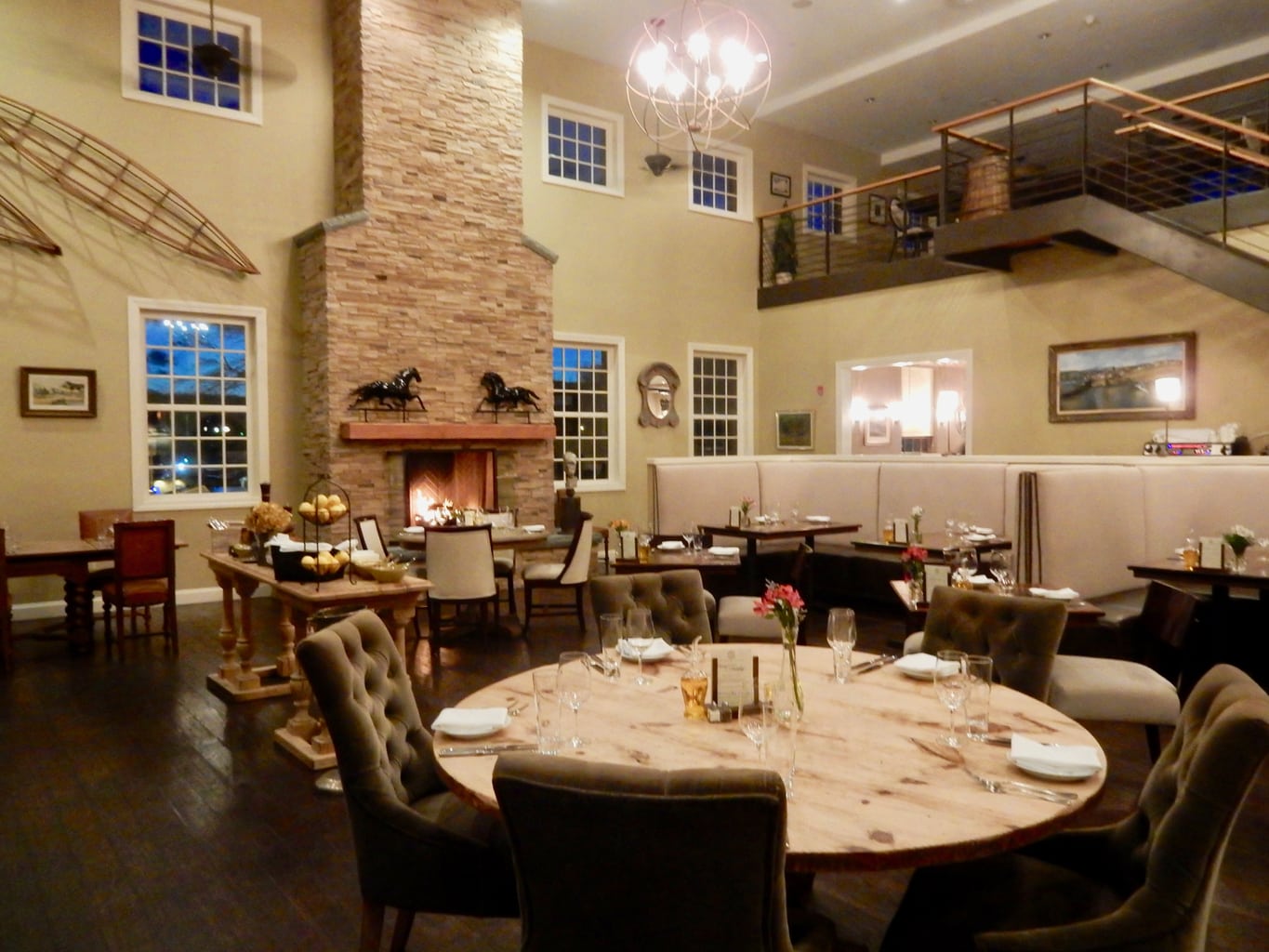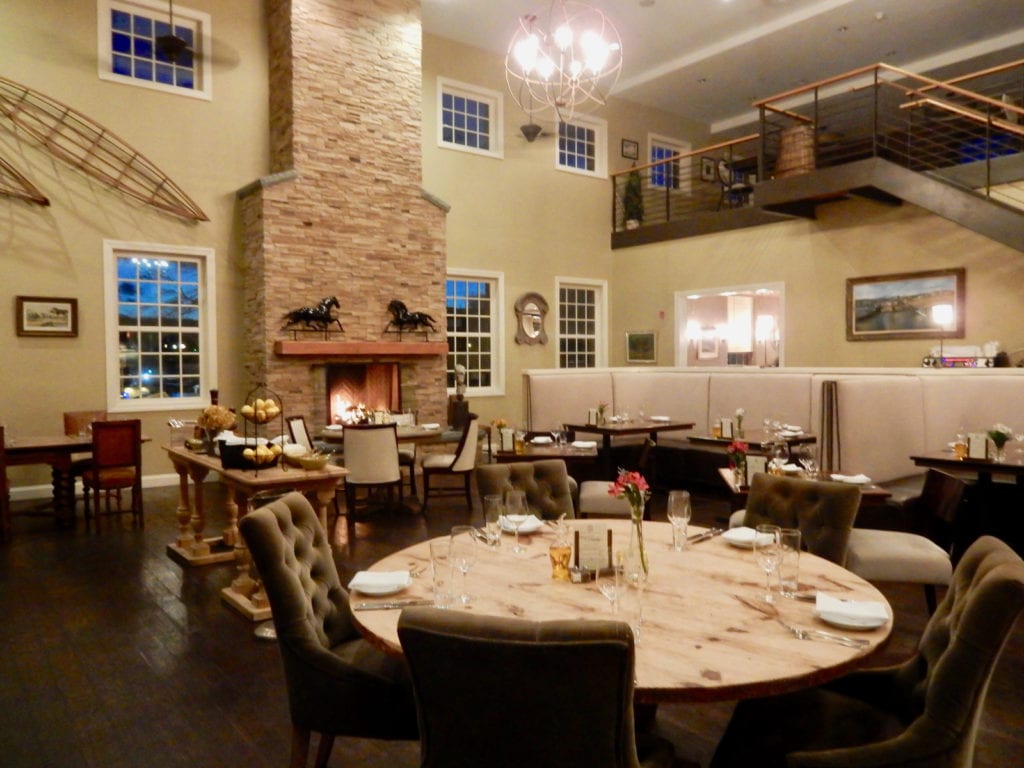 "Chef recommends that you taste the olive oil first before adding lemon – it will enhance the flavor," says your servers as he/she introduces the bread course that comes to the table with three additional house-made spreads.
I'd never been schooled on the proper way to taste/prepare olive oil for bread dipping, so this was quite an educational and delicious start to the meal.
Serving Hudson Valley favorites "with a Mediterranean Twist," according to Chef Giuseppe Napoli, you can get anything from a Tavern Burger ($16), Antipasti ($21) Trota in Saor (Trout, $22), Grilled Branzino, a gleaming brontosaurus-sized Moroccan Braised Lamb Shank ($21), or other dishes that change seasonally.
If you want something lighter, go for one of the Pizzettas – a cracker-thin crust cheese and veggie topped flatbread that is truly out of this world excellent.
Just the Facts
Rates start at $175 off-season per night for advanced booking, does not include tax, but does include wifi, parking, coffee in the morning, and a glass of wine and cheese in the Tavern from 5-6pm. From May – Oct HITS season, rates go up exponentially, starting at $660 per night.