Last Updated on

The Conrad Hotel, New York City
There are several qualities that make a hotel great, and the Conrad Hotel NYC– a Hilton brand – has all of them.  First, aesthetics: the Conrad is a Modern-Art knockout. Second, service: hotel staff seem to be hired with the kind of proud, friendly and I'd go so far as to say sweet personalities that can't be taught. Finally, location: in the shadow of the new World Trade Center and a scant block from the Hudson River within view of the Statue of Liberty, the Conrad is surrounded by poignancy and beauty.  It's no surprise that connoisseurs of high-end hotels rave about this place.
First Impressions
Enter on street level and as you ascend the elevator to reception what strikes you first is the enormous blue and purple work of art by conceptual op-art genius, Sol LeWitt.  Titled Loopy Doopy, this 100×80 foot installation looms a full thirteen stories high over the atrium lobby, and is just one of over 2,000 works of art by contemporary favorites like Stella, Flavin, Koons, Schnabel and others sprinkled throughout The Conrad's 463 guestrooms and common areas.
At night, the soaring atrium is awash in rotating shades that begin barely there and deepen as minutes pass: red then blue then purple then green, rendering the Jetson's-era lobby of curvy couches and orb lamps a fantasia of color. "I was told this is a cool place," said one awed visitor from the Midwest. "But they didn't tell me how cool."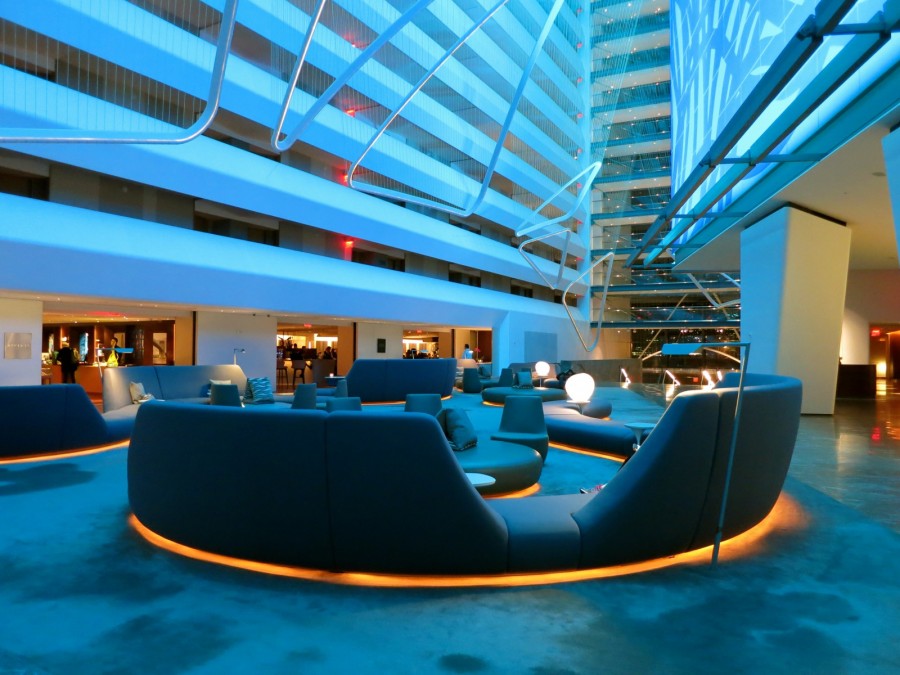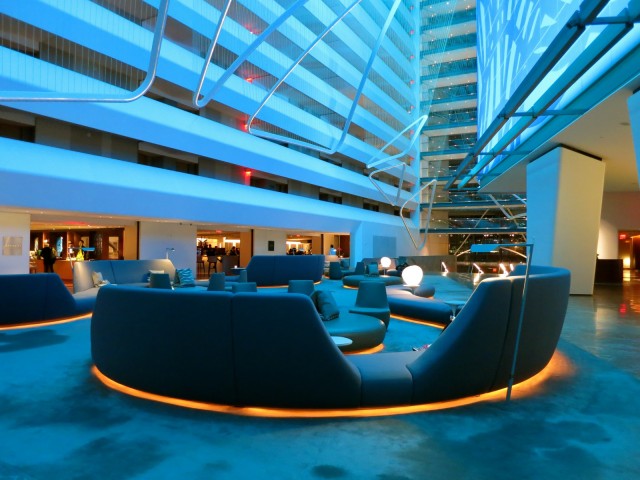 Conrad Hotel NYC Guest Rooms
All-suite modern-furnished rooms hush in harmonious earth tones: wooden louvered shades and built-ins, granite grey drapes, sand-hued travertine floors and shower, backlit mirrors. Ask for a river view, and center yourself while watching barges and boat traffic slip by Jersey City skyscrapers.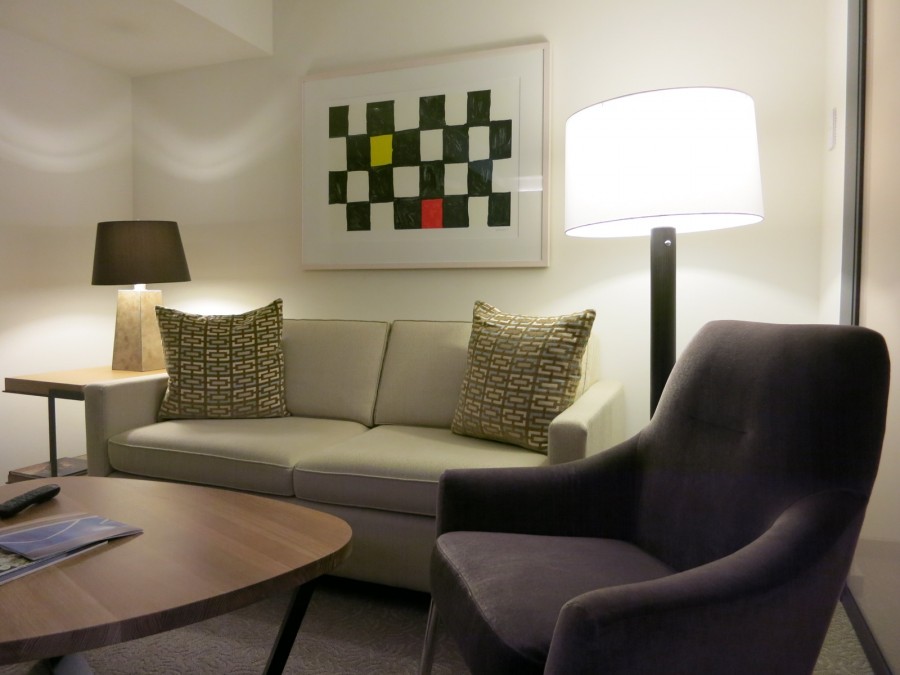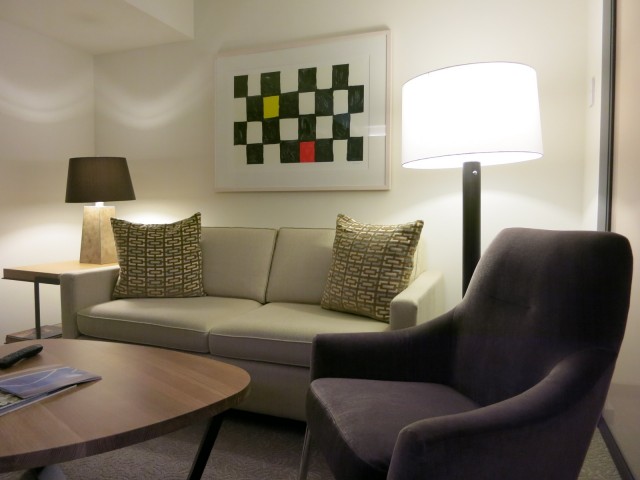 Dining at The Conrad Hotel NYC
In-house Atrio restaurant is the perfect spot for a meal if you just want to stay in. Fans of Tuna Tartar will love the Ahi Tuna starter ($18) – a spicy, fresh mound of large chunks of sushi-grade tuna. Signatures like the toothsome Rigatoni Fungi ($22) and Stone Fired Pizzas ($18-$22) are excellent and won't break the bank.
Things To Do At Conrad Hotel NYC
Pre or post dinner, browse through Accents. This lobby store is a little SoHo indie, a little Madison Ave boutique and unlike any other hotel gift shop you've seen before. You won't find any foam fingers here, but you'll discover plenty of offbeat, upscale NY souvenirs, clothing and craft jewelry.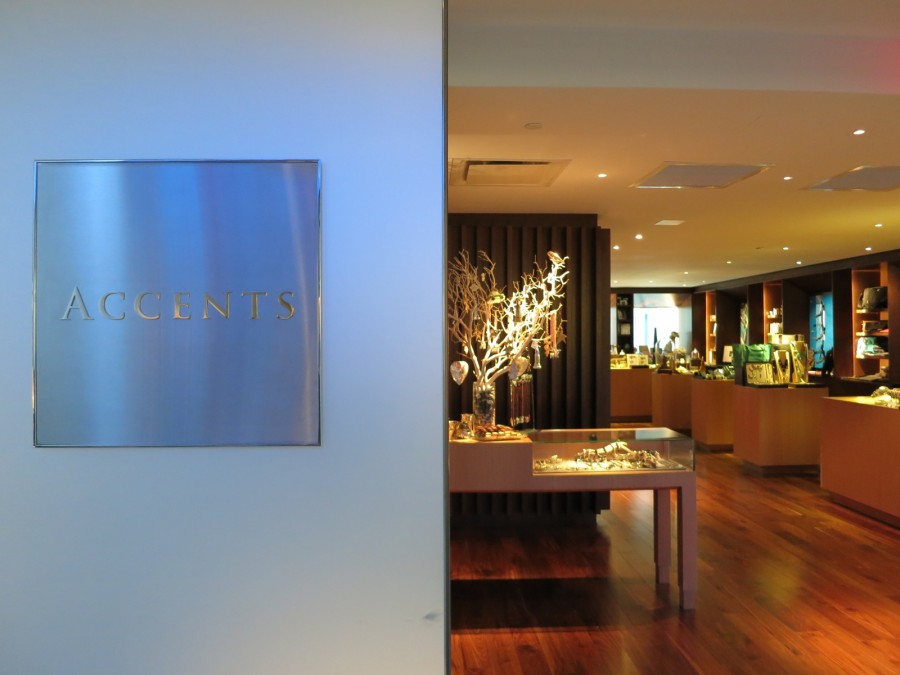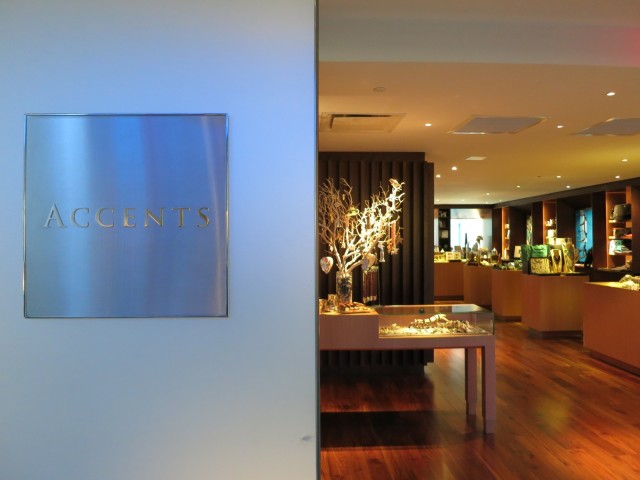 In season, the hot rooftop bar, Loopy Doopy (named after the LeWitt installation in the lobby) serves up its own specialty, Prosecco & Ice Pops with a take your pick – Lime Margarita, Pina Colada, Appletini or Morello Cherry popsicle plunked right into the bubbly.  It's the perfect summertime accompaniment to Statue of Liberty and Hudson River views.
If it's raining or cold or you're just not into hanging outside with drink in hand, here's one of New York City's hidden secrets – one which I really hesitate to reveal here only because locals don't want anyone else to know: there's an 11-screen multiplex cinema just an escalator ride up from the Conrad Hotel lobby. Yes, the "never crowded" Regal Battery Park Stadium 11 – the go-to theater for New Yorkers who hate standing on line uptown – is accessed from this very hotel. (For more to explore in Lower Manhattan, see this Getaway Mavens Guide).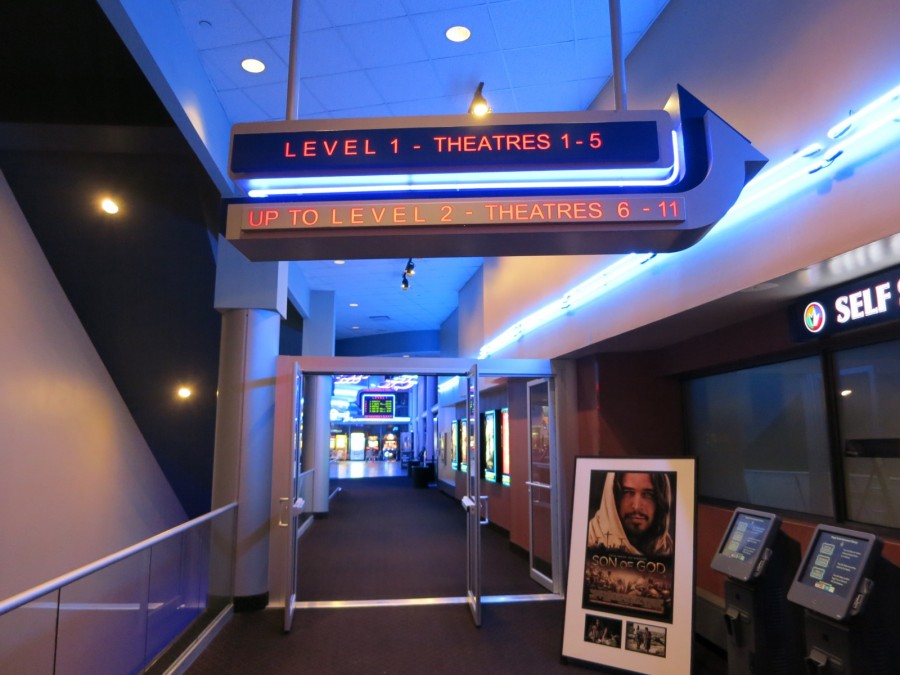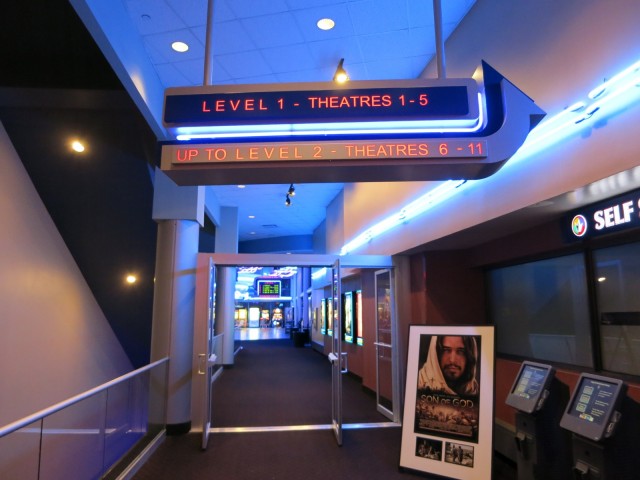 Just the Facts
Depending on season, rooms begin at $350 per night to $650. Larger suites from $709 to $1300 per night. Wi-Fi an additional $9.95 or $12.95 per day.