Opened in the 1860s, the Central Park Zoo was New York's first zoo and the nation's second (the Philadelphia Zoo preceded it in 1859.) Sometimes a source of controversy, the Great Central Park Zoo Escape hoax of 1874–polar bears and Bengal tires reported loose on city streets, oh my!–panicked and angered many New Yorkers. More recently, children's book And Tango Makes Three, which tells the story of the zoo's same sex penguin couple, Roy and Silo, drew mixed response. But the zoo continues to gather loyal fans and it's featured prominently in popular books and shows, including: Salinger's The Catcher in the Rye, Mr. Popper's Penguins, Madagascar & sequels, and the Teenage Mutant Ninja Turtles Adventures tv series.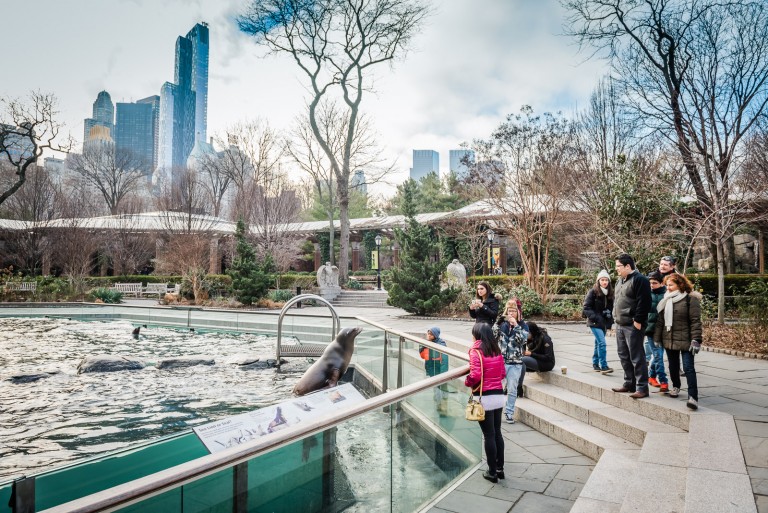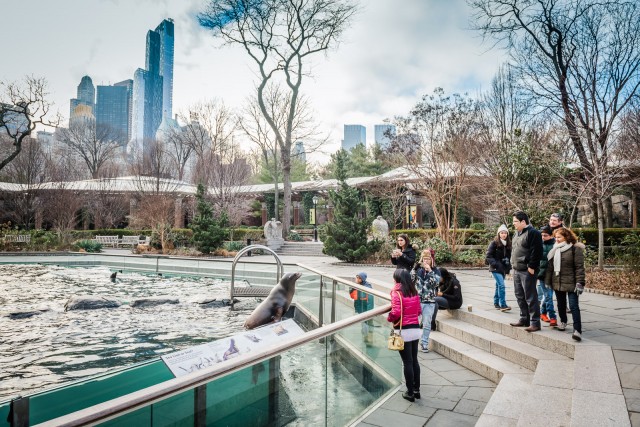 Inspired by fellow Getaway Maven Malerie's African photo safari and the proximity of the celebrity-status zoo to our Upper East Side hotel, I decided to tackle wildlife photography a little closer to home. At just 6.5 acres, the zoo was much smaller than I remembered, probably because this time I wasn't running after an excited toddler.
The stars of the zoo, a pair of frisky and preening sea lions, awaited me at a pool in the center of the zoo. It was feeding time, and they couldn't contain their enthusiasm. One sea lion performed acrobatics as part of an enrichment exercise with the handler.
My best shot of the day was this capture of a sea lion jumping over rocks.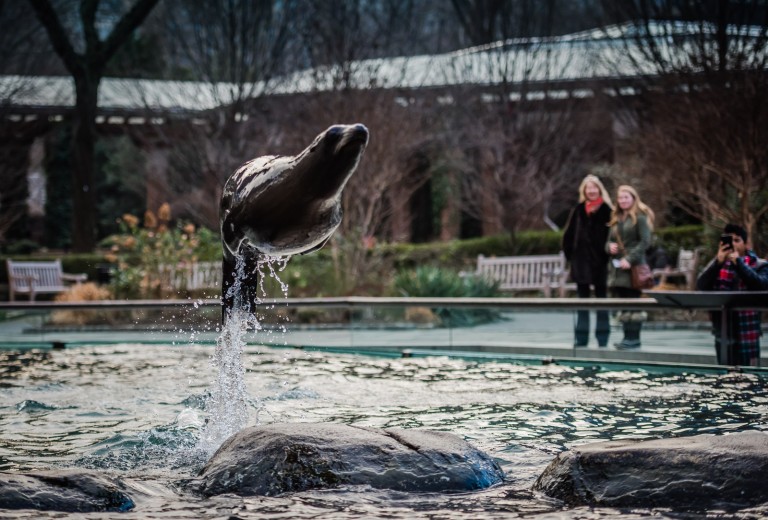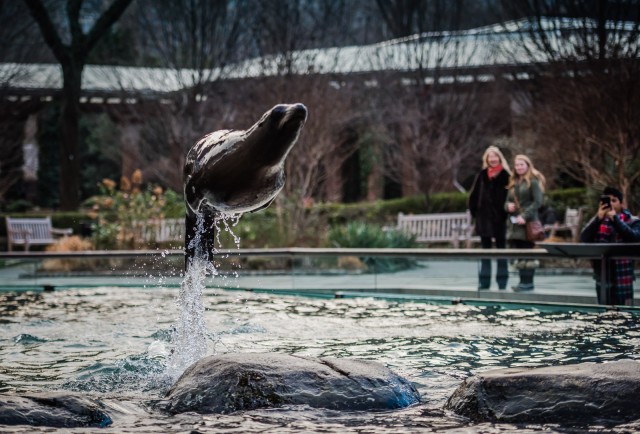 I was surprised at how many animals were close enough to touch (not that anyone would!) Only a low fence separates onlookers and aspiring wildlife photographers from splashing sea lions, graceful white-naped cranes, climbing snow monkeys, and a frenetic red panda.
I am, however, happy to report that there is a very secure–and clear enough to photograph through–barrier around the grizzly bears.
And as cuddly and adorable as these snow leopards were, I was grateful to be able to capture their image through a transparent window.
Just the Facts
Zoo entrance located in Central Park at 65th Street & 5th Avenue. Winter Hours: November-March, 10am-4:30 daily; Summer Hours: 10am-5pm weekdays, 10am-5:30pm weekends and holidays. Penguin Feedings: 10:30am & 2:30pm; Sea Lion Feedings: 11:30am, 1:30pm & 3:30pm. Ticket options, zoo map, and a variety of visitor experiences–including Children's Zoo and 4-D Theater–detailed online at CentralParkZoo.com. 
Planning a trip to New York City? Check out our Getaway Guides: