Last Updated on
About 20 miles from Lake Winnipesaukee, Canterbury Shaker Village in Canterbury, New Hampshire offers a peek into a fascinating vestige of a not-quite dead yet religious way of life. These 17 buildings are all that is left of the vibrant community that once thrived here.
Founded by James and Jane Wardly in England in 1747, the celibate Shakers nearly died out when they did. But, in the 1770's, after "Mother Ann" Lee lost four babies in childbirth, she believed that God was sending a clear message to abstain from sex with her husband. Lee had a vision that God was preparing a place for her in the New World, and, heeding the call, took her own eight followers to Albany NY – establishing the American Shakers.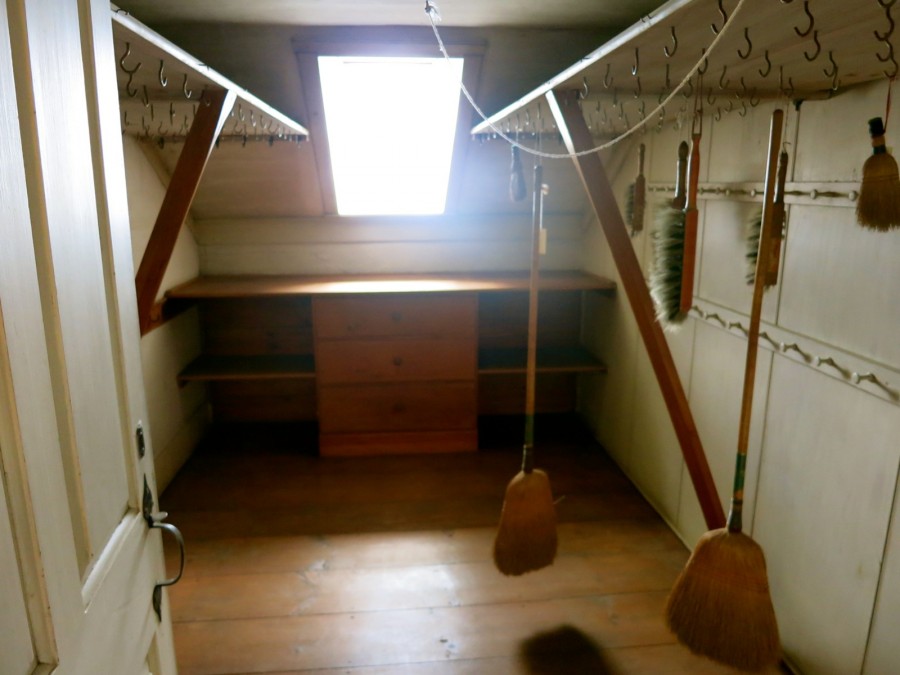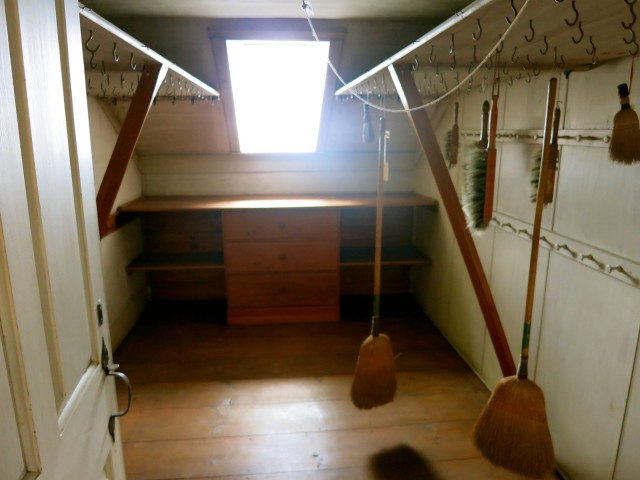 Lee was opposed to slavery, promoted women's rights and was tortured and beaten by mobs of men who accused her of bewitching and taking their wives from them. Undeterred, Lee dictated celibacy and hard work as a way of life, with the motto "Hand to work, heart to God."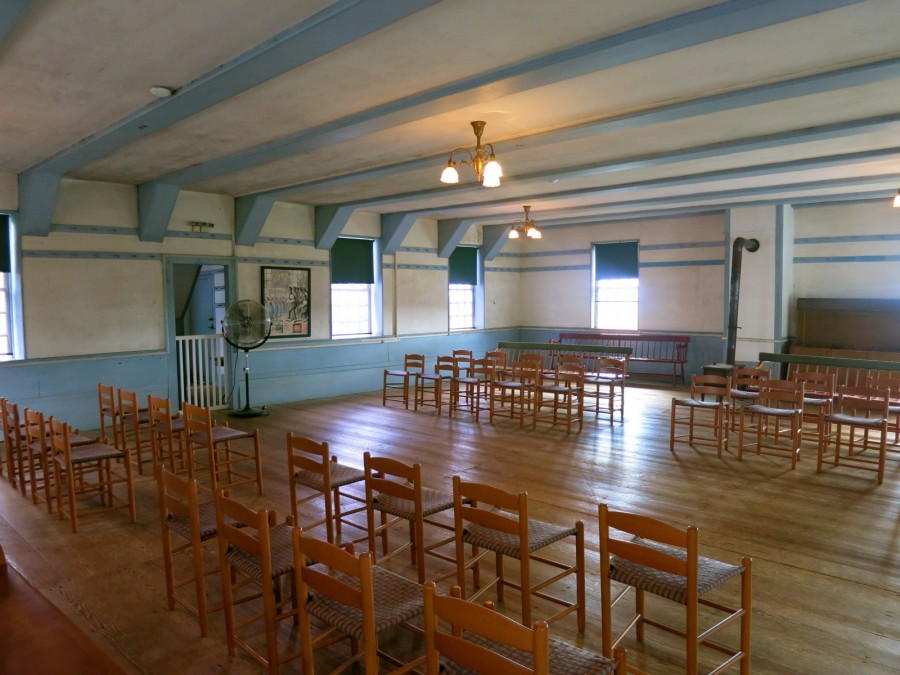 At its height, there were 6,000 Shakers nationwide – 300 of whom lived here in Canterbury NH. An offshoot of the Quakers, which had been established in the 1600's, the Shakers were an equal-opportunity sect, accepting all races and creeds. The Shakers worshiped through dance; clapping and singing like Miriam and King David – thus earning the nickname "Shaking Quakers." While Quakers could marry and own land, the Shakers were celibate and communal.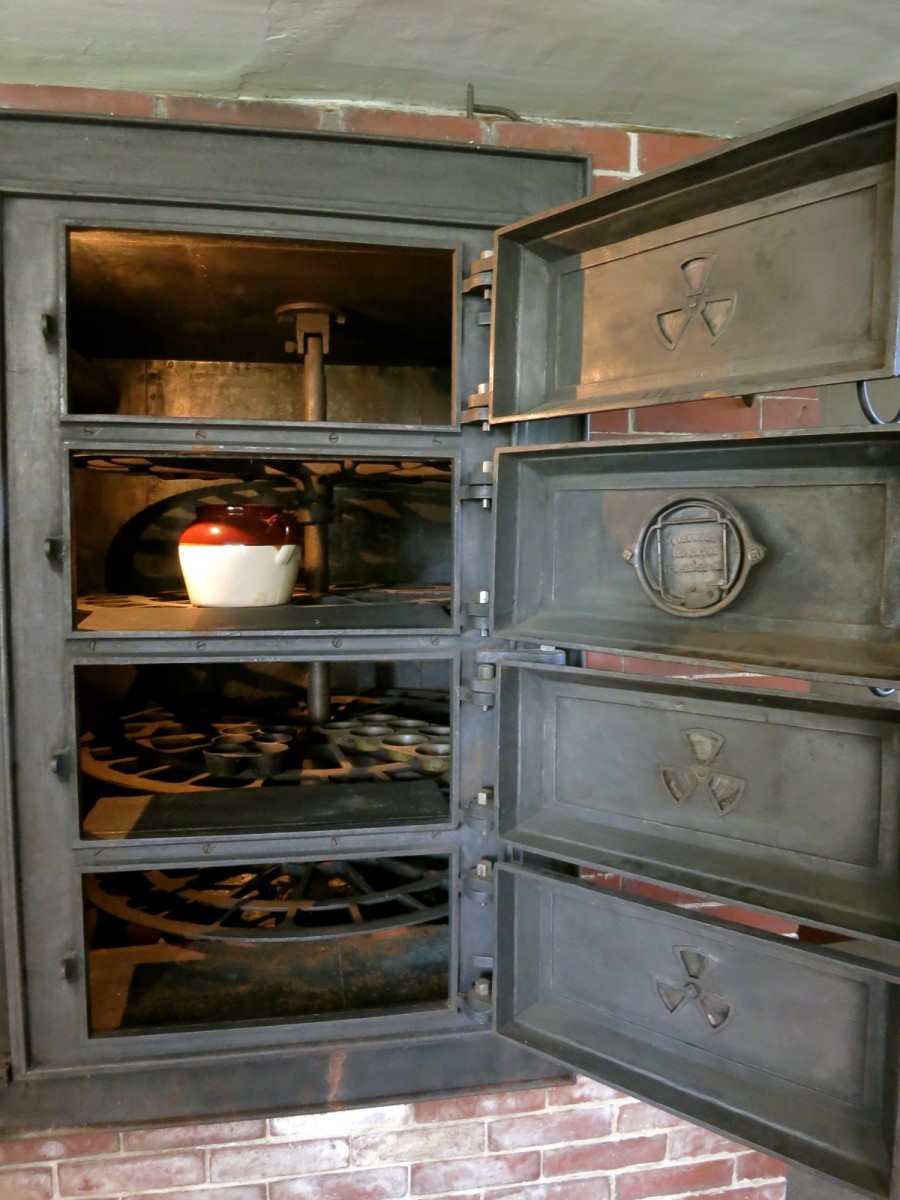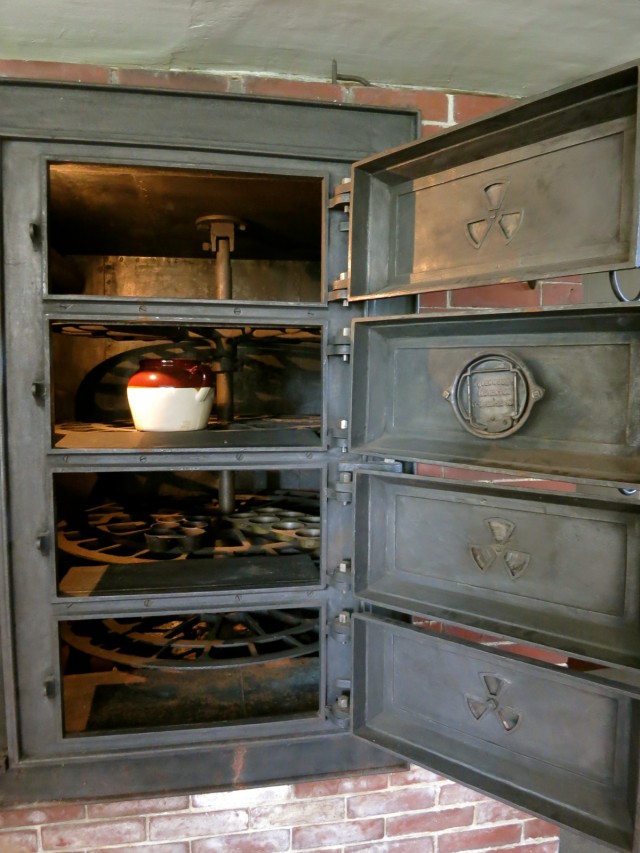 The Shakers were also inventors, and unlike the Amish, loved technology. Many of those inventors were women. A Shaker woman invented a rotating oven that could bake 30 loaves of bread at a time. Another invented a version of a buzz saw as she watched men sawing down a tree while she was working at her spinning wheel.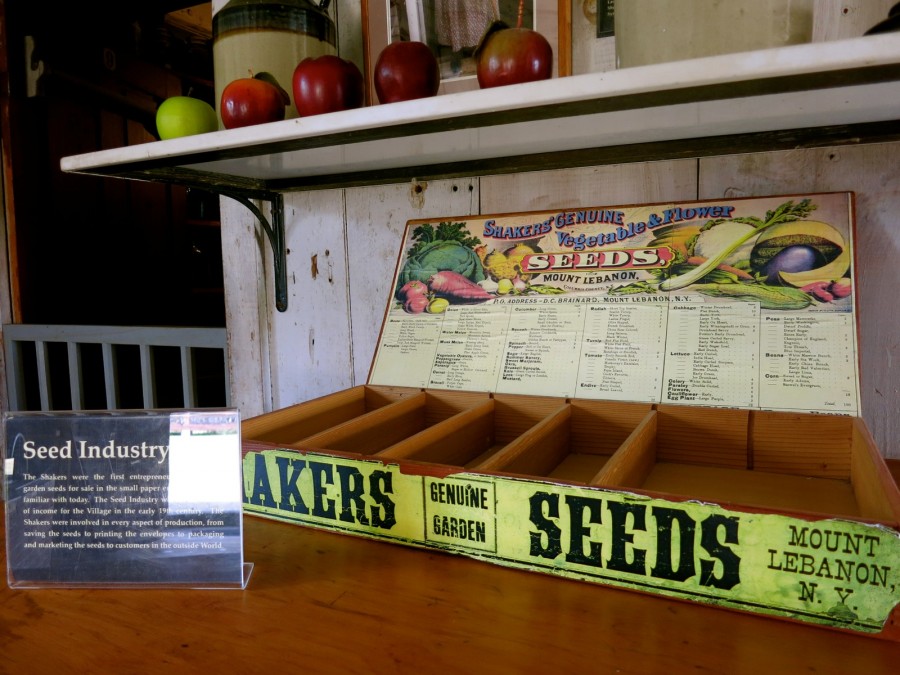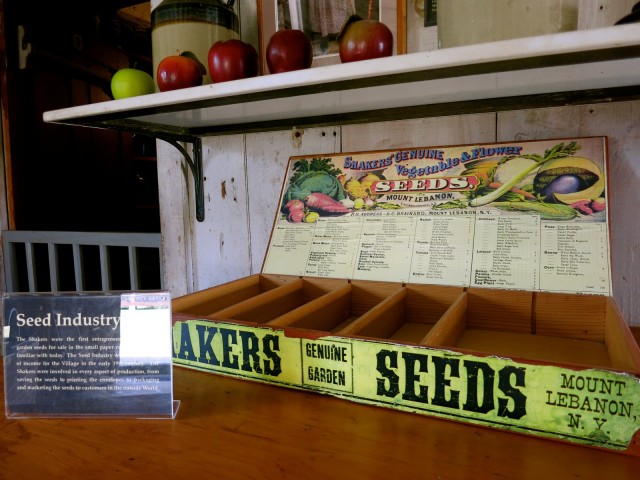 The Shakers invented the simple clothespin, the Shaker-knit sweater, were the first in the country to sell herbal medicine and packaged seeds, and of course created the beautiful oval wooden box finished with copper tacks, the "Tupperware of the day," that bears the Shaker name.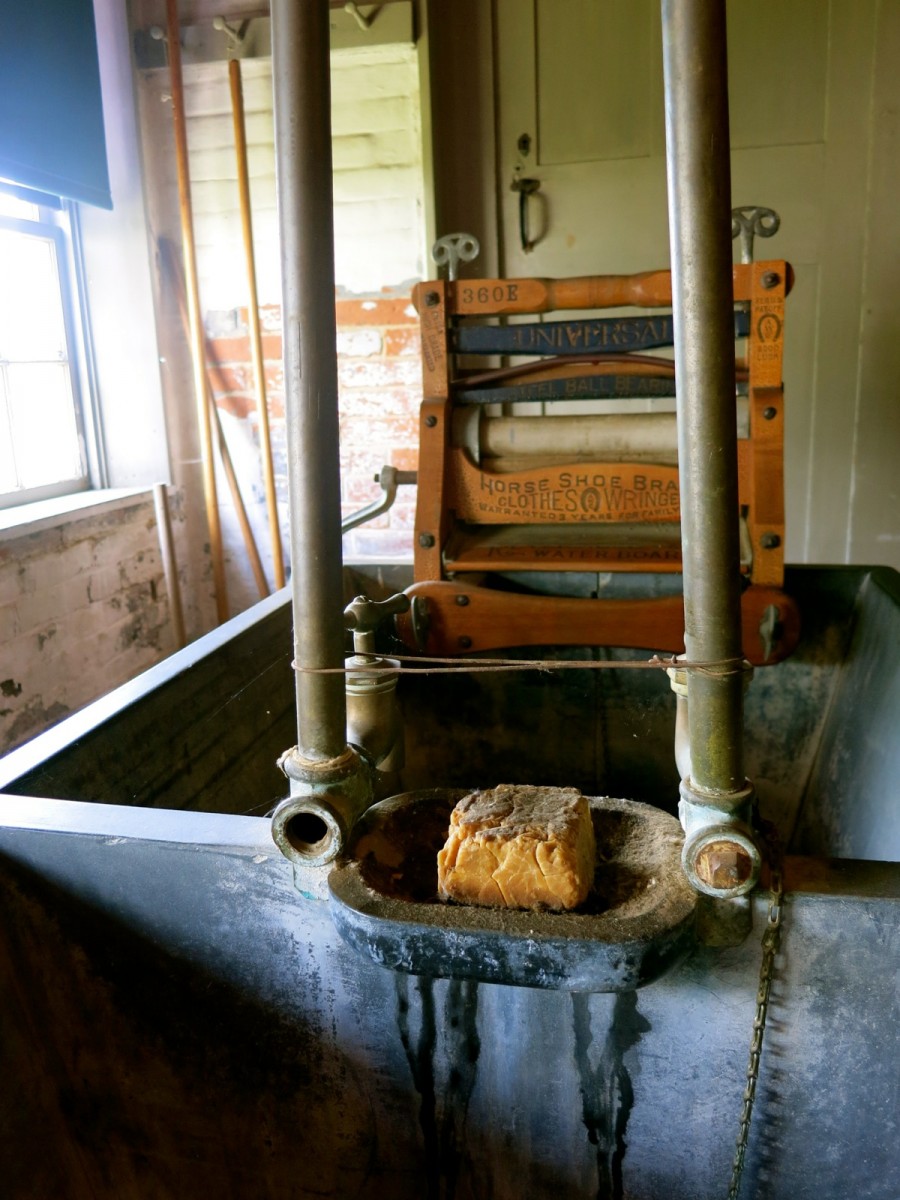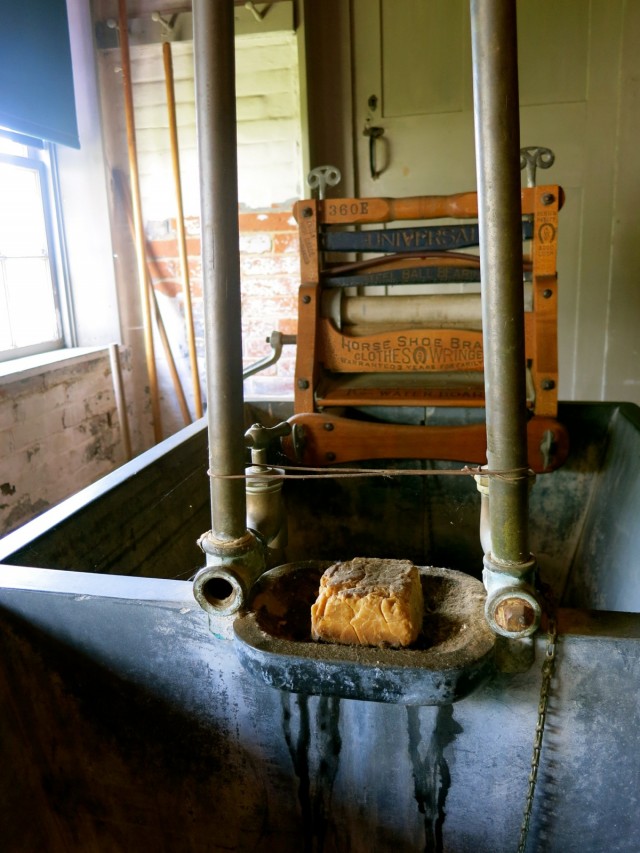 A self-guided or guided tour through the buildings inevitably leads you to the laundry house. The less-skilled women labored here or in the fields, and each phase, from collecting soiled clothing to cleaning it and then returning items fresh and folded to each family, was meticulously executed. Through friendship with the local Native Americans, Shakers learned how to weave baskets, which were used to sort and deliver the clothes. The slate sinks are just as they were left – original bars of soap and all – from the last wash day in the 1940's. The 1820's – 1860's were heady times for the Shakers, but by the later 1800's the Industrial Revolution had taken its toll on the sect. There was so much opportunity for young folks in the cities; it was hard to keep them home on the farm.
In the 1890's – 1920's the Shakers enjoyed a surge in income (and interest) when Shaker women entrepreneurs hit it big with a product in huge demand among high society – the "Dorothy Cloak." Used as an opera cloak, this simple woolen "little red riding hood" cape was all the rage. For the most part, Shaker women traveled to New York City to take orders, though a few wealthy patrons found their way here. The very last Dorothy Cloak was made in Canterbury in 1973. ( You can still buy a mini American Doll version here for around $32.)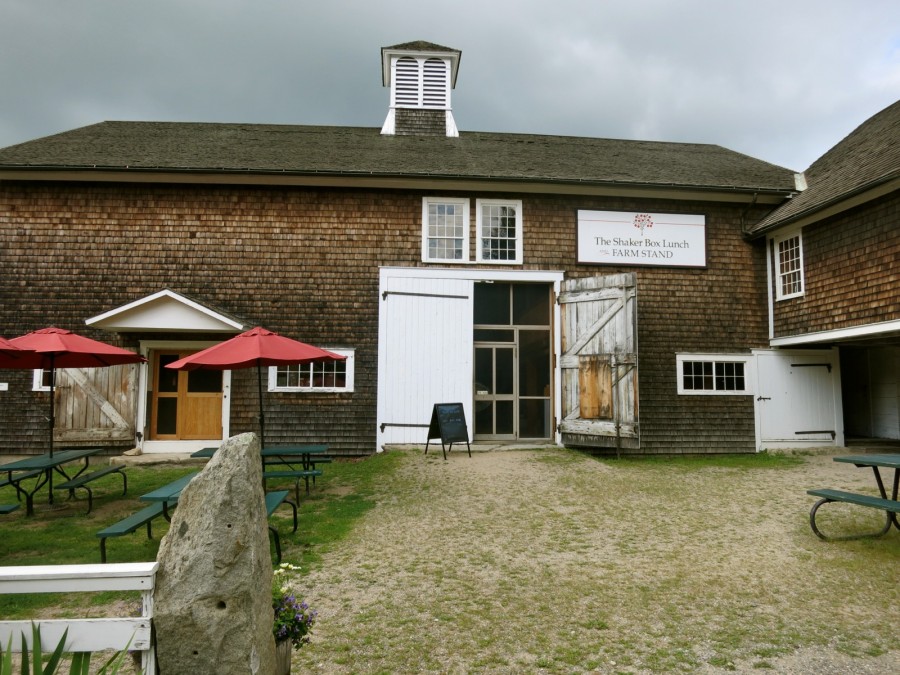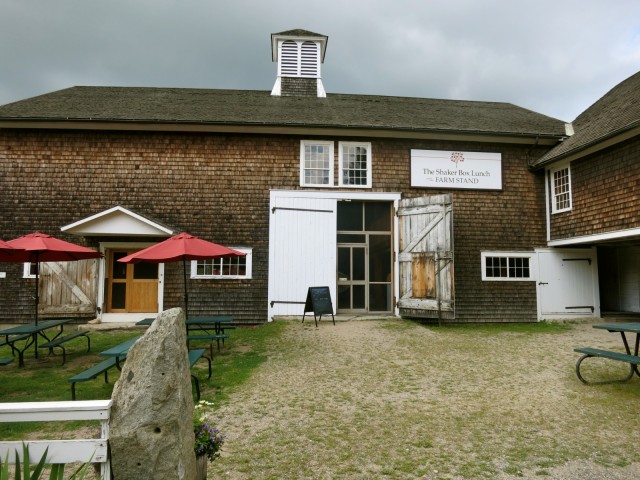 Today, there are three Shakers left – at Sabbathday Lake Shaker Village in New Glouster, ME. Canterbury remained an active Shaker Village until the death of Sister Ethel in 1992, though it had been turned into a Museum in the 70's. You can wander in and out of the 17 buildings on a self-guided tour or take one of several guided tours. Plan to spend at least 3 hours here, and if you can, take the 75 minute Canterbury Story Tour. Open daily mid-May-mid- October 10-5, $17 adults, $8 children.