Last Updated on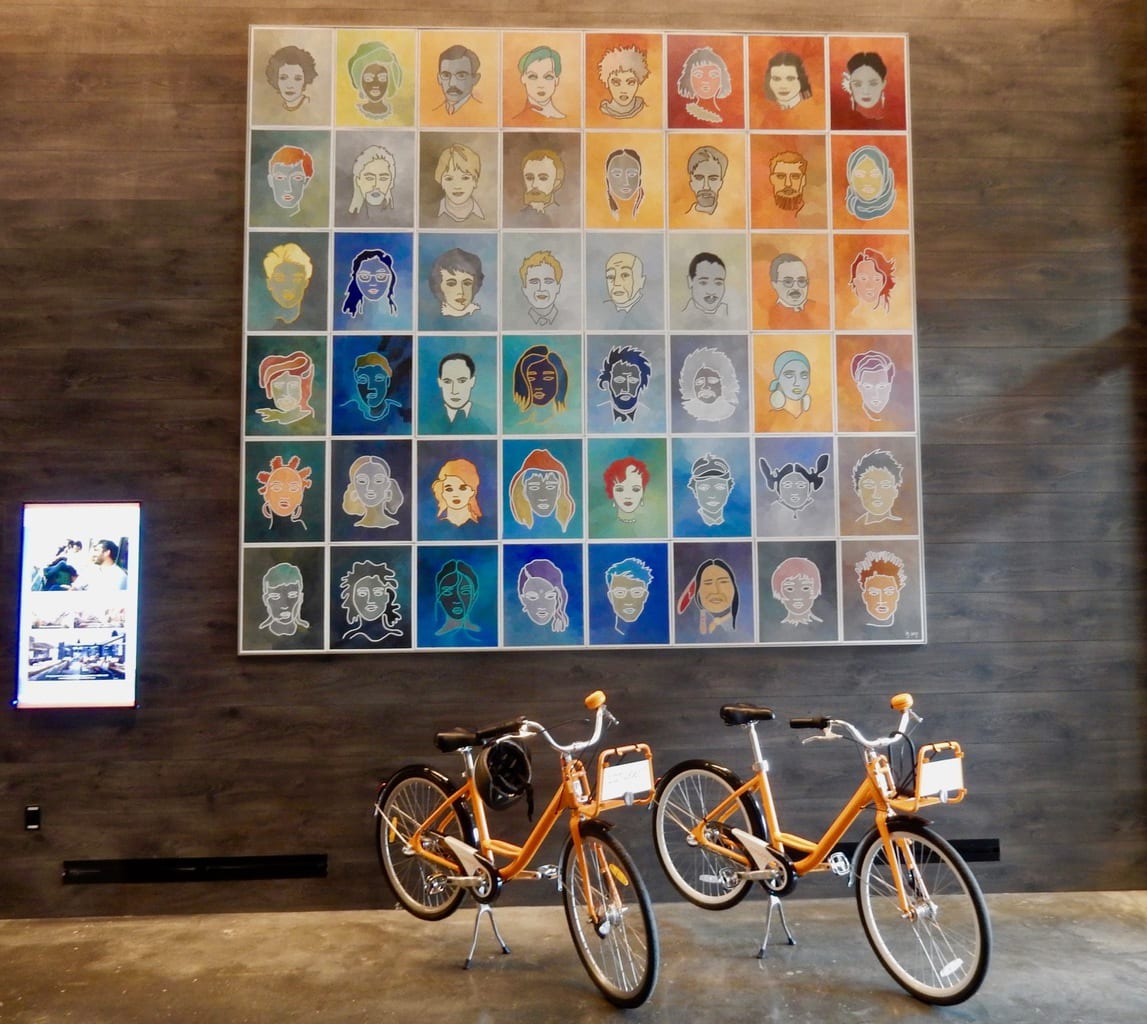 In the Canopy Hotel vernacular, employees are "Enthusiasts" in their respective posts: ergo, the Director of Food and Beverage is the "Food Enthusiast," Marketing and Sales is "Sales Enthusiast," and so on. And, it appears there's a lot to be enthusiastic about.
The spiffy section of N. Bethesda, Pike & Rose, is the perfect setting for Canopy – Hilton's answer to Gen X and Millennial travelers who are all about being enthusiastically social, and seek out craft drinks, opportunities to mingle, and stylish streamlined rooms. The Canopy brand debuted in Iceland, but its first US hotel is located just a few miles away in Washington DC. This, its third location, opened in March '18 with 177 large rooms and a separately run condo entity with 99 residential units.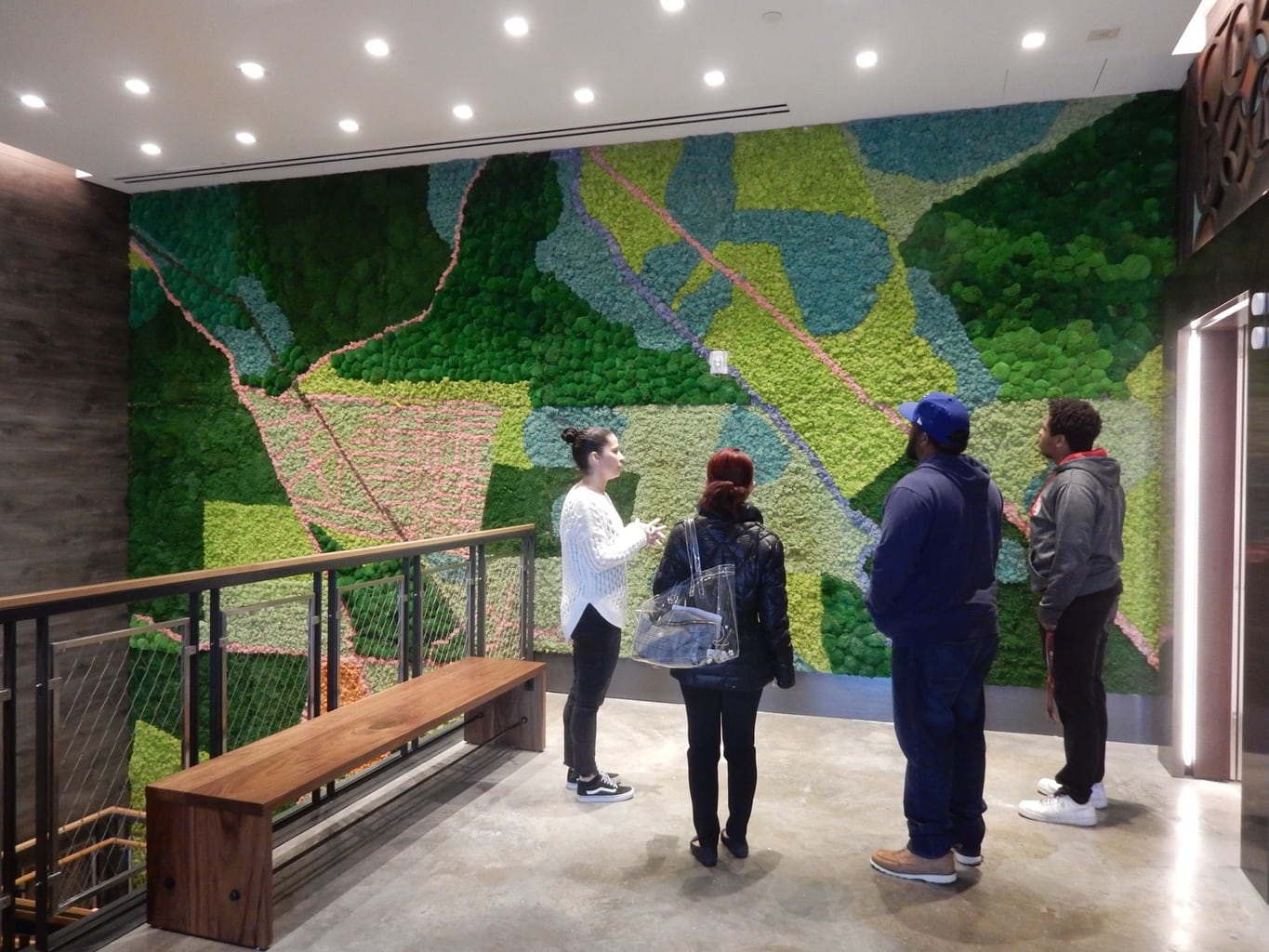 There are all the bells and whistles the modern traveler has come to expect: complimentary nightly local wine and beer tastings, artisanal breakfasts at communal tables, relaxed common areas, shared plates for dining, brick oven pizza, green living walls, filtered water to fill your water bottles, digital check in, and neutral colored sunlit rooms with industrial floor to ceiling windows, subway tile bathrooms, and a design-forward aesthetic.
About 30 minutes away from the Washington DC Mall by Metro, Canopy Hotel is a great alternative to more expensive lodgings in the City, especially if you drive down and have to park your car. Overnight parking at Canopy is $25 per night vs. twice as much for most hotels in DC.
First Impressions of Canopy Hotel N. Bethesda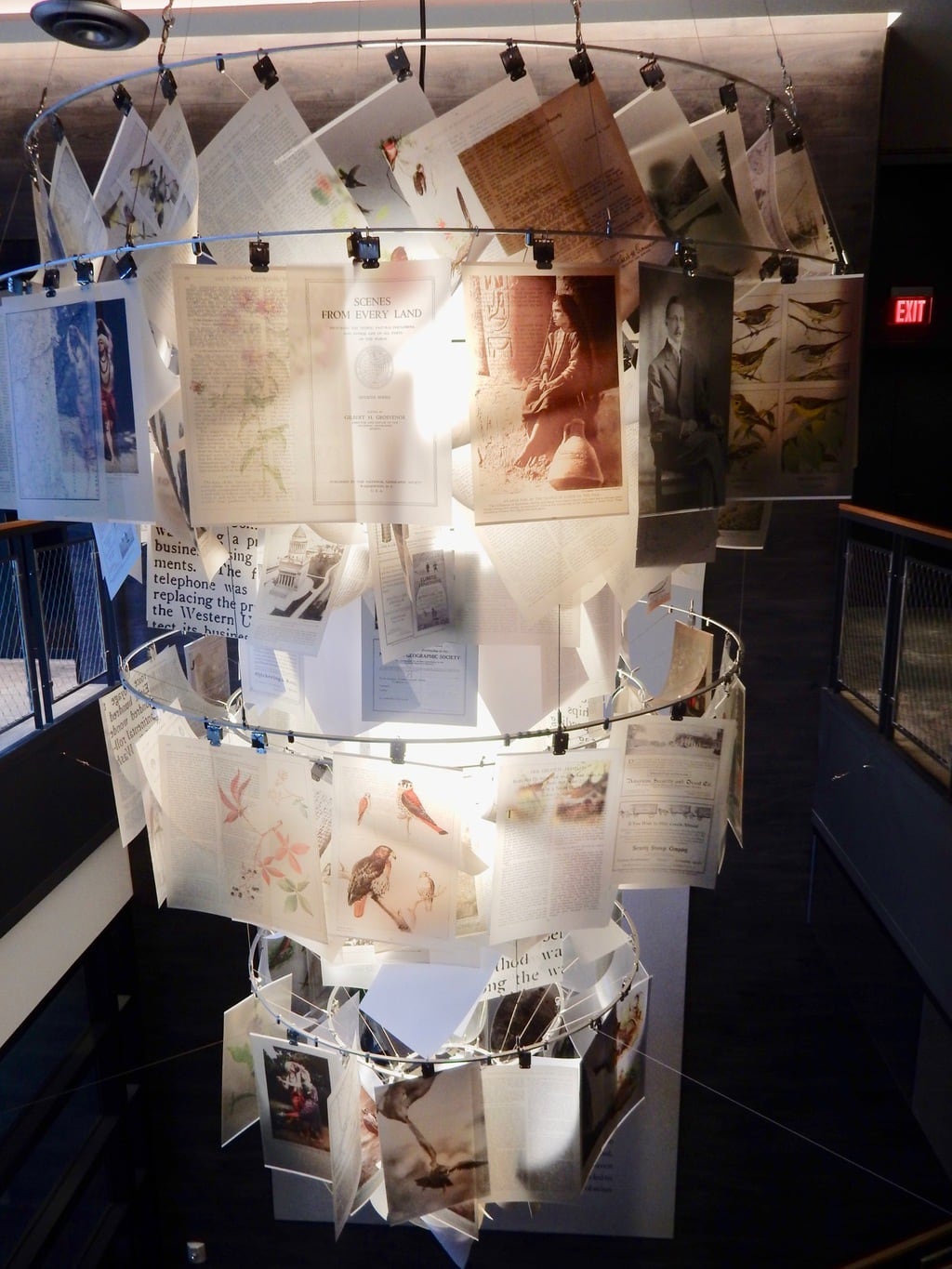 Walk in on the ground floor to innovative art everywhere. The two-story living wall, covered in multi-colored moss, depicts the topography of Montgomery County. The central chandelier, feathered with pages from the first National Geographic magazine issues, celebrates local notable, Gilbert Grosvenor, the founder of National Geographic, who was considered "the father of photojournalism."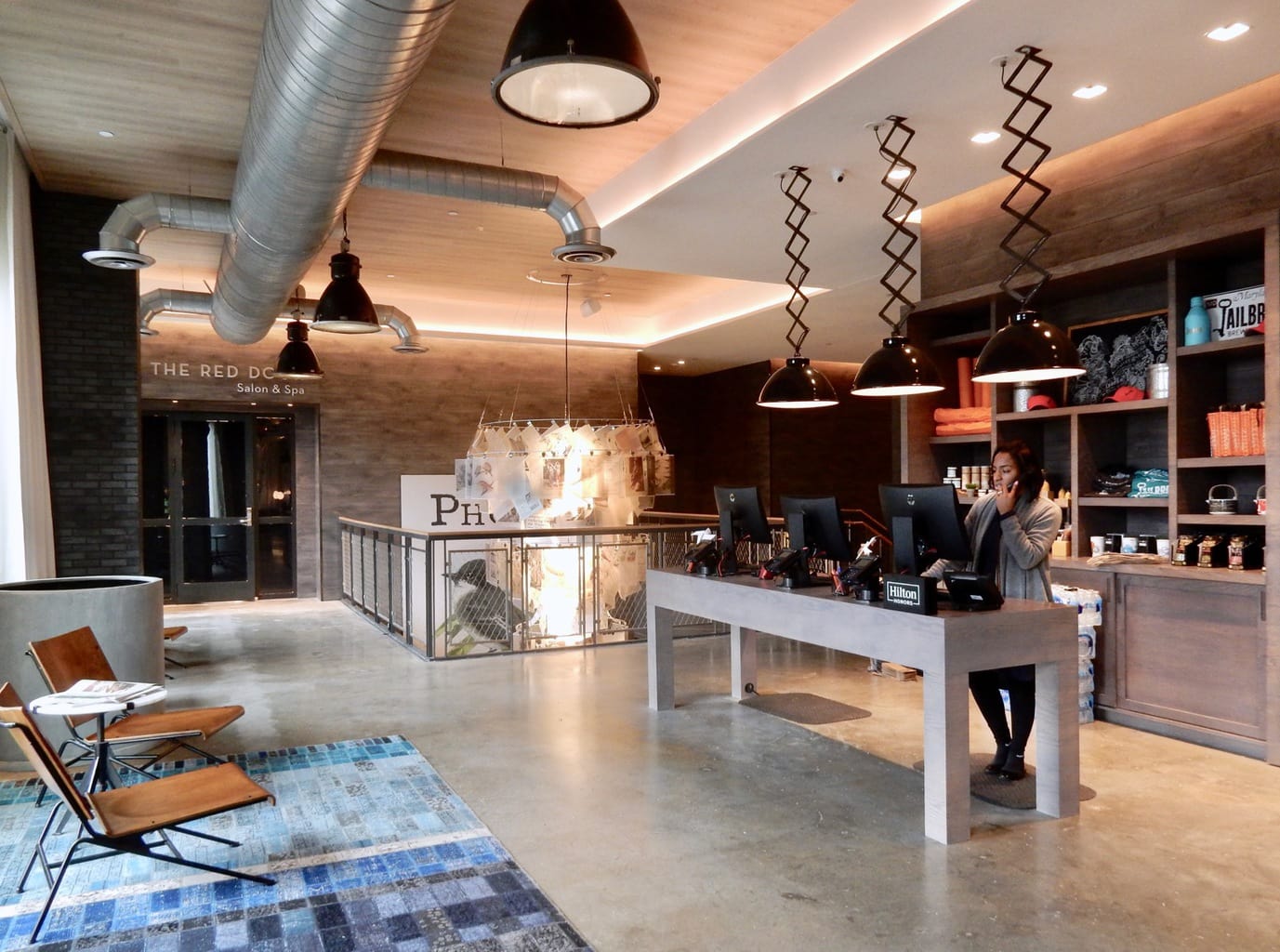 Take the elevator to the 3rd "Welcome" floor, reception area staffed by a couple of, I'd presume, "Reception Enthusiasts." Behind them, shelves are stocked with items made by local artisans, available for purchase.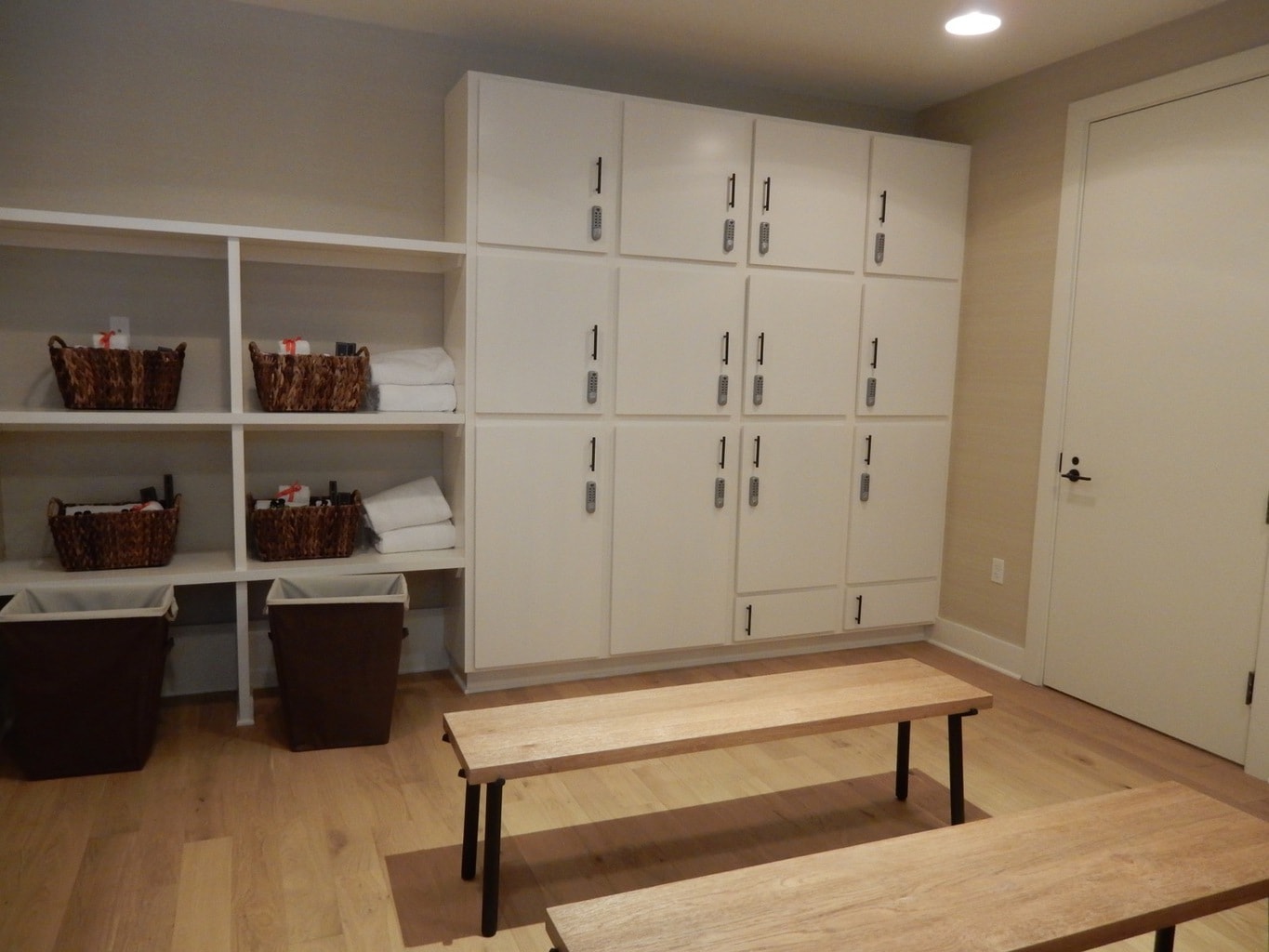 If you've arrived before your room is ready, you'll be guided to the "Transfer Lounge" where travelers can shower (in two available bathrooms), and store luggage, a great perk for those with evening flights who want to spend a full day touring after check-out.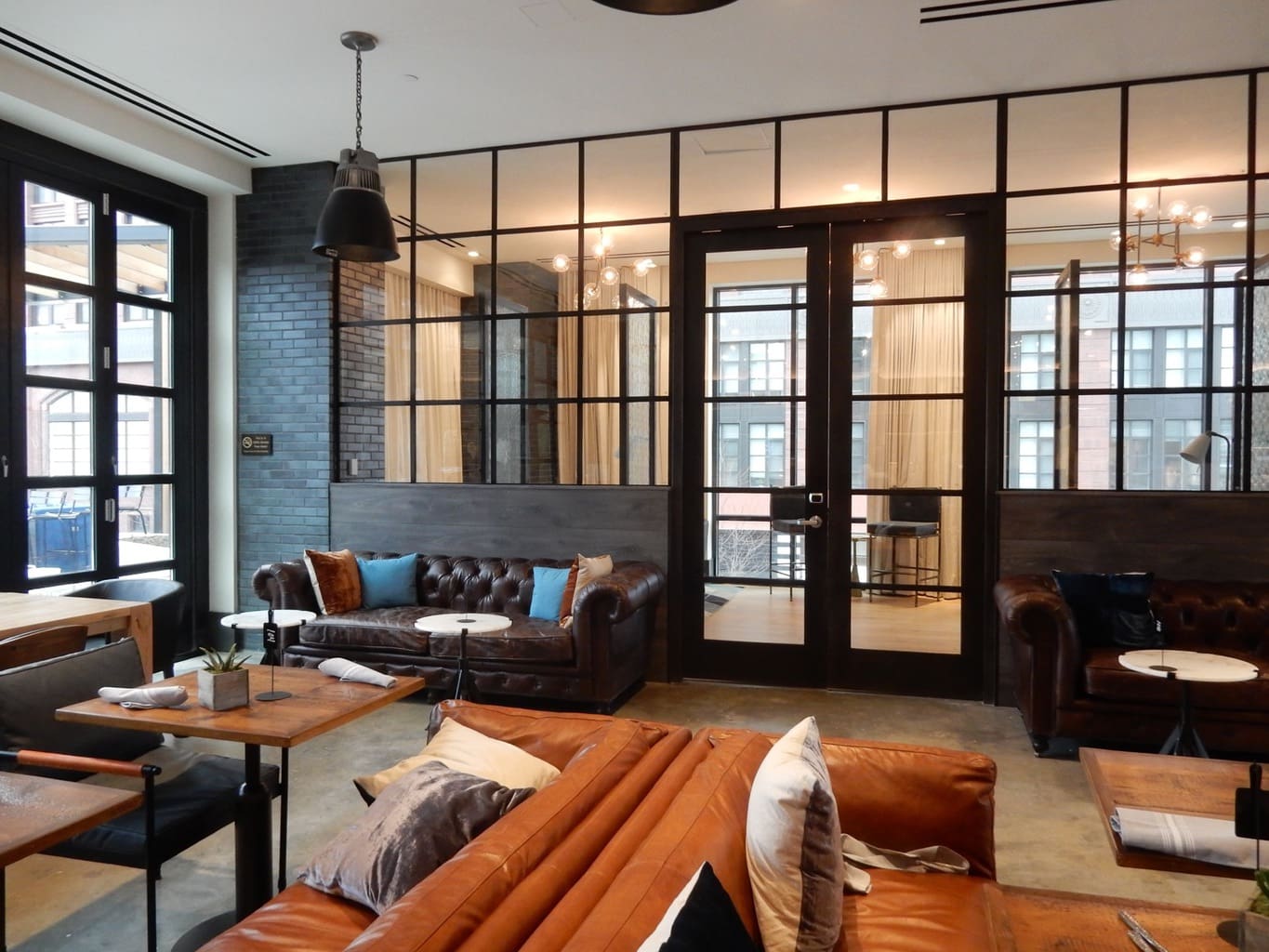 A few paces away, the vast room – called "Canopy Central" – encompasses "five distinct areas:" The Welcome Area, the Restaurant, a smaller enclosed Retreat (for quiet guest who don't wish to socialize), a Lounge, and the Bar. With its polished poured concrete floor, this space could be impersonal and cold were it not for its get-to-know-each-other preponderance of furniture in warming Navy velveteen and supple brown leather.
Rooms at Canopy Hotel N Bethesda MD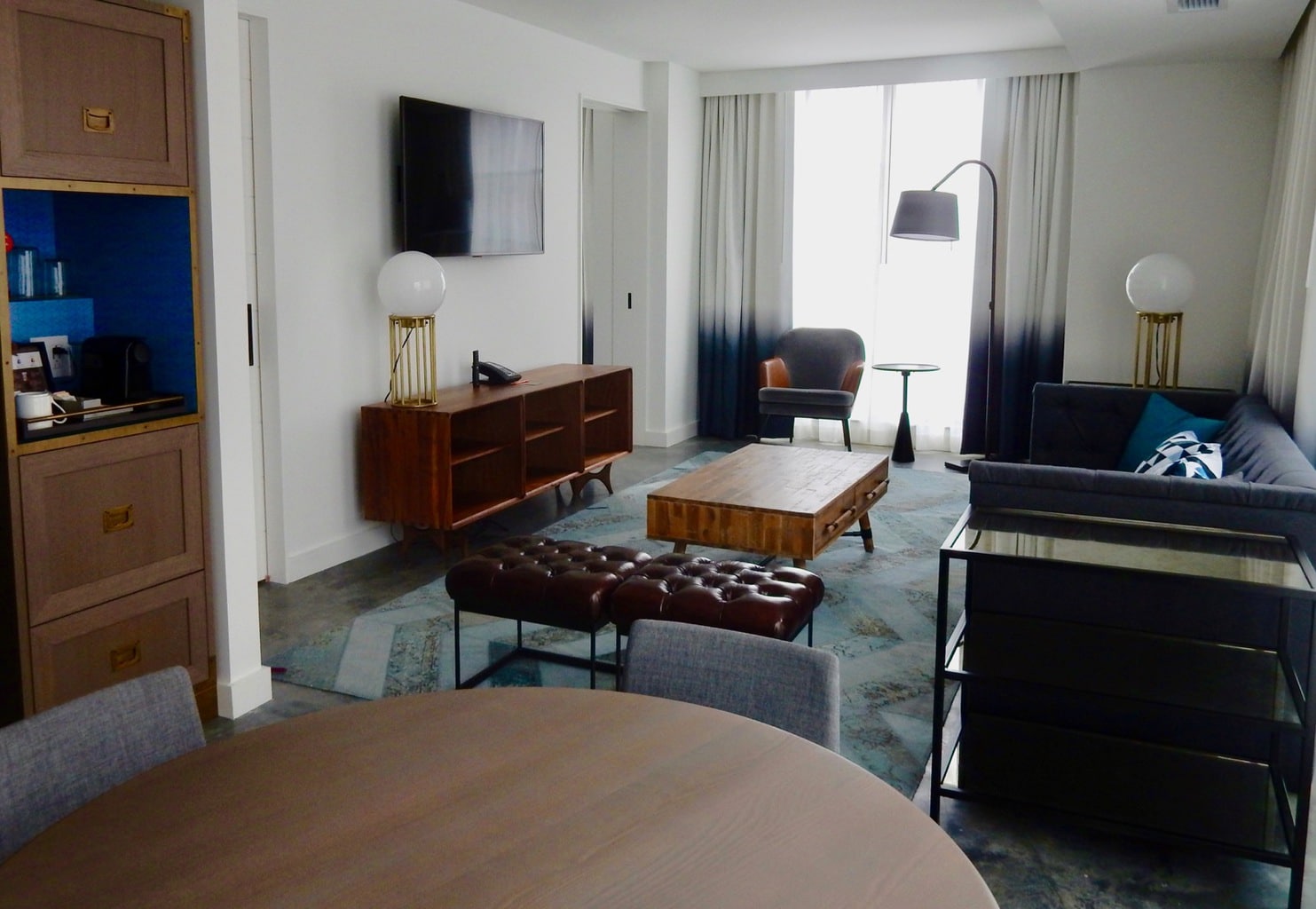 All 177 rooms are amply sized – ranging from 330sq. ft to my one bedroom 780 square foot suite. Modern furnishings in shades of gray and light wood, each room has a refrigerator drawer, a glass milk-bottle that serves as a water jug (fill with filtered water at designated water and ice stations on each floor), flat screen TV's, and all the customary amenities you'd expect from a luxury hotel.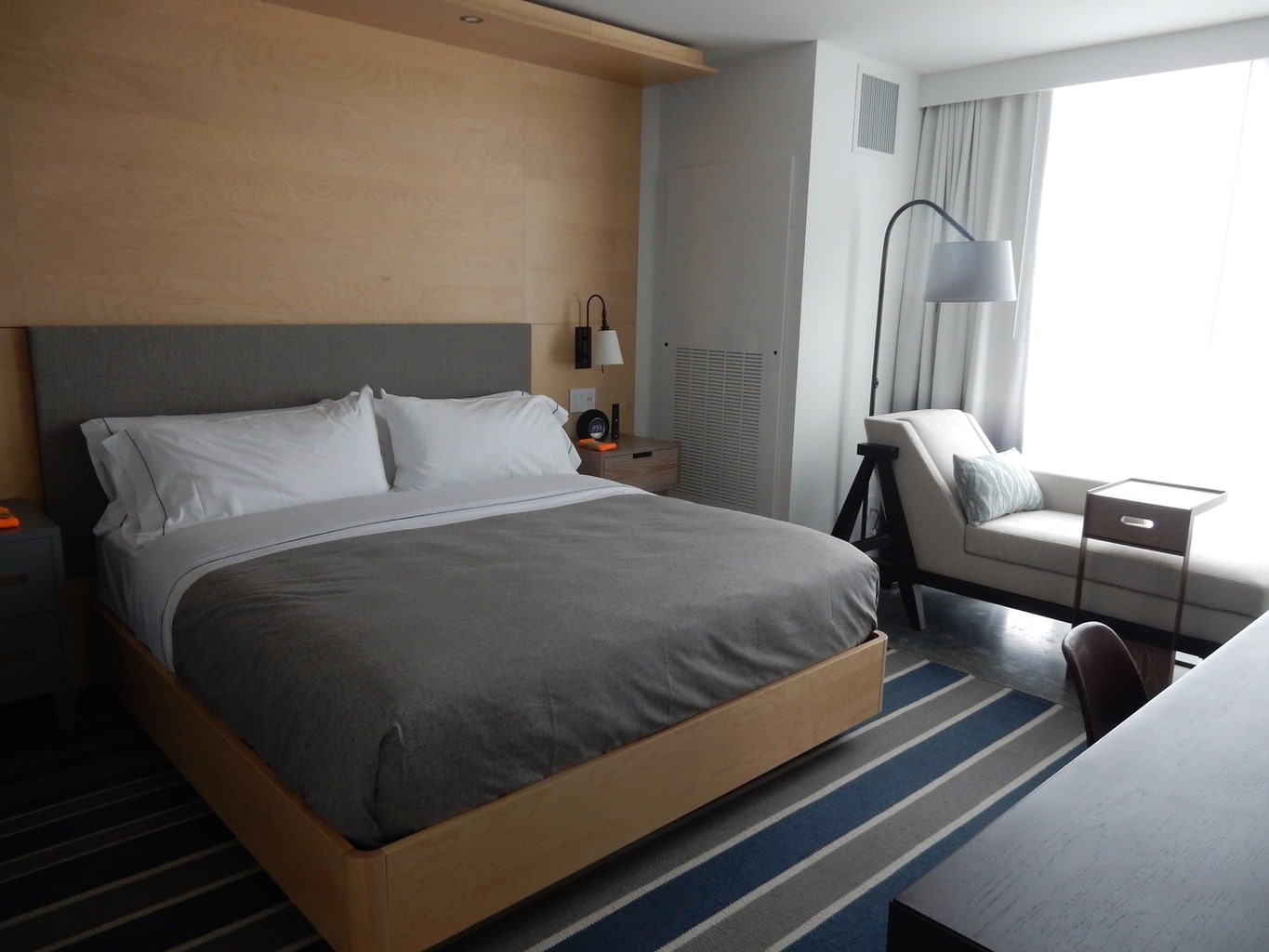 The heather grey duvet tops a soft-sheeted crisp and comfy bed, though if you prefer reading elsewhere, the ergonomically designed settee by the window is outfitted with a convenient table and overhead lamp.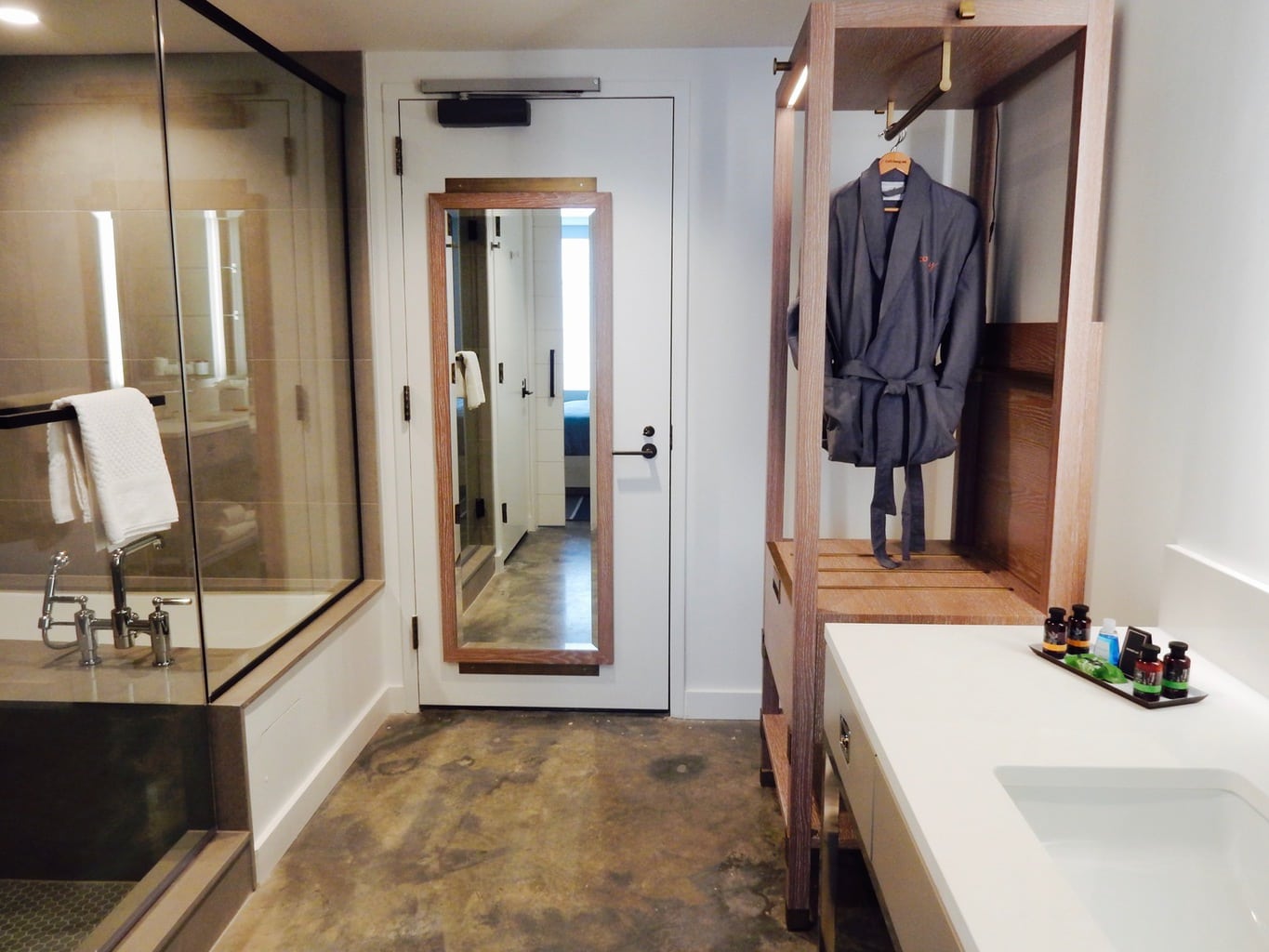 In the one-bedroom suite, barn doors close off the bathroom – a brightly lit, immaculate industrial-made-cozy space with poured concrete floors and shower walls. King Premium and higher-level rooms are stocked with orange and gray striped grippy socks to keep your feet toasty on cool, slippery floors – an adorable take-home perk. Other bathrooms feature gleaming white subway tile showers.
Dining at Canopy Hotel N Bethesda MD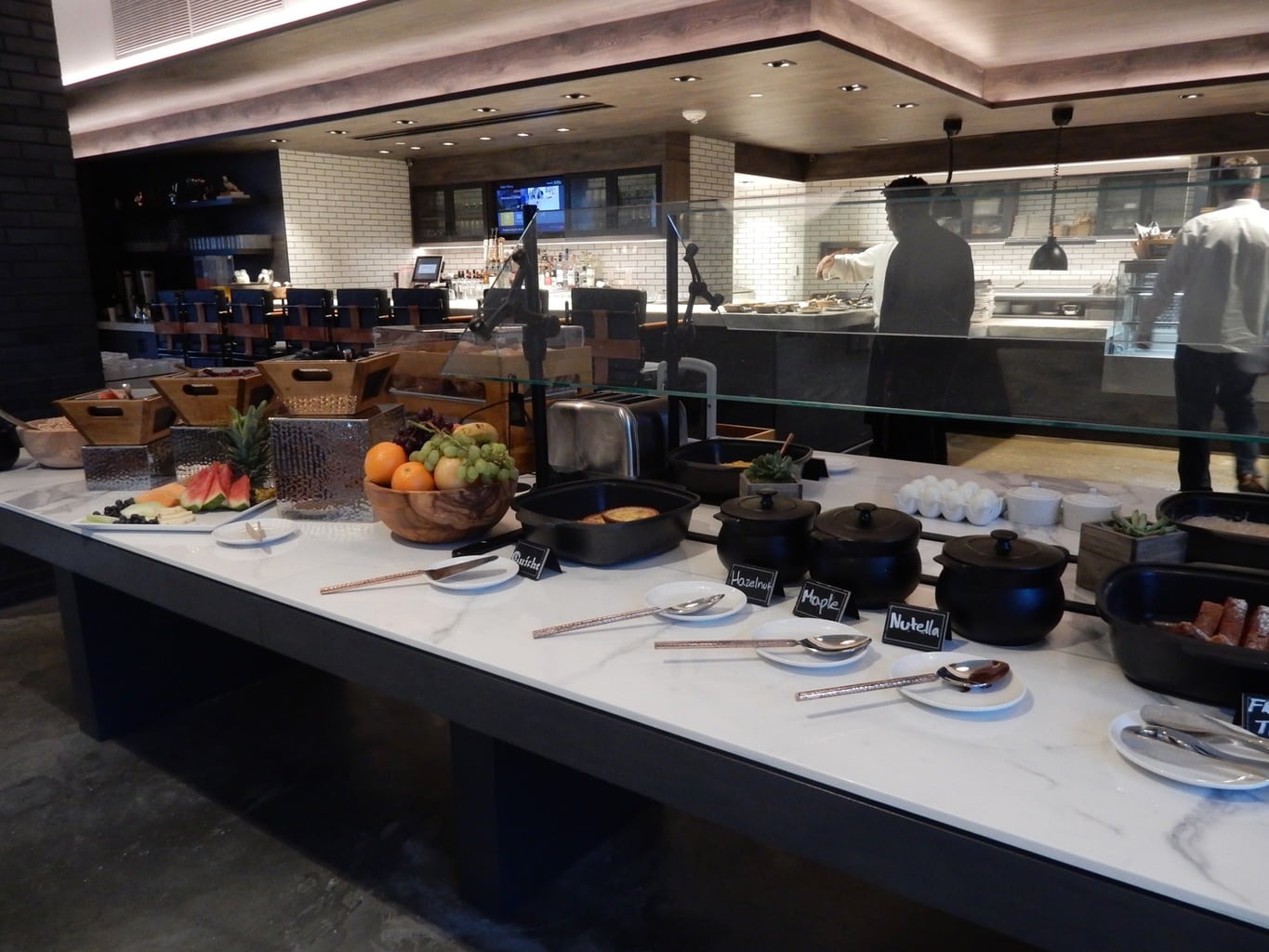 I loved the morning repast, a complementary breakfast buffet laid out in Canopy Central each morning. More charcuterie-European than waffles-and-grits American, you'll find tables laden with a variety of sweet and savory items: fresh fruits, warm frittatas and quiche, lip-smacking smoothies, breads, grains, meats and cheeses. More importantly, the coffee – Mayorga Organics – comes from local (Rockville MD) roasters.
A complimentary Evening Tasting every afternoon from 5-6 features either local wine, beer, or specialty cocktail samples – sometimes with bites. Stay for the evening happy hour – craft cocktails with local ingredients – when the public at large swarms in after work. The Canopy is truly a community minded establishment.
Amenities
Though not owned by Canopy, The Red Door Salon and Spa can be accessed from the Reception Area.
Complimentary gourmet buffet breakfast.
Complementary use of bicycles.
Complimentary afternoon wine, beer, or craft cocktail tastes.
Premium rooms: complementary signature socks to take home.
Filtered Water
Wi Fi
Just the Facts
Rooms and Suites from $117-$550 per night (weekends half the price of weekdays, basically) include free use of bikes, complimentary breakfast, daily wine/beer/cocktail Tasting Hour 5-6, unlimited filtered water, cushy socks to take home (Premium King and above).
For more information on what to do and see in Montgomery County MD, check out THIS GETAWAY MAVENS POST.