A.C. Stickley B&B Owners Donna and John Huntsberger raised their family in this beautifully landscaped Victorian home on a hill in Strasburg, Virginia,  and then opened it up as a luxury B&B in 2010. Almost immediately, the inn began drawing "Heritage Tourists;" folks looking for their roots in this region of the country. And it's easy to see why.
Look around the common rooms and you'll find Hunstberger family antiques, aged sepia family photos on the walls, and other evidence of a love for ancestral history.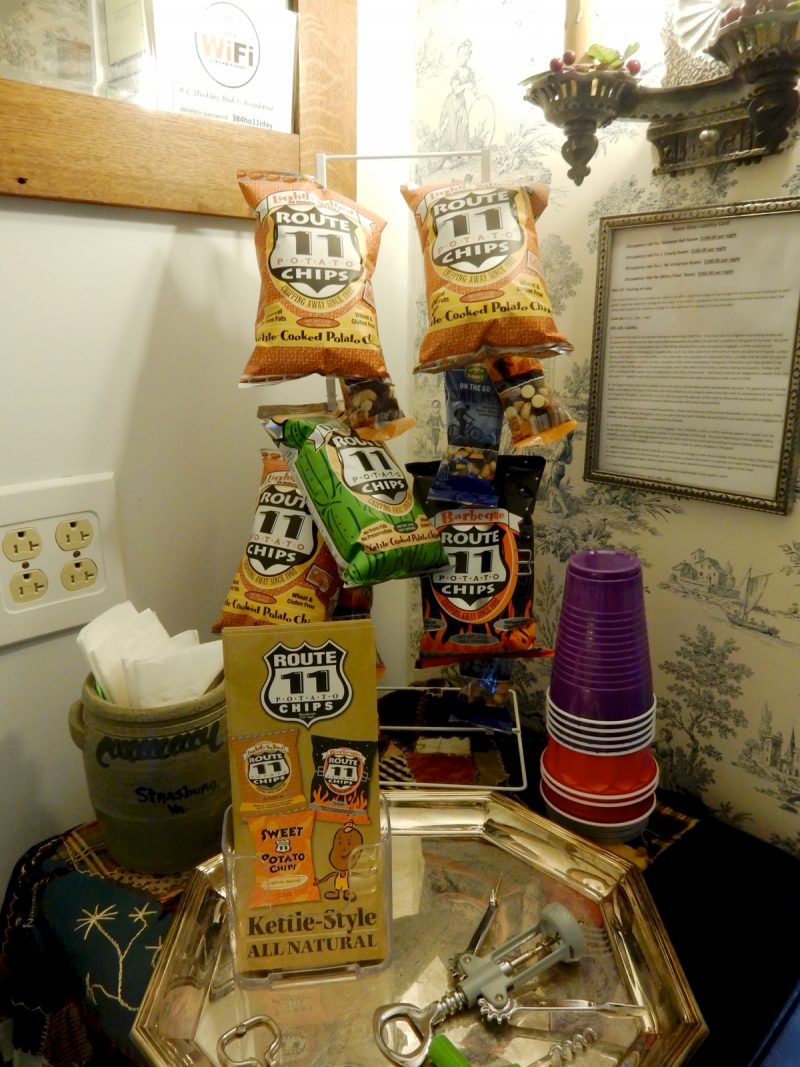 Donna opens the door and treats each guest like family, especially if you're the kind of family member who likes wine and potato chips. (That would be me).
Common rooms are cozy, decorated as a circa 1892 Victorian, filled with art both old and new. Imediately, I zeroed in on the rack of Route 11 Potato Chip bags and an uncorked bottle of wine – complementary for guests – and planned a raid for later that night.
Rooms at A.C. Stickley House
All three guestrooms are Victorian opulent, with heavy carved beds topped with comfortable bedding and a cute origami-towel-bunny. Bringing the B&B into the 21st Century, there's a HD flat screen TV, and fast wi-fi. Jacuzzi baths also feature a multi-head rain shower – a welcome modern amenity.
Breakfast at A.C. Stickley House
The Huntsberger's extravagant hospitality extends into the morning hours with a truly gourmet three course candlelit country breakfast. Mine began with a wine-poached pear, topped with vanilla yogurt, fresh strawberries and plated with a drizzle of local honey, morsels of blue cheese and dried cranberries. This was followed by a sausage-egg casserole in a parfait glass and an X of sweet maple bacon. No big surprise that repeat visitors come back to The Stickley B&B time and time again for Donna's breakfast alone.
Just the Facts
Rooms from $140-$180 include parking, wi-fi, snacks, afternoon wine, and bountiful gourmet breakfast for two.