Last Updated on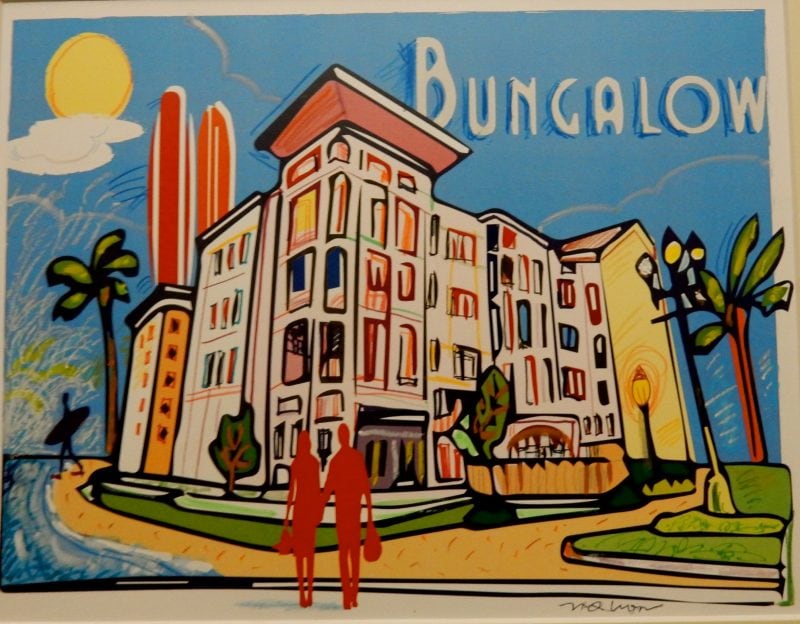 With an interior designed by the HGTV darlings, Robert and Cortney Novogratz, The Bungalow Hotel, in Long Branch NJ is a delightful, whimsical, colorful and eclectic alternative to your basic franchise beach getaway. There are just 24 units on three floors ranging from standard to 2-bedroom, and though not directly on the beach (and hence, no water views), these rooms are large. And I mean: BIG.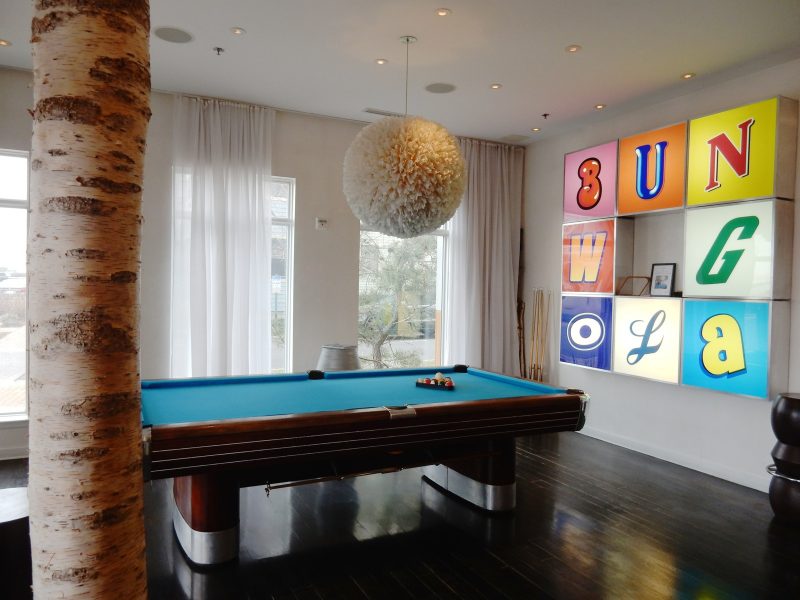 The roomy rooms and unique style sets the Bungalow apart from the much larger and taller Ocean Place Resort and Spa next door. Ocean Place might have the ocean views and beach right outside, but The Bungalow has more than enough inside to entice discerning Gen X and Millennial travelers who are used to certain amenities, as well as an appeal to Boomers looking for offbeat and witty luxury.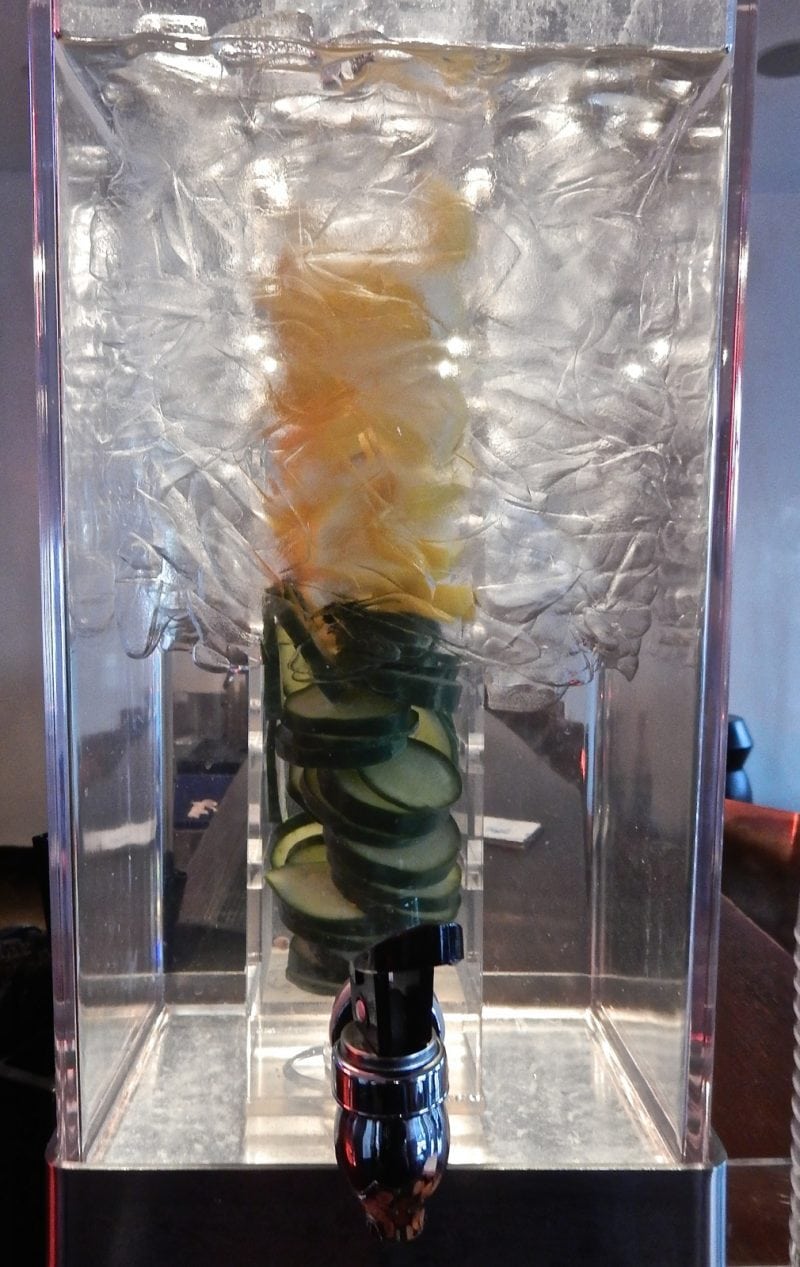 So, yep, there's cucumber/orange infused water for the parched-on-arrival guest, a regulation-sized billiards table in the lobby and even a full-service bar with mixologist bartender to match beverage to your own personal taste.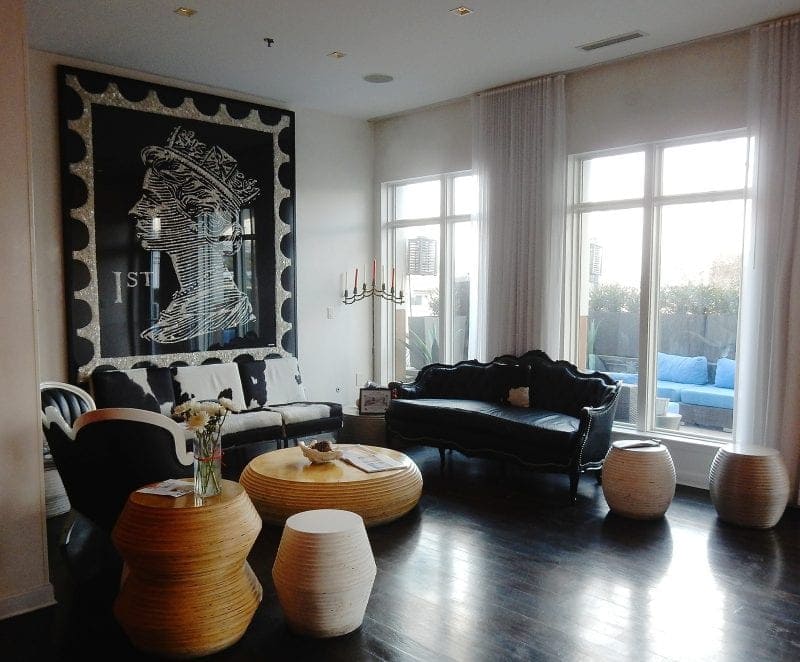 It might take a few minutes to find The Bungalow, set as it is among condo buildings, but drive around a bit to get the lay of the land, and you'll see it. Once inside,if you have any sense of wonder about how disparate doo-dads can meld into a delightful whole, you're sure to be captivated. And if you are a fan of the Novogratz's, you'll absolutely plotz. Their stamp is all over the place, starting with the wall-sized pearl-button "Stamp" of the Queen straight out of the UK. The greeting is warm, friendly, and chill. I was up in my room within a minute of check-in.
Rooms and Suites at The Bungalow Hotel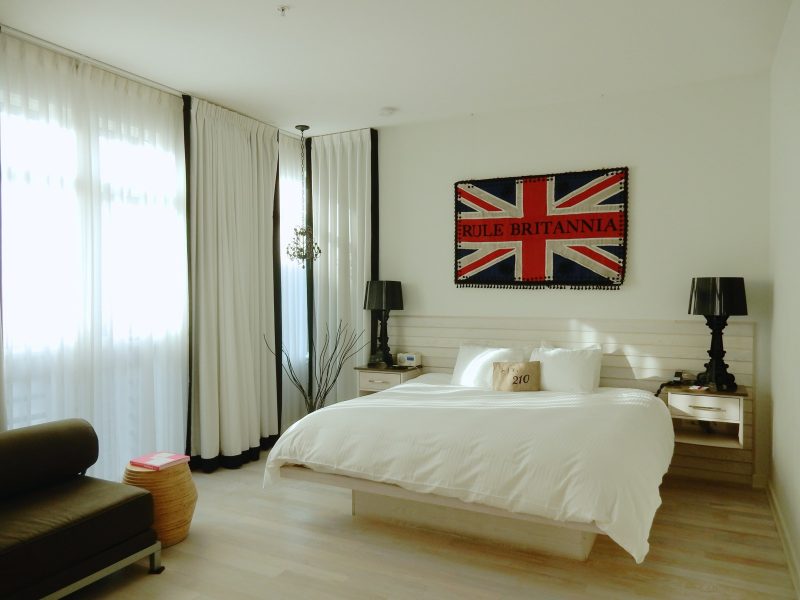 Each bright room features stained-white hardwood floors, glass fireplace, eclectic art on walls, banks of soundproof windows, flat screen TV's, kitchenette area with under counter fridge (stocked with complimentary Fiji water bottles), and comfy beds with crisp white duvet, punched up by pop art and contemporary quilts on the walls.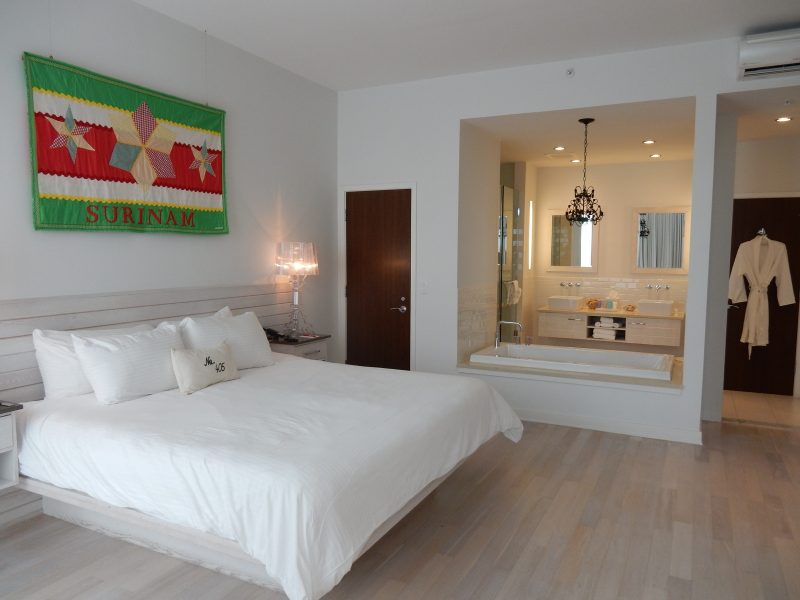 One and two bedroom suites sport a cool open white subway tile bathroom, in the larger bedroom, with gleaming white soaking tub separating the sleeping quarters from the off-white granite sink and glass rain shower area. Balance products by Aromatherapy of London befit this stylish space.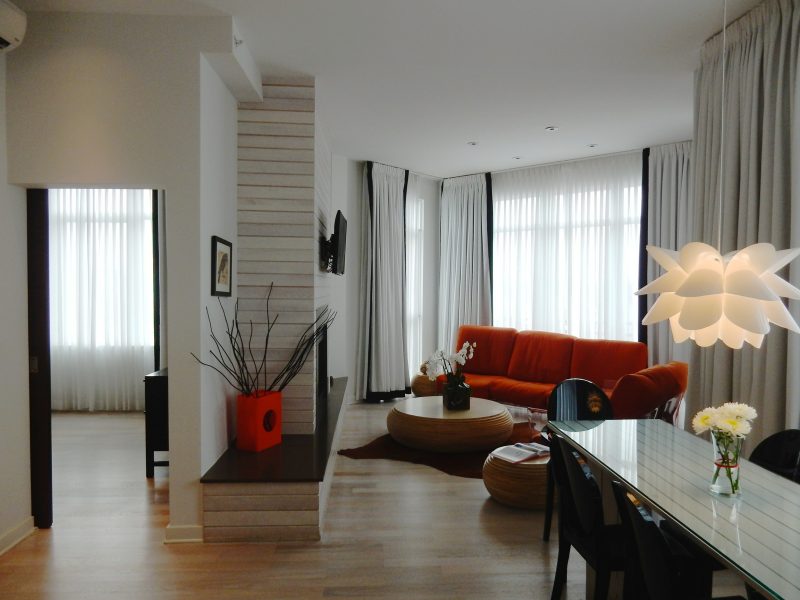 Lucite couches with orange cushions, in the suite sitting areas, make a great presentation, but are not very comfortable, especially when attempting to watch TV. Better to snuggle in bed and watch in your room.
Food and Drink at Bungalow Hotel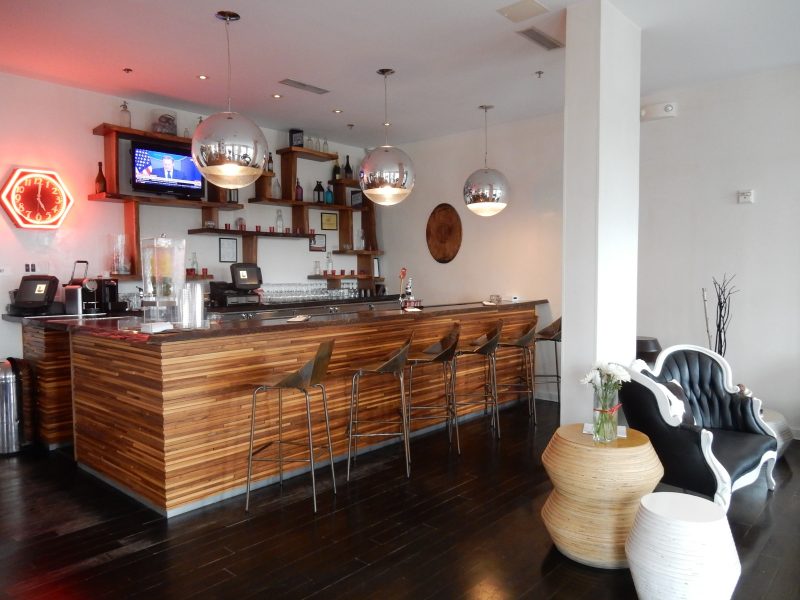 "It's 5 O'clock somewhere," especially at the bar in the lobby of the Bungalow, where bartender Matt Johnson creates home-made concoctions of the season. (In case you were wondering; all the timepieces at the Bungalow Hotel are set to a few minutes before 5 O'clock, after batteries were removed because the ticking clocks in guest rooms were "too loud").
Rare for a small hotel, Mixologist Matt makes most of his ingredients from scratch. He "smokes" the Bourbon for his "Smoked Winter Old Fashion" ($11), makes his own Cranberry Simple Syrup for the "Good Tidings" – which also includes Captain Morgan, lime juice and apple cider ($10) and melts creamy chocolate for the "Snow Day"($9) – hot chocolate topped with your favorite liqueur (in my case both Bailey's AND Kahlua). Though just a nook in the lobby, this bar is very popular on weekend nights.
The Bungalow does not have an in-house restaurant. In the morning, a Keurig is set up in the lobby next to a basket of biscotti, but otherwise, there are several options, including Avenue and Booskerdoo, a block or two away.
Amenities at Bungalow Hotel
Bar in lobby, Bikes and surfboards to use, Pool table.
Gold's Gym right next door (day pass, $10)
Access to Beach Club ($25 fee)
Wi Fi
Parking
Just The Facts
Rooms to 2-bedroom suites from $145-$450 off season to $450-$1500 in season include parking, wi-fi, bottled water, use of surfboards and bikes. Resort fee of $25 per person allows use of pool, chaise lounge and beach umbrella at Avenue Le Club, $10 day pass to Gold's Gym next door. You can also find fantastic off-season packages online, bringing rates down even lower.
Find more ideas on what to do and where to eat in Long Branch HERE.